By all rights, this was not a game Georgetown was supposed to win.
A road game. Down 12 midway in the second half. Courtland Freeman scores one basket and fouls out. Seven losses in the last eight years on the fourth Saturday in January.
From these dire straits, senior Gerald Riley had a career day, putting in 35 as the Georgetown Hoyas got a much, much needed win against the Hurricanes before a season high 5,193 at the Miami Convocation Center. Riley's 35 were the most points scored against a Miami team since Allen Iverson in 1996.
The Hoyas started off sluggish--again--trailing 7-0 and 9-2 before the team answered back with a strong 14-0 run. Led by three pointers by Brandon Bowman and Darrel Owens, the G-men turned an 11-4 deficit into an 18-11 lead in three minutes, then watched the lead disappear as the Hurricanes scored the next nine points to take the lead midway through the half. Neither team led by more than three, but it was a late three by Gerald Riley which tied the score at 29-all, the first time in five games Georgetown had not trailed in the half. Riley was 5 for 6 in the half and led all scorers with 12.
Miami held a close lead early in the half before opening a big run midway in the period. Led by guard Guillermo Diaz, the Hurricanes outscored the Hoyas 10-0 in a 2:24 time frame to pull ahead by 12, 56-44. This time, however, the Hoyas did not give up.
The Hoyas battled back from all facets of the game. Free throws, steals, blocks, and dunks were the order of the day as Georgetown uncharacteristically moved inside on the taller Hurricanes to narrow the lead. Guard Ashanti Cook collected three straight assists in possessions which cut Miami's lead to 62-58 with 5:47 left, but Courtland Freeman was called for his fifth foul, putting any comeback in jeopardy.
With the game on the line, Riley went to work. Riley scored six straight to narrow the lead to 65-64 with 4:07 left, and a Matt Causey steal and assist to Darrel Owens gave the Hoyas the lead with 2:03 to play, 69-68. Both teams missed layups down the stretch, and a Miami turnover allowed Bowman a layup with :49 left to increase the lead to three.
Miami turned to its star, Darius Rice, for another last minute miracle, and it worked. Rice drained a three pointer with :12 seconds, and the Hoyas could not score in the final seconds, forcing overtime. For a team whose overtime record is the stuff of horror films (1-11 on road OT games since 1989), this wasn't good.
Miami opened up an early lead in OT, but Riley stepped up again. Riley scored the Hoyas' first seven points to give the Hoyas an 81-78 lead. Miami went cold from outside, as Georgetown went 6-6 from the line in the final minute for the big win. The Hoyas shot 59% from the field in the second half, 10-12 from the line, and collected 31 points off turnovers. A team effort.
The Georgetown half of the box score follows below.

          MIN   2FG  3FG  FT  REB  A  PF  PTS
Starters:
Cook      39   1-2   0-2  6-8   5   7   1    8
Riley     43 10-12   3-5  6-6   4   2   3   35
Bowman    45  5-10   3-4  3-3   8   4   4   22
Owens     42   4-8   2-4  0-0   3   3   2   14
Freeman   28   1-1   4-6  0-0   3   2   5    6
Reserves:
Reed      19   1-1   0-1  0-1   5   1   0    2
Causey     2   0-1   0-0  0-0   0   0   0    0
Kilk.-Diaw 7   0-0   0-0  0-0   0   0   0    0
DNP: Faulkner, Izzo, Beal, Dizdarevic 
TOTALS   225 22-35  8-16 19-24 28  19  15   87

Post-game coverage follows below.
The Hoyas have a tough task at Miami, and probably some history against them, if you follow the peculiar curse of the last Saturday in January.
Dating back to 1985, the Hoyas have lost 11 of 19 games played on the last Saturday in January, and seven of the last eight. The weekend is replete with weird finishes over the years. Some of the more notable losses include:
1/26/85: St. John's ends Georgetown's 29 game win streak and knocks GU from the #1 ranking, 66-65.
1/28/87: Providence's 82-79 win at Capital Centre that weekend is the only home loss of the entire season.
1/28/89: The Hoyas are denied the #1 ranking in a 82-80 last-second loss to LSU at the Louisiana Superdome.
1/27/90: Syracuse picks up its first ever win at Capital Centre, 95-76. The margin is stunning given that the previous 11 games in the series were decided by an average margin of only four points.
1/27/96: Allen Iverson scores a career high 39 points, but the Hoyas miss 13 of 16 threes and lose at St. John's, 83-72.
1/25/97: Georgetown suffers only its second home loss to Pittsburgh in 15 years, 89-71.
1/30/99: In a bizarre finish, the Hoyas give up consecutive three pointers in the final 2.6 seconds of overtime and lose to Villanova, 93-90.
1/27/01: After Notre Dame All-American Troy Murphy fouls out with 5:03 to play, the Irish go on a 21-2 run and defeat the Hoyas 78-71.
1/25/03: Down by four at #2 Pittsburgh with 22 seconds left, Georgetown ties the score. But with 0.4 seconds remaining, a foul called on Georgetown's Drew Hall gave Pitt's Julius Page the winning free throw, 65-64.
Gerald Riley came to play Monday night against the #24 ranked Providence Friars. The same cannot be said for his teammates.
An uninspired Georgetown Hoyas team fell with relative ease on Monday night, 65-50. The Hoyas' continued poor shooting and an absence of rebounding help showed right from the start, and as such the outcome was never really in doubt.
Georgetown's last lead came at 10-7 with 11:56 to play. Despite shooting 4 for 13, GU's defense had kept Ryan Gomes away from the play and stretched out the PC offense. Then, much like its games against other nationally ranked teams, the defense promptly folded. Providence went on a 14-0 run to put the game out of reach, with the Hoyas ending the half on 7 for 25 shooting and 11 turnovers.
The Hoyas' scoring options really numbered no more than two: Gerald Riley and Brandon Bowman. At one point early in the second half, Riley and Bowman had accounted for all but six of the team's points. With Gomes in check (he finished with a season low eight points) a strong second half start cut the PC lead to nine at 42-33, whereupon a PC run stretched the lead back to 50-34 midway through the half.
Frustrated by the offensive inertia of Ashanti Cook, Darrel Owens, and Courtland Freeman (a combined 4 for 15), coach Craig Esherick ran an unusual lineup including Omari Faulkner, Sead Dizdarevic, and Ray Reed to join Bowman and Riley for much of the second half. While the three reserves didn't look awful, they didn't do much on the scoreboard either, combining for four points in a combined 33 minutes. PC led by as many as 18 in the final four minutes and seemed more than happy to run out the clock before the quietest Providence crowd heard in years. If you didn't know better, you might have thought they were playing at MCI Center.
Georgetown's 34% shooting was endemic of a poor night all around. Riley and Bowman combined for 35 of the Hoyas 50 points, while no other player had more than four. Excepting team rebounds, the Hoyas managed only 12 defensive rebounds, while PC shot 54% from the floor with eight three pointers. The Hoyas contributed only five assists compared to 14 for the Friars.
The Hoyas have dropped five of six and stay on the road to face Miami this Saturday.
The Georgetown half of the box score follows below.

          MIN   2FG    3FG   FT  REB  A  PF  PTS
Starters:
Cook       33   2-3   0-2   0-0   1   1   2    4
Riley      37   3-8   4-7   4-4   2   0   2   22
Owens      26   0-3   0-2   1-2   5   2   3    1
Bowman     38  4-11   1-2   2-4   6   1   0   13
Freeman    23   2-5   0-0   0-0   3   1   4    4
Reserves:
Faulkner    8   0-1   0-0   1-2   1   0   1    1
Reed       12   1-3   0-1   1-2   1   0   2    3
Causey      7   1-1   0-1   0-0   1   0   2    2
Kilk.-Diaw  3   0-0   0-0   0-0   0   0   0    0
Dizdarevic 13   0-3   0-0   0-0   2   0   0    0
DNP: Izzo, Beal
Team Rebounds                     4 
TOTALS    200 13-38  5-15  9-14  26   5  16   50

Post-game coverage follows below, with more on Tuesday. Coverage from the Providence Journal is not included because its web coverage requires a considerable registration process to view articles.
In a season full of poor decisions in non-conference scheduling, comments in Saturday's Washington Times are again troubling. According to the Times, Duke was interested in renewing the series with Georgetown for two more years, but the basketball office turned it down, citing that the 2004-05 schedule is almost complete.
Complete with whom? Comments by Coach Esherick in the article do not appear to suggest much change for future schedules. Esherick told the Times that "I know I'm going to play one or two nonconference games that are going to be feature games like Temple and Penn State next year at home. More than that? I don't know."
Hitching the Hoyas' national presence to games with Temple and Penn State is no sure thing: for the record, Temple and Penn State are a combined 14-17 this season with an average RPI (112) lower than Georgetown (94). Of Georgetown's 2003-04 non-conference opponents prior to Duke, the nine schools to date this season sport a combined record of 41-95 (.301), with four in the bottom 40 of the RPI. Doubtless, many of these sunken logs will be back next season.
And no room for Duke?
Earlier this summer, Big East commissioner Michael tranghese appeared to be looking straight at Georgetown when he declared that teams that do not schedule tough non-conference opponents will gain no favors at NCAA tournament selection time. In Saturday's Newsday, quotes by Tranghese suggest that schools like Georgetown and Providence may be down and out in the new Big East before it even starts.
Writes Joe Gergen: "There is a growing disparity in the Big East between the haves (those with Division I[A] football programs) and the have-nots. Among the latter is Tranghese's old school, Providence, as well as founding members St. John's and Georgetown. "I think some schools will be capable of competing for the championship every year," Tranghese said. "Others will have the chance to compete some of the time. A Providence is not going toe-to-toe with Louisville. But it can go toe-to-toe with other schools."
"The future," writes Gergen, belongs to [Louisville, Cincinnati] and to the other football schools until proven otherwise."
In what may be its last CBS appearance for a long, long time, the defensive legacy of the Georgetown basketball program was folded like a pup tent in strong wind, allowing Duke University one of its easier January wins in recent years, 85-66. Do not let the final score fool you--this game was settled with eight minutes to go in the first half.
The Hoyas started off with a good defensive set, keeping Duke off base and keeping the Hoyas close at 13-all. Foul trouble to Courtland Freeman led to the arrival of walk-on Amadou Kilkenny Diaw, who was soon overmatched by Duke's Shelden Williams. Williams scored with apparent ease inside while the Blue Devils' three point shooting toyed with the Hoyas' inability to rotate and contain the Blue Devils from the outside. From the an 18-all score with seven minutes in the half, Duke outscored the Hoyas 30-6 to end the half. For the game, Williams and Chris Duhon combined for 19 for 24 shooting, with the 6-9 Williams' hitting a three pointer to end the first half--the first three pointer in his entire college career. Duke shot 61% from the field in the half, while the Hoyas responded in kind by missing 21 of its 31 attempts.
Down 48-24, the Hoyas opened the second half in similar style, as Duke quickly increased the lead past 30 at 63-31. The rest of the half amounted for R&R for the first string, as only a 26-13 run by the Hoyas kept the score reasonable. When CBS announcers Verne Lundquist and Billy Packer are left with discussing the history of Georgetown football players in the NFL, the game was a foregone conclusion.
Georgetown's shooting was fitful in the first half. Leading scorer Gerald Riley, the best hope for this young team, was 0 for 5 and took one two point shot the rest of the game: after averaging 45% from the field in the first ten games, he is now below 32% in the last five. Courtland Freeman, who scored 18 points and 12 rebounds against St. John's, finished the game with one field goal and no rebounds. Darrel Owens, who started strong for Georgetown with 10 points in the first half, played sparingly in the second and finished with 12. The starting five collected two steals but surrendered 16 turnovers.
As Georgetown's only national network television appearance, this was not simply a loss but a shot across the bow. As the game drew to a close, one could not help but notice the unflinching stares coming from the first three rows behind the scorers table. Seated in section 100 were a large group of some of the program's major supporters, most in town that weekend for an academic conference. As much as Craig Esherick would like to believe otherwise, they will not soon forget this game.
The Georgetown half of the box score follows below.

         MIN   2FG    3FG   FT  REB  A  PF  PTS
Starters:
Cook       37   2-8   2-5   3-4  8   5   0   13
Riley      28   1-5   2-3   4-4  1   0   4   12
Owens      28   2-3   2-3   0-0  4   3   1   10
Bowman     37   7-14  1-4   2-3  9   2   2   19
Freeman    19   1-2   0-0   0-0  0   1   5    2
Reserves:
Reed       22   3-5   0-1   0-0  4   4   2    6
Causey     14   1-2   0-1   0-0  1   1   1    2
Kilk.-Diaw 15   1-2   0-0   0-0  0   0   2    2
DNP: Faulkner, Izzo, Beal, Dizdarevic
Team Rebounds                    2
TOTALS    200 18-41  7-17  9-11 29  16  17   66

Post-game coverage follows below.
Not many NBA basketball players paid their way through college. Still fewer had jobs ranging from an assistant chef at a German restaurant to selling windows to do so.
The Chicago Daily Herald has a feature of the entrepreneurial talents of the Bulls' newest forward, Jerome Williams (C'96). Williams paid for two years at junior college before receiving a basketball scholarship to Georgetown in 1994.
"At 18 years old, I didn't have a car. I thought it was more valuable to get an education than riding around. It shows what's most important to you and what you're willing to give up," Williams said. "That was probably one of the better decisions of my life, because with the money I was making, I could have gone out and bought clothes, cars, shoes … partied, done whatever I wanted. But I wanted to make sure I got my education."
Attendance for Tuesday's Georgetown-St. John's game was only 7,203, the smallest crowd to see a Georgetown-St. John's game since the 1980-81 season, when both teams played its games at on-campus facilities. It was also the first game in the series since 1981 not televised on either a regional or national basis.
The Washington Post discussed some of the reasons why the series is at low tide--interim St. John's coach Kevin Clark says that the lack of revenue generated by Division I-A football is "stunting" the growth of basketball at each school. "The revenue generated [by football] is what has catapulted some schools in the landscape," Clark said. "It allows people to build facilities that other schools are less willing to do."
Earlier this year, St. John's announced a plan to construct a $23 million practice facility, but has not announced expected renovation plans for 6,000 seat Alumni Hall, built in 1962. And almost four years after articles in the campus press first discussed plans to renovate McDonough Gymnasium to host Big East games, Georgetown has still not announced a timeline for the project.
Recommended reading.
"That dunk at the end of the game was the worst. It says something. It was like 'Take that! Get off our court!' No one wants that."--Grady Reynolds, in the New York Daily News
A Courtland Freeman dunk with 0.5 seconds to play propelled the Georgetown Hoyas out of what could have been the Big East basement and into the win column, a 71-69 win over St. John's at MCI Center Tuesday.
The first half was all that could be expected--and less--between two struggling teams. The Hoyas missed 11 of its first 16 shots, and all four threes. At one point, the two teams combined for 5 for 27 shooting. Georgetown's largest lead was three at 24-21, but St. Johns's led by as many as six, 36-30, before settling for a 36-34 halftime score.
The halftime score was telling, because the Redmen (aka Red Storm) have not been a comeback team this year. When trailing at the half, St. John's was 2-8 but an even .500 (2-2) when tied or leading at intermission. It would be that kind of finish, too.
The Hoyas continued to struggle to stay in the game early in the second, with poor shooting from Gerald Riley and Brandon Bowman keeping the Hoyas at risk of a 1-4 start to conference play. A turning point in the game followed with 8:27 to play, when Darrel Owens was fouled hard driving to the basket. Georgetown responded with a 13-6 run to lead 65-60 with 5:20 left, then went cold as they scored one field goal in the next four minutes.
Leading 67-64, a Riley miss and Bowman turnover opened the door to SJU's Elijah Ingram, whose fourth three pointer of the game tied the score with 1:25 to play. The Hoyas answered with a Darrel Owens 2, 69-67, but gave up a dunk inside by Grady Reynolds with 26 seconds to play. Holding for the last shot, guard Ashanti Cook drove the lane, found Freeman inside the for jam, and a St. John's half court heave was intercepted by Bowman at game's end.
After another rough first half, Georgetown showed improvement, shooting 54% from the field in the second half, including 9-10 from the free throw line. While St. John's had 15 more field goal attempts and outrebounded Georgetown 39-35, the Hoyas held strong at the free throw line, with 20-23 shooting compared to just 8-9 for the Redmen.
Freeman led all scorers with 18 points, 12 rebounds, and 7 assists...a career game. Darrel Owens turned in another solid game from start to finish, with 15 points. And deep in the box score is an overlooked four points from walk-on Amadou Kilkenny-Diaw, who scored on a pair of big baskets in the first half when the Hoyas needed all the help it could get.
The win is the Hoyas' first over St. John's in seven games, all the way back to a Victor Page basket with 2.6 seconds left to defeat the Redmen 71-68 on February 1, 1997.
The Georgetown half of the box score follows below.

         MIN  2FG    3FG   FT  REB   A  PF  PTS
Starters:
Cook      39   1-4   0-3   0-0   3   8   0    2
Bowman    37   4-7   0-4   6-7   3   0   2   14
Owens     34   4-5   2-4   1-1   3   2   0   15
Riley     20  3-11   0-1   5-6   5   1   4   11
Freeman   37   5-9   0-0   8-9  12   7   4   18
Reserves:
Faulkner   1   0-0   0-0   0-0   0   0   0    0
Reed      26   2-3   1-2   0-0   6   0   3    7
Causey     1   0-0   0-0   0-0   0   0   0    0
Kilk.-Diaw 3   2-2   0-0   0-0   0   0   0    4
Dizdarevic 2   0-0   0-0   0-0   0   0   0    0
DNP: Beal, Izzo
Team Rebounds:                   3
TOTALS  200  21-41  3-14  20-23 35  18  13   71

Post-game coverage follows below. An extensive recap from "FL Hoya" of the HoyaTalk board is also included--a good read.
With most of the talk last week on #1-ranked Connecticut's win over the Hoyas in Storrs, a pair of readers wrote in to thank those alumni who have made the new Alumni Lounge in Village C a success story. With six DirecTV-enabled sets and ESPN Full Court, students have a new home to watch out of town games.
Renovations to the lounge were funded by grants from the Georgetown University Alumni Association and the Office of Student Affairs.
"First, I must give incredible amounts of props to Hoya Blue and the Hoya Hoop Club for the gathering in the Alumni Lounge tonight," wrote "Joe Hoya" from the HoyaTalk board. "The DirecTV setup is gonna be a great way to bring people together to watch the games now and in the future. The place was PACKED until halftime, and even as the chances for a comeback disappeared, there were still plenty of people supporting the team and cheering for every bucket."
"That's the objective - have a deep bench and be able to run, run, run. Sub in fresh guys and have equal talent on the court and then run, run, run again. That wears you down physically, mentally and emotionally."--Emeka Okafor
Speed kills. So does depth.
For the first four minutes of each half, Georgetown unexpectedly outscored #1-ranked Connecticut 11-6 and 12-6, respectively. UConn's Jim Calhoun called time outs early and went to his bench, allowing the starters to regroup and return with a vengeance. The next 16 minutes in each half were much more expected.
With little interior opposition, Emeka Okafor scored a career high 27 points as Connecticut ran past the thin Hoya defense, 94-70, in the 100th straight sellout at Gampel Pavilion. The Huskies, 89-14 in their on-campus home since it opened in 1990, shot 63% for the first half and never looked back.
Despite an early Georgetown lead, UConn's scoring could simply not be matched. Connecting on nine of its first 11 and 14 of its first 19, the Huskies built an 20 point lead with 5:38 in the first half. Georgetown closed to 15 at 43-28, but Courtland Freeman picked up his third foul and had to sit, and the combination of ragged shooting and a walk-on guarding the middle opened the floodgates for the Huskies, who outscored the Hoyas 16-3 to end the half, 56-30. The Hoyas managed 32% shooting in the half compared to 63% for UConn, who had eight blocks in twenty minutes.
Defensive adjustments kept Georgetown closer in the second. The Hoyas closed the 26 point lead to 17 when Freeman picked up his fourth foul, and the Huskies built the lead back over 20. The Hoyas made a small run midway in the half, but a missed Brandon Bowman three was answered with a UConn three and a Georgetown foul on consecutive plays, as Connecticut's size and speed had no equal on the Georgetown side of the court. The Hoyas shot significantly better in the second half at 52%, but its shooting was no better than equalling the Connecticut effort for the second half. The only drama left in the game was when the UConn starters would be rested, which surprisingly did not come until the last 90 seconds of the game even though Connecticut had led by 20 or more for the last ten minutes of the half.
Ashanti Cook led the Hoyas with 18 points and shot 4-5 from three point range. Brandon Bowman finished with 17 points and 11 rebounds, the first double-double scored by a UConn opponent all season. After starting the first half with 12 turnovers, the Hoyas committed only one in the second half.
"We're coming at you with so many numbers, we're locking you down, we're stealing the basketball, we're blocking your shots, we're doing all those kinds of things," Connecticut coach Jim Calhoun told the press. Connecticut held advantages in rebounding (47-31) and blocks (12-1) against a Georgetown team with no height or depth inside. And with only nine scholarship players and a pair of walk-on centers, the numbers are in short supply for the 2003-04 Hoyas.
The loss is Georgetown's seventh straight in the series and endemic of the talent gap between the two programs. Since 1993-94, the Georgetown men's team is 2-14 against Connecticut, while the women's team is 0-16 during the same period.
The Georgetown half of the box score follows below.

         MIN  2FG    3FG   FT  REB   A  PF  PTS
Starters:
Cook      35  3-11   4-5   0-0   2   4   1   18
Riley     34  5-8    0-3   7-8   5   2   3   17
Owens     25  0-0    1-1   0-0   1   1   5    3
Bowman    38  5-11   2-5   1-3  11   1   1   17
Freeman   24  4-10   0-0   2-2   5   2   5   10
Reserves:
Faulkner   5   0-0   0-1   0-0   0   0   0    0
Reed      16   2-7   0-0   1-2   3   0   1    5
Causey    11   0-1   0-0   0-0   0   0   1    0
Kilk.-Diaw 6   0-2   0-0   0-0   1   0   2    0
Dizdarevic 6   0-0   0-0   0-0   1   0   0    0
DNP: Beal, Izzo
TOTALS   200 19-50  7-16  11-15  29  10  19   70

Post game recaps follow below. Coverage from the Hartford Courant is not included because it is a registration only site. The GUHoyas.com is an Associated Press account only.
Over the years, one can't understate the importance of the Hoyas getting out to a good start in Big East play, especially with two home games to start. A review of the past ten seasons suggests that a good start generally bodes well for the Hoyas in league play, but 2003-04 is another year where the Hoyas will start out in the back of the Big East pack:
Year
First BE Game
Initial
BE Games
Final
BE Record
Post-Season?
1993-94
Lost to Villanova
Won 3 of 5
10-8
NCAA
1994-95
Won vs. PC
Won first 4
11-7
NCAA
1995-96
Won vs. WVU
Won first 3
13-5
NCAA
1996-97
Won vs. Seton Hall
Won 2 of 3
11-7
NCAA
1997-98
Lost to Villanova
Lost first 2
6-12
NIT
1998-99
Lost to Rutgers
Lost first 4
6-12
NIT
1999-00
Lost to PC
Lost first 3
6-10
NIT
2000-01
Won vs. WVU
Won first 4
10-6
NCAA
2001-02
Lost to Miami
Lost first 2
9-7
--
2002-03
Won vs. WVU
Lost 2 of 3
6-10
NIT
2003-04
Won vs. Rutgers
Lost next three
??
??
Georgetown's shooting has failed them in its first three Big East games to date. But there's no alarm from the staff just yet.
After shooting 46.6% in its first nine games, Georgetown has shot only 33.8% in conference play compared to 43.2% for their Big East opponents. Among notable drop-offs such as Courtland Freeman (down from 58.9% in December to 49.4% in January) Ashanti Cook (from 36% to 28%), and Darrel Owens (63% to 48%), the most serious drop-off has come from leading scorer Gerald Riley, who shot 45.9% in December, but only 29.7% in January.
"Gerald will be fine," coach Craig Esherick told the Washington Post. "Gerald's probably the last person in the world I'm worried about right now."
The Wilmington News-Journal has an interesting story on the interest Allen Iverson has in a second job...in the NFL.
Mindful of the success of Atlanta's Michael Vick, the 28 year old former all-state quarterback at Bethel HS still thinks about a two-sport opportunity in his future. "Not a day goes by when I don't think about that," he told the paper.
In 1992, Iverson combined for a combined 2,204 yards (passing and rushing) and 29 touchdowns at Bethel HS, records that not even Vick could touch.
Iverson was recruited in football by the likes of Florida State, Notre Dame, Ohio State, and Miami before opting for basketball at GU. There were stories on campus in 1994 that Iverson entertained thoughts of walking on for football at Georgetown, but John Thompson would hear none of it.
"What Allen has done is he figured out a way to play football with a basketball," said his manager, Gary Moore. "He's got that toughness. How many times have you seen him get knocked down, then get right back up? That's a football player's mentality".
Former Georgetown walk-on Brendan Gaughan has announced a deal to join the top level of NASCAR stock car racing this year after a successful run in the truck division, according to various reports.
"I am thrilled to get this opportunity and thankful to so many people," said Gaughan in this link to Autosport.com. "I appreciate the confidence that Kodak and the Penske organization have shown in my abilities. I can't wait for the 2004 season to begin."
Gaughan posted career earnings of $1,176,202 in seven years on the Craftsman Trucks circuit, including over $600,000 in 2003.
The Washington Times has a feature in Saturday's editions on the development of Darrel Owens as an offensive scorer for the Hoyas.
"I didn't predict he was going to play this well," coach Craig Esherick said. "He's shooting the ball better than I ever thought."
"This program brings in good players, and Darrel is a great player," said senior co-captain Gerald Riley. "It's all about time. You've got to put in your time, and that's what he did."
A season low 31% shooting sank the Hoyas in Morgantown, losing to West Virginia 62-58.
Both teams labored through a poor first half, combining for six field goals in the first 11 minutes of play. The Hoyas had their last lead at 15-13 with 7:10 to play, and did not score for the rest of the half as West Virginia struggled on their own to put points on the board. A late rally gave the Mountaineers a 22-15 halftime lead.
The Hoyas had numerous open shots but could simply not convert. Georgetown's first field goal of the second half came with 15:41 to play, now down 28-17. A Hoya rally closed the lead to 33-31, but two D'Or Fischer dunks extended the Mountaineer lead, and WVU built a lead up at 49-36, entering the final three minutes of play. Georgetown's offensive touch awoke, but West Virginia scored its remaining 13 points from the foul line, holding off Ashanti Cook's 16 points, including three threes late. The Mountaineers' poor three point shooting (2 for 16) allowed this game to be closer than it was.
There was a huge disparity at the free throw line, where the Hoyas average 18 points and 27 attempts a game. In today's game, Georgetown did not have a free throw in the first half, and finished 8 for 12, while West Virginia was 28-40 from the line, accounting for 45 percent of their point production. Johannes Herber led the Mountaineers with 15 points, as West Virginia played their first game without leading scorer Drew Schifino, who was suspended indefinitely from the team on Friday.
Very poor shooting by Ashanti Cook (6-18), Gerald Riley (5-15), Darrel Owens (3-11) and Courtland Freeman (2-7) were emblematic of Georgetown's equal opportunity bricklaying. The bench was 0 for 7.
The loss breaks an eight game streak over West Virginia in games dating back to 2000. Next up: #1-ranked Connecticut, who has won six straight and 13 of 15 over Georgetown dating back to the 1993-94 season.
The Georgetown half of the box score follows below.

         MIN  2FG    3FG   FT  REB   A  PF  PTS
Starters:
Bowman    26  6-13   0-1   4-6  12   2   4   16
Freeman   21   2-5   0-0   0-0   4   0   5    4
Owens     37   1-7   2-4   0-0  10   2   4    8
Cook      35  3-11   3-7   1-2   3   3   4   16
Riley     38  4-11   1-4   2-2   2   2   4   13
Reserves:
Faulkner   1   0-0   0-0   0-0   0   0   0    0
Reed       6   0-2   0-0   1-2   1   4   3    1
Causey    22   0-3   0-1   0-0   4   1   5    0
Kilk.-Diaw 9   0-1   0-0   0-0   1   0   3    0
Dizdarevic 5   0-1   0-0   0-0   0   0   0    0
DNP: Beal, Izzo
TOTALS  200  16-54  6-17  8-12  37  14  32   58

More post-game reports follow Sunday morning.
If Boston College officials had their way, Tuesday's game with Georgetown would be its last game with the Hoyas...and the prelude to an early break with the Big East.
Not so fast, says the Big East.
With as many as 22 schools preparing to change leagues nationwide by 2006, Boston College wants an earlier exit so it can join the Atlantic Coast Conference and create a playoff-eligible league, says ESPN. That move would allow five Conference USA schools to move to the Big East a year early, and for the other affected schools to expedite its plans. The move would mean ACC-sized revenues in 2004 for BC and and avoid a lame-duck season for the Eagles in 2004-05.
The Big East isn't in any hurry to help out its former friends, though.
"Let me put it this way," Rutgers Athletic Director Robert Mulcahy said in this link to the Washington Post. "I think there's very, very little chance that [BC] could move for the next academic year."
The Syracuse Post-Standard has a feature in Friday's edition on how the eagles may fare in their new conference.
"If you think the people at Maryland complain about all the decisions being made in North Carolina and feeling like an outsider," said ESPN analyst Jay Bilas, "how's BC going to feel?"
The New York Daily News and New York Post have features on Houston assistant coach Patrick Ewing (C'85) and discusses his growing interest in becoming an NBA head coach.
"I think I'm learning a lot from Jeff [Van Gundy]," Ewing told the Daily News. "I'm enjoying it. If you had asked while I was playing if I wanted to be a coach, the answer would have been no."
Asked when he would like to make the next move, Ewing replied: "One day - hopefully one day soon."
Is Georgetown scheduling itself out of March Madness...in December?
Head coach Craig Esherick and commissioner Mike Tranghese are prominently cited in this interesting article from ESPN.com about what Big East teams are doing--and not doing--to improve their post-season aspirations.
"I told our coaches, and I told our ADs, that if you elect not to go out and schedule a quality non-conference schedule, the only way you're going to get into the NCAA Tournament is if you have a dominant regular season in conference play," Tranghese said.
The article cites Georgetown as contrary to Tranghese's non-conference scheduling model. "I think you have opportunities in your league to prove to people and to show people that you can play at the level of the NCAA Tournament," said coach Esherick. "I don't think that our non-conference schedule in any of the time I've been involved at Georgetown has really had an effect on that."
Tranghese appears unswayed by the Georgetown approach, which placed the Hoyas' strength of schedule dead last in Division I entering the conference season.
"If you elect not to schedule [tougher opponents], then you get that reputation and that reputation gets carried over," Tranghese tells ESPN. "The committee knows who plays and who doesn't."
With the Hoyas' NCAA hopes at low tide in 2003-04, the issue may be moot. Going forward, however, Georgetown's scheduling practices will face even greater scrutiny--and risk--as its tournament chances brighten.
Thursday, this page discussed the events of January 8, 1999 which led to John Thompson's stunning resignation as head coach. And, of course, January 8 marked the five year anniversary of Craig Esherick as head coach.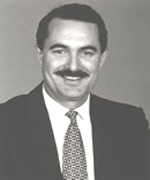 Craig Esherick seems to get a visceral reaction from a lot of Hoya fans, most of which is not personal, but a reflection of the team's performance since 1999. The third winningest coach in school history, Esherick averaged an even 20 wins a year at Georgetown from January 1999 to January 2004, and with just one extra win in each of three seasons, he'd be riding four straight 20-win seasons into the 2003-04 season. That didn't happen, of course.
"Esherick has seemingly outlasted the [former St. John's coach Brian] Mahoney comparison, but a closer look at his record to date (100-60) produces a less flattering picture." writes columnist Kevin Casey at the Back Page. "More illuminating are Esherick's results against good competition: 38-42 in Big East play, 5-5 in the Big East Tournament, 9-10 against teams from the Big Ten, ACC, Pac-10 and SEC...Boiled down to its elements, Esherick's record is certainly not terrible, but it's far from great. It's just … average," said Casey.
And that record? The Hoyas' overtime woes go back well before Esherick (GU lost 11 of 14 overtime games in John Thompson's last decade) and over Coach Esherick's tenure, Georgetown is an even 19-19 in games where the final score--in regulation--is five points or less. Here's the breakdown by margin of victory:
| | | | | | | |
| --- | --- | --- | --- | --- | --- | --- |
| | OT | 1-5 | 6-10 | 11-15 | 16+ | Total |
| 2003-04 | 0-0 | 2-0 | 1-1 | 2-0 | 5-0 | 10-1 |
| 2002-03 | 1-3 | 4-6 | 4-4 | 3-2 | 7-0 | 19-15 |
| 2001-02 | 0-4 | 2-2 | 5-4 | 1-1 | 11-0 | 19-11 |
| 2000-01 | 0-0 | 2-3 | 5-3 | 5-0 | 13-2 | 25-8 |
| 1999-00 | 1-0 | 5-4 | 4-4 | 2-3 | 7-4 | 19-15 |
| 1998-99 | 0-1 | 4-4 | 2-3 | 0-2 | 1-0 | 8-10 |
| Totals | 2-8 | 19-19 | 21-19 | 13-8 | 44-6 | 100-60 |
And it won't get any easier in 2006, when five new schools join the conference. A 2003 analysis by HoyaSaxa.com shows that the Georgetown program now trails most Big East schools across a series of performance-based metrics.
"A former Big East coach was quoted... on his opinions of the program [and] here is what the coach said: "The biggest problem with Esherick is that he hasn't had long enough time to separate himself from the coaching style and philosophy of [John Thompson]," wrote a 2002 HoyaSaxa.com editorial. "He stressed that [Thompson] was a great coach, but Esherick needed to better assert his own style and put his own stamp on the program. He felt giving Esherick a contract extension was a big step in the right direction because it will help recruiting and allow Esherick to mold the program more the way he wants to."
Fans from other schools often ask why Georgetown didn't (or doesn't) hire a big name, seven-figure coach. First, Georgetown can't afford to, but more importantly, it doesn't want to. It's made a commitment to its coach and needs to give him the support needed to succeed. If the sights are set a little lower in 2003-04, the bar will be raised going forward.
"If [Craig] Esherick is guilty of anything," wrote the Chicago Tribune, "it is doing mere maintenance rather than reconstruction. He has not been the program's downfall. It had already fallen from the level occupied by consistent winners such as Duke, Arizona, Kentucky and now Maryland when he was handed the reins."
Five years later, there's still work to be done.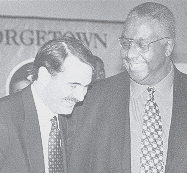 In 1997, John Thompson invited assistant coach Craig Esherick to join him at the press conference announcing Dean Smith's unexpected retirement at North Carolina and the elevation of assistant coach Bill Guthridge. Except for perhaps John Thompson himself, no one knew that the UNC press conference would mirror the events which followed at Georgetown on January 8, 1999.
At a press conference that day, flanked by alumni such as Patrick Ewing, Alonzo Mourning, Michael Jackson, and Dikembe Mutombo, Thompson announced his decision. "You now that I am going through a problem with marriage right now," Thompson said. "And I owe it to my family to address that. Not just to myself and to my wife, I owe it to my family to address that. I would be irresponsible if I did not address that. I can't deal with that as a distraction." (Thompson and his wife of 32 years separated the previous year.)
At the time of the announcement, there was considerable media speculation asking if Thompson was resigning because of illness or a pending NBA coaching position. Neither were true. Thompson surprised the media later that year by accepting an offer to co-host a an afternoon radio show on WTEM-AM. Many assumed it to be a short-time deal, but five years later, the coach is still on the air, and "The John Thompson Show" has now become a drive-time leader in the Washington radio market.
Five years later, Coach Thompson is still active as a television analyst for NBA games and in work for the John Thompson Foundation. He attends Georgetown games when in town, and remains an important part of the Georgetown Basketball family.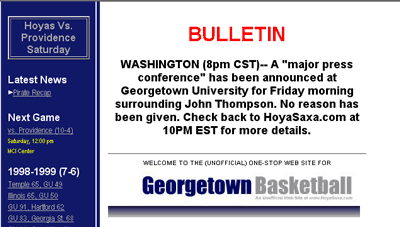 HoyaSaxa.com posted the first wire stories breaking on the story at 8:00 that Thursday night. Georgetown officials had actually known of the decision two days earlier and was able to release the news of the press conference that evening without any prior leaks.

According to an exclusive by Big East Briefs magazine and provided to HoyaSaxa.com later that evening, the father of then-recruit Courtland Freeman said that Coach Thompson had told him that he was stepping down but would remain with the University until 2006.
"We have to see what happens," Charles Freeman said. "The guy's been around for a long time. I knew he wasn't going to work forever. I just don't know what's going on totally. I just know what he tells us. He really didn't tell me all that much, just that he was going to step down for personal reasons. I suppose it would be immediately because of the way he talked. The press conference is tomorrow, so it's a decision he obviously just made."
Most of the web links to that day's coverage are now inactive. Here are links to The HOYA's archived coverage of the news:
When the history of Georgetown in the 20th Century is written, among the three most prominent names will be Rev. Edmund Walsh (founder of the School of Foreign Service), Rev. Timothy Healy (University president, 1976-1989) and John Thompson.
Below is a brief summary of some of these accomplishments:
1984 National Champions
3 NCAA "Final Four" Appearances
6 Big East Tournament Championships
7 NCAA "Elite Eight" Regional Finals
7 Big East Regular Season Titles
10 Big East Tournament Finals Appearances
15 Seasons In Final Top 25 Polls
19 Seasons Of 20 Or More Wins
20 NCAA Tournament Appearances
24 Consecutive Winning Seasons
24 Consecutive Post Season Appearances
26 Players Selected In NBA Draft
77 Of 79 4-Yr. Lettermen With Degrees
596-239 (.717) Record

That having been said, the program goes on. Past quotes attributed to Thompson had him saying "I am Georgetown basketball." Perhaps, at one time. But he isn't any more, and it is imperative to move forward and maintain a strong constituency of support for men's basketball, no matter who is at the helm.

Institutional and fan support will ultimately ensure the continued excellence of basketball at Georgetown, to uphold the legacy of those 27 years. And that's the way John Thompson expects it.

Some thoughts from Jan. 14, 1999 on honoring the legacy:

"So how should Georgetown honor the legacy of John Thompson? We asked for your thoughts. Here were the runners-up:

A place in the Georgetown Hall of Fame? This seems obvious. Although the Hall of Fame committee only inducts a small group of honorees every two years, usually distributed across a number of men and women's sports, the 2000 induction date would be a timely choice.
"The Thompson Years" on video? A lot of fans surely would like to see a compilation of the great games of the past, some reflections by the coach and by former players, or even a sample of Thompson's various TV appearances. [His 1989 Nightline appearance was a classic.]
A scholarship fund? Now here's one worth looking at. An irony lost on many people is that Georgetown's most famous coach wasn't even considered by Georgetown out of high school, and in a city that was 80% black, there were very few black students at GU through the late 1960's. John Thompson has always challenged the Georgetown community to reach out to the District's youth, and this might be a way of continuing that legacy.
But the clear choice in the unofficial survey was summed up as follows: Rename McDonough for Thompson." An e-mail asked "How can we honor the legend? There is one thing we can do that many would argue should have been done a long time ago: build an on-campus basketball arena for "his" Georgetown basketball teams. Indeed, aren't all the future Hoya teams really John's?"

Well...there are no funds presently earmarked for such a project in the capital campaign. But perhaps Georgetown is ready to begin to discuss a major revitalization of the gym, and to solicit funds in Thompson's honor to somehow expand its seating to a level suitable for students to be able watch non-conference games on campus. If there can be a "Phog Allen Fieldhouse" and a "Dean Smith Center", maybe the "McDonough-Thompson Arena" isn't such a far-off idea after all."

Craig Smith scored 21 second half points to lead Boston College to a 72-64 win over Georgetown before 7,735 at MCI Center Tuesday.

The game was a study in shooting percentages. The Hoyas shot poorly from start to finish, while BC overcame a cold start to shoot an impressive 71 percent (17-24) in the second half. It's hard to stop an opponent shooting so well, but the hoyas' cold touch certainly didn't help things.

That Georgetown was able to lead 27-26 at halftime was a surprise all its own. GU shot 3 for 17 to open the game, but owned the offensive boards and the defense of Courtland Freeman helped hold Smith to just three points in the first half. The Eagles opened the second shooting 8 of 13, but the Hoyas continued to get more second chance shots (to offset many bad first shots) and led by as many as seven at 44-37. The lead narrowed midway through the second half, and with 4:25 to play the Hoyas held a narrow 55-53 lead. A Smith dunk and a subsequent leg injury suffered by Ashanti Cook seemed to turn the game.

Over the next four minutes, Smith (9-9 in the second half) scored 19 of the Eagles last 26 points, leading a team which made nine of its next 11 shots, while GU managed one field goal in nearly four minutes, adding a pair of baskets late in the game with the outcome out of reach. Smith's presence inside took advantage of Georgetown's thin interior defense, while the Hoyas' starting five was all but incapable of stringing together shots to combat Smith's effectiveness. Much as Mike Sweetney dominated the inside lanes while at Georgetown, Smith did the same in Tuesday's game.

Junior Darrel Owens was the bright spot among the G-men, finishing with a game high 20 points. The rest of the starters, however, shot only 25%. Gerald Riley missed seven straight shots in the first half en route to a 2 for 13 shooting effort, Brandon Bowman missed nine of his 14 attempts, Ashanti Cook six of nine, and Courtland Freeman seven of eight.

Georgetown's all-out defense gave the Eagles problems until late, but the shooting that piloted it past Rutgers was aground well before the final stretch of the game. The Hoyas must regroup in a big way, facing road games before hostile crowds in Morgantown, WV and Storrs, CT in the next week.

The win was the first for BC in Washington since 1996, in what may be the last game in the georgetown-Boston College before the Eagles pack up for the Atlantic Coast Conference.

The Georgetown half of the box score follows below.

          MIN  2FG    3FG   FT  REB   A  PF  PTS
Starters:
Cook       32   2-7   1-2   2-4   3   3   3    9
Bowman     28  4-12   1-2   0-0   5   1   4   11
Owens      36   5-7   3-6   1-1   5   1   4   20
Riley      37   2-8   0-5   5-6   4   3   1    9
Freeman    33   1-8   0-0   3-5   7   0   4    5
Reserves:
Reed       15   2-6   0-1   0-1   2   3   2    4
Causey      2   0-0   0-0   0-0   0   0   0    0
Kilk.-Diaw  4   2-2   0-0   0-0   1   0   1    4
Dizdarevic 13   1-4   0-0   0-0   5   1   3    2
Team Rebounds                     7
DNP: Faulkner, Beal, Izzo
TOTALS     200 19-54 5-16 11-17  39  12  22   64
DNP: Faulkner, Izzo, Beal, Dizdarevic
Assist to Turnover Ratio: 1.20 (12 A, 10 TO)

Post-game reports:
Brandon Bowman scored 20 points as the Georgetown Hoyas held off Rutgers in its Big East opener, 63-57, before a season-high 8,194 at MCI Center.
Georgetown surprised the regional TV audience by roaring out of the blocks with a 23-4 run that gave the Hoyas an 18 point lead, 29-11. As Rutgers regrouped, the Hoyas' offensive options struggled with Gerald Riley on the bench with three fouls, and RU closed to 38-28 by halftime.
With starters Ricky Shields and Herve Lamizana each having season lows in shooting (shooting a combined 2 for 20), the Scarlet Knights relied on 26 points from reserve guards Quincy Douby and Calvin Wooten to bring them back. Rutgers closed to 52-47 with 7:57 to play on a Sean Axani basket, but the Hoyas answered to extend the lead to 57-47 with 6:40 left.
Courtland Freeman picked up his fourth foul with 5:18 to play, still up 57-47, forcing the Hoyas to focus almost exclusively on the outside shot. The outside shooting which had served the Hoyas well in the first half was gone by game's end, as the Hoyas managed only one field goal in the final 5:18 of play. For RU, Douby scored on three consecutive series to close the lead to 59-57 with 2:59 to play.
The teams traded the next five possessions without a score. Georgetown forced a held ball and a block on two of the Scarlet Knights' possession, but shot poorly and picked up an offensive foul with 1:20 to play. The Hoya defense gave the Scarlet Knights all sorts of trouble, and on its best chance at the lead, a long three by RU Marquis Webb sailed just wide, and Cook was fouled on the recovery. Although Cook shot poorly from the field (2-12), he hit both free throws to extend the lead to four and put the game out of reach. Rutgers followed with a long three which sailed short, and Brandon Bowman added two more free throws on the exchange.
The win was Craig Esherick's 100th as head coach.
The Georgetown half of the box score follows below.

          MIN  2FG    3FG   FT  REB   A  PF  PTS
Starters:
Cook       37   2-8   0-4   2-2   4   6   3    6
Bowman     36  5-12   2-3   4-6   9   2   0   20
Freeman    30  4-12   0-0   3-5   3   1   4   11
Owens      38   3-3   2-6   2-3   7   1   0   14
Riley      19   3-7   1-2   0-0   4   1   4    9
Reserves:
Reed       17   0-2   0-0   3-4   1   0   1    3
Causey     12   0-1   0-0   0-0   1   2   1    0
Kilk.-Diaw 11   0-0   0-0   0-0   1   0   2    0
Team Rebounds                     8
TOTALS     200 17-45 5-15 14-20  38  13  15   63
DNP: Faulkner, Izzo, Beal, Dizdarevic
Assist to Turnover Ratio: 1.08 (13 A, 12 TO)

Post-game reports:
---
HoyaSaxa.com: The One-Stop Web Site For Hoya Basketball™
An independent web site not affiliated with Georgetown University. All rights reserved.