The New York Post has a feature in Monday's edition on the development of guard Jessie Sapp.
"It's the same Jessie that we all know; he just has a bigger role now," said forward Jeff Green. "Last year, he came in and gave us critical minutes. And with that great basketball mind he has, no doubt, we don't make the Sweet 16 [in 2006] without him. And now this year, it seems he's playing 40 minutes and it's 40 minutes of everything he has."
Saturday's Washington Post has a feature on guard Jeremiah Rivers, who has became a key reserve in Big East games of late.
"A lot of basketball is playing without the ball, and that's the biggest adjustment for me," Rivers told the Post. "I'm so used to playing with the ball in my hands. That's why I was struggling, because I was fighting it at first."
An 18 point second half effort from Roy Hibbert led the Georgetown Hoyas to an 82-67 win over Cincinnati Saturday at Verizon Center, a game which could have been a rout had it not been for some remarkable shooting by the visiting Bearcats.


Georgetown owned a considerable height advantage in the game and used it from the outset, opening up an early lead that was seemingly answered by the Bearcats' outside shooting. Cincinnati entered the game ranked 287th in the nation in there point shooting, averaging 29 percent from outside the arc. After missing its first three point shot, 6-8 Marcus Sikes put on an outside shooting clinic, hitting four threes in as many attempts and accounting for 16 of the Bearcats' first 19 points of the game. Georgetown led by as many as 17 in the half, but the Bearcats connected on seven of its next eight three point attempts, and took advantage of an end of half lull by the Hoyas by outscoring Georgetown 11-0 to end the first half. What was a 17 point lead had dropped to five at the half, 40-35, thanks to the Cats' 56 percent shooting.

Roy Hibbert had played only nine minutes of the first half, but returned in the second to score early and often against the smaller Cincinnati front line. He opened with three layups in a 1:44 span that built the GU lead from seven to 13, 48-35, then made a key tip in with 12:59 to play after consecutive Cincinnati threes had cut the lead back down to five. The play came after a sequence when Sikes picked up his fourth and fifth foul within 13 seconds, a series where UC coach Mick Cronin was unaware Sikes had picked up the fourth foul.

With Sikes on the bench, Hibbert proceeded to pick up three more layups in a 1:38 span, pushing the lead back to double digits, where it remained thereafter. Hibbert's 26 points for the game was a career high, and led four Hoyas in double figures.

Outside of Cincinnati's 14 threes, Georgetown turned in a crisp and effective game. The Hoyas shot 52% in the first half, 54% in the second. Seven players turned in assists, led by a combined eight from Jeff Green and Jonathan Wallace. The Hoyas only gave up five turnovers, which is believed to be its lowest mark in the Big East era.

Cincinnati was led by 19 from Sikes and 18 from freshman guard Deonta Vaughn, who scored all 18 points in the second half. As to the impact of Sikes' fifth foul, Cronin commented to the Cincinnati Enquirer that "It didn't help, obviously."

In a candid follow-up, he added: "But I'm not going to sit here and say we would have won the game. We were never winning the game."
Here's the Georgetown half of the box score.

         MIN   2FG   3FG   FT  REB  A  PF  PTS
Starters:                                 
Wallace   35   0-0   2-4   7-8   5   4  0   13 
Sapp      35   4-5   0-4   2-2   4   3  3   10 
Summers   26   0-3   0-3   4-6   2   2  1    4 
Green     39   4-9   2-3   3-4   3   4  4   17
Hibbert   29  11-13  0-0   4-4  11   0  2   26
Reserves:
Macklin   11   2-2   0-0   0-1   1   1  1    4
Rivers    10   0-2   0-2   0-0   2   1  0    0
Crawford   1   0-0   0-0   0-1   0   0  0    0  
Ewing     14   1-1   2-2   0-0   2   2  2    8
Team Rebounds                    2
DNP: Izzo, Spann, Dizdarevic
TOTALS   200 22-35   6-18 20-26 32  16  13  82

Game recaps follow below.
The on again, off again talk regarding Georgetown's outdated basketball facilities got some attention this weekend when The HOYA cited a Jan. 8 Sports Business Journal article that reported architectural firms are preparing initial design proposals for a practice facility.
There have been a number of proposals for renovation or expansion of the McDonough Gymnasium area in the last two decades, none of which have proceeded past the design stage. In 2000, a $22 million project was announced by the athletic department which would have dug down under the existing foundation to create a 7,000 seat arena, as early as 2006. The project received local zoning approval, but lacked University support and was not pursued as a fundraising project.
Jeff Green scored 19 points as Georgetown overcame a first half shooting clinic by the DePaul Blue Demons, earning a 66-52 win at Verizon Center Wednesday.
Depaul started the game without leading scorer Wilson Chandler, who was held out of the starting lineup for missing a team practice. Despite four turnovers in their first eight possessions, the Demons were never out of the game thanks to remarkable first half shooting that earned them the lead for much of the first half. For its part, the Hoyas were shooting over 50 percent, but DePaul was scoring on nearly every shot it was given.

Hitting 12 of its first 16 shots, DePaul held a 30-24 lead with 1:52 in the first half, whereupon Jonathan Wallace converted two DePaul turnovers into consecutive three pointers, the last one coming to tie the game at 30-30 with 0:11 to play before halftime. Wallace would finish with 11 points, but those six points were as big as any in sending notice to the Blue Demons that the Hoyas were not going away.
DePaul opened the second half with five points from guard Sammy Mejia, held scoreless in the first half. Georgetown answered with a Dajuan Summers three to take the lead, but the margin remained a narrow one until Jeff Green drove inside and connected on a three point play, 45-41. DePaul answered with a layup to close to 45-43, but a Dajuan Summers layup and a Jeff Green drive following two missed DePaul free throws extended the lead for good, 49-43. The Blue Demons' shooting went cold as they scored only twice in a 6:41 run that saw Georgetown control the offensive boards and run the clock down, leading by 13 with 2:58 to play and using the free throw line to wrap up the win.
Green's 19 points led all Georgetown scorers. Roy Hibbert had a rocky first half (0 for 2 from the field, no rebounds), but recovered nicely in the second to finish with 11 points and four rebounds. Georgetown shot 55% in the first, 52% in the second, but DePaul's shooting utterly failed them in the second half. From a 68% mark in the first half, DePaul made only 7 of 26 shots in the second half, with leading scorer Wilson Chandler emblematic of the DePaul drought: from a 4 for 5 shooting effort in the first, he shot 1 for 13 in the second, finishing with 10 points.
Georgetown also improved markedly with turnovers compared to recent games. Georgetown had five turnovers in the first, two in the second. DePaul struggled with turnovers early, with 10 in the first half and 15 overall.
The game marked the 11th game in the last 12 that Georgetown has held an opponent under 60 points. If the Hoyas can continue to shoot well and further limit turnovers, things are only going to get better.
Here's the Georgetown half of the box score.

         MIN   2FG   3FG   FT  REB  A  PF  PTS
Starters:                                 
Wallace   32   1-2   3-5   0-0   2   3  5   11 
Sapp      25   1-2   0-1   0-0   3   5  4    2 
Summers   37   2-4   2-4   2-2   6   2  2   12 
Green     38   5-10  2-3   3-3   3   2  0   19
Hibbert   29   4-8   0-0   4-6   4   1  1   12
Reserves:
Rivers    15   2-2   0-1   0-2   4   1  0    4
Crawford   5   0-0   1-1   0-0   1   1  0    3  
Ewing     15   1-1   0-1   1-2   1   1  0    3
Team Rebounds                    1
DNP: Macklin, Izzo, Spann, Dizdarevic
TOTALS   200 16-29   8-16 10-15 25  16  12  66

Game recaps follow below. Both Chicago dailies posted Associated Press recaps, and are not included below.
Freshman Dajuan Summers is featured in this link to the Washington Post . Summers has seen his game stats improve as he has become more accustomed to conference play.
"As the year has gone along, he's getting a comfort level with where his shots are going to come from, he's getting a comfort level with the coaching staff, he's getting a comfort level with where his teammates are going to be," said Coach Thompson. "He still has his ups and downs, as most freshmen do. But he's settling in."
An article from the New York Post discusses coach Thompson's ongoing ties to former Princeton Pete Carril on the Hoyas' motion offense.
According to the Post, Thompson invited Carril to help analyze the offense after the Seton Hall game. "From what I saw tonight, there's not too much wrong," said Carril.
"You're getting soft in your old age," replied Thompson.
Former Georgetown center Dikembe Mutombo (SLL'91) received a rare honor Tuesday, as he was saluted by President George W. Bush during the State of the Union address.
"The greatest strength we have is the heroic kindness, courage, and self-sacrifice of the American people. You see this spirit often if you know where to look — and tonight we need only look above to the gallery," said the President.
"Dikembe Mutombo grew up in Africa, amid great poverty and disease. He came to Georgetown University on a scholarship to study medicine — but Coach John Thompson got a look at Dikembe and had a different idea. Dikembe became a star in the NBA, and a citizen of the United States. But he never forgot the land of his birth — or the duty to share his blessings with others. He has built a brand new hospital in his hometown. A friend has said of this good-hearted man: "Mutombo believes that God has given him this opportunity to do great things." And we are proud to call this son of the Congo our fellow American."
"My heart was full of joy. I didn't know the president was going to say such great remarks," Mutombo told the Houston Chronicle. "I'm so proud to be a citizen of the United States of America and to be recognized for my work. God is good to have put this work in my heart."
When Horace Broadnax (B'86) returned to the coaching ranks to lead Savannah State, some wondered if he could hope to improve the Tigers' struggling program. So far, Broadnax has turned the Tigers around, according to this article from the Macon Telegraph.
Savannah State is 8-14 this season, including a win over Southern Mississippi. The Tigers were 2-28 in Broadnax's first season in 2005-06, and were 0-28 the year before.
"At our level, you first need to improve on the improvement from year to year," Broadnax said. "It takes two to three years sometimes to reload at our level."
Where were you one year ago Sunday?
Many of you were in downtown Washington with 20,500 close friends watching Georgetown upset #1-ranked Duke 87-84. But what are the enduring memories from that game? Columnist John Hawkes looks back from a student's perspective in this link to the Generation Burton series.
With its second game in 48 hours, the Georgetown Hoyas followed a page from Wednesday night's win over Rutgers--start quickly, overcome turnovers, and use its height to an advantage. All three were in evidence for the Hoyas 74-58 win over Seton Hall before a season high 9,666 at the Meadowlands.
The Pirates entered the game at a considerable disadvantage following the season ending injury to 6-11 Grant Billmeier in Wednesday's win over Providence. As a result of the injury, SHU had no starters taller than 6-7, so the Hoyas went to work inside, scoring the first 10 points of the game and 18 of the first 25. During the early run, Georgetown was 7-10 from the field without a single turnover, but an energetic Pirate defense soon gave way a sloppy first half with numerous Georgetown turnovers. The Pirates closed to eight at 34-16 before center John Garcia picked up his third foul and went to the bench, with Georgetown outscoring the Hall 10-5 to end the half. The Hoyas held a gaudy 20-7 edge on the boards and 11-0 on second chance points by halftime, with the visitors claiming a 34-21 lead.

The Hoyas extended the lead to 17 at 42-25 with 14:55 to play, but Seton Hall's defense forced Georgetown into a number of turnovers that allowed Pirate fans hope of a run. In its next nine possessions, Georgetown gave up thee missed shots and five turnovers, whereupon the Hall answered with 5 for 5 shooting to close the lead to 49-38 with 9:34 to play. On its next series, Jonathan Wallace gave up the turnover, but Seton Hall's Paul Gause missed a layup that would have cut the lead to nine. Off the miss, Jessie Sapp drained a three to extend the lead back to 14, 52-38, and the Pirates never challenged thereafter. The missed layup was eerily similar to Marquis Webb's miss two nights earlier that also ended a potential run against the Hoyas.
Jonathan Wallace set a career scoring mark with 21 points in the game, followed by Dajuan Summers' second 17 point effort in as many games. Jessie Sapp scored 12 and Roy Hibbert 10--Jeff green struggled through a 8 point, 4 turnover game but made the ESPN highlight reel with a one handed dunk midway in the second half.
Seton Hall's height disparity was evident in the rebound totals. Garcia fouled out with 7:27 to play, but the rest of the team couldn't buy a board. The Hall managed just four rebounds in the second half and 11 for the game, both Big East records. It is believed to be the fewest rebounds surrendered by a Georgetown team in the modern era, passing a 12 rebound effort by George Washington in 1981.
Georgetown used this road trip to gain confidence, get experience for the freshmen, and experiment its passing against various defenses. Its turnover numbers continue to be a concern, but one those numbers are brought in line, Georgetown's offensive and defensive might will be even more evident.
The Georgetown half of the box score follows below.

         MIN   2FG   3FG   FT  REB  A  PF  PTS
Starters:                                 
Wallace   34   4-6   3-5   4-4   3  2   4   21
Sapp      30   3-6   2-4   0-0   6  4   4   12
Summers   32   4-7   2-2   3-4  10  0   3   17
Green     37   4-7   0-3   0-0   9  4   3    8
Hibbert   25   3-3   0-0   4-6   5  2   1   10
Reserves:
Macklin   13   2-2   0-0   0-0   3  0   0    4
Izzo       1   0-0   0-0   0-0   0  0   0    0
Rivers    13   0-2   0-1   0-0   0  0   0    0
Crawford   2   0-0   0-0   0-0   0  0   0    0
Spann      1   0-0   0-0   0-0   0  0   0    0
Ewing     12   1-3   0-0   0-0   2  1   1    2
Dizdarevic 1   0-0   0-0   0-0   0  0   0    0
Team Rebounds                    1
TOTALS   200 21-36  7-15  11-14 39 13  16   74

Additional articles follow below:
Andrew Kostecka (F'48), a member of the 1943 national finalist team and a charter member of the Georgetown Athletic Hall of Fame, died Wednesday in Bethesda, MD.

Kostecka played high school basketball in Bloomfield, NJ and was later named to the Newark Star-Ledger's all-decade team in recognition of his outstanding play there. Arriving at Georgetown in 1941, he starred on the 1942-43 varsity that earned Georgetown its first ever Final Four appearance.

Kostecka led the team in scoring that season until he was called to military service midway through the season. Owing to his SFS experience, Kostecka served as an interpreter to Gen. Douglas MacArthur and was among the first Allied troops to enter Nagasaki following the city's destruction in August, 1945.
Following World War II, Kostecka returned to college, playing two additional years and graduating in 1948 as the school's all-time leading scorer. For the 1946-47 season, Kostecka averaged 17.8 points a game, the highest average in 29 years. His 15.1 career average was second best all time in 1948 and still ranks in the top 20 in Georgetown history.
Following a season in the NBA, Kostecka served in the intelligence community before joining the Department of Commerce, becoming the department's leading expert on the impact of franchising on the nation's economy. He was the longtime editor of two federal handbooks which are the definitive guidebooks in the franchising industry, which, according to industry studies, accounts for over 18 million jobs and $1.5 trillion to the U.S economy.
Kostecka returned to campus in 2004 to among four surviving members of the 1943 NCAA team, pictured below.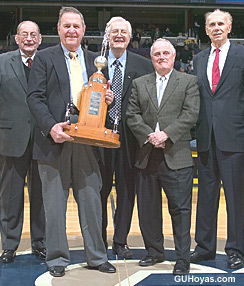 Left to right: Dan Gabbianelli (C'43), Dan Kraus (C'48), Henry Hyde (C'47), James Reilly (C'47), Andy Kostecka (F'48). Photo courtesy Georgetown University.
Kostecka, among the candidates for the University's All-Century Team to be announced Feb. 10, is survived by his wife of 48 years, two children, and five grandchildren. Additional links follow below.
With nine first half turnovers and Jeff Green held to two field goals all evening, the Georgetown Hoyas would have been in some big trouble against any of a dozen Big East teams. Fortunately for the Hoyas, Rutgers is not among them.
Dajuan Summers scored 17 points as Georgetown walked past a struggling Rutgers club, 68-54, in a game that could have easily been a 30 or 40 point outcome. Rutgers dropped its third home game in as many starts with an inability to get any consistent shot selection and gave up 57 percent shooting to the visiting Hoyas, who ended a two game losing streak.
Georgetown opened the game with four turnovers in its first five possessions, but was no worse than tied 2-2 four minutes into the game. For its part, Rutgers proceeded to miss 11 of its first 12 attempts and didn't get its second field goal until the 7:57 mark, when they were already down 11 at 17-6. The Scarlet Knights made a mini-run of sorts to get to 17-11, and looked to close to four when Marquis Webb missed an breakaway layup, converted on the other end by a Roy Hibbert layup. What could have been 17-13 was suddenly 19-11, and RU scored only one field goal the rest of the half. At the break, the Hoyas had a 28-13 lead, with the 13 points was the second fewest points scored in a half in Big East history and the fewest points allowed by a Georgetown team at the half since a 1981 game versus Columbia.
Georgetown cut down on the turnovers (only two in the second half) and built up the shooting numbers by going inside. Summers, Hibbert (16 pts), and Vernon Macklin (7 pts) all stepped up their play, with Georgetown leading by as many as 21 before the starters took a rest. The second string got some extended minutes late in the game with Rutgers closed the scoring gap only with the outcome in no doubt. For the game, Georgetown shot 57 percent from the field.
In the end, Rutgers presented no imminent danger given their shooting woes, finishing 31 percent from the floor in the game and 4 for 21 from three point range. Over its last three games, Rutgers has scored on only 11 of 61 (.180) three point attempts.
The Georgetown half of the box score follows below.

         MIN   2FG   3FG   FT  REB  A  PF  PTS
Starters:                                 
Wallace   24   1-1   1-3   0-0   4  1   1    5
Sapp      36   2-4   0-2   2-4   5  1   2    6
Summers   31   3-5   2-2   5-6   2  1   2   17
Green     38   2-5   0-3   0-0   5  6   1    4
Hibbert   22   7-8   0-0   2-3   9  0   3   16
Reserves:
Macklin   18   3-4   0-0   1-4   1  2   2    7
Izzo       1   0-0   0-0   0-0   0  0   1    0
Rivers    17   2-3   0-1   2-2   1  1   1    6
Crawford   7   0-0   0-0   0-0   0  0   2    0
Spann      5   2-2   0-0   0-0   2  0   1    4
Dizdarevic 1   0-0   0-0   0-0   0  0   0    0
Ewing     10   1-2   0-0   1-1   1  1   2    3
Team Rebounds                    4
TOTALS   200 23-34  3-11  13-20 34 13  18   68

Post game links follow below.
Despite shooting 61% from the field, Georgetown fell five points short against an inspired Pitt offense in a 74-69 loss Saturday night.

Georgetown started off strong in the half, leading 11-8 in the first four minutes thanks to five points from Jeff Green on 3-4 shooting. Green was held scoreless for the remaining 16 minutes of the half, going 0-4 as the Panthers began a consistent scoring pattern throughout the half. With only two turnovers in the half, and 16 of its 18 possessions being contributed via the assist, Pitt took the lead for good with 10:39 in the 1st, 19-18, and extending the lead to six with 7:48 left. The Hoyas closed to four before Pitt extended the lead again, going 4-6 in the last five minutes of the half to lead by nine, 41-32. For the half, Pitt shot 64% to Georgetown's 59%.

A pair of free throws and three quick baskets extended the Panther lead to 15 with three minutes gone in the second half, 49-34. Georgetown never game up, whittling the lead back to 10 three times early in the half, whereupon Pitt answered on each succeeding possession to maintain the double digit lead. Following a Jeff Green three pointer, the Hoyas closed to 10 with 10:20 to play, then keyed off a Patrick Ewing steal to close to eight, 58-50.

Ewing turned in his best play of the season down the stretch, contributing 12 points, an assist and a steal. A Ewing three pointer closed to 60-53, but when Pitt extended back to 12, Ewing answered again to cut it to nine. With 3:25 to play, a Ewing jumper cut the lead to six, 68-62, whereupon Green turned the ball over on the next series. With 2:27 to play, up six, Pitt took advantage of an offensive rebound and a kicked ball to drain nearly 90 seconds off the clock, as Mike Cook's two free throws gave the Panthers an eight point lead with only :59 remaining on the clock. Pitt connected on six of its final seven free throws to retain an eight point lead, reduced only by a Jessie Sapp three at the buzzer. Sapp tied Green with 15 points to lead the Hoyas.

This was not a game Georgetown lost as much as it was a game where Pitt did everything very, very well to win. The Hoyas became the first team in nearly two years to score more than 50% on the Panther defense; overall, the Hoyas shot 61%, among its best shooting efforts of the season. For the second half, the Hoyas shot 11 for 13 from two point range, but the fact that Georgetown had shaved only one point off the halftime deficit is a recognition of just how efficient Pitt was playing.

Another key? Free throws. Pitt was 12-15 in the second half, while Georgetown received only five free throws because Pitt only gave up five fouls for the half.

ESPN analyst Dick Vitale was impressed by both teams, claiming georgetown could beat "90 percent of the teams out there" with a performance such as Saturday's. For Hoyas fans, however, Pitt is definitely in that 10th percentile of elite teams, and may be on the verge of setting itself apart from the logjam of good, but not yet great, Big East teams out there.

"I don't think we played poorly, but when we made mistakes, they capitalized on it, " said coach John Thompson III in post-game comments. "Every mistake we made, they capitalized on it -- on both ends of the floor. They're deep, experienced and poised. That's a very good team."

As it stands, the Hoyas find themselves at 1-2 in Big East play, 11th among the 16 teams. It's still early, however, and this week's games at Rutgers and Seton Hall may give a better indication of just how far up the standings Georgetown should be capable of moving.

The Panthers need so such indication. As far as the top of the standings go, Pitt is it.
The Georgetown half of the box score follows below.

         MIN   2FG   3FG   FT  REB  A  PF  PTS
Starters:                                 
Wallace   32   2-3   0-1   4-4   1  1   1    8
Sapp      35   6-7   1-3   0-1   4  4   2   15
Summers   21   1-1   0-4   2-2   1  1   3    4
Green     38   4-9   2-4   1-2   3  1   2   15
Hibbert   30   5-6   0-0   1-2   2  1   3   11
Reserves:
Macklin    3   0-0   0-0   0-0   0  0   0    0
Rivers    12   0-0   0-0   0-0   2  0   1    0
Crawford   7   2-2   0-0   0-0   1  0   0    4
Ewing     22   3-4   2-2   0-0   1  2   2   12
DNP: Izzo, Spann, Dizdarevic
Team Rebounds                    3
TOTALS   200 23-32   5-14  8-11 18 10  14   69

Post-game links follow below.
Saturday's game is the 11th game versus a top 10 team in the John Thompson III era. The Hoyas are 3-7 overall but have split the last six:
| | | | | |
| --- | --- | --- | --- | --- |
| 12/9/2004 | L | 59-74 | | Illinois (1) |
| 1/18/2005 | L | 73-78 (OT) | at | Syracuse (7) |
| 1/29/2005 | L | 49-64 | at | Boston College (7) |
| 1/14/2006 | L | 67-74 | at | Connecticut (4) |
| 1/21/2006 | W | 87-84 | | Duke (1) |
| 2/5/2006 | W | 61-58 | | Pittsburgh (9) |
| 2/12/2006 | L | 56-69 | | West Virginia (9) |
| 2/19/2006 | L | 65-75 | at | Villanova (4) |
| 3/19/2006 | W | 70-52 | vs | Ohio State (6) |
| 12/2/2006 | L | 52-61 | at | Duke (5) |
Congratulations to former Hoya center Dikembe Mutombo (SLL'91), who has moved into second place in NBA history for career blocks with his 3,191st block on Wednesday night. Mutombo has enjoyed new life as an NBA center following an injury to teammate Yao Ming which has returned the 40 year old center to the starting lineup. In his last nine games, Mutombo is averaging over 13 rebounds a game.
"It's amazing, just the way I'm playing," Mutombo told USA Today. "I haven't seen myself jumping for a rebound like that for a while.",
Columnist Mike Hume has a thorough analysis on Monday's loss to Villanova in this link to the Falls Church News Press.
"Perhaps the loss of sophomore guard Marc Egerson...was felt for the first time," writes Hume. "With Egerson gone, the Hoyas third-best ball-handling option behind Jessie Sapp and John Wallace is freshman Jeremiah Rivers. Rather than placing the press-breaking responsibilities to a freshman, Thompson III used the normally sure-handed Green to bring the ball up the court at the point. In doing so, however, Georgetown failed to position anyone at mid-court in the zone press's dead zone. Instead, Green would dribble up from the backcourt before passing to the guards flanking him on the sidelines … right in the kill zone of the press."
Villanova extended its decade-long mastery of Georgetown at Verizon Center, forcing 22 turnovers in a 56-52 upset Monday night for Georgetown's third poor home loss of the season. It was Villanova's first Big East win after two losses last week.
Villanova played Georgetown in the first college game at Verizon (MCI) Center in December 1997, winning all five games since against Georgetown teams that, frankly, weren't as good as this year's team. To win its sixth, they pulled a page from the Georgetown playbooks of old--a searing defense that completely unnerved a Hoya team which had driven #19 Notre Dame right out of the building 48 hours earlier.
Georgetown opened the game promisingly, hitting a three and opening a lead they would hold for most of the half. Of particular concern early was turnovers--Georgetown committed eight over the first eleven minutes of the half, keeping the score down, and with it, keeping Villanova in the neighborhood, despite Villanova starting the game 1 for 9. The teams traded 7-0 runs three times in the half, with the Hoyas build as much as an eight point lead with Jeff Green and Roy Hibbert on the bench with fouls. led by 11 from Dajuan Summers, Georgetown led 30-24 in the half, as both teams combined for 24 first half turnovers.
The second half opened much as the first--a three pointer to extend the Hoya lead, which grew to as much as nine at 33-24. Georgetown caught a break with 17:50, up seven, with Villanova's Curtis Sumpter was tagged with his fourth foul. Sumpter, held in single figures the first time all season, went to the bench, but Georgetown was lifeless inside and were being forced by a 3/4 court press to run lots of time of the clock, resulting in poor possessions all half. Following consecutive Villanova turnovers, Georgetown led 41-36 with 11:51 to play, but the wheels were coming off the bus.
A Mike Nardi three pointer tied the game at 43 with 9:50 to play, but inexplicably neither team could score for the next three minutes. After Jessie Sapp picked up his fourth foul with 6:59 to play, Villanova freshman Scottie Reynolds burned the defense with a three pointer to give Villanova the lead for good, 46-43.

On the next series, Jeff Green shot an airball, on its next, Roy Hibbert missed one of two foul shots, part of a night of missed opportunities at the line. A Summers three cut the lead to 48-47, whereupon Reynolds hit a driving jumper as the the shot clock expired, 50-47, with 2:245 to play.

The Hoyas' free throw shots failed them late again, making one of three to close to 50-48, and Villanova answered with a Dante Cunningham dunk, 52-48. Jeff green connected from the line to close to 52-50 with 1:44 to play, but after a defensive stop , the Hoyas went nowhere and turned the ball back over. Reynolds was tagged with an offensive foul with 43 seconds, giving Georgetown yet another respite, but Green's pass was picked away with 15 seconds to play and Villanova closed out the game at the line.
For the second half, Georgetown scored only two field goals in an 11:42 run, a mark of not only sterling defense by Villanova but a lack of confidence that was visible on the floor, in the seats, and across the television screen. The inability for any inside game was in stark contrast to a Georgetown team that moved on Notre Dame at will.
That the Hoyas shot 42% in the game is somewhat surprising given the score, but the plain fact is that Georgetown had precious few shots in the second half from which to stay afloat. Georgetown was 7-15 in the second half, 5-7 from two, 2-8 from three. By contrast, Villanova had 28 attempts, 8-17 from two and 4-11 from three.
It is the ninth Villanova win in the last 12 against Georgetown dating to the 1997-98 season.
The Georgetown half of the box score follows below.

         MIN   2FG   3FG   FT  REB  A  PF  PTS
Starters:                                 
Wallace   39   2-4   2-6   2-3   1  2   2   12
Sapp      35   0-1   2-4   1-2   4  2   4    7
Summers   36   3-5   2-7   4-4   4  3   1   16
Green     26   2-3   0-2   3-3   4  1   4    7
Hibbert   24   0-0   0-0   2-6   3  0   2    2
Reserves:
Macklin   14   2-3   0-0   1-1   5  1   1    5
Rivers     6   0-0   0-0   0-0   1  0   2    0
Crawford   6   0-0   0-0   0-0   1  0   1    0
Ewing     14   1-2   0-1   1-2   2  0   2    3
DNP: Izzo, Spann, Dizdarevic
Team Rebounds                    2
TOTALS   200 10-18   6-20 14-21 27  9  19   52

Post-game links follow below.
Roy Hibbert and Jeff Green versus Notre Dame--11 field goals, 12 rebounds, 33 points:

         MIN   2FG   3FG   FT  REB  A  PF  PTS
Green     30   3-6   3-5   0-0   6  3   3   15
Hibbert   32   8-9   0-0   2-5   6  0   3   18
Totals    62  11-15  3-5   2-5  12  3   6   33

And versus Villanova? Two field goals, seven rebounds, nine points. And despite a four to six inch height advantage against his opponents, Roy Hibbert failed to take a field goal attempt for the first time in his college career.

         MIN   2FG   3FG   FT  REB  A  PF  PTS
Green     26   2-5   0-2   3-3   4  1   4    7
Hibbert   24   0-0   0-0   2-6   3  0   2    2
Totals    50   2-5   0-2   5-9   7  1   6    9

ESPN.com has posted a detailed look at how Roy Hibbert's offensive and defensive statistics (prior to Monday's game) stack up against the best college centers in the country.
"Hibbert may not be as notorious as the others for his shot-blocking ability, but he should be," writes analyst Ken Pomeroy. "In so many ways, Hibbert is the reason to use the more sophisticated pace-adjusted stats available today. Georgetown plays at a very slow pace and he doesn't get as much playing time as most starters."
Former Georgetown forward Marc Egerson will enroll at Delaware, according to the Wilmington News-Journal. Egerson's departure was announced last week.
"I just think this is the best place for me," said Egerson. "Being all the way down in D.C., you don't get a lot of family coming to games. It's just great to be home."
Egerson will be eligible for play in the spring of 2008.
Roy Hibbert scored 18 as Georgetown opened up conference play with an impressive 66-48 win over Notre Dame before a season high 15,506 at Verizon Center Saturday.
The win was all the more impressive given the momentum of its opponent. Notre Dame entered the game winners of their last 12, by an average margin of 26 points. Off to its best start since the 1973-74 season, the Fighting Irish were knocked to the canvas early in a four minute run that was good as any Hoya offensive game in years.
Jeff Green opened the scoring with a three, followed by layups by Green and Hibbert. Following a pair of ND free throws, the Hoyas answered with three consecutive threes by Dajuan Summers, Jessie Sapp, and Jeff Green. Following a inside layup by Summers and the first media time out, the #17-ranked Irish were down 18-2. For their part, ND shot 0 for 7 with three turnovers, while GU shot 7 for 7 after starting the game 0 for 3.
Notre Dame worked their way back into the game, helped by ten first half Hoya turnovers. From a 29-9 advantage with 4:33 to play, the irish cut the lead to 13 with four free throws and a three pointer. A Russell Carter three with 1:16 to play in the half cut the lead to an uncomfortable ten, but Tyler Crawford answered with a three to stem the tide. At halftime, the Hoyas led by 11, 36-25. Notre Dame had scored nine of ten free throws and outrebounded GU 19-10 to stay close. For the irish to climb back in, they would have to hit the threes and dominate the middle.
Neither happened.
The Irish were 2 of 9 from three point range and repeated the count in the second. Neither Colin Falls, Russell Carter, or Tory Jackson (a combined 3-16) were able to shake a sterling exterior defense that forced them off the dribble and minimized screens to set them up for open outside shots. What open shots they did have were simply off the mark.
"They just took it to us," said Irish guard Colin Falls, led to 1-7 shooting after having canned 11 threes in two prior games against the Hoyas. "There's really no other way to say it. In every phase of the game, they outplayed us."
The second piece to the second half puzzle was Roy Hibbert. After just three shooting attempts in the first half, none in the last 8:43, John Thompson III went inside to Hibbert and the Fighting Irish had no answer. Luke Zeller had been hit with early fouls, while reserves Zach Hillesland and Luke Harangody were just too small to stop Hibbert inside. For the half, Roy was 6 for 6 inside.
For its part, Georgetown's early second half adjustments exposed the Irish on both sides of the ball. GU outscored ND 10-5 to begin the second half, shut down the Irish at the free throw line, and and held Notre Dame to two field goals in a 9:43 stretch midway through the half. What was a 17 point deficit with 14:40 to play became a 29 point deficit with 5:16 to play, and the outcome was not in doubt. The only big cheer of the final minutes was when Nancy Pelosi, Georgetown parent and Speaker of the House, waved a "We Are Georgetown" t-shirt to the bipartisan fan base at the game.
With the game in the hands of reserves, ND scored 13 of the final 15 points of the game, but still turned in its lowest conference score since joining the Big East in 1995.
Defensive plaudits go across the Georgetown team. Jonathan Wallace and Jessie Sapp were exceptional in keeping ND off the mark outside, while Patrick Ewing Jr. turned in a fine defensive effort in 12 minutes of the bench.
Always at an even keel, coach John Thompson III put things into perspective.
"We have a lot of different people that can step up and help out," he said. "We started out with Jeff and DaJuan making threes to get it going and then things kind of softened up, but then Roy got going and we started fanning out and get cuts here and there. So we played a pretty balanced offense today, we just need to stop throwing the ball away and start making foul shots."
"I thought they came out on us like they came out on Duke last year," said ND coach Mike Brey, who lost at Verizon Center for the first time in the last nine games against Georgetown and other non-conference foes. "I reminded our guys, they were the second pick in the [Big East] poll and this is a good basketball team and I am glad we don't play them again."
And the quote of the day comes from The HOYA, which reported in the post-game press conference that coach Thompson fielded a question from his dad who, noting the up-tempo offense, asked "Did you decide to abandon the Princeton [BS] for a day?"
No need to. It's a keeper.
The Georgetown half of the box score follows below.

         MIN   2FG   3FG   FT  REB  A  PF  PTS
Starters:                                 
Wallace   36   2-5   2-3   3-5   4  6   1   13
Sapp      29   0-0   3-4   1-2   5  3   3   10
Summers   20   1-2   1-3   0-1   2  2   0    5
Green     30   3-6   3-5   0-0   6  3   3   15
Hibbert   32   8-9   0-0   2-5   6  0   3   18
Reserves:
Macklin   14   1-1   0-0   0-0   1  0   2    2
Izzo       1   0-0   0-0   0-0   0  0   0    0
Rivers    15   0-1   0-1   0-0   2  0   0    0
Crawford  13   0-0   1-2   0-0   2  2   1    3
Spann      4   0-0   0-0   0-0   0  0   1    0
Ewing     12   0-0   0-1   0-0   2  1   3    0
Dizdarevic 1   0-0   0-1   0-0   0  0   0    0
Team Rebounds                    1
TOTALS   200 15-24  10-20  6-13 31 17  17   66

Post game links follow below.
Former Georgetown guard Josh Thornton discussed his recent transfer to Towson in this link from the Delaware State News.
"Georgetown is an excellent school academically and they have a good program, it just didn't fit my style of play," said Thornton.
"They have a low-post, more slow it down type offense. It doesn't really give guards the freedom to show their abilities and their skills," he continued. "I thought it was kind of stifling to me, knowing the type of player I am. What got me to where I was, was playing more of a fast-paced offense. And if I can't really do that, then I'm going to be hurting myself in the long run."
Forward Marc Egerson has withdrawn from school prior to the start of the spring semester, according to a brief news release posted at GUHoyas.com.
No other details were provided; however, the Wilmington News Journal reports Egerson is "strongly considering" a transfer to Delaware.
The 6-6 Egerson averaged 7.5 points in 24 minutes per game this season and was a key defensive contributor in the Hoyas' 10-3 record to date. Egerson becomes the second player from Delaware to leave the team since October, with guard Josh Thornton leaving in October and subsequently enrolling at Towson.

The Hoyas have 11 scholarship athletes and a walk-on on the roster entering Saturday's game.
Additional links follow below:
Joseph White of the Associated Press talks to Georgetown coaches and players in advance of Saturday's game, suggesting it is time to put the Hoyas' three loss non-conference record behind them.
"We have to make an impact for ourselves because we kind of stumbled in the beginning," said junior guard Tyler Crawford. "I think everybody likes having the target on them, but at the same time, us stumbling probably helped humble us. We know there's more work to do."
We have a pretty good feel for guys' roles," said coach Thompson, "and now hopefully we're going to win some games."
Forward Jeff Green and center Roy Hibbert are the subjects of a Washington Post feature in advance of Saturday's game.
"When you have a talented big man, and when the big man is the main weapon, people will focus on that person," coach John Thompson III told the Post. "There has to be a heightened effort to get them the ball. It's more difficult than coming down and throwing it in, and then once they get it, they're going to get a lot more attention once they have the ball."
"Going into league play, we're more comfortable with what we're doing, and we trust each other more," Green told the Post. "If teams are going to double-team us, then they have to be aware of what DaJuan [Summers], Tyler [Crawford] and Jessie [Sapp] can do. I feel like more and more they realize the potential they have."
---
HoyaSaxa.com: The One-Stop Web Site For Hoya Basketball™
An independent web site not affiliated with Georgetown University. All rights reserved.