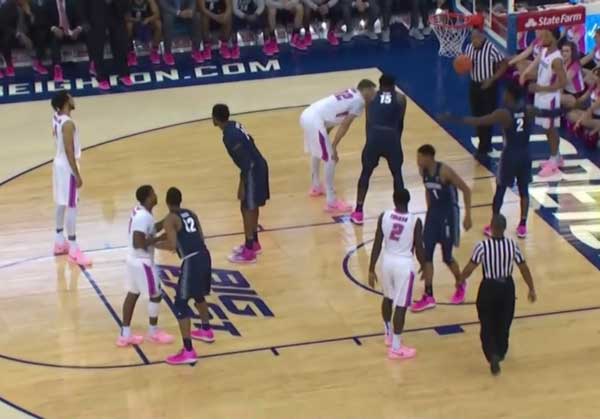 POST-GAME COVERAGE

Despite battling back from a 16 point halftime deficit, the Georgetown Hoyas stalled in the final three minutes of play, scoring just one field goal in a three minute stretch that allowed Creighton to escape with an 85-77 win at sold out CenturyLink Center.

The Bluejays 917-5) enjoyed a festive home atmosphere in the game, the eighth annual game devoted to cancer awareness in the Omaha area. Creighton led by as many as seven early in the half following the debut of freshman Jacob Epperson, whose dunk at the 12:48 mark gave the Bluejays a 20-13 lead. Epperson's basket was a run of six consecutive baskets by the Jays that ended with a Marcus Foster three at the 10:55 mark, 23-17, but the hoyas answered back in a big way.

Over a two minute stretch midway through the half, Georgetown went on an 11-0 run, with four straight of its own. Three three pointers by Jahvon Blair and a basket from Jagan Mosely pushed the Hoyas up five, 28-23, its largest lead of the game. Creighton fought back to tie the game at 28, and Georgetown responded with a Mosely three and a pair of free throws to carry a 33-30 lead into the last four minutes of the half. From there, the Hoyas committed three of its 11 first half turnovers and the Blue Jays went to work. Consecutive baskets and a foul from Khyri Thomas regained the lead, 35-33, Marcus Foster sank a long three, 38-33, Toby Hegner added a basket, and Foster sank consecutive threes in the final 42 seconds of the half, including one at the buzzer. A 16-0 run set the Hoyas back 13 at the break, 46-33.

Creighton shot 62 percent in the first half but that heat cooled considerably after the break. Both teams struggled after halftime, each shooting 25 percent from the field over the first seven minutes of the second period. A pair of three point plays boosted Creighton's lad to a game high 16, 57-41, with 13:17 remaining, but Georgetown's defense was beginning to close the doors on Creighton at this point of the game. Neither team scored a field goal for over four minutes, as a parade of foul shots was the extend of scoring through the 9:28 mark, when Kaleb Johnson's basket brought the Hoyas within eight, 62-54. A jumper by Jahvon Blair then brought the hoyas to six, 62-54, and on the next series, Jagan Mosely injured his ankle driving to the basket.

The Jays continued to struggle and Georgetown pressed forward. A Blair three closed the gap to five at the seven minute mark. A Toby Hegner free throw was matched by a Marcus Derrickson basket, and a pair of misses by Foster was answered by a Jonathan Mulmore three, 68-67, with 4:25 remaining. The teams exchanged threes to set the score at 71-70 with 3:32 left, adn the Hoyas could not close the deal.

The Hoyas followed up going 1 of 3 from the field, with three turnovers and a blocked shot that helped preserve the win for the Bluejays, hitting nine of ten from the foul line in the final minute to stay undefeated at home this season.

Jahvon Blair came off the bench to score 21 for the Hoyas, with five of GU's 11 threes on the evening. Georgetown shot 42 percent from three and 45 percent for the game.

Georgetown again showed promise in certain times of the game but the turnover numbers are a millstone around this season. Creighton scored 27 points off of 17 turnovers; by contrast, Georgetown managed just 10 points off 11 CU turnovers. In the second half, the difference on points off turnovers - eight - was the margin of Creighton's victory.

Jessie Govan had another sub-par effort in this game, shooting just 2 for 8 with thee rebounds, and 0-3 after halftime. Georgetown was just 4 of 12 from three point range after the break, and despite outrebounding Creighton 19-12 after halftime, could not keep the jays off the foul line, where Creighton was 17 for 20. Foster led the Bluejays with 28 points, adding to a list of Big East guards that have feasted on the Hoyas' poor guard play this season.

The game showed much promise for Georgetown but underscored its inability to beat Big East teams ahead of them in the standings. Over the last three seasons, Georgetown has lost 28 of 34 games to teams not named St. John's and DePaul, and Saturday's game was GU's sixth straight loss this season outside of the St. John's-DePaul orbit. Until Georgetown can find a away to play 40 minutes and not turn the ball over, it will be consigned to the bottom rows of the conference for a third consecutive year.

The Hoyas get a mid-season break, returning to action Saturday at Xavier, where the Musketeers are 14-0 at home and 19-3 overall.

The Georgetown half of the box score:



            MIN   2FG   3FG   FT  REB  A  PF  PTS
Starters:
Mulmore      28   1-2   2-2   0-0   4   3  4    8
Pickett      28   1-3   2-5   1-2   6   2  4    9
Johnson      26   2-3   0-0   2-2   3   2  4    6
Derrickson   28   5-8   0-2   7-7   5   1  3   17
Govan        26   1-5   1-3   2-2   4   3  3    7
Reserves:
Blair        26   1-3   5-12  4-4   4   3  2   21
Mosely       22   2-3   1-2   0-0   3   1  2    7
Walker        4   0-1   0-0   0-0   1   0  1    0
Dickerson    12   1-1   0-0   0-0   0   2  2    2
Team Rebounds                       2
DNP: Hines, Muresan, Mourning
TOTALS      200  14-29 11-26 16-17 32  17 25   77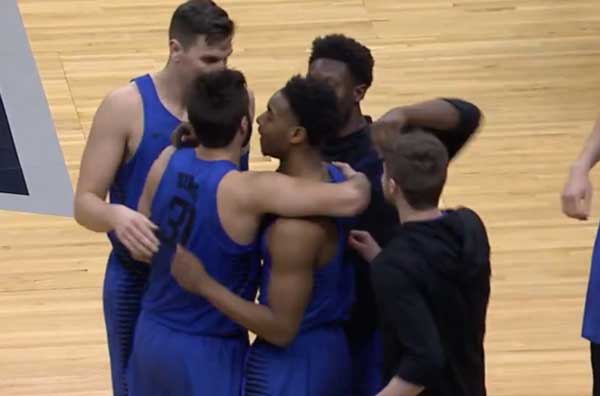 POST-GAME COVERAGE

Yet again, an opponent guard has earned a career game against the Georgetown Hoyas. This time it was DePaul's Eli Cain, whose 27 points and game winning shot with eight seconds remaining piloted the Blue Demons (9-11) to a 74-73 win before just 4,828 at Capital One Arena, Georgetown's smallest Big East home crowd since moving off campus in 1981.

The win was just the ninth road win for DePaul in Big East play since the 2011-12 season, and its second straight over the Hoyas in Washington. Such is the state of a Georgetown program which has dropped four of five home games in conference play this season, a result of a slow start which gave the visiting Blue Demons the confidence and the patience for the win.

DePaul took a 4-0 lead before Georgetown could take its first shot, leading coach Patrick Ewing to call a timeout twenty seconds into the game. Much of the first half was spent outside the arc, to little result. The two teams combined to miss 11 of 12 attempts from three point range in a game that stood even midway through the first half, 18-18. While Georgetown continued to stumble through offensive fouls and poor shooting, DePaul began its first extended run of the game, with back to back threes by Max Strus and Eli Cain that pushed the lead to five, 26-21, then continued the momentum with a 9-2 run that extended its lead to 12 with 4:11 to halftime, 35-23.

An indifferent Georgetown offense was its one worst enemy--scoring 8 of 11 from two point range, but insistent on taking the outside shots that led to easy DePaul baskets. The Hoyas were just 1 of 13 from three point range until a Jamarko Pickett three at the 3:35 mark helped the Hoyas gain some measure of a comeback, as DePaul's offense struggled down the stretch to halftime. Baskets by Pickett and Jagan Mosely led the G-men to a 9-2 run to end the half and trail 37-33 at the break.

Another slow start buried the Hoyas after halftime. The Blue Demons, who scored only four threes in the second half, got three in the first 3:02 of the second half to push the lead to double digits, 48-38. Georgetown collected just two rebounds in the first six minutes as DePaul extended the lead to 54-40 with 14:45 to play, whereupon Ewing sat junior center Jessie Govan and began to chip away at the lead with a smaller lineup.

As the Hoyas died by the three in the first half, they lived on the three in the second. Back to back threes by Marcus Derrickson began the Hoyas' road back, 56-48, followed by a Pickett three, back to baskets by Jagan Mosely, and a second Derrickson three -- part of a 20-4 run that erased the 14 point deficit and gave the Hoyas a 60-58 lead midway in the half.

DePaul tied the score on a Cain layup with 7:46 to play and the pace of the game slowed considerably. Georgetown's only two plays seemed to be the three point shot and the turnover, while it allowed two offensive rebounds that accounted for each of the two DePaul baskets over the next four minutes. A Jahvon Blair put the Hoyas up one with under five minutes remaining, but Cain answered with a three of his own and the team went into foul shooting mode. A pair of free throws from Derrickson tied the score at 70 with 2:06 to play.

Each team stumbled down the stretch, giving up a pair of turnovers within 22 seconds of each other. Off a three point miss, Tre'Darius McCallum picked up an offensive rebound for the tip-in, 1:12 left. On the ensuing play, Marcus Derrickson reprised his heroics from the St. John's game, hitting a long three to put the hoyas up one with 50 seconds to play, 73-72.

On its next play, Strus missed a three to take the lead but the Demons picked up yet another offensive rebound, resetting the shot clock. The play went to Cain, shooting 5 of 6 in the second half against the Georgetown defense in the second half, whose jumper game depaul the 74-73 lead with seven seconds to play. Without a timeout (its last timeout was taken with 1:06 remaining), Georgetown quickly brought the ball into the front court, where Mosely's driving shot glanced off the rim and GU could not pick up the rebound necessary for a second chance. The Hoyas had a total of one offensive rebound in the second half.

Cain's 27 points was a career high as was a career high of 11 points and nine rebounds from freshman center Paul Reed. DePaul shot 53 percent in the second half and 68 percent inside three point range. Georgetown collected eight of its 13 second half field goals from three point range, but failed to get the overwhelming advantage at the foul line that proved the margin of victory versus St. John's. A smarter DePaul defense allowed just eight fouls, sending GU to the line only seven times after the half.

The second half box score was Derrickson, Pickett and little else for the Hoyas. Second half starters Jonathan Mulmore, Kaleb Johnson, and Jessie Govan scored a total of two points and three rebounds after the break. Govan played only seven minutes after halftime, but the lack of intensity was a team effort.

If readers remember one statistic from this game, this is it-- in second chance points, a direct result of offensive rebounding, Depaul had 18 points. Georgetown had two.

"This is three games we lost that we should have won," Ewing said in post-game remarks. "We lost it by not securing the rebound. We lost the Syracuse game, the Butler game and now this game by not coming up with big rebounds at the end. We did a great job by fighting and coming back, but you have to come up with the rebound."

A sense of foreboding has grown among many fans heading into the second half of the Big East season. With four losses in its last five at home (interrupted only by a St. John's collapse in Saturday's game), Georgetown must now go on the road, where it has lost 12 of its last 15 in Big East play.

"We still have time to turn it around," said Jagan Mosely, "Not a lot of time, but we still have time."

Here's the Georgetown half of the box score:

            MIN   2FG   3FG   FT  REB  A  PF  PTS
Starters:
Mulmore      17   0-0   1-2   0-0   1   2  2    3
Pickett      33   2-3   5-10  0-0   8   1  2   19
Johnson      29   3-3   0-2   0-0   4   2  2    6
Derrickson   38   1-3   4-6   9-10  3   4  3   23
Govan        24   2-6   0-1   1-2   5   3  2    5
Reserves:
Blair        23   1-2   1-6   0-0   3   3  0    5
Mosely       26   4-6   0-1   2-4   1   5  1   10
Walker        5   1-1   0-0   0-0   2   0  0    2
Dickerson     5   0-0   0-1   0-0   0   0  2    0
Team Rebounds                       0
DNP: Hines, Muresan, Mourning
TOTALS      200  14-24 11-29 12-16 27  20 14   73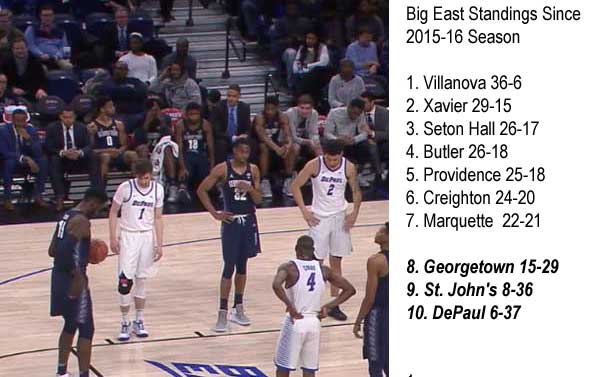 Georgetown's thrilling double overtime win over St. John's was its 13th straight home win over the Redmen and ends a run of six consecutive overtime losses for the Hoyas. A home game Wednesday with DePaul also appears promising, but not in the Big East's big picture.

"Villanova is in first place, as usual, and the terrible triad of Georgetown, DePaul and St. John's is, once again, bringing up the rear, writes columnist Tom Davis at the Ft. Wayne News-Sentinel.

"Five years into the reconstruction of this league, there are absolutely no excuses; perhaps there are legitimate reasons, mind you; but there are absolutely no excuses for that to occur much longer."

"Imagine how much better the recruiting and play would be if the league could actually sell successful basketball within its three largest metropolitan markets of Washington, D.C., New York and Chicago," he writes.

And therein lies the problem for Georgetown. In the last three years, Georgetown is a combined 9-2 (.818) against St. John's and DePaul and a combined 6-27 (.181) against everyone else. A win versus DePaul Wednesday would move it to a respectable 4-5 in Big East play at the halfway point, but without any games remaining against DePaul or St. John's in the nine remaining games this season.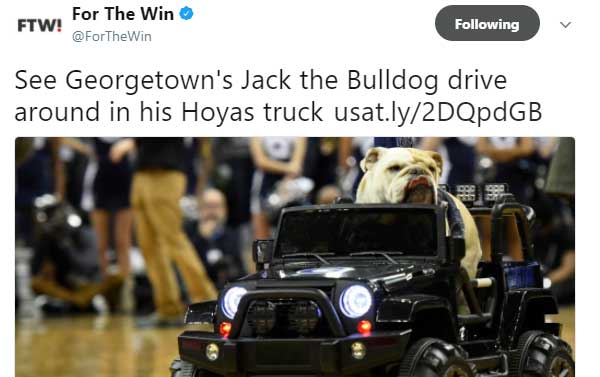 Goodbye skateboard, hello four wheel drive. The newest attraction at Capital One Arena this season features Jack the Bulldog riding around the floor in a radio-controlled mini-truck. USA Today was all over it this weekend.

"While Georgetown has lost five of its last eight games, Jack remains cooler than ever," it wrote. "Saturday at the Hoyas' 93-89 double-overtime win over St. John's, Jack, once again, strolled into the game in his awesome truck and drove around the court. This very good dog is just too awesome, and while this isn't the first time we've seen him make an entrance like this, we just can't get enough of it."
With hie eight rebounds in the 93-89 win over St. John's, junior center Jessie Govan became the 31st member of Georgetown's career 500 rebound club, with 502 and counting.

Govan is already third on the career rebounds list for this decade:

Career Rebounds, 2011-Pres.

1
Nate
Lubick
2010-14
593
2
D'Vauntes
Smith-Rivera
2012-16
513
3
Jessie
Govan
2015-pres.
502
4
Jason
Clark
2008-12
475
5
Austin
Freeman
2007-11
462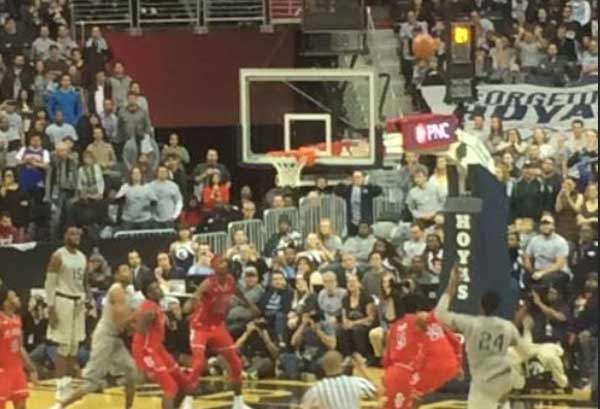 POST-GAME COVERAGE

A career high 27 points from Marcus Derrickson carried Georgetown Hoyas team past an equally suspect St. John's team Saturday at Capital One Arena, 93-89, in double overtime. The game, a rollicking exercise in which neither team could get out of its own way, saw 16 lead changes and 35 combined turnovers, extending St. John's to 0-8 in the Big East this season and continuing Georgetown's mastery of the Redmen--its 14th straight win over St. John's in what is now known as Capital One Arena.

As the New York Post put it, "The Red Storm didn't just let their first Big East win slip away. They fumbled away their best opportunity of the next few weeks."

Jessie Govan opened the scoring for the Hoyas but early foul trouble limited his effectiveness throughout much of the first half. Georgetown deposited six turnovers into the St. John's treasury in the first seven minutes of the game, but the Redmen returned four right back and the teams combined for a 7-4 score for the first six minutes of play. From a 12-10 lead midway through the first half, St. John's went on a 14-5 run to take a seven point lead, 24-17, with 5:11 in the half. The visitors then proceeded to miss five of its next six, as Jamarko Pickett responded with five straight and the Hoyas tied the score just over a minute later. A Jahvon Blair three and a Shamorie Ponds basket in the final minute closed out the scoring, with Georgetown holding a 30-29 lead at the break.

Turnovers dug Georgetown back into a hole to open the second half, as St. John's regained a seven point lead five minutes into the second half. A Pickett three closed the Hoyas within two at the 8:36 mark, but missed shots abounded and GU was not able to regain the lead until a Jahvon Blair three with 5:32 remaining, 57-56. Georgetown would extend the lead to as many as five, but were weak under the basket and Shamorie Ponds scored on consecutive baskets to close to one with 2:33 left. The teams trade free throws down the stretch, but Govan missed the back half of a one and one with 26 seconds that left the door open for St. John's. where Bashir Ahmed drove inside to tie the score with 13 seconds left, and Derrickson missed a game winner in regulation to go into overtime, 69-69.

The first overtime was a ragged one for the Hoyas. GU missed three of its first four possessions but stayed tied at 71. St. John's Kasoom Yakwe missed one one of two attempts at the line which put SJU up 1 at the 2:52 mark, but Derrickson answered inside to give the Hoyas a 73-72 lead. A Tariq Owens jumper put the Redmen up one, but Derrickson missed two free throws at the 2:02 mark that was answered with a Bashir Ahmed three that gave SJU a four point lead, 77-73, with just 40 seconds to play. A missed three by Blair with 27 seconds and a subsequent Georgetown foul on Yakwe appeared to put the Hoyas away, but the Redmen stumbled yet again.

Yakwe, who missed one of two free throws earlier in the period, missed one of two again, putting St. John's up five. On the next series, with Derrickson shooting 0 for 5 from three this afternoon, Yakwe fouled him on the three point attempt, which Derrickson cashed in for three at the line, 78-76. Ponds was immediately fouled and he also missed one of two. On the ensuing play, despite St. John's coach Chris Mullin's call for a foul, Derrickson unloaded on his only three of the game, tying the score and sending the game into an improbable second overtime. The Redmen had lost a five point lead in under 14 seconds.

"Not coming out of a timeout, it's kind of hard to get these guys' attention," said St. John's coach Chris Mullin on the miscommunication that stung the Redmen.

Georgetown fared better to open the second overtime. An inside play to Derrickson put the Hoyas up two, and off a miss from St. John's, Pickett fed Mosely for a three pointer and foul, 85-79. Another missed free throw, this time by St. John's Justin Simon, rained on the Redmen once again.

With three players out on foul trouble, Shamorie Ponds took over for St. John's. He scored five straight points to keep St. John's within range, 89-85, with 30 seconds left. Georgetown appeared to have the win in sight when a pair of poor plays renewed hope for the Redmen. Up six, Kaleb Johnson reached in on on Ahmed, who, true to form, also missed one of two free throws, 91-86. Even more bizarre, up five and inside ten seconds to play, Jagan Mosely threw a pass right into one of the baseline signs at Capital One Arena, leaving a "thunk" and the silence of thousands of disbelieving fans, as Georgetown had turned it back over to St. John's, whereupon Ponds hit a three to close to two with 0:03 remaining, 91-89. A pair of free throws by Mosely closed out the scoring, a game neither side seemed to have the skill to put the other away.

Derrickson led the Hoyas with 27, followed by strong efforts by Pickett (16) and Blair (15). It was a game well suited to Derrickson's strengths, given the slight nature of the St. John's front line and the foul trouble which continued to put stress on the Redmen defensively. With St. John's failing to get reserve forward Amar Alibegovic any time before the overtime periods, he was not effective in limiting Derrickson, who scored 16 of his 27 points in the overtime, including all ten Georgetown points in the first overtime period. Derrickson's development is vital for Georgetown. It was a matter of time before early fouls would limit Jessie Govan and that was the case Saturday. Given how weak Georgetown is at guard, and the likelihood of more foul trouble for govan against tougher opponents, Derrickson becomes an even more vital piece of Patrick Ewing's puzzle.

The challenge for Georgetown is getting second half production from Jamarko Pickett and Kaleb Johnson. Pickett scored one basket in the final 25 minutes of Saturday's game, while Johnson didn't even take a single shot. With Jonathan Mulmore's production ebbing (just 4 for 12 from the field in his last four games) and a ongoing injury to Trey Dickerson, Ewing needs a third option which isn't there right now. A win over St. john's is nice, but it's not cause for celebration--two wins over a winless Big East team have come by a combined seven points which, were it not for Marcus Lovett's injury and foul trouble on the Redmen in Saturday's game, could easily have gone the other way.

Georgetown's 19 turnovers were matched with 19 assists, but GU avoided the foul outs that eventually doomed the St. John's attack. Ponds led the Redmen with 33, the third 30+ game given up by Georgetown this year against an opponent guard.

St.John's was just 8 of 13 at the foul line in the overtimes and outscored 27-5 on its bench, proving yet another undoing for an 0-8 team in the Big East.



Here's the Georgetown half of the box score:

            MIN   2FG   3FG   FT  REB  A  PF  PTS
Starters:
Mulmore      24   0-1   1-1   0-1   5   2  2    3
Pickett      44   1-3   4-6   2-3   9   4  2   16
Johnson      28   1-3   0-1   2-2   6   2  2    4
Derrickson   47   8-17  1-6   8-12 11   2  4   27
Govan        35   5-13  0-1   6-8   8   1  5   16
Reserves:
Blair        34   0-3   4-7   3-3   1   1  1   15
Mosely       35   2-6   1-1   5-5   2   7  4   12
Walker        3   0-1   0-0   0-0   0   0  1    0
Team Rebounds                       4
DNP: Hines, Dickerson, Muresan, Mourning
TOTALS      250  17-47 11-23 26-34 46  19 21   93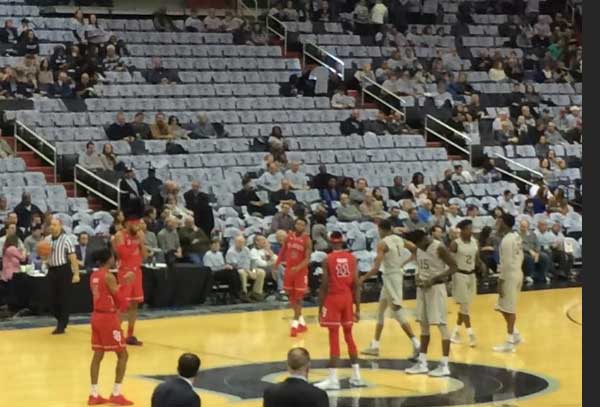 The optics weren't great for Saturday's game, and the press took notice.

"The Hoyas almost certainly will miss the NCAA Tournament for the fourth time in five years," wrote the New York Post. "Georgetown home attendance is on pace to fall for the seventh time in eight years. Saturday's largely empty arena left thousands of untouched giveaway shirts - emblazoned with Ewing's outstretched silhouette, reading, "Home Sw33t Home", confirming the biggest star in school history hasn't yet sold his vision as well as [selling] hype and headlines."

The t-shirt design was nothing of the sort, but the point was made--this game was woefully underattended, with an announced attendance of 8,976. The above crowd was the turnout at tip-off, and while seats filled in, it was nothing like the past.

Here's how previous Gray Out games have fared as to turnout:
| | | | | |
| --- | --- | --- | --- | --- |
| Date | | Score | Opponent | Att. |
| 1/30/2010 | W | 89-77 | Duke | 20,039 |
| 2/26/2011 | L | 58-46 | Syracuse | 20,276 |
| 2/25/2012 | W | 67-46 | Villanova | 19,277 |
| 2/2/2013 | W | 68-56 | St. John's | 15,625 |
| 2/8/2014 | W | 71-63 | Butler | 13,011 |
| 1/17/2015 | W | 61-59 | Butler | 14,281 |
| 2/20/2016 | L | 88-70 | Xavier | 10,652 |
| 2/4/2017 | L | 68-66 (OT) | Seton Hall | 10,142 |
| 1/20/2018 | W | 93-89 (2OT) | St. John's | 9,876 |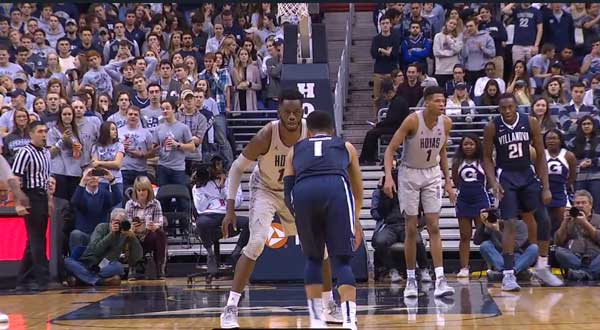 POST-GAME COVERAGE

Seventeen three pointers carried #1 Villanova to an 88-56 win over Georgetown Wednesday at Capital One Arena, Georgetown's worst loss in 43 years and the second largest margin of defeat at home in school history.

The Hoyas scored the first basket of the game and its lead lasted less than a minute. The Wildcats scored on back to back threes while the Hoyas missed four straight en route to a 11-2 deficit four minutes into the first half. Five different Wildcats scored field goals in the first five minutes to lead by as many as nine, 13-4, before the Hoyas closed to 13-8 at the 11:51 mark. From this point, Villanova's high octane offense and precision passing led the Wildcats to deliver an early knockout punch on the perimeter.

A Jagan Mosely turnover, a Mikael Bridges three... Antwan Walker turnover, Phil Booth three. Missed jumper by Marcus Derrickson, Jalen Brunson three. Missed layup by Antwan Walker, Phil Booth gets three and a foul. A Georgetown turnover, Omari Spellman three.

Game, set, and match.

In four minutes and four seconds, Villanova never looked back, hitting five consecutive threes en route to an 18-0 run that was impressive in its execution and stunning in Georgetown's inability to offer any resistance. The Wildcats now led 31-8, with nine assists on 11 field goals and collecting 16 points on eight Georgetown turnovers. You read that correct: Georgetown earned eight points and eight turnovers in 12 minutes of play.

The key to the run was Villanova's "next pass" approach, quickly moving the ball round to take advantage of GU's unprepared perimeter game. Every possession seemed destined to leave a Wildcat open on the perimeter, and 19 of its 29 attempts in the first half were from outside. Not all of them were successful, but were enough to shred any faint hopes that the Hoyas could give the Wildcats a competitive game along the lines of that which faced VU in a 78-71 win over St. John's last weekend. It wouldn't be close.

The hits just kept on coming. Back to back threes from Donte DiVicenzo pushed the lead to 23, still in the first half, 37-14, followed by a Brunson three and a return three from DiVicenzo to lead 43-18 at the 1:54 mark of the first half. Nova took a 22 point lead into the break, 42-20. The Wildcats were 10 of 19 from three point range, while the Hoyas were scoreless in eight attempts from that distance, shooting 29 percent overall. Jessie Govan had 10 points at the break, the rest of the team combined scored just as many.

Despite a impassioned first half time out where Ewing challenged his team that they were being outhustled and outplayed, there were few strategic changes in the second half. Jonathan Mulmore picked up his fourth foul 1:05 into the period and the Wildcats went back to work, going on a 16-2 run with three more threes to go up 60-22 five minutes into the second half, with a 23-2 edge on points off turnovers.

Instead of yelling at his players or benching starters, Ewing took an approach common in NBA routs-- when even the best team is run out early, the coach watched the game run its course.

"I've had my butt kicked before... and all I can do is get ready for the next one," Ewing said in post-game remarks. "You can't dwell on it. Just got to look at the film and make adjustments and get ready for the next game."

Unfortunately, there was more to dwell on. Despite Kaleb Johnson getting Georgetown's first three of the game at the 14:49 mark, Jessie Govan was the only inside presence and the guard play was absent, leading to run outs on turnovers and insufficient protection on rebounds. Midway through the half, Villanova had more threes (15) than Georgetown had field goals (13), and the lead crossed the 40 point threshold on a Brunson three with 9:34 remaining, 75-35.

As the game progressed, some serious records were in range. Not only had Georgetown not lost a game by 40 points since 1971, but a continued Villanova run could put the school record for the largest deficit ever (a 47 point loss to Navy in 1911) in uncomfortable range. The Wildcats took the lead up to 44, 88-44 at the 3:29 mark before emptying the bench, whereupon the Hoyas scored the last 12 points of the game to keep the 1911 record in safe storage.

Six Wildcats scored in double figures: its entire starting five plus DiVicenzo, shooting a combined 76 percent from the field between them in the second half and 69 percent as a team after halftime. Villanova collected 32 points from 17 Georgetown turnovers. The Cats managed only 15 fast break points because, frankly, they didn't need to run to be successful. Everything went their way, as befits the nation's top ranked team.

They're ranked No. 1 for a reason," Ewing said. "We need to learn from it and get ready for the next game."

"I'm just happy to be on this side of it. I've been on the other side. I feel for those guys, because we've been there," said Villanova coach Jay Wright, who has won seven straight versus Georgetown and nine of ten since the Big East was realigned in 2013.

Georgetown lost its third consecutive home game against Big East opponents and its fifth straight dating back to last season. Jessie Govan led the Hoyas with 12. It is the largest margin of defeat GU has ever surrendered in Big East play.

The Fox Sports announcers did their best to keep the game interesting, with Bill Raftery even telling a story from his daughter at Georgetown's Senior Week in 1991 to keep things loose. Prior to the game, Raftery expressed his support for Ewing in an age when each of the Big East's biggest schools are approaching historic lows.

"What amazes me about this league, Georgetown has not been Georgetown, St. Johns has not been St. John's, and certainly DePaul is not back in the old Coach Meyer days, but the league has survived and been successful," said Raftery. "So it would be terrific for all of those teams, obviously, to get better, but I really think Patrick is going to be a keeper. He's going to be good for the league."

Home games with St. John's and DePaul (a combined 1-12 in Big East play) await the Hoyas, with a much different style of opponent than the one that faced them Wednesday. Without some improvements, however, those may be the Hoyas' last two competitive games for quite a while.

Here's the Georgetown half of the box score:

            MIN   2FG   3FG   FT  REB  A  PF  PTS
Starters:
Mulmore      12   1-2   0-0   0-0   0   0  4    2
Pickett      26   1-1   1-4   0-0   2   2  0    5
Johnson      30   2-5   1-2   0-0   0   2  1    7
Derrickson   35   2-6   0-1   4-4   8   4  1    8
Govan        30   5-12  0-1   2-2   6   1  3   12
Reserves:
Blair        19   2-5   1-6   1-1   2   1  0    8
Mosely       29   3-4   0-0   0-1   2   4  1    6
Walker       11   2-5   1-1   1-1   3   0  1    8
Hines         3   0-1   0-0   0-0   1   1  0    0
Dickerson     2   0-0   0-0   0-0   0   0  1    0
Muresan       3   0-0   0-0   0-0   0   0  0    0
Team Rebounds                       3
DNP: Mourning
TOTALS      200  18-41  4-15  8-9  27  15 12   56

| | | | | | |
| --- | --- | --- | --- | --- | --- |
| Date | Score | Margin | Opponent | City | Site |
| 12/7/1971 | 67-107 | -40 | St. John's (#14) | Washington, DC | McDonough Gym |
| 1/17/2018 | 56-88 | -32 | Villanova (#1) | Washington, DC | Capital One Arena |
| 2/11/1959 | 72-102 | -30 | LaSalle | Washington, DC | McDonough Gym |
| 2/11/1950 | 45-73 | -28 | Villanova | Washington, DC | D.C. Armory |
| 1/8/2013 | 45-73 | -28 | Pittsburgh | Washington, DC | Verizon Center |
| 2/2/1955 | 58-85 | -27 | LaSalle (#3) | Washington, DC | McDonough Gym |
| 2/6/1965 | 69-95 | -26 | Syracuse | Washington, DC | McDonough Gym |
| 12/12/1972 | 73-99 | -26 | Maryland (#2) | Washington, DC | McDonough Gym |
| 1/14/1978 | 47-73 | -26 | South Carolina | Washington, DC | McDonough Gym |
| 3/4/2017 | 55-81 | -26 | Villanova (#1) | Washington, DC | Verizon Center |
Georgetown is 3-19 all time versus top ranked teams. The breakdown:
| | | | | | |
| --- | --- | --- | --- | --- | --- |
| Date | | Score | | Opponent | Location |
| 1/14/1950 | L | 51-77 | at | Holy Cross | Worcester Auditorium |
| 12/27/1963 | W | 69-58 | vs | Loyola (IL) | The Palestra, Philadelphia PA |
| 12/11/1979 | L | 69-76 | at | Indiana | Assembly Hall |
| 12/29/1980 | L | 67-72 | vs | DePaul | San Diego Sports Arena |
| 3/30/1982 | L | 62-63 | vs | North Carolina | Louisiana Superdome, New Orleans, LA |
| 12/11/1982 | L | 63-68 | | Virginia | Capital Centre |
| 2/27/1985 | W | 85-69 | at | St. John's | Madison Square Garden |
| 3/21/1988 | L | 53-74 | vs | Temple | Hartford Civic Center |
| 3/17/1991 | L | 54-62 | vs | UNLV | McKale Center, Tucson, AZ |
| 11/27/1994 | L | 79-97 | vs | Arkansas | The Pyramid, Memphis, TN |
| 2/14/1995 | L | 85-91 | | Connecticut | US Air Arena |
| 3/23/1996 | L | 62-86 | vs | Massachusetts | Georgia Dome, Atlanta, GA |
| 1/2/1999 | L | 64-87 | at | Connecticut | Hartford Civic Center |
| 1/25/1999 | L | 71-78 | | Connecticut | MCI Center |
| 1/8/2003 | L | 86-93 | at | Duke | Cameron Indoor Stadium |
| 1/14/2004 | L | 70-94 | at | Connecticut | Gampel Pavilion |
| 1/24/2004 | L | 66-85 | | Duke | MCI Center |
| 12/9/2004 | L | 59-74 | | Illinois | MCI Center |
| 1/21/2006 | W | 87-84 | | Duke | MCI Center |
| 3/31/2007 | L | 60-67 | vs | Ohio St. | Georgia Dome, Atlanta, GA |
| 11/20/2012 | L | 72-82 (OT) | vs | Indiana | Barclays Center |
| 1/17/2018 | L | 56-88 | | Villanova | Capital One Arena |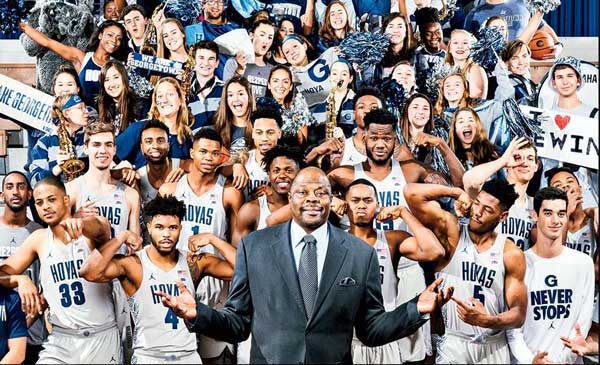 From Washingtonian Magazine: the definitive profile of Patrick Ewing as head coach, written by former Washington Times sports columnist and Georgetown adjunct professor Patrick Hruby (C'98). Recommended reading.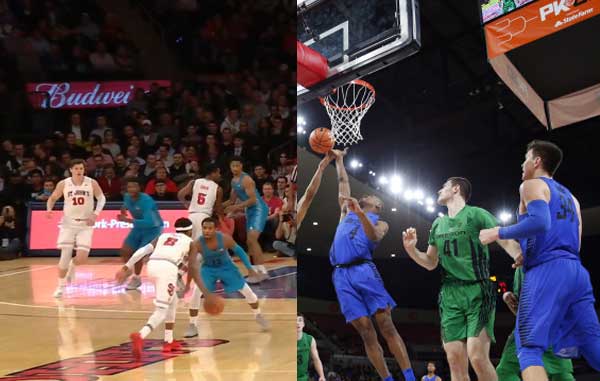 Hoya fans are still talking about those unusual aquamarine jerseys which appeared at the St. John's game last week. Despite a claim by the basketball office that "tidal blue" is part of the Georgetown tradition, the source of the fluorescent fittings may date back to Georgetown's non-participation in the PK80 tournament.

As part of the PK80, Nike designed special monochrome jerseys for all 16 teams in the tournament, which was to have included Georgetown before coach Patrick Ewing felt the competition was too much for the team to handle. In GU's place stood DePaul, who debuted a similarly blue on blue jersey in its second round game versus Portland (above).

With school colors of blue and gray (and not white, black, or teal), we look forward to the basketball jerseys returning to an appropriate hue, and perhaps this jersey can join a number of other retired styles from the recent past, including:
1982-style replica
Colors: Med blue/black
Appeared: 1/5/2002
Appeared: 1/27/2002
1984-style replica
Colors: Gray/blue
Appeared: 2/21/2004
Appeared: 3/6/2004
Alternate home jersey
Colors: White/blue
Appeared: 12/1/2007
Air Jordan jersey
Colors: Silver/white
Appeared: 2/27/2010
Camouflage jersey
Colors: Gray/blue
Appeared: 11/9/2012


"G" logo jersey
Color: Blue
Appeared: 2/15/2013
Camouflage jersey
Colors: Black/gray
Appeared: 11/8/2013
Jersey with pink trim
Colors: Gray/blue
Appeared: 1/4/2014
Appeared: 1/27/2015
Alternate jersey
Colors: Aquamarine/blue
Appeared: 1/9/2018




More on the story of jerseys through the years can be found at the Georgetown Basketball History Project.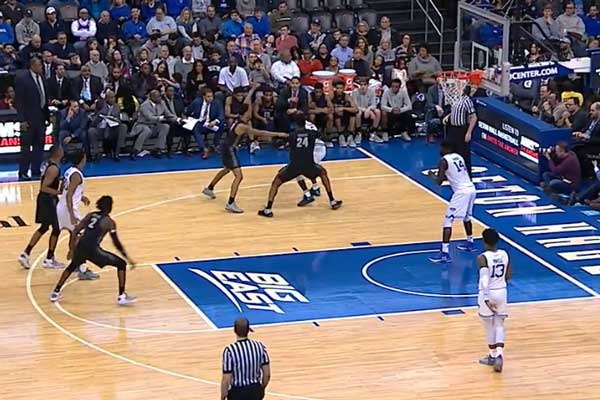 POST-GAME COVERAGE

A 22-5 run to the end the first half powered #13 Seton Hall past Georgetown, 74-61. The win was the Pirates' 13th straight win at home and the Hoyas' fifth loss at Prudential Center in its last six appearances, dating to the 2011-12 season.

The Hoyas opened the game with an early 12-3 lead, forcing four Seton Hall turnovers in the first three minutes, A pair of back to back blocked shots keyed the Pirates (15-3) to go inside, where Jessie Govan earned early foul trouble and a 26-22 lead evaporated in the final seven minutes of the half. Seven Georgetown turnovers in the last seven minutes of the half proved cannon fodder for the Pirate, who hit 10 of 11 shots down the stretch to lead by 13 at the break, 44-31.

By contrast, the second half had far fewer fireworks, as both teams failed to establish much momentum. The hall led by as many as 16 before going on an extended cold stretch, missing 11 consecutive shots, but the Hoyas could get no closer then eight at 60-52 with 7:57 to play. Georgetown made only field goal in the next six minutes as the Pirates regrouped and put the game away.

Myles Powell and Desi Rodriguez each scored 19 to lead the Pirates, along with 11 points and 13 points from Angel Delgado. Georgetown was led by 18 points and 10 points from Marcus Derrickson, but 16 turnovers and an ineffective bench (a combined 2 for 15 from the field) were not enough for Georgetown.

The Georgetown half of the box score:

            MIN   2FG   3FG   FT  REB  A  PF  PTS
Starters:
Blair        30   2-6   2-5   1-2   4   0  2   11
Mulmore      27   0-2   1-2   0-0   2   4  3    3
Johnson      28   5-7   0-0   4-5   4   0  2   14
Derrickson   28   6-11  1-2   3-3  10   0  2   18
Govan        33   4-15  1-1   0-0   5   3  4   11
Reserves:
Pickett       9   0-0   0-3   0-0   3   0  2    0
Mosely       20   0-5   0-0   0-0   2   0  0    0
Walker       12   0-3   0-0   0-0   3   0  1    0
Dickerson    13   2-3   0-1   0-1   4   1  0    4
Team Rebounds                       3
DNP: Hines, Muresan, Mourning
TOTALS      200  19-52  5-14  8-11 40   8 16   61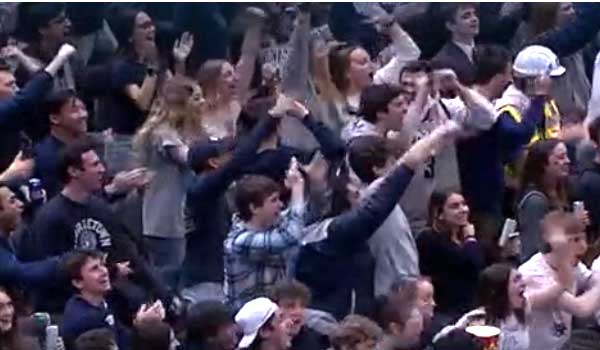 LOTS OF COVERAGE

The task at hand: sell tickets and raise interest in a game against a struggling opponent at a game that will otherwise feature thousands of empty seats. For Chris Grosse and the Georgetown marketing team, it's not a task, it's an opportunity.

After such promotions as "Student for A Day", "Hail To Kale Day", "Cargo Shorts Day" and "Millennial Day", the marketing team's latest promotion was all over the Internet Wednesday: "Actual Reality Seating", a play on to those self-absorbed fans who spend more of their time texting than following the game. The promotion, including seats for $20, takes place Saturday, January 20 against St. John's.

The premise? Enjoy a game in the pre-cell phone era, complete with paper tickets, a ban on texting, and halftime stats delivered from press row.

"The "actual reality" section will feature a postcard-writing station as well as a photo station equipped with a Polaroid camera churning out physical pictures," writes Newsweek. "And anyone sitting in the seats will wear name-tags to promote in-person conversations."

"As much as I'm sort of laughing with the Hoyas here on how hard it will be for some people to give up their phones for a game, I would probably also hate this a lot," wrote Nina Mandell of USA Today.

"I'm a victim of this as much as anybody," Grosse said. "Over the summer I did a phone detox myself and I was, like, shaking after an hour and a half."

It's only 50 seats in an otherwise spacious Capital One Arena, but the promotion is ultimately doing what is intended: raising interest and selling seats.

"We just announced it about an hour ago," Gross said Wednesday afternoon. "There's definitely been a lot interest on social media, which is ironic."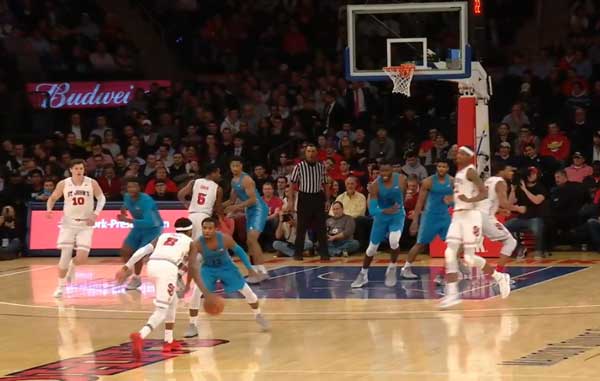 POST-GAME ARTICLES

How bad was Georgetown's 69-66 groaner over St. John's? With 9:44 to play, the crowd at Madison Square Garden was booing...both teams. Such was a game where the coaches' star power shined more brightly than the players, a game that featured the Hoyas in unusual aquamarine jerseys that were better left on Nike's cutting room floor.

In the end, a Jessie Govan three and a pair of free throws from Jonathan Mulmore steered a bad Georgetown team over an awful St. John's team, 69-66, as the Redmen lost its fifth straight and moved to 0-5 in the Big East. The Hoyas combined for 20 field goals and 22 turnovers, while the Redmen had as many fouls as baskets for the evening.

"This one was far from a Big East classic and served as a stark reminder of how just far these programs are from the days when Mullin and Ewing, teammates on two Olympic teams, dominated the game instead of watching one in suits," wrote Dan Gelston of the Associated Press. Instead, most media accounts were keen on playing up the Ewing versus Mullin angle, because it made for a better story than the game turned out to be.

Yes, it was that bad.

The story of the first half was a familiar one to Georgetown fans: turnovers, and plenty of them. Its first cough-up came 20 seconds into the game, and GU had allowed seven by midway in the half in a 16-16 draw. The Hoyas added three consecutive turnovers over a two minute run that gave St. John's a 19-16 lead at the 9:43 mark of the first half, where the G-men went over five minutes without a field goal yet never trailed by more than six points. From a 31-25 deficit with 2:11 to halftime, Georgetown forced three St. John's turnovers and outscored the Redmen 6-0 to end the period, capped by a Marcus Derrickson jumper with under three seconds to play.

The first half box score was unusual: Georgetown had 34 shots and 32 rebounds, but more turnovers (13) than field goals. Rebounding kept the hoyas close, outpacing the Redmen 32 to 16. Georgetown missed eight of ten from three point range, St. John's 11 of 13. And despite having a smaller team on the court, the Redmen somehow had eight blocks by halftime, Georgetown none. The poor play in the first half was a prelude to more to come after intermission.

The second half was also a ragged effort. Consecutive threes by Jagan Mosely and Jahvon Blair gave Georgetown a 41-37 lead with 15:49 to play when the game turned into an extended stalemate. For the next five minutes and 36 seconds, neither team could score. St. John's went seven possessions with four missed shots and three turnovers, while Georgetown missed three layups, two jump shots, committed three fouls, and coughed up two turnovers.

"This game is setting back fundamentals basketball 30 years," remarked an exasperated Brian Custer at Fox Sports 1, who had run out of things to say during this exercise of common futility. The two teams entered the media timeout at the 11:51 mark having missed all nine attempts, leading to a audible series of boos by the 9,406 in attendance.

St. John's got back on the scoreboard with a Justin Simon layup at the 11:24 mark, but the Hoyas were still unable to execute. Both teams were playing at such a poor level that Georgetown missed its next five shots and still kept the lead, thanks to a pair of foul shots and three consecutive misses from short range by the Redmen.

A three pointer by Bryan Trimble cut the lead to 43-42 at the 9:25 mark, and off a miss by Jonathan Mulmore, Blair added a free throw, 44-42. Georgetown was about to go into a second consecutive media time out without a field goal when Marcus Derrickson sank a long three at the 7:50 mark, 47-42, ending a run dating to the 15:49 mark.

Free throws and opponent futility kept Georgetown in the game to date, but it would be clutch shooting that earned the win.

The teams traded free throws for much of the next three minutes, but a basket and three pointer by Jagan Mosely pushed Georgetown's lead to eight, 57-49, with 4:23 to play. Three consecutive turnovers by the Hoyas led to an 8-0 Redmen run to tie the score with 3:05 remaining, where Jessie Govan connected on a three point play from the foul line and a Kaleb Johnson steal sent Mosely in for a dunk, 62-57.

A pair of free throws were all Georgetown could muster over the next minute, as baskets by Marvin Clark and Justin Simon tied the score with 50 seconds to play. Then, as has been the case all season, the blue-highlighter Hoyas called upon Govan to carry the day. Govan sank a 25 footer with with 26 seconds to play, 67-64. St. John's answered with a Simon Dunk, 67-66, and Jonathan Mulmore sank two free throws in the final ten seconds to extend the lead to three. Shamorie Ponds' third three point attempt of the evening was the same as his prior attempts on the night, a miss, and Georgetown escaped with a three point win shooting 33 percent from the field and allowing 22 turnovers.

For the game, the teams combined for 36 turnovers in 40 minutes.

"It was a knockout, drag out fight," said Ewing in post-game remarks. "The guys fought hard. We made mistakes but we played hard. After the way we lost to Creighton, it was a great way to bounce back."

Govan led the scoring with 18 points, 12 after halftime.

"I've been riding him a lot," said Ewing. "I'm trying to get the best out of him and I told him this is the time of the year if he wants to try to get to the next level. These are the times he has to play at his best and he did in the second half. They were trying to do things to frustrate him. He got some offensive rebounds, put-backs, he got to the free throw line and that was a big three he made."

St. John's ended the game shooting 37 percent. Its starting five was 1 of 14 from three point range.

"I'm neither surprised nor upset," said St. John's coach Chris Mullin. I'm not concerned about predictions and expectations. Of those five games, we had those two duds at home. With those other three, if we can take those defensive efforts and match it with some offensive execution, we are going to be okay. That's exactly what I told my team. The only thing that's going to distract us or keep us down is a negative mindset. If you look at tonight, we forced 22 turnovers, had 10 blocks, and 13 steals. That's getting after it. We have to be a little less careless with the ball and finish some shots."

Among the 108 prior meetings between the schools, this one wasn't one for the history books, but Ewing appreciated the effort.

"You had myself and Chris playing against each other in Big East tournaments and regular season games. And, now it's gone full circle. Now, you have both of us coaching against each other. So. I think it's what dreams are made of. You have two guys who grew up, I'm from Jamaica and he's from Brooklyn and we both play a sport we love, battled each other, became friends, and won two gold medals together. Now, we're battling each other again."

Here's the Georgetown half of the box score:

            MIN   2FG   3FG   FT  REB  A  PF  PTS
Starters:
Mulmore      21   0-3   1-1   3-4   3   2  4    6
Johnson      20   0-1   0-3   3-4   8   0  3    3
Pickett      17   0-1   0-2   2-2   2   1  1    2
Derrickson   37   3-8   2-3   5-7   8   0  3   17
Govan        34   6-16  1-3   3-3  13   2  4   18
Reserves:
Blair        28   1-3   1-5   4-6   3   2  2    9
Mosely       33   3-6   2-2   1-1   1   5  0   13
Walker        1   0-2   0-0   0-0   1   0  0    0
Dickerson    10   0-0   0-1   1-2   0   1  3    1
Team Rebounds                      10
DNP: Hines, Muresan, Mourning
TOTALS      200  13-40  7-20 22-29 49  13 20   69

Its head coach is 16 games under .500 in his career and 0-4 in the Big East. A day following a 17 point loss at home to DePaul, a junior on the team announced to the press there would be a players-only meeting on Sunday. If this was Georgetown, well, the HoyaTalk board would be on overdrive.
But at St. John's, it's just another rough stretch for a program that has seen its share of lean times for nearly two decades.
Today's students were not alive when St. John's was considered one of the top programs in the nation, with two National Players of the year, and two Big East titles within a four year period from 1982 through 1986. From 1976 through 1992, St. John's made the post season 16 times, with 14 NCAA bids, a Final Four, and an NIT championship.
In the 25 years since Lou Carnesecca retired, the Redmen are 410-431 (.487) through seven different coaches, with just two NCAA bids in the last 15 years and no Big East titles since 2000. In fact, the Redmen haven't made the Friday semifinal round since 2000.
St. John's

Georgetown

Record
NCAA Bids
Record
NCAA Bids
1971-1980
208-82 (.732)
6
1971-1980
169-111 (.603)
5
1981-1990
228-90 (.716)
8
1981-1990
268-69 (.795)
10
1991-2000
186-119 (.609)
6
1991-2000
201-121 (.624)
6
2001-2010
142-162 (.467)
1
2001-2010
216-111 (.660)
5
2010-2018
124-120 (.508)
2
2010-2018
148-92 (.616)
4
This year was supposed to be different, with some writers holding out hope that St. John's was an NCAA tournament contender. Instead, redshirt sophomore guard Marcus Lovett has been sidelined for nine games with a knee injury and his absence within the Big East schedule has been telling. The Redmen rank last in scoring offense, just behind Georgetown.
Both teams enter Tuesday's game needing to make a statement.
These two flagship programs of Big East basketball are a combined 1-7 through two weeks of conference play, and each has one Big East title in the last 27 years. While Providence, Seton Hall, and Villanova have all claimed tournament titles in the last four years, Georgetown and St. John's are now frequent guests in the Wednesday round for the lowest four teams. In 2017, the Redmen ended John Thompson III's career at GU, 74-73, and promptly lost to Villanova by 41 the next day.
Tuesday's game is more than a nostalgia trip for Ewing and Mullin, it's a bellwether as to which program looks to turn the corner first before they are lapped by Villanova, Xavier, Creighton, and the rest of the league.
"Games like this, you have to rise," Ewing said after the Creighton game, but could apply even moreso to Tuesday's game: "You have to get up for the occasion. If we want to be one of those teams that is considered up there within the Big East, these are games that we have to step up in and play better."
Some sad news to report from the Georgetown athletics community on the passing of Chris Remington (C'95), who died suddenly last week at the age of 44.

"A two-time All-America selection, Remington was part of a class that helped transform Georgetown men's lacrosse into a perennial top-20 team under [coach Dave] Urick," read the news release which announced Remington's selection to the Athletic Hall of Fame in 2014. "A 1995 graduate, Remington is still second in career points with 189. His 117 goals and 72 assists are both fifth in program history."

Remington is survived by his wife and three children. A Mass of Christian Burial will be held Tuesday in Kensington, MD, according to the obituary posted online.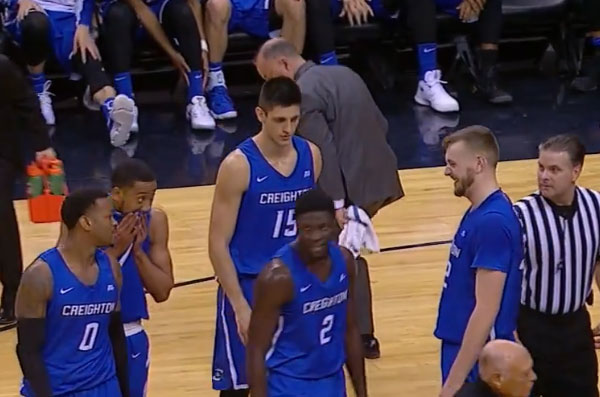 POST-GAME ARTICLES

Sixteen Creighton three point field goals buried the Georgetown Hoyas in a 90-66 rout at Capital One Arena Saturday. The 24 point decision is the third worst home loss ever in the month of January, and marks Creighton's first win in Washington since joining the Big East in 2013.

Any thoughts that the DePaul game would provide momentum for Georgetown against a middle of the pack Big East team were quickly dispatched. As the HoyaSaxa.com Pre-Game Report noted, "Creighton is not DePaul," and that certainly was the case. Creighton entered the game shooting 38 percent from three point range and went to work right from the start. The Bluejays jumped to leads of 6-0, 9-2, and 12-3 before the first media time out, all on there point baskets--two from guard Davion Mintz and two from center Toby Hegner, an unlikely source of shooting in this game.

Hegner arrived to the game having made just three three pointers in three Big East games, and already had three in this game midway in the first half, a result of excellent passing by Creighton which allowed Hegner and forward Martin Krampelj to move to the perimeter while Jessie Govan and Marcus Derrickson were out of range.

The Hoyas weren't out of it yet, however. A rare three by guard Trey Dickerson, only his fourth of the season, brought the Hoyas within 10 at the 8:00 mark of the first half, 28-18, but turnovers eventually killed any momentum GU could engender. A Hegner three put CU up 13 at the 6:37 mark, and Hegner added two more as the Bluejays went on an 11-1 run to lead 45-21 with 1:17 to halftime.

The Jays got sloppy at the end of the first half, with the Hoyas getting six straight points off of three Creighton turnovers to close out the half, but the 18 point deficit was the largest of the season to date and reflective of Creighton's driving offense setting up open three opportunities. The Bluejays were 10 of 22 from three in the first half compared to 7 of 13 from two. Georgetown shot 29 percent from the half, with three three pointers in ten attempts, and nine turnovers.

Creighton did not let up on the artillery after halftime. Two early GU turnovers propelled Creighton once again, scoring on each of its first four possessions, 56-33, three by three pointers. From its first two threes of the half, GU proceeded to go 1 for 11 for the remainder of the game, giving it little opportunity to catch up.

Coach Patrick Ewing sat Marcus Derrickson to open the second half with a smaller lineup, but it did little good as CU continued to shred the Hoyas' guards inside and outside. An 11-2 run extended the Creighton lead to 70-44 before the Hoyas only remaining three pointer of the half was executed by Jahvon Blair at the 10:16 mark, 70-47.

Over the next three minutes the Hoyas stayed even on the scoreboard, but made no other headway, as Creighton was now scoring inside with a variety of layups and inside passing. Following a Dickerson jumper at the 6;10 mark, 77-55, the Jays scored nine straight to go up 31 with 3:36 to play. At one point in the game, Creighton had 22 assists on 24 field goals.

With the kind of game Creighton was playing, Govan and Derrickson saw little time in the second half. Antwan Walker fouled out at the 5;19 mark and was replaced by walk-on George Muresan rather than bringing Govan back into the game. Creighton got the lead up to 32 into the final two minutes before GU scored the final eight points of the game, which leads to this unusual statistic. In the last two minutes of each half, Georgetown outscored Creighton by 11, 14-3. For the remaining 36 minutes of the game, Creighton outscored Georgetown by 36.

The GU bench accounted for 40 of the team's 66 points in a strange box score. With Derrickson and Jessie Govan ineffective against the Creighton attack, Jagan Mosely led a tepid Hoya stat chart with 11 points. The Hoyas shot just 36 percent for the game and were a meager 6 of 23 from three point range. Georgetown returned to its old habits on turnovers, surrendering nine in the first half and 15 overall.

The Bluejays were led by 19 from hegner, two short of his career high. The Creighton starters combined for 63 points compared to just 26 for Georgetown.

"We have to do a better job of competing," said head coach Patrick Ewing. While he called Creighton one of the "elite" teams in the Big East, that may be a warning all its own. Creighton was picked for the middle of the conference--fifth of ten. Georgetown's four games to date have all come against teams below 5th, suggesting even tougher games down the road.

Next up for the Hoyas, now 1-3 in Big East play: consecutive road games at St. John's and Seton Hall, to whom the Hoyas dropped four of five last season. This year's Redmen suffered a humbling 17 point loss Saturday to DePaul at on-campus Carnesecca Arena (nee Alumni Hall), 91-74. Tuesday's game with the Hoyas could be make or break for the Redmen, now 0-4 in the Big East and awaiting games with Georgetown and Villanova at the Garden over a four day period.

Here's the Georgetown half of the box score:

            MIN   2FG   3FG   FT  REB  A  PF  PTS
Starters:
Mulmore      21   0-1   0-0   0-0   2   3  1    0
Pickett      21   0-1   3-8   0-0   3   1  2    9
Johnson      27   1-3   0-1   4-4  10   3  2    6
Derrickson   15   2-4   0-1   0-0   5   0  1    4
Govan        23   3-7   0-0   1-2   5   0  2    7
Reserves:
Blair        21   2-6   1-6   1-1   3   1  0    8
Mosely       32   3-6   1-3   2-4   4   4  1   11
Walker       14   2-6   0-1   4-4   7   1  5    8
Hines         2   0-0   0-0   2-2   0   0  0    2 
Dickerson    19   3-5   1-3   0-0   0   1  0    9
Muresan       5   1-1   0-0   0-0   0   0  0    2
Team Rebounds                       2
DNP: Mourning
TOTALS      200  16-40  6-23 14-17 41  14 14   66

The Twitterverse enjoyed this Fox Sports timeout from Tuesday's game at DePaul, where coach Patrick Ewing took Marcus Derrickson to task for an NBA-styled shot that fell short.


Derrickson got the message and finished with 24 points.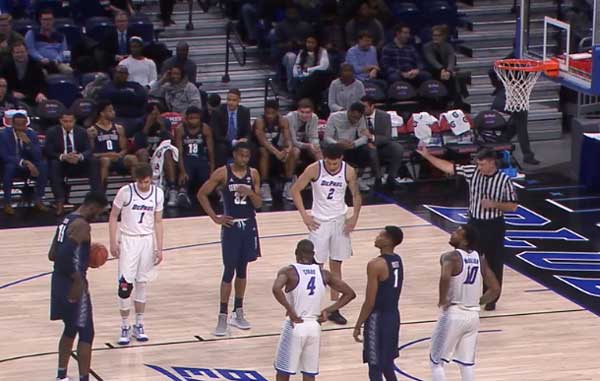 POST-GAME COVERAGE
Marcus Derrickson and Jessie Govan combined for 49 points and 19 rebounds as Georgetown held off DePaul, 90-81 before 5,190 at Chicago's Wintrust Arena Tuesday. The win marked Georgetown's first in Big East play for 2017-18 and its 11th straight road win over DePaul.

Turnovers proved decisive in this game, namely, that Georgetown was able to control them. Three turnovers in the first two minutes helped send the Demons to a 7-2 lead, but three pointers paced the Hoyas on a 17-4 run to earn them a 19-11 lead at the 13:05 mark of the first half. Georgetown never trailed again in the game, supported by seven first half threes that extended its lead to as many as eleven on two different occasions in the first half, and a nine point halftime lead, thanks to just eight turnovers in the first half.

Three DePaul runs kept the Blue Demons close but failed to carry the day. Early foul trouble on the Hoyas in the second half sparked the Blue Demons within five at the 15:00 mark, but four straight points from Jahvon Blair steadied the Hoyas to go back up nine, 58-49 at the 13:42 mark.

DePaul's most serious run came on a 10-1 spurt midway through the second half to close to 61-60, but GU answered with 11 straight, led by free throws from Derrickson, a rare second half three from Jamarko Pickett, and a Govan jumper to go up 12, 72-60. The D-men closed back to six at the 2:00 mark but the Hoyas stood firm at the foul line and in the turnover battle, with just six after halftime compared to 11 in its loss to Marquette.

DePaul struggled to contain the Hoyas inside. Govan finished with 25 points and 12 rebounds, followed by 24 from Derrickson and 15 from Jahvon Blair. The Blue Demons had four starters in double figures but its bench was outscored 25-4.

Here's the Georgetown half of the box score:

            MIN   2FG   3FG   FT  REB  A  PF  PTS
Starters:
Mulmore      28   0-0   0-1   2-2   4   4  3    2
Pickett      20   0-1   2-4   2-2   1   0  3    8
Johnson      32   3-3   0-0   0-1   0   3  4    6
Derrickson   32   4-11  2-4  10-10  7   3  3   24
Govan        35   8-10  0-2   9-12 12   5  4   25
Reserves:
Blair        20   1-2   3-8   4-4   2   1  1   15
Mosely       16   0-3   1-2   4-6   2   2  1    7
Walker        5   0-0   0-0   0-0   2   0  0    0
Dickerson    12   0-1   1-3   0-0   1   2  0    3
Team Rebounds                       2
DNP: Hines, Muresan, Mourning
TOTALS      200  16-31  9-24 31-37 33  20 19   90