Monday's USA Today discusses the impact of basketball at the nation's Jesuit institutions, including the recent improvement in programs at schools such as Georgetown, Marquette, Fordham, and Holy Cross.
Most Jesuit administrators are very supportive of the role of basketball at their schools. "For a Jesuit school, we have to do more than give lip service to a sound mind and a sound body and the education of the whole person," said Fordham president Joseph McShane, S.J., who has seen Fordham basketball improve in 2004-05. On the contrary is St. Peter's president James Loughran, S.J., who feels success in basketball is "at odds with what a good school is about...we have 100 years of history, and it just gets worse."
Of further interest in the article is how other Jesuit schools have been aggressive in upgrading its on-campus basketball facilities, and how women's basketball is faring at these schools. Georgetown is cited as having "the biggest gap between men's and women's basketball teams" because of the relative lack of success of the women's program (one NCAA bid in its 35 year varsity history) compared to the men's team (22 NCAA's).
"Actually, we feel we've done a lot in the last six years to close that gap," interim athletic director Adam Brick told the newspaper. "We have been in the [women's] NIT four of the last six years. We're moving forward. Our goal and our expectation is that we will be among the best in the Big East. If we can do that, we'll be among the best in the country."
Head coach John Thompson III is the featured story in this Sunday's Washington Post Magazine. Recommended reading.
For a third straight week, a Georgetown team continues to struggle through a simple lesson: the game is two halves, not one.
The Hoyas dropped a crucial late February game, a 67-56 loss to Villanova which, after a few minutes of the second half, was not in doubt.
Since defeating West Virginia on February 12, the Hoyas' offense has struggled mightily in three straight first half games, putting the Hoyas in a no-win position. Against Notre Dame, Georgetown managed 17 points in the first half and missed eight of nine outside shots. Against St. John's, the Hoyas missed 10 of 11 threes in the first half and fell down by 16 at intermission.
But those were road games, and at least understandable with a young team. With a week's rest at home in arguably the biggest game of the year, it's another story entirely when Georgetown looked at the scoreboard with 1:49 in the half and it had scored eleven points having missed 12 of its first 15 shots.
The Hoyas got as close as 11-7 midway through the half (GU had only four points at the 11:57 mark), but missed eight of its next nine shots as Villanova raced ahead, 20-9. Georgetown trailed by as many as 16 in the half and missed nine of ten from outside the three point arc before a pair of late threes closed the gap to 12, 29-17. For the half, Georgetown shot just 28%, 3-13 from behind the arc.
As has been the case with these fitful first halves, the Hoyas roared out to open the second. Georgetown made four straight threes to close the lead to 37-31. In a four minute period, however, Villanova's offensive rebounding and Georgetown's lack of offensive response ground the rally to a halt, as the Wildcats scored 11 of the next 13 points and never looked back. Not much else needs to be said.
Brandon Bowman played his heart out, finishing with 22 points. Other starters fared poorly. After hitting a layup with 11:55 in the first half, Jeff Green did not score another field goal, tying a season low for points (five) set against Boston College. Green had very few touches (only five attempts) and was out of position much of the game.
Ashanti Cook, after opening the game with a field goal, turned in one of the poorer results of his Georgetown career. Cook missed his next ten consecutive shots, not scoring until 2:12 left in the second half. Cook continued a trend where the Hoyas have not a Big East game all season when he is held under 12 points. Outside of Bowman, the team shot 27 percent (11-40).
The Hoyas' inside shooting, once a mainstay of the offense during peaks and valleys for the outside shot, abandoned them Sunday, making only 8 of 27 (29%) from inside the three point line. In the Jan. 15 game on the Main Line, the Hoyas were 18 of 34 (53%).
For the game, Villanova shot 41 percent, but pulled away much as they did earlier in the week against Boston College: at the free thrown line. After a rough 2 for 6 start in the first half, the Wildcats (who have still never lost to Georgetown at MCI Center) made 17 of its final 20.
"It's not over," said Coach Thompson in post-game comments. "The Connecticut game is important. The Providence game is important. The tournament is important", "We're fighting here. We're scrapping. We're still in the mix."
Here's the Georgetown half of the box score.

         MIN   2FG   3FG   FT  REB  A  PF  PTS
Starters:                                 
Wallace   32   0-3   3-7   0-0   6   3   1    9
Cook      37   1-6   2-8   0-0   5   2   4    8
Owens     34   0-0   2-4   2-3   1   2   2    8
Bowman    38  4-10   4-5   2-3   3   2   5   22
Green     33   1-5   0-0   3-4   6   4   4    5
Reserves:
Reed       7   0-0   0-1   0-0   1   2   1    0
Ross       1   0-0   0-0   0-0   0   0   0    0
Crawford   4   0-0   0-3   0-0   1   1   2    0
Hibbert   14   2-3   0-0   0-0   1   0   1    4
DNP: Izzo, Guibunda, Kilkenny-Diaw,
Beal, Dizdarevic
Team Rebounds:                   7 
TOTALS   200  8-27 11-28  7-10  31  16  20   56

Post game links follow below.
Following up on a feature last month in The HOYA, the Washington Post has a story on Georgetown radio announcer Rich Chvotkin, who covered his 940th game for the Hoyas Sunday.
Also included are Chvotkin's ten most memorable games over his 31 years behind the microphone.
The Providence Journal has an article in Thursday's editions discussing quiet efforts by the Big East's I-A football schools to leave the conference en masse in the summer of 2003.
Citing "internal Big East documents that appeared on the Internet this week" (which have actually been posted for a few months), representatives from six Big East schools voted 6-0 to cut ties with Georgetown, Notre Dame, and the remaining five schools which did not play Big East football and form a new league. In the end, the two sides agreed to expand the Big East in order to save it.
"In order to give [the other schools] the opportunity to exist, if you will, and to grow, we had to expand on both sides," said Syracuse athletic director Jake Crouthamel. "Our presidents were not prepared to stab them in the back the way some of the rest of us had been stabbed in the back."
(Visit Bugmenot.com for a password to the Journal site.)
Where are the Hoyas falling short? One statistic, points per possession, illustrates that Georgetown's defense is becoming increasingly suspect.
Defining possessions as the sum of total shots - offensive rebounds + possessions that end in a turnover, the Hoyas' opponent ratings have jumped up considerably.
Using this formula, Georgetown is 7-0 in Big East games where its points per possession rating is within 0.02 of its opponent or higher, but 1-5 when below that. In Sunday's game, St. John's carried a 0.34 edge in possessions.
| | | | | |
| --- | --- | --- | --- | --- |
| Points Per Possession | Score | Hoyas | Opponent | Diff. |
| at Pitt | 67-64 | 1.26 | 1.28 | (0.02) |
| UConn | 59-66 | 0.95 | 1.20 | (0.25) |
| Rutgers | 62-55 | 1.27 | 1.06 | 0.21 |
| at Villanova | 66-64 | 1.22 | 1.28 | (0.06) |
| at Syracuse | 73-78 | 1.40 | 1.53 | (0.13) |
| Notre Dame | 55-54 | 1.15 | 1.10 | 0.04 |
| St. John's | 66-57 | 1.38 | 1.04 | 0.34 |
| at BC | 49-64 | 0.88 | 1.28 | (0.41) |
| Seton Hall | 61-51 | 1.30 | 0.89 | 0.40 |
| at Rutgers | 61-56 | 1.30 | 1.12 | 0.18 |
| W. Virginia | 67-60 | 1.26 | 1.03 | 0.23 |
| at Notre Dame | 64-70 | 1.16 | 1.56 | (0.39) |
| at St. John's | 67-76 | 1.18 | 1.52 | (0.34) |
| Avg for Games Won | | 1.23 | 1.10 | 0.13 |
| Avg. for Games Lost | | 1.18 | 1.42 | (0.24) |
A year and two days ago, the New York Times wrote: "Still undermanned, St. John's beat a woeful Georgetown team 65-58 last night at Madison Square Garden, proving that for at least one night, there was a basketball team worse than St. John's."
A year later, the 2004-05 Georgetown Hoyas turned in a repeat performance, a stunning 76-67 loss to an 8-14 St. John's team that had lost 10 of its last 12. The result has silenced the national buzz about the team and put Georgetown's hopes for its first NCAA bid since 2001 into serious question.
Georgetown never led in this game--in fact, St. John's scored four seconds after the opening tip on an uncontested dunk. The Hoyas, who have lost games before with vacant first half efforts, went nearly four minutes without its first points, trailing 8-0. Georgetown closed to four, 16-12, before Ryan Williams, a junior college transfer starting only his third game of the season, took the Hoya defense to town.
Williams, averaging 4.8 points entering the game, scored 13 points in a six minute run which saw the Redmen go 7 for 7 from the field, with Williams connecting on three threes, two free throws, and a dunk.
St. John's took a 16 point lead into intermission, 45-29. The Redmen shot 57% in the half, connected on 12 of 12 from the line, and owned a gaudy 20-9 rebounding advantage. Georgetown, the conference's #1-ranked defensive team, had spotted the league's worst offensive team a season high 45 first half points.
Early in the half, GU cut the lead to 12, 47-35, but on the next possession Ashanti Cook missed a layup and fouled St. John's Daryl Hill on a three point basket, giving Hill the free throw and building the lead back to 16. Two possessions later, Cook fouled Dexter Gray for another basket and a foul, increasing the lead to a game high 19, 54-35. Georgetown inexplicably had reverted to a style well remembered from last year's losing ways: bad shots and bad fouls.
A rare Hoya three helped close the lead to 64-58 with 3:42 left, but Georgetown's propensity for fouling instead of good defense provided the Redmen ample opportunity to hold the lead. The play by play rundown of a 90 second stretch illustrate this inability to return to the offense which had served the Hoyas so well this season:
2:27: Down 6, Jonathan Wallace misses jumper
2:16: Down 6, intentional foul on Ashanti Cook
1:56: Down 8, foul on Jonathan Wallace
1:49: Down 10, Brandon Bowman makes a 3 Pt. FG
1:37 Down 7, foul on Brandon Bowman
1:26 Down 8, Jeff Green makes 1 of 2 FT's
1:24 Down 7, foul on Brandon Bowman
1:15 Down 8, Jeff Green misses a layup
1:12 Down 8, foul on Tyler Crawford
St. John's, which did not take a single shot in the final 4:37 of the game, made its last five free throws to seal the win, while Georgetown committed three fouls and missed two long three point shooting attempts in the final minute.
Jeff Green (20 points) and Brandon Bowman (19) provided the only consistent scoring for the Hoyas. Guards Jonathan Wallace and Darrel Owens were a combined 2 for 13 (1 for 9 from three), while Roy Hibbert played only seven minutes. The starters combined for 20 fouls, and three fouled out. In 12 prior Big East games, Georgetown had lost just four players total to a fifth foul.
The statistics for the game paint a very poor picture of a team hoping for NCAA tournament consideration. Georgetown missed 15 of 16 three point attempts en route to a 4 for 21 (19.0%) effort. Defensively, the Hoyas were a -16 in rebound margin against a St. John's team whose rebound margin this season was only +0.7.
With the loss, Georgetown has not defeated St. John's at Madison Square Garden since Feb. 1, 1997, and has lost 9 of 11 in the series. But three weeks from now, no one will remember those numbers. Instead, people are likely to point to this game on the schedule with four simple words: what might have been.
Here's the Georgetown half of the box score.

         MIN   2FG   3FG   FT  REB  A  PF  PTS
Starters:                                 
Wallace   29   0-3   1-4   0-0   1   1   3    3
Cook      27   2-4   1-4   0-0   1   0   5    7
Bowman    32   7-9   1-3   2-3   5   1   5   19
Green     38   5-9   0-1 10-13   3   2   5   20
Hibbert    7   1-2   0-0   0-0   1   1   2    2
Reserves:
Reed      29   3-3   0-1   2-2   1   2   0    8
Ross       4   0-1   0-0   0-0   2   0   0    0
Owens     24   1-1   0-5   3-3   3   1   3    5
Crawford   9   0-2   1-3   0-0   2   0   1    3
Dizdarevic 1   0-0   0-0   0-0   0   0   0    0
DNP: Izzo, Guibunda, Beal, Kilkenny-Diaw  
Team Rebounds                    4
TOTALS   200 19-34  4-21  17-21  23   8  24   67

Post game links follow below.
If Sunday's outcome bears a eerie resemblance to last season's collapse at Madison Square Garden, it should. Here's a statistical comparison between the 2004 and 2005 games:
| | | |
| --- | --- | --- |
| | Feb. 2004 | Feb. 2005 |
| First Half FG | 8-24 | 9-27 |
| First Half 3 Pt FG | 0-7 | 1-7 |
| First Half FT | 8-13 | 10-11 |
| Halftime Deficit | -4 | -16 |
| Overall Game Stats: | | |
| Field Goals | 21-59 | 23-55 |
| 3 Pt FG | 5-21 | 4-21 |
| Free Throws | 11-17 | 17-21 |
| FG Allowed | 22-58 | 22-46 |
| 3 Pt FG Allowed | 3-11 | 4-7 |
| FT Allowed | 18-23 | 28-33 |
| Off. Rebounds | 15 | 9 |
| Total Rebounds | 38 | 23 |
| Assists | 12 | 8 |
| Turnovers | 23 | 11 |
| Steals | 8 | 7 |
| Biggest Lead | +2 | None |
| Biggest Deficit | -9 | -19 |
A comparison of player stats between Big East games in January versus February:
Points
Rebounds
Jan
Feb
Jan
Feb
Cook
11.5
13.0
3.2
2.6
Wallace
6.5
5.4
1.8
2.2
Bowman
14.5
16.6
6.6
6.2
Green
13.9
13.4
6.9
6.2
Hibbert
4.9
5.8
4.3
2.6
Owens
6.5
2.8
3.9
3.0
Reed
2.6
2.8
1.6
1.8
Crawford
1.5
3.4
0.9
1.4
Team Totals
62.1
64.0
32.7
30.6
Two reports indicate former Georgetown coach Craig Esherick (B'78, L'82) has applied for coaching vacancies in the Southwest.
The Albuquerque Tribune reported that Esherick has applied for the post at New Mexico State, where coach Lou Henson retired Jan. 21 for medical reasons.
"I think there is an awful lot of potential (at New Mexico State)," Esherick said. "I think, clearly, I do want to get back into coaching. I think I have a great chance to win there. I sent in my application, and that is all I know right now." The Aggies are 5-21 to date this season.
Late Friday evening, Comcast SportsNite reported that Esherick has also been linked to the opening at Tulsa, which moves to Conference USA this fall. The Golden Hurricane (7-16) has operated with an interim coach after the resignation of John Phillips. Other reported candidates include former head coaches Matt Doherty and Nolan Richardson, along with Oral Roberts coach Scott Sutton and Fresno State coach Ray Lopes.
The three members of the 2004-05 varsity from the Los Angeles area are featured in this link from the Torrance (CA) Daily Breeze.
"With Ashanti and Brandon starting the last two years, it's a good experience," said sophomore Ray Reed. "They've told me what I need to do. I can sit back and watch them and listen to their advice."
It's kind of new, under a new system, new structure, offense, coaches -- everything around here has pretty much changed," said junior Brandon Bowman. "It's changed for the better. I'm still adjusting to it, it's going to take a short period of time. It's just a learning opportunity, (but) I like it so far."
The efforts of freshmen Jeff Green are getting noticed by coaches across the Big East. Here's a feature from the Syracuse Daily Orange discussing the 6-8 forward among Big East coaches.
Jeff Green is a complete package player," said Connecticut coach Jim Calhoun. "He's got a great post-up game. He can hit the 15-footer. And he's really one of the most mature freshmen to come into our league in quite some time."
"From what I've seen in the conference, he's definitely been the most productive [rookie] that I've seen," said Pitt coach Jamie Dixon.
Ten three pointers and a ten minute defensive shutout paced Notre Dame to an easier than expected 70-64 win over Georgetown at the Joyce Center on the ND campus.
Much as was the case in the Jan. 29 road loss at BC, the Hoyas' offense arrived sometime around halftime. While Notre Dame scored three threes in its first five possessions and six for the first half, the Hoyas were still close at 11-10 before beginning a scoreless streak unseen since the BC game, when Georgetown went 15 minutes without a basket. In Wednesday's game, Georgetown went 0-6 and committed seven turnovers in a 10:28 run that saw the Irish cruise to a 28-12 lead before a Roy Hibbert two pointer broke the drought with 2:00 left in the half. Georgetown trailed 30-17 at the half, shooting 5 of 10 from two point range but 1 of 9 from three. Notre Dame ended the half 2 for 13 from inside the three point arc but 6 for 11 outside it.
Georgetown made three runs in the second half, but without lasting impact. Early in the second half, the G-men closed to six at 32-26, but was repelled by a Chris Quinn three pointer to build the lead to nine. Midway in the half, Georgetown cut the lead to 40-34, but Notre Dame (which at one point was shooting 20% from two point range) began to move the ball inside with ease, extending its lead to twelve with 3:51 to play. Georgetown closed to five late in the game with the outcome decided, but no further.
The Hoyas' offensive woes were two fold--the scorers weren't touching the ball and those touching the ball weren't taking good shots. Jeff Green was 0-1 in the first half and only 2-4 for the game, while guards Ashanti Cook, Jonathan Wallace and Ray Reed shot poorly and failed to guard the outside shot. Chief among the Hoyas' defensive lapses was the effort against ND guard Chris Quinn. Held to 4-10 shooting in the Jan. 23 meeting at MCI Center, Quinn was 4-4 from three point range and 6-7 from the line to lead the Irish in Wednesday's game.
The lone bright spot for the Hoyas was center Roy Hibbert, tying a season high with 15 points. Beyond that, the Hoyas' defense simply never gave its offense a chance to win. That the Hoyas shot 63% in the second half and tied a season high with 47 points and still never seriously challenged the Irish lead speaks to the defensive lapses which were endemic in this game.
A team simply isn't going to win many games with 12 points in the first 18 minutes of a game. Simple as that.
Here's the Georgetown half of the box score:

         MIN   2FG   3FG   FT  REB  A  PF  PTS
Starters:                                 
Wallace   20   0-0   1-5   0-0   3   1   4    3
Cook      36   4-4   1-4   0-0   2   2   0   11
Bowman    34   5-9   1-3   4-5   7   0   4   17
Green     38   2-4   1-2   2-2   7   6   3    9
Hibbert   27  6-10   0-0   3-5   3   3   4   15
Reserves:
Reed      23   2-4   0-1   0-0   1   1   4    4
Owens     19   1-1   0-1   0-0   6   2   2    2
Crawford   3   0-0   1-1   0-0   0   0   2    3
Team Rebounds:                   1
DNP: Izzo, Ross, Guibunda, Beal, Kilkenny-Diaw,
Dizdarevic   
TOTALS    200 20-32 5-17  9-12  30  15  23   64

Post game links follow below.
The outcome of Georgetown's game is indicative of some key statistics going in opposite directions:
Georgetown started the Big East season with 21 threes in its first two games. In its last three games, it has not scored more than five in any one game, shooting a combined 15 of 54 (.278). In Big East games to date, the Hoyas are now shooting poorer from three than it did in the oft-criticized 2003-04 season.
Georgetown's 17 turnovers against Notre Dame was one short of a season high. In its past four games, Georgetown has surrendered 17, 17, 18, and 17 turnovers respectively.
And a final stat looks positively un-Georgetown: rebounds. With only 30 rebounds Wednesday, Georgetown stands at an average of 32.6 boards a game, ranking 11th of 12 Big East schools and the lowest rebounding average for a Georgetown team since at least 1976.
The national polls may not be picking up on the Hoyas, but the Big East is. Freshman Jeff Green was named Big East rookie of the week for a fifth time this season. A link follows from GUHoyas.com.
Coach John Thompson III is the subject of a pre-game feature in the Fort Wayne Journal Gazette.
"Our whole mentality and my whole approach is, 'Let's not think about the big picture and let's not think about wins and losses, let's just prepare for the next game,' " Thompson said.
"The system comes at a good time in the league because it is so drastically different than anything we prepare for in the league," said Notre Dame coach Mike Brey. "You're preparing for certain styles of play that are somewhat similar, then all of the sudden Georgetown comes and it's a real change of style of play in our league."
Monday's announcement of Verizon's acquisition of MCI has led to the inevitable question: what is the future of the brand MCI as the sponsor of Washington's downtown arena?
Verizon may eventually retire the MCI brand name within its product line, so the opportunity of a "Verizon Center" is a possibility. However, Verizon has not aggressively entered the stadium naming game, with only one facility (the 11,000 seat Verizon Wireless Arena in Manchester, NH) bearing its name. According to ESPN.com, MCI pays approximately $2.2 million a year for rights through 2017.
Depending on the way the agreement was constructed, Verizon could try to opt out of the sponsorship altogether, much as American Airlines was able to exit the naming commitment for the "TWA Dome" in St. Louis after it acquired that airline.
In Boston, Bank of America secured an agreement to drop its sponsorship of the Fleet Center after it acquired that bank. (Fleet took over the rights itself after it acquired the former Shawmut Bank.) In a bizarre twist, the arena management is now selling single-day naming rights on Ebay until a new sponsor is signed, according to this link from the New York Times.
Slowly but surely, the encouraging news about Georgetown is getting out. Here's a story from the Ft. Worth Star Telegram discussing how John Thompson and many of the other 37 first year coaches at various Division I schools have fared this season.
So why haven't people seen or heard more about Georgetown? It may be television. Georgetown is the only Big East school without at least one appearance on CBS, ABC, ESPN, or ESPN2, so a lot of fans nationwide simply haven't seen them play and, when out of the top 25, teams don't get much time on SportsCenter or other nightly highlight shows.
Jeff Green scored 21 points as the Georgetown Hoyas held off a determined West Virginia team, 67-60, before a season high 14,458 at MCI Center.
After a seven day break following the win over Rutgers, the Hoyas seemed a bit rusty in the first half, committing four turnovers in the first four minutes of the half and 11 in the half overall. Two fouls each from Jeff Green and Brandon Bowman slowed the Hoyas' progress, but Georgetown got some key inside play from Roy Hibbert to tie the score at 18 before West Virginia went on its best run of the game, outscoring Georgetown 9-2 to lead 27-20 with 5:00 to play. At that point, the Mountaineers' guns fell silent. WVU failed to score a field goal the rest of the period, with two free throws with four seconds to play being their only points at the end in a 29-26 halftime score.
West Virginia entered the game with a record of 13-1 when leading at the half, but the Hoyas were ready to make a game of it. The Hoyas started the second half strong, taking the lead for the first time with 15:38 to play, but both teams tightened its defense and no team was able to pull away. With Brandon Bowman and Jeff Green combining for 19 of the Hoyas' first 23 points of the half, the Hoyas took a 49-46 lead midway in the half. Still, the Mountaineers would not go away, tying the score at 54 with 5:33 to play. But just as with the end of the first half, Georgetown's defense would make the final minutes of the half a rough one for the Blue and Gold.
Both teams failed to score on its next two possessions. With 2:51 to play and eight seconds on the shot clock, Brandon Bowman called an alert time out to set up the Hoyas for a better play. Seven seconds later, Darrel Owens sank a three pointer as the shot clock buzzer sounded, giving Georgetown a 57-54 lead.
"They just made a little bit of penetration [on the shot]," said WVU coach John Beilein. "Maybe we should have went man at that point. Mike [Gansey] just missed the pass and they kicked it back out."
On the Mountaineers' next possession, Ray Reed stole a WVU pass and took it in for a dunk, 59-54. On its next series, WVU's Kevin Pittsnogle was called for a moving pick, and Jeff Green hit one of two free throws to lead 60-54. A third West Virginia possession ended in a missed shot, and Ashanti Cook added a free throw to extend the lead to seven, 61-54.
Still, West Virginia refused to quit. A Patrick Beilein three ended the scoring drought, 61-57, and the Mountaineers picked up a quick basket with :29 left to close to two, 61-59. On the next series, Georgetown broke through the WVU defense for an easy basket, 63-59, and Green picked up a rebound on the next possession to put the game away.
Green led all scorers with 21, 17 in the second half. Defensively, Georgetown held leading scorers Tyrone Sally and Mike Gansey to seven points each, and held West Virginia to its second lowest rebound total of the season with 25. That West Virginia was held without a point for a four minute stretch was a tribute to a Georgetown defense that helped give its offense the chance for a big win against a very underrated opponent.
"It was a tough loss for us," Beilein said, "but if it helps us in the Big East tournament against [Georgetown] or someone else, we'll learn from it."
Here's the Georgetown half of the box score:

         MIN   2FG   3FG   FT  REB  A  PF  PTS
Starters:                                 
Wallace   33   1-1  0-5   2-2   2   6   0    4
Cook      40   4-5  1-4   1-2   4   2   3   12
Bowman    31   3-5  2-2   3-4   6   3   3   15
Green     32  7-12  1-1   4-7   9   1   3   21
Hibbert   19   3-4  0-0   2-4   4   0   2    8
Reserves:
Reed      16   1-1  0-0   0-0   1   1   3    2
Owens     20   1-2  1-1   0-0   3   1   0    3
Crawford   7   0-0  0-0   0-0   0   1   0    0
Kilk.-Diaw 2   1-2  0-0   0-0   1   0   0    2
Team Rebounds:                  4
DNP: Izzo, Ross, Guibunda, Beal, Dizdarevic   
TOTALS   200 20-29 5-16 12-19  34  15  14   67

Post game links follow below.
At the start of the 2004-05 season, a fair share of college basketball experts crowned the Atlantic Coast Conference the strongest conference in the nation. This link to the Washington Post discusses the growing sentiment that the Big East, not the ACC, may be the strongest after all.
"Forget about the teams at the top," said Boston College coach Al Skinner. "The teams that supposedly are on the bottom of this league are very, very good. That's the strength of the league."
RPI expert Jerry Palm also discusses Georgetown's growing opportunity to earn an NCAA tournament bid, thanks to three road win against Top 100 teams.
"There are a lot of teams on the fence that don't have two good road wins," Palm said. "That will serve [the Hoyas] well at selection time."
In 31 years of Georgetown basketball, no one has been a part of more basketball games than Rich Chvotkin, the voice of Georgetown radio broadcasts. A feature in Friday's copy of The HOYA takes a look at Chvotkin, a psychologist by trade but a veteran radio announcer at heart.
"You balance [the commitments] by basically knowing your schedule and you know when you have to travel," Chvotkin said. "When you get toward the NCAA or NIT time, you're on a much shorter window, and you don't have as much planning time, but you kind of have a mindset of when you have to travel."
With the exception of a deployment in the 1991 Gulf War, Chvotkin has covered every game since he volunteered for the job in 1974. Saturday's game marks his 936th Georgetown game behind the microphone. The article also notes of another unique streak--a run from 1982 to 1999 when Chvotkin broadcast 17 straight Big East tournaments from start to finish, sometimes as many as five games in one day.
Recommended reading.
In NBA news, the Toronto Globe & Mail is reporting that the NBA's Toronto Raptors are close to a $10 million buyout of the contract of Alonzo Mourning (C'92), which would allow the 35 year old NBA veteran to return to the Miami Heat, where he played from 1995 to 2003.
Mourning was traded by New Jersey to Toronto in 2004, but did not report to Toronto due to ongoing rehabilitation following kidney surgery.
"[He] deserves the right, because of what he's been through, to play wherever he wants.", said Mourning's former coach John Thompson Jr., in this link to the Miami Herald.
"If it happens, I'm happy for him," former teammate Tim Hardaway told the herald. "If he does come here, it'll be a championship for the city of Miami. He deserves a title."
There's been a lot of positive talk about an ad placed by the basketball office in Tuesday's HOYA thanking students for their support of the team this year. Students are urged to continue the momentum by attending Saturday's game in force.

(Courtesy Georgetown Athletics)
USA Today has a feature in Thursday's edition on the four Division I head coaches from Princeton, including Georgetown coach John Thompson III.
"I was shaped as a person by [my father] and as a player by Coach [Pete Carril]," Thompson said. "I am part of the Princeton tradition and the Georgetown tradition. It's who I am."
The Capital Classic, Washington's annual high school all-star basketball game since 1974, is without a sponsor and has not set a date for the 2005 event, according to the Washington Post. The former sponsor, Nike, has announced it will hold its own all-star game at Madison Square Garden in April.
"We're in the preliminary phase of deciding the future of the Capital Classic," an event spokesman told the Post.
Wednesday marks the 98th anniversary of the men's basketball program at Georgetown University.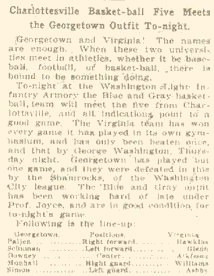 On February 9, 1907, Georgetown defeated Virginia 22-11 at the Washington Light Infantry Armory, located at 15th and Pennsylvania Avenue, N.W.
The Blue and Gray held a 10-9 lead after the first half of play, but its defensive play held the visiting Virginians to one field goal in the second half. Richard Downey, Georgetown's starting center, led all scorers with eight points, holding his opponent without a field goal the entire game.

Georgetown finished 2-2 in 1907, defeating Virginia and dropping two of three to George Washington in an intra-city series which followed. A year later, the Hoyas would defeat Maryland 58-3 en route to a 6-2 record and the title "Champions of the South".
Visit the Georgetown Basketball History Project for a recap of that first game and the first of many great seasons for the Blue and Gray.
Tuesday's copy of The HOYA discusses the state of athletic facilities in its editorial page.
"Despite being well-respected in college athletics and boasting several nationally-ranked teams, athletic facilities on this campus are woefully inadequate for both sports team members and students," writes the paper. "Attention should continue to be focused on what can be improved here on campus. Athletes at Georgetown shouldn't have to settle for second-rate facilities any longer."
"I went to Princeton. Any win in this building is a great win." John Thompson III.
Peterson Athletic Center? Check. Villanova Pavilion? Check. Rutgers Athletic Center? Check.
With increasing poise and maturity, the 2004-05 Georgetown Hoyas are making a presence in the Big East's toughest road arenas. Saturday night, Georgetown continued its development with a 61-56 win before a sold out crowd at Rutgers, moving the Hoyas up another step into the Big East's upper division.
Despite a 1-7 record in conference play, Rutgers entered the game a slight favorite as a result of its home court advantage. The Hoyas took the crowd out early, holding the Scarlet Knights to only nine points in the first eight minutes. But when Jeff Green picked up his second foul with 12:02 in the half, Rutgers pushed the ball inside and ran off nine straight points to lead 18-10, but the Hoyas rallied back with a 19-6 run to end the half, 29-24. Freshmen Tyler Crawford was a big reason for the run--prior to the run, Rutgers' bench had outscored the Georgetown bench 9-0. When the half ended, the benches were even at 11-11. The Hoyas shot 50% in the half and 7-9 from inside the arc.
Georgetown used the second half to spread the floor and execute its offense effectively. Three times out of a time out, Georgetown converted the next possession into scores, two from back door screens. Defensively, Rutgers continued to struggle offensively, scoring only 15 points in the first 15 minutes of the second half. With Georgetown leading by 11, 50-39 with 5:00 to play, Rutgers took advantage of some late Georgetown fouls and a Quincy Douby three pointer (the only such three pointer all evening from Rutgers) to 54-50 with 2:18 left.
In past years, losing an 11 point lead was cause for panic for Georgetown teams, but these Hoyas were not threatened. After a Rutgers miss, Jonathan Wallace connected on two free throws, followed by a GU steal on Rutgers' next possession. Following the miss, Ray Reed was fouled, missed both, but collected the ensuing rebound, forcing another Rutgers foul, which led to two more FT's from Ashanti Cook. Cook sank seven of his final eight attempts to put the game out of reach.
Ashanti Cook led all scorers with 23 points, one short of a career high. Freshman Tyler Crawford added nine, including seven in the first half run. Although the G-men struggled from three point range 5 of 21, their inside scoring was a thing of beauty: 17 of 25 (68 percent). The Hoyas outrebounded the Scarlet Knights 33-22, and held Rutgers to just 1 for 12 from three point range. Any more than one of those threes could have really tightened the game late, but it was not to be.
Ollie Bailey led Rutgers with 11 points. Ricky Shields, averaging 14 points per game, finished 2-11 for the game and is now 15 for 77 (.194) against the Hoyas.
Here's the Georgetown half of the box score:

         MIN  2FG    3FG   FT  REB  A  PF  PTS
Starters:                                 
Wallace    31   1-1   1-4   2-2   3   2   3    7
Cook       40   5-6   2-6   7-8   4   6   3   23
Bowman     34   3-4   0-4   1-3   6   1   2    7
Green      28   2-4   1-3   0-0   7   2   3    7
Hibbert    10   0-1   0-0   0-0   0   1   1    0
Reserves:
Reed       10   0-1   0-0   0-2   4   0   1    0
Owens      12   2-2   0-2   0-0   1   1   0    4
Crawford   21   3-4   1-2   2-2   5   0   0   11
Kilk.-Diaw 14   1-2   0-0   0-0   0   1   2    2
DNP: Izzo, Ross, Guibunda, Beal, Dizdarevic  
Team Rebounds:                    3
TOTALS   200   17-25 5-21 12-17 33  14  15   61

Post game links follow below.
When ESPN promoted this game as "Turn Back the Clock", they hoped it would be more than five days earlier.
In a game eerily reminiscent of Saturday's Georgetown-Boston College game, it was Georgetown who played the role of the home court victor, powering past a poor shooting Seton Hall club 61-51 before 8,568 at MCI Center Wednesday. Much as BC did Saturday, the Hoyas shut down their opponent but could never shake them loose.
Seton Hall (10-8, 2-5 Big East) missed its first eight shots of the game. Georgetown turnovers still kept the Pirates within ten most of the first half, but a late GU run extended the lead to 27-15 at the half.
Both teams appeared to be on auto-pilot in the second half, with missed shots and awkward defensive plays keeping the lead between 8-12 points throughout much of the period. A 10-2 spurt by the Hoyas gave Georgetown its largest lead at 51-35 with 6:06 to play, but Georgetown went conservative and allowed Seton Hall to make one more run. Led by guard J.R. Morris (15 points, 11 rebounds), the Hall closed to 55-49 with 3:28 to play. Both teams failed to score on its next two possessions, and Seton Hall's three point attempt to close the count to three points missed with 2:00 to play, forcing a foul on Brandon Bowman. Bowman connected the first of six straight free throws down the stretch for the 6-8 junior, part of a 25 point game that saw him connect on a career high 14-15 from the free throw line. Without it, the outcome may not have gone the Hoyas' way.
If Georgetown looked the part that BC played, Seton Hall took the opposite. The Pirates shot 22 percent in the first half and almost matched GU's 12 point halftime total from Saturday until a late three boosted its first half count to 15. For the game, SHU was 31% from the field and 25% from three point range.
Georgetown's offensive numbers were limited all night, managing just nine two point shots and shooting 35% from three point range. The Hoyas spotted Seton Hall 17 turnovers, tying a season high.
While many fans missed a return to Georgetown's traditional gray jerseys on a "retro night", they were still part of a little Hoya history, as Brandon Bowman became the 35th player in Georgetown history to post 1,000 points for his career.
"It's great, I guess, but 1,000 points is 1,000 points," Bowman said. "We've still got more games to win."
Here's the Georgetown half of the box score:

         MIN  2FG    3FG   FT  REB  A  PF  PTS
Starters:                                 
Wallace   36   0-0   2-3   4-4   2   1   1   10
Cook      37   2-5   2-8   2-3   5   2   2   12
Bowman    37   4-5   1-3 14-15   7   1   3   25
Green     30   1-3   2-2   2-3   5   0   3   10
Hibbert   23   2-4   0-0   0-2   5   3   3    4
Reserves:
Reed       9   0-2   0-0   0-2   2   0   1    0
Owens     24   0-0   0-4   0-0   2   0   0    0
Kilk.-Diaw 4   0-0   0-0   0-0   0   2   1    0
Team Rebounds:                   8
DNP: Izzo, Ross, Crawford, Guibunda, Beal,
Dizdarevic.
TOTALS   200  9-19  7-20 22-29   36   9  14   61

Post-game links follow below:
Saturday's game marked, for all intents and purposes, the end of a 80 year athletic rivalry between Georgetown and Boston College. BC saddened and outraged its fellow schools by quietly negotiating with the Atlantic Coast Conference to leave the Big East, in which they will leave for the fall of 2005. It's likely that these two schools will not schedule each other going forward. Here's a link to a 2003 HoyaSaxa.com editorial when BC's decision was announced.
A rivalry born on the gridiron in 1919, the most famous game between BC and GU in any sport remains their 1940 football showdown, when Charlie O'Rourke eluded the Georgetown defenses to help run out the clock for a 19-18 win before 35,000 at Fenway Park. The win sent BC to the Sugar Bowl, Georgetown to the Orange Bowl. A decade later, Georgetown was heading out of major college football, while a new on-campus stadium in 1957 gave the BC program a foundation which it has leveraged into New England's preeminent college football team.
In basketball, the teams have met almost every season in basketball since 1958, excepting 2001 and 2003. Among the original Big East schools, it is surprising that the basketball rivalry between these Jesuit schools never reached the fever pitch of teams like Syracuse, Villanova, or St. John's, but here are ten games of note in the series, both prior to the Big East and during it:
Mar. 14, 1947: BC's first post-season game is a meeting with Georgetown, as both teams were invited to a mid-March fundraiser in New York on behalf of the Red Cross outside of the NCAA or NIT. The Hoyas (19-7) make a late comeback for a 61-54 win at the 69th Regiment Armory.
Feb. 21, 1964: One of a number of DC high school players passed over by Georgetown in the 1960's, sophomore John Austin sets a BC scoring record with 49 points in a 107-92 Eagle win at the Roberts Center. To this day, it's the most points ever scored by one player against the Hoyas.
Feb. 16, 1971: The only win by coach Jack Magee over his alma mater, Mike Laughna's 25 points led GU to a 67-66 win at McDonough Gym, snapping a seven game losing streak to the Eagles.
Jan. 30, 1980:Perhaps the greatest comeback in Georgetown basketball history. Down eight with 1:09 to go, the Hoyas force overtime when center Mike Frazier is fouled with one second left. Georgetown wins 97-92 at BC before a national ESPN audience.
Mar. 2, 1983: John Garris has a career game, going 5-5 from the field and 15-17 from the line to propel the Eagles to an 87-85 OT win at Chestnut Hill. It's one of only two wins by the Eagles in a ten year span of the series.
Feb. 25, 1984: Boston fans never forgave Patrick Ewing for choosing Georgetown over BC, but Ewing saved many of his best efforts for New England fans. After a 75-71 loss to St. John's earlier that week, Ewing responded with a perfect 10-10 from the field and 25 points in an 83-70 win, the first of 11 straight wins en route to the NCAA title.
Jan. 27, 1988: After a narrow 68-66 loss at BC earlier that year, the Hoya defense holds BC to its fewest points since 1948, 58-36, at Capital Centre. Dana Barros, the league's top scorer, is held to 2-11 shooting.
Feb. 1, 1992: A career high of 38 points and 16 rebounds by Alonzo Mourning could not hold back the Eagles from an 88-86 win in double OT at Conte Forum, thanks to a career high 34 points from guard Malcolm Huckaby.
Mar. 7, 1997: After winning six straight to win a Big East divisional title, Georgetown was stunned by BC in the Big East semifinals, 70-58. GU trailed by 14 at the half and never challenged thereafter.
Jan. 12, 2002: All American Troy Bell called it the worst game of his career: a 70-43 Georgetown win over the 16th-ranked Eagles on national TV. Mike Sweetney scored 15 points and 11 rebounds, while the Hoya defense held Bell to 4 for 16 from the field in only the second home loss for the Eagles in two seasons.
---
HoyaSaxa.com: The One-Stop Web Site For Hoya Basketball™
An independent web site not affiliated with Georgetown University. All rights reserved.