| | |
| --- | --- |
| | Updated 2/28/15 9:20 pm EST |
"We slugged them from start to finish. It was really a complete reversal."--St. John's coach Steve Lavin
St. John's desperately needed a win. Georgetown did not, and both teams played like it Saturday, where the Redmen pulled ahead early and never looked back in an 81-70 win at Madison Square Garden that was never as close as the final score indicated.
Georgetown caught an early break when St. John's leading scorer D'Angelo Harrison was tagged with two personal fouls in the first 25 seconds of play, sending him to the bench for the remainder of the half. The Hoyas did nothing with it, however, missing eight of its first nine shots in a pace that was far more accommodating to the St. John's style of play.
As Georgetown stepped back, St. John's stepped up. Following its last deficit of the day at 6-5 with 17:54 to halftime, the Redmen got a three pointer from Phil Greene and then simply started to beat the Hoyas up and down the court, scoring inside on three consecutive series to go up 14-6. The Hoyas were never again as close.

Josh Smith picked up a second foul with 12:24 to halftime, sending him to an early run on the bench. Outside of D'Vauntes Smith-Rivera, none of the starters had any touch from the field, while some, particularly freshmen L.J. Peak and Isaac Copeland, continue to lag on defense. Consecutive baskets by Sir Dominic Pointer pushed the lead to double digits midway in the first half, and after a rare Aaron Bowen three closed the lead to nine, the Redmen answered with a Jamaal Branch jumper, 29-18.

With 9:07 to halftime, some rough play inside between Georgetown's Jabril Trawick and Chris Obekpa hurt the Hoyas--Trawick was called for a foul and the players were then assessed a double technical in the dust-up, placing a second foul on Trawick. Trawick failed to score for the remainder of the half and picked up just one point for the remainder of the game.

After shooting 60 percent early in the half, St Johns' hot hand cooled towards half, but Georgetown could close to no less than 11 at the break, 43-32. Crossed talk between the two teams entering the locker room resulted in a rare pair of technicals levied against the teams' coaching staffs, with St. John's assistant Rico Hines and Georgetown director of basketball operations Othella Harrington cited but no free throws awarded. (It was the first college foul whistled on Harrington since his days as a Georgetown senior in the 1996 NCAA regional final versus Massachusetts.)


GU record when
trailing at half
(excepting OT)


SJ record when
holding opponents to
70 or fewer pts.


GU turnovers


Games with 10+
turnovers in last
10 Georgetown games


GU 3-pt
shooting (exc. DSR)


Last back to back
20-win seasons
at St. John's


Georgetown's first half numbers were poor all around--it shot 33 percent from the floor and allowed the Big East's worst rebounding team a 24-23 lead on the boards. St. John's outscored Georgetown by eight on the boards and by eight in points off turnovers. Freshmen Isaac Copeland and L.J Peak shot a combined 1 for 10.
Any hope for a second half rally faded early when Josh Smith picked up his third and fourth fouls in the first minute of the second half. While a three pointer by Smith-Rivera would cut the margin to nine at 45-36, St. John's was able to drive inside on its next two possessions and see Greene go back outside for a three to put the Redmen up 16 with 15:20 remaining, and the Hoyas never seriously threatened thereafter.
DSR was the only consistent option Georgetown offered for a good part of the half, scoring 10 straight points at one point that made no dent on the deficit. The Hoyas placed St. John's in the bonus with 11:08 remaining, and free throws helped support a lead which grew to as many as 17. Emblematic of the Hoyas' inability to rally took place midway in the second half, where a basket and foul shot by Josh Smith with 9:12 remaining closed the lead to 11. Less than a minute later, Smith picked up yet another cheap foul, his fifth, and St. John's scored five of the next seven. Much as the CBS announcers sought to provide viewers scant hope that with seven minutes there was a still a chance for a comeback at 67-52, there was nothing of the sort. Despite solid efforts from DSR (29 points) and a superb 10 point, 14 rebound effort from Mikael Hopkins, there was little the Hoyas could do thereafter. St. John's got 19 attempts to the foul line as a result of frequent fouls, while the Redmen surrendered only five shots to the Hoyas after halftime.
With his college career in its final month, there was little in Josh Smith's demeanor that showed an urgency. The 6-10 senior Josh Smith matched his point total with fouls (five each) in only eight minutes of game action. The Hoyas had more team fouls (27) than field goals (25).
Phil Greene led the Redmen (20-6) with a career high 26, followed by a career high 24 for Sir Dominic Pointer for its sixth win in its last seven games, with the only misstep being a 22 point loss at Georgetown. And had the Redmen wanted to return the favor, this could have been a 22 point Georgetown loss. Much as it had done versus Villanova, a convincing home win for the Hoyas was balanced by a equally convincing loss. The 81 points was the most the Hoyas have surrendered in a loss all season.
Georgetown is earning a growing reputation in NCAA circles as a team that can beat anyone, and just as likely lose to anyone as well. Such is the not the formula for any expectation of a meaningful post-season run.
Here's the Georgetown half of the box score.

            MIN   2FG   3FG   FT  REB  A  PF  PTS
Starters:                                 
Smith-Rivera 37   3-7   7-14  2-2   7   2  3   29
Trawick      28   2-3   0-3   1-2   2   4  2    5
Peak         30   1-7   0-2   2-2   4   1  4    4
Copeland     22   1-4   0-1   2-4   8   1  1    4
Smith         8   2-3   0-0   1-1   3   1  5    5
Reserves:
Campbell      6   0-0   0-1   0-0   1   2  2    0
Hopkins      32   4-8   0-0   2-6  14   2  5   10
Cameron       2   0-1   0-0   0-0   0   0  0    0
White        18   1-4   1-3   0-0   4   0  4    5
Bowen        17   1-2   2-3   0-2   1   1  1    8
DNP: Allen, Williams, Mourning, Hayes
Team Rebounds                       2
TOTALS      200  15-39 10-27 10-19 46  14 27   70

Saturday's game drew 13,615, the best attendance in the series since 2001. The series has not featured a sellout since 1989:
| Date | | Score | | | Att. | | Date | | Score | | | Att. |
| --- | --- | --- | --- | --- | --- | --- | --- | --- | --- | --- | --- | --- |
| 1/6/1982 | W | 72 | - | 42 | 19,591 | | 2/1/1997 | W | 71 | - | 68 | 13,121 |
| 1/8/1983 | L | 67 | - | 76 | 19,591 | | 1/11/1999 | L | 69 | - | 71 | 9,563 |
| 1/21/1984 | W | 83 | - | 61 | 15,901 | | 1/12/2000 | L | 66 | - | 75 | 11,882 |
| 2/27/1985 | W | 85 | - | 69 | 19,591 | | 2/21/2001 | L | 70 | - | 73 | 14,168 |
| 1/11/1986 | L | 74 | - | 79 | 19,591 | | 2/18/2004 | L | 58 | - | 65 | 6,192 |
| 2/2/1987 | L | 65 | - | 67 | 17,093 | | 2/20/2005 | L | 67 | - | 76 | 7,464 |
| 2/24/1988 | L | 66 | - | 69 | 17,892 | | 1/8/2006 | W | 79 | - | 65 | 5,812 |
| 2/25/1989 | W | 63 | - | 55 | 19,591 | | 2/1/2007 | W | 72 | - | 48 | 7,797 |
| 2/3/1990 | W | 74 | - | 67 | 17,588 | | 1/30/2008 | W | 74 | - | 42 | 9,924 |
| 2/25/1991 | L | 58 | - | 68 | 14,029 | | 3/3/2009 | L | 56 | - | 59 | 9,959 |
| 3/2/1992 | L | 49 | - | 65 | 16,816 | | 1/3/2011 | L | 58 | - | 61 | 8,897 |
| 2/1/1993 | L | 61 | - | 79 | 11,690 | | 1/15/2012 | W | 69 | - | 49 | 11,475 |
| 2/19/1994 | W | 74 | - | 61 | 13,378 | | 1/12/2013 | W | 67 | - | 51 | 11,057 |
| 3/5/1995 | L | 77 | - | 86 | 17,238 | | 2/16/2014 | L | 60 | - | 82 | 10,340 |
| 1/27/1996 | L | 72 | - | 83 | 13,888 | | 2/28/2015 | L | 70 | - | 81 | 13,815 |
Former Georgetown coach John Thompson, who attended the private ceremonies for former North Carolina coach Dean Smith, last week. was not able to attend Sunday's public ceremony due to illness. His son, current coach John Thompson III, was in attendance.
Approximately 10,000 guests attended the service at the arena which bears Smith's name, where Thompson was scheduled to be a featured speaker.
In a game versus Georgia Tech the day before, the Tar Heels honored its former coach in their 1982-styled uniforms and opened the game in Smith's "four corners" offense, which not only confused Georgia Tech but many of the younger UNC fans, who had probably never seen it before. The passing yielded a easy layup, and Carolina went on to a 89-60 win.
From NCAA.com, a video feature with Georgetown coach John Thompson III. Recommended viewing.
Free throws were the margin of victory as Georgetown held off a stubborn yet improving DePaul team 68-63 before a small crowd of 7,984 at Verizon Center Saturday.
This was not the DePaul team of recent years, where mistakes and poor play calling sent them to an early deficit. The Blue Demons shot well to open the game and did not commit a turnover for the first 11:52 of the first half, and let 19-16 midway through the half, thanks to a combined 15 points from guard Jamee Crockett and forward Myke Henry. What DePaul has continued to struggle with is defense, however, and it allowed a shaky Georgetown offense to catch fire late in the first half, thanks to an 11-0 advantage on second chance points. Back to back threes by Jabril Trawick and d'Vauntes Smith Rivera led the Hoyas on a 12-0 run to carry a nine point lead into the final four minutes of the half, 28-19.,/P>
Try as it might, the Hoyas could not shake off the Blue Demons. Georgetown gave up turnovers on three straight possessions, and saw Mikael Hopkins miss lay-up on a four on one break. The Demons finished the half on an 8-2 run and closed to 30-27 at the half, picking up 10 points off seven Hoya turnovers.
D'Vauntes Smith-Rivera and Josh Smith accounted for 15 of Georgetown's 30 points by halftime, and the two combined to open the second half by scoring the Hoyas' first 13 points of the second half. Georgetown defense held DePaul to 1 for 6 shooting to open the half and the Hoyas opened an 11 point lead, 43-32. The run was short lived as Georgetown turnovers opened the door again, as the Demons scored on three straight possessions to close to four, 43-39.
The first half was relatively foul free, as neither team went to the foul line by halftime, Such was not the case in the second, where the parade to the line began midway in the half and allowed dePaul to get back into the game. DePaul closed to four with 8:00 to play, 50-46, and as Georgetown was able get points at the line, DePaul's Forest Robinson opened up on the Hoyas' perimeter defense, hitting threes on three straight possessions to close to 56-55 with 5:42 to play.
"Obviously there was a stretch where we lost Robinson too many times," said Georgetown coach John Thompson III in post-game remarks. "There was definitely miscommunication, whether it was a pick and pop or something else, he was open too much. Going into the scouting report you know that's what he does, we know that's what he does, so we can't let him get those shots off."
Missed opportunities proved DePaul's undoing. Down two with 3:49 to play, Tommy Hamilton only connected on one of two. Down four with 3:14 to play, Billy Garrett went to the line, an 84% free throw shooter, but missed both attempts. Georgetown responded with a big basket from Isaac Copeland and a driving Jabril Trawick layup to go up eight with 1:52 remaining, 64-56, but even this wasn't enough.
Despite being up six, an ill-advised three point attempt by L.J. Peak was blocked, and Peak picked up his fifth foul as DePaul's Durrell McDonald took off for the basket. Free throws closed the lead to 64-60. On its next series, the Hoyas looked to wrap it up, but Smith-Rivers was out of position under the basket and missed a two foot shot, whereupon dePaul was back to the line and closed to 64-62. Fouled with 25 seconds remaining freshman Tre Campbell hit the biggest two shots of his young career, giving the hoyas some breathing room at 66-62.
Down four, DePaul opted for the long three which was short, but Garrett picked up an offensive rebound and was fouled under the basket with 13.4 seconds remaining. Missing another free throw, Garrett split the two shots and missed a layup on the final DePaul possession.
The Hoyas were led by 19 points from D'Vauntes Smith-Rivera and a 15 point, 11 rebound effort from Josh Smith.
"We knew coming in that this game was going to be tougher than most because at this point DePaul has lost a few games in a row and they were coming out strong looking for a win," said Smith-Rivera. "At this point we have so much to play for and they were trying to recover and get back where they below, so we knew it was going to be a tough game we just wanted to come out and win."
A total of 14 Georgetown turnovers were vital for DePaul's comeback, but two missed layups in the final 1:02 and the aforementioned free throws proved DePaul's undoing. Rebounding was a fatal flaw. The Blue Demons were outrebounded 43-30, giving the Hoyas a +10 in second chance points.
"We put ourselves in a position to win, but we didn't finish it off on the glass," said DePaul coach Oliver Purnell.
Georgetown gets another seven day break in the schedule before traveling to Madison Square Garden to meet St. John's.
"If you win it's good, if you lose you say you had too much time off," said Thompson. "It gives us a chance to tighten up a few things about Georgetown. A lot of times once you get into the rhythm of a game-after-game you immediately have to get back and start preparing for the next team and what they do and practice and gear toward them. When you have this amount of time, besides getting some rest, it gives us a day or two where you don't have to worry about the opposition. Not to say we're not worried about the opposition, but we can focus on what we need to work on and we can devote a larger portion of practice time to us."
Here's the Georgetown half of the box score.

            MIN   2FG   3FG   FT  REB  A  PF  PTS
Starters:                                 
Smith-Rivera 40   2-7   3-6   6-8   7   3  2   19
Trawick      32   3-7   1-2   1-2   6   3  3   10
Peak         21   1-3   0-1   0-0   2   0  5    2
Copeland     36   6-9   0-2   0-0   7   4  0   12
Smith        24   6-10  0-0   3-3  11   1  3   15
Reserves:
Campbell     10   0-1   0-0   2-2   0   0  1    2
Hopkins      15   1-3   0-0   2-2   3   0  2    4
White        13   1-1   0-2   0-2   4   0  1    2
Bowen         9   1-2   0-0   0-1   2   1  0    2
DNP: Cameron, Allen, Williams, Mourning, Hayes
Team Rebounds                       1
TOTALS      200  21-43  4-13 14-20 43  12 17   68

Trailing 19-15 in the first half, the Georgetown Hoyas turned up the defense and never looked back, running past the St. John's Redmen 79-57 at Verizon Center Tuesday.
Both teams opened play with a fast paced style, moving up and down the court, but with few results. Georgetown missed seven of its first eight shots, while St. John's, leading the Big East with fewest turnovers per game, picked up five in the first seven minutes of play alone. The Hoyas led by four early but suffered turnovers on three of its next six possessions that opened a door for the Redmen to take advantage. A pair of three pointers tied the score at 13 with 11:42 to play, and St. John's would score on its next three possessions to take a 19-15 lead with 8:45 to play.
From this point on, a strong Georgetown defense and some poor decisions by St. John's shut down the SJU offense, and the Redmen (17-9) were held without a field goal the remainder of the first half. Georgetown's offense wasn't clicking just yet, but with time and patience the Hoyas began to pull away. St. John's didn't help its cause--a technical foul by Rysheed Jordan down three with 5:45 in the half extended the lead to five, and on the next two possessions Mikael Hopkins and Josh Smith picked up dunks to put the Hoyas up nine, 28-19, and St. John's never got closer. Despite shooting just 36 percent from the field, the Hoyas finished the half on a 18-4 ruin and carried a 10 point lead into halftime, 33-23.
Given the deep-freeze St. John's was enduring from the field, a 10 point lead could have been much worse, but Georgetown's three point shooting (0-9) was keeping it close. The Hoyas opened the half with a missed jumper but then caught fire to open the second, and a Jabril Trawick three pointer on its first possession of the second half began a run where the Hoyas connected on seven straight possessions to put the game out of reach.
A dunk and a pair of free throws follows by Josh Smith, who had been limited to two points in seven minutes in the first half. A pair of missed free throws by St,. John's saw the Hoyas go back inside, with Isaac Copeland feeding Smith for another dunk, 41-25. Three pointers by Trawick and Copeland extended the lead to 19 with 15:38 to play, 49-30, part of a remarkable scoring run that saw Georgetown shoot 10-12 from the field to open the second half.
Georgetown has had problems this season holding on to big leads, but such was not the case in this game. Three times St. John's prepared to make a run, and three times the Hoyas emphatically shut the door. St. John's closed to the Georgetown lead to 13 at the 13:01 mark, whereupon Trawick answered with a three to put the Hoyas back up 16, 56-40. The Redmen got it back to 13 at the 8:00 mark and Paul White answered with a three, 63+47, and a third incursion to 13 was promptly answered by an L.J. Peak three at the 6:42 mark, 66-50.
Emblematic of the poor shooting from the Redmen was leading scorer D'Angelo Harrison. Entering the game averaging 19.1 points a game and with double figure efforts in 14 consecutive games, Harrison was hobbled by injury and was not a factor in the game. His first points arrived via free throw at the 8:00 mark of the second half, but from the field he finished the game 0 for 9, upgraded from an 0-11 mark in some early stat sheets. Over his last three games at Verizon Center, Harrison shot a combined 1 for 30 from the field, 0-16 from three point range.
Phil Greene and Sir Dominic Pointer combined for 34 points for the Redmen, while no other player had more than five.
The news was considerably brighter on the Georgetown half of the ledger. Six players scored in double figures, four with 12 each. Every Georgetown player with more than 15 minutes of action scored in double figures. The Hoyas shot 68 percent from the field in the second half, with 10 assists on 15 field goals, and just three turnovers. From its 0-9 mark from three point range at halftime, Georgetown shot 7-10 from the same distance in the second. In a season with its share of hills and valleys in the scoring column, Tuesday's balanced team effort was a definite step forward as the Hoyas look to polish its resume for NCAA tournament play.
"We have different people that can score in different ways," said georgetown coach John Thompson III in post-game remarks. "When we look bad offensively it's when the ball is stagnant and I thought today we did a good job of keeping it moving and we have some different people that can score."
Among the plaudits for the game, Coach Thompson noted the effort of senior Mikael Hopkins, who has moved to the bench with the elevation of Isaac Copeland to the starting lineup, but who responded with a 12 point, 8 rebound effort on 5-5 shooting from the field.
"I've said this many times, Hop may understand what his coach wants more than anyone in that locker room, some of the coaches included. Starting or not starting I know he understands what that's about and he's a player," Thompson said.
The Hoyas also got another strong game from Copeland, whose confidence levels rises with every start.
I know that now that I'm starting to hit more three pointers people are going to run out and close out on me a lot faster," he said. "Earlier in the game I was getting that mid-range shot but it wasn't falling, so Tyler Adams told me `next time go up to the rim and finish them' and that's what I did."
The St. John's post-season reaction was more subdued.
"This is not a game we can dwell on," said SJU coach Steve Lavin. "[Verizon Center] has been a house of horrors for us during my five years here, even prior to this group of seniors arriving. They have handed it to us pretty well. Over the past five, or even before my tenure, they have had their way with us in D.C. We just now have to turn our attention to Seton Hall and a three-game homestand. We are in the same position we were in last year in terms of record in conference and doing some things well. We are banged up and hopefully, in the next couple of days, we can get Chris Obekpa and D'Angelo (Harrison) back closer to full strength and have to prepare for a very dangerous Seton Hall team that is having some struggles, but is a very capable ball club. We will have our hands full on Saturday and that is where our energies is now focused."
Georgetown returns the series to Madison Square Garden in ten days. Last season, the Hoyas won by 17 at home and lost at St. John's by 22. Nothing is certain in a competitive Big East, but for its sake, the Hoyas held to serve on its home court and can now look forward to a Saturday matchup with DePaul.
The Georgetown half of the box score:

            MIN   2FG   3FG   FT  REB  A  PF  PTS
Starters:                                 
Smith-Rivera 37   2-5   1-6   5-6  10   6  2   12
Trawick      31   1-3   3-5   0-0   3   2  4   11
Peak         29   3-6   1-3   3-4   3   0  2   12
Copeland     33   3-7   1-2   3-4   9   2  1   12
Smith        19   5-9   0-0   2-7   3   1  2   12
Reserves:
Campbell      3   0-1   0-0   0-0   0   1  0    0
Hopkins      20   5-5   0-0   2-4   8   1  4   12
Cameron       1   0-0   0-0   0-0   0   0  0    0
Allen         1   0-0   0-0   0-0   1   0  0    0
White        15   1-1   1-1   1-2   4   2  3    6
Bowen         9   1-2   0-1   0-0   0   0  0    2
Mourning      1   0-0   0-1   0-0   1   0  0    0
Hayes         1   0-0   0-0   0-0   0   0  0    0
DNP: Williams
Team Rebounds                       1
TOTALS      200  21-39  7-19 16-27 43  15 18   79

Tuesday's win was the 10th consecutive win versus St. John's at Verizon Center, one of only a handful of such runs where the Hoyas have dominated a Big East opponent at home over a decade or more.
Here is a list of the longest home win streaks versus Big East opponents. Georgetown defeated Boston College at home 12 straight times from 1981 to 1993, and 17 times overall since 1971 in games that predated the formation of the Big East.
| Wins | Opponent | First Win | Next Loss |
| --- | --- | --- | --- |
| 12 | Boston College | 1/10/1981 | 1/9/1993 |
| 11 | Seton Hall | 3/5/1988 | 1/8/2000 |
| 11 | Connecticut | 1/15/1983 | 2/28/1994 |
| 10 | Providence | 2/24/1982 | 2/8/1992 |
| 10 | St. John's | 1/20/2004 | |
| 9 | Syracuse | 1/17/1981 | 1/27/1990 |
Former Georgetown guard Chris Weight (C'11) is holding a fundraiser on March 1 on behalf of the Chris Wright Foundation, to be held at the Laurel AMF Bowling Center. For more information on the event, please visit www.chriswrightfoundation.org.
Wright established the foundation "to provide education and awareness to the public regarding multiple sclerosis as well as provide charitable giving to other nonprofit organizations."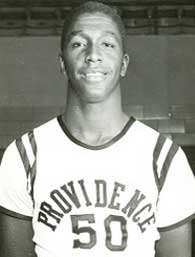 A weekend of events honoring John Thompson and three other Providence College alumni will go on without the former Georgetown coach, reports the Providence Journal
Efforts have been underway for many years to honor Thompson, an all-American during his years at PC, by retiring his #50. Thompson had agreed to attend a Friday dinner in his honor and a Saturday ceremony at the Dunkin' Donuts Center but declined this week in order to attend the funeral of Dean Smith.
Thompson has not had many public appearances over the years at PC, telling Friday's Providence Journal that "ďI love the school but Iím not big into those things. Iím past the celebrations. Give that to the young kids."
"The priests and Dave Gavitt made my experience at Providence. The young people now they miss that. The Dominicans made my life a hell of a lot easier. They did look after you. My mother was right.Ē
Thompson calls a retired Dominican priest at PC once a month to stay in touch, though the Rev. Robert A. Morris told the Journal "One of the reasons you stay friendly with John is you donít talk about him."
As an undergraduate, Thompson scored 1,520 points (19.2 ppg) and grabbed 1,061 rebounds (13.4 rpg) over his three year career at Providence, averaging 26.2 points and 14.5 rebounds in 1963-64, earning All-America honors as PC advanced to the NCAA tournament for the first time in its history. He is one of only six players in the history of Providence to score more than 1,000 points and register more than 1,000 rebounds.
Archival film of John Thompson can be found at the 31:00 minute mark of the following film:
"You can come back once against a team like the Hoyas. Fall behind deep a second time and you can kiss the game goodbye."--Andrew Garda, NJ.com
In a game where Georgetown led by 20 points in the first eight minutes of the game, and found themselves tied early in the second half, the Hoyas outscored Seton Hall 27-10 to pull away by 19, 86-67, in a critical Big East matchup at Prudential Center in Newark. The Hoyas led 27-7, found themselves tied 44-44 early in the second half, and then pulled away with freshman Isaac Copeland scoring 12 consecutive points midway in the second half.
This was a critical game for Georgetown to make an early statement, and the first seven minutes was as dominating as any stretch of the John Thompson III era. Despite a Jabril Trawick foul less than two seconds into the game, the Hoyas emerged with intensity on both sides of the court. The Hoyas forced turnovers on each of Seton Hall's first three possessions and scored on all three of them; at one point, Georgetown converted seven consecutive Pirate turnovers into baskets. A pair of three pointers from freshman Isaac Copeland then led the Hoyas on a remarkable 19-2 run over the next five minutes, where at one point the Hoyas were 7-7 from the field.
Two Seton Hall timeouts couldn't stop the early onslaught which grew to 27-7 before freshman forward Angel Delgado began to rally the Pirates with his play on both ends of the court. Seizing on early foul trouble by Jabril Trawick, Mikael Hopkins, and Josh Smith, the Pirates worked into the lead on a systematic basis, cutting the GU lead to 15 on foul shots at the 9:47 mark, to ten at the 7:17 mark on a Delgado layup, and to as few as four on a Delgado dunk with 5;17 to play. The fact that Georgetown could lose a 20 point lead in seven minutes was baffling, but the ability of the Hall to improve its passing and leverage its strengths inside proved to be to their benefit.
Georgetown pushed the lead to 10 with 1:10 in the half but SHU cut it in half with a Delgado dunk and a three from freshman Isaiah Whitehead to trail 43-38 at the half, outscoring Georgetown 31-16 down the stretch. Delgado had a double-double in the first half with 10 points and 10 of Seton Hall's 15 rebounds.
The early lead was officially history when the Pirates opened with back to back threes and tied the score at 44-44. Georgetown answered with a run off three Seton Hall turnovers, and saw the emergence of Isaac Copeland as an offensive force in this game. Over a critical five minute stretch in the second half, Copeland was able to do what no other player except D'Vauntes Smith-Rivera has shown to date--taking over a game.
Up three, Copeland scored on pair of baskets to push the Hoyas to seven, 51-44. Out of a media time out, Copeland picked up an offensive rebound and layup, 53-44, then followed it up with a three point basket to put the Hoyas up ten. Copeland was the only scorer in a 12-2 run that reestablished Georgetown as a force in this game, while the Pirates wilted from the floor and on the foul line, With full advantage of Georgetown in the bonus midway in the second half, the Pirates, failed to seize the opportunity, missing nine of its first 12 foul shots of the second half and but deflating their comeback hopes. Consecutive threes by Paul White and D'Vauntes Smith-Rivera pushed the Hoyas lead to 16, and the Hall could not answer the bell.
Seton Hall missed five of its next seven from the floor as the resurgent Hoyas scored at will, extending the lead to as many as 23 before sending in the reserves with just over three minutes to play. Georgetown finished the half shooting 57 percent with five threes; from the moment SHU tied the game at 44, it finished 24 percent from the field in return.
The Hoyas' scoring was led by Smith-Rivera (23 pts) and Copeland (20 pts),the latter a career high. With foul trouble limiting its big men, Georgetown got solid efforts from L.J. Peak, Aaron Bowen, and Jabril Trawick in key stretches of the game, shutting down the Pirates defensively and converting at every opportunity. The Hoyas allowed Villanova a 16 point advantage on points scored off turnovers; tonight, they carried a 13 point advantage on the Pirates in a game that the Hoyas desperately needed.
The Pirates were led by 17 points from Sterling Gibbs. Delgado scored only two points after halftime, while freshman Isaiah Whitehead was 0-4 after the break.
"I have a group of guys who all trying to do really good things and make plays, they're trying, it's just that they're getting a little dejected right now," said SHU coach Kevin Willard. "For the first time, they're struggling and going through it and they're not reacting the right way yet and that's something unfortunately they've got to learn. Things don't go your ways, you can't let things get out of hand, we've let that happen twice now."
"I know it sounds crazy right now, I think this team is capable of great things."
The Hoyas now enjoy a rare one week break in Big East play, whereupon they will face St. John's and DePaul in home games next week.

            MIN   2FG   3FG   FT  REB  A  PF  PTS
Starters:                                 
Smith-Rivera 36   4-6   3-6   6-6   4   2  3   23
Trawick      30   4-8   1-3   1-1   4   3  2   12
Peak         25   3-5   0-1   2-2   3   2  3    8
Copeland     24   5-9   3-4   1-1   8   1  3   20
Smith        12   2-3   0-0   0-1   2   1  4    4
Reserves:
Campbell     12   0-0   0-1   1-2   1   0  1    1
Hopkins      16   1-1   0-0   1-2   7   3  4    3
Cameron       2   1-1   0-0   0-0   0   0  1    2
Allen         2   0-0   0-1   1-2   0   0  2    1
White        19   1-2   1-2   0-0   0   3  3    5
Williams      2   0-0   0-0   0-0   0   0  0    0
Bowen        15   3-5   0-1   1-1   3   2  1    7
Mourning      2   0-0   0-0   0-0   0   1  0    0
Hayes         3   0-2   0-0   0-0   3   0  0    0
Team Rebounds                       0
TOTALS      200  24-42  8-19 14-18 38  18 27   86

Additional coverage follows below.
Tributes and reflections from the college basketball community continue to arrive for Dean Smith, who died Saturday at the age of 83. An encounter with Smith and a future NBA Hall of Famer is the subject of this article at the Washington Post.
In the fall of 1980, en route to its fifth Final Four in 14 years under Coach Smith, North Carolina was among the finalists in the recruitment of Patrick Ewing (C'85), the nation's #1 recruit. Smith had not yet won a national title, but with a team that already included James Worthy and Sam Perkins, a class with Ewing and Wilmington, NC guard Michael Jordan might not just cement the 1982 title, but multiple titles to come.
Unfortunately for Smith, Ewing's visit to Chapel Hill came at the same day as a local KKK rally outside of town, and Ewing, having been subjected to racial taunts in Boston, decided against UNC. Ewing told Smith the next day he would not be coming to Carolina.
"We were sitting down having breakfast and he told me, if I chose not to come to North Carolina, go to Georgetown,Ē Ewing said. "Iím not going to say that played a part of a role in me going to Georgetown, but I thought it was very nice of him to say that."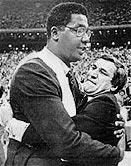 Former Georgetown coach John Thompson provided a three word statement through the Georgetown athletic department which simply said: "I loved him". In a 2011 interview, Thompson remarked that "There is not one single thing I could ever tell you about Dean Smith that would do that man justice."
Smith was a mentor to the young Georgetown coach, and many of the core principles in Thompson's college basketball philosophy were also part of Smith's legacy at UNC. Smith often made note that of 232 Carolina letterman in his 36 year tenure, 224 received their degree.
The two coaches first met in the early 1970's when Smith recruited Donald Washington from St. Anthony's HS.
"We had an opportunity to talk a little bit and we found out we had a close philosophical relationship," Thompson said in 1995. "I enjoyed being with him, and I had a lot of respect for how he dealt with that young man. Dean was a great model for me."
Smith named Thompson as his assistant on the 1976 U.S. Olympic team, and when Smith abruptly retired in 1997, he made it a point of inviting Thompson to an event reserved for only the closest members of the Carolina family.
"He's a very dear friend," Thompson said. "He's a very special person in my life, not just in basketball."
The two were interviewed during halftime of the 1987 Final Four:
From the HoyaTalk board, "Calhoya" on the problems Georgetown faces in its current losing streak:
"Our offense is based upon principles that could more closely be labeled read and react. It places a lot of responsibility upon the players to evaluate the opposing defense and make the decision as to what to do with the pass, dribble drive or shot. There is supposed to be a lot of cutting and high screens, including some pick and roll. But it is not a pure version of the Princeton offense and has not been. It has changed over recent seasons--thankfully.

The problem is simple this year--the Hoyas do not have the personnel to run their offense. Neither post is a threat away from the basket, thereby allowing the opposing team to clog the lane and deny the cut. No one cares when Smith or Hopkins goes out to the high post as there is virtually no chance either will attempt the shot from there. Only Copeland and possibly White present this threat. Moreover, the presence of Smith has changed the team's approach with entry passes. Even when the entry pass is good--something that has not been a constant--there is only one sequence that will occur. Smith attempts to back in to the basket and take a shot. If he brings the ball down or puts it on the floor, there is a high likelihood of a turnover, which explains his team leading turnover numbers. Smith rarely will make the pass out to the perimeter to the open man and even when he does this is a low percentage shooting team with only DSR considered a threat. Opposing teams stay on him and collapse on Smith leaving other shooters, like Trawick and Peak unguarded. Peak is not a good shooter and Trawick passes it up too often. Hopkins gets blocked easily or also turns the ball over when he attempts to dribble into traffic around the basket.

The team is woefully poor at shooting from beyond 10 feet. In fact, they rely upon two shots--the shot under the basket and beyond the arc. We seem to have no intermediate game. Shockingly, we miss a substantial number of shots within 5 feet and 3 point shooting is poor at best. For whatever reason Trawick will pass on the open shot, Peak needs a lot of work, Bowen is not a good shooter and despite some nice moments, neither is Tre. When they play a quick transition game they look better, but often lose their discipline. Watching DSR pull up for a 24 foot attempt on a 3 on 1 was very poor judgment, but no more so than watching Tre and Peak repeatedly drive to the basket on transition offense and throw up wild, shots yesterday. Peak's numbers are misleading as he misses a lot of shots from under the basket.

It's frustrating but it is who the Hoyas are this year."
With 16:24 in the first half, a Jabril Trawick three pointer gave the Georgetown Hoyas a 5-2 lead. And that was about it.
The Hoyas put up 16 more attempts and missed all 16, while the #7-ranked Villanova Wildcats connected on 12 three pointers and ran away with this one early, 69-53, a defeat that could have been even more severe had the Cats not given up 20 turnovers, 14 in the second half.
Trawick's three at 5-2 soon gave way to a Villanova three point shelling of its own. On Villanova's next possession, Trawick fouled Darren Hilliard on a three pointer, sending Hilliard to the line to convert a rare, if painful, four point play which gave Villanova a 6-5 lead. Following a basket by Isaac Copeland, Georgetown held its last lead at 7-6 before Villanova added threes on its next three possessions to go up 17-7, and never looked back. At the 11:40 mark of the half georgetown had combined for six turnovers, while all four of Villanova's field goals to date were via three, and all by assist. It was a hole that Georgetown never crawled out of.
Opening 2 for 3 to open the game, the Hoyas' regular first half shooting slump took hold a a most inopportune time, as Georgetown missed 13 of its next 15 shots. At the 7:21 mark, leading by ten, Villanova began to put some mileage between them and the Hoyas on the lead, again by the three point shot. Three missed threes by the Hoyas were answered with three pointers from Phil Booth, Ryan Arcidiacono, and Kris Jenkins, and the Hoyas were now down 17, 30-13, whereupon John Thompson III called his first time out of the game. Georgetown narrowly trimmed the lead to 16 on foul shooting and got a late basket from L.J. Peak to close the count to 37-23 at the half. Of Villanova's 37 points, nearly half (16) came as points off nine Georgetown first half turnovers.
Georgetown's first half numbers were poor across the stat sheet. From the aforementioned 2-3 start, the Hoyas finished 9-29 from the field, 1-8 from three, and gave up seven threes in 13 attempts on defense.
The Hoyas did little to reverse script to open the second: hitting two of its first three to close to 40-27, then missing nine of its next ten. Consecutive threes by Jenkins extended the lead to 22 at the 13:49 mark, and much of the rest of the game was a form of extended garbage time as the two teams combined for 20 turnovers against 18 field goals. As with the first half, the Hoyas finished with just nine field goals, none by three, and never challenged in the half.
"When you play a good defensive team, like they are, a team with their size and ability to switch everything, you are not going to get one pass, two pass, open look," said Georgetown coach John Thompson III in post-game remarks. "You have to have the discipline to stay with what youíre doing, executing and hopefully something will open up later. But we definitely, without a doubt, were not disciplined enough on the offensive end. Taking two passes and then a bad shot is how you are going to beat that team.Ē
"Defensively, we started out with great intensity," said Villanova coach Jay Wright. "We werenít great offensively in the beginning nor were we in the last game but defensively we were bad in the last game. I thought during this game we were really focused, we created turnovers and got some easy baskets off those turnovers which kind of loosened up their defense.Ē
L.J. Peak (6 for 18) led a fractious Georgetown effort with 15 points. D'Vauntes Smith Rivera scored just two points and was outclassed all afternoon by an energetic Villanova backcourt led by 14 first half points from Darren Hilliard.
The statistics were a mirror image from that of both teams on Jan. 19 at Verizon Center. In that earlier game, Villanova shot 27 percent to open the first half and gave up 16 points off turnovers by half. In today's game, Georgetown shot 31 percent and gave up 16 points off turnovers by halftime. Following halftime, Villanova got only two points by fast break but didn't certainly didn't need it, but its relatively sloppy play was a source of concern to Wright.
"I do not know how that happened, the turnovers were crazy," Wright said. "Some were just so crazy that they werenít a trap, get out in the pass lane, get out on the break turnovers; they were get in the inside, pivoting somewhere crazy and I think Georgetown was as shocked as we were. It didnít hurt us that bad Ö They were all down around the baseline, they werenít out in the open floor. There were lots of travel and dead ball turnovers. It was bizarre."
Wright played down the revenge theme offered by some following the 78-58 loss last month. "We donít really look at it as they beat us by 20. We just look and see how weíre doing as a team and we go from there. Weíre just a group of guys who are confident in ourselves as a team and individually. We just want to be better than we were yesterday and thatís the approach we took."
"We have to play better if you want to beat this team tonight," said Thompson. But as Georgetown has dropped three of its last four, it has to play better if it wants to maintain confident hopes of an NCAA bid, too.
The Georgetown half of the box score:

            MIN   2FG   3FG   FT  REB  A  PF  PTS
Starters:                                 
Smith-Rivera 31   1-3   0-4   0-0   3   3  3    2
Trawick      25   1-5   1-4   3-4   4   2  3    8
Peak         28   6-14  0-4   3-4   2   1  2   15
Hopkins      29   1-2   0-0   3-4   7   0  2    5
Smith        15   3-4   0-0   1-2   2   1  3    7
Reserves:
Campbell     22   1-4   0-2   0-0   1   2  0    2
Cameron       2   0-0   0-0   0-0   0   0  0    0
Copeland     19   1-4   0-2   2-2   6   0  2    4
Allen         1   0-0   0-0   0-0   0   0  0    0
White        11   0-2   0-0   0-0   3   0  2    0
Bowen        17   3-5   0-1   4-6   3   1  1   10
Team Rebounds                       7
DNP: Williams, Mourning, Hayes
TOTALS      200  17-43  1-17 16-22 38  10 18   53

In seventeen prior games since 1986, Georgetown has failed to score from three point range, many in non-conference games where the Hoyas would attempt a minimal number of outside shots as a matter of competitive balance. Saturday's 1 for 17 effort ties a record for the lowest percentage above zero for a Georgetown shooting effort in a single game.
Twice in the 1998-99 season, Georgetown shot 1-17 from three point range: a Dec. 2, 1998 game versus Morgan State and a Feb. 17, 1999 game versus Boston College. Surprisingly, Georgetown both games.
From Friday's Washington Post, an extended feature on the continuing efforts of Patrick Ewing (C'85) to secure a head coaching position in the NBA. Recommended reading.
Nearing the final two months of his college career, Josh Smith's rebounding numbers remain modest for a 6-10 center: just 190 total, which does not rank in the top 100 all time among Georgetown players.
A closer look on Smith's effective rebounding per 40 minutes indicates that he is more than productive on a rebounds per game basis, but he has to remain in the game--averaging just 21.5 minutes per game, Smith's numbers become more favorable in games where he can stay in the game.

Here's a look at effective rebounds per 40 minutes for some of Georgetown's leading rebounders since 1972. (Merlin Wilson's numbers from 1972-76 are not included because of some missing statistics on minutes per game.)
| | Players | Career | Games | Eff Reb. |
| --- | --- | --- | --- | --- |
| 1 | Mike Laughna | 1969-72 | 77 | 18.889 |
| 2 | Tom Scates | 1975-79 | 90 | 15.941 |
| 3 | Mark Mitchell | 1970-72 | 55 | 15.462 |
| 4 | Dikembe Mutombo | 1988-91 | 96 | 14.560 |
| 5 | Jerome Williams | 1994-96 | 68 | 12.972 |
| 6 | Jahidi White | 1994-98 | 105 | 12.918 |
| 7 | Mike Sweetney | 2000-03 | 96 | 12.758 |
| 8 | Cheikh Dia | 1993-97 | 107 | 12.501 |
| 10 | Patrick Ewing | 1981-85 | 143 | 11.966 |
| 11 | Mark Edwards | 1970-73 | 77 | 11.812 |
| 12 | Jameel Watkins | 1995-00 | 123 | 11.538 |
| 13 | Ruben Boumtje-Boumtje | 1997-01 | 101 | 11.531 |
| 14 | Alonzo Mourning | 1988-92 | 120 | 11.372 |
| 15 | Lee Scruggs | 1999-01 | 49 | 11.135 |
| 16 | Michael Graham | 1983-84 | 35 | 10.988 |
| 17 | Mike Frazier | 1976-81 | 82 | 10.760 |
| 18 | Othella Harrington | 1992-96 | 132 | 10.561 |
| 19 | Wesley Wilson | 2000-03 | 80 | 10.551 |
| 20 | Roy Hibbert | 2004-08 | 136 | 10.199 |
| 21 | Josh Smith | 2013-15 | 35 | 10.066 |
| 22 | Don Reid | 1991-95 | 122 | 10.057 |
| 23 | Ralph Dalton | 1983-86 | 134 | 10.053 |
| 24 | Greg Monroe | 2008-10 | 64 | 10.009 |
| 25 | Grady Mateen | 1984-86 | 58 | 10.000 |
| 26 | Johnathan Edwards | 1985-89 | 106 | 9.746 |
| 27 | Ronnie Highsmith | 1984-88 | 106 | 9.442 |
| 28 | Steve Martin | 1975-79 | 100 | 8.984 |
| 29 | Trez Kilpatrick | 1997-99 | 62 | 8.979 |
| 30 | Julian Vaughn | 2008-11 | 95 | 8.743 |
| 31 | Anthony Allen | 1987-90 | 98 | 8.457 |
| 32 | Henry Sims | 2009-11 | 90 | 8.184 |
| 33 | Mikael Hopkins | 2012-15 | 117 | 8.094 |
| 34 | Jeff Green | 2004-07 | 102 | 7.839 |
| 35 | Brandon Bowman | 2002-06 | 127 | 7.799 |
| 36 | Courtland Freeman | 1999-04 | 132 | 7.789 |
| 37 | Ben Gillery | 1986-88 | 52 | 7.733 |
| 38 | Ed Spriggs | 1978-82 | 122 | 7.668 |
| 39 | Marc Egerson | 2005-07 | 34 | 7.598 |
| 40 | Nate Lubick | 2010-11 | 32 | 7.186 |
| 41 | Harvey Thomas | 2001-02 | 28 | 7.100 |
| 42 | Duane Spencer | 1992-94 | 64 | 6.821 |
| 43 | Dajuan Summers | 2006-09 | 101 | 6.379 |
| 44 | Vernon Macklin | 2005-07 | 65 | 6.341 |
| 45 | Hollis Thompson | 2009-11 | 66 | 6.311 |
Although the Big East has indicated it is in no hurry to add additional schools, the subject of expansion has been a recent topic on HoyaTalk and other message boards. Putting aside any number of Atlantic 10 schools, the Big East Coast Bias blog discusses the only expansion target that could be a significant game changer for the Big East: one of its own original schools.
"Out of every single team that split from the Big East, UConn is, without a doubt, the team that got screwed the most," writes BECB's Chris Fairfield. He argues that Connecticut should park its football program in the Mid-American Conference and play its other sports in the Big East.
"It is very clear that the Huskies' football program is not going to improve anytime soon," he writes. "Football programs are so much harder to rebuild than basketball, because you only need one or two basketball players to change the culture and attitude of a program...With football, you need almost a dozen recruits to change a program. UConn does not have the resources to recruit players that could play for a team in the Big 12 or SEC."
Connecticut (12-9 in 2014-15), Cincinnati (16-6), and South Florida (7-16) are the three former Big East schools playing in the American Athletic Conference (AAC), which also includes SMU, Houston, Tulsa, Central Florida, Temple, Memphis, East Carolina, and Tulane.
A flurry of late game turnovers squandered a 13 point second half lead as the Georgetown Hoyas dropped a 74-71 home loss to Providence that could prove to be a bad omen for the Hoyas' late season momentum.
The loss, its first at home to Providence in ten seasons and only the fifth home loss to PC ever, was a game of missed opportunities and a lack of urgency which cost the Hoyas dearly in the final outcome, played before a quiet midweek crowd of 7,981 at Verizon Center.
The game was a series of serve and volleys-style runs by each team, keeping the game close throughout. Georgetown led early, 8-2, thanks to two early three pointers, but Providence closed to 11-9, and where the Hoyas were winning the field goal battle, PC relied on free throws to keep the game close. The Hoyas led by as many as nine in the first half at 26-17, but the Friars stayed close, and tied the score with 30 seconds remaining on a three pointer by LaDontae Henton, ending a run of 11 straight missed three pointers over his last three games. A three by D'Vauntes Smith-Rivera, his third of the half, closed out the first half scoring to give Georgetown a 41-38 lead.
PC had been led by guard Kris Dunn, with eight points and eight assists despite an ongoing back injury. Dunn's basket at the 17;10 mark gave PC a 44-43 lead, but the Hoyas answered with its best run of the night, with a pair of baskets from freshman Tre Campbell leading a 13-0 run that put Georgetown up by nine with 12:32 remaining. The Hoyas would lead by as many as 13 with 11:40 remaining, 59-46, but there was never the urgency, nor the opportunity, to put PC away as it had Creighton. Turnovers and missed opportunities opened the door for the Friars, and they took full advantage.
A pair of free throws by Dunn closed the lead to nine, but he picked up his fourth foul at the 10:31 mark. Instead of folding, the loss of Dunn on the court invigorated the Providence offense, whose offense responded in a big way. baskets by Henton and reserve Kyron Cartwright got the Friars to six at the nine minute mark, whereupon Georgetown began to turn the ball over at key moments of the game. Over its next four possessions, Jabril Trawick turned the ball over three times, each of which resulted in PC scoring plays and a 66-65 Friar lead into the final five minutes. What followed was a run of missed opportunities for Georgetown, which in Big East play is magnified in any home loss.
The teams traded free throws but Georgetown's shooting from the field had long since grown cold. Georgetown's last basket was at the 7:40 mark when Isaac Copeland missed an open jumper at the 3:28 mark; following a PC turnover, Copeland turned it back over. On the ensuing play, a collision by PC center Carson Desroisers and Georgetown's Jabril Trawick was judged as a PC foul before the shot and a dead ball technical on the Friars for the collision, an unusual interpretation of rules which sent Providence coach Ed Cooley to channel the ghost of Bill Raftery in his Seton Hall days, whipping off his three-piece suit jacket in disgust. GU hit three of the four shots to take a 69-68 lead, and appeared to be taking command following a turnover by Desroisers at the 1:512 mark. Instead, Smith was stuffed inside by Desroisers, who then fouled Henton on the next possession to give PC the lead, 71-70 with 45 seconds to play.
A pair of DSR free throws regained the lead, 71-70, but Smith picked up his fifth foul 13 seconds later, giving PC a 73-71 lead at the 32 second mark. Amidst a tough PC defense, the Hoyas nearly lost the ball in the frontcourt, a tipped play ruled Georgetown's ball. On the inbound with 10 seconds remaining, L.J. Peak had a poor entry pass that Kris Dunn intercepted, whereupon PC picked up two more foul shots, 74-71.
"Everybody stood and watched instead of moving to get open," said coach John Thompson III in post game remarks.
A DSR three was short and Georgetown's fourth shot attempt of the final six minutes was like all the rest, a miss. The Hoyas ended the final 6:22 with two missed free throws, three turnovers and four missed shots from the field, and against a team like Providence, that's how to lose a game.
PC's second half numbers were solid: 58 percent from the floor, including 9 for 13 inside three point range, and 12-13 from the foul line. Georgetown shot just 40 percent, missed six of weight from three, and missed six of its 18 foul attempts. PC's resilience when Dunn was on the bench proved stronger than anything Georgetown was sleepwalking through in the second half.
"I thought that was the game," said PC coach Ed Cooley. "When a talent like Kris Dunn comes off the floor, you're just hoping your kids have gone through enough games to weather a storm against a great team. Their energy was good and Ladontae was able to get loose for a couple of baskets and the game kind of got haywire. Just Big East basketball."
The win ends a 31 game losing streak against ranked teams on the road for Providence dating to 2004, and marks its first season sweep of Georgetown since the 1993-1994 season. With road games in four of its next six games, the Georgetown schedule suggests an uphill climb for the next two weeks.
The Georgetown half of the box score:

            MIN   2FG   3FG   FT  REB  A  PF  PTS
Starters:                                 
Smith-Rivera 33   1-4   5-10  4-4   3   3  2   21
Trawick      26   1-2   1-2   4-7   5   3  3    9
Peak         23   2-6   0-1   1-1   2   1  4    5
Hopkins      16   1-2   0-0   0-0   5   1  1    2
Smith        28   3-7   0-0   4-8   6   3  5   10
Reserves:
Campbell     21   2-3   2-3   0-0   0   1  2   10
Cameron       3   0-0   0-1   0-0   0   0  0    0
Copeland     25   4-9   0-1   2-3   7   1  2   10
White        15   1-1   0-1   0-0   1   2  3    2
Bowen        10   0-0   0-1   2-2   1   2  1    2
Team Rebounds                       2
DNP: Allen, Williams, Mourning, Hayes
TOTALS      200  15-34  8-20 17-25 32  17 23   71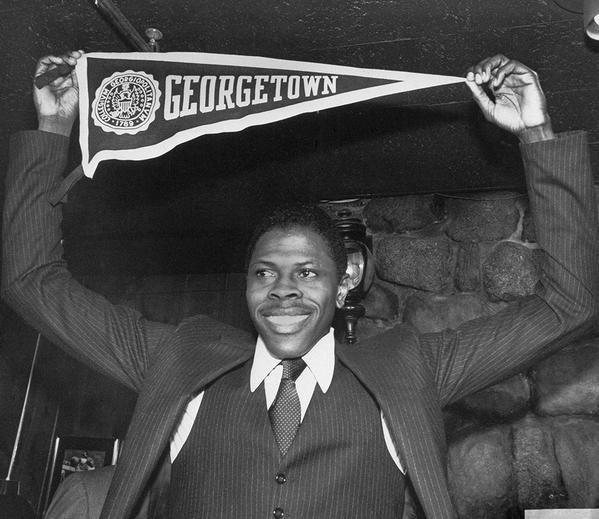 Two decades before LeBron James, a decision of another kind was on the minds of college basketball fans nationwide: Feb. 2, 1981, at Satch Sanders' restaurant in Boston. Amidst a group of fans that included representatives from North Carolina, UCLA, Boston College, and Boston University, the nation's #1 ranked recruit announced he was attending Georgetown University.
"Once I made my announcement, half the room walked out," said Patrick Ewing (C'85) in this feature from Comcast Sports Washington.
"I picked the one [college] that best suited me, Georgetown with Coach Thompson," Ewing said. "He's a person who played the position. As a young black kid, the way that he spoke, the way he carried himself," Thompson was a "good person to try to emulate."
"Love the area, love the University," he said. "The University has been very good to me and I was good for it also...I'm Hoya through and through."
Saturday's 67-40 win over Creighton might recall some defensive gems of the recent and not-so-recent past: the 2013 regular season finale where Syracuse was held to 39 points, or even the 53-40 win over Kentucky in the 1984 NCAA semifinal. But each team shot better than Creighton did. Has any other team come close?
In the Big East era (since 1979), it's happened just once. On November 30, 1996, Georgetown defeated DePaul 68-41, where Victor Page led all scorers with 26 points--his 10 field goals matched the entire DePaul team.
The Blue Demons, who were playing its second season in Conference USA, shot 10 for 49 (20.4%) and committed 26 turnovers. Two of its players (forwards Jerome Taylor and Marcus Singer) combined to shoot 8 for 21. The rest of the team combined to shoot 2 for 28. Three of its starters combined to shoot 0 for 17, with the Demons as a team shooting 33% from three (4 for 12) and 16% (6 for 37) from two. For its part, Georgetown shot just 37 percent from the field and missed 18 of 34 free throw attempts.
For 2015, Creighton spread out the scoring a little more evenly. The Blue Jays shot 11 for 53; no player had more than two field goals for the game.
Despite its loss, Creighton officials managed to offer some goodwill to its fans, by rewarding the 3,000,000th fan through the CenturyLink Center turnstiles Saturday since the Bluejays moved from the Omaha Civic Auditorium in 2003. Over that time frame, Creighton has averaged over 15,151 fans in 198 games.
So...how close is Georgetown to such a milestone?
Over 261 games at Verizon (nee MCI) Center since 1997, the Hoyas have welcomed 2,803,499 fans, an average of 10,741 per game. With four home games remaining this season, the three millionth fan should arrive near the final game of the 2015-16 season.
Four days from a 11:17 scoring drought of its own, the Georgetown Hoyas gave as good as it got.
Trailing 15-12 with 10:09 in the first half, a run of good defense and bad luck by the Creighton Bluejays was enough for the Hoyas to cruise past the homestanding Jays, 67-40, before a loyal crowd of 17,499 at the CenturyLink Center.
Early indications foretold a much closer game. Georgetown scored the first nine points of the game, but as its defense waned, Creighton got back into the game. from a 12-2 deficit at the first media time out, the Jays outscored the Hoyas 11-0, with three offensive rebounds contributing to the effort. Devin Brooks' layup, his second in four minutes, pushed the lead to three before the polls closed on the Creighton surge.

Georgetown had missed nine straight attempts of its own before a drive by D'Vauntes Smith-Rivera close to 15-14 began a run of three straight scoring possessions and a 17-14 lead at the 7:46 mark. A 5 for 10 finish from the half was enough to get Georgetown to 27 points at the half, while Creighton missed from short, from medium range, and from deep: 13 straight attempts were off the mark as a pair of free throws were the only Creighton points to end the half, 28-17. The Jays finished shooting 5 for 28 (17.9%), with its two hottest scorers, James Milliken and Toby Hegner, combining to shoot 0 for 10.

A one minute stretch early in the second half was a microcosm of the game. After shooting just 2 of 13 from three point range in the first half, the Hoyas came out and his threes from Jabril Trawick and D'Vauntes Smith Rivera on its opening two possessions and quickly went up 17. Over 16 seconds of its first two possessions, Creighton sent up a pair of threes that missed badly.

Thanks to some quick Georgetown fouls the Jays got five more attempts before the Hoyas attempted its next shot, but missed all five. It wasn't until an Avery Dingman three at the 12:51 mark that ended a run of ten straight misses to start the half and 23 straight dating back to the 11 minute mark of the first half. By then, the Jays trailed by 22, and never got within 17 thereafter.


Creighton shooting
first 5 mins.
1st half


Creighton shooting
next 5 mins.
1st half


Creighton shooting
last 10 mins.
1st half


Consecutive
shots missed by CU


GU fast break pts.


GU bench pts.


Creighton's futility overshadowed the best outside shooting the Hoyas have seen in a second half all season. The Hoyas were 7-10 from three point range after half, with three each from DSR and Trawick, who combined for 26 of the Hoyas' 39 second half points and 39 points combined for the game. Other players were not as consistent--Josh Smith had just one shot in 14 minutes and was not a factor in the game, but was ably supported by an eight point, eight rebound effort from Mikael Hopkins. Paul White opened the game with a three and an assist and ended with one of each in just 11 minutes of play. The Hoyas were outrebounded on the offensive end 14-5, but when your opponents shoots just 20.8%, that covers up a lot of inconsistency.
Creighton is a better team than the shooting would indicate, but nothing went wright. Milliken and Hegner had come off the bench to score 38 points in Creighton's upset of St. John's just three nights earlier; Saturday, they combined to shoot 2 for 19.
"We donít necessarily have that guy that we can turn to offensively when times are tough," said Creighton coach Greg McDermott. "Itís kind of been Milliken as of late, but he had a rough shooting day today," shooting 1 for 12.
The loss of four starters foretold a rough season for Creighton, and it was in evidence Saturday. With the loss, the Bluejays (10-13, 1-9) will end a streak of 18 consecutive seasons with 10 or more wins in conference play. The Jays, 1-7 on the road, face four of their next six away from Omaha. For the Hoyas: a critical week of opponents featuring Providence and Villanova.
The Georgetown half of the box score:

            MIN   2FG   3FG   FT  REB  A  PF  PTS
Starters:                                 
Smith-Rivera 37   5-8   4-9   2-2   3   2  2   24
Trawick      29   2-3   3-5   2-2   4   1  4   15
Peak         27   1-2   1-2   0-0   1   0  1    5
Hopkins      29   4-8   0-0   0-2   8   3  3    8
Smith        14   1-1   0-0   0-0   4   1  5    2
Reserves:
Campbell     15   0-1   0-1   0-0   1   1  2    0
Cameron       2   1-1   0-0   0-0   1   0  0    2
Copeland     19   2-3   1-3   0-0   8   1  1    7
Allen         2   0-0   0-0   0-0   0   0  0    0
White        11   0-1   1-3   0-0   3   1  0    3
Williams      2   0-0   0-0   0-0   0   0  0    0
Bowen        13   0-0   0-0   1-3   4   0  2    1
Hayes         2   0-1   0-0   0-0   0   0  1    0
Team Rebounds                       1
TOTALS      200  16-29 10-23  5-9  38  10 21   67

Additional coverage follows below.
---
HoyaSaxa.com: The One-Stop Web Site For Hoya Basketball™
An independent web site not affiliated with Georgetown University. All rights reserved.