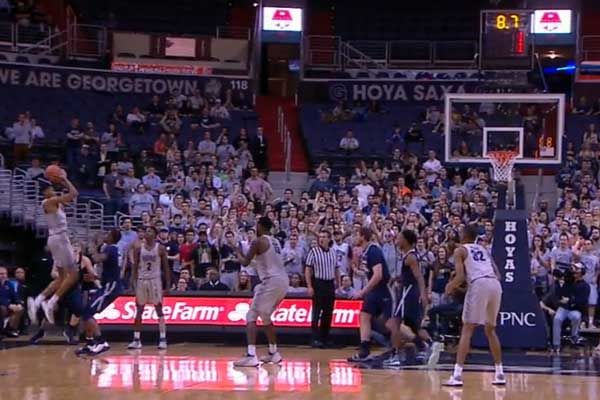 POST-GAME COVERAGE

For 30 minutes, Georgetown was every bit the match for #4 Xavier, but stalled late as the Musketeers swept the season series, 89-77, before 8,012 at Capital One Arena.

Georgetown shot 55 percent in a busy first half, leading 40-38 at the break behind four threes from Jamarko Pickett and holding Xavier's leading scorer, Trevon Bluiett, scoreless at in the first half. From a 50-47 lead four minutes into the half, Xavier answered with a 14-3 run, thanks to four Georgetown turnovers in six possessions.

The Hoyas closed to six, 61-55, midway through the half, but Jessie Govan missed the front and of a one and one and picked up his fourth foul 26 seconds later, and the Hoyas gradually lost steam.

Pickett led all GU scorers with 21, tying his season high. Naji Marshall led the X-men with 21, and J. P. Macura 20, while Bluiett was held to 1 for 10 shooting. The Hoyas' hot hand from three failed them late--GU was 6-8 from three in the first half and just 5-21 after halftime.

The Georgetown half of the box score:
-

            MIN   2FG   3FG   FT  REB  A  PF  PTS
Starters:
Mulmore      21   0-1   0-0   2-2   1   6  3    2
Pickett      28   0-4   6-7   3-4   3   1  3   21
Johnson      24   4-5   1-1   0-0   2   2  2   11
Derrickson   36   3-6   1-4   0-0   4   1  3    9
Govan        32   7-12  0-0   1-3  11   3  4   15 
Reserves:
Blair        23   1-5   2-5   4-5   3   1  1   12
Mosely       14   0-1   0-0   0-0   1   4  0    0
Walker        3   0-0   0-0   0-0   0   0  0    0
Dickerson    19   2-5   1-2   0-1   1   1  1    7
Team Rebounds                       3
DNP: Hines, Muresan, Mourning
TOTALS      200  17-38 11-19 10-15 29  19 17   77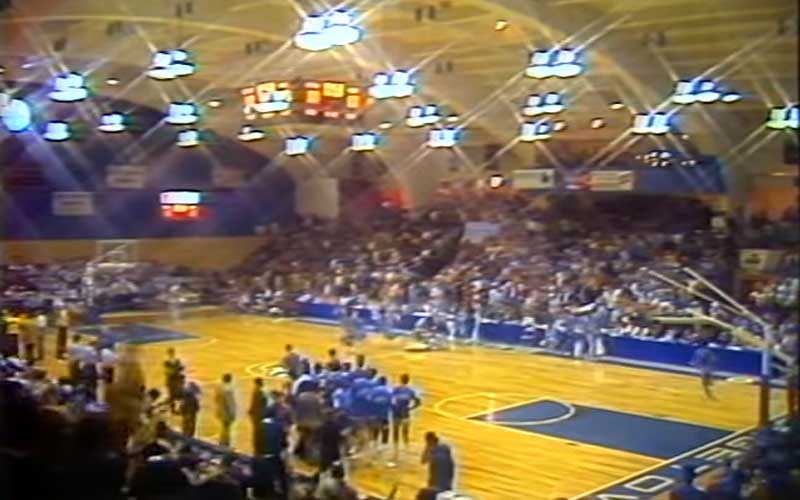 Fourth ranked Xavier comes to Washington this week, a good as time as any to remember the last time a #4 ranked team came to Washington--what was gained, and what was lost.

In the fall of 1981, Georgetown announced its first off-campus schedule since 1950, but noted that its biggest non-conference game, a Feb. 20 meeting with two-time Big 8 champions Missouri, had a scheduling conflict with the Ice Capades show at Capital Centre.

Instead of a big crowd at Landover against a team that would be ranked #4 in the nation, the game would be moved to a place called "McDonough Arena". In the Internet age that we live in, it boggles the mind that in 1982, no one at Missouri ever thought to ask "What the heck is McDonough Arena?"

In a subsequent interview, coach Norm Stewart said he assumed the "arena" was a structure along the lines of the buildings in the Big 8: Gallagher-Iba Arena, the Ahern Coliseum, the Lloyd Noble Center--the kind of places seating 7,000 to 12,000 fans, but not the NBA-type building that Capital Centre was. No worries.

So when the Tigers' team bus arrived late to the Key Bridge Marriott the night before, Stewart passed on a team walk-through and would get an early start at the gym by 9:00 am the next morning. Across the river, Al McGuire was holding court in the Center Pub and the little gym that could was about to become the talk of college basketball.

Somewhere, Dave Gavitt was smiling.

Norm Stewart and the Tigers walked into a buzzsaw on Feb. 20, 1982, where Georgetown made its debut on national television at an overstuffed McDonough Gymnasium. A crowd approaching 5,000 overwhelmed the capacity. McGuire couldn't help himself.

"I feel like I'm in a wine cellar!" he shouted over the noise overwhelming the NBC microphones.

"The fire marshal," he said, "must be out of town today."

Georgetown's 63-51 win was memorable in many ways. The team didn't lose a game for the next five weeks, and a freshman named Patrick Ewing became a household name. The most memorable game in 30 seasons at McDonough, it also marked the last game of any significance there. All these years later, little has changed in The House That Father Mac Built.

What does its future hold? Continued...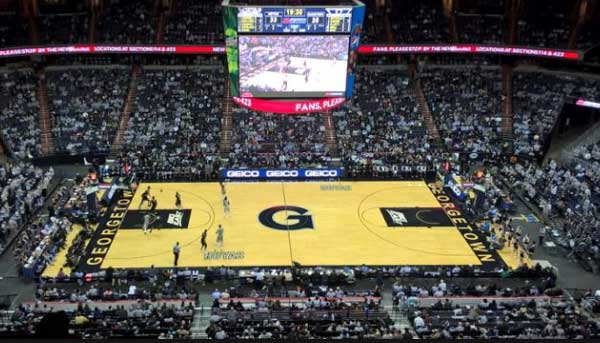 With three home games in a five day period, Georgetown needs a late run at the turnstile to avoid a fifth year of declining attendance in the last seven seasons.

Despite active promotions (Wednesday's is titled "51st State Night"), numerous tickets remain available for this week's game versus #4 Xavier, with tickets as low as $6.00 on the secondary market.

Attendance figures through February 18:


| | | |
| --- | --- | --- |
| Team | Games | Avg. Attendance |
| Creighton | 16 | 16,843 |
| Marquette | 15 | 13,649 |
| Villanova | 11 | 11,386 |
| Xavier | 17 | 10,461 |
| Providence | 15 | 9,217 |
| Butler | 16 | 8,550 |
| Seton Hall | 14 | 7,872 |
| St. John's | 14 | 7,533 |
| Georgetown | 16 | 7,439 |
| DePaul | 14 | 5,809 |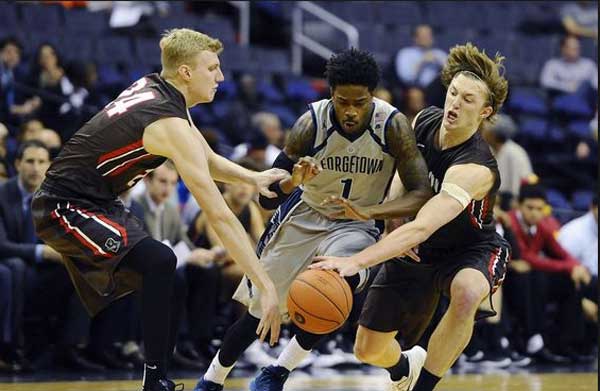 Senior Tre Campbell has received a graduate exemption to play a fifth season after graduating from Georgetown this spring, according to reports.

Campbell, a 6-2 guard from Washington, DC, averaged 3.7 points per game from 2014 through 2017 and did not return to the varsity as a senior following a knee injury suffered in February 2017 following a bus crash.

Georgetown has not posted any release on the matter.

Following graduation, Campbell would become the fourth GU player to exercise a graduate transfer year elsewhere, joining Moses Ayegba (C'14, to Nebraska), Riyan Williams (C'16, to Goldey-Beacom (DE), and Akoy Agau (C'17, to Southern Methodist). Agau has played in 20 games with the Mustangs this season, averaging 3.3 points.
Didn't catch the game last night on CBS Sports Network? Here are some highlights: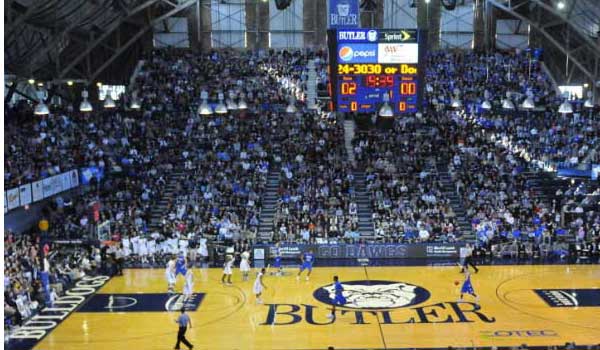 POST-GAME ARTICLES

A pair of season-high performances piloted Georgetown to an 87-83 road upset at Butler--one from who you would expect, one not.

The Hoyas got 27 points from Marcus Derrickson, but the surprise was reserve guard Trey Dickerson, with an 18 point effort that was five times the output of his 3.5 points average and matched his total point production over the last ten games combined. In the end, it was a solid team defense and some late game confidence that led the Hoyas to an important win at Butler Tuesday night.

Butler's only lead was an early one, 5-2. Georgetown got off to a great start, hitting seven consecutive baskets in a 16-2 run that gave it a 18-7 lead seven minutes into the first half. A run of threes by the Bulldogs narrowed the score to three, 20-17 at the midway point of the half, but Dickerson and Derrickson connected on the next four straight between them, 30-23, and Dickerson scored the next five after Butler had closed to two points at the 7:45 mark. Georgetown forced Butler to miss five of their final six shots from three point range with just four turnovers. Shooting 60 percent at the break, Georgetown led 44-39.

Georgetown's good shooting continued into the second half. The Hoyas opened with an 11-3 run to extend its lead to 13, 55-42, and connected on seven of its first nine shots of the half. A quiet crowd at Hinkle Fieldhouse saw Georgetown push the lead to 14 at the 14:45 mark before the turnover bug returned for the Hoyas. With just five turnovers all evening, Georgetown suddenly turned the ball over on three straight possessions as Butler climbed back in to the game, 58-50. A run was averted when Dickerson and Derrickson scored on consecutive possessions to extend the lead back to 13, 63-50, at the 12 minute media time out.

Marcus Derrickson's solid inside play continued to maintain Georgetown's lead. A pair of Derrickson jumpers brought him to 27 points at the 8:21 mark, 72-58, and a three from Jagan Mosely extended the lead to 15, 75-60 at the 7:32 mark. At this point, Butler turned its offense to inside play, and found success driving against the Hoyas. Layups on three of its next four possessions brought the Bulldogs to 79-69 at the 5:20 mark, and defensive pressure forced consecutive Georgetown turnovers that closed the lead to 78-71 with under 5:00 remaining.

An exchange of free throws kept the lead at seven, where Dickerson drove the lane with 3:13 to put the Hoyas up nine, 84-75. Neither teams could maintain momentum over the next minute, missing a combined six attempts (including two missed layups by Butler and a missed dunk for Jessie Govan) before Butler's Kamar Baldwin took over late. Baldwin fed Tyler Wideman inside for a dunk at the 1:53 mark, 84-77, and caught a break when Dickerson missed both free throws on the next possession, driving inside for the layup at the 1:39 mark, 84-79. Pickett threw the ball away eight seconds later, and Baldwin went back inside to close the lead to three, 84-81--six points in 26 seconds of play.

Georgetown needed something late, and an alert pass inside the lane from Derrickson to Jonathan Mulmore with 1:05 left allowed Mulmore to pick up a pair of big free throws, 86-81. The Bulldogs, who trailed by five despite going 0 for 7 from three point range in the second half, went back outside late, with Martin missing a three that was rebounded by Wideman and converted via free throws, 86-83, with 52 seconds remaining. Butler opted not to foul on its next possession, which worked to the Hoyas' advantage. Georgetown took 27 seconds off the clock on its next possession, and while Govan's jumper was short, it shortened the game. Instead of a quick layup and a foul, Butler went outside yet again, and Baldwin missed from 20 feet with eight seconds left, where a free throw from Jahvon Blair sealed the win.

"We've lost six or seven games when we've had the lead. If my team hasn't learned from that yet, then we aren't going to learn anything," said head coach Patrick Ewing in post-game remarks. "I thought we showed some resiliency and were able to make plays at the end both offensively and defensively."

The Hoyas' margin of victory was narrow but its effort was widespread across the board. Derrickson's 27 points tied a career high, while Dickerson's 18 points was his most in any game since Feb. 23, 2017 versus Western Illinois, while Dickerson was playing at South Dakota. Govan had 17 points and 12 rebounds (all defensive rebounds), as the Hoyas shot 57 percent for the second half and 59 percent overall.

Perimeter defense was the story of the game. Butler entered the game having scored 24 three pointers in its last two games and 66 over its last five. The Bulldogs hit five in the first half and none hereafter, as Georgetown held Butler to 0 for 9 from three point range after the break and 1 for 15 dating back to the late stretches of the first half. Had the Bulldogs gone inside earlier (BU shot 64 percent from two point range in the second half and had 30 of its 44 second half points in the paint) the outcome might have been different, but Georgetown's perimeter defenses did what it had to do and Butler was late in adjusting.

The win marks the first back to back Big East wins for the Hoyas since the G-men defeated Butler on Jan. 27, 2017. As Butler fans debate a three game losing streak that has suddenly drawn shade on the Bulldogs' sunny NCAA tournament hopes, there was no debate from the Butler locker room.

"Easy summation of it: The team that deserved to win, won," said Butler coach LaVall Jordan.

With an eight day break in the schedule and three consecutive home games to end the month of February, the Hoyas are in a better place right now than they have been all season, and have served notice that they are trending upward at the right time of the season.

The Georgetown half of the box score:



            MIN   2FG   3FG   FT  REB  A  PF  PTS
Starters:
Mulmore      17   1-1   0-0   3-4   1   4  4    5
Johnson      25   2-2   0-1   2-2   6   3  3    6
Pickett      31   0-1   2-6   4-4   0   1  2   10
Derrickson   34   8-10  3-3   2-2   7   2  0   27
Govan        28   6-11  0-0   5-9  12   4  4   17
Reserves:
Blair        20   0-2   0-3   1-2   1   1  0    1
Mosely       19   0-1   1-2   0-0   1   2  2    3
Walker        2   0-0   0-0   0-0   0   0  0    0
Dickerson    21   5-6   2-2   2-6   1   3  3   18
Team Rebounds                       3
DNP: Hines, Muresan, Mourning
TOTALS      200  22-34  8-17 19-29 32  20 18   87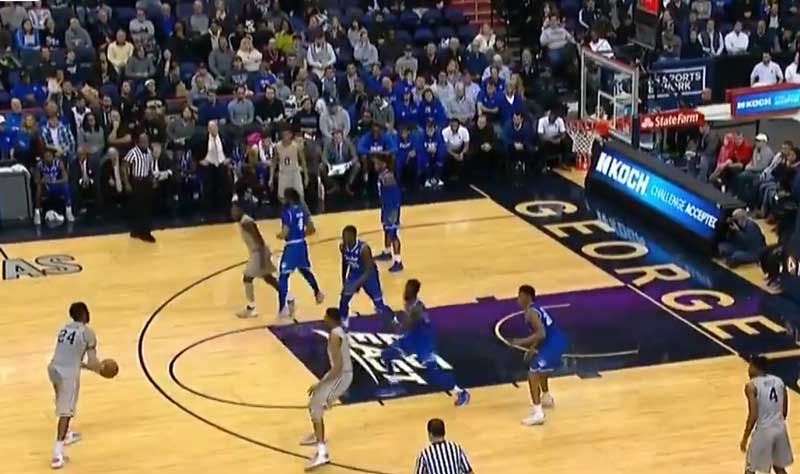 POST-GAME ARTICLES

A Marcus Derrickson three with 4.5 seconds left led Georgetown to its second Big East home win of the season, an 83-80 thriller over Seton Hall at Capital One Arena. Three missed free throws by Seton Hall in the final five minutes proved the difference as the Hoyas won despite losing a 17 point second half lead.

Georgetown led throughout the first half, and sometimes with ease. Seton Hall (17-7) was flat throughout the first twenty minutes, with the Pirates shooting 2 for 10 to open the first half and failing to stop the Hoyas inside--12 of the Hoyas' first 17 points were in the paint.

Jessie Govan picked up his second foul with 6:02 to halftime and Marcus Derrickson took over inside, scoring 10 of his 14 first half points down the stretch as GU built a 13 point lead at the break, 46-33. The Hoyas shot 59 percent from the field against just four turnovers, holding Seton Hall to 34 percent and limiting SH guard Khadeen Carrington to just 2 for 10 from the field.

The Hoyas scored the first two baskets of the second half go up 17, 50-33, but got back into a familiar rut as Seton Hall battled back. The Hoyas did not pick up a single rebound for the first five minutes of the half and missed its next six attempts as Desi Rodriguez led the Pirates on a 14-1 spurt over three minutes to close to six, 51-45. A pair of threes from Derrickson and Jamarko Pickett steadied the Hoyas on offense, but turnovers continued to bedevil the Hoyas in the frontcourt. The Pirates closed to three at the midway point of the second half, 60-57, while baskets by Jahvon Blair and Jessie Govan pushed the lead back to seven at the 7:56 mark, 64-57.

Rodriguez led the hall back once again. Georgetown scored just three points over a two minute period, as Blair connected on three foul shots, but the Pirates were back in form, forcing turnovers and unsteady play on defense. A 10-0 run featuring a monster dunk by Rodriguez, a basket by Delgado, and a Myles Powell three erased the aforementioned 17 point lead and gave the Pirates a 69-67 lead at the 5:39 mark.

The Hoyas regained the lead on baskets by Pickett and Dickerson, while Myles Powell missed a pair of free throws that proved significant. The Hoyas carried a 76-72 lead into the final three minutes, but gave up Powell's fifth three, 76-65. Trey Dickerson's put back with 2:07 remaining kept the Hoyas up three, 78-75, but Carrington missed the front end of a one and one with 1:56 left.

A missed three by Pickett and resultant out of bounds went to video replay with 1:36 remaining, awarding the ball to Georgetown, where Govan sank his first basket in seven minutes to push the lead to five, 80-75.

With 1:05 to play, Powell drove the lane for the basket and foul, 80-75. Georgetown's next series ran clock, but Derrickson's long three was blocked and returned for the tying basket, 80-80. Holding for the last shot, Georgetown ran the same high-low play, with Derrickson fouled by Khadeen Carrington on a three point basket with four seconds to play, but Derrickson (an 85% free throw shooter) missed the free throw. From its last time out, Powell's three banked left, as the Pirates dropped its third straight in Big East play.

Marcus Derrickson finished the game with 22 points and a career high 18 rebounds, along with 18 from Jamarko Pickett and 11 from Jessie Govan. Myles Powell and Desi Rodriguez continued the big numbers from Big East guards on the fractured Hoya defenses, combining for 49 points.

The Georgetown half of the box score:



            MIN   2FG   3FG   FT  REB  A  PF  PTS
Starters:
Mulmore      18   3-4   0-1   2-3   0   4  2    8
Johnson      31   3-3   0-0   0-0   1   1  2    6
Pickett      20   5-10  2-5   2-4   3   3  2   18
Derrickson   37   5-8   3-4   3-4  18   2  1   22
Govan        28   5-11  0-1   1-2   7   1  4   11
Reserves:
Blair        17   2-3   0-3   3-3   2   3  1    7
Mosely       26   1-2   0-1   0-0   0   4  3    2
Dickerson    23   2-2   1-4   2-2   2   4  2    9
Team Rebounds                       2
DNP: Walker, Hines, Muresan, Mourning
TOTALS      200  26-43  6-19 13-18 35  22 17   83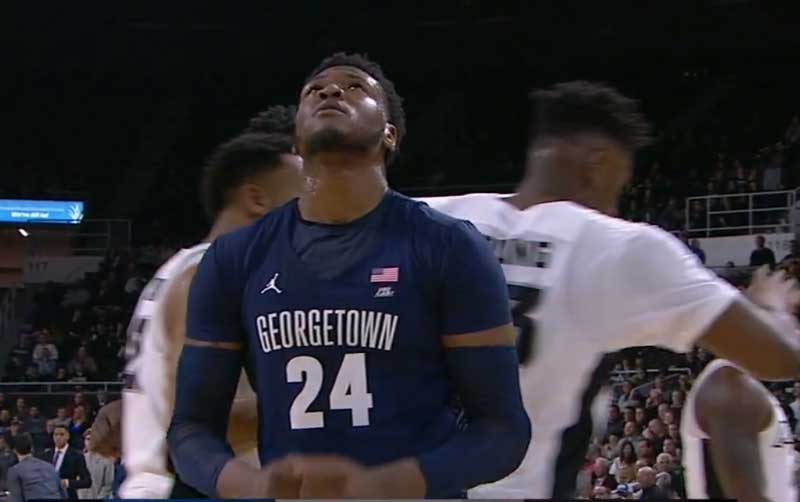 POST-GAME ARTICLES

John Thompson III wouldn't say it. Neither will Patrick Ewing. So we will: Ed Cooley has feasted on Georgetown decisions late in games, and he did it again Tuesday night.

"Providence closed down the stretch. Georgetown did not," said Bill Koch of the Providence Journal. "That's the difference between teams who play in the NCAA Tournament and teams who do not."

Despite a five point lead with 1:49 to play and a two point lead with as few as 30 seconds left, the Hoyas characteristically dropped its fourth consecutive game leading in the final minute, giving up nine straight points to the Friars in a 73-69 headscratcher at the former Providence Civic Center. For a PC program which was just 19-43 against Georgetown from 1980 to 2013, Cooley has now won seven straight.

This shouldn't have ended this way. The Hoyas roared out of the gate, with junior center Jessie Govan contributing 12 of the team's first 13 points. Georgetown led by as many as ten in the first half, 30-20, as the Hoyas enjoyed crisp passing and back to back threes by Jahvon Blair and Jamarko Pickett to quiet the home crowd. The Hoyas held the ten point lead into the final six minutes, where the team went into a predictable slumber and PC returned to form. The Hoyas failed to make a basket for nearly six minutes as Providence went on a 11-1 run to take a 40-39 lead into the final moments, interrupted only by a Govan three to give Georgetown as 42-40 lead at the break.

Much like the Creighton game, the second half ebbed and flowed, with neither team able to build any consistent lead. Providence opened the half cold, shooting just 3 for 15, but committed only one turnover in nearly 20 minutes of play and thus was able to hang around. Down one with under eight minutes remaining, Georgetown made its move.

A Blair three put the Hoyas up 59-57 at the 7:09 mark, followed by six straight from Govan, tying his career best with 27 points with 4:11 to play. It turned out to be Govan's last points of the game, followed on the next possession by Marcus Derrickson's 5th foul in what was a lackluster effort all around for the junior forward. A pair of missed one and ones at the line spelled trouble for PC, and as pair of Pickett free throws at the 2:25 mark put the Hoyas up 67-62. what could go wrong?

A foul on Jonathan Mulmore closed the lead to four, 67-63. On the ensuing pass out of bounds, the pass went way off course, but PC was still not able to convert at the line, missing one of two and settling for a 67-64 deficit at the 2:02 mark. Free throws from Blair pushed the lead back to 69-64 with 1:52 to play. Down three, the Hoyas left reserve forward Isaiah Jackson alone on the baseline. Alone. Really alone, as in "no one within six feet of him," according to the Fox Sports 1 broadcast team. Jackson calmly hit the three to close to 69-67.

Georgetown had time and the ball, but made no progress against the shot clock and Govan launched up a bad three point attempt. Jackson missed a three pointer, but PC's Alpha Diallo got inside the GU defenses for a rebound and was fouled, hitting both free throws to tie the score, 69-69, with 29 seconds remaining.

Again, Georgetown had time and the ball, with the potential for a final possession to run out the clock and, at worst, go to overtime. Instead, Jagan Mosely drove for a layup with seven seconds remaining, missing the layup and Govan was tagged with a foul under the basket. PC's Kyron Cartwright, who struggled all evening, hit two free throws to give PC a 71-69 lead with four seconds left. Yet again, Georgetown had time and the ball. Mosely's inbound pass was thrown to three PC defenders at mid-court, who gladly collected the bounty and was fouled with less than a second remaining.

The Hoyas shot just 33% percent after halftime and coughed up 16 turnovers which resulted in 15 PC points. GU was 6 for 11 at the free throw line after halftime, any one of which might have been the difference.

For a fourth straight game, Georgetown had no plan of what to do late. Ewing and his staff continue to see the same late game mistakes over and over and make no significant adjustments. Win the last four games, all winnable, and Georgetown is 7-5 in the Big East and making a run at the upper division. Instead, the Hoyas dropped to 3-9, having lost six of seven.

Next up, Seton Hall, aiming for an unprecedented third straight series sweep of a Georgetown team that has dropped seven of its last nine to the Pirates. If the game gets tight late, try not to be surprised at the outcome.

The Georgetown half of the box score:



            MIN   2FG   3FG   FT  REB  A  PF  PTS
Starters:
Mulmore      20   1-1   0-0   2-2   0   2  4    4
Johnson      24   1-3   1-1   0-3   6   1  4    5
Pickett      36   1-3   1-4   2-2   7   3  1    7
Derrickson   26   2-8   1-2   2-6   9   0  5    9
Govan        37  10-16  1-2   4-4   7   2  4   27
Reserves:
Blair        27   0-1   2-6   2-2   1   2  1    8
Mosely       14   2-5   0-1   2-3   3   1  1    6
Walker        4   0-0   0-0   1-2   2   0  0    1
Dickerson    12   1-2   0-1   0-0   2   1  3    2
Team Rebounds                       2
DNP: Hines, Muresan, Mourning
TOTALS      200  18-39  6-17 15-24 39  12 23   69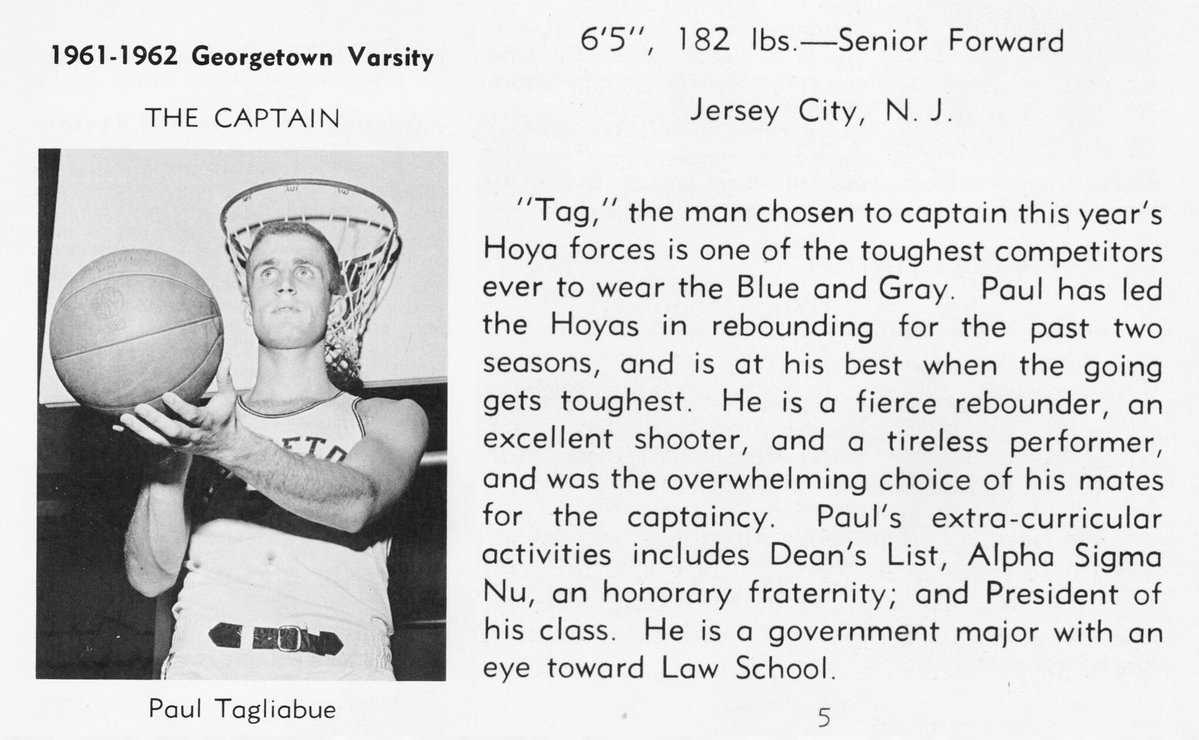 Founded in 1953, the Georgetown University Athletic Hall of Fame is believed to be the oldest collegiate hall of fame of its kind. On Friday, two former basketball players will be honored in festivities at the Leavey Center.

Paul Tagliabue (C'62), a three year basketball letterman from 1959 through 1962, will be inducted for his efforts on behalf of Georgetown athletics during the reconstruction of the Big East Conference and his work as the former chairman of the University's Board Of Directors. Tagliabue averaged 11.3 points and 9.2 rebounds in his collegiate career, then went on to NYU Law School, an extensive legal career at Washington-based Covington & Burling, and served as the commissioner of the National Football League from 1989 through 2006.

The University is also extending a special award at Friday's event, titled the "Letterwinner of Distinction", in the memory of James Higgins (1948-2016). Higgins, a Hoya guard from 1967 through 1970, served extensively on the University's Board Of Directors and Board Of Regents, supporting and advancing the cause of athletics within the University.

Other inductees include Ebiho Ahonkhai (F'97, women's basketball), Steve Iorio (B'98, football), Janne Kouri (B'97, football), Dan Martin (C'97, men's lacrosse), Matt Rienzo (C'97, men's lacrosse), and Melissa Tytko (B'99, volleyball).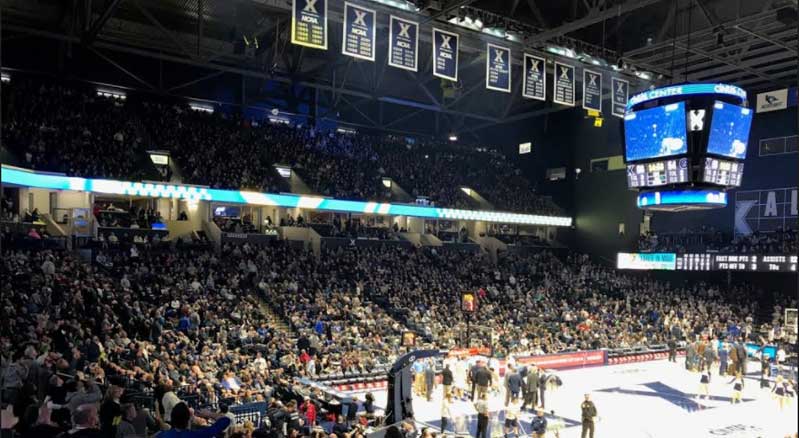 POST-GAME COVERAGE

Trevon Bluiett had 31 points, including a three pointer at the buzzer to end the first half and a four point play to send the game into overtime, as Georgetown dropped its third overtime game of the season, 96-91, to #6-ranked Xavier Saturday in Cincinnati.

Georgetown (13-9) opened the game with strong play on both ends of the court, taking care to protect the ball. The Hoyas had seven assists in its first nine possessions for the game, and did not commit a turnover for the first 13 minutes of the first half in a game that saw neither team led by more than five points.

A run of three pointers began to take hold later in the half. The Hoyas led 35-30 when the musketeers answered with threes on three consecutive possessions, 39-35, before Jamarko Pickett answered with one for GU, 39-38. In a half that featured 17 first half points from center Jessie Govan, the junior scored on back to back possessions to give GU a 44-41 lead with 1:09 to the break. One the ensuing possession, Xavier's Tyreke Jones closed the gap to one, 44-43, and a long three from Dickerson was short, where Paul Scruggs found guard Trevon Bluiett for a step-back three to end the half, 46-44.

Georgetown's numbers were uniformly strong for the first half, shooting 48 percent from the field, a 22-12 advantage in the paint, and 8-0 on fast break points. The Hoyas' guards were unable to contain Bluiett, however, as the guard finished with 16 points at the half for a Xavier team which sank eight threes and 53 percent of its shots overall.

Govan, Pickett, and Marcus Derrickson accounted for 36 of Georgetown's 44 points at the break, and received additional support from freshman Jahvon Blair in the second half. Blair sank four of Georgetown's five three point field goals in the second half, each coming at key stretches of the half. Down five, Xavier's largest lead of the night, Blair's three closed the gap to two with 13 minutes to play, and kept the margin close as Jessie Govan sat for foul trouble. Blair answered just over a minute later, 63-62, and a third to tie the score at the 10:11 mark, 65-65. Blair's fourth three gave the Hoyas a 75-54 lead with 5:50 remaining, and the threat of an upset was in the air among the sold out crowd at Cincinnati's Cintas Center.

Every possession mattered. Tied at 75 with 5:26 remaining, the teams exchanged turnovers, whereupon Kaleb Johnson picked up his fifth foul on Bluiett, sinking two to give X a 77-75 lead. An exchange of threes followed, 80-78 and the Hoyas answered with a Pickett lay-up and a pair of free throws go up two, 84-82, with 1:34 remaining.

Xavier's next series was well defended by the Hoyas, and Jamarko Pickett picked up a pair of free throws off an offensive rebound with 38 seconds left, 86-82. The Musketeers had missed five of its last six attempts down the stretch but needed a big shot from Bluiett and he delivered. Down four with 24 seconds left,. Paul Scruggs found Bluiett on the baseline and behind the arc. Late to the defense, Jagan Mosely swatted at the ball and fouled Bluiett, where the resulting three point basket set up a free throw and the dreaded four point play to send the game into overtime.

Overtime has been a killer for GU--the Hoyas have won just one extra period in three seasons and such was the case Saturday. The Hoyas' case was hurt with 3:45 into overtime, where a moving screen sent Govan to the bench with his fifth foul. For its part, however, Xavier could not buy a shot in the overtime, missing on all seven attempts, but getting to the foul line with regularity. The X-men connected on six consecutive free throws to take a 92-88 lead with 1:32 left, and Georgetown was equally ineffective from the field (0-4) until Derrickson sank a three with 54 seconds left, 92-91.

Free throws from Quentin Goodin pushed the lead to 94-91 with 31 seconds to go, but an airballed three from Pickett and two more free throws from Bluiett put the game away. The Musketeers finished the overtime 0 for 7 from the field but 10 for 10 from the line to pull out the victory, its seventh of its last eight versus Georgetown dating to the 2014-15 season. Georgetown posted four players in double figures: Govan (23), Pickett (21), Blair 919) and Derrickson (19 points, 15 rebounds). Guard play was again absent for the Hoyas, with starters Jonathan Mulmore and Kaleb Johnson finishing a combined 0-4. Turnovers were much improved for Georgetown, with just 10, but four came with the score tied, any one of which could have protected the Hoyas down the road from Bluiett's fatal strike.

Bluiett led the Musketeers with 31, and became the third guard to score 30 or more points against the Hoyas in Big East play this season.

Georgetown is improving even if the record does not suggest it. Its 3-8 mark in Big East play is its lowest win total since the 2003-04 season and further isolates GU from the top six in the Big East tournament pairings, trailing Providence by 3 1/2 games with seven to play.

Georgetown stays on the road Tuesday versus Providence, another school that has enjoyed considerable recent success against the Hoyas and it equally touch at home. But as Xavier will attest, there are no guarantees in the Big East...just that Georgetown hasn't been able to take advantage.

The Georgetown half of the box score:



            MIN   2FG   3FG   FT  REB  A  PF  PTS
Starters:
Mulmore      17   0-1   0-1   0-0   0   2  4    0
Johnson      22   0-0   0-2   0-0   1   0  5    0
Pickett      33   5-8   3-12  2-4   9   0  3   21
Derrickson   42   4-10  2-5   5-6  15   1  4   19
Govan        34  10-15  0-1   3-3   9   2  5   23
Reserves:
Blair        24   0-1   5-10  4-4   1   2  1   19
Mosely       30   3-5   0-0   0-0   3   5  4    6
Walker        1   0-0   0-0   0-0   0   0  0    0
Dickerson    23   0-2   1-1   0-0   4   6  2    3
Team Rebounds                       1
DNP: Hines, Muresan, Mourning
TOTALS      200  24-42 11-32 14-17 43  22 28   91

Recruiting is a never ending job for head coach Patrick Ewing, per a feature in this week's edition of The HOYA.
"After we lost the other day, I went out on a recruiting trip," Ewing said in
the article
. After Creighton, I [went] out west. It's never ending. We need pieces. I'm out there trying to fill [the class of 2019]. It's never ending."
"Except for the DePaul loss, Georgetown has held steady in Big East play, garnering three wins against teams below them and seven losses against teams with better records," writes The HOYA's George Brennan. "With eight games remaining, all against teams that, according to ESPN's Joe Lunardi, are projected to make the NCAA tournament, the Hoyas have little room for further disappointing upsets but have the potential to notch the season's best victory."