One of the formative documents in the history of the Big East conference wasn't even in the conference office and some senior officials had never seen it.
A copy of the original marketing plan for the conference, presented by the Providence advertising agency Duffy and Shanley, was provided to Bloomberg News by the retired co-founder of the agency, Dave Duffy.
Duffy and Shanley was instrumental in selecting a name for the conference.
"What's in a name?" its report said. "It must be strong. It must be simple. And, hopefully, it can be somewhat original."
Big East was the firm's recommendation, but the other choices got the attention of Bloomberg News. Among them were the Empire Conference, Conference One, Eastern One, Olympic Conference, Eastern Compact, and even "Galactic East", playing off the popular Star Wars movie that had debuted two years earlier.
Two suggestions, Colonial League and Patriot Conference, were independently adopted by other organizations.
The name is seen as a major asset for the schools going forward.
"All the great brands of the world -- General Electric, Coca-Cola, they have a lot of roots," said Duffy. "It would be hard for the new basketball league to start over and match that."
Schools of the the former Big East are still wrestling with a name change. Previous news of a possible "America 12" name has received pushback by schools and the media, and the confernce may be considering a name with ties to the Metro Conference, where a number of these schools competed in the 1970's and 1980's.
Then again, Galactic East is still available.
GU 61, Duquesne 55
GU 68, Liberty 59
GU 78, UCLA 70
Indiana 82, GU 72 (OT)
GU 72, Mt. St. Mary's 50
GU 37, Tennessee 36
GU 64, Texas 41
GU 46, Towson 40
GU 89, Longwood 53
GU 81, W. Carolina 68
GU 65, American 48
Marquette 49, GU 48
Pittsburgh 73, GU 45
GU 67, St. John's 51
GU 74, Providence 65
S. Florida 61, GU 58
GU 63, Notre Dame 47
GU 53, Louisville 51
GU 74, Seton Hall 52
GU 68, St. John's 56
GU 69, Rutgers 63
GU 63, Marquette 55
GU 62, Cincinnati 55
GU 90, DePaul 66
GU 57, Syracuse 46
GU 79, UConn. 78 (2OT)
GU 64, Rutgers 51
Villanova 67, GU 57
GU 61, Syracuse 39
GU 62, Cincinnati 43
Syracuse 58, GU 55 (OT)
Fla. G.C. 78, GU 68
Sophomore forward Otto Porter was named Monday as one of four finalists for the Naismith Player Of The Year Award, to be presented April 7 by the Atlanta Tip-Off Club.
Also selected as finalists: Trey Burke (Michigan), Doug McDermott (Creighton), and Victor Oladipo (Indiana).
From Big Lead Sports, this factoid:
"Given the seeds the last four years, Georgetown would have been expected to have 7.4 wins, putting them a whopping 6.4 wins below where they should be. This comes in just below Arizona from 1990 to 1993 (-6.1 wins below expected), a stretch that included losses to 15-seed Santa Clara (with Steve Nash) and 14-seed East Tennessee State, along with Sweet Sixteen and 2nd Round exits as a 2-seed. The third worst stretch was Ray Meyer's' De Paul teams from 1979-1982 (-5.6 wins below expected). De Paul actually advanced to the Final Four as a 2-seed in 1979, but then lost as a 1-seed in the first game three straight years."
Columnist Thomas Boswell of the Washington Post offers this factor: tempo.
"You can't have everything both ways in sports," he writes. "The fewer possessions in a basketball game, the more vulnerable the better team becomes to weaker teams because they have shortened the game. By reducing the data sample, you introduce more outlier results."
Some string words from Georgetown Voice columnist Kevin Joseph in Monday's Voice blog, calling Friday's loss "an indisputable condemnation of John Thompson III's post season failures since that astounding run to the 2007 Final Four."
"Still, it's not all that farfetched to continually put faith in a man that resurrected the Hoya program from the doldrums," he concludes. "That hope is similar to what we have for the Georgetown Hoyas because soon enough, the disappointment of this tournament will fade. And by this time next year, we may once again blindly pencil the Hoyas in for a magical run to the Final Four."
Seeking to answer a volume of fan and media discontent following Georgetown's loss Friday, head coach John Thompson III told the Washington Post he still expects big things for the program.
"I'm in this to win a national championship," Thompson told columnist Jason Reid. "We will get this figured out. We'll make the changes we need to make. And we will hang another big banner on the wall at McDonough Arena. We will."
"Do I think we need to reinvent the wheel? No," said Thompson. "I don't look at it that way at all. Obviously, we have to do something. I started by saying I aspire to win a national championship. You can't do that unless [you perform in the tournament]. So you have to find [what's wrong] and fix it."
One media observer called it "a requiem for a lightweight". Presented without comment, other thoughts on Georgetown's now-regular stumble from the NCAA stage in the JT3 era:
"When teams fall short of expectations — especially as often as the Hoyas have — fans and the media want answers. Usually, focusing on the coach is where people start."--Jason Reid, Washington Post
"Thompson is the coach of the Georgetown Hoyas. At least until the NCAA tournament, when his team suddenly turns into the Washington Generals...Jamie Dixon is an annual NCAA tourney underachiever at Pittsburgh (including this year). Bo Ryan had some memorable flops at Wisconsin (including this year). But they look like Mike Krzyzewski compared to JTIII. So Georgetown faces a decision: Does consistent regular-season success – we're talking seven 20-win seasons in the past eight years – matter enough to overlook continual failings at tournament time?"--Pat Forde, Yahoo Sports
"It can't be simply coincidence that Georgetown, again, after an extraordinary regular season, would find the world turned upside down at the NCAA tournament. One of the country's toughest defenses unraveled. One of the nation's toughest teams bullied. The Big East player of the year stymied. The Big East coach of the year exposed. It can't be a fluke because it's happened before. On Friday, it happened again."--Craig Stouffer, Washington Examiner
"For Georgetown, Friday night's upset win was just the latest in a string of disappointments for the program since John Thompson III took the Hoyas to the Final Four six years ago. No fan base has endured more heartbreak and embarrassment than this one" --Matt Norlander, CBS Sports.com
"A John Thompson III-coached team losing in the Round of 64 to a mid-major has become a near-annual tradition."--Stewart Mandel, Sports Illustrated.com
"I've got a class that is Georgetown basketball, and they have done so much for this program. They are this program. They have done so much for me. You know, I just feel like I've let them down."
--John Thompson III, March 23, 2008

"It wasn't a surprise...They did a terrific job and it was led by their back court. They just had all the answers. As I said, sitting here thinking about it, sometimes players just make plays. And they consistently made the plays over and over again."
--John Thompson III, March 18, 2010

"As the coach, as the head of the program, you go through introspection, and we'll take time, and I'll do that. As I said in the opening statement, I said this, a lot will be discussed about this group and what they have and haven't done in the post season. We'll evaluate that."
--John Thompson III, March 19, 2011

"I think once they started to do that, that gave them momentum a little bit...we took some quick shots at the other end and made poor decisions at the offensive end while they were going through the stretch where they felt like they were getting every offensive rebound."
--John Thompson III, March 18, 2012

"What you saw out there wasn't typical Georgetown basketball. The thing that we pride ourselves on, we just couldn't get stops. We just couldn't get stops."
--John Thompson III, March 22, 2013
#10 Davidson. #14 Ohio. #11 Virginia Commonwealth. #10 NC State. #15 Florida Gulf Coast.
Once is an upset. Two is an anomaly. Three is a trend. Four, a pattern.
But five? Five?
For only the seventh time in NCAA tournament history, a #2 seed was escorted out of the opening round Friday, a mix of the the worst on-court performance and some of the worst off-court preparation of the John Thompson III era in the embarrassment that Georgetown University and its fans took at the hands of Florida Gulf Coast University, 78-68, a school that wasn't even founded until 1997 and who was better known for the ex-model wife of its coach than the caliber of its athletics.
This game was blown apart soon after halftime, and the lack of response on and off the court was both discouraging and strangely expected. It's not like we haven't seen this kind of intellectual inertia from a John Thompson III team before.
But what is the common thread?
Markel Starks wasn't guarding Stephen Curry when #10 seed Davidson College erased a 17 point second half deficit and sent the #2-seeded Hoyas home in the first weekend of the 2008 tournament.
Otto Porter wasn't around when Armon Bassett dumped 32 on the #3 seed Hoyas for #14 seed Ohio.
Jabril Trawick was a junior in high school the night Brandon Rozell dumped 26 on the #6 seed Hoyas against a Virginia Commonwealth team that had squeaked its way out of a play-in game three nights earlier.
D'Vauntes Smith Rivera was nowhere near Columbus Ohio the day when Jason Clark and Henry Sims, who had combined for 14 for 24 shooting two days earlier, scored just four baskets between them to give #10 North Carolina State its biggest win in NCAA play since the Les Robinson era.
But they were all in evidence as Florida Gulf Coast not only matched the 39 points allowed to Syracuse two weeks earlier, but doubled it.
Georgetown opened the game with no emotion or energy, falling behind 6-3. A pair of early baskets from a diminished Otto Porter gave the Hoyas a 7-6 lead at the 15 minute time out, but Porter's fading presence was in evidence all evening. Instead, it was Markel Starks that carried the team early, scoring nine of the Hoyas' first 14 points. Midway through the half, Georgetown held a promising 18-11 lead, controlling the boards, and keeping the upstart Eagles at bay.

But old habits die hard. Mikael Hopkins was tagged with early foul troubles. Nate Lubick, ineffective through the Big east tournament, was no better in this one. And when Markel Starks picked up two fouls, Coach Thompson opted to sit him--the only offensive threat of the game--and expect someone to show up. They did not, not one of them.

Despite a first half where FGCU shot under 37 percent, it was mathematically hard not to catch up when Georgetown as so undisciplined and scatter-brained. With 9:34 remaining, Georgetown missed three straight chances at a tip-in. At 9:08, Porter missed a short turnaround. Smith-Rivera, short. Bowen, missed.

Up one with 5:32 in the half, Jabril Trawick missed the front end of a one and one, part of a first half where the Hoyas' lazy foul shooting was in evidence. Good defense kept the Eagles off track, but free throws narrowed the lead to 20-19, tied the count at 20-all with 4:29 remaining, and even a pair of missed free throws could not wake up the Hoyas from being led to slaughter. Back in the game, Hopkins missed a close jumper and the eagles took the lead at the 4:00 mark, 22-20. Georgetown's only basket of the final 10:17 of the half came on a Jabril Trawick layup, and Georgetown trailed by two at the half, 24-22, despite allowing FGCU one field goal in the final 7:05 of the half. Georgetown shot a woeful 33 percent from the field (9-27), 1 for 8 from outside, and missed five of eight free throws.

And where were the adjustments at halftime, a hallmark of JT3 teams all season? Someone must have left them on the bus.

Georgetown opened the second half will all the intensity of a layup drill at Midnight Madness, as the Eagles pinned back the Hoyas with an open three ten seconds into the period and an alley-oop dunk twenty seconds later. Now down a seven, 29-22, georgetown responded with its best run of the game, a 9-2 spurt in just 1:45 that tied the score at 31-all. Needing a defensive stop, the Hoyas of 2013 were no more prepared for Bernard Thompson as their predecessors--or their coach-- were ready for the likes of Curry, Bassett, or Rozell.

With 17:02 left, thompson launched an open three. Georgetown responded with a nate Lubick fumble down low, whereupon reserve guard Eddie Murray wowed the crowd with an alley-oop dunk against a defense that more closely resembled Georgetown Prep. Trawick tossed up a wide three, and the eagles responded with a second Thompson dunk, 39-31.

And where were the adjustments from the bench? A pair of Trawick free throws closed to six but the defense game up a give and go dunk, 41-33, a layup, 43-33, and a three pointer to go down 46-33 at the 13:51 mark, part of a 19-2 run against an undisciplined and uninspired Hoya lineup, none more so than Otto Porter, who missed six straight shots, many of them from short range, as the FGCU lead grew to uncomfortable extremes. A high flying dunk with 12:32 to play pushed the lead to 19, 52-33, the largest lead on a Georgetown team wince the loss to Pitt in early January. Put another way, Florida Gulf Coast had already scored mire points by the 12 minute time out than 14 different Georgetown opponents had scored for an entire game.

"Let's clarify something: This wasn't a fluke. This wasn't a temporary lapse<' wrote Andy Glockner of Sports Illustrated. "This was a 40-minute butt-kicking of a Final Four-caliber Big East club by a team that lost by 25 [to] Pitt earlier this season. This was complete domination, but by the little guy. This was, honestly, weird to watch."

Unfortunately, he wrote it three years ago as Ohio, the previous bellwether for bad NCAA losses, was playing the same tune on a Georgetown coaching staff which had learned little from that defeat.

And however bad things were, and they were, TBS analyst Len Elmore was right on target--there was still time for a comeback, if only the Hoyas had stepped it up when time was on its side. Consecutive baskets by Aaron Bowen cut the FGCU lead to 15, but over the next three minutes GU was doing little but trading points to a FGCU team that had cooled from the field but were making hay from the line. A free throw from Porter at the 10:51 mark was his first points in nearly 24 minutes, but he missed the second and missed an uncontested layup a minute later, part of a run where he missed 11 of his final 14 shots from the field.

The game was lost in this middle tier of the half, where Georgetown lacked the intensity to catch Florida Gulf Coast as they were in a lull from the field. Over a two minute stretch, down 14, with no particular play calling, the Hoyas missed on four straight three point attempts from three (including an airball three from Bowen) when two pointers could have cut the margin to as few as six with six minutes remaining. Instead, the Eagles, with just one field goal--one--since the 13:40 mark, still led by 15 inside the four minute mark, 62-47. and the Hoyas had no strategy on how to dig themselves out of the sink hole.


GU record vs.
10 seed or less
before 2008


GU record vs.
10 seed or less
since 2008


GU record
last 6 post-season games


JT III
NCAA tourn. record


JT III record
since 2007 Final 4


GU 3-pt FG%


FGCU pts. in paint


FGCU 2nd half pts.
most in an NCAA
game vs. Georgetown


GU avg. pts. allowed,
entire season


GU fouls


FGCU FT%


GU shooting,
last 5 min.,
1st half


GU shooting,
last 10 min.,
1st half


FGCU shooting,
first 5 min.,
2nd half


3-pt attempts,
most in NCAA's
since 1994


3-pts made


FGCU FT's,
last 5 min., 2nd half


GU FT's,
entire game


Combined shooting
GU big men
(Hopkins, Lubick, Ayegba)


Otto Porter
FG% during
regular season
(156-311)


Otto Porter
FG% during
post season
(12-39)


With no answers inside and Hopkins and Lubick sitting for much of the half, the three pointers returned too little and too late. Threes from Smith-Rivera and Porter closed the gap to nine with 2:12 left, whereupon Markel Starks bookended his early spurt by scoring the hoyas' next eight to close to four, 72-68, with 52 seconds left. With a chance late, Starks and Porter each missed from three, and FGCU closed the game out at the line.
"They came out and got it and we didn't. We didn't play well today," said junior Nate Lubick. Starks added, "I concur with what Nate said."
Starks led all scorers with 23 points. The GUHoyas.com recap dutifully gave Otto Porter credit for 13 points but his 5 for 17 shooting was a low point for a career which may have ended Friday night. In post game comments, Porter said he had made no decision on the an expected place in the 2013 NBA lottery, though his standing was not helped by sub-par efforts over the last three games.
Poor shooting was contagious with little effect from the bench. D'Vauntes Smith Rivera was 0-6 from three, the team was 3-17 excepting Starks. Inside, Mikael Hopkins was 0-3, Moses Ayegba 0-1. Georgetown gave up 33 fouls to just 24 field goals and frankly wasted 27 shots from three point range when the FGCU defense was porous enough that Georgetown could have picked up two pointers, particularly early, that could have been decisive. Instead, Georgetown couldn't defend.
"What you saw out there wasn't typical Georgetown basketball," said Coach Thompson. The thing that we pride ourselves on, we just couldn't get stops. We just couldn't get stops."
"As the coach, as the head of the program, you go through introspection, and we'll take time, and I'll do that. As I said in the opening statement, I said this -- a lot will be discussed about this group and what they have and haven't done in the postseason. We'll evaluate that."
But that was a quote from two years ago, and it bears yet another look. In his first nine NCAA game appearances, John Thompson III was 7-2. Since then, 1-5.
'I wish I could, trust me, more than anyone on this earth I've tried to analyze it, think about it, look at it, think about what we should do differently, and I don't know," Thompson said Friday night.
Because a year from now, some team from the Horizon League or the Southland Conference is going to see the name "Georgetown" up on their bracket and think to themselves, "yeah, we can win that game."

And why not? Because this staff, this team, and this annual pratfall in NCAA play gives no good reason to think otherwise.
The Georgetown half of the box score follows below. Media links follow on Saturday.
Here's the Georgetown half of the box score:

            MIN   2FG   3FG   FT  REB  A  PF  PTS
Starters:                                 
Starks       34   4-7   4-10  3-5   2   6  3   23
Trawick      34   2-3   1-4   4-5   6   1  5   11
Porter       38   3-11  2-6   1-2  11   3  4   13
Lubick       28   2-3   0-0   0-2   6   3  4    4
Hopkins      14   0-3   0-0   3-4   4   1  4    3
Reserves:
Smith-Rivera 33   3-5   0-6   0-0   2   1  5    6
Bowen        12   3-4   0-1   2-2   5   0  5    8
Caprio        1   0-0   0-0   0-0   0   0  0    0
Domingo       1   0-0   0-0   0-0   1   0  1    0
Ayegba        5   0-1   0-0   0-0   1   0  2    0
DNP: Allen, Bolden, Hayes
Injured: Adams
Suspended: Whittington
Team Rebounds                       1
TOTALS      200  17-37  7-27 13-20 39  15 33   68

A poster on the HoyaTalk board summarized it as follows:
"[The] problem isn't recruiting. We've won 25+ games for the past few years. The problem is obviously complicated, but I think they are threefold when it comes to these NCAA games:

1) Limited rotation: we play with such a short bench all season to try and win every game during the year... then we fade at the end due to fatigue from rotation players and inexperience from non rotation players.

2) Lack of heart: JT3 sets the tone for the team to be calm and cerebral. This usually does not work in the tournament. Its more about passion and heart, something our team has lacked in recent memory.

3) No adjustments: Small schools in the tournament scout us well. They put all their scouting efforts on one game and prepare exclusively against us. JT3 and staff refuse to even slightly change our strategy even in games we are losing. We needed to pack in the zone against this team and let them beat us with the 3. Stop switching so much, going for pump fakes and leaving back doors open. Instead, we played almost exclusively man to man as well as an occasional zone where we extended it well past the 3pt line."
It's been three months since this site posted an editorial expressing personal concerns about Georgetown leaving the Big East conference, and when Georgetown announced a week later that it would do so, my comments to some colleagues ranged from irate to...well, somewhat more than irate. The response was, in some ways, a deeply held if somewhat irrational concern that Georgetown was selling its athletic birthright by abandoning the principles that had determined and distinguished the Big East name.

Wednesday, in a remarkable turnaround from that murky Dec. 22 announcement, the birthright was restored. For unlike Esau and Jacob, the cost was much more than a bowl of stew, of course, but a gift that which one despised, the other valued, and in doing so the great intangible assets of the Big East--its name, its legacy, and its tournament--have reverted to the schools who treasure it the most.

I've said nothing in public about the matter in the interim, in part because of a quote in the previous column:


"Jack DeGioia has done more for Georgetown University in the last 50 years than anyone since Tim Healy and he is too smart to do something ultimately foolish."
He would not, he did not, and Georgetown fans (as well as Big East fans) can thank him for it.
DeGioia's leadership in this delicate divorce of collegiate interests was vital to making this a seamless and, for the most part, an amicable split. The only remnant of the "old Big East" in the football camp was Connecticut, whose days in what some call the "Re-Conferenced USA" will be temporary until they get a better offer elsewhere. Tulane, Central Florida, Houston et al. never had an emotional tie to the name of the tradition of the Big East anymore than Georgetown would draw a line in the sand to call itself a member of the Ohio Valley Conference.
And while Sports Illustrated's Pete Thamel suggests that
other schools were put off
by Georgetown's place at the table, well, boo-hoo. Someone needed to take a leadership role and assert what it would take to save the Big East legacy, and DeGioia did just that. To this, we owe him a debt of gratitude and of appreciation. Father Healy would have been proud.
Continued...
Big East presidents announced today the future plans for the conference, including a reported $500 million, 12 year deal with Fox Sports, the addition of three schools, and a confirmation that the men's basketball tournament will remain at Madison Square Garden.
"We looked for schools that had academic profiles like us," said Rev. Brian Shanley, president of Providence College. "We wanted schools with strong sustainable and sustained athletic programs. And we wanted schools that could play really good basketball, because that's really the bread and butter of the Big East. And when we examined all the schools that we thought about, we came to the conclusion that the three schools seated here among us today were the best schools that we could possibly ask to join the Big East."
Officials confirmed the Big East will operate as a ten team basketball conference for 2013-14, with Creighton University, Butler University, and Xavier University joining this fall. The press conference indicated that the schools are "very happy" with ten schools but would not rule out additional expansion.
We didn't want to leave the Big East but found ourselves in a position where the instability was so acute [that] in the end, we were left with one founding [football-playing] member," said Georgetown president Jack DeGioia (C'79, G'95). "That wasn't the conference that we connected to any longer. That was really why we made that move."
Asked if the schools had considered upgrading football to stay together with the former schools, DeGioia remarked that while Georgetown was probably "the dominant football power" in the room, the cost to upgrade to Division I-A was not practical.
A look at the three new members follows below:
Butler
Creighton
Xavier
Location
Indianapolis, IN
Omaha, NE
Cincinnati, OH
Founded
1855
1878
1837
Enrollment
4,034
4,153
4,540
Endowment
$155 million
$375 million
$117 million
Nickname
Bulldogs
Bluejays
Musketeers
Mascot
Blue
Billy
D'Artangan
# Sports
19
14
18
2012-13 Basketball Record
26-8
27-7
17-14
Home Arena
Hinkle Field House
(10,000)
CenturyLink Arena
(18,560)
Cintas Center
(10,250)
2012-13 Attendance
7,158
17,155
9,781
# NCAA Bids
12
18
23
# Final Four Appearances
2
0
0
Previous Conferences
Missouri Valley 1932-34
Mid-American 1946-50
Indiana Collegiate 1950-78
MCC/Horizon 1978-2012
Atlantic 10 2012-13
Missouri Valley 1928-48
Independent 1948-76
Missouri Valley 1948-2013
MCC/Horizon 1979-95
Atlantic 10 1996-2013
Record vs. Georgetown
0-1
Last meeting 2009-10
1-0
Last meeting 1970-71
4-2
Last meeting 1994-95
Also of interest: the variety of sports being sponsored by the conference going forward. With only three I-AA football teams (Butler, Georgetown, Villanova), football is not in the plans, but a number of other schools currently sponsored under the Big East name are at risk of falling short of the NCAA minimum to maintain a conference in that sport, among them men's swimming (5 schools), field hockey (3), men's lacrosse (5), women's lacrosse (3), and women's rowing (3), all of which are sponsored by Georgetown. In Wednesday's press conference, Georgetown president Jack DeGioia noted that women's rowing, lacrosse, and field hockey will remain as conference sports with associate members added to meet the minimums. The breakdown of sports participation across the ten schools is as follows:
Baseball: 7
Men's Basketball: 10
Men's Cross Country: 8
Men's Fencing: 1
Football/FCS: 3
Men's Ice Hockey: 1
Men's Golf: 9
Men's Lacrosse: 5
Men's Soccer: 10
Men's Swimming: 5
Men's Tennis: 8
Men's Track: 7
Men's Water Polo: 1
Women's Basketball: 10
Women's Cross Country: 10
Women's Fencing: 1
Field Hockey: 3
Women's Golf: 6
Women's Lacrosse: 3
Women's Rowing: 3
Women's Soccer: 10
Softball: 8
Women's Swimming: 6
Women's Tennis: 10
Women's Track: 8
Women's Volleyball: 9
Women's Water Polo: 1
(Sports in italics not currently sponsored by the Big East.)
Media coverage from the member schools follows below. The Big East web site provided no coverage inasmuch as it will become a different conference on or about July 1.
Additional media coverage follows below:
"Butler's increased national prominence will create new opportunities not only for student-athletes, but for our entire student body and for our alumni, while increasing the value of a Butler degree."--James Danko, Butler University
"We have enjoyed our affiliation with the Missouri Valley Conference over the years, but when an exceptional opportunity presented itself, we paused and carefully considered our options. We see this new partnership enhancing the visibility of the University through increased national media exposure. This will positively impact our athletic programs, recruitment of students and faculty, and cultivation of additional philanthropic opportunities."--Rev. Timothy Lannon, S.J., Creighton University
"The new Big East is fortunate to have found a partner such as Fox Sports, which shares our intense passion for college basketball, and is committed to celebrating the student-athletes and the natural rivalries that make college athletics so unique and appealing for fans across the nation." --Rev. Dennis Holtschneider, C.M., DePaul University
"This is an extraordinary time for the Big East, and we couldn't have wished for a better start to our new future. We have ten incredible schools, have retained our storied name, and have solid partnerships with Fox Sports and Madison Square Garden. We look forward to our continued work together, to strengthening our relationships, and to the truly exceptional future that this will set for our athletics programs." --John DeGioia (C'79, G'95), Georgetown University
"The Big East is alive and well. The foundation we have created for this dynamic 10-team Big East conference will help preserve and build upon the Big East's storied tradition of elite level competition in a wide range of collegiate sports." --Rev. Scott Pilarz, S.J. (C'81), Marquette University
"In building upon our firm traditions of spirited competition, intense rivalries and high achievement in intercollegiate sports, the Big East will continue to be a source of tremendous excitement for our students and alumni, as well as millions of fans across the nation." --Rev. Brian Shanley, O.P., Providence College
"This is a great day for college sports - a day that marks an inspiring return to the Big East's roots as a showcase for the nation's greatest collegiate basketball programs and the extraordinary achievements of the student-athlete," --A. Gabriel Esteban, Seton Hall University
"We are thrilled that MSG will continue to serve as the official home of the Big East tournament. In addition to being the center of the basketball universe, the Garden has served as a thrilling backdrop for so many of the Big East's most enduring memories and greatest individual achievements," Rev. Donald J. Harrington, C.M., St. John's University
"With the addition of Butler, Creighton and Xavier to the group of previously committed seven schools, the Big East will once again revolve around, and gain its strength from, a firm foundation of historic basketball powerhouses located in the nation's most vibrant metropolitan regions." Rev. Peter M. Donohue, O.S.A, Villanova University
"It's an endorsement of who we are and how we've gotten here, as well as where we can go next." --Rev. Michael J. Graham, S.J., Xavier University
And as the Big East is poised to make a splash with its new TV deal, the former schools of the conference may have signed their way into a corner, reports ESPN.com.
As part of its right of first refusal from the contract offered by NBC Sports for the then-Big East rights, a clause in the deal with what is currently being referred to as the "America 12" stipulates that if at least two schools (one of which includes UConn, Cincinnati, Temple or Houston) leave the conference, ESPN may terminate the contract outright. If two of the remaining schools outside these four leave, the contract will be renegotiated.
"Sources said the clause was put in to protect NBC Sports Network because Connecticut and Cincinnati are "next in line," sources said, to move to the ACC if it loses any more members to the Big Ten, SEC or Big 12," writes ESPN.com's Brett McMurphy.
The new ESPN contract pays the America 12 just $18 million a year, compared to Fox's $41.6 million per year for the new Big East and over $200 million from ESPN for the Atlantic Coast Conference.
Per an e-mail sent from the Athletic Department Tuesday night, almost all ticket purchasers to Friday's second round games have been placed on a wait list for Sunday's third round game, with confirmed tickets only available to a small number of major donors.
"We do not anticipate being able to confirm the availability of additional tickets until Saturday afternoon," it noted.
The Washington Examiner will fold as a daily newspaper on June 14, according to numerous reports following layoffs announced Tuesday.
The paper grew out of plans in 2005 by Philip Anschutz to develop a nationwide collection of local newspapers under the Examiner banner. Despite daily free circulation approaching 300,000 copies, the Examiner failed to establish a foothold in Washington despite the ongoing circulation declines at the Washington Post and the steeper dropoff at the Washington Times.
The Examiner provided regular coverage of Georgetown basketball during its eight year run, while the Times migrated the majority of its coverage to wire service reporting. Following the closing, the Post will be the only daily paper providing regular reporting on the Hoyas.
Anschutz's plans for a national brand never took off. The Baltimore Examiner closed in 2009, while the flagship San Francisco Examiner was sold in 2011. This marks the first local newspaper to fold since the Washington Star ceased operations in 1981.
Georgetown finished eighth in the final Associated Press poll of the 2012-13 season, its highest finish in the poll since the 2007-08 season. The Hoyas are one of six Big East teams represented, including Louisville (2), Marquette (15), Syracuse (16), Pittsburgh (20), and Notre Dame (23).
Following its overtime loss in the semifinals of the Big East tournament, Georgetown will open the 2013 NCAA tournament as the 2nd seed in the South Region, earning the University its 29th NCAA appearance and its 40th post-season bid overall. This is the first time since the 1993-94 through 1996-97 seasons where Georgetown has earned four consecutive NCAA tournament appearances.
Among eight Big East selections, the Hoyas will play 15th seed Florida Gulf Coast, tournament champions from the Atlantic Sun Conference, in Philadelphia on Friday afternoon. This is the first meeting between the schools. If the Hoyas advance, they would met the winner of #7 San Diego State vs. #10 Oklahoma on Sunday, also at Wells Fargo Center.
Other Big East selections:
Louisville: #1, Midwest
Marquette: #3, East
Syracuse: #4, East
Notre Dame: #7, East
Pittsburgh: #8, West
Villanova: #9, South
Cincinnati: #10, Midwest
Two other teams, Providence and St. John's, were selected to the NIT.
Game times and television clearance is pending. Georgetown is the only Washington-area team selected to this year's field of 68 for a second consecutive season, with Maryland having accepted an NIT bid.
Additional coverage follows below:
This game was played while the site was inactive during the Big East tournament. A game recap will follow after the season for archival purposes.
This game was played while the site was inactive during the Big East tournament. A game recap will follow after the season for archival purposes.
It's Big East Week, and owing to travel and game schedules, this site will not be updated through Sunday evening. There are plenty of links available to follow the teams and the 2013 brackets, however.
First, check the Big East's official site, with details on the tournament and a look back at past events. Next, check these links for regular Big East and Georgetown coverage:
Here's a review of the overall tournament records of all 14 teams heading into the week. Georgetown and Syracuse are the only original Big East teams to have qualified in every Big East tournament.
| | | | | | | |
| --- | --- | --- | --- | --- | --- | --- |
| Seed | BE Tourn Record | Semis Record | Finals Record | Last Semis | Last Finals | Last Title |
| 1. Georgetown | 50-26 | 13-7 | 7-6 | 2010 | 2010 | 2007 |
| 2. Louisville | 10-5 | 4-1 | 2-2 | 2012 | 2012 | 2012 |
| 3. Marquette | 8-7 | 0-1 | 0-0 | 2008 | -- | -- |
| 4. Pittsburgh | 26-28 | 7-3 | 2-5 | 2008 | 2008 | 2008 |
| 5. Syracuse | 47-28 | 14-8 | 5-9 | 2012 | 2009 | 2006 |
| 6. Notre Dame | 9-17 | 0-5 | 0-0 | 2012 | -- | -- |
| 7. Villanova | 32-31 | 5-12 | 1-4 | 2009 | 1997 | 1995 |
| 8. Providence | 16-31 | 1-6 | 1-0 | 1994 | 1994 | 1994 |
| 9. Cincinnati | 5-6 | 1-0 | 0-1 | 2012 | 2012 | -- |
| 10. St. John's | 26-26 | 5-6 | 3-2 | 2000 | 2000 | 2000 |
| 11. Rutgers | 6-13 | 0-1 | 0-0 | 1998 | -- | -- |
| 12. Seton Hall | 22-30 | 2-5 | 2-0 | 2001 | 1993 | 1993 |
| 13. S. Florida | 3-4 | 0-0 | 0-0 | -- | -- | -- |
| 14. DePaul | 1-5 | 0-0 | 0-0 | -- | -- | -- |
Here's the all time record of the Hoyas in the tournament against the 13 other teams:
| | | | |
| --- | --- | --- | --- |
| Opponent | Record | Last GU Win | Last GU Loss |
| 2. Louisville | 0-0 | -- | -- |
| 3. Marquette | 2-0 | 2010 Semis | -- |
| 4. Pittsburgh | 4-1 | 2012 2nd Rd. | 2008 Finals |
| 5. Syracuse | 7-6 | 2010 Quarters | 2006 Semis |
| 6. Notre Dame | 2-0 | 2007 Semis | -- |
| 7. Villanova | 5-0 | 2008 Semis | -- |
| 8. Providence | 7-1 | 2002 1st Rd. | 1994 Finals |
| 9. Cincinnati | 0-1 | -- | 2012 Quarters |
| 10. St. John's | 5-1 | 1992 Semis | 2009 1st Rd. |
| 11. Rutgers | 0-1 | -- | 1998 Quarters |
| 12. Seton Hall | 4-4 | 2005 1st Rd. | 2001 Quarters |
| 13. S. Florida | 1-0 | 2010 2nd Rd | -- |
| 14. DePaul | 0-0 | -- | -- |
The new Fox Sports contract with the Big East will more than double the payout to Georgetown and the other schools than what ESPN offered to what may be known as the America 12, reports the New York Times.
The ESPN deal signed with the current Big East football schools (hereinafter, the "America 12") will pay $130 million over seven seasons--about $1.8 million per school for both football and basketball, down from $3.6 million for eight I-A schools paid under the current ESPN contract expiring this year.
The Times reports that the Fox contract will pay $500 million over 12 seasons--$50 million a year, or $4.1 million per school for a 12 team basketball league, up from about $1.7 million for non I-A schools under the expiring ESPN contract. For expansion candidates from the A-10, some earning just over $100,000 a year in their regional TV deals, the change would be overwhelming.
"Fox won them over with a 12-year deal worth about $500 million, according to reports," said the Times. "But the contract could spike to $600 million if the conference grows to a dozen teams, according to two people briefed on the contract but not authorized to speak publicly about its terms. A number of universities are said to be candidates to join the new Big East, including Xavier, an Atlantic 10 member, and Creighton, of the Missouri Valley Conference."
"ESPN, by contrast, will be paying the [America 12] about $20 million annually to carry a conference featuring Connecticut, Cincinnati, Temple and South Florida — which are not leaving, for now," it writes.
Otto Porter was the only unanimous selection to the All-Big East first team as announced Sunday, making him the prohibitive favorite to be named Player of the Year at the opening of the 2013 Big East Tournament on Tuesday.
Porter becomes the sixth Hoya in the last seven seasons so honored with a first team selection. For 2013, Porter joins guards Shabazz Napier (Connecticut), Russ Smith (Louisville) and Bryce Cotton (Providence), along with forward Jack Cooley (Notre Dame), and center Gorgui Dieng (Louisville) as first team selections.
Junior guard Markel Starks was selected to the third team, while freshman guard D'Vauntes Smith-Rivera became the first Hoya since Greg Monroe selected to the all-rookie team.
A cumulative list of Georgetown's All-Big East selections through the years is found at the Georgetown Basketball History Project.
First Team:
Otto Porter, Jr., Georgetown, F, So., 6-8, 205, Sikeston, Mo.
Shabazz Napier, Connecticut, G, Jr., 6-1, 171, Roxbury, Mass.
Gorgui Dieng, Louisville, C, Jr., 6-11, 245, Kebemer, Senegal
Russ Smith, Louisville, G, Jr., 6-0, 165, Briarwood, N.Y.
Jack Cooley, Notre Dame, F, Sr., 6-9, 246, Glenview, Ill.
Bryce Cotton, Providence, G, Jr., 6-1, 165, Tucson, Ariz.

Second Team:
Sean Kilpatrick, Cincinnati, G, Jr., 6-4, 221, White Plains, N.Y.
Vander Blue, Marquette, G, Sr., 6-4, 200, Madison, Wisc.
Jerian Grant, Notre Dame, G, Jr., 6-5, 202, Bowie, Md.
Michael Carter-Williams, Syracuse, G, So., 6-6, 185, Hamilton, Mass.
C.J. Fair, Syracuse, F, Jr., 6-8, 215, Baltimore, Md.

Third Team:
Markel Starks, Georgetown, G, Jr., 6-2, 175, Accokeek, Md.
Peyton Siva, Louisville, G, Sr., 6-0, 185, Seattle, Wash.
Tray Woodall, Pittsburgh, G, Sr., 6-0, 190, Brooklyn, N.Y.
Brandon Triche, Syracuse, G, Sr., 6-4,210, Jamesville, N.Y.
JayVaughn Pinkston, Villanova, F, So., 6-6, 240, Brooklyn, N.Y.

Honorable Mention:
Davonte Gardner, Marquette, F, Jr., 6-8, 290, Suffolk, Va.
Kadeem Batts, Providence, F, Jr., 6-9, 245, Powder Springs, Ga.
JaKarr Sampson, St. John's, F, Fr., 6-8, 204, Barberton, Ohio
Fuquan Edwin, Seton Hall, F, Jr., G-F, 6-6, 205, Paterson, N.J.

All-Rookie Team:
Omar Calhoun, Connecticut, G, Fr., 6-5, 195, Brooklyn, N.Y.
D'Vauntes Smith-Rivera, Georgetown, G, Fr., 6-3, 227, Indianapolis, Ind.
Steven Adams, Pittsburgh, C, Fr., 7-0, 250, Roturua, New Zealand
Chris Obekpa, St. John's, C, Fr., 6-9, 223, Makurdi, Nigeria
JaKarr Sampson, St. John's, F, Fr., 6-8, 204, Barberton, Ohio
Ryan Arcidiacono, Villanova, G, Fr., 6-3, 195, Langhorne, Pa
Final home attendance figures are noted below. Georgetown attendance was down 3% from last year's total, despite the sellout vs. Syracuse.

Six of the seven schools playing in the Big East next season experienced a decline in attendance, and will be seeking to bolster its attendance with the loss of opponents schools such as Syracuse, Louisville, and Pitt.
Team
2012-13
Final
2011-12
Final
Var.
Team
2012-13
Final
2011-12
Final
Var.

---

1. Syracuse
22,439
23,618
-4.5%
9. Villanova
8,022
8,923
-10.1%
2. Louisville
21,571
21,503
+0.3%
10. Providence
7,987
7,883
+1.3%
3. Marquette
15,033
15,138
-0.7%
11. DePaul
7,681
7,740
-0.8%
4. Georgetown
10,911
11,283
-3.3%
12.Seton Hall
7,035
7,599
-7.5%
5. Connecticut
10,728
12,640
-15.2%
13. St. John's
6,756
7,831
-13.8%
6. Pittsburgh
10,227
10,165
+0.6%
14. S. Florida
5,389
3,849
+40.0%
7. Cincinnati
9,253
8,069
+14.6%
15. Rutgers
4,972
5,362
-7.9%
8. Notre Dame
8,242
7,999
+3.0%
Georgetown's attendance figures per conference school, with four 2013-14 Big East schools accounting for the four smallest crowds this season:
Opponent
2012-13
Att.
Opponent
2012-13
Att.

---

1. Syracuse (to ACC)
20,972
6. Marquette
11,821
2. Louisville (to ACC)
17,474
7. DePaul
9,987
3. St. John's
15,625
8. Providence
9,210
4. Pittsburgh (to ACC)
13,011
9. Seton Hall
7,467
5. Rutgers (to A-12)
12,931
Only a week after Henry Sims (C'12) was signed to a 10-day contract with the NBA's New Orleans Hornets, word late Sunday reported another NBA jersey will be coming to the north wall of McDonough Gymnasium this fall.
Former Georgetown guard Chris Wright (C'11) will be signed Tuesday to a contract with the Dallas Mavericks, reports ESPNDallas.com. Wright is averaging 15.3 points per game for the Iowa Energy of the NBA Developmental league.
"I had no idea. It was out of the blue," Wright told the Altoona (IA) Herald. "It was a blessing. It's an opportunity to get where I want to be."
Wright would be the first Georgetown alumnus in the 33 year history of the Mavericks. Former transfer Anthony Jones (1981-83) played with the club from February 1989 through the end of the 1989-90 season.
As for Sims, he had four points and two rebounds in four minutes in the Hornets' loss to the Memphis Grizzlies on Saturday.
Amidst all the coverage and excitement of the men's basketball team, the Georgetown women's team has been less visible, finishing under .500 this season with the loss of four starters from last year's nationally ranked and NCAA tournament team
One starter remained, and senior TaShauna (Sugar) Rodgers ended her remarkable college career with a Big East tournament record 42 points in Georgetown's 89-58 loss to Villanova. Rodgers shot 15-30 from the field, 6-12 from three point range, but Villanova pulled away with 17 three pointers.
Rodgers ends her career as the school's all time leading scorer with 2,518 points.
"I've done a lot to get here. I'm about to cry but like I said I've worked hard. I want to thank the Big East, I want to thank Georgetown, I want to thank everybody for letting me participate in all of this."
"Last night for the first time this year, I slept well. We were prepared. Our guys understood what it meant, and we came to play." --John Thompson III

"I'm pretty much ready to go play golf somewhere."--Jim Boeheim

"Kiss Syracuse goodbye."--John Thompson Jr.
Manley Field House? Check. Carrier Dome? Check.

Verizon Center? Checkmate.
Before the largest indoor crowd in the history of Washington DC sports, the #5-ranked Georgetown Hoyas held #17 Syracuse to its fewest points in 50 years, 61-39, to wrap up its tenth Big East regular season title since 1980 and bidding a raucous farewell to its most notable rival.
Georgetown had not played a home season finale with Syracuse since Patrick Ewing's last home game in 1985, and with a guest list that included Ewing, Alonzo Mourning, John Duren, David Wingate, Mike Hancock, and the second most infamous name in the Georgetown-Syracuse rivalry--Michael Graham--the old guard was on hand to see the latest generation of Georgetown men make their mark upon this storied series.Emotions ran high for the game. Students began filing into the downtown arena at 9:30 am, many had stayed overnight for the first time since the epic win over #1 Duke. For these students, this was their Duke game, having been in junior high school when the likes of Jeff Green and Roy Hibbert ran alongside the Georgetown student section. ESPN College Gameday made a first time visit to the arena, and while the expected contingent of Syracuse fans begrudgingly bought Hoya Hoop Club memberships and plied StubHub for seats in the upper levels, they (for once) were no match for the loudest Georgetown crowd in a generation, perhaps back to that Saturday afternoon in Landover in 1985.
And if this weren't enough, a 52 foot wide tifo in the Stonewalls young alumni section not only dominated the player introductions, but served to remind fans of the gravity of the game, underscoring how in just one season, this section of fans has become invaluable to the gameday experience.
Not surprisingly, perhaps, the game began with the tone of a heavyweight fight, with every possession feeling like a shot to the enemy. The teams missed its first five attempts before a layup by Syracuse center Rakeem Christmas gave Syracuse its first and only lead of the afternoon. The Hoyas answered with consecutive threes from Markel Starks and almost brought the house down by the 16 minute timeout.
Defense was the order on both sides of the floor. The Hoyas were especially tough on Syracuse's perimeter game, as the orangemen started 1 for 6 with turnovers on three straight possessions at the 14 minute mark, but scored on back to back possessions to tie the game with 12:57 to play. For its part, Syracuse gave no quarter on Georgetown's Otto Porter, who had few touches of any kind for the first 15 minutes of the half. With no options inside, Georgetown went outside to D'Vauntes Smith Rivera, on a pair of threes to push the lead to 14-11 midway through the half--Georgetown had converted four threes in its first five field goals.
With difficulty inside, Georgetown substituted Moses Ayegba for Mikael Hopkins, but Ayegba was soon tagged with inside fouls which sent him to the bench with 3:18 to play and the Hoyas holding an 18-16 lead. In a key sequence for the game, Syracuse's James Southerland, who had connected on 11 for 11 from the line in Syracuse's walkover of DePaul earlier in the week, missed two free throws that could have tied the score. The Hoyas answered back with a pair of free throws from Jabril Trawick and an open three from Smith-Rivera with 0:53 left, part of an 7-2 run to end the half with Georgetown holding a 25-18 lead despite Otto Porter held to a total of two free throws at halftime and the Hoyas' held to just 3 for 11 from two point range.

The Syracuse stat sheet was little better. Leading scorers Brandon Triche and James Southerland were shut out for the first time in a half all season, combining to go an astounding 0 for 10 against the Georgetown defenses led by Starks and Smith-Rivera, who combined for five three pointers in the half versus one for the entire Syracuse team. Both teams looked for their scoring leaders to come up big after halftime, and for Georgetown, they did.

Georgetown ended the first half on a 7-2 run and set the tone for the second with a 7-2 to open the second. Off a three point attempt missed by Starks, Porter drove inside and picked up two free throws, 27-18, while Christmas lost the ball out of bounds on Syracuse's opening possession. With the patient perimeter game that had defined the early states of the game, Starks let loose with an open three, 30-18, then brought the arena to its feet finding Nate Lubick driving inside and Verizon Center erupted with the Hoyas now up 14.

Syracuse responded as they did early in the first, this time with a 7-0 run keyed by guard Michael Carter-Williams, with two field goals, an assist, and a steal to rally the Orangemen back to seven at the 17:39 mark. On its next series, Smith-Rivera found Porter into the lane, and Porter's turnaround jumper settled the nerves of the crowd and pushed the lead back to nine, 34-25. On an exchange of possessions, Smith-Rivera then found Starks alone in the corner, where his second three in the past three minutes pushed the lead back to 12.

The defensive intensity was taking its toll on the otherwise high powered Syracuse offense. Off the 16 minute time out, the Hoyas forced a turnover with there seconds remaining on Syracuse's shot clock. A C.J. Fair shot was short, and Porter converted the rebound to go up 16 at the 12:49 mark, 43-27. Southerland lost a ball out of bounds. And on a series where Syracuse got Brandon Triche open in the corner in an attempt to kick-start his three point prowess, Nate Lubick sailed along the baseline with a towering block that sent a message that this would not be Triche's moment of redemption.

With Mikael Hopkins struggling on a pair of layups inside, Syracuse closed to 44-31 midway in the half, only to see Starks calmly nail a third three to stop the run, 47-31. Off a SU time out, Fair missed a driving layup, and Hopkins added one from the line, 48-31. No worse for wear, Southerland then tried a long three which was off, and on the ensuing play Smith-Rivera set up Porter in the lane for a jumper and forcing Jim Boeheim for a second time out in a 1:18 stretch.

Syracuse was out of juice from outside. A three from Triche, miss. A three from Southerland, miss. Even worse, the Orangemen had not collected an offensive rebound since halftime, and every miss allowed Georgetown to run the clock and, if not convert, extend the play. Now down 21 inside seven minutes, Syracuse knew the die was cast, and so did the crowd.


Last game Syracuse
scored under 40 pts.
(Kent State)


Last Big East game
GU held an
opponent under 40 pts.
(Boston College)


GU 3-pt FG%


SU 3-pt FG%


GU advantage,
rebounds


GU advantage,
assists


FG shooting,
Starks, DSR


FG shooting,
rest of GU team


FG shooting,
M. Carter-Williams


FG shooting,
rest of SU team


SU field goals,
last 10 min., 2nd half


GU unassisted
field goals


Second chance pts,
Syracuse


Game attendance


Season average


Georgetown missed its next five from the field but the longer possessions were more important than the points at this stage of the game. A jumper and two free throws by fair closed to 17 at the four minute mark, but the Hoyas promptly took the shot clock inside ten and Starks nails the jumper, 54-35, sending some visiting fans to an early round at Clyde's.
Despite two offensive rebounds on its next possession, Syracuse still could not convert, and after Hopkins missed on a dunk, Carter-Williams scored a basket at the 1:38 mark, only the second field goal for Syracuse since the 10:04 mark.
The celebrations were underway when sophomore Jabril Trawick added some fireworks of his own, a three pointer with one minute left and a driving dunk that so quick it appeared on first glance he missed the rim. With the crowd on its feet and former coach John Thompson holding a Stonewalls fan scarf aloft, Trawick added free throws at the 20 second mark as the benches emptied and the Orangemen headed to the locker rooms, where the large crowd of returning Georgetown students made its way to center court to celebrate with their classmates, then returned to their seats for the presentation of the regular season trophy.
Markel Starks turned in a career game on both sides of the floor, with 19 points, five assists, and three steals, running the offense as well as any guard since Jonathan Wallace. Freshman D'Vauntes Smith-Rivera was not far behind, with 15 points and five assists in a second half where 12 of the 13 field goals were contributed by assists--Trawick's late three was the only unassisted goal after half. Otto Porter was held under his average but turned in the kind of all around effort that is leading him to national honor and acclaim, finishing with a stat line of 10 points, eight rebounds, seven assists, and no turnovers in 39 minutes.
"I'm extremely confident in them. I know what they're capable of," Porter said about Starks and Smith-Rivera. "I know that in the right time they'll be able to knock down the shots. So the whole game I was just trying to get open looks for them, putting pressure on defense you know with me in the middle, making everything else open up."
Michael Carter-Williams accounted for 17 of Syracuse's 39 points, 10 in the second half. The three point shot was the downfall of the Saltine Warriors, hitting 0 for 6 in the second half and 1-11 overall, and a mere four assists. The loss was the largest margin of defeat to Georgetown since the last time the two teams met in Washington for a season finale: a 90-63 runout on March 3, 1985, Patrick Ewing's final home game for the Blue and Gray. If the Big East schedule planners were hoping for a little of that magic this time around in Syracuse's last lap in the conference, they got it.
"It's just been a tremendous series from the very beginning," said Syracuse coach Jim Boeheim, who will coach in his 34th and final Big East tournament this week. "When Dave Gavitt put this thing together, nobody thought it could be anything close to what it became in two years. It took two years to get this league up and it was because of him and the coaches, John, Louie Carnesecca, Rollie Massimino, those guys from the beginning and then the great players that have played in this league, and that's what you remember I mean that's always there. I don't think about it any more today than I always do.

"I think it's been an unbelievable experience we never thought it would go like this, and it has. As a coach you never think you're going to be a part of this thing for 30 some years, you think, the first few meeting and battles in the meeting rooms that we had, if Dave hadn't been there, there would have been fist fights in the room... It's been an unbelievable experience, I was hoping to get by 4 or 5 years when it started I was thinking that would have been pretty good...It's just been an unbelievable experience for the all the schools, all the players, and fans."
"Obviously a portion of the goal has been accomplished, but at the same time, we still have a lot more of the season to play," said junior Markel Starks. "But this means a lot. This means a lot to us. Obviously everyone... everybody affiliated with the program could say the same thing I'm saying. But at the same time, we're honored and give the glory to God."
"When last year ended, I told this group we expect to win the regular-season Big East championship this year," said coach John Thompson III. "When the school year started, I told them again. When we were 0-2, I told them again."
"And they listened."
Georgetown opens as the #1 seed in the 2013 Big East tournament Thursday at noon against either Providence or Cincinnati.
Here's the Georgetown half of the box score:

            MIN   2FG   3FG   FT  REB  A  PF  PTS
Starters:                                 
Starks       39   2-4   5-9   0-0   1   5  1   19
Trawick      33   2-4   1-5   4-4   4   1  3   11
Porter       39   3-6   0-1   4-4   8   7  2   10
Lubick       20   1-4   0-0   0-0   1   0  1    2
Hopkins      20   0-2   0-0   2-4   7   0  3    2
Reserves:
Smith-Rivera 34   2-6   3-7   0-0   5   5  1   15
Bowen         1   0-0   0-0   0-0   0   0  0    0
Caprio        1   0-0   0-0   0-0   1   0  0    0
Domingo       1   0-0   0-0   0-0   0   0  0    0
Ayegba       13   1-2   0-0   0-0   2   0  4    2
Hayes         1   0-0   0-0   0-0   0   0  1    0
DNP: Allen, Bolden
Injured: Adams
Suspended: Whittington
Team Rebounds                       3
TOTALS      200  11-28  9-22 10-12 32  18 16   61

Post game coverage follows below.
From the Washington Post. Recommended reading.
The drive that powered Georgetown's 11 game win streak was down and out by Wednesday night, as Villanova all but assured itself an NCAA at-large bid with a 67-57 win over #5 Georgetown at the Wells Fargo Center. Overpowered on defense, careless with turnovers, and easy prey from the foul line, the Hoyas lost an early lead and never recovered.
Early returns were promising for the Hoyas, opening to a 9-2 lead in the first three minutes of the game, in part because of some poor play by the Wildcats, with three turnovers and three misses in its first six possessions. But Georgetown matched that futility ins short order, with three and three in its next six possessions, allowing Villanova to the next eight en route to a 17-3 run over the next nine minutes, as Georgetown was 1-7 with seven turnovers. Villanova took the lead on a three pointer with 12 minutes in the half, 10-9, and Georgetown never led thereafter.

The Hoyas trailed by as many as seven before a scoring run helped close the gap. Georgetown made eight of its final 11 shots of the half to close to 33-29 at the break, but were singed by 12 first half turnovers, matching their per game average. Along-time staple of the Villanova offense, free throws, served the Wildcats well at halftime, shooting 10 for 16 at the line compared to just 3 for 5 for the Hoyas.

A three different points of the second half the Hoyas looked to be making a serious run but were sent away with Villanova's perimeter defense. Jabril Trawick opened the second half with a three to close to 33-32, but the Hoyas gave up the next six to trail by seven. With 11:04 remaining, a Otto Porter basket closed to 43-42, but he missed a free throw and Nova soon pushed the lead back to five. With 9:17 left, a Porter three closed the gap to 48-46, but the Cats then outscored the Hoyas 8-2 to push the lead to eight.

Villanova managed one field goal over the final 14:19 of the game, but it didn't matter thanks to a literal parade to the free throw line. For the game, Villanova was 20-26 from the line in the second half, while Georgetown was 1 for 3.

No one on the Georgetown lineup played particularly well, with Otto Porter, D'Vauntes Smith Rivera, and Markel Starks combining for 43 of 57 points but were off on defense and contributed 10 of a team high 23 turnovers. Georgetown's 23 turnovers led to 24 points off turnovers by Villanova.


VU advantage,
free throws


GU field goals


GU turnovers


VU advantage,
pts. off turnovers


VU advantage,
fouls called


GU FG shooting,
last 5 mins.


VU FG shooting,
last 5 mins.


GU FT shooting,
last 5 mins.


VU FT shooting,
last 5 mins.


The win was Villanova's third this season against top five opponents, all at the Wells Fargo Center.
Villanova ends its regular season 19-12 and 10-8 in the Big East, with a seventh seed in next week's tournament and a likely first round game with Cincinnati. Should the Hoyas earn a second seed (see below), the teams could meet for a rematch on Thursday evening at the Garden. Until then, all eyes are on the Syracuse Orangemen and their arrival Saturday to Verizon Center.
Here's the Georgetown half of the box score:

            MIN   2FG   3FG   FT  REB  A  PF  PTS
Starters:                                 
Starks       25   3-5   2-3   0-0   0   1  5   12
Trawick      23   0-2   1-1   0-0   2   5  5    3
Porter       39   4-7   2-9   3-5   4   5  2   17
Lubick       40   2-3   0-0   1-3   9   5  4    5
Hopkins      18   2-4   0-0   0-0   5   0  3    4
Reserves:
Smith-Rivera 34   4-8   2-5   0-0   2   2  0   14
Bowen         2   0-1   0-0   0-0   0   0  2    0
Caprio        2   0-1   0-0   0-0   0   0  1    0
Domingo       1   0-0   0-0   0-0   0   0  0    0
Ayegba       16   1-1   0-0   0-0   2   0  5    2
DNP: Allen, Bolden, Hayes
Injured: Adams
Suspended: Whittington
Team Rebounds                       5
TOTALS      250  16-32  7-18  4-8  29  18 27   57

Additional coverage follows below.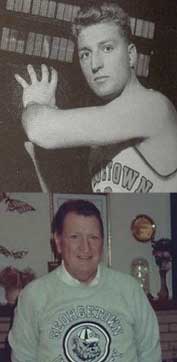 In 2009, the Georgetown Basketball History Project had an opportunity to interview John Schmitt (C'40), the oldest living basketball alumnus at the University. Schmitt was 92, and a longtime Hoya fan in his home town of Syracuse, NY. His family hoped that he could one day travel to Washington see a game with the Hoyas.
This week, we learned Schmitt died last year at the age of 94.
"Grandpa's passions were his faith, family and his Hoyas Basketball," wrote his grandson, Steven Kresco, who helped arrange the interview.
Schmitt arrived at Georgetown in 1936 from St. John the Baptist HS in Syracuse and served as team captain in the 1939-40 season under Hall of Fame coach Elmer Ripley.
"Elmer Ripley was a very good coach," he said. "He was instrumental in teaching the fundamentals of the game."
Athletes got no special privileges by the faculty of the day. "If you got in trouble, you were going home," Schmitt recalled. "If you didn't come prepared to class, you were gone."
Schmitt moved back to his Syracuse following graduation in 1940, working for 34 years at a General Motors plant while also serving as a volunteer high school coach. Active well into his 80's, Schmitt played on a championship senior softball team in 2001.
"Georgetown taught you how to improve yourself, year after year," he said.

Many years ago, a writer in Sports Illustrated asked readers for the whereabouts of former Georgetown forward Michael Graham, who seemingly disappeared from view following his brief career at Georgetown. It turns out Graham was raising a family and living in South Carolina. Today, relocated to Washington, Graham is often seen at Georgetown games and the SI story had an otherwise happy conclusion.
Such has not been the case for Victor Page.
Page turned 38 last month and is the subject of a feature at LostLettermen.com on his continuing struggles off the basketball court.
"I don't think he's up to much of anything," said television reporter Bruce Johnson, who authored an e-book on Page last year. "He doesn't work steadily since he doesn't know what work he'd do or what he's capable of doing. He still has incredible credibility out there as a basketball legend, but he's losing that in a lot of circles."
Page's story is well known among Georgetown fans, from his broken family life to a 2003 shooting that cost him his right eye. Having seen time in and out of jail over the years, Page has stayed to himself, one which concerns Johnson.
"He calls me from a cell, then the number changes and he may go weeks without calling me," said Johnson. "When I talked to him a month ago, he was coming from a place where he didn't give me a lot of detail."
There is still much more rumor than fact out there on the realignment of the Big East conference name to Georgetown and six other schools, but a news conference by Fox Sports scheduled for today may begin to set some of these issues in motion.
Columnist Mark Blaudschun, who has been writing extensively on the situation at his blog, has a story in USA Today outlining many of the specifics as he has reported them.
"Aside from the financial considerations involving both conferences, a prime topic of debate has been determining a site for the postseason basketball tournament," Blaudschun writes. [The football schools] will not be [playing at] Madison Square Garden, which, once the breakup is official, is expected to make an arrangement with the [new Big East] to play next year's tournament in New York."
"That leaves the [former] Big East looking for a place to play, with Hartford the likely first stop in what will be rotating series of sites for a conference which will have UConn, Temple, Cincinnati and Memphis as its basketball anchors."
Georgetown's 11 game win streak has not only catapulted the Hoyas from an 0-2 start in the Big East to one game removed from a regular season title, it places the 2012-13 team among a select group of teams that earned some formidable win streaks of its own.

First on any list of great win streaks is the 1979-80 Hoyas, nicknamed the "Heart Attack Hoyas" for a number of thrilling comeback wins, none more famous than rallying from 14 down at halftime to defeat #2 Syracuse in the Manley Field House game.
The Hoyas began that win streak on Jan. 23, 1980 with a win over U.S. International, a now-defunct Division I school. Road wins over Seton Hall, Connecticut, and the aforementioned Syracuse gave the Hoyas a share of the inaugural Big East regular season title, and they followed up with three wins in the Big East tournament and two in the NCAA, including a 74-68 win over #8 Maryland, to advance to the Eastern regional final, where they fell in the final seconds to Iowa, 81-80. In all, the 79-80 Hoyas won 15 straight over a two month period.
Two years later, another talented team began a run that ended with another crushing defeat. On Feb. 20, 1982, Georgetown upset #4 Missouri, beginning a run of 10 straight wins to the NCAA final versus North Carolina; of these, the last eight were on the road. The 81-82 team's run was a defensive marvel--opponents averaged just 45.2 points a game during the 10 games. No opponent scored more than 54 points as the Hoyas took an average margin of victory just under 15 points a game.
The 1983-84 and 1984-85 teams had their share of long winning streaks, largely because these were the dominant teams of their era. From Jan. 12, 1984 (a two point double overtime loss to Villanova) to April 1, 1985 (a two point loss to Villanova in the NCAA title game), Georgetown was 56-3 (.949), with the three losses coming by a total of seven points and all to Big East opponents. In their later season streaks of 11 and 16 games, the 1983-84 team finished its 34-3 season with an average winning margin of 12.7 points per game, while the 1984-85 team was even more imposing, with an average margin of 17.3 points per game. The closest outcome was six in the 1985 regional final versus Georgia Tech, while 14 of the 17 games in the streak were decided by 10 points or more.
Another Georgetown team of renown was the 1986-87 team, dubbed "Reggie & The Miracles", who won 14 straight en route to the 1987 regional final versus Providence. Senior forward Reggie Williams averaged just under 24 points per game over the streak, which saw Georgetown come from behind in wins over Villanova, Syracuse, Ohio State, and Kansas. Williams didn't do it alone, of course, getting 12.6 points per game from Georgetown's "point center", 6-4 inside player Perry McDonald.
It was twenty years before a similar streak captured Georgetown fans, as the 2006-07 team win 11 straight in Big East play, falling just before the conference tournament against Syracuse, but winning its next eight into the 2007 Final Four. The starting lineup of Jonathan Wallace, Jessie Sapp, Jeff Green, Dajuan Summers, and Roy Hibbert accounted for 88% of the team's offense during that 11 game run, holding opponents to just 57 points a game. Eight of the eleven wins were by 10 points or more.
The 2012-13 team has been led by sophomore Otto Porter, averaging 19.7 points in the 11 games and 27.6 points over his last three, the best three game run by a Georgetown player since Victor Page in 1997. Holding its opponents to 56.4 points a game, the 2012-13 scoring is similarly concentrated in the starting five. Porter is joined in the scoring run from Markel Starks (13.4 ppg), followed by 7.5 per game from Nate Lubick, 5.6 from Jabril Trawick, and 5.2 from Mikael Hopkins. In all, about 80% of the team's scoring during this run has come from the starters--when reserve D'Vauntes Smith-Rivera is added, the first six contribute 95 percent of team scoring, more than any of its recent predecessors. And while it seems like every game is to the wire, the Hoyas have actually won by an average of 11.0 points per game over the last eleven.
Porter's 19.6 points over the streak trails only the 23.9 points per game from Reggie Williams in the 1986-87 run and Eric Floyd's 21.1 points in the 1979-80 season. Porter, and his team, are now among some select company as the Hoyas seek to finish the season as the top seed in the Big East conference tournament, and beyond.
Two years ago, if fans were asked to name the next Georgetown entrant into the NBA, some would have said Austin Freeman, Hollis Thompson, Chris Wright, or maybe Jason Clark. Henry Sims would not have been in the discussion.
Sims' remarkable turnaround as a senior and an all-star season in the NBA Developmental League was rewarded when the 6-10 center was signed by the New Orleans Hornets on Sunday.
In the NBADL, Sims averaged 17 points and nine rebounds with the Erie Bayhawks, and will attempt to stick with the Hornets roster for the rest of the season, something that Patrick Ewing Jr. and Dajuan Summers were unable to do in previous callups.
Congratulations to Henry and his family on the news.
"I know," said Rutgers coach Mike Rice, "who I am voting for as the Big East Player of the Year."
In a foul-plagued game that saw the #7-ranked Georgetown Hoyas score only 15 field goals all evening, Otto Porter again proved why he has become the most valuable player in a Georgetown uniform since Jeff Green, and maybe since Reggie Williams.
Porter scored 28 points and eight rebounds as Georgetown fought past a determined Rutgers team, 64-51, before a spring break crowd at Verizon Center, earning the Hoyas a one game lead in the Big East standings and clinching no less than a third seed in the upcoming Big East tournament.
Much like their meeting with the Hoyas three weeks ago, Rutgers would not go away quietly. A 13-0 run early in the first half gave RU a five point lead over the Hoyas, one that would have likely grown had not a significant number of free throws not eaten into its lead. Georgetown was into the bonus with 11:51 in the half and made the most of it, hitting 14 of 19 by halftime, the only consistent scoring in a half where the Hoyas took only 14 shot attempts and made six. A 12-2 run gave Georgetown its largest lead of the half at the 4:02 mark, 26-19, but a stingy Rutgers defense held the Hoyas to just three free throws for the remainder of the half and RU closed to one at the break, 29-28.
What was a physical game in the first half continued, and the officials took notice. Ten foul calls were whistled before the first media time out and Rutgers held a 33-31 lead. Five minutes into the half, coach John Thompson III went all-in on Porter, who began to drive to the basket on nearly every play. Porter scored ten of the next 12 points of the game for the Hoyas (two baskets, 6 for 7 from the line) to push the lead to 45-39 midway through the half.

Foul trouble followed both teams, and Georgetown saw Markel Starks and Nate Lubick each saddled with four fouls by the eight minute mark. Again, Otto's Army looked to its general to lead the way. A Porter basket pushed the lead to six, 49-43 at the 8:28 mark, set up D'Vauntes Smith-Rivera for a three at the 6:58 mark, 54-45, and stopped a Rutgers break with a blocked shot with 5:41 to play.

Rutgers guard Myles Mack sank his third three pointer of the game to close to 54-48, but missed from long range on his next two attempts and the Hoyas ran out the game at the line. Georgetown was 9 for 14 from the line in the last five minutes, while Rutgers, who shot only 6 for 15 from the line for the evening, went to the line just once in the final five minutes.

"Georgetown does a terrific job," said Rice in post-game comments. "No one talks about how well they communicate, how well they switch off. They made it difficult to get Myles (Mack) an open look. If something isn't working, coming off staggers or a pick-and-roll, they have to go to plan B, which in the Big East is create off the bounce. Our guards are still not there yet or doing that."

"[Last year] I saw a really good player, but I don't know if anyone in this room could have predicted what he is right now. How efficient, how strong, mentally he's unbelievable. I always thought he was going to be a really good player, but did you think he was going to be this? Because it's not close who's the BIG EAST Player of the Year right now, to be honest with you, if he continues this it's not even close who's the national player of the year."

Porter played all but 23 seconds in the game Said coach John Thompson III, "I didn't feel comfortable [in the outcome] until I took Otto out of the game."


Fouls called, combined


Free throws made,
Otto Porter
(most by a GU
player since 2003)


GU field goals,
10th fewest since 1950


GU advantage,
rebounds


RU shooting,
first half


RU shooting,
second half


GU shot attempts,
2nd half


GU free throws,
2nd half


RU record at
Georgetown (all-time)


Georgetown's 11 straight win leads the Hoyas into their final two games of the regular season, the next on Wednesday against a Villanova team fighting for its post-season life. Rutgers has lost 10 of 11 but the Georgetown games remain two of its best efforts of the season.
"We don't want to sit and take stock on the season," Thompson said. "We don't approach the season, the games like that. Tonight's over and this is how we operate. Now we're going to put all of our energy towards Villanova. If you have enough good halves, that turns into a few good games. If you get enough good wins, that turns into a good season. But we can't talk about the season yet. We have to keep thinking about that half, that possession, and I think we've had that mindset all year and that's how we're going to continue to move forward."
Here's the Georgetown half of the box score:

            MIN   2FG   3FG   FT  REB  A  PF  PTS
Starters:                                 
Starks       32   2-5   1-4   2-2   3   2  4    9
Trawick      36   1-2   0-1   2-2   5   1  5    4
Porter       39   5-11  1-2  15-18  8   2  1   28
Lubick       28   2-2   0-0   2-3   6   2  4    6
Hopkins      15   0-2   0-0   4-4   2   0  3    4
Reserves:
Smith-Rivera 27   1-1   2-4   1-2   3   1  2    9
Bowen         1   0-0   0-0   0-0   0   0  0    0
Domingo       1   0-0   0-0   0-2   0   0  0    0
Ayegba       20   0-0   0-0   4-9   7   0  2    4
DNP: Allen, Bolden, Caprio, Hayes
Injured: Adams
Suspended: Whittington
Team Rebounds                       1
TOTALS      250  11-23  4-11 30-42 35   8 21   64

Additional coverage follows below:
The Big East Conference will meet tomorrow to divest itself of the conference's name in exchange for enhanced exit fees from seven schools, including Georgetown University, to begin play in a new conference under the Big East name in the 2013-14 season, according to reports.

The decision will allow Georgetown and six other members of what had been colloquially known as the "Basketball 7" to retain the Big East brand going forward, with the current conference membership to seek a new identity as it moves to a new football-centric model in the Southwest and Midwest.
First reported by columnist Mark Blaudschun, the settlement is part of an extended divorce among as many as 18 schools that were committed to the conference following the loss of four Big East schools to the Atlantic Coast Conference. With as much as $60 million in exit fees within its treasury, millions more in NCAA credits and general uncertainty regarding the number of schools in the latest TV contract negotiations, the two sides were looking for a settlement, wary of the the legal ramifications should the voting membership choose to dissolve the conference entirely before Temple and four schools from Conference USA arrive in July.
As reported, the new Big East would be nine or ten teams for 2013-14, with likely additions from Butler University and Xavier University from the Atlantic-10 conference.
Among the significant items of interest as reported by Blaudschun:
"In exchange for leaving two years earlier than the scheduled departure date of July 2015, the [seven], who will not attend the Atlanta meeting, would agree to take considerably less money from a reserve pool of conference money earned by the Big East from exit fees and NCAA basketball tournament shares which is reported to be in excess of 60 million dollars."
"Fox has put a $40 million a year offer to the [basketball] group, based on a 10 or 12 team configuration, but Fox executives, who are starting a new cable sports venture next fall, wanted the [schools] to begin play next winter."
If accurate, the Fox Sports offer (to be announced Tuesday) is significant, in that Fox will pay the new Big East twice as much for basketball than ESPN will pay the old Big East for football and basketball combined. While still a fraction of the $15-17 million ESPN pays annually to ACC schools, the reported Fox numbers could nearly double its current rights fees paid to schools such as Georgetown.
(And yes, sadly, this all comes back to money.)
Many other issues remain in play, including:
Rights to Madison Square Garden for a conference tournament: It is not clear what would happen to a contract that was signed through 2026.
Rights to conference records and statistics: Which conference can (or will) claim the lineage of basketball records since 1979?
An NCAA automatic bid in men's and women's basketball: By rule, the new Big East would qualify because it has seven schools that have played continuously for five years. The former conference would not meet this criterion but could apply for an NCAA waiver.
Possible early exits by Notre Dame and Louisville: A settlement could open the door for these schools, scheduled to leave for the ACC in 2014, to leave one year early, though the ACC has not discussed making schedule changes to accommodate two more schools. One scenario even has Notre Dame joining the new Big East for one season for scheduling purposes pending its move to the ACC in 2014.
Insufficient numbers of new Big East teams in certain sports: The new conference may not qualify for some NCAA championships because of insufficient numbers of schools playing various sports. In baseball, for example, only four of the seven schools sponsor the sport.
"I think it would be great and important for a lot of the original schools — Providence, Seton Hall, Villanova, St. John's and Georgetown — to have that name," said Villanova coach Jay Wright in the coaches' weekly teleconference call. "I think it's a great part of our heritage. Kids in the Northeast, especially, relate to it. And I think it would be very, very important."
"It almost seems fitting that they should have the name," said Notre Dame coach Mike Brey.
Cincinnati's Mick Cronin downplayed the name change, remarking "The kids are going to know that it's not the Big East of Syracuse and Georgetown and the Pearl against Patrick Ewing, so I don't think it's that big a deal."
Additional coverage follows below, with more to follow on Saturday. It is interesting to note that ESPN appears to have been shut out of a scoop from both sides of the conference in advance of this vote, perhaps in reaction to the new ESPN contract, which pays the old/football conference just $20 million per year, $90 million less than its 2011 offer of $110 million a year.
---
HoyaSaxa.com: The One-Stop Web Site For Hoya Basketball™
An independent web site not affiliated with Georgetown University. All rights reserved.