| | |
| --- | --- |
| Big East Rankings #9: St. John's | 3/31/16 |
In the first decade of the Big East Conference, there was no doubt that St. John's was among the very best teams in the league. Sixteen NCAA bids from 1976-1993, a #1 ranking in 1985, and four Big East regular season titles in the league's first seven years stood St. John's above the fray. As such, no original team has lost more of its national reputation over the years.
Since 1986, the Redmen have won one Big East title, have just one NCAA post-season win, and have one just one NIT game in 13 years. The selection of Chris Mullin as head coach represents a grasp to reach some of the memories that captivated New York basketball a generation ago. After a one win Big East season in 2016, the future is upward, but as has been said so many times by so many, the Big East needs a strong presence in New York with the arrivals of the ACC and Big 10 tournaments as early as next year.
Syracuse was never "New York's College team". It was (and is) St. John's, but they've got to start rebuilding that reputation.
Wins over last three seasons: 49, just eight this season (average of 16.3)
Big East conference wins: Twenty-one in three seasons
Big East tournament wins: None since 2014
Number of players named to All-Big East teams: Three
Average RPI ranking: 126.3
Total weeks ranked in Associated Press poll: None
Wins in NCAA tournament since 2014: None
Three year home attendance average: 7,148
Number of NBA games played by alumni or former students since 2014: 433
Cost of wins (wins vs. total budget): Over the past three years, St. John's has spent approximately $533,811.51 for every win it has earned.
On a 10-100 scale (10 being the minimum score across all ten categories), St. John's received 33 points.
| | |
| --- | --- |
| Big East Rankings #10: DePaul | 3/30/16 |
It's no surprise that DePaul ranks at the bottom of the Big East, but it is surprising to see how the Blue Demons have been at the bottom of just about every statistical category:
Wins over last three seasons: 33, or what Villanova has to date this season (average of 11)
Big East conference wins: Just 12 in three seasons
Big East tournament wins: Just one, the 2014 opening round win over Georgetown
Number of players named to All-Big East teams: None
Average RPI ranking: 185.3
Total weeks ranked in Associated Press poll: None
Wins in NCAA tournament: None
Three year home attendance: 6,038, although DePaul's attendance claims have been debunked on a regular basis. This year's paid attendance was reported at 5,954 a game, while ticket scans indicated it's actually 2,395.
Cost of wins (wins vs. total budget): Over the past three years, DePaul has spent approximately $661,272.24 for every win it has earned.
The only category where DePaul did not finish last was in NBA performance, as veteran Wilson Chandler (DePaul '07) has been playing for nine seasons.
It's common to say the Big East needs a stronger team in Chicago, but is it even possible? DePaul is not one or two players away, it's a deep rooted problem, exacerbated by transfers, where two more freshmen are giving exit notice this week, according to reports. The Blue Demons already lose three senior starters from this season's 9-22 team.
On a 10-100 scale (10 being the minimum score across all ten categories), DePaul received just 14 points.
| | |
| --- | --- |
| Lacrosse Teams Struggling | 3/28/16 |
The 2016 men's lacrosse team, which won 10 games last season, dropped to 1-8 this season after a 9-8 loss at Marquette Saturday, its fifth straight loss. The Hoyas were cited with a shot clock violation within the final ten seconds of the game which ended its run at a tying score. Next up for the men's team: top ranked Denver, which was upset by Penn State over the weekend in Dallas.
It's not much better for the women's team, which dropped to 2-7 in a 12-9 loss to Loyola. Next up: a game at Vanderbilt.
| | |
| --- | --- |
| Mutombo Unhurt in Brussels Attack | 3/23/16 |
Hall of Fame center Dikembe Mutombo (I'91, H'10) was unhurt from Tuesday's airport bombing in Brussels, where he was connecting between flights en route to the United States.
"I was in [the] lounge and next time I heard people start screaming and everyone start running," he told CNN. "Because I was napping, and I was like, 'What's going on?' I thought it was such a joke. A lady was like, 'Everybody out. Everybody out. We have to go, we have to go. A lot of people are bleeding downstairs and a lot of people are hurt.' "And there was no hesitation from there. I brought my bag and I start running."
"It was very crazy, I feel very bad," he said. "So many moms were trying to push their two kids and three kids. You have one thousand people and everyone running. It was very, very sad."
| | |
| --- | --- |
| JT III Commercial Sees NCAA Air Time | 3/21/16 |
"What kind of dog is it? A bulldog?"
So asks head coach John Thompson III in a commercial seen during the NCAA tournament broadcasts for Lowe's Home Improvements.
The ad, filmed at McDonough Gymnasium, is titled "Build Your Home Improvement Confidence".
"Head coach of Georgetown University men's basketball goes into the fine detail of lawn care when asked how to handle dogs," reads an industry web site promoting the ad. "Though hung up over not knowing what type of dog, [Thompson] explains that if it's a bulldog of any kind his answer might be different."
Thompson previously appeared in a 2011 commercial for Dove branded soap. In 2000, the elder John Thompson appeared with Dean Smith for a light-hearted cameo as part of a Nike campaign titled "Bracketville":
| | |
| --- | --- |
| Recruiting Sources Recant Georgetown Commit | 3/21/16 |
Various recruiting web sites were forced to pull back on reports Sunday that Georgetown had signed a 24 year old prospect with no college experience.
Sunday's announcement centered on 5-10 Denzell Hosch, currently stationed at Ft. Hood, TX. Hosch played high school basketball in the 2009-10 academic year at Shelby (NC), but did not sign with a college and moved on to Charis Prep, enrollment 36, in Wilson, NC for a fifth year in 2010-11. The following year, Hosch opted for the junior college route at the little known University of South Carolina-Salkehatchie, but did not play either, receiving a medical redshirt. One year later, he was reported as walking on at North Carolina A&T for 2012-13 but was never listed on the roster.
For the past three years Hosch has been in the Army, most recently at Ft. Hood, which reactivated its base team two years ago. Upon a visit to Washington last fall, the Tankers (once a regular pre-season opponent on Georgetown schedules in the 1990's) met with the current staff.
Hosch is listed as a two-star recruit by a San Francisco-based web site called Verbal Commits, which broke the story, but the veracity of that rating is in question, in that he is not listed on any other recruiting sites and was not a nationally recognized recruit while in high school. There are no published stats on his play at Ft. Hood. The Big East Coast Bias site reported Hosch accepted the offer within one hour Sunday, and Georgetown was the only school that had offered.
An interview Hosch had with 247 Sports on the signing was abruptly pulled. An announcement message on Twitter posted by Hosch was replaced with the following:

Washington DC-based reporter Ben Standig had a different take, suggesting that no offer is even in place:
Hoyas recruiting update: Contrary to reports, no offer to possible 2016 recruit and Fort Hood guard Denzell Hosch, per source. More coming.

— Ben Standig (@BenStandig) March 20, 2016
A follow-up at SB Nation's Casual Hoya was more direct: "Someone in the Hosch camp jumped the gun on the news that he had committed. In reality, Georgetown hasn't even extended an offer."
Want even more uncertainty? The NCAA rules on eligibility state that "Division I student-athletes have five calendar years from the first enrollment at a two- or four-year school to compete four seasons of competition." By enrolling at South Carolina-Salkehatchie in 2011, Hosch's eligibility would have started in the 2011-12 season, meaning that a strict interpretation would give Hosch, now 24, only one year of eligibility remaining.
Georgetown no longer comments on signings, sometimes not acknowledging new players until the recruits arrive as freshman. It may be best to let this one play out. In May 1999, the web site Big East Briefs reported a sudden Georgetown commitment from Memphis-area guard Damarcus Hence that was never finalized. Instead, Hence played four seasons at SE Missouri State.
| | |
| --- | --- |
| 2016: The End of the Road | Updated 3/15/16 |
As expected, Georgetown did not receive a post-season bid to the NCAA or NIT tournaments, ending one of its most disappointing seasons in 44 years with a 15-18 record.
Post-season offers from lesser known events, the College Insider.com Tournament (CIT) and the College Basketball Invitational (CBI) have not materialized. These tournaments require schools to pay $40,000 a game to be selected. A new entrant, the Vegas-16 Tournament, failed to sign up enough schools and will instead be an eight team tournament.
Source to the Voice: #Hoyas will not play in the Vegas 16. Can't confirm if they weren't invited or whether they were invited but declined.

— Voice Sports (@GUVoiceSports) March 14, 2016
Big East NCAA selections included the following:
Villanova (29-5): #2, South
Xavier (27-5): #2, East
Seton Hall (25-8): #6, Midwest
Providence (23-10): #9, East
Butler (21-10): #9, Midwest
Among other Big East schools with winning records, Creighton (18-14) accepted a bid to the NIT and will host Alabama. Marquette (20-13) did not receive an NIT bid and announced it has declined to pursue any other tournaments.
#mubb wasn't selected to play in the NIT Sunday night & won't participate in any other postseason tournaments.

— MarquetteMBB (@MarquetteMBB) March 14, 2016
| | |
| --- | --- |
| UConn Losing $20 Million Outside Of Big East | 3/13/16 |
While the Big East drew a sold out crowd Saturday at Madison Square Garden as Seton Hall defeated Villanova, the University of Connecticut won the American Athletic Conference title before just 7,990 in attendance at the 17,283 seat Amway Center in Orlando, FL. On Sunday, the New York Times reported that the decision to go with the AAC is contributing to a $20 million annual deficit in Husky Athletics.
"As a member of the Big East, the department was more or less self-sufficient," writes the Times. "Now it loses around $20 million a year on $70 million in revenue. In effect, the athletic department funds its teams as if they were in a Power 5 conference, but without Power 5 revenue."
One solution - indeed, the most practical solution - would be for UConn to deemphasize or drop football and rejoin the Big East, which has been reconstituted as a basketball league and includes old Huskies rivals like Georgetown and St. Johns. When it was reformulated, the Big East signed a 12-year, $500 million television contract with Fox. Without the expense of football, UConn athletics could well be back in the black."
| | |
| --- | --- |
| 2015-16 Statistics | 3/13/16 |
Georgetown's ranking in national NCAA statistics (out of 351 teams):
| | | |
| --- | --- | --- |
| Category | Rank | Actual |
| Free-Throw Percentage | 18 | 75.1 |
| 3-pt Field Goal Attempts | 44 | 770.0 |
| Total Blocks (355 ranked) | 53 | 146.0 |
| Field-Goal Percentage Defense | 59 | 41.2 |
| Blocked Shots Per Game | 60 | 4.4 |
| Total Assists | 60 | 492.0 |
| Free Throws Made | 72 | 529.0 |
| Assists Per Game | 76 | 14.9 |
| Three-Point Field Goals Per Game | 86 | 7.9 |
| Defensive Rebounds per Game | 105 | 26.2 |
| Free Throw Attempts | 133 | 704.0 |
| Assist Turnover Ratio | 134 | 1.1 |
| Total Rebounds | 136 | 1181 |
| Rebound Margin | 151 | 1.2 |
| Scoring Offense | 159 | 73.6 |
| Scoring Defense | 174 | 71.8 |
| Field-Goal Percentage | 178 | 44.1 |
| Total Rebounds Per Game | 193 | 35.8 |
| Three Pt FG Defense | 197 | 34.9 |
| Three-Point Field-Goal Percentage | 213 | 33.9 |
| Total Steals | 220 | 180.0 |
| Turnovers Per Game | 247 | 13.4 |
| Steals Per Game | 251 | 5.5 |
| Offensive Rebounds Per Game | 268 | 9.6 |
| Fewest Turnovers | 286 | 442.0 |
| Turnovers Forced | 293 | 11.4 |
| Turnover Margin | 302 | -2.0 |
| Personal Fouls Per Game | 339 | 22.9 |
| Fewest Fouls | 341 | 755.0 |
| | |
| --- | --- |
| Villanova 84, Georgetown 71 | Updated 3/6/16 |
At the start of the Big East conference schedule, coach John Thompson III was candid about where his team stood. "We're in a bad place right now," he said. In comparison, it wasn't as bad as where they ended it.
Georgetown dropped its sixth straight game with an 84-71 loss at Villanova and will play DePaul in the opening round of the Big East Tournament next week. Barring a wholly unlikely run through the Big East tournament, the 2015-16 Hoyas will end the season next week with the school's worst record in 44 years.
Georgetown took a 2-0 lead and held it for just 24 seconds. The Wildcats then scored on five on its first six possessions and were never challenged thereafter. A pair of layups, two of four in the first five minutes alone, set the tone for a game where the younger Hoyas were largely helpless inside. Following Isaac Copeland's second foul just 2:09 into the first half, the ceiling collapsed on any hopes for a competitive game, as the Wildcats went on runs of 9-0, 6-0 and 7-0 to lead 27-6 with 11 minutes to go in the opening half. The ease of precision in building out the lead actually subdued much of the 20,173 at Wells Fargo Center, who saw the lead as less of a rallying cry against an old rival and more of a yawner seen against struggling programs such as St. John's or DePaul. As such, the normally frenetic Villanova crowd was coming along for the ride, and a ride it was.
While no one factor caused the Hoyas to fall off the map in this game, one statistic was self-evident: three point shots. Georgetown missed six of its first seven before a three from Kaleb Johnson closed the score to 37-15 with 9:48 to halftime, but Georgetown proceeded to miss its next six and finish 1 for 13 at the break. Sophomore L.J. Peak, coming off a strong effort versus Marquette, joined freshman Marcus Derrickson in combining for 15 points at the half on 6 for 11 shooting. The rest of the team shot a combined 4 of 18, with Isaac Copeland and D'Vauntes Smith-Rivera combining to go 2 for 12 and 0 for 7 from three point range.
Georgetown gave up nine turnovers in the first half, which proved easy pickings for the Wildcats. An example was found after John's three pointer, where center daniel Ochefu drove the lane and executed a reverse layup, 29-12, only to see the Hoyas fail to watch the 10-second clock and turn the ball back to the Wildcats on a backcourt violation. Two possessions later, a Derrickson turnover and foul set up senior guard Ryan Arcidiacono for a three, 32-12.
The Fox broadcast did its best to sell a competitive game where it simply wasn't. As analyst Jim Jackson was trying to promote the Hoyas back into the conversation, the GU defense crumbled. After closing to 36-20 with 2:57 to play, Jackson said that "Here's where Georgetown can regroup on defense and..."; at that point Phil Booth sank an open three pointer. All Jackson could do was laugh and say: "Nope!"
Villanova carried a 19 point lead into the break, 46-27, capped by a Kris Jenkins three at the buzzer. The Wildcats shot 51 percent from the field, 71 percent from two point range, and collected 14 assists on 16 field goals. In case anyone was still wondering, the Wildcats entered the game with a 25-1 record while leading at halftime, with the Hoyas 1-15 in games where they were tied or trailed at the break. Neither statistic was in danger in this one.
The largest margin of victory in this series came on March 2, 1996, when Allen Iverson's last regular season game saw the G-men rout Villanova 106-68 behind 28 from Iverson. Twenty years later, sophomore L.J. Peak put on a performance that was every bit as dominating, breaking his own career mark set in Peak's first college game on Nov. 15, 2014.
Villanova opened the half with a back-door layup and a Josh Hart three point play to extend the lead to 24, but Peak scored georgetown's first six points and 13 of the team's fifteen points over the first 12 minutes of the second half. With a disheartened DSR and an effective Copeland looking on, peak was the only energy Georgetown had on the court, taking some small advantage of some lax shooting by the WIldcats to close to 14, 58-44. A marcus derrickson three brought the Hoyas to 11, 58-47, whereupon Josh Hart assorted six of Villanova's next eight to steady the lead at 15 entering the final seven minutes. Hart, one of three Nova players from the DC area that the Georgetown coaching staff passed upon in favor of recruiting Stephen Domingo, Reggie Cameron, and Tre Campbell, finished with 18 points and seven rebounds, including driving right past an visibly out of position D'Vauntes Smith-Rivera to lead 66-51 at the 7:19 mark and sticking a three over DSR on the next possession, 69-53. Georgetown was no closer than 15 when DSR fouled out at the 3:00 mark, only his fourth foul-out in his career but the second in the last three games. He finished 1 for 11 from the field and showed a rare display of frustration at the bench, the result of a young athlete seeing his career drawing to a close.
Where DSR sat, Peak continued to rise. A pair of Peak free throws closed the gap to 77-63 with 2:54 to play, and Peak hit a three at the 2:05 mark to close to 78-66. The Hoyas would get no closer, allowing Villanova to empty its bench and celebrate a third consecutive regular season crown, the first Big East men's basketball program ever to do so.
The Hoyas shot 4 for 26 from three point range while Villanova collected 23 assists on 27 field goals.
Villanova coach Jay Wright paid mention to the fact that the game was anti climatic for the Wildcats, a likely #1-seed in the upcoming NCAA tournament.
"We're at the time of the season where it's important for our guys to focus on each game, regardless of what is the perceived importance of the game," he said. "Daniel Ochefu and Ryan Arcidiacono, our senior class, just made sure we were ready to play. They were dialed in on the scouting report. It's a special group to be able to do that as 18-to-22 year old guys."
"The game didn't mean a lot except that it was Villanova-Georgetown. We all have great respect for their program."
The Georgetown press conference took an unforeseen turn when coach John Thompson III did not appear before reporters for nearly an hour after the game. Thompson gave few specifics on the delay, with overall general statements such as "Too many times we allowed a poor offensive possession to turn into a poor defensive possession today" and "I just think we're letting one end of the court affect the other end of the court too much."
The comments underscore a staff that seems lost at how talented players have become unfocused and unproductive. Only a year earlier, the Washington Post's Matthew Giles wrote that "[Isaac] Copeland is the crux of a possible 2016 Big East title...[he] has the offensive repertoire to take over games. A threat all over the court, Copeland excels equally at flashing to the soft underbelly of a defense as he does curling off a screen for a knock-down three. Copeland took time to develop , and how much he improves this summer will determine where the Hoyas rank in the 2016 Big East. The experience of not only going to the NCAA tournament but winning a game will only augment the growth of Georgetown's stellar sophomores to-be. Add to the mix a standout recruiting class, and the returning pieces are enough to ensure 'wait 'til next year' is less a lament and more a declaration."
For now, lamentations remain in order.
Here's the Georgetown half of the box score:

            MIN   2FG   3FG   FT  REB  A  PF  PTS
Starters:
Campbell     30   3-4   0-3   2-2   4   1  1    8
Smith-Rivera 35   1-4   0-7   5-6   7   7  5    7
Copeland     28   3-4   0-4   0-0  13   1  4    6
Derrickson   36   5-7   1-4   1-2   7   0  3   14
Govan        12   0-2   0-0   0-0   2   1  4    0
Reserves:
Peak         32   8-11  2-5   9-12  3   2  4   31
Cameron       8   0-0   0-1   0-0   0   1  0    0
Williams      4   0-0   0-1   0-0   2   0  2    0
Johnson      13   0-0   1-1   2-4   0   0  4    5
Mourning      1   0-0   0-0   0-0   0   0  0    0
Team Rebounds                       2
TOTALS      200  20-32  4-26 19-26 40  13 27   71

With the loss, and barring an absolutely prohibitive run through the Big East and onto the NCAA championship, the 2015-16 Hoyas are guaranteed to finish with the second most losses in program history with 18. With at least one game remaining in the season, the current total: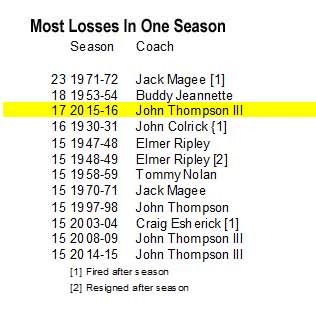 | | |
| --- | --- |
| Home Attendance Down Seven Percent | 3/4/16 |
The Georgetown Voice has an article on 2015-16 home attendance, down seven percent from last season.
"This season also had the lowest attended regular season game in Verizon Center history, a December Tuesday night tilt against Maryland Eastern Shore (4,062) as well as the two of the three lowest attended Big East home games in Verizon Center history, Seton Hall (5,273) and St. John' s (5,369)," wrote the Voice.
"At the conclusion of every season we evaluate ticketing, game attendance, in-game promotions and other items associated with the game day experience," said senior associate athletics director Dan O'Neil. "With an extremely competitive Big East Conference and home games against Maryland and Connecticut slated for next year, we are excited to see how our attendance will grow in 2016-17."
| | |
| --- | --- |
| Marquette 88, Georgetown 87 | 3/2/16 |
For the last decade, fans of a recent vintage pointed to Craig Esherick's 2003-04 team as the low point in modern Georgetown basketball.
No more.
Its place has been overtaken by the dizzying fall of the 2015-16 Hoyas, who dropped their fifth straight and eighth of its last nine in stunning fashion, missing a defensive assignment with five seconds to play to give Marquette a 88-87 win before a Big East season-low 12,957 at Milwaukee's Bradley Center Tuesday night.
The seeds of defeat were planted early in this one, as the Warriors attacked the basket with unusual ease. Largely unopposed inside, Marquette scored 18 of its first 21 points within the paint, scoring almost at will with an array or layups and dunks. MU was shooting at a 75% rate midway through the first half, and the game stayed close only through the outside shot, where the Hoyas connected on six threes. The Warriors led by as many as 14 and carried a 50-39 lead into halftime.
The second half was a tour de force from sophomore Isaac Copeland, who has been inconsistent throughout the season. When Marquette's shooting abated, Copeland picked up the pace, scoring six straight in a rally that saw GU close to six at the 15 minute mark, 61-55, and a layup and foul which closed to three at the midway mark. The Warriors (19-11) maintained a n arrow lead until the 3:47 mark, when Copeland hit a three pointer to give GU its first lead since the 17:56 mark of the first half, 78-77.
The margin ebbed and flowed into the final minute. A three by Marcus Derrickson with 54 seconds left gave GU a 85-83 lead, only to be surrendered by a Derrickson foul on the next series which gave Marquette an 86-85 lead. A basket by D'Vauntes Smith-Rivera gave Georgetown a 87-86 lead with five seconds remaining, but the lineup was an unfamiliar one and no one covered Marquette's Luke Fischer, open under the basket. A quick foul by DSR with one second remaining was Georgetown's last hope, but Fischer sank both free throws for the win.
Copeland led all Georgetown scorers with 32 points.
The loss is Georgetown's 16th of the season, passing the 2003-04's 13-15 mark, with at least two games remaining in the season. Barring a win over Villanova and a Marquette loss to Butler, Georgetown is headed to the 7:00 game next Wednesday as the eighth seed versus DePaul in the Big East Tournament.
| | |
| --- | --- |
| Boswell Talks About JT III Slide | 3/1/16 |
Veteran Washington Post columnist Thomas Boswell is one of the last in the Post news room with first hand writing experience from the days when John Thompson was leading the Hoyas. In response to a online chat about the 2015-16 team, Boswell's comments deserve some additional attention.
"When you ask, "What should the Hoyas level of excellence be in basketball?" you should probably look at the Craig Esherick era. He was (very) smart. He had Big John's total blessing. He'd played for GU. He'd been an assistant there for many years. He knew the recruiting area like the back of his hand. And he was a likeable person and ethical.

Esherick's overall record was 103-74 or .582. He reached one Sweet 16 in his 5 1/2 years.

Now, ask yourself, how much better does JTIII have to be than Esherick for me to think he should keep the job. Better? Yes, I think so. How about 50 points better than .582? What about 75 points better than .582? Come on, decide. In 12 years, JTIII's record at GU is .677, or 95 points better than Esherick. Esherick was 41-53 in the Big East. JTIII is .635...

Here's my two cents worth: GU had a unique Glory Era under JTII. It's probably never coming back. The Next Coach you'd get for the Hoyas would probably be closer to Esherick's level of ability than JTIII's.

I watch GU slog along at .500 this season and shake my head. Too bad. And I remember what a fast start JTIII had with the Final Four trip.

I understand the Disgruntled. All I'd say is: Beware of believing that the grass is always greener on the other side.

Including his years at Princeton, JTIII has more than 330 wins and a .664 record. I don't think he's any great college basketball coach. But I think he's a good one. "Very good?" I'm not that smart. But I doubt that the Hoyas would be able to do better with their Next Coach. And probably not as well."
---
© 2016. All rights reserved
Design: HTML5 UP


AMDG