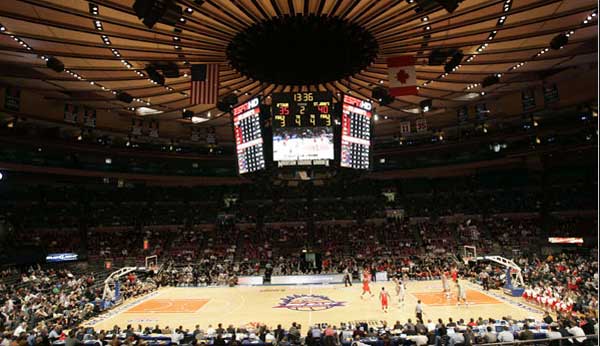 Enjoying its largest crowds since 2013, the 39th Big East Tournament was the toast of New York.
Three nights of sold out crowds roared its approval among the competing teams, with the Big Ten tournament forgotten and the ACC tournament clearly on the undercard.
"This is what Dave Gavitt had in mind when he came up with the idea of the Big East Conference more than 40 years ago, a packed house on a Saturday night with two schools, preferably Catholic ones, battling it out for league supremacy," wrote Terry Toohey of the
Delaware County (PA) Times
. "Outside of Broadway, no one puts on a show in this town quite like the Big East Conference. For sheer drama, it's the best of the big conference tourneys."
"What an incredible college basketball atmosphere here in the Garden," said Villanova coach Jay Wright. "We just feel so lucky to be part of it."
Saturday's game between Providence and #3 Villanova was the first overtime final since 2002, and Providence coach Ed Cooley's improvised wardrobe was the talk of press row.
Dana O'Neil (now at the subscription site
The Athletic
) wrote: "This, after all, is the league built on the backs of coaching legends known for their coaching acumen, outsized personalities and sartorial selections. Looie had his ugly sweaters, Rollie his rumpled suits and Big John his brow-mopping cloth. To that we now add Ed Cooley's hula skirt ingenuity, a towel emblazoned with Gatorade symbols that protected both the humility of the Providence coach and the eyes of the fans seated by the Friars' bench."
Prior to the final, the New York Times reflected on the growth of the conference since its reformation in 2013.

"A scene from Friday: A 17-point second-half lead for top-seeded Xavier had vanished. A floater in the lane from Rodney Bullock of Providence tied the score, 64-64. A capacity crowd at Madison Square Garden roared. A "Let's go, Friars" chant resounded. "I love it!" Ed Cooley, the Providence coach, cried, clapping his hands. "I love it."

"To put [this] in perspective, the Big East has had two of its members placed on the bracket's top line in the same year only three times, including in the days of Syracuse, Connecticut, Pittsburgh and Louisville," wrote the Times.

In the last eight years, Georgetown has won a disappointing four games in this tournament, one that has been overtaken by Villanova fans as if it were the UConn horde of old. Were that more Georgetown fans could experience what Cooley expressed during the Friars' run to the final.

"What a game, what an atmosphere, what a league," he said.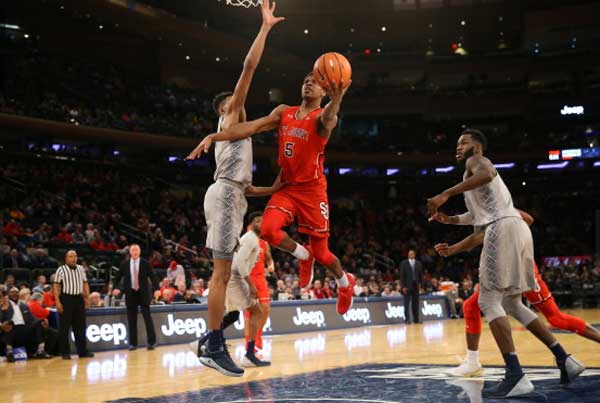 POST-GAME COVERAGE

On February 13, following an 83-80 win over Butler, the 15-10 Georgetown Hoyas needed just one win in its next five games to give Patrick Ewing a winning record in his first season and maybe, just maybe, a share of some momentum for post-season consideration.
Instead, the Hoyas lost five straight, ending the 2017-18 season with an 88-77 loss to St. John's despite holding a double digit first half lead and connecting on 12 three pointers against the Redmen.
Many of the same storylines that plagued the 2017-18 season were in evidence throughout this game. The Hoyas raced to a 10-2 lead to open the game, but gave up baskets on five of St. John's next six possessions as the Redmen closed to 15-14 at the 12:18 mark. Georgetown was able to control the tempo early in this one thanks to a solid first half from Jessie Govan, who led the Hoyas on a 13-4 run midway in the first half to extend the lead to 30-20 with 8:04 remaining and finishing with 18 at the break. But instead of feeding Govan, Georgetown looked to other scorers. Govan did not get a single shot over the next five minutes as various miscues from Jonathan Mulmore, Jamarko Pickett, and Jahvon Blair opened the door back for St. John's to close in.
The Hoyas went six minutes without a basket as a tepid St. John's offense, which had not yet unlocked Shamorie Ponds, clawed back into contention. Justin Simon and Tariq Owens combined for 10 of 12 points as the Redmen outscored the Hoyas 12-1 to take the lead, 32-31, before Georgetown found the three pointer. Four of the Hoyas' final six baskets of the half were by three--two from Govan, two from Marcus Derrickson, who fought off an apparent ankle injury to finish with 12 points at the break, all from three point range, as Georgetown carried a 48-42 lead into the break. Govan and Derrickson accounted for 30 of the team's 48 points, but its remaining starters combined for just four points.
Two baskets within the first 57 seconds of the second half brought the Redmen back into the game, and that is where it stayed for much of the second half. On two occasions St. John's took the lead, only to be answered by the Hoyas--a Derrickson three at the 15;36 mark regained the lead, 55-54, and a Trey Dickerson layup to tie the score at 59=59 with 11:34 remaining. Georgetown struggled on defensive sets and St. John's, a team which lost two games to the Hoyas by a combined seven points, began to take notice.
In a matter of just 88 seconds, St John's took over for good. A turnover and two missed Georgetown jumpers were answered by baskets for St. John's, an Owens jumper at the 10:44 mark and a three point from Ponds to put the Redmen up five, 64-59. On GU's next series, Mulmore missed a layup and Simon was fouled going to the basket, 67-59.
A pair of free throws from Jagan Mosely got the Hoyas to five at the 6:03 mark but no closer. Georgetown missed its final six attempts over the final three minutes and St. John's held its lead into Thursday's quarterfinal. Shamorie Ponds led the Redmen with 26 in his first full game back from abdominal strain suffered a week earlier.
All the regular symptoms were in place for a disappointing Georgetown effort--14 GU turnovers converted into 10 St. John's points, for example, or a miserable 3 for 17 return from three point range after halftime. One could look further at a combined 0 for 12 effort from Jamarko Pickett and Jahvon Blair, but it wasn't the single cause of defeat. One could even ask how St. John's got all its five starters in double figures. But as was the case so, so often this season, the team played without the leadership expected of contending teams. The guard play was as poor as it has been all season--the trio of Jonathan Mulmore, Jahvon Blair, and Kaleb Johnson finished 1 for 11, all from three point range, and not one steal between them. The Hoyas led for 24:09 in the game but not when it counted. As such, the season ended not with a bang, but a whimper.
"We didn't bring our "A" game," said coach Ewing in post-game remarks. "Jessie and Marcus, they played, based on their stat sheet, they brought their "A" game, but no one else really stepped up. And we need, for us to beat that team, everyone has to pull their load and we didn't get that done tonight."
The 2017-18 Hoyas ended Patrick Ewing's inaugural season 15-15, winners of just five of their final 19 games, and losing games in the first round of consecutive Big East Tournaments for the first time ever.
Some have forgotten.
The Georgetown half of the box score:

            MIN   2FG   3FG   FT  REB  A  PF  PTS
Starters:
Mulmore      25   0-3   1-1   1-2   1   4  2    4
Johnson      15   0-0   0-1   0-0   1   0  3    0
Pickett      22   0-3   0-3   2-2   4   1  5    2
Derrickson   33   0-1   6-11  2-2   8   2  3   20
Govan        35   7-17  2-4   8-9  11   2  1   28
Reserves:
Blair        26   0-0   0-6   0-0   0   2  1    0
Mosely       24   1-1   1-3   4-5   3   3  3    9
Walker        8   2-3   1-1   0-0   3   1  0    7
Dickerson    12   2-2   1-2   0-0   1   3  5    7
Team Rebounds                       7
DNP: Hines, Muresan, Derrickson, Mourning
TOTALS      200  12-30 12-32 17-20 39  18 23   77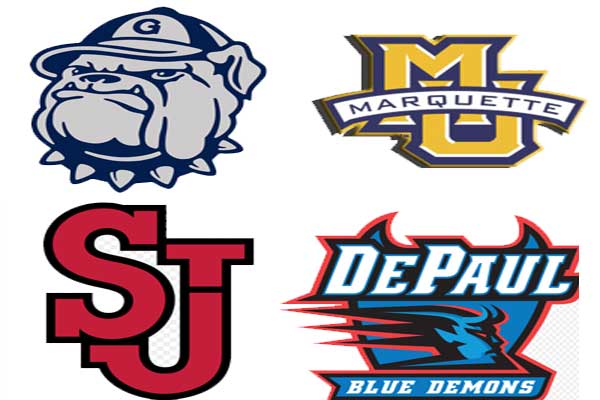 The early rounds of the Big East tournament used to see some familiar names every year: Miami. Rutgers. South Florida. Since the tournament was reconstituted as a ten team tournament in 2014, four teams have returned early and often.
Wednesday marks Georgetown's fourth appearance in the opening round in the last five years, a bellwether of the program's continuing struggles since winning the Big East regular season title in 2013. It's also the third straight appearance for St. John's, the third in five years for Marquette, and the fifth straight for DePaul, a school that has won just two first round games since joining the Big East in 2006. That the Big East thrives despite the performance of its four largest schools by overall enrollment is a credit to the conference, but at some point all these teams simply need to do better.
Here is the five year composite Big East records and seedings of the teams in the conference tournament, with opening round seeds in red.
| | | | | | | |
| --- | --- | --- | --- | --- | --- | --- |
| Team | 2013-18 | 2014 | 2015 | 2016 | 2017 | 2018 |
| Villanova | 78-12 (.867) | 1 | 1 | 1 | 1 | 2 |
| Xavier | 56-34 (.622) | 3 | 6 | 2 | 7 | 1 |
| Providence | 51-39 (.567) | 4 | 4 | 4 | 3 | 5 |
| Creighton | 48-42 (.533) | 2 | 10 | 6 | 6 | 4 |
| Butler | 47-43 (.522) | 9 | 3 | 5 | 2 | 6 |
| Seton Hall | 44-46 (.488) | 8 | 8 | 3 | 5 | 3 |
| Marquette | 40-50 (.444) | 6 | 9 | 7 | 4 | 7 |
| Georgetown | 37-53 (.411) | 7 | 2 | 8 | 9 | 8 |
| St. John's | 32-58 (.355) | 5 | 5 | 10 | 8 | 9 |
| DePaul | 18-72 (.200) | 10 | 7 | 9 | 10 | 10 |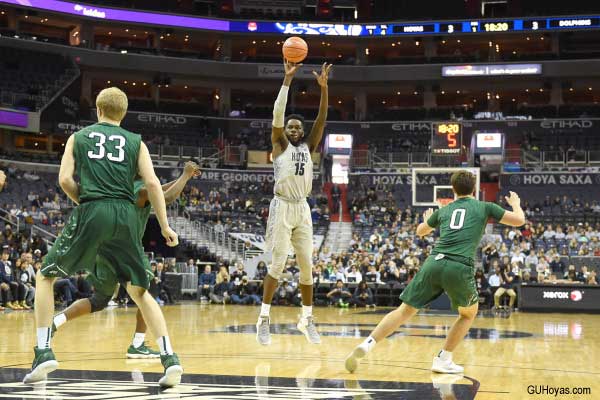 Three Georgetown players were selected to the All-Big East teams Sunday, but what was more newsworthy was who wasn't selected.
Jessie Govan was not selected to any of the league's first, second or honorable mention teams, despite being among the top 12 in scoring and second overall in rebounding. Marcus Derrickson was a second team selection, while freshmen Jamarko Pickett and Jahvon Blair were selected to the all-freshmen team, Georgetown's first multi-selection on the all-freshman team since Isaac Copeland and L.J. Peak in 2015.
Despite its eighth place showing, Georgetown's three selections were the most among all other schools. Seven schools earned two selections, St. John's one, and DePaul was the only Big East school without any selection.
A cumulative list of Georgetown's All-Big East selections through the years is found at the
Georgetown Basketball History Project
.
First Team
Unanimous selections:
Kelan Martin, Butler, F, Sr., 6-7, 220, Louisville, KY
Jalen Brunson, Villanova, G, Jr., 6-2, 190, Lincolnshire, IL
Trevon Bluiett, Xavier, G, Sr., 6-6, 205, Indianapolis, IN
Also selected:
Marcus Foster, Creighton, G, Sr., 6-3, 210, Wichita Falls, TX
Shamorie Ponds, St. John's, G, So., 6-1, 165, Brooklyn, NY
Mikal Bridges, Villanova, G/F, Jr., 6-7, 210, Malvern, PA
Second Team:
Khyri Thomas, Creighton, G, Jr., 6-3, 210, Omaha, NE
Marcus Derrickson, Georgetown, F, Jr., 6-7, 250, Bowie, MD
Markus Howard, Marquette, G, So., 5-11, 175, Chandler, AZ
Angel Delgado, Seton Hall, C, Sr., 6-10, 245, Bajos De Haina, Dominican Republic
Desi Rodriguez, Seton Hall, F, Sr., 6-6, 220, Bronx, NY
Honorable Mention:
Andrew Rowsey, Marquette, G, Sr., 5-11, 180, Lexington, VA
Kyron Cartwright, Providence, G, Sr., 5-11, 185, Compton, CA
All-Freshman Team
Unanimous selections:
Jamarko Pickett, Georgetown, G, 6-8, 190, Washington, DC
Omari Spellman, Villanova, F, 6-9, 245, Cleveland, OH
Naji Marshall, Xavier, F, 6-7, 218, Atlantic City, NJ
Also selected:
Mitch Ballock, Creighton, G, 6-5, 205, Eudora, KS
Jahvon Blair, Georgetown, G, 6-3, 189, Brampton, ON
Nate Watson, Providence, C, 6-10, 260, Arlington, VA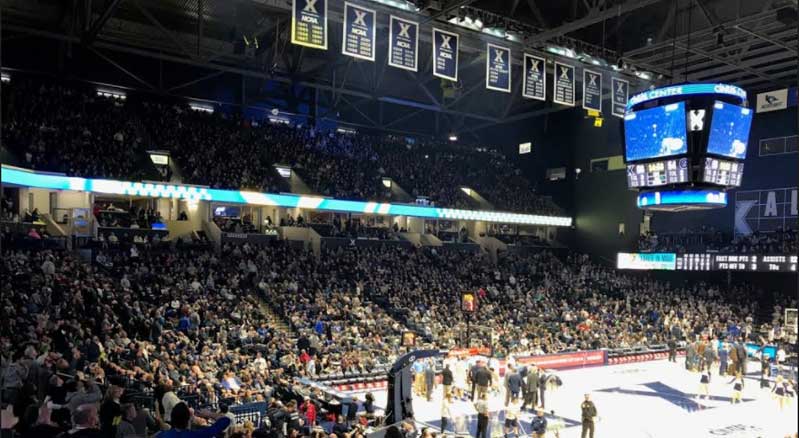 Georgetown's 11% attendance drop in 2017-18 was the most of any Big East school, per the end of season attendance averages posted at the conference web site.
Georgetown dropped from 8,479 per game in 2016-17 to just 7,531 in 2017-18,
its lowest average since 1980-81
.
Among the gainers: a 24 percent increase at DePaul with the opening of its new downtown arena, a 17 percent increase with Villanova playing its entire schedule off campus during construction of the Finneran Pavilion, and a healthy 12 percent increase at Providence.
| | | | |
| --- | --- | --- | --- |
| Team | 2017-18 | 2016-17 | Chg |
| Creighton | 17,000 | 17,413 | -2.3% |
| Marquette | 13,857 | 13,716 | +1.0% |
| Villanova | 11,829 | 10,048 | +17.7% |
| Xavier | 10,475 | 10,282 | +1.8% |
| Providence | 9,548 | 8,493 | +12.4% |
| Butler | 8,555 | 8,358 | +2.3% |
| Seton Hall | 8,457 | 7,954 | +6.3% |
| St. John's | 8,119 | 8,147 | -0.3% |
| Georgetown | 7,531 | 8,479 | -11.1% |
| DePaul | 6,147 | 4,923 | +24.8% |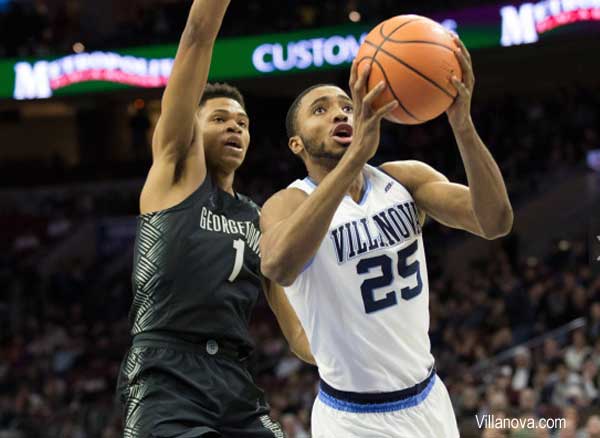 POST-GAME COVERAGE

A career high 30 points from Jessie Govan was not enough as the #4-ranked Villanova Wildcats won its record eighth straight game against Georgetown, an 97-73 win at Wells Fargo Center Saturday that marked Georgetown's second largest ever defeat in a Big East regular season finale, surpassed only by a 26 point loss to Nova in 2017.
The Hoyas were without junior Marcus Derrickson, who suffered an ankle injury before the game. Without Derrickson, Govan could only do so much, and that was not enough.
An early 8-2 run by the Hoyas to open the game proved promising, but fleeting. Absent outside shooting, Georgetown relied on points in the paint while Villanova (27-4, 14-4 Big East) scored the next seven and took a 9-8 lead at the 14:20 mark of the first half. From a 14-12 Villanova lead at the 12:29 mark of the first half, the Wildcats scored on four three pointers in its next four possessions, giving Villanova the lead it maintained for the duration of the half. Govan proved the only offensive spark for a Georgetown which missed 10 straight shots midway in the half, failing to take advantage of some trouble by Villanova to exercise its offense with a lead.
A 6-0 run late in the half pushed a nine point Villanova lead to 15 into the final minute of the break and a 44-31 lead at the intermission. Georgetown shot just 35%, missed ten of its final 11 attempts of the half, and missed all eight attempts from three point range.
Early fouls trouble and Govan's success inside kept Georgetown close, but not close enough, early in the second half. The Hoyas' defense without Derrickson was picked apart time and again. Georgetown got to within 11 at 53-42 five minutes into the second half, whereupon Villanova answered with back to back threes to push the lead to 15, 59-44. Georgetown earned the bonus at the foul line, closing to 63-51 at the 11 minute mark, and then the Cats went back outside again, going up 69-53. Georgetown's third and final three of the afternoon came from Jahvon Blair at the 8:16 mark, 69-58, whereupon Villanova went on a 15-4 run to put the game well out of reach with 5:46 to play.
Georgetown shot 51 percent from the field in the second half but its defense was awful. The Wildcats were 8 for 11 inside the arc and 9 of 16 outside it, and were largely unchallenged to the basket. The Hoyas kept Villanova off the free throw line in the first half (just three attempts by halftime), but the Wildcats finished 13-13 from the line overall. Even a better than expected number in the turnover category (just ten) failed to pay off for Georgetown, as Villanova held a 17-7 advantage in points off turnovers.
While Georgetown fans are encouraged by Jamarko Pickett's outside touch, such was not the case Saturday. Pickett was 1 for 5 from outside, Jahvon Blair 2 for 6, and the rest of the team 0 for 6. Georgetown finished the game just 3 of 17 from three point range and allowed the Villanova starting lineup ten threes of its own and a 14 for 31 rate overall.
"We want to teach our guys how to play basketball, not how to run plays," said Villanova coach Jay Wright in post-game remarks. "We just try to teach our guys how to play the game and react to different situations. Sometimes it takes us a while to get into a game and realize what the team is doing but once our guys got comfortable we were able to mix it up and share the ball."
The win was Wright's 413th on the Main Line, tying him with Alex Severance (1937-1961) for the school's career mark.
"I'm proud of it and I'm sure, like everything else, I'll look back on it at the end of the season and really appreciate it. But for now, it's a next game mentality. For me, it's more of the thrill in being the coach at Villanova and being mentioned among some of the best coaches in this program's history." Patrick Ewing's concern was not Wright's milestone by the condition of Marcus Derrickson.
"His ankle was bothering him for about a week and it is getting worse," Ewing said. "We just have to wait and see and hope he recovers quickly. We didn't know that he wouldn't play until the day of. So, for our team it is next man up. Everybody must be prepared to fill into that role. Marcus was a significant part of our team and someone now has to step in to fill that role." That role was not filled Saturday. Jagan Mosely got the start and was scoreless in 23 minutes of play.
Georgetown ends the Big East regular season on a four game losing streak and a 5-13 record overall, the same Big East record as that suffered last season.
Here's the Georgetown half of the box score:

            MIN   2FG   3FG   FT  REB  A  PF  PTS
Starters:
Mulmore      19   1-3   0-1   0-0   1   0  2    2
Mosely       23   0-0   0-1   0-0   3   2  2    0
Pickett      28   3-7   1-5   1-1   4   1  4   10
Johnson      28   2-4   0-1   4-7   3   1  1    8
Govan        36  10-14  0-1  10-10  8   1  1   30
Reserves:
Blair        24   1-3   2-6   0-0   2   2  1    8
Walker       18   3-4   0-0   2-2   3   0  3    8
Dickerson    24   3-9   0-2   1-1   1   4  2    7
Team Rebounds                       3
DNP: Hines, Muresan, Derrickson, Mourning
TOTALS      200  23-44  3-17 18-21 28  11 16   73