Last week's copy of The HOYA also caught up with Patrick Ewing Jr. (C'08), who NBA developmental league before a knee injury sidelined him earlier this season.
"After I recover, I'm a free agent now," Ewing said. "So I'm just taking looks from different teams to see what they're talking about, and the next couple of months I'll decide which team that I'll hopefully sign with," Ewing said. "And if that doesn't work out, maybe [I'll] go overseas or back in the D-League for one more year."
Ewing also had some thoughts on the Hoyas' 2008-09 season. "I think they've got to learn to play together: to play as a team and know their roles and know that everyone can't be the star. Every team has one, maybe two star players, but everybody can't be that player. Once they learn that, I think they'll be a great team."
The Georgetown Voice reports of a third signing by Georgetown for the 2009-10 season, adding forward Jerrelle Benimon from Warrenton, VA.
"I am excited," Benimon told the Fauquier Times-Democrat. "I've always wanted to go to Georgetown and play."
Benimon could be a diamond in the rough. The 6-8, 215 lb. Benimon was not heavily recruited and had scholarship offers from Longwood, Old Dominion, and a pair of Division II schools. As a senior, however, he averaged 22 points and 14 rebounds at Fauquier HS and focuses on the passing skills that would be a good fit in coach John Thompson III's sets.
There was no comment from Georgetown, which does not comment on individual signings pending receipt of the National Letter on Intent.
With the signing, Georgetown will have 10 on scholarship in 2009-10 and have one remaining scholarship over the next two seasons, as there are no graduating seniors on the team next fall and two verbal commitments for 2010-11 have already been secured.
In NBA news, the 18 year pro career of Dikembe Mutombo (SLL'91) has ended following a knee injury suffered last evening in a game between the Houston Rockets and the Portland Trail Blazers. The 42 year old Mutombo was carted off in a stretcher and told the Houston Chronicle that his pro career was over.
"I have to go out with my head high and not be disappointed and have no regrets. I have so many things I can be so thankful for over my 18 years," Mutombo said.
A number of writers offered tributes for Mutombo's 18 year career, and the promise of more important roles to come.
"He's funny, smart, gracious and absolutely committed to leaving the world a better place than he found it," writes Richard Justice of the Houston Chronicle. "In the end, that part of his legacy, more than the basketball, will be what made Mutombo so special. All [that] basketball did was give him millions of dollars and a large stage."
Additional articles can be found at NBA.com, ESPN.com, and the National Post.
The Louisville Courier-Journal is reporting that Georgetown has signed Vee Sanford, a 6-3 guard from Lexington, KY, to a letter of intent from the class of 2009.
Sanford was an all-state selection in Kentucky and averaged 22.8 points per game his senior season.
There was no comment from Georgetown, which does not comment on individual signings pending receipt of the National Letter on Intent.
A Georgetown news release announced sophomore forward Omar Wattad will leave the school at semester's end.
"Omar will not return to Georgetown next year," Coach Thompson said in a brief statement. "We wish Omar the best in his future."
Wattad averaged 2.6 points per game in 25 games this past season and 2.1 points overall over two seasons. Wattad started in one game this season, against Florida International, but did not play in six of the last nine games of the season.
"I think there is attrition in college basketball, in one form or another," Thompson told The HOYA. "People leave because they are unhappy with the basketball situation, people leave because they have things going on in their personal life, and people leave because they don't have the opportunity to return."
The departure leaves Georgetown with just seven returning players entering the 2009-10 season. Greenshirt forward Hollis Thompson has already enrolled and two verbal commitments are secured for the high school class of 2010 (Nate Lubick, Markel Starks).
Amidst the Wattad transfer, some better news for Georgetown fans, as Coach Thompson confirmed that freshman Greg Monroe will return to Georgetown in 2009-10.
Additional coverage for both Wattad and Monroe follows below.
Once a major event at arenas like Capital Centre and MCI Center, the 36th annual Capital Classic high school all-star game drew only 2,272 to American University's Bender Arena Thursday, where the Capital All-Stars defeated the U.S. All-Stars 129-98. A recap of the game follows in this link to the Washington Post.
Jamal Olasewere, an unsigned forward from Springbrook HS considering Georgetown, had 11 points in the game.

Last year, we noted the story of former Georgetown forward Sead Dizdarevic (C'07), who had organized a trip with four fellow teammates to lead a series of basketball clinics in Montenegro, stressing the importance of education.
Georgetown has now received has a seed grant from the U.S. Department of State to continue the efforts in 2009. The program, titled the Georgetown University Basketball Diplomacy Project, will be managed by the University's Center for Intercultural Education and Development (CIED) in conjunction with the Department of Athletics.
From four volunteers in 2008, the 2009 program expands efforts to 12 volunteers teaching across four nations: Montenegro, Albania, Serbia, and Kosovo. "After regional camps, six players (boys and girls) who are also best student-athletes from the four countries will be recruited for participation in the "Unity Camp" in Kolasin, Montenegro. This camp will provide a unique opportunity for the players from Belgrade, Serbia to play alongside and team up with the players from Pristina, Kosovo. Enhancement of athletic skills will go hand-in-hand with conflict resolution techniques and ways to overcome ethnic differences." reads a news release.
"In addition to conducting high quality basketball training camps, the American athletes will share their experiences with the young people and encourage them to stay in school and use basketball as a tool to overcome many challenges that they are facing today," the release continues. "This public diplomacy initiative will also strengthen the bonds of friendships and understanding between people of the United States and people in the Balkans."
The State Department grant does not cover the entire expense of the program nor secure its future, and the project is reaching out to the Georgetown community for matching gift support. Readers interested in assisting these efforts are asked to contact Sead at sd372 @ georgetown.edu for more information. The deadline for gifts is April 28 in order that arrangements can be made for this summer's trips.
Thank you in advance for your participation.
At the Final Four, where the 30th anniversary of the Larry Bird-Magic Johnson is getting lots of attention, Monday's USA Today asks why there is not even a mention of the 25th anniversary of the 1984 final, where John Thompson became the first African-American coach to win a Division I championship.
"I think it definitely was a benchmark," Thompson said. "It was also the knocking down of a stereotype. That's what I felt, very strongly, when it happened."
Though the Villanova Wildcats didn't advance to the NCAA final, school officials hope to reach donors while the proverbial iron is hot. The Philadelphia Inquirer reports that school officials are discussing whether an upgrade or replacement to the 6,500 seat Villanova Pavilion (built in 1986) can be jump-started in the wake of the Final Four bid.
"Anytime a program has success, certainly the success of a Final Four...engaging your donors is a much easier proposition," said athletic director Vince Nicastro. "It's much easier than if you're winning 15 games and you say, 'This investment will get us over the hump.' "
Villanova previously completed work on a $22 million practice facility in 2007.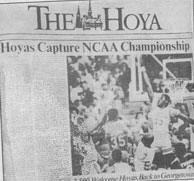 Maybe you weren't born.

Maybe you were too young.

Maybe you stayed in Washington and wished you were someplace else that night.
And for those that had the privilege to be at the Kingdome 25 years ago today, well, you don't forget.
Today, April 2, is the 25th anniversary of the 1984 NCAA title game. Much has changed since the days when there was no Internet, when General Motors stock traded at $64.00 a share, and courtside tickets to the NCAA championship were priced at $21.25.
Today, members of the HoyaTalk board share their stories of that day, while we present a pair of game recaps from two of the most notable Georgetown critics of the era: Curry Kirkpatrick of Sports Illustrated, and John Feinstein of the Washington Post. Both gave credit where it was due that evening: the team concept led Georgetown to the top.
Championships are a rare event by any definition, and all the more remarkable in the tenor of the college basketball world in that era. The 1983-84 Hoyas were one of a kind, and their story does not fade with the passing of time. At least, it won't fade here.
Here is the the box score from the game:

GEORGETOWN (84)
                      fg    ft   
               min   m-a   m-a   rb a pf   tp
Starters:			   
Brown           15   1-2   2-2   4  4  4    4
Jackson         35   3-4   5-5   0  6  4   11
Wingate         32   5-10  6-9   1  3  4   16
Williams        26   9-18  1-2   7  3  2   19
Ewing           30   4-8   2-2   9  3  4   10
Reserves:
Martin          16   3-6   0-0   2  0  0    6
Broadnax         8   2-3   0-0   0  0  2    4
Graham          24   7-9   0-2   5  0  4   14
Dalton          13   0-0   0-0   2  0  1    0
Morris           1   0-0   0-0   0  0  0    0
DNP: G. Smith (injured), Dairsow
_______________________________________________
TOTALS         200 34-60  16-22 33 19 25   84


HOUSTON  (75)
                      fg    ft   
               min   m-a   m-a   rb a pf   tp
Starters:	
Franklin        38   8-15  5-6   2  9  3   21
Gettys          29   3-3   0-0   1  7  2    6
Winslow         33   0-1   2-2   6  3  4    2
Young           37   8-21  2-3   5  1  3   18
Olajuwon        32   6-9   3-7   9  0  4   15
Reserves:
Anders          10   2-2   0-2   0  0  0    4
Clark            1   0-0   0-0   0  0  0    0
Anderson         6   1-1   0-0   2  0  0    2
Dickens          6   2-3   1-2   0  0  5    5
Thomas           2   0-0   0-0   0  0  0    0
Giles            2   0-0   0-0   0  0  0    0
Weaver           1   0-0   0-0   0  0  0    0
Orsak            1   1-1   0-0   0  0  0    2
Alexander        1   0-0   0-0   1  0  0    0
Belcher          1   0-0   0-0   0  0  0    0
_______________________________________________
TOTALS         200 31-56  13-22 26 20 21   75
 
Here's a video link to the game in its entirety. Enjoy.
The Boston Globe reports that Georgetown assistant coach Robert Burke is among a number of coaching candidates being interviewed for the vacant head coaching post at Boston University. Friday's Globe reports that Tennessee assistant Tony Jones is the leading candidate.
This week marks 66 years since the 1943 NCAA final between Wyoming and Georgetown, where USA Today has an interview with the oldest living tournament MVP, Wyoming's Ken Sailors.
Sailors, 88, was among the first players to utilize a running jump shot instead of the stationary shooting of the time. Sailors scored 16 points in the Cowboys' 46-34 win over the Hoyas.
Despite concerns that he is not ready for the NBA, junior forward Dajuan Summers will leave school and pursue an agent in hopes of being selected in the 2009 draft, according to a Georgetown press statement released Monday night.
"We wish Dajuan all the best in his future endeavors, wherever they may take him", said John Thompson III in a brief statement. "He informed me that he is closing the book on his college career and focusing fully on the opportunity to play professionally." Summers averaged 11 points and four rebounds over a three year career.
The departure leaves eight returning lettermen and one incoming freshman for the 2009-10 team, which for the first time since 1992-93 will be without a senior on the team.
Additional links follow below.
---
HoyaSaxa.com: The One-Stop Web Site For Hoya Basketball™
An independent web site not affiliated with Georgetown University. All rights reserved.