Georgetown's participation in the 2012 Legends Classic in Brooklyn, NY will also come with two early home games to the schedule. WDAY-TV reports that one of these will be with North Dakota State. The Bison were 17-14 in the Summit League last season, with an RPI of 183.
The two schools have never met in basketball. An offer by the Bison to host the Hoyas in football fell short during the 2010 season.
The Georgetown Dish provides an update on some of the arguments put forth in the recent U.S. Commission on Fine Arts (CFA) debate on the proposed Intercollegiate Athletics Center. Once criticized for being too modern, it was then criticized for being too, well, traditional.
"It keeps looking like a dormitory wrapped around a gym," said committee chair Earl Powell. Added commission member Edwin Schlossberg, "It feels weird that a great big gym doesn't look like a great big gym."
Changes were made after officials complained of too much glass and not enough brickwork in an earlier proposal.
"A lot of this comes from the Old Georgetown Board," said architect William Gridley. "They told us to shrink the building footprint and raise the height." But the reviewers come at this from a different, well, angle.
"I don't like the massing," said commission member Witold Rybczynski.
Regulatory approvals for the proposed Intercollegiate Athletics Center (aka Athletic Training Facility) continued its deliberate pace Thursday when the U.S. Commission on Fine Arts (CFA) approved some, but not all, of the proposed facility.
"According to the commission's secretary, Thomas Luebke, the board approved the building's location, overall shape and intended use as well as its architectural relationship to surrounding buildings," writes The HOYA, which noted that the commission chose not to vote on the exterior plans, sending this back to the Old Georgetown Board, which approved the prior exterior plans April 5 after three rounds of review, but must now re-review the changes proposed by the CFA before it would go back to the CFA for another round of approvals.
Assuming GU can make all the recommended changes, the earliest the University could get back on the Old Georgetown Board docket is June 7.
Seniors Henry Sims and Jason Clark were featured at the annual Hoop Club Banquet on Thursday. A recap follows at GUHoyas.com.
"It would be difficult to underestimate the role that our seniors played this season," said Georgetown president Jack DeGioia at the event. "Henry Sims and Jason Clark became the cornerstones of this team's trademark offense and its stifling defense. In their four years here, Henry and Jason have shared their talents, embodied hard work and determination, and provided the program with some impressive victories and exciting memories. But what we remember most and celebrate tonight is the quality of their character and the strength of their leadership. Thank you Henry and Jason; it's been a privilege to watch both of you develop, grown and succeed in tremendous ways."
Traditionally known as the awards banquet, the "award" portion of the program has been deemphasized by the staff, as no awards were announced for the second year.

Two courses short of his economics degree, Hollis Thompson talked to The HOYA on his move to the NBA draft.
"The Georgetown team — a lot of the guys were similar to me, focusing on school and basketball," Thompson said. "When I came to Georgetown, it [had] the Ivy League feel, so outside of basketball, I could still work hard and focus in the classroom."
Thompson was the school's first "greenshirt" recruit, arriving to campus a semester early in the spring of 2009. Though he did not play for the team in 2008-09, it has allowed him to be within range to graduate a year early, perhaps by this summer, which may also have played a role in the decision to leave rather than pursue further studies.
"I really want to thank everybody with me at Georgetown," he said. "[It was a] great three and half, basically four years."

Playing basketball in New Zealand is literally a world removed from East Baltimore. For Kevin Braswell (C'02), he's fine with that.
A HoyaTalk reader alerted us to this article from Fairfax (NZ) Media, which takes a deeply personal look at the struggles Braswell, 33, overcame prior to arriving at Georgetown in the fall of 1998.
"Most of my friends I grew up with are in prison, dead, or playing [sports]," Braswell said. "The ones playing basketball or American football, I can count on one hand. The ones, who are dead, I need both hands and feet. The ones in prison, it's too many to count. Without basketball, I'd honestly be dead."
Braswell arrived at GU from Maine Central Institute. The article reports that Braswell was ineligible for play in Maryland following a misdemeanor drug charge while a senior at Lake Clifton HS.
Braswell often thinks about the streets of Baltimore he left behind.
"Basketball is a game to me," he continued. "Think about how small of a career basketball is in your lifetime. Fifteen years, if you're lucky. People should enjoy the game of basketball. I've faced my toughest battles."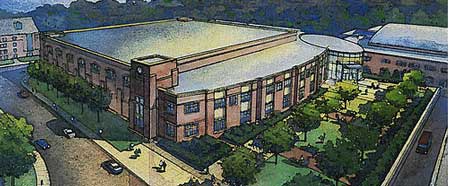 Efforts to build the basketball training facility passed another hurdle when the project, officially known as the Intercollegiate Athletic Center (IAC), was cleared by the Old Georgetown Board on its third review.
A review of the plans in October did not pass muster by the board, a federal oversight committee, because the design slightly obscured the entrance to McDonough Gymnasium, reports The HOYA.
"[The earlier version] was very real-estate intensive and did not have the best relationship to campus," said Secretary of the U.S. Commission of Fine Arts Thomas Luebke.
The next step in the process is approval by the U.S. Commission of Fine Arts. The status of fundraising for the facility, estimated at $55 million, has not been disclosed. Georgetown's last athletic project, the Multi-Sport Facility, stalled over fundraising and remains unfinished since initial construction began in 2005.
This site is built around links to news articles, not speculation, which is why we've spared our readers the litter of endless Twitter posts and "insider" claims on the recruiting status of 6-10 high school senior Nerlens Noel, who chose Kentucky over Georgetown and Syracuse as part of a 90-minute ESPN show Wednesday night.
Noel, who announced his decision for a college education via a "UK" carved into the back of his haircut, is widely perceived as a candidate to leave college after one year and join the NBA.
Georgetown still has one scholarship available, and in the end, coach Thompson will still add a great young freshman to the team. For now, best to Mr. Noel and his future endeavors.
The NCAA has denied an appeal by the University of Connecticut that stripped the Huskies of its post-season eligibility for the 2012-13 season.
UConn has struggled to maintain NCAA Academic Performance ratings for a number of years, with the NCAA having cited them for falling below the 925 threshold with an 826 in 2010. Writes the Hartford Courant: "In October, the NCAA approved new academic standards that required teams to have a 930 Academic Progress Rate over a four-year rolling average, up from the previous rate of 900, or face a post season ban. UConn's four-year average was 893, which is badly affected by an 826 score for 2009-2010."
"It's almost as if they've decided to get UConn one way or the other," said Connecticut governor Dan Malloy.
An NCAA statement on the matter, however, says otherwise: "Schools have known since 2006 that APRs below 900 could result in serious penalties including post-season restrictions. The same standards are applied to each institution; to ensure all data are comparable for each team, there is a necessary lag time in calculating all the scores at a national level. Also, in UConn's first waiver denial, NCAA staff noted the men's basketball team's overall lack of academic achievement and minimal academic progress over several years."
UConn officials say their expected APR for 2011-12 will be 978, the same as 2010-11, and they should be judged on two years, not the four as previously prescribed by NCAA rules. Low APR scores can come from transfers, early entries to the NBA, players that are not academically eligible at the end of a semester, or a combination of the three.
Also of issue:
The Big East announced last month that any school ineligible for NCAA competition will not be invited to the Big East men's basketball tournament. Unless a special appeal committee overturns the NCAA's own ruling (and most sides consider it highly unlikely), UConn will not attend the Big East tournament, leaving 14 schools for the 2013 event with the loss of West Virginia to the Big 12. (The net loss will be one fewer game on the Tuesday first round.)
There is concern that the ineligibility may cost UConn additional transfers or early entries to the NBA draft. Junior Alex Oriakhi has already announced plans to transfer, while freshman Andre Drummond and sophomore Jeremy Lamb are considered candidates for early entry to the NBA draft. "There are a lot of rumors about guys leaving," said Lamb. "Not really sure right now, I can't say much. I don't really know."
It also goes without saying that the decision may affect recruiting. UConn has three seniors, all walk-ons.
The decision has rekindled questions about Jim Calhoun's future with the school. According to the Courant, Calhoun has two years remaining on his contract and there are questions about whether Calhoun, 70, will renew his contract, or whether assistant coach Kevin Ollie will succeed Calhoun.
"It is disturbing that our current players must pay a penalty for the academic performance of students no longer enrolled," said Connecticut president Susan Herbst. "As I have said repeatedly, no educator or parent purposefully punishes young people for the failings of others."
UConn is not the first school to be hit with such penalties, but the first among BCS-level conferences. In 2011, Portland State was ineligible for the NCAA tournament for low APR scores. In 2012, five schools (Cal State-Northridge, Chicago State, Grambling State; Southern University, Louisiana-Monroe) were also declared ineligible.
Some Big East news from ESPN.com, where Andy Katz reports that officials at Pitt and Syracuse will skip the Big East's spring meetings to attend Atlantic Coast Conference meetings instead. The two schools are obligated through June 2014 but officials are expected to push for a negotiated exit after the 2012-13 season.
"Hopefully, we'll get everything worked out here soon," said Pitt athletic director Steve Pederson. "Their league is reconfigured and ready to move, and when you get to that point where everybody is on the next page, everybody should move on."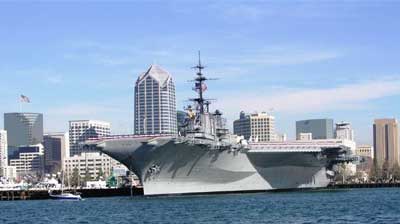 A nationally televised matchup between Georgetown and San Diego State on the deck of the USS Midway to open the 2012-13 season has fallen through, only to see a rival school pick up the date.
Syracuse, not Georgetown, will compete on the historic carrier Nov. 9, as the San Diego Union-Tribune reported that Georgetown was not able to get out of an undisclosed scheduling commitment.
"A different Big East school, Georgetown, was initially invited to play SDSU, but the Hoyas could not get out of a previous engagement over the same weekend," wrote the paper. "Instead, they got an even bigger name, and one that almost never plays on the West Coast."
Georgetown was invited late last season to participate in the event, to be a highlight of the city's Veterans Day weekend activities and be broadcast nationally. But last month, a quote from Georgetown athletic director Lee Reed did not commit to the event.
"It has the potential to be a phenomenal annual event for college basketball and for the local community," Reed said. "But it's still way too early. There's no commitment on our end."
New Auburn women's coach Teri Williams-Flournoy wasted little time in praising the resources of Auburn University in her introductory press conference Tuesday.
"It was a very tough decision. I built Georgetown," she said at the press conference. "We became one of the winningest programs in Georgetown history, but it wasn't a hard decision when Auburn University opened up."
"To be really honest with you I did not get fans at Georgetown University until we won. And when we win [at Auburn], they shall come," she said.
"Although Georgetown is in the Big East, a well-regarded basketball conference, Auburn offers two things the Hoyas couldn't: a sparkling new arena (Georgetown's women played in a building built in 1951) and an impressive compensation package," wrote the Birmingham News. "Williams-Flournoy has agreed to a five-year deal with a base salary package of $550,000 annually."
Williams-Flournoy compared the facilities at Auburn versus Georgetown.
"It's not that much of a comparison," she said. "It wasn't the building that we could sell because there wasn't much of a building to sell. We began to sell getting a Georgetown degree, and we began to sell the success of our program and winning and going to the NCAA Tournament. Now my job just got a little easier because now I not only can sell getting your degree from Auburn University, I can also sell playing in the SEC and then to come and play in this arena and to walk around and see the facilities that are being built around here."
Williams-Flournoy did not disclose whether she intends to hire her former Georgetown assistants to the staff, said the news report.
Sports biographer Kyle Keiderling has published a book on the strategy behind the 1985 NCAA final between Villanova and Georgetown.
The book, titled "The Perfect Game: Villanova vs. Georgetown For The National Championship" covers the game from both sides of the court, though coach John Thompson did not participate in the book. "The author takes you behind the scene for the story of two coaches from two different backgrounds and styles who matched wits and strategy in a nail biting chess match in Lexington, Kentucky, for the national title," writes Amazon.com.
A hardcover or e-book download is available at Amazon.com and via the website Villanovamiracle.com.
In an unexpected turn of events, women's basketball coach Terri Williams-Flournoy was named head coach at Auburn University. A press conference will be held Tuesday afternoon.
Williams-Flournoy arrived at Georgetown in 2004 as an assistant coach from SouthWest Missouri State. The early years were a struggle, as Georgetown went a combined 50-63 (18-46 Big East) in Williams-Flournoy's first four seasons. The recruiting class of 2008, this year's senior class, began the turnaround, as the Hoyas posted a 20-14 record and an WNIT bid in 2008-09. Adding junior guard Sugar Rodgers the following season, the Hoyas earned three straight NCAA bids from 2010 through 2012 (versus one in the program's history up to 2009), with a four year record of 93-41 (40-24 Big East) and three seasons of Top 25 rankings. Her overall record at Georgetown was 143-104.
The move was a surprise to many. Williams-Flournoy had signed a five year extension in 2010 and turned down an offer to go to Virginia just a year ago.
"When we sat with Terri, it was evident. She set herself apart from everybody else," said Auburn athletic director Jay Jacobs, though he did not indicate where and when the meeting took place.
In a brief statement, Georgetown athletic director Lee Reed said that "Finding a new leader for our program is the top priority. We are looking for someone who will embrace the high standards of academic and competitive excellence that defines Georgetown Athletics and Georgetown University."
The Post noted that the current staff may or may not be retained, which may affect a significant recruiting gap to fill. There are seven seniors graduating, and only four recruits have been signed to date.
"I'm very grateful to Georgetown," Williams-Flournoy told the Washington Post. "I think we did accomplish a lot."
Additional coverage follows below: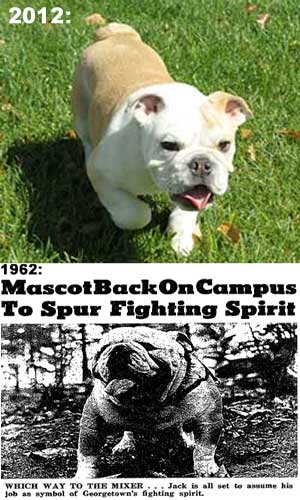 A multimedia campaign has been launched to welcome Georgetown's next generation mascot to campus.
Jack Jr., or "J.J.", is a four month bulldog pup who will arrive on campus April 14, and it appears that it will be with some fanfare. A University web site has posted a video on the newcomer, complete with a interactive map on his travels next week.
The pup was donated by the Hochstetler family from California. "We are extremely grateful for the Hochstetlers' gift of a new bulldog puppy to the Georgetown community," says Stacy Kerr, a University assistant vice president for communications. "We are thrilled that J.J. will be joining Jack the Bulldog on campus."
The elder Jack will remain the official mascot, but will mentor the pup on what it is to be a Hoya, according to a report in the Washington Post
Jack injured his anterior cruciate ligament two weeks ago and will undergo surgery later this month. A full recovery is expected for the eight year old dog. ""Really excited about the new puppy, and, just to be clear, Jack is not being retired," wrote Rev. Christopher Steck S.J. in a Twitter post.
J.J. will mark the sixth bulldog on campus since the original Jack arrived 50 years ago in 1962, when a student committee raised funds to purchase and house a dog on campus. The tradition was dormant from the mid-1970's but was revived in 1999.
The Final Four has its share of Fred Brown (C'84) anecdotes referencing the final 17 seconds of the 1982 final, but a more detailed and introspective piece on the Georgetown guard follows in this link to the New York Daily News .
---
HoyaSaxa.com: The One-Stop Web Site For Hoya Basketball™
An independent web site not affiliated with Georgetown University. All rights reserved.