Some off-season marketing by the Georgetown athletic department will offer a fan the opportunity to redesign the Verizon Center floor used for Georgetown home games, reports the Washington Post.
The "Hoyas Court Design Contest" will offer two season tickets to the winning entry, to be judged by head coach John Thompson III.
"Coach is the one making the ultimate decision on it," director of marketing Chris Grosse told the Post. "He wanted to come up with a way to interact with our fan base and get some suggestions and ideas."
While the Sporting News had some early ideas, Verizon Center won't be turning into the Matthew Knight Arena, whose court design takes a decidedly different approach.
Just a week removed from receiving the Timothy S. Healy S.J. Award from the Georgetown University Alumni Association, Dikembe Mutombo (I'91, H'10) was traveling to Cuba, where the thaw in U.S.-Cuban relations afforded an opportunity to bring a basketball skills camp to that island.
"As you know, basketball is a sport that can connect people, give them a bridge for cultural change," Mutombo said in this Associated Press report. "I'm glad that we're about to build this bridge that will help so many young men and women here in Cuba to develop the game of basketball."
The NBA-sponsored effort is the first visit by a U.S. professional league to the island since 1959.
News releases from Georgetown and Maryland made it official: the two schools will meet Nov. 17 as part of the Gavitt Tip-Off Games.
An article in the Washington Post looks back at the recent games in the series, but many of today's fans might be surprised to learn that the game was not the toughest ticket in town.
The schools moved its series to Capital Centre in 1974--but that first game drew just 5,623. The last game in the series in Landover drew just 8,100 as part of a doubleheader with Navy and American, and the game was then moved to the D.C. Armory in 1979, with only 6,905 in attendance. The November 1993 game at Capital Centre which Maryland fans long remember as a breakthrough game for coach Gary Williams drew 13,761, or about two-thirds capacity.
The upcoming two game series will have no worries about empty seats, however.
For the first time in 42 years, the Georgetown Hoyas will play at the University of Maryland in a two game series as part of the Gavitt-Tip Off Games, a challenge series between the Big East and Big Ten Conference, according to numerous reports.
The two teams will meet the week at a date to be announced between Nov. 17-20 at Xfinity (nee Comcast) Center on the Maryland campus, with a return game at Verizon Center scheduled in the 2016-17 season.
The Hoyas last played at College Park on Dec. 11, 1973, a 115-83 loss to the #4-ranked Terrapins at Cole Field House. The teams moved the series to Capital Centre in Landover, MD through 1978, then met in 1979 at the D.C. Armory before ending their series after the 1979-80 season. The teams met in a 1993 game in Landover, the 2001 NCAA regional semifinal in Anaheim, CA, and most recent in the 2008 Old Spice Classic in Orlando, FL. The Terrapins hold a 36-27 lead in a series that began when the Maryland Agricultural College was routed by Georgetown 55-3 in the 1907-08 season.
Efforts to restart the series were a running subplot through two generations of D.C. area basketball. The 1980-81 game was ostensibly shelved as Georgetown began a full Big East schedule, but by the arrival of Patrick Ewing in 1981, both sides distanced from any further games. The schools did meet on Nov. 26, 1993, an 84-83 overtime win before 13,761 fans that was seen as the turning point of the Gary Williams era that eventually led the Terrapins to the 2002 NCAA title. Despite being the home team in the neutral site game, Williams insisted through the remainder of his coaching tenure that he would not schedule a return game unless the Hoyas played in College Park, which Georgetown declined.
In 2012, Maryland athletic director Kevin Anderson decreed that no Maryland teams would be allowed to schedule Georgetown in any intercollegiate spotty without game in College Park. The move was seen by the public and media as counterproductive, and Anderson reversed his position without comment a year later. The Hoyas and Terrapins met in men's soccer and women's lacrosse in 2014-15.
"Would Georgetown and Maryland have scheduled one another by now if not for Anderson's all-or-nothing approach?" asked CSN Washington's Ben Standig earlier this season. "There are no absolutes in this realm, [but] by my sense of the scene is yes."
Neither school has commented on the reports. Additional links follow below:
The remaining games in the 2015-16 Gavitt Tip Off-Games:
Nebraska at Villanova
St. John's at Rutgers (MSG)
Illinois at Providence
Creighton at Indiana
Xavier at Michigan
Penn State at DePaul
Iowa at Marquette
There's been no official press release, but recent comments by head coach John Thompson III to CBS Sports.com supports the evidence that rising senior D'Vauntes Smith-Rivera will be back for his senior season.
"I think it was emotional for D'Vauntes when he made the initial decision [to enter the NBA draft] because we had a difficult loss in the tournament to Utah and the season came to an end," said coach Thompson. "When he was able to take some time and get some information, he then made an accurate decision -- an informed decision. I think that's what it's all about. He made the right decision to come back and get his degree and be a part of a team that I think is going to be pretty good next year."
"I really like the group we're going to have next year. "Because of what we went through this past year, we have experienced, quality players. They all can do things. We've got D'Vauntes coming back as a senior and he's going to be one of the better guards in the country. We've also got big Jessie Govan coming in as a freshman and he's going to add a different element. Offensively, he can do a lot of different things. He's big, he's physical, but at the same time he's really skilled. He's got a great feel for the game."
Former Georgetown center Greg Monroe (ex'12) has refuted a report in the New York Daily News that a move to the NBA's New York Knicks is a "done deal".
"It's a shame that people just write stuff that's not factual at all but we as players have to come in here and answer for it when we have absolutely nothing to do with it," Monroe told the Detroit Free Press. "I guess he's doing his job. That's what you guys do. You write it's a done deal then they must have another guy named Greg Monroe somewhere around there I don't know about because I haven't agreed to anything,"
A deal by the Knicks while Monroe is under contract to the Detroit Pistons would be a league violation, but Monroe adds, "I haven't discussed anything with anybody," Monroe said. "My agent hasn't discussed anything with anyone. It's the stuff I've been telling you guys all year is exactly what I've been doing. I've been focused on this season and that's going to be it."
A slow news day at the Georgetowner, where local D.C. statehood activist Mark Plotkin rails at Georgetown for not playing George Washington in basketball.
"You see, doing something for the city is not what moves them. They don't identify with D.C.," Plotkin writes. "They just don't give a damn. And they get away with it."
The article is a retread from many of his past rants on the subject, which usually devolved to conspiracy theories why Georgetown did not play in the BB&T Classic. (Now that Georgetown actually does, that's been edited.) In 2006, he claimed in the Washington Post that WTOP "is going to be doing a story, or stories, on how they don't want to be civically engaged and are depriving the children's charities of millions of dollars." (Never happened.)
Over at the Post, they've amusingly heard this before. In an article titled "People are clamoring for a Hoyas and Colonials matchup. Well, one person," Clinton Yates writes "First off, to say that the Hoyas don't identify with D.C. because they won't play GW doesn't make sense. It's not like they're rolling out the red carpet to play, say, Howard, either. But more importantly, the Colonials' men's hoops program has its own fine history that need not obsess about living in the proverbial shadow of Georgetown."
With Georgetown fans waiting for some sort of official announcement on the status of D'Vauntes Smith-Rivera, the Big East Coast Bias blog takes an early look at arriving freshmen Jessie Govan and Marcus Derrickson.
"Govan looks to be more muscular and toned up because he is running the floor really well and seems to have increased his athletic ability to run with the guards," it writes. "Georgetown will need all of that because if he plays the four or the five, he will have an advantage against other big men if he is able to do that on a consistent basis.
"Derrickson's jump-shot has always been there, but the question is can it be consistent on a daily basis. Derrickson can step out and knock down from the perimeter. Copeland started to develop that at Georgetown and became more confident that he can make the shot. We are currently seeing the offense of Georgetown change because they are getting big men that can step out and shoot, while also body in the paint and prepare for the toughness of the conference."
A flurry of Internet chatter on Tuesday followed a Twitter post attributed to Scout.com that junior D'Vauntes Smith-Rivera has reversed a decision to leave Georgetown and seek the NBA draft.
Additional coverage followed when Smith-Rivera's mother confirmed this to ESPN, but a team spokesman told the Washington Post that Georgetown has not been informed of this.
Smith-Rivera led the team in scoring in 2014-15 and was named a first team all-Big East selection. However, he is not listed among the top 100 pro prospects by any of the three major NBA scouting services, which may be at play if he is reconsidering a decision.
Additional coverage follows below:

For the second time in two years, the Basketball Hall of Fame has selected a Georgetown alumnus to its ranks with the election of Dikembe Mutombo (I'91, H'10) to its 2015 induction class.
"I had a dream of becoming someone," Mutombo told NBA-TV. "To look at the way the course of my life has taken to become a basketball player, there was not [the] dream of my life that I would become a Hall of Famer. I had a chance to play basketball. The opportunity was there. But being a Hall of Famer was not there."
Mutombo, an eight time NBA All-Star over 18 seasons, has distinguished himself on and off the court, with numerous civic and humanitarian interests worldwide.
"You want people to have good things to say when you're no longer here," Mutombo said. "I think I've left my mark."
The press release noted Mutombo's accomplishments as follows: "Mutombo is an eight-time NBA All-Star (1992, 1995-98, 2000-02) and a four-time NBA Defensive Player of the Year (1995, 1997, 1998, 2001). He led the NBA in blocked shots for five consecutive seasons (1994-98) and blocks per game for a record three consecutive seasons (1994-96). He earned NBA All-Rookie Team recognition in 1992 and All-NBA Second Team in 2001. A native of Zaire, Africa, Mutombo attended Georgetown University (1988-1991) and played in the NBA from 1991 until 2009 recording 11,729 points, 12,359 rebounds, and 3,289 blocks in eighteen NBA seasons. He received the J. Walter Kennedy Citizenship Award in 2001 and 2009. His legendary finger-wagging motion after blocked shots became one of the most recognized gestures in the game."
The awardees will be recognized at a Sept. 11 ceremony in Springfield, MA.
Georgetown Selections In The Hall Of Fame:

Elmer H. Ripley (1892-1982)
Coach, 1927-29, 1938-43, 1947-49
Inducted 1973

Harry E. Jeannette (1930-2009)
Coach, 1952-56
Inducted 1994

John R. Thompson, Jr. (1941- )
Coach, 1972-99
Inducted 1999

Patrick A. Ewing (1962- )
Player, 1981-85
Inducted 2008

Alonzo H. Mourning, Jr. (1970- )
Player, 1988-92
Inducted 2014

Dikembe Mutombo (1966- )
Player, 1988-91
Inducted 2015
(Update: Online registration has closed for this event.)
From the Georgetown University Alumni Association:
Dear Georgetown Alumni,

The Georgetown University Alumni Association is delighted to share that a longtime member of the alumni community, Dikembe Mutombo (I'91, H'10), Hoya basketball great, president and CEO of the Dikembe Mutombo Foundation and member of the board of directors for the CDC Foundation, will receive the Timothy S. Healy, S.J. Award at John Carroll Weekend this year in Los Angeles, April 16-19. The Timothy S. Healy, S.J. Award, named for the 46th president of Georgetown University (1976-1989), was established in 1996 to recognize an alumnus or alumnae who has rendered outstanding community, public or professional service in support of humanitarian causes...

Throughout his success, Mutombo was always committed to helping others and became known off the court as well for his humanitarian efforts. In 1997, he set up the Dikembe Mutombo Foundation, which builds hospitals and provides health care in Congo. In 2007, the foundation was able to open the capital's first hospital in 40 years.

For these dedicated gifts of service, and for his commitment to living the charge to be a man for others, he will be honored at the John Carroll Weekend event, "A Conversation with 2015 Timothy S. Healy, S.J. Award Honoree Dikembe Mutombo ", on Friday, April 17, at the Beverly Wilshire, Beverly Hills. President John J. DeGioia will be on hand to conduct the conversation and will be joined by Paul Tagliabue (C'62), Georgetown Board of Directors chair and former NFL commissioner, as they discuss Mutombo's dedication to global human development and the influence of Georgetown's Catholic and Jesuit values on their ongoing commitments to helping others.

Register now to share in this and many more social, cultural and intellectual activities taking place at John Carroll Weekend in L.A., and help celebrate an alumnus who has made a lasting mark as a global humanitarian.


A remarkable streak in television sports ends Monday night as CBS ends a 33 year run of NCAA basketball title games with the Wisconsin-Duke final--the game will move to TBS in 2016. And while the Saturday semifinals drew some of its best ratings in almost 20 years, college basketball ratings as a whole were down, nowhere more so than Fox Sports 1.
Big East officials noted an increase in overall ratings with the network from its debut season, FS1 ratings continue to lag from the ESPN networks. The conference final between Villanova and Xavier drew 414,000 fans nationwide, down 44 percent from the 2014 Providence-Creighton final and down 88% from the 2013 Louisville-Syracuse final on ESPN.
Georgetown's numbers reflected this trend, as the Hoyas' games routinely finished down the ratings ladder. There was nowhere to go but up after just 4,000 viewers tuned in to the Texas A&M-Corpus Christi game (about the same number as registrants to the HoyaTalk message board), and topped out with 1.9 million to see the Hoyas play Utah in NCAA play on CBS. The top Fox Sports 1 rating for the Hoyas was a 0.1, registering 233,000 viewers for the game at Marquette on Jan. 24.
"As usual, most college basketball telecasts attracted very few viewers," wrote Sports Media Watch. Of the 979 games on CBS, ESPN, ESPN2, ESPNU, FOX, FS1, FS2 and NBCSN, only 25 had a rating of 1.5 or higher (not including seven games for which ratings were unavailable). More than half of the games had 0.0 or 0.1 rating, and more than a quarter finished in the 0.2-0.5 range.
"The December 2 Mount St. Mary's/Seton Hall game on Fox Sports 2 was the least-watched of the season, with just 1,000 viewers. Fox Sports 2 aired the 10 of the 11 least-watched games during the regular season, with a Big East team involved in each of the ten."
The Georgetown ratings tracked by the article are below. (Note that games scheduled on MASN are not listed.)
| Date | Game | Network | Rating | Viewers |
| --- | --- | --- | --- | --- |
| 11/18/2014 | TAMU Corpus Christi/Georgetown | FS2 | 0.0 | 4K |
| 11/22/2014 | Robert Morris/Georgetown | FS2 | 0.0 | 9K |
| 11/27/2014 | Wisconsin/Georgetown | ESPN | 0.3 | 553K |
| 11/28/2014 | Georgetown/Butler | ESPN | 0.4 | 653K |
| 12/7/2014 | Towson/Georgetown | FS1 | 0.0 | 39K |
| 12/10/2014 | Kansas/Georgetown | FS1 | 0.2 | 354K |
| 12/13/2014 | Radford/Georgetown | FS1 | 0.0 | 29K |
| 12/27/2014 | Georgetown/Indiana | ESPN2 | 0.8 | 1.25 M |
| 12/31/2014 | Georgetown/Xavier | FS1 | 0.1 | 114K |
| 1/3/2015 | Creighton/Georgetown | FS1 | 0.0 | 58K |
| 1/6/2015 | Marquette/Georgetown | FS1 | 0.1 | 145K |
| 1/10/2015 | Georgetown/Providence | FS1 | 0.1 | 107K |
| 1/13/2015 | Georgetown/DePaul | FS1 | 0.0 | 57K |
| 1/17/2015 | Butler/Georgetown | FS1 | 0.1 | 117K |
| 1/19/2015 | Villanova/Georgetown | FS1 | 0.1 | 154K |
| 1/24/2015 | Georgetown/Marquette | FS1 | 0.1 | 233K |
| 1/27/2015 | Xavier/Georgetown | FS1 | 0.1 | 166K |
| 2/7/2015 | Georgetown/Villanova | FOX | 0.3 | 491K |
| 2/10/2015 | Georgetown/Seton Hall | FS1 | 0.0 | 63K |
| 2/7/2015 | St. John's/Georgetown | FS1 | 0.1 | 79K |
| 2/28/2015 | Georgetown/St. John's | CBS | 0.7 | 884K |
| 3/3/2015 | Georgetown/Butler | FS1 | 0.1 | 129K |
| 3/7/2015 | Seton Hall/Georgetown | FOX | 0.3 | 470K |
| 3/12/2015 | Georgetown/Creighton  (Big East) | FS1 | 0.1 | 150K |
| 3/13/2015 | Georgetown/Xavier  (Big East) | FS1 | 0.1 | 239K |
| 3/19/2015 | Georgetown/E. Washington  (NCAA) | TruTV | 0.4 | 996K |
| 3/21/2015 | Georgetown/Utah  (NCAA) | CBS | 1.4 | 1.90 M |
On the even of the 2015 Final Four, a study by USA Today lists head coach John Thompson III with a salary of $2,838,271, the 11th highest salary among the 68 NCAA schools.
Thompson, 49, has seen his salary increase over $1 million in just four years, when USA Today reported he earned just over $1.8 million per year in 2011, and is now over four times the $610,640 his father earned in 1998-99, John Thompson's last season as Georgetown head coach.
The salary reflects Georgetown's trust and confidence in Coach Thompson, which is the highest amount of any basketball coach at a school without a BCS-level college football program to support such costs, and thus takes a larger share of the budget than his peers. The 2015 salary is equivalent to 10.2% of the entire men's athletic budget at Georgetown and 8.2% of the overall athletic budget, which is more spent on any Georgetown sport outside men's basketball, including the budgets for the second and third largest budgets in women's basketball ($2.7 million) and football ($1.6 million).
A look at the top 15 coaches by compensation is below--Thompson tied for the fewest wins in NCAA play among the 15, deflated somewhat by Georgetown's poor post-season showings in recent years.
School
Conf
Head Coach
Total Pay
NCAA Record
Final Fours
Through 2015
Kentucky
SEC
John Calipari
$6,356,756
47-14
6
Duke
ACC
Mike Krzyzewski
$6,043,979
86-26
12
Louisville
ACC
Rick Pitino
$6,004,529
53-18
7
Kansas
Big 12
Bill Self
$4,955,186
37-16
2
Michigan State
Big Ten
Tom Izzo
$4,006,955
46-16
7
Arizona
PAC-12
Sean Miller
$3,484,500
17-8
0
Ohio State
Big Ten
Thad Matta
$3,372,000
24-13
2
West Virginia
Big 12
Bob Huggins
$3,265,000
29-21
2
Indiana
Big Ten
Tom Crean
$3,046,250
9-8
1
Wisconsin
Big Ten
Bo Ryan
$2,946,000
24-13
2
Georgetown
Big East
John Thompson III
$2,838,271
9-10
1
Villanova
Big East
Jay Wright
$2,775,846
14-12
1
Oklahoma
Big 12
Lon Kruger
$2,750,000
16-16
1
UCLA
PAC-12
Steve Alford
$2,630,000
9-9
0
Texas
Big 12
Rick Barnes
$2,625,000
21-22
1
Where did they get these numbers? Many coaches at state schools have salaries published in the public record, while private school salaries are generally gathered through IRS Form 990, where non-profits are required to disclose the salary of their highest paid employees.

An unexpected chill fell over the Georgetown basketball program Tuesday when junior guard D'Vauntes Smith-Rivera announced his intention to hire a pro agent and seek a professional career, rendering him ineligible for intercollegiate competition.
A brief statement by John Thompson III simply noted that "He has given a great deal to this program and we will do everything we can to help him pursue his goals."
Smith-Rivera led the team in scoring in 2014-15 and was named a first team all-Big East selection. He scored 1,386 points in three seasons for Georgetown, 18th on the all-time scoring list, and could have joined names like Floyd, Ewing, Williams, and Mourning atop the career scoring lists at the conclusion of a senior season.
The decison was surprising, given that Smith-Rivera is not listed among the top 100 prospects by any of the three major NBA scouting services, and there was widespread online chatter that Smith-Rivera will soon be headed overseas instead of an NBA career.
"Smith-Rivera is a first-class shot maker and excellent ball-handler who is adept at using his limited physical stature... to his advantage," wrote an analysis at Casual Hoya. "However, he is not particularly quick, long, or tall, and those physical disadvantages will be exposed at a professional level," "He isn't big enough to be a shooting guard or quick enough to be a point guard, which will pose problems on offense and could be disastrous on defense. He's already 22 years old, making big leaps of improvement (or the random growth spurt) unlikely."
DSR's last appearance at Georgetown will likely be at the annual Hoop Club banquet on April 30.
Additional coverage follows below:
It's a sign of the times, but John Thompson III's 11 seasons at Georgetown have seen a record number of transfers and departures:
Class of 2008
Jeff Green *
Left for NBA
Cornelio Guibunda
Transferred to American
Class of 2009
Marc Egerson
Transferred to Delaware
Octavius Spann
Transferred to Marshall
Josh Thornton
Transferred to Towson
Class of 2010
Vernon Macklin
Transferred to Florida
Jeremiah Rivers
Transferred to Indiana
Dajuan Summers
Left for NBA
Class of 2011
Nikita Mescheriakov
Transferred to Wake Forest
Omar Wattad
Transferred to TN-Chatt.
Class of 2012
Greg Monroe
Left for NBA
Class of 2013
Jerrelle Benimon
Transferred to Towson
Vee Sanford
Transferred to Dayton
Hollis Thompson
Left for NBA
Class of 2014
Moses Ayegba *
Transferred to Nebraska
Class of 2015
Otto Porter
Left for NBA
Greg Whittington
Left school
Class of 2016
Brandon Bolden
Transferred to Kansas St.
Stephen Domingo
Transferred to California
D'Vauntes Smith-Rivera
Left for pro basketball
* Graduated
With the departure of D'Vauntes Smith-Rivera, the Georgetown starting five is likely to be as young an outfit as any since the 1982-83 season when the Hoyas started two freshmen, two sophomores and a junior. In fact, it could be even greener than that.
Prior to the arrival of Louisville transfer Akoy Agau in December, the 2015-16 roster will have one scholarship senior in Bradley Hayes (0.9 ppg)and one junior in Reggie Cameron (1.2 ppg). The rest of the team are freshmen and rising sophomores, with an open gap in shooting guard that may be filled over the summer or backfilled by L.J. Peak by the time the season begins in November:
| PG | SG | SF | PF | C |
| --- | --- | --- | --- | --- |
| Campbell (So.,3.4) | | Peak (So., 7.9) | Copeland (So., 6.8) | Hayes (Sr., 0.9) |
| Allen (Sr. Walk-on) | Williams (Sr. Walk-on) | White (So., 5.1) | Derrickson (Fr.) | Govan (New) |
| | | Cameron (Jr., 1.2) | Agau (transfer) | Mourning (So., 0.0) |
| | | Johnson (Fr.) | | |
With Smith-Rivera's departure and the graduation of the seniors, just 35 percent of the Hoyas' 2014-15 shooting returns in 2015-16, assuming no other departures or transfers.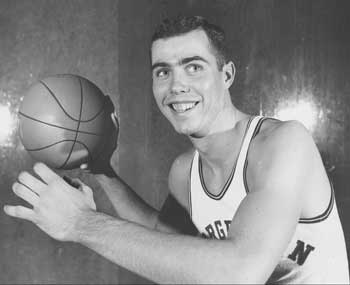 Jim Barry (C'65), the All-American forward who was considered the greatest Georgetown basketball player of his era, died Sunday at the age of 71.
Barry grew up in Elizabeth, NJ, not far from a cousin that would become an NBA All-Star. But while Rick Barry would become a well known name in later years, it was Jim that was the talk of the town, with a love of the game that began when his father installed a basketball hoop on the family's garage.
"My father attached a basketball rim to the garage in the backyard when I was about five years old," Barry recalled in a 2005 interview. "At first it was just dirt ground, but he eventually had concrete installed. That's when everybody wanted to come over to play a game."
As a 6-1 high school freshman, Barry carried his St. Peter's Prep team to the 1958 city championship. As a sophomore, he carried Prep to the 1959 state title, earning tourney MVP in a 56-50 win over Trenton Catholic. The offers started coming in nationwide for Barry, who narrowed his final choices to Virginia, Marquette, Georgetown, Boston College, and Fordham, accepting the offer of former St. Peter's Prep star turned coach Tommy O'Keefe (C'50) to attend Georgetown in the fall of 1961.
"I didn't want to go down south," Barry recalled. "Georgetown was close enough for my parents to drive to, I wouldn't be too far away from them, and I wanted to make sure I had a good education to fall back on in case basketball didn't work out, which turned out to be a wise decision. I figured that if I got hurt, at least I would have a good degree."
Barry was part of O'Keefe's first recruiting class, including Joey Franz, John Prendergast and 6-4, 245 lb. Ron Duncan, who transferred from Georgetown after his freshman year to pursue a college football career which eventually led to three different NFL teams. But it was Barry that was dominant, averaging 24 points and 15 rebounds a game.
"Barry's arrival to the varsity came after a successful 1961-62 season that saw a record eight seniors graduate, taking 79.9% of the team's total scoring with them," wrote a 2007 feature for the Top 100 players in Georgetown history, where Barry was the only top 10 selection prior to 1972. "With only two returning lettermen, Coach Tom O'Keefe relied on a half dozen newcomers to fill the gaps. From what could have been a disastrous 1962-63 season, this sophomore forward turned it into one of hope and promise for Georgetown's basketball future.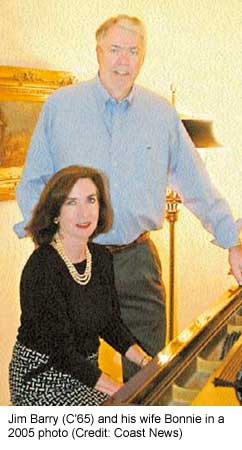 "He opened his Georgetown with 29 points against St. Joseph's, still a Georgetown record for a debut game. After eight games, the 6-6 Barry led the team in scoring with a 16.5 average, and he was only getting started. After returning home from the 1962 Motor City Classic, the Hoyas were a lowly 2-7. Employing what the local papers called a "shuffle" offense, Barry's shooting began to turn the Hoyas around and, in so doing, shredded the stat sheets: 35 vs. William & Mary, 31 against Loyola, 41 vs. Navy. In a three week period, Barry averaged a remarkable 28.9 points per game as the Hoyas ran off a six game win streak, its longest in 10 seasons. A mid-season road trip to Niagara, Syracuse, and Maryland yielded three tough losses, but Barry continued to pile up the points, averaging 25.7 in those three games alone. The undermanned Hoyas then reeled off five more wins, with Barry scoring 21, 22, 25, 28 and a 39 point effort against Manhattan, in an 89-87 win.
"Barry's 30 points against LaSalle was judged the top Palestra performance of the season by Philadelphia sportswriters, topping games that year by the likes of Bill Bradley and Barry Kramer. With six 30+ point games and 16 games of 20 of more, Barry ended the season with a school record 22.8 points per game, fourth among all sophomores nationally, with United Press International naming him an honorable mention All-American. From a 2-7 start, the Hoyas had rallied to win 11 of its final 16."
Barry's high flying style took a decided turn on Feb. 16, 1963 in a 39 point effort versus Manhattan at McDonough Gymnasium.
"I went up for a rebound in that game and came down straight and got bent a little bit. I didn't have much mobility after that."
Barry played the remainder of the season with a torn meniscus, which was not fully diagnosed by Georgetown until after the season. Off-season surgery cost Barry the entire 1963-64 season, but he came back in a big way in 1964-65, averaging 19 points a game on 47 percent shooting and an 86 percent mark from the free throw line. On Feb. 27, 1965, he set a school record with 46 points in a 91-70 win over Fairleigh Dickinson. No one, not even Allen Iverson, has come within six points of the record in the last half-century. Three nights later, Barry set a single game record with a 13-13 effort from the free throw line versus American, another record which still stands.
Barry was married after the season but opted to come back for the 1965-66 season, where his knee injuries were more pronounced and his playing time waned.
"I wanted to make the pros," Barry said. "It didn't look like a realistic possibility after the injury. It certainly made it harder to make the NBA. I finished out my last season, but the coach had lost confidence in me." Barry opted for a brief career in the Eastern League but took his earlier advice to heart.
"It was a pro league that didn't necessarily pay very much, but I enjoyed playing and it gave me some money while I was in law school", Barry said. Following his J.D. degree from Seton Hall in 1969, he moved to Monmouth County, NJ and began a 45 year law career that included a term as a municipal judge and president of the Ocean County Bar Association.
Like many of the O'Keefe era players, Barry was not as visible in Georgetown circles during the Big East era, though Thompson, a contemporary of Barry at Providence College, knew his reputation. "Sometimes we forget the past, but that Barry could have played for me," Thompson said. Barry kept close ties with many of his former teammates, which would hold regular reunions in Washington over the years.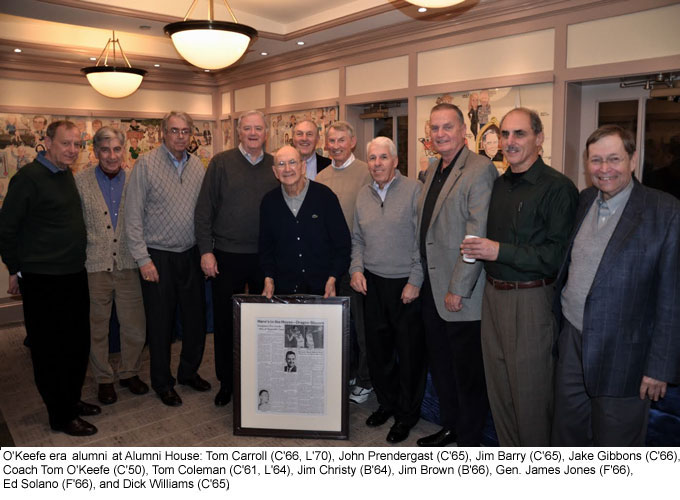 Barry was inducted into the Georgetown Athletic Hall of Fame in 1976 and was honored on its All-Century team in 2007. A member of the Class of 1965, Barry passed away just two months short of his class' 50th reunion.
Jim Barry his survived by his wife Bonnie and three sons: Richard, James Jr. (B'89) and Christopher. Due to the Easter Triduum, services will be scheduled early next week. Please see this link for details.
Additional coverage was provided by a 2005 feature in the Manasquan (NJ) Coast Star.
---
HoyaSaxa.com: The One-Stop Web Site For Hoya Basketball™
An independent web site not affiliated with Georgetown University. All rights reserved.