The 37th annual Kenner League summer basketball season returns July 7 per a Twitter post from the organization.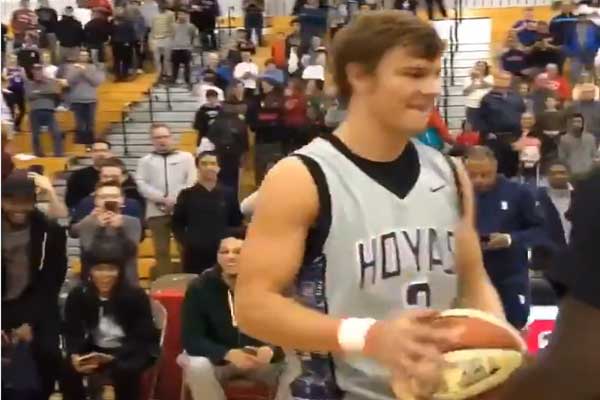 Incoming freshman Mac McClung was the story at the Allen Iverson Roundball Classic, where McClung scored 20 points, five rebounds, and five assists in the high school all-star game named in honor of the former Georgetown All-American.
"Mac was phenomenal, he really put on a show," said Jai Manselle, co-founder of the Classic, to the
Bristol (VA) Herald Courier
. " One of the things about our game is that we set out to be the most competitive all-star game and that's what I think the fans got. Not only competitive, but entertaining and Mac in particular showed out. There were a few moments where he had everybody in the gym on their feet."
And word is getting around.
"The parallels between Gate City (Va.) star guard Mac McClung and NBA legend Allen Iverson have long been notable," said
USA Today
. "Both diminutive guards are Virginia natives who scored points in bushels. Both hailed from rural Virginia, away from the Washington D.C. metroplex where state's basketball attention holds perpetual attention. Both signed with Georgetown. Both finished their career as the state's all-time leading scorer. And, perhaps most strikingly, both had the athleticism to absolutely jump out of the gym. Iverson has reached an age where he is no longer expected or, likely, able to elevate for the circus jams that once made him famous. McClung, on the other hand, is just getting started."
On Thursday, McClung finished as a finalist in the slam dunk and three point shooting competition, according to the
Bristol (VA) Herald-Courier
. "The 6-foot-2 McClung had scores of 50, 50, 45 and 50 on his four jams, the most impressive of which was a between-the-legs reverse slam while wearing a No. 3 Georgetown University [jersey] with Iverson's name on the back," said the Courier.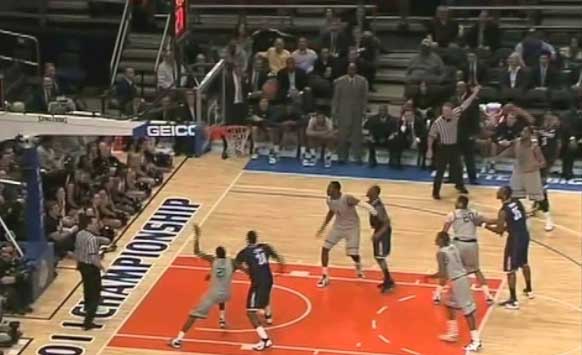 No college sports program has felt the impact of conference realignment like the University of Connecticut, whose present affiliation in the American Athletic Conference (AAC) is the subject of frequent complaints by fans and media in the Nutmeg State. The UConn Daily Campus has devoted an entire week of coverage to better days gone by in a series known as "Big East Week".
The series offers
more than a dozen feature articles
on the Big East as past and prologue for a Husky fan base that looks back wistfully at its rise to prominence. With its new rivals at places such as Tulsa, Southern Methodist, and Wichita State, the far-flung AAC offers little interest to fans who grew up with Georgetown, Villanova, and Providence, much less schools such as Syracuse, Pitt, and Boston College in the Atlantic Coast Conference. The present situation is a paradox: UConn is welcome in the AAC but does not aspire to it, aspires to the ACC but is not welcome there, and a large part of its fans base sees a return to the Big East as a return to its former greatness, but it's not clear if either party actually needs it to do so. Meanwhile, UConn sees the tide of red ink overwhelming its program, as television revenues in the AAC are insufficient and the conference's TV contract expires in 2020.
Where Big East expansion was a popular table topic as the conference was regaining its footing after its 2013 reformation, it's less urgent now, a fact reiterated by commissioner Val Ackerman at this year's men's basketball tournament. Two national titles in three years and a sold out tournament Madison Square Garden does not lend itself to a conference which needs new schools to be relevant, and the 10 team, round robin format has proved popular, even as two of its most prominent schools (Georgetown and St. John's) have hovered near the bottom of the conference. If the Hoyas and Redmen could turn it around, would the Big East even need Connecticut?
New coach Dan Hurley will seek to rebuild a UConn program that, like Georgetown, has seen better days. Over the past two seasons, the Huskies are five games under .500, with home attendance down 25 percent to an average of 7,829 per game, not far removed from GU's 7,531 figure in 2017-18. Its football program, averaging just 20,306 per game, also plays a factor. No amount of basketball largesse will help if UConn football continues to wither. The school was
rebuffed in a bid to join the Big 12 conference
in 2016, and the ACC knows UConn sits as a card they don't have to play right now, or maybe anytime.
"As it stands now, UConn cannot bring in enough money as a member of the American to sustain its position as one of the largest athletic departments outside of the Power Five," said Dan Madigan of SB Nation. "If UConn wants to remain an athletic power, it will need a Power Five invite in the near future. For now, [athletic director] David Benedict and the rest of the athletic department simply have to do the best and make the most money with what they have."
The AAC announced they will move its basketball tournament to the
Fort Worth Stockyards
beginning in 2020, a world removed from midtown Manhattan and the sights and sounds of days gone by.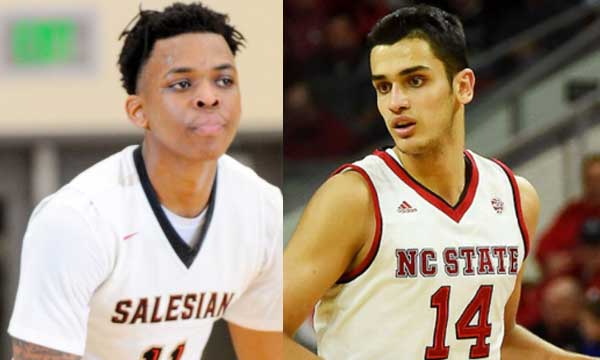 ADDITIONAL COVERAGE
Head coach Patrick Ewing has filled two of his three open scholarships for 2018-19, signing guard James Akinjo and center Omer Yurtseven in a news release earlier today.
The 6-0 Akinjo averaged 20.7 points per game at Oakland's Salesian HS where he originally committed to Connecticut in the fall. Following the firing of Kevin Ollie, he received a release from his letter of intent, choosing Georgetown over offers from Tennessee and Arizona. Akinjo is ranked 97th on the ESPN top 100 for 2018.
The 7-0 Yurtseven arrives at the Hilltop from Istanbul via North Carolina State. Yurtseven played briefly in the Turkish professional league and at the age of 17 scored eight points in an exhibition game against the New Jersey Nets. He regained his college eligibility and signed with NC State, averaging 13.5 points and 6.7 rebounds in 2017-18. He asked for his release to consider a pro career, but told the
Raleigh News & Observer
the chance to learn under Ewing was worth it.
"He has been there, he has done that," Yurtseven said. "I'm hoping he can teach me as a big man."
Yurtseven was ranked 55th in the 2016 national recruiting rankings and was a third team all-ACC selection in 2018.
Under present rules, Yurtseven would sit out the 2018-19 season and have two years of eligibility remaining. A pending NCAA rule change which would allow transfers to play immediately if they carry a 3.0 or better grade average, may allow Yurtseven to play as early as this fall, though he told the News & Observer he does not yet have a 3.0.
Akinjo is Georgetown's first recruit from the Bay Area since Stephen Domingo in 2012, while Yurtseven is its first ever from the Anatolian peninsula.
The two may also have already been issued jersey numbers. The post from the Georgetown twitter feed listed Akinjo as #3, when he wore #11 in high school, and Yurtseven as #44, while he wore #14 at NC State.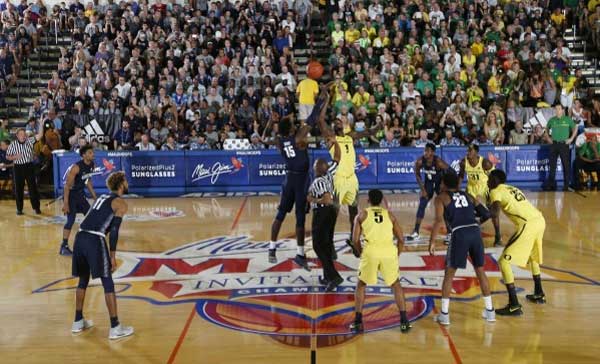 Georgetown fans are talking about participation in what is called an "MTE", or multi-team event (the current nomenclature for what used to be called an in-season tournament) in 2018-19. So far, however, Georgetown isn't among those listed.
The web site
Blogging the Bracket
tracks invitations to the various holiday tournaments, from the well known (Maui Invitational) to the less well known ("Battle in the Blue Ridge", anyone?) Georgetown and DePaul are the only Big East teams that have not been listed with an MTE invite next season.
Among the tournaments that list pending vacancies, according to the web site, include the following:
Myrtle Beach Invitational (Nov. 15-16, 18: Conway, SC), one team TBA
Cayman Islands Classic (Nov. 19-21, Grand Cayman Island), two teams TBA
Battle in the Blue Ridge (Nov. 23-25, Asheville, NC), three teams TBA
Cancun Challenge (Nov. 20-21: Cancun, Mexico), one team TBA
Suncoast Classic (date and location TBA), one team TBA
Belfast Classic (date TBA, Belfast, Northern Ireland), three teams TBA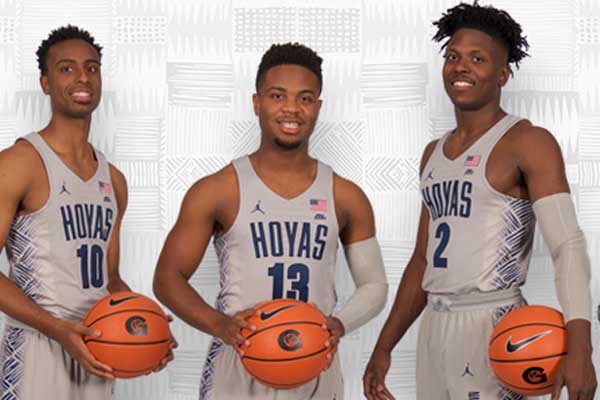 The basketball office has announced the 2018 Men's Basketball end of season event, but it's neither about awards nor a banquet anymore.
The long-time event dates to the 1970's, led under the aegis of the Hoya Hoop Club. Former coach John Thompson III phased out the annual awards beginning in 2008. Awards are not expected to be offered in head coach Patrick Ewing's first such event.
The dinner format is now a reception for the senior class, which will take place on Friday, May 11 at the Leavey Center. A one hour ceremony will be held at 6:00, followed by the reception. Tickets are $95 per person and
registration closes May 8
.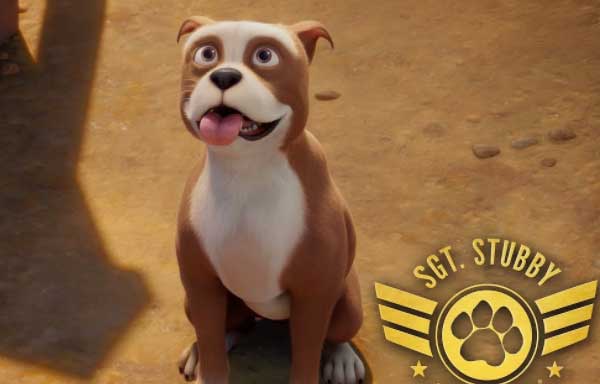 A century removed from the Great War which made him a household name, Georgetown's original mascot returns in a feature length animation film this weekend.
Titled "Sgt. Stubby: An American Hero", the film features the voices of Helena Bonham Carter and Gerard Depardieu, telling the story of the World War I battles which made the bull terrier famous, years before he assumed his place in Hoya history at halftime of Georgetown football games.
"There are no talking animals or wink-wink pop culture asides a la Pixar, but rather straightforward dramatic scenes depicting shell-shocked troops in combat, mustard gas attacks and even a few casualties," writes the
Hollywood Reporter
. "Unlikely to be a box-office smash, the well-assembled period piece could still appeal to children old enough to grasp its themes, while serving as a valuable educational tool to teach them about a war that ended nearly a century ago."
The film may have only a brief run in theaters, with an estimated box office of just $350,000 in its opening weekend.
For more on the story of Sgt. Stubby (and yes, he earned the rank of sergeant), check out the feature at the
Georgetown Football History Project
.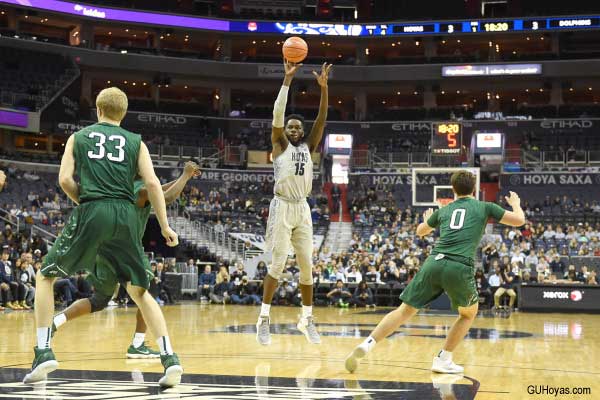 A second body blow in three days has shaken the Georgetown Hoyas, with junior center Jessie Govan announcing an exit from the team Wednesday evening to pursue the NBA Draft. Unlike Marcus Derrickson, Govan left himself (and the Hoyas) a backup plan.
"After discussing it with my parents and coaches, I would like to officially announce that I am declaring for the 2018 NBA Draft, without hiring an agent," said Govan in an
Instagram post
. "This allows me to become one step closer to my dreams, without giving up my college eligibility."
Following two seasons under John Thompson III, Govan starred for the Hoyas in 2017-18, averaging 17.9 points and 10 rebounds a game, becoming the first player to average double figures in both categories since Mike Sweetney in 2002-03. Govan led the team in scoring in 15 games this past season, including the last four, averaging 25.7 ppg. To some surprise, Govan was not selected to any post-season honors in the Big East.
Govan is not currently projected to be drafted, but will use the opportunity to determine his opportunity and weigh a return to Georgetown if an undrafted status is not to his liking.
Neither Georgetown nor head coach Patrick Ewing has made any public comment on either Govan or Derrickson. The most
recent update to its basketball page
is over five weeks old, dating to its opening round loss in the Big East tournament on March 7.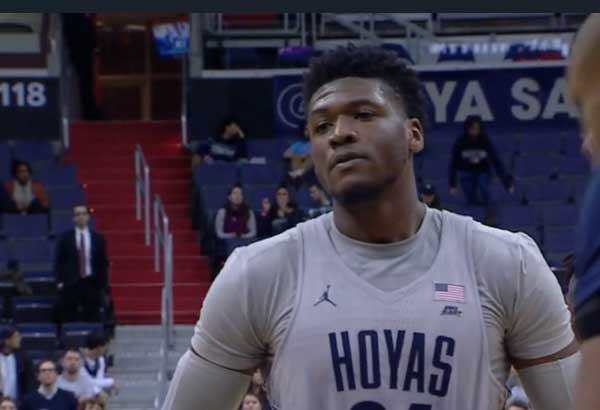 Patrick Ewing's challenge to lead Georgetown University out of the college basketball wilderness got a little tougher Monday, as junior forward Marcus Derrickson announced he is leaving the team to pursue a pro basketball career.
"After a lot of praying and consulting with my family, I would like to announce that I will be declaring for the NBA draft," said Derrickson on an
Instagram post
, adding he will hire an agent and thus be ineligible for college play if he is not drafted. The timing and placement of the message is at odds with Georgetown's preferred approach for early entries, which has been to make the announcement and offer the coach's best wishes. Georgetown officials posted no comment on the news Monday, suggesting that Derrickson's announcement either came without its notice, its blessing, or both.
A 6-7 forward from Paul VI HS via a prep year at Brewster Academy (NH), Derrickson showed steady improvement over his three seasons, moving from a 7.1 average in 2015-16 to a 8.3 average in 2016-17 to 15.9 points per game in 2017-18, second to Jessie Govan. A 50 percent shooter with a sterling 46 percent mark from three point range, Derrickson was named as a second team All-Big East selection in a year where Govan was snubbed for any post-season recognition whatsoever. The two confirmed earlier this year that they would return for their senior seasons.
Derrickson's path to the NBA draft is an especially narrow one. At 6-7, he is too considered too small to play power forward at the next level, and his rebounding skills are limited. Derrickson is not listed on amy mock drafts for 2018, and is not even on the draft boards for 2019, his presumed senior season.
"Despite having an intriguing physical profile from a size and strength perspective, Derrickson looks to be a below average athlete, especially if asked to play the small forward position," wrote a feature at
Draft Express
. "He's a mostly below-the-rim player with a below-average first step, problems which are compounded by rudimentary-at-best ball handling moves, which become an adventure on anything more complicated than straight line drives to the basket."
Derrickson could be following the career path of L.J. Peak, who left Georgetown after his junior season in 2017 for the NBA Draft and found himself undrafted. Peak is currently ninth in scoring for the Maine Red Claws, with a 12.0 points per game average.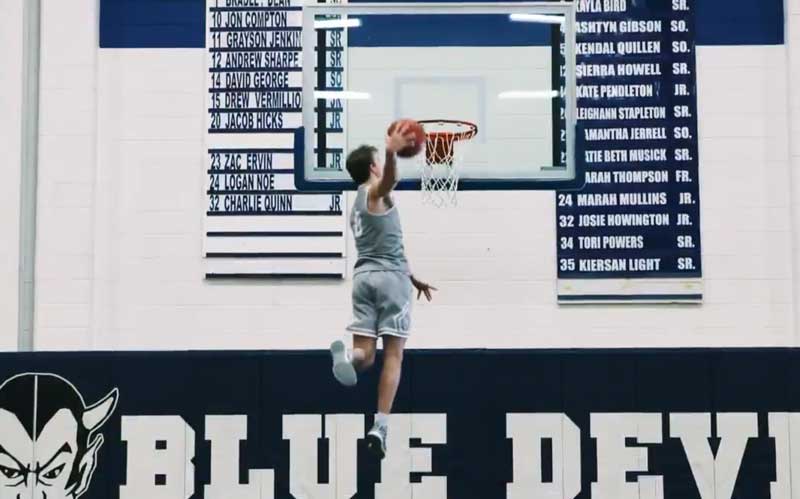 Mac McClung won't arrive on the Hilltop until early June, but the Gate City, VA senior is looking to become one of the most talked about freshmen at Georgetown in many years.
"He got on my radar on one of my first trips out," said head coach Patrick Ewing to the
Bristol (VA) Herald-Courier
. "I don't remember what tournament it was, but I was out on the recruiting trail and there were a couple of guys on that AAU team I was looking at and he just caught my eye; his athleticism, the chip on his shoulder. Every time I would watch that team, my eye was just naturally drawn to him. I thought he would be a great fit on my team."
"I don't care if he's from a small school or a big school. I just think he believes in himself so much and has such a strong work ethic; all of that is going to play a role in his success. He believes in himself and we believe in him."
"I feel like I have a bunch to prove and I'll always feel that way," said McClung. "People will say what they have to say, but just watch."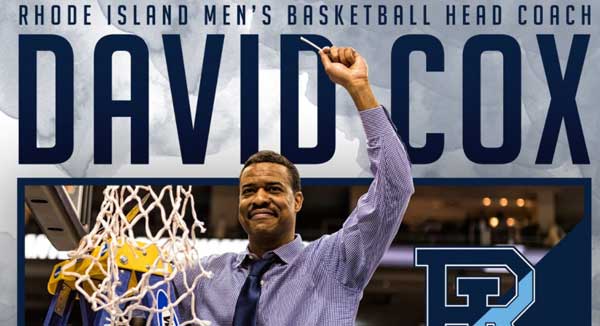 A pair of former Georgetown assistant coaches have become head coaches this week.
David Cox, an assistant coach to John Thompson III from 2007-2010, was named
head coach at Rhode Island
, succeeding Dan Hurley. Late last week, Tavaras Hardy was named
head coach at Loyola-Maryland
, having worked at Georgetown from 2013-2016.
Of John Thompson III's 11 assistant coaches from 2004 through 2017, six later served as Division I head coaches: Robert Burke (Mt. St. Mary's, 2010-12), Kevin Broadus (Binghamton, 2007-09), Sydney Johnson (Princeton 2007-11, Fairfield 2011-present), Mike Brennan (American 2013-present), Cox, and Hardy.
With Villanova's 79-62 win over Michigan Monday, the Big East earned its ninth NCAA men's title and the fourth in the last eight years.
Amidst the plaudits, veteran writer Charles Pierce went so far as to call Villanova the kind of program Georgetown once was.
"There was only one thing that was missing- a super program to give the league some real national swagger, and to force all the other teams in the league to improve in order to stay competitive," wrote Pierce at
Sports Illustrated
. "In the old Big East, it was Thompson and his truculent, stone-tough Hoyas. In the new Big East, it's what Jay Wright has wrought at Villanova. The new league needed what Wright has brought to it - a cool and mature team that shares the ball, shoots the daylights out of it and is able to turn up the defense when it needs to do so."
"[Wright] has built a remarkable and durable program; over the past four years, he has won two national championships and has put up a dazzling [136-16] record. At the moment, Villanova is as dominant a program as Florida was a decade ago, and as Duke was in the early 1990's. And as Georgetown was in the early 1980's, in the glory days of the Big East. "
Thankfully, Pierce did not reference Georgetown's record during this same four years: 66-62.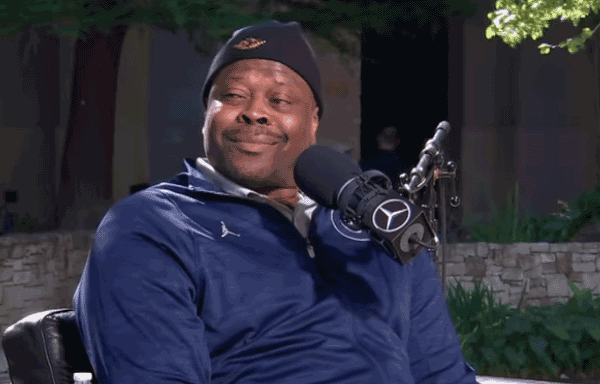 Head coach Patrick Ewing appeared on Friday's Dan Patrick Show with a few words on recruiting.
"We have three coming in and one who will sit out," said Ewing, stirring up interest on the HoyaTalk board if a transfer player is the one cited in Ewing's quote. Check out the interview below:
The current transfer list at
VerbalCommits.com
is a lengthy one and includes fifth year graduate-eligible transfers such as Tre Campbell (C'18) and freshman Chris Sodom, who was dismissed from the team on December 18 but remains a student at GU.