A summer feature from The HOYA looks back at the May 30 wedding of former men's basketball guard Tyler Crawford (C'08) and former women's basketball guard Meredith Cox (C'10).
"She walked in the gym at McDonough during her freshman year, and she had yellow shorts and a real bubbly personality," Tyler said. "So I went to one of her teammates, got her phone number and jokingly texted her because she didn't have my number, and we took off that way." The two have been a couple ever since.
"Overall, the men's and women's basketball team, we were both very supportive of each other," Meredith said. "When we were able to go to their games that was a lot of fun, and then on the flip side of that, all of them came to a lot of our games. So there really was a friendship between a lot of the players, and that helped Tyler and I in our relationship."
The groomsmen included Tyler's classmates Jeff Green, Jonathan Wallace, and Patrick Ewing Jr.
No Georgetown players were selected in the 2015 NBA Draft. Two Big East players, seniors Darrun Hilliard (Villanova) and Sir Dominic Pointer (St. John's) were selected in the second round.
The draft is increasingly an underclassmen pool, but over a third of early entries were not drafted. The NCAA is proposing a change where entrants could return to college following the NBA draft combine, provided they have not signed with an agent.
Of course, there was no doubt who would be selected at the opening of the draft 30 years ago. A series of YouTube clips at CBS Sports.com takes a look back at the draft that featured Patrick Ewing (C'85) and a look back at his rookie season in the NBA.
Former Georgetown coach John Thompson received a unique honor Wednesday when his peers at the National Association of Basketball Coaches Foundation presented him with its Court of Honor Award, the first time a head coach had received the award since it was founded in 2009.
"Since his arrival as a coach in college basketball in 1972, those in our profession have looked up to John Thompson, both literally and figuratively," said UNC coach Roy Williams, president of the NABC Foundation. "Not only has he had an outstanding career as the coach of a national championship team and a United States Olympic team, but he has been an outspoken champion for student-athlete rights."
Previous awardees include Jerry Colangelo, former senator Senator Bill Bradley, Nike executive Phil Knight, and sportscasters Jim Nantz and Dick Vitale.
Dates for two opponents not included in the four team 2K Classic have been announced.
Georgetown will meet Radford (22-12 in 2014-15) on Nov. 14 in what will likely be the season opener. Previous reports had the Hoyas playing Siena, which has been scheduled to play Virginia Commonwealth instead.
Two weeks later, the Hoyas will host Bryant (16-15) on Saturday, November 28 during the Thanksgiving holiday.
As first noted on this site in January, Georgetown officials are set to announce a multi-year media rights deal with Fox Sports that will pay the University between $1-3 million a year in revenues, reports the Washington Post.
"In the deal, Georgetown will outsource its marketing and corporate sponsorships for its radio broadcasts, digital and print advertising, game-day signage and hospitality," writes the Post, although it does not detail the impact, if any, this would have on sports other than men's basketball. The next two sports at Georgetown by budget size, football and women's basketball, have traditionally lacked any media focus from Georgetown and games have been not been actively marketed.
"What I want is to have them nonstop walking through our door and presenting us with business opportunities and relationship opportunities that we haven't had in the past," said athletic director Lee Reed.
"What Fox can do for a school like Georgetown, beyond traditional corporate partnerships, is really grow the brand locally and regionally," said Fox executive Dan Shell. "Fox can do a lot beyond just selling."
Sophomore guard L. J. Peak was named to th 12-man U.S. Under 19 National team that will compete at the FIBA U19 World Championship next July, reports GUHoyas.com.
"Obviously it was a hard fight to make this team because of the talent," said Arizona coach Sean Miller, who will lead the team as it competes next week at the nine day tournament in Greece. "The thing that we like a lot is the fact that we have eight players of the 12 that have competed and won a gold medal, several have won multiple gold medals. We have a lot of versatility in our lineup, we have players that can play more than one position and I think playing pressure basketball like we want to play defensively and offensively, that we have the depth, athleticism and quickness, and also some shooting that will really allow us to play a style that we can be successful at."
Peak is one of two Big East players on the roster, joined by Villanova freshman Jalen Brunson.
Now this is a piece of history:
This is a 16 minute YouTube video of the first game of the John Thompson era: the Nov. 5, 1972 exhibition at McDonough Gymnasium between Georgetown and the Chilean national team, posted a few days ago by a HoyaTalk reader. It is believed to be the oldest public footage of any Georgetown basketball game.
The lineup that evening featured guards Mike Stokes and Jon Smith, forwards Greg Brooks and Mark Gallagher, and center Merlin Wilson in a 71-66 Georgetown win. Stokes and Brooks led the Hoyas with 14 points each.
The Hoyas, in white, were wearing the Marquette-styled jerseys of the Jack Magee era, but soon reverted to its pre-1969 jerseys for much of the 1972-73 season.
"The referees, a whistle happy bunch to say the least, prevented any steady flow of action in the first half. Forty-one fouls were called in the first half; fouls were called for such innocent maneuvers as boxing out," wrote the HOYA on Nov. 10, 1972. "Only in the second half did the refs abandon their stoppages of play [and] only then did the Hoyas get the opportunity to show what they had to offer."
From the Washington Post, former coach John Thompson appeared on WTEM-AM Thursday with some humorous thoughts on the upcoming game with Maryland. An excerpt:
"I mean, [my son is] playing people that you know that I wouldn't have played. I'm afraid to look at his schedule sometimes. I say 'Boy, are you crazy?'...But no, he's definitely more aggressive than I am with the non-league schedule. But it's good. I don't buy all that stuff, that it's good for the community. These guys act like it's a religious experience. No matter what happens, you're gonna be judged on how you do in your league. Oh, it's the greatest thing in the world that could happen, it pulls the community together and all that kind of stuff. I mean, that's fine if they want to believe that stuff. But it's up to John."
The Georgetown class of 2021 isn't even in their junior year of high school, but one rising junior has made a verbal commitment to the Hoyas.
Tyler Foster, a 6-5 guard from the Gilman School in Baltimore, announced a verbal commitment to Georgetown on Wednesday, reports the Baltimore Sun. Foster averaged 16 points and five rebounds as a sophomore for Gilman, which completes among other independent schools in the Maryland Interscholastic Athletic Association.
"His ceiling is tremendously high right now," said Bernie Vaughn, his AAU coach. "He's only a sophomore, but the way he puts the ball in the hole right now, offensively the sky's the limit. He can do it in so many ways. He has two more years of high school, so it's up to him because offensively he's very gifted."
Georgetown cannot comment on recruits until a national letter of intent is offered and signed, which would not be until November 2016. At present, there is one open scholarship for the high school class of 2017.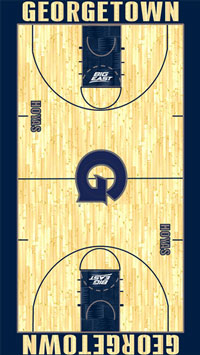 An alumnus from the class of 2006 has won a Georgetown contest for designing the Hoyas' home court at Verizon Center.
The contest received over 150 entries, from functional to fanciful.
"From an early point in the Georgetown court design contest, it was pretty clear that fellow alumni, students and fans wanted a design that was considered more traditional," said Kevin Rieffel (C'06) at GUHoyas.com. "This was an incredible contest that kept the excitement of Georgetown Basketball going through the spring and into the summer. I am proud to help contribute to the Georgetown Basketball program and tradition, I thank everyone for their feedback, suggestions and ideas for tweaks, and I hope fellow Hoyas fans are just as excited as I am to see our team make us proud out on this court."
We received many great submissions for the contest and were really overwhelmed by the response from our fans," said coach John Thompson III. "After reviewing all of the submissions with our selection committee – which included Director of Intercollegiate Athletics Lee Reed, Associate Athletics Director Brian McGuire and Associate Athletics Director Dan O'Neil – we chose Kevin's design and are really excited to see it on the floor next season."
Rieffel will receive a pair of season tickets for winning the contest.
Following recommendations last month, the NCAA has approved a number of rules changes for men's basketball in 2015-16. They include:
A 30 second shot clock, down from 35;
Timeouts adjacent to media timeouts, such as those frequently called by Georgetown, will become the media timeout, ending the back-to-back timeout strategy;
The five-second rule is eliminated when a player is dribbling the ball;
Coaches cannot call time out when the ball is live;
Players will be allowed to dunk in pre-game and halftime warmups.
How does this affect Georgetown, a team built on the effective use of the 35 second shot clock?
For the past two seasons, Georgetown has averaged just under 66 possessions per game within the 35 second shot clock, slightly off the national average. These numbers are down considerably from the end of the john Thompson and Craig Esherick era where the Hoyas had as many as 10 extra possessions per game, mostly as a result of defense:
| | | | | | |
| --- | --- | --- | --- | --- | --- |
| Season | Possessions | Off. PPP | Def PPP | Net | Outcome |
| 1997-98 | 71.2 | 1.01 | 0.93 | 0.08 | NIT |
| 1998-99 | 73.5 | 0.94 | 0.90 | 0.04 | NIT |
| 1999-00 | 74.8 | 0.93 | 0.91 | 0.02 | NIT |
| 2000-01 | 74.1 | 1.05 | 0.91 | 0.14 | NCAA 16 |
| 2001-02 | 76.1 | 1.07 | 0.93 | 0.14 | |
| 2002-03 | 74.7 | 1.02 | 0.93 | 0.09 | NIT |
| 2003-04 | 69.6 | 0.97 | 0.95 | 0.02 | |
| 2004-05 | 61.2 | 1.05 | 1.00 | 0.05 | NIT |
| 2005-06 | 59.8 | 1.10 | 0.99 | 0.11 | NCAA 16 |
| 2006-07 | 60.3 | 1.15 | 0.96 | 0.19 | NCAA 4 |
| 2007-08 | 63.2 | 1.10 | 0.92 | 0.18 | NCAA 32 |
| 2008-09 | 65.5 | 1.06 | 0.97 | 0.09 | NIT |
| 2009-10 | 66.6 | 1.10 | 0.99 | 0.11 | NCAA 64 |
| 2010-11 | 65.1 | 1.08 | 1.02 | 0.06 | NCAA 64 |
| 2011-12 | 64.3 | 1.07 | 0.92 | 0.15 | NCAA 32 |
| 2012-13 | 63.4 | 1.02 | 0.89 | 0.13 | NCAA 64 |
| 2013-14 | 65.5 | 1.08 | 1.04 | 0.04 | NIT |
| 2014-15 | 65.5 | 1.08 | 1.00 | 0.08 | NCAA 32 |
| | | | | | |
The decrease in the shot clock is thought by some to help the offense, but defensive intensity may be the key to success in the 30-second era.
"I know it sounds crazy, but the hardest thing I think to guard is all the way through a possession," said Boston Celtics coach Brad Stevens when he coached Butler in 2012. "Obviously, if you've got a team that can do that, that's great. You've got a really tough-minded group. Most teams can't, and that's a hard thing to get to."
"The more time you have, you can not only score on quick-hitters in transition, you can also get excellent looks from ball movement and player movement, multiple reversals across the court," Stevens said.
Georgetown's defensive numbers have suffered in recent years. Last year's defense of 1.00 points per possession was the second highest of any GU team which advanced to NCAA play since 1998, and a point of emphasis in 2015-16. The Hoyas have the offensive firepower, but a strong defense would be even more powerful. If the Hoyas could drop the defensive points per possession from 1.00 to 0.95, they'd be a tough out on any shot clock--and at an increase to around 72 possessions per game, that's an extra stop of just one possession per half.
"You kind of get this reputation of a slower-paced team, but really we just wanted to be hard to score on," Stevens said. "From an offensive point of view, we wanted to take the best shot. If we could get it in transition, great. If we could get it in secondary transition, great. If we had to use clock to get it, great. But we never once said `slow it down.' It completely goes against what people would think."
He burst upon the world of Georgetown basketball in the summer of 1994, and three has been no one like him since. On Sunday, Allen Iverson turned 40. Amidst various articles and coverage regarding a recent documentary on the NBA All-Star, Iverson sat down to discuss his outlook on life in the two decades since his arrival on the national stage:
Iverson's backcourt teammate for the Hoyas turned 40 earlier this year, but there were no tributes or interviews with Victor Page, who pled guilty and accepted a 10 year sentence for a second degree assault complaint from 2012.
"Victor Page sits in a Maryland prison, refusing to [conduct] any interview that doesn't pay him," wrote the Big East Coast Bias blog in 2014. "There is nothing positive or humorous to say about the world of Victor Page. It's just a failure."
John S. Carroll, the 12th Georgetown mascot and the fifth canine to be known colloquially as Jack The Bulldog, passed away Tuesday at New South Hall at the age of 12. The second in the modern era of campus bulldogs, his was the era where Georgetown returned to national basketball prominence, and he made the most of it.
"Jack was endlessly entertaining with his quirks and diva-esque personality," wrote the Rev. Christopher Steck, S.J. in a Wednesday Facebook post announcing the passing. "He was energized by crowds, demanded their attention, and loved to put on a show, mainly attacking boxes."
The dog arrived on campus as a gregarious bulldog pup in 2003, when the previous dog, "John P. Carroll" (1998-2011) followed Rev. Scott Pilarz, S.J. to the University of Scranton. The newest Jack was of the bloodline of "Rocky", an unofficial bulldog mascot during the Patrick Ewing era.
"This Jack is a distant relative of his, and that cinched it," Steck told The HOYA in 2003.
"The friendship developing between Steck and Jack – who sit together on the floor every morning waking up – is one that will last more than 10 years," The HOYA predicted. "As any dog-lover will tell you, the bond will last a lifetime."
Bulldogs are often solitary creatures, preferring a long nap over strenuous activity, but this was a Jack who enjoyed the attention on campus and the crowds at men's basketball games, where he became an instant celebrity. Not content to walk on the court, Jack developed a routine where a cereal-sized box was placed on one end of Verizon Center, usually emblazoned with an opponent's logo. On queue, Jack would race across the court to grab the box in his teeth, waving it to the delight of the crowd.
Dogs take lots care and feeding, too, and Jack had his share, as Steck recounted in 2006.
"There was the time Jack ate a Christmas ornament, leaving his mouth full of tiny glass fragments. Once he disappeared with a student for three hours, leading DPS to put out an All Points Bulletin on the dog. Jack has allergies, and regularly tears up his face with his aggressive scratching. Then there was the night when I had the flu and he had diarrhea; it was the same night that the elevators in Reynolds broke down, forcing the two of us up and down four flights of stairs at 1, 3:30 and 5 in the morning so that Jack could accomplish his pressing business," he said.
Jack retired in 2013 following an ACL tear that, for bulldogs, is quite a serious matter. Jack survived the surgery and recovery, but his box-battling days were behind him. His retirement years were one of walks across campus and photos with adoring students and guests.
"There might be a little bit of boredom, but...his energy level is so low compared to what it used to be," Steck said in 2013. "I think there is enough activity to keep him busy."
The life span of a bulldog is usually about eight to ten years. Jack's final years were spent in Steck's care as two new dogs, John T. Carroll (Jack Jr. or "J.J", since retired by GU) and the current Jack, "John B. Carroll", served the role of Georgetown's amiable ambassador.
In his post Wednesday, Steck remarked that "He served Georgetown faithfully as mascot for ten years – a job he loved. I'm grateful to the Georgetown community and friends and family for helping give Jack a very rich and full life. You helped give us both some very good times and, for me, some of life's fondest memories. I will miss my buddy dearly."
Jack is seen in the following YouTube clip from 2010 at the 0:45 mark:
Rising sophomore L.J. Peak was invited to try out for the US Under-19 team that will compete this summer at a tournament in Greece, reports GUHoyas.com.
The tryouts take place June 13 in Colorado Springs, CO. From a list of 24, 12 will be selected to the 2015 USA Basketball men's team. Peak is one of three Big East representatives among the 24 entrants, 10 of whom participated in last year's tournament.
Rising sophomore Isaac Copeland is on the verge of a major step forward in 2015-16, reports Ben Standig at CSN Washington.com.
"NBC Sports put Copeland on a short-list of potential breakout stars for 2015-16," Standig wrote. "With another level of assertiveness, added strength and continued improvement across the board, no reason to think such predictions won't come true."
"I think Isaac will, others have the potential to," said coach John Thompson III. "That's the good thing about next year's team. I think we're going to have competition at every spot."
---
HoyaSaxa.com: The One-Stop Web Site For Hoya Basketball™
An independent web site not affiliated with Georgetown University. All rights reserved.