The basketball office has announced the three assistant coaches for the 2017-18 season, per GUHoyas.com.
"We've been hard at work over the last two months getting our staff out there and we are excited about the future of Georgetown basketball," said head coach Patrick Ewing, acknowledging that the trio of Louis Orr, Robert Kirby, and Akbar Waheed have already been recruiting in advance of the announcement.
Orr is a former assistant at Xavier, Providence, and Syracuse from 1991 to 2000 and was the former head coach at Siena, Seton Hall, and Bowling Green from 2001 through 2014, with a career record of 201-201. Kirby was an assistant coach at Georgetown from 2010-12 and has been an assistant for 33 years, most recently at Louisiana State. Waheed is the only holdover from John Thompson III's staff.
Despite an outside chance to be selected in the second round of Thursday's NBA Draft, former Georgetown guard L.J. Peak was not drafted in the two round process and will pursue a free agent opportunity, likely with the Houston Rockets. Former guard Rodney Pryor also went undrafted.
Big East players selected in the draft include the following:
16. Chicago Bulls (traded to Minnesota Timberwolves): Justin Patton, Creighton
30. Utah Jazz (traded to Los Angeles Lakers): Josh Hart, Villanova
52. New Orleans Pelicans (traded to Indiana Pacers): Edmond Sumner, Xavier
Greg Malinowski, a 6-6 forward from the College of William & Mary, announced he is transferring to Georgetown, per his Instagram account and other sources.
Malinowski, who played locally at Episcopal High School, committed to W&M in the summer of 2013 and played three seasons there, and started 24 games last season as a small forward for the Tribe, averaging 7.7 points and 3.5 rebounds per game.
Contrary to some reports that he is a graduate transfer, Malinowski was a junior last season. He would have one season of eligibility remaining and would have to sit out the 2017-18 season per NCAA transfer rules.
Neither William & Mary nor Georgetown has posted comment on the transfer.
Despite not qualifying for the NCAA tournament in three major sports, Georgetown finished strong in the Learfield Directors Cup, a measure of post-season performance among Division I schools co-sponsored by the National Association of Collegiate Directors of Athletics and Learfield Sports.
Points are awarded based on a school's participation and progress through 20 NCAA men's and women's championships events. Even though high profile Georgetown programs like men's and women's basketball, men's soccer, and men's lacrosse failed to make their respective NCAA tournament, strong performances by women's soccer and the track and field programs helped Georgetown maintain its standing from 2015, which ranked first among the ten Big East schools and fourth among 125 schools playing football below the FBS/I-A level.
A total of 289 Division I teams qualified for some post-season competition in 2016-17. The Big East results were as follows:
1. Georgetown (72nd)
2. Providence (77th)
3. Creighton (93rd)
4. Villanova (94th)
5. Butler (102nd)
6. Marquette (123rd)
7. DePaul (146th)
8. Xavier (184th)
9. St. John's (184th)
10. Seton Hall (260th)
Georgetown's finishes since 1994 are below.
Year
Finish
Among Big
East Schools
1994
47th
3rd of 10
1995
44th
3rd of 10
1996
55th
2nd of 13
1997
63rd
5th of 13
1998
62nd
6th of 13
1999
45th
3rd of 13
2000
55th
4th of 13
2001
42nd
3rd of 14
2002
51st
3rd of 14
2003
61st
5th of 14
2004
53rd
3rd of 14
2005
74th
6th of 16
2006
68th
5th of 16
2007
76th
7th of 16
2008
77th
5th of 16
2009
84th
7th of 16
2101
70th
8th of 16
2011
55th
6th of 16
2012
63rd
6th of 16
2013
63rd
4th of 15
2014
66th
1st of 10
2015
59th
3rd of 10
2016
72nd
1st of 10
2017
72nd
1st of 10
Georgetown has elevated women's basketball assistant coach James Howard to head coach position following the resignation of Natasha Adair last month.
"He is an excellent coach with many years of experience and a familiarity with our student-athletes," said athletic director Lee Reed in a news release. "I am confident he will continue to build upon our foundation as we strive to be one of the best teams in the Big East Conference."
Howard was the head coach at Division III Wesley College from 1991 to 1997, with a record of 75-69. In the intervening years, he has held assistant coaching roles at Georgetown, Maryland, Howard, George Mason, Delaware State, and Bethune-Cookman.
Verizon Center has signed an agreement which will provide 25 percent of its power supply with solar energy.
"The solar power will be fed into the venue... from a third-party offsite solar facility in Frederick County, Maryland," writes SportsTechie.com. "The venue will get 4.7 million kilowatt-hours from 3.5 megawatts of the solar facility. WGL Energy projects that the solar power will curb carbon emissions by the equivalent of removing 700 cars in a one-year span."
"Sustainability is at the core of our operations across all of Monumental Sports & Entertainment," said Dave Touhey, president of venues at Monumental Sports & Entertainment. "We are excited to expand our energy relationship with WGL Energy by entering into this new partnership to bring more renewable energy to Verizon Center."
The NCAA has confirmed the dates for the 37th annual Kenner League summer basketball league at Georgetown, beginning on Thursday July 7 and running weekends through August 13.
Former coach John Thompson III took his first steps towards a post-Georgetown career, signing with an agent in hopes of pursuing a position in broadcasting.
"John is really interested in getting into broadcasting, whether it be as a game analyst or studio analyst," said agent Sandy Montag. "In the next several months we will be talking to every network that has basketball, whether it be college or NBA."
In his first public comments since his departure from Georgetown, Thompson spoke with Dan Steinberg of the Washington Post Tuesday about the opportunity.
As a coach, when you're talking about the team to the media, you're more guarded. You're worried about protecting the players and the team. You give a lot of generic, vanilla statements...and so a lot of your opinions, your thoughts, your feelings don't come out," Thompson said. "Whereas as a broadcaster, they can, and they will. I'll be able to open up a lot more, be a lot more insightful, than at least I felt comfortable doing as a coach."
"You know, I've been around this game literally my entire life," he said. "Who knows what tomorrow holds, but I'm going to throw myself in with two feet where I am now."
While no former Georgetown coach has returned to college coaching in over 60 years, Thompson did not rule it out. "I'm not closing any doors, so let's make that clear."
Tremont Waters, a former Georgetown signee who decommitted just prior to the firing of head coach John Thompson III, signed with Louisiana State, according to the Baton Rouge Advocate.
Waters visited LSU last week and met with new coach Will Wade, who signed a six year contract in March after arriving from Virginia Commonwealth. "Having a good contract was important and understanding a coach like Will Wade coming has to prove himself, just like Tremont does," his father told Scout.com.
"I'd like to be up and running in three years," Wade said Monday. "I hope we're competitive much sooner than that, but I think it's realistic to think that in three years we'll be where we need to be."
Waters, ranked 32nd nationally was the last unsigned member of the top 100 for the class of 2017.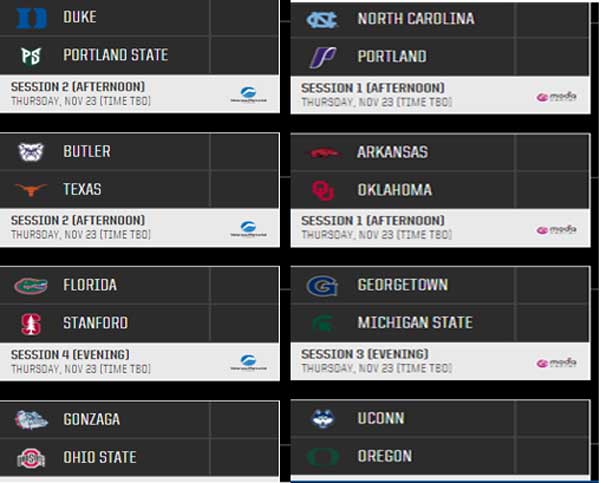 A prime time appearance on Thanksgiving night awaits the Georgetown Hoyas in the Phil Knight Invitational (PK80), as the brackets for the 16 team tournament were announced Wednesday.
The tournament is comprised of two eight team fields which will play concurrently at Portland's Moda Center and the adjacent Veterans Memorial Coliseum. The Hoyas will open play against Michigan State, which is currently listed as the top ranked team entering 2017-18 by NBC Sports.com, #2 in polls at the Sporting News and Fox Sports, and #3 by ESPN and Yahoo Sports. The two teams will play either Connecticut or Oregon in the next round, depending on the outcome.
Georgetown's bracket will also see North Carolina vs. Portland and Arkansas vs. Oklahoma. The second bracket features Duke vs. Portland State, Butler vs. Texas, Florida vs. Stanford and Gonzaga vs. Ohio State.