Recaps of this weekend's round of play are linked below:
As the Big East hosts its football media day today, what should the conference do to improve its visibility? A sports columnist at a Louisville TV station has some interesting ideas. They include:
"Pick a fight" with the ACC.
"Forget ESPN" as a willing TV partner.
"Become the top entertainment league."
"Leverage locations".
"Beat somebody" [in football].
"If I have the choice of watching Vandy-Ole Miss in the traditional format, or Rutgers-Boise State in a tricked-out, all-access, technologically innovative telecast, which will I watch?," asks WDRB's Eric Crawford. "Become a trendsetter -- including in rules innovation for conference games. If conferences are writing their own rules in financial matters, would the NCAA allow the Big East to tweak overtime formats for conference games? Kickoff rules? If the Big East is going to make its mark, it needs to do be different, and it needs to examine every idea that comes its way, including being packaged in creative ways with whatever sports NBC or Fox picks up, including niche sports like MMA, to develop crossover audiences.

"I know, I know. Sounds ridiculous. But the place the Big East needs to look is ahead, not around at what the SEC can do or back at what others have done."
Recent graduate Jason Clark (C'12) has a signed a free agent contract in Belgium, according to reports. Clark was not selected in the NBA draft and will be joining a number of former teammates with recent experience in Europe.
Former Georgetown athletic director Bernard Muir has been named the new AD at Stanford, per a Stanford release. Muir, 43, was hired at Georgetown in 2005 as athletic director before resigning to go to Delaware in 2009.
The Nov. 9 game between Georgetown and Florida will not be on an aircraft carrier but the USS Bataan, an amphibious assault ship, reports the Florida Times Union.
The Bataan, an active duty vessel which has seen operations along the coasts of Iraq, Haiti, and Libya, is smaller than a Nimitz-class aircraft carrier, of which there are only five in the North Atlantic. An amphibious assault ship generally holds 3,200 crew and troops compared to over 6,000 on an aircraft carrier. This particular ship will be assigned to Jacksonville's harbor in 2013.
No seating capacity for the game has been announced to the public, but tickets remain on sale.
The enrollment status of San Francisco recruit Stephen Domingo is still a question mark to the SanFranPreps.com web site, but responses from Domingo and Georgetown are in line with the long-held media silence for freshmen recruits.
Domingo declined comment, referring them to Sports Information. Senior SID Bill Shapland did not return the call, according to the blog, but Sports Information Director Mex Carey told the site that "We do not comment on incoming recruits."
Domingo completed his junior year of studies at St. Ignatius HS before his parents told the school he would enroll at Georgetown in the fall of 2012. Domingo has been seen on campus but has not participated in Kenner League summer action with the other freshmen.
With the non-conference schedule front-loaded with top opponents at Brooklyn's Barclays Center and Madison Square Garden, the home games for the 2012-13 non-conference portion of the schedule were released by Georgetown Tuesday and are decidedly weaker in comparison. The Nov. 30 ESPN game with Tennessee figures to be the only home game until January to draw major interest by students, fans, or the media.
The Hoyas open the season in Jacksonville Nov. 9 versus Florida and return to Verizon Center with two home games which are nominally part of the Legends Classic, though neither opponent will play in Brooklyn the following week: Duquesne on Sunday, Nov. 11 and Liberty on Wednesday, Nov. 14. Duquesne (16-15 in 2011-12) has met the Hoyas just once in the last 50 seasons, an 88-86 Georgetown win in Lakeland, FL in the 1994-95 season, while Liberty (14-18) has never met Georgetown to date. Duquesne replaces North Dakota State, which had been previously reported to play Georgetown as part of the extended tournament.
Following the Legends Classic in Brooklyn, the home schedule returns for a Nov. 24 game over Thanksgiving weekend with Mt. St. Mary's (8-21). Following its games with Tennessee at Verizon Center on Nov. 30 and Texas at Madison Square Garden on Dec. 4, the Hoyas play four straight at home in December, starting with Towson (1-31) on Saturday, Dec. 8, a first time meeting with Div. I independent Longwood (10-21) on Monday, Dec. 10, and exam weekend games on Dec. 15 versus Western Carolina (17-18) and Dec. 22 vs. American (20-12) before beginning Big East play.
The strength of the New York area games will be a tough test for the young Hoyas, but local fans and season ticket holders figure to see a far less imposing slate at Verizon Center. How does the home strength of schedule for non-conference games match against previous years in the JT III era? Below are the entering RPI of home games for 2012-13 and from the previous eight seasons.
| | | | | | | |
| --- | --- | --- | --- | --- | --- | --- |
| | 2004-05 | | 2005-06 | | 2006-07 | |
| 1-50 | Illinois | 23 | Duke | 4 | | |
| 51-100 | Temple | 100 | Vanderbilt | 61 | Old Dominion | 69 |
| 100's | Penn St. | 173 | Fairfield | 177 | Oral Roberts | 120 |
| | | | | | Oregon | 147 |
| | | | | | | |
| 200's | San Jose St. | 278 | Stetson | 255 | Towson | 221 |
| | | | | | Ball St. | 254 |
| | | | | | Hartford | 270 |
| | | | | | Navy | 298 |
| | | | | | J. Madison | 299 |
| 300's | The Citadel | 305 | Savannah St. | 328 | | |
| | Norfolk St. | 310 | | | | |
| | Howard | 322 | | | | |
| | | | | | | |
| Avg. RPI | | 215.9 | | 165 | | 209.8 |
| | | | | | | |
| | 2007-08 | | 2008-09 | | 2009-10 | |
| 1-50 | | | Memphis | 3 | Duke | 1 |
| | | | | | Temple | 31 |
| 51-100 | Michigan | 54 | American | 90 | American | 73 |
| 100's | Fordham | 113 | Mt. St. Mary's | 159 | Old Dominion | 103 |
| | American | 178 | Jacksonville | 164 | Mt. St. Mary's | 118 |
| | Wm & Mary | 196 | | | | |
| 200's | Jacksonville | 201 | Drexel | 241 | Harvard | 244 |
| | Fairfield | 205 | Savannah St. | 254 | | |
| | | | Florida Intl. | 263 | | |
| | | | | | | |
| | | | | | | |
| 300's | Radford | 319 | | | Lafayette | 318 |
| | | | | | | |
| Avg. RPI | | 180.9 | | 167.7 | | 126.9 |
| | | | | | | |
| | 2010-11 | | 2011-12 | | 2012-13 | |
| 1-50 | Utah St. | 36 | Memphis | 32 | | |
| 51-100 | App. St. | 92 | | | Tennessee | 90 |
| 100's | | | IUPUI | 118 | Duquesne | 111 |
| | | | American | 127 | American | 153 |
| | | | | | | |
| 200's | UNC-Asheville | 211 | Savannah St. | 258 | W. Carolina | 220 |
| | Loyola | 217 | UNC-G'boro | 294 | Liberty | 283 |
| | Tulane | 280 | | | Mt. St. Mary's | 291 |
| 300's | | | NJIT | 315 | Towson | 311 |
| | | | Howard | 332 | Longwood | 333 |
| | | | | | | |
| Avg. RPI | | 167.2 | | 210.9 | | 224 |
RPI sources: Statsheet.com, 2004-11, WarrenNolan.com, 2011-present. Winston Salem State (2006-07) not included because as a provisional Division I school, it did not have an RPI from the previous season.
Over six seasons from 2005-06 through 2010-11, Georgetown played just three teams below 300 in the RPI at home during the month of December. In the last two years, four teams.
If Georgetown can win on the road, December scheduling is quickly forgotten. if they do not, the schedule does them no favor on the margin in March.
A reader alerted us to a particular anniversary close to the heart of any Georgetown man or woman: that on July 23, 1962, the 1789 and Tombs restaurants opened for the first time. And like any great Georgetown tradition, this began not with the University, but a student.
When Richard McCooey (C'52) arrived at Georgetown in the fall of 1948, he asked himself why Georgetown did not have an eating establishment along the lines of Mory's (Yale) or the Nassau Tavern at Princeton. Nearly a decade later, enjoying a successful career in advertising, McCooey never gave up on the idea. He left the ad business in New York, returned to Washington, and purchased a building at the corner of 36th and Prospect streets (then occupied by a laundry and the Hilltop Cafe), with hopes of opening a restaurant by 1960.
McCooey ran into a formidable foe just as well known today: the local residents. A three year run of litigation tried to stop McCooey at every step of the journey, from fighting the zoning permit, to the construction permits, to the beverage license. Residents argued the case as far as the U.S. Court of Appeals, with one arguing, according to The HOYA, that McCooey and the University were in a "conspiracy" to depress housing prices in Georgetown with the opening of a saloon in their neighborhood. (You can listen to McCooey talk about the litigation at this link to the award winning Witness To History series.)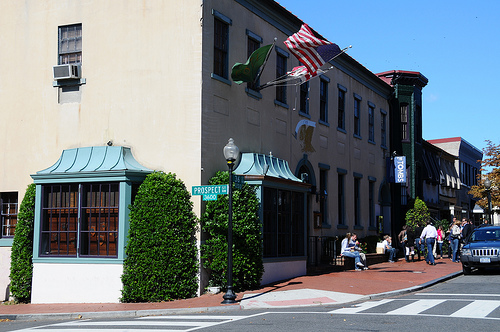 By 1962, two restaurants opened: the "89" for casual and fine dining, the below-ground Tombs (named from a T.S. Eliot poem) as a rathskeller, adorned with visages of World War I recruiting posters, old Georgetown football headlines, and the oars of championship crews. It was an immediate hit among students, none more so than the first Chimes Night in September 1962, which drew a crowd so large outside its doors that the party moved upstairs onto 36th Street, whereupon the DC police were dispatched to quell reports of a riot.
Times changed but the restaurants maintained their stature. McCooey purchased the adjacent Tehaan's diner in the mid-60's and renamed it the "89 East", later to become "F. Scotts"--famous for its "22 and over" age requirement. As the 1970s's went casual, 1789 went upscale, becoming a restaurant of local and national recognition.
In 1985, McCooey sold his restaurants to John Laytham (F'66) and the Clyde's Restaurant Group, raising student concerns that the ambiance of the restaurants was at risk. The restaurants reopened with few changes, and business grew yet again. The 1789 continues to win culinary awards and notoriety while the Tombs is a destination stop for Hoyas far and wide. The monthly Chimes Night remains a standing room only event, five decades later.
Upon their retirement from restaurant management, the McCooeys began Persona Studios, a restaurant design consulting firm, and has recently launched Tribute Galleries, incorporating the styles of much of the classic artwork seen at the original restaurants. Though he has had many offers over the years to replicate the Tombs and 1789 elsewhere, McCooey has not done so, because its tradition is so unique to Georgetown--a Georgetown that may have changed much since 1962, but where time moves a little slower at the corner of 36th and Prospect, NW.
HoyaTalk's Kenner League correspondent was on vacation this weekend. Here's the recap of Friday's games.
Remember when Big 12 schools helped West Virginia cover its $20 million buyout to leave the Big East? The Pittsburgh Tribune-Review reports neither school will receive assistance from the ACC to cover its $7.5 million buyouts negotiated last week.
A year ago, had Syracuse University, the University of Pittsburgh, and West Virginia University given notice to leave the Big East under its by-laws and waited until the 2013-14 season, the three schools would have paid a combined $3 million to do so. In their greed to jump ship early, such hasty decisions now come at a much higher price.
Two days after Syracuse settled with the conference for a $7.5 million severance, Pitt has done the same, ending a lawsuit to avoid any payment, which will allow Pitt to join Syracuse and leave the Big East after the 2012-13 season. The total payments of the three schools to break contract with the conference will now total $35 million.
A former member of the Eastern 8 (now Atlantic-10), Pitt joined the conference in 1982-83, effectively scuttling a plan by Penn State to form a Eastern all-sports league after the Nittany Lions were turned down in its own attempt to join the Big East. The Panthers were an up and down basketball team for most of its first 15 years in the conference until the 2000's, where they appeared in a record seven Big East tournament finals over an eight year period between 2001 and 2008, winning the title in 2003 and 2008.
Sources also report that the Big East will receive a $5 million severance from Texas Christian University, which joined the Big East in 2010 but left for the Big 12 before it played a single game in the conference.
For those still unaware of the changes around the corner, the Big East will lose Syracuse and Pitt to the ACC after the 2012-13 season, adding Central Florida, Houston, Memphis, SMU, and Temple for an 18 team circuit next fall.

As expected, the Big East Conference and Syracuse University have negotiated a severance agreement which will allow Syracuse to move its teams to the Atlantic Coast Conference in 2013 upon payment of $7.5 million and the forfeiture of certain NCAA credits earned while a member of the Big East.
"This closes a chapter and opens a new one filled with exciting possibilities for the Big East's future. With the recent addition of eight schools to the Big East, the future for the conference has never been brighter," said interim commissioner Joe Bailey.
Syracuse joined Providence, Georgetown, and St. John's in founding the conference in 1979. In basketball, the Orangemen won five Big East tournament titles (1981, 1988, 1992, 2005, 2006) and finished runners-up nine additional times. Syracuse qualified for the post-season (28 NCAA, 4 NIT) in every Big East season except 1993, when they were not eligible due to NCAA probation, with three Final Four appearances and the 2003 NCAA national title.
The somewhat amicable agreement gained Syracuse a much lower severance than West Virginia, which sued the Big East to force a $2.5 million severance and ended up paying $20 million to leave after the 2011-12 season. Left unresolved is the status of Pittsburgh, which filed suit against the Big East in June to avoid paying any penalty fees.
Veteran sportswriter Mike Waters of the Syracuse Post-Standard talks about what the Orangemen are leaving behind with Monday's settlement.
"Syracuse and its fans must prepare for a new world," Waters writes. "The rivalries with Georgetown, St. John's and Connecticut will be replaced by relationships with Duke, North Carolina and Maryland. There will be no more road games in antiseptic NBA arenas where the likes of Seton Hall, Villanova and Georgetown play home games. Instead, Syracuse will make trips to college towns like Clemson, S.C., Blacksburg, Va., and Tallahassee, Fla."
"Syracuse fans will have to travel much greater distances to get to the ACC Tournament. With the NCAA Tournament the following week, fewer fans will make the trek...one thing's certain: life for the Orange will never be the same."
Recaps of this weekend's round of play are linked below:
Dave Urick, who led the Georgetown men's lacrosse program to national prominence during a 23 year coaching career at the Hilltop, resigned Friday, where he will assume an advisory role within the Athletic Department.
Urick, 64, arrived at Georgetown from Hobart, winning ten NCAA Division III titles there. The contrast with the program at Georgetown was startling--the school had not posted a winning record in any of its prior 20 seasons as a Division I program. Urick steadily built up the program, earning the school its first NCAA appearance in 1996 and a Final Four appearance three years later.
Throughout much of the 2000's, GU was a frequent entrant in the top 10 of the sport, though the Hoyas struggled through seven consecutive quarterfinal exits in the NCAA tournament, one game (and in some cases, mere seconds) removed from another Final Four. In recent years, with the arrival of the Big East conference, Georgetown found itself behind Syracuse and Notre Dame, and unable to secure at-large bids. Urick's overall record at Georgetown is 223-99, and he retires as the fourth winningest coach in college lacrosse history.
"Dave Urick has been a great ambassador for Georgetown University and he has guided our men's lacrosse program to the top of the sport nationally," said athletic director Lee Reed in a press statement. "He is an icon in the sport and his legacy on the Hilltop will last for years to come. Dave brought our program from the ground up and made it one of the best in the country, both on the field and off. We're grateful for all that he has done for men's lacrosse and Georgetown University and I'm happy that we will have him here as a resource."
The proverbial national search was announced. Matt Kerwick, who was brought to the staff from Jacksonville in 2011 and was presumed as a coach in waiting, is expected to be a candidate but others may enter the picture as well.
Would you spend the equivalent of a year's tuition to watch a Georgetown basketball game at courtside? The City of Jacksonville will offer just that for its Nov. 9 opener.
Sales open Monday for the Nov. 9 game vs. Florida for a minimum of $1,000 and as much as $50,000 for best access. The amount also includes bundled tickets for an NFL game with the Jacksonville Jaguars and a yet-to be announced performer before the game.
"Sponsorship packages start at $1,000, which includes two basketball game passes, four tickets for military personnel and two personal tickets to the Jaguars vs. Colts game and VIP access to related events," read a release at GUHoyas.com. The tickets are referred to as a "sponsorship" because tickets cannot be sold to board an active duty military vessel.
"We can sit 8,000 people," said Alan Verlander, Jacksonville director of sports and entertainment, in this link to the Florida Times-Union. "Then, we're giving 3,000 of those tickets to the military for free. So, that leaves you with 5,000. Jacksonville has a million people. So, there were going to be a minimum of 995,000 people that couldn't attend the game anyway."
The news account did not identify any specific tickets being held for each school, although Verlander told the Gainesville Sun that he hoped 100 tickets could be set aside for University of Florida students.
"We anticipate sponsorship packages selling out quickly due to the heavy demand and limited supply," said Verlander.
Georgetown officials have made no comment regarding the report from Wednesday that rising high school senior Stephen Domingo was enrolling at the University a year early. Further compounding the matter: his high school officials, who claim Domingo has not completed the credits to enroll in college.
As to how Domingo could even register for college, "We're not exactly sure on our end," said St. Ignatius HS assistant principal Carole Nickolai in this link to SanFranPreps.com, which has been the major source for this story. "He hasn't met the high school graduation requirements for St. Ignatius, but I don't know if he hasn't fulfilled others at a different institution or received other qualifications to enroll at Georgetown."
"The one thing that we were always told by his parent was that he was going to graduate from SI," said coach Tim Reardon. "I haven't talked to his parents or to Stephen, but I didn't know [early enrollment] was even in the conversation. I heard that rumor, but I had always dismissed it, because I didn't think it was possible."
NCAA rules require graduation from high school, completion of core courses and a minimum score on the SAT or ACT to play sports at a Division I or Division II school. It has not been disclosed if Domingo has taken either test to date, and the reports of early enrollment may prove to be premature if Domingo, 17, enrolls instead at a prep school to complete these requirements and joins the Hoyas thereafter.
Comparisons to the early enrollment of Hollis Thompson (ex'13) are not as similar as some may believe. Thompson completed his high school requirements one semester early and was admitted to Georgetown in the spring of 2008; he did not play on the team that year but served a season as what is known as a "greenshirt" recruit; i.e., an early high school graduate that maintained his eligibility for the following four years.
The basketball web site PremierBall.com is reporting that rising senior Stephen Domingo will enroll at Georgetown this week, one year ahead of his expected graduation with the St. Ignatius HS Class of 2013 in San Francisco.
According to the site, Domingo flew to Washington Tuesday to enroll.
"From what I understand, he's going to Georgetown next year and playing for Georgetown next year," St. Ignatius coach Tim Reardon told SanFranPreps.com. "I don't know how that works, considering he didn't graduate from high school, but that's what his mother told our principal."
Adding the 6-7 Domingo would be the 13th and final scholarship available for the 2012-13 season, which would leave Georgetown no scholarships to offer for the upcoming recruiting year, barring unforeseen departures.
Former Georgetown forward Hollis Thompson (ex'13) has signed a one year offer with the Oklahoma City Thunder with an additional two year option, which gives Thompson a spot on the Thunder roster entering training camp.
"The deal is a partially guaranteed contract for the rookie minimum, which would pay Thompson $473,604 in the first year of the deal," writes the Oklahoma City Oklahoman. "By signing now, Thompson can work out with the Thunder over the summer and position himself to be ahead of schedule when training camp begins in the fall."
Thompson will be undergoing surgery Thursday for a hernia, a condition which affected his draft status and his play through the second half of last season, a condition which was not disclosed by Georgetown at the time.
Following a four year, $58 million offer by the NBA's Portland Trail Blazers, the Indiana Pacers will make the same offer to keep restricted free agent Roy Hibbert (C'08) with the Pacers next fall, reports the Indianapolis Star. The agreement will be finalized as early as Wednesday.
Four Georgetown alumni will reunite on the basketball court in the preview of a new regional basketball league, according to iRadio Philly.com.

A group promoting the Basketball Alumni Legends League have proposed an August 4 game at George Washington and an August 5 game at St. Joseph's University featuring alumni from colleges in the Philadelphia area versus those in Washington DC. Georgetown alumni Henry Sims, Jason Clark, Austin Freeman, and Chris Wright will join John Gilchrist and James Gist from Maryland and George Mason's Folarin Campbell, Jai Lewis, Tony Skinn, and Will Thomas in the exhibition.
Kenner League play began this weekend, with GUHoyas.com posting the roster assignments of the returning players minus Tyler Adams, who has not been cleared for summer play.
Recaps of this weekend's opening round of play are linked below:
Prior to the Kenner League, there was some Internet chatter that a walk-on would be joining the team from Texas. This weekend's debut of the Kenner League reported the arrival of 6-1 guard David Allen, from Highland Park, TX.
Allen averaged 23.2 points per game as a senior, leading the Scots to a 26-2 record and a top spot in the state 4A polls. At 6-1, he was not heavily recruited, though his three point shooting skill made him a walk-on target for a number of schools. Allen's season was cut short when he was arrested Feb. 18 on a misdemeanor DWI charge in neighboring University Park, from which the school suspended him from the team for one week. HP lost in the second round of the playoffs during his absence.
Allen's roster status has not been confirmed by the University but the incoming freshman told a local newspaper, Park Cities People, that with the case behind him, he visited the school in April and he is ready for the challenge.
"I really enjoyed it," Allen said. "I know coming in I probably won't be expecting to get a whole lot of playing time my freshman year, but I'm going to work for it."
"For a little while, I thought it was something that wasn't going to happen," Allen said. "But then this just came up and they stuck with me."
If Allen joins the team, he will be only the first Georgetown roster player from the state of Texas since Anthony Allen (1986-90), and the first from the Dallas area since Bill Thomas (1974-76).
Former Georgetown forward Jeff Green (C'12) will be rejoining the Boston Celtics as early as Wednesday, reports ESPN.com.
Green sat out the 2011-12 season due to a aortic aneurysm corrected in the off-season.
"Jeff, when he got traded to the Celtics, he loved his experience, he wanted to prove that he's a better player than he played when he got here [after having been traded by Oklahoma City]," said team executive Danny Ainge. "He really wants to make it work and, through the whole discovery, the surgery and the rehab, it was something that was motivating him. He wanted to come back to Boston and he wanted to show his worth. Through the playoffs, he loved the atmosphere -- he loved the atmosphere that was created by our fans. He loved his teammates and he just really wanted to make it work."
Terms have not been disclosed.
---
HoyaSaxa.com: The One-Stop Web Site For Hoya Basketball™
An independent web site not affiliated with Georgetown University. All rights reserved.