The Big East wants Madison Square Garden. (So too, the Atlantic Coast Conference). The City of New York? Well, not so much.
In a move of political posturing over the stalled efforts to redevelop Pennsylvania Station, the New York city council voted 47-1 to limit "The World's Most Famous Arena" to a ten year lease in its current location. Without an extension, the building would be closed in 2023.
"Madison Square Garden will have to move, and I think this permit sends the message that that work needs to begin now," City Council Speaker and mayoral candidate Christine Quinn told the New York Daily News. "We need to make sure Penn Station becomes what we need it to be, a really 21st century grand entrance into the greatest city in the world, not ... what Sen. Moynihan or others historically described as a bunch of rat tunnels that lead people in and out of the city every day."
The fourth incarnation of the Garden was built atop Penn Station in 1968, after the city unceremoniously destroyed its historic rail station to do so. Historical preservationists have long held the Garden is an impediment to restoring Penn Station, though MSG has just spent $968 million on a renovation after talks to move the arena to 10 Ave. fell apart a decade earlier.
In a response, MSF officials said that "Madison Square Garden has operated at its current site for generations, and has been proud to bring New Yorkers some of the greatest and most iconic moments in sports and entertainment. We now look forward to the reopening of the arena in fall 2013, following the completion of our historic, three-year, nearly billion-dollar transformation, which will ensure our future is as bright as our celebrated past."
MSG may not be in any hurry, however. There is a loophole in the contract that allows an extension of the operating permit if the two sides can agree on improving access to the rail station, and this is a fight likely to be waged for many years to come.
This week's issue of Bloomberg Business Week has an in-depth profile of the arrival of Fox Sports 1 to the media scene, and its projected impact against the sports hegemony that is ESPN.
"Attempting to slay—or even scare—a giant as ubiquitous as ESPN is a multibillion-dollar gamble for [News Corp's Rupert] Murdoch," it writes. "It's little surprise the company has called on [David] Hill, who spearheaded the launch of two sports networks in Europe, Sky Sports and Eurosport. "You don't think going up against the BBC and ITV with Sky Sports is scary...?" Hill says. "Every competitor is big and hairy. ESPN is no different."
"ESPN has a 30-year head start, and they are doing a remarkable job," said Hill. "We are very much the underdog, and we have to convince the sports-viewing public that what we have on offer is better—or as good as—what ESPN has been offering. We have to create a personality."
What Fox Sports 1 has that previous challengers to ESPN does not is inventory. In addition to Big East basketball, Fox Sports 1 will have coverage of Big 12 and Pac-12 sports, UEFA Champions League soccer, the FIFA World Cup, access to Major League Baseball, NASCAR and UFC.
Fox Sports 1 begins August 17 and is still working through carriage issues with DirecTV, Dish, and Time Warner Cable. Like all cable and satellite disputes, they always get heated...and always get settled.
A Twitter post from CBS Sports' Jon Rothstein has some good news and some more work ahead for transfer center Josh Smith.
Rothstein reports Smith has lost 27 pounds since arriving at Georgetown in January. Unfortunately, Smith was 385 pounds when he arrived from UCLA, and at 358 still has a way to go before his eligibility takes effect on Dec. 21.
The largest recorded weight by a Georgetown student-athlete was offensive lineman Thomas Gallagher, who arrived to the Hoya football team at 365 pounds and played for three seasons at 345. The largest recorded weight in men's basketball was Jahidi White (C'98), who was listed at 290 pounds his senior season.
A release at GUHoyas.com has confirmed the brackets for the 2013 Puerto Rico Tip-Off Classic, which will feature Georgetown vs. Northeastern in the second of four games Thursday, Nov. 21. The winner will play the winner of Charlotte versus Kansas State.
Northeastern (20-13 in 2012-13) and Georgetown have met only once previously, a 85-66 win for the Hoyas at McDonough Gymnasium on Dec. 22, 1979.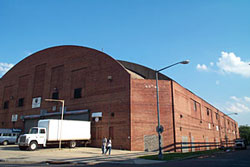 One of Washington DC's legendary athletic facilities is getting a new lease on life, reports the Greater Greater Washington web site.
Built in 1941, Uline Arena served as the home to three Washington pro franchises in the decades prior to Capital Centre: the NBA Washington Capitols, the ABA Washington Caps, and the Washington Lions of the American Hockey League. The 7,000 seat arena served as the home court for both Georgetown and George Washington basketball in the 1940's, and may be best known for having hosted the Beatles' first American concert in 1964.

Over the last 30 years, the property fell into blight and disrepair along the Union Station tracks, variously serving as a garbage disposal facility and an indoor parking lot. A previous owner planned to demolish the arena in 2003, but the permits were not finalized.
Developer Douglas Jemal has proposed a mixed use development on the site with the arena structure housing retail and office space. Although housing is growing along the "NoMa" corridor, the adjacent area is not zoned for residential development.
As more Atlantic Coast Conference traditionalists rally behind the very untraditional site of Madison Square Garden for future tournaments, an unnamed ACC coach told columnist Adam Zagoria what's behind all this Gotham envy: ESPN.
"One factor to keep in mind is that Fox is now the official network of the Big East, and one ACC coach said that ESPN would like to wrest control of the Garden's postseason tournament from Fox," writes Zagoria.
"I don't think you can underestimate the power of ESPN wanting to have a league tournament back in the Garden and that certainly isn't the case now given that Fox has the Garden and the Big East," said the unnamed ACC coach, careful not to make the mistake Boston College Athletics director Gene DeFilippo made in 2011, when he had to recant a public comment he made that "ESPN is the one who told us what to do" to move Pitt and Syracuse from the Big East to the ACC.
The Big East tournament is under contract at the Garden through 2026, and while various reporters have cited certain clauses that could trigger a road by which MSG could end the agreement, none have identified what, if any, the clauses are. For the record, Garden management did not submit a bid for any ACC tournaments from 2016 through 2021 which will be awarded later this fall.
An article at Yahoo Sports notes that Otto Porter will have his #22 jersey retired at Scott County Central HS August 16, where his #22 jersey will be placed alongside that of alongside that of #35, Otto Porter Sr. But what about his number at Georgetown?
The simple answer is that Georgetown does not retire jerseys.
The standard for retired jerseys varies widely among major schools. Indiana, for instance, does not retire jerseys, while Kentucky has retired so many (42) that it would not be able to suit up a full team with the number of jerseys remaining if the numbers were actually decommissioned. Porter will have his NBA jersey added to a collection on the wall at McDonough Gymnasium which consists of Georgetown NBA alumni since 1980. (The collection does not include 12 Georgetown alumni that played in the NBA prior to 1980.)
Of Georgetown's 24 All-Americans in basketball, Porter is among a select list of six players that have earned consensus 1st team All-America honors:

Eric Floyd
1982

Patrick Ewing
1983,84,85

Reggie Williams
1987

Alonzo Mourning
1992

Allen Iverson
1996

Otto Porter
2013
Otto Porter's place on an NBA roster this fall is secure, not so secure for a number of other Georgetown players seeking a role on an NBA team this fall. This article at SB Nation's Casual Hoya profiles the summer league efforts of Hollis Thompson (ex'13), Chris Wright (C'11), and Henry Sims (C'12). Of the three, Wright and Sims had brief tenures with NBA clubs last season.
"I don't know whether any of the non-contract players on the Bobcats' squad will be invited to training camp, but Georgetown center Henry Sims is intriguing," wrote Rock Bonnell of the Charlotte Observer. "He's quite a good athlete for his size. Not so much in basketball skills, but there's something to work with there."
Other players reported in summer league action include Patrick Ewing Jr. (C'08) and Dajuan Summers (ex '10).
Assistant coach Tavaras Hardy has been a part of the Chicago basketball scene since his high school days. It took a "recruiting pitch" from John Thompson III to get him to come to Georgetown.
"He loves Northwestern and everything about it," Thompson told the Chicago area Southtown Star. Hardy grew up in Joliet, played high school ball at Providence Catholic HS in New Lenox, college ball at Northwestern in Evanston, and was an assistant with the Wildcats for seven seasons.
"Chicago is home to him, and now he had to pack up and move his family," Thompson said. "But I do feel it was the right decision for him."
A Friday afternoon press release at GUHoyas.com announced a series of promotions within the Athletic Department staff, including three in the sports information office.
Among the changes, Mex Carey has been named Assistant Athletics Director for Communications, overseeing the sports information office and taking on some of the men's basketball roles held by the late Bill Shapland. Carey was sports information director since 2005.
Succeeding Carey in the SID role is Barbara Barnes, who joined the staff in 2008. Diana Pulupa was promoted to associate sports information director.
Founded in 2008 by Georgetown basketball alumnus Sead Dizdarevic (C'07, G'13), the continued efforts of the University and the U.S. Department of State to form the Georgetown Basketball Diplomacy Project has taught life lessons of basketball and teamwork to children in Montenegro and Slovenia. This past spring, a first ever program in Bosnia is the subject of this feature at Georgetown.edu.
"Over the last several years, the U.S. Department of State's Bureau of Educational and Cultural affairs has built profound personal, cultural and diplomatic connections across the globe through the universal pride of athletics," said State Department official Katie Leasor. "During this exchange program, Americans and Bosnians come together through a shared language of sports, in this case basketball."
In this program, a group of Georgetown staff and former players for men's and women's basketball held instructional camps for Bosnian youth, still recovering from that nation's long civil war. Twelve local coaches from the area were then invited to Washington for a 20-day series of activities. This fall, the coaches will reunite with the campers to further teach what the coaches learned in the U.S. visit.
"If I were at another university I wouldn't be able to do this type of thing," Dizdarevic said. "Georgetown is a world-class institution, [its] huge international influence helped me develop this program to where it is right now, and hopefully it will help me develop it into something else in the future."
A video from the spring's activities follows below.
It was briefly alluded to in a deleted Twitter post from the Oregon athletic department, but the Portland Oregonian again suggests that the Nov. 8 season opener between Georgetown and Oregon will take place at a military base in South Korea.
Neither the schools not ESPN have confirmed any such location, but it won't be in Jacksonville, where city officials confirmed they will not be hosting a game this season following a $736,000 loss on the Georgetown-Florida game last November.
There is a 14 hour time difference between Washington and Seoul, so a 7:00 pm EST game on Friday evening would be held locally at 9:00 am Saturday.
The Atlantic Coast Conference continues its northward media march, signing a deal with the YES network for 10 football and 23 basketball games to be broadcast in the New York market in the 2013-14 season. Yes had previously agreed to up to 10 Big East games this season. It was not disclosed if this was strictly regional coverage for Syracuse or secondary carriage of games otherwise seen on ESPN Plus.
The YES network, originally a partnership between the New York Yankees and New Jersey Nets, is 49% owned by News Corp, parent company of Fox Sports 1, with an option to acquire 80 percent of the company by 2015.
"We're proud to partner with the YES Network to televise Big East and ACC games to fans, students, and alumni throughout the New York area," said Fox Sports VP Jeff Krolik. "New York is one of the traditional strongholds of the Big East, and now that the ACC is also represented through Syracuse, there should be a great deal of regional interest in these games."
Many readers are familiar with the story of Stubby, the World War I canine hero who served as a mascot for the Georgetown football team in the 1920's. Following the dog's death in 1926, taxidermy retained Stubby's appearance for future generations, and the dog was donated to the Smithsonian in 1956. A search by Washingtonian Magazine found Stubby's home at the Smithsonian in some disrepair.
"Having built things up so much, I half expected to find a shrine to Stubby," writes author Sam Kean. "Instead, he sat in a crowded display case, beneath a burned-out light bulb. Unlike his pictures online, he was naked, no vest of medals. Worse, while another animal in the case, a one-legged messenger pigeon, got front-and-center billing, Stubby sat near the wall. The placard below him said little—no mention of shrapnel, spies, or Hoyas. Did you know you can feel crestfallen for a dog that died nearly a century ago?"
"[Stubby] tells a story," said curator Kathy Golden says. "He's not important like Lincoln's hat or Jefferson's Bible, but he tells a story."
"Some at the Smithsonian may bristle about its reputation as "the nation's attic," but it's not a term of disparagement," Kean writes. "Attics are where we store things we love and can't bear to part with, even if we aren't sure why. We know things will be safe there, and for that reason attics are just as important psychologically as physically."
With news that ESPN ratings have declined 20 percent in the first quarter of 2013, Fox Sports 1 will introduce itself in a big way next week, thanks to a 90 second prime-time commercial at the 2013 Baseball All-Star Game July 16, which will feature coach John Thompson III among a number of sports figures to be associated with the channel. Here's a sneak peek:
Georgetown officials announced Monday it will move its women's rowing program to the Patriot League for the 2013-14 season.
A minimum of six schools are required to be eligible for an automatic bid for the NCAA championships in this sport, but only four Big East schools currently sponsor women's rowing following the reconfiguration of the conference: Georgetown, Creighton, Villanova, and Xavier.
Since the NCAA does not conduct championships in men's rowing, the Georgetown men's program is not directly affected by the conference change and will continue to compete for the Intercollegiate Rowing Association (IRA) championship, first held in 1895.
Columnist Jon Rothstein at CBS Sports answers five off-season questions on the 2013-14 Big East race.
"The Hoyas would have been a better team with [Greg] Whittington — who tore his ACL about a month ago — but John Thompson III has shown that he's one of the best coaches around in terms of replenishing talent," he writes. "Georgetown will have arguably the Big East's best backcourt with Markel Starks, D'Vauntes Smith-Rivera and Jabril Trawick while still possessing a pair of veteran big men up front in Nate Lubick and Mikael Hopkins."
In Big East news, Butler University has named Brandon Miller as its new head coach, succeeding Brad Stevens.
Miller, 33, played for Butler from 2000-2003, and has served as an assistant at Ohio State, Illinois, and Butler.
With the schedule posted to the left, the Kenner League begins its 33rd season at McDonough Gymnasium. SB Nation's Casual Hoya provides a look at some of the things to watch for this season.
A brief history of the Kenner League is found at the Georgetown Basketball History Project.

Friday's Twitter post from athletic director Lee Reed references an important case challenging the NCAA as it moves its ways through the courts.

On July 5, a judge allowed a current student student-athlete, to be named, to join the plaintiffs in the lawsuit known as O'Bannon vs. NCAA.
The lead plaintiff is Ed O'Bannon, 40, a former basketball player at UCLA from 1991-95 and MVP of the 1995 Final Four, who sued the NCAA in 2009 over uses of his image in video games and other products licensed by the NCAA. "The former athletes have alleged the defendants violated antitrust law by not giving them compensation for the use of their names, images and likenesses in products or media while they are in school and by requiring athletes to sign forms under which they forever relinquish all rights pertaining to the use of the names, images and likenesses," writes USA Today. A decision is pending on whether to extend the current plaintiffs to a protected class.
(And there are enough readers out there who understand what a class action does in a legal case.)
"If [the judge] certifies the suit as a class action, it could allow thousands of former and current football and men's basketball players to join the case. That could create the possibility of a damages award in the billions of dollars," the article continued. "In addition, if the plaintiffs were to get everything they have said they are seeking, it would force the establishment of an entirely new compensation arrangement for current NCAA Bowl Subdivision football players and Division I men's basketball players – one under which "monies generated by the licensing and sale of class members' names, images and likenesses can be temporarily held in trust" until their end of their college playing careers."
Yes, it's complicated. And it's not entirely clear who would pay the damages. But it gets worse, and that's why Reed and every other athletic director is justly concerned.
"The NCAA could prevail in a jury trial, and if the verdict is upheld on appeal, the status quo would be retained," wrote Sports Illustrated. "The NCAA could lose a jury trial, and the jurors could award the plaintiffs everything they want. If this held up on appeal -- remember, damages in antitrust cases are tripled -- it likely would bankrupt the NCAA and force schools to form a new governing body. It also would force schools to negotiate a better deal for athletes, who would now be legally entitled to a share of television revenue. This would result in more money for the players, less money for coaches and administrators and less spending on stadium additions and fancy weight rooms. It also likely would require the cutting of some non-revenue sports as departments adjust to decreased revenue. This wouldn't be a sudden change. The appeals process would take years. [Or] the jury could do to the O'Bannon plaintiffs what a federal jury did to the USFL in 1986. The jury declared the NFL a monopoly -- a win for the USFL -- but awarded the league just $1 in damages. This was tripled to $3. With interest, the NFL wound up paying out $3.76."
The NCAA can't count on the latter.
Sports columnist and Georgetown adjunct professor Patrick Hruby (C'98) posted an extensive look at the collateral damage of O'Bannon v. NCAA earlier this week.
"A class consisting of only former players makes the case about revenues deriving from archival video and video games, while a class that contains current players makes the case about broadcast rights, too," writes Hruby. "The latter is where the real money is -- add up bowl games, conference networks, broadcast packages and the men's basketball tournament, and we're talking about roughly a billion and a half dollars annually."
"By contrast," he continues, "the injunctive class includes current players. It does not seek a payout per se. Instead, it seeks an injunctive order that would forbid schools from price-fixing. The result would be an actual competitive market, which would almost certainly put amateurism out of its misery and result in current athletes getting a larger piece of the college sports pie."
For SEC and Big 10 schools, the result could be a de facto semipro circuit, where players would sign contracts of some sort with the school and go to the highest bidder. For other schools and conferences, it would not be so easy. How would Vanderbilt compete with LSU? Would Boston College or Notre Dame have the institutional will to pay millions to 19 year old "students" just to compete with Florida State? Connecticut gets just $1.9 million in TV money from its new TV contract--can it even compete if Maryland is getting $24 million from its TV deal?
The NCAA model is built on a (reasonably) level playing field when it comes to amateurism. But in worst-case scenarios, a free-for all obliterates this. Unanswered questions run rampant--do these schools pay just football players, or those in other sports with some imputed value? What about Title IX? Would schools owe athletes health benefits, workers compensation, even profit sharing?
And, unsaid in all this, where does the central role of a college education fit into this brave new world?
It's extremely unlikely that schools like Georgetown would ever surrender to a "pay for play" model for student-athletes, and the composition of the Big East suggests these are 10 schools that share a common philosophy in this matter. But for other schools and other conferences, these upcoming court decisions could set off an economic earthquake that most are not financially prepared to face. In a 2013 study of 228 public Division I institutions, only seven broke even without an institutional subsidy. (And that's before any court decision or pending damages to contend with.)
We'll talk more about this later in the summer. Stay tuned.
From the Buffalo News, news that Georgetown alumnus Jerry Moriarty (C'65) has been appointed to the New York State Supreme Court by Gov. Andrew Cuomo.
Moriarty walked on the the 1962-63 team as a sophomore, playing in two games that season.
With his multiple sclerosis in check following a 2012 outbreak in Turkey, former Georgetown guard Chris Wright (C'11) spoke to the Washington Post about the next steps in his pro basketball career.
Wright's health has stabilized thanks to a monthly two hour intravenous infusion of Tysabri, a powerful antibody treatment which helps prevent any reoccurrence of the disease. According to the National MS Society, the treatment "is designed to hamper movement of potentially damaging immune cells from the bloodstream, across the 'blood-brain barrier' into the brain and spinal cord."
"I remember, I asked [my doctor], Do you know any NBA players that have M.S.?" Wright recalled. "She looked into it and said, 'No, I don't.' I said, 'Okay, well that's my goal." He fulfilled the first part of his goal earning a 10-game contract for the Dallas Mavericks last season, becoming the first player
Wright is also the proud father of a baby son, Chris Jr., born earlier this year.
in NBA history playing with MS. He now hopes to sign for a full-time roster position with an NBA club.
"I have to get with the right organization for myself, a good fit. And when I get out there, I have to produce; it's as simple as that," Wright said. "Sometimes it may not be the perfect situation, but you've got to find a way to make it the perfect situation for yourself. Every obstacle has something good and bad out of it."
As one Butler fan put it, "Monday was our big day, Wednesday was our worst day."
Brad Stevens, who at 36 was already a legendary college coach at Butler University, stunned the basketball world by leaving his newly minted Big East program for a multi-million dollar offer to coach the now-struggling Boston Celtics.
Stevens, who took Butler to the brink to the NCAA national championship in 2010 and 2011, had routinely turned down college offers despite a salary a fraction of what other top coaches were making. An Indiana native who has been at Butler for 12 seasons, six as head coach, Stevens was thought to be untouchable by top-dollar offers elsewhere. On Wednesday, the Celtics announced a 6 year, $24 million contract for Stevens, who will take over the Celtics after it traded away much of its veteran roster entering a major rebuilding effort.
"Though he is young, I see Brad as a great leader who leads with impeccable character and a strong work ethic," said Celtics general manager Danny Ainge.
Stevens' coaching results are impeccable on the college level, but the chorus of doubters in the pro ranks did not take long to be heard.
"I think their spin will be, 'This is going to take time and we're going to give him time,'" a league source told the Boston Globe. "That's all fine and good, but if you lose 10 in the row on the road and you're getting beat by 40, what are you going to do?"
The loss to Butler is more immediate, and comes at a critical time for recruiting. Butler would not have been invited to the Big East without Stevens' six year run of success, having signed a 12 year extension with the Bulldogs in 2010. Officials admitted that the school, with the smallest budget of any of the ten Big East schools, could not match the Celtics' offer.
"We have done everything we can to keep Brad here at Butler; however, the Celtics team has offered Brad and his family a unique opportunity with which no university can compete," said Butler president James Danko.
Though his tenure in the conference was just three days, Stevens joins a list of former Big East coaches who left the ranks of college coaching to pursue an NBA head coaching position, among them Lou Carnesecca (New York Nets), Joe Mullaney (Los Angeles Lakers, Buffalo Braves), P.J. Carlesimo (Portland, Golden State, Seattle, Brooklyn) and Rick Pitino, the latter having coached the Celtics from 1997-2001 before taking over at Louisville.
If Stevens considers a college option at some future point in his career, he will be a quick hire.
"He'll line it up right and leave around the time Roy Williams and Mike Krzyzewski are done at North Carolina or Duke and he'll take one of those jobs in a couple years," said the Globe's source. "I bet my house on that one."
Additional regional coverage follows:
Reaction among the Butler community was one of shock and unease for their program following Stevens' departure. Younger fans may not know that two decades ago, Georgetown came within hours of a similar sea change.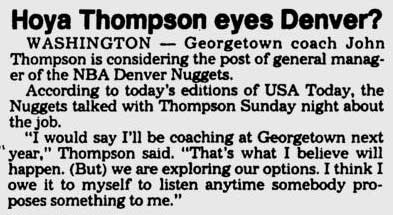 On July 18, the Washington Post and USA Today reported that the NBA's Denver Nuggets had offered coach John Thompson an extraordinary opportunity to join their club as general manager, more than doubling Thompson's salary from $317,000 a season at Georgetown to $700,000 a season over four years, and offering him four percent ownership of the franchise, an amount which today would be worth $17 million.
WJLA-TV then ran a story that Thompson had accepted the deal and Georgetown would name 34 year old Craig Esherick (B'78, L'82) its new head coach at an afternoon press conference. A press conference was held, but Thompson told the audience he had not made a decision.
"If you think I'm considering an offer, you're absolutely right," Thompson said. "If you think I've made up mind, you're absolutely wrong."
Over the next four days, Thompson consulted with a number of close friends over the decision and the results were anything but certain. In a period of transition for the Big East and for Georgetown (commissioner Dave Gavitt having left for the Celtics, while a new president, Leo O'Donovan S.J., had arrived at Georgetown), Thompson gave serious consideration to the opportunity and the financial security it would bring.

In the pre-Internet age, TV and newspaper coverage was all there was, so it was still unusual when ESPN broke into its afternoon broadcast of "World Class Championship Wrestling" on July 22 to announce that Thompson had turned down the offer and would remain with the Hoyas.
"I talked with an awful lot of people who mean an awful lot to me, Thompson said. "Then I gave myself a day of reflection, and I have decided to remain at Georgetown."
"This was great news for me to hear," said Rev. O'Donovan. "Our whole university will be delighted to know that this great man will be with us for the future."
Various recruiting services are reporting the verbal commitment of 6-4 swingman Daryl ("L.J.") Peak for the Georgetown college class of 2018.
Peak, a native of Gaffney, SC, was a bit of a surprise in that he cancelled a visit to Georgetown last week and was widely favored for the University of South Carolina, after returning to Gaffney HS following a season at a Chicago magnet school.
As a junior, Peak averaged 14.6 points per game for Whitney Young HS, one of the city's top basketball programs and home to three Top 100 national recruits.
"I think I have become a much better defensive player, more of a lock-down defender, and my shot has gotten a lot better since coming to Chicago, but I still have a long way to go," Peak told Slam Magazine. "I'm nowhere close to where I need to be. I'm definitely not done working. This is only the beginning, really." Peak chose Georgetown over a list of schools which included South Carolina, Florida State, Marquette, Connecticut, and Maryland, among others.
Peak joins earlier commitments from rising high school seniors Isaac Copeland and Tre Campbell. Georgetown does not comment of the status of recruits prior to (and sometimes, after) a National Letter of Intent signing, which would not come until early November.
All-America forward Doug McDermott will pay full tuition to return to Creighton University next season, following the NCAA's award of a sixth season of eligibility to PG Grant Gibbs.
McDermott's father is the Bluejays coach, Greg McDermott, who will pay his son's tuition. The sports information office at Creighton noted that the elder McDermott is one year short of the four year requirement for a tuition break for dependents of university employees.
"Doug is fine with that," the elder McDermott told the Omaha World-Herald. "I texted him this morning, and no one is more excited about this than he is."
Former head coach John Thompson spoke to a group of overseas journalists visiting campus, reports the Philippine Star.
"With the Hoyas, we're constantly on the lookout for players who can make our program stronger," he said. "Are there Filipinos qualified to play for Georgetown? I don't mean some, I mean just one. If there's one Filipino whom you think can make it, give me his name and we'll welcome him to Georgetown."
When asked about the NBA talent that has come through the program, coach Thompson said that "Don't ask [me] whom I think is the greatest center we've produced because that's like asking who's my favorite child. But I'll admit the one player who has improved the most in his NBA career is [Roy] Hibbert. I remember when Hibbert came to Georgetown, I was sitting on the bench with Red Auerbach and asked what the heck this clown was doing in our gym."
The journalists were in Washington as part of the launch of a new Nike shoe for NBA star Kevin Durant. "I can't understand how we lost him to the University of Texas," Thompson remarked, but noted that "for what Kevin has done and stands for, he deserves his own shoe."
July 1, 2013

Dear Big East Supporters:

With today marking the first official day of operation for the new Big East Conference, I wanted to take this opportunity to greet everyone associated with the conference and its member schools and express how honored I am to assume the role of Commissioner.

What's old is new again as we return to the Big East's roots and the vision of founding Commissioner Dave Gavitt, who created the conference in 1979 to showcase outstanding basketball, spirited competition and passionate rivalries. Now, nearly 35 years later, the Big East is poised to build on its heritage and bring a new wave of excitement to the student-athletes, coaches, students, faculty, administrators, alumni and loyal fans of its ten distinguished schools.

With newcomers Butler, Creighton and Xavier joining conference stalwarts DePaul, Georgetown, Marquette, Providence, St. John's, Seton Hall and Villanova, the new Big East will offer top-flight academic programs and rigorous athletic competition to nearly 2,500 student-athletes in 22 sports. We are very excited about our long-term television contract with FOX Sports and its new cable network, FOX Sports 1, which will allow us to nationally air a wide range of Big East basketball games, as well as other conference events. We also look forward to establishing our headquarters in New York City and continuing to stage the Big East basketball tournament in Madison Square Garden, both of which will assure us a presence in the country's biggest media market.

While we have much to do in the months ahead to bring the conference office to full operating capacity, I'm confident that we will create a first-class organization we can all be proud of and that will fully support the work of our member schools. I'm especially grateful to our ten Athletics Directors and their staffs, whose excellent work over the past three months has allowed us to hit the ground running today.

I look forward to meeting many of you as I travel to our campuses in the coming months, and I thank you for your continued support as the Big East starts this exciting new era.

Sincerely,

Val Ackerman
From the Omaha World Herald, an extended look at the behind the scenes dealings which led to Creighton's invitation to the Big East Conference.
The article discusses the close ties between Creighton and Marquette that drove the decision, namely that Creighton president Timothy Lannon S.J. sits on the Marquette board of directors and approached MU president Scott Pilarz S.J. (C'81) to be included in the expansion conversation.
"Creighton belongs with us," Pilarz was reported to have said.
Creighton also received support from the president at DePaul, the league's other western member.
The article suggests Georgetown opposed the move, though a recent interview with Georgetown president Jack DeGioia (C'79, H'95) indicated that Creighton's commitment to athletics was more important than its geography.
"From the very beginning, Georgetown has been an enthusiastic supporter of Creighton, and we are pleased they are joining the Big East," DeGioia told the newspaper.
Monday marks the move of a record 45 schools across 16 conferences:
| | | |
| --- | --- | --- |
| School | From | To |
| Boston University | America East | Patriot |
| Butler | Atlantic 10 | Big East |
| Cal-Bakersfield | Independent | WAC |
| Central Florida | Conference USA | AAC |
| Charlotte | Atlantic 10 | Conference USA |
| Chicago State | Independent | WAC |
| Cincinnati | Big East | AAC |
| College of Charleston | Southern | Colonial |
| Connecticut | Big East | AAC |
| Creighton | Missouri Valley | Big East |
| Florida Atlantic | Sun Belt | Conference USA |
| Florida International | Sun Belt | Conference USA |
| George Mason | Colonial | Atlantic 10 |
| Georgia State | Colonial | Sun Belt |
| Grand Canyon State | Independent | WAC |
| Houston | Conference USA | AAC |
| Houston Baptist | Independent | Southland |
| Incarnate Word | NCAA Division II | Southland |
| Louisiana Tech | WAC | Conference USA |
| Louisville | Big East | AAC |
| Loyola Maryland | MAAC | Patriot |
| Massachusetts-Lowell | NCAA Division II | America East |
| Memphis | Conference USA | AAC |
| Middle Tennessee State | Sun Belt | Conference USA |
| Missouri-Kansas City | Summit | WAC |
| Monmouth | Northeast | MAAC |
| New Orleans | Independent | Southland |
| North Texas | Sun Belt | Conference USA |
| Notre Dame | Big East | Atlantic Coast |
| Old Dominion | Colonial | Conference USA |
| Pittsburgh | Big East | Atlantic Coast |
| Quinnipiac | America East | MAAC |
| Rutgers | Big East | AAC |
| San Jose State | WAC | Mountain West |
| South Florida | Big East | AAC |
| Southern Methodist | Conference USA | AAC |
| Syracuse | Big East | Atlantic Coast |
| Temple | Atlantic 10 | AAC |
| Texas State-San Marcos | Southland | Sun Belt |
| Texas-Arlington | WAC | Sun Belt |
| Texas-Pan American | Independent | WAC |
| Texas-San Antonio | WAC | Conference USA |
| Utah State | WAC | Mountain West |
| Utah Valley State | Independent | WAC |
| Xavier | Atlantic 10 | Big East |
St. Peter's College has added former Georgetown staffer Matt Henry to its coaching staff, per an article from NBC Sports.
Henry served as director of basketball operations at Georgetown from 2004-10, then served two seasons as an assistant to Robert Burke at Mt. St. Mary's. When Burke was released during the 2011-12 season, Henry served as interim head coach for the remainder of the season.
As a high school junior, Otto Porter wasn't sure he should take a visit to Georgetown. A high school history teacher encouraged him to do so, and, well, the rest is history.
"She said, 'You've got to go see the sights, because you might like it,'" Porter recalled in this link to the Southeast Missourian. "So I said, 'I'm definitely going to go and check it out.'" The weather was rainy but the campus sold itself.
As for Porter's prospects in the the NBA, "he'll show 'em," said Georgetown coach John Thompson III.
"When we were practicing to go to China the summer before his freshman year, after a couple of practices, we realized, 'This kid is going to be pretty good.' At that point, could I have said we'll be standing here two years later? I'm not sure about that. But you've seen a steady progress. You've seen him come in as somebody who can do a lot of things on the court, to get to where he's very good at a lot of different things ... It's a big adjustment going from the collegiate level to the NBA. His versatility, his work ethic, his caring, will help expedite that process."
"He's well grounded. He understands it--there's the ups, there's the downs, but his base is solid. He'll do fine," said Otto Porter Sr. "We're looking for him to be a great player."
---
HoyaSaxa.com: The One-Stop Web Site For Hoya Basketball™
An independent web site not affiliated with Georgetown University. All rights reserved.