The Big East Conference announced its 2014-15 "All-Academic" teams, with 2,197 student-athletes across the ten schools honored for their academic achievement. Georgetown led all schools by participation, but fell short in its flagship sport.
Of Georgetown's 286 students with a 3.0 grade point average or better, only one was a men's basketball player, Trey Mourning (C'18). Across the other nine Big East schools, 44 different men's basketball players were listed, including seven members of the Villanova team and eight at DePaul.
Not every player needs to be on the Dean's List to graduate and succeed in life beyond basketball. Nonetheless, Georgetown can do better.
In other Big East news, the conference is moving its men's soccer tournament to on-campus sites. Last year's tournament at 18,500 seat PPL Park in Chester, PA drew less than 400 fans to see Providence and Xavier in the final.
Track and field coach Patrick Henner resigned Friday following a University report on allegations of misconduct by members of the men's track program.
"I have always demanded the highest athletic and personal standards for my coaches and student-athletes,Ē said Henner in a link posted at GUHoyas.com. ďI regret that some students engaged in behavior that fell short of these expectations. I recognize the Universityís need to move forward with a fresh start and I do not want to be a distraction in that process."
Henner arrived at Georgetown in 1999 and moved to head coach in 2007 following the departure of Ron Helmer to Indiana. Henner is only the fifth head coach in track at Georgetown since 1969, coaching the women's cross country team to the 2011 NCAA title, the only sport at Georgetown to have won an NCAA title since men's basketball in 1984.
Henner was not cited in the report, a summary of which was posted to the University web site and not GUHoyas.com. It reads, in part, "The investigation found that inappropriate locker room behavior and the creation of offensive materials relating to unofficial team events violated the Universityís policies ... It is clear that not every student-athlete engaged in misconduct and the investigation found no wrongdoing by the coaches. Nonetheless, these behaviors and actions created a culture that is inconsistent with the Universityís values and did not meet the expectations Georgetown has set for members of its community and for its student-athletes."
The report indicates that the men's team will miss seven weeks of competition in 2015-16, though it did not state if this was in indoor or outdoor competition. There are no NCAA sanctions involved in the report.
In a separate action, the University's Office of Institutional Diversity Equity and Affirmative Action rejected a claim by a member of the women's track team of racial bias by coach Mike Smith, who has been named as Henner's interim replacement as head coach.
According to the GUHoyas.com link, athletic director Lee Reed "will begin a process to determine the leadership and coaching staff of the track program going forward."
Many Georgetown fans have expressed concern with various photos showing former Georgetown forward Mike Sweetney (ex '04) having gained a considerable amount of weight since leaving the NBA eight years ago. In an article at the New York Post, Sweetney discusses his personal battle to stay healthy.
"I donít think I was honest back then, but Iím now open to be able to say everything that happened was my fault and I own up to it," Sweetney said. ďI was in a bad depression [following the death of his father], didnít eat right or work out enough and I ate myself out of the league. Iíve just owned up recently to the problems of depression. I think I was in depression mode for years and I didnít get proper help. I was in denial."
Sweetney is playing in a the semifinals of a national pick-up basketball tournament this weekend in New York.
An Q&A interview with head coach John Thompson III was posted Thursday at CBS Sports.com.
"We did well [last season], but I'm more excited about this group than about last year's group," Thompson said. "We're much deeper. We're much more versatile. We literally have three guys -- Jessie, Bradley, and Tre -- that can only play one position and literally everyone else can play multiple positions offensively and defensively. They can play multiple positions and guard multiple positions effectively. So we can be one of those teams where on any given night depending on the scouting report, a different guy can emerge depending on who is going to be out of the floor."
Thompson was also asked about the impact of D'Vauntes Smith-Rivera for his senior year.
"Getting his degree and having the opportunity to do that is first and foremost," he said. "He has a chance to be one of the top five scorers in the history of Georgetown basketball. I think that him coming back is good for his development both on and off the court. I think eventually he came to that realization. Honestly, I don't think about legacy and things like that. We go out there and if we do the things we're supposed to do we're going to win and then the legacy part is going to take care of itself. And I think this team can do that. I think this team is positioned to have success."
A road game at NC-Charlotte will be held on December 22, per the 49ers web site.
The game will be played at the 20,200 seat Time Warner Cable Arena in downtown Charlotte, home of the NBA's Charlotte Hornets. The 49ers play its other home games at 9,000 seat Halton Arena.
He had all the potential at UCLA. Then at Georgetown, Now, the NBA's Miami Heat is deciding whether center Josh Smith (ex'15) can commit to the grind of the NBA season, reports the Ft. Lauderdale Sun-Sentinel.
"He's got some talent. He's got great hands," said Heat VP player personnel Chet Kammerer. "He obviously has some major weight issues. He would really have to be really committed to change his body. But he's just so intriguing."
"A lot of it has to do with maturity with me," Smith said. "I mean, my college career didn't go the way I planned. I didn't put in the work that I needed to. Right now, I'm just trying to be the best professional I can and just trying to show them now that the weight that I am now that I can still get up and down the floor, that I can still move, and that it's not a liability on offense or defense."
Meanwhile, another former Georgetown player is working to reestablish himself in the summer leagues.
Greg Whittington (ex'15) last played competitively in January, 2013 but is working his way back into some pro conversations.
"The whole organization and Pat Riley, they're good guys and they're a defensive-minded team first," he said in this link from SB Nation. "Coming from Georgetown that is also defensive-minded, so I already have that instinct to just got out there and play D before I score. They made me want to work hard for them so it's the same as being at Georgetown."
Georgetown University has announced an ongoing internal investigation into its men's track and field program, involving a variety of claims of misconduct that led to formal complaints by student-athletes with the Department of Athletics this past year.
The news release, which was published through the Office of Communications and not through GUHoyas.com, reads in part: "In late April, the University received reports of misconduct involving its menís track team. The University immediately initiated an investigation into those reports and the climate on the team. That investigation is ongoing and has included dozens of interviews with coaches, current and former members of the track program and others with knowledge of the climate around the track program. Although not every student-athlete engaged in misconduct, the reported behavior is deeply concerning, inconsistent with the values of the University, and does not meet the expectations Georgetown has set for members of its community and for its student-athletes."
The April date is at odds with a blog which appeared online the day before before the statement was released, challenging the investigation. (Note: As the blog has no verified owner, and its e-mails cannot be independently verified, it is not linked here, nor are names disclosed of students, coaches, or staff discussed within the blog's correspondence. While the blog cites as its author a member of the women's track team, this too cannot be verified.)
"Upon receiving the reports, the University immediately met with members of the menís track program to make clear that any such behavior must stop immediately and will not be tolerated," said the Georgetown release, without specifics.
While the complaints remain undislosed, the University response did cite that it "initiated interim measures to provide enhanced oversight of the team, including closing the locker room for use by members of the menís track team and increasing the number of administrators attending official team events." It further added that "The University will complete its investigation in the coming weeks and will address any misconduct consistent with University policies."
Further comments are not expected by University officials on the matter.
More good news via Twitter: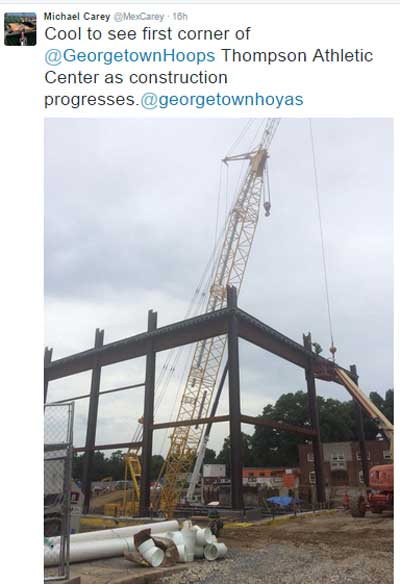 The $62 million project is expected to be completed by August 2016.
The NCAA released its attendance report for the 2014-15 basketball season, with Georgetown finishing 45th in average attendance.
Big East teams are listed below:
6. Creighton, 17,048
22. Marquette, 13,657
42. Xavier, 9,998
44. Villanova, 9.639
45. Georgetown, 9,630
52. Providence, 8,614
63. Seton Hall, 7,587
65. St. John's, 7,463
66. Butler, 7,373
83. DePaul, 6,238
Syracuse (23,854 per game) led all Division I schools. At the bottom was Grambling State, which averaged just 305 in 11 games at its 7,500 seat Hobdy Assembly Center.
For a review of Georgetown's average attendance through the years, please visit this link at the Georgetown Basketball History Project.
Sophomore L.J. Peak joined teammates as the U.S. Under-19 team won the gold medal Sunday at the FIBA World Under-19 Championships in Heraklion, Greece. The U.S. defeated Croatia in overtime, 79-71.
Peak played 14 minutes in the final, with one three pointer and five points overall. For the seven game series, Peak averaged 3.7 points per game.
"This is my first [international competition], and Iím very excited," said Peak. "It was a great thing being part of this team."
Villanova freshman Jalen Brunson was named the tournament MVP.
Two prominent former Georgetown players are moving west as the NBA free agency period is underway.
Greg Monroe (ex'12) signed a three year, $50 million contract with the Milwaukee Bucks, which outbid the Portland Trail Blazers, New York Knickerbockers, and Los Angeles Lakers for the contract. In April, the New York Daily News reported that a deal to move Monroe to the Knicks was "about as close to a done deal as you can get," according to an insider. In the end, the Knicks did not offer a maximum contract and the Bucks did.
Another Georgetown big man, Roy Hibbert (C'08), signed a one year, $15.5 million contract with the Los Angeles Lakers after the Indiana Pacers front office publicly distanced themselves from Hibbert, hoping he would become a free agent. Hibbert could be a free agent next year, as the Lakers missed out on most of its free agent targets and may rebuild entirely following Kobe Bryant's final season in 2015-16.
Monroe and Hibbert are the first Georgetown players on their new teams. Here is the rundown of NBA teams by former Georgetown players:
7: Knicks, Hornets/Bobcats, Pistons
6: 76ers
5: Bullets/Wizards, Magic, Nets
4: Hawks, Pacers, Royals/Kings, Rockets, Spurs, Nuggets
3: Bulls, Celtics, Warriors, Clippers, Grizzlies, Sonics/Thunder
2: Suns, Pelicans, Trail Blazers
1: Heat, Cavaliers, Bucks, Raptors, Lakers, Mavericks, Jazz, Timberwolves
For the second straight year, a local school appears to be withdrawing from the Childrens Charities BB&T Classic, and it's not Georgetown.
In a letter to George Washington season ticket holders posted on the www.GWHoops.com web site, the school appears to have backed out of the Dec. 12, 2015 event.
"After 20 years of participation in the annual BB&T Classic, scheduling conflicts preclude us from competing in this year's event after the date of the games was moved from the traditional weekend," it reads. "We've been honored to have been part of such a memorable event that benefitted an outstanding cause in the Children's Charities Foundation."
The tournament added Georgetown in 2014 after Maryland backed out of the tournament, citing scheduling difficulties with its arrival to the Big Ten Conference. The tournament also parted ways with co-founder and event promoter John Feinstein prior to the 2014 event as well.
Off the sports pages, we pause to note the passing of Rev. James Walsh, S.J. a professor for more than 40 years at Georgetown and a devoted member of the Georgetown Chimes.
Rev. Walsh grew up in Wilkes-Barre, PA and joined the Jesuit order in 1955, taking his vows in 1969. He joined the Georgetown faculty in the early 1970's while completing his Ph.D. at Harvard. An associate professor of theology, Walsh also served as the public address announcer for women's basketball games at McDonough Gymnasium.
In 1982, Walsh was selected to join the Georgetown Chimes, and further elevated the visibility of Georgetown's original a capella singing group. A member of the Georgetown University Alumni Association Board of Governors, he received the University's highest honor for a non-alumnus, the Patrick Healy Award, in 1999.
"He was a truly wonderful, scholarly, multilingual, urbane, and witty man," said George Peacock (C'84), president of the Alumni Association and fellow Chime. "He was a great friend to have."
Per the obituary notice: "There will be a viewing on Wednesday, July 8, 2015 at Holy Trinity Catholic Church, 36th & O Sts., N.W. from 9:30 a.m. until time of Funeral Mass at 10:30 a.m."
---
HoyaSaxa.com: The One-Stop Web Site For Hoya Basketball™
An independent web site not affiliated with Georgetown University. All rights reserved.