As various Big East schools continue to look around while professing its loyalty, Georgetown alumnus John Ziegler argues that Georgetown would be at risk in a major shakeup of the conference.
"There may not be another basketball powerhouse without a "real" football program (we have a team, but it is not possible for us to upgrade to Division 1 status) who, thanks largely to issues beyond its control, has less leverage in finding a situation as good as it currently has or is more poorly situated to ease into a less glamorous set of circumstances," Ziegler writes. "Because the Hoyas play in a massive NBA arena and no longer have a suitable on-campus facility (or even really the potential for one), basketball is basically an all-or-nothing proposition for Georgetown. It is go big or go home. Only GU literally doesn't have a real home."
"The latest rumor is that, in an apparent fit of panic-induced delusion, the remaining members of the Big East conference (at least the football members, as if any of the others actually matter) and the soon to be equally ransacked Big 12 will merge in order to maintain their BCS viability. But even if the Big 12 somehow manages to stay together, Big East football is still on very thin ice."
If anyone has been marginalized by the events of the past two weeks, it's not former Big 12 commissioner Dan Beebe or embattled Big East commissioner John Marinatto. It may be NCAA president Mark Emmert, whose authority to maintain stability in Division I has all but been ignored by recently conference moves.
"I'm not concerned so much about one university moving from one conference to another or exploring what their options are," Emmert told the Associated Press. "What I want, and what I've been encouraging schools to do, is look at what the end is. The end is not having 16 schools in a conference or doing a deal. It's why are you going in that direction and what are the outcomes you are trying to achieve? They better be looking at it to see what it will do for student-athletes. Will it allow us to create more revenue to support these big intercollegiate programs, and whether we're contemplating something that won't create more impositions for our student-athletes?"
Either way, it appears that the NCAA will have a diminishing impact of what becomes of governing its flagship sports.
For the past four years the efforts of Sead Dizdarevic (C'08, G'10) and the U.S. State Department have brought Georgetown coaches and alumni to a series of summer basketball camps in the countries of the Balkans. GUHoyas.com has posted a video from this year's effort.
"The trip was an amazing and extraordinarily memorable experience," said Monica McNutt (C'11), who was joined by Dizdarevic, former men's player Amadou Kilkenny-Diaw (C'06), basketball staff member Chris Golski (C'09), former basketball manager Sir Ashley Harrison (C'06), former men's lacrosse player Mark Spring (B'88) and former women's basketball player Kenya Kirkland (C'10).

"Not only was the country itself gorgeous, but we couldn't have asked for a better group of youth to work with. The players were so grateful for the opportunity and so eager to learn. By the end of the week, we didn't want to say goodbye; while the players continued to reiterate how much fun they had and how much they learned, I think their experience may have paled in comparison to ours. I was truly touched and inspired, and am so thankful I was a part of this."
Fifteen Big East presidents are scheduled to meet Sunday in Washington for another effort to fortify the conference and select expansion teams. The University of Connecticut has made no secret of getting its resume out to the Atlantic Coast Conference, but in the absence of an offer may be prepared to work with its fellow Big East schools.
"Big East presidents have been engaged in frequent communication by phone or in person," said UConn president Susan Herbst in this link to ESPN.com. "We're committed together to make the Big East work, to make it stronger in spite of the announcement that Syracuse and Pittsburgh will leave to go to the ACC."
The Syracuse Post-Standard may have reported that ACC officials were guilty of approaching Syracuse to join the league and not the other way around.
According to writer John O'Brien: "The action started Tuesday, Sept. 13, when ACC officials voted to accept new members. The conference had planned to stay at 12 teams, but that week decided to expand because other conferences were moving in that direction, Swofford has told reporters. The next day, the ACC called [Syracuse chancellor Nancy] Cantor to see if SU was interested in applying."
Cantor told the Post-Standard she wants to see games between the Orangemen and Duke or North Carolina played at Madison Square Garden, but simultaneously recommitted to keeping home games with these schools at the Carrier Dome. It is highly unlikely Duke or UNC will give up home games to Syracuse, which may or may not even be in its division when it joins the conference.
"We see ourselves as New York's college team," said Cantor, despite the fact that a recent New York Times study found that less than five percent of New York sports fans have a rooting interest in the Orangemen.
Meanwhile, Louisville coach Rick Pitino continues to speak up for the Big East, criticizing UConn's wanderlust for the ACC.
"How can you want to leave? Why would you want to leave?" he asked in this link to Zagsblog.com. "My biggest mistake I made in my life is when I left [Kentucky]. "They're leaving Camelot. It's the dumbest thing I've ever heard of."
"Did you ever think that it ever crossed the mind of John Wooden to go into the Atlantic Coast Conference because they were bigger than the Pac-10 when he was winning 11 championships? Do you ever think it crossed his mind? No, when you're great winner, those things don't cross your mind."
"Boston College, since they've joined, has won one [ACC] championship in 2005, in soccer," Pitino continued. "Is that what all these people are willing [to do]? John Wooden would never do it, I can tell you that."
An e-mail from the Hoya Hoop Club has announced that the annual open practice for Hoop Club members will be held Saturday morning, Oct. 22 during Homecoming Weekend.
Please RSVP to Hoyas Unlimited if you are planning to attend; remember, you must make a financial commitment to the Hoop Club prior to Oct. 22 to be admitted.
Comments from the president of South Florida suggest the Big East will not add teams within the same state for future Big East expansion.
"I am not stopping [Central Florida] from coming in," said USF president Judy Grenshaft in this link from CBS Sports.com. "What is happening is the league, or the conference, now is looking at schools and they have looked very much at schools that are not in any of the states that are represented by the Big East schools right now. The ones that they're looking at right now, they do not sit in any state that the Big East schools are currently in."
Potential candidates in states already within the Big East footprint include UCF, Houston and Temple.
Head coach John Thompson presented an award at a DC teachers' event Sep. 19, but GUHoyas.com noted that the appearance of DC music legend Chuck Brown got him excited as well.
"I get here and not only do I find out that not only will I be on the same stage as John Legend, but Chuck Brown is back there," Thompson told the crowd. "I'm from D.C, and I'm a groupie...They say, "Mr. Thompson, would you like us to show you your seat?" and I'm like, `What's Chuck doing?'"
Brown, 75, is known as the "Godfather of go-go," referring to the style of 1970's funk music unique to Washington and its environs.
"We're here to celebrate you, and the great work that you do," Thompson told the teachers. "Everyone here who is a teacher knows the impact you have on the people you teach in whatever big or small way."
Charges were dropped Tuesday in a November 2010 assault case pending against former Georgetown guard Tyler Crawford (C'08), according to the Staunton News Leader. The paper misidentified the 6-4, 200 lb. Crawford as weighing 270 pounds.
Crawford provided restitution to the complainant and paid for medical expenses, said the Commonwealth's Attorney on the case.
The recent passing of "John P. Carroll", aka Jack III, otherwise known as Jack The Bulldog, was a loss to the Georgetown community that grew up with the first live campus mascot in nearly a quarter century. But Jack's second home was Scranton, where current Marquette president Scott Pilarz S.J. (C'81) served at Scranton from 2003-10. The Scranton Times-Tribune posted a feature on the fond memories Scranton students had for the bulldog, who died at the age of 12.
"Having Jack around just made it seem like home for the freshmen," said Megan Yekel, now a graduate student at the university. "You don't see pets a lot, so it was nice to be able to experience that for three years."
"My favorite memory of Jack was his coming into the room and destroying my garbage cans and trying to get any kind of scrap of food possible," she said. "And there was his infamous attacking [of] balloons. Any time we had to decorate for anyone's birthday it was always a challenge."
The current bulldog, "John S. Carroll", is under the watchful care of Rev. Christopher Steck, S.J.
With the Big 12 schools having sacked Dan Beebe as its commissioner, media sources continue to spin the scenario that Texas Christian could be a candidate for that conference, owing to its proximity to three other Texas schools.
The Ft. Worth Star-Telegram reported Monday that TCU, currently in the Mountain West Conference, has not been asked to join the Big 12 and remains loyal to the Big East despite its recent shakeup.
"You better be loyal to the Big East," said TCU coach Gary Patterson. "And before that, be loyal to the Mountain West."
New York Daily News columnist Dick Weiss makes the case for Temple to garner consideration in Big East expansion following the Owls' impressive 38-7 win at Maryland Saturday.
The Owls played football in the Big East from 1991 through 2001 but were dismissed for low attendance, with the Owls once drawing less than 5,000 a game in the 1990's to Veterans Stadium. In recent years, Temple has crafted eight and nine-win seasons in the Mid-American Conference in 2009 and 2010 and is averaging 44,980 per game this season at Lincoln Financial Field after two home games with Villanova and Penn State.
With local coverage limited as to the Big east, articles from the campus press are attempting to provide additional coverage to its readers.
The HOYA reports that Georgetown has funding sources "lined up" for the Intercollegiate Athletics Center announced Wednesday, though a quote from Lee Reed spoke in much more general terms.
"We have defined the financial model for the IAC and engaged a number of individuals within our community regarding the fundraising that will be necessary to complete this vision," Reed said.
While the Georgetown Voice did not cover the facilities announcement, it argues in an editorial that Georgetown must be proactive in conference realignment discussions, even if it means looking outside the conference.
"Georgetown must decide whether to remain in the conference it helped found, or to get out while it still can," writes the Voice. "If Georgetown stays in the Big East, whether or not the conference poaches new members of its own, it should first be sure of the continued loyalty of the remaining schools. The most dangerous course for the University to take would be one of inaction."
What will the Big East look like in 2014? hard to say, but Gary Parrish of CBS Sports.com sees the Hoyas as a top tier club in a 16 team conference adding Central Florida and Houston.
"The Hoyas will be down this year, but there's still a history here and plenty of kids in the area," he writes.
With many Eastern papers in overdrive this past week on the Big East, the Washington Post seems more focused on the tried and true: coverage of Monday's Redskins-Cowboys game, and stories on the colors selected for Maryland's kaleidoscope football uniforms (this week: gold and black).
Passing on coverage of Georgetown's intercollegiate athletics center, the Post takes a look at Big East expansion from Navy's point of view, reporting that Naval Academy officials have had talks with the Big East but no timetable has been set for a decision on whether to join a conference. The Midshipmen have competed as an independent since it began football in 1879.
"I think that what Navy can do is to evaluate it carefully to see how the Big East emerges over the next, pick a day, pick a week, pick a month," said navy athletic director Chet Gladchuk. "And then when the Big East is back on solid footing and they're comfortable with the membership as it stands today and is fully committed, then I think it becomes a very legitimate consideration for us at Annapolis."
Following on a rising number of questions about Georgetown's commitment to men's basketball and its ongoing lack of basic facilities, athletic director Lee Reed posted a letter publicly outlining a practice and training facility for the athletic program, portions of which have been discussed since at least 2007 and as far back as 2000. The letter follows below.
Dear Hoya Faithful:

In the last year-plus since being named the Director of Intercollegiate Athletics at Georgetown, I have been honored and humbled to be part of the Hoya Family. It has been a great pleasure to embrace the athletic and academic excellence that defines Georgetown and Georgetown Athletics.

I write to you today to hopefully provide you with some perspective on the events that have unfolded over the past five days and to assure you that President DeGioia and I are fully engaged on the issues and committed to preserving and enhancing Georgetown's position as a national power in men's basketball and as a national leader in intercollegiate athletics. We are in almost constant contact with the leadership teams representing other Big East institutions and we continue to work through the endless possibilities of conferences shifting and merging and its impact on Georgetown University and the Big East Conference. Unfortunately, this is not a new challenge, just the most recent. Georgetown has been a leading voice in the conference dating back to its formation and our university and President DeGioia have continued to take on leadership roles and will continue to focus on what is best for Georgetown and our student-athletes.

Despite the conference scenarios, Georgetown remains committed to competing at the highest level of men's basketball and creating the best experience possible for our student-athletes in each of our 29 varsity programs. To do so, we need to continue to make progress on our strategic priorities, specifically, enhancing the infrastructure and facilities for athletics, endowing scholarships to continue to attract the best and brightest to the Hilltop and providing our coaches and student athletes with the resources necessary to achieve our academic and competitive goals.

With that in my mind I'd like to share some details of the progress on the Intercollegiate Athletic Center (IAC). The need for the IAC has never been more important than now and it is the most urgent priority for the Department of Intercollegiate Athletics. The IAC is a 125,000 square foot facility that will house:

• New practice courts, locker rooms, team meeting rooms, lounge areas and coaches' offices for men's and women's basketball;
• Weight training facility and sports medicine/training room areas for all varsity student-athletes;
• Student-athlete academic center, auditorium and team meeting facilities for all varsity sports programs;
• New home for the Georgetown Athletic Hall of Fame and additional reception space to honor the University's rich athletic tradition and history;
• Additional locker room areas for the men's & women's soccer and lacrosse programs.

We've completed the initial process of layout and design of the facility and have begun the next step of submission for regulatory review. This review includes submitting our plans to several neighborhood and architectural commissions, and we are now in the process of meeting with each one to obtain all the clearances necessary before we can break ground. Although this is a lengthy process it is one we are pursuing vigorously.

At the same time, we have defined the financial model for the IAC and engaged a number of individuals within our community regarding the fundraising that will be necessary to complete this vision.

The best way to ensure our rightful place as a leader in college athletics is to ensure that our coaches and student-athletes have all of the resources they need. The IAC, when completed, will be the most expansive facility improvement for Athletics since McDonough Arena was built, and will be a major step towards leveling a playing field that conference realignment seems to be shifting.

We will work through all that has occurred over the past five days, and with your continued support we will emerge from this a much better athletics program and University and we will maintain with pride our model for intercollegiate athletics."
An amount for the project, a start date, or a completion date were not disclosed.
In a week where the word "commitment" has been tossed around college athletics like a beach ball on a hot summer day, Georgetown has released details on constructing a practice facility for men's and women's basketball, renamed an "intercollegiate athletic center". Or, more accurately, they re-released it.
In a project that dates back for much of the last decade (famously cited by John Thompson at the 100th anniversary basketball banquet), the need for a facility has always been apparent. Now, the perilous times of this past week literally demanded Georgetown get the announcement out as a sign of its commitment to major college basketball.
Now comes the hard part.
For all of Lee Reed's best intentions in moving this project into the public, he must battle the ghosts of prior efforts to elevate Georgetown athletic facilities above the realm enjoyed by most modern high schools. In the last 20 years, at least five major projects were announced to remedy Georgetown's facilities crises, and none were ever built.
"The facility will also have coaches offices, locker rooms, meeting spaces, press boxes, viewing suites, training and weight room areas...With only 120,000 SF of space in McDonough Arena, the planned 80,000 SF space...will allow Georgetown to give coaches and students more space to conduct business in a modern building more comparable to our per institutions."
This quote wasn't from Reed's letter. It dates back over eleven years, to March 30, 2000, part of the public announcement of something called "the most important project in the history of Georgetown athletics." You might have heard of it. It was called the Multi-Sport Facility.

Raising $12.7 million in cash and pledges in three years, the MSF stalled as soon as the first game was played on temporary seats for the home opener versus Brown, seats which still stand today, a subject of ridicule by opposing fans and a ongoing source of embarrassment to Georgetown in recruiting. The story of how lacrosse players stood in line with fans to use the portable toilets at halftime of the Georgetown-Villanova game because they had no locker rooms of their own was a indictment of a project with little direction and no apparent commitment by the institution.
And then there was the Convocation Center. In October 2000, head coach Craig Esherick discussed plans for a $24 million renovation of McDonough Gymnasium with the Washington Post. By digging down below the foundation and turning the court 90 degrees to an east-west alignment, the gym would expand to as many as 7,000 seats and could be ready by 2005. The project received a cold response up the hill, and the Convocation Center joined projects such as the track and field stadium, the Southwest Quad softball field, and the Boathouse in facilities purgatory, the latter of which has endured 24 years of maddening red tape without a single shovel in the ground.
Basketball does not have 24 more years to wait. It might not have 24 months.
A late as 2007, The HOYA wrote that "Some believe men's basketball Head Coach John Thompson III's future on the Hilltop is closely tied to the construction of a new practice facility," and now it's four years later and he's still waiting. Terri Flournoy has the women's team on the verge of the Top 10, and she's still waiting. Our coaches recruit and teach in an obsolete 60 year old facility that doesn't even compare to the facilities at Georgetown Prep. This must change.
A building built for four men's sports and an athletics staff of four now hosts 29 men's and women's sports, 750 student athletes, and a staff of over 150. Georgetown's coaches have been more than patient in fighting the good fight, but patience is not indefinite, nor should it be. And now that this project is back in the public eye, it cannot be relegated to some sort of indeterminate "quiet phase"-it must be fully embraced by the Georgetown community and championed so it does not go the way of its predecessors. The Georgetown paradox ("if you never announce a start date, you're never behind schedule") no longer applies.
In 1980, John Thompson turned down a $200,000 offer from Oklahoma to remain at Georgetown. A year later, Patrick Ewing was on his way to the Hilltop and the Hoyas were on their way, too. Where would this program be today without that commitment?
Three decades later, what will this program become, amidst a wildly uncertain climate for intercollegiate basketball, without a commitment to see this completed? Let's support the effort, pledge our support and remind Georgetown: "Tell us how we can help...now."
--JR
The Associated Press reports that Navy and Air Force as leading candidates to replace Syracuse and Pittsburgh in the Big East lineup. Unlike Syracuse and Pitt, however, they would not join the league in sports other than football, leaving open two slots for all-sports schools if the league settles on a 17 team configuration.
Navy is a I-A independent in football and its other sports compete in the Patriot League. Air Force is a member of the Mountain West Conference, which is losing TCU in 2012 while adding Boise State, Fresno State and Hawaii.
On Tuesday, the Big East announced that its football schools are committed to staying in the conference moving forward. A USA Today article suggests a range of commitment, however.
"One official in the Big East who requested anonymity said that was not an accurate assessment of the sentiment in the room," read the article. "The official said league schools are committed to recruiting more schools but did not make any pledge to remaining in the league until it's clear what the league will look like.


"The official also said four or five of the Big East schools are committed to keeping the league together, but the other two or three need to know where the league is headed before a firm commitment is made."
Connecticut remains an outlier, refusing to make any Big East commitments. The Huskies are waiting for an invite from the ACC which has not been offered to date, as the ACC has not committed beyond 14 teams.
If realignment watchers are looking for any seismic movement from Louisville towards the Big 12 or ACC, they won't hear it from basketball coach Rick Pitino, who maintained his strong support for the conference in an interview at ESPN.com.
"I'm happy with Big East basketball," said Pitino."We still have top-20 teams in Cincinnati, Georgetown, Marquette, Louisville, Villanova and West Virginia. We still have a great league. The schools like Rutgers and DePaul are getting much better. Losing Syracuse and Pitt hurts our quality, but 17 was going to be ridiculous."
"What has [the ACC] done for [Boston College]?" Pitino asked. "Syracuse and Pitt are risking everything and all these great traditions and for what?"
Pitino confirmed Louisville will not schedule Pit or Syracuse after they leave, noting that "There is no animosity, I don't blame them, But there's no reason for them to play us and no reason for us to play them."
The New York Times has taken a deep dive into search engine patterns and fan tracking polls to view the impact of Division I-A fan bases in the college realignment argument.
Some of the data is subject to debate. For example, Syracuse, the so-called "New York's college team", has only about one-third the fan base of Rutgers in the New York media market, and Virginia Tech has a considerably larger fan base than either Pitt or Syracuse. Data for schools such as Georgetown or Villanova were not included.
All in all, an interesting look at how demographics play a role in discerning candidates from contenders in football realignment strategies.
At a closed door meeting of Big East I-A football schools and incoming member Texas Christian, the group apparently has quashed the scenario of applying to join the Big 12 and has recommitted, at least in theory, to a Big East football alignment.
"Our membership met this evening and we are committed as a conference to recruit top level BCS caliber institutions with strong athletic and academic histories and traditions. We have been approached by a number of such institutions and will pursue all of our options to make the Big East Conference stronger than it has ever been in both basketball and football."
According to the Associated Press, the conference's "non-football" schools are on board as well.
The move comes as Oklahoma is reconsidering a stake in the Big 12 which could keep Baylor, Iowa State, Kansas, Kansas State, and Missouri in the fold and reduce the need of consolidating with the Big East schools.
Six of the current seven football schools attended; Connecticut, campaigning for a 15th seat at the ACC table and wary of lawsuits for possible tampering by the conferences, did not attend.
"I think we'll be fine and we'll move on with what we have to do," TCU football coach Gary Patterson told ESPN.com. "The biggest thing we can do is go win and keep developing everything."
The Wall Street Journal reported late Tuesday that an "aggressive and ambitious" expansion will be soon underway for the Big East conference. This apparently received the support of I-A football schools including Rutgers, which has dipped its toes into the expansion waters of late without any imminent reply.
A raise in the exit fee, presently $5 million, is also being planned.
The Pacific-12 Conference has apparently ended its pursuit of four Big 12 schools Tuesday night, issuing a statement which should provide stability to the Big 12--and by association, the Big East.
"After careful review we have determined that it is in the best interests of our member institutions, student-athletes and fans to remain a 12-team conference," said commissioner Larry Scott in a statement posted by the Los Angeles Times.
A frequent name mentioned in past expansion talks has stepped forward and told the battered Big East: East Carolina University wants to join the conference.
"East Carolina (again) applied to the Big East today, wrote Pete Thamel of the New York Times, adding they didn't want it a secret, as "50 people were copied on the e-mail."
The Greenville, NC-based university has been a frequent but unrequited candidate in previous Big East discussions. ECU has competed in Conference USA since 1997. Its last bowl game was in 2010 against Maryland, and its last NCAA men's basketball tournament berth was in the 1992-93 season.
Another name, or in this case two, also surfaced Tuesday.
A week before Pitt engineered its clandestine exit and brought Syracuse along, efforts were being made to add Navy and Air Force to the Big East, reports CBS Sports.com.
"Navy is one of the most special things out there, prestige," said a source, adding "I don't see why Air Force doesn't fit in a BCS league "Class, class, class."
The article did not specify if the arrangement would be football only. Navy plays its remaining sports in the Patriot League, Air Force in the Mountain West Conference. (Army, the third service academy, was not cited.)
The Philadelphia Inquirer offers a novel approach to the Big East's woes--get North Carolina and Duke to join the Big East. The academically-minded schools have traditionally been most opposed to the league's rampant expansion plans.
"If Kansas was [also] brought in – and the nation's most historic basketball power may have nowhere else to go – then UConn might stay in the Big East," writes Don McKee. "Then Villanova, Georgetown, Marquette and the other Catholic schools would have a league that also included Duke, North Carolina, Kansas and UConn. Tell me there's a better basketball conference out there than that."
And ticket brokers would agree--what would a Big East semifinal featuring Georgetown, Duke, North Carolina, and Kansas draw on the open market?
Why don't schools like Louisville, West Virginia, et al. just form a new conference? Then again, why doesn't Georgetown, St. John's, et al.?
The answer, according to this ESPN article, is the NCAA rules on automatic qualifiers to the NCAA tournament:
"Steve Mallonee, the NCAA's managing director of academic and membership affairs, explained that to receive an automatic bid, a conference must meet several requirements: It must be composed of at least seven members that offer men's and women's basketball, and there must be continuity in membership, meaning that seven of the members must have played together for at least eight years...In other words, if football keeps the name Big East and the basketball teams come up with a new name, they may not automatically be recognized for a bid."
As Connecticut continues its mounting campaign for the ACC to take notice of its availability for the conference, Jim Calhoun did his part in an article at CBS Sports.com.
"What UConn needs to do is put it head down and take care of UConn," Calhoun said. "Do what's best for us - just like everyone else needs to do what's best for their institution."
As opposed to, say, the promises kept to the Big East.
After posting a very brief release Sunday night that led to some confusion from Georgetown fans, an extended release was posted Monday to GUHoyas.com with further thoughts by the athletic director and head basketball coach John Thompson III regarding the moves by Pittsburgh, Syracuse, and potentially others. The release is printed in its entirety below.
"Lee Reed, Director of Intercollegiate Athletics: "As a founding member of the Big East in 1979, we have confronted challenging moments in the past and we are confident that as we work through the events of the past days we will maintain the high quality of the Big East Conference. We are fully engaged with the leadership of the University and are confident that the Big East Conference is being proactive during this period of change in college athletics. This is obviously a fluid situation with a great deal of speculation about the future of our league, but we will continue to discuss with our leadership what is in the best interest of Georgetown University. At Georgetown University, we strive to be best athletics program that we can be and that is never more true than today. I am confident that no matter how the college athletics landscape change, Georgetown will continue to be a factor."

John Thompson III, Men's Basketball Coach: "It's been clear for two years, if not longer, that the landscape of intercollegiate athletics is fluid and is changing. The Big East is no different. In the future, be it the very near future or longer than that, we are going to undergo a transformation, a change. If you look at our history, the Big East has undergone changes in the past, be it subtractions or additions, and we've always emerged with quality teams that compete for and win championships."
By Monday, two schools that had not posted releases in the interim did so: here are the comments from Providence and Villanova. The Villanova statement, which noted "We remain determined to ensure Villanova's position of national prominence and are strongly committed to the success of the Big East," contradicts Internet chatter on Monday that Villanova was angling for an invite to the Atlantic Coast Conference despite participating below the Division I-A level.
The Associated Press reported Monday night that representatives of the Big East and Big 12 conferences have discussed merging football operations should moves by Oklahoma, Oklahoma State, Texas, and Texas Tech to leave for the Pac-12 leave the Big 12 with only five member schools: Baylor, Iowa State, Kansas, Kansas State, and Missouri.
The amalgam would guarantee a BCS level qualifier for the league. "Those conversations are alive and ongoing," a source told the AP. Similar talks appear to be underway with the Mountain West and Conference USA for BCS purposes, but the pool of schools is larger--between C-USA and the MWC, there are 22 schools involved.
Absent anything to the contrary, it is believed this is the "12/20" option previous discussed, where 12 schools would play in football and 20 in basketball and other sports.
CBS Sports.com is reporting that efforts by West Virginia University to secure an exit to the ACC or Southewastern Conference have fallen through own both fronts.
"WVU officials told representatives of the Big East those overtures had been denied and they were remaining in the Big East." said CBS' Brett McMurphy.
Clarifying comments made earlier which seemed to equivocate its position in the Big East realigment, officials at Marquette discussed a conference call held among the schools commonly referred to as the "basketball" schools Monday.
"Marquette's position is clear: Our Big East affiliation has served us well, and we expect that to continue to be the case," said Marquette president Scott Pilarz., S.J. (C'81).
Contradicting an earlier column by New York Daily News columnist Dick Weiss, Marquette interim athletic director Mike Broeker shot down talk that the conference call was to plan a spinoff conference of Catholic-only schools. Asked if there was serious talk of a Catholic conference, [interim AD Mike] Broeker said: "None," wrote the Milwaukee-Journal Sentinel.
Former Big East commissioner Michael Tranghese spoke with WFAN-AM's Mike Francesa Monday, calling out the ACC and football interests for the changing landscape of college sports.
""It's now a dog-eat-dog world in college athletics," Tranghese told the Providence Journal, "and everyone is acting in their own self-interest. It's not about fit or academics or rivalries. It's about football and money, period."
The Pittsburgh Post Gazette reports that the Big East Conference does not intend to waive the 27-month notice that Pittsburgh and Syracuse failed to give upon accepting an ACC bid, which would keep them in the conference through the 2014-15 season unless negotiations prove otherwise.
Pitt officials had earlier expressed public interest in playing ACC football as early as 2012.
The carefully orchestrated hosannas to the ACC missed one key voice in the choir: Syracuse coach Jim Boeheim, who after 37 years at the helm of the Orangemen in men's basketball, isn't afraid to speak his mind over the move, perhaps to the chagrin of his supervisors.
"If conference commissioners were the founding fathers of this country, we would have Guatemala, Uruguay and Argentina in the United States," Boeheim told the Birmingham News. "This audience knows why we are doing this. There's two reasons: money and football.

"We're going to end up with mega conferences and 10 years from now either I'm going to be dead wrong -- and I'll be the first to admit it -- or everybody is going to be like, why did we do this again? Why is Alabama playing Texas A&M this week and going to Texas Tech next weekend? And why is Syracuse going to Miami in basketball this week and next week they're going to play Florida State?"
Boeheim holds no reverence for the traditional home of ACC tournaments: the Greensboro Coliseum
"Where would you want to go to to a tournament for five days?" Boeheim asked. "Let's see: Greensboro, North Carolina, or New York City? Jeez. Let me think about that one and get back to you."
Within 36 hours, University of Pittsburgh chancellor Mark Nordenberg went from the chairman of the Big East Council of Presidents to its assailant. (Note: An editorial on Mr. Nordenberg follows below.)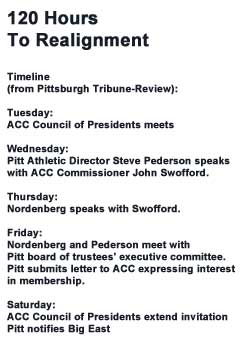 Acting clandestinely over the last week, Pitt struck a deal to leave the Big East after 28 years and join the Atlantic Coast Conference. Word leaked out late on Friday night and was signed Sunday morning--an astonishing 36 hour whirlwind which shook the firmament of Eastern sports.
Why? Because he could.
"We have a long history of competing and collaborating with the distinguished universities that already are members of the Atlantic Coast Conference, and have enormous respect for both their academic strengths and their athletic accomplishments," said Nordenberg in a statement early Sunday. "In looking to our own future, we could not envision a better conference home for Pitt and are grateful to the Council of Presidents for extending an invitation to join the ACC community."
A former eastern independent, Pitt joined the Big East in 1983 after declining an offer from Penn State's Joe Paterno to form a new conference after Penn State was not admitted to the Big East. Over the past 29 years, the Panthers won titles across a wide range of sports, including five appearances in the Big East basketball finals in the 2000's and two titles in 2003 and 2008.
Pitt's skulduggery was done at a executive level, and coaches were not informed of the move until it was imminent, including Pitt basketball coach Jamie Dixon. Coaches and athletic personnel were not available for comment, which was handled by the ACC offices.
Pitt's move was based on the game of musical chairs going on in Division I-A athletics, as the move to four 16-team "super conferences" to dominate college sports is gaining momentum. In a week where four of the nine remaining Big 12 schools are rumored to be securing a deal to expand that conference to 16, Pitt was approached by the ACC to jump, both as a means of fortifying the ACC's claim to a super conference and to stick a dagger in its younger competitor in the region, the Big East. Nordenberg in particular had been "shopping around" with the Big 12 as a means of giving Pitt leverage, but there was no advance indication he would move so quickly.
In men's basketball, Georgetown owned a 40-34 record against Pitt, 32-21 in Big East play. The series, which began in the 1911-12 season is expected to end upon Pitt's departure from the conference.
Pitt will be assessed a $5 million exit fee and a 27 months notice period before leaving the conference, which would take it to the middle of the 2013-14 season. It is expected Pitt will seek legal action against the conference for an early exit.
Pitt is the first departure from the conference since the exits of Boston College in 2005.
A sample of local links follow below.
One of the four founding schools to create the Big East conference, Syracuse University gave notice that it is joining the University of Pittsburgh in joining the Atlantic Coast Conference.
"This is a tremendous opportunity for Syracuse, and with its outstanding academic quality and athletic excellence, the ACC is a perfect fit for us," said Syracuse president Nancy Cantor. "The ACC is home to excellent national research universities with very strong academic quality and is a group that Syracuse will contribute to significantly and benefit from considerably. "
A more muted response came, perhaps under some duress, from basketball coach. Jim Boeheim. "In the ever-changing landscape of collegiate athletics, each school has to find the best fit," he said.
A more candid quote was proffered the day before, when Boeheim remarked that "I'm saying that I don't see how it's a good thing to have all these huge conferences. But I may be wrong. That's my opinion -- and I'm old. Some day we'll get to 16-team leagues and everybody may look back on it and say it wasn't such a great idea."
A former eastern independent, Syracuse joined Providence, Georgetown, and St. John's in founding the Big East in 1979. The Orangemen won five Big East basketball titles and appeared in 14 of the league's 32 finals games, one more than Georgetown. The Orangemen are one of nine Big East schools to have advanced to the Final Four since 1979, and one of four to have won the NCAA national title.
So et tu, Syracuse?
Speculation points to Pitt's clandestine move and an ultimatum of "now or never" for Syracuse athletics became apparent. The Orangemen narrowly missed an ACC offer by one vote in the contentious 2003 realignment, and football interests at Syracuse contended that the school's gridiron future was more important than that of Boeheim and the basketball program. The rosier future for football is contrasted with a post-Boeheim future in basketball which could well see Syracuse become lost among the other ACC heavyweights, much as Boston College basketball has disappeared within the ACC in recent years. The Eagles averaged just 5,324 per game last season, slightly more than Rutgers.
Syracuse was one of two schools in the Big East to own a favorable series record against Georgetown, with a 47-39 record overall and 36-33 in Big East play. The 86 game series, which is expected to end upon Syracuse's departure, is the fourth most played series in Georgetown basketball history.
As with Pitt, Syracuse will be assessed a $5 million exit fee and a 27 months notice period before leaving the conference, which would take it to the middle of the 2013-14 season. It is expected both will seek legal action against the conference for an early exit.
A sample of local links follow below.
Roundly criticized by veteran Big East sportswriter Dick Weiss of the New York Daily News for his inattention to the move, Big East commissioner John Marinatto issued the following statement:
"Although I was obviously very disappointed to learn the news about the ACC's being in discussions about membership with the University of Pittsburgh and Syracuse University, I continue to believe the Big East Conference is well positioned for the future and that the events of the past 24 hours will unify our membership. We have been working steadily to solidify and strengthen the Big East Conference and position us for our upcoming TV negotiations and I am confident that we will again emerge from this situation and remain strong."
"This sadly looks like a colossal failure of leadership on the part of a commissioner who is in over his head," wrote Weiss. "Syracuse and Pitt would have never dissed previous commissioner Mike Tranghese like this. But Marinatto is no Mike Tranghese."
From GUHoyas.com, titled "A statement from Georgetown University Director of Intercollegiate Athletics Lee Reed following the discussion of possible conference realignment":
"As a founding member of the Big East in 1979, we have confronted challenging moments in the past and we are confident that as we work through the events of the past days we will maintain the high quality of the Big East Conference."
Some of you remember the scene in National Lampoon's Animal House: Kent Dorfman has arrived to discover his brother's sedan has been demolished at the hands of his fraternity brothers. Eric Stratton walks up and counsels him: "Hey, you f---ed up. You trusted us!"
Which is how John Marinatto and fans of Big East sports should feel this morning about the University of Pittsburgh chancellor Mark Nordenberg, the fox running the hen house that was the Big East Council of Presidents.
As the chairman of the Council, it was Nordenberg which led his fellow presidents not to accept a mammoth seven year TV deal from ESPN, arguing that in the open market, the conference would garner even greater bids. Now there may be no open market, and what's left of the Big East may get pennies on the dollar as the ACC has locked in its own deal, exceeding $1.8 billion, with ESPN.
It was Nordenberg who lobbied Texas Christian University to put aside the Mountain West to join a stable and growing Big East. Now, with TCU's exit ticket punched in the Mountain West and Pitt's hasty exit, the Horned Frogs wonder what they have gotten itself into.
It was Nordenberg and Pittsburgh officials which openly stalled on Villanova's move to join Big East football, citing its itinerant stadium issues. Not only has that issue been rendered moot, but now there may be no home for a I-A Wildcat program at all, which would serve the ACC's newest school just fine.
It was Nordenberg who had access to financial data of the conference, information he could use when negotiating with with ACC commissioner John Swofford and cut a deal that would not only boost Pitt's value to the ACC, but send the rest of the Big East's I-A schools in a mad dash for lifeboats.
When someone as deferential to college administrators as ESPN analyst Dick Vitale openly criticized Nordenberg this weekend, you could tell that the lines of collegiality among the sport have been fractured. It's one thing to leave conference relationships, teams do it all the time. It's another thing to leave in stealth--sadly, schools do this, too. It's yet another to do both while in a position of fiduciary leadership in the very conference you are destabilizing.
"I want to emphasize that this is not a normal case of member withdrawal from an athletic conference. This is a case that involves broken commitments, secret dealings, breaches of fiduciary responsibility, the misappropriations of conference opportunities and predatory attempts to eliminate competition." Mark Nordenberg said those words eight years ago when accusing Boston College of many of the same tactics he employed in Pitt's departure from the Big East.
"Breaches of fiduciary responsibility, the misappropriations of conference opportunities and predatory attempts to eliminate competition"...the words of 2003 are his own remarkable, if self-fulfilling, prophesy.
--JR
With ESPN hitching its financial wagons to the ACC, is Dana O'Neil's article calling the conference's death knell part of an effort to discredit the conference going forward?
"Now? Now it's all gone," O'Neil writes. "Football is blown to smithereens and basketball, while surviving, loses two of its strongest members. The once-powerful Big East meekly goes down as just another casualty in the money-grubbing, protection-of-assets war that has overtaken college athletics. "
"The Big East may continue in some bastardized form. Plenty of desperate programs already are reaching out, frantic to abandon their own Titanic and jump aboard the merely listing Big East."
The article makes no mention of Georgetown, Notre Dame, or any of the seven remaining football teams. Perhaps that's how ESPN views the league moving forward. Like it never happened.
A view of where things stand around the conference. No comment was posted by Providence, Seton Hall, or Villanova.
Supportive (Cincinnati): Unlike his colleague at Pitt, Cincinnati president Greg Williams told the Cincinnati Enquirer that remaining in the Big East is a priority for the Bearcats. "But at this point, only a few things are certain," writes the Enquirer's Bill Koch. "Trust and integrity among college athletics officials are in short supply, replaced by greed and an every-school-for-itself mentality."
Shopping Around (Connecticut): Loyal in name but not deed, UConn is reaching out to the ACC to expand to a 15th school, as ESPN.com calls the Huskies' moves as "aggressive". Earlier Sunday, UC president Susan Herbst called her school "a proud charter member of the Big East" but is clearly acting in a different direction. Some reports indicate Boston College may oppose the move if offered.
Unwavering (DePaul): A joint statement from school president Rev. Dennis H. Holtschneider, C.M. and athletic director Jean Lenti Ponsetto notes that "DePaul's commitment to the Big East and our commitment to its member institutions have not wavered since we joined the conference in 2005. We look forward to a bright future for DePaul Athletics and the Big East Conference."
Confident (Georgetown): A brief comment from Georgetown athletic director Lee Reed says relatively little, other than that "We have confronted challenging moments in the past and we are confident that as we work through the events of the past days we will maintain the high quality of the Big East Conference." See "Georgetown At Risk", below.
Concerned (Louisville): The next 72 hours will be "crucial", writes basketball coach Rick Pitino. "The Big East must move quickly and secure four football schools to enter ASAP and be ready for two more possible defections. Central Florida? Is Baylor or Iowa State next? What about Kansas and Kansas State ? Personally, I like Memphis being tossed into the mix. Great basketball tradition (much needed with Syracuse and Pitt leaving), but they must guarantee an upgrade of their football program, which is definitely possible." As for guaranteed success in the ACC, Pitino reminds us: "Didn't they check Boston College's championship totals since leaving the Big East — one, in soccer in 2005."
Considering Another Conference? (Marquette): Georgetown alumnus and Marquette president Scott Pilarz, S.J. told the Milwaukee Journal Sentinel that Marquette is "committed to affiliation with a conference that offers us national exposure and strength of schedule," but the quote did not directly specify the Big East. A university spokesman said that "Marquette will be extremely thoughtful about what's best about protecting our national profile."
Still An Independent (Notre Dame): Despite frequent media chatter that it should embrace the Big Ten, ND football coach Brian kelly told the Chicago Tribune otherwise: "There's pluses and minuses. I like the pluses that we have as an independent right now," he said.
Any Takers? (Rutgers): Despite the lack of recent football tradition and not having made an NCAA basketball tournament since 1991, Rutgers officials will apparently take any offer from the Big 10 or ACC if extended, reports MyCentralJersey.com. "As it relates to Rutgers, this is not the kind of thing that causes us to now get to work," athletic director Tim Pernetti said Sunday night. "I think given our assets and our location, the New York TV market, our strong academic standing, and most of all, running a clean program [with] integrity, we will continue to be a player nationally during this time as the landscape continues to shift."
Hopeful (St. John's): "I think we have a very good core," St. John's athletic director Chris Monasch told the New York Post. "My hope is that the league stays together, but I feel we have some good options."
Odd Man Out? (South Florida): Among the seven Big East football programs, South Florida appears to be the school least likely to get a ticket to a larger conference if others leave the league. "USF has kept quiet in these uncertain days of conference change," writes Greg Auman of the St. Petersburg Times, "with fans left only with a two-paragraph statement from athletic director Doug Woolard and USF president Judy Genshaft saying that the Bulls are aware of the changes taking place and that they have been "actively engaged in dialogue" over the last 18 months with an eye toward preserving the solid position to which USF has risen."
Out Of Our Control (TCU): The Horned Frogs left the Mountain West to join the Big East next season, but even TCU athletic director Chris del Conte doesn't know the Frogs' next move. "All these things are out of our control right now," Del Conte told the Ft. Worth Star-Telegram. "We feel great where we're at." TCU is not considered an active candidate for the Big 12 should that league lose more schools.
Southbound & Down? (West Virginia): On Sept. 8, West Virginia athletic director Oliver Luck was quoted in the Pittsburgh Post-Gazette as saying that "There's a very strong belief among Big East football and basketball that we'll get a very lucrative TV contract in 2012," said Luck. "I think, and can't speak for every school, but my sense in talking to the other ADs is that we feel pretty good about where we are." Reports Sunday say the Mountaineers are actively seeking support from SEC schools to join Texas A&M in the conference and one report claims paperwork has already been submitted, though the SEC has taken neither a stand nor a vote on adding a 14th school.
Luck also commented that "Does this happen in a civilized fashion or does it become a street fight with guys doing back room deals, taking votes at midnight?" West Virginia appears to be taking the latter approach.
One of the pieces of collateral damage from Syracuse's move is the expected end of the rivalry between the Georgetown Hoyas and the Orangemen, officially dating to 1929-30 but annually since the 1979-80 season.
Although Syracuse coach Jim Boeheim expressed tacit interest in maintaining games with Georgetown and St. John's, such games are unlikely in the super conference era. Syracuse plays almost all its non conference games at home, and then must face an 18 game ACC schedule. The awkward departure of its leaving could also lead to a general cessation of athletic relations between the schools, such as when Miami, Virginia Tech, or Boston College left he Big East from 2003-05. (Despite Georgetown playing BC for 47 seasons from 1958 through 2005, the two Jesuit schools have not scheduled a single game since, and there are no plans to do so.)
Games with Pittsburgh, begun in 1911-12 and annually since 1982-83, will also likely be discontinued.
In February of this year, we saluted ten memorable games in the series played at the Carrier Dome. If legal issues get settled, the Feb. 8, 2012 game will be the last scheduled game in the series pending any final appearance at the Big east Tournament between the schools. here are ten memorable games:
Jan. 10, 1983: Georgetown's first win in the Dome came before a then-NCAA record 31,327 to see the #9 ranked Orangemen face a rebuilding Georgetown team. Superlative plays abounded, with Syracuse's Leo Rautins turning in a triple double (12 points, 13 rebounds, 10 assists) and Patrick Ewing with 15 points and 10 rebounds. But it was freshman Michael Jackson who turned in a career high 31 points (9-13 from the field, 13-15 from the line) in a 97-92 win.
Jan. 28, 1985: 48 hours removed from its 66-65 loss to #2 St. John's that ended a 29 game losing streak, the Hoyas could not escape an inspired Syracuse team. Rafael Addison scored 26 points and 12 rebounds, but it was the buzzer beater by Dwayne (the Pearl) Washington that nearly blew the roof off the Dome in a 65-63 upset of the still-top ranked Hoyas.
Feb. 22, 1987: Georgetown's 6-4 "point-center", Perry McDonald saved some of his best games for Syracuse, scoring 27 points and collecting nine rebounds against All-American Rony Seikaly as the #10-ranked Hoyas took a 72-71 win home from Syracuse. The Orangemen had five starters in double figures, but no points from its bench while missing 19 of 34 free throws in the game.
Jan. 24, 1988: For four consecutive years from 1985 through 1988, the game was settled by a single point. In this game, little-used center Ben Gillery turned in a career performance with an 11 point, six rebound effort against Rony Seikaly, who finished with 22 points and 11 rebounds, and Sherman Douglas, with 12 assists. Georgetown erased a nine point deficit late, but the Orangemen took the lead with :08 left. "Charles Smith will take it all the way!" pronounced CBS' Billy Packer, and that is precisely what the 6-0 junior did, weaving right through the Orange defenses for a finger roll lay-up at the buzzer, 69-68.
Mar. 4, 1990: A game that still stings to Hoya fans of that era, an 89-87 loss before a new NCAA record of 33,015. Dwayne Bryant scored a career high 25 as five Hoyas scored in double figures in a raucous, back and forth game that saw coach John Thompson hit with three straight technicals and ejected from a game for the first time in 15 years (whereupon Thompson boldly waved to the crowd as he left the court). Late in regulation, a pair of Alonzo Mourning free throws gave Georgetown an 81-79 lead with four seconds left, only to see senior Sam Jefferson collide with Syracuse's Billy Owens at half court with a second left. Owens's two free throws sent the game into overtime, and the Orangemen pulled away thereafter.
Feb. 23, 1992: Alonzo Mourning scored 27 points in his Carrier Dome finale as GU ended a three game losing streak in upstate New York with a 72-68 win, as Georgetown connected on eight free throws in the final 2:22 for the win to end Syracuse's 12 game home win streak against Big East opponents.
Mar. 1, 1998: In only the fourth overtime game played between the teams, Shernard Long scored a career high 24 points to get the Hoyas into overtime, but saw Syracuse pull away for a 77-72 win in John Thompson's last game at the Carrier Dome. The two teams combined for 48 fouls and 48 turnovers in the game.
Feb. 24, 2002: Georgetown's last win in the building to date spoiled the ceremonies naming the "Jim Boeheim Court" at the Dome. The unranked Hoyas shot 50% from the field as center Wesley Wilson led four starters in double figures for a 75-69 upset of the #25-ranked Orangemen.
Jan. 18, 2005: John Thompson III-coached teams are 0-4 in the Carrier Dome, but came closest to a win in his first game there as head coach. The young Hoyas held a 36-32 lead over the #7-ranked Orangemen at halftime but was hit hard by foul trouble, losing Jeff Green to fouls late in the game. A big defensive stop with 30 seconds left gave Georgetown a chance, down two, and Brandon Bowman nearly won the game in regulation, but his foot was judged to be on the three point line on a 22 foot basket and the game went into overtime instead. Syracuse scored the first seven points of overtime, Bowman fouled out thereafter, and the Orangemen earned a 78-73 win.
Feb. 14, 2009: Jonny Flynn scores 25 points and 13 assists as the Orangemen won their fourth overtime game at the Dome versus Georgetown, 98-94. The game is also known for the debris showered on Georgetown fans after the game by the ill-tempered hosts.
Call it Black Saturday.
On the day when it was announced that Big East founder and commissioner David Gavitt had died, two of its mainstay schools prepared to walk away after three decades in the conference, putting the Big East's conference standing into danger and doubt.
The Atlantic Coast Conference engaged in a second predatory raid on the Big East Conference in the last ten years, as founding member Syracuse and 29 year member Pittsburgh have applied for and expect to join a 14 team ACC as early as next season. (Though the Big East requires 27 months advance notice to leave the conference, the schools will attempt to override the rule.)
At issue is the concern that the ACC could lose members to expansion of the Southeastern Conference, which is expected to add Texas A&M pending the resolution of a lawsuit with Baylor University. The ACC increased its penalty to leave to $20 million and moved quickly on Syracuse and Pitt, the former a candidate for the ACC in 2003, and the latter having expressed public interest in a move to the Big 12 should that conference look east.
The Big East plans to add to TCU in 2012 and as many as three other Big 12 schools should that league split apart. The move of two of its core members without prior discussion among the Big East presidents has many schools in full scramble mode. The league would be left with seven teams with TCU's arrival, but only three in its Northeastern footprint. The conference had passed on a $1 billion extension of its ESPN TV rights deal in 2010 because a 16-20 team conference was judged to have even more revenue potential with an open bidding process, but the ACC's predatory move could cost the schools (including Georgetown) millions as a result.
Men's basketball revenues account for nearly half of the Georgetown athletic budget and any disruption to Big East TV revenues would affect Georgetown across the board. Games with Pitt and Syracuse were among the leading attendance games over the past six years, and these series will in all likelihood end with the schools' departures, much as the annual series with Boston College was ended in 2004.
Big East officials have not commented on the moves, but ACC officials and coaches fell quickly in line with the decision. Differences of opinion are not tolerated in public in situations like this.
"I'm sure consideration will be very fast." said Florida State president Eric Barron. "I'll be surprised if it's not [Sunday]."
"I'm proud of the leadership of our conference to be ahead of things," Krzyzewski told ESPN.com. "We're in a period of change. Whether everyone agrees with it or doesn't agree with it -- change is happening. In a extremely rude comparison, Krzyzewski compared the Big East to a failing league, remaking "The NBA had the ABA. The NFL had the AFL." Krzyzewski's comments were soon followed by a statement by the ACC directing all comments to go through the league office rather than from coaches and athletic directors.
One coach that was secure enough in his job not to close ranks was Jim Boeheim, who has been coach of the orangemen since it joined the conference in 1979.
"I'm not commenting on Syracuse to the ACC, but in general I'm saying that I don't see how it's a good thing to have all these huge conferences. But I may be wrong. That's my opinion -- and I'm old. Some day we'll get to 16-team leagues and everybody may look back on it and say it wasn't such a great idea."
"This situation now is fluid also, and I would rather not comment," said John Thompson III in a Twitter post by Washington Post writer Tarik El-Bashir. "Change is coming in one way shape or form."
And that's bad for Georgetown.
Depending on who stays, who has a legitimate offer, and who are just fishing, the Big East could entertain some capable replacements:
Scenario 1: Big 12 Moves East. While the Big East is in the hospital, some are giving the last rites to the Big 12, part of a Darwinian move to centralize control of college athletics in only four conferences. CBS Sports.com reports that four Big 12 schools (Texas, Texas Tech, Oklahoma, and Oklahoma State) are prepared to leave and join the Pac-12...er, Pac-16 conference, effectively ending the Big 12, founded in 1996 from Big 8 and the ruins of the Southwest Conference. This would leave Kansas, Kansas State, Missouri, Baylor, and Iowa State in search of a home. One scenario would combine the five with TCU in one Big East division and six eastern schools in the other for a 12 football/20 basketball conference as previously envisioned.
Scenario 2: Conference USA Backfill. As it did in 2005, the Big East would look instead to interested parties in Conference USA to refuel the conference. Possible parties include Central Florida, Memphis, SMU, Houston, and East Carolina.
Scenario 3: A-10 Backfill. The league has tried to avoid poaching the A-10, but eastern schools like Temple, Massachusetts, Duquesne, Rhode Island or Richmond would tighten the conference's northeastern footprint.
Scenario 4: The Basketball Orphans. If the Big East loses all eight I-A football schools, a worst case scenario could have the conference relying on various non-football schools to pick up the slack, such as St. Louis, Butler, Xavier, Dayton, or Virginia Commonwealth.
Thirty two years ago, Georgetown's Frank Rienzo help build the Big East conference. Now, it's up to Lee Reed to help save it.
The first 16 months of Reed's tenure at the Hilltop have been mostly quiet and uneventful. Now, Reed faces a brave new world in major college basketball, at least in the world of the super conferences, and could suffer severely as a result. Sunday, a statement attributed to Reed talked about "confidence" in the conference, but that alone won't fix the problems.
What's at risk? A smaller or weaker Big East conference risks a material loss to Georgetown in ticket revenues, which imperil Georgetown's ability to keep the Verizon Center as a financially viable option for home games. Pitt and Syracuse represent two of the top three Big East average attendance opponents at Verizon Center. Games with DePaul or Providence won't soon fill that gap.

A smaller or weaker Big East conference risks a watered down TV package which provides much needed funds for men's basketball, which is now among the ten highest budgeted programs in the nation and one which can afford to pay John Thompson III market compensation.

A smaller or weaker Big East conference makes it less likely to retain coaches, to retain a national recruiting base, to retain major donors, or to make any substantive progress in the ongoing inertia that plagues Georgetown's facilities.
Earlier Sunday, the Casual Hoya blog wrote:
"Hoyas can blame Georgetown for its abysmal financial decisions in the 1970s onward that cost us the Mount Vernon property, among other things, where we could have built a Big East home arena and other athletic facilities. Georgetown has frankly gotten lucky with the likes of its coaching, and their failure to upgrade athletic facilities is a big part of all this.

"The football team plays in front of high school bleachers. The baseball team practices at a prep school a half hour away. The nationally ranked track team has no home track. All of the athletes lift on converted indoor tennis courts in an intramural sports facility that's been slowly collapsing since it opened. And, obviously, the basketball arena is woefully inadequate."
If Georgetown has enjoyed unprecedented success in the last 32 years despite spartan and grossly inferior facilities, know that men's basketball is the engine. Georgetown has an impressive 29 sport program for over 700 men and women...because of men's basketball. It has build a worldwide brand for the University, its admissions, and the pride of the Georgetown community...because of men's basketball. If Lee Reed gets the long-delayed athletic training facility off the drawing board he will do so...because of men's basketball. But if Georgetown watches these assets disappear, so will its resources and ultimately its institutional support. If that happens, the basketball training facility will join a list of projects which Athletics could not secure funding for...and never got back.

So if "change" means adding travel packages to unfamiliar locales like Ames and Waco and Lawrence, let's do it. If "change" means calling up Temple and UMass and rebuilding the old Northeast Corridor footprint, let's get it done. Georgetown doesn't need to settle for a national "CYO League" of faded Catholic programs that can only hope for one NCAA bid a year while the super conferences will clamor for eight and ten bids a year. And if "change" means setting a new course in an unfamiliar conference setting, much as Georgetown did in 1979, that should be vetted as well.
It was once said that the only two things which separated Georgetown from teams like Holy Cross were John Thompson and the Big East conference. A generation later, we need coach John Thompson III and we need a strong Big East structure more than ever. But if Georgetown does not lead in this effort, we should be prepared to face the consequences: a basketball program that will look a lot more like Holy Cross than what we know today.
--JR
"He's responsible for everything that's happened to me and to all of us," "There would be no [national] championship, no Hall of Fame, none of it."--Jim Boeheim, Syracuse University
The father of the Big East Conference, its co-founder and first commissioner, Dave Gavitt, passed away Friday night in his home town of Providence at the age of 75.
A basketball letterman at Dartmouth, Gavitt began a half century in athletics following his graduation in 1959 and joined the Providence College staff an assistant to Joe Mullaney in 1962, coaching a junior center named John Thompson. Seven years later, he succeeded Mullaney, where Gavitt led the Friars to the 1973 Final Four in the golden era of the sport at PC, with a record of 209-94 from 1969-79. An outstanding coach and athletic director, Gavitt was selected as the head basketball coach for the 1980 U.S. Olympic Team, which did not participate in the Olympic Games in Moscow.
In 1978, during the struggles facing the Eastern College Athletic Conference in managing dozens of disparate Eastern independents, Gavitt organized a series of meetings with athletic directors at Georgetown (Frank Rienzo), Syracuse (Jake Crouthamel) and St. John's (Jack Kaiser) about creating a new conference of Eastern independents with winning traditions and access to major TV markets along the East Coast. Joined by UConn, Seton Hall, and Boston College (though rejected by Rutgers and Holy Cross), the seven team league began play in the 1979-80 season, where the 42 year old Gavitt was named commissioner by unanimous consent of the schools. It was Gavitt that recommended the move to a single site for the Big East tournament--Madison Square Garden, which it did by 1983 and has remained ever since.
A member of the NCAA basketball committee, Gavitt assisted in the development of the 1982 CBS TV contract for NCAA basketball that revolutionized the sport. Two years later, he had the honor of presenting the championship trophy to a team from his own league--the 1984 Georgetown Hoyas. Gavitt served as Big East commissioner through the 1990 season, as a senior executive of the Boston Celtics from 1990 to 1994 and chairman of the National Basketball Hall of Fame from 1995 to 2003.
"We lost a giant," said Mike Tranghese, Gavitt's successor as commissioner. "He helped so many people in the game of basketball and had such a profound influence. ... I think he's the most influential commissioner in the history of college athletics and at the same time was a Hall of Fame basketball coach who quit at age of 40 to spend time with his family. He had the ability to get things done and above all that he was your friend and it wasn't just to the powerful people."
It cannot be understated that the enormous success engendered by college basketball, the Big East Conference, and Georgetown University basketball over the last three decades could not have taken place without the foresight and leadership of Dave Gavitt at the helm of the Big East. The ACC folks probably don't understand this. Perhaps they never will.
More on the Gavitt legacy is found in links to the Providence Journal. Funeral arrangements are pending.
Just announced this morning: a #22 ranking for Georgetown in the annual US News guide to the top colleges nationwide, down from #21 in 2010.
Here are the 2011 totals, with the 2010 rankings in parentheses.
| | | |
| --- | --- | --- |
| 1. Harvard (1) | 10. Duke (9) | 17. Vanderbilt (17) |
| 1. Princeton (2) | 11. Dartmouth (9) | 19. Notre Dame (19) |
| 3. Yale (3) | 12. Northwestern (12) | 20. Emory (20) |
| 4. Columbia (4) | 13. J. Hopkins (13) | 20. California (22) |
| 5. Cal Tech (7) | 14. Wash., MO (14) | 22. Georgetown (21) |
| 5. Stanford (5) | 15. Brown (15) | 23. Carnegie-Mellon (23) |
| 5. Penn (6) | 16. Cornell (15) | 24. USC (24) |
| 5. MIT (7) | 17. Rice (17) | 25. UCLA (25) |
| 5. Chicago (9) | | |
On Sept. 11, 2001, former coach John Thompson had planned to fly on American Airlines Flight 77 for Los Angeles, but rescheduled the trip. Flight 77 crashed into the Pentagon that morning, killing all aboard.
For the first time, Thompson talks to the Washington Post about the moments leading up to a fateful decision not to travel that day. Recommended reading.
On Monday, Thompson spoke with the former FoxSports producer that talked him out of the trip. It was the first time the two had talked since that decision.
"If he had not been persistent with me, I would have insisted that I get on that plane on the 11th," Thompson said.
In the midst of college realignment discussions, Syracuse coach Jim Boeheim spoke to ESPN.com upon the impact it can have among basketball in general and the Big East in specific.
"The ideal conference has 10 teams in the same geographic area where you play everyone twice," Syracuse coach Jim Boeheim said. "We're going as far away from that as we can. Why? To make money." If the Big East goes to a 20 team format, Boeheim suggests two 10-team divisions with round robin play (18 games) within the divisions.
Per a Facebook note from sports information director Mex Carey, junior forward Hollis Thompson is on the cover of the Mid-Atlantic regional Sporting News college basketball preview edition--view it here.
Don't look now, but more conference realignment talk appears to be around the corner, and it may affect the Big East conference.
Last week, Texas A&M gave notice to leave the Big 12 Conference effective June 30, 2012, presumably to join the Southeastern Conference. Over the weekend, various media reports indicated that the Pacific-12 conference may extend an offer to Oklahoma and Oklahoma State, and add Texas and Texas Tech to grow to 16 teams.
If the Big 12 were left with five, it could become defunct, sending these schools in search of a new home.

On Monday, the New York Post reported that Kansas, Kansas State, and Missouri could find a home in the Big East, which would take the football conference to 12 (presumably without Villanova, whose bid to join seems to be on hold) and 20 teams for basketball. (Earlier this summer, we discussed the labyrinth that a 20 team basketball tournament might offer.).
"Obviously we're monitoring the landscape," commissioner John Marinatto told The Post. "We're very aware of the situation and will continue to do what's in the best interests of the Big East Conference."
The theoretical football conference would divide between six teams in the west (Cincinnati, Kansas, K-State, Louisville, Missouri, TCU) and six in the east (Connecticut, Pitt, Rutgers, Syracuse, USF, WVU), with four five team basketball divisions, also according to the New York Post. The addition of three nationally prominent programs would make the Big East even more formidable in college basketball, as well as in upcoming TV contract negotiations set for next fall
From last week, CSN Washington posted a feature with former manager Justin Zormelo (C'06), who helped organize workouts with NBA stars Jeff Green and Kevin Durant at McDonough Gymnasium this past summer.
Zormelo is the founder of Best Ball Analytics, which was featured in a June 2011 link on this site for using quantitative video analysis to improve basketball fundamentals.
"Each client receives their very own interface where files are sent to them with memos and videos that are geared towards specific needs. Improvement, progress and perfection are really the heart of the matter with our training program," noted the June 2011 article.
The Stars & Stripes newspaper has a link to an article published by Georgetown professor and East Asian studies expert Victor Cha, with a first-person account of last month's notable game with the Bayi Rockets in Beijing.
"Contrary to press speculation, the delegation never considered cancelling the remainder of its itinerary and flew to Shanghai as scheduled the next day, where it conducted basketball clinics to a resoundingly friendly reception from the Chinese players and audience," Cha wrote. "The US consulate in Shanghai hosted a reception for Georgetown and I had a chance to chat with several of the players (one of whose picture was everywhere as the Hoya player on the court with Chinese players on top of him). He is one of the nicest young men you could meet, and this incident did not change his overall positive impression of the trip.
"Whenever an incident like this occurs, the Chinese system is inherently geared to block the rapid passage of bad news up the chain to higher-level decision makers. This results in inordinate delay. But in this instance, the response was prompt. I think Chinese authorities were especially concerned that the event not be seen as a deterrent for future NCAA teams coming to China to play exhibition games. The images of US student-athletes from storied institutions like Georgetown being beaten upon by the PLA basketball team does not play well for China's international image. The video of the incident was quickly censored in China, which arguably indicated embarrassment on the part of Chinese authorities [but] very senior levels of the Chinese government were personally in touch with the university to express regret and concern for any who were hurt."
Despite Fordham's move to scholarship I-AA football, Georgetown president Jack DeGioia (C'79, G'95) reaffirmed Georgetown's non-scholarship philosophy in an interview posted at the Georgetown Voice.
"To date, we have sustained the commitment to non-scholarship, and Fordham has gone scholarship, but they're not eligible for the championship within the Patriot League because they're playing by a different set of assumptions," DeGioia said. "The Patriot League has worked for us in terms of providing a very good context for our football program. It's been very competitive and it's required the highest level of competition that we have ever played since the 1950s, and I'm very proud of the way our young men have represented us on our football field.


"I am not supportive of moving to a scholarship program," he continued. "I don't believe that fits the ethos and the culture of Georgetown, and I believe the way that the Patriot League is conducted is exactly the right place for us to be, and I'm hopeful that it will continue to be the best place for us to be, but I'm not supportive of moving to a scholarship program and I'm not supportive that Georgetown would follow the move that Fordham did and go to 63 scholarships. It's just very expensive and I don't think it's commensurate in who we are and in our aspirations for our athletic program."
Additional discussion on the matter is found at the Third Rail blog.
The Big East has published its schedules for conference games, with Georgetown 's dates listed to the left.
The University has also released its non-conference schedule, with a weaker slate of opponents than in prior seasons. Among the opponents added to the schedule, all at Verizon Center:
---
HoyaSaxa.com: The One-Stop Web Site For Hoya Basketball™
An independent web site not affiliated with Georgetown University. All rights reserved.