Following various media reports which surfaced Friday, head coach John Thompson III confirmed that Georgetown and the University of Connecticut will play a home and home series beginning in the 2015-16 season.
Georgetown will travel to the XL (Hartford Civic) Center in the 2015-16 season, followed by a return trip to the Huskies to Verizon Center in the 2016-17 season. Georgetown has a 35-29 lead in a series which began in 1958 but was better known during UConn's participation in the Big East from 1979 through 2013.
By next season, Georgetown will have games against all the original Big East schools except one: Boston College, whose program has fallen on hard times in the ACC and has largely been shunned by other Big East schools for its hasty exit from the conference in 2005.
Junior guard D'Vauntes Smith-Rivera was named the pre-season player of the year at the 36th annual Big East Media Day in New York.
Smith-Rivera, who averaged 17.6 points per game in 2013-14, becomes the third Georgetown player in the John Thompson III era so honored, joining Roy Hibbert (2007) and Austin Freeman (2010). He was the only Georgetown player selected.
Georgetown was picked second in the pre-season poll, below:
1. Villanova (9 first place votes), 81 points overall
2. Georgetown (1) 67
3. St. John's 65
4. Xavier 52
5. Providence 49
6. Seton Hall 43
7. Butler 28
7. Marquette 28
9. Creighton 25
10. DePaul 12
Pre-season all-Big East teams are noted below.
2014-15 Preseason Player of the Year
D'Vauntes Smith-Rivera, Georgetown

2014-15 Preseason Rookie of the Year
Isaiah Whitehead, Seton Hall
2014-15 Preseason First Team
Kellen Dunham, Butler, G, Jr., 6-6, 185, Pendleton, Ind.
D'Vauntes Smith-Rivera, Georgetown, G, Jr., 6-3, 214, Indianapolis, Ind.
D'Angelo Harrison, St. John's, G, Sr., 6-4, 204, Missouri City, Texas
JayVaughn Pinkston, Villanova, F, Sr., 6-7, 235, Brooklyn, N.Y.
Matt Stainbrook, Xavier, C, Sr., 6-10, 270, Bay Village, Ohio

2014-15 Preseason Second Team
Billy Garrett, Jr., DePaul, G, So., 6-6, 205, Chicago, Ill.
LaDontae Henton, Providence, F, Sr., 6-6, 215, Lansing, Mich.
Rysheed Jordan, St. John's, G, So., 6-4, 185, Philadelphia, Pa.
Ryan Arcidiacono, Villanova, G, Jr., 6-3, 195, Langhorne, Pa.
Darrun Hilliard, Villanova, G, Sr., 6-6, Bethlehem, Pa.

2014-15 Preseason Honorable Mention
Roosevelt Jones, Butler, G, Jr., 6-4, 227, O'Fallon, Ill.
Chris Obekpa, St. John's, C, Jr., 6-9, 240, Makurdi, Nigeria
Sterling Gibbs, Seton Hall, G, Jr., 6-2, 185, Scotch Plains, N.J.
The Georgetown women's team was picked eighth of ten teams, down from sixth place in the 2013-14 pre-season poll last year.
Extensive coverage follows below:
How has Georgetown fared in pre-season polls versus the real season? Here's a view of the predicted vs. actual finishes in the JT III era (2004-present):
| | | |
| --- | --- | --- |
| Season | Pre-Season | Finished |
| 2004-05 | 11 | 7 |
| 2005-06 | 6 | 5 |
| 2006-07 | 2 | 1 |
| 2007-08 | 1 | 1 |
| 2008-09 | 7 | 13 |
| 2009-10 | 5 | 8 |
| 2010-11 | 4 | 8 |
| 2011-12 | 10 | 5 |
| 2012-13 | 6 | 1 |
| 2013-14 | 2 | 7 |
| 2014-15 | 2 | -- |
Veteran sports writer Jerry Carino has published his pre-season list, placing Georgetown second to Villanova. Also with an early view: Jeff Eisenberg at Yahoo Sports, also placing the Hoyas second.
Less optimistic is Athlon Sports, which also projects a second place finish but another opening round loss in the NCAA tournament.
From CBS Sports.com, its preview of the 2014-15 Big East race:
Villanova
Georgetown
Xavier
St. John's
Creighton
Providence
Marquette
Seton Hall
DePaul
Butler
The 2014-15 season is still 32 days away, but the 2015-16 schedule is already in the news.
From the Albany Times Union, news that Georgetown, Duke, and Virginia Commonwealth are three of the four schools cited for the 2015 2K Classic at Madison Square Garden next season. On Monday, CBS Sports.com reported Wisconsin will be the fourth school.
The four schools will play two games at MSG next year. As part of the extended tournament field, Siena will play at Washington on the opening weekend, likely on Nov. 12, 2015, with the MSG games to follow a week later. Among the other schools to play in the early rounds are Bryant, Radford and a school to be named later.
This year's event features Syracuse, Texas, Iowa, and California, with preliminary games featuring Alcorn State, Hampton, Kennesaw State, and North Dakota State.
Friday evening marks the unofficial kickoff for the 2014-15 season, with the annual student-only event formerly known as Midnight Madness.
Moved to the evening, the retitled Hoya Madness will feature brief appearances by the men's and women's teams and a variety of student contests and performances. A release at GUHoyas.com noted that Grammy nominated singer Trey Songz will perform.
A freshman team photo promoting the event was posted to social media: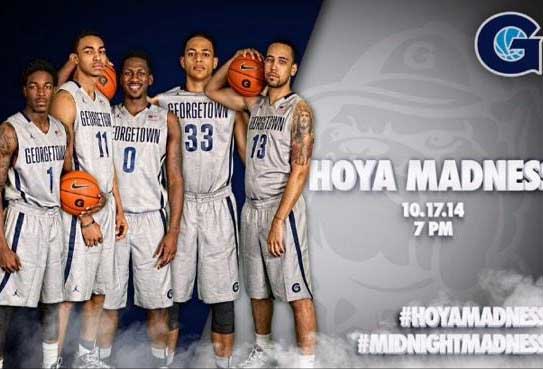 In Big East news, Butler coach Brandon Miller has taken an indefinite leave of absence, citing medical reasons, according to the Indianapolis Star and other media outlets.
"Brandon Miller has requested a leave of absence for medical reasons, which the University has granted," said Butler athletic director Barry Collier in a news release. "We are not in a position to further elaborate and we ask that everyone respect Brandon's privacy."
Miller, 35, was 14-17 (4-14 Big East) in his first year as coach following the unexpected departure of Brad Stevens to the NBA's Boston Celtics. Assistant coach Chris Holtmann will serve as interim coach.
The University of Pittsburgh wants to join Syracuse on a future non-conference schedule for Georgetown, reported SB Nation's Big East Coast Bias blog.
The blog cites a Twitter message from Pittsburgh Post-Gazette columnist Paul Zeise that reads: "Jamie Dixon said the Panthers are close to deals with Georgetown and UConn for future non-conf games."
Associated Press reported Will Graves has a slightly different take on Dixon's comments, saying that "Dixon said he's trying to work on nonconference games w/Georgetown, Villanova in the future."
Georgetown and Pittsburgh first met in the 1911-12 season and played consecutively for 30 seasons while Pitt was in the Big East conference. The Hoyas own a 41-36 lead in the series.
Congratulations to the Georgetown's men's soccer team, whose goal in the 77th minute afforded it a 1-0 win at Maryland, the first regulation win against the Terps in 30 games dating back to the 1952 season. (That's right, 1-28-1.)
The game comes at a time where, just two years earlier, University of Maryland athletic director Kevin Anderson declared his teams would never play Georgetown again until the Hoyas played the Terrapins in men's basketball.
So, is there any hope for some glasnost between the two schools on men's basketball?
The local DC press treats this issue akin to the Gordian knot. The national press presumes John Thompson still schedules Georgetown games and he has it out for Maryland, despite the fact he made peace with lefty Driesell nearly 20 years ago. By all accounts, Mark Turgeon and John Thompson III have no animus between them.
For many years, the "Gary Williams Factor" stalled this dialogue, especially when Williams repeatedly argued he was "owed" a home game for a 1993 neutral site game played at Capital Centre that marked the only regular season, non-tournament game between the schools since the 1979-80 season. Williams usually omitted the fact that Maryland wore the home jerseys that day. Georgetown and the BB&T Classic, then led by a number of Maryland boosters, were often at odds because Georgetown wasn't welcome in the tournament. Maryland withdrew from the BB&T, and Georgetown took its place.
What has changed? The landscape. And the money.
Georgetown's attendance dropped 20 percent in its transition to the reformulated Big East. Its attendance of 8,670 was the lowest in a decade, and adding Syracuse to future schedules may not be enough to sell season tickets for the likes of Texas A&M-Corpus Christi or Radford.
Attendance at Maryland's Comcast Center has fallen 15 percent over the last four years, and that was while Maryland still played an ACC schedule. The Terrapins' 2014-15 schedule features no opponent within 100 miles of College Park, and the days of reliable sellouts with North Carolina, Duke, or even Syracuse will be replaced by weekend games with Minnesota, Northwestern, and Michigan. Only two games are on ESPN this season, the rest carried on the Big Ten Network, ESPN2, or ESPNU.
The troubles with debt service at the University of Maryland cannot be ignored. In 2013, the U.Md. athletic department carried over $52 million in debt over strategic missteps at Comcast Center and Byrd Stadium. The annual checks from the Big Ten Network figure to fix this imbalance but the Terps are drawing 58 percent capacity to non-conference basketball games, and none came close to selling out.
The opportunity seems obvious for both parties. Georgetown needs a home-and-away in off-years when Syracuse is not at Verizon Center. Maryland needs a home-and-away series which can draw fans (and TV networks) to Route 1 before the start of Big 10 play. The two schools can wait for a one-off in the Big East-Big Ten challenge, and not come back for another generation, but why not make it a six year deal now, even if it starts in College Park?
No Georgetown or Maryland fan under the age of 50 has ever seen these two teams play in the local area. They never saw Len Bias and Patrick Ewing on the same court, nor Adrian Branch and David Wingate, Walt Williams and Mark Tillmon, Juan Dixon and Kevin Braswell, Lonnie Baxter or Mike Sweetney. We can't turn back the clock, but it's time to reset it.
If soccer teams can play together, so can basketball teams.
---
HoyaSaxa.com: The One-Stop Web Site For Hoya Basketball™
An independent web site not affiliated with Georgetown University. All rights reserved.