To a generation of sports fans, the name of former Georgetown forward Michael Graham carries a unique, if just short of iconic, significance. For one brief but memorable season, Graham's tough-guy, take-no-prisoners persona was a running subplot in the Hoyas' march to the national title. And as Georgetown defeated Houston, it was Graham, not Patrick Ewing, that made it to the cover of Sports Illustrated, titled "Slammin' The Jammas".
The 1984 final was the last most fans ever saw or heard of Graham. Sports Illustrated columnist Grant Wahl had been in search of Graham in his "Where Are They Now?" column for most of the last five years and in this week's column, finally speaks to the former Georgetown forward.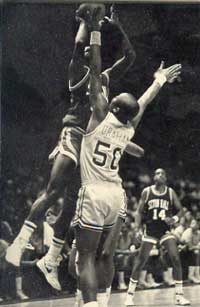 Graham, 41, has kept a low profile over the years, working as the general manager of a furniture company, married, and the father of six. "I saw Reggie Williams a couple months ago, and he was like, 'Don't you know how many championships we could have won?" Graham told the columnist. Indeed, when coach John Thompson threw Graham off the 1984-85 team for inattention to academics, the subsequent team fell three baskets short of an undefeated season. With Graham at power forward, the 1985 title would never have been in doubt.
Graham was NCAA-eligible to play throughout 1985, but was not asked back to the team. He transferred to UDC, but never played basketball there, declaring for the 1986 draft with only a year of college experience and scoring less than five points a game. Nonetheless, Graham was drafted, making it to the final cut of the Seattle Supersonics' camp. A brief CBA career followed, coached at one point by Phil Jackson.
"Jackson revealed in his autobiography that after he cut Graham from the [CBA] team in 1987, he actually pulled over to the side of the road, stopped his car and cried," wrote Wahl in a 2001 Graham article.
Thought by many in the press to be a violent player, Graham never fouled out of a single game. While his statistics were understated (4.7 points, 3.9 rebounds a game), it's the emergence of Graham in the NCAA final so many still remember, a fierce presence on the court, then moments later easily chatting with CBS' Gary Bender and the national TV cameras.
It's been 21 years since that night in Seattle, but Graham's loyalty is no less strong. "I'm a Hoya for life," he said.
Here's the link to the article (bottom half of page). Recommended reading.
Sunday's New York Times has a feature on the growth of the Big East conference beyond its original borders.
"This [expansion] was the best opportunity for all 16 of our institutions," said conference commissioner Mike Tranghese. "We could have separated two years ago, but none saw any upside in doing that."
"I'm really proud for our guys. They really hung in there. Georgetown is an awfully, awfully good basketball team, I think."--Vanderbilt Coach Kevin Stallings
Vanderbilt took advantage of the three, Georgetown did not.
Eight threes paced the Commodores to a 68-61 win at MCI Saturday, taking advantage of unusually poor Georgetown shooting that saw the Hoyas miss ten straight threes down the stretch and 16 of 22 overall.
Georgetown looked to be in control early, opening a 9-1 lead and leading by as many as nine, 22-13, midway during the half. At the 4:19 mark of the first half, Georgetown was up 33-20, shooting 57% from the field. For its part, Vanderbilt was 3-13 from two point range and was hanging on only by the three (5 for 7). Then, for no specific reason, the Hoyas lost intensity and the Commodores seized the opportunity, outscoring Georgetown 9-3 to end the half down 36-29, and outscoring the Hoyas 12-3 to open the second. (a 21-6 run between the periods) to lead 41-39. A Marc Egerson three gave the Hoyas a 42-41 lead, but it was soon overtaken and the Commodores never trailed.
A key point in the half should give Hoya fans some concern as they await a tough road stretch to come. After Roy Hibbert had cut the lead to one 55-54, with 5:55 left, Georgetown proceeded to string a series of ill-advised three point shots instead of getting the ball inside. None of them connected, and as Georgetown kept tossing them up, Vanderbilt was happy to collect the rebounds. In the process, Georgetown failed to score for nearly three minutes; by that time, Vanderbilt had put the game out of reach.
Jeff Green led the Hoyas with 14 points, but only three of those points came after halftime. Ashanti Cook turned in the first scoreless game in his last 43 starts. Roy Hibbert returned to his career averages following 44 points in the first two games--the 7-2 Hibbert scored six and failed to collect a single rebound. The Georgetown bench (excepting Darrel Owens) scored eight points in a combined 26 minutes.
Georgetown missed 16 of 22 three point attempts. For its part, Vanderbilt was 8 for 13 from three point range, shot 59 percent overall in the second half and scored on 18 of 26 free throws.
"We have to do a better job on defense," said Coach Thompson. "It's something we have to fix and focus on. We have to realize how to play when we are down."
The loss marks the first time since Georgetown has lost consecutive home openers since 1968.
Here's the Georgetown half of the box score.


         MIN   2FG   3FG   FT  REB  A  PF  PTS
Starters:                                 
Wallace   37   2-3   1-5   4-5   2   0  4   11
Cook      17   0-1   0-3   0-0   0   1  4    0
Bowman    35   5-6   0-2   2-3   9   1  2   12
Green     39   4-6   2-4   0-2   9   3  1   14
Hibbert   13   3-8   0-0   0-0   0   2  3    6
Reserves:
Owens     33   2-2   2-6   0-0   4   5  2   10
Sapp       8   1-1   0-1   0-0   0   0  0    2 
Crawford   5   0-0   0-0   0-0   0   0  1    0
Egerson   13   1-3   1-1   1-1   3   0  0    6
DNP: Izzo,Thornton, Spann, Beal,
Kilkenny-Diaw, Dizdarevic
Team Rebounds                    2
TOTALS   200  18-30  6-22  7-11 29   12 17  61

Post game coverage follows below.
Congratulations to sophomore center Roy Hibbert, named Big East player of the week for his efforts against Navy. Here's a link to the Big East release.
For the second time in as many games, a career effort for Roy Hibbert helped pace Georgetown to a 73-66 win at James Madison before 5,566 at the Convocation Center. The Hoyas needed every one of Hibbert's 23 points, as they were tested by a young and hungry JMU team eager to erase memories of last season's 6-22 finish. Without Hibbert's effort, this had all the ingredients of an early season upset.
Hibbert started things off for the Hoyas in a big way, scoring the first 15 points for the Hoyas against the smaller Dukes. Ashanti Cook's three pointer with 10:42 was the first points not scored by Hibbert for the game;. still, Georgetown trailed 16-15 midway through the half as a result of JMU's defense on forwards Brandon Bowman and Jeff Green. Both teams shot above 50% for the half, but a late 6-2 run powered the G-men to a ten point halftime lead, 42-32.
The double digit lead was quickly erased in the second with a 10-2 JMU run, but Hibbert's defense kept the Georgetown lead at 5 to 6 points throughout much of the early second half. JMU looked to be making a run with 8:40 to play, but off a missed JMU three Jonathan Wallace made a three to build the lead back to eight, 59-51.
The star of the second half was senior Darrel Owens. After a scoreless first half, Owens scored ten in the second half, with two big three pointers that kept the Hoyas' lead down the stretch. Georgetown also converted its free throws, with a 6 for 7 from the line in the final six minutes and 19 for 22 for the game.
Georgetown fared poorly in rebounds. Despite having only one player taller than 6-6, JMU was even with Georgetown in rebounds at 30 each and the Dukes' eight three pointers kept them close late.
Hibbert joined three other Hoyas in double figures, though forwards Brandon Bowman and Jeff Green were a combined 5 for 20 against the smaller JMU defenses and scored six and four points, respectively. The four points is a career low for Green, who had scored in double figures in 21 games last season. Both players will need to step up their respective play in the Hoyas' upcoming games with Vanderbilt, Oregon, and Illinois.
Here's the Georgetown half of the box score.

         MIN   2FG   3FG   FT  REB  A  PF  PTS
Starters:                                 
Wallace   33   2-4   2-4   2-2   0   2  2   12
Cook      37   2-3   2-3   4-4   3   2  2   14  
Bowman    37   3-6   0-4   0-2   4   0  3    6
Green     33   2-7   0-3   0-0   6   3  3    4
Hibbert   17   7-8   0-0   9-9   6   1  4   23
Reserves:
Owens     23   1-1   2-5   2-2   5   3  1   10
Sapp      18   1-2   0-1   2-3   1   0  1    4
Crawford   1   0-0   0-0   0-0   1   0  0    0
Kilk.-Diaw 1   0-0   0-0   0-0   0   0  0    0
DNP: Izzo, Thornton, Spann, Egerson,
Beal, Dizdarevic
Team Rebounds                    4
TOTALS   200  18-31  6-20 19-22 30   11 18   73

Post game coverage follows below.
Roy Hibbert scored a career high 20 points as Georgetown opened its 99th season with a 72-49 win at Navy before a large crowd of students and fans at Navy's Alumni Hall.
The Hoyas raced to a 14-2 lead, thanks in large part to Hibbert's considerable height advantage in the paint. Navy regrouped defensively, thanks to a n early two fouls on Jeff Green but collected more turnovers (10) than field goals (7). The Midshipmen shot only 25 percent in the first half, enabling Georgetown to build a 35-18 first half lead.
Navy opened the second with better rebounding and kept Hibbert away from the basket. The Midshipmen scored six of the first seven points of the half to close to 36-24, but the Hoyas blew the game open with a 18-6 run and led by as many as 28 in the half. From that point, the game was not in doubt, allowing coach Thompson to experiment with two freshmen (Jesse Sapp, Marc Egerson) in the lineup. Georgetown missed scores in five of its last six possessions, but still scored on 60% of its second half attempts.
Four Hoyas scored in double figures, Hibbert, Jeff Green (13), Ashanti Cook (12) and Darrel Owens (10). Excepting Owens, the bench contributed just two points in a combined 46 minutes of on-court time and this is an area for improvement in the weeks to come.
The game marked the first meeting between the two schools since 1978 in a rivalry that dates to 1909. While not a mandatory appearance for the Brigade of Midshipmen, a large turnout of students from both schools ensured a spirited effort from both teams.
"Hats off to their fans, they stayed up the whole game," said Owens. "It says a lot about their institution. We [also] had a lot of our fans and that helped us out throughout the game."
Here's the Georgetown half of the box score.

         MIN   2FG   3FG   FT  REB  A  PF  PTS
Starters:                                 
Wallace   29   3-5   0-2   0-0   0   4   2    6
Cook      27   4-5   1-3   1-3   2   0   2   12   
Bowman    26   1-4   2-2   1-3   2   1   2    9
Green     24   5-9   1-2   0-1   7   2   2   13
Hibbert   25  8-11   0-0   4-7   7   1   1   20
Reserves:
Owens     23   2-2   1-3   3-3   4   1   0   10
Sapp      19   0-0   0-1   2-2   4   0   3    2
Crawford  13   0-1   0-0   0-0   1   0   3    0
Egerson   12   0-2   0-0   0-0   3   0   1    0 
Kilk.-Diaw 2   0-0   0-0   0-0   0   0   1    0
DNP: Izzo, Thornton, Spann, Beal, Dizdarevic
Team Rebounds                    6
TOTALS   200  23-39  5-13 11-19 36   9  17   72

Post game links follow below.
The HOYA basketball preview is online, an annual tradition since 1981. The paper's first preview section actually dates from the mid-1950's, when team captain Jack Walsh also happened to be the paper's editor-in-chief as well. Here are links to the men's basketball preview stories:
Also online with a basketball preview: the Georgetown Voice. The Voice doesn't traditionally cover sports to the same degree as the HOYA, but the preview articles are always a good read. Here are links to the men's basketball preview stories:
Barker Davis of the Washington Times discusses the Austin Freeman verbal commit from last week and stirs up some local discussion with this proposition: "The pendulum of local pre-eminence that has been poised for more than a decade over College Park seems to be swinging back toward the Hilltop."
Freeman noted that Coach John Thompson had attended virtually all his summer games but Maryland's Gary Williams did not. "You notice when the head coach is there. It shows how much they want you -- that you're a priority."
"We were better than people expected last year. And there's been some recruiting success. But in our opinion, we still haven't done much," said senior Brandon Bowman. "The excitement's nice, but we can do much more. It's time for us to take the next step."
From the Rutgers site at Rivals.com: a look at Big East teams by the relative strength of its starting lineup. Georgetown fares well up front, less so in the backcourt.
Monday's New York Daily News takes a look at the 2005-06 Big East race. The Daily News isn't as optimistic as many other publications on Georgetown, placing them ninth.
"This is not a deep team and it frequently was outrebounded [last year]," writes the paper.
Thursday's announcement of the verbal commitment of Austin Freeman is still in the news, as noted in this Washington Post column from Josh Barr. Not only are Freeman's DeMatha ties a topic of conversation, but that Georgetown's local recruiting efforts are starting to make a difference.
"[Georgetown] "is very aggressive and active, I think they're doing a great job getting out," said DeMatha coach Mike Jones. "That's not to say Maryland is not... [Georgetown] just happened to get this one."
Remember Pittsburgh Post-Gazette columnist Bob Smizik? He's the columnist who suggested last year that schools like Villanova and Georgetown pack it in, saying "These schools have many things in common, most notably they've all seen better days as basketball powers..."They all are going downhill and most don't figure to stop." (This was written the day before Georgetown upset #16 Pitt.)
Well, he's at it again, courtesy of this link to the Pittsburgh Post-Gazette, where Smizik argues that the smaller schools of the Big East might be wise to leave the 16 team arrangement for lower profile conferences.
"Even if the league gets more NCAA tournament bids because of its increased size -- and there's no guarantee it will -- those schools could go a long time between the lucrative and prestigious appearances," Smizik said. "They could easily have better chances of success in a smaller league where the teams have more in common."
Smizik was wrong last year, and chances are good he'll be proved wrong again.
Meanwhile the Post-Gazette also interviewed various media figures on the endless Big East vs. ACC debate.
While the early signing period through November 16 focuses on commitments from the high school class of 2006, a prominent junior recruit announced a verbal intention for the Class of 2007.
Austin Freeman, a 6-5 guard from Hyattsville, MD who is the among the top national prospects in his class, has verbally committed to Georgetown for 2007, according to the Washington Times and other media reports. "I just felt it was the best fit for me," said Freeman, who led his DeMatha HS team in scoring as a sophomore. "It's a great academic institution, and I just really gelled with both the guys and the coaches. You also get the sense that big things are happening over there."
Freeman becomes the first DeMatha recruit to commit to Georgetown since Don Willis in 1970, marking the end of some difficult basketball relations built up between the schools. D.C. basketball lore attributed the impasse to the fierce rivalry developed when former coaches John Thompson and Morgan Wootten were competing at the high school level. Both settled their differences years ago and the efforts made by the current coaching staff have reestablished ties between the schools.
Georgetown officials can have no comment on Freeman, since he cannot formally commit until next year's signing period.
Congratulations to the 2006 awardees for the Georgetown University Athletic Hall of Fame, which was announced Tuesday. Former track coach Frank Gagliano will join late-80's alumni Ray Humphrey (C'87, men's track), Kelley Jones (C'88, women's rowing), Penny Rickard (C'88, women's tennis) and and Lynn Moore (C'89, men's tennis) at the induction ceremonies Feb. 4 at the Leavey Center. Please see this link from GUHoyas.com for additional details.
A pair of articles on the 2005-06 Hoyas are found in Tuesday's editions of the Washington Post.
The Post picks Georgetown sixth in its preview article, noting that "Georgetown has the best front court outside of Connecticut and enough depth to avoid a repeat of last year's late-season swoon." Additional links in the article highlight a list of "must see" games for Big East schools.
A companion piece contrasts the original conference versus its current expansion efforts.
The Associated Press posted its preseason top 25 poll Monday, with Georgetown receiving only 46 of the 251 votes needed to place among the top 25 schools in the media poll.
Five Big East schools received top 25 notice: Connecticut (3), Villanova (5), Louisville (7), West Virginia (14) and Syracuse (15).
Georgetown has not been ranked in the AP top 25 in nearly four years, following a 79-71 loss to Miami on January 2, 2002.
---
HoyaSaxa.com: The One-Stop Web Site For Hoya Basketball™
An independent web site not affiliated with Georgetown University. All rights reserved.