It wasn't 2003, they just played that way.
Evoking memories of late game struggles with the likes of Wesley Wilson, Drew Hall, and Gerald Riley, the #5 Georgetown Hoyas nearly parlayed its white jersey day into a double-fisted upset at the hands of the Fairfield Stags, pulling away 61-49 before 8,464 at Verizon Center. It is Georgetown's first 5-0 start since 2003.
The monochromatic uniforms seemed to paint the picture of a game where nothing seemed in sync, evidenced by an injury to Jessie Sapp less than a minute into the game. Georgetown's defense, which had handled outside shooters earlier this season, allowed Fairfield to tie the score at 14 via four three pointers, part of a first half that saw the Stags, averaging 33% for the season, to hit on 7 of 11 for the half. Georgetown led by as many as six in the half but let the Stags back in again and again, as a 6-0 run tied the score at halftime, 33-33.
Georgetown's second half adjustments shut down the Fairfield offense, and inadvertently shut its own down, too. In the first seven minutes of the half, Georgetown and Fairfield had combined for two field goals, as the Stags missed nine of its first 10 shots, 11 of 13, and 13 of 16. Georgetown did little to take advantage, and when Jonathan Han hit Fairfield's only three of the half with 6:39 to play, Georgetown was up only 45-44...12 points in 14 minutes for the #5-ranked team.
A DaJuan Summers three extended the lead to 48-44, but Fairfield answered to close to 48-46. Over the next four minutes, a parade to the foul line followed, where Georgetown looked like the NIT Hoyas of old. Georgetown faced seven trips to the foul line and did not covert both shots on any of them. A Warren Edney jumper closed to 52-48 with under four minutes to play, answered by a Jonathan Wallace jumper, 54-48. The Stags continued to miss from outside, but Georgetown could not convert into baskets until a pair of break away dunks in the final 39 seconds of play.
For the game, Georgetown shot 48 percent but a woeful 9 of 22 from the line, the worst shooting mark since a 9-26 effort against Syracuse in January 1995. The Stags finished shooting 37% from the field, 18% (5-27) from the floor in the second half, yet were within five points with less than two minutes to play. Fairfield's three point shooting, 7-11 in the first half, sank to 1-8 in the second half.
Georgetown moves on to a nationally televised game with Alabama on Wednesday.
Here's the Georgetown half of the box score.

         MIN   2FG   3FG   FT  REB  A  PF  PTS
Starters:                                 
Wallace   31   5-6   3-8   0-0   2   1  0   13
Sapp       6   0-0   0-1   0-0   1   0  0    0
Ewing     29   4-5   0-2   1-2   7   0  2    9
Summers   32   4-5   2-5   2-4   4   2  2   16 
Hibbert   25   2-3   0-0   3-5   7   2  4    7
Reserves:
Macklin   17   0-0   0-0   1-5   3   0  1    1  
Wright    14   0-1   0-0   1-2   4   1  3    1
Rivers    14   1-2   2-2   1-4   4   5  3    9
Freeman   19   1-1   1-4   0-0   3   2  0    5
DNP: Jansen, Crawford, Wattad
Team Rebounds                    5
TOTALS   200 17-23   8-22  9-22 40  13 15   61

Additional coverage follows below.
Henry Hyde (C'47), a distinguished Georgetown graduate and former member of the U.S. House of Representatives, died Thursday morning following complications from open heart surgery earlier this year. Hyde, 83, was one of four surviving members of Georgetown's 1942-43 Final Four club. But just getting to Georgetown was a challenge all its own.

As relayed in an article from the Chicago Tribune, GWU law professor Jonathan Turley wrote: "When the Hydes lost their house in Evanston during the Depression, they were forced to live above a Chicago tavern on Howard Street. They could not afford the $1-a-month tuition to go to St. Margaret Mary Catholic Elementary School, so he worked at the school to pay it off. In high school, he ignored the taunts of his classmates and worked as "their" janitor to pay the tuition at St. George High School. Hyde won a basketball scholarship and went to Georgetown University."
"Hyde's difficult early life left him with a deep understanding and sympathy for people with little money or power. Fact is, I've never met anyone who knew Hyde and did not like him, even those on the other side of the intense battles of his career."

Hyde played in only 11 games in his rookie season of 1942-43, but none more important than the NCAA semifinal versus heavily favored DePaul. When 6-9 center John Mahnken was sidelined with foul trouble, the 6-3 Hyde faced 6-11 All-American George Mikan with the game on the line.
"Coach [Ray] Meyer didn't pick up on Hyde's entrance as Mahnken fouled out, and sat his 6-11 center down after Mikan connected on the free throws," per this excerpt from the Georgetown Basketball History Project. "Georgetown then went on a 5-0 run and when Mikan returned, Hyde had his number. For the last nine minutes of the game, the DePaul All-American was held in check by the smaller Hyde, astonishing the crowd."
Hyde also knew to play tough, too, a trait that served him well in his eventual political career. "So just as Mikan was about to shoot, I gave him a little push," Hyde told the Washington Post in 1998. "Oh, it's great to be young!"
Following a tour of duty in World War II, Hyde returned to Georgetown to complete his degree in 1947, earning a law degree at Loyola-Chicago in 1949. After nearly two decades as an Chicago attorney, Hyde was elected to the Illinois state house in 1966, earning a reputation as a tough but conservative lawmaker with respect on both sides of the aisle. In 1974, Hyde was elected to Congress, and immediately became a champion of the pro-life cause, helping craft the Hyde Amendment of 1976, which banned Medicaid funding for elective abortions.
Hyde served 32 years in Congress, having served as chairman of the House Judiciary Committee and International Affairs Committee. He supported his party's leadership, but was not afraid to stand on his own. He supported the Brady Bill against his colleagues, supported extended family leave legislation, and rallied bipartisan support for an $15 billion AIDS relief package in Africa.
"If you took the whole mosaic of legislative things in which he was involved, I would not characterize him as an ideologue," said former House leader Robert Michel. "He was a pragmatist and a doer. He wanted to get things done and make things go."
Hyde was selected by the Republican leadership as the lead manager in the impeachment trial of Bill Clinton (C'68) in 1998. The ordeal wounded his bipartisan reputation but he stood resolute. "Five months later, after a trial and much tribulation, I have no regrets," said Hyde following the trial. "We fulfilled our oath of office to discharge our duty according to the Constitution."
"Hyde was one of the last of the "Old Guard," recalled Turley. "He was widely viewed in Congress as someone who valued consensus and played fairly with colleagues."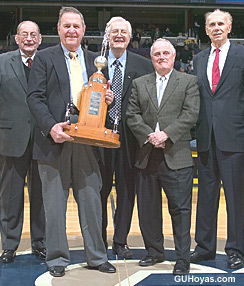 One of Hyde's last appearances for Georgetown came at a 2004 Hoya Hoop Club reception honoring the surviving members of the 1943 NCAA finalist team. Despite ongoing back problems, Hyde was able to attend the event, where he joined teammates Dan Gabbianelli, Dan Kraus, Miggs Reilly, and Andy Kostecka at a halftime ceremony at MCI Center. (Kostecka died earlier this year.)

Due to health issues, Hyde was unable to attend the 100th anniversary festivities in 2007.
"Though we were often on opposite sides of various issues, we were able to join together on certain issues, such as family leave laws, to make progress for all Americans," said House Speaker Nancy Pelosi. "I hope it is a comfort to Chairman Hyde's three children and four grandchildren that so many people mourn their loss and are praying for them in this sad time."
Numerous articles are posted online, here are a sample.
An 11-1 run to open the second half paced Georgetown to a 66-48 win at Old Dominion Wednesday night.
The Hoyas opened the game with a 9-2 run, but the homestanding Monarchs leveraged a tight inside game with the hot hand of 6-9 forward Gerald Lee to tighten the score early in the half. A pair of inside blocks and a rebounding advantage ODU enjoyed throughout the game rallied the sellout crowd, which saw Lee score 14 of ODU's 21 points, helping the Big Blue tie the score at 21-21 with 3:36 to play in the first half.
From the 21-21 tie, Georgetown put together some of its best offensive sets of the half, capped by an inside dish to Hibbert and a Patrick Ewing Jr. three pointer that helped extend the lead to a more manageable 30-23 at the break. Despite shooting 50 percent from the half, Georgetown was not able to contain Lee, with 16 of ODU's 23 points, seven offensive rebounds, and eight rebounds overall in 20 minutes.
At halftime, Georgetown made a defensive adjustment on Lee and worked its perimeter passing game to open holes in the ODU defenses. Scoring 11 of the first 12 points of the second half, Georgetown outscored Old Dominion 20-3 since the tie with 3:36 left in the first half and silenced the vocal ODU home crowd. The run was never matched by ODU, which saw Gerald Lee held scoreless for the first 5:36 of the half and his scoring only six points thereafter. The Hoyas extended its lead to as many as 19 midway in the half and proceeded to the victory.
Gerald Lee led the Monarchs with 24 points and 12 rebounds, amounting to half the team's points. The Monarchs were done by its poor shooting, particularly from outside. While Lee was 11-20, the rest of the starting five was just 4-22 (18.2%), and ODU shot just 31% for the game and 3-15 (20%) from three point range. Any opportunities to close the second half deficit were answered with poor outside shots that left the Monarchs at a distinct disadvantage.
Georgetown saw a marked improvement from its bench, which turned in a season high 26 points on 11 for 20 (55%) shooting, with Austin Freeman scoring 11 and Chris Wright seven. For the game, Georgetown converted 20 assists into baskets and committed only nine turnovers.
The loss was the third straight for the Monarchs against a top 10 team within a week. But the best news from a game like this (for both teams) is that with experience comes improvement. As was the case last year, the lessons learned in November provide the foundation for success in February and March. Both teams have a lot to look forward to heading towards 2008.
Here's the Georgetown half of the box score.

         MIN   2FG   3FG   FT  REB  A  PF  PTS
Starters:                                 
Wallace   23   0-1   2-4   2-4   3   1  2    8
Sapp      23   3-4   0-1   1-1   2   6  1    7
Ewing     28   3-3   1-3   0-0   5   3  2    9
Summers   25   0-4   0-1   2-3   7   2  0    2 
Hibbert   24   6-9   0-0   2-4  10   2  4   14
Reserves:
Macklin   17   3-6   0-0   0-0   2   1  3    6  
Wright    17   2-4   1-1   0-0   2   2  1    7
Rivers    17   0-1   0-1   2-2   1   2  1    2
Freeman   23   4-5   1-2   0-0   1   1  1   11
Crawford   3   0-0   0-0   0-0   0   0  1    0
DNP: Jansen, Wattad
Team Rebounds                    1
TOTALS   200 21-37   5-13  9-16 34  20 16   66

Additional coverage follows below.
Roy Hibbert scored 16 points as the #5 ranked Georgetown Hoyas soared to a 15 point first half lead and landed a little uneasy at the end, as winless Ball State challenged late in a 57-48 Georgetown win in Muncie, IN.
After a tie score at 7-7 early in the half, Georgetown went on a 10-2 run to build the lead it held for the rest of the half. Georgetown was not pressured in the first half, collecting 11 assists on 13 field goals and 59 percent shooting, leading 31-18. The Cardinals were 8-27 from the floor, 2-11 from three point range, and 0-3 from the line.
Georgetown's lineups and offensive sets were less effective in the second half, if for no other reason that BSU was providing some offensive counter-punches of its own. Led by guard Peyton Stovall (16 points), the Cardinals twice battled to cut the lead insider ten, answered by two Jessie Sapp threes. Sapp's threes were the only threes of the half, however as poor outside shooting (2-11) and missed free throws (8-15) allowed BSU to cut the lead to eight with 5:02 left and as few as six, 51-45, with 1:25 to play.
Following a Dajuan Summers miss, BSU looked to cut the lead in half, but sophomore guard Jeremiah Rivers picked up a key steal and Georgetown hit three of its next four free throws to seal the win. For the second half, Georgetown was only 8-24 from the field, and the Cardinals' response gave BSU fans a lot of faith in their undermanned program going forward.
For Georgetown, it's another lesson learned, as the G-men prepare for next week's game before a sold out crowd in Norfolk against Old Dominion.
Here's the Georgetown half of the box score.

         MIN   2FG   3FG   FT  REB  A  PF  PTS
Starters:                                 
Wallace   25   0-0   1-6   0-0   0   2  1    3
Sapp      29   1-1   3-9   0-0   2   4  1   11
Ewing     25   3-3   0-1   0-0   5   0  1    6
Summers   30   3-6   0-2   5-6   9   3  1   11 
Hibbert   28   7-10  0-0   2-7   7   1  2   16
Reserves:
Macklin   12   0-0   0-0   0-2   1   1  1    0  
Wright    16   0-0   0-2   0-0   4   3  0    0
Rivers    16   0-0   1-1   1-2   3   0  1    4
Freeman   15   0-0   2-3   0-0   2   1  3    6
Crawford   4   0-0   0-1   0-0   1   0  1    0
DNP: Jansen, Wattad
Team Rebounds                    2
TOTALS   200 14-20   7-25  8-17 36  15 12   57

Additional post game coverage follows below.
Hollis Thompson has made a verbal commitment to attend Georgetown in the fall of 2009, according to the Los Angeles Times.
Thompson, a 6-8 junior forward from Los Angeles' Loyola HS, is the #2-ranked forward in the class of 2009, and Georgetown's first verbal commitment from that class.
"Its been a very long recruiting process and I felt I wanted to get it out of the way, " said Thompson, who selected Georgetown over recruiting offers from Duke, North Carolina, and UCLA, among others, and carries a 4.2 GPA through his sophomore year at Loyola.
"No player rose faster among the national elite during the summer than Thompson, whose ability to shoot and rebound caught everyone's attention," wrote the Los Angeles Timesin an earlier article. "He's still growing and still getting better."
Greg Monroe is still a high school senior, but he'll be receiving more national attention in a feature within Tuesday's issue of USA Today.
Monroe signed his letter of intent Friday to join the class of 2012 at Georgetown next fall. "I got the feeling that (coach John Thompson III) wasn't trying to sell me anything," Monroe said to the paper. "Everything was straightforward. The way he talked to me was the same way he talked to his players."
"He's an important piece to what we're doing here," said Georgetown coach John Thompson III. "He's a very unselfish player with the ability to help himself and his teammates."
"He's the ultimate team person," said his coach, Tyron Mouzon. "He never feels he is too big for anyone or anything."
Twenty years ago, the New York Post often portrayed Georgetown as the bad guy versus local favorite St. John's and other Big East teams. The style and success of John Thompson III's teams has won over the Post, however, who has labeled Georgetown as its pick into the 2008 title game.
"It doesn't mean the Hoyas, who opened the season with methodical wins over William & Mary and Michigan, are the best team in November," writes the Post's Lenn Robbins. "But they will be in March and the first Monday in April."
Jessie Sapp and Roy Hibbert combined for 24 points in a 74-52 runaway over Michigan at Verizon Center Thursday night.
In its first road game under new coach John Beilein, Michigan (2-1) was slow to begin the game and with its 1-3-1 zone defense, never caught up. The Hoyas opened with the first 12 points of the game and hit 10 of its first 14 shots, opening up a 26-7 lead at the 11:54 mark of the first half.
"You know when you have a radio program and there's a two-second delay? We are," said Michigan coach John Beilein in post game comments. "All of a sudden they beat you back-door or they're playing you one way and how do we read it? We're behind. We'll slow down for our players both offensively and defensively, but to play against [Roy Hibbert] - who had eight points just by reaching up and getting the ball."
The lead afforded coach John Thompson III to offer some valuable game time to freshmen Austin Freeman and Chris Wright, who each played for over 14 minutes in the first half. Wright led all scorers with 10 points as Georgetown led 43-19. Georgetown was 7 for 11 from three point range in the half versus just 3 for 11 for Michigan.
The second half offered more time for the reserves as Michigan existed largely on its guard play. UM never got the margin below 20, trailing by margins such as 50-24, 61-33 and 65-40 en route to the 22 point defeat. Freshman guards Manny Harris and Kelvin Grady combined for 29 of the Wolverines' 52 points Thursday, as forwards Ron Coleman and DeShawn Sims were a combined 0 for 9 in the game. Sims, the incumbent Big Ten Rookie of the Week who entered the game averaging 20 points a game, was scoreless from the field and added only one free throw all evening.
"We started [DaJuan Summers] off on Sims and he's a terrific player and I thought DaJuan did a good job," said head coach John Thompson III. "DaJuan's energy and attentiveness today was outstanding."
Georgetown goes on the road for three of its next four games, beginning with a Nov. 21 game in Muncie, IN against Ball State.
Here's the Georgetown half of the box score.

         MIN   2FG   3FG   FT  REB  A  PF  PTS
Starters:                                 
Wallace   15   1-3   2-3   0-0   3   4  0    8
Sapp      19   3-4   2-2   0-0   6   5  2   12
Ewing     17   3-3   0-1   0-0   3   3  0    6
Summers   26   1-4   1-2   0-2   4   1  0    5 
Hibbert   18   6-14  0-0   0-0   6   0  2   12
Reserves:
Macklin   22   4-6   0-1   0-0   6   1  2    8  
Wright    21   1-7   2-2   2-2   6   0  2   10
Rivers    23   0-1   1-1   0-0   0   2  1    3
Jansen     1   0-0   0-0   0-0   0   0  0    0
Freeman   23   2-4   2-5   0-0   3   1  3   10
Crawford  12   0-1   0-1   0-0   4   1  2    0
Wattad     3   0-0   0-1   0-0   1   0  0    0
Team Rebounds                    3
TOTALS   200 21-47  10-19  2-47 45  18 14   74

Additional post game coverage follows below.
For those that get the Northeast regional issue of Sports Illustrated, senior Roy Hibbert is on the cover. For everyone else, here's a link to the image.
Roy Hibbert scored 23 points as the Georgetown Hoyas pulled away late to defeat William & Mary 68-53 before 11,364 at Verizon Center, the largest crowd ever to attend a Georgetown home opener.
Seven months removed from their NCAA Final Four appearance, the Hoyas opened in a ragged fashion, launching up a number of ill-fated three pointers and failing to involve its big man in the game. To its credit, William & Mary (0-1) was able to leverage the three pointer, something it had struggled with much of last season, when it finished 15-15. The Tribe hit five of its first eight three point attempts in building a 24-20 lead midway in the half, which featured a rare technical foul against coach John Thompson III in a display of the NCAA's new "bench decorum" rules which limits coaches' movement along the sidelines. W&M coach Tony Shaver received a similar foul less than two minutes later.
Georgetown took a brief lead at 26-25 but a pair of turnovers were converted by W&M and Chris Darnell's layup gave the Tribe a 28-27 lead, which turned out to be its last. Bolstered by a Jessie Sapp three with three minutes to play and one by Jonathan Wallace with 26 seconds left, Georgetown earned a hard fought 35-30 halftime lead.
William & Mary didn't go away after intermission. Turnovers and missed threes continue to leave the door open for the Tribe, who twice closed to within two. At 37-35, Jonathan Wallace answered with a key three, while at 47-45, Roy Hibbert began to assert himself, scoring three straight baskets that gave Georgetown the room it needed. A Hibbert layup extended the lead to double digits with just under 4:00 left, and the Hoyas closed the door from there.
Hibbert led all scorers with 23 points, with Jessie Sapp adding 18 and Jonathan Wallace 15. The Hoya bench was largely unproductive in the scoring column, shooting a combined 1 for 8 with five turnovers.
For the Tribe, forward Laimis Kisielius had 16, but was shut out in the second half. From W&M's early run of threes (5 for 8), it missed 21 of its last 25 attempts.
Here's the Georgetown half of the box score.

         MIN   2FG   3FG   FT  REB  A  PF  PTS
Starters:                                 
Wallace   33   1-2   4-7   1-2   0   4  1   15
Sapp      33   3-5   3-7   3-5   6   6  2   18
Summers   23   1-1   2-5   2-2   6   0  4   10 
Ewing     28   0-1   0-1   0-0   3   0  0    0
Hibbert   28   9-11  0-0   5-8   8   1  2   23
Reserves:
Macklin   18   0-1   0-0   0-0   2   0  0    0  
Wright     9   0-0   0-1   0-0   0   1  1    0
Rivers    16   0-0   0-2   0-0   3   0  3    0
Freeman   12   1-1   0-3   0-0   3   0  1    2
Crawford   1   0-0   0-0   0-0   0   0  0    0
Team Rebounds                    4
DNP: Jansen, Wattad
TOTALS   200 15-22   9-26 11-17 35  12 14   68

Post game links follow below.
Freshman forward Nikita Mescheriakov has been declared ineligible for 10 games this season, owing to participation on a European pro team prior to arriving in the United States in 2006.
"Prior to coming to this country, Nikita briefly participated with a professional team in Europe," said head coach John Thompson III in a brief statement at GUHoyas.com. "He was not compensated but the NCAA has ruled that he will have to sit out the first ten games of the season."
Mescheriakov will be eligible to return to the lineup Dec. 31 when the Hoyas play Fordham.
The annual pre-season preview articles are posted online at The HOYA.com.
"This 32-page issue will be printed as a full-color commemorative magazine for the first time ever, including a pullout 17 x 22 poster, and includes highlights from the team's Final Four run as well as features on some of your favorite players," notes the paper.
For the first time since its debut in 1960, the preview issue will be sold on a $1 per copy basis on campus and will also be available via online order. Check this link from the newspaper for more details and to how to support this effort.
Earlier this week, the Georgetown Voice launched its preview online as well and is also worth a look.
Big East conference presidents have agreed to expand the men's and women's tournaments to 16 schools beginning in 2009.
The present format, adopted in 2006, awards a first round bye to the top four teams, with seeds 5through 12 playing on Wednesday. The new setup adds an extra day to each tournament, with seeds 9 through 16 playing Tuesday, the winners playing seeds 5 through 8 on Wednesday, and the top four earning a bye through Thursday, assuming the league maintains its Saturday night final slot which it has occupied on ESPN since 1995.
"Our [conference] presidents performed a very thorough review of the tournament format. After extensive deliberation, it was decided that inviting all teams to participate would provide a special opportunity to every men's and women's basketball student-athlete, " said conference commissioner Mike Tranghese in a conference release. Media reports suggest that Big East coaches lobbied hard for the change, especially those whose teams were at risk of not making the tournament.
"The experience of playing in Madison Square Garden and all that is associated with the history of our tournament in New York City needed to be something that every team in our league could be a part of. For that reason, I have lobbied very hard for this to happen," said Connecticut coach Jim Calhoun in Thursday's Hartford Courant.
The only downside may be for the fans, especially those who attend the entire men's tournament. To do so in 2009 will entail five straight days at the event, beginning Tuesday morning. An upside may be that the Georgetown women's team, who has not qualified for the tournament in each of the past two years, will be invited in 2009. The Hoyas were picked last in the 2007-08 pre-season poll and are not expected to finish among the top 12 this season.
Thursday's Hartford Courant has a feature on Roy Hibbert, with some amusing quotes from Patrick Ewing Jr. on his high school impressions on the still developing Hibbert.
"I was getting ready to go Indiana and he had committed to Georgetown and I was like, `Well, why is he going to Georgetown? He's not that good'," Ewing recalls. "I was like, 'I hope they plan on doing something with him, hopefully they redshirt him a year or something.'"
Local coverage of the Hoyas is beginning to build up in advance of Saturday's opener. Here's a quick review of stories in Monday's dailies:
Another honor for senior Roy Hibbert arrived Monday, as he was named to the Associated Press pre-season All-America team. Joining Hibbert on the first team are Tyler Hansbrough (North Carolina), Chris Lofton (Tennessee), Drew Neitzel (Michigan State) and Darren Collison (UCLA).
Former congressman Henry Hyde (C'47) was awarded the nation's highest civilian honor, the Presidential Medal of Freedom, in ceremonies at the White House Monday.
Hyde, 82, who played on Georgetown's 1943 NCAA finalist team, is recovering from heart surgery and was not able to attend, but was represented by family and friends at the ceremony.
"Congressman Hyde spent more than three decades as a towering figure on Capitol Hill. But he first made his name in Washington more than 60 years ago," said President George W. Bush at the ceremony. "He was on the Georgetown basketball team, and played in the NCAA Eastern Championship game in 1943. After college and Navy service in World War II, he returned home to Illinois, and earned a law degree, and made his way into politics. This erudite, scholarly man has walked with kings and kept the common touch. He won 20 elections, and gave steady service to the people of Illinois for 40 years. "
"Henry Hyde spoke of controversial matters with intellectual honesty and without rancor," the President continued. "He proved that a man can have firm convictions and be a favorite of Democrats and Republicans alike...To so many on Capitol Hill, Henry Hyde's friendship is gold. They're quick to say it's not the same Congress without him -- but that we're a better country because he was there."
Additional coverage follows below.
Off the sports page, the emergence of the John Thompson III Foundation gets some coverage in the Washington Post, noting that the foundation is working to raise the level of interest of a number of charitable organizations in the Washington area, not just its own.
"We want to help other non profits raise money, because there are a lot that are well-run, have great programs, but maybe can't afford a huge development staff where they have an event planner and a communications person and people who do the major gift fundraising," said Monica Thompson, who is serving as the foundation's executive director.

Proceeds from a fundraising gala earlier this year were directed to the Boys and Girls Club of Greater Washington, Capital Breast Care Center, Southeast Tennis and Learning Center, and Washington Jesuit Academy, among others.
Georgetown is #5 in the preseason Associated Press poll released late last week. It is the first top five ranking since the Hoyas were rated #5 to begin the 1995-96 season.
North Carolina, UCLA, Memphis, and UCLA make up the top four, with Louisville (6), Marquette (11), and Pittsburgh (22) joining Georgetown on the poll. The Hoyas received one fist place vote, which the Washington Times noted was from Ian Rapoport of the Birmingham News.
The Hoya Hoops blog has an interview with veteran radio announcer Rich Chvotkin on the upcoming season.
"They have a lot of kids coming back, they have four starters returning, they have a couple of excellent freshmen coming in - Austin Freeman and Chris Wright - and again Vernon Macklin coming in off the bench like last year is going to be counted on to give some minutes," said Chvotkin. "So they have a lot of weapons, and in John Thompson's system, it's not so much the players, it's the system and how he works the offensive and defensive sets."
A sample of recent articles highlighting Georgetown in the week leading up to the season opener:
Looking ahead for the season to come is senior Roy Hibbert, who was interviewed by the Associated Press on the choice to stay in school rather than leave early for the NBA.
"I'm having so much fun my senior year. The atmosphere around campus -- I'll miss that," said Hibbert. "When you get to the NBA, it's a lot of business, contracts, negotiating, and everything like that. I'm just living out my adolescent years, my last few years of freedom, before I've got to go into the business side of basketball."
"I'll take the responsibility for what my decision was after the season's done. And if I don't get drafted -- if I get hurt or whatever -- I'm going to keep working. Because that's what I do."
---
HoyaSaxa.com: The One-Stop Web Site For Hoya Basketball™
An independent web site not affiliated with Georgetown University. All rights reserved.