After two strong efforts in its first two games of the Battle 4 Atlantis, the Georgetown Hoyas showed all the signs of a team that was not interested in a third game, stumbling to a 64-58 loss to Butler in the 3rd place game of the tournament.
The game, a tournament rarity in that two teams from the same conference faced each other out of conference, was especially painful given that Butler was predicted far down the Big East pre-season ladder. Time will tell if this was a bellwether for the Bulldogs' 2014-15 fortunes, or one of those "bad losses" that will haunt Georgetown at tournament time.
Georgetown carried a lead for the first eight minutes of the game but foul trouble and poor shooting proved its early undoing. From a 9-8 lead with 12:54 to play, the Hoyas did not score for six minutes, ceding the lead and digging themselves a eight point deficit at 21-13, thanks to a 4-16 shooting effort and ten first half turnovers. The starting lineup proved ineffective and a general lack of intensity that saw the Bulldogs build a 10 point lead with 2:47 in the half, 28-18. A late run by the Hoyas closed the count to 31-27, but the lack of scoring was evident--D'Vauntes Smith Rivera, who had averaged 23 points per game against Florida and Wisconsin, was 1-4 from the field and six points overall.
In a rare show of halftime disappointment, coach John Thompson III benched starters Jabril Trawick and L.J. Peak for freshmen Isaac Copeland and Paul White, whose efforts overshadowed the rest of the team. The freshmen scored seven of the Hoyas' first eight points of the half to tie the score at 35-35 with 17:00 to play, but the Hoyas' defense opened the door to Butler's Kellen Dunham. held to two points at the half, Dunham scored 14 second half points as even a 8-8 shooting effort midway through the half could not build a lead for the Hoyas, who continued to lose the ball at key times and whose interior defense was suspect at best and disinterested at worst.
A Copeland three gave Georgetown its first lead since the 12:28 mark of the first half, 46-45 with 8:15 remaining, but a Hoya turnover and foul added up to a three point Butler lead within a minute. baskets by Josh Smith and Isaac Copeland put the Hoyas up 52-50 with 5:46 to play, but a Cameron Woods basket, a Georgetown turnover, and a Kellen Dunham three put Butler back up to stay.
Two plays summed up the lethargic effort for the Hoyas. Down three, the Hoyas watched as the Bulldogs ran right past them for an easy layup, 57-52. Two minutes later, after a Copeland basket closed it back to three, Dunham drove the lane while Smith collided with Copeland and the Bulldogs rang up another easy score.
Still down only three with 2:34 to play, Aaron Bowen drove the lane and missed a layup, Paul White's long three was in and out, and Smith-Rivera coughed up two air balls as Butler extended its lead to seven at the 23 second mark, 63-56.
Georgetown's three point shooting (4-13, and 1-6 in the final 15:00 of play) continues to be substandard, and so was its free throw shooting, getting to the line only twice in the second half and missing 9 of 19 attempts overall. Butler had 16 FT's to Georgetown's 10, which was the margin of victory.
Copeland and White combined for 29 of Georgetown's 58 points on 12-18 shooting, out-pointing the entire GU starting lineup, which combined for 25 points on 9-29 shooting.

            MIN   2FG   3FG   FT  REB  A  PF  PTS
Starters:                                 
Smith-Rivera 31   4-7   0-4   4-4   2   3  3   12
Peak         14   0-3   0-1   0-0   0   0  1    0
Trawick      23   1-1   0-1   1-2   2   3  2    3 
Hopkins      19   1-5   0-0   1-2   6   0  4    3
Smith        24   3-7   0-0   1-5   9   2  4    7
Reserves:
Campbell     11   0-0   0-0   0-0   1   1  2    0
Cameron       2   0-0   0-0   0-0   0   0  1    0
Copeland     24   5-8   2-2   0-0   4   0  2   16
White        31   4-5   1-3   2-2   3   0  0   13
Bowen        21   0-4   1-2   1-4   4   2  2    4
DNP: Allen, Williams, Mourning, Hayes
Team Rebounds                       6       
TOTALS      200  18-36  4-13 10-19 37  11 22   58

A 29 point effort from D'Vauntes Smith-Rivera was not enough as the #3 ranked Wisconsin Badgers overcame an seven point deficit with 9:31 to play and defeated the Georgetown Hoyas 68-65 in semifinal action at the Battle 4 Atlantis.
Georgetown could have not started any better to begin the game and even that was not enough to build a sizable lead against the badgers. The Hoyas opened six for six from the field and eight of its first 10, and still led by only three midway in the first half. A strong defensive game inside from Josh Smith had contained Wisconsin center Frank Kaminsky, giving the Hoyas an 11-3 rebound advantage inside, but the Badgers were able to pick up fouls inside and dominate in the free throw stats. By halftime, Wisconsin had taken 18 free throws to Georgetown's two, and carried a 35-34 lead into halftime.
The second half featured a strong effort by Smith-Rivera. Trailing 37-36, the Hoyas were tagged with two fouls over an eight second span which ran up a third foul on both Jabril Trawick and Mikael Hopkins. DSR picked up the pace, with back to back threes and 10 of the Hoyas' next 14 points that built a 50-42 lead with 13:16 remaining. The lead was seven midway in the half when the Badgers answered with a Bronson Koenig three pointer to close to four at the 9:14 mark and a follow-up three with 7:09 to play, closing to one. For its part, the Hoyas missed four straight shots and the badgers were now back in the game.
The teams traded free throws in its next two series, then saw Wisconsin gain its first lead since early in the half when Duje Dukan hit a three pointer at the 5:55 mark, 59-57, but answered with a DSR jumper to tie the score at the 5:26 mark, 59-59. Wisconsin continued to take advantage of Georgetown mistakes late. Following Mikael Hopkins' fifth foul with 5:07 remaining, Kaminsky made the first free throw but missed the second, which was alertly picked up by Nigel Hayes. On the Badgers' next possession, Bronson Koenig converted and the badgers were now up three. Another offensive rebound followed on its next series and two more points followed, 64-59.
Wisconsin's stout defense forced Georgetown to miss seven of eight shots over an eight minute period that Saw Wisconsin increase the lead to seven before DSR hit a three to rally the Hoyas back at 66-62. Off a missed three by Kaminsky, freshman Paul White was fouled on a three point attempt and sank all three shots, bringing he Hoyas to one at the 50 second mark, 66-65. On its final series, Dukan missed a layup but the taller Wisconsin lineup took full advantage, with hayes tipping it back in, 68-65. With its last series, the Hoyas went to DSR for a reprise of his heroics to force overtime the night before versus Florida, but Wisconsin's defense forced him well outside, and the three was not to be.
Georgetown shot 52 percent for the game, and was even with Wisconsin on threes (six) and rebounds (26 each). In the end, the Badgers were 20-27 from the line (9-11 in the second half) versus just 9-13 for the Hoyas, who finished 8-11 in the second half.
"We played hard for 36 minutes," said Smith-Rivera. "Down the stretch, we had a lot of loose-ball rebounds that we didn't come up with, and that pretty much cost us the game."
Smith-Rivera (29) and Josh Smith (10 points, but only three rebounds) accounted for the bulk of Georgetown's scoring. The trio of L. J. Peak, Mikael Hopkins and Jabril Trawick were undersized against the taller Badgers, and finished with a combined eight points and nine fouls between them.
In a rare twist of non-conference scheduling, the Hoyas will meet Butler in the third place game. As a rule, tournaments do not invite multiple teams from the same conference, but Butler was in the Atlantic 10 when it signed for the Battle 4 Atlantis. The game will not count in Big East standings.

            MIN   2FG   3FG   FT  REB  A  PF  PTS
Starters:                                 
Smith-Rivera 37   6-12  5-6   2-2   5   3  2   29
Peak         26   1-2   0-2   0-0   2   1  0    2
Trawick      23   2-4   0-0   0-1   2   1  4    4
Hopkins      28   1-5   0-0   0-0   5   2  5    2
Smith        25   3-4   0-0   4-6   3   0  3   10
Reserves:
Campbell      5   0-1   1-3   0-0   0   0  0    3
Cameron       4   0-0   0-0   0-0   0   0  1    0
Copeland      5   0-0   0-0   0-0   0   0  1    0
White        26   2-3   0-0   3-3   1   0  3    7
Bowen        21   4-5   0-0   0-1   2   0  3    8
DNP: Allen, Williams, Mourning, Hayes
Team Rebounds                       6       
TOTALS      225  19-36  6-11  9-13 26   7 22   65

A late basket from D'Vauntes Smith-Rivera salvaged a turnover-plagued effort as the Georgetown Hoyas escaped past Florida in overtime, 66-65, in the final game of the evening in the opening round of the Battle 4 Atlantis Tournament.
Neither team distinguished itself in a first half where the lead stayed within two points over the first 12 minutes of the first half. Georgetown led 19-18 with 8:28 in the first half when a Mikael Hopkins dunk was ruled an offensive foul, following which Georgetown was assessed a technical for a player leaving the bench area (not, as was claimed in some quarters a technical foul on coach John Thompson III). The Hoyas answered with an 8-0 run for its largest lead of the evening, 29-22, but the Gators closed to 31-27 at the half.
Fouls bogged down both teams in the second half. The Hoyas led by as many as six, 37-31, before a Florida rally tied the score at 40 midway in the second half. Free throws from Hopkins and Smith Rivera gave Georgetown its largest lead down the stretch at 50-46, but the Gators were effective on offensive rebounds, and picked up second chance points over its next two possessions to 50-49 with under 3:00 remaining.
A Hopkins foul was converted at the line, 51-51, whereupon a Smith-Rivera turnover was converted into a Kasey Hill drive, 53-51, with 2:00 remaining. Smith-Rivera answered with a jumper with 1:45 to play, but neither side could gain any points thereafter and overtime followed.
Scoring picked up for both teams, shooting a combined 9 for 11 in the overtime. Baskets by Josh Smith and L.J. Peak kept pace, while a DSR basket gave the Hoyas a 57-55 lead. The Hoyas got a stop on the next series but were tagged with an offensive foul, and it was not until freshman Paul White hit a three pointer at the 2:05 mark that Georgetown's lead looked more secure at 60-56. Such appearances were deceiving, as the Gators picked up a dunk from forward Dorian Finney-Smith, an offensive rebound and putback from Jon Horford, and a steal and basket by Finney Smith to put the Gators up one, 63-62, at the 0:54 mark.
Georgetown was a woeful 1-11 from the three point arc entering the overtime but its two threes in the extra period were vital. The second of these came with27 seconds remaining, when l.J. Peak got an open look and connected from long range to go up 64-62. Good times were short lived, when Mikael Hopkins was tagged with his fifth foul on a three point play by Hill that gave the Gators a 65-64 led with 0:11 remaining. Off the Georgetown time out, White found DSR at midcourt, whose jumper from the top of the foul line connected with 3.4 seconds remaining. Florida's Eli carter raced down the floor but his pull-up jumper was off center and time expired with a rousing 16 counts of "Hoyas Win!" from radio announcer Rich Chvotkin.
The teams combined for 38 turnovers in the game, 19 each.
Georgetown advances to meet #3 ranked Wisconsin, who defeated Alabama-Birmingham 72-43 in opening round play. The Badgers (5-0) have won 21 straight non-conference games dating to the 2012-13 season.

            MIN   2FG   3FG   FT  REB  A  PF  PTS
Starters:                                 
Smith-Rivera 32   7-9   0-5   3-6   2   3  4   17
Peak         35   2-5   1-2   1-2   2   1  2    8
Trawick      34   2-4   1-2   3-5   6   2  5   10
Hopkins      33   3-5   0-0   2-2   6   0  5    8
Smith        17   4-6   0-0   0-0   4   0  4    8
Reserves:
Campbell     14   0-0   0-0   0-0   4   1  1    0
Cameron       6   0-0   0-2   2-2   0   0  0    2
Copeland      2   0-0   0-0   0-0   0   0  0    0
White        35   2-5   1-2   3-4   5   0  1   10
Bowen        18   1-2   0-0   1-1   1   0  0    3
DNP: Allen, Williams, Mourning, Hayes
Team Rebounds                       4      1
TOTALS      225  22-36  3-13 15-22 34   7 23   66

Georgetown is one of eight schools committed for the 2016 Maui Invitational, it was announced Monday.
The Hoyas will join teams from Connecticut, North Carolina, Oklahoma State, Oregon, Tennessee, Wisconsin, and host school Chaminade.
This will be the third appearance for the Hoyas in the tournament, to be held Nov. 21-23, 2016 in Lahaina, HI. Previous appearances were in the 1999-00 and 2011-12 seasons.
Congratulations to former coach John Thompson, who will have his #50 retired by Providence College in ceremonies later this season.
Coach Thompson is not one to promote his collegiate accomplishments and had declined similar offers from PC in the past, but will be justly honored on Feb. 14 along with the late Jim Hadnot ('62) and all-Big East women's basketball standout Andrea Mangum ('90).
Writes the Providence College news release: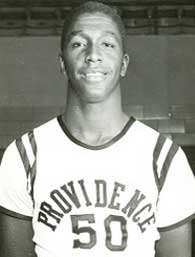 "Thompson, a native of Washington, D.C., was one of the top players ever at Providence College. He was inducted into the Naismith Memorial Basketball Hall of Fame in 1999. During his career at Providence, he scored 1,520 points (19.2 ppg) and grabbed 1,061 rebounds (13.4 rpg) in three seasons of action (freshmen were not eligible to compete on the varsity team). Thompson is one of only six players in the history of Friar basketball to score more than 1,000 points and register more than 1,000 rebounds. He helped lead the Friars to the 1963 NIT title after he averaged 18.9 points and 14.0 rebounds. He was named to the 1963 NIT All-Tournament Team and earned All-New England honors.

"As a senior, Thompson earned First Team All-America accolades after he averaged 26.2 points and 14.5 rebounds. In addition to All-America honors, he also earned New England Player of the Year, All-East, ECAC All-Star, and East-West All-Star accolades. At the end of his senior year, he held Friar records for points, scoring average and field goal percentage. Currently, Thompson ranks third all-time in rebounding (13.4 rpg, 1,061 rebounds), ninth in field goal percentage (.531, 584-1,100) and 14th in scoring (1,520 points). He was selected in the third round of the 1964 NBA Draft by the Boston Celtics. He played two seasons in the NBA, helping the Celtics capture two NBA titles (1965 and 1966)."
John Thompson was recruited to Providence in 1960 when his hometown school chose not to do so. Even though he attended a desegregated Catholic high school named for Georgetown's founder, the College did not enroll a black student until 1963. The basketball coach at the time, Tom Nolan, remarked in a 1978 interview that "It would have been difficult for him here. Maybe I was just a little too idealistic, but I didn't want him to get hurt." Georgetown would not add a black player to the basketball roster until Bernard White in 1966-67, one of the last schools nationwide to do so.
Josh Smith scored 22 points and collected 11 rebounds as Georgetown cruised past Robert Morris, 80-66, in its final tune up before the Battle 4 Atlantis next week.
The first half followed a familiar pattern for the Hoyas in the non-conference: a crisp early start (Georgetown led 12-4), followed by a run of missed outside shots (0-4 from three) that allows the opponent to claw its way back in. The Colonials closed to 15-14 at the 11:27 mark on a three pointer by forward Rodney Pryor, but the Hoyas turned up the heat inside, with layups from Smith, L.J. Peak, Aaron Bowen, and Mikael Hopkins to take a 27-18 lead at the 4:40 mark.
Georgetown carried a 36-24 lead at intermission, thanks to 52 percent shooting and a nearly unbreakable run from inside, where it scored on nine of 13 attempts. Robert Morris, with eight newcomers on its roster, struggled from the field with 25 percent shooting and a -15 on rebounds, allowing 25 to the hoyas wile collecting just 10 of its own.
The Colonials got off to a rough start to open the half and never recovered, making just one field goal in the first eight minutes as the Hoyas' inside game was too strong and too physical to overcome. Led by Smith inside, the hoyas pushed the lead to 20 at the 15 minute mark and 27 midway in the half at 63-36. Georgetown's three point shooting remains a point of concern, missing eight of 10 in the half and finishing 6-22 overall but its inside game was never questioned and only a run of bench substitutions allowed RMU a chance to tighten the final score.
"I think that their size and strength wore on us over the course of the game," said Robert Morris coach Andrew Toole. "From a defensive standpoint, we didn't do a terrible job. I thought offensively we settled for some plays and jump shots that we didn't need so we dug ourselves a decent hole to close the half and then didn't start the second half the way we needed to come back."
Senior center Josh Smith led all scorers and played 26 minutes, the most this season for the 300+ pound center.
"Josh playing 26 minutes is not a surprise," said Georgetown coach John Thompson III. "I did put him back in just because we wanted to ride him a little bit, for lack of a better way to put it. He was going in there and putting pressure on them. There were certain things that I wanted our guys to see where he was open that we didn't execute in the first half. We wanted to put him back in so we could get a feel about how this was supposed to be run. Putting him back in at the end has as much to do with everyone getting a comfort level with the sets that we were running. But he can play. As long as he lets me know when he is tired, whether that is after one minute or after 10 minutes, we can get him a blow and get him back in."
Smith is already looking forward to next week's games in the Bahamas.
"Florida runs a lot of zones so with this game it helped us out a lot defensively and offensively they run a lot of sets that Texas A&M-Corpus Christi ran, so it's just kind of getting a little familiarity with it," he said. The Hoyas open the Battle 4 Atlantis tournament Wednesday versus Florida (2-1).

            MIN   2FG   3FG   FT  REB  A  PF  PTS
Starters:                                 
Smith-Rivera 30   2-2   2-7   2-2   6   7  1   12
Peak         23   2-4   1-2   5-6   2   3  2   12
Trawick      21   0-0   2-3   0-0   2   1  3    6
Hopkins      20   2-5   0-0   2-2  10   0  2    6
Smith        26   9-12  0-0   4-7  11   0  3   22
Reserves:
Campbell     17   1-2   0-3   1-2   2   2  0    3
Cameron      12   0-0   1-5   2-2   2   0  0    5
Copeland     15   1-3   0-0   2-2   1   1  2    4
Allen         3   0-0   0-0   0-0   0   0  0    0
White        15   2-3   0-1   0-0   5   1  5    4
Williams      1   0-0   0-0   0-0   0   0  1    0
Bowen        13   1-1   0-1   0-2   3   1  1    2
Mourning      1   0-1   0-0   0-0   0   0  0    0
Hayes         3   2-3   0-0   0-2   1   1  1    4
Team Rebounds                       2
TOTALS      200  22-35  6-22 18-27 47  17 21   80

If this was the 1980's, construction of the Intercollegiate Athletics Center might have seen a 20 foot high wall to build the project without the presence of cameras. Such is not the case in 2014, where the Georgetown athletic department has posted a 24 hour construction camera for fans to watch the progress of the effort.
If you're expecting a lot of dirt flying in the nine weeks since the groundbreaking, the camera would suggest otherwise. Athletic Director Lee Reed commented on this at a recent e-mail newsletter this week which stated, in part, "A late change in the storm water management regulations necessitated a modification to our original design. While we have lost time because of this, I remain confident that we will meet our goal of having the building completed and occupied in time for the 2016-17 academic year."
After a Saturday for the freshmen, this was a Tuesday night for the seniors.
Josh Smith led a senior-laden effort with 20 points and 12 rebounds as the Georgetown Hoyas battled from an early deficit to defeat Texas A&M-Corpus Christi, 78-62, before a small crowd of 4,887 at Verizon Center Tuesday.
In its first ever meeting with the Hoyas, the Islanders (1-1) played well at the start, hitting five of its first six shots to earn a 12-6 lead in the first four minutes of the game. Jumpers from Mikael Hopkins and L.J. Peak got the Hoyas close at the midway point of the first half, but Corpus Christi wasn't going away, and much of the first half was a fight. With three threes and a 75% shooting pace from inside the arc, the Islanders built a five point lead with 4:31 in the half, but were shut out thereafter from the field as inside baskets by Josh Smith and Aaron Bowen helped tied the score by halftime, 34-34.
Georgetown's halftime adjustments were right on target. The Hoyas opened up hitting five of its first six, forcing turnovers on each of the Islanders' first three possessions, and Georgetown regained a lead it could work with, 40-34. With a greater focus inside on the height advantage of Josh Smith and a strong offensive effort by Aaron Bowen, the Hoyas pushed the lead to ten points midway through the second half and saw the lead grow while the Islanders began to struggle under the pressure, with 11 second half turnovers.
The quartet of Smith, Mikael Hopkins, Jabril Trawick and Aaron Bowen accounted for 52 points and 26 rebounds in the win, and 32 of Georgetown's 44 points after halftime.
"We have guys that can go get the ball; they just have to make themselves do it," said coach John Thompson III. "Starting with Josh, he was pursuing the ball very well today, which he has to do, which he can do...More importantly, as importantly, we want to get out and we want to run, but to do that we have to get stops and we have to get rebounds. It's great to say, "hey let's run, let's push it," but you can't if you're giving up second shots and third shots."
"I thought [Bowen's] quickness and speed would help. I look at this as very different, but I think that he can have the same type of effect as Patrick Ewing Jr. A couple of years ago Pat was starting and then I brought him off the bench and he affected the game with his energy, much like Aaron, Pat was always getting deflections, getting steals, getting rebounds. I think Aaron can have a similar effect on this year's team."
"We were able to really have good rotations on their drives, especially on the baselines cutting it off. But with their length, if they get to the middle it becomes a volleyball match," said Corpus Christi coach Willis Wilson. "They're either going to get to the middle and draw contact and get to the free throw line or the offensive glass, and we're not going to battle with a team with that kind of length...I thought our guys got a little flustered with how physical the game was, one of those things we've got to learn how to do."
Georgetown remains at home for Saturday's game with Robert Morris, a noon start at Verizon Center.
The Georgetown half of the box score:

            MIN   2FG   3FG   FT  REB  A  PF  PTS
Starters:                                 
Smith-Rivera 24   0-1   1-3   4-4   0   0  0    7
Peak         28   2-6   1-4   3-4   4   4  1   10
Trawick      31   3-4   0-0   1-4   5   4  3    7
Hopkins      21   5-8   0-0   2-2   7   1  3   12
Smith        26   8-12  0-0   4-5  12   1  2   20
Reserves:
Campbell     14   0-1   1-2   1-2   1   0  1    4
Cameron      10   0-0   1-2   0-1   1   0  1    3
Copeland     12   0-2   0-0   2-4   2   0  0    2
Allen         1   0-0   0-0   0-0   0   0  0    0
White        13   0-0   0-1   0-0   2   1  0    0
Bowen        18   5-7   0-0   3-4   2   2  3   13
Hayes         2   0-0   0-0   0-0   1   0  1    0
DNP: Williams, Mourning
Team Rebounds                       2
TOTALS      200  23-41  4-12 20-30 39  13 15   78

Freshman L.J. Peak made his mark on the 2014-15 season opener, with a sterling 9 for 9 shooting effort as the Georgetown Hoyas moved past St. Francis-Brooklyn, 83-62, in the season opener at Verizon Center.
Peak scored four second into the game as Georgetown scored the first eight points of the game, moving at a much faster pace than Georgetown fans had been accustomed to in recent years. The Hoyas led 10-2 before the first television time out, but soon hoisted up some ill advised shots and the Terriers seized the opportunity to claw back into the contest. Georgetown made only one field goal over its next 6:29 as the Terriers cut the lead to three at the 12:16 mark, 14-11, tied it 44 seconds later, and took a 16-15 at the 10:39 mark, taking advantage of Georgetown's poor shooting and good offensive rebounding to give it second chance opportunities.
The Terriers' hopes at springing an upset, similar to what it cast upon Miami in its opener last season, lasted all of nine seconds. The Hoyas answered with a 14-1 run, begin at the line with a combined seven of eight free throws, then punctuated by an acrobatic drive by Peak at the 7:50 mark and a three pointer at the 7:10 mark, to push the lead to 28-17. At that point, Peak accounted for 12 of the Hoyas' 28 points, proving valuable in the face of a lack of offense from D'Vauntes Smith Rivera and a bout of fatigue from by senior center Josh Smith that was limiting his activity down the court.

St. Francis closed to seven at the half, but its poor shooting (34% FG, 7-12 FT) were not enough to stay closer. By the opening moments of the second half, Georgetown jumped out to a 12-4 run which build a lead it would not relinquish.

"I think our attentiveness defensively was better in the second half," said coach Thompson. "They set on-ball, after on-ball, after on-ball at different angles and we were not as aggressive with how we dealt with that in the first half. I think we did a slightly better job in the second half."

Peak's 9-9 from the field placed him in select company for shooting. His 9-9 effort has been matched by only three other players in Georgetown history: an 11-11 effort from junior Eric Floyd in 1980, a 10-10 effort from senior Craig Shelton against indiana in 1979, and a 10-10 effort from junior patrick Ewing against Boston College. Outside of Peak, however, coach john Thompson III got some good news from a wide cross-section of the newcomers.


Total pts.,
GU freshmen


Shooting pct.,
GU starters


Shooting pct.,
SF-NY starters


GU 3-pt. shooting


St. Francis adv.,
blocks


St. Francis adv.,
off. rebounds


Tre Campbell filled in well for a slumping Smith-Rivera, with seven points over 15 minutes of action. Isaac Copeland and Paul White each scored six points, helping the Hoyas shoot 63 percent from the field in pulling away after halftime and 52 percent overall. Following Peak, Jabril Trawick had 11 points and Josh Smith 10, though he was limited to just 19 minutes of action and did not dominate the smaller Terriers (no player taller than 6-7) as some would have thought.
Clearly, Coach Thompson was not satisfied with Smith's effort, with a candid post-game comment that "I thought it was unacceptable. He has got to play better. Josh Smith can't play and have two rebounds total, both offensive and both off of his misses."
"We are a totally different team than we were last year," he said. "We are a work in progress and there is a long way to go. If we can get stops and if we can get rebounds - which we did a horrible job of today, they had 22 offensive rebounds, that cannot happen - but if we get defensive boards, we have different guys we can initiate the break with and different guys who can finish the break."
[Peak] overpowered us going to the basket and to be honest he's probably the difference in the game," said St. Francis coach Glenn Braica, a former assistant coach at St. John's. "We knew who D'Vauntes Smith-Rivera is and some of those other guys as well but he was an unknown. He stepped up and he's going to be a very good player for them."
The Hoyas stay home throughout the next week, with a midweek game Tuesday against Texas A&M-Corpus Christi, who opened its season with a 73-58 win over Our Lady of the Lake, an NAIA school in San Antonio. The Islanders were the third pick in the pre-season Southland Conference poll, and represent the first Georgetown opponent playing in the SLC since Nicholls State in the 2000-01 season.
Here's the Georgetown half of the box score:

            MIN   2FG   3FG   FT  REB  A  PF  PTS
Starters:                                 
Smith-Rivera 26   2-6   0-3   4-4   9   6  0    8
Peak         26   8-8   1-1   4-8   2   3  2   23
Trawick      23   5-8   0-0   1-1   5   2  3   11
Hopkins      26   0-3   0-0   2-4  10   2  3    2
Smith        19   5-8   0-0   0-2   2   1  4   10
Reserves:
Campbell     15   1-1   1-3   2-2   1   0  1    7
Cameron       5   0-0   0-2   0-0   1   2  1    0
Copeland     17   2-4   0-0   2-2   1   1  1    6
Allen         3   0-0   0-0   0-0   0   0  0    0
White        18   3-7   0-0   0-0   2   1  0    6
Williams      1   0-0   0-0   2-2   1   0  0    2
Bowen        11   4-5   0-1   0-0   2   1  1    8
Mourning      1   0-1   0-0   0-0   0   0  0    0
Hayes         5   0-0   0-0   0-0   2   0  0    0
Team Rebounds                       2
TOTALS      200  30-51  2-10 17-25 40  19 16   83


In Georgetown Athletics news, seven alumni have been named as the newest class of the Georgetown University Athletic Hall of Fame: Tom Bass (C'83, baseball), Peter Sherry (C'90, track) Kevin McMahon (C'94, track), Simone Kollmann (I'93, volleyball), Eiko Sakamoto (C'95, tennis) Chris Jones (B'95, soccer) and goalkeeper Phil Wellington (C'95, soccer). The event will be held Saturday, March 7 on campus, with additional details to follow. Congratulations to all the awardees and their families.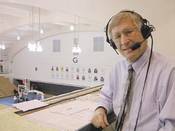 Saturday's game with St. Francis Brooklyn marks the 40th season of radio broadcasts under Rich Chvotkin, whose call of over 1,250 Georgetown games since 1974 (interrupted only by military service in the Gulf War of 1991) is the stuff of broadcasting legend. Even more legendary, and perhaps even more unlikely, is how he became the undisputed voice of the Hoyas.
Following years of coverage via student announcers on campus station WGTB-FM, the men's basketball team found itself without a home in the fall of 1974. By then, WGTB, run largely by non-students with a hard-left political bent, wanted nothing to do with sports, which it considered "sexist and gladitorial" per a 1999 Washington City Paper retrospective. Its decision effectively ended student broadcasts of men's basketball, but opened a door for an aspiring broadcaster from the Army who would have never been hired by WGTB management.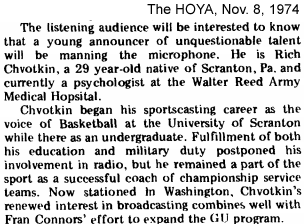 With less than a month to go before the season, Georgetown sports information director Fran Connors received an unsolicited call from a 29 year old psychologist at Walter Reed Army Medical Hospital expressing interest in calling the Hoyas' games. Rich Chvotkin had no experience in broadcasting outside of college radio at the University of Scranton, but turned down an Army transfer to Europe to stay in DC and seek his dream of being a part-time sports broadcaster. With a pair of games called on cassette tape that month, Chvotkin won the support of athletic director Frank Rienzo for its November 30 opener at McDonough Gymnasium against Upsala College, a now defunct team from East Orange, NJ led by future NBA head coach Richie Adubato.
The Hoyas had their man. Trouble was, it had no station and no advertisers.
The early years of John Thompson had little visibility in the local area beyond the city's two newspapers, the Post and the Star. When WGTB dropped its coverage, WAVA-FM signed a deal to broadcast the games, then cancelled it just before the season to cover George Washington basketball instead. With nothing to lose, Chvotkin and his fiancee opened the phone book and started cold-calling local stations. Answering the call was WOOK-AM, one of the original black-owned stations on Washington's AM dial. As Chvotkin recalled in a 2012 speech, he drove through Southeast DC to line up WOOK sponsors to support the broadcasts, and it was at 1590 AM that Chvotkin's call of the 1974-75 Hoyas that led local fans to follow the team to its first NCAA bid in 32 years. Chvotkin not only called the games, he served as the game's broadcast engineer as well.
"I must say this about him," former coach John Thompson told USA Today in 2007. "At the time I needed a broadcaster, he volunteered to do it. And he went out and had to sell it and...do everything to put us on the air himself."
(WOOK's broadcasts would be a one year deal. In an unprecedented decision, the FCC voted 7-0 to strip WOOK of its radio license in 1975 for promoting illicit gambling. Jet magazine reported that "The station had been litigating for more than six years since it was accused of permitting preachers to use numerical designations for chapters and verses in the Bible as tips for listeners who played the D.C. numbers racket.")
By 1975, pressure from the University led WGTB to reassume the broadcasts. Things got off to a rough start at the Blue-Gray intra squad game when WGTB posted a disclaimer on the broadcast: "Tonight, Georgetown University has forced WGTB to bring you Hoya basketball". The station balked at commercials during the game and wanted to censor Chvotkin's broadcasts as it saw fit. The athletic department started looking elsewhere and with just two days before the 1975-76 opener, Chvotkin and the Hoyas landed at WEAM-1390.
Chvotkin stayed at Walter Reed and stayed with the Hoyas. Throughout the 1970's, the Hoyas were a radio nomad, moving across a variety of stations until former Capital Broadcasting Company flagship WWDC-1260 added the Hoyas in 1981-82, Patrick Ewing's freshman year. It began an 18 year run of Hoyas basketball on the station, where Chvotkin called entire Big East Tournaments for 17 years, sometimes calling four games in a day, all solo, just for the local Washington audience who could hear the fractious 1260 AM signal.
By 1999, WTEM-980 picked up the contract from WWDC and Chvotkin's animated calls soon found its way to ESPN highlight shows and numerous YouTube homages:
"It is basketball as stream-of-consciousness, delivered nonstop in a breathless staccato, peppered with quirky sayings," wrote the Washington Post in 2005. "In Chvotkin's game, the "liftoff half" is followed by the "vesper half." The ball is thrown inside to a player in the "muscle tussle," and a basket that breaks a scoring drought "cleans the dust out of the nets." A player who makes a shot while being fouled gets "the hoop and the harm."
"If he were paid by the word," wrote USA Today's Reid Cherner, "Georgetown would have to raise tuition."
Rich Chvotkin's remarkable journey has taken him to games in 40 states, Canada, and Puerto Rico. A solo broadcaster for most of his career, he has broadcast almost half of all basketball games ever played by Georgetown University, including four of its five Final Fours, 26 of its 28 NCAA tournaments, and 96 of its 103 post-season games. Chvotkin and his family have a special place in the Georgetown basketball family, with Rich having been the voice of games from the era of Jon Smith to Josh Smith, and everyone in between.
Perhaps Georgetown will take an opportunity this season to publicly recognize the pride and perseverance that has made Rich Chvotkin a legend not only in Georgetown circles, but in the profession that has become his passion over these four decades.
Because when Rich Chvotkin says "HOYAS WIN!", we all do.
The annual Washington Post pre-season feature is now online, with a look at senior Josh Smith's last chance to get his college career together before graduation.
"That won't ever happen again because, I mean, I felt embarrassed with how that went," Smith said. "I manned up. It was a mistake that happened. I owned up to it. I had to sit out last year, but it was a terrible feeling watching your teammates play at home, watching them compete in the Big East, and all you can do is offer moral support, so I'm not going to let these guys down again."
"It's up to him to maintain what he has been doing, but as of now, he's on point with everything on the floor as well as in the classroom," said coach John Thompson III. "I said the same thing at this point last year. Now he's got to continue to do it."
Whereas the Post confines itself to limited pre-season coverage, Comcast Sports' Ben Standig has a 21-part pre-season installment on its web site, revisiting a topic discussed this site a few weeks ago: when does Georgetown and Maryland bury the scheduling hatchet that has hung over this region's basketball culture for the last 35 years?
"Here's the reality: There has never been a better time over the last 30-plus seasons for the local powers to meet and not just because TV partners recognize the intriguing matchup," writes Standig. "Both missed the NCAA Tournament last season. Maryland hasn't reached the ultimate March Madness event in four seasons. The Hoyas typically make the NCAA's but just as typically exit early to a double-digit seed opponent. Both are dealing with new conference dynamics. The name still says Big East, but in some sense, the conference's power is name only. There is still pop at the top, but overall it's tougher viewing the Big East as a "power conference" right now...Maryland's shift to the Big Ten begins this season. That means planned rivalries against Duke and North Carolina are no more, but a trip to Iowa City in February is happening."
"Would Georgetown and Maryland have scheduled one another by now if not for [Maryland athletic director Kevin] Anderson's all-or-nothing approach [in 2012]? There are no absolutes in this realm, [but] by my sense of the scene is yes."
Since the early 2000's, schools have had the option to pursue pre-season competition either through closed scrimmages against Division I teams or exhibition games against lower division teams, Georgetown has chosen the former. All other Big East schools have been in action, however.
Butler: The Bulldogs's second game under interim coach Chris Holtmann went well, with a 98-43 win over franklin (IN) before 6,624 at the Hinkle Fieldhouse. A week earlier, the Bulldogs defeated the Division III University of Chicago 88-45.
Creighton: The Bluejays defeated Division II Sioux Falls 91-72 before 16,317 at CenturyLink Center.
DePaul: This one was not encouraging for the Blue Demons, needing a late rally to escape past Division II Lewis College, 72-68. No attendance was provided in the recap.
Marquette: No problem for the Warriors in this one, a 115-47 win over Division III Wisconsin Lutheran, before 12,160 at the Bradley Center.
Providence: The Friars defeated Division II Stonehill 92-49 before 4,234 at Dunkin' Donuts Center, with five men in double figures.
Seton Hall: The Pirates defeated Division II Caldwell (NJ) 96-68 at Walsh Gymnasium, behind 19 points from Sterling Gibbs. Although the press release called it a sellout, the box score indicated only 1,623 were in attendance.
St. John's: Five players scored in double figures as the Redmen defeated Division II St. Thomas Aquinas 97-71 before 3,490 at Carnesecca Arena. Earlier, the Redmen defeated from Division II Humboldt State (CA), 95-83.
Villanova: Following a 93-50 rout of Rollie Massimino's Division II Northwood (FL) team earlier in the week, the Wildcats continued its exhibition run with a 82-45 win over Division II Nyack at Wells Fargo Center, led by a 20 rebound effort by Daniel Ochefu.
Xavier: Northwood's next visit was to Xavier, where the Musketeers won 102-69 before 9,152 at Cintas Center. The X-men were led by Matt Stainbrook, with 16 points.
So why doesn't Georgetown play exhibitions? The simple answer may be that Coach John Thompson III simply doesn't want to, but upon closer inspection the opportunity to scrimmage against Division I opponents such as Virginia and George Mason is considered more productive than beating up on Marymount, Catholic, or UDC at McDonough Gymnasium, since Georgetown does not have the ticket base of a Creighton or Marquette to justify the rent at Verizon Center for an exhibition game.
With tickets trending as low as $3.37 on Stubhub, it's no surprise that tickets for Saturday's opener with St. Francis-Brooklyn are plentiful.
This is the second year Georgetown is employing a dynamic pricing model to single game seats, which is either a penalty for single game purchasers or a benefit to local season ticket holders, depending on one's view. A lower bowl corner seat in section 118, for example, costs $15 a ticket for St. Francis, but $88 for Kansas.
The Hoyas' opening attendance has trended downward in six of the past seven seasons. Here's the attendance figures for the home openers since the 2007-08 season:
2007-08 (vs. William & Mary): 11,364
2008-09 (vs. Jacksonville): 10,253
2009-10 (vs. Temple): 8,712
2010-11 (vs. Tulane): 10,031
2011-12 (vs. Savannah St.): 9,876
2012-13 (vs. Duquesne): 8,213
2013-14 (vs. Wright State): 7,350
A year after he was unceremoniously retired as the school's mascot, J.J. the bulldog is enjoying life as a two year old Georgetown resident, writes The HOYA.
"People recognize him when we walk him," said local resident John Stoner, who adopted the dog last summer. "People always remark about him what a great-looking dog [he is] and they say, 'Isn't he cool?' [He is] very gifted physically, quite powerful and quite strong. He is just absolutely so much fun to have around. He is just a very happy little boy and he has so much personality."
"When I've visited him, he's displayed the same energetic and affectionate personality; he doesn't seem to have an off switch," said Rev. Christopher Steck, S.J. "I am delighted that he has made the transition so smoothly."
Georgetown's freshmen class has received a lot of pre-season attention, and with the home opener next week, coach John Thompson III told Comcast Sports Washington that freshman guard Tre Campbell has made an impact.
"I think the transition from high school to college is very difficult regardless of position and regardless of whether you play a sport or not," Thompson said. "I think it's a huge, huge adjustment. It's one that little Tre -- we have little Tre Campbell and big Trey Mourning -- is probably ahead of where I anticipated, quite honestly."
"Tre can have a presence at both ends of the court. He's fast. He's really, really fast. He has the ability to guard better than I thought to be honest. He's figured it out. He's gotten stronger. To hear him say it, he's gotten a lot stronger. He's going to have a presence defensively and he puts the ball in the basket. He's doing a good job of getting others involved. He's been very good."
Stadium Journey, a web site that rates various fan-friendly sporting locations, has published its review of McDonough Gymnasium. The spiritual home of Georgetown basketball since 1951 received three of five stars.
Atmosphere scored five stars. "Passing through the heavy lacquered wood and glass doors you enter into a lobby with a portrait of Rev. Vincent S. McDonough, S.J., the "moderator of athletics" from 1916-1928 and so brimming with dusty old trophies that unless you are familiar with what a national championship trophy looks like, you're likely to miss Georgetown's men's basketball 1984 National Championship trophy. Less likely to be missed are the 20 plus framed NBA jerseys hanging on the far wall of the main arena. It is quite an impressive resume for such a small Catholic school," it writes.
As any Kenner League regular will tell you, concessions do not merit such plaudits. "I didn't even notice where they would have been sold unless someone set up a table and maybe plugged in a crock pot full of hot dogs, but everyone seemed happy with a bottle of water and waiting until the end of the [volleyball] match to grab a bite to eat," said the reviewer.
Previous reviews of Verizon Center, Shirley Povich Field, and the unfinished Multi-Sport Field are also included at the web site.
From the Rush The Court blog, an interview with CBS Sports.com columnist Jon Rothstein on the challenges each Big East team faces in the upcoming season.
"If Josh Smith plays at the level that he did last year, Georgetown is an NCAA Tournament team," he said. "The Hoyas were 10-3 with Josh Smith and 8-12 after he became academically ineligible. They were an NCAA Tournament team with him last year. If Smith can stay eligible and freshmen Isaac Copeland and L.J. Peak can produce like they are being expected to produce, I think Georgetown is a pretty certain NCAA Tournament team."
Rothstein minced no words on the state of the conference's perennial team at the bottom, DePaul.
"You are not in a position where you are going to be successful in the Big East when you are really not even playing home games. DePaul's home games are 22 miles away from campus. It has the opportunity – if it wanted – to play on campus in a setting comparable to what St. John's has with Carnesecca Arena, but for whatever reason, the school has decided not to go down that road. I think there are so many issues with the infrastructure there that need to be solved before you can begin solving problems from a basketball perspective ."
Amidst the 50,000 or so runners at Sunday's New York marathon was Dikembe Mutombo (SLL'91), who anchored a relay of NBA veterans participating in the event to raise awareness for youth fitness.
"My timing was good, and I felt great out there," said Mutombo, who finished the run at 4:48:09. "It was so important to be part of this cause, helping teach young people how important it is to run and be healthy. I was proud to be a part of it," he told the New York Daily News.
"I've been running all of my life with the high-top shoes," he said. "So I really don't know that much what it's like running with the low-cut shoes. So when I put these shoes on, it's a great brand; it's the Dikembe Mutombo brand. So I was happy to run in them."
Other participants in the NBA relay included NBA commissioner Adam Silver and former players Nate Archibald, Chris Mullin, Charles Oakley, Bernard King, Sam Perkins, and Darryl Dawkins.
Georgetown received just five votes in the Associated Press pre-season Top 25 poll, far below that of the teams listed in the annual poll.
Villanova (12th) was the only Big East team that made the list.
Georgetown's cumulative 314 weeks in the AP poll leads all other Big East schools, but the Hoyas haven't been ranked since the final poll of the 2012-13 season.
---
HoyaSaxa.com: The One-Stop Web Site For Hoya Basketball™
An independent web site not affiliated with Georgetown University. All rights reserved.