| | |
| --- | --- |
| Georgetown 68, Maryland-Eastern Shore 49 | 12/1/15 |
In a season of new names and faces, Georgetown relied on D'Vauntes Smith-Rivera to carry the Hoyas to a 68-49 win over Maryland Eastern Shore Tuesday, a much more competitive game than the presumed walkover en route to Saturday's matchup with #14 Syracuse.
Maryland Eastern-Shore entered the game 1-4, and struggled to maintain balance early in the game against a taller and quicker Georgetown opponent. Senior Bradley Hayes scored six of Georgetown's first nine points as the Hoyas opened a 9-4 lead in the first three minutes of play, a lead that was not seriously threatened in the first half due to an alarming number of UMES turnovers. The Hawks surrendered seven turnovers in the first eight minutes of play, providing Georgetown an extra nine points in an 18-11 lead midway through the half.
Georgetown's early lead was carried upon Smith-Rivera's shoulders. DSR had 11 of the Hoyas' first 26 points, equally adept at close range or from three--where an outside shooting touch missing in the game Saturday against Bryant was back in full force this evening. Smith-Rivera sank five threes by halftime as the Hoyas outscored the Hawks 12-3 to lead by 18 at the break, 38-20. UMES committed 14 turnovers which resulted in as many points given to the Hoyas (20) as those they scored on their own.
UMES coach Bobby Collins settled his team down at halftime. With fewer turnovers and a shift towards a more aggressive defensive set in the backcourt, UMES began to work its way back into the game. Georgetown led by as many as 21 in the first eight minutes of a second half that saw the two teams combine for just five field goals, but a run of Georgetown turnovers opened the door for a revived Hawks attack.
Down 46-26 with 11:37 to play, Freshman Dontae Caldwell drove inside for a basket and foul, 46-29. On the Hawks' next series, a pair of Georgetown turnovers were cashed in by junior Mark Blackmon, whose three point play brought the Hawks to 48-32. Two more Georgetown turnovers followed, and the Hawks closed to within 11, 48-37.
The return of sophomore guard Tre Campbell was welcomed by Georgetown and Campbell made his presence felt, sinking two pairs of free throws at a crucial part of the game to keep the lead at 13, 52-39, with 6:38 to play. Georgetown's defense began to wear down its opponent, and after a run of UMES missed shots from outside, the Hoyas struck back, as Smith-Rivers drove the lane for a basket and the foul, 55-38, with 5:58 remaining. The Hawks never closed within 16, as Smith-Rivera scored five of Georgetown's next six points and Maryland-Eastern Shore was held to just two field goals in the final four minutes of play.
Smith-Rivera led all scorers with 30 points, the third game in his career with 30 or more points and the first since a 31 point effort against St. John's in the early part of the 2013-14 Big East season. Bradley Hayes scored 11 points and nine rebounds, with six coming in the first four minutes of play, and four in the final two minutes. DSR finished 5 for 10 from the three point line, while the rest of the team was a frosty 2 for 11; a similar trend was seen on the UMES stat sheet, where sophomore Ryan Andino was 4 for 5 from the arc while the rest of his team was just 1 for 10.
UMES finished with 19 turnovers, but lost just five possessions after halftime. By comparison, Georgetown gave up 16 turnovers, 11 after halftime.
The game was Georgetown's only scheduled game this season against teams from the Mid-Eastern Athletic Conference, a staple of early season wins in past seasons. With the win, Georgetown improved to 54-0 all time against MEAC teams, and 83-0 against historically black colleges and universities (HBCU's) since the 1973-74 season.
The Georgetown half of the box score:

            MIN   2FG   3FG   FT  REB  A  PF  PTS
Starters:                                 
Smith-Rivera 36   5-6   5-10  5-5   3   2  0   30
Peak         33   2-5   0-2   1-2   3   2  2    5
Copeland     19   0-1   0-2   0-0   3   1  2    0
Derrickson   15   0-0   1-3   2-2   2   0  3    5
Hayes        28   3-7   0-0   5-7   9   1  3   11
Reserves:
Campbell     19   0-1   1-2   4-4   1   1  0    7
Cameron      22   3-3   0-2   0-1   3   1  1    6
White         6   0-0   0-0   0-0   1   2  0    0
Govan        11   0-2   0-0   2-4   5   0  3    2
Williams      1   0-0   0-0   0-0   0   0  1    0
Johnson       6   0-0   0-0   0-2   0   1  0    0
Mourning      4   1-1   0-0   0-0   2   0  1    2
Team Rebounds                       3
TOTALS      200  14-26 7-21  19-27 35  11 16   68

| | |
| --- | --- |
| Beyond The Game: RaMell Ross (C'05) | 11/30/15 |
As part of the site upgrades to the Georgetown Basketball History Project scheduled for later this month, we'll be showcasing a new feature, "Beyond The Game", a look at where former Georgetown players have taken their lives after basketball. This week: RaMell Ross (C'05).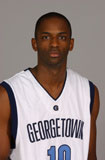 It was just an elective course for RaMell Ross, a double major in the College in english and sociology, wrapping up a basketball career at Georgetown marred by injury. Ross, a one-time honorable mention McDonald's All-America selection, lost two seasons over five years to injuries. Pursuing an minor in fine arts, Ross signed up for a photography course. It changed his life.
"People have tried to dissuade me from pursuing a career in photography," Ross said in a 2009 article. "Some have even laughed when I told them what I obsessively do and think about. But there is something so attractive about the craft, something so invigorating surrounding the process, that I wonder how much of it is a choice."
Following graduation from the College, Ross played basketball in Northern Ireland and worked as a program manager for a DC-based non-profit, Peace Players International, before turning full time to photography in 2007. He enrolled at the Rhode Island School of Design, earning a MFA in photography and honing his craft for a series of exhibitions which has taken his work to New York, London, and Copenhagen, and across the pages of the New York Times, Business Week, and ESPN.
"In 2007 I could not get enough of photography," he said. "There was a veil slowly lifting, revealing the horizon-less landscape beyond photography's ability to freeze moments and portray beauty. The true potential of photography had begun to resonate with me and I finally recognized that my work was limited only by my creativity."
Ross has created both photography and film works focusing on Hale County, Alabama, a hard scrabble portion of rural Alabama known as the "Black Belt". The population has dropped by half over the last century. Ross not only covered the area at a distance, he moved to the area for two years to experience it first hand.
"I like to tell real, contemporary stories of the South through the eyes of an African American man," Ross said in this 2014 article. "Everyone wants to photograph picturesque plantations and abandoned Civil War-era buildings. But there's so much more to uncover."
A further excerpt:
"Ross first began documenting Hale County in 2009 when he was hired as a photography instructor for YouthBuild, a nonprofit that encourages teenagers to pursue higher education. Two months later, he accepted a position as a youth manager at Hale Empowerment and Revitalization Organization (HERO), a federally funded philanthropic organization that seeks to act as a catalyst for community development and reduce poverty in the Alabama Black Belt. Answering to the nickname "Uncle RaMell," the artist not only helped his young mentees apply for college and map out their professional goals, he also jumped in to assist with daily tasks such as figuring out a tricky math problem or scheduling a doctor's visit.

"I wouldn't tell my students what to do. I'm not that narcissistic to think I know what's best for them," he notes. "More often than not, they just needed someone to be a friend."
Where Ross once funded projects on Kickstarter, he has since been the recipient of grants from the Rockefeller Foundation and the Sundance Institute. In 2015, he was a guest lecturer at the Tisch School of the Arts at NYU, and is currently an artist in residence at MIT.
"I enter filmmaking as an artist who is wild about poetics and its emotional influence," Ross told Filmmaker Magazine, where he was named as one of its "25 New Faces Of Independent Film". "I played point guard, so I've always looked at things in terms of movement and their relationship to what came before and after."
"The film is an ode to them and the Alabama South, from the centrality of our community, and uses immersive aesthetics in the form of ambling montages, fractured, organic and associative, to pose an alternate perspective: one that is meditative, sensory and accessible. How else can you translate the holiness of this region?"
More on RaMell Ross can be found at his web site.
| | |
| --- | --- |
| Georgetown 77, Bryant 47 | 11/28/15 |
A 17-5 run to end the first half powered the Georgetown Hoyas to a comfortable 77-47 win over Bryant before a holiday crowd of 7,876 at Verizon Center Saturday.
Bryant's only lead came at 2-0. Sophomore guard L.J. Peak scored nine of the Hoyas' first 13 points but the Hoyas led early but struggled to build much of a lead, opening the game 1 for 8 from three point range. Bryant's zone defense was effective the Bulldogs closed to 23-21 with 7:56 to play, but the Hoyas finished the half on runs of 8-3 and 9-2 run to lead by 14, 40-26, despite shooting just 3 for 11 from three point range.
The second half was much of the same. From a 45-33 score early in the half, Georgetown took a 14-2 run midway in the second half and never looked back. The Hoyas held the visiting Bulldogs to just 28 percent shooting in the second half, where the lead steadily built for the remainder of the game.
The Bulldogs were without its leading scorer, Hunter Ware, who was sidelined with illness. His replacement, guard Bosko Kostur, shot just 2 for 12 on the afternoon.
"Our leading score is out with the flu so he wasn't with us and he's a kid who can actually shoot it pretty well," said Bryant coach Tim O'Shea in post-game remarks. "I had a lot of young guys out there and I thought they competed hard for a good portion of the game, but at the end of the day, you've got to make free throws and you've got to make three-point shots to be competitive in a game like this and we just weren't able to do that today."
Bryant's use of the zone was effective early, but it wasn't a surprise to Georgetown coach John Thompson III.
"I expected [them] to play a lot of zone," he said. "You have to get in there and make decisions, so I think they did a good job. All year, with the exception of the first game, we have moved the ball and helped each other; we just have to keep improving on defense."
Georgetown shot 43 percent from the game but missed 22 of 29 attempts from three point range. Peak led all scorers with 20 points, helping compensate for D'Vauntes Smith-Rivera shooting 1-9 from three point range and 3-12 overall. Marcus Derrickson picked up a double-double, with 12 points and 12 rebounds.
Here's the box score:

            MIN   2FG   3FG   FT  REB  A  PF  PTS
Starters:                                 
Smith-Rivera 35   2-3   1-9   2-2   1   2  1    9
Peak         28   5-5   1-3   7-10  5   0  2   20
Copeland     30   3-5   2-5   1-2   4   5  1   13
Derrickson   27   4-7   0-2   4-4  12   3  4   12
Hayes        19   4-8   0-0   2-2   5   0  1   10
Reserves:
Cameron      16   0-0   3-6   0-0   3   1  1    9
White        10   0-0   0-2   0-0   2   1  0    0
Govan        16   0-2   0-0   0-0   5   1  2    0
Williams      2   0-0   0-1   1-2   0   0  0    1
Johnson      12   0-0   0-1   1-2   2   1  1    1
Mourning      5   1-1   0-0   0-0   1   0  1    2
DNP: Campbell
Team Rebounds                       7
TOTALS      200  19-31 7-29  18-24 47  14 14   77

| | |
| --- | --- |
| Duke 86, Georgetown 84 | 11/23/15 |
Sophomore guard Grayson Allen scored a career high 32 points as #5-ranked Duke held off a last minute upset bid by the Georgetown Hoyas, capturing the 2K Classic title in an 86-84 win before 17,287 at Madison Square Garden.
The early season game had a NCAA tournament feel to it, and both teams competed as if it were late March instead of late November. After a slow start, Duke hit four of its next five field goals to take an early 10-8 lead, but Isaac Copeland scored the next seven as Georgetown regained the lead, 15-14. Copeland was vital in a 11-2 Georgetown run that extended the lead to as may as eight, 26-18, when Duke's Grayson Allen began to rally the Devils. Allen had 16 first half points as he scored five straight to close to 30-25, only to see Georgetown answer with a D'Vauntes Smith-Rivera three, a basket from Trey Mourning, and a Copeland basket at the 3:56 market to restore the lead to eight, 37-29, as Georgetown was shooting at a 59 percent rate. Allen keyed a second Duke run at the 2:22 mark, as his fourth three of the first half led to an 8-0 run that gave the Blue Devils its first lead of the game since the 13:43 mark, 40-39, with 1:08 to halftime.
In a first half that saw contributions from nearly every Georgetown player, the last minute of the half was one to remember for freshman Kaleb Johnson. Following a pair of free throws from Copeland, Johnson sank a long three to give Georgetown a 44-40 lead, and following a pair of Allen free throws with five seconds left, Johnson launched a half court shot with less than a second left that sailed through the nets and gave Georgetown a 47-42 halftime lead.
Both teams shot over 50 percent for the half, with the Hoyas entering the break shooting 57% from the floor and 90% (9-10) from the free throw line. For the second half, however, Duke coach Mike Krzyzewski made a key defensive change that changed the tenor of the game, moving to a 1-3-1 zone defense and drove the offense through Grayson Allen even more.
The Hoyas opened the second half with a Bradley Hayes turnaround to lead 49-42, but the change in defenses took its toll. The Blue Devils closed to 49-44 on a Mason Plumlee basket before Allen went to work: a three pointer to close to 49-47, an assist to set up a second three, 50-49, and another three of his own, accounting for nine points and three assists over a four minute run as the Blue Devils built a 63-54 lead at the 14:04 mark.
A change in Georgetown's defense helped stall the Duke drive. A basket by Johnson and two from Jessie Govan brought the Hoyas to 64-60 midway in the half. Five seconds later, the Blue Devils turned the ball over, and a drive from L.J. Peak was thwarted when it appeared Allen had shoved Peak into the free throw stanchion. No foul was called, however.
Georgetown continued its move against the scoring margin. A Kaleb Johnson free throw cut the score to 64-61. After a Duke basket, Reggie Cameron sank a three pointer to close to two, 66-64. The Hoyas closed to one point at 68-67, but fell victim to another non-call when Allen fouled Trey Mourning but evaded an official's whistle. Allen answered by scoring seven of Duke's next nine, extending the lead to 77-69 with 2:42 remaining, but the Hoyas were not done yet. Over a crisply played game that soon devolved to foul shots, the teams traded free throws into the final minute, where, down six with 21 seconds remaining, Isaac Copeland (held scoreless to date in the second half) hit a three to close to 84-81. Following two more Duke free throws, Copeland closed the lead to 86-84 with 7.8 seconds left. A quick foul to Duke's Derryk Thornton with five seconds could have closed out the game, but the freshman missed both attempts. Copeland raced down the court, where the potential game winner grazed the rim as time expired.
Georgetown got strong performances across the board, with 19 from Copeland, 14 from Kaleb Johnson, 14 from D'Vauntes Smith-Rivera, and 13 from L.J. Peak. The Hoyas shot 55 percent for the game and 41% from three point range.
Grayson Allen was the star of the game, shooting 9-12 from the field, 5-6 from three point range, and 9-9 from the line. For the weekend, he was 18-27 from the field, 9-14 from three point range, and 17-18 from the line. The Blue Devils shot 48 percent from the field versus the Hoyas but got to the free throw line 12 more times and connected on eight more than the Hoyas did. Overall, however, Georgetown got solid contributions from every able man on the roster, with strong showings from Kaleb Johnson, Reggie Cameron, and Jessie Govan.
After a three game, five day run that included two top five teams and the defending NCAA finalists, Georgetown falls to 1-3, with its three losses by a combined eight points. The Hoyas get a six day break before beginning a seven game, four week homestand at Verizon Center, beginning Saturday versus Bryant.
The Georgetown half of the box score:

            MIN   2FG   3FG   FT  REB  A  PF  PTS
Starters:                                 
Smith-Rivera 34   4-7   2-7   0-0   3   6  3   14
Peak         23   4-6   0-1   5-7   3   2  5   13
Copeland     38   4-7   3-7   4-5   6   1  4   21
Derrickson   13   1-1   1-1   0-0   1   0  1    3
Hayes        10   1-2   0-0   0-0   0   1  2    2
Reserves:
Cameron      29   0-1   1-2   4-4   2   3  1    7
Govan        17   2-2   0-0   2-2   4   2  3    6
Williams      1   0-0   0-0   0-0   0   0  0    0
Johnson      22   1-2   2-3   4-6   4   0  5   14
Mourning     14   2-2   0-1   0-0   1   1  4    4
DNP: Campbell, White
Team Rebounds                       3
TOTALS      200  19-29 9-22  19-24 27  16 28   84

| | |
| --- | --- |
| Georgetown 71, Wisconsin 61 | 11/20/15 |
Reggie Cameron and Isaac Copeland stepped up big as the Georgetown Hoyas shook off a two game losing streak to advance past Wisconsin in the semifinal bracket of the 2K Classic Friday.
Neither team made the evening highlights for its offensive prowess early in this game: after six and a half minutes, the two teams combined to miss 14 of 16 from the field, as Georgetown held a 4-0 lead until Wisconsin's Nigel Hayes picked up the Badgers' first two points via a dunk at the 13:33 mark. The key to the Hoyas' first half was junior Reggie Cameron, who had been deep on the bench in 2014-15 and had just one field goal in the first three games of this season. Cameron entered the game in place of freshman Marcus Derrickson at the 12:33 mark and began to pick up the outside scoring for a Georgetown team which could not connect from outside. After Wisconsin had closed to 11-10 midway in the half, back to back threes from Cameron helped led the Hoyas on a 9-0 run to lead 20-10 with 6:47 in the first half.
Cameron added two more threes late as Georgetown took a 27-22 lead at the half, and a look at the box score illustrated how valuable Cameron's play was off the bench. Minus Cameron's numbers, the Hoyas shot just 24 percent from the field, with D'Vauntes Smith-Rivera shooting 1-7 and Bradley Hayes 1-5. Cameron was 4-5 from the three point line, while the remainder of the team was 1-7.
Wisconsin closed the lead to three points early in the half when a DSR three led the Hoyas on a 7-0 run to push the lead to 43-34 at the 12:07 mark. The Wisconsin offensive sets never got in sync in this game, and when Isaac Copeland began to pick up the pace, the Badgers had no answer. Copeland scored ten of the Hoyas' next 15 points over a six minute stretch, holding the lead in double digits as fouls started to mount on the Georgetown starters. Georgetown led by as many as 14 in the final five minutes and the badgers never got closer than eight points thereafter.
Copeland led all scorers with 15, Cameron with 14. Smith-Rivers scored six of his 10 second half points at the foul line in the final two minutes, and ended the game shooting just 2 for 9. Outside of Copeland and Cameron, the Hoyas shot just 30% for the game but with their efforts, Georgetown finished the game at 43 percent and held Wisconsin to just 31% from the field, a far cry from last year's game in the Bahamas where Wisconsin shot 55% in the second half to earn the victory.
The Georgetown half of the box score:

            MIN   2FG   3FG   FT  REB  A  PF  PTS
Starters:                                 
Smith-Rivera 33   1-5   1-4   7-10  5   4  4   12
Peak         21   2-4   0-1   5-6   2   1  4    9
Copeland     31   2-5   3-4   2-2   8   0  4   15
Derrickson   17   0-1   0-1   0-0   3   3  2    0
Hayes        14   2-6   0-0   0-0   2   1  2    4
Reserves:
Cameron      29   1-1   4-6   0-0   3   2  1   14
Govan        26   2-5   1-2   6-6   5   3  1   13
Williams      1   0-0   0-0   0-0   0   0  0    0
Johnson      25   2-3   0-0   0-0   3   1  5    4
Mourning      3   0-1   0-0   0-0   1   0  0    0
DNP: Campbell, White  
Team Rebounds                       4
TOTALS      200  12-31 9-18  20-24 36  15 23   71

| | |
| --- | --- |
| Othella Harrington Selected To GU Hall of Fame | 11/19/15 |
Former center Othella Harrington (C'96) is among six awardees to the Georgetown University Athletic Hall of Fame, as announced Wednesday at GUHoyas.com.
Harrington was the nation's top high school basketball recruit when he selected Georgetown in the spring of 1992, averaging 29 points, 25 rebounds, and six blocks a game at Murrah HS in Jackson, MS. The 1993 Big East rookie of the year, he led the team in scoring in the two seasons before Allen Iverson's debut and finished his college career as the school's fifth leading scorer all time, and its fourth leading rebounder. After Georgetown, Harrington played 13 years in the NBA among five teams. He will be the 35th men's basketball player selected to the Hall since its founding in 1953.
Other awardees include recently retired crew coach Tony Johnson, Conal Groom (C'95, rowing), Stacy Duca (N'97, women's lacrosse) Jim Coale (B'95, men's lacrosse), Caryn Landau (F'95, women's track) and Joline Staeheli (C'95, women's rowing). Further details on the Feb. 20 event are pending.
| | |
| --- | --- |
| Maryland 75, Georgetown 71 | 11/17/15 11:45 pm EST |
Romelo Trimble scored 17 of his 24 points in the second half as the #3-ranked Maryland Terrapins rallied past an inspired Georgetown effort, 75-71, at Xfinity Center in College Park, MD Tuesday night.
Following a visibly poor performance against Radford on Saturday, all eyes were on the Hoyas, who opened the game with a 9-0 run to silence the sold out Maryland crowd. The Terrapins answered with five field goals in their next six attempts that built a 14-11 lead midway in the first half as the Hoyas' offense went cold. A three pointer from Georgetown's D'Vauntes Smith-Rivera at the 9:46 mark was Georgetown's first field goal since the 17:49 mark, and steadied the younger Hoyas, who tied the game on a Jessie Govan basket at the 6:45 mark of the half and went on a 10-2 run to carry a 28-21 lead into the last four minutes of the half, whereupon Maryland responded with three three pointers down the stretch and a 33-33 tie at the break, when a three from Marcus Derrickson was judged to have been shot after the clock had expired.
The Hoyas battled through the second half through defensive lapses and foul trouble, but got a big game from senior Bradley Hayes, who in the last two games has eclipsed his scoring over his entire Georgetown career to date. From a 35-all tie, Hayes scored six of Georgetown's next eight in a run which gave GU a 43-37 lead with 15:37 to play, and added four more before foul trouble sent him and Smith-Rivera to the bench midway in the half. Georgetown's defense was able to keep Maryland a step behind, while the Terrapins struggled through a run of poor free throw shooting that was solved at game's end.
With 9:34 to play, a three pointer by Maryland's Jake Layman closed the lead to one, 55-54, but Isaac Copeland came up big with six straight to extended the lead to 61-54 at the 5:49 mark. Following a Maryland time out, the Terrapins shut down the Hoyas over its next four possessions and picked up four free throws to cut the margin to 61-58, whereupon Trimble tied the score with 3:51 to play on a three pointer.
Much like the end of the first half, the Hoyas' lead was under siege. A basket by Hayes pushed the margin back to 63-61, but was quickly answered by Jared Nickens. A turnover and miss by Smith-Rivera on two possessions opened the door for Maryland, where Layman got open past Copeland and hit the second late three for the Terps, 66-63, with 2:19 to play, only to be answered by Smith-Rivera on the next series. A basket by Maryland's Robert Carter was answered by two clutch free throws by Marcus Derrickson, and the game remained tied until Rasheed Sulaimon hit a contested three with 1:15 left, 71-68. Following a Georgetown timeout, an interior pass set up Bradley Hayes inside, but his hook shot was around and out and Maryland extended the lead to 73-68 with 12 seconds remaining. A DSR three closed to 73-71 with 4.7 seconds, but a pair of free throws sealed the win.
All five Georgetown starters were in double figures, led by 16 from Hayes. The bench combined for just three points as the Hoyas shot 48% overall and 42% from three point range. The margin was at the free throw line, where the Terrapins were 23-32 from the line versus just 9-12 for the Hoyas.
The loss drops Georgetown to 0-2 for the first time since the 1998-99 season, but they turned in a solid effort against the #3 ranked Terrapins in every respect. Next up: the 2K Classic with an Friday afternoon game versus Wisconsin at Madison Square Garden and a possible Sunday matchup with #5 Duke for the winner of Friday's opening game.
The Georgetown half of the box score:

            MIN   2FG   3FG   FT  REB  A  PF  PTS
Starters:                                 
Smith-Rivera 26   1-3   4-8   0-0   4   4  4   14
Peak         30   3-7   0-2   6-7   3   2  2   12
Copeland     39   5-7   1-2   0-0   6   5  2   13
Derrickson   30   1-5   3-5   2-2   6   1  4   13
Hayes        25  8-13   0-0   0-1   8   1  4   16
Reserves:
Campbell      9   0-0   0-0   0-0   0   0  1    0
Cameron      13   0-0   0-1   0-0   1   0  0    0
Govan        11   1-2   0-0   1-2   2   0  5    3
Williams      1   0-0   0-0   0-0   0   0  0    0
Johnson      12   0-0   0-0   0-0   3   0  2    0
Mourning      4   0-0   0-1   0-0   0   0  1    0
DNP: White
Team Rebounds                       3
TOTALS      200  19-37 8-19   9-12 36  13 25   71

| | |
| --- | --- |
| Georgetown-Maryland: Ten Great Games | Updated 11/17/15 |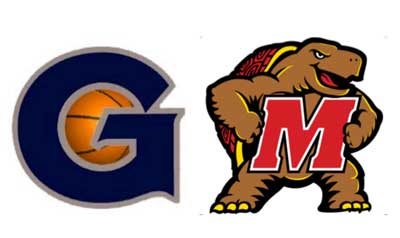 Tuesday's game was another outstanding game between the schools. Here's our look at the top 10 games in the series:
1. Dec. 18, 1907: Georgetown 58, Maryland 3, in Washington: The first meeting between the schools is not recognized by Maryland, but with a score like this, it's hard to blame them: John Crogan and Fred Rice combined for 46 points while the "Old Liners" were held to one basket in 40 minutes of play.
2. Jan. 17, 1941: Georgetown 51, Maryland 34, in College Park: Georgetown's 17 point win before a sold out crowd at Ritchie Coliseum earns the Hoyas its first national ranking.
3. Feb. 18, 1954: Maryland 53, Georgetown 50, at College Park: Amazing but true: in 1950, future NBA All-Star Gene Shue wanted to play at Georgetown, but was wait-listed. The school didn't budge and he walked on to Maryland instead. In his senior season, Shue upsets the Hoyas, beginning a run of 12 straight Maryland wins in the series.
4. Feb. 25, 1964: Georgetown 81, Maryland 78, in College Park: Georgetown guard Jim Christy scores 17 of the Hoyas' final 21 points in an upset of Maryland, setting a school record with 44 points at Cole Field House.
5. Dec. 11, 1973: Maryland 115, Georgetown 83, in College Park: The last meeting in College Park until tonight's game was among the most dominant, with a big effort by Tom McMillen and Len Elmore leading the #4-ranked Terrapins over five sophomore starters for the Hoyas. The 1973-74 Maryland team was paid some modern-day homage to that team in this recent Twitter post:
6. Nov. 28, 1978: Georgetown 68, Maryland 65, in Landover: Playing in only his second collegiate game, Eric Floyd set a Georgetown freshman record with 28 points as the Hoyas ended a six game Maryland win streak in the series before 8,100 at Capital Centre.
7. March 14, 1980: Georgetown 74, Maryland 68, in Philadelphia: With Tempers still raw from a contentious game earlier that year at the DC Armory, the two teams met in the NCAA Eastern regional semifinal at the Spectrum. Despite being the best Maryland team since the 1973-74 team whose absence from the NCAA tournament changed the at-large procedure, the duo of Albert King and Ernest Graham could not hold off the underdog Hoyas, where seniors John Duren and Craig Shelton led the Hoyas to their biggest win ever in the series.
8. Nov. 26, 1993: Maryland 84, Georgetown 83 (OT) in Landover: However big the 1980 game was to Georgetown fans, the 1993 game carries the same stuff of legend as the turnaround point for the Gary Williams era. Before a crowd of only 13,761 at Capital Centre, Duane Simpkins intercepted a pass for Kevin Millen with 22 seconds left in overtime and drove for a layup with 3.5 seconds left for the game winner.
9. March 22, 2001: Maryland 76, Georgetown 66 in Anaheim, CA: Georgetown's first NCAA team in four seasons featured a strong first half and a 36-29 lead, but Lonny Baxter took over in the second half with 25 points and 15 rebounds as the Terrapins coasted to the win and advanced later that weekend to its first Final Four in school history.
10. Nov. 30, 2008: Georgetown 75, Maryland 48, in Orlando, FL: The most recent game in the series was among Georgetown's most dominant: Georgetown led by as many as 35 in the game and four starters were in double figures, led by 18 from Austin Freeman.
| | |
| --- | --- |
| Media Comments Following Radford Loss | 11/15/15 |
Jeff Eisenberg, Yahoo Sports: "Why John Thompson III wouldn't continue to press in the second overtime is a mystery, but it's a decision that could prove costly given Georgetown's upcoming schedule. The Hoyas renew their previously dormant rivalry with Maryland on Tuesday in College Park. Then they will meet Wisconsin and either Duke or VCU in the Legends Classic next weekend. In other words, Georgetown is in jeopardy of opening the season with a 1-3 or 0-4 record unless it can spring an upset."
Bobby Bancroft, SB Nation: "Every season when it comes time to evaluate teams for the NCAA Tournament, one of the constants on the Georgetown resume is the lack of bad losses. Now Maybe we find out that Radford and Rashun [sic] Davis are the real deal but the likelihood is that they finish between 120 and 180 on the RPI side of things. That would likely make this Radford loss the second worst non conference loss behind that opening round loss to Northeastern two seasons ago in Puerto Rico. Northeastern finished that season with an RPI of 219 and the Hoyas ended up in the NIT."
Matt Norlander, CBS Sports.com: "This is a big blow to a Georgetown team that earned a No. 4 seed last season and was considered by many to be No. 2 in the Big East to Villanova entering 2015-16. That could still be the case, but even after seeing how a number of schools from power conferences dropped games at home to small-time programs on Friday night, the Hoyas were unable to look the part of venerable favorite on Saturday afternoon."
Comments from the HoyaTalk board were a little more spirited, but a comment from "BamaHoya11" bears a second look.
"First, I think that the early non-conference losses and futility in the NCAAs are two separate problems," he said. "Losses like we had on Saturday are very rare at Georgetown. Outside our loss to Northeastern a few years ago and being upset by Old Dominion a couple of times, I can't really remember a comparable loss. And these losses happen to a lot of teams early in the year. Thus, I don't view this problem--losing games to tiny non-conference teams in November and December--to be some sort of systemic problem for the program. Each year, once the season plays out, we usually have a resume that the selection committee deems worthy. Indeed, I tend to think some of our issues in the tournament have come when the committee has given us too much respect and over-seeded us by a spot or two. For that matter, I think that few people could say honestly that our problem has been a lack of regular-season success. Even two years ago when we had injuries, suspensions, and everything bugging us, we knocked off a top-10 Michigan St. team on a neutral floor. JTIII has amassed a whole lot of successful regular seasons, and that has set us up for the chance to play for a championship in March. If we can fix our execution and play more cohesively on defense, I think we'll probably be back this March with that same opportunity--to play for a championship."
| | |
| --- | --- |
| Non-Conference Losses | 11/14/15 |
Saturday's game marked only the tenth time since 1980 that a Georgetown team has lost to an unranked nonconference team at home, and only the third time ever at Verizon Center, where the Hoyas are a combined 64-4 in non-conference games in the John Thompson III era.
| | | | | |
| --- | --- | --- | --- | --- |
| 01/03/1980 | 77-79 | Drake | Washington, DC | McDonough Gym |
| 01/03/1981 | 58-60 | Pennsylvania | Washington, DC | McDonough Gym |
| 12/15/1982 | 61-62 | American | Landover, MD | Capital Centre |
| 12/15/1990 | 60-71 | Texas-El Paso | Landover, MD | Capital Centre |
| 11/26/1993 | 83-84 (OT) | Maryland | Landover, MD | US Air Arena |
| 02/08/2003 | 70-71 | UCLA | Washington, DC | MCI Center |
| 11/22/2004 | 57-75 | Temple | Washington, DC | MCI Center |
| 11/19/2006 | 62-75 | Old Dominion | Washington, DC | McDonough Gym |
| 11/29/2006 | 50-57 | Oregon | Washington, DC | Verizon Center |
| 11/14/2015 | 80-82 (2OT) | Radford | Washington, DC | Verizon Center |
| | |
| --- | --- |
| Radford 82, Georgetown 80 | 11/14/15 Updated 10:45 pm EST |
"I think it was heart. They just wanted it more than we did in the moment and it's just that simple."--Bradley Hayes
A career high 28 points from Rashaun Brown keyed an embarrassing Georgetown loss in the season opener, 82-80.
Excepting two brief spurts at the end of the second half and first overtime, this Georgetown team had all the energy of a game with Florida Gulf Coast, and marks the one of the worst non-conference losses in the John Thompson III era.
For a season opener, Georgetown opened the game flat and uninspired, missing its first three shots and seven of its first nine. With a late injury to Paul White, freshman Marcus Derrickson was moved to forward and senior Bradley Hayes got the start at center, and Hayes' inside game was among the few bright spots for the Hoyas early in the game. Hayes led the Hoyas with 10 points and five rebounds by halftime, but the Hoyas did not get its first lead until the 10:06 mark and saw the lead serve and volley for the remainder of the half.
The story of the first half, and much of the game, was senior guard Rashaun Davis. Davis scored the first basket of the half for the Highlanders, four more, and the final basket of the half, a driving layup that tied the score and helped his 13 first half points lead the team. Georgetown's defensive options were fairly nonexistent, with a mix of D'Vauntes Smith-Rivera, Tre Campbell, and L.J. Peak providing little to stop Davis driving to the basket.
The first half numbers for Georgetown were, at best, flat. The Hoyas shot 35 percent for the game--were it not for Hayes, that number would have declined to just 25 percent. Smith-Rivera was held scoreless, and the team was a combined 0-6 from three point range. A full 19 of the Hoyas' 33 points came via free throws, which kept the Hoyas from serious trouble at halftime.
Radford served early notice that they were ready for the long haul, scoring the first five points of the second half. A pair of DSR three pointers helped rally the Hoyas to tie the score with 16:28 to play, and with a dearth of inside scoring went to work from outside, with five three pointers in a five minute run that stretched the lead to 53-45 midway through the half. A pair of turnovers and a continued lax Georgetown defense brought the Highlanders back into range, closing the lead to one with 7:57 to play. As the Verizon center crowd of 8,187 kept waiting for a knockout punch by the Hoya offense, no such punch followed. Each team missed a three pointer as Georgetown recovered with a pass inside to Hayes to go up 59-56, but it was the last basket for the next four minutes.
Radford worked its way back into the game at the line, and were it not for its own poor foul shooting, would have won this game in regulation. A pair of free throws at the 4:05 netted Radford just one point, 59-57, and when Tre Campbell missed the front end of a one-and-one with 3:46 to play, Brown went to work with a three and Radford regained the lead, 60-59. A missed jumper from Govan offered no defensive answer when Radford's Cameron Jones was alone for the three, 63-59, and a Jones steal on the next Georgetown possession sent Brown to the line up four with just 2:05 to play, making one of two.
Elevated to panic mode, Georgetown continued its errant ways. GU missed its next two shots, but Radford missed the front ends of one and one opportunities twice in a ten second period. Down five with 42 seconds remaining, a bolt of offensive lightning befell the Hoyas, where a Isaac Copeland three and a L.J. peak steal off the inbound erased the five point lead in a matter of seven seconds. But Peak missed the go ahead foul shot, and the teams settled for overtime.
The first overtime fell into an eerily similar patter to that displayed in the last five minutes of regulation. Radford built an early three point lead and held it into the final minute. A missed free throw by Smith-Rivera was ominous, but the Hoyas caught another late break when Campbell picked up a late steal and fed DSR for the layup, 71-71. A second steal followed with 24 seconds, giving georgetown the last shot. On the play, Peak found Copeland alone on the baseline, where his three pointer rattled around and out, forcing a second extra period.
Georgetown took an early lead in the overtime, but two missed free throws from Hayes were a lost opportunity. Georgetown led 74-71 at the 3:00 mark, when the Highlanders answered with untouched back to back threes by Cameron Jones, taking the lead with 1:22 remaining, 79-78. DSR drove inside to retake the lead 80-79 with 1:00 remaining, whereupon Brown was fouled and missed both free throws. Again, Georgetown held for a last shot; again, Georgetown went for a three; again, Georgetown missed. The problem was, Radford had time, and it had Rashaun Brown. With a tiring D'Vauntes Smith-Rivera (having played 42 minutes) offering no defensive opposition, Brown sank a three pointer with 1.5 seconds left, part of a career high 28 points that ended a run of home opener wins which dated to John Thompson III's first game as Georgetown coach, in the 2004-05 season.
"My teammates and my coaches were telling me to stay in attack mode and stay aggressive, " Brown said. " I just thought when I saw that opportunity to take it I just wanted to help my team win."
In post-game remarks, Coach Thompson called the the loss "disappointing". He later added that "we weren't tricked or fooled, they just came off and executed, set good screens for each other and shooters shot. The guys they wanted to get the shot for got the shot and they went in."
Reporters questioned Thompson on the team's ragged ball handling but Thompson deferred comment.
"It's too early to go through all that," he said. "That being said, you make your foul shots, you make your open shots, you win. We shoot 19-for-20 in the first half, and 2-for-7 in the second half."
Georgetown has not started a season 0-2 in 17 years, and then not since 1971-72. Without a concertedly better effort Tuesday at #3 Maryland, such a 0-2 record awaits.
"I don't think we were looking ahead," Thompson said. "I think they just beat us."
The Georgetown half of the box score:

            MIN   2FG   3FG   FT  REB  A  PF  PTS
Starters:                                 
Smith-Rivera 42   4-5   2-7   1-2   4   5  1   15
Peak         39   3-5   0-2   1-4   5   1  2    7
Copeland     42   3-4   1-4   2-2   3   3  3   11
Derrickson   23   0-1   0-3   4-4   3   3  3    4
Hayes        35   7-9   0-0   5-9  12   1  3   19
Reserves:
Campbell     34   0-3   2-3   0-1   5   0  2    6
Cameron      14   0-0   1-2   4-4   1   0  1    7
Govan        13   1-4   1-1   6-6   2   0  3   11
Johnson       6   0-0   0-0   0-0   1   1  2    0
DNP: White, Williams, Mourning
Team Rebounds                       1
TOTALS      200  18-31 7-22  23-32 37  14 20   80

| | |
| --- | --- |
| HOYA Basketball Preview | 11/13/15 |
From the HOYA, its annual basketball preview issue, a tradition since the 1959-60 season.
| | |
| --- | --- |
| A Man In Uniform | 11/11/15 |
On this Veterans Day, Parade Magazine has an feature article on former Georgetown forward Omari Faulkner (B'04), who is now serving as a public affairs officer in the Naval Reserves.
"In November of 2012, I went to Jacksonville, Fla. to visit the USS Bataan, a massive assault ship that carried the first crew to arrive in New Orleans in response to Hurricane Katrina, the same crew that provides security operations for the 5th Fleet in the Middle East. Incredibly, Georgetown was playing its season opener on the ship that day, an amazing thing to watch. The energy aboard the ship was tremendous and not just because of the game. I felt something much bigger. And after spending some time with the crew it dawned on me that I could play bigger, too."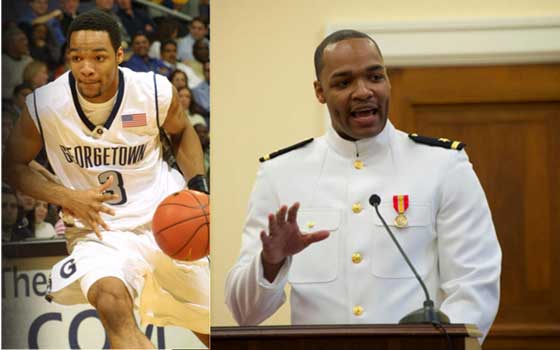 A further excerpt from the article:
"I lived my lifelong dream to attend Georgetown University, to wear a Hoyas jersey and to walk the same halls and learn in the same classrooms as so many renowned world leaders. Now I am living a new dream with a new team. I drill with my unit once a month and two consecutive weeks every year and also serve as a public affairs officer, where my job is to share the stories of our brave men and women who control the seas with their fellow-sailors, as well as civilian employees and the world.

I came to the reserves with an open mind and without expectation. I've had to learn even the most basic protocols, like when to salute and who to salute to and how to properly wear a uniform. But even in the newness and discovery, I feel like my entire life has prepared me for this mission. My country has invested so much in me, so I am prepared to go wherever and whenever I am needed. It's my honor. It's my life."
| | |
| --- | --- |
| Thompson Presented Dean Smith Award | 11/11/15 |
Former Georgetown basketball coach John Thompson was presented the inaugural Dean Smith Award in ceremonies held Tuesday in Chapel Hill, NC.
Thompson's speech was both humorous and deeply personal discussing Coach Smith, who was a mentor and close friend over the years.
"I never went to see him when he got sick," Thompson said. "I couldn't do it. I didn't want to see him as a human. It would've bothered me so much. I ask Mrs. Smith to forgive me."
| | |
| --- | --- |
| Georgetown Voice Basketball Preview | 11/8/15 |
The Georgetown Voice posted its basketball preview late last week. Here are the articles of interest for men's basketball:
| | |
| --- | --- |
| All Bark, No Bite? | 11/8/15 |
From Voice columnist Joe Pollicino, some thoughts about the Hoyas' growing end of season reputation:
"But for Georgetown, this run of tournament impotence has damaged the reputation of the program, relegating it from a national powerhouse to a punchline. Last year, many pundits believed Georgetown to be the underdog in their first-round matchup against Eastern Washington. It even enabled Eastern Washington Head Coach Jim Hayford to go on a national radio show and guarantee a victory. I don't think that Hayford would make the same guarantee if he were facing Duke, North Carolina, or Kentucky. But that's how far the Hoyas' reputation has fallen. The home of Jack the Bulldog has become the home of the underdog. Everyone loves an underdog, but in no way, shape, or form should Georgetown ever be considered an underdog, especially against Eastern Washington, of all teams."
| | |
| --- | --- |
| Preview of Non-Conference Schedule | 11/4/15 |
From the Big East Coast Bias blog: a preview and predictions ion the 2015-16 non-conference schedule.
"At the end of the day, I love this schedule," writes Robert O'Neill. "A mix of old friends, decent local teams, and power teams. Everyone always says that for the Big East to be good, the Hoyas have to be good. This schedule gives them a chance to be good, and continue to maintain their national brand."
This past spring, a contest was held for a new design to the Verizon Center court. Here's a sneak peek:
| | |
| --- | --- |
| AP Top 25: Georgetown "Also Receiving Votes" | 11/3/15 |
The preseason Associated Press Top 25 poll was announced Monday, with Georgetown receiving 23 votes, 103 votes short of the top 25. Georgetown ended the 2014-15 season ranked #20.
The Big East had two teams represented in Villanova (#11) and Butler (#24), with non-conference opponents Maryland (#3), Wisconsin (#17) and Connecticut (#20) also ranked.
A surprising statistic: it's the fifth consecutive year Georgetown has begun a season out of the Top 25, the longest such streak since the 1996-97 through the 2000-01 seasons.
| | |
| --- | --- |
| Coach Thompson Discusses Team Chemistry | 11/2/15 |
Balancing veteran and rookie elements for the 2015-16 season will be a priority for head coach John Thompson III, reports this interview from the WTOP web site.
"We're making a point to try to get everything in," said Coach Thompson. "Everything won't be fine-tuned for months. We play a lot of different styles early, not just good teams, but different styles of play. So we're going to have to be good at a lot of different ways to play early."
Georgetown's sophomores will also be asked to play as veterans in 2015-16.
"We need them to perform like seniors," he said. "As it relates to production, but more importantly in understanding...and caring. I'm putting a lot on their shoulders but I think they can handle it. In many ways, that class is the core of what we have."
| | |
| --- | --- |
| Trawick Selected In NBDL Draft | 11/2/15 |
Former Georgetown forward Jabril Trawick (C'15) will continue his basketball career in the NBA Developmental League, following a first round selection by the Sioux Falls Skyforce in this weekend's 2015 draft.
Trawick averaged 9.1 points per game last season at Georgetown, and will be joining the Skyforce, a developmental team for the NBA's Miami heat. The Skyforce have sent 75 former players to the NBA since it was founded in the Continental Basketball Association (CBA) in 1989.
Some Georgetown fans may also remember the Skyforce as the home of former Georgetown guard Victor Page (ex'99), who played there from 1997-2001 and left as the team's all-time leading scorer, but was not picked up on an NBA roster.
---
HoyaSaxa.com: The One-Stop Web Site For Hoya Basketball™
An independent web site not affiliated with Georgetown University. All rights reserved.