As many readers know, Saturday's game welcomed back over 60 former players and managers representing classes from 1947 through 2004. By all accounts, it was a great success.
"I don't know whether it affected our guys, but I'm sitting there thinking 'I sure as heck hope we play well today,'", said coach John Thompson III. "It's important that all our former players showed up today because we are a part of them and they are a part of us."
"As we continue to go forward and progress, our guys have to have an understanding of all the caring and tears that all of those guys put into this program. It's easy to walk into McDonough and see the [NBA] jersey wall, and it's pretty impressive to see everyone that was drafted, but we are just as proud and it is just as important, if not more important, of the success stories of Georgetown basketball of all those guys that aren't up on the wall."
While a noble idea, it may be impractical given the realities of college basketball. But as next season marks the the 100th anniversary of the series between the schools, here's another idea: create a multi-year commitment that would open the college basketball season between the two old rivals each November. Split the MCI Center's seating down the middle and have each school sell one side of the building; or let the schools alternate the "home" designation. If the game is on a weekend, bookend it with a women's game between the schools at the other school's campus arena.
November's Navy game was well received by Georgetown fans and alumni as a step toward renewing old rivalries among area schools. Sixteen blocks and a quarter century of hard feelings is not too much to overcome.
With five weeks to go before the 27th Big East men's basketball tournament, here's an very early look at the top teams near the halfway point of the conference schedule.
"In order for the Big East to maximize its clout, it is important for the conference to have representative teams in New York, Philadelphia and [Washington]," writes Weiss. "Villanova has resurrected itself the last two years in Philly, becoming a Top 10 team. St. John's is starting to show some signs of life. But the team that has made the most dramatic strides has been Georgetown."
Recommended reading.
Jeff Green's 20 points led the Georgetown Hoyas to a surprisingly easy 76-57 win over Cincinnati Saturday at MCI Center. The margin of victory was the most over a Big East opponent in four seasons.
From the outset, Georgetown was able to take advantage of driving inside on the Bearcats, with its tallest player only 6-7. Runs of 9-4 and 9-2 opened the game for the Hoyas, building a lead of as many as 17 in the first half. The Hoyas led 28-11 with 8:13 to play, helped by inside play and three point shooting (4 for 8). Cincinnati closed to 14 at the 3:29 mark, 32-18, but no further, with the Hoyas leading by 16 at the half, 36-20.
Georgetown shot 50 percent from the field in the half, its largest halftime lead in conference play to date. Cincinnati's first half shooting was ragged, and it showed, as the Bearcats managed just one three in eight attempts and a season low 28% at the break.
Good things continued for the Hoyas in the second, and the thin Cincinnati bench was not able to offer much assistance. Georgetown extended the lead to 22 in the first four minutes and 27 by the midway point of the half, 62-35. With the Hoyas leading by 25, 71-46, Coach Thompson emptied the bench to run out the final 3:48 of play, which featured baskets by Ryan Beal and Josh Thornton and and a pair of assists by Sead Dizdarevic.
For the half, GU shot 57% from the field 51% overall, scoring on 10 for 21 from three and picking up assists on 22 of 30 field goals. Cincinnati shot 35% from the field and missed 20 of its 24 three point attempts, with only eight assists. Its starting guards shot a combined 1 for 15 in the game, and the Bearcats had a -8 in rebounds to Georgetown, who entered the game ranked 15th of 16 Big east teams in rebounding.
"I think we got beat by a better team tonight, a team that executed better than we did, a team that deserved to win," said Kennedy. "They go 10-21 [ from three], we go 4-24, and, as a result, they leave happy and we leave sad."
Game recaps follow below.
Attendance for Saturday's game was 12,016. Here are conference totals as of Jan. 29, where Georgetown remains 11th in the averages:
"Just to do the littlest thing in the world has turned out to be one of the biggest things," Wayman said in the HOYA article. "To step out of your comfort zone — that's really what this is … it's not something you [can] understand being a regular everyday Georgetown student."
CBS Sportsline may be getting a little ahead of itself, with Wednesday's article asking if sophomore center Roy Hibbert is an NBA prospect for the 2006 draft.
"Hibbert isn't as agile as previous first-round reaches such as Andrew Bynum (taken in the 2005 NBA Draft), Robert Swift (2004), Darko Milicic (2003), Nikoloz Tskitishvili (2002) or DeSagana Diop (2001)," writes CBS' Greg Doyel. "But he's bigger than all of them. And he can't be a worse project than all of them. And all of those guys were lottery picks."
Hibbert's response was right to the point: "My parents sent me to Georgetown to make sure I get an education, so I'm staying for all four years to get my degree."
The following is from a letter sent by former manager Kenny Brown (C'88) and current Hoya Hoop Club president Al Bozzo (B'85) on behalf of a Georgetown family in need. It is printed on the front page to get the message out for all Georgetown fans.

"Dear Hoyas:

Who can forget the year 1987, Reggie and the Miracles, Big East Champs, Southeast Regional Finalist, one victory away from a visit to New Orleans and the Final Four with a Hoya Team loaded with Four New Orleans natives? Clearly this was Reggie's Team, but #10 Perry McDonald was the Heart and Soul of this squad of over achievers. Fearless in the paint and relentless as a defender on the perimeter, Perry epitomized Coach's philosophy of "40 Hard" giving his all on both ends of the court.

"Following graduation Perry extended his ball playing days in leagues throughout the country and overseas. He married his high school sweetheart and began providing for his family. Fast forward 18 years and we find Perry and his family devastated by the effects of Hurricane Katrina. Traumatized, homeless, and in financial despair, their lives have been turned upside down with only memories of their worldly possessions remaining.

"When Katrina hit, Perry was employed at Tulane University as a Program Coordinator. Along with his wife Darlene, they are raising a 15 year old daughter, Deshauna and an eight year old son, Perry Jr. Now apart, Perry seeks day labor while living in makeshift housing and facing the daily horrors of his new reality. Miles away in Shreveport, LA, Darlene struggles to raise the kids while facing overwhelming obstacles. They lack a home, permanent employment, proper food, reliable health care; all of the basics that they once had and we often take for granted. Frustration is mounting and despair continuing to loom, this proud Hoya now finds himself in need.

"A group of concerned former Hoyas and Hoya supporters have decided to ACT! With the blessing of Perry and Darlene, we will be hosting a Perry McDonald Hurricane Katrina Relief Fundraising event at Clyde's Restaurant of Gallery Place [707 7th St., N.W., next door to the MCI Center] on Alumni Weekend, Saturday January 28, 2006, immediately following the Georgetown vs. Cincinnati game scheduled for 12 noon. The event will include complimentary appetizers and a cash bar.

With your generous support, and Perry and Darlene on hand to personally receive an outpouring of love and generosity, this will surely be the morale boost and financial lift that we intend it to be. No gift is too large or too small. No matter what you are able to contribute, know that 100% of your contribution will go directly to Perry and his family."
For more information on how to support this effort, including for those not able to attend the event, please check this link from the Hoya Hoop Club. Thank you in advance for your support.
In its first game in the national polls in four years, the 21st ranked Georgetown Hoyas survived a double overtime scare at Notre Dame Tuesday night, 85-82. The win earned John Thompson III his 100th career coaching victory.
Donned in black jerseys for the first (and hopefully last) time this season, Georgetown started off strong, holding Notre Dame to 2 for 11 shooting and building leads of 14-5, 24-14, and as much as 29-15 with 4:29 in the half, when ND center Torin Francis picked up two fouls in a 22 second period. But instead of folding, ND went to work, holding Georgetown to three field goals for the rest of the half and narrowing the lead to eight at the half, 36-28.
Georgetown shot 44 percent from the field in the first half but seemed rattled in much of the second. Leading scorer Brandon Bowman was scoreless for much of the game, while Notre Dame began to pick apart the Georgetown defenses. By the midpoint of the second half, ND had erased the double digit lead entirely and tied the game at 50, hitting 8 of 11 field goals and scoring 18 of its first 28 points inside.
The Hoyas never trailed, however, keeping the lead at five down the stretch. ND went almost four minutes without a basket late in the game, trailing 64-58 in the final two minutes. As they have done in so many Big East games, ND saved their best for last.
A Colin Falls three with 1:53 closed the lead to three, 64-61. Following a Georgetown turnover, Chris Quinn missed a certain layup and GU extended the lead to 66-61. Freshman Kyle McAlarney picked up an offensive rebound for a basket, 66-63. Jon Wallace made one of two free throws, answered by a ND basket inside, 67-65. Fouled with less than ten seconds remaining, Brandon Bowman hit two free throws to put the game out of reach, 69-65, then proceeded to be part of a play that was among the more deflating plays in many years.
Down four with 3.2 seconds left, the Irish threw the ball down the length of the court to Colin Falls, who Bowman bumped into as Falls was attempting a three point shot from the corner. The shot went in, Falls hits a free throw, and the Irish sent the game into overtime, the third such overtime game in four years between the schools.
"We're just extremely fortunate to have survived that play in the end of regulation," said Coach Thompson. "You can sit and you can focus on that play: it just zaps everything out of you. It just drains you when that shot goes in, regardless of how it happened or why it happened. But to hold on, not to cave in when the crowd suddenly gets back into it, and they're on cloud nine because everything's going right was impressive."
In the first overtime, Georgetown led throughout, but not by more than three. Once again, ND clawed its way back in, tying the score at 76 in the final seconds. Holding the ball for a final shot, ND's Rob Kurz blocked a Jonathan Wallace shot and sent the ball the length of the court to Chris Quinn, whose close-in shot (considered a layup in the official box score) caromed off the backboard in what would otherwise have been a huge game winner for the senior guard.
A Jeff Green three pointer opened the second overtime, 79-76, while ND free throws kept the Irish close until a Darrel Owens three extended the lead to four, 83-79. Again, it was not enough. An Owens turnover with 1:33 to play set up a Quinn basket inside, 83-81, answered by Roy Hibbert at the 1:07 mark, 85-81. Ashanti Cook's fifth foul with :50 set up ND with a chance to close further, but Rob Kurz made one of two free throws, 85-82. Georgetown failed to get a good shot towards the end of the period, leaving ND another chance for a tie. Chris Quinn missed a shot with :10 left, but ND grabbed the rebound and had two more tries from there point range, neither of which could earn a third extra period.
Roy Hibbert and Darrel Owens led all Georgetown scorers with 18 points. For the Domers, Chris Quinn scored 26 points and added 10 assists, who lost their second double OT game of the season in Big East play and have five Big East losses by a combined 20 points.
Bowman's scoring (2 for 9) was among his poorest of the season, and the defensive lapse was nothing short of astounding for a late game performer such as Bowman. Bowman sat through much of the remaining ten minutes of play following the foul.
"I think the team felt fine going into overtime," said Bowman. "I probably felt it more than anyone because I created the situation, but we did what we had to do in overtime to get the win. Roy [Hibbert] was big for us."
Any thoughts of a hangover from the Duke game were not seen in what was a crisp first half, but the Hoyas' second half sets and offensive miscues looked more like the Hoyas of 2003 than 2006. After just three turnovers in the first half, GU ended up with 12. After a first half shooting 44 percent, GU shot 36 percent in the second and only 1 for 9 from three. The overtime was much improved, however, with the Hoyas shooting 6 for 9 in the two periods. ND's shooting waned as Georgetown's rose--the Irish missed 11 of 15 shots in the overtimes, including four big free throws in the second overtime.
If ND were to have won, it would have been from the boards, where 21 offensive rebounds and 45 overall kept the Irish in the game. To Georgetown's credit, they too picked up key rebounds late in the second OT which really made a difference.
Georgetown returns to action Saturday at MCI Center for its first ever meeting with the University of Cincinnati.
Here's the Georgetown half of the box score.

         MIN   2FG   3FG   FT  REB  A  PF  PTS
Starters:                                 
Wallace   44   0-4   3-6   1-2   2   1  3   10
Cook      39   3-5   2-3   3-4   2   6  5   15 
Bowman    32   2-7   0-2   4-4   6   2  3    8
Green     46   3-8   1-5   3-4   7   6  3   12
Hibbert   33  8-13   0-0   2-2  13   2  2   18
Reserves:
Owens     36   2-2   3-5   5-6   5   3  3   18  
Sapp      16   1-2   0-2   2-2   3   0  2    4 
Egerson    4   0-0   0-0   0-2   1   0  0    0
Team Rebounds                    6 
DNP: Izzo, Thornton, Crawford, Spann,
Beal, Kilkenny-Diaw, Dizdarevic
TOTALS   250 19-41  9-23  20-26 45  20  21  85

Post game links follow below.
Georgetown re-enters the Associated Press poll this week at #21, according to a GUHoyas.com release and other media reports. Seven Big East teams are ranked this week: Connecticut (1), Villanova (6), West Virginia (9), Pittsburgh (12), Louisville (22) and Syracuse (25).
"I tell our guys our success depends on what happens on the court and what people say or think about us is irrelevant especially at this time of the year because it's so early," said coach Thompson in a link to the Associated Press. "We just have to keep improving as the season goes on."
It is Georgetown's first national ranking since the week of Dec. 31, 2001-Jan. 7, 2002, where the Hoyas, ranked as high as #15 to begin the season, fell off the poll following consecutive losses to Virginia, UCLA, Miami, and Rutgers.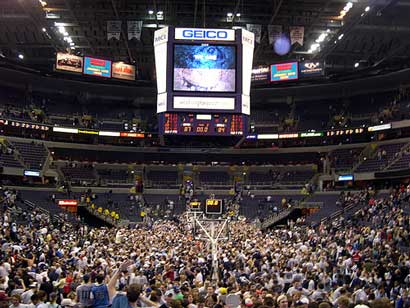 In one of the greatest games in school history, the Georgetown Hoyas shook the college basketball firmament with a 87-84 win over top ranked Duke before 20,035 at MCI Center Saturday.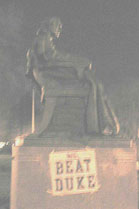 This was not an outcome unduly affected by from fouls, from injuries, or an improbable shot at the buzzer. For forty minutes, Georgetown's patience and precision was stunning in its effect on the nation's #1 team, which entered the game with a 106-5 record against unranked non-conference opponents.
Entering the game averaging 15 points a game less than Duke, Georgetown could not get behind, and its early game efforts set the tone for what was to come. The Hoyas picked up two offensive rebounds in its first possession to take the lead, and forced three turnovers and three missed layups in the first three minutes of play. When Duke tied the game early at eight, two more turnovers and a pair of three pointers built back the lead, and when Brandon Bowman raced past the Blue Devils for a dunk with 12:31 in the 1st half, the Hoyas were up 10, 18-8.
Duke regrouped behind the play of senior All-America candidate J.J. Redick, who scored 10 of the Blue Devils' next 14 points in a run that gave Duke a 22-20 lead. With the Devils heating up, coach John Thompson III sat center Roy Hibbert, moved Jeff Green to the outside, and began a series of surgical strikes on the Duke interior defense that soon captured the nation's televised attention, as well as that of a wildly enthusiastic MCI Center crowd.
Following on the results North Carolina State had made on the Duke defense three days earlier, Green pulled the Duke defenses outside, and in a stunning fashion not unlike the Hoyas' 1989 denouement versus Princeton, the game changed.
Tied at 23, Jonathan Wallace went inside for a layup. Thirty two seconds later, Wallace picked up a second layup. On its next series, Green fed Darrel Owens for a layup. A rare J.J. Redick free throw miss set Green up to find Owens inside again, repeated 41 seconds later by Cook finding Green inside for two, 33-24. After Duke's fourth consecutive miss in a 3:31 run, Darrel Owens uncorked a long three pointer to send the MCI decibel meter into overdrive, 36-24 with 2:46 in the half.
Redick went back to work with an acrobatic three pointer, 36-27, part of his 18 point first half. But the Hoyas would not let Duke crawl back in, answering Redick's three with a thunderous Ashanti Cook three, 39-27, and three free throws to close out the half, 42-28. Georgetown had shot a torrid 66 percent from the field, held Duke to 40 percent shooting (6-11 for Redick, 4-14 for the rest of the team), and collected 14 assists on its 16 field goal possessions. It was as strong a first half from any Georgetown team in 20 years, but they would need even more in the 20 minutes to come.
Many in the MCI Center crowd were waiting for a patented Duke run, whereby the Blue Devils could erase a eight, ten or twelve point lead in a matter of a minute or two, possibly putting the Hoyas out of reach. But when would it come? The Devils did not open the half to help themselves, rushing three pointers and shooting 2 for 7 to start the half, whereupon Jeff Green scored the first six points of the Hoya half, 48-34. Redick answered with six points in 29 seconds to cut the lead to eleven, but Green wowed the crowd with a three to build the lead to 54-40.
Duke's offensive strategy began to shift. With Hibbert sitting and Green playing outside, the Devils began to drive to the basket, with some success. Greg Paulus (12 second half points, 14 overall) closed the gap to 10 with 11:03 to play, but the Hoyas answered with the inside shots once again, with two layups in 25 seconds to go up 64-52 midway through the half.
Duke began then to pick up points at the free throw line, with five of its next seven points coming from the line. The Hoyas hit a brief cold streak, going 1-5 from the field as Redick's free throws finally cut the lead to single digits with 7:43 to play. With Georgetown also entering the bonus, Georgetown hit two big one and one attempts to hold the lead at 70-61 with 6:15 to play, then watched both schools pick up its defense, with no scoring on either side until a Brandon Bowman breakaway with 4:49 to play, 72-63. A Redick three pointer and a steal off the next Georgetown possession cut the lead to 72-68 to play, eliciting the only sustained cheers audible from the 3,000 Duke fans perched in the higher reaches of MCI Center.
On its next series, with Duke crowding the baseline for an interception, Georgetown went deep, with Wallace tossing the ball over the Duke defenses to Brandon Bowman for the dunk, 74-68. The play was answered eight seconds later by a Redick drive, 74-70, and off a bad pass, Duke closed to 74-72. Again, Georgetown went deep, as Owens answered with an strike to Wallace, 76-72 with 3:54 left.
The defenses stood tall in the next group of possessions, with four consecutive turnovers between the teams. With 2:19 to play, Georgetown turned the ball over in its backcourt, and Redick, with 39 points, went to work, but missed badly on a three point attempt with 2:14 to play, and off the rebound Green passed long to Owens for the dunk, 78-72, sending Hoya fans skyward once again.
Still more twists and turns were to come. Off a Greg Paulus turnover, Jeff Green was fouled. After the Hoyas had gone 8 for 9 from the line in the second half, fatigue set in on the line. Green made one of two shots, 79-72, answered by two free throws by Redick, 79-74. It was to be Redick's last points of the game.
Green was sent back to the line with 1:27 to play and split the two again, 80-74, but Redick missed a close-in shot with 1:22 to play that could have cut the lead to one possession. Off the rebound, Bowman drove the court for a dunk, 82-74. The Hoyas looked to be pulling away, but as Redick cooled, Sean Dockery emerged. Dockery had scored two points all game, but accounted for eight of the Devils' final ten points, picking up a quick two with 1:04 to play and forcing a Bowman turnover deep in GU territory for another quick score, 82-78. The Hoyas were 48 seconds from a big win, but Duke's defensive pressure off the ball was really hurting its chances.
Off the inbounds, Cook was fouled but the free throw woes continued. Cook missed the first, then picked up the all important second, 83-78. Duke looked back to Redick in the corner for a three, but Bowman came up with a big block to gain possession for Georgetown with 0:29 to play. Bowman hit both free throws, 85-78.
Duke wasted no time, slicing through a porous GU interior defense in just three seconds for an uncontested basket, 85-78. Off the inbounds, Ashanti Cook lost control of the pass and Greg Paulus collected an easy layup, 85-82. Fouled off the ball, Bowman made one of two from the line with :16 to play, and Dockery answered with what looked like a three point shot that was correctly ruled a two pointer, 86-84, with just :09 to play.
On the next series, it was Wallace who was quickly fouled. With the game on the line, Wallace made the first free throw, but his second shot rolled around the rim and out, giving Duke an improbable last chance to tie the game. Racing down the floor, Paulus was stripped by Wallace, and Bowman covered the ball as the clock ran out and an estimated 2,000 students ran in, setting off wild celebrations throughout the arena and out onto 7th Street, where fans who had not able to get inside had watched it on a large video monitor.
Following handshakes between the teams' coaches, Georgetown coaches Thompson and Burke raced off the floor amidst the crowds. With Big East commissioner Mike Tranghese and former Georgetown athletic director Frank Rienzo not far away, former coach John Thompson stood at the tunnel entrance, with a hug for each player as they made their way back. Asked about his embrace with his son, the elder Thompson said "I love my child. After all he's had to go through, he deserves this."
With a leg cramp, Cook was helped to the tunnel by Patrick Ewing, Jr., while sophomores Hibbert, Wallace, and Green stayed among the student crowd, earning Hibbert the front page of the Post's Sunday sports section.
Georgetown's effort for the game is already becoming the stuff of legend. Facing a team which had held opponents to just 62 points a game and not allowed more than 75 in any one game this season, the Hoyas scored more points (87) than in any game in the John Thompson III era. Of its 24 possessions, 16 were by assist. Facing a team which had scored 70 more three pointers than its opponents this season, Duke was held to just nine of 19 attempts.
Five Hoyas scored in double figures. Bowman led all Georgetown scorers with a tremendous 23 point effort, none more so than that those pair of free throws late. Jeff Green not only scored 18 points, but led the team with assists with seven. Ashanti Cook (17 points) and Jonathan Wallace were exemplary in the backcourt, combining for 10 assists. After missing his first shot, Darrel Owens went 6 for 7 and scored 13. Holding All-America candidate Shelden Williams to 2-8 shooting and just four points overall, the Hoyas scored 50 points in the paint.
Georgetown's efforts do not detract from what was a supreme individual performance from Duke's J.J. Redick. His 41 points (12-24 FG, 6-11 from three, 11-13 from the line) is the fourth most ever by a Georgetown opponent, tying Howard's Ron Williamson's 41 point effort in the 2000-01 season. Redick accounted for nearly half Duke's points, six of its nine threes, and 11 of its 15 free throws. After the game, Duke coach Mike Krzyzewski noted that "when we don't match another team's intensity -- that doesn't happen very often, then all of a sudden we do J.J.-watching, where we're watching J.J. play. We might as well get tickets and sit behind the bench."
Krzyzewski praised Thompson and the team for their efforts. "Just what a superb performance," he said. "They were so deserving. If you get beat, you want to get beat by people who earn it, and they earned it."
For a generation of students who have only read about the NCAA tournament instead of living it, who were not even alive when Georgetown earned five Final 8 appearances in eight seasons, or who suffered through a litany of late game collapses at MCI Center in prior years, the outcome was cathartic. Yet, the team was especially proud of the students' efforts to put some life into the Hoyas' rented home. "It was terrific," said Thompson. "The energy you get off your fans definitely helps how we play, it gives our guys a boost. The students have been great for two years now."
And even as more important conference games await, positive signs appear ahead. "This Princeton offense is taking hold," said Thompson, who ended a run of losses to #1 ranked opponents that stretched nearly 21 seasons and becomes the part of the first father and son ever to each upset #1-ranked teams. "Are we better at it than we were at this point last year? Yes. Are we a long way from where we are going to be? Yes."
Here's the Georgetown half of the box score.

         MIN   2FG   3FG   FT  REB  A  PF  PTS
Starters:                                 
Wallace   29   4-4   0-2   4-5   1  6   4   12
Cook      33   3-6   2-4   5-6   5  4   3   17 
Bowman    37   6-9   2-3   5-7   8  1   3   23
Green     31   6-8   1-3   3-6   5  7   4   18
Hibbert   12   1-2   0-0   0-0   4  1   2    2
Reserves:
Owens     34   5-6   1-2   0-0   0  5   1   13 
Sapp      19   0-0   0-0   0-0   0  0   2    0
Egerson    3   1-3   0-0   0-0   2  0   0    2
Kilk-Diaw  2   0-0   0-0   0-0   0  0   1    0
Team Rebounds                    4 
DNP: Izzo, Thornton, Crawford, Spann,
Beal, Dizdarevic
TOTALS   200  26-38 6-14 17-24  29 24  20   87

Post game links follow below.
Links to media and fan photo galleries follow below:
In addition to the formal quotes cited in the official Georgetown and Duke links previously cited above, some informal thoughts in the Sunday press:
Five plays that changed the game:
Moving Jeff Green to the perimeter midway through the first half. . This move set the tone for the use of the inside passing that crippled Duke early.
A pair of inside moves from Jon Wallace midway in the first half when Duke briefly took the lead. Wallace's confidence keyed a 13-1 Georgetown run.
Darrel Owens' breakaway with 1:46 to play. Set the table for the finish to come.
Brandon Bowman's two free throws with :29 to play. By making both, it helped force Duke to go for three, not two, in the final play.
Jonathan Wallace's steal of Greg Paulus in the final second. If Paulus had found Redick or Dockery one more time, who knows what the outcome would have been.
A sample of comments from this weekend's HoyaTalk board posters:
"Highsmith": What an incredible game for this team! This was the Georgetown team we all knew we had....they finally put it all together and showed literally everyone what they can do. The domination in the 1st half then the resilience to fend off the Duke rush toward the end of the game we all knew was coming......all just fantastic. There are positives to say about every player who was on the floor for GU today...It seemed like Coach decided it was going to be all but impossible to step Williams and Redick, so you shut down one and do what you can with the other. We are certainly MUCH better suited to shutting down Williams and we did just that. Redick (while I still can't stand him ) is an incredible player- non-stop motor and probably one of the best shooters I have seen. The rest of Duke was overmatched most of the time by our more athletic players and our system/game plan. The back-doors were working great and defensive matchups were in our favor most of the game.
"Illadelphoya": While there's a lot to work on (the USF game was too scary), it's good to see Georgetown involved in another "perfect game" ... this time on the right side of history. For someone whose first memory of Georgetown basketball as a fan was Big JT's retirement, this was almost too much. If I hadn't been so shocked, I think I might have cried.
"FL Hoya": My favorite high-five on the court after the game--Evan Chvotkin. And I was about to high-five Rich, but when I leaned over I realized he was still on WTEM doing the post-game report! So we gave each other this really weird looking thumbs up instead.
"NJCoach": You played like champions today. So poised, so smart, so resilient. You are restoring pride to a great program. With every backdoor cut I felt giddy and proud. To every salvo, you responded. You took on a great team today. And you comported yourselves with both the confidence of warriors and the humility of men who know that glory rests not in the rafters, but in your hearts.
If Georgetown makes it into March in contention for an NCAA bid, be sure to thank Darrel Owens.
Owens single-handedly saved the Hoyas from a humbling setback to South Florida, scoring 20 points off the bench in a 50-47 escape before only 5,071 at MCI Center Tuesday.
From the outset, it appeared that the Hoyas weren't on their game against the 6-10 Bulls, widely expected to finish last among the 16 Big East teams. Three days ago, USF was routed at home by St. John's 68-49, but it was USF that took the early lead Tuesday when Georgetown missed its first five shots and fell behind 7-1. Georgetown didn't gain the lead back until 8:00 in the half, 10-9, and turned to Owens, who provided ten points off the bench to keep the Hoyas on top. Still, Georgetown led by no more than four at any point of the half, and the Bulls lost a key chance to build momentum when guard James Holmes lost track of time at the end of the half and ran out the clock, trailing 23-22.
After the Hoyas increased its lead to 28-22 to start the second half, USF responded with a 7-0 run of its own for its largest lead of the game, 31-28. Again, Owens rallied the Hoyas, at one time accounting for 18 of the team's 34 points during a 9-2 run. Still, neither team had an offensive flow and points did not come easy for either team. The Hoyas took a five point lead midway in the half at 39-34, yet missed five straight free throws in a run which could have built the lead significantly.
Ashanti Cook scored a three pointer and added a pair of free throws to extend the lead to 46-40 with 4:22 to play, but the GU offense stalled as its interior defense allowed USF to cut the lead to 46-45. A Brandon Bowman basket extended the lead to 48-45, answered on the next series by the Bulls on a dunk, 48-47. On the next series, the Bulls stole a Georgetown pass, then got a fresh clock on a tie-up with :17 to play.
Shooting for the win, Georgetown played its defense tight and USF center Solomon Jones' ten foot shot fell short. On the ensuing rebound, Owens was fouled with 2.6 seconds to play. Owens made both free throws, and the Bulls' long try from three bounced off the rim. For the second half, Georgetown took only 18 shots: 4 for 5 from two point range, 4 for 13 from three.
Darrel Owens led all Georgetown scorers with 20, followed by Ashanti Cook with 12. Jeff Green was held to 3-8 for six points, and Brandon Bowman with five. Roy Hibbert was shut out from the field and played only 12 minutes, most in the first half.
The team managed just four offensive rebounds all evening, and was outrebounded 32-27. One encouraging stat, though, was fouls: Georgetown gave up only seven, and that held USF to just 4 of 6 free throws for the evening.
Here's the Georgetown half of the box score.

         MIN   2FG   3FG   FT  REB  A  PF  PTS
Starters:                                 
Wallace   30   1-1   1-3   0-0   3   4  1    5
Cook      36   3-4   1-3   3-5   2   3  2   12 
Bowman    30   2-3   0-3   1-2   7   3  2    5
Green     34   3-5   0-3   0-1   5   1  1    6
Hibbert   12   0-4   0-0   0-2   1   0  1    0
Reserves:
Owens     34   2-2   4-8   4-4   5   1  0   20
Sapp      14   1-1   0-1   0-0   1   1  0    2
Crawford   5   0-0   0-1   0-0   0   0  0    0    
Egerson    5   0-0   0-0   0-0   1   0  0    0
Team Rebounds                    2 
DNP: Izzo, Thornton, Spann,
Beal, Kilkenny-Diaw, Dizdarevic
TOTALS   200  12-20  6-22  8-14 27  13  7   50

Post game links follow below.
Race car driver and former Georgetown walk-on Brendan Gaughan is seeking to rebuild his standing within the Craftsman Truck Series, as per this article from NASCAR.com.
Gaughan failed to win a race in 2005, collecting just $253,614 in earnings. A year earlier, following six truck race wins in 25 starts, Gaughan moved to the Nextel Cup series, earning $2.9 million in winnings, with one top-five and four top-10 finishes. At the end of 2004, however, Gaughan was dropped from the Penske racing team after just one season, returning to the less visible truck ranks.
Although still keeping an eye on the stock car circuit, Gaughan is interested in rebuilding his record with the trucks.
"I don't want to get back to '03 -- I want to get into '06 and do better," Gaughan said. "If I was the Georgetown men's basketball team, I could remember 1984 all I want, or 1986, 1983, 1992, 1996 -- that's great. But you want to make that next year better than it was. This race team is tired of people saying 'back in '03.' That's done, so we're going to learn what we can from it, keep those trophies on the shelf and move on."
More changes in the athletic department, as associate athletic director Dwight Datcher will be leaving the Hilltop to become the athletic director at Howard. Details are found this link to the Washington Post.
Shooting 60 percent from the field, #4 Connecticut won its eleventh straight over Georgetown, 74-67, before 16,294 at the Hartford Civic Center.
Georgetown started off well, slowing the tempo to take leads of 7-6 and 10-8, but its shooting failed them in the first half. A 7-0 UConn run gave the Huskies the lead for good. For the half, the Huskies shot 59 percent, almost all from inside, while Georgetown's efforts from outside sank its shooting to just 29 percent. Making seven of nine field goals in one stretch, UConn coasted to a 33-24 halftime lead, as the Hoyas finished the half 9 for 30, missing 11 for 14 from three point range.
At the start of the second half, Georgetown turned away from the outside shot and began to move the ball inside, to moderate success. Shooting eight of 14 to start the second half, Georgetown narrowed the UConn lead to 39-36, 55-50 and 60-55, but in each succeeding series Connecticut took advantage of its offensive strength to increase the lead again.
The Hoyas' last run came late, where an Ashanti Cook three pointer closed the gap to 67-63 with 1:16 left. Connecticut increased the lead on free throws to 69-63, but on the next series Cook missed a three pointer and Brandon Bowman picked up a foul, with the Huskies extending the lead to 70-73. On the next series, Cook turned the ball over, and UConn added free throws on each of its final two possessions for the win. The Hoyas shot 55% from the field in the second half, 65% from two and 38% from three.
Brandon Bowman turned in a season high 20 points for the Hoyas, followed by Jeff Green with 13, Roy Hibbert with 12 and Ashanti Cook with 11. Cook's numbers were erratic in the game: in the first half, he committed four turnovers and collected just two points, but settled down in the second half.
Jon Wallace struggled from three point range (2-6) but did not commit a turnover against the UConn defensive pressure. He finished with eight points to round out the starting five.
In the battle of the benches, the Georgetown bench was outscored 20-3. Darrel Owens was only 1 of 6 from outside and accounted for all three points; four other reserves combined for just four shot attempts.
Hilton Armstrong (8-10 from the field, six blocks) led the Huskies, with four in double figures. UConn shot 67% from two point range in the half, and 63% overall after halftime.
"I thought, overall, we were pretty good today," said UConn coach Jim Calhoun. "I thought that the biggest breakdown we had was defensively in the second half when they shot 50 percent and got 13 offensive rebounds. We just broke down and allowed some plays that shouldn't have happened. Beyond that, Georgetown is a terrific team. "
"As a team, they have answers," said Georgetown coach John Thompson III. "You can focus on one person, but they have someone else that is a very good player that can step up."
Here's the Georgetown half of the box score.

         MIN   2FG   3FG   FT  REB  A  PF  PTS
Starters:                                 
Wallace   34   1-2   2-6   0-1   0  5   2    8
Cook      28   1-5   3-6   0-2   1  1   4   11 
Bowman    34   5-11  2-4   4-5   5  3   4   20
Green     28   6-7   0-4   1-1   8  0   4   13
Hibbert   22   6-9   0-0   0-0   6  2   1   12
Reserves:
Owens     28   0-0   1-6   0-0   2  4   2    3
Sapp       8   0-0   0-1   0-0   1  0   0    0
Crawford   2   0-0   0-0   0-0   0  0   0    0   
Egerson    5   0-1   0-0   0-0   3  0   0    0
Kil.-Diaw 11   0-1   0-0   0-0   0  0   0    0 
Team Rebounds                    2 
DNP: Izzo, Thornton, Spann, Beal, Dizdarevic
TOTALS   200  19-36 8-27  5-7   27  15 17   67

Post game coverage follows below.
Saturday's game was the eleventh consecutive loss to Connecticut, the third longest streak in school history for consecutive losses to an opponent:
| | | | |
| --- | --- | --- | --- |
| Opponent | Streak | Started | Ended |
| Navy | 0-15 | 1909 | 1927 |
| Maryland | 0-12 | 1953 | 1960 |
| Connecticut | 0-11 | 1997 | Current |
| St. John's | 0-10 | 1948 | 1967 |
| St. Joseph's | 0-9 | 1956 | 1967 |
| NYU | 0-8 | 1929 | 1935 |
| Navy | 0-8 | 1953 | 1962 |
| Seton Hall | 0-7 | 1915 | 1952 |
| Fordham | 0-7 | 1925 | 1942 |
| St. John's | 0-7 | 1997 | 2004 |
"We were playing defense for 25 to 30 seconds per possession then jacking up the first shot we got on offense, and it wasn't working out for us. Once we settled down, we started waiting and taking better shots. And that's when they started falling."--West Virginia forward Mike Gansey, from the Pittsburgh Post Gazette
The #16 ranked West Virginia Mountaineers overcame an 11 point first half deficit in a 68-61 win over Georgetown Wednesday night, 68-61, before 12,116 at the WVU Coliseum.
The Hoyas started off strong, getting points early while West Virginia's outside shooting was off target. Midway through the first half, Georgetown held a nine point lead at 16-7, thanks in large part to the Mountaineers' poor shooting (1 of 8 from outside the three point arc). The Hoyas continued to make strides inside and out, taking a robust 23-12 lead with 4:55 to play as the WVU numbers sank to 2 of 15 from outside. But a good shooting team knows that the best way to work through a slump is to keep on shooting, and the numbers turned by half's end.
After going 7:56 without a field goal, the Mountaineers scored the last nine points of the first half and the first six of the second, tightening its defense and rediscovering the outside shot. Georgetown proceeded to go through a scoring drought of its own, failing to score for a 6:20 period which saw its 23-12 lead fade to 23-21 at halftime and fall behind 27-23 to open the second half. Georgetown regained the lead at 32-31, but WVU was able to hit from inside and outside, outscoring GU with runs of 8-1 and 16-7 to lead 57-45 with 3:57 left.
The Hoyas battled back, helped in part to some poor Mountaineer shooting late and good inside play from sophomore forward Jeff Green. Georgetown closed to six with 2:00 left, 58-52, but a pair of fouls by Ashanti Cook and Darrel Owens late cost the Hoyas momentum. A Jon Wallace three kept things close at 66-61 with 26 seconds left, but a Brandon Bowman missed three with :16 seconds sealed the outcome.
This was not a strong game for the senior class. After a pair of baskets in the opening minutes of the first half, Ashanti Cook settled for eight for the game, while Brandon Bowman and Darrel Owens were ineffective, scoring only four points apiece. Jeff Green (17) and Roy Hibbert (16) led Georgetown scorers overall, who shot 47% from the field but poorly from three point range (6-19). WVU fared little better from outside, but had 14 more three point attempts and seven more free throw attempts. The latter stat is somewhat interesting given that WVU did not have a free throw in the entire first half.
Kevin Pittsnogle and Mike Gansey combined for 38 points--while their three point shooting lagged (a combined 4 for 15), their inside game was strong (a combined 10 for 14). Of WVU's 23 field goals, 20 were by assist.
The stat of the game was second half rebounds. After leading WVU 21-18 in rebounds at the half, Georgetown collected just eight in the second half while West Virginia snared 15. In a game that figured to be close at game's end, the Hoyas never gave themselves the second chance points needed against a team not prone to give many second chances.
Georgetown stays on the road Saturday to meet #4 Connecticut.
Here's the Georgetown half of the box score.

         MIN   2FG   3FG   FT  REB  A  PF  PTS
Starters:                                 
Wallace   30   0-0   3-5   3-4   5  4   1   12
Cook      33   1-5   2-3   0-0   2  6   3    8
Bowman    28   2-4   0-3   0-1   6  2   4    4
Green     37   6-7   1-4   2-3   9  1   4   17
Hibbert   25   7-13  0-0   2-2   2  1   1   16 
Reserves:
Owens     26   2-2   0-3   0-0   3  0   5    4
Sapp      17   0-2   0-0   0-0   0  2   1    0
Egerson    2   0-0   0-1   0-0   1  0   1    0
Kilk.-Diaw 2   0-0   0-0   0-0   0  0   0    0
Team Rebounds                    1 
DNP: Izzo, Crawford, Thornton, Spann,
Beal, Dizdarevic
TOTALS   200  18-33  6-19  7-10 29 16  20   61

Post game links follow below.
The 2006 Big East men's basketball tournament is officially sold out, as noted in this conference news release.
"This unprecedented response by our membership consequently negates the need for a public sale at Madison Square Garden," said conference commissioner Michael Tranghese. "All ticket packages were sold directly to the fans and constituents of our 16 member institutions."
While 16 schools bought tickets, only 12 schools will be invited, so some tickets may become available during the tournament.
Darrel Owens scored six threes and 24 points as Georgetown ended a nine year road losing streak to St. John's at Madison Square Garden, 79-65. The Hoyas benefited from a St. John's scoring drought that led to a 20-2 Hoya run to put the game out of reach.
Georgetown led early in the game but allowed St. John's numerous opportunities in the middle. Leading 21-18, an Ashanti Cook three paced a run where Georgetown scored five straight possessions via the three point shot, opening a 36-30 lead. A Marc Egerson three ended the half with the Hoyas up nine, 43-34. Georgetown had posted 7 threes in 13 attempts, but the Redmen (aka Red Storm) shot 58% from the field, much of it inside. The Redmen owned a +6 advantage on the boards in the first half, allowing for 13 for 19 shooting inside the three point arc.
St. John's (7-6, 0-2 B.E.) opened up the second half with an 10-1 run to tie the game at 44, picking up 3rd fouls on both Brandon Bowman and Darrel Owens. Roy Hibbert, who spent most of the first half on the bench when St. John's was dominating inside, returned with 17:29 to play. Hibbert's tip-in with 16:09 to play was Georgetown's first field goal of the half but he played only eight minutes for the game.
The Hoyas ran off another three point run, with three straight threes from outside, but couldn't shake off St. John's, which connected on 9 for 9 from the field to tie the game at 52-all. Georgetown extended the lead to ten at 64-54 midway through the half, moving the scoring inside while St. John's picked up turnovers and steals.
A Darrel Owens three extended the lead to 67-54 with 5:51 to play, and picked up his sixth three 40 seconds later, 70-54. St. John's scored its first FG in over seven minutes with a dunk at the 4:08 mark, but trailed by 15, 71-56.
Owens led all scorers with 24, followed by 19 from Brandon Bowman and 11 from Jeff Green, who overcame a sluggish first half with improved second half play. Owens was one short of the individual record for threes which he tied last season against South Carolina.
St. John's fared well statistically, shooting 59% from the field and 62% in the second half, The Redmen were only 5 for 12 from the line, though, missing all four shots taken with the bonus.
Here's the Georgetown half of the box score.

         MIN   2FG   3FG   FT  REB  A  PF  PTS
Starters:                                 
Wallace   31   2-2   0-1   2-2   1  4   3     6
Cook      35   2-5   1-3   2-2   3  4   1     9
Bowman    24   0-1   4-5   4-6   4  1   2    16
Green     34   3-5   0-2   5-9   5  3   1    11
Hibbert    8   1-2   0-0   2-2   4  2   1     4 
Reserves:
Owens     32   3-5   6-8   0-1   1  2   4    24 
Sapp      16   1-2   0-1   0-0   3  0   0     2
Egerson    4   0-0   1-1   2-2   0  0   0     5 
Kilk.-Diaw16   1-1   0-0   0-0   0  0   3     2
DNP: Izzo, Crawford, Thornton, Spann,
Beal, Dizdarevic
TOTALS   200 13-23  12-21 17-24 21 16  15    79

Post-game links follow below.
Georgetown and St. John's have played its New York games exclusively at Madison Square Garden since 1982, but Sunday's attendance of 5,812 marks the lowest attendance in a game between the two schools since games were held at 6,008 seat Alumni Hall on the St. John's campus.
After ten games, St. John's home attendance average is a combined 4,952 per game, 14th in the conference. It largest crowd to date was 7,617 vs. Columbia in the Panasonic Holiday Festival.
Here's a review of Garden attendance by games in the season series since 1982, with sellouts in bold.
| | | | |
| --- | --- | --- | --- |
| Date | Attendance | Date | Attendance |
| 1/6/82 | 19,591 | 2/1/93 | 11,690 |
| 1/8/83 | 19,591 | 2/19/94 | 13,378 |
| 1/21/84 | 15,901 | 3/5/95 | 17,238 |
| 2/27/85 | 19,591 | 1/27/96 | 13,888 |
| 1/11/86 | 19,591 | 2/1/97 | 13,121 |
| 2/2/87 | 17,093 | 1/11/99 | 9,563 |
| 2/24/88 | 17,892 | 1/12/00 | 11,882 |
| 2/25/89 | 19,591 | 2/21/01 | 14,168 |
| 2/3/90 | 17,588 | 2/18/04 | 6,192 |
| 2/25/91 | 14,029 | 2/20/05 | 7,464 |
| 3/2/92 | 16,816 | 1/8/06 | 5,812 |
The days of playing at MCI Center are numbered, at least in name. MCI's merger with Verizon Telecommunications was made official Friday, and the company announced it would change the name of the arena to the Verizon Center by the end of March.
The name change wasn't entirely unexpected, at least online. Domain registrants have already snapped up verizoncenter.com, verizoncenter.net, and theverizoncenter.com, among others.
"Coach [Thompson] pretty much ripped us at halftime, tearing into us, and we took it to heart. This is the start of Big East season, and you don't want to start 0-1." --Brandon Bowman, quoted in the Washington Times
Georgetown shook off the rust of an eight day layoff to steer past Providence in the Big East opener for both schools, 72-62, before 6,985 at MCI Center Thursday.
Georgetown led early at 11-8, but Providence took advantage of a number of Georgetown turnovers to go on a 9-2 run and take a 17-13 lead. The Hoyas went nearly eight minutes without a field goal but Providence led by no more than eight, 21-13 before the Hoyas returned to the scoring column with 6:23 to play.
Georgetown closed to 23-22 with 3:30 to play but PC pulled away to a 30-24 halftime lead, thanks to 35% GU shooting and a season high 15 first half turnovers. Georgetown entered the game with the second ranked field goal shooting offense in the conference but had a difficult time from outside, going 1 for 7 from three point range in the half.
The second half showed some great adjustments for the Hoyas. Cook led the charge, scoring seven points in a 12-0 run of the intermission that gave the Hoyas the lead for good, 36-30, and the Friars were held scoreless for the first 6:05 of the half. Georgetown did a better job of getting th ball inside in the second half, and a Roy Hibbert dunk with 11:57 to play capped a 22-4 run that gave the Hoyas a 44-34 lead.
For much the the half the lead ebbed and flowed, but when PC's Donnie McGrath reeled off six points in a 37 second period, the Friars were right back in the game at 54-49. The Hoyas slowed the temp and utilized the free throw line to build the lead to 61-50, and the lead stayed at eight or more thereafter. The Hoyas put the game away at the line, shooting 82% in the second half.
Four Hoyas scored in double figures, with Brandon Bowman (19 pts, 12 rebounds), Roy Hibbert (16 points, 10 rebounds), Cook (15 points, 14 in the second half), and Jonathan Wallace (15 points, 5 steals) accounting for all but seven of the team's points. The only starter not in double figures was Jeff Green, shut out from the field and left with only two points overall. Darrel Owens and Jesse Sapp accounted for the remaining five points of the total.
For the Friars, Randall Hanke finished with 17 points but only four rebounds. Geoff McDermott, the Friars' talented freshman and Big East Rookie of the Week, finished 1 for 8 from the field and was not a factor in the game. The Friars were outrebounded 47-26 (28-11 in the second half) and fared poorly from three point range, shooting 4 for 17.
Here's the Georgetown half of the box score.

         MIN   2FG   3FG   FT  REB  A  PF  PTS
Starters:                                 
Wallace   33   2-2   3-5   2-2   3  2   2   15 
Cook      34   3-7   1-5   6-8   3  3   1   15
Bowman    31   5-8   1-2   6-6  12  2   2   19
Green     27   0-4   0-0   2-2   6  4   3    2
Hibbert   31   5-9   0-0   6-9  10  0   5   16
Reserves:
Owens     20   1-1   0-4   0-0   4  3   1    2  
Sapp      13   0-0   1-3   0-0   0  1   1    3
Crawford   2   0-0   0-0   0-0   1  0   1    0
Egerson    6   0-3   0-0   0-0   4  1   0    0
Kilk.-Diaw 3   0-0   0-0   0-0   0  0   2    0
DNP: Izzo, Thornton, Spann, Beal, Dizdarevic
Team Rebounds                    4
TOTALS   200 16-34  6-19  22-27 47  16 18   72

Post-game links follow below. The Providence Journal is a registration-only site and its story links are not included.
Here are player totals for points, rebounds, and assists to date this season (walk-ons noted with asterisk):
| | | | |
| --- | --- | --- | --- |
| Player | Points | Rebounds | Assists |
| Hibbert | 13.1 | 6.1 | 1.0 |
| Bowman | 10.4 | 4.6 | 1.3 |
| Green | 9.8 | 6.3 | 3.4 |
| Cook | 9.3 | 2.0 | 1.5 |
| Wallace* | 8.7 | 1.7 | 3.2 |
| Owens | 8.7 | 3.1 | 2.5 |
| Spann | 3.7 | 1.7 | 0.1 |
| Egerson | 3.3 | 2.7 | 0.5 |
| Sapp | 3.3 | 1.4 | 0.6 |
| Thornton | 3.3 | 0.7 | 0.0 |
| Kilkenny-Diaw* | 2.3 | 0.7 | 0.3 |
| Dizdarevic | 1.7 | 1.3 | 0.3 |
| Crawford | 0.7 | 1.1 | 0.1 |
| Beal* | 0.7 | 0.0 | 0.0 |
| Izzo* | 0.7 | 0.0 | 0.0 |
| Total | 68.6 | 32.2 | 14.8 |
Here's how GU stands among 16 Big East schools in each category at the break, as well as Providence's ranking:
| | | |
| --- | --- | --- |
| | Georgetown | Providence |
| Scoring | 12th | 4th |
| Scoring Defense | 3rd | 16th |
| Field Goal % | 2nd | 3rd |
| FG Defense % | 11th | 15th |
| Three Point % | 5th | 10th |
| Free Throw % | 10th | 9th |
| Rebounds | 15th | 11th |
| Assists | 9th | 11th |
| Steals | 15th | 3rd |
| Blocks | 8th (tie) | 8th (tie) |
How have individual players fared this season? One efficiency measurement is points per field goal attempt:
Points Per FG Attempt
Hibbert
1.79
Thornton
1.75
Owens
1.58
Cook
1.50
Wallace
1.40
Spann
1.38
Dizdarevic
1.33
Bowman
1.25
Kilkenny-Diaw
1.25
Egerson
1.25
Green
1.18
Sapp
1.06
Crawford
0.67
Walk-ons (limited play)
Beal
2.00
Izzo
1.00
A more detailed statistic is points per possession (PPP), defined as the sum of total shots - offensive rebounds + possessions that end in a turnover. The ratings follow below:
PPP (2005-06)
PPP (2004-05)
Hibbert
2.08
1.16
Thornton
1.75
NA
Owens
1.73
1.36
Kilkenny-Diaw
1.43
1.13
Dizdarevic
1.33
1.56
Cook
1.31
0.97
Wallace
1.24
0.95
Spann
1.22
NA
Green
1.10
1.70
Bowman
1.04
1.32
Egerson
1.00
NA
Sapp
0.97
NA
Crawford
0.55
1.19
Walk-ons (limited play)
Beal
2.00
0.00
Izzo
1.00
1.00
Overall, the 2005-06 Hoyas are averaging 1.32 points per possession, up from 1.22 points per possession in 2004-05. As discussed last season, the Hoyas' record has a strong correlation to its points per possession versus opponents. In games where it had a higher points per possession total than its opponents, Georgetown was 18-0 last season but 1-13 in games where it trailed on points per possession. To date in 2005-06, Georgetown is 8-0 with a positive PPP, 0-2 when it falls below that of its opponent..
| | | | | |
| --- | --- | --- | --- | --- |
| Opponent | Score | Hoyas | Opponent | Diff. |
| at Navy | 72-49 | 1.29 | 0.91 | +0.38 |
| at James Madison | 73-66 | 1.40 | 1.14 | +0.26 |
| Vanderbilt | 61-68 | 1.11 | 1.36 | (0.25) |
| at Oregon | 71-57 | 0.39 | 1.04 | +0.35 |
| at Illinois | 48-58 | 0.94 | 1.14 | (0.20) |
| Fairfield. | 76-51 | 1.52 | 0.91 | +0.61 |
| Stetson | 70-50 | 1.37 | 0.98 | +0.39 |
| Savannah St. | 78-49 | 1.56 | 0.82 | +0.74 |
| vs. Colgate | 61-45 | 1.30 | 0.87 | +0.43 |
| at Texas El-Paso | 76-64 | 1.36 | 1.16 | +0.20 |
The top stories in Georgetown Athletics in 2005 are reviewed at the latest update from the View From The Hilltop blog.
The hiring of athletic director Bernard Muir as the first athletic director from outside the department in 75 years was rated as the top story of 2005, along with the resignations of two senior administrators and three head coaches, all unrelated.
What will be the top story in 2006? Well, more change. "2006 will bring more new faces to the Athletic Department as head coaches are hired in football and women's golf and the important position of director of athletic development is filled," writes the blog.
---
HoyaSaxa.com: The One-Stop Web Site For Hoya Basketball™
An independent web site not affiliated with Georgetown University. All rights reserved.