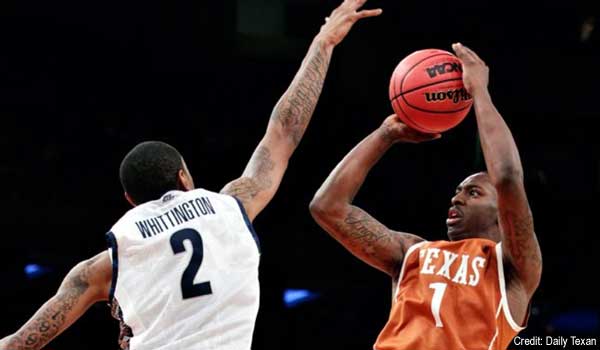 Georgetown and Texas have met only twice before, the last time on Dec. 5, 2012 at Madison Square Garden. Here's the HoyaSaxa.com recap from that game:
"The University of Texas entered Tuesday night's game with Georgetown with two significant concerns: shot selection and turnovers. Both failed the Longhorns as Georgetown pulled away early in a 64-41 win in the Jimmy V Classic. The Longhorns shot just 28 percent and made one field goal in a 13 minute stretch of the second half, while committing 22 turnovers on the game.
The die was cast early in this game, as Georgetown (wearing white jerseys for the first time in five seasons) scored the first nine points of the game while Texas was 0-5 from the field and five turnovers in its first 10 possessions. Reserve forward Sheldon McClellan accounted for Texas' first seven points as the Longhorns closed to six at 13-7, but Georgetown answered with a 13-2 run to push the score to 26-9 at the 6:26 mark of the half. Utilizing a number of reserves down the first half stretch, Georgetown made only two field goals over the final four minutes of the half, but carried a 13 point lead at the break, 30-17.
Texas opened the half with a zone defense that proved effective against the Georgetown attack, as Georgetown managed only one basket in the opening four minutes of the second half and Texas closed to eight, 32-24. baskets by Markel Starks and Nate Lubick got the Hoyas back in gear, while the Longhorns continued to struggle from the field and in ball possession. Despite some spotty shooting by the Hoyas, GU was nonetheless able to push the lead to 14 at the 14:16 mark, 18 at the 11:48 mark, and 22 by the seven minute mark, in large part because the Longhorns could not get any production offensively. With 6:30 to play, an inside dunk by forward Cameron Ridley was the first field goal for UT since the 16:00 mark.
The Longhorns managed just six field goals in the second half and committed ten turnovers, giving ample opportunity for the Hoyas to empty the bench, including a driving dunk by junior Aaron Bowen with a minute to play.
Otto Porter led the Hoyas with 14 points and eight rebounds, followed by 13 from Nate Lubick and 11 from Markel Starks. Greg Whittington struggled much of the game and ended with just five points, while center Mikael Hopkins was in early foul trouble and finished with just one point in nine minutes. Hopkins' absence and a comfortable lead allowed Coach Thompson plenty of time for reserves, provided extended game time for Stephen Domingo (10 mins., 5 pts, 2 rebs.), Moses Ayegba (7 minutes, 2 pts., 2 rebs.) and Bradley Hayes (five minutes, no points).
The game also marked the first appearances for freshmen David Allen and Brandon Bolden; neither scored in the final minute."
The Georgetown half of the box score:

            MIN   2FG   3FG   FT  REB  A  PF  PTS
Starters:                                 
Starks       28   3-6   1-2   2-2   3   4  3   11 
Porter       35   7-14  0-2   0-0   8   2  1   14
Whittington  29   1-4   1-5   0-2   6   3  0    5
Lubick       27   6-7   0-0   1-2   4   3  3   13 
Hopkins       9   0-2   0-0   1-2   0   1  0    1
Reserves:
Smith-Rivera 24   0-0   1-5   4-6   6   1  2    7
Allen         1   0-0   0-0   0-0   0   0  0    0
Bolden        1   0-0   0-0   0-0   0   0  0    0
Bowen         3   1-1   0-1   0-0   2   1  0    2
Caprio        2   0-0   0-0   0-0   0   0  0    0
Domingo      10   1-1   1-3   0-0   2   1  1    5 
Ayegba        7   1-2   0-0   0-0   2   0  2    2
Hayes         5   0-2   0-0   0-0   1   0  1    0
Trawick      19   1-3   0-0   2-2   2   1  1    4
Team Rebounds                       5
TOTALS      200 21-42   4-18 10-16 41  17 14   64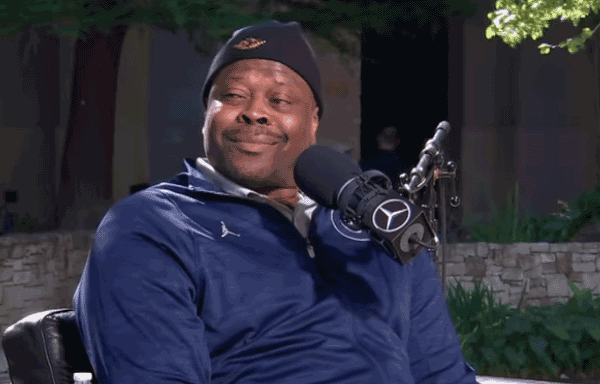 Head coach Patrick Ewing talked recruiting with WFAN radio in New York Tuesday, ahead of the Empire Classic doubleheader Thursday at Madison Square Garden.
"This gig is a year-round, 24/7, 365 day a year job," Ewing said. "You really don't get a break. The only break you get is the one you make yourself take. During the season, you have to practice and make sure they're going to class, not getting in any trouble. Offseason - you have to go recruiting all over the place, always trying to get the best players you can to help your program be successful. It's a year-round job but I love it."
Ewing admitted that his name recognition isn't as successful to today's recruits.
"I was talking to a parent that I was recruiting their kid and they're like, 'I love you! You're my favorite player!" I told them that I've been here for three years - I'm going on my third year - and every parent that has told me that they've loved me, I haven't gotten any of their kids."
Some items of interest as Georgetown prepares for the Empire Classic doubleheader:
Georgetown will face its first top 25 opponent Thursday, as the University of Texas moved to #22 in this week's Associated Press poll. Villanova and Xavier are the two Big East representatives in the poll, with Marquette, Butler and Providence receiving votes below the top 25.
Three of the four schools in the upcoming tournament will be 4-0, as California stayed undefeated with a tougher than anticipated win over Prairie View A&M. Georgetown will play either Duke or California in the second game of the series Friday evening.
Despite the top teams in the event, the Ticketmaster web site displays a large number of seats still for sale for Thursday's doubleheader. The site offers tickets from $50-$153 while the Stubhub after market starts at $40. Neither site is selling tickets above the 200 level.
Finally, the Georgetown men's soccer team earned a #3 seed in the 2019 NCAA tournament, earning first round bye towards the winner of Lehigh vs. Pittsburgh later this week. The Hoyas will play at home throughout their run in the bracket, with a home record of 9-0-2 this past season.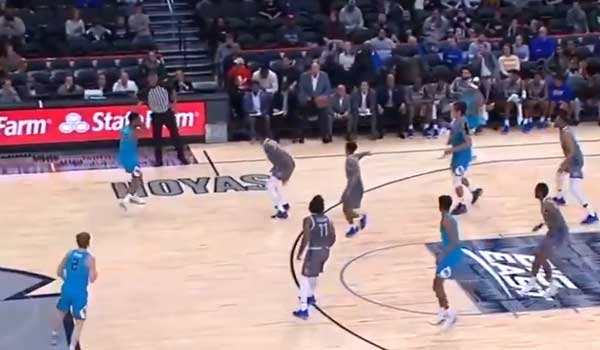 A revitalized Mac McClung led the Georgetown Hoyas past a more than capable Georgia State team, 91-83, Sunday night before just 4,118 at Capital One Arena.
POST-GAME COVERAGE
McClung, who was 1 for 7 versus Penn State Thursday, doubled his season totals in just one game, scoring 25 points in 25 minutes as the Hoyas (3-1) shook off a rocky first half and pulled away late.
Georgia State battled Duke for the first 30 minutes of its game Friday, and provided similar opposition in this one. McClung scored seven of Georgetown's first 11 points as the Hoyas took a four point lead at 11-7, but the first half freeze common in games this year blew a cold wind over the Capital One Arena floor again in this one. Georgetown missed 13 of its next 14 shots as a stingy Georgia State defense helped the Panthers go on an 18-2 run and lead by as many as six, 29-23, with Georgetown's points coming mostly at the free throw line. The Panthers hit eight of their final 10 shots of the half to take a 39-33 lead into the intermission, holding the Hoyas to 30 percent first half shooting and a 2 for 12 mark from three, with seven turnovers.
Georgetown got back into this game at the free throw line, where they dominated the stat sheet. Three free throws from McClung tied the score at 43-43 four minutes into the half, and a pair of free throws from Josh leBlanc put the Hoyas up for good with 11:26 to play, 57-54. Georgetown scored half of its 58 second half points from the free throw line, helping cushion the blow of a poor 3 for 18 effort from three amidst a solid 48 percent shooting effort by the outmanned Panthers. But whereas the Hoyas had 37 attempts at the line in the second half, the Panthers managed only 18, and that proved the difference down the stretch.
McClung led all scorers with 25, followed by 15 from Omer Yurtseven, 12 from Josh LeBlanc, 11 from James Akinjo and 10 from Jamorko Pickett. Georgetown ended the game hitting five of its final seven shots, but 11 of its final 15 points came from the line.
Here's the Georgetown half of the box score:

            MIN   2FG   3FG   FT  REB  A  PF  PTS
Starters:
Akinjo       33    3-7  0-4  5-8    2   4  3   11
McClung      25    4-6  2-6 11-11   3   2  4   25 
Mosely       29    1-1  0-2  7-8    4   2  1    9
Pickett      21    2-2  0-1  6-6    2   3  1   10
Yurtseven    27    5-12 0-1  5-5   13   1  4   15
Reserves: 
Blair        11    0-0  0-2  0-0    1   0  1    0
Alexander    10    0-0  1-2  1-2    0   0  0    4
Allen        13    1-2  0-0  1-4    2   1  1    3
Gardner       3    1-2  0-0  0-0    1   0  0    2
LeBlanc      21    4-7  0-0  4-7    4   0  3   12
Wahab         8    0-3  0-0  0-0    3   1  2    0
Team Rebounds                       4
DNP: Ighoefe, Azinge, Muresan, Robinson, Wilson
TOTALS      200  21-42  3-18 40-51 39 14  20   91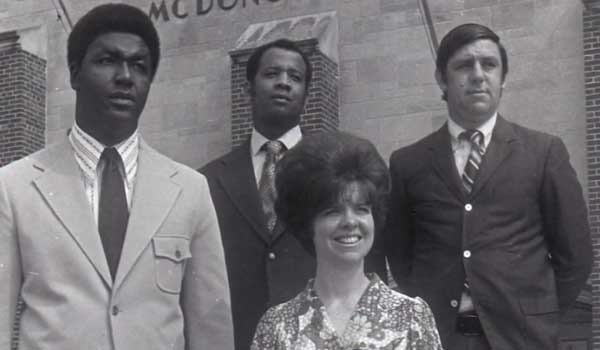 Mary Fenlon, a longtime member of the Georgetown basketball family, was inducted into the Georgetown University Athletic Hall of Fame in a special ceremony during Thursday's game versus Pennsylvania State.
Fenlon, a former Catholic nun, taught at St. Anthony's HS during the tenure of John Thompson, who made Fenlon his first hire when he arrived at Georgetown in 1972 to serve as the team's full-time academic coordinator.
Per a press release at
GUHoyas.com
, "Fenlon spent 27 years as the backbone of a program that saw overwhelming success winning the 1984 NCAA Championship, appearing in three Final Fours, making 25 post-season appearances including 20 in the NCAA Tournament and capturing six Big East Tournament titles. However, it was the achievements in the classroom that made Fenlon the inspiration she continues to be today. During her time on the Hilltop, student-athletes who stayed all four years maintained a 97 percent graduation rate."
Fenlon retired in 1999. Members of her family accepted the award in her honor.