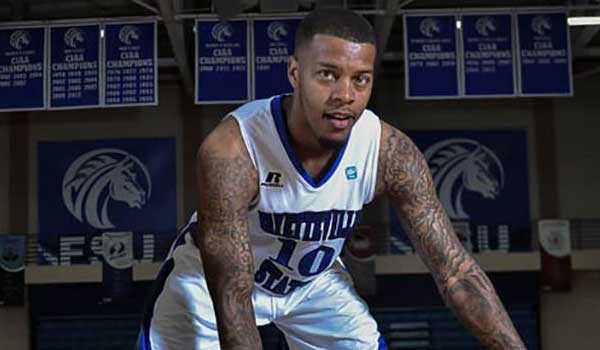 In a season where its bench is so lean, here's a look back at a Georgetown recruit who would have been a senior this year, but whose name is all but forgotten in Georgetown annals.
In March 2016, Big East recruiting sites buzzed with a signing from Denzell Hosch, a 24 year old recruit with no other college offers. Wrote this web site in 2016:
"Hosch played high school basketball in the 2009-10 academic year at Shelby (NC), but did not sign with a college and moved on to Charis Prep, enrollment 36, in Wilson, NC for a fifth year in 2010-11. The following year, Hosch opted for the junior college route at the little known University of South Carolina-Salkehatchie, but did not play either, receiving a medical redshirt. One year later, he was reported as walking on at North Carolina A&T for 2012-13 but was never listed on the roster. For the past three years Hosch has been in the Army, most recently at Ft. Hood (TX), which reactivated its base team two years ago...
"The Big East Coast Bias site reported Hosch accepted the offer within one hour Sunday, and Georgetown was the only school that had offered."
The puzzling signing got even more attention when Hosch retracted the announcement hours later.
So where is Denzell Hosch today?
After the Georgetown offer failed to materialize, Hosch played one season at Division II North Georgia, then transferred to Fayetteville State, another Division II school. In three seasons Hosch, now 28, averages 11.4 points per game as a reserve guard for the Broncos (16-4) and was nominated for a CIAA all-academic award. In a
news release posted on Thursday
, Fayetteville State noted that Hosch "was one of 21 student-athletes at Fayetteville State to receive the D2 Athletics Directors Association Academic Achievement Award. This past spring, Hosch graduated magna cum laude with a bachelor's degree in Management Information Systems. He is currently pursuing his MBA with Project Management as the concentration."
Former Georgetown forward Galen Alexander, who transferred after nine games this season, will move on to Texas Southern, per reports.
Texas Southern will be Alexander's fourth school in four years, having been dismissed from the LSU basketball team in 2017-18, spending a year at Jones County (MS) College, and a nine game tenure at Georgetown, which was cut short by allegations of harassment of a fellow student. In his transfer announcement on December 14, Alexander remarked that "My character has been defamed and that needs to be cleared up more than anything else. Very soon it will come to light that I am innocent and had nothing to do with the false allegations."
Alexander will have three semesters eligibility at Texas Southern beginning in January 2021.
No destination has been announced for former freshman Myron Gardner, who played in eight games and also announced a transfer on December 14.
With the passing of Hall of Fame coach Morgan Wootten on Wednesday at the age of 88, it's worth remembering that Wooten was twice a candidate for the head coaching position at Georgetown.
In 1966, following the resignation of Tom O'Keefe, an ad hoc committee of students leading the Georgetown search reached out to Wootten, then a 34 year old coach at DeMatha Catholic HS and St. John's College HS coach Joe Gallagher, to gauge their interest in the job. According to a news story attributed to Gallagher, neither coach took the offer seriously, in that O'Keefe was still a part time coach and Georgetown would not even commit an administrative assistant to the basketball coach. Without any serious local interest, Georgetown turned to 29 year old Jack Magee, then a high school coach in the Boston area, to succeed O'Keefe.
Six years later, Wootten was sought for the Georgetown vacancy following Magee's firing. A runner-up to the search in 1969 that hired Charles (Lefty) Driesell at Maryland, Wooten was again a runner-up in the Georgetown search that hired John Thompson. In 1980, Wootten turned down an offer to coach North Carolina State, a job that went to Iona head coach Jim Valvano.
Wootten concluded his career at DeMatha in 2002 with a record of 1274-192, with 33 WCAC conference titles.
His legend was known far beyond Washington DC.
The coach's legacy was summed up many years ago by former UCLA coach John Wooden, who remarked: "People say Morgan Wootten is the best high school basketball coach in the country. I disagree. I know of no finer coach at any level -- high school, college, or pro. I've said it elsewhere and I'll say it here: I stand in awe of him."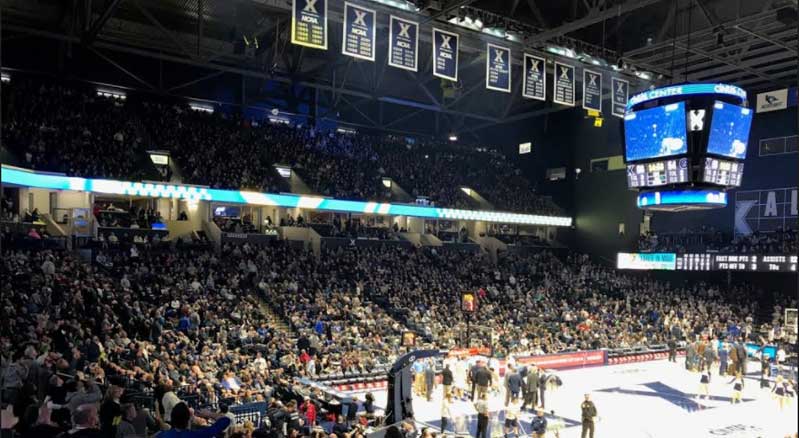 It's not even February, but time is running out on the NCAA hopes of the 2019-20 Georgetown Hoyas, dropping a 66-57 loss at Xavier on Wednesday night.
Xavier opened the game with a lineup change that would prove crucial early, benching struggling 6-1 guard Quentin Goodin for 6-9 forward Zach Freemantle, and the Hoyas were painfully slow to adjust. Georgetown dug a hole for themselves early in this one. Leading 4-2 after two minutes in the first half, the Hoyas missed its next 10 shots over the next 10:39, by which time the Musketeers built a 14 point lead, 19-5.
Xavier led by as many as 18 at 26-8 before Georgetown got some better defense inside and began to chop away at the sizeable lead. A three from Jahvon Blair and a pair of Mac McClung baskets closed to 26-15, followed by a Jagan Mosely three that closed to 30-20. A late three by Xavier reserve Kyky Tandy gave the Musketeers a 35-23 lead at halftime, as Georgetown suffered through 8 for 28 shooting in the first half, 3 for 12 from outside the three point arc, and allowed Xavier 20 points inside the paint.
The first half was a miserable one for senior Omer Yurtseven: 0-4, two turnovers, two fouls. The second half didn't start off much better, as Yurtseven was stuffed going to the rim and gave up an alley-oop to push the Xavier lead to 37-23. He responded with a pair of baskets to get the Hoyas back to eight, 39-31, but picked up a third foul 22 seconds later and a fourth at the 12:32 mark.
For its part, Xavier's shooting was decidedly mixed, giving the Hoyas opportunities ti get back in the game all evening. Off the bench came Qudus Wahab, scoring Georgetown's next seven to close to 49-40. The Hoyas couldn't keep any momentum, dropping a 10-4 run as Xavier led by 15 at the 5:19 mark, 59-44.
Xavier got the score up to 62-46 at the 4:49 mark, beginning a drought for the Musketeers, missing its final six attempts of the game. Georgetown answered with an 8-0n run to close to 62-54 with 2:46 to play, but no closer. McClung missed six straight attempts in the final four minutes and Georgetown finished 1 for 6 in the final 2:05.
The Hoyas finished with a season low 57 points on 36 percent shooting, 4 for 18 from three, and scoring on just 27 of 67 possessions. McClung's 19 was the only Georgetown player in double figures, with Yurtseven scoring just four points. Xavier put four in double figures, including a season hugh 18 off the bench from Kyky Tandy.
For Georgetown to entertain hopes of its first NCAA bid in five years, it must now win seven of its final 11, including five games versus currently ranked opponents, starting a week from now hosting #13 Butler. For all its effort, the seven man rotation is beginning to run short on magic at this time of the season.
The Georgetown half of the box score:

            MIN   2FG   3FG   FT  REB  A  PF  PTS
Starters:
Allen        30   3-7    0-0  2-4  3   3   3   8
McClung      33   6-15   0-4  7-7  3   1   2  19
Mosely       40   0-0    1-5  0-0  7   4   0   3
Pickett      30   1-4    1-2  0-0 10   1   2   5
Yurtseven    21   3-8    0-1  0-0  2   0   4   6
Reserves: 
Blair        25   0-0    2-6  1-2  2   0   1   7
Muresan       3   0-0    0-0  0-0  0   0   0   0
Wahab        19   4-5    0-0  1-2  8   0   3   9
Team Rebounds                      3         
DNP: Azinge, Ighoefe, Robinson, Wilson
TOTALS      200  17-39  4-18 11-15 38  9  15  57 

ESPN took the opportunity to speak with three former Georgetown centers--to discuss the lack of post play in the contemporary NBA.
"There's not that many great centers," Ewing said. "I'd be Michael Jordan in this era."
Videos with Ewing, Alonzo Mourning, and Roy Hibbert are posted below.