Thanks for visiting HoyaSaxa.com. This is the site where you will find more news and information than you'll probably ever need to know about Georgetown University men's basketball. If you're looking for the official athletics site instead, click here.
Another schedule addition: St. Francis College (NY), scheduled for 12 noon on Saturday, November 15.
The Terriers, from the Northeast Conference, were 18-14 last season and will meet Georgetown for only the second time in its history. The Terriers won 77-52 in the 1953-54 season en route to its first ever NIT appearance, but has posted just one NIT appearance since 1963.
Georgetown University announced a second major gift to the John R. Thompson Jr. Intercollegiate Athletics Center this week, a $1 million commitment from Boston Celtics forward Jeff Green (C'12).
"I'm very fortunate to be in a position to give back to the University and to the program that has done so much for me," said Green in a University statement. "The environment created by Coach Thompson III and his staff helped shape me both academically and athletically. Georgetown and Georgetown Basketball is at my core and is part of who I am."
Fundraising is ongoing to complete the $62 million project, which will break ground Sept. 12.

Jay Force (B'62), a three year basketball letterman for Georgetown from 1959-62, died Wednesday at the age of 73.
Force was an all-state basketball player in 1958 from West Orange (NJ) High School, and accepted a scholarship offer to attend Georgetown, joining the likes of Paul Tagliabue, Bob Sharpenter, Jim Carrino, and six others in one of the largest recruiting classes in the program's history.
A 6-0 reserve guard, Force played in 46 games over his college career, averaging 2.4 points per game. Following graduation in 1962, he began a long career as an insurance agent in northern New Jersey.
Force is survived by his wife of 48 years. A Funeral Mass will be held Saturday.
Each year, Beloit College publishes a snapshot of the world of today's college freshmen, a world increasingly different from what others have grown up with. For example, this was the class that learned about 9/11 in kindergarten, or grew up knowing that Hong Kong has always been part of mainland China.
So what is the world of Georgetown among today's freshmen?
Most have no memory of John Thompson as Georgetown's coach.
Some were not yet born when Allen Iverson played at Georgetown.
Georgetown has always played its home games downtown.
Georgetown has always played baseball off-campus.
And, a layman, not a Jesuit, has been president of Georgetown almost their entire lives. The HOYA notes that with this school year, the tenure of Jack DeGioia (C'79, G'95) passed Rev. Timothy Healy, S.J. (1976-1989) as the longest serving president in Georgetown's 225 year history.
From the Roanoke Times, news of an upcoming game this season between Georgetown and Radford (22-13 in 2013-14). No date was announced in the article.
Georgetown won the only prior meeting between the schools, 110-55, in the 2007-08 season.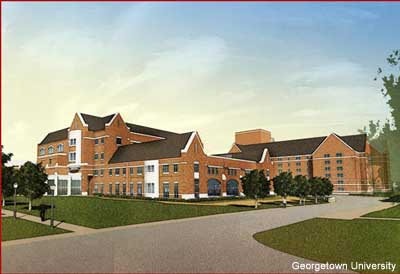 Georgetown University announced a $3.3 million gift in the fundraising for the John R. Thompson Jr. Intercollegiate Athletics Center from Patrick Ewing (C'85) and his agent, David Falk.
"This is a very special opportunity for me to honor a man I love and respect," said Falk at a release posted at GUHoyas.com. "To do it together with Patrick Ewing, who was a dominant figure in both John's basketball program and in my career, makes it even more rewarding."
Ewing, an alumnus and Georgetown parent, told the Washington Post that "Coach Thompson is a very special person in my life. He brought me to Georgetown as a boy and helped me to grow as a man, and I think the gift to the university is something that is very special and very meaningful. Itís blessed with Coach Thompsonís name on it, so I think that itís something very much worthwhile."
An Instagram photo captured Georgetown's freshmen basketball players en route to the New Student Convocation, but it is the return of a senior that captured its share of attention this weekend.
Center Josh Smith did not play in the Kenner League and did not stay on campus this summer, leading to questions on his fitness heading into his senior season. In an interview with Ben Standig at CSN Washington, coach John Thompson III is taking a wait and see approach in advance of his arrival.
"Honest answer is we'll see this week when he gets here," Thompson said. "It's one thing to get reports, but we'll see when he gets here."
"I think with Josh, people want a number," he continued. "It's not a question of the number. It's a question of can he get up and down the court. Can he defensively move his feet? What the number is, for me that number might be different than what it is for you. Josh has to get to a point where his mobility is not an issue."
"Josh is at the end of his road intercollegiately. He has to continue to change, continue to grow up, and continue to accept responsibility."
Coach Thompson did not confirm press coverage from last week that suggested games with Maryland and Virginia for the 2015-16 season, the latter in the BB&T Classic.
"We're in the BB&T this year," said Thompson. "All other years will be determined later and I definitely have not had any discussion about any other opponents past Towson."
The coach did confirm that freshman center Alonzo (Trey) Mourning is a scholarship recipient and not a walk-on.
As always, prior stories over this past week or the last 15+ years of coverage can be found at the News Archive pages, including recaps of all prior games over the season. It's a good way to keep up to date if you've visit the site less frequently. The last 10 stories:
To further search this site or the Basketball History pages, enter your query below.
Loading
This is an unofficial site for Georgetown Basketball. If you are interested in playing a sport at Georgetown, contact the Department of Athletics, Georgetown University, Washington, DC 20057. General information for prospective student athletes may be found at this NCAA link.
N.B.: This not-for-profit site is supportive of, but neither directly affiliated with nor under the supervision of Georgetown University or the Big East Conference. See the Fine Print page for more details.
AMDG