Thanks for visiting HoyaSaxa.com. This is the site where you will find more news and information than you'll probably ever need to know about Georgetown University men's basketball. If you're looking for the official athletics site instead, click here.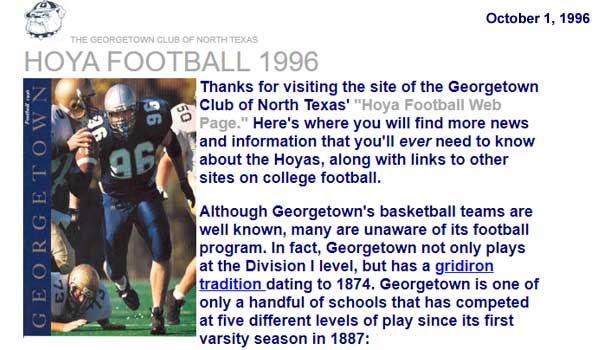 This site officially turns 18 today, having been founded for Georgetown football updates on Oct. 1, 1996. The basketball coverage followed two months later.
In the fall of 1996, home games were still played in Landover, St. Leo was still on the schedule and Georgetown was one of the first schools nationwide to post box scores to its own web site. Three head coaches, 582 games, and one international incident later, the Georgetown Hoyas remain a never ending story.
The coverage of college athletics has changed in numerous ways since 1996, and even more changes are sure to come. As one of the last independent college sports web sites out there, and ad-free since day one, it's been a great opportunity to provide coverage of the Hoyas to over 11 million visits over the last 18 years.
Thanks for your continued support.
Congratulations to the Georgetown's men's soccer team, whose goal in the 77th minute afforded it a 1-0 win at Maryland, the first regulation win against the Terps in 30 games dating back to the 1952 season. (That's right, 1-28-1.)
The game comes at a time where, just two years earlier, University of Maryland athletic director Kevin Anderson declared his teams would never play Georgetown again until the Hoyas played the Terrapins in men's basketball.
So, is there any hope for some glasnost between the two schools on men's basketball?
The local DC press treats this issue akin to the Gordian knot. The national press presumes John Thompson still schedules Georgetown games and he has it out for Maryland, despite the fact he made peace with lefty Driesell nearly 20 years ago. By all accounts, Mark Turgeon and John Thompson III have no animus between them.
For many years, the "Gary Williams Factor" stalled this dialogue, especially when Williams repeatedly argued he was "owed" a home game for a 1993 neutral site game played at Capital Centre that marked the only regular season, non-tournament game between the schools since the 1979-80 season. Williams usually omitted the fact that Maryland wore the home jerseys that day. Georgetown and the BB&T Classic, then led by a number of Maryland boosters, were often at odds because Georgetown wasn't welcome in the tournament. Maryland withdrew from the BB&T, and Georgetown took its place.
What has changed? The landscape. And the money.
Georgetown's attendance dropped 20 percent in its transition to the reformulated Big East. Its attendance of 8,670 was the lowest in a decade, and adding Syracuse to future schedules may not be enough to sell season tickets for the likes of Texas A&M-Corpus Christi or Radford.
Attendance at Maryland's Comcast Center has fallen 15 percent over the last four years, and that was while Maryland still played an ACC schedule. The Terrapins' 2014-15 schedule features no opponent within 100 miles of College Park, and the days of reliable sellouts with North Carolina, Duke, or even Syracuse will be replaced by weekend games with Minnesota, Northwestern, and Michigan. Only two games are on ESPN this season, the rest carried on the Big Ten Network, ESPN2, or ESPNU.
The troubles with debt service at the University of Maryland cannot be ignored. In 2013, the U.Md. athletic department carried over $52 million in debt over strategic missteps at Comcast Center and Byrd Stadium. The annual checks from the Big Ten Network figure to fix this imbalance but the Terps are drawing 58 percent capacity to non-conference basketball games, and none came close to selling out.
The opportunity seems obvious for both parties. Georgetown needs a home-and-away in off-years when Syracuse is not at Verizon Center. Maryland needs a home-and-away series which can draw fans (and TV networks) to Route 1 before the start of Big 10 play. The two schools can wait for a one-off in the Big East-ACC challenge, and not come back for another generation, but why not make it a six year deal now, even if it starts in College Park?
No Georgetown or Maryland fan under the age of 50 has ever seen these two teams play in the local area. They never saw Len Bias and Patrick Ewing on the same court, nor Adrian Branch and David Wingate, Walt Williams and Mark Tillmon, Juan Dixon and Kevin Braswell, Lonnie Baxter or Mike Sweetney. We can't turn back the clock, but it's time to reset it.
If soccer teams can play together, so can basketball teams.
The Hoya Hoop Club has announced the date for the annual open practice event, which will be held in conjunction with Georgetown's 75th Homecoming Weekend.
Details from the announcement are reprinted below:
Menís Basketball Open Practice Ė Saturday, October 25

"Georgetown Basketball and the Hoya Hoop Club cordially invite you to join us for Men's Basketball Open Practice 2014. An annual event, this is an opportunity to meet the 2014-15 Hoyas, hear from Coach John Thompson III, and watch the team practice.

9:30 - 10:30 a.m. - Autographs
10:30 - 11 a.m. - Coach John Thompson III Address and Q&A
Leo J. O'Donovan Hall

11 a.m. - 12 p.m. - Hoyas Practice
McDonough Gymnasium

To register, please visit here. Please note that space is limited and that registration will close on Thursday, October 23 at 5 p.m.

Please note that this event is only available to those who have made a gift or a commitment/pledge to Georgetown Athletics in the current fiscal year (on or after July 1, 2014). To make a gift to Georgetown Athletics, please visit WeAreGeorgetown.com or call 202-784-6223."
After a number of personnel setbacks in 2013-14, head coach John Thompson III is looking forward to a revitalized Georgetown team, per an interview he conducted recently with CBS Sports.com.
Last season was "probably one of the two most frustrating seasons I've had as a coach in that everything felt like another road block kept getting put in front of us," Thompson said. "Greg Whittington hurts his knee, then Josh busts out of school for the second semester. Then Jabril breaks his jaw and misses the games that he missed. Then in the middle of all that, Nate sits a game then Moses has the NCAA issues came up. I know that's the nature of athletics but last year it just felt like one thing after another happened and we weren't deep enough to continually reinvent ourselves."
As to 2014-15, "They're a veteran group," he continued. "And then you bring in the freshmen who provide an influx of talent and IQ. It's a good mix. It's a really good mix and we're going to need the older guys to be better and we're going to need the [younger] guys to get ready quickly."
"And finally because of his own doing, Josh [Smith] is the forgotten man in this country and rightfully so. Now at the same time, when the big fella is on the court there's not many people who can do what Josh can do."
As always, prior stories over this past week or the last 15+ years of coverage can be found at the News Archive pages, including recaps of all prior games over the season. It's a good way to keep up to date if you've visit the site less frequently. The last 10 stories:
To further search this site or the Basketball History pages, enter your query below.
Loading
This is an unofficial site for Georgetown Basketball. If you are interested in playing a sport at Georgetown, contact the Department of Athletics, Georgetown University, Washington, DC 20057. General information for prospective student athletes may be found at this NCAA link.
N.B.: This not-for-profit site is supportive of, but neither directly affiliated with nor under the supervision of Georgetown University or the Big East Conference. See the Fine Print page for more details.
AMDG