Thanks for visiting HoyaSaxa.com. This is the site where you will find more news and information than you'll probably ever need to know about Georgetown University men's basketball. If you're looking for the official athletics site instead, click here.
Latest News
| | |
| --- | --- |
| Duke 86, Georgetown 84 | 11/23/15 |
Sophomore guard Grayson Allen scored a career high 32 points as #5-ranked Duke held off a last minute upset bid by the Georgetown Hoyas, capturing the 2K Classic title in an 86-84 win before 17,287 at Madison Square Garden.
The early season game had a NCAA tournament feel to it, and both teams competed as if it were late March instead of late November. After a slow start, Duke hit four of its next five field goals to take an early 10-8 lead, but Isaac Copeland scored the next seven as Georgetown regained the lead, 15-14. Copeland was vital in a 11-2 Georgetown run that extended the lead to as may as eight, 26-18, when Duke's Grayson Allen began to rally the Devils. Allen had 16 first half points as he scored five straight to close to 30-25, only to see Georgetown answer with a D'Vauntes Smith-Rivera three, a basket from Trey Mourning, and a Copeland basket at the 3:56 market to restore the lead to eight, 37-29, as Georgetown was shooting at a 59 percent rate. Allen keyed a second Duke run at the 2:22 mark, as his fourth three of the first half led to an 8-0 run that gave the Blue Devils its first lead of the game since the 13:43 mark, 40-39, with 1:08 to halftime.
In a first half that saw contributions from nearly every Georgetown player, the last minute of the half was one to remember for freshman Kaleb Johnson. Following a pair of free throws from Copeland, Johnson sank a long three to give Georgetown a 44-40 lead, and following a pair of Allen free throws with five seconds left, Johnson launched a half court shot with less than a second left that sailed through the nets and gave Georgetown a 47-42 halftime lead.
Both teams shot over 50 percent for the half, with the Hoyas entering the break shooting 57% from the floor and 90% (9-10) from the free throw line. For the second half, however, Duke coach Mike Krzyzewski made a key defensive change that changed the tenor of the game, moving to a 1-3-1 zone defense and drove the offense through Grayson Allen even more.
The Hoyas opened the second half with a Bradley Hayes turnaround to lead 49-42, but the change in defenses took its toll. The Blue Devils closed to 49-44 on a Mason Plumlee basket before Allen went to work: a three pointer to close to 49-47, an assist to set up a second three, 50-49, and another three of his own, accounting for nine points and three assists over a four minute run as the Blue Devils built a 63-54 lead at the 14:04 mark.
A change in Georgetown's defense helped stall the Duke drive. A basket by Johnson and two from Jessie Govan brought the Hoyas to 64-60 midway in the half. Five seconds later, the Blue Devils turned the ball over, and a drive from L.J. Peak was thwarted when it appeared Allen had shoved Peak into the free throw stanchion. No foul was called, however.
Georgetown continued its move against the scoring margin. A Kaleb Johnson free throw cut the score to 64-61. After a Duke basket, Reggie Cameron sank a three pointer to close to two, 66-64. The Hoyas closed to one point at 68-67, but fell victim to another non-call when Allen fouled Trey Mourning but evaded an official's whistle. Allen answered by scoring seven of Duke's next nine, extending the lead to 77-69 with 2:42 remaining, but the Hoyas were not done yet. Over a crisply played game that soon devolved to foul shots, the teams traded free throws into the final minute, where, down six with 21 seconds remaining, Isaac Copeland (held scoreless to date in the second half) hit a three to close to 84-81. Following two more Duke free throws, Copeland closed the lead to 86-84 with 7.8 seconds left. A quick foul to Duke's Derryk Thornton with five seconds could have closed out the game, but the freshman missed both attempts. Copeland raced down the court, where the potential game winner grazed the rim as time expired.
Georgetown got strong performances across the board, with 19 from Copeland, 14 from Kaleb Johnson, 14 from D'Vauntes Smith-Rivera, and 13 from L.J. Peak. The Hoyas shot 55 percent for the game and 41% from three point range.
Grayson Allen was the star of the game, shooting 9-12 from the field, 5-6 from three point range, and 9-9 from the line. For the weekend, he was 18-27 from the field, 9-14 from three point range, and 17-18 from the line. The Blue Devils shot 48 percent from the field versus the Hoyas but got to the free throw line 12 more times and connected on eight more than the Hoyas did. Overall, however, Georgetown got solid contributions from every able man on the roster, with strong showings from Kaleb Johnson, Reggie Cameron, and Jessie Govan.
After a three game, five day run that included two top five teams and the defending NCAA finalists, Georgetown falls to 1-3, with its three losses by a combined eight points. The Hoyas get a six day break before beginning a seven game, four week homestand at Verizon Center, beginning Saturday versus Bryant.
The Georgetown half of the box score:

            MIN   2FG   3FG   FT  REB  A  PF  PTS
Starters:                                 
Smith-Rivera 34   4-7   2-7   0-0   3   6  3   14
Peak         23   4-6   0-1   5-7   3   2  5   13
Copeland     38   4-7   3-7   4-5   6   1  4   21
Derrickson   13   1-1   1-1   0-0   1   0  1    3
Hayes        10   1-2   0-0   0-0   0   1  2    2
Reserves:
Cameron      29   0-1   1-2   4-4   2   3  1    7
Govan        17   2-2   0-0   2-2   4   2  3    6
Williams      1   0-0   0-0   0-0   0   0  0    0
Johnson      22   1-2   2-3   4-6   4   0  5   14
Mourning     14   2-2   0-1   0-0   1   1  4    4
DNP: Campbell, White
Team Rebounds                       3
TOTALS      200  19-29 9-22  19-24 27  16 28   84

| | |
| --- | --- |
| Georgetown 71, Wisconsin 61 | 11/20/15 |
Reggie Cameron and Isaac Copeland stepped up big as the Georgetown Hoyas shook off a two game losing streak to advance past Wisconsin in the semifinal bracket of the 2K Classic Friday.
Neither team made the evening highlights for its offensive prowess early in this game: after six and a half minutes, the two teams combined to miss 14 of 16 from the field, as Georgetown held a 4-0 lead until Wisconsin's Nigel Hayes picked up the Badgers' first two points via a dunk at the 13:33 mark. The key to the Hoyas' first half was junior Reggie Cameron, who had been deep on the bench in 2014-15 and had just one field goal in the first three games of this season. Cameron entered the game in place of freshman Marcus Derrickson at the 12:33 mark and began to pick up the outside scoring for a Georgetown team which could not connect from outside. After Wisconsin had closed to 11-10 midway in the half, back to back threes from Cameron helped led the Hoyas on a 9-0 run to lead 20-10 with 6:47 in the first half.
Cameron added two more threes late as Georgetown took a 27-22 lead at the half, and a look at the box score illustrated how valuable Cameron's play was off the bench. Minus Cameron's numbers, the Hoyas shot just 24 percent from the field, with D'Vauntes Smith-Rivera shooting 1-7 and Bradley Hayes 1-5. Cameron was 4-5 from the three point line, while the remainder of the team was 1-7.
Wisconsin closed the lead to three points early in the half when a DSR three led the Hoyas on a 7-0 run to push the lead to 43-34 at the 12:07 mark. The Wisconsin offensive sets never got in sync in this game, and when Isaac Copeland began to pick up the pace, the Badgers had no answer. Copeland scored ten of the Hoyas' next 15 points over a six minute stretch, holding the lead in double digits as fouls started to mount on the Georgetown starters. Georgetown led by as many as 14 in the final five minutes and the badgers never got closer than eight points thereafter.
Copeland led all scorers with 15, Cameron with 14. Smith-Rivers scored six of his 10 second half points at the foul line in the final two minutes, and ended the game shooting just 2 for 9. Outside of Copeland and Cameron, the Hoyas shot just 30% for the game but with their efforts, Georgetown finished the game at 43 percent and held Wisconsin to just 31% from the field, a far cry from last year's game in the Bahamas where Wisconsin shot 55% in the second half to earn the victory.
The Georgetown half of the box score:

            MIN   2FG   3FG   FT  REB  A  PF  PTS
Starters:                                 
Smith-Rivera 33   1-5   1-4   7-10  5   4  4   12
Peak         21   2-4   0-1   5-6   2   1  4    9
Copeland     31   2-5   3-4   2-2   8   0  4   15
Derrickson   17   0-1   0-1   0-0   3   3  2    0
Hayes        14   2-6   0-0   0-0   2   1  2    4
Reserves:
Cameron      29   1-1   4-6   0-0   3   2  1   14
Govan        26   2-5   1-2   6-6   5   3  1   13
Williams      1   0-0   0-0   0-0   0   0  0    0
Johnson      25   2-3   0-0   0-0   3   1  5    4
Mourning      3   0-1   0-0   0-0   1   0  0    0
DNP: Campbell, White  
Team Rebounds                       4
TOTALS      200  12-31 9-18  20-24 36  15 23   71

| | |
| --- | --- |
| Othella Harrington Selected To GU Hall of Fame | 11/19/15 |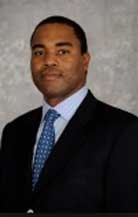 Former center Othella Harrington (C'96) is among six awardees to the Georgetown University Athletic Hall of Fame, as announced Wednesday at GUHoyas.com.
Harrington was the nation's top high school basketball recruit when he selected Georgetown in the spring of 1992, averaging 29 points, 25 rebounds, and six blocks a game at Murrah HS in Jackson, MS. The 1993 Big East rookie of the year, he led the team in scoring in the two seasons before Allen Iverson's debut and finished his college career as the school's fifth leading scorer all time, and its fourth leading rebounder. After Georgetown, Harrington played 13 years in the NBA among five teams. He will be the 35th men's basketball player selected to the Hall since its founding in 1953.
Other awardees include recently retired crew coach Tony Johnson, Conal Groom (C'95, rowing), Stacy Duca (N'97, women's lacrosse) Jim Coale (B'95, men's lacrosse), Caryn Landau (F'95, women's track) and Joline Staeheli (C'95, women's rowing). Further details on the Feb. 20 event are pending.
---
Related Stories
Stories You Missed

Here's a link to prior coverage from the web site...all the way back to 1997.

Verizon Court Design

An alumnus from the class of 2006 has won a Georgetown contest for designing the Hoyas' home court at Verizon Center. Read more here.

The Class of 2018

There's something special about this year's sophomore class. Read more here.

Thompson-Cam

Follow the construction of the John Thompson Center from a 24-hour on-site camera.