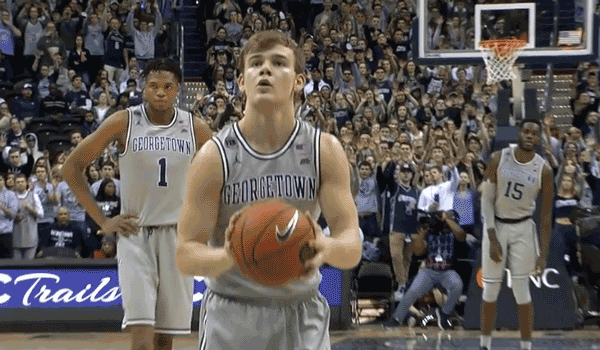 A year after Marquette's Sam Hauser tore up Georgetown for 28 points, he returned to Capital One Arena for a career high 31 points, as #15-ranked Marquette survived two star-crossed drives from James Akinjo that left the Hoyas short in a 74-71 decision Tuesday before just 7,945 in attendance.
The Warriors (15-3) were without leading scorer Markus Howard, who suffered back spasms three minutes into the game and did not return. Hauser's play, along with that of center Theo John (matching Jessie Govan with 14 points, six rebounds) was critical to MU's success.
With Howard out of action, the attention early in the first half was on Georgetown's Mac McClung , who scored 10 of the Hoyas' first 12 points. Despite Marquette's adjustments to working without Howard in the lineup, the Warriors never trailed by more than three and led by six at the 4:00 mark of the first half, 33-27.
Georgetown got a strong effort off the bench from senior Kaleb Johnson, going 4-4 from the field as GU went on a 13-4 run to close the half, 40-37.
Turnovers and fouls flared up for both teams to begin the second half--the two teams turned the ball over three times in the first 88 seconds of play. Georgetown held a 51-43 lead with 15:15 to play before going into the cold winds of Capital One Arena, where the Warriors answered with a 14-0 run. The Hoyas missed seven shots and committed three turnovers in the run, which gave MU new life in Howard's absence. Georgetown rallied to tie the score at 60-60 with 7:48 to play, beginning a six minute run where the lead swung between the benches.
Trailing 70-66, a basket by Pickett and free throws by Akinjo tied the score at 70 with 2:09 remaining. Following an offensive foul on Marquette's Sacar Anim, Georgretown looked to be in line for the lead, but Akinjo took an ill-advised three and Hauser responded with a basket, 72-70, with 0:59 remaining. McClung was fouled 13 seconds later, hitting one of two to close to 72-71. Off an Anim miss wit 0:18 left, Georgetown made its move, but Akinjo drove inside and was his shot was blocked out of bounds. Retaining the ball, the Hoyas had another shot, but Akinjo looked off an open Jessie Govan and took it inside again, to the same result.
Hauser closed out the scoring at the foul line.
Head coach Patrick Ewing was not pleased with Akinjo's decisions on the court.
"We had two people open at that time. We got to make the right play. Jessie was open, Mac was open. [James] has to make the right play."
He did not.
"[Akinjo's] a competitor for sure. He believes in himself," said McClung in the post-game interview. "We're going to go to practice tomorrow and learn from it."
Following a strong first half, McClung led the Hoyas with 24, followed by 14 from Jessie Govan and 12 off the bench from Kaleb Johnson. Akinjo finished the game 1 for 10 and is 14 for 56 (.250) in five Big East games this season.
The Georgetown half of the box score:

            MIN   2FG   3FG   FT  REB  A  PF  PTS
Starters:
Akinjo       34    1-10  0-0  6-8   7  8   2    8
McClung      33    2-5   4-7  6-7   4  1   1   24
Pickett      23    1-4   0-2  0-0   2  0   4    2
LeBlanc      19    1-2   1-1  0-0   4  1   3    5
Govan        33    1-4   3-4  3-4   9  0   4   14
Reserves: 
Blair         7    0-0   1-2  0-0   0  0   1    3
Mosely        5    0-0   0-1  0-0   0  2   0    0
Malinowski   11    0-2   0-0  1-2   3  1   0    1
Johnson      20    4-5   1-1  1-1   1  0   0   12 
Mourning      5    1-2   0-1  0-0   0  0   4    2
Carter        3    0-0   0-0  0-0   1  0   0    0
Team Rebounds                       2
DNP: Muresan, Robinson
TOTALS      200  11-32 10-19 17-22 33 13  19   71