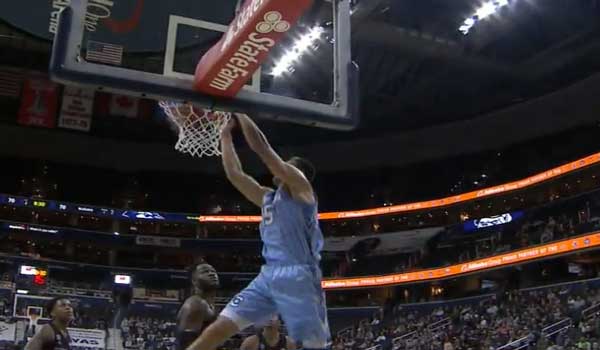 Saturday's game at Creighton may be the closest thing to an elimination game in the Big East race so far this season.
With post-season hopes renewed following its win over Villanova, Georgetown's 16-10 mark is tempered by a still-tepid standing in the NCAA's new NET rankings. Despite its 16 wins, Georgetown is very much on the outside looking in due to its non-conference schedule. With five games to play in the conference race, the Hoyas need to win three, perhaps four, to make its strongest case to the NCAA committee that it is worthy of an at-large bid.
The Creighton Bluejays have a different problem. Thought sitting within the realm of possibility for an at-large bid thanks to a strong non-conference strength of schedule, the Jays are currently tied for the Big East cellar, and the NCAA committee is not taking a sub-.500 Big East entry no matter what its NET ranking is. At 5-9, the Jays need to win out just to get to .500, with three home games remaining and a road game at Marquette.
Further complicating things for Creighton: one of its 14 wins is against a Division III team and thus does not count in NCAA tournament review. This is now a 13-13 team playing for its post-season lives.
The Hoyas held Villanova to 73 points in Wednesday's game. A repeat would do wonders in this game, given a peculiar fact about the state of the Creighton offense this season.
More on the Bluejays follows at the
Pre-Game Report
page. A recap follows Saturday evening.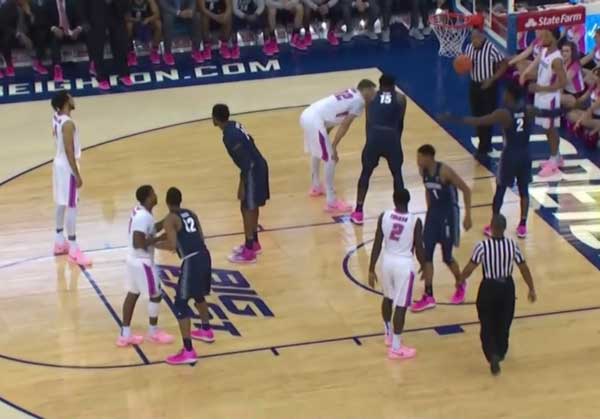 From HoyaSaxa.com, January 27, 2018:
Despite battling back from a 16 point halftime deficit, the Georgetown Hoyas stalled in the final three minutes of play, scoring just one field goal in a three minute stretch that allowed Creighton to escape with an 85-77 win at sold out CenturyLink Center.
The Bluejays (17-5) enjoyed a festive home atmosphere in the game, the eighth annual game devoted to cancer awareness in the Omaha area. Creighton led by as many as seven early in the half following the debut of freshman Jacob Epperson, whose dunk at the 12:48 mark gave the Bluejays a 20-13 lead. Epperson's basket was a run of six consecutive baskets by the Jays that ended with a Marcus Foster three at the 10:55 mark, 23-17, but the hoyas answered back in a big way.
Over a two minute stretch midway through the half, Georgetown went on an 11-0 run, with four straight of its own. Three three pointers by Jahvon Blair and a basket from Jagan Mosely pushed the Hoyas up five, 28-23, its largest lead of the game. Creighton fought back to tie the game at 28, and Georgetown responded with a Mosely three and a pair of free throws to carry a 33-30 lead into the last four minutes of the half. From there, the Hoyas committed three of its 11 first half turnovers and the Blue Jays went to work. Consecutive baskets and a foul from Khyri Thomas regained the lead, 35-33, Marcus Foster sank a long three, 38-33, Toby Hegner added a basket, and Foster sank consecutive threes in the final 42 seconds of the half, including one at the buzzer. A 16-0 run set the Hoyas back 13 at the break, 46-33.
Creighton shot 62 percent in the first half but that heat cooled considerably after the break. Both teams struggled after halftime, each shooting 25 percent from the field over the first seven minutes of the second period. A pair of three point plays boosted Creighton's lad to a game high 16, 57-41, with 13:17 remaining, but Georgetown's defense was beginning to close the doors on Creighton at this point of the game. Neither team scored a field goal for over four minutes, as a parade of foul shots was the extend of scoring through the 9:28 mark, when Kaleb Johnson's basket brought the Hoyas within eight, 62-54. A jumper by Jahvon Blair then brought the hoyas to six, 62-54, and on the next series, Jagan Mosely injured his ankle driving to the basket.
The Jays continued to struggle and Georgetown pressed forward. A Blair three closed the gap to five at the seven minute mark. A Toby Hegner free throw was matched by a Marcus Derrickson basket, and a pair of misses by Foster was answered by a Jonathan Mulmore three, 68-67, with 4:25 remaining. The teams exchanged threes to set the score at 71-70 with 3:32 left, and the Hoyas could not close the deal.
The Hoyas followed up going 1 of 3 from the field, with three turnovers and a blocked shot that helped preserve the win for the Bluejays, hitting nine of ten from the foul line in the final minute to stay undefeated at home this season.
Jahvon Blair came off the bench to score 21 for the Hoyas, with five of GU's 11 threes on the evening. Georgetown shot 42 percent from three and 45 percent for the game.
The Georgetown half of the box score:

            MIN   2FG   3FG   FT  REB  A  PF  PTS
Starters:
Mulmore      28   1-2   2-2   0-0   4   3  4    8
Pickett      28   1-3   2-5   1-2   6   2  4    9
Johnson      26   2-3   0-0   2-2   3   2  4    6
Derrickson   28   5-8   0-2   7-7   5   1  3   17
Govan        26   1-5   1-3   2-2   4   3  3    7
Reserves:
Blair        26   1-3   5-12  4-4   4   3  2   21
Mosely       22   2-3   1-2   0-0   3   1  2    7
Walker        4   0-1   0-0   0-0   1   0  1    0
Dickerson    12   1-1   0-0   0-0   0   2  2    2
Team Rebounds                       2
DNP: Hines, Muresan, Mourning
TOTALS      200  14-29 11-26 16-17 32  17 25   77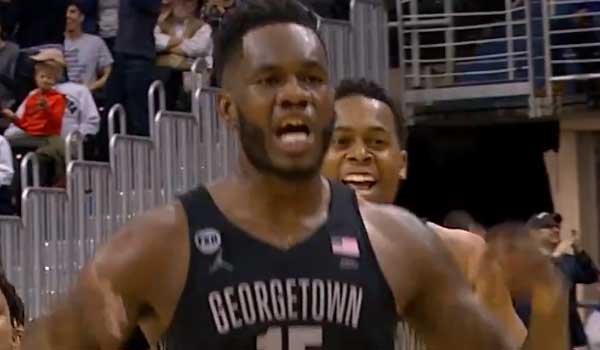 The last time Villanova lost two straight in the Big East, Georgetown was ranked #5 in the nation and Jessie Govan was a high school junior. Mac McClung was in 7th grade.

Three weeks ago, McClung and Govan combined for just four points in a 77-65 loss at Wells Fargo Center. In the return match, they combined for 42 points as the Hoyas ended a two game losing streak with a 85-73 win before 11,624 at Capital One Arena this evening.
The win was Georgetown's first since 2015 against the 17th ranked Wildcats and ends a nine game losing streak. It's also Patrick Ewing's first win over a ranked team in his two year tenure.
Jessie Govan scored the first four points for Georgetown but it was freshman Mac McClung that set the tone for the first half. In a three minute ruin McClung hit his first three shots, part of an 11-2 Georgetown run that gave the Hoyas a 15-8 lead.
"McClung did a great job early," said Villanova coach Jay Wright following the game. "I felt like we got good shots early but we couldn't make them. Then McClung got hot."
Following a pair of baskets by Kaleb Johnson, Villanova had closed to 23-19 at the 8:37 mark of the first half when McClung went back to work, scoring on three straight possessions: two threes and a basket and foul to put GU up 32-25.
Free throws from McClung and Govan built the lead to 36-28, and the Hoyas added to Nova's misery with back to back threes by James Akinjo and Jamorko Pickett, 42-28. A late run by the Cats closed to ten at the break, 42-32, in a first half that saw McClung finish with 17 and Phil Booth with 15 of Villanova's 32 points.
Where Mac McClung was the star of the first half, Jessie Govan stood tall in the second. The 6-10 senior scored Georgetown's first eight points of the second half, fending off a Villanova run which had closed the margin to six points less than four minutes into the second half. "There were a couple of possessions there where we had a chance to keep them to a two or four point lead and then Govan gets an offensive rebound," Wright said. "There were a lot of little things like that they did a good job of."
Following an 8-0 Georgetown run to take a 58-43 lead at the 13:12 mark, the Wildcats answered with a 8-2 run with threes from Paschall and freshman Jahvon Quinerly to close to 60-51 midway through the second half. Over the next three possessions, Georgetown staked its claim to the win.
Ewing's "second team" were in the game and again they exceeded expectations. On georgetown's next series, Trey Mourning hit a three pointer to extend the lead to 63-51. Following a Villanova basket, Jahvon Blair expertly led the Wildcats into an unbalanced defensive effort and swung the ball to Greg malinowski, who answered with a three, 66-53. Josh LeBlanc's fourth foul at the 7:53 mark sent Paschall to the line, but he missed the front end of the one and one and Georgetown's second line would cash in again. Blair sank a long three to extend the three, 69-53 with 6:21. When four starters returned to the lineup a minute later, the cheers from the Capital One Arena crowd were justifiably raised on the efforts of Mourning, Malinowski, Blair, and Mosely.
The one reserve that remained continued his unsung efforts for this team. Senior forward Kaleb Johnson contributed a basket, a pair of free throws, and a pair of rebounds to bring the Hoyas to a game high 19 point lead, 75-56, at the 4:01 mark.
On Fb. 3, we wrote that "For 33 minutes Georgetown stood toe to toe with the #14 Villanova Wildcats, but a 16-2 Wildcats run paved the way" for Villanova to come back. The Cats may have been overdue for its run, but it arrived following the final media time out with a full court press and more urgency than VU had shown all evening. A pair of free throws by Booth were the introduction to a run of back to back Georgetown turnovers that sparked the Wildcats, with a third consecutive turnover narrowly averted at the 2:56 mark when McClung recovered his own turnover and found a wide open Govan for a dunk, 77-60. A free throw by Collin Gillespie closed to 77-61, and off the missed free throw which followed, the Wildcats picked up the offensive rebound and fed Gillespie for the three, its only three pointer in the final 11:18 of the half, 77-64.
Even with a double digit lead, Georgetown fans had seen this play out before. A pair of VU free throws closed the Georgetown lead to 12 at the 1:05 mark, 82-70, as Georgetown continued to have trouble against a full court Wildcat press. A Govan dunk brought some fan relief, 84-70 at the 0:55 mark, whereupon the Wildcats missed three straight shots before a fifth foul on Dhamir Cosby-Roundtree signaled that the Cats had, for one evening, anyway, run out of time.
"It was a great win," said Patrick Ewing after the game. "We had our opportunities to win at Villanova...We learned from the mistakes we made that day."
Govan and McClung each finished with 21 points. James Akinjo and Jamorko Pickett continued to struggle shooting from the field but played a good game throughout. Akinjo contributed 10 points with nine assists, while Pickett had seven points without a turnover. Josh Leblanc, sidelined with foul trouble much of the game, scored four points in limited action.
In Georgetown's better wins this year, it was a team effort and such was the case Wednesday. Seventeen of McClung's 21 points came in the first half, and when he cooled down, others stepped forward -- Johnson, Malinowski, Blair, to name a few-- but Govan owned the second half inside and Villanova's perimeter defense offered him numerous opportunities in the second half. Held scoreless when the two teams met Feb. 3 at the Wells Fargo Center, Govan finished Wednesday's game with 21 points, 11 rebounds, 4-4 from the line, and only one turnover.
"I thought it was a total team effort," Ewing said. Everyone did something to help us win."
The Georgetown stat sheet should bring a smile to those who struggled through GU's recent setbacks. The Hoyas shot 50 percent from the field, 39 percent from three (11 of 28), with 23 of its 29 field goals via assist. They did not make the kind of mistakes that would have tipped the scales to the Wildcats--Villanova managed only 10 second chance points on the evening and were outrebounded by the Hoyas by a margin of 39 to 33. For a team that feasts on the free throw line, Villanova was held to just 14 points at the line.
"We had a few lapses," said Booth in post-game remarks. "McClung got going and Govan got it going. There were a couple of lapses here and there and they're a real good team. That's what happens when you have those against a real good team."
"They came to play," said Eric Paschall, who finished with 16 points but only three rebounds matching up against Govan.
Villanova has dropped three of four games and the root of its problem Wednesday was visible all evening: ridiculously poor shot selection. The Wildcats missed a remarkable 29 of 38 attempts from three point range and no one on the team was spared from the masonry which ensued. Phil Booth entered the game shooting 37 percent from behind the arc--his 3 for 10 was a team best. Eric paschall, a 37 percent shooter from three but a more effective force inside, nonetheless channeled his inner Jalen Brunson but finished 2 for 8. Saddiq Bey was 1-6 while fifth year transfer Joe Cremo, with a team best 39 percent mark from outside, was 0 for 5. The Wildcats finished the first half 4 for 14, they topped than in the second with a 4 for 24 effort, including a studding 1 of its last 17. If as few as four of those shots could have been converted into more realistic two pointers, this is a fight to the finish.
In an evening that saw all sorts of unexpected finishes (Providence routing St. John's, Xavier upsetting Seton Hall, and Creighton beating DePaul), this win was an especially timely one to maintain Georgetown's posture heading into the final weeks of Big East conference play. Next up: a sold out CHI Health Center (nee Century Link Arena), where Creighton faces another must-win to elevate the Blue Jays out of the conference cellar and the Hoyas seek their first win in Omaha since 2015.
Georgetown broke one four year streak tonight, another awaits Saturday.
Here's the Georgetown half of the box score:

            MIN   2FG   3FG   FT  REB  A  PF  PTS
Starters:
Akinjo       32    1-4   2-5  2-2   3  9   2   10
McClung      31    2-4   4-8  5-5   5  4   2   21
Pickett      27    1-2   1-7  2-4   1  1   0    7
LeBlanc      15    2-3   0-0  0-0   3  1   4    4
Govan        32    7-10  1-2  4-4  11  2   3   21
Reserves: 
Blair         9    0-0   1-1  0-0   1  2   0    3
Mosely       14    1-1   0-1  0-0   0  2   1    2
Malinowski    9    0-0   1-2  1-2   1  2   2    4
Johnson      23    3-4   0-0  2-2   8  0   2    8 
Mourning      8    1-1   1-2  0-1   4  0   3    5
Team Rebounds                       2
DNP: Muresan, Robinson, Carter
TOTALS      200  18-29 11-28 16-20 39 23  19   85