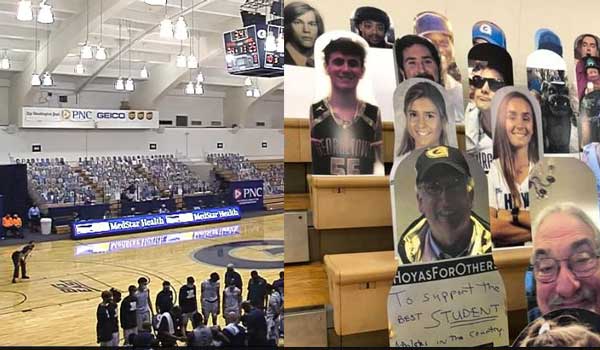 Viewers of Wednesday's game with UMBC didn't see any fans at McDonough Gymnasium, but some 500 were front and center.
Following a marketing program seen at college football games around the country, Georgetown has offered the ability for fans to place a cardboard cutout of themselves on the east side seats of the gym. The cost is $40.
Additional information may be found at
this link
.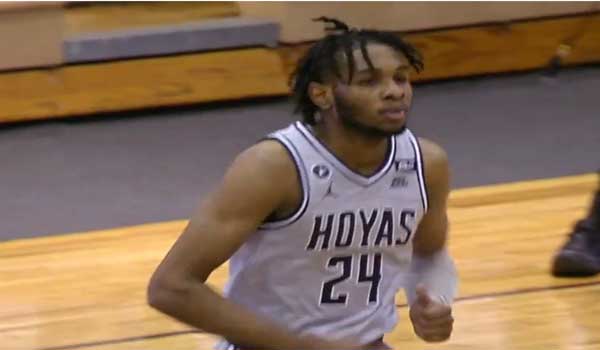 Georgetown steered past Maryland Baltimore-County to open the 2020-21 season, 70-62, in a finish that was closer than it should have been before a closed shop at McDonough Gymnasium.
POST-GAME COVERAGE
With only four lettermen who last saw the floor at Georgetown's season ending deflation to St. John's in the 2020 Big East Tournament, new names and faces were the story of this game. By game's end, however, it remains the case the Hoyas will rise or fall this season on the shoulders of veterans Jamorko Pickett, Jahvon Blair, and Qudus Wahab, to which fans saw both peril and promise this afternoon.
This was a rough start for both teams, as the teams combined to miss nine of its first 12 shots and picked up seven turnovers in the first seven minutes. With a frosty opener from Pickett (2 for 7, 4 turnovers), outside play from grad transfer Don Carey steadied the Hoyas, with three threes and 11 of his 13 points by halftime. Georgetown led by as many as 11, 34-23 with 4:11 to halftime, before the Retrievers closed to 34-30 heading into the final two minutes of the period. A late put back from sophomore Malcolm Wilson closed the scoring at 36-30.
Both teams were undistinguished in their first half play. Georgetown shot just 40 percent, 5 for 16 from three, and missed four of five free throws by halftime. UMBC was a meager 32 percent from the floor, 3 for 12 from three. The teams combined for 17 turnovers.
UMBC scored the first three points of the half and that was about it for an offense that couldn't decide between outside play and driving inside. Georgetown started to take advantage of UMBC's defensive difficulties and turnovers to sustained success. A three from Blair extended the lead to 39-33 and a pair of easy dunks from Wahab followed, 45-33. Two more baskets from Blair and a three from Pickett pushed the lead to 17, 52-35.
The Hoyas led 58-44 at the 10 minute mark but could not put it away. Much as was the case in the 2020 Big East tournament, the Hoyas went into offensive cryogenics and Ewing did little to adjust. Georgetown missed 13 consecutive shots over the following six minutes, but for its part UMBC scored just five points in return over that same period. As Georgetown continued its poor shooting, UMBC picked up the pace and closed the lead to six in the final 13 seconds before free throws closed out the game.
With three field goals over the final 9:36 of play, Georgetown finished the game shooting 37 percent from the field and 25 percent from three point range. Reporter Bobby Bancroft noted that Georgetown was 0-13 last season in games scoring under 73 points, and in fact it was the fewest points GU has scored in a win since the 2018-19 season opener versus Maryland-Eastern Shore, 68-53.
The game was won on the boards, where the Hoyas held a 58-38 advantage, giving UMBC few second chances given its equally bad shooting (35 percent from the field, 25 percent from three). Brandon Horvath and Darnell Rogers each scored 13 for the Retrievers, whose 16 turnovers were matched by 20 for the Hoyas, one fewer than during its loss to St. John's in March.
Fortunately for the Hoyas, these were the Retrievers, not the Redmen.
Four Georgetown starters posted in double figures. Jahvon Blair led all scorers with 23, followed by 13 from Carey, 12 from Wahab, and 10 from Pickett. As a starting five, Georgetown shot 35 percent from the field and 7 for 25 from three against a smaller UMBC lineup than it will see from nearly every opponent remaining on the abbreviated 2020-21 schedule. Wahab's 12 points and 12 rebounds was a sign of strength but foul trouble was, and will remain, a concern all season. Backup center Timothy Ighoefe visibly struggled in a reserve role and picked up four fouls in limited action.
Two prominent recruits were conspicuous in their absence--top 125 recruit Jamari Sibley and grad transfer Chudier Bile. In post-game comments, Ewing cited a coach's decision not to play Sibley and a previously undisclosed injury to Bile.
Five of the eight scholarship newcomers saw action in the game. Carey, easily the veteran of the octet, led the way with 13 points. The other four scored just six points between them, with grad transfer Jalen Harris going 0 for 6 in his first start in blue and gray. Guards Dante Harris and Collin Holloway each saw spot action and combined for five points, while 6-4 freshman Kobe Clark picked up 10 rebounds in his debut.
"It is still a work in progress," Ewing added.
Here's the Georgetown half of the box score:

            MIN   2FG   3FG   FT  REB  A  PF  PTS
Starters:
J. Harris    28   0-5    0-1  0-0  3   6   4   0
Blair        38   7-14   2-8  3-3  8   4   2  23
Carey        35   2-4    3-8  0-0  4   1   2  13
Pickett      35   1-7    2-8  2-4  8   2   1  10
Wahab        21   6-8    0-0  0-1 12   0   4  12
Reserves: 
D. Harris     7   1-2    0-1  0-0  0   1   2   2
Ighoefe      16   2-4    0-0  0-0  5   0   4   4
Holloway      4   1-2    0-0  1-2  2   0   0   3
Clark        12   0-1    0-1  1-2 10   1   0   1
Wilson        4   1-1    0-0  0-1  4   0   0   2
DNP: Bile, Azinge, Sibley, Berger, Robinson, Muresan
Team Rebounds                               
TOTALS      200  21-48  7-27 7-14 56  15  19  70