"This was the best shooting game of my tenure here. Everyone did something to help us to win."--Georgetown coach Patrick Ewing

"Talk about worst-case scenarios, that was it."--SMU coach Tim Jankovich
---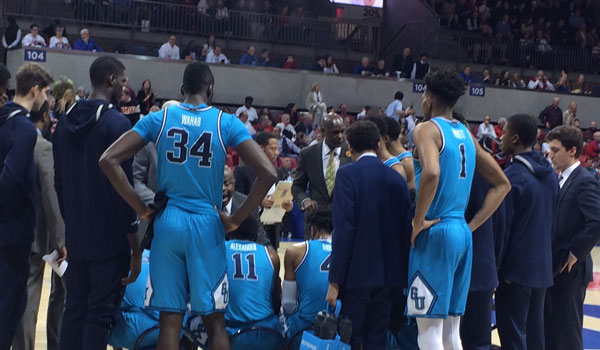 A wild and unpredictable week of Georgetown basketball concluded with a wild and unpredictable outcome, as the Georgetown Hoyas knocked off its second undefeated opponent in four days with a 91-74 win at Southern Methodist University.
POST-GAME COVERAGE
Before a crowd of 5,855 at Moody Coliseum which included former President George W. Bush and his wife Laura, Georgetown ran up its all-time record of presidential-viewed games to 4-0 in a contest where the Hoyas never trailed and dominated throughout.
The Mustangs arrived to this game undefeated at 8-0, holding each opponent under 70 points, and winners of 37 of their last 41 non-conference opponents at home. Georgetown blasted these statistics out of the water, with a variety of offensive and defensive outputs that SMU was unable to contend with.
Georgetown opened the game with a Mac McClung three, and matched it a minute later. baskets by Jamorko Pickett and Omer Yurtseven followed. By the time Jagan Mosely picked up Georgetown's third three of the game, 13-2, the Hoyas had already picked up five assists in five field goals. Back to back baskets by Yurtseven extended the GU lead to 17-2, and threes by Jahvon Blair and Jagan Mosely stunned the home crowd in putting Georgetown up 23-3 less than eight minutes into the first half. The Mustangs couldn't have started slower, opening the game 1 for 15 with three turnovers.
SMU never got closer than 15 in the first half. From a 26-11 lead, GU answered with a 7-0 run to go up 22, 33-11, and led by as 24 before taking a 49-29 lead at the half. The first half statistics were remarkable: Georgetown shot 63 percent for the half, 8 for 10 from two point range and 9 for 17 from three, with 12 assists in 17 field goals. SMU went into the break shooting 6 for 30, a miserable 2 of 16 from two point range and 4 of 14 from three. A 13 for 17 mark from the free throw line was the only thing that kept the Ponies in the same area code as the Hoyas, enjoying its best first half in many years.
McClung opened the second half and the Hoyas did not look back. The Mustangs again closed to 15 at 53-38 but Georgetown answered with seven straight from Jamorko Pickett and Georgetown was back up 20. The Hoyas saw its best run off three consecutive threes by Jahvon Blair midway in the second half and a Galen Alexander dunk that put the Hoyas up 27 with 7:05 to play. Shooting at a reasonable 50 percent reached from two and three point range, SMU could make up little ground against the lead despite an 11 for 16 run from two point range in the second half.
Where do we start with the Hoyas? Mac McClung was again at the top of his game, with 19 points and seven assists. He was ably assisted in the backcourt with a strong effort from Terrell Allen, with 10 assists and no turnovers in 29 minutes of play. The hero of the game was Jahvon Blair, who shattered his three point shooting woes in this game--entering the evening shooting just 4 for 19 this season from outside, he shot 7 for 11 from behind the arc, tying a career high of 21 points. Georgetown finished shooting 55 percent from the field, a season high 14 threes, and missed one free throw in 10 attempts.
The Mustangs had four players in double figures, led by 17 each from Kendric Davis and Feron Hunt, playing the Hoyas basically even for the last 30 minutes of the game, but unable to recover from the first ten.
The Georgetown half of the box score:

            MIN   2FG   3FG   FT  REB  A  PF  PTS
Starters:
Allen        29   1-2    0-1  0-0  2  10   2   2
McClung      28   1-3    5-9  2-2  4   7   2  19
Mosely       31   1-2    2-2  0-0  1   3   2   8
Pickett      22   5-8    0-1  1-1  6   1   4  11
Yurtseven    29   8-12   0-0  3-4  8   2   2  19
Reserves: 
Blair        18   0-0    7-11 0-0  0   0   0  21
Alexander    10   1-2    0-1  0-0  4   1   3   2
Gardner      14   1-3    0-2  1-1  3   2   1   3
Wahab        19   2-2    0-0  2-2  3   0   4   6
Team Rebounds                      5         
DNP: Ighoefe, Azinge, Muresan, Robinson, Wilson
TOTALS      200  20-34 14-27  9-10 36 26  20  91 

Terrence Williams, the second of three recruits for Georgetown's 2020 class, announced he has reopened his recruiting search.
Williams, who plays at Gonzaga College HS, previously announced he was planning to sign with Georgetown in the spring.
Following this week's transfers, Georgetown now has three openings for the Class of 2020, but it is unlikely to come from the nation's top recruits. As of the fall signing period, 91 of the top 100 have committed for 2020 and Georgetown is not on the short list of any other the other nine. The Hoyas currently have commitments from forward Jamari Sibley (#90 nationally per 247Sports) and point guard Dante Harris (unranked).