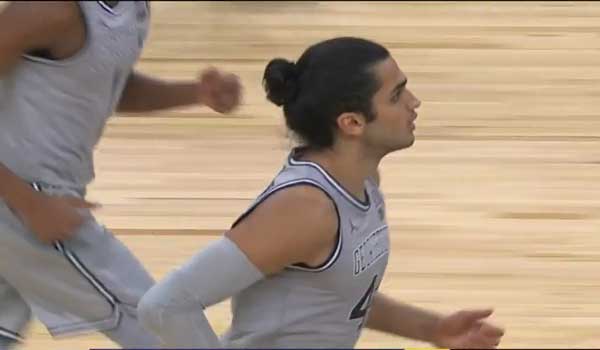 The NBA Draft is not until November 18, but former Georgetown center Omer Yurtseven (C'20) wants to be on that list.
"When teams ask about the overall progress that I've made, I have to mention that when I was 15 I played against OKC, at 17 I played against the Nets, I played against the Spurs, all the little milestones that led to college, then brought me here," Yurtseven told the
Washington Post
following a virtual visit with the Washington Wizards.
Yurtseven narrowly missed becoming only the fourth Georgetown player ever to
average 10 or more points and 10 or more rebounds in a career
in his one year at the Hilltop. He opted not to pursue a redshirt senior season to be available for the draft, and is ranked 53rd at
NBADraft.net
, which places him near the end of the second round. A Georgetown player has not been drafted since Otto Porter in 2013.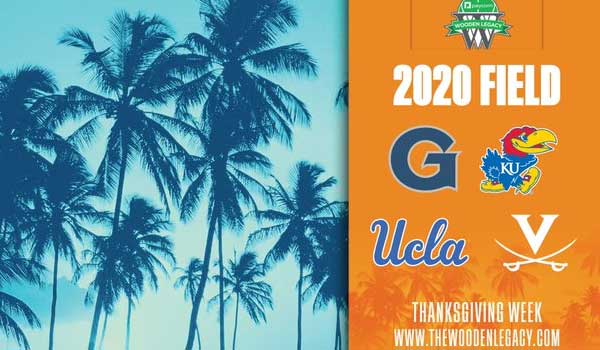 CBS Sports reported Wednesday that Georgetown will drop out of the four team Wooden Classic, scheduled for Nov. 25. This was confirmed in a tweet from reporter Eamonn Brennan on Friday:
The multi-team Wooden Legacy event was scheduled for Anaheim, CA on Nov. 26-28 and include UCLA, Virginia and Kansas. UCLA has not committed to any fall sports and the event was reported to be moving to Orlando, FL due to ESPN Events moving its tournaments to Orlando. However, travel from Florida back to DC would be subject to a 14 day quarantine according to DC law.
Ewing is more optimistic on a Dec. 5 home game with West Virginia as part of the Big East-Big 12 series. Travel from West Virginia, however, is one of
33 states which DC requires a 14 day quarantine
, and absent a change on DC quarantine rules, would make a trip from Morgantown infeasible.
Georgetown's early December game at Syracuse is also at risk, according to the
Syracuse Post-Standard
. Last week, Syracuse coach Jim Boeheim remarked that "Right now we have zero games," and that New York state quarantine rules may prevent any opponents beyond a bus trip to the campus.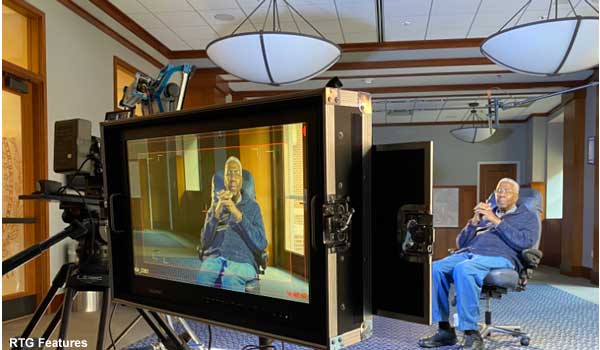 A documentary featuring one of John Thompson's last public interviews has been announced.
The project is funded by RTG Features, a start-up company whose president is entrepreneur Matt Aronson (C'15).
"As a Georgetown alumnus, I couldn't be more excited for our team to get behind this project," said Aronson at
Deadline
. "It represents exactly the kind of high-quality storytelling we want to finance and develop at RTG Features."
Producers include ESPN film maker Kirk Fraser, Jimmy Jenkins, and Ronny Thompson (C'92), who maintains an undisclosed role with the program.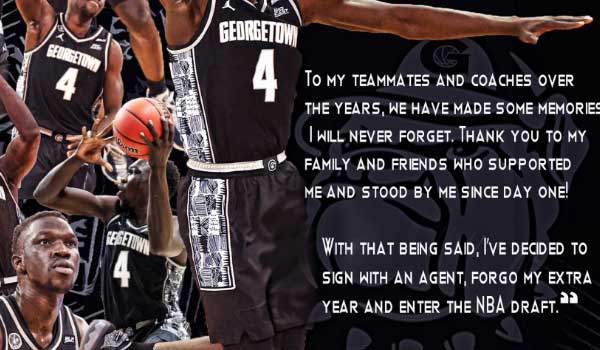 With Georgetown as the only Big East school that has not posted its 2020-21 roster online, its social media channels have been teasing jersey numbers for the eight newcomers, the largest one year change to the roster in 62 years.
Barring any changes, the numbers presented are as follows:
#2: Dante Harris (last worn by Mac McClung, 2020)
#3: Jalen Harris (last worn by James Akinjo, 2020)
#4: Chudier Bile (last worn by Jagan Mosely, 2020)
#13: Don Carey (last worn by Trey Dickerson, 2018)
#14: Jamari Sibley (last worn by Henry Sims, 2012)
#20: T.J. Berger (last worn by George Muresan, 2020)
#23: Colin Holloway (last worn by Josh LeBlanc, 2020)
#24: Kobe Clark (last worn by Marcus Derrickson, 2018)
The jersey style in the social posts appear to be the same jerseys worn since 2015-16, which would mark the longest time Nike has not refreshed the jersey since its relationship with GU began in 1979, and the longest GU has worn a single style since the 1958-59 through 1965-66 seasons.