Thanks for visiting HoyaSaxa.com. This is the site where you will find more news and information than you'll probably ever need to know about Georgetown University men's basketball. If you're looking for the official athletics site instead, click here.
Over 100 Georgetown students receive athletic scholarship support each year. But in the wake of an new NCAA rule, the University will offer additional support to just 28 of them.
At issue is the "cost of attendance" scholarship, which allows Division I schools the ability to provide an amount beyond room, board, books and tuition, to include such costs as academic supplies, transportation and laundry, among others. The rule is effective in the 2015-16 academic year.
Friday's Washington Post reported that while Virginia and Maryland have committed to cost of attendance for all scholarship athletes, Georgetown has opted only to award this to men's and women's basketball players.
"As college athletics has gone through this reformation period over the last several years, Georgetown has said all along that we would remain competitive nationally as we have throughout our rich history," said athletic director Lee Reed in an e-mail to the Post. The total amount of additional aid is reported at $72,800 across the 28 men's and women's players under scholarship, or $2,600 per person.
"This is a great natural experiment," said economist Andy Schwarz."We're getting to see change in an economic environment and see how firms react. We're learning a ton about the real preferences of schools with where they decide to put their money."
In the social media era, it's almost impossible for a public figure to go on a campus tour, and such was the case when New York Yankees infielder Alex Rodriguez visited Georgetown Tuesday.
Rodriguez's visit wasn't merely a photo-op, however.
"He was very inquisitive not only about athletics, but about the academic challenges in Georgetown: what it's like to live here, what it's like to go to school here," said Assistant Athletics Director Mex Carey to the Washington Post. "The fact that a guy of his stature would take time out of his day to tour a campus, I was impressed. It was a really cool experience."
An extended look at Rodriguez and his interest in visiting colleges is found in this link to ESPN.com. Rodriguez, 39, was recruited in two sports at the University of Miami but turned down a scholarship to enter professional baseball in 1993. He later donated $3.9 million to Miami to renovate its baseball stadium, which is now known as "Alex Rodriguez Park at Mark Light Field."
With a record 700 transfers in college basketball for 2014-15, many of them eligible in the next semester, there's no downtime for college coaches, reports Ben Standig at CSN Washington.
"The way the last couple of years, and definitely this year, you have to make sure in the fall you don't use all your scholarships so you have some when free agency opens up," head coach John Thompson III told Standig. "That's what it feels like, free agency".
Georgetown has one scholarship open for 2015-16 but it's not certain that it will choose to fill the open place on the roster, or save it for 2016, where Georgetown has two seniors graduating.
"We're still involved with a few people," Thompson said. "We'll see how it shakes out."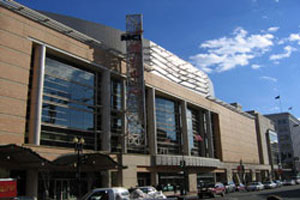 Verizon Communications, Inc. officials have given notice that it will not renew its naming rights for Washington's Verizon Center past 2018, reports Sports Business Journal.
However, Verizon officials have refuted the account, saying they have not decided whether to renew when the agreement comes up on 2018, reports the Washington Post.
The downtown arena, which assumed its present title when Verizon acquired MCI Inc. in 2006, will seek a new naming rights deal of $7 million annually, though the article said that it will face competition in the marketplace from Nationals Park, which will also seek sponsorship.
The only other major arena in the Washington DC area, Patriot Center, was renamed EagleBank Arena last month as part of a 10 year, $6.6 million deal.
As always, prior stories over this past week or the last 15+ years of coverage can be found at the News Archive pages, including recaps of all prior games over the season. It's a good way to keep up to date if you've visit the site less frequently. The last 10 stories:
To further search this site or the Basketball History pages, enter your query below.
Loading
This is an unofficial site for Georgetown Basketball. If you are interested in playing a sport at Georgetown, contact the Department of Athletics, Georgetown University, Washington, DC 20057. General information for prospective student athletes may be found at this NCAA link.
N.B.: This not-for-profit site is supportive of, but neither directly affiliated with nor under the supervision of Georgetown University or the Big East Conference. See the Fine Print page for more details.
AMDG