Digging a first half hole they could never climb out of, Georgetown could not mount the final comeback in a 72-60 loss to Pittsburgh Saturday.
Georgetown never led in the game. It trailed early and never really recovered. The Hoyas opened 1-4 to begin the game and soon found themselves down 9-3.Freshman Otto Porter helped rally the Hoyas midway in the first half to close the gap to 14-11, but the predictable first half lull swept across the Hoyas and the results were painful to watch. From a 14-11 lead, Pitt scored on free throws to go up six, then connected on three straight jumpers to go up 12, 23-11. Over a run where Georgetown missed ten straight shots, the Panthers extended the lead to 17, 29-12, with 4:02 to play.
Georgetown outscored the Panthers 8-2 to end the half and close the margin to 11 at the break, 33-22, but the early returns were not favorable. Georgetown's starters combined for five points on 2-13 shooting, Pitt's starters scored 32 points on 13-22 shooting. Georgetown missed four of five at the line, five of eight from behind the arc.
The Hoyas opened the second half with a renewed sense of purpose, scoring on four of its first five attempts and closed the lead to six, 37-31, at the 16 minute timeout. A number of early Pitt fouls appeared to play into Georgetown's hands but what the fouls giveth, the turnovers taketh away. Pitt continued to hammer away inside, and extended its lead to nine following consecutive Clark turnovers, a missed Clark three, and Nate Lubick's second foul. Senior center Henry Sims picked up the second half pace, scoring all ten of his points in a nine minute stretch of the second half which twice closed the lead back to six.

Much as the Hoyas hit a lull midway in the first, it did so in the second, and could never quite recover. After an Otto Porter basket closed the lead to 50-44 with 7:46 to play, Georgetown called a quick timeout to set its defense, but looked out of place when Patterson went inside for an easy dunk and a foul, 53-44.The teams traded turnovers before Robinson went inside to push the lead to 11, 55-44.

A three pointer by Porter and free throws by Greg Whittington again closed to six and again the Panthers went inside, finding junior Dante Taylor on a dunk, 57-49, a Robinson layup, 59-49, and a Gibbs jumper, 61-49. Porter's three pointer at the 4:42 mark was Georgetown's first basket in over three minutes, and it would be another three until Markel Starks picked up a jumper at the 1:31 mark, but the margin was now 13 and the Panthers could run the game out at the line. Despite Hollis Thompson scoring eight of his 11 points in the final minute, the lead never went below 12.

The game had enough missed opportunities to keep the Georgetown coaches awake all night. The first ten minutes of the second half saw Georgetown shoot 53 percent, in the next nine minutes the Hoyas shot 3-11. Henry Sims, shut out in the first half, resurgent with ten points midway through the second half, took just one shot in the final ten minutes. Equally troubling for the Hoyas was its collective inability to get to the line. Pitt picked up its sixth foul with 10:45 in the second half, yet Georgetown did not get to the free throw line until over six minutes later. Georgetown managed just three points in the bonus, Pitt was 11-12.

Defensively, Georgetown looked lost all afternoon, especially inside. The Panthers shot 57 percent for the second half and missed just one field goal attempt in the final five minutes. Pitt's leading scorer, Ashton Gibbs, was largely contained by Jason Clark, but starting forwards Nasir Robinson and Lamar Patterson were a resounding 16-18 from the floor, all at close range, with a combined 12 rebounds and nine assists. Georgetown forwards Nate Lubick and Hollis Thompson were, entering the final minute, 1-10, with three rebounds and one assist.

And here's the most telling outcome of the game: in the final ten minutes, Pitt scored all its points via dunk, layup, or free throw. Georgetown didn't challenge inside, and Pitt was happy to oblige.


GU starters shooting,
1st half


UP starters shooting,
1st half


GU FG's,
10:00 to 3:00 mark,
1st half


GU FG's,
10:00 to 3:00 mark,
2nd half


Points, Henry Sims:
1st half


Points, Henry Sims:
1st 10 mins.,
2nd half


Points, Henry Sims:
last 10 mins.,
2nd half


UP adv.,
rebounds


UP adv.,
free throws


UP adv.,
final score


Pitt record vs.
Top 10 teams
at Petersen Ctr.


"It was not good," said senior Henry Sims. Transition defense, half court defense, we could have communicated a lot better. There were a lot of things we could have done better. Overall, just a bad defensive performance."
"Everyone's performance today, everyone on Georgetown basketball needs to get better," said Thompson.

The time to improve is now, with Connecticut arriving Wednesday to Verizon Center with renewed strength after freshman guard Ryan Boatright was cleared to resume play with the team. Boatright was held out for nine games after the NCAA determined that an "inappropriate source" thought to be an AAU coach had made over $8,000 in car payments and other benefits available to Boatright's mother during Boatright's recruitment.
The Georgetown half of the box score follows below:

            MIN   2FG   3FG   FT  REB  A  PF  PTS
Starters:                                 
Starks       18   1-3   1-1   0-0   1   3  4    5
Clark        38   3-4   0-5   3-5   1   2  2    9
Thompson     25   4-9   1-3   0-0   2   1  0   11 
Lubick       20   0-1   0-1   0-0   2   0  2    0 
Sims         33   5-10  0-0   0-0   4   5  1   10
Reserves:
Whittington  22   0-2   1-3   3-4   4   2  3    6
Hopkins       2   0-0   0-0   0-0   0   0  0    0
Porter       28   4-8   2-3   0-1   6   0  2   14
Trawick      16   2-3   0-1   1-2   2   0  4    5
DNP: Bowen, Caprio
Injured: Adams, Ayegba
Team Rebounds                       1
TOTALS      200 19-40  5-17   7-12 23  13 18   60

Post game coverage follows below.
The United States Naval Academy announced it is joining the Big East conference as a football-only member, beginning in the 2015-16 season.
"The Naval Academy is pleased to accept the invitation for our football team to join the Big East conference," said USNA superintendent and Vice Admiral Michael Miller. "After careful consideration, we believe this affiliation to be in the best interests of the Naval Academy, our athletic programs and the Brigade of Midshipmen. While our independent status has served Navy Football well to date, Big East conference affiliation will help ensure our future scholar-athletes and athletic programs remain competitive at the highest levels for the foreseeable future."
Navy had been a reluctant candidate when the Big East approached them in prior years dating back as far as 2002, as the academy sought to maintain its standing rivalries with Army, Air Force, and Notre Dame. All three rivalries will remain on future Navy schedules.
The Naval Academy was the first university in the Mid-Atlantic region to add intercollegiate football in 1879, two years before Georgetown and 13 years before what was then known as the Maryland Agricultural College joined the gridiron. The 2015 season will mark the first time Navy will not be playing as an independent, of which there will be only three remaining: Army, Brigham Young, and Notre Dame. BYU, along with Air Force, Temple, and Memphis, are considered candidates for a football-only member which would allow a 12 team Big East to host a conference championship game. The conference will remain at 16 schools for men's and women's basketball.
"Navy's decision to make the Big East its first football conference home after over 100 years of independence demonstrates the value of our new expansion model and the long-term viability of our football product," said conference commissioner John Marinatto. "The Big East is truly proud to be associated with one of the most prestigious academic institutions in the country and one of the most storied programs in college football."
The addition also triggers an increase in the conference's exit fee for all members from $5 million to $10 million going forward, plus the continued 27 month notice.
A sample of media coverage follows below.
John Thompson II could hardly bear to look.
With freshman Otto Porter on the line with nine seconds left in a tie score, the coach let the announced crowd of 12,852 let him know what happened. Porter's two free throws and a final defensive stand earned the Hoyas a 52-50 over Rutgers Saturday at Verizon Center, a game with featured some historic lows offensively but was an encouraging defensive performance by both teams.
Rutgers had defeated two top 25 teams to date this season and were seeking a third in the game, its defense gave it every opportunity to do so. Opening the game 4-0, Rutgers employed a tight defense all afternoon, limiting the Hoyas outside and forcing it into poor shot selection. Lots of it.
Georgetown's first basket came with Hollis Thompson's dunk with 17:15 in the first half; Thompson was fighting through effects of a pulled leg muscle and it was his only basket of the game. GU went nearly four minutes without another basket, this from Henry Sims, but both teams were limiting shots and second chances, as Rutgers managed a meager 8-7 lead. Two Georgetown turnovers and a run of misses (a missed layup by Greg Whittington, a missed three from Jabril Trawick, and short misses from Henry Sims and Otto Porter) allowed the Scarlet Knights to open a 13-7 lead midway through the first half, but no further.
The defensive intensity of Rutgers came with a price: fouls. The Scarlet Knights put GU in the bonus with 10:10 in the first half, and Georgetown made the most of it. Senior Henry Sims and Jason Clark led a parade of Hoyas to the line, as Georgetown scored 12 straight free throws to keep pace when its shooting took a sharp nose dive.

Otto Porter's jumper with 9:37 in the half cut the Rutgers lead to two, 13-11. From that point, Georgetown failed to convert a single basket: 0 for nine. Layups, short jumpers, three point attempts, it didn't matter--the Hoyas could not connect on anything. For its part, Rutgers could not score for a four minute stretch of its own until guard Dane Miller connected on a three at the 7:05 mark, 16-13, but RU was susceptible to turnovers and the Hoyas continued to hang around on the free throw line. A pair of Porter free throws actually gave the Hoyas a 20-18 lead, but Rutgers went to work down the stretch of the first half, scoring on three possessions and forcing Georgetown into turnovers over four straight possessions to take a 25-20 lead at the break.

The crowd at Verizon Center (and more than a few fans watching on TV) arrived at halftime with a single question: what was that? The scoring numbers were unprecedented: Georgetown shot 13 percent for the half, 3-23 from the floor, 0-8 from three point range. The three baskets were the fewest field goals in a half since a woeful 3-22 scoring effort in the first half against Seton Hall on Feb. 28, 2004, a 27 point Pirate rout that marked the largest margin of defeat in the Craig Esherick era. And while the first half had signs some of some of those early-2000's games, there was one big difference--defense. For all its opportunities, Rutgers led by only five. The Scarlet Knights managed one second chance basket and only one by fast break. Twenty of its 25 points, however, came from inside or off turnovers, where the Hoyas gave up eight.

Georgetown rallied the home crowd with three baskets in its first five possessions of the second half, but still trailed as Rutgers maintained its lead, and extended it back to six at the 13:24 mark. With Hollis Thompson ailing and the shots not failing, the Hoyas went back to the line early, as Rutgers gave up the bonus with 12:30 in the half after center Gilvydas Biruta's fourth foul.

Georgetown's first run at t a comeback came on the shoulders of freshman Greg Whittington. Though his 3-9 scoring effort was as poor as anyone this day, Whittington made it count during a two minute period when the Hoyas fell behind by seven, contributing all seven of his points for the game to tie the score with 10:18 to play, 38-38. The Hoyas were not able to make it stick, however, as GU missed two front ends of a one and one at the line and suffered through eight minutes with a single field goal. For its part, Rutgers missed three of four from the field, including two layups.


GU shooting,
1st half


GU shooting,
overall


Last GU win
shooting under
30 percent


GU FG's, last
9:00 of 1st half


GU FG's, last
9:00 of 2nd half


Field goals for GU


Turnovers for GU


Points for RU,
last 4 possessions


Points for GU,
last 4 possessions


GU advantage
on FT attempts


GU bench pts


A Jason Clark steal fed Sims with the only field goal of the run, a basket at the 6:19 mark, 44-42, but the Scarlet Knights regained the lead on a Mike Poole jumper with 4:30 left and added to it two minutes alter with an Eli Carter three, 50-45. The Hoyas turned to the free throw line again, as Sims went to the line but missed the second shot, 50-46. With the shot clock running down, a Dane Miller pass was picked off by Georgetown's Nate Lubick, who telegraphed a pass to Porter for the layup, 50-48.On its next possession, guard Eli Carter was tagged with an offensive foul with 1:16 to play and, with Biruta already having fouled out, Porter went into the lane for a eight foot jumper, 50-50 at the 1:05 mark.
Georgetown's outstanding late game defense held Rutgers deep into the shot clock. With nine on the shot clock, Myles Mack let off a long three that missed and set up the Hoyas for a final possession. Porter was fed the ball inside and was fouled with nine seconds, made both the free throws, and GU held its ground when Carter's 12 foot shot caromed off the backboard at the buzzer.
"I knew next time when I rose up he was going to try to go by me," Sims said, adding, "so, defensive mastermind that I am...." he compensated and ultimately limited Carter's game-tying attempt.
While he acknowledged the foul-intensive nature of his Knights (29 fouls), Rutgers coach Mike Rice was all but accusative of official John Gaffney, who called both fouls in the final 1:16 of the game.
Just playing hard doesn't always work and again when it comes down to the last four minutes you just can't get in your own way," Rice said. "Having said that, there were some bizarre plays, some bizarre whistles that before I get into it I'd like to look on replay to see if they were the correct call...it was interesting the last two minutes that is was decided by a whistle by a certain individual referee who decided to take it upon himself to decide the game."
Sims led all Georgetown scorers with 12 points but coach Thompson took note of Porter's late game contributions.
"He is composed," Thompson said. "Otto doesn't get rattled, he just plays the game."
Thompson also added that four freshmen that have seen time this season (Porter, Trawick, Whittington, and Hopkins) aren't rookies anymore.
"They've been through too much, played too many games and have been too important for us to be talking about freshmen. I thought that was our best defensive group. I thought that group was most consistently getting us stops. It's been different people in different games, I just thought that was our best defensive group tonight against them."
"I was doing the things I knew I could do," said Whittington, who has his ups and downs in the game but was msot productive midway in the second when the Hoyas needed him most. "Coach said [to] be aggressive, go play hard defense. I played hard defense and it gave me confidence to make shots."
The win was Georgetown's tenth straight over RU at Verizon Center and gives the Hoyas a 5-2 record in Big East play heading into a welcome one week break before difficult games with Pittsburgh and Connecticut.
The Georgetown half of the box score follows below:

            MIN   2FG   3FG   FT  REB  A  PF  PTS
Starters:                                 
Starks       19   0-0   1-4   0-0   1   1  4    3
Clark        35   0-1   1-3   8-10  5   1  2   11
Thompson     21   1-2   0-3   2-2   1   0  3    4 
Lubick       23   1-1   0-1   2-4   6   2  1    4 
Sims         36   2-9   0-0   8-13 10   2  2   12
Reserves:
Whittington  22   2-8   1-1   0-0   5   0  1    7
Porter       28   3-6   0-1   3-4   4   0  0    9
Trawick      16   0-0   0-1   2-3   1   2  1    2
DNP: Hopkins, Bowen, Caprio
Injured: Adams, Ayegba
Team Rebounds                       3
TOTALS      200  9-27  3-14  25-36 36   8 14   52

Post game coverage follows below.
Georgetown's 12 field goals in the Rutgers game Saturday ties the fewest such baskets in a game since at least the 1977-78 season and likely well before it. (The 12 mark was first reached on Feb. 23, 2011 versus Cincinnati). The Hoyas' 29.3% shooting for the game was the lowest since that Cincinnati game, but the first time since 1991 that a Georgetown team shot 29% or less and still won the game. (That 1991 game was in the Big East semifinals, a remarkable game where the Hoyas shot 28.3 percent (17-60) and still won by 21, in no small part due to a 27 rebound effort by Dikembe Mutombo.)
On the other hand, GU's 3-23 first half shooting versus Rutgers may be a record of another kind, except there is no statistic for fewest field goals in a half actively tracked by Georgetown. In NCAA record keeping, Georgetown was two baskets better than the all-time record for fewest field goals in a half, set by Savannah State's 1-23 effort versus Kansas State on Jan. 7, 2008.
Freshman Greg Whittington and his defense continues to improve, but his skills come with some major compliments.
Former coach John Thompson has said that Whittington has the potential to be the best defensive player in Georgetown history, and current head coach John Thompson III told the Washington Examiner he is encouraged as well.
"I think he has a chance to be, I really do," coach Thompson said. "Now that's saying a lot. Obviously, Mike Riley, Gene Smith pop into my head immediately, and Greg is very different than both of them when you start talking about defenders... A lot of things about basketball he's just learning and being exposed to. But with time, he has the skill set and understanding and the caring to accomplish that."
Some unfamiliar names have made their mark in Big East play this year, including Rutgers. Columnist Howard Megdal discusses these trends in the light of the Hoyas' schedule this week.
"The net result of such falls is significant, at the top and at the bottom," wrote Megdal. "Last year, the Big East placed 11 of its programs in the nation's top 42 in Ratings Percentage Index, a computer-generated ranking system taking wins, strength of schedule and other factors into account. This season, just seven programs rank in the nation's top 39, with the eighth best, Pittsburgh, at 86 and dropping fast.

"And the number of easy victories has risen considerably. Only DePaul last season ranked outside of the top 86 in RPI from the Big East. This season, Pitt is among nine conference teams at 86 or below."
The color gray has been part of Georgetown's tradition since 1876 (and on its basketball uniforms since 1982-83), but the growth of gray as a third uniform in other programs has met with resistance: none more so than at a Big East school that sees gray as Georgetown's color, not its own.
The Uni-Watch blog reported that: "Word through the grapevine is that the next college basketball team to go gray will be Syracuse, in a few weeks." It's caused a small firestorm, according to the Syracuse Post-Standard.
"If Cuse goes to gray uniforms, I'm never buying another Nike product," said one reader. "You don't wear your rivals colors. We're the Orangemen, point blank, period."
Syracuse sports information director noted that "I know that at this time we only have the Orange and White uniforms on hand," but Internet chatter suggests the gray-clad Orangemen could debut against the Hoyas on Feb. 8.
The exploits of Georgetown's first and greatest athletic mascot, Stubby, are the stuff of Georgetown lore, but the Los Angeles Times reminds his readers that the terrier was no urban legend: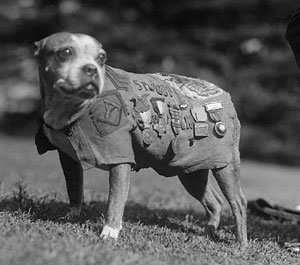 "During the war, there was the so-called "No Man's Land" area between the trenches of both sides," writes author Brian Cronin. "It was dubbed this because you really did not want to be wandering out there, since the lack of cover would leave you an unprotected target for enemy snipers. It was here that trained army dogs would come in handy searching for wounded soldiers trapped in "No Man's Land." Stubby was trained to approach soldiers and respond to soldiers speaking English by barking loudly, alerting the Division to the whereabouts of wounded soldiers. If the soldiers were not incapacitated, he could also lead them back to the American trenches.

"It was on one of these missions that Stubby discovered a German spy mapping out the locations of the American trenches. Stubby approached and when the German did not respond with English, Stubby attacked, pinning the soldier down until American soldiers came by to capture the German (Stubby's fellow soldiers had devised a military jacket for Stubby to keep the various medals awarded to him, and after he captured the German they pinned the German's Iron Cross on to Stubby's jacket). For capturing a German Spy, Stubby received a promotion to Sergeant. He now outranked his own master, who was by then "only" a Corporal!"
More on the legend of Stubby is found at the Football History pages.
Allowing just one field goal in the final 6:36, Georgetown ended a two game losing streak in a 69-49 win over St. John's before 11,675 at Madison Square Garden on Sunday.
Both teams endured some poor shooting in the first half: Georgetown early, and St. John's late. Following Markel Starks' three to open the game (his only basket of the afternoon), the Hoyas managed to convert just one field goal over the next seven minutes, falling behind by as many as eight at the 12 minute time out. But leading at 13-5, St. John's had no other good options than 6-8 forward Moe Harkless, who was bottled up inside by the Georgetown zone, and St. John's woeful outside shooting began to give Georgetown the opportunity for a comeback.
After its 1-12 shooting run after Starks' opening basket, a Jason Clark three began to get the Hoyas back, as the St. John's offense stalled. A Henry Sims free throw at the 10:12 mark tied the score at 13-13, and the Hoyas then took control when freshman Otto Porter picked up two offensive rebounds and two field goals on consecutive possessions, 17-13. St. John's stayed within six for the remainder of the half thanks to Harkless (5-9, 11 pts.) and six Georgetown turnovers, three of which took place in its last three possessions of the half. A steal by St. John's Amir Garrett led to a drive at the buzzer which was disallowed, maintaining Georgetown's 25-19 lead at the break. Georgetown shot just 31 percent for the half but 7 for 16 in the final 12 minutes of the half, while St. John's shot 33 percent for the half but missed nine of its last 12.

For Georgetown to shake loose, it needed a big second half from Hollis Thompson, and got it. Thompson, scoreless at the break, opened with a three pointer and never let up. Thompson scored eight of the Hoyas' first ten of the half as Georgetown quickly moved to a ten point lead, 35-25. Reserve guard Amir Garrett scored six straight points for the Redmen but the lead continued to hover at nine, as Georgetown was getting layup opportunities on five straight possessions.

Unable to solve Georgetown's zone, St. John's had no good options from the outside but began to drive the ball inside to get to the line. Harkless reasserted himself at the 9:00 mark, scoring six straight, but St. John's was still no closer to seven. Converting off a missed layup and a turnover. St. John's finally made their way back with a 7-0 run to close to three, 48-45, at the 6:36 mark.

Hollis Thompson, who had not taken a shot in over four minutes, rose to the occasion. Thompson drained a long three to push the lead to six, 51-45. Harkless missed two free throws that could have closed the lead to four, and then, in a run of just 25 seconds, committed his 4th and 5th personal fouls, and the Hoyas led by eight, 53-45 with 5:16 to play.


Shooting by Hollis
Thompson, 1st half


Shooting by Hollis
Thompson, 2nd half


St. John's 3-pt pct,
2nd time since 1994
opponent has been shut out from 3-pt. line


Offensive rebounds


GU 2nd chance pts.


SJU turnovers,
2nd half


SJU field goals,
2nd half


SJU record vs.
Top 25 teams


With Harkless out of the game, St. John's had noting left in the tank. The all-freshmen lineup of the Redmen managed one field goal for the rest of the game. Georgetown was able to penetrate at will and stretched out the lead on a 17-4 run to close out the half, despite some ragged free throw shooting by the Hoyas that could have added even more to the final count.
Thompson's 20 second half points led all scorers, but he was only one of the fine efforts in the game. Otto Porter came off the bench to record his second career double-double (13 points, 10 rebounds), while Greg Whittington turned in his best effort of the season with eight points and eight rebounds. Jason Clark's eight assists was a career high, but his defense on St. John's D'Angelo Harrison was even more important. Harrison entered the game averaging a team high 15.6 points per game and scored SJ's opening basket of the game. Thereafter, Clark and the Georgetown defense held him to 0-11 from the field, with four turnovers.
The 6-8 Harkless led all St. John's scorers with 21 points and 10 rebounds. Harkless shot 9-16, the remainder of the team shot 8-38.
Here's the Georgetown half of the box score:

            MIN   2FG   3FG   FT  REB  A  PF  PTS
Starters:                                 
Starks       24   0-1   1-3   0-0   3   3  2    3
Clark        32   5-8   1-5   2-2   8   8  3   15
Thompson     37   2-4   5-9   1-4   5   2  2   20 
Lubick       11   0-2   0-0   0-0   0   1  1    0 
Sims         24   1-5   0-0   6-8   4   1  4    8
Reserves:
Whittington  24   4-7   0-0   0-0   8   1  3    8
Hopkins      11   0-1   0-0   2-2   0   0  0    2
Porter       31   6-12  0-0   1-3  10   1  4   13
Trawick       6   0-0   0-1   0-0   3   0  0    0
DNP: Bowen, Caprio
Injured: Adams, Ayegba
Team Rebounds                       1
TOTALS      200 18-40  7-18  12-19 42  17 19   69

Post game coverage follows below.
Sunday's attendance was the best in the series with St. John's at Madison Square Garden in 11 years. Here's a review of Garden attendance in the regular season series since 1982, with sellouts in bold.
| | | | |
| --- | --- | --- | --- |
| Date | Attendance | Date | Attendance |
| 1/6/82 | 19,591 | 1/27/96 | 13,888 |
| 1/8/83 | 19,591 | 2/1/97 | 13,121 |
| 1/21/84 | 15,901 | 1/11/99 | 9,563 |
| 2/27/85 | 19,591 | 1/12/00 | 11,882 |
| 1/11/86 | 19,591 | 2/21/01 | 14,168 |
| 2/2/87 | 17,093 | 2/18/04 | 6,192 |
| 2/24/88 | 17,892 | 2/20/05 | 7,464 |
| 2/25/89 | 19,591 | 1/8/06 | 5,812 |
| 2/3/90 | 17,588 | 2/1/07 | 7,797 |
| 2/25/91 | 14,029 | 1/30/08 | 9,924 |
| 3/2/92 | 16,816 | 3/3/09 | 9,959 |
| 2/1/93 | 11,690 | 1/3/11 | 8,897 |
| 2/19/94 | 13,378 | 1/15/12 | 11,675 |
| 3/5/95 | 17,238 | | |
If John Thompson III learned anything from Saturday's loss to West Virginia, it was for his team to avoid turnovers and to keep two players from taking over the game.
Clearly, this was not a lesson imparted upon this team.
The mistakes piled up for the Hoyas again Monday night, thanks to 17 turnovers and a series of late game missteps that allowed the University of Cincinnati to end the Hoyas' ten game home win streak, 68-64, behind a combined 49 points from guard Dion Dixon and forward Sean Kilpatrick. The Hoyas led by six with 6:23 to play and squandered numerous opportunities late in the game for a very winnable game, one that may come to hurt them in March.
The Hoyas started off strong on both ends of the court, opening a 9-2 lead and holding the Bearcats to 1-10 shooting to begin the game. Yet, as has been an disquieting trend among Georgetown teams of late, the Hoyas do not have the discipline to maintain a first half lead, as the Bearcats hitched its wagons to Dixon and Kilpatrick and got right back into the game. In a five minute period, the Bearcats answered with an 11-2 run, with a combined nine for Dixon and Kilpatrick. UC led by as many as five, but the Hoyas fought its way back with good inside shooting and a defense on the rest of the Cincinnati team that made up for the lapses on Dixon and Kilpatrick. With 6:00 to halftime, the game was tied, whereupon Jason Clark and Hollis Thompson scored Georgetown's final 14 points of the half, including a Thompson bank-shot three at the buzzer of the half, 34-32. The two Hoyas were a combined 8-8, the rest of the team 4-19. For Cincinnati, Dixon and Kilpatrick combined for 22 of the Bearcats' 32 points, but most importantly, UC had 13 points off nine Georgetown turnovers, and Georgetown was ill-prepared to make any substantive changes to correct this.
The Hoyas started the second half looking like the Louisville game and it ended like the West Virginia one. The Hoyas opened with five field goals in its first five attempts, expertly picking apart UC's interior defense, but its own defense was shredded by Kilpatrick, who scored the Bearcats' first nine points of the half. However well Georgetown was shooting, and they were, its turnovers and poor interior defense gave UC the opportunity to stay close.

Georgetown extended its lead to as many as five points five different times in the second half, answered back by UC each time. Georgetown's shooting patterns were changed from the first half, relying on interior passing rather than outside shooting against the Cincinnati zone. After shooting 5-7 from three point range in the first half, GU took just one attempt in a nearly 15 minute stretch of the half.

Hollis Thompson was all but absent in the second half, as was his defense of Sean Kilpatrick. At 49-46 with 12:34 to play, Kilpatrick had scored 13 of Cincinnati's 14 points in the half. With 8:12 to play, Georgetown had made a remarkable 10-12 from the field, but could not build a lead; from that point, UC began to get more looks inside and the Hoyas were a step slow on defense, leading to a number of foul calls which gave UC a healthy advantage at the free throw line. Still, thanks to some fine inside work by Nate Lubick, Georgetown took a game high 59-53 lead with 6:23 to play. But as the final 6:00 of the first half rallied the Hoyas, the final 6:00 rallied the Bearcats as Georgetown seemed unable to adjust--on the floor or on the bench.

At the six minute mark, UC's Yancy Gates missed the front end of a one and one, and Henry Sims was sent to the foul line. Sims, whose game consisted of some strong but continuing difficulty up close, promptly missed both free throws which would have extended the GU lead to eight, and Kilpatrick answered with a big three pointer, 59-56. Up the court, Sims traveled, part of a run of three straight GU turnovers in possessions which might have build the lead to last. Of a Georgetown time out with 3:02 to play, Hollis Thompson was picked off by Kilpatrick, who fed Yancy Gates for the dunk, 59-58.

At the 2:27 mark, Otto Porter was fouled, up one. Porter went to the line and missed the front end of a one and one. Cincinnati drive the ball inside and picked up two points on free throws, 60-59, a strategy which paid off late for West Virginia but one which Georgetown made no adjustments to avoid in this game.

With 1:56 to play, Sims made two free throws than shot himself in the foot with his second goaltend of the game, this giving UC a 62-61 lead. Clark returned to the GU free throw line with 1:33 to play, and missed one of two. UC finished the game 8-8 from the line, with two free throws to go up 64-62 with 1:07 left. A pair of offensive rebounds later, Georgetown called time out with 24 seconds, but failed to the ball into Clark or Thompson, and found itself out of luck when Porter stepped on the baseline with eight seconds remaining. Two more UC free throws pushed the lead to 68-64, and a Starks basket at the end closed to two--it was not only the only Georgetown basket in the final 6:23, it was one of only two shot attempts of any kind in the final four minutes.

John Thompson III made few adjustments in the second half, and the eight second half turnovers only made it worse. Equally frustrating was the at the shot selection of the first half was blanketed by UC in the second, without any meaningful adjustment on Georgetown's part. Hollis Thompson had 14 points in the first half on 5-5 shooting, and takes just one shot in the second. Jason Clark, shooting 6-6 in the game heading into the final eight minutes, took one shot thereafter, coming at the last second of the game with the outcome already settled. Starks and Clark were no match for the quicker Bearcats, but Jabril Trawick, considered a quicker defensive guard, played only three minutes.


Shooting by Hollis Thompson, 1st half


Shooting by Hollis Thompson, 2nd half


Shooting by UC's Dixon and Kilpatrick


Shooting by rest of UC's team


Turnovers by
UC starters


Turnovers by
GU starters


Advantage, points off turnovers, UC


GU turnovers,
last two games


Pts. off turnovers
to opponents, last two games


GU turnovers, last five games, last in Big East


UC advantage, free throws


GU FG shooting,
last 6 min. of 1st half


GU FG shooting,
last 6 min. of 2nd half


GU record vs.
UC 2006-09


GU record vs.
UC 2009-12


The Hoyas' timeout pattern was also ineffective. In three timeouts in the final 3:20, Georgetown managed one missed shot and two turnovers in the process.
It says something when a team can shred the top ranked defense in the nation, shooting 59 percent from the field, and lose a six point lead in the final 6:23. Unfortunately, the nature and second half outcome of the last two games suggests that the Hoyas cannot control the ball and cannot make late adjustments on defense, so expect more Big East teams to take a page out of the playbook of Huggins and Cronin to continued success. After its last two games, the strategy on Georgetown looks fairly obvious--force turnovers, don't allow Hollis Thompson to shoot, drive inside, and win the game at the line.
"I think we know what makes us good and we know the mistakes that we've made the last two games, which have caused us to not come out on the victorious end of the ledger," said coach John Thompson III. "You have to go back and do some introspection from top to bottom, but I think this team knows when they've been good and they know when they haven't been good and why and so you have to look at that and fix that."
It wasn't fixed with West Virginia and it wasn't with Cincinnati.
Now, Georgetown begins a stretch of three road games in its next four, traveling to Madison Square Garden on Sunday, where they have lost three straight to a St. John's team that beat Cincinnati last weekend.
Here's the Georgetown half of the box score:

            MIN   2FG   3FG   FT  REB  A  PF  PTS
Starters:                                 
Starks       31   2-4   2-4   0-0   3   1  1   10
Clark        35   6-6   0-1   2-3   2   2  2   14
Thompson     36   1-2   4-4   0-0   5   2  3   14 
Lubick       23   4-5   0-0   0-0   8   3  2    8 
Sims         29   4-9   0-0   2-4   3   2  1   10
Reserves:
Whittington  21   1-1   0-0   0-0   2   1  2    2
Hopkins       6   0-1   0-0   0-0   0   0  1    0
Porter       16   2-6   0-1   2-3   1   2  3    6
Trawick       3   0-0   0-0   0-0   0   1  1    0
DNP: Bowen, Caprio
Injured: Adams, Ayegba
Team Rebounds                       2
TOTALS      200 19-34  6-10   6-10 26  14 16   64

Additional links follow below.
There is no room at the margin for error in the Big East, and Georgetown's three point struggles were more than enough for West Virginia to end the Hoyas' 11 game win streak, 74-62 in Morgantown, WV.
The Mountaineers have been a tough out in the Bob Huggins era for its defensive sets and strong inside game, and Saturday's game was no exception. Georgetown opened the game 4-0 but fell behind by the 15 minute mark and trailed for all but 26 seconds of the half thereafter. Ten Georgetown turnovers stalled its chances at building a lead, while its 1-6 shooting from outside kept it a step back of the Mountaineers at the half, 29-27.
Across the court, West Virginia guard Truck Bryant began to drive the Mountaineers back in the lead. Bryant scored 19 of his game high 26 points in the second half, as an early tie score began to widen with the inside-outside work of Bryant and Jones. A Jones three at the 12 minute mark pushed West Virginia's lead to 44-37, and Georgetown's next rally was cut short with a touch foul on Nate Lubick, his fourth, one of a number of fouls where Lubick was whistled for little more than walking past his opponent. With Lubick unable to stay on the court and Sims ineffective in the turnaround shot, Jones was all but unstoppable and Georgetown had to fight from behind.

A Bryant three pointer with 6:35 to play opened the lead to 11, 56-45, and georgetown's outside shooting offered it little aid. Georgetown was 1-8 from outside in the half, relying on inside drives to narrow the lead, much of it coming from foul shots. Down 11 at the 4:52 mark, a pair of Sims free throws and a Porter basket closed the gap to 62-53. Georgetown held WV on consecutive possessions, picking up a free throw from Thompson and a Clark jumper, 62-56.

A steal and basket by Otto Porter closed to 62-58, but West Virginia, ranked 15 of 16 Big East teams in free throw shooting, finished the game 10-10 from the line to put it away.

Jason Clark, coming off a career performance versus Marquette, was off his touch in this one. Clark scored only two points at the half and had one basket in the final 9:53 of the game, finishing with 10 points. His 0-4 from long range was not alone in this game, but a sign that Georgetown's outside game is increasingly limited against Big East defensive sets, and its inside game does not provide the firepower to compensate.


Consecutive wins by WVU over GU, most by any current opponent


GU field goals


GU fouls


GU assists


GU turnovers


GU 3-pt shooting


GU 3-Pt %,
Louisville (7-11)


GU 3-Pt %,
last 3 games (10-49)


Clark's off game was one of a number of factors that, while not individually at fault, contributed to a gap the Hoyas could not overcome. Markel Starks had no points in the second half and was ineffective in stopping Bryant all afternoon. Nate Lubick's bad luck with the officials opened the door to kevin Jones (22 points, 16 rebounds) and Henry Sims, shooting just 33% from the field in Big East play, struggled with anything inside ten feet, 3-10 overall. While georgetown forced 17 turnovers and committed only four of its own in the second half, WV was able to get to the line and connect on more free throws (22) than Georgetown had attempts.
"We did a really good job of guarding," said West Virginia coach Bob Huggins. "We gave them some back cuts in the first half, but I thought in the second half we did a better job of taking away the back cuts. We had pretty good pressure on their [outside] shooters."
Georgetown coach John Thompson looked to the Hoyas' early turnovers as an issue.
"We could have been a little more patient during those times at the offensive end but again most of it was our turnovers, which led to a lot of transition baskets for them," he said. "Our work and our communication and our understanding at the defensive end wasn't where this team has been for the year and it wasn't where it needs to be."
A Big East team with a similar style of play, Cincinnati, arrives Monday at Verizon Center, having won four of its last five versus Georgetown since the 2008-09 season.
Here's the Georgetown half of the box score:

            MIN   2FG   3FG   FT  REB  A  PF  PTS
Starters:                                 
Starks       24   2-3   0-3   0-0   1   1  3    4
Clark        29   5-8   0-4   0-0   3   2  4   10
Thompson     37   6-10  1-3   5-10  5   0  3   20 
Lubick       15   2-2   0-0   0-0   3   0  5    4 
Sims         28   3-10  0-0   4-4   5   6  5   10
Reserves:
Whittington  19   0-3   1-2   1-2   4   0  1    4
Hopkins       2   0-1   0-0   0-0   1   0  0    0
Porter       30   2-3   0-2   0-0   6   1  4    4
Trawick      16   1-3   0-0   4-4   2   0  1    6
DNP: Bowen, Caprio
Injured: Adams, Ayegba
Team Rebounds                       1
TOTALS      200 21-43  2-14  14-20 31  10 26   62

Additional links follow below.
Grantland.com, ESPN's long-form online magazine, pays tribute to the Hoyas' comeback win over Marquette and the major victories this season.
"If you're keeping track of the Georgetown heroes, the list to date has included Clark, Thompson, Sims, Starks, and Porter — in other words, the five Hoyas who play the most. They've all stepped up at some point in the tense situations this season, senior and freshman alike, protecting each other and the team as they emerge with a win time after time."
"We'll probably never know what happened in the hours and days after the [Bayi] brawl, but the effect is obvious. In unity and toughness, the Hoyas are a step above their peers. They once found themselves unable to take care of each other, unable to function as a team in the face of an attack. Whatever else happens, that's not a mistake they're likely to repeat."
In a Big East season that already sees Pitt and Villanova standing at a combined 0-6 in conference play, Georgetown's surprising start defies logic, writes Greg Mengelt at CollegeHoopsNet.com.
"Jason Clark was expected to carry Georgetown this season – and he has been outstanding. But it's the role players and newcomers who have made the difference in D.C.," he writes. "Talent is essential in college basketball. As Michigan State and Georgetown are proving, unity and continuity can sometimes be just as important. "
There's a fine line between the perception of success and failure in the Big East. On the same day the Marquette Tribune called out Marquette coach Buzz Williams for his second half strategy, Washington Post columnist Tracee Hamilton writes that "We might be seeing the finest coaching performance of John Thompson III's career."
"To play really stifling defense requires some bench depth with talent, something the Hoyas lacked last season, when there was a noticeable drop-off after the starting five (although that improved as the season progressed)," writes Hamilton. "This season, eight players are averaging double digits in minutes, and everyone on the roster has played some."
"That's a Big East game."--John Thompson III
Early season Big East games are teachable moments for a team thinking about post-season opportunities. For the still-young Georgetown Hoyas, a senior showed the way.
In perhaps his greatest game in a Georgetown uniform, Jason Clark rallied the #9-ranked Hoyas from a 17 point deficit with 13:11 to play for a stirring 73-70 comeback win over #20 Marquette.
Both teams served notice early in the game that this contest would not be a replay of the grinder that Saturday's game with Providence turned out to be. In the first five minutes, the teams combined to shoot 81 percent from the field (13-16) and Georgetown did not miss a shot until the 15:02 mark from Markel Starks, who was shaken up 35 seconds later in a collision with Marquette's Jamil Wilson and struggled from the field thereafter. The two teams then combined to connect on just four of its next 14, with a narrow lead traded between the teams midway in the half.
A Jason Clark jumper game Georgetown a 24-23 lead with 8:43 to play, and Georgetown began one of its frequent first half lulls. Four turnovers in its next five possessions ground the Hoyas to a halt, although Marquette failed to initially take advantage. Neither team scored over a three minute period until the Warriors picked up its offense and began to leave the Hoyas in its wake.

A key addition in the game was freshman Todd Mayo, the younger brother of NBA star O.J. Mayo. The freshman guard began to rev up the Marquette offense and get better looks for its scorers, and the points followed. Mayo contributed two assists to put the Warriors ahead by six, part of a run where Georgetown did not score a field goal in 13 of its final 14 possessions of the half. Mayo then went inside and scored on each of Marquette's next three possessions to increase the lead to 12 with 2:10 in the half as the Hoyas, who were unable to stay up with the Warriors on either end of the court, fell behind by as many as 16 before settling for a 14 point gap at intermission, 43-29. Georgetown shot 50 percent for the half but its 11 field goals fared poorly against 13 turnovers, two over its average for an entire game. eorgetown, the #2-ranked defensive team in the conference, had given up more points to Marquette in the first half than it had given up to Providence all day Saturday, and more was to come.

Marquette entered the second half on a roll, particularly from Mayo and from Darius Johnson-Odom, with 13 first half points. Georgetown picked up five fouls in the first four minutes of the half, which allowed Marquette to maintain its lead at 13 despite only taking two shots in the first four minutes. When Mayo hit a three pointer with 15:11 pushed the lead to 16, and two minutes later, after a Clark basket and free throw, Mayo sank a second three to lead by 17, 56-39, whereupon Marquette coach Buzz Williams called a quick timeout.

The timing seemed odd. Georgetown had no offensive rhythm, was getting points largely from Clark and no one else, and struggled to match Marquette's intensity inside, but the break in the action represented a chance to turn things around. But from whom, and how? Georgetown was already in the bonus to a team that pounded opponents at the line, two of its starters were in foul trouble, and John Thompson III had moved to a lineup of Jason Clark and four freshmen (Otto Porter, Greg Whittington, Jabril Trawick, Mikael Hopkins) in an attempt to change the momentum.

From that timeout, Clark went to work, and carried the Hoyas back. Clark sank a three pointer at the 12:54 mark, the Hoyas' first since the 13:25 mark of the first half, and cut the deficit to 14. Marquette suffered turnovers on three of its next four possessions, but Georgetown could climb no closer than 12 before Clark sank a three pointer with 9:51 to play, 60-50, and drove to the basket and picked up the three point play, 62-53.

As Marquette refocused on Clark, senior Henry Sims began to reassert himself. Marquette had decided to go with Devante Gardner inside, but Gardner was tiring and Sims took advantage of hiss truggles inside. Drivig to the basket, Sims got to the line to cut the lead to seven, then fed Porter on a driving layup to cut the lead to five, 61-56, and swatted away a Vander Blue drive with 4:20 to play. On the ensuing possession, Gardner missed a short jumper, and Greg Whittington fed Hollis Thompson for the three to close to two, 66-64.

Georgetown had now scored points in nine of its last ten possessions, while the Warriors were just 0-5 from the field, but with five turnovers.


Marq. points in
paint, 1st half


Marq. points in
paint, 2nd half


GU turnovers,
first 10:00 of 1st half


GU turnovers,
last 10:00 of 1st half


GU turnovers,
first 10:00 of 2nd half


GU turnovers,
last 10:00 of 2nd half


Marq. adv.,
pts. off turnovers,
1st half


GU adv.,
pts. off turnovers,
2nd half


Marq. record
when it has
more FT attempts
than opponent


Marq. record
when it has
fewer FT attempts
than opponent


GU adv.,
free throw attempts


GU record
vs. ranked teams


Two more Marquette turnovers followed. Johnson-Odom picked up a player control foul that did not result in free throws, but Hollis thompson tied the score anyway, 66-66. Ten seconds later, Whittington stole a Mayo pass inside and fed Sims inside for georgetown's first lead since the 8:37 mark of the first half, 68-66.
The teams traded layups heading into the final minute. Tied at 70, Hollis Thompson got open from the left wing and Sims' pass set up Hollis for an open three with 23 seconds left, 73-70. Off the time out, Marquette coach Buzz Williams opted that his team go for the three instead of picking up points at the line, resulting in two long misses and a rebound for the Hoyas which sealed the game. Clark missed on two late free throws but it was about the only shots he missed all half.
Marquette's second half statistics were startling. A team which had run away from Georgetown towards the end of the first half managed just one two point basket in the first 17 minutes of the second half, and just three altogether. Despite going into the bonus with 13 minutes to play, up 17, MU was only 5-7 from the line thereafter. For a team which stood strong inside in the first half, Marquette's defense allowed GU to shoot 76% in the second half, and an astounding 12-13 from two point range.
"This game was led by defense," Coach John Thompson said in post-game comments. "Jason Clark, especially in the second half, set the tone and then we have Greg [Whittington], Otto [Porter], Mikael [Hopkins] and Jabril [Trawick] and that's the group that got us jump-started."
Turnovers also played a role. With 13 at the half, Georgetown had only five in the second half, and just one in the final ten minutes.
"Our poor decisions, be it turnovers or poor shots, led to their baskets," said Thompson. "So we stopped turning the ball over and we started getting shots and giving us a chance to play defense, because before they were out (and running) every time we made a mistake.
"We joke about it, but most of the time we have a feeling when we're down that we're not going to lose the game," said Clark, with 18 of his 26 points in the second half. "It's nice to have that confidence. I have faith in my players and they have faith in me that we're going to win the game. I think we just went out there and defended. We didn't go out there and defend in the first half. When we play defense we look pretty good."
"It was a big comeback. We did it as a group and that shows how good of a team we are."
Here's the Georgetown half of the box score:

            MIN   2FG   3FG   FT  REB  A  PF  PTS
Starters:                                 
Starks       17   0-1   0-4   0-0   0   1  2    0
Clark        36   7-7   2-7   6-13  5   1  3   26
Thompson     30   2-3   4-5   0-0   3   2  3   16 
Lubick       12   1-1   0-0   0-0   1   1  1    2 
Sims         31   5-6   0-0   3-4   5   5  3   13
Reserves:
Whittington  18   1-1   0-0   0-0   1   1  1    2
Hopkins       6   1-2   0-0   2-2   0   2  0    4
Porter       33   4-4   0-1   0-0   5   3  1    8
Trawick      17   0-1   0-1   2-4   1   1  4    2
DNP: Adams, Bowen, Caprio, Ayegba
Team Rebounds                       2
TOTALS      200 21-26  6-18  13-23 23  17 18   73

Additional links follow below.
---
HoyaSaxa.com: The One-Stop Web Site For Hoya Basketball™
An independent web site not affiliated with Georgetown University. All rights reserved.