Georgetown was without senior Moses Ayegba in Monday's game, the result of an NCAA decision almost four years old.
Ayegba sat out nine games his freshmen season following reports that he accepted a plane ticket from Good Counsel HS coach Joseph Bancore. The unusual one game suspension is believed to be surrounding the restitution of the ticket, but Georgetown provided no further information.
Early turnovers and missed opportunities were the ingredients in Georgetown's fifth straight loss, a 65-60 decision to #9 Villanova Monday before a season high 11,604 at Verizon Center.
The Hoyas opened up with an 8-0 run but its offense was fleeting. The Wildcats answered with a 19-4 run as Georgetown was slow to respond defensively and sloppy with the ball. By the midway point of the first half, Georgetown had committed nine turnovers in 12 possessions, and trailed 22-18.
Georgetown welcomed back forward Jabril Trawick from a broken jaw, but his efforts were limited in his first game back, with one field goal in 12 minutes of action.
"We found out this morning about Jabril," said coach John Thompson III. "Jabril hasn't done anything since he got hurt against Providence. He literally hasn't done anything except some conditioning, so he's far from being 100-percent, he's got to get his game legs back. Having him back out there gives us some much needed depth on the perimeter. His presence is important, so we threw him out there a little bit today."

Thompson opened the bench to give a rare amount of first half time to Stephen Domingo and Bradley Hayes, but it was the efforts of Markel Starks that rallied the Hoyas from a seven point deficit to close to two at the 1:54 mark, 30-28. A three pointer by James Bell at the 1:49 mark and a late basket made possible by an Aaron Bowen turnover with 4.7 seconds that gave the Wildcats the five point margin at the break, and the margin at the end of the game as well. Georgetown shot 54 percent from the field, but surrendered 13 turnovers by halftime.

With D'Vauntes Smith-Rivera still nursing an rib injury suffered versus Creighton, the Hoyas needed someone to emerge on the scoring charts, and got it in the second half with Reggie Cameron. The freshman forward scored nine of his 12 points in the second half as the Georgetown defense held Villanova to one field goal in its first 10 possessions, yet led by only one, 41-40, at the 14:20 mark.

The lead was traded throughout the second half. An Aaron Bowen three pointer tied the score at 46 midway in the second half, but Georgetown managed only one field goal over the next six minutes. Defensively, the Hoyas were still hanging around, and offensively, it relied on Starks to lead the charge. Starks scored six of the Hoyas' final eight down the stretch, closing to 61-58 in the final two minutes, but the shots went silent thereafter. Starks missed a long three at the 1:26 mark and was called for an offensive foul with 34 seconds remaining, giving Villanova the opening to put the game away at the line.


GU field goals


GU fouls


GU turnovers


Scoring,
Markel Starks


Combined scoring,
rest of starters


GU 3-pt. shooting,
first 10 attempts


GU 3-pt. shooting,
last 10 attempts


Villanova adv.,
free throws


Starks finished with 20 points, passing the 1,000 point mark for his career. Overall, the team's shooting slumped again. D'Vauntes Smith-Rivera shot just 2 for 11, while Mikael Hopkins had one basket in the final 27 minutes of the game. The Wildcats were the latest in a growing line of Big East teams to win games at the line over Georgetown, having a +14 on free throws in the game.
"The thing is every game seems to be called differently," Thompson said. "I don't think our guys are over-fouling. We have to get to the line more. In a game like this, when we are getting to the paint, we have to find a way to get to the line more than nine times."
Fellow Big East coaches have been careful not to pile on the Hoyas while they are down, and Villanova coach jay Wright was respectful when acknowledging Georgetown's shortcomings.
"It's such a fine line between winning and losing and not having two starters and being in every game like this," he said. "It's amazing that they're doing what they're doing and when Trawick comes back and gets going I think they're going to get a lot better - but they're different without those two guys, they are."
The Hoyas' 11-9 record marks the fewest wins for Georgetown ending the month of January since the 2002-03 season. With it, Thompson must fight against an unfamiliar foe for his team heading into February: morale. With no clear path to an at-large post-season bid, the Hoyas must focus on not giving up and letting the season be scuttled altogether.
"This is how I'm interpreting this question: 'Are you guys going to get down? Are your heads going to drop? Are you going to start feeling sorry for yourselves? Are you going to stop competing?' That's not them," Thompson said.

"I think the group understands who we are. I think we're a different team now than we anticipated coming into the year. We're a different team now than we were the first half of this year. With all that being said, I'm not saying this group is not going to lose confidence, but this group is not going to lose faith in each other."
The loss drops Georgetown to seventh place in the Big East heading into Saturday's non-conference match with #7 Michigan State.
Here's the Georgetown half of the box score:

            MIN   2FG   3FG   FT  REB  A  PF  PTS
Starters:                                 
Starks       38   5-10  2-5   4-4   3   5  3   20
Smith-Rivera 36   2-5   0-6   4-4   1   1  3    8
Cameron      22   3-3   2-5   0-0   3   1  1   12
Lubick       23   2-2   0-0   0-0   5   2  3    4
Hopkins      33   3-6   0-0   0-1   5   2  3    6
Reserves:
Bowen        27   2-3   1-3   0-0   4   1  5    7
Domingo       6   0-0   0-0   0-0   1   0  1    0
Hayes         3   0-0   0-0   0-0   0   0  1    0
Trawick      12   0-3   1-1   0-0   1   0  3    3
Injured: Adams
Did Not Play: Allen, Williams, Caprio, Ayegba
Team Rebounds                       6
TOTALS      200  17-32  6-20  8-9  29  12 23   60

The media notes for the Creighton game added 6-4 sophomore Riyan Williams (C'16) to the official roster. Williams had been practicing with the team this fall and has already suited up at some home games.
Williams, an honorable-mention all-WCAC selection at Washington's Archbishop Carroll HS in 2011, is the son of Georgetown Hall of Famer Reggie Williams (C'87).
"Did he earn [the spot] himself? Yes," said coach John Thompson III to The HOYA in December. "But did who his father is have a part of it? Absolutely."
Williams joins three fellow sophomores (David Allen, Stephen Domingo, Bradley Hayes) on a bench that has not seen any significant time during the Hoyas' four game losing streak. Williams may only see a minute or two in games this season should Georgetown be leading big, which in the near term is not likely.
"Tough day at the office."--Georgetown's Markel Starks
A strong defensive effort by the outmanned Georgetown Hoyas was not enough as #24 Creighton leveraged a pair of runs to pull away from the Hoyas, 76-63, before 18,859 at CenturyLink Center in Omaha, the largest home crowd in Creighton history.
Creighton entered the game as prohibitive favorites, not only for the Hoyas' struggles but following a 96-68 route of #4 Villanova that included 21 threes. Chief among the Hoyas' tasks: defend the three and defend Doug McDermott, Creighton's leading scorer and All-America candidate, from tearing the game open early. For its part, Georgetown did just that, but lacked the offensive counter-punch to make it a game.
The Hoyas opened the game on a 5-0 run and led 11-7, holding the Bluejays to just 1-7 from three point range and 3-15 in the game's first ten minutes. Unfortunately for Georgetown, its offense was not much better, going 2 for 12 and missing four straight shots in the paint at close range that could have built an early lead.

Through the first 13 minutes, however, the Hoyas were holding their own. With McDermott in check, Creighton turned to forward Ethan Wragge to rally the offense. Wragge, with there pointers in 74 of his 76 field goals this season entering Saturday's game, got things going with consecutive threes to tie the score at 13-13, accounting for 12 points over a 17-4 run that saw Creighton take a nine point lead at 24-15. A pair of baskets by Mikael Hopkins narrowed the Creighton lead to six but no closer, as the Bluejays held the Hoyas to just 32 percent shooting and took a 10 point lead into the break, 34-24. Both teams finished with 10 field goals at intermission but free throws again skewed away from the Hoyas, as Creighton earned 10 more attempts to the line, adding eight.

Though trailing, Georgetown continued to fight. A pair of baskets by Reggie Cameron kept the Hoyas close, while Hopkins continued to battle inside with McDermott and scored a pair of baskets to drive the Hoyas within six with 14:42 left, 42-36. Creighton coach Greg McDermott turned to his bench, where Will Artino scored on consecutive possessions as the Bluejays had caught a second wind. A second 17-4 run followed, with the hoyas earning just one field goal over a seven minute period as the Bluejays put away the game 58-42 with 8:02 left.


Combined minutes,
Starks, Smith-Rivera


Combined scoring,
Starks, Smith-Rivera


Combined scoring,
Lubick, Bowen, Ayegba


Creighton adv.,
free throws


Creighton adv.,
points in paint


Creighton adv.,
bench points


Up 17 with 4:46 left, Coach McDermott began to slow down the game to keep the scoring down. Markel Starks scored 11 of his game high 21 down the stretch while D'Vauntes Smith-Rivera, who had struggled through much of the game and appeared to be hurt at one point, scored eight of his 18 points over the final six minutes as the Hoyas closed to 11 points but no closer.
Defensively, Georgetown's effort on McDermott was commendable. Entering the game averaging 24.8 ppg on 50 percent shooting, 44 percent from three, McDermott finished just 5-15 from the floor, 1-5 from three. The Bluejays compensated with 31 points from its bench, among them 14 second half points from Will Artino, 11 from Devin Brooks, and six from Avery Dingman. By contrast, the Georgetown bench combined for one field goal in five attempts.
Markel Starks led all Georgetown scorers with 21 points, with 18 from D'Vauntes Smith Rivera, 14 from Mikael Hopkins, and eight from Reggie Cameron.
Georgetown's loss is its fourth straight.
Here's the Georgetown half of the box score:

            MIN   2FG   3FG   FT  REB  A  PF  PTS
Starters:                                 
Starks       39   7-13  2-7   1-1   1   5  4   21
Smith-Rivera 39   4-10  2-7   4-4   6   3  2   18
Cameron      20   1-2   2-5   0-0   1   1  1    8
Lubick       25   0-2   0-0   0-0  10   3  4    0
Hopkins      29   5-10  0-0   4-6   5   3  3   14
Reserves:
Bowen        31   1-3   0-1   0-0   4   0  4    2
Caprio        2   0-0   0-0   0-0   1   0  2    0
Ayegba       15   0-1   0-0   0-0   3   0  4    0
Injured: Adams, Trawick
Did Not Play: Allen, Williams, Domingo, Hayes
Team Rebounds                       0
TOTALS      200  18-41  6-20  9-11 31  15 24   63

Georgetown officials declared junior center Josh Smith academically ineligible for remainder of the 2013-14 season, becoming the second starter lost in as many seasons for flagging grades.
"A lot of what we did was geared toward his presence," said a disappointed John Thompson III at the team's Friday media teleconference at McDonough Gymnasium. "This is Georgetown, and we have a set of standards, and everyone has a responsibility above and beyond what goes on outside of those doors."
Smith arrived at Georgetown with a full two years of eligibility from the NCAA, which could have limited Smith to as few as one semester of play following his mid-year transfer from UCLA. The 6-10, 350 lb. center appeared to have lost little of the 350 lbs. that grounded his career at UCLA, and following a sterling opening game versus Oregon, Smith's impact decreased by foul trouble and dwindling minutes over his lack of conditioning.
Nonetheless, Smith's 11.5 points per game are especially missed for a Georgetown team that has lost four of five and is a prohibitive underdog in its next three, with a weak front line largely incapable of establishing points in the paint.
The Hoyas team now field 11 active players on scholarship, with a rotation that rarely goes beyond eight.
Coach Thompson noted that Smith has not been dismissed, is able to practice with the team, and would be invited to rejoin the team as a senior in 2014-15 if his grades improved.
Additional links follow below.
Georgetown Hall of Famer Tom Quinn (C'55), one of the last surviving members of the University's intercollegiate boxing team and an accomplished movie and television actor, died earlier this month at the age of 79. The Washington Post provides an obituary.
Quinn arrived on the Hilltop while it fielded a varsity boxing program under legendary coach Marty Gallagher. In 1955, Quinn won the NCAA Eastern Intercollegiate Championship title as a heavyweight.
"He later boxed in the Marine Corps and stayed close to the sport while working as a stockbroker, political consultant, investment adviser and benefits director for the NFL Players Association. For years, he taught boxing ...at local gyms and to students at Georgetown," wrote the Post.
Quinn later took up acting roles, appearing in such productions as "The Pelican Brief", "Enemy of the State", "The West Wing", "Homicide", and "The Wire".
Boxing was an intercollegiate sport at Georgetown from 1926 to 1952. As noted by Pat McArdle in this 2008 article at GUHoyas.com:

"Opposition to the sport of boxing limited further growth of the sport and a retrenchment of athletics on the Georgetown campus forced cutbacks in athletic programs. By 1952, Georgetown was no longer able to field a varsity squad. Nevertheless, Marty [Gallagher] persevered with a handful of devotees, taking the best from intramural competition to compete in season-ending intercollegiate competition. His efforts were rewarded in 1955 when Tom Quinn captured the Eastern Intercollegiate heavyweight boxing crown. With [the] demise of collegiate boxing, he was the last man ever to win this title. "
Georgetown fans of a certain age will remember Ron Lyons, the 6-9 center that was given the nickname "Hollywood" during his two seasons on the Hilltop. A recent Internet search located Lyons, whose career (and nickname) went full circle from his days at Georgetown.

According to The HOYA, the nickname emanated from one of Lyons' many travels growing up before his family settled in Philadelphia, where he played basketball at Edison HS and went on to Northwest Community College in Powell, WY, averaging 24 points and 16 rebounds, with a 68% shooting percentage that ranked third nationally. Unfortunately for Lyons, the school was dropping basketball, and he needed a new home.
"When Northwest decided to drop basketball, I looked around for a four year college where I could play ball, Lyons told former sports information director Keith Moore in the 1972 Georgetown media guide. "Paul Robinson [then a freshman at Georgetown] and I spent some time visiting a school in Pennsylvania and became friends. He suggested I come to Georgetown."
With John Connors' transfer to Manhattan that summer, a scholarship opened and Lyons arrived at Georgetown, marking the school's first junior college transfer. Lyons averaged 3.8 points and 4.4 rebounds in 24 games under coach Jack Magee, but when John Thompson arrived the following year, freshmen Merlin Wilson and Billy Lynn were elevated on the depth chart and Lyons played sparingly, causing him to leave Georgetown and play professional basketball in France.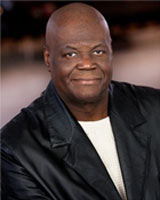 Following basketball, Lyons began a career in executive security. According to his IMDB bio, director Michael Bay approached Lyons in 2005 about acting while Bay was directing "The Island", but it was not until 2009 that Lyons began to focus on the craft, joining the Michigan Actors Studio and landing a small role in the Robert De Niro film "Stone". Most recently, he landed a role in the ABC show "Detroit 1-8-7", set in his current home town.
"If you don't already know Big Ron, you should," wrote producer Emily Grace. "He is 6-9...and such a sincere and supportive human being. For the past few years I've watched Big Ron on social media encouraging his fellow actors. It's time someone gave back to him!"
A brief TV image from the Georgetown student section near the end of Monday's loss to Marquette lives on in the viral world of the Internet, and SB Nation's Casual Hoya has located the student behind the story.
"It was pure disappointment on two fronts," said Scott McCallum. "First, there was the game. After leading by 3 with 6 seconds to go, here were the Hoyas down by 7 in OT, another blown lead for Georgetown and another loss to a Big East opponent. To make matters worse, I, and the rest of the student body, had just received a text from Hoya Alert saying that classes weren't canceled for Tuesday. Talk about pouring salt on an open wound."
"I love going to the games and I am a big basketball fan in general. Plus, the team needs support, even when they are down. They will give us something to cheer about eventually...I hope."
"Scott is, as Casual Hoya writes, the "student whose face has become the singular symbol of the 2013-14 Georgetown Hoyas basketball season," writes Eamonn Brennan of ESPN.com.
Aaron Bowen's development over the past four seasons can be attributed to a lot of hard work, as noted at a feature at GUHoyas.com.
Bowen has fought through injuries and time on the bench before he began to play more of a role as a junior. This season, he has played in every game and is working hard to provide the role Georgetown needs."Basically what coach tells me every day is to go out there and make all the hustle plays - get the 50-50 balls," Bowen said. "That's basically my role. I have to give everything that I have when I'm on the court."
Bowen's numbers this season are struggling from three point range (6-24) but Bowen remains resolute.
"I haven't been hitting my three-pointers," he said. "I need to keep getting those shots up in practice and the results will improve. I get more comfortable as I see the ball go in."
Despite 52 combined points from Markel Starks and D'Vauntes Smith-Rivera, tremendous defensive efforts across the board by the team, and a seven point lead in the final three minutes, Georgetown lost its third straight game, this time on a three point play that forced overtime and an 80-72 loss.
Head coach John Thompson III promised changes following its loss to Seton Hall, but with his thin lineup, there were few available. Guards Markel Starks and D'Vauntes Smith Rivera played all but one minute in the game, while Stephen Domingo got just three minutes early and Bradley Hayes remains missing from the lineup altogether. One notable change was more time for John Caprio over Aaron Bowen to improve the Hoyas' defense, but neither had any offensive momentum.
The Warriors opened with the first seven points of the gamed but found a renewed effort by the Hoyas on both sides of the ball. The Hoyas took the lead at 14-13 behind the efforts of Starks and Smith-Rivera, and Georgetown built a six point lead at 22-16 with 4:29 to play in the half. Once again, a short clock bedeviled Georgetown, as the Hoyas scored one basket down the stretch and finished down one to the Warriors at the half, 28-27. That the Hoyas were close at all at the break was due to the guards, who accounted for 17 of the team's 27 points on a combined 5-15 shooting, but were about to pick up in a big way after halftime.

Much of the second half treated the sparse Verizon Center crowd to some of the best basketball it has seen since Otto Porter left for the NBA. Defensive stops, inside passing, clutch shooting--all of these were in evidence as Georgetown's guards took over the game. With a pair of free throws by Smith-Rivera at the 15 minute mark, the two combined to score the next 20 points for the Hoyas, and at one point combined for 25 of the 29 second half points scored by the team.

There were cracks in the armor, however. Up five with 8:51 to play, senior John caprio missed two free throws and Mikael Hopkins missed a dunk one minute later. The Hoyas held the Warriors without a basket for over two minutes but could not extend its lead. Still, with 3:01 to play, Georgetown held a 60-53 advantage with (almost) everything going its way defensively.

With 2:42 to play, Marquette's Jake Thomas was left alone for a three, 60-56.

With 2:06 to play, Starks misses a short jumper and Jamil Wilson drives for a dunk, 60-58.

A pass from Starks to Moses Ayegba extends the lead to four, 62-58, with 1:29 to play, and Georgetown is able to wind the clock down to 28 seconds where, following an apparent shot clock violation, the ball remains with GU. Marquette coach Buzz Williams opts for a quick foul on Reggie Cameron, who misses the front end of a one and one, whereupon 6-5 John Caprio fouls 6-9 Devante Gardner on the rebound. Two free throws by Gardner are matched by two from Starks, 64-60, with 25 seconds to play.

Again, Williams plays a hunch that the Hoyas have not covered the middle, as Gardner answered with a short jumper in the lane, 64-62, and Starks is sent to the line with 17 seconds remaining. Starks misses one of two, and is out of position on the ensuing play when Todd Mayo hits an open three with six seconds remaining, 65-65.

"It's not what they did. We knew it was coming and they still got it," said Georgetown coach John Thompson III in post-game remarks. "And through all that, you make your foul shots, you come away with a win.

Georgetown could not, and it did not.


Combined minutes,
Starks, Smith-Rivera


Combined scoring,
Starks, Smith-Rivera


Combined scoring,
Lubick,Hopkins,Cameron


Combined scoring,
Bowen, Caprio


Marquette adv.,
second chance points


Marquette adv.,
free throws


Marquette adv.,
bench points


GU FT's
first 38 mins.


GU FT's
last 7 mins.


GU record in
Big East OT
games since 2009


The Hoyas were flattened in the overtime, Marquette scored the first seven points and did not look back, going 8-8 from the line.
Despite 28 from Starks and 24 from Smith-Rivera, Georgetown shot just 37% for the game, and was 66% from the free throw line, none bigger than the misses from Cameron and Starks that could have sealed the game. Defensively, the excellent effort of the Hoyas for the first 37 minutes vanished thereafter. Marquette scored on six of its final seven possessions in regulation and four of six in overtime.
This was conceivably the best Georgetown could have played defensively, yet they still failed to close the door on Marquette as they had let Xavier and Seton Hall do the same.
"We are seven games into an 18-game season. There is a lot of season to be played," said John Thompson III.
The Georgetown half of the box score:

            MIN   2FG   3FG   FT  REB  A  PF  PTS
Starters:                                 
Starks       39   6-13  4-8   4-5   3   2  2   28
Smith-Rivera 40   3-9   4-5   6-6   5   2  0   24
Cameron      19   1-1   0-5   2-3   0   1  1    4
Lubick       25   1-3   0-0   0-0   5   1  3    2
Hopkins      34   1-7   0-1   4-4  11   1  4    6
Reserves:
Bowen        13   0-2   0-1   0-0   2   1  3    0
Caprio       22   0-3   0-0   2-4   1   3  4    2
Domingo       3   0-0   0-0   0-0   2   0  2    0
Ayegba       30   3-3   0-0   0-2   5   0  2    6
Injured: Adams, Trawick
Did Not Play: Allen, Smith, Hayes
Team Rebounds                       2
TOTALS      200  15-41  8-20 18-24 36  11 21   72

"We have to adjust, adapt and change a lot of things, as a coaching staff, as a team and try to figure that out." --John Thompson III
By all means, Georgetown fans should make plans for the Big East tournament. After that, maybe not so much.
Georgetown is on the verge of a cliff in its 2013-14 schedule, dropping its second game in remarkably similar and disturbing fashion as that versus Xavier. A 67-57 home loss to Seton Hall Saturday marked its first home loss since Jan. 8, 2013 and its first home loss to the Pirates in 11 years. More importantly, the punchless Hoyas have dropped these three by double digits, the first time Georgetown has lost three Big East games in January by double digits since the 2009 NIT season.
There was a visible ebb and flow between the two teams in the first half. Georgetown opened the game with six points from Mikael Hopkins, but tied the score at 8-8 despite missing nine of its first 12 shots and committing four turnovers in the first eight minutes of play. A jumper from Markel Starks keyed a 9-0 Georgetown run, capped by a give and go inside to John Caprio to lead 17-9 midway in the half.
Seton Hall was ineffective from inside, and thus began to pick away from the outside. Seton Hall connected on three threes in a 17-4 run to take the lead at 25-21--at one point Seton Hall was 6-10 from three and just 1-11 from two. Over the final five minutes, Georgetown closed out the perimeter and answered with a 14-1 run to end the half, keyed by threes from Markel Starks and Reggie Cameron to give the Hoyas its largest lead to date at 35-26.
In post game comments, head coach John Thompson talked about the need to make adjustments, but they were not in evidence during this game. Georgetown continued to make the same mistakes on offense, adn was equally ineffective on defense, particularly on Seton Hall forward Fuquan Edwin, who nearly scored at will against a disorganized Georgetown effort.
A Reggie Cameron three opened the Hoyas' second half scoring at the 19:11 mark, 38-28, and was to be their last such three of the game. With Mikael Hopkins sent to the bench with his third foul, Edwin led the Pirates on a 7-0 rally before a Smith-Rivera basket and assist on consecutive plays gave Georgetown a more manageable 42-35 lead at the 15 minute mark. This was the approximate time the Hoyas' ship began to take on water at Xavier, and similar signs were foretold in this one.
Georgetown made only two baskets over the next five minutes, with Seton Hall picking up points at the line and a three pointer to close to 44-43. A basket and foul shot by Smith-Rivera pushed the lead back to 47-43, but the iceberg was within sight and Thompson's game plan seemed ill-prepared to change course.
Front and center: the play of Markel Starks was off all afternoon. Starks missed shots from up close and far away, his defense was spotty, and the lapses on perimeter defense gave Seton Hall the second wind to blow past the Hoyas. The Pirates took the lead at the 10:06 mark, 48-47, but was quickly answered by a short Aaron Bowen jumper at the 9:48 mark, 49-48. At Xavier, the Hoyas' last basket came at the 6:12 mark, this was now three minutes earlier.
An offensive rebound and Fuquan Edwin three pushed the Pirates ahead 53-49 at the 8:20 mark, giving Edwin 13 of Seton Hall's 27 second half points, and more to come.
A possible turning point in the game came with 5:39 to play, where an out of bounds play involving forward John Caprio was given to Georgetown and seven seconds were added to the clock. Georgetown, down three, got the inbound but turned it over, whereupon Seton Hall sank threes on each of its next two possessions to go up 60-51. The Pirates had scored on seven of its last 10 possessions, Georgetown just two of its last 11.
Georgetown's defense tightened down the stretch but its shooting did not. The Hoyas crawled closer at the line with a pair of free throws by Bowen and one from Mikael Hopkins at the 1:15 mark, but were still down seven, 64-57. Getting back the ball at the 1:12 mark, Georgetown got three tries and the guard whiffed on all three. Starks took a three, missed, got a second chance, missed it, and on the ensuing rebound, DSR missed as well. Seton Hall rode out the game at the line for the big win.
"We have guys that are now being forced to play positions that they haven't in the past," said Thompson. "With [Seton Hall] you go into the game saying, 'let's take away the three's, that's what they do,' but we just did not execute that part. For the second time, I think our breakdowns on defense, as much as we're not scoring points, our breakdowns on defense led to frustrations on offense."
A strong effort by Mikael Hopkins deserved more recognition, and got it from Thompson.
"I thought Mikael played with an energy and a passion that I probably have never seen him play with," said Thompson, "I told him walking down the hall that we wasted the best game of his career. The kid had 15 rebounds...If he can play with that energy and that passion that's a step toward what we need to figure out."
Fuquan Edwin led the Pirates with 24 points, 19 in the second half.
For a coach talking about adjustments, there are few to be had (or made) for Thompson. There are no scholarship backups to Starks and Smith-Rivera, and both are inexorably tiring out. With Bradley Hayes and Stephen Domingo welded to the Georgetown bench, the remaining rotations of Cameron, Bowen, and Caprio at the small forward and Lubick, Hopkins, and Ayegba up front are inconsistent. And as soon as one of the inside men get foul trouble, the assignments break down in a hurry.
Seton Hall coach Kevin Willard tried to relate to the Hoyas' now-flagging hopes for a robust 2013-14 season.
"I did it for a month I had three starters out - you will lose games when you're up seventeen and you will blow leads because the stuff you used to run when you sustain leads you can't run anymore and it's frustrating." he said. "I can see the frustration on John's face because there's things he wants to run that he can't run because you're without two starters and when you're without two starters in this league you're gonna get hurt."
And hurt is what likely faces the Hoyas with three consecutive ranked teams on the schedule following Monday's game with Marquette, who are facing their own troubles following an overtime loss at Butler. Monday's game, which appeared to be a marquee date on the Big East calendar, now shapes up as a "loser leaves town" match for securing any momentum to secure an at-large NCAA bid.
The Georgetown half of the box score:

            MIN   2FG   3FG   FT  REB  A  PF  PTS
Starters:                                 
Starks       38   2-7   1-5   2-2   1   2  3    9
Smith-Rivera 37   4-7   0-5   6-7   4   5  4   14
Cameron      34   0-2   2-5   0-0   1   0  2    6
Lubick       12   0-3   0-0   2-2   1   0  1    2
Hopkins      26   4-7   0-0   3-6  15   3  3   11
Reserves:
Bowen        29   3-6   1-3   4-4   7   2  3   13
Caprio        7   1-1   0-0   0-0   4   0  3    2
Ayegba       17   0-2   0-0   0-0   5   2  1    0
Injured: Adams, Trawick
Did Not Play: Allen, Smith, Domingo, Hayes
Team Rebounds                       1
TOTALS      200  14-35  4-18 17-21 39  14 20   57

Hopes for an imminent return for juniors Jabril Trawick and Josh Smith aren't going to happen, according to coach Thompson in post-game remarks.
"Jabril is not going to be back anytime soon. What that means I don't know, but it's going to be weeks before he's back," he said.
As for Smith, Thompson added that "we don't know about Josh," as parallels with Greg Whittington's semester-long absence last spring are becoming difficult to avoid. The basketball office has not used the word "ineligible" referencing Smith, but do not appear to be expecting Smith's return anytime soon.
One team turned on the gas. One had none left.
The longest road trip of the season took its toll in the second half of Tuesday's game with Xavier, where the Georgetown Hoyas failed to score in the final 6:12 of the game, turning a 17 point lead early in the second half into a 13 point loss to the Musketeers, 80-67.
A seven man rotation propelled the Hoyas to some remarkable play over the first 25 minutes of the game, but no further in a game with more than its share of twists and turns.
Georgetown opened the game playing crisply and eager to avoid the foul malaise that had overwhelmed them in the two previous games in the week long road trip. Georgetown did not pick up its first foul until the 15:34 mark of the first half, and picked up only three turnovers at all in the first half. From a 14-10 deficit midway in the first half, threes from Markel Starks and D'Vauntes Smith-Rivera led the Hoyas on a 10-0 run and a 20-14 lead. Xavier responded with baskets on each of its next two possessions, but Georgetown held the lead on a DSR three, 23-19, and carried a lead for the next 25 minutes of the game.
The story of the first half was remarkable outside shooting by the Hoyas, a team not known for fireworks beyond the arc. Having combined for six threes in 27 attempts in its two prior road games, the Hoyas took control late in the half from the outside shot.
Up five entering the final five minutes of the first half, outside shooting carried the Hoyas forward. A Reggie Cameron three pushed the lead to eight, 33-25, with 4:09 to play. Smith-Rivera drove inside for a basket and a foul, then the defense held Xavier to one field goal in the final 5:27 of the first half, as threes from Bowen and Starks, the latter with 12 seconds to play, gave Georgetown a 42-29 lead, on the wave of seven threes in 11 attempts.
Xavier opened the second half with renewed intensity, scoring the first seven points of the half. Georgetown answered with a pair of threes from Reggie Cameron and two baskets by Markel Starks to push the lead to 17, 53-36, at the 15:00 mark.
The response by Xavier was to attack inside and pick up easy fouls. Three of Xavier's next four possessions resulted in Georgetown fouls on made baskets. A drive inside on Nate Lubick at the 14;44 mark cut the lead to 15. Six seconds later, Xavier was back under the basket and Lubick picked up his fourth, 53-41. A Georgetown turnover set up Xavier's second three of the second half, 53-44, and the game was back on. From Georgetown's seven threes before halftime, Xavier added five after it.
A pair of Smith-Rivera drives stabilized the lead at nine, 57-48, but the Hoyas traded twos for threes over its next two series and led by just seven after a Nate Lubick dunk, 61-54. Baskets were hard to come by for both teams, with Xavier managing two over the next five minutes but whittling down the lead at the free throw line, where it held a significant advantage over the Hoyas. Xavier free throws cut the lead to four, then two, then one with 6:37 to play, 65-64. A Smith-Rivera drive pushed the lead to 67-64, which were the last point scored for the game for Georgetown. A three pointer by XU's Myles Davis gave Xavier a 68-67 lead entering the final five minutes, and a 10-10 parade at the free throw line proved the margin of victory. Georgetown missed its final seven shots and went 0-3 from the foul line.
The Georgetown half of the box score follows below.

            MIN   2FG   3FG   FT  REB  A  PF  PTS
Starters:                                 
Starks       40   4-12  3-6   2-2   5   7  2   19
Smith-Rivera 40   4-8   3-5   1-2   3   1  2   18
Cameron      27   2-4   3-6   0-0   4   0  3   13
Hopkins      27   1-2   0-0   0-2   4   1  4    2
Lubick       28   2-5   0-0   0-0   2   4  4    4
Reserves:
Bowen        19   3-4   1-1   0-0   4   0  1    9
Domingo       1   0-0   0-0   0-0   0   0  1    0
Ayegba       18   0-2   0-0   2-2   1   0  5    2
Injured: Adams, Trawick
Did Not Play: Allen, Caprio, Smith, Hayes
Team Rebounds                       2
TOTALS      200  16-37 10-18  5-8  25  13 22   67

Off the sports pages, In The Capital presents an interesting slide show of building plans for Georgetown that were never implemented--each would have certainly changed the campus as we know it.
Some of these designs, such as 25,000 seat Memorial Stadium or an School of Foreign Service building topped with a giant statue of "Christ The Redeemer", have been seen in the past, but here's a rare one: a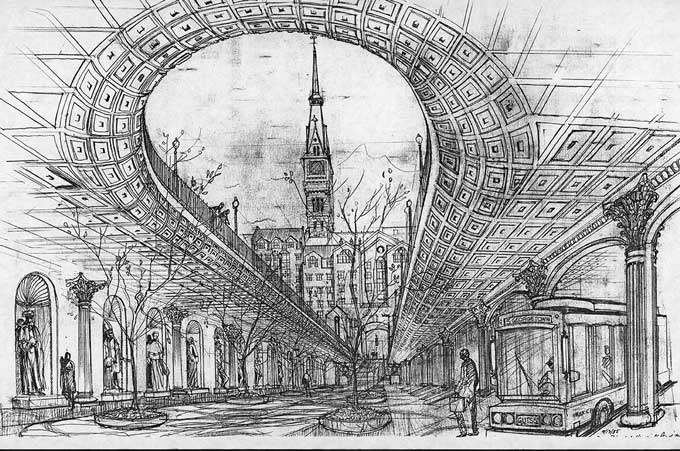 1985 design for a Metro-intermodal station in the middle of campus, complete with Roman statues along the mezzanine and train tracks above.
Georgetown fans hadn't seen anything like it. Butler fans had seen all too much of it.
Injuries and attrition had rendered the Hoyas to a skeleton crew in the final 5:49 of its game at the historic Hinkle Fieldhouse, with Aaron Bowen and Reggie Cameron as its remaining forwards and 6-5 John Caprio in the post. Along with stalwart guards Markel Starks and D'Vauntes Smith-Rivera, these five Hoyas led the way as Georgetown come back from two late deficits with a thrilling 70-67 win at Butler Saturday evening.
Many Georgetown fans had arrived to the fieldhouse only just learning that an injury suffered by Jabril Trawick at the Providence game would leave him unable to play in Saturday's game. Trawick was replaced in the lineup by Reggie Cameron, making his first collegiate start amidst the 9,640 in attendance in Indianapolis. Cameron's firs five minutes were an encouraging signs, as Georgetown held Butler to one field goal in its first seven attempts as the Hoyas built an early 11-3 lead.
Georgetown would need help from a number of players in Saturday's game and got it at different stretches of play. A closely called game was to Georgetown's detriment, as Mikael Hopkins was in early foul trouble and Butler's Kellen Dunham scored on a long three pointer to close to 11-7. As Hopkins sat, Moses Ayegba stood up, with a strong inside basket and three first half rebounds to keep Georgetown in control early.
Two subplots dominated the first half. For Georgetown, Markel Starks was ineffective on both sides of the floor. Offensively, Starks was 1-5 from the field, needing Georgetown to get more out of its reserves, which it did with seven from Cameron and four from Aaron Bowen to allow Georgetown to maintain a lead throughout the first half. Defensively, Starks defended Butler's Kellen Dunham, who soon became the only consistent offensive weapon to the Bulldogs in the first half.

Down 15-10 midway in the first half, Dunham matched the Hoyas on thee straight possessions. Baskets by Smith-Rivera, Cameron and Bowen were met with three straight field goals from Dunham, as the Bulldogs kept pace. At one point Dunham scored 13 of Butler's 15 points over an eight minutes, getting open on a consistent basis against Starks.

Though leading, foul troubles continued to cast a cloud over the Hoyas. Following Hopkins, Lubick picked up hiss second foul at the 9:45 mark, Ayegba his second at the 4:21 mark, and a third four seconds later. Hopkins returned to the lineup during a critical point of the half, with Georgetown's lead cut to three, 26-23, at the 4:17 mark. D'Vauntes Smith Rivera led the Hoyas resolutely to the break, with two baskets, an assist and a key rebound as Georgetown converted on four of its final possessions and carried a five point lead, 34-29 into intermission. Smith-Rivera scored 11 in the half as Georgetown shot 48 percent, but allows Butler 10 of 14 attempts from the line. Kellen Dunham (5-10) and Khyle Marshall (3-6) combined for 26 of Butler's 29 points at the break, while the rest of the team shot a combined 1-8.

The biggest adjustment of the second half may have saved Georgetown in the long run, with coach John Thompson III moving Smith-Rivera to cover Dunham and allowing Starks a little more breathing room on his own shots. Both proved vital to Georgetown holding on after halftime. Baskets by Dunham and marshall brought the Bulldogs within three on three occasions in the first four minutes of the second half, but Smith-Rivera answered all three with points and georgetown maintained the lead, 41-35. Moses Ayegba returned with a pair of driving baskets to give Georgetown its largest lead to date, 45-37, and following a defensive minded four minute run where each team scored once over 13 possessions, Smith-Rivera sank a three pointer (GU's first since the 14:06 mark of the first half) to give Georgetown a 50-41 lead with 6:55 to play.


Combined minutes,
Starks, Smith-Rivera


GU 3-pt. shooting


BU 3-pt. shooting


Butler adv.,
points off
turnovers


Butler adv.,
free throws


Georgetown adv.,
points in paint


GU points
off BU turnovers
in regulation


GU points
off BU turnovers
in overtime


GU record in
Big East OT
games since 2009


Georgetown's defensive sets were making things difficult for Butler from the field, as the Bulldogs had missed 11 of its last 13 attempts. Butler took its case to the free throw line, where they began to chip away at the lead. A pair of free throws by Khyle Marshall closed to 50-43, a DSR turnover and a foul by Hopkins set up Kameron Woods for two more at the line, 50-45. With his own turn at the line, Markel Starks missed on two, and Butler answered with a drive inside to rally the home crowd, 50-47. The teams traded layups until Nate Lubick was called for his fifth foul as Butler's Alex Barlow crashed down upon him. Lubick picked up the foul, his fifth, but was the worse for it, as Barlow's collision had broken Lubick's nose and the resultant blood from the basket to the Georgetown bench caused a momentary delay in the game.
Barlow's basket closed to one, 52-51, but the free throw miss ended a run of six straight to carry the Bulldogs to the precipice of the lead. On its next series, Butler could not covert from the field, but picked up two offensive rebounds, a fifth foul on Ayegba, and two more at the line, giving Butler its first lead of the game at the 3:19 mark, 53-52.
Georgetown needed a response and got it. Taking advantage of his quickness, Aaron Bowen drove the baseline for the basket and the foul, and after an exchange of free throws, Butler's Alex Barlow ended a run of 13 straight misses from three point range with a clutch three pointer at the 2:15 mark, giving Butler a 58-57 lead.
With the crowd on its feet, each team missed a shot on its next possession before Hopkins opted to drive into the lane and pick up an offensive foul, his fifth, with 49 seconds remaining. On its next possession, Barlow was fouled by Aaron Bowen adding two more to Butler's lead, 60-57. Butler, not Georgetown, called a quick timeout, and on Georgetown's final possession of the half, Starks was left open near the top of the key, where John Caprio's pass set Starks up for his second three of the game and tying the score at 60 with 14 seconds remaining and sending the game into overtime.
Despite two players taller than him in Bradley Hayes and Stephen Domingo, each notable for having not played in the game at all, Caprio got the nod late in the game and it paid off with the pass to Starks. Thompson ended the second half with a lineup of Starks, DSR, Bowen, Cameron and Caprio, and those were the five that would play all five minutes.
Butler opened the overtime with a free throw and a dunk to lead 63-60, but was answered by Starks with a drive and a foul, 63-63. Each team took one of two from the line, but defense was the order of the period and entering the final minute, the score was tied at 64.
Butler called time out at the 10:03 mark. Following the inbounds pass, Alex Barlow's next pass was intercepted by the athletic reach by Bowen. Bowen and Starks led a two on one run, one of the few of the game, which resulted in a thunderous Bowen dunk and a 66-64 lead. On the next series, Butler went inside where 6-8 Andrew Charabasz went inside on 6-5 Caprio and picked up the foul, Caprio's fourth. (More than a few began to ask, if caprio picked up his fifth, what then would Georgetown do.)
Charabasz was 5-6 at the line to date, but his first rattled off to the groans of the hometown faithful. The subsequent to closed the lead to 66-65. Some groans from the Georgetown faithful were then heard as Caprio performed a similar 1-2 from the line at the 34 second mark, 67-65.
The Bulldogs set up for its last possession but Bowen was ready at the pass, picking off Khyle Marshall and finding Reggie Cameron streaking to the basket, 69-65, with 11 seconds to play. A quick Butler basket at the seven second mark closed to two, and Markel Starks was fouled , making one of two. With four second remaining, Butler carried its hopes on Dunham, who had taken only two shots in the final 11 minutes. His three pointer was off left, adn georgetown escaped with an improbably win given its lack of depth.
Butler fans really had seen this before. The Bulldogs' five losses this season have all been by five points or less, and three of its four Big East losses (Villanova, DePaul, and now Georgetown) were in overtime.
"I give Georgetown a lot of credit, they're a very good basketball team," said Butler coach Brandon Miller. "Starks made a very good shot at the end of the game to tie the game and send it to overtime. That's what older guys do, that's what tough guys do. Give credit to him, he made the play. Unfortunately, we didn't make enough plays to win the game. "
In hindsight, the Hoyas' defensive intensity on Dunham was notable. "Sophomore guard Kellen Dunham finished with 21 points for the Bulldogs, but was held to just 4 points in the second half on 1-9 shooting, including 0-6 from 3-point range," read the Butler news release from the game. "As a team, Butler shot a season-low 9.5% (2-21) from deep, but converted a season-high 25 free throws on a season-high 33 attempts."
The win was a team effort. Smith-Rivera led the scoring with 18 points, with 13 of Markel Starks' 15 points coming after half and Bowen coming up big with 11 points, five rebounds and two game-changing steals. Reggie Cameron was held to 1-5 shooting in the second half but finished with nine, while Moses Ayegba collected six points and eight rebounds in 15 minutes of play.
Georgetown's good fortune may be a transitory one, as Big East opponents will not make the same mistakes Butler did. With Josh Smith out of the lineup, Jabril Trawick injured, and an uncertain role for Nate Lubick, the Georgetown lineup is down to as few as seven active players. Caprio and Bowen may have been able to hold down the fort inside with Butler's shoot-first philosophy, but upcoming teams such as Xavier, Creighton, and Villanova will not be as generous.
For now, anyway, it's a hard fought win, Georgetown is 3-1, and every win is important as in-season tiebreakers find their way into the conversation down the stretch.
The Georgetown half of the box score follows below.

            MIN   2FG   3FG   FT  REB  A  PF  PTS
Starters:                                 
Starks       44   3-7   2-7   3-7   5   1  2   15
Smith-Rivera 44   6-11  1-5   3-3   7   5  2   18
Cameron      32   3-3   1-7   0-0   3   0  2    9
Hopkins      29   1-6   0-0   0-0   5   3  5    2
Lubick       16   3-6   0-0   0-1   3   1  5    6
Reserves:
Bowen        29   5-7   0-1   1-2   5   1  3   11
Caprio       16   1-1   0-0   1-2   4   2  4    3
Ayegba       15   3-3   0-0   0-0   8   0  5    6
Injured: Adams, Trawick
Did Not Play: Allen, Smith, Domingo, Hayes
Team Rebounds                       3
TOTALS      200  25-44 4-20   8-16 43  13 28   70

A few hours before Saturday's game versus Butler, it was disclosed that junior forward Jabril Trawick was out of action indefinitely with a broken jaw suffered Wednesday versus Providence.
"It's a tough blow for our team because of the presence that Jabril provides for us," sad coach John Thompson III in a release at GUHoyas.com. "We're hoping to have him back on the court as soon as he is cleared to play and in the meantime, some of our guys will have to step up in his place."
Trawick traveled with the team to Butler this past weekend.
Almost one year ago, an undisclosed academic shortcoming sidelined Greg Whittington for a Jan. 16 game against Providence and the subsequent remainder of the semester. Wednesday night, it was disclosed that junior center Josh Smith did not travel with the team for this week's road trip due to an "academic issue".
Details on the issue were not disclosed. Smith is averaging 11.5 points per game this season and his absence leaves the Hoyas especially weak at center, with Moses Ayegba averaging just 1.8 points per game and Bradley Hayes having played 13 minutes all season.
"It's cold outside."--Bill Raftery, Fox Sports 1
"Cold inside, too." --Gus Johnson, Fox Sports 1
We've seen this before, but it's no less comfortable.
Nine times since 2000 the Georgetown Hoyas have played on January 8, and the Hoyas have lost seven of them. Just a year ago, on January 8, 2013, the Hoyas were floored by Pitt, 73-45, but recovered soon thereafter en route to the Big East regular season title. This year's flatliner came at Providence, where the Friars' 70-52 win was only mitigated through some poor PC shooting that kept a disorganized Georgetown team close, at least for a while.
The win by Providence, who had been routed by 30 just four days earlier to Villanova, was its first in Big East play and ended an eight game losing streak to Georgetown dating to 2005.

Georgetown looked utterly disinterested at the start, missing its first five shots and falling behind 11-2 with no apparent spark of offense. Luckily for Georgetown, Providence was equally ineffective, shooting 30 percent in the first half as Georgetown was able to claw back into the game with a strong first half from Mikael Hopkins, with 10 points.

A strong first half was certainly not the case for senior guard Markel Starks, who shot 1-9 from the field at the break and 4-15 overall, and whose defense was clearly not up to his usual pace. A better first half effort followed from D'Vauntes Smith-Rivera, whose consecutive threes in a 20 second period tied the score at 21, but the Hoyas managed only one basket thereafter, giving up fouls on four straight possessions and a layup at the buzzer to end the first half, 28-23. Georgetown ended the half shooting 37%, many of which were missed layups and shots that a more focused team should legitimately have made.

The second half opened similarly. A 9-3 Providence run pushed its lead to nine, 37-28. Better defense and some renewed play by Mikael Hopkins closed the deficit to three at 37-34, but Georgetown's flagging perimeter defense left Josh Fortune open on consecutive series, leading the Friars on a 14-0 run that put the Hoyas down by an embarrassing 17 points, its largest deficit in a Big East game since the aforementioned Pitt loss a year ago.

Georgetown had no offensive rhythm. Starks was not aggressive in taking shots, Ayegba and Hopkins were often outmuscled in the paint, and off rebounds, the Hoyas were a step slow all evening. PC's flagging interior play allowed Georgetown numerous opportunities to come back, but the Hoyas had returned no consistent effort. Georgetown closed to 11 on a Smith-Rivera basket with 4:45 to play, but three pointers were plentiful for PC, with six in the second half compared to just 1-9 at halftime. A pair of uncontested baskets pushed the lead back to 14 within 35 seconds of Smith Rivera's basket, 59-45, and up to 17 at the 1:24 mark, 67-50.


Last win by PC
versus Georgetown
before Wednesday's game


Largest margin by
PC over Georgetown
before Wednesday's game


PC 3-pt. shooting
first half


PC 3-pt. shooting
second half


FG shooting,
Markel Starks


PC blocked shots


GU turnovers


PC points
off GU turnovers


Kadeem Batts led all Providence scorers with 21 points, while D'Vauntes Smith-Rivera led the Hoyas with 19. The starting Georgetown front line was a combined 2 for 9.
The Georgetown half of the box score follows below.

            MIN   2FG   3FG   FT  REB  A  PF  PTS
Starters:                                 
Starks       36   4-12  0-3   0-0   0   3  4    8
Smith-Rivera 34   4-7   2-3   5-6   5   2  3   19
Trawick      23   0-1   0-1   5-6   2   1  4    5
Lubick       30   2-6   0-0   1-2   9   0  2    5
Ayegba       19   0-2   0-0   1-3   7   0  2    1
Reserves:
Cameron       4   0-0   0-0   0-0   0   0  1    0
Hopkins      22   6-11  0-0   0-1   3   1  2   12
Bowen        25   1-2   0-0   0-0   6   0  4    2
Caprio        1   0-0   0-0   0-0   0   0  0    0
Domingo       6   0-0   0-0   0-1   0   0  0    0
Hayes         1   0-0   0-0   0-0   0   0  0    0
Injured: Adams
Did Not Play: Allen, Smith
Team Rebounds                       0
TOTALS      200  17-41 2-7   12-19 32   7 22   52

Forty years ago, Lefty Driesell famously sought for Maryland to become the "UCLA of the East". For Southern Methodist University coach Larry Brown, he wouldn't mind building the Georgetown of the West.
Monday's New York Daily News notes that Brown is calling upon some of the same strategies employed by John Thompson in a reviving an SMU program that has not appeared in the NCAA tournament in 21 years.
"Brown is using Big John Thompson as a role model," writes the Daily News. "Thompson took over a Georgetown program that had been middling to bad for two decades and made it one of college basketball's most successful."
"I look at what he did at Georgetown and thought, I know I am not John Thompson [but] I see there's potential for the same thing here," said Brown. "We've got a good city. It's a fine school in an improving [conference]. There's a lot of talent in the area."
Building a fan base is a priority for Brown. SMU spent $47 million to renovate its on-campus arena in preparation for joining the Big East, only to end up in the AAC. The debut game in the renovated facility came Saturday against UConn, where the crowd of 7,000 was its largest in 12 years.
When Brown arrived, "I didn't realize the amount of apathy. People didn't come to the games and didn't seem excited about who we played," he said.
With 20 first half points and 31 overall, sophomore D'Vauntes Smith-Rivera led Georgetown to an early blowout of St. John's, 77-60, at Verizon Center Saturday.
Georgetown entered the game following a tepid performance versus DePaul but Smith-Rivera set the tone early, with three threes in the first 3:08 of the half as Georgetown led early. 11-4. The Hoyas' half court defense gave the Redmen all sorts of trouble, and as turnovers mounted, so did its deficit. An 11-2 run gave Georgetown a 26-8 lead midway in the first half, with seven assists among nine field goals. St. John's scored one field goal over a 12 minute run, as Georgetown pushed the lead to 21 on a Markel Starks drive and 23 on a DSR three, his 20th point of the half. At that point, Smith-Rivera had outscored the entire St. John's team by seven points.
The Redmen finished the half shooting 5 for 27, a season low which contributed to a 26 point Georgetown lead, 42-16.
Georgetown led by as many as 33 in the second half. The Redmen were able to be more aggressive to the basket and whittled into the lead, and benefited from four second half threes from reserve forward Max Hooper. The Hoyas' regular scoring lull came midway in the second half, with the game out of reach, scoring on one field goal in an eight minute stretch but still holding a 19 point lead.
Both teams played hard down the stretch, with a 13 second stretch toward the end of the game resulting in three technical fouls between the teams for some minor pushing under the basket. St. John's had no offensive production for leading scorer D'Angelo Harrison, who entered the game averaging 19.6 points per game but finished 1-12 from the field.
Georgetown's win, the 100th in the series between the schools, is the Hoyas' sixth consecutive win in the series and its ninth straight over the Redmen at Verizon Center dating to the 2002-03 season.
The Georgetown half of the box score follows below.

            MIN   2FG   3FG   FT  REB  A  PF  PTS
Starters:                                 
Starks       36   2-6   2-3   2-2   5   4  2   12
Smith-Rivera 36   3-5   6-7   7-8   6   3  3   31
Trawick      26   3-3   0-1   3-5   2   4  4    9
Lubick       23   3-4   0-0   0-0   4   3  4    6
Smith        23   1-6   0-0   3-7   6   0  2    5
Reserves:
Cameron       4   0-0   0-0   2-2   0   0  0    2
Hopkins      24   1-3   0-0   0-1   2   2  3    2
Allen         1   0-0   0-0   0-0   0   0  0    0
Bowen        16   1-1   1-2   0-3   4   1  2    5
Caprio        1   0-0   0-0   0-0   0   0  0    0
Domingo       1   0-0   0-0   0-0   0   0  0    0
Ayegba        8   0-0   0-0   5-6   3   0  2    5
Hayes         1   0-0   0-0   0-0   0   0  0    0
Injured: Adams
Team Rebounds                       5
TOTALS      200  14-28 9-13  22-36 37  17 22   77

D'Vauntes Smith-Rivera's 31 points against St. John's was only the tenth game in John Thompson III's ten seasons at Georgetown where a Georgetown player has scored 30 or more points in a single game:
| | | | | | | | | |
| --- | --- | --- | --- | --- | --- | --- | --- | --- |
| 3/10/07 | W | 84 | 82 | | vs | Notre Dame | Madison Sq.Garden | Green, 30 |
| 12/23/09 | W | 86 | 70 | | | Harvard | Verizon Center | Wright, 34 |
| 1/9/10 | W | 72 | 69 | | | Connecticut | Verizon Center | Freeman, 33 |
| 11/27/10 | W | 82 | 67 | | | UNC-Asheville | Verizon Center | Freeman, 32 |
| 11/30/10 | W | 111 | 102 | OT | vs | Missouri | Sprint Center | Freeman, 31 |
| 1/29/11 | W | 69 | 66 | | at | Villanova | Wells Fargo Center | Freeman, 30 |
| 1/17/12 | W | 83 | 75 | | at | DePaul | Allstate Arena | Clark, 31 |
| 2/20/13 | W | 90 | 66 | | | DePaul | Verizon Center | Smith-Rivera, 33 |
| 2/23/13 | W | 57 | 46 | | at | Syracuse | Carrier Dome | Porter, 33 |
| 1/4/14 | W | 77 | 60 | | | St. John's | Verizon Center | Smith-Rivera, 31 |
---
HoyaSaxa.com: The One-Stop Web Site For Hoya Basketball™
An independent web site not affiliated with Georgetown University. All rights reserved.