Three years after becoming a high school girls basketball coach, former Georgetown forward Boubacar Aw (C'98) takes a look back at his transition into coaching, per a feature at the Port City (NC) Daily.
"Thereís no question itís between night and day from playing at Georgetown under scholarship to learning how to become a coach," Aw said. ďOnce you become a coach you need to become a teacher and try to lose the mindset as a player. "
"One of the biggest things I took from my time at Georgetown was that sense of family," Aw said. "That was one of my goals when I came here was to create an environment where we all felt comfortable around each other, will put everything on the line for each other and work as a family and unit.
"Itís never personal on the basketball court, and I look at it a lot like being a father figure. When you mess up Iím going to try to help guide you to not make the same mistakes. To this day Iím still reminding the girls that weíre family and I care for them and want them to be the best they can be."
Various media reports are citing a verbal commitment to Georgetown from Kaleb Johnson, a 6-6 forward from the class of 2015.
Johnson, from Martinsville, VA, averages 23 points asnd 12 rebounds per game as a senior, but at 6-6, 185 lbs. will have to adjust to a more physical college game. Johnson selected Georgetown over Tennessee, Georgia Tech, and William & Mary, among others.
Johnson would be the fourth new entrant to the Hoyas in 2014-15, joining Marcus Derrickson, Jessie Govan, and Louisville transfer Akoy Agau.
Efforts like this from the Georgetown Hoyas are usually found in the preseason, or sadly, in games against teams named Ohio or Florida Gulf Coast. But in conference play, the college basketball world frankly expects a higher level of performance from coach John Thompson III and his team. But not tonight.
The #21-ranked Georgetown Hoyas were no match in a fitful 66-53 loss to a Xavier team which had not won a Big East road game this season. The Hoyas, who put 95 points on the board at Marquette, were nothing short of awful in a first half that scored just four field goals against 13 turnovers and never seriously threatened a Xavier team that managed just 40 percent shooting for the evening. The Hoyas had more turnovers (17) than field goals (16) in its worst effort of the season.

The contest started poorly for both schools, combining to miss eight of its first 10 shots in the first four minutes of play. Georgetown's second and final lead of the game came at the 14:28 mark of the second half via an L.J. Peak three pointer, but the Hoyas were giving up the ball more than they were shooting it. By the midway point of the first half, Georgetown had as many turnovers (6) as shot attempts (7).

With 11:17 to play in the first half, Aaron Bowen's layup closed the deficit to 11-8; certainly, no reason to panic. The remainder of the half was a case study in Xavier's ability to play good defense and the complete absence of Georgetown to do anything about it. The Hoyas missed seven straight attempts that was not interrupted until a basket at the close of the half, a humbling run of over 11 minutes without a basket. There was little in the way of urgency among the players or the staff--coach John Thompson III called just one time out over the first half minimum to change the flow and chose not to extend the bench beyond its normal pattern. The starters played 70 percent of the first half and contributed two field goals.With 13 turnovers by halftime, Xavier's 29-16 lead was remarkable in that it was not twice that amount given the performance on the court and the tepid response from the crowd of 8,576 at Verizon Center.

Isaac Copeland's basket at the conclusion of the first half spared the Hoyas the fewest first half points for a Georgetown team in the shot clock era, but the statistics from the first 20 minutes were no less startling:


GU shooting, 1st half


Offensive rebs.,
1st half


Assists,
1st half


Tunovers,
1st half


Field goal,
final 11:17 of
1st half


Points in paint,
Xavier adv.,
1st half


Amount of time
GU led in
this game



            MIN   2FG   3FG   FT  REB  A  PF  PTS
Starters:                                 
Smith-Rivera 15   0-2   0-0   0-0   1   0  1    0
Trawick      14   1-1   0-1   2-3   2   0  2    4
Copeland     14   1-1   0-2   0-0   2   0  1    2
Hopkins      16   0-1   0-0   0-2   3   0  0    0
Smith        11   0-1   0-0   3-4   1   1  1    3
Reserves:
Peak          3   0-0   1-2   0-0   0   0  2    3
Campbell     10   0-0   0-0   0-0   1   0  0    0
White        11   0-1   0-3   2-2   3   1  1    2
Bowen         6   1-1   0-0   0-0   1   0  0    2
Team Rebounds                       1
TOTALS      100   2-8   1-8   7-11 14   2  8   16

D'Vauntes Smith-Rivera, continuing a trend of absentee first half shooting, was scoreless at the half and picked up his pace to begin the second. Three times the Hoyas drove to within striking distance but could never get over the hump. An Isaac Copeland three at the 16:35 mark closed Georgetown to 40-30 but the X-men extended it back to 15, A Josh Smith basket (his first of the game) with 12:50 to play cut the lead to 40-30 and the Musketeers then scored the next eight. Georgetown's only sustained "run" of the game came with under five minutes remaining, closing a 12 point lead to seven, but the Hoyas again wilted late. The Hoyas missed its next four attempts from the field and Smith missed the front end of a one and one which could have closed the lead to six.
Emblematic of the Hoyas' inattention to detail came with 1:25 remaining, where Xavier was inbounding the ball underneath its basket. The Georgetown defense had closed off all the options outside, but a GU defender looked the other way when guarding Xavier center Matt Stainbrook, standing aside the inbounds player. Guard Dee Davis simply tossed the ball to Stainbrook, who laid it up without a fight.
Myles Davis led the Musketeers with 19 points on 6 for 9 shooting. Smith Rivera, shooting 5 for 14, led the Hoyas with 14.
For the game, Xavier had one more field goal than Georgetown and it would be easy to say the game was lost at the line (X: 25-32, G: 13:24) but it really wasn't. This game was lost in every facet of play, every facet of coaching. While Xavier is a traditionally tough opponent for georgetown given its combination of guard play and inside options that mirrors Georgetown, the Hoyas weren't a factor in this one. Mental mistakes, turnovers, and inattention to foul shooting are all evidence of a team not prepared to play Tuesday night.
If there was blame to go around, and there was, head coach John Thompson III wasn't about to say it publicly in post game comments.
"I don't know how, big picture, to sum up today," he said. "We did not play well, they played very well...You have to give them credit to how well they played. We just have to be better."
"I felt like [we] would be ready to go," said Xavier coach Chris Mack. "I thought the difference in the game was just how we came out and defensively our guys did a great job of limiting them to only one shot. To go in the first half and have [Georgetown] not get an offensive rebound, despite having 12 misses from the field, I can't say enough about the way our guards rebounded and blocked out. They did an excellent job."
Next up for the Hoyas: a Creighton team looking for its first conference win. Anything close to an effort like Tuesday's game will be Creighton's best opportunity to do just that.
The Georgetown half of the box score:

            MIN   2FG   3FG   FT  REB  A  PF  PTS
Starters:                                 
Smith-Rivera 35   3-7   2-7   1-2   0   2  2   13
Trawick      29   1-3   1-2   2-3   6   1  4    7
Copeland     26   1-1   1-3   0-0   2   0  3    5
Hopkins      26   0-1   0-0   0-2   4   0  4    0
Smith        24   3-4   0-0   4-9   5   2  4   10
Reserves:
Peak         10   1-2   2-4   4-5   0   0  4   12
Campbell     23   1-1   0-3   0-1   2   0  0    2
White        14   0-1   0-3   2-2   4   2  1    2
Bowen        13   1-1   0-0   0-0   3   1  1    2
Team Rebounds                       2
TOTALS      200  11-21  6-22 13-24 28   9 23   53

The Georgetown Hoyas survived 13 threes at the hot hand of the Marquette Warriors and gutted out a thrilling 95-85 win in overtime Saturday at Milwaukee's Bradley Center, only the second GU win ever at Marquette.
The two teams entered Saturday's game ranked 1-2 in team defense with the Big East but that was out the window early. Marquette guard Matt Carlino hit on each of his first four attempts from the field, all threes, within the first five minutes of play, sending Fox Sports announcer Eric Collins to channel his inner Gus Johnson in raising the praise for Carlino's efforts. Georgetown wasn't far behind with a pair of threes from D'Vauntes Smith-Rivera and six points from Mikael Hopkins to tie the score art 14 with 14:09 in the first half. marquette did not attempt a two point shot for nearly seven minutes in the contest.
Georgetown's lineup saw some significant changes in the game. Three minutes into play, L.J. Peak's ankle was injured when Jabril Trawick collided with him after a foul. He returned for about two minutes in the first half but was sidelined thereafter. Trawick played just nine minutes in the first half and one minute of the second, and he was out of action thereafter, forcing Georgetown coach to initiate a rotation among senior Aaron Bowen and freshmen paul White, Isaac Copeland, and Tre Campbell.
Marquette's 75 percent shooting to open the game was remarkable, but five early turnovers prevented the score from getting out of hand. Instead, it was Georgetown that controlled the pace of the game, thanks to an 8-0 run that gave GU a six point lead midway in the first half. The Warriors closed to one possession on four different occasions in the first half but the Hoyas answered each one of them.

Leading 42-37 entering the final minute of the half, a pair of possessions would be invaluable in the half that followed. With two seconds on the shot clock, a miss from Copeland was scooped up by Josh Smith, who fed Smith-Rivera on the wing for Georgetown's fifth three pointer of the half, 43-37. Following a late foul call on Josh Smith and a pair of Marquette free throws with there seconds to halftime, guard Tre Campbell raced down the court and took a shot with his foot grazing the three point arc. The shot connected at the buzzer and was ruled a two pointer, giving Georgetown a 45-39 lead at the break.

The halftime numbers were strong for both teams. Marquette shot 62 percent from the field, with five e three pointers and just two turnovers in the final 15 minutes of action. Georgetown shot 58 percent, with five threes, and a 14-10 advantage on the boards.

The Hoyas got out early in the second, with a Paul white three 16 seconds into the half to lead by nine, 48-39. But a 2-2-1 zone press, a pair of early turnovers, and the arrival of Duane Wilson energized the Warriors' cause. Wilson had just four points at the half but scored a free throw and back to back threes to tie the score at 48. Georgetown was in the midst of a five minute span where it could not score, relying on expert free throw shooting from Mikael Hopkins to stay above water. When Georgetown's shots returned, it was from the freshmen,. as a Campbell three and two baskets from Copeland keyed a 10-3 run and an eight point lead a the the 11:34 mark.

Marquette answered with a 10-2 run of its own. taking advantage of gaps in the georgetown defense, the warriors went inside on consecutive possessions before reserve guard Sandy Cohen tied the score at 64 with just over nine minutes to play, and neither side would lead by more than three for the remainder of regulation.

Expert free throw shooting carried the Hoyas down the stretch, but Matt Carlino rediscovered the three point line and Marquette pushed out to a 71-69 lead before Aaron Bowen tied the score on a driving basket with 4:14 to play. With each possession, Georgetown was hanging on to a narrow lead.


Lead changes


MU 3-pointers,
Carlino and Wilson


MU 3-pointers,
rest of team


GU free throws,
1st half


GU free throws,
2nd half


GU free throws,
overtime


MU shooting,
overtime


GU adv.,
bench points


GU assist to
turnover ratio


GU record
leading at halftime


Down one with 1:22 to play,. Smith was fouled and sank both free throws, 77-76. Wilson was fouled on the next possession but missed the front end of a one and one, whereupon Copeland hit a running jumper to put the Hoyas up 79-76. Wilson answered with a long three, 79-79. One Georgetown's final possession, Smith was fouled down low by Marquette center Luke Fischer and Smith hit both free throws to put Georgetown up 81-79 with 5.9 seconds to play. On the ensuing play, Marquette's Matt Carlino took a cue from Tre Campbell's first half ender and launched a shot with 0.9 remaining that was ruled a two point attempt, 81-81, and confirmed three minutes later via video review. Carlino almost became the game winner again when he intercepted Mikael Hopkins' inbound pass, but his shot sailed wide.
The late foul on Fischer was his fifth and Georgetown hoped to go inside during the overtime. Free throws were Georgetown's only points for much of the period, while Wilson sank his sixth three of the game to give the Warriors a 84-82 lead with 3:18 in the overtime. After a pair of free throws by Smith-Rivera which represented his first points since the first half, a Cohen miss set up Hopkins inside for two more free throws and an 86-84 lead.
Smith picked up his fourth foul with 2:07 remaining, but Wilson missed the back end of the two shot foul. Leading 86-85, the Hoyas were running out of shot clock time when Smith Rivera swung the ball to Campbell in the left corner, with a three pointer that blew open the game, 89-85 with 56 seconds remaining. The Warriors missed its next three attempts as Georgetown put the game away on the line; in fact, Campbell's three was the only field goal in overtime for the Hoyas.
D'Vauntes Smith Rivera had a team high 19 points despite no field goals after halftime. Big, big efforts were turned in by Josh Smith with 18 points and a career high 15 rebounds, including two free throws with 5.9 seconds in regulation. The freshmen came up big, with 17 points from Isaac Copeland and 14 points from Tre Campbell, including the three pointer in overtime. Mikael Hopkins turned in a career game a the line 11 of 12, while Aaron Bowen had 11 off the bench the absence of Peak and Trawick was answered with 45 points off the GU bench in response. The three reserves with 10 or more points is only the fifth time a Georgetown bench has scored 10 or more points from three players in the Big East era.
Matt Carlino and Duane Wilson accounted for 52 points and 13 three point field goals for the Warriors (10-9), who lost their fourth Big East game by four points or less this season.
The Georgetown half of the box score:

            MIN   2FG   3FG   FT  REB  A  PF  PTS
Starters:                                 
Smith-Rivera 43   0-2   5-8   4-5   1   5  2   19
Trawick      10   0-1   0-1   0-0   0   2  1    0
Peak          5   0-0   0-1   0-0   1   1  0    0
Hopkins      22   1-3   0-0  11-12  5   1  2   13
Smith        31   6-8   0-0   6-7  15   2  4   18
Reserves:
Campbell     28   2-3   2-4   4-4   4   1  0   14
Cameron       4   0-0   0-1   0-0   0   0  0    0
Copeland     39   6-10  1-3   2-3   6   4  2   17
White        20   0-3   1-2   0-0   4   3  5    3
Bowen        23   5-7   0-1   1-1   0   2  3   11
Team Rebounds                       0
DNP: Allen, Williams, Mourning, Hayes
TOTALS      200  20-37  9-21 28-32 36  21 19   78

Additional coverage follows below.
A lot can change with a little momentum, and with its wins over Butler and Villanova, Georgetown is attracting renewed attention from the national press.
"Georgetown is back on script, which means the Hoyas have returned to a familiar spotófirst place in the Big East," writes Joseph White of the Associated Press.
"Our freshmen continue to settle in," said coach John Thompson III. "They are all getting more comfortable and are playing now, instead of thinking. They are playing better, and thus we are playing better."
The article asks whether Georgetown is a "hard sell" to recruits in the one-and-done world of modern college basketball.
"I canít speak to the world," Thompson said. "I know what is important here, and what has always been and what always will be important here. And regardless what anyone does or doesnít do, this is Georgetown."
"This place is not for everybody, thatís a fact, but if you embrace what everyone else does, embrace this institution on and off the court, thereís no better place."
Isaac Copeland's back to back efforts against Butler and Villanova are attracting the attention of media outlets such as this article from NBC Sports.com, but it's not a surprise within the Georgetown huddle.
ďItís not like everyone in the locker room is going to say, 'Oh, Isaac is pretty good,'" said coach Thompson after the Butler game. "They know that. Thatís something that has happened through weeks and months of workouts and watching and playing with him. The trust has been there."
"But itís the freshmen that not only give Thompson the depth to be able to play an eight-man rotation, but they allow him the kind of lineup versatility that keeps Georgetown from running into too may mismatches," writes NBC' Rob Dauster. "Copeland, when heís playing well, can be used at either forward spot thanks to his length, athleticism and skill on the perimeter, while White can guard the two or the three. If Thompson needs to go big, he can use Copeland or White on the perimeter with Hopkins and Smith up front. If he needs to go small ó like he did against Villanova ó he can play White and Copeland at the forward spot alongside Hopkins, a lineup that proved very effective for Georgetown on Monday.
"This was expected out of [the freshmen] as soon as they got on campus," said senior Jabril Trawick. "I told everyone that they were capable of being big for us, and thatís what theyíre doing right now."
Fox Sports is nearing a deal to assume multimedia rights for Georgetown athletics, per a report in Sports Business Daily.
Fox is attempting to build market share in a college sports market dominated by IMG and Learfield Sports, with over 170 Division I schools between them. A multimedia deal signed by Fox with USC in 2011 covered such items as radio advertising, corporate sponsorships, and game day promotions. The USC deal was valued at $7 million annually for the school, although Georgetown's lack of I-A football properties would likely bring in a smaller sum. Terms have not been disclosed.
Georgetown had a rights deal in the early 2000's with Nelligan Sports Marketing, which was acquired by Learfield in 2014. The roles were taken in-house in 2005.
In its most dominating defensive performance since its Big East regular season title win over Syracuse in 2013, the Georgetown Hoyas put on a first half show and survived two second half runs in a 78-58 win over #4-ranked Villanova Monday before 13,872 at Verizon Center. Georgetown's margin of victory is the largest over any Top 10 opponent since Allen Iverson led the Hoyas to a 106-68 win over a #6-ranked Wildcats team in 1996.
The Hoyas were energized early in this one, racing out to an 11-4 lead on the back of threes from D'Vauntes Smith-Rivera and Paul White. A basket from Villanova's Ryan Arcidiacono closed the lead to 13-11, but the Wildcats' fast-paced ground game was shut down over the following eight minutes as Villanova missed eight shots and surrendered five turnovers in its next 13 possessions. A Isaac Copeland jumper gave Georgetown a 15-12 lead at the 10:42 mark and the points began to rain: a three from DSR, a drive from Aaron Bowen. Copeland then scored on back to back plays, followed by a pair from Bowen and Josh Smith and two free throws from Copeland. A foul above the three point line by Mikael Hopkins offered Villanova its best chance to halt a 17-0 run, and they hit only one of three. A Daniel Ochefu basket at the 4:54 mark was VU's first basket in nearly eight minutes, now trailing by 17.
A Jabril Trawick three pushed the lead to 20 at the 2:06 mark, and the Hoyas took a 42-20 lead at the break. A Villanova team who averaged 10 turnovers per game had 10 by halftime and shot just 27 percent, while Georgetown picked up 16 points off turnovers compared to just two for Villanova. No less effective: outside shooting, where the G-men sank 4 for 5 compared to 1-6 for the Cats.

The Hoyas led by as many as 26 with 17:48 to play, but the Wildcats tried its best to turn this into a foul shooting contest. With Trawick sidelined after taking a hand to the face early in the second half, Arcidiacono went to work, with a three at the 14 minute mark to close to 17, 50-33, this as Georgetown sent Villanova into the bonus with more than 13 minutes to play. A tightly officiated game also sent Villanova into the one-and-one soon thereafter, and every possession got a little tighter. By the midway point of the half, 20 fouls had been called across the two teams.

Baskets by Smith and Copeland pushed the GU lead back to 55-36 with 12:523 remaining, but the Cats turned up the heat with free throws and an Arcidiacono three to close to 55-41 with 11;39 left. Paul White answered with a big three to hold back the rally, and the teams exchanged free throws until Arcidiacono heated up again from outside and the Cats closed to 60-48 with 9:34 to play, a run of 24-12 since the 17 minute mark.


Villanova assists,
prior two games


Villanova assists,
this game


GU adv.,
points in paint


GU adv.,
pts off turnovers


Total fouls called
on both teams


The teams stayed on the line over the next three minutes, with Georgetown taking a 63-50 lead with 7:26 remaining. There was still enough time where a lead cut to 10 or fewer might have given Villanova the spark to complete the comeback, but over the next three possessions, the Hoyas' defense forced two turnovers and a soaring block by L.J. Peak. Baskets from Smith and Copeland pushed the lead back to 17, 68-50, and the Wildcats never threatened thereafter. For the second half, the two teams attempted 46 free throws compared to just 39 field goal attempts.
"Every time we got it to 12 or 13, I thought we were going to win the game," said Villanova coach Jay Wright. "Sometimes the other team, it is just their night. We get it to 12 and have the ball on the out-of-bounds play in front of us and they overturn the call. That's not going to change the game now, but it is just a crazy play right in front of you. But I did, I kept thinking that we got back that we were going to do it. "
The stat sheet will say that Jabril Trawick had only 10 points, but this was an absolute career performance for the senior from Philadelphia. On both ends of the court, his effort was remarkable, and alongside a career high 17 from Isaac Copeland, the #5-ranked Wildcats were challenged at every turn. Copeland, averaging just over four points a game entering the three day weekend, scored a total of 27 off the bench in his last two games.
On Trawick, "he made it happen", said Georgetown coach John Thompson III. "His effort, his energy, he's getting beat up out there and he comes in, not necessarily scoring baskets, but making plays at the defensive end, on the boards, making passes at the offensive end...It was a selfless game making plays that might not show up on this [stat] sheet."
Georgetown got 17 points from Smith-Rivera, who despite shooting 3 for 10 carried 9 of 10 from the free throw line. Strong defensive efforts from Josh Smith and Mikael Hopkins neutralized Daniel Ochefu and JayVaughn Pinkston, who combined to shoot just 2 for 7. Arcidiacono led the Cats with 16 points, shooting 4 of 5 from three point range while the rest of the team combined for 3 for 18 from long range and 34 percent overall.
The Georgetown half of the box score:

            MIN   2FG   3FG   FT  REB  A  PF  PTS
Starters:                                 
Smith-Rivera 37   1-7   2-3   9-10  3   2  3   17
Trawick      26   1-1   2-3   2-2   2   1  1   10
Peak         30   3-5   0-3   2-6   2   1  4    8
Hopkins      20   0-1   0-0   3-5   5   3  4    3
Smith        24   4-6   0-0   1-2   8   2  4    9
Reserves:
Campbell      2   0-1   0-0   0-0   0   0  0    0
Cameron       1   0-0   0-0   0-0   0   0  0    0
Copeland     25   5-6   0-0   7-8   6   0  2   17
Allen         1   0-0   0-0   0-0   0   0  0    0
White        17   1-1   2-2   1-1   1   1  3    9
Williams      1   0-0   0-0   0-0   1   0  0    0
Bowen        15   2-5   0-1   1-2   3   1  3    5
Hayes         1   0-0   0-0   0-0   0   0  0    0
Team Rebounds                       3
DNP: Mourning
TOTALS      200  17-33  6-12 26-36 34  11 24   78

Additional coverage follows below.
A three pointer from freshman Isaac Copeland with five seconds remaining rescued a struggling Georgetown team in a 61-59 win over Butler at Verizon Center Saturday.
Despite a nearly empty upper deck, the announced crowd of 14,281 saw the Hoyas battle back from an early deficit but never put the Bulldogs away, replying on a pair of defensive stops to turn the tide.
After two early layups, the Hoyas went into its predictable shooting slump early in this one, with a four minute drought from the field and an early 8-6 deficit at the 15:00 mark. A 7-0 Butler run moved its first half lead to six at 15-9, followed by a pair of layups by forwards Kellen Dunham and Roosevelt Jones to lead by seven, 19-12. Throughout this period of the game, the Hoyas showed few signs of life, and the staff chose not to call any time outs to reverse the3 trend.
Another shooting drought was in play, this one more severe. From a 15-13 deficit at the 10:40 mark of the first half, the Hoyas did not score a field goal for the next nine minutes, staying in the game only at the free throw line and a run of some remarkably poor shooting by the Bulldogs. Mikael Hopkins' tip-in at the 1:44 mark was part of a 6-1 run that closed the Butler lead to 31-27, with Dunham and Jones accounting for 25 of Butler's 31 points, with the remaining team shooting 1 for 10. The Hoyas ended the half with more free throws (10) than field foals (8), shooting just 30 percent at the break.
Georgetown started the second half in much the same cloud they had started the first, missing three of its first four shots until Jabril Trawick scored six straight points in a 10-0 run that gave Georgetown a 39-36 lead five minutes into the half. The Hoyas led by as many as six, 46-40, until ones and Kerlan Martin led the Bulldogs back on a 11-3 run and a 51-49 lead at the eight minute time out.
With 5:26 to play, a three by D'Vauntes Smith-Rivera woke up the home crowd and gave e Georgetown a 52-51 lead, and every possession thereafter was a defensive stand. Jones was a one-man scoring show for the Bulldogs, where he drove to the basket to give Butler a 55-54 lead with 3:27 to play, then repeated it with 1:42 to play to go up 57-56. A missed shot from L. J. Peak was rebounded by the Bulldogs with 1:18 to play, but Jones was stripped of the ball by Jabril Trawick with 50 seconds to play, where he found DSR for a jumper and the lead, 58-57.
Off a Butler timeout, the Bulldogs went back to Jones, who got past Peak inside for a layup and a 59-58 lead with 12 seconds to play. On the ensuing play, Trawick found Isaac Copeland alone on the wing for an open three, 61-59, with four seconds remaining. Butler's last play saw Jones drive inside, but a Smith-Rivera block under the basket sent the ball out of bounds as time expired.
"To tell you the truth, we left the decision up to Jabril," said coach John Thompson III on the game winning pass. "We had Isaac on the single side and D'Vauntes and L.J. on the other side and told Jabril just get to the rim and if they collapse on you and one of those three are open kick it out. He made a terrific play, a terrific decision. His man inched in a little bit and he snapped it to [Copeland] and he made the shot. It was designed to get Jabril on ball and have three shooters out there with him and let him make a decision."
"I saw Alex Barlow lining up to guard me as I was coming down the court and Josh Smith was coming up to set the screen, when I was going over in the right direction I saw Barlow inch over into onto the right side of the screen so I just refused it and Isaac was wide open," Trawick remarked. "As Coach Thompson always says, one of our mottos is `trust each other' so I snapped it to him and he made a big play for us."
"We had a way that we were going to play the ball if it went into the post," said Butler coach Chris Holtmann. "We were defending ball screens if [Smith-Rivera got] off of them. They just made a nice play and pass. I don't fault [Kameron Woods] at all for being where he was. Copeland stepped up and made a big shot."
Jones was the star of the second half, with 16 of his game high 28 points. Conspicuously absent was forward Kellen Dunham, with 13 points at the half but no shots whatsoever in the second.
'We'll have to go back and look at film of that," said Holtmann. "I don't know if there was anything they did necessarily differently, other than pay him a lot of attention."
Georgetown shot just 40 percent for the game, with 14 from Smith-Rivera and 10 each from Trawick, Smith, and Copeland, the latter a career high, along with six rebounds for the 6-8 freshman.
The Hoyas remain home for a Monday night game versus Villanova.
The Georgetown half of the box score:

            MIN   2FG   3FG   FT  REB  A  PF  PTS
Starters:                                 
Smith-Rivera 38   2-6   2-5   4-4   3   3  3   14
Trawick      30   3-4   0-1   4-6   3   6  0   10
Peak         26   2-7   0-1   2-2   3   0  3    6
Hopkins      24   4-9   0-0   0-0   8   1  1    8
Smith        19   3-5   0-0   4-6   4   1  3   10
Reserves:
Campbell      8   0-0   0-1   0-0   0   0  2    0
Cameron       4   0-0   0-0   0-0   0   0  0    0
Copeland     23   2-5   2-2   0-0   6   2  0   10
White         5   0-0   0-0   0-0   3   0  2    0
Bowen        23   1-6   0-0   1-2   2   1  1    3
Team Rebounds                       3
DNP: Cameron, Allen, Williams, Mourning, Hayes
TOTALS      200  19-42  4-11 15-20 35  14 15   61

Additional coverage follows below.
When Butler comes to town, the school brings along its mascot, Blue III, and lots of Twitter-friendly photos follow. Via the Sporting News, some views of the Big East's top dogs in action.
The Georgetown Hoyas picked up a key road win Tuesday in suburban Chicago, as D'Vauntes Smith Rivera scored 11 of the team's final 12 points in a 78-72 decision over DePaul, Georgetown's first road win in nearly a year.
A spirited first half saw the Hoyas and Blue Demons scoring at ease on both sides of the court. DePaul (9-9) made eight of its first nine shots, including two three pointers, in building a 19-11 lead. Georgetown answered back with baskets from Hopkins and Smith Rivera to close to 19-18 at the 11:27 mark of the first half, but did not take the lead until four minutes later, when three pointers on the Hoyas' next three possessions gave Georgetown a 29-27 lead.
A pair of jumpers by Aaron Simpson regained the lead for the Demons, but both sides were putting up the points. Baskets by Smith-Rivera and Trawick brought the score back for Georgetown as part of a 9-2 run which saw the Hoyas take a five point lead with 2:06 to halftime. DePaul wasn't going away, thanks to the expert shooting of guard Myke henry who was 5 for 5 from the field and closed the lead to 42-39 in the final minute before a late basket by L.J. Peak brought the Hoyas to a 44-39 lead at the break. The two teams combined for 32 field goals and 55 percent shooting in the first half, with a combined 15 assists and just six turnovers between the two.

The second half opened with DePaul committing a shot clock violation, a sign that this was not to be the free-wheeling run of the first half. The Hoyas could not get shots off, and early defensive fouls were much in evidence--Mikael Hopkins picking up his second off a screen, followed by whistles against Trawick and Josh Smith. Georgetown did not get its first point of the half for almost five minutes of play, a Smith-Rivera three that was GU's only such three of the half.

Up two at the 11 minute mark, a foul by Aaron Bowen apparently resulted in some cross words by the senior forward, who was cited with a technical foul. Four free throws handed DU a 49-47 lead. Bowen answered with a basket of his own, only the second GU field goal of the half, with 10:54 to play. Layups by Myke Henry and Billy Garrett gave DePaul its largest lead of the half at 53-49, but the Georgetown defense began to move DePaul to the perimeter and enforce its defense inside, with positive returns.

Myke Henry picked up his third foul and the demons lost their scoring punch, missing six of its next seven attempts as Georgetown took a 62-57 lead with 6:27 to play, much of it via the foul line. More free throws followed, including two pairs at the line by Mikael Hopkins which gave Georgetown a 68-60 lead with 4:38 to play, an overall run of 11 straight FT's by the Hoyas. A steal and basket by Smith-Rivera pushed the lead to 70-60 with 3:43 remaining.


FG shooting,
both teams,
1st half


FG shooting,
both teams,
2nd half


GU fast break
points, 2nd half


GU shooting
1st half


GU shooting
2nd half


GU FT shooting
1st half


GU FT shooting
2nd half


Billy Garrett helped the Demons climb back in--a jumper at the 2:04 mark, then two free throws after a three point attempt from DSR failed. An Isaac Copeland traveling call at the 59 second mark rallied the announced Allstate Arena crowd of 6,263, where Aaron Simpson picked up an inside layup and foul to close to 72-68. Simpson missed the key free throw, and the Blue Demons never got any closer. Smith-Rivera was fouled on the next four Georgetown possessions, making six of his eight attempts.
Smith-Rivera led all scorers with 25, followed by 11 points from Jabril Trawick, all in the first half. Mikael Hopkins had a much better effort at the free throw line by going 5 for 6 in this game, finishing strong with seven points and six rebounds before fouling out. As a team, Georgetown came up big at the line, shooting 81 percent on 26 for 32, with four of the six misses coming in the final two minutes of play.
DePaul placed four in double figures, led by 17 from Myke Henry, who was held to just four points after the half and none in the final ten minutes of the game.
The Georgetown half of the box score:

            MIN   2FG   3FG   FT  REB  A  PF  PTS
Starters:                                 
Smith-Rivera 35   3-8   3-6  10-13  8   4  2   25
Peak         31   3-6   0-2   2-2   3   1  2    8
Trawick      32   3-3   1-2   2-3   3   0  1   11
Hopkins      26   1-1   0-0   5-6   2   2  5    7
Smith        24   3-4   0-0   2-2   4   3  3    8
Reserves:
Campbell      8   0-0   1-2   0-0   0   0  1    3
Copeland     20   1-1   1-2   3-3   4   0  1    8
White        11   0-2   0-1   2-2   3   0  3    2
Bowen        11   3-6   0-0   0-1   3   0  3    6
Team Rebounds                       2
DNP: Cameron, Allen, Williams, Mourning, Hayes
TOTALS      200  17-31  6-15 26-32 32  10 21   78

Additional coverage follows below. There was no Washington Post story filed online as of 6:00 AM Wednesday.
After a weekend of negotiations, the NBA's Boston Celtics have traded Jeff Green (C'12) to the Memphis Grizzlies for a future first round pick, reports the Boston Herald.
Green averaged 17.6 points and 4.2 rebounds this season, but his inconsistent play opened the door for the Celtics to lower its salary cap and build for next year.
In an Instagram message, Green thanked the fans of Boston. "Thank You to all the true Celtic fans and supporters of mine during my years as a Celtic. Thank You To the Organization for giving me a chance after my heart surgery and for being there for me during that tough time. The city of Boston will always hold a special place in my heart. Thank You."
From Slam Magazine, an analysis of Kentucky's season to date asks the following: how do they compare to one of the all-time defensive greats, namely, the 1983-84 Georgetown Hoyas?
"Calipariís team is bigger than we were, and his big guys can move their feet very well," said former coach Craig Esherick (B'78, L'82), an assistant on the 1983-84 team. "Iíve been impressed with how [last yearís] high school stars have bought into the defense."
"Esherick still considers that Ď84 Georgetown defense the best of all time, and he wonít judge whether the Wildcats are better until after the season plays out," writes Slam's Evin Demirel. "But he does find what Kentucky has done so far all the more impressive because todayís offenses are more difficult to contain."
On a day when Providence College honored its 1994 Big East champs, the two teams in Saturday's game seemed to channel the defensive-minded, poor shooting ways of the early 1990's Big East. And much like the March 7, 1994 game between these two teams at the Providence Civic Center, an overtime finish favored the Friars, this time in a 60-57 win that exacerbated the visible offensive deficiencies of the Georgetown Hoyas in zone coverage for 2014-15.
From an early 3-2 deficit, the Friars went on a 7-0 run and led through much of the first half. Taking the nod from a Marquette team that frustrated the Hoyas in the second half of its game on Jan. 6, the Friars moved into a zone defense early and basically dared the Hoyas to score. Outside of a pair of Paul White baskets and a drive from L.J. Peak, the Hoyas were largely unable to respond, missing 14 of 17 shots in the first 12 minutes of the half.

Not that Providence wasn't any better--the Friars missed 12 of 13 attempts until a Mikael Hopkins goal tend extended its lead to 13-9 at the 8:23 mark. Baskets by Josh Smith (inside) and Tre Campbell (outside) helped rally the Hoyas to a brief lead, but PC stayed ahead at the line and took a 23-21 lead into the half. Each team shot 8 for 28 from the field, and early foul trouble limited any consistent effort for the hoyas to get inside. of the first five fouls of the game, each were called against a Georgetown big man--two for Smith, two for Hopkins, and one for Bradley Hayes.

Georgetown opened the second half with a welcome addition--D'Vauntes Smith-Rivera. DSR was quiet in the first half, shooting just 1 for 5. He opened the second half with a three to take the lead, 24-23, but georgetown would get only one more three pointer for the remaining 24 minutes of play. Field goals by Smith and Jabril Trawick pushed the Hoyas' to a 30-26 lead in te wake of a defensive run where PC missed its first seven shots of the half. Georgetown led by six midway in the half and pushed the lead to 41-34 on a Paul White to Joshua Smith inside run, but PC went back to the zone and Georgetown did not respond.


GU road record
last 5 games


PC advantage
pts. off turnover


GU advantage
bench points,
1st half


PC FT shooting
2nd half


GU FT shooting
2nd half


That the Friars were even within seven was something of a surprise, given that they were shooting just 24 percent for the game (11 for 45). But when Smith picked up his fourth foul with 7:06 remaining, PC went inside, with a LaDontae Henton dunk closing the Friars to two, 41-39. Layups by Peak and White got the hoyas back up by four with 3:09 to play, but a three by PC's Tyler Harris woke up an ice-cold Dunkin' Donuts Center crowd and tied the score at 46.
On the ensuing play, Hopkins was followed by Henton inside. In a horrid run of poor shooting, Hopkins missed two free throws for the third straight trip to the line and picked up his fourth foul 14 seconds later, as PC took the lead, 47-46. Smith-Rivera, who had not scored in almost eight minutes, picked up a driving layup to regain the lead at eh 1:42 mark, only to foul Henton eight seconds alter and see PC regain a 49-48 lead.
A held ball with 34 seconds left favored Georgetown on the alternate possession, but the Hoyas gave it back three seconds later and were forced to foul. Henton missed the back end of the two shot foul, 50-48, and off a missed three point attempt by White, Smith found himself in a position for a tip-in with 1.3 seconds left, 50-50.
The star of the overtime was Providence guard Kris Dunn. Held scoreless from the field in the second half and with just four points overall, Dunn scored the first six points of overtime for the Friars and Georgetown failed to respond. From a Paul White jumper at the 4:30 mark, Georgetown missed its next five shots, staying close via the foul line. The next made basket closed the gap to 58-57, but with only 16 seconds left. PC made both free throws to pushed the lead to three, and on Georgetown's final possession DSR was not able to get off a shot, instead passing to a closely guarded Paul White in the far corner, who was also unable to get off a good shot and turned the ball over to end the game.
Georgetown 2 for 7 in the overtime, 0 for 3 from three. The game, however, was lost at the line. Georgetown was just 10-19 (52 percent) from the free throw line, where Mikael Hopkins missed all six of his second half attempts.
Smith had a solid game for the Hoyas, with 14 points and 12 rebounds. The output from the remaining starters was insufficient. Smith-Rivers finished with 15 points but missed three of his final four shots. L.J. Peak made his first basket of the game and his last, but was 1 for 8 in-between. Jabril Trawick remained unseen offensively, shooting 1 for 5, while Hopkins took only two shots.
The Hoyas held PC to just 32 percent shooting for the game, but the Friars were 3 for 5 from the field in overtime play.
The Georgetown half of the box score:

            MIN   2FG   3FG   FT  REB  A  PF  PTS
Starters:                                 
Smith-Rivera 41   2-4   3-8   2-2   4   3  3   15
Trawick      31   1-3   0-2   1-1   2   1  4    3
Peak         38   3-8   0-2   0-0   5   1  2    6
Hopkins      21   1-2   0-0   0-6   6   0  4    2
Smith        21   5-9   0-0   5-7  12   0  4   15
Reserves:
Campbell     12   0-2   1-1   0-1   2   1  1    3
Copeland     10   0-1   0-1   0-0   4   0  1    0
White        33   4-9   0-3   3-3   4   2  1   11
Bowen        11   0-1   0-0   0-0   1   0  1    0
Hayes         7   1-1   0-0   0-0   1   2  2    2
Team Rebounds                       3
DNP: Cameron, Allen, Williams, Mourning
TOTALS      200  17-40  4-17 11-20 44   8 23   57

Additional coverage follows below.
A University of Louisville sophomore has announced his intention to transfer to Georgetown for the spring semester, reports an Nebraska-based recruiting site.
Akoy Agau, a 6-8 forward from Omaha who chose Louisville over Georgetown and Nebraska in 2014, told Nebraska High School Hoops that "I have chosen to commit to Georgetown University," Agau told the website. "Georgetown is the best place for me both athletically and academically. The program has a history of developing big men to maximize their potential and I feel it's the best place for me right now. I look forward to continuing my basketball career as a Hoya."
Georgetown has not issued any confirmation on the report.
Agau was a top 100 recruit in high school but averaged just 0.7 ppg and 1.0 rpg in 22 games at Louisville. Agau would not be eligible at Georgetown until the spring of 2016, and would have two more seasons of eligibility remaining beginning in 2016-17.
Additional coverage follows below. There was no local story in the Washington area papers.
The men's basketball team has not had a student from the School of Foreign Service in four decades, but a group of its students are part of the Georgetown basketball tradition.
Students from the SFS's Qatar campus won a tournament of U.S. teams studying at that country's Education City complex, defeating Northwestern 44-40.
"On behalf of the team and the coaches, I want to thank the sixth man, the Georgetown fans from students, faculty, staff and alumni, for this win," said volunteer coach Dimitrios Sardellis. "Their support has always been there in the good and the bad times and were a huge factor in the success of the menís basketball team. It is truly wonderful to see the whole community come together and strive for success,Ē he said.
While the competition is more extramural than what fans in the U.S. might see as intercollegiate, it is taken seriously by the school.
"Georgetown University thrives on a foundation of values, one of which is the dedication to educating the whole person. Our students are here to study International Affairs, but through participation in our champion basketball team, or through any of our other sports activities we offer on campus, they also learn to set high personal goals, learn to work on a team, and gain personal confidence. Those are skills theyíll take with them off the court as well,Ē said Gerd Nonneman, Dean of Georgetown University's School of Foreign Service in Qatar and Professor of International Relations, in this link to Albawaba.com.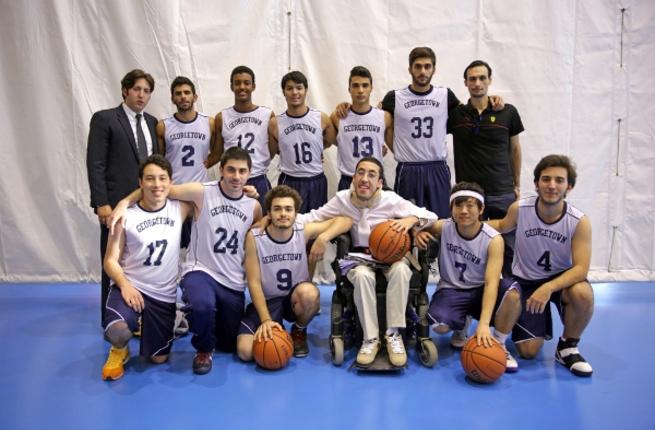 A remarkable lack of offense led the Georgetown Hoyas to sputter to the finish line in a 65-59 decision over Marquette Tuesday before a smaller crowd of 8,762 at Verizon Center. The Hoyas made just two field goals in the final 16:08 of the second half for the win.
The word "win" might be generous, as Marquette started late in their run and fell victim to a pair of late turnovers when it counted. But such was not the case at the start, where the G-men hit three of its first four shots for an early 8-4 lead. Stressing outside shooting, baskets by Paul White and Tre Campbell pushed the lead to 17-13 midway in the first half, with just one turnover. For its part, an undermanned Marquette club made the most of every possession, making eight of its first 11 shots and 62 percent from the half. Despite Marquette's hot hand, Georgetown carried a 32-24 lead into the final 3:25 of the half, whereupon neither team was able to score until Marquette got a three at the 1:54, and no points thereafter as Georgetown carried a five point lead into halftime. Still, this game felt like it should be a 15 point lead.
The Hoyas' first half numbers weren't bad: 10 assists in 13 field goals, 4 for 10 from three point range. And four minutes in, the lead was a comfortable nine points, 40-31. Two free throws by Josh Smith pushed the count to 42-31, but any semblance of a Georgetown offense ground to a disquieting halt. Georgetown missed on its next seven shots, with little direction or urgency. Marquette wasn't much better, but the second half emergence of center Luke Fischer gave the Warriors new life midway in the half. Three consecutive baskets pulled MU to 45-43 at the 8:51 mark, and a Georgetown rally was nowhere in sight.

Absent an offense, the Hoyas stayed above water at the free throw line. A paid of free throws from Mikael Hopkins pushed the lead to 47-43 with 7:34 to play, a pair from Josh Smith at the 5:25 mark to 49-47, and one of two from L.J. Peak for a four point lead with 4:45 remaining. Following a double-dribble by Marquette, the third turnover in a key stretch for the Warriors, the Hoyas finally got the ball inside, where Josh Smith picked up a layup and connected on GU's first field goal in 12 minutes, 52-46.

As Georgetown wobbled, Marquette stood tall. A MU jumper closed to 52-48; a Fischer basket, his sixth in as many attempts this half, closed to 54-50 with 3:03 left. After a missed layup by Hopkins, MU's Matt Carlino banked in a three (the only such three of the half by either team) to close to 54-53 with 2:02 left. Three seconds later, a referee review indicated that Smith- Rivera lost the inbounds pass, setting the Warriors an opportunity to take the lead under Georgetown's basket. Off the inbound, forward Duane Wilson traveled, and on the next series, Smith-Rivera drove into the lane for a 10 foot basket, his only two pointer of the second half and a 56-53 lead that proved decisive.


GU shooting
last 15 mins.


GU turnovers
last 15 mins.


MU shooting
last 15 mins.


MU adv.,
bench points


MU adv.,
points in paint


Big East home
court advantage
to date


Georgetown increased its lead to 60-53 into the final 30 seconds on free throws by Peak and Smith-Rivera, but allowed consecutive drives by Carlino to close to 62-57 with 11 seconds to play. The teams traded free throws down the stretch.
Make no mistake: the Hoyas won this game at the line: 23 for 28 versus just 8 for 12 for the Warriors. Georgetown had four starters in double figures, led by 15 from DSR, but just five points from its bench, and none in the final 33 minutes of the game. Matt Carlino led the Warriors with 16 points, and Luke Fischer with 13.
The Georgetown half of the box score:

            MIN   2FG   3FG   FT  REB  A  PF  PTS
Starters:                                 
Smith-Rivera 37   2-3   2-7   5-6   3   5  2   15
Trawick      30   1-3   1-4   8-9   4   0  3   13
Peak         33   4-6   0-2   4-6   3   2  0   12
Hopkins      28   3-7   0-0   2-3   5   1  2    8
Smith        25   4-5   0-0   4-4  10   0  2   12
Reserves:
Campbell     12   0-0   1-2   0-0   0   2  1    3
Cameron       3   0-0   0-1   0-0   0   0  0    0
Copeland      7   0-2   0-0   0-0   3   1  0    0
White        20   1-3   0-1   0-0   2   1  2    2
Bowen         5   0-0   0-1   0-0   1   0  0    0
Team Rebounds                       1
DNP: Allen, Williams Mourning, Hayes
TOTALS      200  15-29  4-18 23-28 32  13 12   65

Additional coverage follows below.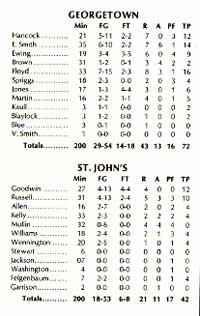 Has it really been 33 years since Patrick Ewing's debut at Madison Square Garden?
The date was Jan. 6, 1982, Ewing's first game in New York and the first Garden doubleheader in over a decade. It was the first sellout for a Georgetown regular season game at Madison Square Garden since it opened above Pennsylvania Station in 1968.

The Redmen arrived as major favorites over the Hoyas and their freshman center, but were unprepared for what would follow. In the first half, the Hoyas scored 41 of the first 50 points of the half--the Redmen were down 41-9 and coach lou Carnesecca used four of his five timeouts in the first half alone, to no avail.

The stunned New York crowd witnessed a 72-42 blowout of the Redmen, and Ewing's reputation began to reach national attention.
Georgetown was led by 16 from Eric Floyd, as the Hoyas owned the boards, outrebounding St. John's 43-21 in the game.
The freshman star for the Redmen, Chris Mullin, was 0 for 6 from the field but would develop to have some of his best games as a collegian against Georgetown over the following four years.
Last week's loss to Xavier did not go unnoticed among voters of the Associated Press poll, where 133 of the 140 votes that Georgetown received the week before disappeared in this week's poll and the Hoyas are again unranked.
Other Big East teams currently ranked include Villanova (8) and Seton Hall (19).
More trouble at St. John's, where second leading scorer Rysheed Jordan has taken a leave of absence. With a short rotation, the Redmen dropped its second straight Big East game Saturday to Butler.
On another leave of absence story, Butler has elevated interim coach Chris Holtmann to head coach, after a medical leave of absence was taken by Brandon Miller just before the season.
Miller was 14-17 in his only season at Butler.
In a short statement, athletic director Barry Collier said that "We want to thank Brandon Miller for his many contributions to Butler over the last 18 months, and wish him well. Out of respect for Brandon and his privacy, we will have no additional comment."
The Class of 2018 is in the building.
Freshmen Tre Campbell, Paul White, and L.J. Peak jump-started a struggling Georgetown offense in a 76-61 win over Creighton at Verizon Center Saturday.
Senior Josh Smith opened the game with a lay-up but this was the last lead Georgetown would hold for much of the first half. The Hoyas' defense was slow to respond to Creighton's up-tempo offense, and guards fell out of rotation as the Bluejays sank three three pointers in their first four field goals to stake a 13-7 lead at the 13:49 mark of the first half. Georgetown rallied to tie the score at 13, but foul trouble began to affect the Georgetown starters, with second fouls garnered by Jabril Trawick, Mikael Hopkins, and Josh Smith over the next four possessions. Smith was visibly winded when Creighton pushed the lead to 21-15 on an Isaiah Zierden three, and Smith picked up his third foul soon thereafter.
A lineup featuring Campbell, White, and Peak began to energize the Hoyas. Campbell, averaging just 1.8 points per game this season,. hit a jumper with 6:19 to halftime to get the Hoyas its first basket in over four minutes, 21-17. Thought the Georgetown inside was more vulnerable with Bradley hayes filling in for Josh Smith, the Hoyas were beginning to make a difference in the scoring column. Paul White followed on the next possession with an assist to D'Vauntes Smith-Rivera for a three, the first such basket made by Georgetown in its last 16 attempts dating back to the first half of the Xavier game. On the next possession, peak hit a jumper to close the Creighton lead to 25-24. Campbell scored five more points and when Isaac Copeland hit a jumper with four seconds to halftime, Georgetown took an improbable 33-31 lead into intermission. With no points from its leading scorer Austin Chatman, Creighton shot just 32 percent--from its 4 for 8 shooting to start the game, the Bluejays finished 4 for 17, but stayed ahead with an 11-12 effort at the foul line.
Lineup changes at halftime are not common for the Hoyas, but when the G-men returned for the second half, coach John Thompson III had moved campbell and Copeland into the lineup in palace of Jabril Trawick (one point, two fouls at the break) and Josh Smith (six points, three fouls). The change was evident at the start--back to back threes from Peak and Campbell pushed the lead to 39-31, and Creighton would not close within four thereafter. A driving basket and a foul shot from Peak put the Hoyas up 46-38 at he 14 minute mark, which was followed by a White three to extend the lead to 49-40. Smith reentered the lineup at the 13:15 mark and quickly added a basket inside, while Creighton was getting nothing from outside.
A 30 foot three pointer from Campbell got the Hoyas into double digits at the 11:39 mark, 54-44, and the Bluejays had no answered. Creighton went more than six minutes without a field goal until a layup by Will Artino at the 4:04 mark closed the Georgetown lead to 14, 67-53. The Hoyas led by as many as 18 in the final four minutes before the reserves entered the contest.
Georgetown's execution in the second half was some of its best of the season. From two point range, the Hoyas were 9 for 10, 8 for 8 in the final 13 minutes. From long range, the Hoyas were 6 for 10, and 6 for 8 in the final 13. The Creighton touch was lost after halftime, shooting 8 for 27 from the field and 1 for 12 from three point range.
"If you had told me we were going to hold Smith-Rivera to five [points] and Josh was going to be bottled with some foul trouble at the beginning of the game, I would've liked our chances," said Creighton coach Greg McDermott. "We didn't have an answer for them in the second half and if were going 1-12 from three, we're going to have a hard time winning games."
The Creighton starters finished 7 for 30.
"For whatever reason we have a just been a little flat this season," said Zierden, who finished with eight points and missed six of his last seven shots. "That first five minutes in the second half and in my opinion that's one of the most important parts of the game it creates the momentum for the rest of the game and we have not been good in that part of the game and today was really not an exception."
For Georgetown, the talk was about the freshmen.
"They did what they were brought here to do," said coach John Thompson III. "The way our team is composed, on any given game night different people are going to be asked to step up; you've seen that here. I don't think the group in the locker room looks at our freshmen class as a bunch of neophytes. They work hard, they practice hard, they've played minutes and I'm comfortable when they're on the court. They're comfortable when they get on the court and their teammates are comfortable when they get on the court."
"We know our freshmen," said Josh Smith, who led the team with 16 points. "All five of them, including Trey Mourning who hasn't really seen the floor as much. We have confidence in all of them."
Peak led the freshmen with 14 points, Campbell finished with a career high 13 points, followed by 10 from White.
"If you go back and look at our last game and then look at this game, the difference in our offense was light years apart," said Thompson. "We made the extra pass today. The ball moved around, the guys did a good job of sharing it. We have very good offensive players and we have a threat inside and we have guys that can make shots outside, so when they move the ball we're going to end up with good shots. Last game, and I'm not taking anything away from Xavier, but it was a series of "I'm going to throw it to you, you're going to work on your one-on-one moves and if it doesn't work throw it to the next guy," and we didn't have any movement; it was too stagnant. Today they did a really good job of staying with our sets and moving it to the next person and we ended up with good shots. We shot 75-percent in the second half and a lot of it was the function of we stayed with it until we got a wide open shot for someone who can make a wide open shot."
Georgetown remains home next week for a mid-week game with Marquette, which defeated Providence 75-66 on Saturday afternoon to raise its record to 1-1 in conference play.
The Georgetown half of the box score:

            MIN   2FG   3FG   FT  REB  A  PF  PTS
Starters:                                 
Smith-Rivera 28   1-4   1-2   0-1   3   3  2    5
Trawick      21   3-4   1-2   3-4   1   3  3   12
Peak         35   4-5   1-2   3-3   4   1  1   14
Hopkins      14   0-0   0-0   0-0   4   2  2    0
Smith        20   5-6   0-0   6-8   3   1  4   16
Reserves:
Campbell     26   2-3   3-4   0-0   1   2  2   13
Cameron       3   0-0   0-2   2-2   0   0  0    2
Copeland     12   1-1   0-2   0-0   1   0  1    2
White        23   2-3   2-4   0-1   4   2  3   10
Williams      1   0-0   0-0   0-0   0   0  0    0
Bowen        10   1-2   0-1   0-0   0   1  1    2
Hayes         8   0-0   0-0   0-0   1   0  2    0
Team Rebounds                       2
DNP: Allen, Mourning
TOTALS      225  19-28  8-19 14-19 24  15 21   76

Additional coverage follows below.
SB Nation's Big East Coast Bias blog had a few thoughts as to Georgetown's performance in its loss to Xavier. A chief issue: hustle.
"Watching the game, Georgetown looked like they just got outhustled by Xavier, and that is probably something that John Thompson III will pay attention to when watching film," writes SB Nation's Devonte Brooks. "From my observations, some of the players looked really out of it and did not bring the effort they usually bring. Xavier really outhustled them and got a lot of loose balls. Georgetown did not put a body on anybody at times and did not go the extra mile to hustle towards the basketball."
With no semblance of outside shooting, the Georgetown Hoyas were an easy mark for an inspired Xavier team, which walked past the Hoyas 70-53 at the Cintas Center in Cincinnati. It's the largest margin of defeat for a Big East opener Georgetown has suffered in its 35 years in the conference.
Xavier (10-4) never trailed in the game. The Musketeers jumped out to an 8-2 lead before the Hoyas closed to 8-5, but two early fouls on D'Vauntes Smith-Rivera were an early warning that the Hoyas would have to find another offensive option, and none stepped forward. With four early threes, Xavier pushed its lead to 21-10 before its shot selection began to fail them and the Hoyas tightened its perimeter defense. A pair of baskets by Aaron Bowen closed the margin to 25-22 with 3:58 until halftime, but the Hoyas did not make a field goal for the rest of the half as the X-men led 31-25 at the break, holding Georgetown to its lowest point total of the season after 20 minutes.
Three consecutive Georgetown baskets rallied the Hoyas to within one point to start the second half, but without any success from outside, Xavier was able to hang on. A basket by Josh Smith closed the Hoyas to 39-37 with 13:50 to play but upon his 3rd foul 21 seconds later, Georgetown's offensive effort ground to a halt. The Hoyas scored two baskets over the next 13 minutes, a combination of good Xavier defense, a lack of organization on the court, and a general lack of scoring ability by anyone not named Smith-Rivera. The Musketeers went on a 10-2 run before Paul White hit a bucket at the 8:02 mark, 49-41, and then moved the lead up to 13 when DSR gave the Hoyas its second basket at the 5:50 mark, 56-45. As the new year turned, Josh Smith hit two free throws to close to nine, 59-50, only to see Georgetown give up an 11-1 run into the final minute of play, much of it at the foul line.
The Hoyas finished the game shooting 36 percent for the game and just 2 for 13 from three point range, and 0-7 in the second half. Smith-Rivera (18) and Smith (10) accounted for 28 of the Hoyas' 53 points. Jabril Trawick and L.J. Peak each had six points, but none after halftime. Senior Mikael Hopkins' slump remains unattended: 0-3 from the field, 0-3 from the line.
Overall, Georgetown managed 17 field goals and 16 turnovers, and currently ranks last in the Big East in three pointers.
Here's the Georgetown half of the box score:

            MIN   2FG   3FG   FT  REB  A  PF  PTS
Starters:                                 
Smith-Rivera 26   4-6   1-3   7-8   3   0  2   18
Trawick      31   1-2   1-3   1-4   5   0  4    6
Peak         24   2-4   0-1   2-2   3   2  4    6
Hopkins      30   0-3   0-0   0-3   5   0  5    0
Smith        21   3-7   0-0   4-4   4   1  4   10
Reserves:
Campbell     14   1-2   0-1   0-0   3   0  1    2
Cameron       3   0-1   0-0   0-0   0   1  1    0
Copeland      7   1-1   0-1   0-0   0   0  1    2
White        21   1-3   0-3   1-2   3   2  2    3
Bowen        22   2-5   0-1   2-2   3   0  2    6
Hayes         1   0-0   0-0   0-0   0   0  0    0
Team Rebounds                       4
DNP: Allen, Williams, Mourning
TOTALS      225  15-34  2-13 17-25 33   6 26   53

Additional coverage follows below.
---
HoyaSaxa.com: The One-Stop Web Site For Hoya Basketball™
An independent web site not affiliated with Georgetown University. All rights reserved.