Junior forward Dajuan Summers will return for his senior season, according to Saturday's Washington Post. This follows on earlier comments that freshman Greg Monroe intends to return as well.
Summers' play has lagged during the Hoyas' struggles this year and his play has caught the attention of a number of college observers.
"He's a talented young man, but what he has demonstrated pretty much is one-dimensional play," ESPN's Len Elmore told the Post. "He settles too much for jump shots. Rarely does he create shots for other players, which he's capable of doing. If he tries out for an NBA team, he might be able to show something different. But in my estimation, you can't go wrong by staying another year -- no matter what anybody says."
It's the Bizarro World of college basketball. Where once there was momentum has become inertia, where swagger has given way to doubt, and where a nationally ranked team that opened 9-1 now has more losses than seven of the nine non-conference teams it defeated to start the season.
Georgetown needed the game of the year Monday, and instead led for the first 55 seconds in a 76-58 loss to Louisville before what may be the last substantive crowd at Verizon Center this season. The stunning opening to this season was a coda to a discordant season which has at least two weeks left, but has already ran out of time.
Louisville was two days removed from a road trip to Cincinnati, Georgetown a home weekend. Many fans expected a lion of an opening for the Hoyas, instead, it was more like a lamb. A pair of free throws from Nikita Mescheriakov opened the scoring, but the lead was altogether brief, as the Hoyas committed three turnovers and plied the fool's gold of outside shooting, missing three long range shots in its first six possessions. By that point, Georgetown was down 6-2 and despite shooting 53 percent in the half, its defense was helpless against a talented and confident Louisville club.
Five minutes into the half, Louisville had connected on six consecutive. Then seven. Then eight. The Georgetown lineup was left to take a front row seat as the Cardinals, who entered the game ranked eighth among Big East teams in field goal percentage, did not miss a single shot for the first 11 minutes of the half. For its part, Georgetown saw itself fall behind by 13, 26-13, totaling five field goals, seven turnovers, and no rebounds. It looked like something out of December, but instead of a tired Drexel or Savannah State watching itself get beat up, it was Georgetown.
Louisville coach Rick Pitino had seen too many games over his career where a hot shooting team grows cold, so he substituted frequently down the stretch in the first half, mindful he would need his starters in the second half. The second string was no less effective in the first as U of L finished 14-20 for the half (70 percent), 6-6 from three point range. The Cardinals led by 17 in the final three minutes, and it may have topped 20 had it not been for one final run of the career of Jessie Sapp, who scored the final seven points of the half, including a 30 foot bank shot at the buzzer, to close to ten. Whatever hope it provided the team, it nonetheless avoided an audible public backlash following a half where the Hoyas' three year run of NCAA appearances seemed summarily dismissed.

Three Louisville turnovers and Sapp's first basket of the second half closed the lead to eight, 41-33, but Earl Clark drove past the weather-beaten inside game for layup to end any rally. At least four times in the second half, Georgetown stood on the edge of cutting the Louisville lead under eight, but the Cardinals pushed back every time. Georgetown's guard play, the only visible signs of life in the first half, wilted in the second: Jessie Sapp and Chris Wright, shooting 4-7 in the first, 2-15 in the second. Wright missed four layups in the half, none more painful than with 10:11 left, down ten. A Sapp steal found Wright streaking to the basket with what could have been a chance to cut into the lead and rally the Hoyas. Wright soared for a one handed slam and clanked the ball off the rim. Earl Clark promptly answered with a Louisville three, 57-44, and within three minutes the lead was back at 16.


Time in the first half where Louisville missed its first field goal


Time in the second half where Louisville missed its first three point goal


Louisville advantage, points off turnover


Louisville assists in game


Georgetown assists in game


Georgetown points in final 3:03 of game


Number of home losses, 2008-09 season


Number of home losses, 2005-06 through 2007-08 seasons

And despite the setbacks, the Hoyas never gave up, closing again to ten with 3:03 to play. A microcosm of the season in the final three minutes, Georgetown showed why its post-season hopes have drifted into a parallel universe. With the ball, down ten, Wright turns the ball over. Two missed free throws by the Cardinals gave the Hoyas another chance at the 2:18 mark, except that Georgetown doesn't take a shot until nine second remained on the shot clock, a miss. The Cardinals make five of six free throws in a 30 second span, Georgetown missed all four attempts in the final two minutes, finished the second half shooting 31 percent from the floor, and and lost by 18, matching the largest margin of defeat for a John Thompson III-coached team at Verizon Center, set on his opening night against Temple in November 2004.
The Louisville Courier-Journal reported the presence of 21 NBA scouts along press row Monday, and for Dajuan Summers, it was not his night for an audition. Summers shot 1 for 8 in the game, with one assist.
"The man who drilled the dagger in last year's Verizon Center [win over the Cardinals], and the man who was expected to step up and become the type of player Jeff Green was two seasons ago in Hoya land has been relegated to wandering around the perimeter and completely disappearing...for significant stretches of time", wrote Mike Rutherford at Card Chronicle.
"The cold, hard truth is Georgetown simply isn't a functional team at this stage," said Patrick Stevens of the Washington Times. "The in-game struggles of DaJuan Summers in particular were tough to ignore; the Hoyas actually outscored Louisville by two in Summers' 10 minutes on the bench."
Neither Greg Monroe (10 pts., 5 rebounds) not Samardo Samuels (10 points, 4 rebounds) overtook each other for Rookie of the Year honors, but Monroe continues to disappear from the offensive game plan in the second half of games. Monroe got only three shot attempts the entire second half as Wright and Sapp's long range telemetry reverted to the style of offense last seen in this arena during the Hoyas' past NIT runs.
Pitino was respectful to the Hoyas while pointing out its terminal weakness.
"Outside of the Fab Five, I haven't seen too great teams with freshmen and sophomores," Pitino said in post-game comments. "They're young, and young teams don't win consistently in the Big East."
A frustrated John Thompson III could not offer much more than that.
"For most of the year, we've had a lot of peaks and valleys," he said. "We got to the point where I thought we were limiting that in terms of our execution and where we should be, and then today we had peaks and valleys again."
Here's the Georgetown half of the box score.

            MIN   2FG   3FG   FT  REB  A  PF  PTS
Starters:                                 
Wright       36   2-8   1-4   5-8   4   1  4   12
Freeman      27   4-5   0-1   0-1   3   0  3    8
Mescheriakov 14   0-0   1-1   2-2   0   1  4    5
Summers      30   1-4   0-4   2-4   4   1  3    4
Monroe       30   4-7   0-0   2-2   5   1  3   10
Reserves:
Clark        22   1-3   0-1   2-2   2   1  2    4
Sapp         25   2-5   1-5   2-4   2   2  4    9
Vaughn        8   2-2   0-0   0-0   3   0  1    4
Sims          3   1-1   0-0   0-0   0   0  1    2
Wattad        5   0-0   0-0   0-0   0   0  0    0
DNP: Jansen
Team Rebounds                       4
TOTALS      200 17-35  3-16  15-23 27   7 25   58

Post game articles follow below.
Barker Davis of the Washington Times previews Monday's game with a a pair of interesting statistics. According to the article, Georgetown ranks in the bottom 30 teams in the nation by the experience of its roster.
"Given that Pomeroy credits Mescheriakov with a season of experience, Wright with a season (though he was injured throughout league play in his freshman campaign), and seldom-used walk-on Bryon Jansen with a season, Georgetown is even younger than 1.12 years suggest," Davis writes.
The second number is a little more painful. In 29 late-game possessions over the last three games, Dajuan Summers has not scored any points.
Georgetown freshman Ryan Pitino is a HOYA sports writer and the subject of this Q&A feature over at Bleacher Report. Pitino knows he will hear about it from his classmates, but he's picking Louisville in Monday's game.
"In early predictions I said in my first blog post that the trouble for the Hoyas would be depth," he said. By contrast, "the same thing with Louisville happens every year: early losses, learning experiences, and then they improve as the season goes on."
A year ago against Marquette, Georgetown scored eleven second half baskets en route to a win in overtime; of the eleven, nine came from seniors. A year later, Georgetown scored eleven baskets in the second half, but none from seniors. But regardless of experience, late game miscues doomed the Hoyas yet again, falling to the Marquette Warriors 78-72 for its eighth loss in its last 10 games.
Marquette started off with a bang, making eight of its first 12 in opening an early 19-13 lead. Just when it looked that Georgetown might be fading early, the Hoyas staged a spirited rally, scoring on four straight possessions to bring the crowd to its feet and retake the lead, 22-21. Marquette made a second run, keyed by a run of six of eight points by Wesley Matthews to push the lead back to seven, 34-27, only to see the hoyas battle back behind Chris Wright and Jason Clark to close back to three at the 4:41 mark, and to one when Austin Freeman hit a three pointer, 36-34, one of seven threes in the first half for the Hoyas. Georgetown took a one point lead on a Dajuan Summers three with 2:56 to play, and took a three point lead into the final play of the half on a Sapp three, but with a foul to give failed to use it late, as Lazar Hayward got open for a three at the buzzer to tie the score, 44-all.

Marquette's 60% first half shooting was balanced by a 53 percent effort from the Hoyas, a 16-13 advantage on the boards, and a 7-4 advantage on offensive rebounds. Dajuan Summers and Austin Freeman combined to shoot 7-11 from the field and score 18 points, but as each has done at times this year, their offense went into the locker room at halftime and did not come back.
The second half opened eerily familiar with other GU games to date in this long conference season: freshman center Greg Monroe showed strength inside, but the offense begins to turn away. Monroe scored on two dunks in the first two minutes of the half and was 6 for 8 from the field...and just like that, gets one shot the remainder of the game. The Hoyas carried a five point lead, 52-47 into the 16 minute television timeout and returned to the bench three minutes later with one shot and three turnovers, as Marquette regained the lead 53-52, thanks to five offensive rebounds.

Up one with 11;48 to play, the Hoyas then lapse into another trap that has dogged them this season--the bad three point shot. From a 7 for 11 mark in the first half, Georgetown made just one of seven in the second, including a run of four missed threes in four consecutive possessions, allowing a Marquette team which had hit its own drought to hold its ground.
Georgetown took the lead at the 8:32 mark with an Austin Freeman basket and foul, but his untimely miss of a free throw sent the signal for the Warriors to make their move. On the next series, Matthews caught Nikita Mescheriakov off guard and scored from three, 61-59, then scored again off a Summers turnover, 63-59. A Jason Clark jumper closed to two, only to see consecutive turnovers by Summers and Freeman, which allowed Marquette to go up six at the 4:22 mark, 69-63.

Again, the Hoyas closed with range, this time with free throws at the 3:19 mark, 71-67, and again, Dajuan Summers turned the ball over. A Dominic James missed free throw set up another opportunity, but Chris Wright missed a layup with 2:32 to play, and a minute late, still down by four, Greg Monroe failed to connect on a two footer and Marquette never looked back.

Georgetown picked up a pair of garbage baskets late, but stares at this statistic: from the 8:32 mark, leading one, to the 0:15 mark, down nine, leading scorer DaJuan Summers picked up three fouls, three turnovers, and did not take a shot.


Missed layups by Georgetown


Offensive rebounds allowed by GU in second half


Marquette advantage, second chance points


Georgetown turnovers in final 7:25 of game


Marquette turnovers in final 7:25 of game


Marquette points off turnovers, 2nd half


Georgetown points off turnovers, 2nd half


Wright led the Hoyas with 17 points (7-7 from the line), followed by 16 from Freeman and 13 from Monroe. Head coach John Thompson III, noted in the post-game press conference that "We got the game where we wanted it and we had our chances down the stretch and a few bad bounces, they came away with the win. I think from the defensive standpoint we did a much better job in the second half. We have to keep getting better. "
Marquette coach Buzz Williams may have hit the proverbial nail on the head with his analysis.
"I thought in the second half the key to the game was they only had one three, which came with three seconds left and they only had two offensive rebounds," he said. "That's how the game changed and for us to have only six turnovers that gives us a chance to win."
And that's what NCAA-bound teams do.
Nonetheless, it appears the local media has written off the season after this one. Dick Heller of the Washington Times went so far as to say "Nobody will remember this gritty but green Georgetown team in 25 years - or maybe in 25 seconds after its season officially and mercifully ends." For Monday night, let's hope they prove him wrong.
Here's the Georgetown half of the box score.

            MIN   2FG   3FG   FT  REB  A  PF  PTS
Starters:                                 
Wright       34   2-6   2-5   7-7   2   4  1   17
Freeman      35   5-5   2-5   0-1   5   2  1   16
Mescheriakov 15   0-0   1-1   0-0   0   1  5    3
Summers      31   3-7   2-4   0-0   4   0  5   12
Monroe       36   6-9   0-0   1-3   8   2  1   13
Reserves:
Clark        14   3-5   0-1   0-0   3   1  3    6
Sapp         28   0-3   1-2   0-0   6   2  1    3
Vaughn        5   1-2   0-0   0-0   0   0  0    2
Sims          2   0-0   0-0   0-0   0   0  0    0
DNP: Jansen, Wattad
Team Rebounds                       1
TOTALS      200 20-37  8-18   8-11 29  12 17   72

Post game articles follow below.
Thanks to everyone who attended Friday's reception in honor of the 1983-84 basketball team. A sample of photos are below--visit the Hoop Club page on Facebook for more. (Photos courtesy Dr. Thomas Wong.)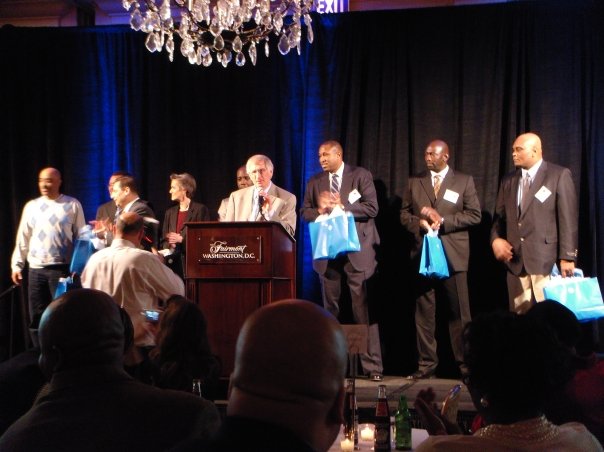 Former players Michael Jackson, Horace Broadnax, Gene Smith, Ralph Dalton, Michael Graham, Victor Morris, and Bill Martin were saluted at the dinner, along with former coaches, managers, and support staff.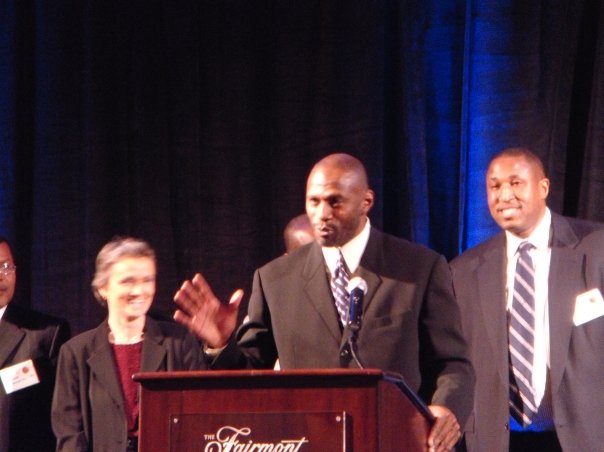 1984 team captain Gene Smith (C'84) speaks to the crowd.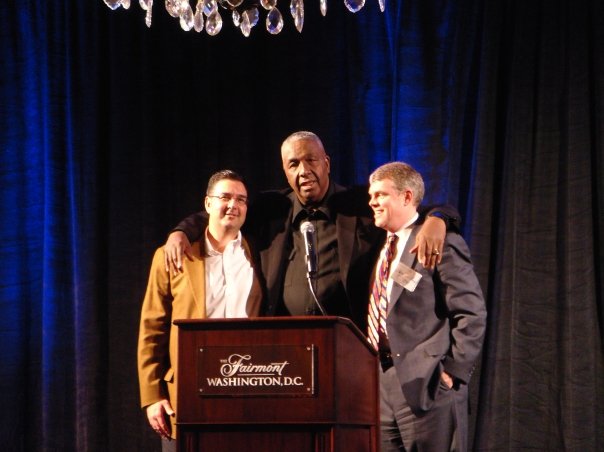 During his speech, former coach John Thompson calls up two loyal fans from the championship season to the stage: John Kurkjian (B'85) and Lloyd Williams (C'84). It was Kurkjian who originated the "Hawaii-Five-O" dance that followed the Hoyas right to Seattle, while Williams wore the Jack the Bulldog mascot from 1981-84.
Following up on a story from earlier this week, the Syracuse Post-Standard reports that Syracuse University officials were unprepared in the wake of incidents involving Syracuse fans pelting Georgetown students with debris Saturday afternoon.
"We were all pretty surprised when we saw all those gray shirts in the student section. They never should have been there," said SU associate athletic director Pat Campbell. "The problem is we have a group sales department within the box office. We made a sale and didn't realize it was to a Georgetown group up in that area."
Despite claiming the area was secure, Campbell confirmed the incident. "There was some stuff going on. The Georgetown kids were so totally out-numbered and some of our finest decided to pelt them with plastic bottles...That's why we were surprised at end of game when all of a sudden the bottles started flying. We did the best we could to get those Georgetown kids out of there."
Columnist Bud Poliquin of the Post-Standard was more direct in criticizing the homestanding fans.
"Those Hoya loyals had the temerity to wear gray shirts in a building largely turned over to orange garb. And they'd dared to cheer for the guys in the visiting uniforms. So, in accordance with the cretins' manual, they had to be punished," he wrote. "SU's official response? I've yet to hear it. I've yet to hear Nancy Cantor or Daryl Gross or Jim Boeheim -- i.e., the people with the most power, the greatest sway, the heaviest hammers -- publicly scold those idiot fans, small in number though they may be."
"This morning when we practiced, I came in the gym and Patrick asked me how I was feeling," said John Thompson..."Usually I tell him it's none of his business. Today I told him, 'I feel terrible.' He told me not to feel terrible, because we were going to be national champions tonight."
--Washington Post, April 3, 1984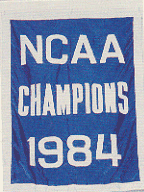 "Looking at the National Championship Banner in McDonough [Gym], it becomes difficult to remember the entire season. Oh, everybody remembers the elation and excitement which follows the victory in the NCAA finals; after all, it was a first for GU, but how many remember the season that led to the victory?

"How may have more than a fuzzy sense of flashing images when they look back at the Hoyas drive for the championship? Images of Patrick and Akeem, the fiery Michael Graham. Before that it was the comeback versus Kentucky...the low scoring cliffhanger with SMU, the Big East Championship vs. Syracuse, and before that, well, before that the team lost a couple but they really weren't important, were they?

"Yes, the Hoyas had a tremendous season,but you look at it carefully to see that it wasn't all a bed of roses. Michael Jackson injured his shoulder in the pre-season, and there was considerable concern over when he would be in shape to play with the team. Patrick Ewing's mother passed away. Ralph Dalton's mother passed away. David Wingate's mother became terminally ill...there was the tempest in Boston when Georgetown "abridged constitutional rights" by escorting a female reporter out of the locker room where the team was changing. There were accusations that the basketball program at Georgetown was afflicted with a [disorder] called "Hoya Paranoia". There were the momentum breaking losses to Villanova (by one basket in double overtime) and St. John's (a home game where the Hoyas trailed by 21 points at the half).

"Had the Hoyas not been successful last year, had they in any way fallen short of the brass ring, the pundits, at least the charitable ones, would have acknowledged that the distractions would have been great enough to excuse the failure. The other side of the coin that the distractions overcome were great enough to enhance the success."--from 1984-85 gameday program
Saturday, the Georgetown community welcomes back its greatest team, the 1983-84 national championship team forged under head coach John Thompson. A balance of talent, tenacity, and teamwork, Georgetown was nearly unstoppable in a 37 game season which saw it lose just three games by a combined eight points.

Following its emotional overtime win over Syracuse in the 1984 Big East tournament, the Hoyas had to survive a defensive wringer with SMU, scoring the fewest points in a Georgetown win since 1946 to prevail, 37-36. Wins over UNLV and Dayton led them to the 1984 Final Four, where the Hoyas neutralized favored Kentucky to advance to the title game.
Below is an excerpt from The HOYA's 80th anniversary issue commemorating the game:
"The story of the game was Georgetown's ability to spread the ball around, evidenced by the five different Hoyas who scored in double figures. It was really heart that won this game for Georgetown, just as it had all season long for the heartbreak Hoyas.

The moment that will live in the hearts of Georgetown fans everywhere was when Head Coach John Thompson embraced Freddie Brown as a member of the national champion Hoyas, exactly two years after Thompson hugged Brown after he had thrown the ball away to James Worthy to set up Michael Jordan's heroics that stole the 1982 national championship from Georgetown.

The national championship trophy that Thompson and Ewing raised skyward can still be seen on campus, sitting in the McDonough lobby as a testament to the unforgettable Hoya basketball season of 1984 when Georgetown was king of the basketball world."
So what became of the 1983-84 Hoyas being honored Saturday? Here's a brief look at each, then and now:
Fred Brown (C'84) battled back from a serious injury in 1983 to lend leadership to the 1983-84 Hoyas. Brown played 36 games in 1984 to complete his career as in the top seven all time in assists and steals. Brown was named to the HoyaSaxa.com Top 100 List and Georgetown University All-Century Team in 2007. Brown is currently a financial advisor in the Washington area.
---
Gene Smith (C'84) was something special: ask anyone who saw him play, and they will tell stories of Smith as a defensive fortress for the 1983-84 Hoyas. His defensive lockdown of Kentucky in the 1984 NCAA semifinal remains the stuff of NCAA legend. "No one had ever seen anything like it," said Miami coach Bill Foster. "A [Kentucky] team with three NBA first rounders...goes 16 minutes into the second half and scores two points? Incredible." Smith, who was named to the HoyaSaxa.com Top 100 List in 2007, is a marketing executive.
---
Ralph Dalton (C'85, MBA '87) saw his college career almost end before it started, suffering a catastrophic knee injury in an intra-squad scrimmage before the 1981-82 season. Dalton fought to get back on the court, playing a valuable reserve role for the 1983-84 Hoyas. Dalton received his degree in 1985, attended graduate school for a fifth year season in 1986, and embarked on a career on Wall Street, where he is a vice president at a brokerage firm.
---
Patrick Ewing (C'85) defined the 1983-84 team. A three time consensus All-American, Ewing's dedication and passion for the game carried the Hoyas to four NCAA berths, three Big East titles, three Final Four appearances, and a national title. Prior to Ewing's arrival, the Georgetown program had won only two NCAA tournament games in John Thompson's first nine years. In his four years alone, they won 15. An 11 time NBA All Star, Ewing is a member of the Basketball Hall of Fame, and he was named first on the HoyaSaxa.com Top 100 List and Georgetown University All-Century Team in 2007. Ewing was inducted into the Georgetown Athletic Hall of Fame at the 100th anniversary weekend that same year. Ewing is currently an assistant coach with the NBA's Orlando Magic.
---
Bill Martin (C'85), was a vital part of the 1983-84 championship effort despite playing as a sixth man. A 52 percent career shooter, and second all time in games played at GU, Martin earned All-America status in 1985 and played five years in the NBA. He was named to the HoyaSaxa.com Top 100 List in 2007 and is now in automotive sales in Indiana.
---
Horace Broadnax (B'86) only started one game in 1984 but was a consistent contributor towards the championship effort. A four year letterman, Broadnax graduated in 1986 and pursued a law career, but has also served as a head coach at Bethune-Cookman and, most recently, Savannah State, where he has taken an 0-28 team in 2006 to 13-14 mark to date this season. Broadnax was named to the HoyaSaxa.com Top 100 List in 2007.
---
Michael Jackson (C'86) was and remains among Georgetown's greatest guards: third all time in assists and a top ten scorer, he averaged 51 percent from the field in the 1983-84 season. The school's scholar-athlete award recipient in 1986, the late Ralph Wiley one wrote that "If he'd been a Redskin instead of a Hoya, he'd be mayor by now." Jackson played four years in the NBA before embarking on a distinguished business career which took him to executive positions with Turner Sports and the YES cable network. He is currently involved with sports marketing. Jackson was named to the HoyaSaxa.com Top 100 List and Georgetown University All-Century Team in 2007.
---
Victor Morris played sparingly in 1984, but scored 29 of his 40 career points in that season. Morris transferred to Alcorn State after the 1985-86 season and settled in Houston after college.
---
David Wingate (C'86) defined versatility in his four years from 1982-86. Variously playing guard and small forward, Wingate had some of his best games in NCAA play, as fans remember his defensive efforts in the 1984 semifinal and his 16 points in the NCAA final against Houston. Wingate, a 14 year NBA veteran, was named to the HoyaSaxa.com Top 100 List and Georgetown University All-Century Team in 2007.
---
Clifton Dairsow was a 24 year old Army veteran who joined the team in the fall of 1983 and played in 18 games, but did not return to the team the next season. He lived in suburban Maryland for a number of years but a Google search failed to turn up any notes on Dairsow's recent past.
---
Michael Graham's enthusiasm and passion for basketball were a cornerstone of the 1983-84 team, and his tenure at Georgetown was all too brief, transferring to UDC and embarking on a brief pro career soon thereafter. He became a trivia question of sorts for those who had wondered what happened to his fiery persona, when in fact he had settled in South Carolina to raise a family and run a business. Graham was named to the HoyaSaxa.com Top 100 List in 2007.
---
Reggie Williams (C'87) played three more seasons with the Hoyas, becoming a consensus All-American and the 1987 Big East Player Of Year. Over his four years, Georgetown was 122-19 (.865), as Williams finished third all time at Georgetown in career points and sixth in rebounds. A ten year NBA veteran, Williams was named to the HoyaSaxa.com Top 100 List and Georgetown University All-Century Team in 2007, and was inducted into the Georgetown Athletic Hall of Fame in 2008.
---
Steve Wolf (B'84) was a three year manager from 1981-84. Steve is the CEO of a sports apparel and merchandise company in Sherborn, MA.
---
David Green (C'85, L'88) served as a team manager from 1982-85. He continued his studies at the Law Center, where he received his J.D. in 1988. He is currently a law professor and associate dean at North Carolina Central University in Durham, NC.
---
George Jackson (C'86) served for three seasons as a manger from 1983-86. He is currently a vice president at a commercial property and casualty insurance company in Jackson's home town of Philadelphia, PA.
---
John Thompson continued as coach for the next 15 seasons, retiring in 1999 with a record of 596-239, with six Big East tournament titles, helping send 19 former players to the NBA. Thompson, a member of the Basketball Hall of Fame, is a frequent guest at Georgetown practices and games and was honored by the University during the sport's 100th anniversary weekend in 2007. He is a afternoon radio host at WTEM-AM in Washington.
---
Craig Esherick (B'78, L'82) served on Thompson's bench for another 15 years after the title season, where he was selected by Thompson to succeed him as head coach. Esherick was 103-74 in five seasons from 1999-2004. He is currently an assistant professor at George Mason University and a college basketball analyst for the Mid-Atlantic Sports Network.
---
Mike Riley (C'78) served a total of 19 years as an assistant coach, 14 under John Thompson and five under Craig Esherick. He also served as the team's academic coordinator from 2000-04.
---
Gary Wilson served seven years as a volunteer assistant from 1982-89, having played at Georgetown from 1975-77 before completing his studies at Coppin State.
"They came in here wanting to get back on the right track. I don't know if it was us going through the motions, being nonchalant or looking at the Georgetown names on the jersey and deciding whether we belonged on the court with them." --USF coach Stan Heath
Chris Wright had 17 points as the Georgetown Hoyas cruised past South Florida, 65-40, ending a two game losing streak.
The Hoyas set the tone of the game early, leading 6-0 and scoring its first 12 points by either layup of free throw. The USF offense missed six straight to open the game and its defense was especially porous inside, leading Georgetown to score at will inside. The Bulls stayed close early in large part to leading scorer Dominique James, who scored eight of the team's first nine points. USF closed to 12-11 with 10:12 to play in the half, but soon began a seven minute stretch without a field goal, as Georgetown opened the lead that would protect it throughout the game.
Free throws from both teams had extended the score to 17-13 with 8:18 to play in the half, whereupon Jessie Sapp came off the bench to hit back to back threes within 30 seconds, 23-13, and after a pair of Greg Monroe free throws, a jumper at the 5:18 mark, 27-13. Sapp's 3-3 run then keyed Georgetown baskets in each of its next three possessions, extending the lead to 31-13 before USF center Alex Rivas got the Bulls back in the scoring column with an inside dunk, 31-15. By halftime, the Bulls had managed just two field goals in the final 10:18 and trailed 34-17, shooting 27 percent and with just two field goals from someone other than Dominique Jones.
"A USF student and two elementary school students made more shots during the media timeout promotions than the Bulls did in the first half," wrote Brett McMurphy of the Tampa Tribune.
Georgetown's defense on Jones was the story of the game: from his opening round of eight points, he managed just just one more field goal in the first half and one more in the second. Georgetown quickly extended the lead to 20 within two minutes of the second half and by necessity, the Bulls had to look to other options than James. A pair of Georgetown turnovers were converted inside by forward Eladio Espinosa and reserve center Gus Gilchrist to close to 16, but was answered by the Hoyas to get the lead back to 23, 46-23, at the 15 minute mark.
The game had the mood of one of those early December games where the Hoyas' mistakes were not punished by the opponent: Georgetown stumbled through a run of five straight possessions without a basket and its lead didn't drop below 16. South Florida then sank on another run of poor shooting, as the Bulls went over seven minutes without a basket. Gilchrist's dunk with 5:45 ended the run, but the Bulls were down 24 and not in contention thereafter. The Hoyas managed four baskets and three turnovers down the stretch, with USF adding two field goals to finish 65-40, the fewest points allowed by a Georgetown team in Big East play in 15 years and two points short of the team record in Big East play, when Georgetown held Providence to just 38 points in a 59-38 win in 1984.
Along with Chris Wright's 17 points, a number of other players posted strong efforts. Greg Monroe scored 12 points and 10 rebounds for a second consecutive double-double, Jessie Sapp had 10 points, eight in the aforementioned first half spurt, and Dajuan Summers rebounded from a scoreless first half to finish with eight. Nikita Mescheriakov got his second start in the game, and while his three point shooting remained cold he picked up five rebounds and a steal in 25 minutes.
The Hoyas' second half was not perfect--they shot 65 percent but gave up 13 turnovers--but USF's performance allowed plenty of latitude. The Bulls shot 9-25, 0-6 from three point range, and missed eight of 13 free throws. For the game, Jones led all USF scorers with 5 for 16 shooting, while the remainder of the Bulls' starting lineup was 5-18.
Georgetown won't be expecting a defensive repeat of this game against its next three opponents but head coach John Thompson III was fortunate to get the win and move on.
"Sitting here right now, we come out very positive about both at this moment," Thompson said in post-game comments. "I'm sure we'll go back and we have to give the same attention to detail that we have the last couple of weeks in trying to continue to get better. No team has really come in here has been better to get and sustain the lead against them. Our focus and our execution - our focus and our attentiveness, there were a few lapses but there weren't as many hills and valleys as we've been seeing."
"There is no way to sugarcoat this one: we just got it handed to us," said USF coach Stan Heath.
"Hopefully we can get a little momentum from this, winning on the road and coming home," Thompson added. "Our fans are great and we're going to need them."
Here's the Georgetown half of the box score.

            MIN   2FG   3FG   FT  REB  A  PF  PTS
Starters:                                 
Wright       30   5-7   1-2   4-5   3   6  1   17
Freeman      28   3-3   0-0   1-3   2   1  1    7
Mescheriakov 25   0-0   0-3   0-0   5   1  3    0
Summers      25   1-2   2-4   0-0   3   3  2    8
Monroe       27   4-7   0-0   4-4  10   2  3   12
Reserves:
Clark        15   3-4   1-1   0-0   4   0  1    9
Sapp         20   2-3   2-3   0-0   3   1  3   10
Vaughn       12   1-3   0-1   0-0   3   2  3    2
Sims         18   0-0   0-0   0-0   3   1  1    0
DNP: Jansen, Wattad
Team Rebounds                       1
TOTALS      225 19-29  6-14  9-12  37  17 18   65

Post game articles follow below.
A Youtube video of Georgetown students being pelted with beverages and other debris at the end of the game with Syracuse has prompted apologies from Syracuse bloggers and students.
The results of the video, as linked on the HoyaTalk board has met with widespread disapproval from the Syracuse community. One Syracuse blogger summed it up thusly: "There is no excuse for such behavior from the Orange Empire.  Whether those Georgetown students were wearing Hoya blue or Syracuse orange, it does not matter: such treatment is always — without exception — unacceptable. I have no idea what would cause someone to throw things at another individual, but I know that the outcome of a basketball game is not the forum."
A letter from Syracuse's student section appears at the HoyaTalk board, which reads as follows:
Dear Hoya Blue,

Otto's Army, the student section organization of Syracuse University, apologizes for the poor behavior of our student section in our recent home game against Georgetown. Our students took a heated, fun rivalry too far and put a damper on what should have been a great day for Syracuse University.

The purpose of Otto's Army, as defined by our constitution, is a) to unite the student section of Syracuse University Athletics under one flag, b) to support Syracuse University Athletics and the Syracuse community, and c) to manage the official list for camping out and all other aspects of the student section during athletic events.

We did not manage the student section well enough to prevent the throwing of any projectile the upper deck could get its hands on. While the number of students who took part in the physical assault is limited, Otto's Army as well as the Carrier Dome staff is still responsible for the actions of all the students who attend games. We did not represent Syracuse University Athletics in a respectable manner and as a result, Hoya Blue's trip to the Carrier Dome, which should have only ended with a disappointing loss, ended instead with a threat against your physical well being.

Otto's Army will be planning future road trips to away games like Hoya Blue's trip to Syracuse. We would never want to face the kind of treatment that Hoya Blue did inside the Carrier Dome. It is only fair and respectful that Otto's Army should do the same to opposing fans.

The student section's obscene gestures after seemingly every whistle were also disrespectful and uncalled for. We will work to prevent future similar actions.

Since the creation of Otto's Army in the spring of 2006, we have strived to become one of the loudest, proudest, and most reputable student sections in the country. Treating opposing fans the way the Army did will not let us reach our goal.

We hope this event will not deter Hoya Blue from making future trips to the Carrier Dome. The presence of opposing fans and the passion they bring intensifies what is already the conference's most heated rivalry.

Sincerely,
Jameson Fleming
Chris Wright's 25 points and a 16 point second half comeback each fell short as the #23 Syracuse Orangemen held on in a 98-94 overtime win today, putting the Georgetown Hoyas on the brink of missing the 2009 NCAA tournament brackets announced in four weeks.
Georgetown needed a good start in this game and got it, opening up an early 8-2 lead behind a pair of three pointers from Austin Freeman and Dajuan Summers. The good times were altogether brief for the pair, whose poor shooting and spotty defense was a theme throughout the first half where Georgetown failed to hold leads against the Orangemen. From an 8-2 lead, Syracuse switched to a 2-3 zone defense that, as many times before this season, seemed to confuse the Hoyas, which led to five turnovers over the next seven possessions and allowed Syracuse to tie the score at the 15:42 mark and lead 13-12 with 10:19 to play. Georgetown had 10 turnovers in the half, leading to 13 Syracuse points.
Andy Rautins had the hot hand early for the Orangemen, scoring nine of the team's first 19 points as the Orangemen led 19-17 midway through the half. A Chris Wright jumper tied the score, and when Summers got past Kristof Ongenaet for a dunk, it ended a run of five straight misses for Summers over the past ten minutes. On the ensuing play, Rautins missed a three but in the fight for the rebound, Ongenaet elbowed Summers in the back of the head, sending Summers tumbling to the ground. The ESPN videos were inconclusive, but officials ruled the play a flagrant foul and ejected Ongenaet.
Syracuse coach Jim Boeheim protested the call and claimed in post-game comments that a video feed showed Summers had elbowed Ongenaet in the preceding series, but to no avail. Unfortunately for Georgetown, Austin Freeman missed both free throws.
Freeman, who himself had missed four straight since the opening minutes, hit a three to extend the Georgetown lead to seven at the 7:00 mark, 26-19, and Georgetown maintained the lead at the 3:47 mark when the Hoyas' offense went to sleep just as the Orangemen were waking up.

Syracuse's wake-up call came in the form of sophomore Jonny Flynn, who scored his first points of the half at the 3:33 mark to close to 31-25. Flynn scored five of the next ten points as Syracuse closed the half on a 9-1 run to wipe out the Hoyas' lead and take a 32-31 score into intermission. The run exposed a weak first half for the Hoyas, who were just 2-10 from three point range following the first shots of the game, and where Summers and Freeman finished the last 18 minutes of the half a combined 2-12. Georgetown's 10 turnovers were noticeable, as was a 2-6 effort at the line.

Much of the second half was marked by defensive lapses and a general inability to get the ball inside to Greg Monroe. The 6-11 freshman, with six points and five rebounds at halftime, got only two field goal attempts the entire second half as Syracuse's defense closed the door inside and its offense began to run away with the game.

While the Hoyas opened the half with four consecutive turnovers in the first 2:47 of the half, Syracuse hit four of its first six shots and opened the lead to 42-32 with 16:49 to play--a run of 18-1 over seven minutes where the G-men were 0-7 from the field and gave up five turnovers. Monroe got the first of his two second half field goals at the 16:26 mark, but the defense was still in the locker room as Syracuse scored on each of its next four possessions, three by assist, opening a 50-38 lead with 14 minutes to play, shooting 7-9 to begin the second half. In fact, when Eric Devendorf sank a three pointer at the 8:14 mark to go up 66-50, the rout was on: SU had shot 13 for 17 (76%) in the half while Georgetown was 3-9 from three point range.

The hot streak ended for Syracuse, missing six straight over a four minute stretch, but the Hoyas could not make up enough ground. Georgetown closed to nine at the 4:37 mark when Devendorf answered with a three, 71-59, while a Flynn jumper appeared to put the game out of reach at the 2:36 mark, 75-65. For the first time in a long time, perhaps as much since this month long slide began, Georgetown began to fight back.


Georgetown's record in overtime games at the Carrier Dome


John Thompson III's record in games at the Carrier Dome


Georgetown's record at the Carrier Dome since 1995


Most points given up by Georgetown in a game vs. Syracuse since 1967


Georgetown rebound advantage in the game


Georgetown turnovers in first half


Georgetown turnover in last 15 mins. of regulation and overtime


Syracuse fast break points


Percent shooting allowed by Georgetown vs. Syracuse


Georgetown's rank among 16 Big East teams in field goal percentage defense, 2008


Georgetown's rank among 16 Big East teams in field goal percentage defense, 2009


A Dajuan Summers three, his first of the half, closed the lead to seven with 2:11 to play, 75-68. Flynn made one of two free throws, and Summers answered with a second three, 76-71. Following a Rick Jackson layup inside for SU, the teams traded free throws heading into the final minute, with the Orangemen leading by seven, 80-73. The Hoyas needed a spark and they founds it from sophomore Chris Wright, who scored 16 in the second half. Wright's first big shot came at the 38 second mark with a three, 80-76.
On the inbounds, Flynn lost the ball to Monroe, who fed Freeman inside for a layup, 80-78. Flynn added two free throws and Monroe got a layup and was fouled, 82-80. Monroe could have cut the lead to one but, as he had done in the overtime with Cincinnati, missed a key foul shot. On the ensuing play, Syracuse's Rick Jackson made one of two free throws, 83-80, where Wright got open for a long three pointer which stunned the crowd and tied the score, 83-all. Flynn was picked off by Summers with five seconds to play, but missed Wright open down court and opted to take the ball down himself, missing on a game-winning three as regulation time expired.
Georgetown's defense opened the overtime, its second in as many games, cold. Or, to look at it another way, Syracuse couldn't miss...literally. The Orangemen shot a perfect 100% from the field (4-4) in the overtime, opening with a Devendorf three, 86-83. Georgetown converted points in its next three possessions to take a 89-88 lead with 2:14 to play, but Devendorf answered with a big three at the 1:59 mark, 91-89. Chris Wright fouled out on the next possession, 93-89, and with 25 seconds to play Monroe closed the lead to two, 94-92. On the inbounds, Freeman lost sight of Devendorf streaking down the sidelines, who caught the pass at midcourt and went in for a layup, 96-92.
In the final moments, Monroe got inside for a basket, 96-94, but Flynn closed the scoring with free throws, 98-94. Flynn finished 15-16 from the line and 25 points, while the team shot 65% from the field following halftime. Devendorf finished with 23, including 13 in the second half and eight in overtime.
Wright led all Georgetown scorers with a career high 25 points on 10-15 shooting and six assists. Freeman finished with a quiet 19, but his four missed free throws loomed large. Summers recovered from a bad start to the game to finish with 17, while Monroe had 16 points and 11 rebounds. Nikita Mescheriakov, who got the start Saturday in place of Jessie Sapp, had four close but unsuccessful three point attempts and did not score. For his part, Sapp was 3 for 8 off the bench in 24 minutes of action; the remaining bench contributed just 3 for 8 and seven points.
Once 12-3, Georgetown has now lost seven of eight, including consecutive overtime games. In a league projected for eight NCAA bids, Georgetown stands in 12th place in the conference at 4-8, with two top 25 opponents in the next nine days. And before fans can worry about running the table, Georgetown must figure out how to win on the road, where they are 1-6 this season facing South Florida in Tampa Wednesday. Without a win Wednesday, such talk won't get the Hoyas very far when all is said and done.
Here's the Georgetown half of the box score.

            MIN   2FG   3FG   FT  REB  A  PF  PTS
Starters:                                 
Wright       41   5-7   5-8   0-0   5   6  5   25
Freeman      40   3-6   3-6   4-8   2   6  3   19
Mescheriakov 24   0-0   0-4   0-0   1   3  4    0
Summers      41   3-7   3-10  2-2   8   4  3   17
Monroe       34   8-9   0-0   0-1  11   2  4   16
Reserves:
Clark         4   1-3   0-0   0-0   2   0  1    2
Sapp         24   2-4   1-4   2-2   3   1  2    9
Vaughn       11   2-4   0-0   1-2   2   0  2    5
Sims          6   0-1   0-0   1-2   1   0  1    1
DNP: Jansen, Wattad
Team Rebounds                       5
TOTALS      225 24-41 12-32 10-17  40  22 25   94

Post game articles follow below.
Columnist Mike Wise of the Washington Post wonders if intra-team issues are a contributing factor to the Hoyas' mid-season slide. At least according to the players, that's not an issue.
"Nothing happened between me and him," said senior Jessie Sapp over indirect references in the press to a confrontation with sophomore Chris Wright earlier in the season. "We're going to agree on certain things and disagree on certain things -- that doesn't mean we were actually in there fist-fighting or doing all this crazy stuff."
"I've had a couple teams where I look and say, 'We can't do it,' for whatever the factors are," coach Thompson said. "I've felt that with particular teams that couldn't get done what we wanted to get done. I do not feel that about this group."
At least one unnamed former player once felt this way, according to the article, as Wise cites an player from the 2007-08 told his mother not to buy Final Four tickets in 2008. "We're not going anywhere, Mom," said the player. We don't have the same chemistry as last year."

The Carrier Dome has not been friendly to Georgetown fans over the years: Georgetown is 7-19 all time in the building for men's basketball and has lost 12 of 14 since 1992.

Over the 28 years of games in the Dome between the schools, however, there has been no shortage of great games. Here are ten to remember:
Feb. 9, 1981: Georgetown's debut at the Dome witnessed a memorable Big East performance by Syracuse senior Dan Schayes, who scored 19 points and collected 23 rebounds in a 66-64 Syracuse win. The rebound total remains the most by any Georgetown opponent since 1973.
Jan. 17, 1983: Just two years earlier, Georgetown-Syracuse drew 17,092 at the Dome. Two years later, a record crowd of 31,327 saw the Orangemen erase a 21 point halftime deficit to lead with under 2:00 left, but Georgetown scored the last six points of the game to win 97-92, behind a Big East freshman record 31 points from Michael Jackson.
Jan. 28, 1985: Two days removed from its loss to #2 St. John's, #1-ranked Georgetown was upset at the Dome, 65-63, before 32,329. Patrick Ewing's 21 points and 17 rebounds were matched by Rafael Addison's 26 point, 12 rebound effort, while Dwayne (Pearl) Washington engineered the last minute win.
Feb. 22, 1987:Georgetown's 6-4 "point-center" Perry McDonald turns in a career 26 points and nine rebounds in a 72-71 upset of #9-ranked Syracuse. The Orangemen, en route to its first Final Four since 1975, shoot 15-34 from the line in the one point loss before 32,602.
Jan. 24, 1988: One of the single most memorable games of the decade: in a season where the Hoyas upset the Orangemen twice on last second wins, the Hoyas saved some magic for its game in the Carrier Dome. Syracuse had all five starters in double figures and took the the lead with sight seconds left. "Charles Smith will take it all the way!" pronounced CBS' Billy Packer, and that is precisely what the 6-0 guard did, weaving right through the Orange defenses for a finger roll lay-up at the buzzer before 32,419 shocked Syracuse fans.
March 4, 1990: The largest on-campus crowd in NCAA history (33,015) saw a wild game, including only the third ejection in coach John Thompson's 18 year tenure. Dwayne Bryant scores a career high 25 and the Hoyas lead go ahead by two with :05 left. Then, with time expiring and little hope for a long distance shot, Georgetown senior Sam Jefferson inexplicably fouls Syracuse's Billy Owens, allowing the Orange to send the game into overtime with free throws and to an eventual win.
Feb. 26, 1995: Allen Iverson's debut at the Dome drew 31,643, but it was a career effort by senior Othella Harrington that paced the Hoyas, 81-78 over the #22 Orangemen. While Iverson scored 21, it was Harrington who finished with 27 points as Syracuse center J.B. Reafsnyder managed only six points in response.
Jan. 29, 2001: A second half ejection of Wesley Wilson propelled Syracuse towards a 70-63 win over #10 Georgetown before only 21,603 due to poor weather. Syracuse big men Preston Schumpert and Damone Brown combined for 46 points and 18 rebounds, while Gerald Riley and Ruben Boumtje-Boumtje were a combined 0-10.
Feb. 24, 2002: Georgetown's last win in the Dome to date came on the shoulders of Gerald Riley, whose 18 points erased bad memories from his effort the year before. Riley hit a key three in the final minute that lifted the Hoyas to a 75-69 win before 29,215 at the game.
Jan. 18, 2005: In John Thompson III's first Carrier Dome game, Brandon Bowman's buzzer beater was ruled a two pointer instead of a three because his big toe was on the line; in overtime, Gerry McNamara hit the biggest of his five threes on the evening for a 78-73 win before 23,485, marking Jim Boeheim's 12th overtime win in his last 13. When the final horn sounded," wrote Rochester Democrat and Chronicle columnist Scott Pitoniak, "Dome public address announcer Carl Eilenberg bellowed into the microphone: 'Just like the old days. The rivalry lives on.'
Since 1992, however, the two teams have entered the game nationally ranked together just twice, and none the last eight years.

Date        Score      Georgetown   Syracuse
02-09-81 L  64-66      --           --
03-06-81 L  53-57      --           --
01-17-82 L  70-75      #8           --
01-10-83 W  97-92      #17          #9
01-30-84 W  80-67      #4           #20 
01-28-85 L  63-65      #1           #11
02-23-86 L  63-64      #13          #9
02-22-87 W  72-71      #11          #9
01-24-88 W  69-68      #15          #14
03-05-89 L  76-82      #2           #6
03-04-90 L  87-89(OT)  #7           #10
03-03-91 L  58-62      --           #6
02-23-92 W  72-68      #25          #17
02-08-93 L  61-76      --           --
03-06-94 L  75-81      --           #14
02-26-95 W  81-78      --           #22
02-10-96 L  64-85      #8           #18
02-08-97 L  74-77      --           --
03-01-98 L  72-77(OT)  --           #22
02-27-00 L  52-67      --           #13
01-29-01 L  63-70      #10          #12
02-24-02 W  75-69      --           --
02-03-03 L  80-93      --           #19
01-18-05 L  73-78(OT)  --           #7
02-26-07 L  58-72      #12          --
02-16-08 L  70-77      #8           --
02-14-09 L  94-98(OT)  --           #23

How does a team go from 10-1 in January to fighting for its post-season life in February? A lot of fans have asked that question and so have sportswriters, as noted in this Washington Times article.
"They were a young team you expected to only get better and better. Instead, they hit the skids," said ESPN's Jay Bilas. "There's no way to explain it. How do you explain a hitting slump for a guy who's been around baseball all his life? It's mostly mental. It's a total loss of confidence. We've seen it with Texas. We've seen it with Notre Dame perhaps on a more profound level than anyone. And we're seeing it with Georgetown."
"I think the upperclassmen have been disappointing; I don't know where DaJuan Summers' head is," said the New York Daily News' Dick Weiss. "I think they miss Jonathan Wallace a lot more than anybody ever thought they would."
An evening of poor ice at Verizon Center Saturday has led some hockey fans to point fingers at the overtime finish of Georgetown's game versus Cincinnati.
Saturday's NHL game, the second of two games this season where the Capitals have followed a Big East game, was cited in the Washington Post as one possible cause for the ice problems, although others pointed to the salient fact that the ice itself was removed for a recent truck pull and has yet to mature.
One angry blogger thinks that Georgetown should simply go elsewhere. "Alexander Ovechkin is more important to our city than any freshman or senior hoopster at GU, " he writes. "This situation is grave enough that the longstanding association between the school and downtown arena must be overhauled: as in, Get Out! Get something built on your campus like 95 percent of the other D-I programs have; it's better for the student body anyway. God knows the school has the endowment for the project."
(OK, he really lost us with that last one.)
And here's this suggestion: the Capitals could play some Saturday afternoon hockey games, and leave basketball for an evening tip-off.
A brief scheduling item for 2009-10: the Savannah Morning News mentions Georgetown as a potential home opponent for Div. I independent Savannah State next season.
"Until we establish ourselves, those types of games will be what gets Savannah out to sample our product," said athletic director Bart Bellairs. "I'm excited about Georgetown, but to get instate [teams] of Georgia Tech's caliber would be huge for us, too."
Freshman center Greg Monroe has been named to the mid-season list of 30 candidates for the John Wooden Award. Monroe is the only freshman on the list and one of just two centers.
Also discussing Monroe, the Washington Examiner has a profile of Howard guard Calvin Thompson, a hometown friend and high school teammate of Monroe's who is still adjusting to the challenges of college basketball.
The Georgetown Hoyas lost a 12 point second half lead in a lackluster 64-62 loss to the Cincinnati Bearcats, its sixth loss in its last seven games and a seventh Big East loss of the season, exceeding its combined total for the prior two years.
The game offered signs of trouble all around: the Hoyas' eroding defense, poor ball handling, a lack of late game leadership and the benching of its team captain. All appeared to be contributing factors in yet another example of a team that has lost its way in the midst of the conference race.
To say that Georgetown started off poorly in this game might be an understatement--the T-Shirt Gatling Gun had more direction than the Hoyas did to start the game. Austin Freeman opened the half with a missed layup and Georgetown proceeded to miss each of its first four shots within the first 3:48 of the game. Cincinnati took an easy 8-0 lead, which led coach John Thompson III to take the visible step of calling out his starting five by benching all of them in unison for a lineup of Nikita Mescheriakov, Omar Wattad, Jason Clark, Henry Sims, and Julian Vaughn. The fact that the crowd of 15,349 voiced its audible approval was a sign of how poor the start was.
The second team held its own for three minutes, but it wasn't until the middle of the half that the Georgetown defense arrived on the floor. The Hoyas forced three consecutive Bearcat turnovers over a two minute span to help tie the score at 13-all, and the G-men took the lead with 6:43 to play with an Omar Wattad three, 16-15. The Hoyas increased the lead with two more UC turnovers, 20-15, and took a five point lead at the break, 26-21. From its 0-4 start, Georgetown finished 9-16 from the field, holding the Bearcats to 36 percent from the field and 1-8 from three point range. The lead otherwise obscured some cold numbers from its offensive leaders: with Greg Monroe shooting 1-4, guards Chris Wright and Jessie Sapp combining to go 0-2, and Dajuan Summers finishing with one point. As long as the defense held, however, the Hoyas appeared to be in good stead.
Georgetown forced five Cincinnati turnovers within the first five minutes of play after halftime and built a 12 point lead, 33-21. From this point, the air began to leak out of the Hoyas' tires, as much for the renewed effort of the Bearcats as the return of some old habits for the Hoyas. Guard Larry Davis, who had not scored in the first half, began to take advantage of poor defensive sets by Austin Freeman and Jason Clark and started inching the Bearcats forward. He was joined by another reserve, forward Alvin Mitchell, also shut out in the first half. Together, the two would tear open the Georgetown lead, shooting 70 percent from the floor and 6 for 7 from three point range, as the Bearcats surged and the Hoyas failed to respond.

Freeman was somewhat out of position for times in the second half because he was playing guard, a move becessitated by the benching of Jessie Sapp. Sapp, who started the first four minutes of the first half and finished the last two, did not play in the second, as coach Thompson moved Mescheriakov to the small forward position and Freeman into the backcourt, then Freeman went back to forward when Jason Clark entered. A pair of Freeman mistakes turned this game around in a hurry.


Missed layups by Georgetown


Georgetown shooting in first 12:19 of game


Georgetown shooting in last 12:19 of game


Georgetown shooting in overtime


Offensive rebounds by Georgetown


Field goal shooting allowed vs. Big East teams


Last overtime loss at Verizon Center prior to Saturday's game (Syracuse, 94-83)


Georgetown led by ten with 14:29 to play when UC center Yancy Gates missed both free throws, but Georgetown's Jason Clark was tagged with an offensive foul on the ensuing play. Mitchell caught the Hoyas' defense at rest and hit a three, 39-32, then watched as Freeman, who had struggled with getting the ball up the court all day, turned the ball over to Deonta Vaughn, who fed Mitchell, who set up Davis on the wing for another three, 39-35. The lead appeared on higher ground after Summers hit a three at the 7:19 mark, 52-44, but it was an point of the game only viewed in hindsight: for the next 12:19 of the game, Georgetown would make only one field goal thereafter.
Davis got around Clark for a three, 52-47, and off a turnover by Dajuan Summers, Gates scored inside, 52-49. Summers missed a close-in shot, Greg Monroe clanged a layup opportunity, and Chris Wright missed a free throw, but Georgetown still took a three point lead into the final 3:40 after a pair of Austin Freeman free throws, soon increased the lead to five on a Monroe layup, 59-54.
Deonta Vaughn closed the lead to three at the 1:54 mark, 59-56, but Georgetown still had the ball and the lead. They had neither less than a minute later, as Summers fumbled an entry pass out of bounds and Mitchell eluded Mescheriakov for a three, 59-59. With 42 seconds left, Georgetown lost it yet again, this time from Greg Monroe, setting up Cincinnati for the last shot with 42 seconds left. UC's Deonta Vaughn opted to start the play with under ten seconds left, and with Georgetown's defense in place, the Bearcats had to settle for a poor shot to beat the shot clock, giving the Hoyas an opportunity for the win with :07 left. Chris Wright got the ball to Summers outside the three point arc, but his shot went wide and the game went to overtime.
Neither team distinguished itself early in the overtime: Georgetown missed two jumpers and a layup while UC suffered three turnovers. In fact, UC didn't hit a single field goal the entire OT, and still won.
How? With 3:24 to play, Greg Monroe went to the foul line to give Georgetown the lead. He missed both free throws. Monroe missed a third straight with 2:46 to play before adding a free throw to tie the score at 60. After Deonta Vaughn missed a jumper with 2:22 to play, Summers picked up a cheap foul and UC's Mike Williams added two free throws, 62-60. On the next series, Monroe lost the ball inside and UC went for the break, stopped by a quick foul by Mescheriakov. Vaughn hit both free throws, 64-60.
Chris Wright added two free throws with a minute remaining, 64-62. When the Bearcats missed on a late jumper with 14 seconds remaining, Georgetown called time out to set up the winning play. On the inbound, Wright was bottled up by the UC defense and did not look inside to Monroe, and as time drifted by, he found Freeman on the wing. Freeman, also closely protected, leaned in hoping for a foul, but none was called and the shot was no good, 64-62.
Cincinnati ended the overtime 0-3 from the field after shooting 14-22 (63%) in the second half, eviscerating a Georgetown defense that had held the Bearcats to just 36 percent in the first. For its part, Georgetown shot 0-8 in the overtime.
"Even though we still struggled to score in the first half it helped us a little in adjusting to the way they play" said UC coach Mick Cronin. "The fact that we played them 11 days ago made it a little bit easier to prepare for them, because no one else in our league plays like them."
"I think Georgetown had one field goal in the last six minutes of regulation and in overtime. We've grown as a team defensively, exponentially over our last eight games, we're 6-2," Cronin said. "It makes them really easy to coach and the guys are really focused in and they care a lot about each other."
Losses, like wins, are a team effort. It starts with Dajuan Summers, whose play was visibly lackluster at times: he finished with seven points and three turnovers. Greg Monroe's numbers were even more discouraging: 4-12 from the field, missing five layups and three key free throws in overtime. Austin Freeman was 3-9, Chris Wright 2-7. The starting five managed only 11 field goals and nine turnovers.
"We need composure," said Austin Freeman.
"Our togetherness is not there," said Greg Monroe. "We just have to find a way back to how we were earlier in the season."
Syracuse in the cold of February is a tough place to figure that out.
Next up is a Syracuse team stinging after a 102-85 road loss at Villanova. Fortunately for Syracuse, the two teams meet Saturday at the Carrier Dome, where Georgetown has won just once since Allen Iverson's freshman season. To stay above .500, almost a necessity for a reasonable NCAA invite, the 2009 Hoyas will have to defeat at least three from a group of four upcoming opponents which include Syracuse, Marquette, Louisville, and Villanova, teams with a combined record of 74-17 (.780). Drop three of these four, and Georgetown is not only out of an NCAA bid, but close to becoming ineligible for any post-season invitation.
Here's the Georgetown half of the box score.

            MIN   2FG   3FG   FT  REB  A  PF  PTS
Starters:                                 
Wright       37   2-5   0-2   5-6   3   4  0    9
Sapp          6   0-1   0-0   0-0   1   0  0    0
Freeman      37   3-7   0-2   4-4   2   1  1   10
Summers      34   0-3   2-4   1-2   7   1  4    7
Monroe       36   4-12  0-0   5-8   6   2  2   13
Reserves:
Mescheriakov 27   1-1   1-3   0-0   1   2  4    5
Clark        19   3-4   1-1   0-0   4   1  4    9
Vaughn        9   1-1   0-0   0-0   2   0  0    2
Sims          7   0-0   0-0   0-0   0   0  1    0
Wattad       13   0-0   2-3   1-2   0   1  1    7
DNP: Jansen
Team Rebounds                       2
TOTALS      225 14-34  6-15 16-22  28  12 17   62

Post-game links follow below.
"We are a team that can get 21 turnovers if we play defense the way we're capable of."--Jessie Sapp
Had Georgetown played ten or eleven other Big East teams on Tuesday, its late game efforts might have cost the Hoyas a painful sixth straight loss. Instead, the Hoyas played Rutgers, and its defense led the way in a 57-47 win before 8,473 at Verizon Center Tuesday.
Things got off to a rough start for the Hoyas, shooting 1-7 to begin the game and seeing Dajuan Summers pick up two fouls in the first four minutes, which led him to sit the remainder first half. For its part, Rutgers opened the game 1-4 but turnovers proved its undoing for much of the half, with 12 turnovers leading to 11 points off turnovers for the Hoyas. Rutgers held a slight lead at 14-12 but its offense went to sleep, ending the half with seven turnovers and 1-8 scoring as Georgetown, shooting only 34 percent and 2-9 from three point range, pulled away to a 27-18 lead at the break. The 18 points tied a season low for Rutgers at a halftime of a game.
Mike Rosario, Rutgers' leading scorer entering the game, was just 1-6 in the first half but made his presence felt after halftime, scoring the first eight points of the half for Rutgers and 17 in the second half overall. But even Rosario's efforts could not shake Rutgers' inability to hold on the ball. The Scarlet Knights opened the half with turnovers in each of its first two possessions, as Georgetown opened a 32-18 lead.

DeJuan Summers hit a three to extended the lead to 35-21, and after a Greg Monroe layup and a pair of Rosario free throws, Georgetown's three point shooting awoke, thanks to back to back threes from Jason Clark and Nikita Mescheriakov, which opened the lead to 20, 43-23 at the 14:40 mark.


Missed layups by Georgetown


Number of Rutgers turnovers


Number of RU second half points by someone other than Mike Rosario


Big East road record by Rutgers since 2006




With 9:25 to go, Georgetown still led by 20, 49-29. At that point, Rutgers was still playing hard and was able to pick away at the lead. Two Georgetown turnovers and a missed shot were converted by Rosario, who scored seven straight to cut the lead to 13 at the 8:05 mark, 49-36, but the Knights coughed up turnovers that Georgetown converted to extend the lead back to 17, 53-36.
A three pointer by Austin Freeman with 4:25 to play gave Georgetown a 16 point lead, 56-40, but it was the last field goal of the game for the Hoyas. Rutgers had only one turnover the remainder of the game and as the Hoyas lost its collective intensity from the floor, the lead went from 16, to 14, to 12, and down to nine at the 57 second mark, 56-47. A Chris Wright free throw moved the lead back to double digits, but time ran out on the Scarlet Knights, who shot 44 percent in the half and outrebounded Georgetown down the stretch 15-11, but whose nine second half turnovers were too much to overcome with the late rally.
"It's the first time we've been up like that in quite a while, and I think we got a little too comfortable," said coach John Thompson III in post-game comments. "But the way things have been going lately, we'll take the win."
Jessie Sapp led all Georgetown scorers with 11 points in one of the best scoring games he has had all season. Only one other Georgetown player, Greg Monroe (10 points, seven rebounds, six assists) was in double figures.
Here's the Georgetown half of the box score.

            MIN   2FG   3FG   FT  REB  A  PF  PTS
Starters:                                 
Wright       30   2-7   0-2   1-2   1   3  1    5
Sapp         22   2-3   2-2   1-2   4   0  1   11
Freeman      32   1-3   1-3   2-2   4   3  2    7
Summers      16   1-3   1-3   0-0   3   1  3    5
Monroe       35   4-8   0-0   2-5   7   6  0   10
Reserves:
Mescheriakov 20   2-2   1-5   0-0   0   0  5    7
Clark        20   0-0   2-3   0-0   3   2  1    6
Vaughn        2   0-0   0-0   0-0   0   0  0    0
Sims         14   2-4   0-0   2-4   3   0  1    6
Wattad        7   0-1   0-2   0-0   0   0  0    0
DNP: Jansen
Team Rebounds                       6
TOTALS      200 14-31  7-18  8-15  31  15 14   57

Post-game links follow below.
---
HoyaSaxa.com: The One-Stop Web Site For Hoya Basketball™
An independent web site not affiliated with Georgetown University. All rights reserved.