| | |
| --- | --- |
| | 3/31/12 Updated 2:40 pm EDT |
Former Georgetown guard Chris Wright (C'11) is cautioning against reports Saturday that the 22 year old guard was diagnosed this week with multiple sclerosis (MS).
The Eurobasket web site reported Wright complained of pain in his feet and wrist, which was diagnosed as the disease.
In a Twitter post at 2:00 pm EDT, Wright said: "I'm overwhelmed by everyone's concern about the possibility of me having MS but as of right now nothing is certain...if everyone will just let this issue rest, I would gladly appreciate it. Once again, thanks for all the support, God bless."
MS is a progressive disease of the central nervous system, with no known cause or cure. In Europe, the disease is less common in places like Turkey than in Scandinavia or the northern regions of the UK, but researchers look to genetics, not location, as a factor in geographic incidence. The disease is neither contagious nor directly inherited.
Senior center Henry Sims scored 11 points in Friday's NABC All-Star Game as part of the Final Four week festivities, reports the Washington Post.

In a decision that was not altogether unexpected, forward Hollis Thompson will forego his final season of college eligibility for the NBA draft, it was announced Tuesday at GUHoyas.com.
"Hollis returned for his junior year after submitting his name for the 2011 NBA Draft," said coach John Thompson III in the statement. "We fully anticipated he would enter the 2012 draft after this season. He is an extremely hard worker and we wish him the best as he takes his next step."
Thompson was the school's first "greenshirt" recruit, arriving to campus a semester early in the spring of 2009. Though he did not play for the team in 2008-09, it has allowed him to be within range to graduate a year early, perhaps by this summer, which may also have played a role in the decision to leave rather than pursue further studies.
A gifted outside shooter who averaged 47 percent from the field and 43 percent from three point range, Thompson's career numbers remain a step below that of previous early entrants such as Mike Sweetney, Jeff Green, or Dajuan Summers. In 99 games, Thompson averaged just 8.6 points and 4.0 rebounds, with an 11.8 per game average in Big East play this past season. Thompson scored 20 or more in six games over his career, with a career high 26 in the 2011 NCAA tournament versus Virginia Commonwealth. Career wise, Thompson ranks 59th in scoring with 853 points, and 56th in rebounds with 404.
Georgetown's early entrants have fared well in past NBA drafts:
| | | | |
| --- | --- | --- | --- |
| Player | Year | Class | Status |
| Allen Iverson | 1996 | Soph | Selected in 1st Round |
| Victor Page | 1997 | Soph | Not drafted |
| Mike Sweetney | 2003 | Jr | Selected in 1st Round |
| Jeff Green | 2007 | Jr | Selected in 1st Round |
| Dajuan Summers | 2009 | Jr | Selected in 2nd Round |
| Greg Monroe | 2010 | Soph | Selected in 1st Round |
| Hollis Thompson | 2012 | Jr | |
Additional coverage follows below:
GU 83, Savannah St. 54
GU 86, UNC-Greens. 45
Kansas 67, GU 63
GU 88, Chaminade 61
GU 91, Memphis 88 (OT)
GU 81, IUPUI 58
GU 57, Alabama 55
GU 84, NJIT 44
GU 62, Howard 48
GU 81, American 55
GU 70, Memphis 59
GU 71, Louisville 68
GU 49, Providence 40
GU 73, Marquette 70
W. Virginia 74, GU 62
Cincinnati 68, GU 64
GU 69, St. John's 49
GU 83, DePaul 75
GU 52, Rutgers 50
Pitt 72, GU 60
GU 58, UConn 44
GU 75, S. Florida 45
Syracuse 64, GU 61 (OT)
GU 71, St. John's 61
GU 63, Providence 53
Seton Hall 73, GU 55
GU 67, Villanova 46
GU 59, Notre Dame 41
Marquette 83, GU 69
GU 64, Pitt 52
Cincinnati 72, GU 70 (2OT)
GU 74, Belmont 59
NC State 66, GU 63


At season's end, a review of the season from the final statistics:
Scoring: Year over year, Georgetown's scoring saw a 3 percent decrease in points scored (70.6 ppg to 69.0) while defensive intensity dropped the points allowed nearly seven points a game (66.3 to 59.4). (The 59.4 points per game is the lowest mark since the 2007-08 season.) Individually, Jason Clark won the scoring title with 462 points and a 14.0 average.
Field Goal Shooting: Georgetown's shooting dropped for a second year, from 49.9% in 2010 to 47.5% in 2011 to just 46.5% in 2012. Opponent shooting also decreased, from 41.8% in 2010-11 to 38.7% in 2011-12.
Three Point Shooting: One of the major setbacks for the 2011-12 Hoyas was in three point shooting, falling from 35.3% in 2010-11 to 34.7% in 2011-12. The 186 threes is the fewest in the John Thompson III era (2004-present), and excepting Hollis Thompson's 43% average the rest of the team combined to shoot just 31.9%. Opponent three point shooting fell from 33.7% to 27.9%.
Free Throw Shooting: Freshman Jabril Trawick led all free throw shooters with a 77% average (45-58). As a team, Georgetown shot just 69.8%, down from 73.4% in 2010-11.
Rebounding: Georgetown's rebounds took a step upward this past season, with 36.2 rebounds per game versus 33.8 per game vs. 31.2 in 2010-11; in addition, opponent rebounds fell from 31.2 in 2010-11 to 30.8 in 2011-12. Freshman Otto Porter led all rebounders with 225 in 33 games (6.8 per game) .
Assists: As a team, Georgetown's numbers improved slightly to 13.6 per game. Henry Sims' 114 assists led all players.
Fouls: Fouls decreased from 18.8 per game to 17. There were 8 foul outs in 2011-12 versus 7 in 2010-11.
Steals: Georgetown's 6.0 steals per game was the same as a year ago. Jason Clark's 54 steals led all players.
Blocks: Henry Sims led the Hoyas with 45 of the team's 156 blocks, up from 156 last season.
Here are the final player totals for points, rebounds, and assists:
| | | | | | | | |
| --- | --- | --- | --- | --- | --- | --- | --- |
| Player | Min./Game | Pts. | Pts/Game | Pts/Min | Rebs | Asst | TO's |
| Clark | 32.6 | 462 | 14.0 | 0.42 | 134 | 58 | 75 |
| Thompson | 31.1 | 423 | 12.8 | 0.41 | 182 | 49 | 55 |
| Sims | 27.5 | 383 | 11.6 | 0.42 | 198 | 114 | 93 |
| Porter | 29.7 | 321 | 9.7 | 0.32 | 225 | 51 | 38 |
| Starks | 24.4 | 219 | 7.1 | 0.28 | 49 | 49 | 42 |
| Whittington | 20.1 | 142 | 4.3 | 0.21 | 95 | 29 | 37 |
| Lubick | 18.4 | 115 | 3.5 | 0.18 | 128 | 66 | 29 |
| Trawick | 11.4 | 111 | 3.4 | 0.29 | 42 | 18 | 18 |
| Hopkins | 6.8 | 72 | 2.4 | 0.35 | 34 | 12 | 16 |
| Bowen | 3.8 | 18 | 1.3 | 0.33 | 6 | 1 | 2 |
| Adams | 6.0 | 10 | 2.5 | 0.41 | 9 | 1 | 2 |
| Caprio | 2.1 | 2 | 0.2 | 0.08 | 6 | 3 | 6 |
Here's how GU finished among 16 Big East schools in each category:
| | | |
| --- | --- | --- |
| | All Games | Big East Games |
| Scoring | 7th | 12th |
| Scoring Defense | 2nd | 3rd |
| Field Goal % | 2nd | 3rd |
| Three Point % | 3rd | 4th |
| Free Throw % | 7th | 14th |
| Rebounds | 9th | 6th |
| Rebound Margin | 3rd | 2nd |
| Assists | 8th | 11th |
| Steals | 10th | 10th |
| Blocks | 5th | 4th |
Courtesy of StatSheet.com, a review of Georgetown's final numbers nationally:
| | | |
| --- | --- | --- |
| | | Nat'l Rank |
| Points | 2278 | 122 |
| Points Per Game | 69.0 | 142 |
| | | |
| Possessions | 2121 | 189 |
| Possessions Per 40 minutes | 64.3 | 281 |
| | | |
| Field Goals Made | 811 | 114 |
| Field Goal Attempts | 1743 | 192 |
| Field Goal Pct | 46.5 | 47 |
| | | |
| 3-pt Field Goals Made | 186 | 207 |
| 3-pt Field Goal Attempts | 536 | 218 |
| 3-pt Field Goal Pct | 34.7 | 149 |
| | | |
| Free Throws Made | 470 | 112 |
| Free Throw Attempts | 673 | 98 |
| Free Throw Pct | 69.8 | 148 |
| | | |
| Rebound Pct | 52.7 | 52 |
| Total Rebounds | 1193 | 91 |
| Total Rebounds Per Game | 36.2 | 84 |
| Offensive Reb Pct | 35.8 | 82 |
| Offensive Rebounds | 36.7 | 149 |
| Offensive Rebounds Per Game | 11.1 | 171 |
| Defensive Reb Pct | 69.6 | 107 |
| Defensive Rebounds | 826 | 68 |
| Defensive Rebounds Per Game | 25.0 | 56 |
| Team Rebounds | 85 | 288 |
| Team Rebounds Per Game | 2.6 | 289 |
| | | |
| Assists | 451 | 88 |
| Assists Per Game | 13.7 | 92 |
| Assist to Turnover Ratio | 1.08 | 83 |
| | | |
| Steals | 200 | 186 |
| Steals Per Game | 6.1 | 201 |
| | | |
| Turnovers | 417 | 220 |
| Turnovers Per Game | 12.6 | 245 |
| | | |
| Blocks | 156 | 35 |
| Blocks Per Game | 4.7 | 36 |
| | | |
| Fouls | 578 | 175 |
| Fouls Per Game | 17.5 | 211 |
| Disqualifications | 8 | 266 |
There's an old saying in sports: "the loudest noise comes from the cheap seats."

Today's first entrant is Jared Diamond, a writer for the Wall Street Journal, who labeled Georgetown the "Monet of choke artists" for its loss at the buzzer to North Carolina State on Sunday. (Ironically, the accompanying graphic to his story does not even list GU, but does list his alma mater, Syracuse University, with five such losses since 1985.)
Diamond's Twitter feed remarked that "I'm already taking heat for this story: Georgetown as tournament chokers. [A] reader said I belong to the Syracuse mafia." As a 2010 graduate of Syracuse and a former columnist at the Daily Orange, Diamond failed to heed the advice from one of his own columns.

"The problem with college basketball is there's not a big gap," said Syracuse coach Jim Boeheim in a 2010 Daily Orange column written by Diamond. "If you don't play well, whoever it is you're playing can beat you. It's as simple as that."
(If Diamond is clever with his allusions to French impressionism and college basketball, perhaps he could tell readers why Fab Melo is now the Cezanne of NCAA ineligibility. But we digress.)
Entrant two is Jeff Borzello, a East Coast college basketball blogger and aspiring analyst. If Borzello seeks to become the next Andy Katz or Seth Davis, Sunday's column was, in basketball terms, an airball. "Everyone will say Georgetown is one of the toughest teams in the country to prepare for, given its tough-to-defend offense and versatile defense. However, I think the opposite," wrote Borzello. "Georgetown has plenty of talent, but its style isn't conducive to using that to its potential."
The column earned a response by Mark Salter, a national Republican strategist recently portrayed in the HBO film "Game Change", who took on Borzello directly:
"That "style" took them to a Final Four," Salter wrote. "It took them from a projected 10th in the Big East to a 4th place finish. It won 24 games this season. And but for early foul trouble for Sims, it probably would have taken us to the Sweet Sixteen. There's a reason coaches, not clueless, self declared bball pundits, but coaches, say Gtown is hard to prepare for and play. Do they let just anyone become a basketball analyst at CBS?"
And from Casual Hoya, this response of note:
"I'm as upset as anyone about the recent tournament struggles from the Hoyas, but I'm not ready to turn it into an indictment on the health of the program or say that they are part of a systematic failure on the part of the coaching staff," said Chris Haines. "This year's team outplayed all expectations and the future looks great between the freshmen and sophomores on the team, the incoming class of players and the possibility remaining of the top recruit in the country coming to the Hilltop next year. Does tournament performance need to improve? Of course, but the past few years aren't indicative of some systematic failure and there are few coaches out there I'd rather have coaching the Hoyas than JTIII and his staff."
"I just want to say I don't know that I've ever been as proud to be associated with a group of men, with a team as much as I am with this team this year. This team, in spite of whatever downs we've had and losses like today, has been a really special group that I think has represented themselves, represented our institution, represented their families, represented each other very well. It's a group that's given it their all.

We haven't always had success, but it's a group that all year fought for each other and cared about each other, and I'm proud to be associated with these guys. "--John Thompson III
For the better part of half the 2011-12 season, the first half offensive lulls of the Georgetown Hoyas were usually met with a defensive stand that would keep the opponent at bay. Two days earlier, for example, the Hoyas went five minutes without a basket against Belmont, but the Bruins could not cut more than three points off the lead, whereupon the Hoyas returned to form and ultimately, to victory.
North Carolina State is not Belmont.
The 11th seeded Wolfpack outscored the Hoyas 15-2 to end the first half and held on late for a 66-63 win in third round NCAA play in Columbus, OH, ending the Hoyas' 2011-12 season on the same day as it did for the prior two seasons: a loss on March 18, 2010 to Ohio and March 18, 2011 to Virginia Commonwealth.

The 2012 game had marked differences from those two losses, however. Georgetown got ahead early in this one, 8-3, with five quick points from freshman Otto Porter to start the game, and three free throws from Jason Clark. Georgetown's first roadblock in the game came two fouls over three possessions to senior center Henry Sims, sending him to the bench without a point at the 14:20 mark. Much as the case Friday, Nate Lubick moved to the pivot, and much like Friday, Lubick followed Sims to the sidelines with a second foul at the 8:29 mark, with Georgetown up 15-11. A basket and foul shots on consecutive possessions by Hollis Thompson pushed the lead to 19-11 at the 7:30 mark.

N.C. State struggled to get offensive consistency in the game, starting 2-11. With nothing coming from the outside thanks to Georgetown's defense, the Pack began to go inside, leveraging the offensive rebound. With Sims and Lubick out, State pushed the ball inside and hit the boards, closing to 20-15 before the Hoyas got a three pointer from Jabril Trawick and a basket by Greg Whittington to go up 10, 25-15, with 5:07 remaining.

Over the next ten minutes, five to end the first half and five to end the second, the game was lost. As State tightened its defense inside, and absent Sims or Lubick to effect passing lanes, Georgetown opted for a run of poor shooting from outside, with little or no rebounding help. Georgetown managed one offensive rebound in the final 6:53 of the half, and when the Hoyas began to miss its shots, State took full advantage.

Forward C.J. Leslie's basket closed to eight at the 4:57 mark, with Mikael Hopkins picking up a turnover and second foul twenty seconds later. Off a missed free throw, guard C.J. Williams grabbed the rebound and took the basket, 25-19. Jabril Trawick took a long three pointer which missed, and guard Lorenzo Brown drilled a three in return, 25-22. On the next series, Clark lost the ball and Williams answered with a layup, 25-24.

NC State, not known for its outside shooting, saw Williams hit the three to go up 27-25, a 12-0 run, which was tied up by a Hollis Thompson jumper at the 51 second mark of the half. The last minute foretold the margin of the game, as NC State's Scott Wood was fouled with :16 in the half. A 92% foul shooter, Wood surprisingly missed the firth, but connected on the second, 28-27. On the inbound, Clark lost the ball and Leslie scooped up the steal for a dunk at the buzzer, 30-27. Georgetown ended the half missing four of five in the final five minutes, NC State made six of nine over the same period.

"We went into halftime, and I believe they had 10 offensive rebounds," said head coach John Thompson III in post-game remarks. "I thought for the most part our defense was pretty good, they were just throwing it up and going and getting it and getting second and third shots and getting the rebounds, getting to the line."

Georgetown's traditional halftime adjustments seemed ineffective to open the second half. The Hoyas missed six of its first seven shots to open the half, five of which from the outside, as State opened a four point point lead, 34-30. Burned by the three once again, Gu gave up three pointers on two of State's next three possessions to trail by eight, 40-32, only to compound the misery by Sims picking up a third foul 14 seconds later, still scoreless for the game. A basket by Leslie opened the lead to as many as 11 at 43-32, a remarkable 28-7 run since the five minute mark of the first half.


NCSU record
in 2011-12
holding opponents
under 70 points


GU record
in 2011-12
when trailing at half


GU shooting,
first 15 mins of game


GU shooting,
next 12 mins of game


GU shooting,
final 13 mins of game


NCSU offensive rebs.
most allowed by GU
since Dec. 2007
(at #2 Memphis)


NCSU adv.,
offensive rebs.


NCSU adv.,
2nd chance pts


NCSU adv.,
FT attempts


Shooting for
Clark & Sims
vs. Belmont


Shooting for
Clark & Sims
vs. NC State


Pts in paint


GU all-time
vs. NC State


GU vs. ACC schools
in NCAA play


With no points from Sims, six straight misses from Clark since the opening bell of the first half, and just one basket from Otto Porter since the beginning of the game, Hollis Thompson took over the game. Thompson scored seven straight to close the lead to four at the 11:45 mark, 45-41. But as the Hoyas awakened from their slumber and began to make a run at the lead, the Wolfpack met every challenge.
After a double technical on GU's Markel Starks and Lorenzo Brown returned the ball to State's possession, Brown missed on a long three, but Leslie muscled in for the rebound and the tip-in, 47-41. Markel Starks rallied the Hoyas' hopes with a three, 47-44, only to see NC State's Scott Wood answer thusly, 50-44. A Nate Lubick layup was the only basket scored by either team for a four minute stretch of defensive stops and free throws, with Sims back in the game on an offense-defense rotation. With 4:30 left, a missed free throw by Whittington that would have closed the lead to thee was met with a deep three from Wood. 57-50, and the Wolfpack answered a Clark lay-in with an offensive rebound and basket with 2:12 to play, 59-52.
Still down seven, Hollis Thompson connected from three to close to four at the 1:00 mark, 61-57. GU fouled State center Richard Howell (9 pts, 9 rebs), who missed the second free throw, now up five. Henry Sims got inside for a layup, his only basket of the game, 62-59.
Brown was sent to the line to close the door, but missed the front and of the one and one and Sims answered with two at the line with 37 seconds left, 63-62. Wood was sent to the line and again missed a critical shot, giving the Hoyas the ball with 36 seconds remaining, down two. The offensive sets were going nowhere when head coach John Thompson III called the team's last time out with 0:24 left. NC State kept Hollis Thompson in check and Porter opted for a 12 foot jumper that fell short and Sims was tagged with his fifth foul, yelling back at Porter in frustration for either the shot or the need for Sims to pick up the foul.
"We wanted to go inside to Henry", said coach Thompson. "They crowded out Leslie, who was guarding Otto, kind of sat in Henry's lap, and Henry kicked it right back out. And so we had a couple of shooters on the opposite side, I think, in case they came from that side. He kicked it back out to Otto. I thought Otto had an open look right there and didn't want to take it. That's fine. I'm comfortable with his decisions. Then he drove it and took a pull up, but we wanted to give it to Henry and get some movement off of that and let Henry make a decision whether he had something or whether he could kick it out to one of our open guys. He made the decision to kick it out.
[Porter] was open. Ended up getting a decent shot. The ball just didn't go in."
The Wolfpack still couldn't close the door, though. Two free throws were quickly answered by a Clark layup, 65-63. Back on the line, Brown made the first but missed the second with 4.6 seconds left, up three. In desperation, Clark raced up the court and saw his final shot as a collegian sail wide left.
"I felt like it had a shot," Clark said. "We pushed the ball up the court, tried to get a last shot. I felt like it had a chance, but it didn't. "
"Overall, I think we gave a great effort today," said Starks. "It was just hard for us to bounce back. You look up and we cut it to four then they come down and hit a three. You keep grinding and grinding, then they make free throws down the stretch. It's just tough."
"I wish they [the seniors] had one more year, added Porter, "but we're going to continue and keep going."
The Georgetown half of the box score follows below:

            MIN   2FG   3FG   FT  REB  A  PF  PTS
Starters:                                 
Clark        31   2-5   1-6   3-3   3   3  2   10 
Porter       38   3-5   1-4   0-0   8   0  1    9
Thompson     34   5-7   3-8   4-4   5   3  3   23 
Lubick       24   1-2   0-0   1-2   5   1  3    3 
Sims         21   1-3   0-0   2-2   3   2  5    4
Reserves:
Whittington  24   1-2   1-2   1-2   4   0  3    6 
Hopkins       6   0-1   0-0   2-4   1   2  2    2
Starks       19   0-1   1-3   0-0   0   2  4    3
Trawick       3   0-0   1-2   0-0   0   0  0    3
DNP: Bowen, Caprio
Injured: Adams, Ayegba
Team Rebounds                       4
TOTALS      200 13-26  8-25  13-17 33  13 23   63

Game links follow below:
Seniors Jason Clark and Henry Sims had seen it all before: Baylor. Ohio. VCU. They were not ready to go home early again.
Clark and Sims led a dominant Georgetown effort on both sides of the court in steering past a tough first round matchup, ending Belmont University's 14 game win streak in a 74-59 win Friday.
Belmont entered the game ranked 10th nationally in three point field goals and struck early, with three pointers on three of its first four baskets. The Bruins took an 8-7 lead early but no further, thanks to Clark, who scored 10 of his game high 21 to open the game, giving the Hoyas a 14-8 lead seven minutes into the first half. Georgetown's effective use of perimeter defense limited the Bruins at nearly every turn, extending the lead to six when Henry Sims was sent to the bench with a second personal foul at the 11:15 mark. Sophomore Nate Lubick moved into the pivot and played well in relief, picking up consecutive assists as GU extended the lead to 11 at the 8:31 mark, 26-15.

"We went in expecting to play both man and zone,' said coach John Thompson III. "Once we settled into our zone, I thought it was very effective. So we stayed with it, probably a lot longer than I had planned."

But as with Sims, Lubick got into foul trouble and the Hoyas' offense took its usual first half break, going nearly five minutes without a basket. To its credit, however, Georgetown's defense held the Bruins' outside game in check and when Otto Porter hit a three at the 3:45 mark, GU was up eleven, 30-22.

Georgetown carried a nine point lead into the half, though the TV announcers more than once said it felt if Georgetown should be up 16. Belmont stayed close with five threes in 18 attempts, but Georgetown's 54% shooting and four threes of its own allowed the Hoyas some room at the break.

With little success on the perimeter, the Bruins tried to move inside to open the defense, and a 5-0 run closed the lead to 42-36 with 15:21 to play, only to be answered by a 8-2 run which saw Georgetown score on four straight possessions, part of a second half in which it was 16-23 from the field, most of which leveraged Georgetown's height inside. GU led by as many as 15 when Belmont was able to convert a pair of three point plays from the foul line and shave the lead to nine at the 5:41 mark, 58-49. Again, the Hoyas answered the challenge, as Georgetown scored on five straight possessions: a Sims jumper, a Clark run out triggered from a big Greg Whittington block, a Whittington pass to Sims inside, a Hollis Thompson jumper, and a Whittington pass to Porter for the basket and the foul, 70-51.


Fewest points scored by Belmont this season
(Avg: 81.4)


Belmont 2-pt att.


Belmont 3-pt att.


GU 3-pt att.


Shooting for Belmont's
leading scorer,
Kerron Clark
(14.1 ppg)


Pts in paint, GU


Belmont fast break pts.


GU 2nd half FG%


GU adv., rebounds


GU all-time record
in opening round
NCAA games


Clark led all scorers with 21, followed by 16 from Porter and 15 from Sims. Hollis Thompson continued to do well on defense but his shooting was off again (3-9) and the Hoyas will need better results from him against a tougher North Carolina State team Sunday. Still, after all the talk of Georgetown as the upset du jour Friday, there was a sense of relief that this first hurdle had been overcome.
"[It] felt good to get that game under your belt," said Henry Sims. "But we didn't come here just for one game."
The Georgetown half of the box score follows below:

            MIN   2FG   3FG   FT  REB  A  PF  PTS
Starters:                                 
Clark        34   6-7   3-5   0-0   4   0  0   21 
Porter       32   5-5   1-2   3-4   8   0  1   16
Thompson     28   3-6   0-3   0-0   4   1  1    6 
Lubick       19   1-1   0-0   0-0   2   5  2    2 
Sims         27   5-12  0-0   5-7   4   5  2   15
Reserves:
Whittington  30   2-3   1-1   0-0   4   2  1    7 
Hopkins      20   1-1   0-1   1-2   1   1  2    3
Starks        6   1-1   0-1   0-0   1   1  2    2
Bowen         1   0-0   0-0   0-0   0   0  0    0
Caprio        1   0-0   0-0   0-0   0   0  0    0
Trawick       2   1-1   0-0   0-0   1   0  0    2
Injured: Adams, Ayegba
Team Rebounds                       3
TOTALS      200 25-37  5-12   9-13 32  15 11   74

More links follow below:
Friday's opener with Belmont marks Georgetown's 28th appearance in the NCAA tournament and its 72nd game all-time in the tournament. And excepting the three games of the 1943 tournament, radio announcer Rich Chvotkin has been a part of 66 of them, with a half-season lost to military service in Kuwait in 1991. WUSA-TV has an online feature about Chvotkin, who has called NCAA games from Tuscaloosa to Boise and everywhere in-between.
The date passed without notice. No event, no press release. Last week, in the midst of the Big East tournament, a milestone came and went: the 40th anniversary of the hiring of John Thompson as men's basketball coach at Georgetown University.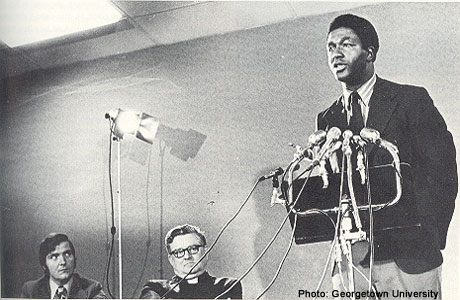 The March 7, 1972 Washington Post reported four candidates for the vacant Georgetown job: Thompson, DeMatha coach Morgan Wootten, Maryland assistant George Raveling, and former Notre Dame assistant Gene Sullivan.

Two days later, Thompson was offered the job. The photo to the right shows director of admissions Charles Deacon, Georgetown president Robert Henle, S.J., and a 30 year old John Thompson at his first press conference.
It's not an understatement to say that everything that Georgetown and its fan base enjoys from basketball today--everything-- took root from this hire. And while the man who the current head coach calls "Pops" is not one for looking back, the commitment by the coach and by the University changed the course of college basketball. To all who were a part of that week in March 1972, thank you.
At the start of the season, many assumed the Hoyas would go as far as Hollis Thompson or Jason Clark could take them. Now, well into March, it's how far Henry Sims can take them.
Sims averaged 21 points and 14 rebounds in the Big East tournament, and Clark told the Washington Examiner the Hoyas need a similar effort this weekend.
"You've seen it in strides, but that's the Henry Sims we need at all times, being on the boards, grabbing every board, scoring points, passing the ball, doing everything," Clark said, knowing that his college career, along with Sims, is now in sudden death.
"When we went up to New York, I tried to do everything I could to make sure we played for as long as possible," said Sims. "That's the same thing I plan on doing when we get to this tournament."

What do Jack The Bulldog and Fab Melo have in common? In the 24-hour cycle of sports coverage, the absence of both figures from the NCAA tournament received their due share of coverage.
A Twitter post from Rev. Christopher Steck, S.J. that Jack the Bulldog may have torn his ACL went viral on Tuesday, including references on ESPN, NBC, Deadspin, and USA Today.
"Should I consider it a career pinnacle for me that I'm fielding interview requests about the health status of our bulldog?" asked sports information director Mex Carey in this link to the Washington Post.
"According to Steck, [Jack] likely injured himself while jumping on a couch Sunday morning," reports The HOYA.
Jack, was not expected to travel to this week's games in Columbus, and could be sidelined from his campus travails for 8-10 weeks depending on the prognosis from a Wednesday medical evaluation. The dog is almost nine years old, which is into the elder years for the breed. Please keep Jack in your thoughts and prayers today.
Georgetown is the third seed on Friday's opener with $14 seed Belmont, but many media organizations are all but predicting a Belmont win.
"This is a [Belmont] team that averages 81.5 points per game," writes ESPN.com. "It is not going to be intimidated by the Hoyas by any stretch of the imagination [and] Georgetown is only 8-7 away from home this season." (ESPN failed to note that Belmont was 2-5 away from home in non-conference play.)
"My biggest upset pick of the bracket," writes Jeff Borzoi at CBS Sports.com. "Belmont has the size to match Georgetown, and the Bruins are experienced and deep enough to pull out a win."
Even the Nashville Tennessean is under-selling the Hoyas.
"The Hoyas started this season 12-1 and climbed to No. 9 nationally," it writes, "but they lost seven of their last 16 and were eliminated from the Big East tournament in the quarterfinals, 72-70 double-overtime game with Cincinnati." Of those seven losses, six were to teams in the 2012 NCAA tournament field. By contrast, Belmont has won 14 straight but only two of its seven losses were to NCAA teams.
"I don't know that I'vet seen more than eight or 10 minutes of their games this year," said Belmont coach Rick Byrd. "I don't know how much they've changed since we played them in 2007... [but] we're a whole different team than the last time we played."
Georgetown is ranked #15 in the final Associated Press of the season, down from #13 last week. Georgetown has been ranked in 52 of the last 56 weeks of the AP poll over the past three seasons, sixth best among all Division I teams.
The Hoyas are one of four Big East teams represented, including Syracuse (2), Marquette (11), and Louisville (17).
The final women's poll is due Tuesday. As of March 5, Georgetown is ranked #17. Other conference teams in the Top 25 include Connecticut (3), Notre Dame (4), St. John's (14), Louisville (19), and Rutgers (23).
Following its double overtime loss in the quarterfinals of the Big East tournament, Georgetown will open the 2012 NCAA tournament as the 3rd seed in the Midwest Region, earning the University its 28th NCAA appearance and its 39th post-season bid overall.
Among nine Big East selections, the Hoyas will play in Friday in Columbus, OH against Belmont, the champions of the Atlantic Sun conference. The schools last met in the first round of the 2007 NCAA tournament.
"Belmont is located in Nashville, Tennessee and this is their fifth-ever NCAA tournament appearance, which i sn't particularly impressive until you consider that their first appearance was in 2006," writes The HOYA. Their second appearance (2007) saw them face off against second-seeded Georgetown, and the Blue and Gray won by 25 to kick off their run to the Final Four. In 2008 the 15th-seeded Bruins (nearly) captured the hearts of the country when they lost by one to Duke in the first round. Last year saw them win a program-high 30 games and qualify for the tourney, but the result was no different as they lost by 14 to Wisconsin."
Game time and television clearance is pending. Georgetown is the only Washington-area team selected to this year's field of 68.
Additional coverage follows below:
Here's a recap of the Big East teams entering NCAA play:
| | | | | |
| --- | --- | --- | --- | --- |
| Seed | Team | Record | RPI | Next Opponent |
| 1 (East) | Syracuse | 31-2 | 1 | #16 NC-Asheville |
| 3 (West) | Marquette | 25-7 | 9 | #14 BYU or Iona |
| 3 (Midwest) | Georgetown | 23-8 | 14 | #14 Belmont |
| 4 (West) | Louisville | 26-9 | 13 | #13 Davidson |
| 6 (East) | Cincinnati | 24-10 | 42 | #11 Texas |
| 7 (South) | Notre Dame | 22-11 | 39 | #10 Xavier |
| 9 (South) | Connecticut | 24-10 | 42 | #8 Iowa State |
| 10 (East) | West Virginia | 19-13 | 57 | #7 Gonzaga |
| 12 (Midwest) | South Florida | 19-13 | 52 | Play-in: Cal |
Seton Hall was not selected for the NCAA but was extended an NIT offer and will host Stony Brook. Pitt was not extended an NIT offer and will instead play in the lesser known College Basketball Invitational (CBI) versus Wofford.
Georgetown maintained an NCAA RPI of 14 after the Big East tournament. The Hoyas finished with a #14 strength of schedule, with a 7-5 record against teams in the top 50 of the RPI index, 9-8 against the overall top 100, and 13-0 against teams below 100. Last year's team finished the regular season with an RPI of 13 but a sixth seed in the tournament.

With the 2012 Final Four returning to New Orleans, Georgetown fans can expect lots of coverage recalling the first Final Four in the Crescent City, where the mythic final between Georgetown and North Carolina changed the game. Yahoo Sports tracked down a central figure in that game, Fred Brown, who is preparing for a change of careers.
Brown, 50, attended Georgetown Law and served as a financial advisor in the Washington area for many years. The parent of a recent graduate, Brown is preparing for a new role in coaching, though not necessarily with the help of former coach John Thompson, who Brown has criticized in the past for being inattentive to some former players.
"I bring knowledge of the game. I bring compassion," Brown said. "I want to work with a diverse group. I'll find talented individuals and work with them and mold them to accomplish a goal: You are there to get an education. That's my job as a teacher-coach."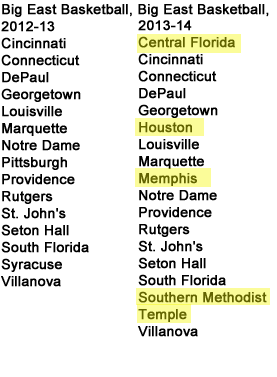 While this site was on break, Big East officials confirmed that Temple University will join the Big East for the 2012-13 football season and for basketball in 2013-14, joining Central Florida, Houston, Memphis, and Southern Methodist.
"This is arguably the greatest day in the history of Temple Athletics," said Temple athletic director Bill Bradshaw at a Wednesday news conference.
"For the first time we will have all of our athletic programs playing in one conference, and there is no conference that is a better fit for Temple than the Big East. It also will provide a national platform in a BCS conference for our teams and student-athletes to compete with other highly respected educational institutions. We look forward to a long and mutually beneficial relationship with the Big East and its member schools."
Temple, a member of the Atlantic-10 since 1982-83, was an associated member of the Big East in football from 1991-2004, but was pushed out for a lack of commitment and poor attendance, averaging under 5,000 a game at one point in the mid-1990's. Now, with attendance averaging 28,000 a game and recent bowl success, the timing was deemed right to add Temple for all sports and to provide an additional asset in basketball. This past season, the Owls were24-7 and were awarded a fifth seed in the NCAA tournament.
The decision does not come without compromise, however, as Villanova University had expressed concerns over adding a second school within its market. As part of the decision to admit Temple, the Big East will work with Villanova to help fund a study which could elevate the Wildcats' football program (one of two schools, along with Georgetown to play football at the I-AA level), after the 2015 season.
The New York Post also noted the confluence of events that will add a second school in Philadelphia--the city is also the home of Comcast, the majority owner in NBC/Universal, projected to be a serious bidder for Big East television and media rights next year.
Georgetown and Temple first met in basketball in the 1928-29 season and have played 35 games through the 2009-10 season, with Temple owing a 21-14 advantage. The schools met five times in football from 1938 through 1942.
In the midst of the announcement of Syracuse and Pitt to the ACC in September, ACC officials appeared to insult the conference by casually suggesting that the ACC would supplant the Big East tournament at Madison Square Garden, where the league has held its championship since 1983. Now, with the league growing to 18 schools by 2014, efforts are being made to ensure the Big East--not the ACC--has a home at the World's Most Famous Arena for years to come.
The New York Post reported last week that the conference and MSG officials are closing in on an extension to its agreement to host Big East games through 2026.
"We've been having conversations with the Garden and I think it's just a matter of dotting some 'I's' and crossing some 'T's,'' said commissioner John Marinatto. "Obviously it was been a great partnership. Our coaches and players love playing here. It's the crown jewel of our league."
An added plus for the Garden? Revenue. The Big East will make an annual commitment where any agreement with the ACC would effectively bring no more than one tournament every five years to the building. The ACC has already committed to the Greensboro Coliseum through 2016, with additional venues in Charlotte, Atlanta, Tampa, and Washington DC (Verizon Center) likely in future rotations.
Cincinnati coach Mick Cronin spoke for the coaches and Big East fans everywhere where he sold the praises of the Garden to ESPN's Doris Burke after Cincinnati's upset of Syracuse this past Friday.
"This is as good as it gets," Cronin said. "If you are a recruit, I don't know why you wouldn't want to play in this league, and if you are a school, I don't know why you would want to leave this league."
With 9:11 to play in Thursday's quarterfinal versus Cincinnati, Georgetown was on its way to a Friday match with top seeded Syracuse. It was at that point that Cincinnati coach Mick Cronin reluctantly went to a man to man defense, and GU's path to the Big East championship took a turn for the worse.
That the Hoyas were able to play another 18 minutes was an accomplishment all its own, but lost opportunities plagued the Hoyas in a 72-70 double overtime loss, a game that reflected a similar pattern from Wednesday's win over Pitt: at least until crunch time.
Defense was the order of the day in the opening minutes, as the teams combined for two field goals over the first four minutes. Back to back threes from UC's Sean Kilpatrick and Georgetown's Hollis Thompson were illusory--the two combined to miss their remaining eight outside attempts as neither team could mount any scoring effort from outside. Cincinnati shot just 38 percent in the first half but the Hoyas led by no more than three entering the final five minutes of the first half, whereupon Georgetown hit the offensive boards and began to pick up space in the scoring column. With UC held to one field goal in the final five minutes of the half, GU went inside with Jason Clark, Otto Porter, and henry Sims to push to lead to 30-24 at the break. Georgetown surrendered only two turnovers all half, and none in the final 16:25.

"They only had two turnovers at halftime, so we needed to turn up the heat," said Cincinnati coach Mick Cronin. So I think the first half was more my fault--I was so in the pregame I was talking too much about not getting backdoored and we didn't have enough pressure on the ball, and consequently we... were flat."

Georgetown continued its ascent to open the second half, with assists on its first two field goals and a nine point lead in the first three minutes until a pair of turnovers keyed an 8-0 Bearcat run, with points coming from the inside, especially from center Yancy Gates. But as Cincinnati fired, Georgetown fired right back, with a 11-3 run where the Hoyas made six of eight shots from the field to take a nine point lead with 10:11 to play. A pair of Jason Clark free throws put the Hoyas up by 11 at the 9:11 mark, 49-38. A day earlier, the Hoyas were up 50-39 against Pitt and closed the door on the Panthers soon thereafter. Out of a time out, Cronin opted for a man to man defense to turn up the heat and the Hoyas' offense went into meltdown.

Off a missed three by Kilpatrick, Otto Porter lost the ball at midcourt and Greg Whittington fouled Kilpatrick for the basket and foul, 49-41. On the next series, markel Starks was fouled but missed the front end of the one and one. GU forced consecutive turnovers from the Bearcats but could only get the lead back to nine via an Otto Porter free throw, but he missed the second which would have earned GU a double digit lead. UC's Cashmere Wright drove the lane for a basket, and UC's three quarter court press forced turnovers on each of the next two series, which it converted to close to three, 50-47.

In the next two possessions, Hollis Thompson lost the ball and took a bad jumper, but Georgetown's defense held UC in check. Starks was back to the line with 2:08 to play, up three, and missed another front end of the one and one,a nd Bearcats answered inside with a Gates layup, 52-51.Georgetown's momentum was all but lost at this point, opting for a long three pointer by Whittington that missed at the 1:12 mark. Going for a "two for one" strategy, Cashmere Wright was stopped inside with 37 seconds to play but GU failed to block out gates, who picked up the offensive rebound and gave Cincinnati a 52-51 lead with 37 seconds remaining, a 14-2 run over the previous eight minutes.


GU record in
Big East tournament
quarterfinal games


GU 3-pt FG%


Cinc. 3-pt FG%


Combined shooting,
Clark & Thompson


Pts for Henry Sims,
last two games


UC adv.,
points in paint


UC adv., offensive
rebounds


GU turnovers,
entire 1st half


GU turnovers,
1st 10 mins. of
2nd half


GU turnovers,
last 10 mins. of
2nd half


GU turnovers,
two overtimes


GU FG's in
last 6:12 of
regulation


Georgetown further complicated their fate when an interior pass to Sims was picked off with 26 seconds to play, resulting in a quick foul and a prayer that it could get the ball back. At the line, UC's Dion Dixon made the first but missed the second, and with the Bearcat defenses crowding on Sims, Sims spotted Otto Porter cutting into a midrange shot, whereupon Porter tied the game with three seconds to play.
Foul shooting continued to bedevil both teams in the first overtime, as the teams combined to shoot 2 for 6 from the line. Neither team led by more than a point for the first two minutes of play when, after Sims missed consecutive free throws with 1:17 remaining, Cincinnati's JaQuon Parker picked up an offensive rebound and converted the layup to go up three, 61-58, with 45 seconds to play. With its offense in neutral, Gu opted for a quick basket by Clark and to send Dixon to the line with 10 seconds remaining, hoping for a reprise of Dixon's late miss from the line which keyed the game-tying possession in regulation. Dixon was true to form, missing a free throw that would have put the Bearcats up three in the final seconds. Back came the Hoyas, where this time Sims drove the lane for a layup that beat the buzzer and sent the game into a second overtime at 62-62.
Dixon opened the second overtime without split at the line, as each team soon answered with a field goal of its own. A Gates free throw tied the game at 66-66, and off a GU turnover, Gates fed Dixon for a layup, 68-66, with 2:29 remaining. Both teams were stopped on consecutive possessions, and Gu got a much needed response from Markel Starks, with an arching jumper with 1:04, 68-68. UC drove inside with Gates with 45 seconds remaining, answered by Sims 17 seconds later, 70-70. Holding for the last shot, Gates was contained inside but Wright saw a gap in the middle of the court he could not refuse.
When [Gates] ducked in, seemed like the whole team just sucked into him," Wright said. "The hole just opened up wide open, and I just took it upon myself to try to win the game for my team." Wright's driving layup gave Cincinnati the lead with six seconds to play. UC's defense bottled up Hollis thompson bringing the ball up court, adn Sims could not position down low. With Porter and Starks contained, Thompson failed to drive and instead passed it to Clark who passed it back to Sims, now positioned well above the top of the key. Showing some initial surprise at getting the ball at such a distance, Sims launched a credible but errant three at the buzzer, which allowed Cincinnati to survive and advance, battling back from an 11 point deficit to earn its first ever appearance in a Big East semifinal.
They just locked in on Hollis so he couldn't move, and so both guys came with Jason, he threw it back to Henry, a shot Henry has made, so you want to get those three guys playing together, so the reading was there," said head coach John Thompson III. "Hollis didn't cut, didn't come around. Jason came up, both guys came at him, [so he] threw it back to Henry for a wide open shot, [but the] ball didn't go in."
Georgetown was led by a season-best effort from Henry Sims, with 22 points and 15 rebounds, along with Otto Porter, who scored 14 points and seven rebounds. For a second straight game, Hollis Thompson was not a factor offensively, scoring 10 points but giving up three big turnovers. Nate Lubick played the first six minutes of the half without scoring and did not return, but Greg Whittington was no less effective in his place, with two points and two turnovers in 24 minutes. Georgetown combined for 48% shooting and held Cincinnati to just 38%, but gave up 23 to Gates inside and another 13 to Dixon.
"As a coach, you talk about developing an inner toughness and not letting your offense affect your defense," said Cronin. "Today was a great example of the character of our team. So I couldn't be more proud of these guys right now, to go 2 for 21 from three against Georgetown and win the game is unthinkable to be honest with you. It's just unthinkable that we were able to dig it out."
The Georgetown half of the box score follows below:

            MIN   2FG   3FG   FT  REB  A  PF  PTS
Starters:                                 
Clark        48   4-7   0-1   4-4   4   2  3   12 
Porter       47   6-10  0-1   2-3   7   4  4   14
Thompson     45   3-10  1-4   1-2   8   1  1   10 
Lubick        6   0-0   0-1   0-0   2   0  1    0 
Sims         46  11-19  0-1   0-2  15   3  2   22
Reserves:
Whittington  24   1-1   0-1   0-0   1   0  2    2 
Hopkins       3   0-1   0-0   0-0   0   1  0    0
Starks       29   3-5   1-1   0-2   3   2  1    9
Trawick       2   0-0   0-0   1-2   0   0  0    1
DNP: Bowen, Caprio
Injured: Adams, Ayegba
Team Rebounds                       5
TOTALS      200 28-52  2-10   8-15 45  13 14   70

Additional links follow below.
Defense and youth served the Georgetown Hoyas to an opening win in the 2012 Big East tournament, powering past Pittsburgh 64-52 at Madison Square Garden.
The 12th seeded Panthers started the game strong, scoring on three of its first four attempts and leading by five on two different occasions in the first half. The Panthers had limited Georgetown on the outside while successfully attacking the Georgetown man-to man defense. Two strategic changes helped turn the tide for the Hoyas: a move to a zone defense midway in the half with Greg Whittington at the top, and moving the offense inside to senior Henry Sims.
Sims got the ball inside and began to cut into the lead, while freshmen Greg Whittington and Otto Porter stepped up in a game where senior Jason Clark and junior Hollis Thompson were not effective from the field, combining for just 1-10 shooting. Sims rallied the Hoyas with a layup at the 7:51 mark to cut the lead to four, while Whittington hit a long three and completed a three point play at the line to give Georgetown the lead with under three minutes in the half. Sims went to work inside again, and after a Pitt foul on forward Lamar Patterson, some post-foul bantering cost the Panthers a technical foul, and three free throws later, the Panthers were down six. Pitt was held to two field goals over the final 8:02 of the half, and none in the final four minutes. Georgetown carried an eight point lead into the break, 31-023, despite missing three free throws down the stretch.

Georgetown's eight point lead was due almost exclusively due to its resurgent inside game. Seven of Georgetown's ten first half field goals were layups, four of which went to Sims, who held a height advantage over a smaller Pitt line.

The Panthers started the second the second half much like the first, with good shooting. Pitt was 3-3 to open the half and the Panthers cut the lead to two at 31-29, and a pair of freshmen answered the charge. Consecutive three pointers by Otto Porter and Greg Whittington quickly pushed the lead to eight, whereupon Porter connected on the next five points to maintain the lead. Sims picked up a jumper to go up eight, 44-38, whereupon Porter took over again, scoring six straight to go up 11, 50-39.

If Pitt had no good answer for Porter, it was equally overmatched inside. Henry Sims continued to control the middle, and put the Hoyas up 13 with 9:04 to play. Defensively, the Panthers went six minutes without a field goal, hanging around via the free throw line but never closing into single digits. A 9-2 Georgetown run, including a 7-8 run from the free throw line, pushed the lead to 17 and the Panthers had no chance to come back. GU led by as many as 19 before emptying the bench, with Pitt closing the gap to 12 at the end of the game. While it was highly unlikely that Pitt could make a five game run through the tournament as UConn did a season ago, Wednesday's loss officially ended a ten year run of NCAA tournament appearances for the Panthers.

Sims led the inside game with 20 points, 13 rebounds, and five assists, while Porter had 20 points and six rebounds. Add in 11 points and six rebounds from Greg Whittington, and these three Hoyas accounted for 51 of GU's 64 points and 25 of its 36 rebounds.


GU record in
opening Big East
tournament games


Pitt record in
its last three
Big East
tournament games


Combined shooting,
Clark & Thompson


Combined shooting,
Porter & Whittington


Pts for Otto Porter,
last two games


GU adv.,
points in paint


GU adv.,
rebounds


Last Pitt FG
of first half


Last GU FG
of second half


GU record vs. Pitt
in Big East tournaments


"Our zone was effective tonight," said coach John Thompson III in post-game comments. "I think Greg Whittington was very good at the top of the zone. The first time we played them, our back line wasn't good, and they ended up with a handful of lay-ups and dunks, and I think they got a few today, but I think our back line, the communication of our back line in that zone was much better today."
"Going into this afternoon's game, there were a few things that we wanted to stress," said Thompson. "One is their points in the paint, which in the first game they killed us on. Two, limiting or trying to limit them to one shot, and us controlling the boards, and that's something that's very hard because they're very good at that." Pitt was limited to six points in the paint at halftime and just 20 for the game.
Another improvement? Fouls. GU cut its fouls from 29 in the Marquette game to 16 versus Pitt, and the Panthers were held to 11 points from the line vs, 35 by the opponent in the Marquette loss.
"I really thought their zone hurt us more than I anticipated," said Pitt coach Jamie Dixon. "They played against us at our place and we attacked it pretty well but did not in this game, and so we didn't get more offensive rebounds which is something we usually do against the zone, and that usually is a way that we hurt it, too, and didn't get that done."
After dominating a young freshman team Tuesday against St. John's, Pitt's struggles inside in this game did not go unnoticed by its players.
"It was a big problem for us," said forward Nasir Robinson. "We was going in there, shooting against two and three guys."
Georgetown advances Wednesday to play fourth seed Cincinnati, which took the double bye as a result of a tiebreaker with the Hoyas.
The Georgetown half of the box score follows below:

            MIN   2FG   3FG   FT  REB  A  PF  PTS
Starters:                                 
Clark        30   0-1   0-3   3-4   2   2  2    3 
Porter       39   5-8   2-3   4-6   6   1  2   20
Thompson     32   1-4   0-2   5-6   3   0  3    7 
Lubick        6   0-0   0-0   0-0   2   0  0    0 
Sims         36   7-10  0-0   6-10 13   5  2   20
Reserves:
Whittington  30   1-1   2-4   3-3   6   2  3   11 
Hopkins       1   0-0   0-0   0-0   0   0  0    0
Starks       21   1-1   0-1   1-2   1   0  1    3
Bowen         1   0-0   0-0   0-0   0   0  0    0
Caprio        1   0-0   0-0   0-0   0   0  0    0
Trawick       3   0-1   0-0   0-0   0   0  0    0
Injured: Adams, Ayegba
Team Rebounds                       3
TOTALS      200 15-26  4-13  22-31 36  10 13   64

Additional links follow below.
It's Big East Week, and this site will not be updated through Sunday evening. There are plenty of links available to follow the teams and the 2012 brackets, however.
First, check the Big East's official site, with details on the tournament and a look back at past events. Next, check these links for regular Big East and Georgetown coverage:
Here's a review of the overall tournament records of all 16 teams heading into the week. Georgetown is one of three original Big East teams to have qualified in every Big East tournament.
| | | | | | | |
| --- | --- | --- | --- | --- | --- | --- |
| Seed | BE Tourn Record | Semis Record | Finals Record | Last Semis | Last Finals | Last Title |
| 1. Syracuse | 46-27 | 14-7 | 5-9 | 2011 | 2009 | 2006 |
| 2. Marquette | 8-6 | 0-1 | 0-0 | 2008 | -- | -- |
| 3. Notre Dame | 8-16 | 0-4 | 0-0 | 2011 | -- | -- |
| 4. Cincinnati | 3-5 | 0-0 | 0-0 | -- | -- | -- |
| 5. Georgetown | 49-25 | 13-7 | 7-6 | 2010 | 2010 | 2007 |
| 6. South Florida | 2-3 | 0-0 | 0-0 | -- | -- | -- |
| 7. Louisville | 6-5 | 2-1 | 1-2 | 2011 | 2011 | 2009 |
| 8.West Virginia | 12-14 | 2-0 | 1-1 | 2010 | 2010 | 2010 |
| 9. Connecticut | 33-24 | 10-3 | 7-3 | 2011 | 2011 | 2011 |
| 10. Seton Hall | 21-29 | 2-5 | 2-0 | 2001 | 1993 | 1993 |
| 11. Rutgers | 6-12 | 0-1 | 0-0 | 1998 | -- | -- |
| 12. Pittsburgh | 25-27 | 7-3 | 2-5 | 2008 | 2008 | 2008 |
| 13. St. John's | 26-25 | 5-6 | 3-2 | 2000 | 2000 | 2000 |
| 14. Villanova | 31-30 | 5-12 | 1-4 | 2009 | 1997 | 1995 |
| 15. Providence | 16-30 | 1-6 | 1-0 | 1994 | 1994 | 1994 |
| 16. DePaul | 1-4 | 0-0 | 0-0 | -- | -- | -- |
Here's the all time record of the Hoyas in the tournament against the 15 other teams in the 2012 tournament. Other than a single loss to Rutgers in 1998, Connecticut is the only opponent to whom Georgetown has a losing record in Big East tournament play.
| | | | |
| --- | --- | --- | --- |
| Opponent | Record | Last GU Win | Last GU Loss |
| 1. Syracuse | 7-6 | 2010 Quarters | 2006 Semis |
| 2. Marquette | 2-0 | 2010 Semis | -- |
| 3. Notre Dame | 2-0 | 2007 Semis | -- |
| 4. Cincinnati | 0-0 | -- | -- |
| 6. South Florida | 1-0 | 2010 2nd Rd | -- |
| 7. Louisville | 0-0 | -- | -- |
| 8. West Virginia | 2-1 | 2008 Semis | 2010 Finals |
| 9. Connecticut | 2-6 | 1991 Quarters | 2011 2nd Rd. |
| 10. Seton Hall | 4-4 | 2005 1st Rd. | 2001 Quarters |
| 11. Rutgers | 0-1 | -- | 1998 Quarters |
| 12. Pittsburgh | 3-1 | 2007 Finals | 2008 Finals |
| 13. St. John's | 5-1 | 1992 Semis | 2009 1st Rd. |
| 14. Villanova | 5-0 | 2008 Semis | -- |
| 15. Providence | 7-1 | 2002 1st Rd. | 1994 Finals |
| 16. DePaul | 0-0 | -- | -- |
Final home attendance averages for the season place Georgetown 5th among Big East teams, with an overall conference average of 10,823 per game.
Team
2011-12
2010-11
%Chg.
Capacity
Team
2011-12
2010-11
%Chg.
Capacity

---

1. Syracuse
23,618
22,312
+5.8
71.5
9. Cincinnati
8,069
7,344
+9.8
62.0
2. Louisville
21,503
21,832
-1.6
97.7
10. Notre Dame
7,999
7,785
+2.7
87.4
3. Marquette
15,138
15,586
-2.9
80.7
11. Providence
7,883
7,043
+11.9
63.5
4. UConn
12,640
11,569
+9.2
91.7 [1]
12. St. John's
7,831
8,431
-7.2
59.1[1]
5. Georgetown
11,283
12,675
-11.0
55.0
13. DePaul
7,740
7,676
+0.8
41.7
6. Pitt
10,165
10,843
-6.3%
81.1
14.Seton Hall
7,599
7,937
-4.3
40.3
7. W. Virginia
9,930
11,469
-14.5
70.9
15. Rutgers
5,362
5,602
-4.3
67.0
8. Villanova
8,923
10,511
-15.2
81.4[1]
16. S. Florida
3,849
4,230
-10.1
18.7[2]
[1]Blended average for multiple home courts.
[2]Reflects capacity at Tampa Bay Times Forum, temporary home for 2011-12 season.
Home attendance averages for upcoming Big East members in 2013-14 are also provided below:
Team
2011-12
2010-11
%Chg.
Capacity

---

Memphis
16,689
16,768
-0.5
92.1
Temple[3]
7,144
5,925
+20.5
70.0
Central Florida
5,723
6,370
-11.2
57.2
Houston
3,788
3.280
+15.4
44.6
Southern Methodist
2,013
1,970
+2.1
22.3

[3]Possible addition, not finalized between the parties.
On the eve of the Big East Tournament, the New York Times recounts the Hoyas' trip to Beijing as a turning point for the young team heading into this season.
"We decided right then, from that point on, we would have each other's backs," said senior Jason Clark. "That was the point where this team really started to come together."
Senior guard Jason Clark was honored with the Big East Sportsmanship Award at the annual conference banquet Monday evening, in addition to having been selected a first team All-Big East selection.
Clark was one of three Georgetown players named to All-Big East teams as announced by the league Sunday.
Senior guard Jason Clark was named to the first team, the fifth Hoya in the last six seasons so honored. Clark joins guards Jeremy Lamb (Connecticut) and Darius Johnson-Odom (Marquette), along with forwards Jae Crowder (Marquette), Kris Joseph (Syracuse) and Kevin Jones (West Virginia) as first team selections.
Senior center Henry Sims was selected to the third team, while junior forward Hollis Thompson was an Honorable Mention selection. No Georgetown players were selected to the all-rookie team, marking the third consecutive year a Georgetown freshman was not selected.
A cumulative list of Georgetown's All-Big East selections through the years is found at the Georgetown Basketball History Project.
Tue. Mar. 6
Wed., Mar. 7
Thurs., Mar 8
Fri., Mar 9
Sat.,Mar 10
#9 (UConn) vs.
#16 (DePaul)
12 pm

Winner vs. #8
(W. Virginia)
12 pm

Winner vs. #1
(Syracuse)
12 pm

Semifinals, 7pm
Finals, 9pm
#12 (Pitt) vs.
#13 (St. John's)
2 pm

Winner vs. #5
(Georgetown)
2 pm

Winner vs. #4
(Cincinnati)
2 pm

#10 (Seton Hall) vs.
#15 (PC)
7 pm

Winner vs. #7
(Louisville)
7 pm

Winner vs. #2
(Marquette)
7 pm

Semifinals, 9pm
#11 (Rutgers) vs.
#14 (V'nova)
9 pm

Winner vs. #6
(USF)
9 pm

Winner vs. #3
(Notre Dame)
9 pm

Senior guard Jason Clark was named to the first team, the fifth Hoya in the last six seasons so honored. Clark joins guards Jeremy Lamb (Connecticut) and Darius Johnson-Odom (Marquette), along with forwards Jae Crowder (Marquette), Kris Joseph (Syracuse) and Kevin Jones (West Virginia) as first team selections.
Senior center Henry Sims was selected to the third team, while junior forward Hollis Thompson was an Honorable Mention selection. No Georgetown players were selected to the all-rookie team, marking the third consecutive year a Georgetown freshman was not selected.
That sound heard at the end of Saturday's games was the three car pileup in Chicago that may have cost Seton Hall an NCAA bid.
The Pirates' stunning 86-58 loss to DePaul not only dropped the Pirates from 8th to 10th in the league race, but dropped its RPI from 43 to 59, giving the NCAA selection committee ample opportunity to pass on the Pirates and choose other Big East teams this year, including Cincinnati, whose RPI is depressed by an early loss to Presbyterian, but whose best-ever 4th place finish will not be ignored.

The Pirates began the season 15-2 after a 21 point win over DePaul on Jan. 10, now stand at 19-11 entering this week's tournament, with its four wins over Rutgers, Pitt, St. John's and...Georgetown.
A team in green is among the range of likely NCAA at-large entrants, a team in gray is likely not to be selected. (Georgetown's record below is reflective of the fact that its Nov.22 game with Chaminade, a Div. II team, does not count in RPI totals.)
"We have to do a lot of things differently as we go forward."--John Thompson III in the Washington Post
With a double-bye in the Big East tournament within its reach, the Georgetown Hoyas were out-muscled by the Marquette Warriors 83-69 Saturday at the Bradley Center, knocking the Hoyas into a challenging 5th seed bracket at the Big East tournament.
Marquette (25-6, 14-4 Big East) went at the Hoyas from the outset, employing a full court press that exposed the Hoyas' weakness in bringing the ball up court, earning Marquette an early 7-2 lead. A pair of Hollis Thompson threes gave Georgetown a brief leads at 10-9 and 14-13. Thompson and Otto Porter accounted for 12 of the Hoyas's first 14 points, but Thompson failed to score a basket for the rest of the half.
An unexpected three pointer by center Jamil Wilson gave the Warriors the lead at 16-14, and with a 7-2 run they never looked back. A key to the Marquette attack was the foul line. Although Marquette did not get into the bonus until the 5:04 mark, every foul from the first to the sixth were shooting fouls, enabling Marquette 10 extra free throws, and they converted all ten.
Porter rallied the Hoyas back to nine with even minutes to go, but Georgetown's poor ball handling failed it again. Down 62-53, consecutive turnovers by Greg Whittington and Jason Clark were converted to points, and the Warriors went up 14, 67-53. A 10-4 run got the Hoyas to eight at the three minute mark, 71-63, but two layups and five free throws later, Marquette could empty the bench with confidence.
Forty of Marquette's 50 points that were not scored at the line were scored inside. Let's repeat that: forty. For a Georgetown team which had held Notre Dame and Villanova to a combined 87 points, Marquette nearly matched it, despite only two three pointers and a net rebounding advantage of one. The scoresheet will record Georgetown had one more field goal than Marquette, but ten extra fouls netted out 20 extra free throws for the homestanding Warriors and MU took full advantage.
Every turnover seemed lethal for Georgetown. 24 MU points were converted off 15 turnovers, with one play summing up the long afternoon. Down nine, freshman Greg Whittington picked up a rebound but fell to the ground. Trying to avoid a turnover, Whittington tossed it upwards in the direction of Jason Clark under the basket, whereupon Marquette's Jae Crowder stepped in for the pass, the basket, and the foul.
Porter led all Georgetown scorers with 19 on 9-11 shooting, but the remainder of the team shot just 30% (16-52), including 1-7 for Markel Starks, 2-7 for Henry Sims, and 4-14 for Jason Clark, all against a team ranked 12th among 16 Big East schools in scoring defense. Following its tepid performance in a loss to Cincinnati that hurt the Hoyas far more than the Warriors, Marquette responded as a second seeded team should.
Crowder led the Warriors with 26 points and 14 rebounds, as four starters finished in double figures, including its two seniors. That's what you do on Senior Day, and what Georgetown took from Notre Dame five days earlier, it gave away Saturday.
Additional links follow below.