For a conference which needs to look forward, the Big East Conference saw its two largest market schools take a decided step to the past in their search for head coaches.
After interviewing two up and coming candidates in Buffalo head coach Bobby Hurley and Valparaiso coach Bryce Drew, DePaul athletic director Jean Lenti Ponsetto announced a Monday press conference to hire Dave Leitao, 54, most recently an assistant coach at Tulsa and the former head coach of the Blue Demons from 2002-05.
"Following our search that garnered high-level national interest, we are excited to announce that Dave Leitao is our next menís basketball coach,Ē Ponsetto said in a news release. "His success here speaks for itself with three postseason appearances in three years with teams that energized our alumni and fans with their competitiveness and work ethic."
Since Joey Meyer was forced out in 1997, the Blue Demons have received only two NCAA bids, the most recent of which was a 22-10 season under Leitao in 2003-04 when the Blue Demons competed in Conference USA. Since joining the Big East, DePaul is a combined 36-140 (.205), with eight consecutive seasons of 19 or more losses.
"The trouble with the Leitao hire is that it's unlikely to either galvanize DePaul's success-starved fan base or inspire Chicago-area recruits," writes Jeff Isenberg at Yahoo Sports. "He had been toiling in anonymity as an assistant coach at Missouri and Tulsa under Frank Haith the past few years after his uninspiring four-year tenure at Virginia culminated in his firing following an 18-loss 2008-09 campaign."
Leitao left DePaul for Virginia in 2005, where he led the Cavaliers to one NIT bid and one NCAA tournament invitation in four years.
Despite an actual home attendance of less than 3,000 per game, Leitao is optimistic that he can succeed.
"I underestimated what a special place DePaul University and the city of Chicago are when I left here in 2005," he said. "The dedication and support here to the growth of student success is second to none, not only for a basketball program but also for the entire student body. Iím proud and our team will be proud to represent this great institution in one of the worldís great cities."
Additional coverage follows in links to the Chicago Tribune and Chicago Sun-Times.
If DePaul reset the clock to 2005, St. John's appears to be going back to 1985.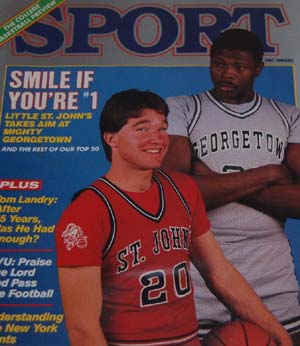 In a gamble for the troubled program, St. John's has offered its head coaching position to former All-American Chris Mullin, per numerous media reports. Mullin, 51, who led the Redmen to the 1985 Final Four and is a member of the Basketball Hall of Fame, has never held a coaching position--high school, college, or professional. Mullin served as general manger of the Golden State Warriors from 2004-09, and is currently in an advisor to the Sacramento Kings.
"The guy is from this area. Loves New York. And one thing I can say: Heíd be a very good teacher, because he knows the game," said former St. John's coach Lou Carnesecca. "How many years has he been around basketball? Look at all the great coaches heís played for in the pros. Heís got a great basketball background, you know?"
The Redmen were looking at Rhode Island Coach Dan Hurley, but are waiting for Mullin to accept; in the interim, Hurley accepted an extension at URI through the 2020-21 season.
Reporters of a certain age seem more enthused about Mullin than recruits, as today's college recruits have never known St. John's to be a regional, much less NCAA, power. The Redmen have not advanced out of the Big East quarterfinal round since it won the tournament title in 2000.
"It would be natural to assume that today's generation of players has no idea who Mullin is," writes Newsday's Greg Logan. But put him in place as St. John's coach and that would change in a hurry because of the media attention that would ensue. Do you think Mullin might make an entrance when he visited gyms around the country, and especially in the New York City area?"
Through graduation and the likely loss of Rysheed Jordan and Chris Obekpa, the Redmen would lose its top six scorers from 2014-15, with forward Amar Alibegovic (1.5 ppg) as its leading returning scorer.
"It is impossible to calculate how much St. Johnís has riding on this," writes the New York Post. "Mullin is the one coach for whom this is not just a big-time job, but possibly a forever one. It isnít the same gig it was 30 years ago, which is why you were hearing so many potential candidates were thinking twice."
Additional coverage follows at the New York Daily News.
With Saturday's loss to Utah, Georgetown has failed to reach the round of 16 for the eighth straight year, the longest gap for Georgetown in the Big East era. A pair of articles in the Washington Post offers two different views of the future for Hoya basketball.
"A program with Georgetownís storied history and fervent-if-small alumni base has still not reached the NCAA tournamentís second weekend since 2007, winning three NCAA tournament games in seven years. But having played two seasons in the revamped, diminished Big East, the standard of near-annual deep tournament runs may no longer be realistic," writes Adam Gilmore of the Post.
"Georgetownís 22 wins, including their Round-of-64 victory over Eastern Washington, arenít cause for celebration," he continues. "The Hoyas had a pretty good season that ended in painful, if somewhat predictable, fashion. It was somewhere in the middle, which is the ground the program occupies at this juncture. Is that good enough? Who can say?"
Writer Matthew Giles is a bit more optimistic.
[Isaac] Copeland is the crux of a possible 2016 Big East title," he writes. "Paul White is fine, has a weirdly effective three-point shot, and has the elbow passing skillset required of a JTIII forward but Copeland has the offensive repertoire to take over games. A threat all over the court, Copeland excels equally at flashing to the soft underbelly of a defense as he does curling off a screen for a knock-down three. Copeland took time to develop , and how much he improves this summer will determine where the Hoyas rank in the 2016 Big East."

He played in just 35 games in his college career, averaging less than five points and four rebounds a game. Yet, three decades later, the name of Michael Graham is recognizable to millions of college basketball fans. A rare interview with Washingtonian Magazine looks at the man behind the legend.
Titled "The Troubled, Tormented, Surprisingly Lucky Life of Michael Graham", the 51 year old Washingtonian speaks candidly to the lost opportunities that have followed him throughout his life, and the remarkable stroke of luck that has turned it in another direction.
"I failed myself," Graham says on leaving Georgetown. "And I failed my teammates. And especially my mother. You know, it was never a problem of [not being able to] do the work. I just didnít."
"Here was a kid who was born to play basketball, someone who had enough talent to be a star in the NBA, and yet despite all my sophisticated psychology, I couldnít reach him." wrote Phil Jackson following Graham's departure from the CBA in 1987.
The intervening years were not easy--divorce, the death of his son, a diagnosis of diabetes. Then, a set of lottery numbers changed his life. With a $1 million prize, Graham has a new outlook on life and a restaurant in the works.
"Iím not gonna blow it," he told the magazine.
GU 83, St. Francis 62
GU 78, TX A&M-CC 62
GU 80, Robt. Morris 66
GU 66, Florida 65 (OT)
Wisconsin 68, GU 65
Butler 64, GU 58
GU 78, Towson 46
Kansas 75, GU 70
GU 76, Radford 49
GU 81, NC-Charlotte 78
GU 91, Indiana 87 (OT)
Xavier 70, GU 53
GU 76, Creighton 61
GU 65, Marquette 59
PC 60, GU 57 (OT)
GU 78, DePaul 72
GU 61, Butler 59
GU 78, Villanova 58
GU 95, Marquette 85 (OT)
Xavier 66, GU 53
GU 67, Creighton 40
PC 74, GU 71
Villanova 69, GU 53
GU 86, Seton Hall 67
GU 79, St. John's 57
GU 68, DePaul 63
St. John's 81, GU 70
GU 60, Butler 54
GU 73, Seton Hall 67
GU 60, Creighton 55
Xavier 65, GU 63
GU 84, E. Washington 74
Utah 75, GU 64
| | |
| --- | --- |
| | Update #2, 3/21/15 11:45 pm EDT |
Despite a solid effort from the #4 seed Georgetown Hoyas, a tougher Utah team prevailed late in a 75-64 win in third round NCAA play in Portland, OR. The loss ends an wildly entertaining but inconsistent season for Georgetown (22-11), where five freshmen and five seniors often struggled against stronger teams.
And if anything was apparent in this season, it was this truism: expect the unexpected. Such was true to open this game where the Hoyas, after missing its first two shots of the game, went on a three point that seemed wholly unlikely against the Utah defense. The Hoyas' first two baskets were threes from Jabril Trawick and Isaac Copeland, followed by a L.J. Peak three and a basket from Peak at the 15:52 mark to put the Hoyas up six, 12-6. Each of the baskets were assisted by D'Vauntes Smith Rivera. The Utes closed to 12-8 on a pair of free throws before the Hoyas went airborne again, with a basket and foul by Trawick and consecutive threes by Copeland and Trawick. At the 13:27 mark of the first half, Georgetown led by 11, 21-10, thanks to five threes and 67 percent shooting from the field.
Trawick's 10 point effort in that run was remarkable, but it was short lived. At the 12:03 mark, a pick leveled Trawick, who landed on his elbow and appeared to affect his shooting. For the remainder of the game, Trawick was scoreless.
The Utes (26-8) worked its way back into the game with sound inside shooting and free throws, cutting the lead to six at the 10:45 mark, 23-17, and holding Georgetown scoreless for four minutes, taking the lead at 24-23 on a Brandon Taylor three pointer. Consecutive baskets by Peak brought the Hoyas to a 28-24 lead, but foul problems by Josh Smith and Mikael Hopkins helped the Utes claw back. Georgetown did not make a basket in the final 5:44 of the half as the teams tied at intermission, 32-32.
The opening moments of the second half remained toxic for Josh Smith, picking up his third foul just 14 seconds into the period and narrowly averting fourth fouls at the 19:01 and 18:28 marks, respectively. Georgetown held a 36-24 lead on a Smith-Rivera basket, but Utah went to work from outside, hitting threes on three straight possessions to open up a 43-36 lead with 17:35 to play. Georgetown closed to 43-42 with 15:34 to play and the game soon settled into a more defensive struggle.
If Georgetown had any run in it to regain the momentum, the Utes repeatedly cut it short. On its next six possessions, as its defense held Utah scoreless, the Hoyas gave up three offensive fouls, a turnover, and three misses from three point range. The Utes pushed the lead to seven, 49-42, before Peak and a resurgent Josh Smith led the Hoyas on a 9-2 run to tie the score at 51-51 with 7:45 to play.
Dow the stretch, Utah pounded the ball inside, to some success. A basket inside by Jakob Poeltl put Utah up 53-51, and following two foul shots from Smith, a floater by Dakarai Tucker and a jumper by Jordan Loveridge put Utah up four, 57-53. A basket by DSR a the 5:22 mark closed to 57-55, but the Utes picked up Georgetown fouls inside and carried a 60-55 lead into the four minute time out.
With 3:44 to play, Josh Smith was fouled but missed the front end of a one and one, halting any momentum Georgetown could have used late. A basket by Peak closed the margin to 61-57 with 3:05 to play but Brandon Taylor's long three gave the Utes some breathing room at 64-57 with 2:45 remaining. The teams traded baskets and Utah carried a seven point lead into the final two minutes, where Copeland and Smith-Rivera missed on threes. Trawick, scoreless since his elbow injury, fouled out with 1;17 to play and signaled the end of the line for the Hoyas. Utah hit six of its final eight free throws to close out the win and send the Utes to its first regional appearance in ten seasons. Georgetown, who has not advanced to the round of 16 since 2007, has not won consecutive games in the post-season (Big East, NIT, or NCAA) since the 2010 season.
After a scoreless six minute effort against Eastern Washington, L.J. Peak led all Georgetown scorers with 18 points, followed by 14 from Isaac Copeland. D'Vauntes Smith Rivera was contained for most of the game and had a sub-standard game all evening, with a season low 0-7 from three point range. Even more troubling, he failed to take a single free throw, where his efforts at the line usually tip the balance for the Hoyas. The Georgetown bench, which accounted for 40 points against Eastern Washington, was a combined 1 for 7 in this game and contributed just two points.
Overall, Utah as the better team this evening, shooting 58 percent from the field and 65 percent in the second half, with five in double figures. Utah was was 23 of 32 from the foul line, holding Georgetown to just seven free throws in nine attempts, the fewest attempts for a Georgetown team since the Jan. 31 game at Creighton.
"I'm disappointed, but I still have my head high," said Jabril Trawick. "Surprisingly, I didn't cry or anything. I had a great time. It's been a great experience. The group they have coming back is going to be a special team."
Here's the Georgetown half of the box score:

            MIN   2FG   3FG   FT  REB  A  PF  PTS
Starters:                                 
Smith-Rivera 39   6-8   0-7   0-0   2   6  2   12
Trawick      30   1-3   2-4   2-3   1   1  5   10
Peak         32   4-4   3-4   1-1   1   0  2   18
Copeland     37   0-4   4-8   2-2   4   0  4   14
Smith        17   3-6   0-0   2-3   6   1  4    8
Reserves:
Campbell      4   0-1   0-0   0-0   0   0  1    0
Hopkins      14   1-3   0-0   0-0   4   1  4    2
White        13   0-1   0-1   0-0   1   0  0    0
Bowen         6   0-0   0-1   0-0   1   0  0    0
Hayes         8   0-0   0-0   0-0   4   0  2    0
DNP: Cameron, Allen, Williams, Mourning
Team Rebounds                       3
TOTALS      200  15-30 9-25   7-9  27   9 24   64

Eastern Washington coach Jim Hayford's guarantee of a win over Georgetown will not be repeated by Utah coach Larry Krystkowiak.
"No offense to Eastern Washingtonís coach," he said in the above link, "but some things are just common sense."
Jim Hayford, we hardly knew ye.
The Eastern Washington coach that predicted a win by his 13th seed Eagles won't be on the Friday talk shows, but it wasn't out of the realm of possibility, either. Despite a remarkable run that put the #4 seeded Georgetown Hoyas up 23 with 9:18 to play, it took an escape at the foul line to carry the Hoyas to its first opening round win in three years and its second since 2008, an 84-74 win over Eastern Washington in Portland, OR.
Picked by experts from coast to coast as yet another upset du jour, EWU started slowly to begin the game, shooting 3 for 12 from the field. The Hoyas led early 7-4 but gave up eight straight as the Eagles regrouped and took an early 12-7 lead. Eastern's outside game, led by guard Tyler Harvey, caught fire as they hit seven of its next nine shots, taking a 21-15 lead with 8:12 in the first half and sending both Josh Smith and Mikael Hopkins to the bench with early foul trouble. The Hoyas were lapsing into the lackadaisical, uninspired efforts all too common in this time each year, and it took the unlikliest of reserves to turn the tide.
The spark to the Hoyas' resurgence was seldom-seen center Bradley Hayes. With only eight points all season, the Hayes scored on back to back possessions at the eight minute mark to close the gap to five. Baskets by paul White and Aaron Bowen closed to one, 26-25, before EWU scoring leader Tyler Harvey picked up a three to rally the Eagles to a 29-25 lead with 5:45 in the half.
From this point, the Hoyas began to shut down the EWU perimeter game and began to move outside. Jabril Trawick answered with a three, 29-28, then avoided an official's whistle when he forced a turnover and collided with an EWU guard, whose flop may have dissuaded the officials from any flagrant call. Free throws by Hayes and consecutive threes from Bowen and Campbell keyed an 18-4 Georgetown run to end the half, as the Hoyas entered intermission shooting 57 percent and taking a ten point lead into the break, 43-33. Harvey's 13 points led an EWU effort that was held to 38 percent shooting and contributed just one basket in the final eight minutes of the first half. Georgetown's bench, led by a career high eight from Hayes and eight from Tre Campbell, outscored the EWU bench 30-8.
The first seven minutes of the second half were as efficient a stretch as Georgetown has seen all season. Baskets by Mikael Hopkins and DSR pushed the lead to 14. Back to back threes by DSR soon expanded the lead to 18, and following a three from Trawick and a basket by Smith-Rivera, the Hoyas were suddenly up 23, 58-35, holding the Eagles to 1-10 shooting to begin the half and silencing the enthusiastic Moda Center crowd.
Following DSR's basket at the 13:27 mark, EWU went into a full court press which began to take its toll on the Georgetown offensive sets and leading to a more tentative Georgetown attack, often doing little more than running down the shot clock. The Hoyas went four minutes without a basket, but its defense was sufficiently stout that by the time Paul White scored on a feed from Trawick, the lead had not moved off 23, 65-42, at the 9:18 mark.
The good times were coming to an end, however, as a run of poor Georgetown ball handling breathed new life into the Eagles. To this point, Georgetown had not committed a turnover in the second half, but turnovers dominated the remainder of the game.
EWU cut the margin to 65-44 and with 8:37 to play, Hopkins traveled, which was answered by foul shots to close to 65-42. An offensive foul by Smith-Rivera saw the Eagles close to 65-48. Down 14 with 4:24 remaining, the Eagles pressure began a rapid decline in Georgetown's confidence. Turnovers on four straight possessions opened a door which saw the Eagles close to 10 with under two minutes to play, as Georgetown seemed incapable of getting the ball into the frontcourt, much less take a shot. The G-men got a big boost from Paul White, whose three with 1:48 to play extended the lead to 73-60. The good times were short-lived, when the Hoyas fouled Harvey on a banked three point shot, whereupon the foul shot cut what was once a 23 point lead to nine, 73-64. EWU was now within range of a monumental upset.
An exchange of free throws maintained the Georgetown lead at 75-66 with 1:08 left. Bottled up in the backcourt, Campbell found Trawick streaking down the court for what could have been a clinching basket, but Trawick missed the layup. Bailed out by a trailing DSR, a foul shot brought the Hoyas back to 76-66. On the next possession, a clean steal by Trawick was inexplicably called a foul, and the Eagles closed to eight, 76-68. An exchange of free throws and a missed three by the Eagles kept the lead at eight at the 34 second mark when Smith-Rivera added two free throws, 79-69, only to see the Hoyas suffer its ninth turnover in the last nine minutes and Eastern closed to 79-71 with 24 seconds remaining.
Georgetown was not out of woods just yet. A pair of DSR free throws brought the Hoyas to 81-71, only to see Harvey bank in another three to close to 81-74 with 16 seconds. With the Hoyas' free throws failing late, DSR made only one of two and a chance by the Eagles to close to four was wide, answered with a Trawick dunk at game's end. Had the Eagles picked up its scoring a minute earlier in the half, the specter of another humiliating NCAA loss might have been imminent, as the Hoyas managed just one field goal in the final 9:18, a mirror of the Eagles' effort towards the end of the first half.
Smith-Rivera led the Hoyas with 25 points for a Georgetown team that shot a season high 11 three pointers for the game. With a combined 0-4 for freshmen L.J. Peak and Isaac Copeland and another brief second appearance by Josh Smith under the cloud of foul trouble, the bench came up big with a season high 45 points, led by 10 from Paul White and 10 from Mikael Hopkins, including nine rebounds and a critical 8-8 from the line at key stretches of the second half). Bradley Hayes played sparingly in the second half but his first half efforts were absolutely critical to the Hoyas run that built a lead that was just enough to hang on at the end.
Tyler Harvey led the Eagles with 27, as EWU shot just 40 percent for the game and were just 3-13 from outside the arc in the second half.
The Georgetown half of the box score is below.

            MIN   2FG   3FG   FT  REB  A  PF  PTS
Starters:                                 
Smith-Rivera 37   2-5   4-7   9-13  8   2  2   25
Trawick      32   1-3   2-5   0-0   3   2  3   10
Peak          6   0-1   0-1   0-0   1   0  0    0
Copeland     13   0-1   0-1   0-0   2   1  0    0
Smith         7   1-2   0-0   2-2   0   0  3    4
Reserves:
Campbell     28   1-2   2-5   1-2   1   1  3    9
Hopkins      21   1-1   0-0   8-8   9   1  3   10
White        29   2-2   2-3   0-0   3   2  2   10
Bowen        17   2-5   1-1   1-5   0   0  2    8
Hayes        10   3-3   0-0   2-2   6   1  0    8
DNP: Cameron, Allen, Williams, Mourning
Team Rebounds                       3
TOTALS      200  14-25 11-32 23-32 36  10 18   84

Here are links to the Georgetown and Eastern Washington game notes. Some items of interest:
This is Georgetown's 30th NCAA tournament appearance with an overall mark of 46-28. This is Eastern Washington's 2nd NCAA tournament appearance with an overall mark of 0-1.
Georgetown has not won back to back post-season games (NCAA, NIT, or in the Big East conference tournament) since 2010.
EWU is 1-20 all-time before crowds of 10,000 or more.
EWU is 1-21 all-time versus ranked teams, where the Hoyas ended the regular season ranked #24.
Eastern Washington (RPI 74) is 0-1 against teams in the RPI top 50, where Georgetown is 24th.
Georgetown is 6-2 all-time in games played on March 19, 6-1 in the Big East era (1979-pres.).
Amidst a variety of items for Thursday's game with Eastern Washington, this one from the EWU game notes:
"Eastern head coach Jim Hayford spent the summer of 1989 at Georgetown as a 21-year-old political science major living on campus at Darnall Hall. He made his way occasionally to McDonough Arena, where he was able to watch star center Dikembe Mutombo play and see coach John Thompson Jr. in action. Basketball eventually trumped politics and Hayford found his calling in the coaching ranks."
Eastern Washington:
Drew Brandon (G, 6-4, 9.8 ppg)

Four games with 10+ assists this year.

Tyler Harvey (G, 6-4, 22.2 ppg)

Has more threes this season (122) than entire GU team, less DSR.

Parker Kelly (G, 6-4, 7.9 ppg)

209 career threes, 40% average.

Ognjen Miljkovic (F, 6-7, 10.0 ppg)

Last seven games: 8-39 FG (.205).

Venkatesha Jois (F, 6-8, 16.6 ppg)

Last seven games: 16.9 ppg, 10.3 rpg.
Georgetown:
D'Vauntes Smith-Rivera (G, 6-4, ppg)

87.6% FT% this season: third best in school history.

Jabril Trawick (G, 6-5, 9.0 ppg)

Key defender for the Hoyas in this one.

L.J. Peak (F, 6-5, 7.8 ppg)

Last five games: 4-22 from field (18.1%).

Isaac Copeland (F, 6-8, 6.8 ppg)

Three 3-pt FG's in last six games.

Josh Smith (C, 6-10, 11.1 ppg)

One game fouled out since Feb. 4.
Eastern Washington coach Jim Hayford has called the outcome of Thursday's opener with the Hoyas.
"We're gonna win and talk again, Jim," he told CBS radio host Jim Rome.
It's a low risk, high return approach. A EWU loss and he's no worse for wear. A win, and everyone in the media will come calling.
It's happened before, of course. In 2010 Jim Groce rode Ohio's win over Georgetown to national acclaim, then taking the job at Illinois, where he is the coach of the Illini. The 2011 tournament elevated VCU's Shaka Smart to the top of national coaching wish lists, where he remains to this day. The last coach to catch Georgetown napping parlayed a $157,000 salary at heretofore obscure Florida Gulf Coast University into a $1.5 million annual salary at USC, to little effect. In the last two seasons, Southern Cal under Andy Enfield is just 22-41, while his old team is 39-23.
"It did exactly what I wanted because I knew the 15 guys on the bus were listening to that," Hayford said. "I want my team confident. My team understands the difference between confidence and a lack of confidence. I want our guys to enjoy the moment. They've lived their whole life to play in the NCAA Tournament."
For a #4 seed, is anyone picking Georgetown in Thursday's game?
Yahoo? No. Sports Illustrated? No. NBC Sports? No. CBS Sports.com? No. USA Today? No.
At issue is Georgetown's baffling streak of losing handily to teams ranked in the double-digit seeds, a streak which dates to 2008. Over the past seven years, Georgetown has lost five times to double digit seeds (Davidson, Ohio, Virginia Commonwealth, North Carolina State, Florida Gulf Coast), a run of infinitesimal odds, except that it happened.
And if it couldn't get worse, Time.com has a bracket of academic success...and Georgetown still loses to Eastern Washington. On academic ranking.
Take that thought, and promptly forget it.
The basic fact remains: unless and until Georgetown shows the college basketball world that it is more than a paper bulldog, this run of skepticism will continue. The best way to end this line of thinking is to go out and beat someone. Preferably, two or more of them.
Following a 21-10 season and a Big East Tournament semifinal appearance, the Georgetown Hoyas were awarded a #4 seed in the 2015 NCAA tournament opening Thursday against #13 Eastern Washington in Portland, OR. The Eagles (26-8) won the Big Sky conference championship by outscoring Montana 21-6 in the final six minutes for a 69-65 win.
Thursday's game is Georgetown's first ever appearance in Portland and only its second in the state of Oregon, having faced the University of Oregon in Eugene during the 2005-06 season. The two schools have not met before; the Hoyas are 3-1 versus teams from the Big Sky with its last game being a memorable win over Weber State in the second round of the 1995 NCAA's:
This is Georgetown's 30th NCAA appearance and its eighth under coach John Thompson III.
"Making it to the tournament shouldnít be taken for granted,Ē said Coach Thompson to the Washington Post. "Itís special. Being able to sit here, or all the other venues where other teams are sitting, itís something that every team, every fan base doesnít get to experience. It does feel good after missing out last year."
"Iím kind of speechless,Ē said freshman Isaac Copeland. "Itís my first time playing in the NCAA tournament, so Iím very excited. Looking forward to playing a really good team, just being in that type of atmosphere."
Slow starts have been a recurring theme for a Georgetown program that is 1-5 in its last five NCAA appearances, with deflating losses to the likes of Davidson, Ohio, Virginia Commonwealth, and Florida Gulf Coast.
"Weíve got to be urgent. Weíve got to pay attention to detail," said senior Jabril Trawick. "We canít come out slow because every team in the tournament, theyíre playing for something. Theyíre excited to be in the tournament so weíve just got to be ready."
From GUHoyas.com:
"Tickets are now available for the 2nd and 3rd rounds of the 2015 NCAA Menís Basketball Championship at Moda Center in Portland, OR [formerly the Rose Garden Arena]. On Thursday, March 19 at approximately 9:57 p.m. ET (6:57 p.m. PT), your No. 4 seeded Georgetown Hoyas will take on the Eastern Washington University Eagles in a second round match-up.
Current-year athletics donors at the $50 level and above (those who have made a gift of $50 or more on or after July 1, 2014), all current menís basketball planholders and all current Georgetown University students are eligible to purchase tickets. Donors and planholders are eligible to purchase up to and including eight tickets each; students may purchase two tickets each...
All tickets will be picked up in Portland. More information about ticket pickup will be e-mailed to those who order...
If you have any questions, please contact the Georgetown Athletic Ticket Office at 202.687.HOYA (4692) or hoyatickets@georgetown.edu.
Much like the Georgetown's last post-season opponent named the Eagles, Eastern Washington is a high-octane offense similar in scope to that faced when the 2012-13 Hoyas opened with heretofore unknown Florida Gulf Coast.
EWU is making its second NCAA bid ever and its first since 2004. The Eagles captured is second Big Sky title this past weekend and posted a 20-win season for the first time since 1986. The Eagles joined Division I in 1987 from the NAIA, when they were previously known as the Savages.
The school is located in Cheyney, WA, near Spokane. Prominent alumni include ESPN talk show host Colin Cowherd, comic book producer Todd McFarlane, and a number of NFL players. EWU won the 2010 Division I-AA national title in football.
EWU is 2-1 against teams competing in the 2015 NCAA tournament, with its most prominent win being a 88-86 win at Indiana, along with a win over Texas Southern and a loss to SMU.
This is the eighth consecutive double-digit seed team Georgetown has faced in the NCAA tournament dating back to 2008. A brief review of the Eagles' season statistics paints a picture of a dangerous opponent not dissimilar from what Georgetown faced two seasons ago with Florida F Gulf Coast:
No.
Big Sky Rank
(out of 12)
Nat'l Rank
(out of 347)
Scoring Offense
80.8
1
3
Scoring Defense
73.6
9
324
2 pt. FG Pct.
48.0
6
19
2 pt. FG Defense
44.9
8
269
3 pt. FG Pct.
40.3
1
9
Free Throw Pct.
72.3
2
67
Rebounds
33.9
3
190
Assists
13.2
3
122
Turnovers
10.8
2
34
Here's a YouTube interview with coach Jim Hayford following the NCAA announcement:
Here's a recap of the other Big East teams entering NCAA play:
| | | | | |
| --- | --- | --- | --- | --- |
| Seed | Team | Record | RPI | Next Opponent |
| #1 (East) | Villanova | 28-4 | 2 | #16 Lafayette (19-12) |
| #6 (Midwest) | Butler | 22-10 | 31 | #11 Texas (20-13) |
| #6 (East) | Providence | 22-11 | 22 | #11 Boise St. (23-8) or Dayton (25-8) |
| #6 (West) | Xavier | 21-13 | 30 | #11 BYU (23-9) or Mississippi (20-12) |
| #9 (South) | St. John's | 21-11 | 44 | #8 San Diego St. (26-8) |
The only other eligible Big East at-large team (above .500 record) was Seton Hall (16-13), which did not receive an NCAA or NIT bid.
Former coach John Thompson is recovering from abdominal surgery, Georgetown officials confirmed Sunday to the Washington Post.
The Hall of Fame coach, 73, underwent surgery for an intestinal obstruction. Thompson was unable to attend ceremonies honoring former North Carolina coach Dean Smith on Feb. 22, but no announcement was made on the illness prior to today.
"Less than two weeks ago, John had corrective surgery for a benign twisted intestine," read the statement. "Currently, he is recovering beautifully. Unfortunately, he is unable to travel extensively for the next few weeks. Otherwise, he would be in his favorite spot on the sidelines for March Madness.Ē
In recent years, Thompson has been an analyst for the Big East tournament and NCAA tournament games through the Final Four for Westwood One.
A game recap follows later this week.
The Georgetown half of the box score is below.

            MIN   2FG   3FG   FT  REB  A  PF  PTS
Starters:                                 
Smith-Rivera 35   2-3   1-6   4-4   2   1  4   11
Trawick      37   3-7   1-3  10-12  5   2  4   19
Peak         14   0-1   0-1   0-0   2   1  2    0
Copeland     28   5-8   1-1   2-2   7   1  4   15
Smith        17   4-8   0-0   2-2   2   1  4   10
Reserves:
Campbell     12   0-1   0-2   0-0   0   0  0    0
Hopkins      26   0-2   0-0   0-2   2   0  2    0
White        18   0-0   2-4   0-0   2   5  2    6
Bowen        13   1-1   0-2   0-0   2   1  4    2
DNP: Cameron, Allen, Williams, Mourning, Hayes
Team Rebounds                       4
TOTALS      200  15-31  5-19 18-22 28  12 27   63

A game recap follows later this week.
The Georgetown half of the box score is below.

            MIN   2FG   3FG   FT  REB  A  PF  PTS
Starters:                                 
Smith-Rivera 37   3-6   4-7   7-7   3   0  0   25
Trawick      32   1-2   0-3   3-5   2   3  3    5
Peak         29   1-2   0-2   1-3   5   0  2    3
Copeland     17   1-2   0-2   0-0   3   0  1    2
Smith        21   4-8   0-0   2-3   5   2  2   10
Reserves:
Campbell     14   0-2   2-2   0-0   1   2  0    6
Hopkins      17   1-6   0-0   5-6   5   3  4    7
Cameron       1   0-0   0-0   0-0   0   0  0    0
White        23   0-0   0-1   2-2   1   1  0    2
Bowen         7   0-0   0-0   0-0   1   0  1    0
Hayes         3   0-0   0-0   0-0   0   0  1    0
DNP: Allen, Williams, Mourning
Team Rebounds                       2
TOTALS      200  11-28  6-17 20-26 28  11 14   60


Junior guard D'Vauntes Smith-Rivera was named to the All-Big East first team as announced Sunday, the eighth Hoya in the last nine seasons so honored and the 20th first team selection in the Big East era.
Freshmen Isaac Copeland and L.J. Peak were named to the Big East All-Rookie team, the 26th and 27th selections for Georgetown since 1980.
A cumulative list of Georgetown's All-Big East selections through the years is found at the Georgetown Basketball History Project.
First Team:
Darrun Hilliard, Villanova, G, Sr., 6-6, 215, Bethlehem, PA (unanimous selection)
LaDontae Henton, Providence, F, Sr., 6-6, 215, Lansing, MI (unanimous selection)
Kris Dunn, Providence, G, Jr., 6-3, 205, New London, CT (unanimous selection)
Kellen Dunham, Butler, G, Jr., 6-6, 185, Pendleton, IN
D'Vauntes Smith-Rivera, Georgetown, G, Jr., 6-3, 214, Indianapolis, IN
D'Angelo Harrison, St. John's, G, Sr., 6-4, 202, Missouri City, TX
Ryan Arcidiacono, Villanova, G, Jr., 6-3, 195, Langhorne, PA
Second Team:
Roosevelt Jones, Butler, F, Jr., 6-4, 227, O'Fallon, IL
Matt Carlino, Marquette, G, Gr., 6-2, 175, Arcadia, AZ
Sterling Gibbs, Seton Hall, G, Jr., 6-2, 185, Scotch Plains, NJ
Sir Dominic Pointer, St. John's, F, Sr., 6-6, 192, Detroit, MI
Matt Stainbrook, Xavier, C, Sr., 6-10, 270, Bay Village, OH
Honorable Mention:
Billy Garrett, Jr., DePaul, G, So., 6-6, 205, Chicago, IL
Daniel Ochefu, Villanova, F, Jr., 6-11, 245, Baltimore, MD
JayVaughn Pinkston, Villanova, F, Sr., 6-7, 235, Brooklyn, NY
All-Rookie Team:
Angel Delgado, Seton Hall, F, Fr., 6-9, 230, Bajos De Haina, Dominican Rep. (unanimous selection)
Trevon Bluiett, Xavier, F, Fr., 6-6, 215, Indianapolis, IN (unanimous selection)
Isaac Copeland, Georgetown, F, Fr., 6-9, 220, Raleigh, NC
L.J. Peak, Georgetown, F, Fr., 6-5, 215, Gaffney, SC
Duane Wilson, Marquette, G, Fr., 6-2, 185, Milwaukee, WI
Isaiah Whitehead, Seton Hall, G, Fr., 6-4, 210, Brooklyn, NY
The Player of the Year, Rookie of the Year and Coach of the Year honors will be announced on Wednesday.
Amidst the excitement of an emotional "hail and farewell" to Tyler Adams, Georgetown's fellow seniors rallied in the absence of the team's leading scorer for a 73-67 win over Seton Hall Saturday at Verizon Center before a season high crowd of 14,392.
Adams' elevation to the starting lineup made national headlines, but it was the absence of a key starter - junior guard D'Vauntes Smith-Rivera -- that was thrust into the discussion a few minutes before game time.
"I didn't know until 15-20 [minutes] before the game," said coach John Thompson III. "He banged knees, tweaked his knee in the Butler game and he went out there and warmed up he said `I feel weak', so after meeting with the medical staff we decided, this was not a coach's decision, he couldn't play. It caught us off guard to be honest with you, but it's not serious and we don't anticipate him missing any part of the Big East Tournament, but we'll see."
With DSR in street clothes, freshman Tre Campbell made his first start in a Georgetown uniform in the game, where the Hoyas could finish anywhere from second to fifth in the standings depending on the outcome of three different games this day. But Adams, and his emotional return to the court, was the figurative and literal center of attention to begin the game.
The two coaches had discussed the situation before hand and Seton Hall coach Kevin Willard offered to let Adams score the first basket of the game.
"I had heard a lot of great things about the young man," said Willard. "I was really glad that he was getting a chance to start. I told my kids before the game and said, `You know, guys, sometimes there's a bigger picture in life and just let him get it. I actually talked to [Isaac] Copeland. I didn't know what their plan was, but just tip it to him, let him score a layup. I was glad he listened to me, because I think, again, great kids should get rewarded in life and I think he's battled and it's great to see that happen."
Additional comments by Willard to the New Jersey press were received differently, however. Willard said that "I talked to John, I said ĎI'll let the kid shoot a layup and you just give us a layup' he said ĎNah, don't do that.'". The quote raised concerns in some Seton Hall circles that Georgetown would not reciprocate a basket after Adams was to have scored the first two of the game. In fact, Thompson did not request that the Hall give Adams the basket, and so there was no quid pro quo involved.
All of this was unknown to the fans and even the Georgetown players at the tip, won by Adams, starting in place of Josh Smith. Adams made his way into the lane, and Jabril Trawick's pass to Adams was left undefended by the Pirates. Adams got the ball, a little surprised that he was uncovered, then drove for an easy dunk and the 2-0 lead. The team quickly sought to stop play and Adams actually picked up a foul as the Hoyas were trying to call time out. With the whistle, Adams received a hero's ovation as he completed a career wholly unlike any of his fellow teammates.
"I thanked [Coach Willard] after the game," Adams said. "[It] made it a lot easier for me."
Georgetown soon surged to a 9-3 lead, but in a running subplot for the game, the Hoyas consistely lost big leads, only to be fortified by clutch shooting from the seniors. The 9-3 lead at the 17:01 mark was cut to 10-7 before a basket from Aaron Bowen led the Hoyas on a 6-0 run. A pair of baskets by freshman Angel Delgado led the Pirates back to 16-14 before GU answered on a 7-0 run of its own. Seton Hall picked up the pace, forcing the Hoyas to miss four shots and commit two turnovers during a third scoring run which saw them close to 25-24 at the 3:11 mark, with assists on 10 of its 11 baskets to date. With the Hoyas on the ropes, senior Jabril Trawick answered the bell, with a pair of baskets to put the Hoyas up 30-24, and the Georgetown defense held Seton Hall scoreless for the remainder of the half en route to a 32-24 lead at the half. The Pirates shot 47 percent from the field, but it was foul shooting that cost them the momentum, missing on seven of eight attempts.
The teams opened the second half going in opposite directions. Seton Hall missed its first seven shots, while Georgetown hit its first three. An Isaac Copeland three, a driving L.J. Peak basket and foul, and a Trawick three suddenly pushed the lead to 17, 41-24, and the game looked to be getting out of hand. The Pirates looked to leading scorer Sterling Gibbs to carry the load, and he answered.
Gibbs struggled mightily in the first half: 1 for 4 from the field, 1 for 6 at the line. But when Seton Hall needed him, Gibbs was there. Back to back three pointers from Gibbs cut the Georgetown lead to nine with 14 minutes left, whereupon a pair of free throws from Josh Smith and a three from Trawick pushed the lead back to 14, 50-36, near the midway point of the half.
Following free throws by SHU's Khadeem Carrington to close to 52-42, the GU seniors stepped it up again. Mikael Hopkins took over on each of the Hoyas next four possessions, scoring eight straight points as the lead grew to 18, 60-42, at the 7:12 mark. But the Hall was not giving in, hitting on five of its next six to cut the lead back to nine with 3:55 left, the latter on consecutive layups by Gibbs. Georgetown merely needed to control its own possessions down the stretch, but found it a bumpy ride to the finish.
A Smith free throw bumped the lead to 65-55, but he missed the second, answered by a basket from Delgado, 65-57. Trawick missed a close-in shot with 2:15 to play, and then Peak fouled a driving Carrington. Officials waived off the continuation basket Carrington but added two free throws to reduce the margin to 65-59 with 2:07 remaining. The teams exchanged splits at the foul line, 66-60, but with 1:05 remaining, Campbell was charged ith an offensive foul, returning it back to a Pirate team that had outscored the Hoyas 18-6 down the stretch.
The Hall looked to close to four when Carrington caught the ball under the basket, but Peak alertly dislodged the ball and was quickly fouled with 52 seconds to play. The shooting bug nipped Peak as well, settling for just one of two and a 67-60 lead that was quickly answered by Gibbs with a drive inside, 67-62.
A quick foul on Campbell yielded a fifth straight trip to the line with a split on free throws, 68-62, and kept the Pirates in range. A pass to Gibbs was deflected by Campbell, and in the ensuing scrum, Willard's plea for time out went unanswered by the officials, who awarded the ball to Georgetown on the alternate possession. In fact, Willard could not have called time because the officials ruled that SHU did not have possession at the time.
Georgetown still needed to make its free throws, and Campbell answered with two, 70-62, but the Hoyas surrendered a quick basket by Carrington to return to six, 70-64. A quick foul on Campbell yielded another frustrating split, 71-64, but time was running out on the Pirates. Instead of the hot-shooting Gibbs, it was Carrington that launched up a three that fell short, and with time running out, Trawick opted for a dunk instead of running out the clock, which was not well received by Seton Hall's fans. Gibbs had the final word with a long three at the buzzer to close the final margin to six.
Despite shooting 58 percent in the second half, Georgetown's rebounding was especially poor against the Pirates, which picked up 10 offensive rebounds in the second half to Georgetown's two, yet managed only seven points on second chance opportunities. The Pirates fared better at the foul line (6-9) and much better at the three point arc, where Gibbs was 4-4 and accounted for 18 of SH's 41 points in the half.
The Georgetown offense missed Smith-Rivera, and it showed in circumstances where DSR's leadership on the floor (and at the foul line) was absent. Nonetheless, the efforts of the graduating seniors helped stabilize the Hoyas at key stretches of the game--Trawick's early three, Smith's free throws, a big first half basket by Bowen, or Hopkins' eight straight points in the second half. Everybody contributed today.
During another game where freshmen Isaac Copeland and Paul White were non-factors in scoring, Tre Campbell was impressive, with 13 points and one turnover in 32 minutes of play.
"They are actually a little bit quicker [with Campbell], Willard said. "[He] has a little bit more of a motor. I think the difference is with D'Vauntes, he puts a little bit more pressure on you at all times, where I think they tried to go much more inside today. I think at times with D'Vauntes, they run a lot more things with him to try to get him some shots, I think that is what makes it tough."
The win was magnified by Butler's upset at Providence, 68-64, elevating the Hoyas, not the Friars, to the #2 seed in next week's tournament. The Bulldogs, who shot 10 for 22 from the line in a narrow loss to Georgetown Tuesday, stunned the favored Friars by hitting 20 of 20 from the line in its win.
Trawick's season high 19 points led the Hoyas in this one, the first time in his career Trawick has led the team in scoring during a game.
"I'm going to miss him, a lot," Thompson said. "Now hopefully we have 10 or so more games together but it is Senior Night, they all were emotional he just showed his differently. It's an emotional time when you realize this is the last time in this building to wear this uniform with this group of guys.
"It's emotional. I remember my last game [at Princeton], he will remember this last game... they all will remember this game for the rest of their lives. The performance today was needed, he played like a senior on a team whose key guy was out and I'm glad he's with us."
"Georgetown is a special place for me," Trawick said. "I want to thank coach Thompson for giving me the opportunity to come play here because It changed my life. It helped me grow up as person and a basketball player over the past four years. It was just very emotional for me, my family was there so it meant a lot to me. Georgetown is a special place to me."
"There's only one thing I can think of that would have made it better," said Thompson. "[Tyler's] mother Darlene, because of the weather couldn't make it up here. His father is in the back but that's the only thing I can think of that would have made it better. I was worried that [Tyler] was so excited that something would happen to him just from being excited but I'm glad Isaac got the tip. It was a special moment and it was something that we decided to do and we were fortunate to get a waiver and it's something that I hope and think was special to Tyler."
Amidst many great Senior Days in the Big East era, this was one not to be forgotten.
The Georgetown half of the box score is below.

            MIN   2FG   3FG   FT  REB  A  PF  PTS
Starters:                                 
Campbell     32   3-3   1-2   4-6   2   2  2   13
Trawick      35   4-6   2-4   5-6   3   4  2   19
Peak         24   1-3   1-2   2-5   1   0  3    7
Copeland     32   1-5   1-1   0-0   5   0  2    5
Adams         1   1-1   0-0   0-0   0   0  1    2
Reserves:
Hopkins      18   2-4   0-0   4-5   4   0  3    8
Cameron       4   0-0   0-1   0-0   0   0  0    0
White        11   1-1   0-1   0-0   1   1  2    2
Bowen        23   3-4   0-3   2-2   7   3  2    8
Smith        21   1-4   0-0   7-13  8   2  1    9
DNP: Smith-Rivera, Allen, Williams, Mourning, Hayes
Team Rebounds                       1
TOTALS      200  17-33  5-14 24-37 17  12 18   73

Following an NCAA waiver quietly pursued by Georgetown officials but unknown to the team until Thursday, senior center Tyler Adams (C'15) will be allowed to play in the Hoyas' final regular season game. Adams, who has been medically ineligible since the fourth game of his freshman season following a diagnosis of a heart condition which ended his career.
Update: With the opening possession, Adams got the ball inside and scored on a dunk, whereupon Georgetown called time out and he sat the remainder of the game.
"[Coach Thompson] told me with the team yesterday," Adams said in this link to GUHoyas.com. "He called us together in a group and mentioned how he doesn't do what other coaches do with starting seniors, that it wasn't that big of a deal to him, but at the end of the conversation he said, `But we're going to make an exception and start you.' "I thought it was a joke. Everyone started laughing and it kind of shocked me, but everyone was excited when they heard the news."
"When my situation came about I didn't want to mourn or be sad and be a burden on the team, my main focus was just keeping a positive energy and helping the guys out. Whether that was wiping the floor or helping Josh (Smith) or Mikael (Hopkins) with their next post moves, the main focus was just helping the team as much as I could. I'm not the type of person who gets down on things because I know in life people have it worse than I do so that was the approach I took with it and that's what helped get through the emotions I may have had. Coach Thompson has made me feel like I'm part of the team, I dress for practice, attend every work out and I probably watch more film than the guys who play so I definitely feel like I've been involved and that definitely helped me out emotionally."
Given the unusual situation, Adams is expected only to play "briefly" and could be substituted in the first of second minutes of the game.
Fellow senior Josh Smith, who was penciled in to start as a senior, was asked whether he would sit to allow Adams to get the start. "I was honored," Smith said. "Ty has invested as much as anybody else has in our program with helping us and caring, being there even if he canít physically participate."
Adams was sidelined on Dec. 14, 2011. While he had offers to play at smaller schools despite the diagnosis, head coach John Thompson III promised Adams could remain on scholarship, and he stayed.
"You canít trade a Georgetown degree for nothing," Adams told the Washington Post.
It was only two years ago that the Big East Conference was rebooted after the ESPN-encouraged secession of much of its football base to the Atlantic Coast Conference. Looking back, the Georgetown Voice takes an extended look at some of the strategies involved in those moves.
"Clearly, decisions of this magnitude do not happen because of one isolated occurrence or happening," said athletic director Lee Reed. "This was something that we strategically prepared for under the excellent leadership of President DeGioia and the other presidents. We were aware of the landscape and therefore prepared for the opportunities that were available to us as a conference and institution."
The Voice also asked Reed about the decline in TV viewership from the ESPN networks to Fox Sports 1 since the move.
"We are only in year two of a multi-year partnership and we are happy with our progress to date and excited about the future possibilities," Reed said.
"While it is relatively early in the transition, I believe that the bold decision for us to create the new Big East was absolutely the best outcome for Georgetown University," he added.
ESPN and their friends would like to tell you that the Big East Tournament is but a memory without Syracuse or Connecticut, but an article at Forbes Magazine suggests that the 36th annual tournament figures to be hotter than ever on the ticket exchange markets.
"During the five sessions at Madison Square Garden beginning next Wednesday, the average price for Big East Tournament tickets [on ticket exchange TicIQ] is $224.98, marking a price jump of 27.3% from last seasonís average," it writes. "An All-Session strip for the 2015 Big East Tournament has an average price of $1,367.41."
By contrast, "500 miles south, the ACC Tournament held at the Greensboro Coliseum will see a cheaper secondary average than that of the Big East Tournament in 2015. However, prices are still more expensive than in 2012, the year prior to the conference adding Syracuse, Notre Dame and Pittsburgh. This year, the average secondary price for ACC Tournament tickets is $163.19, 8.8% more expensive than 2012ís average of $149.97. This year, an All-Session pass for ACC Tournament tickets is $685.85 on the secondary market."
The article quotes a price of as little as $4 for a ticket to Wednesday's opening round of the 15 team ACC tournament, which has not offered a public sale of tickets since 1966.

The NCAA Committee on Infractions" leveled major sanctions on the basketball program at Syracuse University Friday, imposing a five year probation, the loss of 12 scholarships over four years, and vacating 108 wins over a seven year period. It has also suspended coach Jim Boeheim for the first half of the 2015-16 ACC basketball season.
"The institution discovered and self-reported violations dating back to 2001," reads the report. "These violations included academic fraud, instances of extra benefits, the institution's failure to follow its written drug policy, impermissible activities surrounding the conduct of a representative of the institution's athletics interest and student-athletes' involvement in promotional activities and outside competition. In total, the self-reported and agreed-upon violations made up 10 of the 14 allegations in this case. The other four violations included academic extra benefits, the institution's failure to follow its written drug testing policy, the head basketball coach's failure to promote an atmosphere of compliance and monitor his staff and and the institution's lack of control over its athletics program. The case also involved a former staff member's failure to cooperate with the NCAA enforcement staff's investigation. The institution acknowledged and the panel concluded that violations occurred."
The NCAA also ordered Syracuse to remit three years of accumulated NCAA revenues while a member of the Big East.
"We believe the NCAA's investigation of Syracuse University has taken longer than any other investigation in NCAA history," said SU chancellor and Georgetown alumnus Kent Syverud (F'77). The entire process has taken close to eight years and involved a review of conduct dating back to 2001. By comparison, the investigation into the fixing of the 1919 World Series took two months and the 2007 investigation of steroid use in baseball took 21 months."
Nonetheless, "Syracuse University did not and does not agree with all the conclusions reached by the NCAA, including some of the findings and penalties included in today's report. However, we take the report and the issues it identifies very seriously, particularly those that involve academic integrity and the overall well-being of student-athletes. Syracuse University regrets, and does not dispute, that the following significant violations cited by the NCAA occurred."
Among the allegations? The document writes that "[T]he director of basketball operations and student-athlete support services employees accessed and sent emails from student-athletes' accounts and corresponded directly with professors. Numerous emails included attached academic coursework, which was necessary to maintain the required grades for student-athletes to remain eligible. Recipients of the emails included student-athletes and the director of basketball operations. There is no indication that the director of basketball operations questioned or reported concerns. To the contrary, the email and related data suggest the common practice of the director of basketball operations monitoring, identifying and then remedying academic concerns through email correspondence, which purportedly was being sent directly by the student-athletes to their professors."
Head coach Jim Boeheim disclaimed any responsibility . The press statement came across as, well, just a little bit whiney.
"The Committee chose to ignore the efforts which I have undertaken over the past 37 years to promote an atmosphere of compliance within the Menís Basketball Program," said Boeheim. "Instead they chose to focus on the rogue and secretive actions of a former employee of the local YMCA and my former Director of Basketball Operations in order to impose an unprecedented series of penalties upon the University and the Menís Basketball Program."
"As the Head Coach of the Program, I demand academic excellence from my student-athletes. However, under NCAA rules, I am not permitted to intervene in academic matters nor am I permitted to review academic work performed by student-athletes. In short, I am disappointed with the Infractions Report. At this time, however, I will have no further comment on this matter as I consider my options moving forward."
Boeheim will appeal the suspension.
Yahoo sports columnist Pat Forde minced few words about the state of the Syracuse program.
"Academic fraud. Violations of the school's drug-testing policy. Money filtering from a booster to players. Syracuse pretty well hit the trifecta of cheating. The school filled the rap sheet with impressive thoroughness...The school should give [Boeheim] a hero's send-off, if it wishes. He's brought a lot of glory to a bleak northern outpost, filled a cavernous arena, stayed loyal to Syracuse for the vast majority of his 70-year life. He's entitled to a fond farewell. But Jim Boeheim should not be entitled to keep his job in perpetuity, through an unseemly and craven abdication of rules compliance.
"He's not emperor. He's a basketball coach, and a great one, but also a basketball coach who oversaw a scofflaw program and is now dealing with the second postseason ban of his career.
"You have to win a lot of games to keep your job after one postseason ban. Nobody should keep their job after two."
The sentiment was echoed by Paul Newberry of the Associated Press.
"Don't be fooled by diversionary tactics," he wrote. Boeheim bears the ultimate responsibility for this latest stain on college athletics. It's time for him to go."
The Orangemen, who opted out of the 2015 post-season as a preeemptory move to Friday's decision, complete their season Saturday versus North Carolina State. Extended coverage follows in this link to the Syracuse Post-Standard.
To little surprise, the contingent of ESPN personalities came to the defense of the Orangemen Friday.
"It will be presented as a dirty, cheating place. That doesn't seem like what happened here," said ESPN's Mike Tirico. "[The] NCAA is a leaderless organization with too many hands on the wheel. It's ruining college athletics. They've done a terrible job."
"When things went wrong right down the hall of the NCAA president, what did he say?" asked Jay Bilas, who blames the NCAA, not Syracuse. "They have the perfect system. They are not accountable for anything. University administrators are not accountable for anything. Coaches and players are. And that's not a good system."
In advance of the regular season finale Saturday, a look back this week at the graduating seniors. The final honoree: Jabril Trawick.

A quote attributed to former coach John Thompson speaks volumes to the basketball heart and soul of Jabril Trawick. As noted on Fox Sports 1, Trawick was the only current player tough enough to have played on Thompson's teams of the 1980's.
A man of faith and commitment, Trawick was an all-state selection from Abington Friends School, in the northern suburbs of Philadelphia. The first recruit from a recruiting class that later included Otto Porter and Greg Whittington, Trawick chose Georgetown over an offer at Florida State. "The coaching staff and the group of players that I will be playing with is a big reason why I chose Georgetown," he said. "There are a lot of connections there, itís like a pipeline."
Trawick's first experience in a Georgetown uniform came in the infamous trip to China, averaging 12 points a game off the bench in a week better known for the precipice of an international incident in the second game of the 11 day trip. As a freshmen, Trawick appeared in 33 games as a reserve, with a season high 10 points and eight rebounds against South Florida. it was not until his sophomore year that he moved into the starting lineup, starting the final 20 games of a season where he averaged 5.8 points and just under three rebounds a game, with a season high eight rebounds off the bench against Louisville.
When his three point shooting was just 24 percent as a freshman, Jabril began to work on his outside game. That number grew to 29 percent as a sophomore and 31 percent as a junior during a season where he broke his jaw against Providence but returned to action in just three weeks and scoring in double figures in 10 of the team's final 13 games.
Trawick's senior year has been his most productive. Always a defensive force, his shooting picked up as well: 12 points and seven rebounds vs. Indiana, 13 and 9 versus Marquette, an a 10 point effort in the upset of Villanova that went beyond the mere scoring chart.
"His effort, his energy, he's getting beat up out there and he comes in, not necessarily scoring baskets, but making plays at the defensive end, on the boards, making passes at the offensive end, said coach John Thompson III. "It was a selfless game making plays that might not show up on this sheet."
And that three point shot? Improved to to 41.9% as a senior, among the team's best.
The son of Saskia Jones and Hakeem Trawick, Jabril Trawick is on target to graduate from the College this spring. In life beyond basketball, Trawick promises to put the same kind of focus and intensity that he displayed over his four years in a Georgetown uniform. His statistics to date are as follows:
| Season | GP | GS | Min | FG | FGA | % | 3FG | 3GA | % | FT | FTA | % | Off | Reb | Avg | PF | Ast | Blk | Stl | Pts | Avg |
| --- | --- | --- | --- | --- | --- | --- | --- | --- | --- | --- | --- | --- | --- | --- | --- | --- | --- | --- | --- | --- | --- |
| 11-12 | 33 | 0 | 377 | 30 | 75 | 40.0 | 6 | 25 | 24.0 | 45 | 58 | 77.6 | 11 | 42 | 1.3 | 42 | 18 | 16 | 13 | 111 | 3.4 |
| 12-13 | 32 | 20 | 850 | 59 | 145 | 40.7 | 20 | 67 | 29.9 | 49 | 68 | 72.1 | 24 | 99 | 2.9 | 80 | 62 | 9 | 36 | 187 | 5.8 |
| 13-14 | 28 | 21 | 735 | 83 | 160 | 51.9 | 15 | 48 | 31.3 | 73 | 105 | 69.5 | 24 | 86 | 3.1 | 90 | 47 | 9 | 19 | 254 | 9.1 |
| 14-15 | 28 | 28 | 755 | 80 | 159 | 50.3 | 26 | 62 | 41.9 | 50 | 77 | 64.9 | 20 | 105 | 3.8 | 77 | 66 | 11 | 25 | 236 | 8.4 |
| Totals | 121 | 69 | 2717 | 252 | 539 | 46.8 | 67 | 202 | 33.2 | 217 | 308 | 70.5 | 79 | 326 | 2.7 | 289 | 193 | 45 | 93 | 788 | 6.5 |
Four years of slow but steady improvement have brought center/forward Mikael Hopkins to Senior Day as one of the Hoyas' more reliable defensive players.
Hopkins has often been asked to perform a complementary rather than starring role in games. At DeMatha HS, Hopkins averaged only 10.9 points per game but was sufficiently strong on the court to be ranked among the top 20 forward recruits in the nation, choosing Georgetown over Maryland and Kansas. As a freshman, Hopkins played behind Hollis Thompson and averaged under eight minutes and 2.4 points per game. Elevated to the starting five in his sophomore year, Hopkins started all 32 games aside Otto Porter and started off the non-conference part of the schedule strong, averaging 11.2 points per game over the Hoyas' first five games this season. Foul trouble and some difficult shooting stretches limited Hopkins in much of the remainder of the games that season, leading to an inconsistent game by game performance. It was the same Mikael Hopkins who could ad just two points in 20 minutes versus Syracuse in the 2013 regular season finale, then put up 15 points and eight rebounds against the orangemen a week later in the Big East semifinal. He started 19 of 33 games as a junior, averaging 6.0 points per game.
Despite a run of up and down offensive efforts, his interior defense has been a valuable component of a Georgetown defense that has lacked a strong center component with Josh Smith's ongoing foul difficulties. It was during a senior year where Hopkins was dropped from the starting lineup in favor of freshman Isaac Copeland that he has stepped up with some of his stronger defensive games of his career, including a 13 point, 12 rebound effort versus Marquette, a combined 14 points and 14 rebounds in two games versus Butler, and a 10 point, 14 rebound effort versus St. John's. Yes, there are the inconsistent games shooting from the field, or the three point loss to Providence where Hopkins went 0 for 6 rom the foul line, but he never let the setbacks get him down. Three days later, he was 5 for 6 from the line in a narrow win over DePaul, and 11 of 12 versus Marquette.
Defensive contributors at Georgetown are often measured by blocked shots and Hopkins has quietly joined a very select group. His 47 blocks in 2014-15 is twice that of anyone on the 2014-15 team, bringing him to a total of 143 over his career, 10th all-time among Georgetown players.
The son of Miko Hopkins, Mikael Hopkins is on target to graduate from the College this spring. His statistics to date are as follows:
| Season | GP | GS | Min | FG | FGA | % | 3FG | 3GA | % | FT | FTA | % | Off | Reb | Avg | PF | Ast | Blk | Stl | Pts | Avg |
| --- | --- | --- | --- | --- | --- | --- | --- | --- | --- | --- | --- | --- | --- | --- | --- | --- | --- | --- | --- | --- | --- |
| 11-12 | 30 | 0 | 203 | 22 | 52 | 42.3 | 1 | 2 | 50.0 | 27 | 36 | 75.0 | 19 | 34 | 1.1 | 29 | 12 | 12 | 1 | 72 | 2.4 |
| 12-13 | 32 | 32 | 644 | 65 | 159 | 40.9 | 0 | 2 | 0.0 | 59 | 95 | 62.1 | 30 | 94 | 2.9 | 99 | 41 | 34 | 28 | 189 | 5.9 |
| 13-14 | 33 | 19 | 688 | 73 | 171 | 42.7 | 2 | 8 | 25.0 | 51 | 81 | 63.0 | 61 | 163 | 4.9 | 107 | 34 | 50 | 22 | 199 | 6.0 |
| 14-15 | 28 | 23 | 637 | 48 | 105 | 45.7 | 0 | 0 | 0.0 | 46 | 80 | 57.5 | 67 | 167 | 6.0 | 93 | 37 | 47 | 25 | 142 | 5.1 |
| Totals | 123 | 74 | 2172 | 208 | 487 | 42.7 | 3 | 12 | 25.0 | 183 | 292 | 62.6 | 177 | 458 | 3.7 | 328 | 124 | 143 | 76 | 602 | 4.8 |
D...S...R.
Six weeks after his game ending block sealed a win over Butler, the bronze-haired Indianapolis junior came up with the defensive play of the season to preserve a 60-54 Georgetown win at Hinkle Fieldhouse that was a battle in every sense of the word.
Defense was the order of the game at the start, as the teams combined for five baskets in the first seven minutes. Georgetown struggled to mount an early attack, and stayed competitive with junior Jabril Trawick, who scored the Hoyas first nine points and accounted for his only points in the first half.
Offensive rebounds were the early story of the game. Butler started the game 3-13, but went on a 10-2 run thanks to a dominant run on offensive rebounds. Butler had 11 offensive rebounds in the first half, Georgetown none. With a pair of three pointers from Alex Barlow, the Bulldogs opened a 17-11 lead midway in the first half, but the Hoyas began to turn up the velocity on defense and forced what was a slow moving game into one of GU's liking. georgetown tied the score at the 6:09 mark, part of a 12-0 run that was keyed by defensive stops by the Hoyas inside. Georgetown led 27-20 at the 3:07 mark following a dunk by Mikael Hopkins, and carried a six point lead into the break, 30-24.
Despite the 9-0 lead on offensive rebounds, Butler managed only six second chance points. Butler's leading scorer, Kellen Dunham, was scoreless in four attempts and and its second leading scorer, Roosevelt Jones, was just one for four. Both trends would change after the half.

The Hoyas opened the second half by extending the lead to ten, but three point plays from Barlow and Jones rallied the Bulldogs within four at the 16 minute media time out, 34-30. Four minutes later, Dunham scored eight straight to give Butler a 40-39 lead at the 11:31 mark, part of a 16-4 run by the Bulldogs.

Free throws by Isaac Copeland and a three from DSR pushed the Georgetown lead to 44-40, but the Bulldogs battled back at the line to close to 45-44. After an exchange of baskets, the teams traded time at the free throw line, where Butler missed three of four and Georgetown answered with an unlikely three from Aaron Bowen to go up 52-47 with 4:13 to play. It was the eighth three of the season for Bowen, and none were more important.

A three by Andrew Chrabascz rallied the Bulldogs at the 3:02 mark, 54-52. A basket by Smith-Rivera put the Hoyas up four, but GU missed on its next two possessions and the Bulldogs closed to 56-54 with 52 seconds remaining. On its next possession a pass inside to freshman Isaac Copeland yielded a high percentage opportunity from four feet, but Copeland left it short. One the ensuing possession, Barlow's game-tying shot sailed high and Josh Smith was fouled on the rebound.

Smith arrived at the line with 10.2 seconds remaining, up two. His shot was long, and Butler's Kameron Woods grabbed the rebound with the chance for a win now in his team's grasp. The grasp was short lived, as Smith-Rivera swooped in and picked the ball out of Woods' hands and was fouled with 6.2 seconds left, hitting both, 58-54. A halfcourt pass by the Bulldogs was intercepted by Tre Campbell, who sank two more.


GU record when
leading at half


GU shooting,
second half,
Smith and DSR


GU shooting,
second half,
rest of team


GU adv.,
pts. off turnovers


Butler second
chance points


Butler FT%


Georgetown FT%





Free throw shooting was the story of the game. Georgetown missed only two of 15 foul shot attempts, Butler missed 12 of 22. But it wasn't the whole story--BU shot just 35% from the field, with an uncharacteristic 15 turnovers. Dunham's eight point outburst in the second half was his only points of the game after averaging 23.0 points in his previous two. Roosevelt Jones, who went for 28 versus the G-men at Verizon Center, finished 2 for 10.
Georgetown got strong efforts from many sources. Josh Smith was able to stay away from a 5th foul, played 20 minutes, and had 10 points. Combined with 6 from Mikael Hopkins, the two Georgetown centers were a combined 7-7 from the field. Trawick did not score in the final 35 minutes of play but was huge on defense while Tre Campbell had 10 points as well. Smith-Rivera led the Hoyas with 16 points. Kameron Woods led the Bulldogs with 15 points and 16 rebounds, the most rebounds for any Georgetown opponent this season.
Here's the Georgetown half of the box score.

            MIN   2FG   3FG   FT  REB  A  PF  PTS
Starters:                                 
Smith-Rivera 37   3-5   2-4   4-4   7   2  1   16
Trawick      34   2-2   1-4   2-2   0   4  2    9
Peak         11   0-2   0-0   0-0   0   1  3    0
Copeland     30   0-3   1-3   2-2   3   0  4    5
Smith        20   4-4   0-0   2-3   2   0  4   10
Reserves:
Campbell     21   1-2   2-3   2-2   2   1  0   10
Hopkins      19   3-3   0-0   0-0   6   1  4    6
White        13   0-4   0-1   0-0   0   2  0    0
Bowen        14   0-1   1-2   1-2   0   2  1    4
Hayes         1   0-0   0-0   0-0   0   0  0    0
DNP: Cameron, Allen, Williams, Mourning
Team Rebounds                       0
TOTALS      200  13-26  7-17 13-15 20  13 19   60

From 247 Sports' Michael Bohlin, a foul called on Georgetown Aaron Bowen, despite having never touched his opponent.

Among the five seniors facing their last collegiate game at Verizon Center Saturday, none has quite traveled the road that Josh Smith has over his college career.
In high school, Josh Smith was a big name in more ways than one. Standing 6-10 and 300 pounds, Smith was ranked #18 nationally in a 2010 high school recruiting class that would boast an eventual 16 NBA first round selections,. The Seattle-area native chose UCLA over Washington in the fall of 2009, and arrived in Westwood with high hopes of becoming the Bruins' most dominating center since Kevin Love.
Smith's freshmen year numbers were encouraging, with 15 starts in 33 games and a 10.9 point, 6.3 rebound average, good for an all-freshmen Pac-10 selection. Weight problems began to take its toll, and by his sophomore season, Smith started in only nine games and averaged less than 10 points a game. By his junior year, Smith looked disinterested, labored to get up and down the court, and was severely overweight, with some claims that he was approaching 375 pounds. In a November 19, 2012 game versus Georgetown in the Legends Classic, Smith played just 12 minutes and finished with four points. A week later, he scored just two points against Cal-Poly, and announced his transfer in January.
"A committed Josh Smith, I'm not sure there is a better big man in the country," coach John Thompson III told ESPN. "He has the instincts and the physical tools to be better than any big man I've had...I didn't realize how good a passer he is. He's got to put himself in position to where he can stay on the court. We're trying to get him to the point where he understands it's on him. He has to understand that he has to be as committed as everyone around him. He has to be more committed. He is getting there. But he's got a ways to go to get there."
Josh Smith arrived at Georgetown in the wake of Greg Whittington's ineligibility, and it was not altogether clear how many semesters of eligibility he would have, given a midyear transfer from UCLA. With some expecting as few as one semester, and others one full year, the NCAA surprised many in October 2013 by awarding Smith two full seasons at Georgetown, beginning immediately at the start of the 2013-14 season.
Smith's efforts at weight loss over the next ten months were noticeable but not as successful as people had hoped--Smith answered at 350 pounds when the season opened versus Oregon, scoring a career high 25 points. But Smith tired in games and fouls were commonplace. By the end of the non-conference half of the season, Smith had averaged less than six points per game in his last four contests, for about 18 minutes of play.
Smith's second junior season was cut short with a failing course grade that led Georgetown to declare him ineligible for the remainder of the season. "This is Georgetown, and we have a set of standards, and everyone has a responsibility above and beyond what goes on outside of those doors,Ē said Thompson. Smith regained his eligibility for his senior season, where he has started each game but has often struggled to stay in games; in part, a moving Smith in the paint is tempting for officials to call quick fouls, and Smith's time is often limited as a result.
When he gets the ball, Smith is a remarkably effective shooter. His 65.0% average is second all-time in school history. On a per minute basis, Smith averages 10 rebounds per 40 minutes, but averages just 21 minutes per game, with a season low eight minutes against St. John's.
The son of Joshua and Tracy Smith, Josh Smith is on target to graduate from the College this spring. His statistics to date are as follows:
| Season | GP | GS | Min | FG | FGA | % | 3FG | 3GA | % | FT | FTA | % | Off | Reb | Avg | PF | Ast | Blk | Stl | Pts | Avg |
| --- | --- | --- | --- | --- | --- | --- | --- | --- | --- | --- | --- | --- | --- | --- | --- | --- | --- | --- | --- | --- | --- |
| 13-14 | 13 | 13 | 259 | 55 | 84 | 65.5 | 0 | 1 | 0.0 | 40 | 63 | 63.5 | 22 | 44 | 3.4 | 46 | 9 | 8 | 13 | 150 | 11.5 |
| 14-15 | 28 | 28 | 594 | 118 | 182 | 64.8 | 0 | 0 | 0.0 | 78 | 121 | 64.4 | 72 | 169 | 6.0 | 101 | 33 | 21 | 27 | 314 | 11.2 |
| Total | 41 | 41 | 853 | 173 | 266 | 65.0 | 0 | 1 | 0.0 | 118 | 164 | 64.1 | 94 | 213 | 5.1 | 145 | 42 | 29 | 40 | 464 | 11.3 |

Much like his former classmate Moses Ayegba, Aaron Bowen has endured a long and difficult road back from injury to be an important contributor to the Georgetown Hoyas. But while Ayegba opted to complete a fifth year as a graduate student at the University of Nebraska, Bowen returned for a fifth year on the Hilltop, the first Georgetown player to see action over five seasons since Courtland Freeman from 1999-04.
Bowen grew up in Jacksonville FL, attending Wolfson HS before a year at Quality Education Academy in Winston-Salem, NC, averaging 17 points and six rebounds. He played in seven games as a freshman, but an ongoing shoulder injury forced him into surgery and Bowen was lost for the season. Playing behind the likes of Otto Porter and Greg Whittington made it difficult for Bowen to climb in the rotation, and saw only limited action as a sophomore, and it was not until his junior year, when Bowen had an key basket in the Hoyas' win over Louisville, that Bowen's star began to shine.
In a year with a depleted roster, Bowen was a valuable player off the bench for the Hoyas in 2013-14, playing in all 28 games, starting one, and averaging just under 20 minutes per game. In his fifth year, Bowen has seen action in all 27 games to date and his shooting percentage is second on the team behind Josh Smith.
Bowen's best game in a Georgetown uniform came on December 27, 2014, when he came off the bench to score a career high 22 points in a 91-87 upset of Indiana. Bowen shot 10 for 13 from the field, and remarked after the game that "I just wanted to bring it to the team."
The son of Tony and Aretha Bowen, Aaron Bowen is on target to graduate from the College this spring. His statistics to date are as follows:
| Season | GP | GS | Min | FG | FGA | % | 3FG | 3GA | % | FT | FTA | % | Off | Reb | Avg | PF | Ast | Blk | Stl | Pts | Avg |
| --- | --- | --- | --- | --- | --- | --- | --- | --- | --- | --- | --- | --- | --- | --- | --- | --- | --- | --- | --- | --- | --- |
| 10-11 | 7 | 0 | 24 | 3 | 9 | 33.3 | 0 | 5 | 0.0 | 1 | 5 | 20.0 | 0 | 4 | 0.5 | 3 | 0 | 1 | 0 | 7 | 1.0 |
| 11-12 | 14 | 0 | 53 | 8 | 20 | 40.0 | 2 | 6 | 33.3 | 0 | 0 | 0.0 | 1 | 6 | 0.4 | 9 | 1 | 0 | 3 | 18 | 1.3 |
| 12-13 | 24 | 0 | 168 | 18 | 48 | 37.5 | 4 | 19 | 21.1 | 4 | 8 | 50.0 | 12 | 29 | 1.2 | 28 | 6 | 2 | 3 | 44 | 1.8 |
| 13-14 | 28 | 1 | 552 | 60 | 127 | 47.2 | 10 | 41 | 24.4 | 23 | 46 | 50.0 | 32 | 99 | 3.5 | 64 | 27 | 10 | 29 | 153 | 5.5 |
| 14-15 | 27 | 0 | 416 | 66 | 120 | 55.0 | 7 | 21 | 33.3 | 23 | 43 | 53.5 | 24 | 56 | 2.1 | 41 | 26 | 7 | 23 | 162 | 6.0 |
| Totals | 101 | 1 | 1211 | 155 | 324 | 47.8 | 23 | 93 | 24.7 | 51 | 102 | 50.0 | 69 | 194 | 1.9 | 145 | 60 | 20 | 58 | 384 | 3.8 |

Things didn't go as planned for the basketball career of Tyler Adams. But it could have been far worse.
Adams was the third of three top 100 recruits signed in the fall of 2010, joining Otto Porter and Mikael Hopkins. As a senior in Brandon, MS, Adams averaged 18 points and 14 rebounds per game. He had verbally committed to Duke that spring, but then-assistant coach Robert Kirby was resolute in recruiting Adams and his appearance at the 2010 Midnight Madness was a sign that Adams would be headed north.
As a backup to senior Henry Sims, Adams saw little time in the team's first seven games, scoring two points over three games. On Dec. 4, Adams picked up eight points and six rebounds against NJIT in 11 minutes of play. It was the last college basketball game he would play in.
Two days later, a announcement at GUHoyas.com reported that Adams was out indefinitely. "Adams is undergoing a series of tests and evaluations regarding his heart at Georgetown University Hospital. Until further notice, he will not participate in any basketball-related activities until cleared," read the release."
Adams experienced chest pains in a practice and was taken to the hospital for tests. At issue was an irregular heartbeat that Adams had dealt with since childhood. "My heart rate wasn't going up as high as it needed to be, and the doctor said I could play for 20 years and nothing happens, or I could play for two minutes and something could happen,Ē Adams told the Georgetown Voice in January 2015.
The coaching staff opted to sit Adams, but maintained his scholarship. Although he considered transferring, Adams realized that the price of continued exertion could be deadly, and has transitioned to sideline support of the Hoyas, where he has been on the bench for every game since.
"It was kind of stressful at first, but I'm not really a person who mourns or gets sad about things, because in life bad things happen to people everyday so I couldn't, even though its a big issue, I couldn't let one problem dictate how I live the rest of my life.Ē
"He has his heart issues and thatís hard," Coach Thompson told the Voice. "For someone who basketball has meant so much to, thatís hard on him, and thatís hard on us. But I call him my junior coach. He stays engaged. Heís here everyday. He understands what weíre doing."
When L.J. Peak took Adams' former #0 this season, Adams was given a jersey reading #00, although he is not on the active roster. But Adams understands the bigger picture and how that diagnosis in 2011 may have saved his life. His Twitter account often includes a simple message: "Thanking God for letting me see another day."
The son of Lonnie and Darlene Adams, Tyler Adams is on target to graduate from the College this spring. His statistics are as follows, but this is a story of more than mere numbers. Please show him your support when is is introduced at Saturday's game.
| Season | GP | GS | Min | FG | FGA | % | 3FG | 3GA | % | FT | FTA | % | Off | Reb | Avg | PF | Ast | Blk | Stl | Pts | Avg |
| --- | --- | --- | --- | --- | --- | --- | --- | --- | --- | --- | --- | --- | --- | --- | --- | --- | --- | --- | --- | --- | --- |
| 11-12 | 4 | 0 | 24 | 4 | 9 | 44.4 | 0 | 0 | 0.0 | 2 | 2 | 100 | 4 | 9 | 2.3 | 6 | 1 | 3 | 0 | 10 | 2.5 |
| Total | 4 | 0 | 24 | 4 | 9 | 44.4 | 0 | 0 | 0.0 | 2 | 2 | 100 | 4 | 9 | 2.3 | 6 | 1 | 3 | 0 | 10 | 2.5 |
---
AN ACT CONCERNING THE COLLEGE OF GEORGETOWN IN THE DISTRICT OF COLUMBIA
(6 Stat. 152)

Be it enacted by the Senate and House of Representatives of the United States of America in Congress assembled, That it shall and may be lawful for such persons as now are, or from time to time may be, the President and Directors of the College of Georgetown, within the District of Columbia, to admit any of the students belonging to said College, or other person meriting academical honors, to any degree in the faculties, arts, sciences, and liberal professions, to which persons are usually admitted in other Colleges or Universities of the United States; and to issue in an appropriate form the diplomas or certificates which may be requisite to testify to the admission to such degrees.

LANGDON CHEVES, Speaker of the House of Representatives
JOHN GAILLARD, President pro tempore of the Senate
Approved March 1, 1815, JAMES MADISON


---
March 1, 2015 marks the 200th anniversary of Georgetown receiving its federal charter, the first American university so honored.
Introduced in Congress by its first student, Rep. William Gaston (NC) and signed by President James Madison on July 1, 1815, this charter helped provide permanence to the city's first college, and served as a way to build ties between the University and the federal government that exist to this day.
Below are statements from President Barack Obama and Speaker of the House John Boehner acknowledging this important date in Georgetown history.
---
HoyaSaxa.com: The One-Stop Web Site For Hoya Basketball™
An independent web site not affiliated with Georgetown University. All rights reserved.