Bill Shapland (C'77), the longest serving sports information director in the Big East conference, passed away Friday morning at the age of 57. The announcement was provided via a Twitter post from the athletic department.
As Georgetown's sports information director for basketball (later titled as senior sports communications director), Shapland was a part of 945 intercollegiate games for the Hoyas since 1984, helping to organize Georgetown's media participation in 29 Big East tournaments, 20 NCAA tournaments, and overseas trips to Israel in 1993 and China in 2011.
Shapland arrived at Georgetown in 1973 as a undergraduate and graduated from the College in 1977, but athletics was not a part of his undergraduate years. An English major, Shapland was a dorm council member and active with Mask & Bauble, the campus theater ensemble. Shapland made his first starring role as Daniel Webster in a 1975 drama, and performed in a successful two-man show in 1976 that led to his appointment as M&B's executive director for the 1976-77 season. Two years after graduation, he was invited back for a supporting role in the Tom Stoppard play, "Rosencrantz and Guildenstern Are Dead", where the HOYA wrote "Shapland's powerful fusion of the hysterically funny and the profound steal the show."
Returning to Georgetown for graduate studies in English literature, Shapland found his introduction to athletics a function of paying the bills. In 1980, he took on a part time job at McDonough Gym in the equipment room, later remarking to the Georgetown Voice in 2004 that "If someone had asked me, I would have said that I was more likely to walk on the moon than work here."
In 1983, the weight of media requests directed to men's basketball led coach John Thompson to hire Zachary Smith, a former student of Thompson's at St. Anthony's HS, to serve as a sports information director for men's basketball. Smith left abruptly a year later, leading Thompson to recommend the 29 year old Shapland as Smith's successor.
"I was forced into a learning crucible," Shapland said. "I came in without any background in sports information or public relations, and was [now] representing the defending national champions during [Patrick] Ewing's senior year."
With the build of a linebacker, Shapland navigated a job that required him to enforce Thompson's locker room limits and write time sensitive news releases with equal force. His theater skills helped him keep a stoic demeanor when writers peppered him for a scoop, and over three decades with the Hoyas, Shapland's ability to control the flow of information was legendary, with a track record of keeping secrets tighter than some inner circles of the Pentagon.
"Bill really was very special to me because of the time that we spent during tough times, as well as good times," said former coach John Thompson to the Washington Post. "A lot of time he took the blame and responsibility for a lot of things to buffer me. That meant a lot to me. Bill was not just somebody who worked with me; he was my friend, and he protected me."
"If you are loyal to [John] Thompson, he is loyal to you," Shapland told Providence Journal writer Bill Reynolds in a 1989 book on the Big East. "I have been at Georgetown in one capacity or other since 1973, and he is the single smartest person I have ever met there, without question. I wouldn't work for anyone else."
As such, Shapland was more than willing to issue a "no comment", sometimes to the frustration of many local and national reporters. It was a testament to this protection of information that when Shapland announced a Jan. 8, 1999 news conference involving coach John Thompson, it took the sports world by storm, even if Shapland himself would not confirm that Thompson was, in fact, resigning.
"Based on how our program was, it was not an easy job that he had," Thompson said. "I wasn't the most social person in the world to work with, and he had to deal with that."
Tributes arrived from a number of reporters across college basketball. "So sorry to learn this news about Bill," wrote ESPN's Dick Vitale on his Twitter feed. "He was a loyal Hoya, may he [rest in peace]." Added analyst Mike Gminski: "[I] had the pleasure of working with [Bill]. No one [was] more passionate about the Hoyas."
"Georgetown Hoops lost a VIP today," said ABC political reporter Karen Travers, a former editor in chief of The HOYA. "He was tough on us student reporters but it was good prep for the real world."
Although he was often accused of restricting information to the working press, Shapland was one of the first sports information directors to embrace the power of online technology. In 1995, at the forefront of the information boom to follow, Shapland began posting box scores and game summaries online for the growing number of writers using the Internet through dial-up services such as Prodigy and CompuServe. As it turned out, his office developed one of the first web sites from a college athletic department, in what would later become GUHoyas.com.
Shapland was once asked what Georgetown looks for in a recruit. "The player has to have a desire to succeed academically, not some kid that has to be convinced that it's important. He has to have a respect for authority...someone who doesn't need ticker-tape parades and doesn't need constant reinforcement all the time."
The description could well apply to Shapland, who stayed out of the media spotlight.
"I make the basketball team run the way the custodial service makes the University run," he told the Voice. "It's something that needs to be done consistently and with little visibility."
Away from the Hilltop, Shapland enjoyed writing science fiction, with three novels and a variety of short stories published among various online publications.
Memorials may be directed to the athletic facilities at the Denver-based Academy 360. Additional coverage follows in this link to the Washington Post.
Thursday night marks the annual men's basketball banquet, where over 200 guests will recall the Hoyas' successful 2012-13 season. One feature from the banquet may be missing, however.
For the last few years, the basketball staff has chosen not to issue individual awards, some of which date back over 50 years. Three of the awards are named for important figures in Georgetown's athletic history.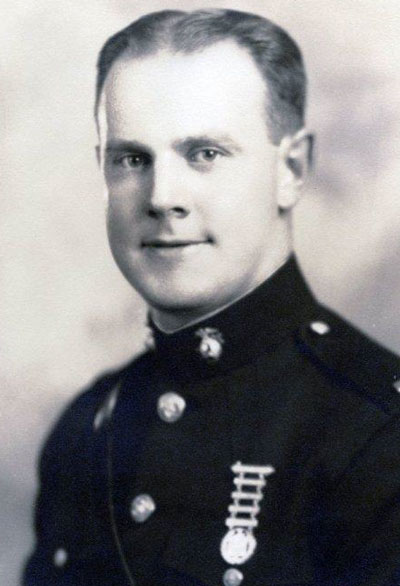 The team's most valuable player award is named for Francis (Reds) Daly, a two sport letterman in football and basketball from 1937 through 1940. Following Georgetown, Daly served as a major in the U.S. Marines during World War II, and as a battalion commander at the Battle of Iwo Jima, was killed in action.

One of just two Georgetown basketball lettermen killed in World War II (the other, Robert Duffey, is the namesake of the school's highest athletic honor, the Robert A. Duffey Scholar-Athlete Award), the Francis P. Daly Memorial Award was first presented in 1955 but has not been awarded since Jonathan Wallace received the award in 2008.
The Scholar Athlete Award has been presented since 1977 to the player judged by outstanding academic and athletic contributions to the team. The award was named in honor of Mary Fenlon, who joined the athletic department as its first academic advisor, and who held the distinction of one of the first women ever to sit on the bench of an NCAA Division I men's basketball team. The remarkable record of John Thompson in graduating his seniors (in 27 seasons, only two seniors did not graduate) was, in no small part, a result of Fenlon's commitment to education.
"Her job was a vital part of the success of the program and I have great respect for the fact that she never sacrificed effectiveness in the interest of popularity," said John Thompson in a 1999 excerpt. "She has the strength of character to do what is right regardless of what people say about it." This award was last issued in 2007.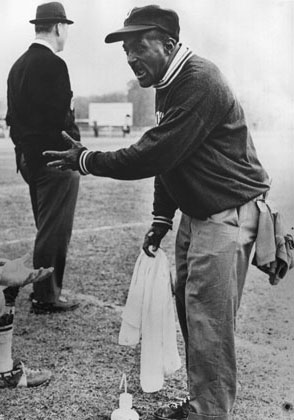 The third named award is for the player or manager judged to be a model student athlete by his performance on and off the court. It is named after Raymond "Pebbles" Medley, a member of the Georgetown athletics community for 56 years and a tireless supporter of Hoya athletics. It has not been awarded since 2007.
The award was created by John Thompson in 1977.
"Pebbles was doing the best he could," said Thompson in 1984. "He was more or less raised on the campus. There's an old photo somewhere of him in knickers and suspenders, just a kid, with students all around him. He grew up here, and they expected him to be a clown, a mascot. That's all he knew and that's what he became. The students didn't see anything wrong. It's what they were taught. So I became a little ashamed about being angry at Pebbles. I named one of our basketball awards after him: the Raymond Medley Award [for sportsmanship]. His life wasn't easy."
If these awards have indeed been retired, we should not lose sight of those who have been its namesakes nor those students who have been honored over the years.
The sports media is buzzing over a feature in this weekend's Washington Post which discusses the post-NBA life of Allen Iverson (ex'98). The Post article alleges Iverson, now 37, is functionally broke and shows signs of alcoholism.
"I worry about him," said former Philadelphia 76ers head coach Larry Brown. "A lot."
Iverson earned over $150 million during a 14 year NBA career but has spent all of it. A total of $30 million of endorsement money was placed in a trust that Iverson cannot touch until the age of 55. A source told the Post that the trust was assigned to his wife as part of a divorce settlement.
"He has hit rock bottom, and he just hasn't accepted it yet," says former NBA teammate Roshown McLeod.
The 6-0 guard would like to play in the NBA, although there are no takers. "I put it in God's hands," he said. "I've accomplished a lot in the NBA, and if the road ends here, then it does."

Sophomore forward Otto Porter announced Monday he will forego his final two years of college eligibility to enter the 2013 NBA draft, one day before the deadline for early entries.
"I think he's ready, as much mentally and emotionally as it relates to basketball," said head coach John Thompson III at a news conference in the McDonough Gymnasium lobby. "I thought he went about the process in an educated manner. He had good choices. He could come back to school which is a very good choice or he could head to the NBA, which is also a very good choice."
"In our many conversations, he has said, much like Jeff [Green] did and Greg [Monroe] is doing, he's going to come back and finish his degree. It's a process - and he's prepared."
"The toughest part was knowing you're going to leave a great place like this," said Porter. "I love this place."
The 2013 Big East Player Of The Year, Porter earned consensus All-America honors this past season, averaging 16.0 points, 7.5 rebounds, and 2.7 assists per game in leading the Hoyas to the 2013 Big East regular season championship. Averaging over 35 minutes a game, Porter tired late in the season, shooting just 7 for 30 in losses to Syracuse and Florida Gulf Coast to end the season.

Career wise, Porter ranks 56th in points (822), 41st in rebounds (457) and 54th in assists (145) after two seasons.
Georgetown's early entrants have fared well in past NBA drafts:
Player
Year
Class
Returned To
Graduate?
Draft Status
NBA Career
Currently Playing
Allen Iverson
1996
Soph
No
1st Round
1996-2010
Out of basketball
Victor Page
1997
Soph
No
Not Drafted
No NBA exp.
Out of basketball
Michael Sweetney
2003
Jr
No
1st Round
2003-2007
Bayamon (Puerto Rico)
Jeff Green
2007
Jr
Yes
1st Round
2007-pres.
Boston Celtics (NBA)
Dajuan Summers
2009
Jr
No
2nd Round
2009-pres.
Los Angeles Clippers (NBA)
Greg Monroe
2010
Soph
No
1st Round
2010-pres.
Detroit Pistons (NBA)
Hollis Thompson
2012
Jr
No
Not Drafted
No NBA exp.
Tulsa (Dev. League)
Additional coverage follows below.
When the phrase "winning the lottery" is mentioned around basketball, it usually refers to the NBA. In this case, WTOP radio reports that a former Georgetown basketball player came up big in a recent round of the DC Lottery.
Michael Graham, a forward on the 1983-84 NCAA championship team, cashed in a $1 million winning ticket Thursday from the March 16 lottery, matching five numbers on the ticket. Graham told WTOP he will use the winnings between his consulting business and among charitable interests.
The football schools of the Big East (and a wave of new entrants from Conference USA) will be rebranded as the American Athletic Conference (AAC) on July 1, per a release on the Big East web site.
"We worked with our institutions, sports marketing experts, media partners, and also solicited opinions and reactions from collegiate sports fans to create a compelling list of names," said commissioner Mike Aresco. "Versions that included the word 'American' led every list. American Athletic Conference represents a strong, durable and aspirational name for our reinvented Conference."
The name change was required following the sale of the Big East's intellectual property rights and trademarks to seven schools, led by Georgetown, last month. A proposed name, the America 12, failed to pass executive muster because of the number 12, whereby the conference could be more or less than 12 depending on circumstances.
On July 1, the conferences will be as follows:
Big East

American Athletic Conference

Butler
Providence
Central Florida
Louisville (leaves 2014)
South Florida
Creighton
Seton Hall
Cincinnati
Memphis
Temple
DePaul
St. John's
Connecticut
Navy (FB only, 2015)
Tulsa (2014)
Georgetown
Villanova
East Carolina
Rutgers (leaves 2014)
Tulane (2014)
Marquette
Xavier
Houston
SMU

Sophomore forward Otto Porter was named to the Associated Press All-America Team, the first Georgetown selection to the first team since Allen Iverson in 1996.
Porter was a guiding presence in a 2012-13 season that saw the Hoyas win 11 straight games, win the Big East regular season and finish with a top 10 ranking for the first time since the 2007-08 season. His 33 points at Syracuse was a career high amidst 48.0 percent shooting from the field this season, along with 42.2 percent from three and 77.7 percent from the free throw line. He was named Big East Player of the Year earlier this month.
As Porter went, so went the Hoyas, and an pair of late season struggles proved decisive for the Hoyas' season ending losses. Porter was just 4-13 in the three point loss to Syracuse in the Big East semifinal, and a career low 5-17 in the Florida Gulf Coast game, a bellwether in the Hoyas' overall poor performance.
For the season, Porter averaged 16.2 points, 7.5 rebounds, and 2.7 assists. Porter played in 31 games this season, missing the Liberty game after a collision suffered in the home opener with Duquesne.
Last week, Porter was named to the first team All-America list by the National Association of Basketball Coaches.
Otto Porter is the 24th All-American in Georgetown's men's basketball history.
---
HoyaSaxa.com: The One-Stop Web Site For Hoya Basketball™
An independent web site not affiliated with Georgetown University. All rights reserved.