Athletic director Joseph Lang has announced his retirement from Georgetown, effective July 1.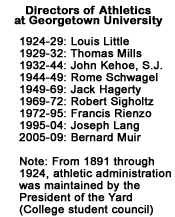 Lang, only the fourth athletic director at the Hilltop in the last 55 years, joined the University as an assistant track coach in 1972 following his own award-winning efforts as a runner at St. John's.

Promoted to head track coach in 1974, Lang coached 27 All-Americans and a Boston Marathon winner before becoming assistant A.D. in 1983 under then-director Frank Rienzo, then succeeded Rienzo as athletic director in 1995. Lang also served as an adjunct in the mathematics department during his coaching career.
"Under Joe's leadership, our student athletes have consistently had one of the highest graduation rates of any college or university in the country and our athletic teams have displayed an exceptionally high level of performance, often competing successfully against schools with more significant financial resources, "said Georgetown president Jack DeGioia [C'79] in a statement announcing the retirement.
Cited in 2003 as one of the 20 top athletic departments in the nation by US News, the athletic department under Lang has succeeded with limited resources. Despite a budget that ranks only 11th of 14 Big East schools and far fewer facilities than its peers, Georgetown's sports programs finished 2003-04 ranked 53rd of 325 Division I schools in the NACDA Directors' Cup, third among all Big East schools and second only to Princeton among universities classified below the Division I-A level.
"I appreciate the opportunity that Georgetown provided me to spend my career working to enhance the undergraduate experience of our student-athletes," Lang said. The chance to work with an outstanding group of colleagues, students and alumni has been one of the great blessings of my life."
Links to coverage follow below:
Senior associate athletic director Adam Brick [B'86, L'90] will serve as interim athletic director while a search is underway for Lang's successor, according to the release above.
Brick, who joined the department in 1987, serves as Georgetown's NCAA compliance officer and a sport administrator for eight men's and women's sports.
The Providence Journal has this review of recent Big East recruiting classes.
Former Georgetown center Jahidi White (C'98) was acquired by the expansion Charlotte Bobcats in its NBA expansion draft Tuesday. Coverage follows in links to the Charlotte Observer and the Arizona Republic.
The New York Post updates its readers on the progress of Dikembe Mutombo and his efforts to build a hospital in Kinshasa.
Mutombo, who has personally donated $8 million to the project, is seeking $50,000 pledges from 100 NBA players for the next phase of construction. Among the first to sign up: Patrick Ewing [C'85] and Alonzo Mourning [C'92].
"In my country, when you get really sick, you have two choices: stay home and wait for your time to [die], or your families sell your house and you go get treatment in Europe," Mutombo said. "Those who cannot afford to go, you stick around and wait for your clock to tick. This hospital is going to change all that."
For more information on Mutombo's efforts, visit www.dmf.org.
Georgetown University has placed 53rd in the totals for the United States Sports Academy Directors' Cup, formerly the Sears Cup, presented by USA Today and the National Association of Collegiate Directors of Athletics (NACDA) for success across all intercollegiate sports during the 2003-04 academic year. The list for 2004 is posted in a release from the NACDA web site.The final results will change only for the eight teams entering the College World Series next week.
Points are calculated based on NCAA post-season play, so the men's and women's basketball results gained no points in the standings for a third straight year. Georgetown's points in 2004 came from NCAA finishes in men's and women's cross country, men's and women's indoor track, men's and women's outdoor track, men's golf, and men's and women's lacrosse.
Of the top 50 schools ranked, 49 were in Division I-A. Georgetown's finish was second among all schools playing football below the I-A level, trailing only Princeton (#30).
The Big East rundown is as follows, with the net change from the 2003 results listed:
| | |
| --- | --- |
| 18. Notre Dame (-5) | 71. West Virginia (+11) |
| 33. UConn (+18) | 75. Providence (+25) |
| 53. Georgetown (+8) | 77. Virginia Tech (+23) |
| 54. Villanova (-9) | 84. St. John's (+33) |
| 60. Miami (-13) | 88. Pittsburgh (-21) |
| 63. Rutgers (+15) | 95. Syracuse (-21) |
| 68. Boston College (-6) | 103. Seton Hall (+47) |
The new Big East schools entering in 2005 finished this season as follows:
| | |
| --- | --- |
| 104. (tie) DePaul | 135. South Florida |
| 104. (tie) Louisville | 159. Marquette |
| 133. Cincinnati | |
Here's a recap of Georgetown's finishes over the years per the NACDA web site:
Year
Finish
Among Big
East Schools
1994
47th
3rd
1995
44th
3rd
1996
55th
2nd
1997
63rd
5th
1998
62nd
6th
1999
45th
3rd
2000
55th
4th
2001
42nd
3rd
2002
51st
3rd
2003
61st
5th
2004
53rd
3rd
A 6-1 guard from Delaware is the Hoyas' latest commitment for the high school class of 2005.
The Wilmington News Journal has reported that 6-1 SG Josh Thornton has made a verbal commitment to the Georgetown class of 2009. Thornton averaged 19.1 ppg as a junior and is considered among the top senior recruits in the nation heading into the summer evaluation periods.
"A lot of kids these days just go to school to play basketball. His priority was to get a solid education, and get a degree from Georgetown, which will pretty much open a lot of doors for him," said Tiff McCullough, Thornton's high school coach.
Georgetown officials cannot comment on recruits until a letter of intent has been signed, which takes place no sooner than early November. Thornton is the only current verbal commitment to date for 2005, as an earlier verbal commitment by 6-9 Alfred Aboya was reopened earlier this spring.
GUHoyas.com has posted a formal announcement on the recent additions of assistant coaches Robert Burke and Kevin Broadus to the staff.
Burke, a former high school teammate of Thompson's at Gonzaga, has served as an assistant at Loyola-Marymount, Siena, and Princeton.
Broadus, who played high school basketball in Washington and graduated from Bowie State, has been an assistant at four different area schools: Bowie State, UDC, American, and George Washington.
---
HoyaSaxa.com: The One-Stop Web Site For Hoya Basketball™
An independent web site not affiliated with Georgetown University. All rights reserved.