Former head coach Craig Esherick has joined the staff of College Sports Television, according to a CSTV release. Esherick will join the network as a vice president.
Athletic director Bernard Muir is featured in a Q&A article from this link at Black Enterprise.net.
When asked what his top priority would be at Georgetown, Muir responded: "The No. 1 priority is making sure that the student athletes know that there's somebody who's here to champion their cause and making sure they have the best experience possible-both on and off the playing field."
Saturday's Washington Post has announced the new format for the BB&T Classic: a six team event which will host all the area's Division I teams but one.
The event, which was previously a four team tournament with Maryland, George Washington, and two national opponents, has been restructured to a Monday triple header on Dec. 5, with Maryland, GW, Navy, Howard, George Mason, and American. Georgetown is the only Division I team in the region not invited to the tournament.
Longtime tournament promoter John Feinstein told the Post that the tournament, which has struggled with attendance in recent years, could further downsize to a four team field in the future.
An old rival returns to the Georgetown basketball schedule, as the Annapolis Capital reports that the U.S. Naval Academy and Georgetown have signed a two year series. The opener is scheduled for Annapolis November 18, with a return game in Washington for 2006-07.
"Playing an opponent with the type of history and tradition as Georgetown is a great opportunity for our program," said Navy head coach Billy Lange. "I would hope a home game like this would generate a lot of interest around the area and draw a big crowd."
Navy and Georgetown last met in the 1977-78 season, with the Hoyas taking a neutral site opening win at Capital Centre and a home win later that season at McDonough Gym. Overall, Navy owns a 37-17 advantage in the series, and 34-9 in games played at Annapolis. The Hoyas' last trip to Navy was a 56-55 loss on Jan. 12, 1977.
Despite its last game with the Hoyas some 27 years ago, Navy remains among the leading opponents for most games played against Georgetown.
| | | | |
| --- | --- | --- | --- |
| Opponent | # | W-L | Last Game |
| G. Washington | 93 | 54-39 | 1981-82 |
| Seton Hall | 87 | 49-38 | 2004-05 |
| St. John's | 85 | 35-50 | 2004-05 |
| Syracuse | 74 | 34-40 | 2004-05 |
| Boston College | 66 | 40-26 | 2004-05 |
| Pittsburgh | 65 | 36-29 | 2004-05 |
| Maryland | 62 | 26-36 | 2000-01 |
| Villanova | 58 | 34-24 | 2004-05 |
| Connecticut | 55 | 29-26 | 2004-05 |
| NYU | 55 | 22-33 | 1970-71 |
| Navy | 54 | 17-37 | 1977-78 |
Washington's MCI Center has been selected to host the 2009 NCAA men's hockey championships, according to the Washington Times and other media reports.
Fourteen cities bid on the event, which is the NCAA's second most profitable championship event beyond men's basketball. Despite the fact that there are no NCAA-level hockey teams in the region (Georgetown and a number of schools play club hockey), the bid was enthusiastically accepted.
"The MCI Center and the city of Washington just provide a great backdrop," said committee member Wayne Dean. "There are just so many things in Washington that fit what we're trying to do -- naming a national champion in the national capital is a big lift. It was just a great bid."
Georgetown University announced it is adding softball as a varsity sport, effective in the 2005-06 academic year. Pat Conlan, a former player at Connecticut and most recently an assistant at N.C. State, has been named the program's first coach.
"We are proud to have Pat join our coaching ranks," said Associate Director of Athletics Kim Simons. "She brings a wealth of experience at the highest level of women's softball. Pat has succeeded at every collegiate stop and has been extremely focused on molding the overall student-athlete both on the field and in the classroom. We are excited to have Pat lead our newest varsity sport here at Georgetown."
Georgetown students have maintained a club softball team for the past few years. "We've got a strong squad of underclassmen players who could really develop a [varsity] program, should it happen," former team treasurer Lee Barnes told The HOYA in a 2004 article.
The move expands athletic opportunities for women at Georgetown, joining 13 other women's sports, plus 12 men's sports and the coed sailing program.
The annual James (Jabbo) Kenner Summer League began play this past weekend at McDonough Gym. Check the link to the left for weekend schedules.
The summer league was named in honor of Kenner, a Washington sports legend who devoted his post-professional career to helping local kids via the Metropolitan Boys Club of Washington DC. A brief introduction to Mr. Kenner is found at this link to GUHoyas.com.
The University of Oregon has announced a Dec. 3 game with Georgetown, according to its official schedule posted at its athletics web site. The Ducks will host Georgetown Dec. 3 at historic MacArthur Court.
"Being able to bring teams like Georgetown, Rice, Pacific and Santa Clara to Mac Court is something I think our fans will be excited about," said said Oregon coach Ernie Kent in the link above. "Georgetown is obviously one of the most storied programs in college basketball and our fans know how good the teams have been recently at Pacific, Rice and Santa Clara."
Oregon returns all five starters from last season's 14-13 season and posted an RPI of 81 at season's end. It is the first meeting between the schools.
Rising senior Brandon Bowman has removed his name from the NBA Draft and will return to Georgetown for the 2005-06 season, according to a press release at GUHoyas.com.
Bowman, who averaged 15.2 points his junior year, was not selected for the Chicago pre-draft camp.
The press release also noted the return of senior Darrel Owens to the team for a fifth year of eligibility. Owens, who averaged 6.6 points per game in 2004-05 but over 15 points a game in Big East Tournament and NIT play, is eligible for a fifth year as a graduate student. The roster moves allow Georgetown to return all five starters for the first time since 1993-94, when no seniors were on the previous year's roster.
A Georgetown-San Jose State game in 2005-06 has been canceled by Georgetown, according to the San Jose Mercury News.
The two teams met in 2004-05 and were scheduled to play at San Jose this upcoming season. Athletic directors from each school are meeting this week to discuss a buyout of the game, according to the report.
Note: the above link may be registration-protected in some browsers. Visit this link to Google News for another link.
For those fans who have been asking about the results of the lottery for 2006 NCAA Regionals tickets at the MCI Center, notifications are now going out. If you still haven't received word, check your bank account--if the money's been deducted, chances are good that the ticket order has been accepted.
By NCAA rule, Georgetown cannot play at MCI Center in the post-season, so if the Hoyas return to post-season play in 2006 they will be placed in another portion of the brackets.
Former Georgetown guard Ray Reed, who announced his transfer last month, is headed to Cal State Fullerton, according to an article at TitanCentral.com.
"Ray is extremely athletic," said Fullerton coach Bob Burton. "He plays really hard and will fit in nicely in our up-tempo style."
Monday's New York Daily News has a feature on the entrepreneurial talents of Jerome Williams (C'96), who continues to expand his business experience off the court. Recent acquisitions have included a classic car detailing business and a part-ownership in a minor league franchise in Montreal.
Also in the works: a clothing line to be sold at Madison Square Garden and a bottled water brand that will be distributed nationwide at Wal-Mart.
A second verbal commitment for the 2006-07 has been reported.
DaJuan Summers, a 6-8 PF from Baltimore, has verbally committed to Georgetown, according to the Baltimore Sun and HoyaReport.com. Summers averaged 20 points and 11 rebounds a game at McDonogh HS in Owings Mills, MD, and was named the city's Player of the Year as a junior.
"I think the strong points in my game are my abilities to shoot the basketball, and my dribbling ability at my size," Summers told Maryland Prep Hoops.com. "I think that I crash the boards well and I think that I have pretty good speed also keeping my size in mind." Summers was considering Georgetown, Maryland, UConn, and Wake Forest as leading candidates, according to various reports.
Summers would joins guard Jeremiah Rivers as an early commitment for 2006, along with a reported transfer from Indiana forward Patrick Ewing Jr., who would also join the team in 2006-07.
Georgetown officials cannot comment on any recruits until letters of intent are signed, which will not be until at least November.
Georgetown University has announced the appointment of Bernard Muir as its new athletic director, effective July 1.

"Bernard is a dynamic individual who will provide strong leadership to Georgetown's athletics programs and ensure our ability to recruit and retain first-rate coaches and student-athletes who maintain the University's tradition of academic and athletic success," said University President Jack DeGioia (C'79) in a news release. "I look forward to the contributions he will make to our athletics programs and the lives of our student-athletes in the years ahead."
A 1990 graduate of Brown, Muir comes to Georgetown after three years as an associate athletic director at Notre Dame, focusing on student-athlete development and with administrative responsibilities for football and two other sports. Muir is now one of ten former administrators under Notre Dame AD Kevin White that have reached athletic director positions at other Division I schools.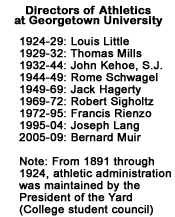 Muir's experience goes beyond Notre Dame, though. A four year basketball letterman at Brown, Muir received an NCAA postgraduate scholarship following Brown and completed a master's degree at Ohio University in 1992. Following a brief tenure at Auburn, Muir was hired by the NCAA and spent ten years there, becoming the staff director of the Division I Men's Basketball Championship in 1998.
In recent years, Muir was considered a possible candidate for the athletic director's post at Kansas that was eventually awarded to former Connecticut AD Lew Perkins, and his name was floated by the Syracuse Post-Standard in the search to replace retiring AD Jake Crouthamel.
"I am deeply committed to the athletic competitiveness, integrity and academic focus that Georgetown is known for," said Muir. "I am excited to have this opportunity to contribute to Georgetown's great tradition of athletic and academic success."
Additional links follow below.
Bernard Muir is only the tenth athletic director in Georgetown history, a position that has stressed longevity and service to the University.
Georgetown Hall of Famer Jack Hagerty (C'26) served alma mater for parts of five decades. An all-East halfback in 1924 and 1925, Hagerty returned to Georgetown in 1932 after six seasons with the NFL's New York Giants. He coached football to national acclaim from 1932-1948, and became athletic director in 1949.
More than any single individual, Hagerty kept athletics alive at Georgetown, especially after the football program was dropped by Rev. Hunter Guthrie, S.J. in 1951. With as few as two full time staffers in the 1950's (the first full time basketball coach did not arrive until 1967), Hagerty oversaw all intercollegiate and intramural sports at the University for two decades, and during his tenure five of today's sports were born in the club ranks: soccer (1953), crew (1958), women's basketball (1960), lacrosse (1963), and the return of football in 1964, which was organized by students in the face of administrative opposition. Hagerty retired following the 1968-69 academic year
Succeding Hagerty was a tough act to follow, and its was just that for retired Col. Robert Sigholtz.

Hired as assistant AD and Hagerty's presumptive successor in 1968, Sigholtz angered many students with the cancellation of the 1969 spring track season, which led to the resignation of track coach Steve Benedek. Seven team captains joined then-SAC chairman Pierce O'Donnell and Yard President Dan Hurson in calling for an administrative review of Sigholtz, who was nonetheless promoted to director in the summer of 1969.
Sigholtz attempted to upgrade various elements of the Georgetown athletics program but with limited results. Women's basketball was elevated to varsity status during his tenure, but it was men's basketball that received the most attention. Disputes between Sigholtz and and basketball coach Jack Magee spilled into the 1971-72 basketball schedule that ended Magee's head coaching career. Sigholtz also resigned following the 3-23 season.

Upon Sigholtz's departure, track coach Frank Rienzo was appointed interim director, then full time director that fall. Rienzo served for a record 23 years at the helm of the Hoyas. Under Rienzo's leadership, Georgetown experienced unprecedented growth across its sports program, led by men's basketball. Rienzo led the effort to build the Yates Field House in 1979, and was one of four founders of the Big East Conference in 1979.
Rienzo helped add 11 women's sports to varsity status during his years, and leveraged the rising popularity of men's basketball to build these programs. By decade's end, Georgetown was not only a national basketball power, but also outsold every other Division I school in merchandising, a key source of revenue for the University's teams.

Rienzo retired in 1995 and was succeeded by Joe Lang. Lang, who joined the track program in 1972 as an assistant coach and also served as an adjunct professor in math, continued the athletic department's growth and development. He helped add more full time coaches and administrators, and was instrumental in the upgrade of football to the Patriot League and the national success enjoyed by men's and women's lacrosse. Lang was also instrumental in the negotiations which helped keep the Big East schools together during the ACC raid in 2003.
During Lang's tenure, the Georgetown athletic department was honored both in terms of prestige off the field (US News cited it as one of the top 20 athletic departments in the nation) as well as results on the field. Georgetown regularly finished behind only Harvard and Princeton in NCAA post-season performance for schools below the Division I-A level. Lang retired almost one year ago, whereupon Adam Brick (C'86, L'90) served as interim director.

"I am also deeply grateful to Adam Brick for his generous and effective leadership as Interim Athletic Director in 2004-05," wrote DeGioia in a University-wide e-mail. "He ensured that this past academic year was a successful one for students, coaches, and staff. With his leadership, we were able to keep critical projects on track, recruit outstanding new members to our team in athletics, and improve the management and performance of a number of our operations. He represented Georgetown very well in Big East conference policy deliberations. Adam has long been an invaluable member of the University community and his commitment to excellence at Georgetown has made enduring differences here."
And some more good news: the Carolina blue color scheme seen in McDonough Gym in recent years has been replaced by a more Georgetown-friendly color scheme, according to GUHoyas.com. Check this photo gallery to see the old gym in its new colors.
Rising senior Brandon Bowman was not among those early-entry candidates invited to the NBA's pre-draft camp, according to a list posted Wednesday at ESPN.com.
A Thursday ESPN article reported that "Georgetown junior Brandon Bowman was also supposed to participate in [a private] workout but didn't show, indicating to SFX that he would return to the Hoyas."
Candidates who have not secured an agent may withdraw their names from the draft by June 21 to retain college eligibility.
Schedules for this summer's James (Jabbo) Kenner summer league activities have been posted at Game Plan Sports.com. The league, under new management, features a high school tournament on June 11-12 at McDonough Gym, followed by a seven week schedule for college age players beginning June 18 and a four week schedule for NBA and pro-level players beginning July 19. More details on the Kenner League activities will be posted when available.
With the passing of basketball Hall of Famer George Mikan this past week, the Chicago Tribune looks back at the 1943 NCAA national semifinal game between Georgetown and DePaul. Recommended reading.
An update to an item last month about Georgetown's possible participation in the All-College Tournament in Oklahoma City. According to this link from Scout.com, West Virginia will be participating in the tournament instead, but Georgetown is one of three Big East schools being considered by Oklahoma for its regular season schedule. Stay tuned.
Georgetown will not be participating in the BB&T Classic again this year, as the tournament field was cited at this link to AUEagles.com.
The Eagles will play as many as seven local schools this season and will join Maryland, George Washington, and George Mason in the event, which has been pared down to a single doubleheader on Dec. 5.
Georgetown and American will not meet this season. The two teams last met in the 1986-87 season.
---
HoyaSaxa.com: The One-Stop Web Site For Hoya Basketball™
An independent web site not affiliated with Georgetown University. All rights reserved.