In high school, he was class president and a three sport letterman (football, golf, and basketball). In college, he went from a basketball walk-on to captain of the University's most successful team in a generation. And even though he has an offer to Georgetown Law, Jonathan Wallace (C'08) continues his improbable pro basketball career in Europe.
What was thought by some as a gap year following graduation in 2008 took Wallace to Slovenia, but his travels have continued. Recently signed to a contract extension for a German team, Wallace's numbers have improved even further from college: 14.6 points, 41% from three, 95% from the foul line.
Now 28, Wallace told the Huntsville Times that college has opened doors he would have never seen otherwise.
"I've traveled so many places I never thought I'd see," Wallace said. "I've been to Venice, to Serbia, Montenegro, Belgrade, Barcelona, all over France and Italy and Germany. It's a very unique opportunity."
As for law school, Wallace reconfirmed his interest and said, "It's just a matter of timing."
Even though the game is more than a year and half away, coverage in the Syracuse Post-Standard continues unabated. Of concern to the Onondaga Valley readership: how many thousands of tickets at Verizon Center will Syracuse fans get to claim on the open market?
Fans of the Orangemen were not pleased when Georgetown required Hoop Club membership to buy extra seats to the Mar. 9, 2013 game, and a statement from Syracuse athletic director Daryl Gross offered hope that its fans could buy as many tickets as they wished.
"It wouldn't have worked if they were going to still have that cap where our folks couldn't buy a Georgetown single-game ticket, or you had to make donation and all those things," said Gross. "We weren't interested in doing that....we worked through all those issues and were able to get it back on the map."
But there's no change in the Georgetown position, said a University spokesman.
"As is standard in agreements such as these, the visiting team will receive an allotment of tickets and the home team will control the sale and distribution of all remaining tickets," read the statement. "The visiting team and home team are free to sell/distribute their ticket allotments as they choose. Georgetown Athletics plans to continue its practice of providing priority access for tickets to those who buy multi-game plans or who support Georgetown Athletics."
Translation for the ACC expats: there will still be good seats at Clyde's.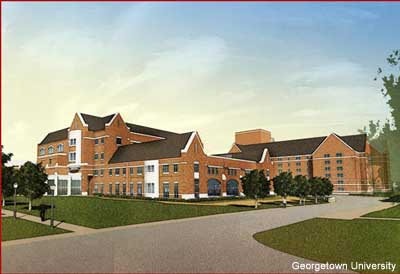 Georgetown officials have announced a Sep. 12 groundbreaking ceremony for the John R. Thompson, Jr. Intercollegiate Athletics Center (IAC), following approval from the University's Board of Directors last week.
"The start of construction on the Thompson Athletics Center is a watershed moment for Georgetown Athletics as well as our University and alumni community," said athletic director Lee Reed. "This is the culmination of a plan that is intended to substantively improve the experiences of every Georgetown student-athlete, coach and staff member. We are grateful to our entire community for their support of this initiative and I expect that this will serve as a catalyst to carry our department forward for generations to come."
A fundraising effort remains ongoing to meet the commitments of the $62 million project, but the effort has reached a critical mass where construction may begin. Given the high visibility of the project, the IAC will certainly avoid the embarrassment when construction was abruptly halted on the $22 million Multi-Sport Facility, leaving Georgetown with little of the original project nearly a decade after it was expected to be completed.
The latest addition to the 2014-15 schedule: a Nov. 22 home game with Robert Morris, per its web site. The Colonials were a second round NIT entrant and finished 22-14, but 14-2 inside the Northeast Conference.
Basketball coaches generally stay on message for press interviews but head coach John Thompson III went abruptly off-script Wednesday, telling WTEM-AM via this link at the Washington Post that a halftime talk against an unidentified opponent was staged for television.
"I had people come in our halftime room this year," Thompson said. "I maybe shouldn't say this, but I'm gonna say it. I'm miked for pre-game talk. So I tell the team, 'Look fellas, the cameras are coming in.' I said: 'I'm gonna make up something to say, all right? We're gonna sit here, let them stay with us for about five minutes, then we're gonna kick 'em out, then we're gonna have our real talk. Don't start laughing."
"So the people from Fox come in, and I'm going through my spiel. And we write a speech for this. I'm sitting there going through my spiel, and the team was just looking at me, snickering. At one point, I had to turn my back to the camera, because I was getting ready to break out laughing."
Thompson went on to say that "And that's why I don't want it. "I'll even break it down even further, even with letting people come into practice. I know I talk differently, I coach differently if I have a mic on. I know I talk differently, I coach differently if there are people sitting up in the stands in practice."
No big deal? Perhaps. The halftime story obscures a larger message, namely, that coaches need to teach in private settings and not always in front of a camera. The elder John Thompson was legendary for closed practices, and the idea of an peek into a Georgetown locker room at halftime would have been unthinkable. But if a coach does choose to let in the press, whether in person or through a camera crew, it ought to be legitimate.
Officials from Georgetown and Syracuse University announced Tuesday a four year series of non-conference games beginning in the 2015-16 season.
"We're excited to announce the renewal of the Georgetown-Syracuse rivalry," said Georgetown athletic director Lee Reed in a news release. "The reestablishment of this series is good for college basketball fans across the country. I know that our program and fans will be excited to have a game against Syracuse on our schedule. This is something that both schools have worked very hard to have happen and we're very happy to have this series continue."
The schools agreed to two home and two road games through the 2018-19 season, as Georgetown declined an offer where Syracuse would get a de facto second home game every three years by hosting a game at Madison Square Garden. The Orangemen traditionally avoid non-conference games outside New York state, having played only four road games out of conference in the last 10 seasons.
Syracuse holds a 49-41 advantage in a series which dates to 1930 but which was elevated during Syracuse's 34 years in the Big East from 1979 through 2013. The Hoyas took two of three in 2012-13, the last season for the Orangemen before joining the Atlantic Coast Conference.
Dates and times for the games have not been finalized, but there is hope that despite the 18 game schedules in both conferences, a mid-season open date could be found; otherwise, the game is likely to be a November or December game similar to what Georgetown has scheduled with Kansas, with the teams meeting Wednesday, Dec. 10 at Verizon Center this season.
"The time frame is limited," said Syracuse director of communications Joe Giansante to the Syracuse Post-Standard. "You have December and late November to play those games. The time frame is complicated, too. You have coaches vs. cancer tournaments, those things impact the chance to get games done. You're balancing home and away. Those are complicated when it comes to [scheduling]."
In a related story, Georgetown announced the remaining two games of the series with Kansas will be played in the 2016-17 and 2017-18 seasons.
Additional coverage follows below:
Monday's Chicago Tribune earned its share of Internet chatter with a report that the Big Ten Conference was seeking to place its 2018 men's basketball tournament at Madison Square Garden. Upon a closer look, the conference may be a little more strategic than a similar effort by the Atlantic Coast Conference.
While the ACC's attempt to wrest control of the Garden was seen by many as a punitive move by ESPN, the Big Ten has alliances with the Big East through Fox Sports and the upcoming Gavitt Tipoff games beginning in 2015-16. Does the Big Ten have another angle?
The Tribune said as much: "Madison Square Garden has a long-term deal to host the Big East tournament, so one of the conferences — likely the Big Ten — would have to be flexible in its dates."
One scenario would place the Big Ten first and second rounds at the Prudential Center in Newark, and since the Big Ten finals are scheduled on a Sunday afternoon, it would be technically possible for the Garden to host semifinals on Saturday afternoon and a final on Sunday afternoon without overriding the schedule of the Big East, whose semifinals are Friday night and its final on Saturday night. A key factor in this? The Big East would likely have to offer permission, in that they rent the facility on Saturday.
The Big Ten isn't tossing around the MSG scenario in an attempt to destabilize the Big East. Instead, Big Ten commissioner Jim Delany is taking aim at the ACC, where each conference has three northeastern entrants: Boston College, Syracuse, and Pittsburgh in the ACC versus Maryland, Penn State, and Rutgers in the Big Ten. It would also be an opportunity to trump the ACC, who is scheduled to play its tournament at Barclays Center that weekend.
Any New York move is a one-time idea, at least for the next decade or so. Upcoming Big Ten tournament sites include Chicago's United Center in 2015, 2019, and 2021, Indianapolis' Lucas Oil Stadium in 2016, 2020, and 2022, and Washington DC's Verizon Center in 2017.
Seeking to continue his basketball career, former Georgetown guard Markel Starks (C'14) will participate in a pre-draft workout by the Washington Wizards on Tuesday.
Six players were invited to the workout at Verizon Center, where the Wizards are evaluating prospects for the 46th pick, its only selection in the NBA Draft.
The Big East Conference wrapped up its annual spring meetings with a renewed interest in improving out of conference schedules, according to the Providence Journal.
Of interest: developing a challenge series with the Big 12 Conference through Fox Sports 1, according to the report. The Big 12 earned seven NCAA bids in 2014 versus just four for the Big East.
"The Big East has tabled any expansion talk and clearly won't be growing beyond 10 members anytime soon," said the Journal. "The reasons are simple: 10 is the perfect basketball scheduling number, the 10-member Big 12 has shown that that number of schools can work splendidly in hoops, and TV partner Fox isn't demanding any change in inventory."
"Instead of expanding, we want to emphasize playing more high-profile games that will help us with TV and get more teams into the NCAA Tournament," said Providence athletic Bob Driscoll.
Various reports surfaced Wednesday that Georgetown and Indiana will meet for the second time in three years at a neutral site game in New York.
A Dec. 27 game at Madison Square Garden is being set, according to reports. The teams last met at Brooklyn's Barclays Center on Nov. 30, 2012, an 82-72 overtime win by the Hoosiers.
"We have some inherent advantages [playing in New York], because there's a lot of IU people out there," said Indiana athletic director Fred Glass to the Indianapolis Star. "I think it's reflective of the overall expansion philosophy of the Big Ten."
The game figures to be a boost to the 2014-15 Hoyas' RPI, but could also foretell another undistinguished home schedule outside the Dec. 10 game versus Kansas. With Indiana and the three game Battle 4 Atlantis confirmed, the remaining non-conference home games may not be designed to draw similar opponents .
Since the 1979-80 season, Georgetown has made over 500 appearances to road and neutral sites (with multiple tournament games in a city counting as one appearance). Of these, nearly one in five have been to New York, where GU has played four non-conference games over the past two seasons alone. Road games outside of Big East markets have become increasingly rare, however.
Below is a chart of the top 50 media markets outside Washington and Georgetown's appearances in the Big East era. Since 2000, GU has appeared in nine of the nation's top 10 markets (the Dallas-Ft Worth market is the notable exception), but some other major regions are off the Hoyas' scheduling radar:
San Francisco, traditionally one of Georgetown's largest alumni markets, has hosted the Hoyas just once since 1972, a 2000 NIT game at Cal.
Baltimore has not hosted a game since 1986, largely due to the condition of the former Baltimore Civic Arena.
Georgetown has not returned to the Boston area since BC left the Big East in 2005.
Media Market
Since 1979
Last
Game
Media Market
Since 1979
Last
Game
1
New York, NY
100
2014
27
Baltimore, MD
1
1986
2
Los Angeles, CA
8
2009
28
San Diego, CA
1
1980
3
Chicago, IL
15
2014
29
Nashville, TN
1
2006
4
Philadelphia, PA
32
2014
30
Hartford-New Haven, CT
30
2013
5
Dallas-Ft. Worth, TX
0
31
Kansas City, MO
1
2010
6
San Francisco, CA
1
2000
32
Columbus, OH
1
2012
7
Boston, MA
21
2005
33
Salt Lake City, UT
1
1982
9
Atlanta, GA
5
2007
34
Milwaukee, WI
7
2014
10
Houston, TX
2
2000
35
Cincinnati, OH
5
2014
11
Detroit, MI
0
36
San Antonio, TX
0
12
Phoenix, AZ
1
1993
37
Greenville-Spartanburg, SC
0
13
Seattle-Tacoma, WA
1
1984
38
W. Palm Beach, FL
0
14
Tampa-St. Petersburg, FL
7
2013
39
Grand Rapids, MI
0
15
Minneapolis-St. Paul, MN
1
2006
40
Austin, TX
0
16
Miami-Ft. Lauderdale, FL
12
2004
41
Oklahoma City, OK
1
1994
17
Denver, CO
0
42
Las Vegas, NV
7
1999
18
Orlando-Daytona Beach, FL
2
2009
43
Harrisburg-Lancaster, PA
0
19
Cleveland-Akron, OH
1
1996
44
Birmingham, AL
2
2007
20
Sacramento, CA
1
1994
45
Norfolk-Newport News, VA
2
2010
21
St. Louis, MO
0
46
Greensboro, NC
1
1991
22
Portland, OR
0
47
Albuquerque-Santa Fe, NM
0
23
Pittsburgh, PA
25
2012
48
Jacksonville, FL
1
2012
24
Raleigh-Durham, NC
5
2010
49
Louisville, KY
7
2011
25
Charlotte, NC
0
50
Memphis, TN
5
2010
26
Indianapolis, IN
2
2014
51
New Orleans, LA
3
2009
Former Georgetown forward Dajuan Summers was among 31 aspirants at a Brooklyn Nets minicamp this week, all against long odds to return to the NBA.
Summers, who played for the Detroit Pistons, New Orleans Hornets, and Los Angeles Clippers from 2009 through 2013, was playing basketball in the Ukraine when the recent unrest broke out.
"When everything started to happen, I went down to the center [of Kiev]. And they had it barricaded. And they'd walk through it, Molotov cocktails, things were burning. It was surreal..." Summers said. "I'm going to the Nike store, 'cause that's where the store was, downtown, 'cause I'm trying to get some shoes. And I see probably 50 people with flags, running through. And I'm thinking, maybe I might want to leave. But they weren't worrying about me. I just got my shoes and got out of there."
The contrast between the minicamp and the unrest in Ukraine, where Summers plays professionally, could not have been more striking, reports columnist Howard Megdal.
"What Summers went through is emblematic, if more extreme, of what thousands of players all over the world deal with, driven by an unshaken belief that to play professional basketball at the highest level is what they're meant to do," said Megdal. "Constant movement, low pay and no security is the reality for many more who earn a living shooting hoops than the glamorous lifestyle we often associate with The League."
"I've been here before, so I know what the NBA's about," Summers said. "I know you've just got to keep working, opportunities always present themselves... And yes, it means a lot to me to be able to give my family the things they deserve, and the things I think I deserve, too."
A list of authorized summer leagues by the NCAA confirms that the annual Kenner League games begin July 5 at McDonough Gymnasium.
You know when it's the off-season when media outlet publish list articles, like "Beat Sports Towns" or "Best Arenas", largely to draw some attention but not necessarily any depth on the topic. So too with ESPN.com, with a list of its top 50 coaches in Division I basketball, placing John Thompson III at 46th of 50.
Indiana coach Tom Crean didn't even make the list, which further adds to the discussion over its veracity. But maybe that's the point.
Georgetown asks its students and alumni to be men and women for others, and a feature in Sunday's Washington Post features one student doing just that.
Women's basketball forward Ki-Ke Rafiu, born in Nigeria, is back home this week with a collection of shoes and clothes donated by her Georgetown teammates to help those far less fortunate in that country.
"Without my home court in Nigeria, I would not be where I am today," said Rafiu. "The court and the people mean a lot to me. When I see younger girls playing on the same court, it reminds me of the days when it was difficult for me to buy basketball gear, and some of these girls are going through this situation. This is the reason why I started this community service of giving back to my home court."
Georgetown All-American (and soon to be Georgetown parent) Alonzo Mourning (C'92) is the subject of a feature article from Politico.com on his friendship with President Barack Obama and their shared interests in improving the lives of at risk youth.
"Mourning, 44, fits in with Obama and his friends because he's like them: successful, competitive, sports-obsessed. He says he's not looking for fame, political favors or anything else from the president, and he is humble in explaining why he thinks the president has gravitated toward him," writes Politico. 'I like to think I'm a pretty decent guy,' he joked."
"You get caught up in the fact that he's so personable you do forget that he is the most powerful man in the world," Mourning said. "That's what he wants when he's around his friends. He doesn't want to be strictly political every time that he's around us."
---
HoyaSaxa.com: The One-Stop Web Site For Hoya Basketball™
An independent web site not affiliated with Georgetown University. All rights reserved.