Seventeen years ago, a recent Georgetown graduate talked two of his fellow alumni into a goodwill tour to Africa. For a 28 year old named Dikembe Mutombo (I'91), the chance to introduce his homeland to 24 year old Alonzo Mourning (C'92) and 31 year old Patrick Ewing (C'85) was a once in a lifetime event. This week, they'll do it all again.
Now in their 40's, the three men are reuniting with a number of fellow NBA stars and officials in Basketball Without Borders, the eighth in a series of basketball camps begun in the spirit of Mutombo's efforts. This year's event in South Africa is being held from Sep. 1-4, co-sponsored by the NBA.
"I had such an amazing experience in 1994 that I jumped at the opportunity to return to South Africa with Dikembe and Alonzo to participate in Basketball without Borders," said Ewing. "The African continent has a huge reserve of untapped talent and I look forward to helping these young players' development both on and off the court."
NBA.com notes that "Ewing, Mourning, and Mutombo will be joined by former Slam Dunk Champion Dee Brown; NBA All-Star and two-time NBA Three-Point Champion Jeff Hornacek; NBA Legend Bo Outlaw and WNBA Legends Tamika Raymond and Edna Campbell. NBA coaches in attendance include Harold Ellis (Detroit Pistons); Marc Eversley (Toronto Raptors); Lionel Hollins (Memphis Grizzlies); Noel Gillespie (Phoenix Suns); Mark Hughes (New York Knicks); Patrick Hunt (FIBA Coach); B.J. Johnson (Houston Rockets); Milt Newton (Washington Wizards); and Monty Williams (New Orleans Hornets). Dionne Calhoun from the 2011 NBA Champion Dallas Mavericks and Koichi Sato (Washington Wizards) join as camp trainers. Phoenix Suns General Manager Lance Blanks and Denver Nuggets General Manager Masai Ujiri return as camp directors."
Participants in the program represent 24 African countries, including players from the Republic of South Sudan, which gained its independence this summer.
In 1994, this excerpt from the Georgetown media guide expressed Mutombo's feelings having Mourning and Ewing joining him on the original trip.
"I've been asked that question about 100 times, and I'm still trying to find the right way to express it. Patrick and Alonzo gave me a great gift by coming on this trip," he said. "We work out together here at Georgetown over the summer and keep in touch when we can during the year. When they went on this trip to Africa, it was like they were trying to learn about what makes me the way I am. I never appreciated how good friends they are until they showed me how they felt by sharing this trip with me. It really was one of the best gifts I have ever received. I hope that, one day, when they look back on the experience and tell their children about what they learned, their children will appreciate them for being the fine people that they are."

"I also hope that they encourage others to experience more of the world as they now have. Coach Thompson and Miss Fenlon always stressed education and broadening your experience. They talked about travel as being one of the ways that you learn about the world and the trip to Israel that the team took last year is an example of that. I hope that Alonzo and Patrick found the trip to Africa gave them more perspective on the world. I know that they touched the lives of a lot of kids over there and brought a message of hope. That's the most important thing that anyone can do."
Was it just a week ago that a Georgetown exhibition game became an international incident?
The men's basketball team and a group of fans and University dignitaries are heading home this evening following an eventful 10 days in mainland China. If the game with the Bayi Rockets overwhelmed the coverage in the short run, the lasting message from this trip may well be about the respect earned for John Thompson III and how he positioned the trip as a teaching moment for his team.
"From that confrontation or from that conflict, you can learn," Thompson said in this link to ESPN.com. "You can take away. You can grow. You can gain knowledge from that. The word of the day everyone wants to talk about -- diplomacy -- and I think that's just a fancy way in many ways of the lesson our guys learned that we're all the same."
"You realize that there aren't that many difference between us. We hope that this happens -- that out of that conflict a bond is formed, out of that conflict a oneness and a unity can be established between Georgetown University and that organization."
Welcome home.
The final exhibition of the Chinese trip concluded Tuesday with an 83-64 win over the Taiwanese National team in Shanghai.
We jumped out, but [Taiwan] did a great job of hanging in there," said coach John Thompson III to GUHoyas.com. "It got close, but it was good to see how we responded and the plays that were made at that point."
The Hoyas led by ten after the first quarter but saw the Taiwanese team close to three at the half, 40-37. A 14-7 run to open the third quarter got the lead back to double figures and Georgetown was able to extend the lead in the final period.
"There was a key stretch there were Hollis Thompson gets two, three or four offensive rebounds, which were in the scheme of things, big rebounds. There was a stretch there where Greg Whittington and Otto Porter combined got a deflection, caused a turnover, made good defensive plays, which helped us pull away," he said. "Those are the plays that are going to determine our success this year. It has nothing to do with x's and o's, it was those guys making the effort, the hustle, making the tough plays, so I was glad when the game got tight, without Coach thinking about, let's roll up our sleeves and out-work them and we did that."
Georgetown's three point shooting was off in the second half (3-14, 6-22 overall) but it maintained a 48-31 in rebounding advantage helped avoid any comebacks by the Taiwanese team.

Hollis Thompson led all scorers with 16 points and 10 rebounds. As various freshman teammates have stepped up in individual games, this was Jabril Trawick's turn to do so, with 14 points on 6-7 shooting on the afternoon.

Here's the Georgetown half of the box score:

            MIN   2FG   3FG   FT  REB  A  PF  PTS
Starters:                                 
Starks       24   0-2   2-4   0-0   0   2  2    6
Clark        24   3-5   2-5   2-2   1   1  1   14
Thompson     27   6-11  1-5   1-3  10   2  1   16
Lubick       21   2-6   0-0   2-3   8   4  2    6 
Sims         16   4-6   0-0   2-2   6   3  4   10
Reserves:
Whittington  19   0-2   1-2   0-0   3   1  2    3
Hopkins      17   3-6   0-0   0-1   3   0  4    6
Porter       17   2-7   0-1   0-0   8   2  2    4 
Bowen        17   2-4   0-3   0-0   3   4  4    4
Caprio        2   0-0   0-0   0-0   0   0  0    0
Trawick      16   6-6   0-1   2-2   3   1  2   14
Team Rebounds           0-1         3
DNP: Adams, Ayegba
TOTALS      200 28-54  6-22  9-13  48  22 24   83

| | |
| --- | --- |
| Georgetown 91, Liaoning Panpan Dinosaurs 69 | 8/21/11 |
The Georgetown Hoyas returned to exhibition play without incident, defeating the Liaoning Panpan Dinosaurs 91-69 in action Sunday afternoon in Shanghai.

The exhibition was played outdoors, a rare event for any Georgetown team. The Dinosaurs, who finished 10th in the 17 team Chinese Basketball Association, welcomed a number of Georgetown fans from the Shanghai area among the 1,000 in attendance, including three visiting NBA stars: Amare Stoudamire, Tyson Chandler and Kyrie Irving. The Hoyas led by one after the first quarter, seven at the half, and pulled away in the third period, behind a game high 17 points from jason Clark.

Much like the opening game against Shanxi Zhongyu, coach John Thompson III gave the newcomers extended playing time. Otto Porter (12 points, 7 rebounds), Mikael Hopkins (11 points) and Aaron Bowen (10 points) joined Clark in double figures for the game.

"If you looked at the events that happened the other day, that's not the norm," said Thompson. "The reception that our team got today and the atmosphere here today was much more consistent with a) what we anticipated and b) what we experienced in every game and event since we've been here."
A on site review of the game can be found at the HoyaTalk board. Here's the Georgetown half of the box score:

            MIN   2FG   3FG   FT  REB  A  PF  PTS
Starters:                                 
Starks       13   2-2   0-2   0-0   1   1  2    4
Clark        17   4-6   2-5   3-6   2   4  2   17
Thompson     19   1-1   1-2   0-0   5   1  1    5
Lubick       20   1-2   1-1   1-1   3   6  2    6 
Sims         17   3-5   0-0   0-2   1   1  2    6
Reserves:
Whittington  22   2-3   0-1   0-0   3   1  4    4
Hopkins      23   5-7   0-0   1-1   5   0  1   11
Porter       23   6-11  0-0   0-0   7   3  3   12 
Bowen        18   2-5   2-2   0-1   3   1  5   10
Caprio        7   2-4   1-2   0-0   4   2  1    7
Trawick      21   3-8   1-3   0-0   1   0  3    9
Team Rebounds                       5
DNP: Adams, Ayegba
TOTALS      200 31-54  8-18  5-11  40  20 26   91

Post game articles follow below.
Amidst the range of reactions to Thursday's brawl in Beijing, from political pundits musing on the impact of US-Chinese relations, to its impact on international views of basketball, it's gone one step further--it's now a cartoon.
Viewers of The Daily Show or Conan O'Brien's various late night shows may be familiar with Next Media Animation, the Hong Kong media outlet which features serio-comic videos on news of the day featuring animations of celebrities such as Charlie Sheen or Tiger Woods. Well, add John Thompson III to the list, as the Washington Post has a link to the NMA's story of what happened in Thursday's game.
"NMA has re-created the incident in punched-up pixels, complete with riotous pandas in scenes that play like an over-the-top mix of "Kung Fu Panda," "Hoosiers," "Nacho Libre" and the white-belt movie extras from "Enter the Dragon," writes the Post.
The men's basketball team continues its travels in China, appearing at the Nike Festival of Sport Saturday afternoon in Shanghai.
A change to the schedule for the third game of the series in Shanghai: as might be expected, the return match with the Bayi Army Rockets will not be played. Instead, the Hoyas have scheduled the Liaoning Panpan Dinosaurs at 4:00 pm local lime (4:00 AM EDT) Sunday.
GUHoyas.com has posted sophomore Nate Lubick's report from the Nike Festival of Sport.
"We proceeded to head over to the basketball complex which was tremendous," said Lubick. "The bleachers were filled with fans waiting for us to put on a clinic with a group of 20 young Chinese basketball players. We went through multiple series of skill work with the kids that we do on a daily basis to keep all areas of our games sharp, and the drills came as a delight to the kids. Coach Thompson would yell out all instructions on a microphone and a translator would put his words into Chinese so that the players would understand. After the clinic we played a short 10 minute game for the fans, jam packed with slam dunks and a minuscule dosage of defense. The basketball complex is outdoors, but on beautiful, wooden courts, and served as good preparation for our first game in the Shanghai heat. After the game we were bombarded by the fans, who streamed onto the floor for pictures and autographs. "
"After showering up and getting dressed we went to the Xijao State Guest Hotel for President DeGioia at a Georgetown Reception. The food at this event was an immediate bingo for the team, which has been cherishing any type of Americanized Chinese food we can get our hands on. The banquet consisted of the members of the hoop program, the Hoya Hoop Club, University officials, and a surprisingly large amount of Hoya alumni who are currently living in Shanghai. It is amazing to see how far the Georgetown community extends, and to have so many different types of people at different stages of their lives, connected by Georgetown, in one room, was very special."
There are literally hundreds of articles on the game, most relying on the SportsGrid video (below) to make their judgments, and less on Gene Wang's Washington Post article which provides the only written record of the event.
Another Post column is worth a note, however.
"What happened on the court between Georgetown and the Bayi Club team will be read as a full blown international incident, because of the simple fact that sports and politics are inextricable in China," said columnist Sally Jenkins at the Washington Post. "China's programs are highly institutionalized, rough, and sometimes brutal affairs that are direct expressions of nationalism. Did this cause the brawl? We'll never know exactly. But it's the culture of the place where it happened."
GUHoyas.com reports that members of both teams met Friday to settle differences following Thursday's game.
It is not clear how much attention the Bayi game received within the rest of China, as a story was not printed online at any of the major Chinese web sites Friday morning. The Washington Post had reported that stories at sina.com and 163.com were deleted by Chinese authorities.
One quote that won't appear in state media appeared in the Post, however.
"It seemed that [the referee] was eager for the Chinese team win tonight, so the Georgetown team members were very unhappy about it," said Zhou Ting, 26, a doctoral candidate in biology at the Chinese Academy of Science who attended both games. "I can tell the Chinese players provoked the conflict. The [Bayi] basketball players have got a bad habit of revenge on every small, unfair thing in the Chinese Basketball Association. It's a hooligan's habit."
A second video has surfaced from Thursday's game, this one from the point of view of the Georgetown section and posted at WJLA-TV. The origin of the video was not disclosed. Items of note:
At the :06 mark, two players Chinese sandwich Clark and each swings at Clark's head, knocking him to the ground. The Georgetown bench enters the court.

At the :17 mark, the players are separating.
At the :22 mark, the camera pans to the baseline, but little is seen of the player punching Aaron Bowen that is seen on the SportsGrid video. In one scene, Clark knocks a chair out of the hands of one of the Chinese players.
At the :37 mark, the same Chinese player takes another chair out of the stands, waves it, but then puts it down.
At the :41 mark, a bottle is thrown at athletic director Lee Reed, standing to the left of the basket.
At the :48 mark, a Georgetown reserve picks up a chair and slams it to the ground, but with no one nearby.
At 1:09, the Georgetown team begins to move towards to the locker room.
At 1:25, the Georgetown fans can be heard yelling "Hoyas!" as the team passes by. The first water bottles follow.
At 1:32, a bottle hits security director Greg Roberts as he stands ahead of coach Thompson.
At 2:14, a fan hit by one of the bottles is seen in the stands.
At 2:33, a fan is heard asking, "Will this be on YouTube tonight?"
At 2:50, Georgetown fans exit through the locker room entrance.
WRC-TV reporter Sarah Kogod has unearthed a number of instances of violence during basketball games in China, including a notable incident last year versus the Brazilian national team.
"In October 2010, a fight broke out during an exhibition game between the Chinese national team and Brazil, which included Chinese players kicking and punching their opponents," writes Kogod. "According to a Wall Street Journal account, the game was called when the Chinese players attacked the Brazilians as they headed back to the visiting locker room." A video of the fight is attached to the article.
It's been years since a single story in the pre-season brought as much attention to Georgetown basketball, and Thursday's on-court brawl has the potential for damage...and diplomacy.
As Coach Thompson stated, this was a regrettable situation. Events like this mar the ability of this trip to build bridges internationally, and especially as Georgetown is trying to build institutional ties in the growing Chinese economy. It's no accident Duke is playing in China along with Georgetown, and the Blue Devils' pending trip to Dubai is not for the weather--these areas of the world drive economic development and Duke wants its brand image to carry weight in these emerging economies--as an educational leader, and as a beacon for global fundraising and development. Georgetown will not be well served if its institutional reputation is damaged by this incident among PRC leadership.
For China, there is a sense the incident got away from them as well. That photos (and at least one video) of a veteran army team acting as the aggressor against what are, after all, college students, does not serve the interests of 21st century China, and as hosts for an international event, this has the possibility of causing them some internal and external embarrassment. And how (and why) this picture ever got past the Chinese censors is remarkable:
Photo: Chinese Players Attacking Jason Clark (China Daily/Reuters)
"First, who's the dude in the khakis and how the hell did he get on the court before everyone else?", asked a Duke basketball blog. "Second, if this video was reversed and it should five black players stopping on a Chinese player lying on the ground, what would everyone be calling those players? Thugs."
(The pejorative of "thug" has been thrown around by Georgetown opponents since the 1980's. It has not (and does not) applied to JT III's teams. And most important, it should not be thrown around in this case, either.)
What is need in the upcoming days is something Georgetown is very good at: diplomacy. Coach Thompson's statement offers the opportunity for both sides to move ahead and continue the visit, and do its part to promote sportsmanship at the Nike Festival of Sport on Friday and in any subsequent exhibitions that may take place. To end with coach Thompson's quote: "We remain grateful for the opportunity our student-athletes are having to engage in a sport they love here in China, while strengthening their understanding of a nation we respect and admire at Georgetown University."
A learning experience for all concerned, and a chance to move forward.
A first hand account of the game and the distrurbance from Washington Post reporter Gene Wang is provided in this audio link to CSN Washington.
A video from the stands of Thursday's game has made its way to SportsGrid.com and the images are not favorable to the host country. Items of note:
At the :09 mark, Jason Clark is knocked to the floor. This leads to the initial rush of the floor.
At the :20 mark, the camera pans to the baseline, where a Chinese player is chasing Aaron Bowen, knocking him to the ground (see inset, right), getting in four punches on top of his chest before other Georgetown players arrive at the scene.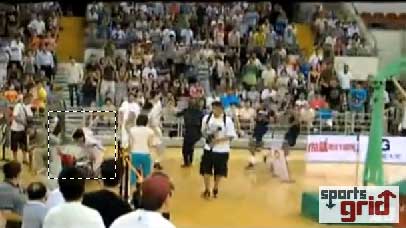 At the :30 mark, a Chinese player wearing #13 throws a chair in the direction of the players.
At the :33 mark, two more chairs are tossed.
At the :40 mark, a Chinese player wearing #5 attempts to throw a chair but is waved off by what appears to be a Georgetown official.
At the :50 mark, the groups are separated. At least one Chinese fan is seen brandishing a chair.
At the :54 mark, Georgetown players return to Clark at midcourt, who is still apparently on the floor.
At the 1:00 mark, a uniformed Chinese officer appears on the screen but makes no move onto the court, consistent with reports that the police were not interested in interfering with the Red Army team during the conflict.
At the 1:27 mark, an unidentified Chinese person near the front of the camera hurls a water bottle. Other bottles are seen as well. At least two appear to be thrown into the Georgetown section.
For a country which prides itself on heavily restricting the media, the images and video leaking from this event will not be well received in official governmental circles. It will be interesting to see what coverage is provided, if any, from official state sources.
Excerpted from Dana O'Neil's story at ESPN.com, with an on-site quote from Sports Information Director Mex Carey:
"Georgetown's tour through China turned ugly Thursday when a game between the Hoyas and the Bayi Rockets, a Chinese professional team, ended in a bench-clearing brawl. Mex Carey, Georgetown's sports information director, told ESPN.com that the game was "very physical," with 57 free throws taken by Bayi to just 15 for Georgetown, and quickly spun out of control.

According to the Washington Post, coach John Thompson III pulled his team off the court with the score tied at 64 midway through the fourth quarter after the two teams exchanged punches. One Hoya player, Henry Sims, was reportedly hit by a chair.

The Hoyas dodged water bottles and other objects thrown from the stands as they made their way to the locker room. Carey said one Georgetown fan in attendance was knocked to the ground after being hit by a bottle."
No comment has been issued by Chinese officials over the fan behavior following the fights that ended Thursday's game in Beijing. As the team in question is made up of members of the People's Liberation Army under the auspices of the Communist Party, officials might not comment on this at all, mindful of the presence of Vice President Joe Biden in Beijing this week.
Georgetown is scheduled to travel to Shanghai Friday morning. The status of the third exhibition game on Sunday (against this same team, the Bayi Army Rockets) has not been announced.
Excerpted from Gene Wang's story at the Washington Post, the only first-hand account of the game:
"A woman sitting in the Georgetown fan section directly behind the bench implored Chinese police to try to calm the situation, saying someone was going to get hurt. The Chinese police had been watching the tensions escalate to the point of physical confrontations but made no attempts to break up any of the fights taking place on the court.

Before anyone was seriously hurt, Thompson said, "We're outta here," and pointed toward the tunnel behind the Hoyas bench leading underneath the stands.

As Thompson and his staff summoned players together and began escorting them off the court, the group had to dodge plastic water bottles being hurled from the stands. Once they reached the safety of the locker room, the team immediately gathered all its equipment and headed for the buses outside.

Members of the Hoyas staff were trying to find a police escort for the entire Georgetown contingent, including alumni and supporters who attended the game as part of a 10-day tour of China, fearing reprisals from Chinese fans. But rather than wait, Thompson told everyone to walk to the buses together."
From GUHoyas.com:
"Tonight, two great teams played a very competitive game that unfortunately ended after heated exchanges with both teams. We sincerely regret that this situation occurred. We remain grateful for the opportunity our student-athletes are having to engage in a sport they love here in China, while strengthening their understanding of a nation we respect and admire at Georgetown University."
Chinese officials censor outbound social media from Facebook and Twitter, but the following photos were posted on the Chinese social media outlet, Weibo.com. Subsequent reports indicate that these may have been taken offline:

| | |
| --- | --- |
| | Update #3, 8/18/11 10:30 am |
"Once it got out of hand, I was in great fear for everyone associated with Georgetown University, because if you look at it in terms of sheer numbers, we were very much outnumbered. Once it got to that point, once all the skirmishes had ended, my only thought was to get our fans, our players, our family, our friends out of this building as soon as possible."--John Thompson III, in the Washington Post
Reports from Beijing this morning indicate that Thursday's game with members of the Chinese People's Liberation Army team, the Bayi Army Rockets, was called following an incident with bottles being thrown from the stands. At that point, the Georgetown team left the court and the Georgetown alumni group left the arena to avoid any incidents with Chinese fans or military officials.
An e-mail posted to the HoyaTalk board is being reported as a first hand account of the game, which has not yet been confirmed by Georgetown or Chinese officials. The incident was mentioned briefly during the ESPNU coverage of Duke's game in Shanghai.
"So, tonight's game...we started out behind and were having trouble moving the ball around. The PLA team's big men actually matched up with us pretty well and they played solid defense early on. We were quickly in foul trouble and they moved to the line pretty often, although it wasn't that notable at the time. Then in the second quarter we made a nice run, started hitting open shots, and played really nice defense and forced some turnovers- truly fun to watch and gives us some hope for the regular season. I believe we were down 5 at the end of the first, and then we built a 6-point lead.

Then things got really lopsided on the officiating front in the second quarter. They were in the bonus (five fouls) in the first two minutes of the quarter. The fouls continued- I think we had about 12-14 in the second quarter alone, if I had to guess without seeing a stat sheet (which I doubt will be published). On a couple of plays there was a bit of shoving under the basket, but it calmed down fairly quickly, JT3 clearly called the team over and probably said something along the lines that the officiating was ridiculous, but it didn't matter and everyone needed to stay cool. Then JT3 became more active in pushing the refs for some calls on our end (we were getting mauled, and the PLA team was getting a call basically every time down the court). Despite all of this, we finished the half up 4 or 5- we were shooting really well.

The whole thing came undone in the third. About two minutes in, the ridiculously lopsided foul calls continued (we were in the bonus again 2 1/2 minutes in) and the first real shoving match kicked off over a loose ball. The players on the court separated each other pretty quickly, but then the craziest thing I've ever seen happened- one of the Bayi big men got in JT3's face and almost took a swing. He was so shocked he didn't know what to do. So that upped the ante a bit.

Then the foul calls truly took on a comical dimension. We supposedly fouled them every time down the court, despite some really good defense on some possessions. There were four or five intentional fouls called, giving them four shots each time down the court. JT3 was called for a technical for stepping over the line onto the court. I counted Bayi scoring two field goals in the entire third quarter. I don't know what the count was, but I would not be surprised if they shot 45-50 FTs through three quarters, and we shot 6-10. I honestly think the foul count was likely in the range of 30 or 35 to 5-7. A few exchanges got testy and at one point players had to restrain themselves again. I started joking with some Chinese people in the crowd, who to their credit similarly thought it was a bit ridiculous but were mainly upset that the game had no flow. At the end of the third, despite all of this, we were tied or up two points or so.

Two minutes into the fourth, they were pressing full court, trapped one of our guards (I forget who it was), and then must have pushed or punched him on the ground after he made the outlet pass, because then there was a shoving match and then a bit of a fight, and then the whole thing set off. He tried to get away as quickly as possible as the Chinese players sort of converged on him, and then benches cleared, and then people on the Chinese bench started picking up chairs. Everyone on the other side of the court started fighting as well. Brawl spread all over the court, and then off the court. After it kicked off it immediately became possible for the crowd to get involved, and then they did. As we tried to get the team off the court, bottles (plastic ones, thankfully) came out of the crowd at the team and everyone left. Security was there (sort of), but it was more equivalent to mall cop-quality security rather than actual security. The Georgetown staff wanted the security to get on the floor, but honestly these guys didn't have a clue what to do. They escorted the whole alumni contingent out fairly quickly after that. Game over, 64-64 (following another intentional foul).

I don't know how much news this will make, but even given my admittedly partisan view of how this played out, this was really not our fault. The refs completely failed to control the game, and these things happen when they can continue to maul us underneath with no consequences. The coaching staff called the whole team over at several times during the game and calmed everyone down. We didn't throw any punches and players and coaches were generally just laughing at the absurdity of the officiating at times. Anyway, not exactly what I was expecting to see tonight."
For what it's worth, the game ended 64-all. No box score has been posted.
Georgetown's first exhibition game in its trip to mainland China was a successful one, with a 98-81 win over the Shanxi Zhongyu Brave Dragons Wednesday evening in Beijing, according to reports from China via GUHoyas.com. The game was attended by Vice President Joe Biden, who is in Beijing for a visit to the Chinese government.
The exhibition featured international rules and timing (four ten minute quarters), and Georgetown appeared to adjust well to both. The Hoyas led 11-4 and 18-8 before the Dragons closed to six after the first quarter, 28-22. A pair of second quarter runs pushed the lead to as many as 17 before leading 55-42 at the half. The third and fourth quarters were largely equal on the scoring, as various substitution patterns and a plethora of turnovers (44 between the teams) kept things from getting too far out of hand.
Four starters were in double figures but the play of freshman forward Otto Porter was especially encouraging, scoring a game high 16 points off the bench. Freshman guard Jabril Trawick added 13 as nine of the eleven players in action saw 20 or more minutes of game time.
Biden's unexpected visit made international headlines, but head coach John Thompson III took it in stride."I'm glad some of those things happened because life in the Big East is one big distraction," he said. "Being fortunate enough to play at Georgetown, we have many events like this. We were excited and honored to have the Vice President, as he said, travel 24 hours to see us play, along with the many, countless Chinese politicians and delegates that came to watch their team play, as well as ours."
"This group has to manage itself, and so whether we win big or lose big while we're over here, the purpose of this trip is to establish habits and how we need to do things. We have a long ways to go."
Here's the Georgetown half of the box score:

            MIN   2FG   3FG   FT  REB  A  PF  PTS
Starters:                                 
Starks       28   6-12  1-4   0-0   2   0  4   15
Clark        20   3-8   2-5   2-2   2   2  0   14
Thompson     20   3-6   2-4   0-0   4   1  2   12
Lubick       23   2-2   0-1   2-3   9   4  2    6 
Sims         25   5-8   0-0   1-3   7   6  5   11
Reserves:
Whittington  22   2-6   0-0   1-2   5   1  2    5
Hopkins      27   0-6   0-0   0-0   6   3  0    0
Porter       31   5-10  2-3   0-1   4   1  3   16 
Bowen        18   2-6   0-1   0-1   5   0  0    4
Caprio        4   1-1   0-0   0-0   0   1  0    2
Trawick      22   5-8   0-1   3-3   4   2  4   13
Team Rebounds                       5
DNP: Adams, Ayegba
TOTALS      200 34-71  7-19   9-15 53  21 22   98

Post game articles follow below.
Post game articles referencing the Vice President's visit follow below.
NCAA-sanctioned practices are underway as the 2011-12 Georgetown Hoyas get an early start in preparation for their travels to China next week.
"It still hasn't hit me yet," said senior Jason Clark to the Washington Times. "It won't hit me until I get on the plane."
The Times confirmed stories that freshman center Tyler Adams continues to recover from a foot injury in the Kenner League and may not play during the upcoming trip. Sophomore forward Nate Lubick separated his shoulder in Kenner action but is expected to play, according to online reports.
The Georgetown Patch noted the arrival of former Princeton coach pete Carril to McDonough Gymnasium, as coach John Thompson III invited him to speak to the team at the opening of practice.
"We have him in every year and he gives you his opinion as only a former coach can," Thompson said. "He's someone whose opinion I respect greatly."
The team, staff, and a number of fans leave Friday for the visit, Georgetown's first international trip in 18 years.
With Internet traffic censored in China, chances are good that most of Georgetown's trip will be out of reach for fans and media alike. Not so for Duke, which arranged with ESPN for live broadcasts of three of its games on its own trip, beginning in China from Aug. 14-22 and a subsequent stop in Dubai.
The Sporting News reports that "[Duke] announced Monday that games on Aug. 18, 22 and 25 will be shown live by [ESPNU]. The games also will be available on the network's web channel, ESPN3.com and ESPN International's networks....Duke also will be accompanied by a film crew from the production company Intersport, which will compose a documentary for later airing on ESPNU and ESPN International."

An injury suffered by sophomore center Moses Ayegba (C'14) in Thursday's Kenner League quarterfinals has been diagnosed as a tear of the anterior cruciate ligament (ACL), with reports suggesting he will miss most or all the 2011-12 season as a result.
"He's worked extremely hard this past year but we know, in conjunction with our medical staff, that he will take the necessary steps to get back on the floor as soon as he can," said head coach John Thompson III to GUHoyas.com.
Officials did not cite a return to play, but various reports online and on Twitter suggest Ayegba would miss the 2011-12 season as a result. The recovery time for ACL injuries is slow and challenging. Patients begin limited walking 2-4 weeks after surgery but a return to competitive sports may extend to six or more months depending on the extent of rehabilitation. Even if Ayegba could complete rehab by mid-February, he would lack the practice time to be effective in late season Big East games.
Ayegba scored only 10 points in six games last season, but was expected to be a key backup for senior Henry Sims at center.
Additional coverage follows below:
Entering the China trip, Georgetown has only five returning scholarship players with significant game experience:
| | | | | |
| --- | --- | --- | --- | --- |
| Guard | Guard | Forward | Forward | Center |
| Starks (1.5 ppg) | Clark (12.0) | Thompson (8.6) | Lubick (4.0) | Sims (3.6) |
| Trawick (New) | Bowen (Redshirt) | Porter (New) | Hopkins (New) | Adams (New) |
| | | Caprio (4 games, 0.5) | Whittington (New) | |
| | | | | |
| | | | | |
Season-long injuries among Georgetown players are rare but not unheard of. Although players like Ruben Boumtje-Boumtje, Courtland Freeman and most recently Aaron Bowen have earned medical redshirts following injury, but in the past 40 years only two pre-season injuries have cost players an entire season.
In 1978, lingering foot injuries cost Mike Frazier his junior season, from which he took a season off the team in order to recover. Frazier, who had averaged 1.2 points and 0.9 rebounds in 19 games, returned in 1979, averaging 4.7 points and 3.3 rebounds over his final two seasons.
The most significant pre-season injury in modern Georgetown history was to Ralph Dalton, whose knee injury just prior to his freshman season was so severe he was out for entire 1981-82 season wore special shoes to account for the difference after the surgery. Dalton's mobility was affected but not his courage nor his determination, playing 132 games over a four year career from 1982-86 and averaging 4.0 points and 3.5 rebounds.
An exciting double overtime finish powered the team representing Clyde's Restaurant Group over The Tombs in the 2011 Kenner League championship. Details follow in this link to the HoyaTalk board .
Of course, before the Kenner League, players stayed closer to home during the summer. The Suffolk Times recounts the summer league efforts of Jim Christy (B'64), who went on to an outstanding Georgetown career in the early 1960's.
"It was at Forest Park where Christy honed his game," writes Bob Liepa. "Nothing was organized. It was almost all half-court pickup games of three on three or four on four. Rarely were full-court games played. The half-court games helped players develop the concept of proper spacing and moving without the ball, said Christy.

'You arrived [at the courts] at 8 in the morning and you might not get home until 5 or 6 at night,' he recalled.'"
Christy was a 10th round draft pick of the New York Knicks, but turned down the offer and chose a career in teaching. "You wonder if things would have been different," he said. "I don't regret it for a moment. You wonder [about] the road not taken. I can't imagine that it would be any better than the way things have been."
The Maui Invitational has released its brackets for its 2011 tournament, with Georgetown facing Kansas at 7:00 pm HST (midnight EST) in the first round of the three day tournament on Nov. 21. The Jayhawks (35-3 in 2010-11) finished second in the AP poll last season and lost to Virginia Commonwealth in the regional finals.
As part of the tournament, the Hoyas will host UNC-Greensboro on Nov. 14, although the Spartans will not travel to Maui.
Also announced: the Georgetown-Memphis game will be played on Thursday, Dec. 22, after students have left for Christmas break. The game will be seen on ESPN2.
This weekend's playoffs wrap up the 2011 Kenner League schedule, and marks its 30th anniversary on the Georgetown basketball landscape. To revisit some of the moments of years past, some archived articles on the Kenner mystique:
Details follow at GUHoyas.com on the men's basketball team's upcoming visit to China.
"We're delighted to have the opportunity to bring the energy and excitement of Georgetown University to fans in China and give them with a way to celebrate their favorite sport," said Michael Jackson (C'86), a Nike executive who is helping coordinate the visit.
ESPN.com has an update on more than a dozen schools taking overseas trips this off-season.
(As to coverage of the games, fans should remind themselves that China blocks most Internet transmissions coming into and outside its borders, including such sites as Facebook, Twitter, YouTube, and Google, among others. Georgetown may or may not be able to disclose the detail of game coverage Hoya fans have grown accustomed to since online communications became commonplace.)
Big East commissioner John Marinatto denied a story in Tuesday's New York Post which suggested the Big East could be dropping schools without Division I-A football in advance of its next TV contract.
"We've never, ever had discussions about dropping members," Marinatto told the Providence Journal. "In fact, quite the opposite. That's not on the table."
The article, titled "Seton Hall Among Schools That Could Get Big East Boot" cites the Hall, Marquette, and DePaul as potential downgrade targets should a TV deal force the Big East to focus on more football teams and less on accommodating an 18-20 team conference.
"Television networks are going to want to know what they're getting before they sign on," said the source to the Post. "Remember, the league kept adding schools to survive the loss of Boston College and some other schools. Now bigger may not be better."
A total of 342 Georgetown student athletes were among over 3,200 Big East students honored with its All-Academic team as posted at GUHoyas.com. The awards recognize letter winners scoring a 3.0 or higher GPA in the just concluded academic year.
"The women's rowing team led all Hoyas' programs with 58 student-athletes selected and field hockey had 15 members selected to earn Team Academic Excellence Awards for their highest collective grade-point average in their respective sports," reads the release, "Women's soccer had 22 student-athletes selected, women's lacrosse had 20, women's swimming and diving had 19, men's lacrosse and baseball each had 17 and men's soccer and men's swimming and diving each had 15."
Men's basketball did not score as well, posting just one player (Ryan Dougherty, C'11) to the list.
---
HoyaSaxa.com: The One-Stop Web Site For Hoya Basketball™
An independent web site not affiliated with Georgetown University. All rights reserved.