There was a time not long ago when college orientation was a time to do little more than register for class, drink beer, and meet girls. Today, the Class of 2017 attends a large variety of academic and social engagements to formally welcome them into the Georgetown family, and the Department of Athletics joined forces with a welcome event this weekend to welcome more than 200 freshmen student-athletes and their families.
"I need you to embrace all that it is to be a student-athlete at Georgetown University," said athletic director Lee Reed. "I need you to embrace what you do, as you represent yourself in the classroom with your peers, as you represent us in the community and as you represent us in competition, I truly need you to embrace what it means to be a student-athlete at Georgetown and I know you'll do that. You have great coaches, you have great staff and you have a community here that is supportive of every single thing that you do."
Among the guests: University president Jack DeGioia (C'79, G'95), himself a former student-athlete in football and track at Georgetown.
"This tradition, this community, into which we are pleased to welcome you to today is at the heart of what constitutes the strength of our program," DeGioia said. "We are honored to count such talented and dedicated young women and men as all of you, as new members of our community. Before your first game, your first match, your first meet at Georgetown, you've already accomplished something extraordinary. My son is involved in youth sports and there are almost 20 million elementary school aged children involved in youth sports in our country," he said. "Only about a third of them will go on to compete in high school, about seven million. For those that have the opportunity, at age 18, and through their undergraduate years, to continue to stay involved, to continue to participate in their sport, there are only about 150,000 Division 1 student-athletes in our country. It's quite an extraordinary achievement to still be competing at this point and to be competing at a place like Georgetown, where the expectations on you academically are rather significant. Your talent, your determination, your commitment to excellence in the classroom and in competition, that which brought you here to Georgetown, will enable you to succeed here. In turn, we're committed to helping you become your very best selves, as students and students engaged in intercollegiate athletics."
"You're about to embark on a journey that will test your strength, develop your talents, deepen your understanding of yourself, your skills, your sport, your world. This is not a journey you will make alone, all of the people in this room, your parents, your coaches, your teammates, the staff and leadership of this athletic department, are all on this journey with you."
Per a note from athletic director Lee Reed, the event formerly known as Midnight Madness will now be known as the "Basketball Tip-Off", on Oct. 25, two weeks prior to the start of the season.
Midnight Madness, created at the University of Maryland in 1971, was added by Georgetown in the fall of 1999. It is traditionally held on the Friday closest to March 15, but by a recent NCAA rule change, teams may start practice as early as Sept. 27.
Georgetown officials have announced winners for its 27th annual Athletic Recognition Awards, to be held Friday, Sept. 27 during Homecoming Weekend. Awardees include:
Robert A. Duffey (C'44) Memorial Award
for Outstanding Student-Athlete
Andy Reimer (C'12, Men's Soccer)
Outstanding Accomplishment By A Female Student Athlete
Shikara Lowe (C'13, Softball)
Outstanding Accomplishment By A Male Student Athlete
Otto Porter (ex'15, Men's Basketball)
Outstanding Coaching Achievement Award
Brian Wiese (Men's Soccer)
Outstanding Contribution to Athletics Award
Ed (C'66) and Irene Shaw (Men's and Women's Soccer)
The J. Gregory Carroll Award for Volunteer Service to Hoyas Unlimited, as recommended by a committee of the Hoyas Unlimited Board of Directors, will be announced at the event, per the release.
A local family has adopted J.J., the popular but dismissed Georgetown mascot.
In an e-mail to DCist, Rev. Christopher Steck S.J. said that "We are keeping the details of the family home private, so as to preserve their confidentiality. The family meets all of the ideals we had looked for. In addition, they live within 3 miles from campus and have lots of experience with the bulldog breed. We did a test run with the family and J.J., and it worked wonderfully. They are in love with JJ and, I believe, vice versa."
Georgetown officials have avoided comment on the issue but the arrival of students this weekend figures to raise more questions about the circumstances behind the dog's dismissal, as well as a commitment to a prompt transition to J.J's successor, who would be the seventh Jack since 1962 and 14th live mascot at Georgetown since the 1919-20 academic year.
Georgetown's 10,911 per game average last season ranked it 33rd nationally in attendance, according to the NCAA.
Kentucky's 23,099 per game led all schools. All Big East schools ranked in the top 100:
6. Creighton (17,155)
15. Marquette (15,033)
43. Xavier (9,781)
55. Villanova (8,022)
58. Butler (7,899)
60. Providence (7,772)
63. DePaul (7,681)
70. St. John's (7,330)
72. Seton Hall (7.035)
Another addition to the non-conference slate: Lipscomb University, headed to Verizon Center Nov. 30.
The Bisons (Lipscomb uses the plural form) were 12-18 last season, with a pair of wins over Georgetown's early round NCAA foe, Florida Gulf Coast.
Georgetown is still a week or two from confirming the overall schedule, which will likely include two more home games during exam periods.
A little over two decades ago, Georgetown rode the crest of national interest in men's basketball to be the top-ranked university in sports apparel and merchandise licensing. Major college football took over, and the Hoya brand has fought an uphill battle ever since.
Georgetown merchandising royalties for athletic products fell to 59th nationally among NCAA schools, according to the latest study conducted by the Collegiate Licensing Company (CLC), which represents over 200 U.S. universities.
Georgetown fell out of the Top 50 for the first time ever in 2006 with a #54 ranking. The University was rated as high as #46 in 2007, but dropped to #52 in 2008, #57 in 2009, #58 in both 2010 and 2011, and #56 in 2012.
Overall, 69 of the top 75 schools listed are in I-A football; none of the other schools in the current configuration of the Big East rank in the top 75.
From USA Today, some thoughts from Big East commissioner on some near-term issues with the conference:
On expansion: "I would say it's on the back burner, but I would not say it will never happen. But at this point, it's not something anyone is spending a lot of time working on."
On NCAA governance: "I'd be surprised if anyone today can tell you how exactly where this is going to end up."
"Being able to have those relationships and the political savvy to make sure that a conference like the Big East continues to compete at the very highest level – I think Val possesses that in a big way," said Villanova athletic director Vince Nicastro. "She's really going to help us as we move forward in this new evolution."
As a college player, Otto Porter was a 49% shooter from the field en route to a consensus All-America honors and the third selection in the 2013 NBA draft. This summer, he opened with a 9 for 30 shooting effort in the NBA summer leagues prior to a hamstring injury. Yet, as he tells the Washington Post, it's all part of the learning experience of an NBA rookie.
"It's a learning experience for me. I just learned from it," he said. "It's the NBA. It's 10 times faster, 10 times stronger and 10 times smarter. That's the thing I took from summer league. Just that little taste, it was like a wake-up call. The competition is tougher. That's what I took away from it.

"Ever since I've been drafted, I went back to D.C. and from day one, I've automatically been like, 'What do I need to do? What do I need to work on?' I've always wanted to learn and being hungry, just wanting to know more to last in the NBA."
Later this week, Porter returns to his home town to see his #22 jersey retired at Scott County Central HS, alongside that of his father's #35.
"I never thought that I'd have my jersey retired on a wall, or have my name put on the court. That's not something that I thought that I'd ever do or dreamed about," Porter said.
Another addition to the schedule: High Point University, arriving at Verizon Center Dec. 5, according to the High Point (NC) Enterprise. The Panthers return five starters from its 17-14 team last season.
Not returning to the 2013-14 schedule: American. The Eagles released their schedule last week with local games against George Mason and Howard.
With an NCAA transfer waiver still pending for junior center Josh Smith, head coach John Thompson has high praise for the 6-10 transfer, per ESPN.com.
"A committed Josh Smith, I'm not sure there is a better big man in the country," Thompson said. "He has the instincts and the physical tools to be better than any big man I've had...I didn't realize how good a passer he is. He's got to put himself in position to where he can stay on the court. We're trying to get him to the point where he understands it's on him. He has to understand that he has to be as committed as everyone around him. He has to be more committed. He is getting there. But he's got a ways to go to get there."
One of the big factors: weight. Smith was reported to be 358 pounds when he transferred in January, and is 310 now. Smith wants to get to 290, which would put him near the weight center Jahidi White (1994-98) played at as a senior.
"I've told him, 'Let's get to a point where you can stay on the court for two minutes, then stretch it to five and then five to nine and then nine to 15.'," said Thompson. "Some people can play at 200 [pounds], some at 250, some above 3[00] and some can't play above 150. He's got to get to a point where he can stay on the court for an extended period of time."
Smith blames part of his weight on poor eating habits at UCLA. "I've worked with a dietitian here since I got here in January," he said. "I'm dealing with portions, eating vegetables and fruit... I wouldn't eat all day [at UCLA] and then try to eat 3000 calories at night. Now I'm eating them with small meals throughout the day."
Various sources are reporting that Fox Sports 1 has lined up a doubleheader at Madison Square Garden for Super Bowl weekend, with Georgetown as a featured attraction.
The doubleheader will feature Marquette vs. St. Johns and Georgetown vs. Michigan State. A third game not part of the package features the New York Knicks and Miami Heat later that evening. Fox is broadcasting the Super Bowl from MetLife Stadium in the Meadowlands the following day.
Michigan State was 27-9 last season with a #9 Associated Press ranking.
The two schools have met just once before, where Scott Skiles led the Spartans to a 80-68 win over the Hoyas in the second round of the 1986 NCAA Tournament in Dayton, OH.
With the announcement of NBA schedules Tuesday and NHL schedules a week or so ago, Georgetown (and the Big East) now has a firm idea of open dates from which to fill the 2013-14 schedule.
The Washington Wizards continue to show a strong preference for Saturday night games, but with the NHL season adjusted for the 2014 Winter Olympics, three dates (Jan. 25, Feb. 15, March 1) hold promise for a Saturday prime time game on Fox Sports 1 if it chooses to.
The calendar is below, with blue highlighting a weekend game beginning after 6:00 pm (giving Georgetown a possible noon start should it choose), and red highlighting a weeknight game or a weekend hockey game played in the afternoon and thus unlikely to accommodate a evening game turnaround. The list also includes a handful of concerts previously on the Verizon Center calendar and the 2012 BB&T Classic on Dec. 8.
S
M
Tu
W
Th
F
Sa

November

8
9
10
11
12
13
14
15
16
17
18
19
20
21
22
23
24
25
26
27
28
29
30

December

1
2
3
4
5
6
7
8
9
10
11
12
13
14
15
16
17
18
19
20
21
22
23
24
25
26
27
28
29
30
31

January

1
2
3
4
5
6
7
8
9
10
11
12
13
14
15
16
17
18
19
20
21
22
23
24
25
26
27
28
29
30
31
February
1
2
3
4
5
6
7
8
9
10
11
12
13
14
15
16
17
18
19
20
21
22
23
24
25
26
27
28
March
1
2
3
4
5
6
7
8
There are few stories that can shake the core of a city. This was one of them.
Bought at a bankruptcy sale in 1933, the fourth generation of a family business that was the Washington Post shocked the city Monday by selling the city's newspaper of record to Amazon.com founder Jeff Bezos for $250 million. A newspaper that fought off millions in losses before buying the Washington Times-Herald in 1953, who outlived the Daily News and the Evening Star, became a civic institution and a political force unlike any American newspaper. It survived Philip Graham's 1963 suicide only to enter a golden age under the leadership of his widow, Katherine, but now finds itself amidst the inexorable march online that the next generation of Grahams could not overcome.
Revenue at the Post is down 54% since 2007 and significant display and classified advertising revenues have all but disappeared. (One DC media columnist counted just seven display ads in an issue last week.) Supported for years by the Post's cash cow of Kaplan Educational Services, even that revenue stream has faded. Bezos, who declared print an endangered species as recent as one year ago, now must navigate, at long distance, a newspaper tradition in peril nationwide, even if we thought Washington was somehow immune from the demise of daily newspapers.
Perhaps the Grahams found an offer they simply could not turn down. Last week, the Boston Globe was sold for $71 million, versus the $1.1 billion the New York Times paid for it in 1993. Three years ago, the Post had sold Newsweek, once a magazine titan, for $1.
The paper will say it's business as usual, but Jeff Bezos is anything but "old media". The pace of change could be an unsettling one in the years to come and with it, the changes of what a newspaper can mean to a city and to its discourse.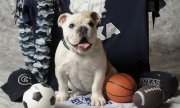 Social media among students and alumni continues to criticize and question Georgetown's dismissal of J.J., the one year old bulldog mascot, with some young alumni already asking friends and colleagues to hold back on annual fund donations as a result of Georgetown's actions.

The talk will likely increase once students previously unaware of the news return to campus in three weeks, including unfounded but real concern that some at Georgetown are seeking to shelve the bulldog mascot entirely, or, as ESPN columnist Eamonn Brennan posited, a "rent a dog" plan for a few home games a year.
"The fear here, it seems, is that Georgetown brass is plotting to either a) begin phasing out the live Hoyas mascot entirely, a practice that began when students pushed hard for it in 1999 or b) mitigate school liability by transitioning to a "rent-a-dog" model (when random ringer dogs are brought in for campus events for a day or two at a time)," writes Brennan at ESPN.com. "In its original statement, the school said it planned to continue the live mascot tradition, but...more than a few Georgetown students seem worried that's just a cover."
The school's office of communications has turned a deaf ear to questions and comments raised in the preceding five days, leading the dog's caretaker to write a column in The HOYA in order to spur dialogue on the matter--a dialogue neither the Office of Communications nor the Department Of Athletics has raised to date.
"Healy [Hall] is understandably keen on controlling the university's public image," writes Rev. Christopher Steck, S.J., chairman of the theology department. "This emphasis on control has extended to specific requirements about messaging: I was told to avoid any statement about Jack's retirement — because that might suggest that J.J. was now the mascot — and to refrain from mentioning J.J.'s training, because that might suggest that J.J. needed training. I must be accompanied by a "handler" from the Office of Communications any time I am interviewed about either dog, and any follow-up questions are filtered through that office."
"These protocols can be burdensome, especially two university requirements that I have not followed: that I get permission from Healy before speaking to student press about the mascot and that I allow Healy to censor all of my public speech about the mascot, including statements, photos and videos posted on Facebook and Twitter."
Additional comments:
"Unfortunately for Jack and J.J., Healy has been more enthusiastic about control than support. While Healy, no doubt, appreciates the mascot, I have not sensed a great deal of passion for him within its corridors. My one request to any administrator in Healy for $200 of funding was declined because, I was told, his unit was not involved in the mascot. (The university, by the way, does not provide any financial support for Jack and J.J.'s upkeep). Before J.J.'s arrival, a few reporters shared with me their puzzlement over the university's ambivalence toward the mascot. I invited several Healy administrators to join me any time on a walk with J.J. so that they could meet him and see his interaction with children on campus — a cause for concern in Healy. All of them declined. A university spokesperson's recent praise for the importance of having "no emotional attachment" in making decisions about the mascot was institutionally revealing, even if unwittingly so."
"The university is at its best when it is a place of candid and transparent dialogue, perhaps especially when that dialogue exposes disagreements. If the mascot is to be an adequate symbol of Georgetown, decisions about him should reflect its rich, dialogical life."
A question by this web site placed to the Office of Communications was not returned. When they respond, we'll post it here. In the meantime, feel free to reach out on your own.
Athletic director Lee Reed announced a record fundraising year in annual giving through Hoyas Unlimited via a YouTube message below. Over 6,000 donors made gifts of over $4.6 million, its eighth consecutive year of growth.

Also of note: a statement that overall commitments for the Intercollegiate Athletic Center (IAC) have topped $30 million, with a opportunity to set a groundbreaking ceremony in the 2013-14 academic year.
Georgetown officials reacted to a report at The HOYA that officials at the University have fired its one year old bulldog mascot, John T. Carroll (aka "J.J.") and plan to remove him from the campus.
The actions caught the student and alumni community by surprise, given that neither the dog's handler nor its student care group were consulted on the decision.
"I did not see this coming," said Neve Schadler (C'15), head of the student-run Jack Crew that walks the dog and helps Rev. Christopher Steck with its upkeep. "If a student were to have been consulted, it would have been me."
"For students not to be consulted in this is really upsetting," Schadler said. "Any big decision, whether it's about Hoya spirit or something else, is part of our experience at Georgetown. It's our home."
Other students told The HOYA that they were not consulted. Joe Fiorico (C'14) president of Hoya Blue, told The HOYA that "the administration was more than happy to have photo ops with the bulldogs and put them in all the welcome videos and have him talk to the tours, but now that totally changes," Fiorica said. "When it's convenient, [the dogs] are the greatest thing that ever happened, but when it's not convenient, they need to go."
Rev. Steck, who has cared for Georgetown's dogs since Rev. Scott Pilarz (C'81) left in 2003, was not consulted in the decision. In a statement, Steck said that "The University's decision is a surprise and a disappointment for me. I genuinely believe that JJ would thrive as the next university mascot."
Within one hour of The HOYA's story, Georgetown officials prepared a brief statement that raised more questions than it answered.
"In April of 2012, our community welcomed Jack, Jr. (J.J.) to Georgetown as mascot-in-training. We housed the young puppy while consulting with trainers and experts to ensure that he was adjusting to life on campus," it reads. "After 15 months of monitoring and training, in consultation with these experts and the breeder, we determined that returning to a home environment is what is best for J.J."
Late Wednesday evening, The HOYA introduced another side to the story: University officials were wary of a lawsuit after the pup allegedly bit a child late last fall, without serious injury. Actual responsibility for the decision continues to be unstated. "Georgetown's Vice President and General Counsel Lisa Brown directed all requests for comment to the Office of Communications, whose staff was unfamiliar with the details of the lawsuit and said they would look into its specifics," it wrote.
A HoyaSaxa.com request to the Office of Communications was not returned as of late Wednesday evening.
"While [students'] perspectives were of course important as well, I think the responsible thing was for us to be consulting people who could tell us unbiased and non-emotionally connected what would be best for J.J."," said University spokesperson Stacy Kerr. "We are committed to really continuing the tradition and I'm hopeful that we can find a dog that will be able to perform those responsibilities."
"Students are really upset," HOYA executive editor Emma Hinchliffe told the Washington Post. "I think people are upset that the news broke before any official word on what really happened or a really clear reason."
In a statement to the Post, chief operating officer for advancement Paul O'Neill (C'86) avoided legal issues, saying that "This is the type of dog that wants to have its own life and live with a family and not have a flashbulb going off in his face every five seconds. He is exuberant, high-energy and he's a great family dog, but then the mascot has to go to work every day. And J.J. didn't want to go to work every day."
J.J. was the sixth bulldog mascot in a line that began in 1962. J.J. served a apprentice role for Jack as the nine year dog was being retired following an ACL injury suffered the previous summer. J.J. made his first appearance on March 9 during the final game vs. Syracuse, popping a pair of balloons at courtside, and no problems had been publicly reported to date.
No timetable was given for a replacement.
Additional coverage follows below:
---
HoyaSaxa.com: The One-Stop Web Site For Hoya Basketball™
An independent web site not affiliated with Georgetown University. All rights reserved.