Another schedule addition: St. Francis College (NY), scheduled for 12 noon on Saturday, November 15.
The Terriers, from the Northeast Conference, were 18-14 last season and will meet Georgetown for only the second time in its history. The Terriers won 77-52 in the 1953-54 season en route to its first ever NIT appearance, but has posted just one NIT appearance since 1963.
Georgetown University announced a second major gift to the John R. Thompson Jr. Intercollegiate Athletics Center this week, a $1 million commitment from Boston Celtics forward Jeff Green (C'12).
"I'm very fortunate to be in a position to give back to the University and to the program that has done so much for me," said Green in a University statement. "The environment created by Coach Thompson III and his staff helped shape me both academically and athletically. Georgetown and Georgetown Basketball is at my core and is part of who I am."
Fundraising is ongoing to complete the $62 million project, which will break ground Sept. 12.

Jay Force (B'62), a three year basketball letterman for Georgetown from 1959-62, died Wednesday at the age of 73.
Force was an all-state basketball player in 1958 from West Orange (NJ) High School, and accepted a scholarship offer to attend Georgetown, joining the likes of Paul Tagliabue, Bob Sharpenter, Jim Carrino, and six others in one of the largest recruiting classes in the program's history.
A 6-0 reserve guard, Force played in 46 games over his college career, averaging 2.4 points per game. Following graduation in 1962, he began a long career as an insurance agent in northern New Jersey.
Force is survived by his wife of 48 years. A Funeral Mass will be held Saturday.
Each year, Beloit College publishes a snapshot of the world of today's college freshmen, a world increasingly different from what others have grown up with. For example, this was the class that learned about 9/11 in kindergarten, or grew up knowing that Hong Kong has always been part of mainland China.
So what is the world of Georgetown among today's freshmen?
Most have no memory of John Thompson as Georgetown's coach.
Some were not yet born when Allen Iverson played at Georgetown.
Georgetown has always played its home games downtown.
Georgetown has always played baseball off-campus.
And, a layman, not a Jesuit, has been president of Georgetown almost their entire lives. The HOYA notes that with this school year, the tenure of Jack DeGioia (C'79, G'95) passed Rev. Timothy Healy, S.J. (1976-1989) as the longest serving president in Georgetown's 225 year history.
From the Roanoke Times, news of an upcoming game this season between Georgetown and Radford (22-13 in 2013-14). No date was announced in the article.
Georgetown won the only prior meeting between the schools, 110-55, in the 2007-08 season.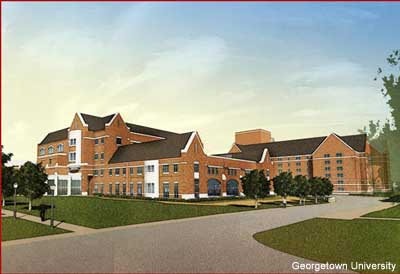 Georgetown University announced a $3.3 million gift in the fundraising for the John R. Thompson Jr. Intercollegiate Athletics Center from Patrick Ewing (C'85) and his agent, David Falk.
"This is a very special opportunity for me to honor a man I love and respect," said Falk at a release posted at GUHoyas.com. "To do it together with Patrick Ewing, who was a dominant figure in both John's basketball program and in my career, makes it even more rewarding."
Ewing, an alumnus and Georgetown parent, told the Washington Post that "Coach Thompson is a very special person in my life. He brought me to Georgetown as a boy and helped me to grow as a man, and I think the gift to the university is something that is very special and very meaningful. It's blessed with Coach Thompson's name on it, so I think that it's something very much worthwhile."
An Instagram photo captured Georgetown's freshmen basketball players en route to the New Student Convocation, but it is the return of a senior that captured its share of attention this weekend.
Center Josh Smith did not play in the Kenner League and did not stay on campus this summer, leading to questions on his fitness heading into his senior season. In an interview with Ben Standig at CSN Washington, coach John Thompson III is taking a wait and see approach in advance of his arrival.
"Honest answer is we'll see this week when he gets here," Thompson said. "It's one thing to get reports, but we'll see when he gets here."
"I think with Josh, people want a number," he continued. "It's not a question of the number. It's a question of can he get up and down the court. Can he defensively move his feet? What the number is, for me that number might be different than what it is for you. Josh has to get to a point where his mobility is not an issue."
"Josh is at the end of his road intercollegiately. He has to continue to change, continue to grow up, and continue to accept responsibility."
Coach Thompson did not confirm press coverage from last week that suggested games with Maryland and Virginia for the 2015-16 season, the latter in the BB&T Classic.
"We're in the BB&T this year," said Thompson. "All other years will be determined later and I definitely have not had any discussion about any other opponents past Towson."
The coach did confirm that freshman center Alonzo (Trey) Mourning is a scholarship recipient and not a walk-on.

Ed Sheffey, whose promising basketball career was ended in two unrelated auto incidents, died Wednesday at George Washington University Hospital fighting a recurrence of cancer.
Sheffey, 36, grew up in the Anacostia neighborhood of Washington DC, where he was an honorable mention All-Met selection in 1994-95. He opted for a fifth year at Oak Hill Academy, averaging 13 points a game and attracting scholarship interest from California, Georgia, Clemson, and Minnesota. Instead, he enrolled at Georgetown, where as a freshman in the fall of 1996 he replaced Allen Iverson in the starting backcourt alongside returning sophomore Victor Page.
Sheffey started 29 of 30 games as a Georgetown freshman, with the only non-start being a game where coach John Thompson started senior walk-on guard Brendan Gaughan in Gaughan's home town of Las Vegas. Despite a dominant season by Page, Sheffey finished second on the team in scoring (8.7 ppg), with eight games in double figures and a team high 104 assists. Sheffey's best game that season was an 18 point effort at St. John's.
With the ill-advised move by Victor Page to pursue a pro basketball career, Sheffey appeared to be the Hoyas' rising backcourt star. In the morning of Aug. 21, 1997, a week before the return of students to campus, Sheffey was observed by police driving 97 mpg in a 40 mpg zone of Landover Road. Sheffey was arrested and charged with possession of marijuana, resisting arrest, fleeing and eluding a police officer, driving without a license, reckless and negligent driving, and speeding. The misdemeanor charges were later dropped to reckless driving and speeding, and Sheffey completed 100 hours of community service.
At the time of the arrest, Sheffey was promptly suspended and later dismissed from the team. It was the first arrest of a Georgetown basketball player in the Thompson era, and a visible stumble for the program--four days earlier, a front page article in the Washington Post publicly questioned the academic direction of the University's flagship program. Sheffey was one of 11 players between 1994 and 1998 that transferred or left Georgetown early, eight of whom were guards.
Following Georgetown, Sheffey did not transfer to a Division I school, suggesting academics may have been an issue. Instead, he found himself at New Mexico Junior College, an open admissions school in Hobbs, NM, that was seen as a stepping stone to attending New Mexico State. Again, an auto incident played a tragic role.
On Jan. 16, 1998, one day after his first class at the college, Sheffey was in a pickup truck driven by a fellow teammate, Cory Reed, when Reed's truck failed to negotiate a curve in a road east of El Paso, TX. Sheffey was thrown from the truck, rendering him comatose for more than a week in an El Paso hospital.
"Mr. Sheffey has what we call a closed-head injury," a nurse told Barker Davis of the Washington Times. "In a closed-head injury, there isn't an actual laceration on the head, but blunt-force impact causes the brain to take quite a beating. Neurologically, you come back very slowly from such an injury. We're getting some responses from Eddie, and his vital signs are stable, but he still hasn't spoken."
Sheffey recovered from his injuries and eventually transferred to Norfolk State in 1999, where head coach Wil Jones offered him a scholarship.
'We're very excited about Ed Sheffey joining our program," Jones told the 1999 Blue Ribbon Yearbook. "He's been away from the game for a while, but the doctors have given him the green light to play and I think he's really going to help us. He's a point guard who knows how to play the game." Norfolk State played Georgetown four times from 2001 to 2004, but Sheffey was nowhere to be found. He never made the Norfolk State roster that fall, and dropped off the sports radar thereafter.
Sheffey moved back to Washington, where he took a job in the procurement division of the Environmental Protection Agency. In 2012, according to his Facebook page, Sheffey underwent four sessions of chemotherapy for cancer, and doctors declared him in remission in late 2013. By May of this year, Sheffey was readmitted to the hospital.
"My doctors and I thought that my previous set of chemotherapy treatments would be my last but my grandmother always told me 'If you want to make God laugh, tell him your plans'", Sheffey wrote. "Now I'm on to my 5th regimen but I ain't got no worries because I've been placed it in His hands."
In a Father's Day post that was among his last entries to the site, he wrote: "I implore all fathers who aren't living up to their responsibility to reevaluate yourselves and begin to treasure the precious gift that has been bestowed upon you. Being the best Dad I can can possibly be is the single most important aspect of my life."
Ed Sheffey is survived by his seven year old son. Services are pending.
From the Washington Post, the University of Maryland has announced that it will guarantee that full and partial scholarship student-athletes be able to attend until they graduate.
"Beginning in November of 2014-15, 'The Maryland Way Guarantee' will provide all incoming student-athletes with a multi-year scholarship guarantee," read a university release. "Pursuant to this program, should a student-athlete exhaust his or her eligibility prior to graduating, Maryland will guarantee his or her aid will continue through graduation. If a student-athlete is injured and unable to compete, Maryland will guarantee his or her aid will continue through graduation. Additionally, Maryland will provide tuition, books and fees for any student-athlete who leaves the institution in good academic standing and returns to complete his or her degree."
"If it's the right thing for you to leave to play professionally, to play with either our national teams or pursue a career, we're going to be committed. We want you back to finish your degree at Maryland, not at some junior college somewhere else," said soccer coach Sasho Cirovski.
An estimate for the number of student-athletes that would use the option was not provided. The school reports that 86 percent of its athletes graduate, based on its GSR score from the NCAA.
Sometimes, it's the messenger.
Earlier this summer, when news of the Big Ten-Big East challenge series for 2015-16 was announced, the chance of Georgetown and Maryland playing in the rotation was discussed. But when ESPN's Andy Katz reported Monday that there was "a chance" the teams could meet, there was a spike in Internet chatter.
Georgetown and Maryland have met just three times in the last 35 years, but not in a regular season series since the 1979-80 season. However, the challenge series will rotate opponents, so if the game is simply a one-off, it doesn't solve the need for an annual series between the schools.
Former Georgetown 2015 verbal commitment Noah Dickerson has verballed to Florida, per CBS Sports.com
"Coach [Billy] Donovan is a great coach," Dickerson said. "He develops players, and he has great character. That's one thing I love about him. He's a great person outside of a coach."
With three new teams in the big east, it may be understandable that not everyone knows each other. After all, some Big East fans wouldn't know the Cintas Center (Xavier) from CenturyLink Center (Creighton). But it was still surprising to see SB Nation's Big East Coast Bias blog rank Verizon Center 11th of 12 arenas because, well, it's hard to get to.
"Its capacity is no doubt large, and when the Hoyas are great, their crowd is as well," writes Christopher Novak. "But when they are not, the place looks desolate and I'm sure it can be very inconvenient to get to, with it being smack dab in the center of Washington, D.C."
Verizon Center is at the confluence of three Metro rail lines (Red, Yellow, Green), with the other three lines (Blue, Orange, Silver) just two blocks west at Metro Center. This is not the era of Capital Centre, after all.
The blog's rating of the arenas:
Madison Square Garden (St. John's)
Hinkle Fieldhouse (Butler)
Cintas Center (Xavier)
The Pavilion (Villanova)
CenturyLink Center (Creighton)
Carnesecca Arena (St. John's)
BMO Harris Bradley Center (Marquette)
Dunkin Donuts Center (Providence)
Wells Fargo Center (Villanova)
Prudential Center (Seton Hall)
Verizon Center (Georgetown)
Allstate Arena (DePaul)
Over the course of the last year, officials at Georgetown University have engaged in a series of lectures and exercises known as "Designing The Future(s) of the University". It's an interesting often provocative exercise that attempts to take on an industry to whom inertia is often a birthright (namely, academia) and ask the kind of questions businesses and non-profits ask regularly, namely, where do we want this place to be in 25 years?
Given the topic, and the participants, the discussions can be pedagogical and, well, a little dry.
"To encourage this type of coaching, universities need to create learning spaces that support meaningful student-faculty collaboration, including design labs and nuanced, interactive online platforms. Panelists identified the distinct value of the university in this new ecosystem of learning—its physicality, the availability of experts—which will be critical in defining the path ahead."
(As I said, dry.)
But many of these same questions, a little more adventurously, can be asked about athletics at Georgetown, or at any college or university. More so than any time in the past century, education is ripe for systemic change, perhaps unseen tioday, and with it, it may affect the way universities look at intercollegiate athletics as part of that environment. Add this uncertainty with the tremors facing the NCAA and how it manages a increasingly professionalized climate of competition, and you have the ingredients for a bumpy ride for college sports over the next quarter century.
Georgetown has never been an easy fit in college sports. It's a school that is best known for basketball, but it is not a basketball school. Its breadth of programs is more akin to the Ivy League than the Big 12, but produces more NBA talent than schools twice its size or its budget. And almost all of this has been built up over just 35 years--not by good fortune, by some shrewd planning that sought, and succeeded in doing what few schools outside of Stanford, Duke, and Notre Dame have done--build an national athletic brand without sacrificing its academic reputation.
Certainly, things can change suddenly. They have before.
More on the subject at The Third Rail blog.
A federal judge ruled Friday that the NCAA is in violation of antitrust law by its restriction on student-athlete renumeration, setting into course a process that will be even more disruptive than the recent wave of conference realignments.
The case, O'Bannon v NCAA (N. Cal. 09-3329) originally challenged the NCAA ban on compensation for student athletes portrayed in video games licensed by the NCAA. In a expansive decision, Judge Claudia Wilken found in favor of the plaintiffs (led by Ed O'Bannon, the 1995 national basketball player of the year at UCLA) and set in course parameters that will change the way every Division I athletic department must account for its players' "name, image, and likeness", hereinafter, if uncomfortably, known as "NIL".
The case originally was due to NCAA players featured in EA Sports video games. ESPN.com reported that EA's internal documents matched video game images with real-life athletes by school, even if not identified as such. "For example, for the NCAA football video game, EA matched: (1) the name of the real student-athlete; (2) his real-life jersey number; (3) his position played; (4) his hometown; (5) his year of eligibility; (6) his athletic abilities (on at least 22 dimensions, including speed, strength, agility, etc.); (7) his physical characteristics (on at least 26 dimensions, including, weight, height, skin color, face geometry, hair style, muscle shape, etc.); and (8) how he dressed for games in real life (on at least 28 dimensions, including shoes, how they taped, braces worn, undershirts, face mask and helmet styles, etc.)."
Lots of hand wringing quickly ensued from the press, from criticism that it went too far to concerns it did not go far enough. Fox Sports called it a "crushing end to amateurism in NCAA athletics", to USA Today saying that "all was not lost."
"Even as she ruled against the NCAA — and against its defenses of amateurism and the integration of academics and athletics — some of her stipulations were friendly to the model," wrote USA Today's George Schroeder.
Few doubt that the major college football schools (some with budgets approaching $175 million) will cover the costs. Not all Division I schools may be able to, however.
"A tipping point came about three years ago when a common-sense stipend ($2,000 per year) was passed under the NCAA's old legislative system," writes Dennis Dodd at CBS Sports.com. Enough of the 351 Division I [schools] rebelled causing an override vote. They couldn't afford $2,000 a year, so that common-sense measure died a cold, heartless death."
"Somewhere along the line, the NCAA lost the discussion. Not just the argument, the entire discussion. If you don't get the "labor force" reference – the NCAA hates it by the way -- then why is autonomy referred to as "student-athlete welfare"? That alone implies there was a lack of welfare. The NCAA is caught somewhere between being benevolent Big Brother and losing its grip on that membership."
Taking the NCAA's own witnesses to task for the numerous holes in the association's definition of amateurism, Wilken established the following key findings:
" The Court will enjoin the NCAA from enforcing any rules or bylaws that would prohibit its member schools and conferences from offering their FBS football or Division I basketball recruits a limited share of the revenues generated from the use of their names, images, and likenesses in addition to a full grant-in-aid", which is defined as not less than the "cost of attendance" scholarship proposed by the Big 10, SEC, Pac-12, ACC, and Big 12 conferences in its "autonomy" efforts.
"The injunction will also prohibit the NCAA from enforcing any rules to prevent its member schools and conferences from offering to deposit a limited share of licensing revenue in trust for their FBS football and Division I basketball recruits, payable when they leave school or their eligibility expires." The NCAA may cap the amounts, but at not less than $5,000 per student per year.
So what does this mean for Georgetown?
Does Georgetown have to pay athletes?
No. The ruling extends "cost of attendance" scholarship support and offers the option to provide licensing rights in trust, but only for I-A football and men's basketball. Note: Since Georgetown plays I-AA football, the only affected class at GU is the men's basketball team, and not before the 2015-16 academic year.

What is "name, image, and likeness"?
If a Georgetown player was featured in a video game, on a poster, or his jersey was sold where it clearly identifies him, this would be an example of name, image, and likeness, as would videos of former games sold by the NCAA, networks, or its member schools.

Can former players share in this settlement?
No. In a separate case, EA Sports settled in May 2014 with O'Bannon and another set of litigants for $40 million, or approximately $4,000 per athlete for all those appearing in various EA video games since 2003. The judge's decision in this case is not retroactive.

What about women's basketball?
Women's basketball was not included. NCAA scholarship changes may extend to women's basketball at some point, but the NIL payments do not apply to other sports because they were not seen by the judge as revenue-gaining.

Can a school offer more to one player than another?
No. The funds are available to all team players equally (scholarship and walk-on) if a school intends to offer it.

Why is the cap important?
Future cases notwithstanding, the cap allows the NCAA to keep the NIL funds from becoming a competitive nightmare. if Kentucky offered all its players $100,000 a year but other schools only $5,000, the impact would be predictable.

Are schools required to offer this?
No. The court allowed schools to set their own standards as long as there was no collusion. For example, it's highly unlikely the Ivy schools will offer such payments, or schools such as the SWAC and MEAC where the budget won't permit it. It is held, however, that many schools who will not offer the funds will be at a competitive disadvantage.

Is Georgetown likely to offer this?
There's been no comment to date, but it's likely to be a conference-wide decision and one which will be competitive with other major conferences.
Preceding the O'Bannon decision, the NCAA voted to allow 65 major college programs (schools of the Big Ten, SEC, Pac-12, ACC, and Big 12 conferences, sometimes referred in the press as the Big Five or Power Five conferences) the ability to expand the definition of an athletic scholarship to include "cost of attendance" as part of the scholarship formula.
"Cost of attendance" refers to those expenses not normally met by an athletic scholarship of tuition, room and board, such as incidental expenses, travel home, and some fees. The cost of attendance identified on Georgetown's web site is approximately $3,812 per undergraduate per year and may range from a few hundred at some state schools to over $4,000 at a school in New York like Fordham or St. John's where the cost of living is much higher.
"There are several winners," writes Roger Groves at Forbes. "The teams in the [Power 5] will get more of the top athletes because they can now offer much more than the remaining 27 Division 1 conferences. Top athletes will make decisions in a way we hope our children will make decisions in the future – doing a pro-con analysis as it relates to him. That is very different than those who want the teenager so the school wins more games."
"The losers are obviously everyone not associated with the Big 5. How are non-5 schools going to compete with the greater TV exposure of the Top-5 matchups when they cannot compete in the games to show their stuff? How can those coaches convince top recruits to attend if they are not offering the full cost of attendance, health benefits, personnel contact and flexible practice hours? It was difficult before. Now it will be virtually impossible."
While the Big East is not part of these five conferences given the autonomy ruling, the option exists for any conference to match the cost of attendance rule if they choose to do so. In a statement seen by many as its affirmation to follow suit, Big East commissioner Val Ackerman said that "Big East schools have a proud and proven tradition of excellence in intercollegiate athletics and are equipped to remain competitive in the pursuit of national championships, particularly in the sport of basketball. Although much of the governance discourse has focused on football, the importance of basketball to the NCAA cannot be overstated, and we look forward to remaining active participants in the new structure as the NCAA enters its next phase."
So what does this mean for Georgetown?
The NCAA autonomy decision is open ended, but the O'Bannon ruling above extends this only to men's basketball. Georgetown or the Big East could agree to cover other sports should the autonomy proposals pass. Cost of attendance grants for men's basketball would amount to $49,556 a year ($3,812 x 13 players), but if all Georgetown scholarship athletes received such an award, the cost would approach $500,000 annually.
With the strength of the Fox Sports 1 contract, The Big East is one of the few conferences below the "Big 5" that can afford to include cost of attendance, certainly for men's and women's basketball, and perhaps other sports as well. For example, the Big East TV contract pays each member schools $4.2 million per year, compared to less than $175,000 at schools in the Atlantic 10, and next to nothing for the Colonial, MAAC, and other smaller Division I conferences. If the conference decided to cover these costs for men's and women's basketball only, the cost per school would be less than $100,000 annually versus as much as $500,000 at some Division I-A schools for football and basketball only. Ohio State has already budgeted cost of attendance grants at approx. $1.65 million annually for all its scholarship athletes across all sports.
"We work on our long-range financial plan all the time," said OSU athletic director Gene Smith. "With our partners, like IMG and our TV partners and Nike, we're in pretty good shape."
As for the 350 other members of Division I, it figures to be a major issue for the foreseeable future.
A triumphant yet humble Alonzo Mourning (C'92) was formally inducted into the Naismith Memorial Basketball Hall of Fame Friday, becoming the fifth member of the program and the second player so honored.
Mourning, 44, was introduced to the stage by former coaches John Thompson and Pat Riley, and had many words of thanks for those along life's journey to the Hall in Springfield, Massachusetts, including fighting off a life threatening kidney condition and returning to win an NBA championship with the Miami Heat.
"When obstacles arise, you change your direction, you do not change your decision to get there," Mourning said. "I stand here as a man of many directions, all of which have led me to this place. The right place."
"I know how to face things head on. I understood the importance of a gameplan. I was accustomed to discipline. When I was diagnosed with kidney disease, not only did I know what I had to do, I was ready to take on this disease and beat it," Mourning said.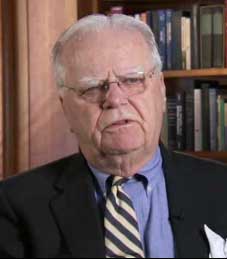 No classroom or dormitory at Georgetown University bears the name of Richard McCooey (C'52). He never needed one. His monument to Georgetown always stood on its own.
"Simply put," wrote the late John Courtin (C'70), former executive director of the Georgetown University Alumni Association, "no individual Georgetown alumnus has done more to improve the human culture of Georgetown University than Richard McCooey."
An entrepreneur by trade and a Hoya at heart, the founder and inspiration behind the 1789, F.Scott's, and the Tombs restaurants passed away Wednesday at the age 83 following surgery. From the moment he set foot on the Hilltop in the fall of 1948, he had a plan. As Yale had Mory's and Princeton the Nassau Inn, his was the dream of a archetypal Georgetown eatery. And like so many dreams at Georgetown, it took a little more time.
"As a freshman, walking along this street, I had that dream," McCooey said in 2012 on the 50th anniversary of his restaurants. "I kept the dream."
Richard McCooey was born in New York, NY in 1930, and attended Brooklyn Prep and Iona Prep before being accepted to Georgetown University. He arrived by train in the fall of 1948, having never seen the campus before. Arriving at the gates, "I looked up, and there's the Healy Building, and thought, gosh, that's impressive."
He threw himself into campus activities: three years on The HOYA, the New York Club, and in 1951, elected as President of the Yard. Following a BSS degree in history, McCooey joined the Air Force, later becoming an advertising account executive before returning to Washington in the late 1950's. McCooey set his sights on a project that had gone unrequited for nearly a decade: a restaurant to serve the students, faculty, and alumni of the school. He worked with Georgetown officials in purchasing three buildings on the corner of 36th and Prospect Streets, variously occupied by two luncheonettes and a laundry, none of which were in McCooey's long term plans.
McCooey had the money to build, but encountered sustained resistance from the Georgetown citizens association, who were bound and determined that no "saloon" would invade their village, much less one from the University. McCooey fought through three years of litigation over the beverage license, a battle that eventually found its way to the DC Circuit Court of Appeals, one step short of the U.S. Supreme Court...all for a beverage license. The plaintiffs had hoped that the 30 year old McCooey would eventually go broke from legal fees, but with the dedicated assistance of Eugene Stewart (C'42), president of the Alumni Association, the fight endured, and by 1962, a license was granted and two restaurants opened: the 1789, named for the founding date of the University, and the Tombs, a play on his nickname in the service: "Bustopher Cat", from the T.S. Eliot poem "Bustopher Jones: The Cat About Town":
Bustopher Jones is not skin and bones--
In fact, he's remarkably fat.
He doesn't haunt pubs--he has eight or nine clubs,
For he's the St. James's street cat...
And just before noon's not a moment too soon
To drop in for a drink at the Drones...
If he looks full of gloom then he's lunched at the Tomb
On cabbage, rice pudding and mutton."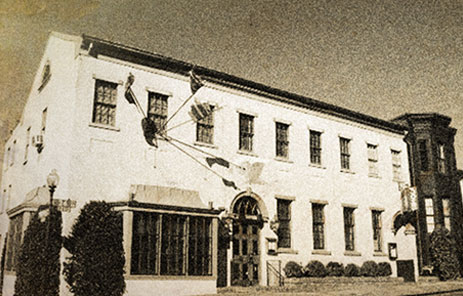 But there was no gloom when 1789 and the Tombs opened in 1962 to immediate and lasting acclaim, even from the very residents which fought with such vigor.
"As one walks contentedly from the coffee shop or spiritedly from the pub, he approaches the main floor dining room." write the HOYA that fall. "It is marked by fine wood in an atmosphere of Virginian good taste. With walls adorned by early American prints, it is at once warm and elegant, intimate and impressive."
Downstairs, crowds gathered nightly amidst a scene largely unchanged today--walls adorned with World War I recruiting posters, newspaper headlines of Georgetown's football glory, and the oars from championship crews. The monthly gathering of the Georgetown Chimes drew such large crowds that when one large crowd swarmed the sidewalks in the early 1960's to wait its turn down the narrow flight of stairs, an errant call to the local police suggested a fight was brewing, hence, the "Chimes Riot" of 1963.
Upstairs, the '89 evolved into one of the city's elite restaurants, while the downstairs Tombs never went out of style in the cultural whirlwinds of the 1960's and 1970's.
"A restaurant is a neutral spot," he told Washingtonian magazine in 2010. "It is where people can forget their troubles. I have a drive to delight people by giving them a magical, tasteful and soul-filled space in which to be."
The Tombs was the inspiration behind "St. Elmo's Fire", a 1985 movie starring Rob Lowe and Demi Moore. But because Georgetown declined requests to shoot the movie on campus, McCooey also passed on the offer, causing the movie about five Georgetown graduates and its favorite neighborhood bar to be shot in the very un-Georgetown setting of College Park, MD.
The rise in the drinking age from 18 to 21 and McCooey's subsequent sale of the restaurants to Clyde's Restaurant Group troubled those who had grown accustomed to its legend and lore, but such fears were short-lived. In the generation since McCooey retired from active ownership to spend time with his wife and travel worldwide as a restaurant consultant, the restaurants have endured and prospered. And even as the venerable Mory's was forced to close for two years in 2008, the corner of 36th and Prospect remains as vital to the Georgetown experience as it has ever been--from orientation to graduation, homecoming to reunions, baptisms to funerals, it remains a stop on any returning Hoya's calendar.
"His vision for what should happen at that crucial corner of University real estate was spot-on," said Courtin. "His execution of the built work: flawless. The research and attention to detail that he most surely poured into this project during the design phase had to have been astounding, clearly, a labor of love. The icon was so well conceived and executed the first time that no one ever had to come along later and improve it. The entire project was done as near to perfection as humanly possible --- right down to the oars over the fireplace --- when first created, which is why it has endured unchanged and has been so much loved by the Georgetown family for half a century now. What Richard wrought has lifted the spirits of generations of Hoyas, and all this the work of one great man. Thank you."
McCooey was a longtime Georgetown volunteer, and previously served on the Board of Governors of the Georgetown University Alumni Association. In 1966, he received the John Carroll Award, the University's highest alumni honor. In a surprise dinner in 2012 held on the 50th anniversary of the restaurants' opening, he added: "I am so appreciative. I did all I wanted to do."
Services are pending. The Tombs took note on its Facebook page: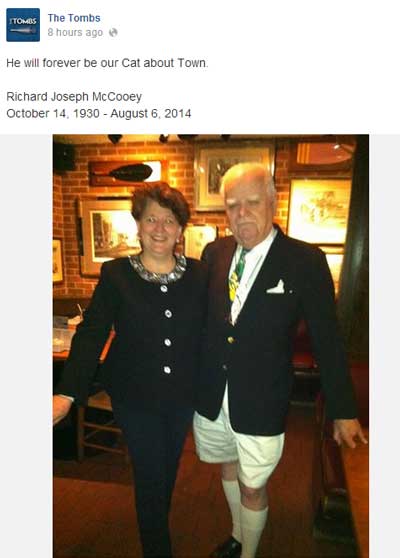 It's one of those "were you there?" moments in Georgetown lore: the night Allen Iverson showed up at McDonough Gym.
Rewind to August 4, 1994. Bill Clinton was in his first term as president, gas was $1.13 a gallon, and Georgetown was preparing to welcome a highly rated basketball recruiting class, including the Missouri player of the year in 6-9 Jahidi White and the Mississippi player of the year in 6-4 Jerry Nichols. But the buzz was about the player that hadn't even come to campus yet.
Four months earlier, Allen Iverson had signed a letter of intent to play at Georgetown following the conclusion of his clemency agreement with the commonwealth of Virginia, which the school only announced after guard Eric Micoud left the team to complete military obligations in his native country of France (leading one Washington Post writer to joke that Thompson had sent one of his players to the French Foreign Legion.)
That afternoon, Iverson was released from his commitment by the state and drove north to Washington DC, having not played any basketball as a condition of his confinement and having not seen action on an organized team since February 1993. The Kenner League was winding up that week, but word got out that he was going to see action. No one knew quite what to expect.
Kenner League veteran Mike Baker recalled that evening in a 2008 article.
"I saw this little kid, I know he was no bigger than 5' 10" and hundred fifty some pounds with a cutoff shirt suddenly throw a bounce pass on the floor and laid the ball up," he recalled. "His hand looked like it was two feet above the rim! It was the elevation and explosion that got my attention, from such a little guy. The second bounce pass he caught it and dunked it. I said to my buddy, that must be Iverson!" He said, "Yep, that's him!"
Said another fan in attendance: "Allen was three steps ahead of everyone else on the floor. Unbelievable. He seemed to know where the ball was going to be and beat his man to the spot either to steal the ball or create for himself. He had a tremendous feel for the game. I'm from New York and have seen a lot of basketball but I hadn't seen anything like that."
In three games over a four day period, Iverson scored 99 points. By the time of his formal debut with the Hoyas in November, scoring 36 points in 23 minutes in an exhibition game, columnist Thomas Boswell summed it up thusly: "I saw Lew Alcindor, Austin Carr, Moses Malone, Alonzo Mourning, Albert King, Ralph Sampson and Patrick Ewing play in high school. Now, I have two memories on my first-impression top shelf. The man who became Kareem Abdul-Jabbar, and Allen Iverson. Ewing is third."
And somehow, at the height of Hoya Paranoia, someone took this video from Iverson's first night in the gym:
The schedule for November's eight team Battle 4 Atlantis has been announced, with Georgetown playing Florida (36-3 in 2013-14) in a first round game Wednesday, Nov. 26. The game will be seen on AXS TV, which is available on some (but not all) cable systems and requires a high definition subscription.
The winner of the game meets the winner of Wisconsin (30-8) vs. Alabama-Birmingham (18-12), with the losers from the first two games play in a consolation bracket game. All teams are guaranteed three games over the three day Thanksgiving period.
Congratulations to 285 Georgetown students honored by the Big East Conference for its All-Academic team, which recognizes students with a 3.0 or higher grade average over the prior academic year.
Notable in its absence: Georgetown men's basketball. In fact, Georgetown is the only Big East men's basketball team without representation on the list:
Creighton: 10
Villanova: 6
Butler: 5
DePaul: 5
Marquette: 4
St. John's: 3
Seton Hall: 3
Xavier: 3
Providence: 2
Georgetown: 0
Yes, it's understood that the time commitments in men's basketball are different that men's track (27 selections on a roster of 39), for example, or men's soccer (24 on a roster of 27). But Georgetown women's basketball, a team with many of the same travel and timing issues, still had six selections on a team of 13. And for those who ask, men's basketball failed to post a selection to the list in 2013-14, either.)
Georgetown can do better in this regard.
---
HoyaSaxa.com: The One-Stop Web Site For Hoya Basketball™
An independent web site not affiliated with Georgetown University. All rights reserved.