Members of the NBA's Indiana Pacers couldn't wait to take to social media Saturday following the wedding of Roy Hibbert (C'08) and Valerie Cooke (B'09). The two met while at Georgetown.
"Congrats Roy and Val on a beautiful wedding!!", wrote Paul George. "I wish you 2 nothing but happiness in the years to come.. Happy I was able to unite with my brothers on a special evening as well as my main man."
Also in the news: race car driver Brendan Gaughan (B'97), who won the Nationwide 300 Saturday.
Following the race, Gaughan revealed his good luck charm--he was wearing a Georgetown basketball jersey under his racing gear.
Posted at GUHoyas.com: the jersey numbers for 2014-15, with a number of changes.
Senior Tyler Adams, who remains medically unable to play, moves to number 00, with Daryl (LJ) Peak taking over Adams' 0 jersey number. Tre Campbell (#1), Isaac Copeland (#11), Paul White (#13), and Alonzo (Trey) Mourning (#33) are also listed. Sophomore Reggie Cameron has moved from #1 to #5 this season.
A review of jersey numbers over the years can be found at the Basketball History section.

In the largest gathering of Georgetown basketball alumni since the 2007 centennial, three generations of alumni and former players gathered Friday to honor head coach John Thompson and participate in the groundbreaking ceremonies for the $62 million John R. Thompson Intercollegiate Athletics Center, on the grounds for the former tennis courts adjacent to McDonough Gymnasium.
Joining the Thompson family, University president Jack DeGioia (C'79, G'95), Board of Directors Chairman Paul Tagliabue (C'62), and various guests and donors were more than 30 former players, a cross section of the Thompson era. Joining the day's events included such players as Eric Floyd, Mike Hancock, Patrick Ewing, Michael Jackson, Michael Graham, Reggie Williams, Mark Tillmon, Dikembe Mutombo, Alonzo Mourning, Othella Harrington, Jahidi White, and many others from the John Thompson III era, including Greg Monroe, Otto Porter, Roy Hibbert, Henry Sims, and Jeff Green.
Also in attendance: Providence coach Ed Cooley, who made an unannounced trip from PC to be at the event, a show of respect for a man who opened doors for a generation of coaches who followed.
A surprise guest was Allen Iverson, making his first public appearance at a Georgetown event since he left for the NBA in 1996.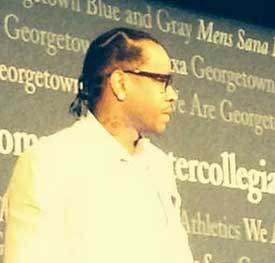 "He means so much to me and means so much to me besides basketball,Ē Iverson, now 39, said in this link to CSN Washington.com, ďbecause he saved my life.Ē
"Itís everything to be here and be a part of this,Ē he said. [John Thompson] is Georgetown. You canít mention Georgetown without mentioning his name...He gave me an opportunity and a chance at life when nobody else would. Iím just glad to be here and be a part of it..."You know where his heart is at. You know what kind of man he is. You know he's devoted to family and people that he love and his craft of being that best that he can be as a coach and a person."
>"Coach Thompson is like a father figure to me,Ē said Mutombo, speaking for many of his fellow alumni. ďIn all my accomplishments in life, I always credit that to Coach Thompson for his leadership, for his guidance, for his advice, for guiding me in the right way and the right direction."
"We are different and better than we were 42 years ago when John Thompson joined this community,Ē said DeGioia. ďJohn provided us with a new way to imagine, to interpret our values and enabled all of us to see possibilities for what we could be that had not been realized before he joined this community.Ē
"It's hard to believe that the athletic facilities at Georgetown today are the same as they were well before John Thompson first came to campus," said Tagliabue. "This project has taken us a long time to bring to fruition. Too long in the eyes of many of us and many of you."
Following remarks by University officials, Thompson, 73, took the podium and shared Tagliabue's view on McDonough Gymnasium, built in 1951.
"Many, many years ago I said of McDonough -- I mean the facilities are terrible to tell you the truth," Thompson said.Probably among the worst the facilities in the whole Big East. "Human resources are what wins," said Thompson "Physical facilities may facilitate winning, but they don't necessarily help you win. If you have the right people supporting you, the right players playing for you...I told my players that at the beginning. If the facilities are supposed to win then there would be a hell of a lot of other people winning championships other than us. That's just a fact, but don't misunderstand what I'm saying. It's a hell of a disadvantage when you don't have facilities."
"I was kidding around that Iíd never see it. Iíve seen blueprints before, and Iíve heard discussions before about it. Now when you see whatís going on now around here, itís just definitely something that makes me feel great itís going to happen."
Thompson recalled a visit to McDonough in 1972, before he was identified as a candidate for the job to replace Jack Magee. The gymnasium had not changed considerably since the days when he played high school games there, and some attitudes had not changed as well. When a man at the gym told him that Georgetown wasn't ready for a black coach, Thompson recalled: "Well thereís one thatís ready for them."
Iverson joined a number of former players for a private shootout in the gum after the event, and later appeared at a dinner at the Ritz-Carlton, making reference to his famous "we're talking about practice" quote as a pro and suggesting Thompson recruited him more for his mother's sake than his. Thompson replied that ""You wouldn't [be here] if your mom hadn't said 'they're gonna kill my son'. That's when I decided to take him," calling Iverson the "prodigal son" of the program.
The $62 million facility, which is still raising funds towards an August 2016 completion, includes practice courts for men's and women's basketball, locker rooms for basketball, lacrosse, and soccer, an academic center, coachesí offices, weight and sports medicine rooms, reception space, and a relocation of the Athletic Hall of Fame currently housed in the Leavey Center. Major gifts have included $4 million from Ed and Irene Shaw, four gifts of $1 million or more from former players, and a nearly $1 million gift from the Board of Governors of the Georgetown University Alumni Association.
The video of the groundbreaking is seen below, additional links follow.
Georgetown University announced its full schedule Tuesday, with no new non-conference additions from the list this site has maintained but setting the dates and times for Big East games and television appearances for all 29 games. Items of note:
The Big East and Fox Sports 1 will again host a five game marathon on New Year's Eve. Georgetown plays at Xavier, at approximately 10:00 pm EST. Other games include St. Johnís at Seton Hall (12 noon), Butler at Villanova (2:30 pm), Marquette at DePaul (5:00 pm), and Creighton at Providence (7:30 pm).
Georgetown's hopes for an attendance boost for Saturday games is unlikely given its schedule. Its four Saturday opponents are Creighton Butler, DePaul, and Seton Hall, which may form the bottom four teams in the pre-season poll when all is said and done. Georgetown's attendance declined 20 percent in the first year of the Big East and may slip further this season without more walk-up weekend traffic.
Three of the Saturday home games come with unusual start times for Verizon Center. The Jan. 3 game versus Creighton will tip off at 4:30 pm, while the Jan. 17 Butler game opens at 5:00 pm and the Feb. 21 game versus DePaul at 8:00 pm, the latest start for a Saturday home game in 23 years.
The early schedule is heavy on Midwestern opponents. The Hoyas will play Creighton and Marquette twice in the month of January, yet will not play Seton Hall until Feb. 10 and St. John's until Feb. 17, with two games against the Redmen over an 11 day span.
For the first time in its history, Georgetown will play no road games in the non-conference. All its pre-Big East games are either at neutral sites or at home.
For the first time in the network's history, not a single Georgetown game will appear on ESPN, with one game (Indiana, Dec. 27) found on ESPN2 while the main network shows the Military Bowl during that time period. Most Georgetown games will be seen on Fox Sports 1, with a Feb. 28 game at St. John's seen on CBS regionally.
Since 1982, Georgetown is the only Big East school to have played the Redmen exclusively at the Garden versus its on-campus facility at Carnesecca Arena (nee Alumni Hall). The last sellout between the teams at MSG was in the 1988-89 season.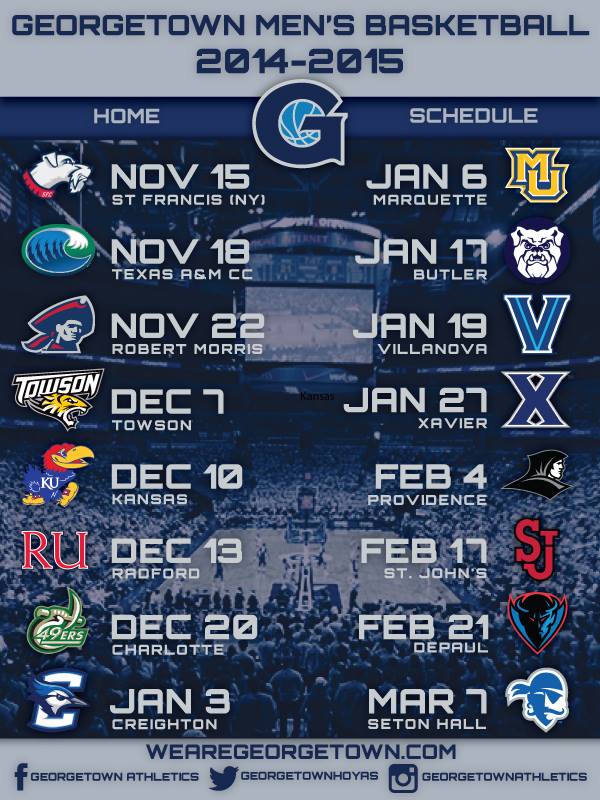 Announced late last night: a #21 ranking for Georgetown University in the annual US News guide to the top colleges nationwide, down slightly from 2013 (#20) and even with the #21 ranking in 2012.
Here are the 2014 totals, with the 2013 rankings in parentheses.
| | | |
| --- | --- | --- |
| 1. Princeton (1) | 8. Penn (7) | 16. Notre Dame (18) |
| 2. Harvard (2) | 10. Cal Tech (10) | 16. Vanderbilt (17) |
| 3. Yale (3) | 11. Dartmouth (10) | 19. Rice (18) |
| 4. Columbia (4) | 12. J. Hopkins (12) | 20. California (20) |
| 4. Stanford (5) | 13. Northwestern (12) | 21. Georgetown (20) |
| 4. Chicago (5) | 14. Wash., MO (14) | 21. Emory (20) |
| 7. MIT (7) | 15. Cornell (16) | 23. Virginia (23) |
| 8. Duke (7) | 16. Brown (14) | 23. UCLA (23) |
Also included at #25: Carnegie-Mellon and Southern California.
Among Big East schools, Marquette (#76, down from #75 in 2013) is the only other university ranked nationally in the top 100. Other nationally classified schools include DePaul (#121, unchanged), Seton Hall (#126, up from #128), and St. John's (#145, up from #152). Villanova, Providence, Creighton, Xavier, and Butler are all ranked in regional categories.
The Big East Conference announced it will partner with Fox Sports to create a digital network for sports not covered in its broadcast contract with Fox, according to the Omaha World Herald.
"Fox television can only pick up so many games," said Creighton athletic director Bruce Rasmussen. "This is a way to get some other events televised."
"Itís the same production process as if you were doing a televised game. It is cheaper to produce, as you donít have the satellite transmission because itís all done through computer lines. Itís more cost-effective."
Two more opponents have been announced to the 2014-15 basketball schedule, as the final list is taking shape in advance of the expected announcement within the next week.
The Hoyas will host Texas A&M-Corpus Christi on November 18, according to that school's web site. The Islanders began Division I play in 1999 and were 18-14 last season, appearing in the College Insider.com Tournament (CIT) last season. This is the first meeting between the schools.
Also added to the slate is North Carolina-Charlotte, scheduled for Dec. 20 at Verizon Center. It's the second visit to Verizon Center that month for the 49ers, who will face George Washington in a Dec. 7 doubleheader, along with Georgetown and Towson.
This is the first meeting between Georgetown and Charlotte since March 14, 1997, where the 49ers upset the Hoyas 79-67 in the first round of the NCAA tournament, the last NCAA game Georgetown played under former coach John Thompson.
A third major gift to the John R. Thompson Jr. Intercollegiate Athletics Center was announced Tuesday, a $1 million commitment from Indiana Pacers center Roy Hibbert (C'08).
"I am deeply indebted to Georgetown University and the basketball program for all they have done for me," Hibbert said in a Georgetown news release. "I put in a lot of hard work to get where I am, but I was given a tremendous amount of guidance both on and off the floor from Coach Thompson III and I wouldn't be here without him."
"We are grateful to Roy for the generosity of his gift to Georgetown. To have both Roy and Jeff give back in this way speaks volumes about their relationship with Coach Thompson III and their love of this University,Ē said athletic director Lee Reed. ďThe past week of gift announcements is unprecedented in college athletics and reaffirms our commitment to providing our student-athletes with an exceptional education that shapes them with values for life on and off the playing field.Ē
---
HoyaSaxa.com: The One-Stop Web Site For Hoya Basketball™
An independent web site not affiliated with Georgetown University. All rights reserved.