| | |
| --- | --- |
| Schedule Previews | 9/29/15/h3> |
From Fansided, a look a the non-conference and conference schedules for the 2015-16 Hoyas, and how writer Paolo Santamaria sees the Hoyas faring in each.
"Though it remains to be seen just how well the team will mesh at the start of the season, I'm confident Georgetown will have all cylinders firing when the Big East season rolls around," he said.
| | |
| --- | --- |
| 1970 Game Film On eBay | 9/29/15 |
From time to time, eBay posts a true collector's item for Georgetown football. Here's a one-of-a-kind: the game film from the Oct. 17, 1970 game between Georgetown and Seton Hall at what is now Carroll Field on the Seton Hall campus. Here's a screen capture from the game, with the Hoyas in the road white jerseys: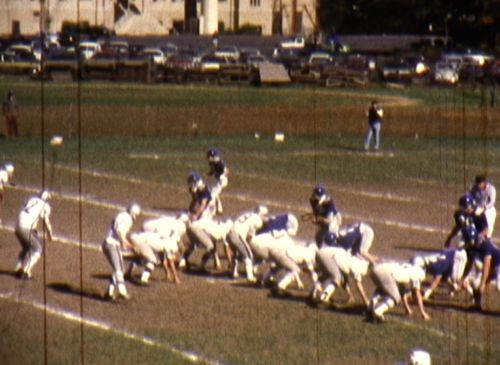 Georgetown won the game 26-15. The Pirates played in Division III through the 1982 season.
| | |
| --- | --- |
| Mutombo Joins Basketball Hall Of Fame | 9/14/15 |
Welcomed by former coach John Thompson and supported by many former players and alumni in attendance, Dikembe Mutombo (I'91, H'10) became the sixth member of the Georgetown basketball family elected to the Basketball Hall of Fame in ceremonies held Friday in Springfield, MA.
"It means a lot to me, to the generation that's coming after me, to the continent of Africa in particular, " Mutombo told Sports Illustrated. To see a son of Congo who came to America with nothing today, sitting on one of the highest platforms in the game of basketball...it means a lot. Really. It's good for my children, my wife, I just wish that my mom and dad were still alive to have seen this. I know they're watching us."
For an international sports such as the NBA, Mutombo was only the third African ever on an NBA roster when he was drafted in 1991, and took note to thank coach Thompson for his development on and off the court.
"Coach has always been a father figure to me," Mutombo said. "There's not too many things in my life that I have done without having a conversation about it with him...He's always been there for me."
Mutombo's speech during the ceremonies is found below:
Additional coverage follows:
The United States Basketball Writers Association will honor former Georgetown coach John Thompson with the inaugural presentation of the Dean Smith Award in ceremonies later this year in Chapel Hill, NC.
"You are hitting me in my soft spot," Thompson said in this USBWA release. "There was no one in basketball I loved or respected more than Dean Smith. There was never anyone like him."
Proceeds from the Nov. 10 awards dinner will benefit the Dean E. Smith Opening Doors Fund, which provides financial assistance for students from low-income households.
Announced late last night: a #21 ranking for Georgetown University in the annual US News guide to the top colleges nationwide, unchanged from 2014.
Here are the 2015 totals, with the 2014 rankings in parentheses.
| | | |
| --- | --- | --- |
| 1. Princeton (1) | 9. Penn (8) | 16. Notre Dame (16) |
| 2. Harvard (2) | 10. Cal Tech (10) | 16. Vanderbilt (16) |
| 3. Yale (3) | 12. Dartmouth (11) | 19. Rice (19) |
| 4. Columbia (4) | 12. J. Hopkins (12) | 20. California (20) |
| 4. Stanford (4) | 14. Northwestern (13) | 21. Georgetown (21) |
| 4. Chicago (4) | 14. Wash., MO (14) | 21. Emory (21) |
| 7. MIT (7) | 15. Cornell (15) | 23. C.Mellon (23) |
| 8. Duke (8) | 16. Brown (16) | 23. UCLA (23) |
Also included at #23: Southern California.
Among Big East schools, Marquette (#86, down from #76 in 2015) is the only other university ranked nationally in the top 100. Other nationally classified schools include DePaul (#123, down from #121), Seton Hall (#123, up from #126), and St. John's (#153, down from #145). Villanova, Providence, Creighton, Xavier, and Butler are all ranked in regional categories.
As discussed yesterday, the Big East announced its schedules Tuesday, completing the Hoyas' 2015-16 slate. Of interest:
Georgetown opens its conference season at DePaul on Wednesday Dec. 30. The conference has moved its New Year's marathon to Jan. 2 to avoid competing against the college bowls and playoff games.
Five games this season will start at 9:00 pm Eastern time, but only one at Verizon Center, vs. Seton Hall (Feb. 17). For a second consecutive year, the Hoyas enjoy a Saturday night home game when they host Providence, an 8:00 pm start on Saturday, Jan. 30.
Once a fixture of the Big East, the conference has only one Monday night game scheduled all season, with the Georgetown facing St. John's on Feb. 8. A month earlier on Jan. 13, Georgetown makes its 35th annual visit to Madison Square Garden to face the Redmen, the only Big East team than has played at MSG in all games against St. John's since 1982.
The Hoyas have six Saturday home games but only two in the month of February: Feb. 20 vs. Xavier, Feb. 27 vs. Butler.
Georgetown ends the regular season with tough road games at Marquette and at Villanova.
Two Big East games will be seen on CBS, two on Fox, with the balance on Fox Sports or, in one instance, the CBS College Sports Network. All games on the schedule are scheduled for TV coverage except the Dec. 22 game with NC-Charlotte, listed as "TBA" on the schedule.
Media web site DCRTV is reporting that Georgetown will be moving its radio broadcasts to WJFK-106.7 this season, ending a 17 year run on WTEM-980.
Earlier this summer, Georgetown entered into a rights agreement with Fox Sports to outsource its corporate sponsorship for radio broadcasts, but it was not reported whether this played a role in the move away from WTEM, an ESPN affiliate owned by Daniel Snyder's Red Zebra Broadcasting. The agreement was last renewed with Red Zebra in 2011.
The transition from WTEM-980 (and secondary station WSPZ-570) will move Hoyas games to the CBS-owned all-sports station in Washington, with secondary coverage expected through WNEW-99.1, when Georgetown games conflict with the Washington Capitals, whose flagship station is also 106.7.
Georgetown has not commented on any change but a pair of Twitter messages did include the following:
The flagship stations for Georgetown basketball since 1960 are as follows:

WGTB-550: 1960-1971
WGTB-90.1: 1971-1974 and 1975-1977
WOOK-1340: 1974-1975
WEAM-1390: 1977-1979
WOL-1450: 1979-1981
WWDC-1260: 1981-1998
WTEM-980: 1998-2015
GUHoyas.com has posted its official 2015-16 roster, with jersey numbers assigned to the freshmen as follows: #15 (Jessie Govan), #24 (Marcus Derrickson) and #32 (Kaleb Johnson). Transfer forward Akoy Agau, eligible after the fall semester, will wear #22.
Senior guard David Allen is not returning to the roster in 2015-16. Allen, who averaged 0.3 points per game over three seasons, did not accompany the team on its travel to Italy. Senior Riyan Williams, with two points in eight minutes of action last season, is the lone walk-on listed on the current roster.

Former Georgetown forward Patrick Ewing Jr. (C'08) was named Tuesday as the team's director of basketball operations, succeeding Othella Harrington (C'96), who served two seasons in the post.
Following his degree from Georgetown, Ewing played briefly with the New Orleans Hornets of the NBA before competing overseas, most recently in Greece and Qatar.
The role of director of basketball operations (DBO) is a non-coaching staff position. While Ewing will be on the bench this season alongside the assistant coaches, by rule he cannot participate in practices. A former DBO at Nebraska summed it up as follows: "My day to day responsibility is to handle all speaking engagements for my head coach, speak with our team's academic advisor to check on grade progress, handle all scheduling needs for visiting teams, schedule our games for upcoming season, monitor our incoming freshmen to make sure they have submitted in all their paperwork for admission and NCAA eligibility requirements...[and] constantly work on team travel, which consists of speaking with the bus companies, hotels, restaurants and other companies associated with our travel."
Welcome back to the Hilltop, Patrick.
Georgetown announced its final remaining non-conference games previously posted here, and also announced its opponent for the 2015 BB&T Classic.
Owing to the 2K Classic being an exempt tournament, the Hoyas were able to add an extra opponent to the schedule, with Monmouth (18-15 in 2014-15) joining NC-Asheville (15-16) as the remaining teams on the non-conference schedule. Georgetown will play seven straight home games beginning Nov. 28, though it is too early to determine if an opponent like Syracuse (Dec. 5) will drive season ticket sales against the remaining six opponents, none of which appeared in the NCAA or NIT last season.
Joining NC-Asheville and NC-Charlotte will be a third North Carolina school, NC-Wilmington (18-14) in the Dec. 12 BB&T Classic. George Washington backed out of the tournament earlier this summer, leaving no apparent doubleheader for what has ironically morphed into a very Georgetown-centric event.
"Georgetown will be a great game for us," said UNCW coach Kevin Keatts. "We will have the opportunity to play in the Verizon Center and the BB&T Classic. It will be a great challenge for our team. Georgetown will give us a chance to play against a top-10 team and, more importantly, play against a style that we'll see from a couple teams in the CAA."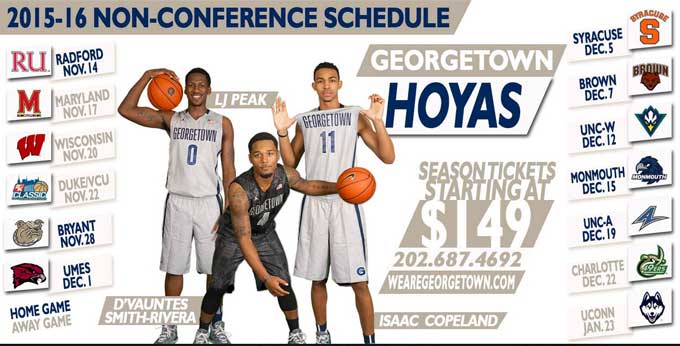 ---
HoyaSaxa.com: The One-Stop Web Site For Hoya Basketball™
An independent web site not affiliated with Georgetown University. All rights reserved.