Reggie Williams (C'87), a member of three Big East title teams and the 1984 NCAA national champions, has been named among six 2008 inductees to the Georgetown University Athletic Hall of Fame.
Williams, 43, was a two time All-Big East selection and was the conference's Player Of Year in 1987. Leading a team of unheralded underclassmen through the 1986-87 season, "Reggie & The Miracles" produced a stunning 29-5 season, which fell just short of the Final Four in an upset loss to Providence in the regional final. A consensus All-American in 1987, Williams set nine school records that season, and remains among the top 10 in career records for points, rebounds and steals.
The fourth pick in the 1987 NBA draft, Williams played 10 seasons in the NBA. He is now retired from basketball and living in the greater Washington area. Williams will be only the fifth modern era basketball player in the Hall, joining Derrick Jackson (1974-78), John Duren (1976-80), Eric Floyd (1978-82), and Patrick Ewing (1981-85).
Joining Williams as new inductees at the Feb. 2 dinner will be Marianne Sullivan (C'87, field hockey), Kevin King (B'85, track), Paul Murphy (C'85, lacrosse), Cathy Taylor (C'89, volleyball), and Joe Lang (track coach 1972-1995, athletic director 1995-2004).
A bio on Williams' years at Georgetown can be found at the Georgetown Basketball History Project, which selected him third among its top 100 players list in 2007. Williams was named to the school's official All-Century team as announced last season.
Former Georgetown assistant Ronny Thompson (C'92) will become an analyst for Comcast's coverage of Washington Wizards and University of Maryland basketball, reports the DCRTV.com media blog.
Thompson resigned this summer after one season as the head coach at Ball State. According to the blog report, "Ronny will lead Wizards postgame coverage on CSN, provide color commentary for Maryland men's basketball games, and host the network's "Holding Court" segment."
"I have tremendous passion for the sport of basketball, especially the teams and players in my hometown of Washington, D.C.," Thompson said in a Comcast news release. "I grew up with this region's teams and am grateful to Comcast SportsNet for giving me the opportunity to sit alongside other knowledgeable analysts and share my enthusiasm with the network's loyal fan base."
The Hoya Hoop Club blog has a new item from former Hoop Club President Michael Karam (F'72, L'76) on the the generations of Georgetown basketball that have passed through McDonough Gymnasium over the years and where this year's seniors fit within that history. Check it out.
Five former Georgetown players will be on NBA rosters on opening day:
Two other names from Georgetown's past will not be on opening day rosters. Former center Jameel Watkins, 30, was among the final cuts by Charlotte last week, as Watkins hoped to make the league for the first time since graduating in 2000. Mike Sweetney, 25, a four year NBA veteran, was cut by Chicago earlier in the summer.
Georgetown is #5 in the preseason USA Today/ESPN college basketball coaches poll released late last week. North Carolina, UCLA, Memphis, and UCLA make up the top four, with Louisville (6), Marquette (12), Pittsburgh (20) and Villanova (25) joining Georgetown on the poll.
Seniors Roy Hibbert and Jonathan Wallace have been among the 50 semifinalists for the 2008 Naismith Award, sponsored by the Atlanta Tip-Off Club.
Other Big East semifinalists include Dominic James (Marquette), David Padgett and Terrance Williams (Louisville), Scottie Reynolds (Villanova), and Hasheem Thabeet (Connecticut).
While Thursday was Media Day for the women's teams, the coaches poll was inadvertently posted in advance to the conference web site. While the link was taken down until Thursday's formal announcement, a number of papers took notice, and a link from the Connecticut Post published the poll, which placed Georgetown last among the 16 schools. The official release can be found at the Big East web site.
The Hoyas finished 13-16 in 2006-07 and has failed to qualify for the Big East tournament in each of the last two seasons. No coverage of the event was posted online from either Washington daily.
Georgetown and Louisville shared honors at the annual Big East media day Wednesday.
The Hoyas and Cardinals each received 8 of 16 first place votes to lead the polls.
Two Georgetown players were selected to the first team all-conference selections, with senior center Roy Hibbert receiving Player of the Year designation. Hibbert was joined on the first team by senior guard Jonathan Wallace.
"I'm happy for him. 'Little Buddy' needs to get some recognition," said Hibbert in the Washington Post link below. "He does so much for everybody. The biggest part of my personal success is that we've had Jon playing well. People don't collapse down on me when Jon is hitting shots."
Here's the rundown of the poll and first team selections, with first place votes in parentheses:
Coaches
1. Georgetown (8)
1. Louisville (8)
3. Marquette
4. Pittsburgh
5. Syracuse
6. Connecticut
7. Villanova
8. Providence
9. Notre Dame
10. W. Virginia
11. DePaul
12. Cincinnati
13. Seton Hall
14. St. John's
15. Rutgers
16. S. Florida
All-Big East
Roy Hibbert, Georgetown, C
Jeff Adrien, Connecticut, F
Jonathan Wallace, Georgetown, G
David Padgett, Louisville, C
Terrence Williams, Louisville, F
Dominic James, Marquette, G
Jerel McNeal, Marquette, G
Geoff McDermott, Providence, F
Kentrell Gransberry, USF, C
Eric Devendorf, Syracuse, G
Scottie Reynolds, Villanova, G

Three schools were picked in both polls to finish out of the 12 team Big East tournament come March for a third consecutive year: Rutgers, Seton Hall, and South Florida. Of these, only Seton Hall has advanced to the Big East tournament in either 2006 or 2007.
So how have previous coaches polls matched the final season standings? Here's a comparison over the past two seasons:
| | | | |
| --- | --- | --- | --- |
| 2005-06 | | 2006-07 | |
| Predicted | Actual | Predicted | Actual |
| 1. Villanova | 1. Connecticut | 1. Pittsburgh | 1.Georgetown |
| 2. Connecticut | 2. Villanova | 2. Georgetown | 2.Pittsburgh |
| 3. Louisville | 3. W. Virginia | 3. Syracuse | 3.Louisville |
| 4. Syracuse | 4. Pittsburgh | 4. Marquette | 4.Notre Dame |
| 5. W. Virginia | 5. Georgetown | 5. Connecticut | 5. Marquette |
| 6. Georgetown | 6. Marquette | 6. Louisville | 6.Syracuse |
| 7. Pittsburgh | 7. Seton Hall | 7. Villanova | 7. W. Virginia |
| 8. Notre Dame | 8. Cincinnati | 8. DePaul | 8. DePaul |
| 9. Cincinnati | 9. Syracuse | 9. St. John's | 9. Villanova |
| 10. St. John's | 10. Rutgers | 10. Providence | 10. Providence |
| 11. DePaul | 11. Louisville | 11. Notre Dame | 11. St. John's |
| 12. Marquette | 12. Notre Dame | 12. W. Virginia | 12.Connecticut |
| 13. Providence | 13. Providence | 13. Cincinnati | 13. Seton Hall |
| 14. Rutgers | 14. DePaul | 14. Rutgers | 14. S. Florida |
| 15. Seton Hall | 15. St. John's | 15. Seton Hall | 15. St. John's |
| 16. S. Florida | 16. S. Florida | 16. S. Florida | 16. Cincinnati |
| | | | |
Links from various dailies follow below. (The Providence Journal is not included because it requires registration to view its stories.)
As the Big East gathered this week at Madison Square Garden, the arena itself is in the news, thanks to an ambitious proposal to relocate the arena to Ninth Avenue by the 2011-12 season.
At issue is the redevelopment of historic Pennsylvania Station, which was demolished to build the Garden in 1968. State officials have proposed nearly $14 billion in construction projects that would redevelop the original Penn Station footprint, one of which would involve moving the Garden to an area behind the Farley Post Office, and developing a new retail/transit center named Moynihan Station in the Farley building. (Amtrak still favors the Penn Station title, named by the Pennsylvania Railroad in 1910.)
Previous discussions to relocate the Garden have failed; if it takes place this time, the Garden name would move in 2011 to its fifth site since 1879. The current site is now the oldest active NBA arena.
Additional coverage follows at the New York Daily News.
The national college basketball preview articles move into high gear over the next few weeks, with Georgetown expected to get its share of pre-season coverage. USA Today has posted a featured interview with senior Roy Hibbert at its web site.
"Stating the obvious," said coach John Thompson III, "Roy is the hub of what we're going to do."
An item in Friday's Baltimore Sun notes that the Mid-Atlantic Sports Network (DirecTV channel 626) will broadcast nine Georgetown games this season, including three non-conference games. Dates for the specific games are announced at this link to the MASN site.
Some additional articles following the verbal commitment of Greg Monroe have been posted online:
Head coach John Thompson III received the Hoyas Unlimited award for outstanding coaching achievement as part of the 21st annual Athletic Recognition Dinner held Saturday at the Leavey Center. Thompson was joined by the four co-captains for the 2007-08 year: Tyler Crawford, Patrick Ewing, Jr., Roy Hibbert, and Jonathan Wallace. Crawford and Wallace helped introduce Thompson to the 240 in attendance to honor captains and MVP's from 27 Georgetown teams.
Finally the new Final Four banners for 1982, 1985, and 2007 debuted at Midnight Madness on Friday. However, there's one missing--someone needs to get the 1943 team banner up on the wall as well.
Greg Monroe, the consensus #1-ranked men's basketball recruit for the high school class of 2008, made a verbal commitment to Georgetown following the school's Midnight Madness event, according to numerous sources.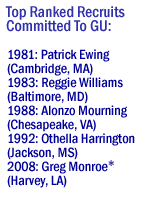 The 6-10 Monroe cancelled planned visits to Duke, Connecticut, and Texas, and committed to Georgetown on Saturday. "He's not going to make any other visits," high school coach Tyron Mouzon told the New Orleans Times-Picayune. "He said he's not going to go anywhere else. He's going to sign during the early signing period."
"Their style of play and style of offense would probably be a very good fit for me," Monroe told the Times-Picayune a few weeks prior to the commitment. "Nobody is confined to the post. You can touch the ball inside and at the top of the key and on the wing. That's appealing to me." Monroe, the Louisiana 4A player of the year as a junior, averaged 19.3 points and 12.2 rebounds last season at Helen Cox HS in Harvey, LA, on the West Bank of the Mississippi across from New Orleans. Monroe is an honors student with a 3.8 GPA, according to his coach.
Monroe was not the only recruit in town for the event. According to the blog Making The Dance, as many as six nationally prominent recruits joined Monroe at the event.
Monroe is the fourth verbal commit to the class of 2008, joining Chris Braswell, Jason Clark, and Henry Sims, each of whom have made prior verbal commitments. Georgetown officials cannot comment on the status of any recruit until a letter of intent has been signed, which is no sooner than mid-November.
Links to additional coverage follows below.
Before a national audience on the ESPN networks, Georgetown kicked off its 101st year of college basketball with a raucous Midnight Madness event, which not only featured player introductions and some shooting drills, but a pair of ceremonies unveiling Jeff Green's pro jersey along the McDonough wall featuring former players that played in the NBA, and unfurled the 2007 Final Four banner.
"It was fun while we were making our run, but now it's time to focus on this year," junior Jessie Sapp told the Washington Times.
A link to photos from the event was posted at the HoyaTalk board, while a video clip from this event is available at ESPN.com
Georgetown is expected to play a pair of closed scrimmages in early November. The season opener is November 10 versus William & Mary.
On Friday, Georgetown announced the addition of 6-6 Bryon Jansen to the team.
Jansen, a junior walk-on, averaged 11.5 points and 10.5 rebounds at Seattle Christian HS in Kent, WA.
Articles in advance of the weekend follow below:
Coach Thompson held the team's annual Media Day Thursday at McDonough Gym. Quotes from coaches and players are linked within the article.
"Jon Wallace is someone I trust," Thompson said. "I trust him with the game, I trust him with the ball in his hands. He's someone who gives you an honest day's effort. I think we've had a pretty good relationship from the beginning."
"You're going to see a lot of improvement from last year to this year," Thompson said about sophomore forward Vernon Macklin. "In general, this group is very driven. This group wants to have success individually and collectively. You're going to see someone who worked extremely hard in the spring."
Finally this quote from the coach: "You have to get lucky to make it as far as we did last year. You have to be even more lucky to win two more games. The confidence our guys had in each other continued to grow and the understanding grew as the year went on. That's not an accident, that's by design. At the end of the year last year, there wasn't any situation where we didn't feel confident in how we were going to win. That's what happens with good groups. Hopefully this year, we'll go through that same progression. Starting Saturday, we'll starting piecing together and learning how this group is going to have some success. If we keep improving by the end of the year, I think we have a chance to be pretty good and hopefully, we've put ourselves in a position where we can get lucky."
With the departure of Jeff Green to the NBA, the Washington Times looks at the potential impact of senior Patrick Ewing Jr. in the lineup.
"Look, nobody's going to replace Jeff Green," Ewing said. "He was one of the best players to ever come through this program, period. It's similar to what I've always said about my father. I'm not my dad, and I'm not Jeff. I don't want to try and become Jeff just like I don't want to try and become my father. That's unrealistic. I just want to be the best player I can be, and if it gets me to where my father was and where Jeff is now, that's great. But as long as I do the things I can do and I'm asked to do as well as I can do them, I feel like I'll be successful in my own right."
Big East games aren't the only contests to watch for this season. This link to the Card Chronicle web site ranks the league's top 50 non-conference games this season, with Georgetown-Memphis topping the list.
Former basketball office staff member Darryl Prue has accepted a position as an assistant coach at Morgan State, according to a MSU press release.
Prue worked with the basketball office from 2004 through 2007.
Men's basketball continues to post gains in graduation rate data, according to the Graduation Success Rate (GSR) results announced Tuesday by the NCAA.
The study tracks the overall GSR by sport for the entering classes from 1996 through 1999. Men's basketball scored a GSR of 82 percent, up from 64 percent in 2006 and 50 percent in 2005. The national average for basketball is 64%.
Here's the recap by sport, with the change from the GSR report in 2006. Current teams in women's golf and softball were not active during the 1997-2000 recruiting period listed, and sports such as men's rowing and co-ed sailing are not counted for NCAA purposes. The GSR rates differs from federal graduation rates over how transfers are counted, with the GSR giving some positive weight to transfers who leave in good standing and otherwise complete their degree elsewhere.
| | | | | | | | |
| --- | --- | --- | --- | --- | --- | --- | --- |
| Men's Sports | 2006 | 2007 | Chg. | Women's Sports | 2006 | 2007 | Chg |
| Baseball | 92 | 92 | --- | Basketball | 90 | 85 | -5 |
| Basketball | 64 | 82 | +18 | CC/Track | 94 | 95 | +1 |
| CC/Track | 100 | 100 | --- | Field Hockey | 100 | 100 | --- |
| Football | 98 | 97 | -1 | Lacrosse | 100 | 100 | --- |
| Golf | 100 | 100 | --- | Soccer | 89 | 89 | --- |
| Lacrosse | 100 | 96 | -4 | Swimming | 100 | 100 | --- |
| Soccer | 100 | 100 | --- | Tennis | 100 | 100 | --- |
| Swimming | 92 | 90 | -2 | Volleyball | 100 | 100 | --- |
| Tennis | 100 | 100 | --- | | | | |
Among Big East schools, Georgetown ranks 4th in basketball graduation rates, up from 6th in 2006 and 9th in 2005.
| | | | |
| --- | --- | --- | --- |
| School | 2006 | 2007 | Chg. |
| 1. Notre Dame | 91 | 91 | --- |
| 2. Villanova | 90 | 89 | -1 |
| 2. Marquette | 80 | 89 | +9 |
| 4. Georgetown | 64 | 82 | +18 |
| 5. Syracuse | 75 | 67 | -8 |
| 5. Providence | 50 | 67 | +17 |
| 7. Seton Hall | 62 | 60 | -2 |
| 8. South Florida | 44 | 58 | +14 |
| 9. Pittsburgh | 57 | 56 | -1 |
| 9. St. John's | 71 | 56 | -15 |
| 11. Cincinnati | 46 | 50 | +4 |
| 11. Rutgers | 42 | 50 | +8 |
| 11. Louisville | 33 | 50 | +17 |
| 14. DePaul | 46 | 36 | -10 |
| 15. West Virginia | 43 | 33 | -11 |
| 16. Connecticut | 30 | 22 | -8 |
Additional coverage follows in this link to the Washington Post, which takes the University of Maryland to task over its basketball rate.
From Rivals.com via Yahoo Sports, a preview of Georgetown as its #10 pick.
"Georgetown's success - for our purposes defined as getting at least as far as last year - hinges on [DaJuan] Summers," writes Bob McClellan. "He has all of the tools to be the next Jeff Green. His transition from "other" starter to go-to guy has to come quickly because Wallace and Hibbert are seniors. If it does, this team could win it all. If not, the Hoyas still will be playing late into March."
As the NBA season is nearing, Seattle fans are beginning to read about Jeff green's potential for that team. The Seattle Post-Intelligencer has a feature on Green's potential impact for the team.
"Unlike Sonics teammate Kevin Durant, who wowed observers with the immediacy of a hip-hop album because of his smooth outside shot, elite ballhandling skills and ability to drive to the basket at will, [Jeff] Green translates as more of a jazz album," writes the paper. "The more you listen (or watch in this case), the more you like him."
Sixteen years removed from his NBA debut, Dikembe Mutombo (SLL'91) announced he is returning for a 17th and final pro season, according to NBA.com.
"As I was getting ready to go home for the summer, I was approached by Hakeem Olajuwon," Mutombo said. "He just lifted me up and told me, 'Don't walk away from the game because you got hurt from the [playoff] loss. You can stay around, even play one more year. Finish up and be happy. Maybe next year can be a better one.' I felt like something very positive came from him."
The eight time NBA All-Star has averaged 10.1 points and 10.6 rebounds over his career; despite his limited time as a backup to Yao Ming last season, the 41 year old Mutombo ranked #1 in the NBA in rebounds per 48 minutes of action.
I'm going to enjoy every second and every minute of my last year in the NBA," Mutombo said. "I hope that my farewell tour will be a nice and memorable one."
Six months removed from the school's first Final Four appearance since 1985, Georgetown University announced an extension of coach John Thompson III's contract through the 2012-13 season.
"Georgetown University appreciates Coach Thompson's leadership of the men's basketball program," said University president Jack DeGioia (C'79, G'95). "Off the court, he is an esteemed all-around contributor to the University community and the City of Washington. He has done an outstanding job and this contract extension means he can continue to build upon the program's tradition of success for many years to come."
"I'm extremely fortunate to have the opportunity to do something that I love to do at a place where I love to do it," Thompson said in a University release. "I truly appreciate the confidence President DeGioia has shown in me and the support we've received from the fans and the university community. This institution provides a great environment for the development of young people as students, as athletes and as complete individuals. I'm glad to be a small part of that and will continue to work as hard as I possibly can while representing Georgetown."
The slow and secretive process involved in contracts at Georgetown led to some concerns in the media that Georgetown was unable (or unwilling) to extend Thompson's contract. CBS Sportsline.com columnist Gary Parrish, writing days before the announcement was finalized, went as far to say that "This is not a smart way for Georgetown to conduct business, but if/when JT3 leaves for another job after this season, at least you'll know why."
In comments after the announcement, Parrish wrote that "I wrote about this issue in June and took the stance that Georgetown was acting dangerously slow in negotiations...a man who takes a team to the Sweet 16 [in 2006] almost always receives a raise and extension within weeks. In Thompson's case, it took months. Thirty months, in fact."
Terms of the contract were not disclosed.
Additional coverage follows below:
In conjunction with the Thompson announcement, Georgetown announced that freshman guard Chris Wright will miss an undetermined amount of early season games following a broken ankle suffered last month.
Wright's recovery will seek to avoid the time lost by former guards RaMell Ross and Matt Causey, where injuries significantly limited their participation in their freshmen seasons.
---
HoyaSaxa.com: The One-Stop Web Site For Hoya Basketball™
An independent web site not affiliated with Georgetown University. All rights reserved.