Hollis Thompson scored 21 points and 10 rebounds as the Georgetown Hoyas fought off a sluggish first half to pull away in a 81-58 win over IUPUI at Verizon Center.
The Jaguars took an early lead in the game and managed to maintain it for much of the first half. Alex Young, the IUPUI forward that was the preseason player of the year candidate in the Summit League, scored IUPUI's first ten points of the game and 16 by halftime, as the Jaguars held a consistent lead through much of the half. For its part, Georgetown seemed to struggle on the margins, with numerous missed layups and close-in shots that were not converted and thus allowed IUPUI to maintain its advantage.
Georgetown retook the lead at 23-22 with 5:42 in the half, but lost it back 23 seconds later with an IUPUI layup, 24-23. The Jaguars continued to lead moving into the final two minutes of the half, whereupon Hollis Thompson scored on consecutive possessions and Georgetown took a narrow 32-31 lead at intermission.
The halftime statistics showed each teams hooting at 40 percent, but Georgetown's side of the ledger had a glaring omission. Senior Jason Clark, averaging 19 points per game heading into the contest, was 0-3 from the field with two of Georgetown's three turnovers. Clark's teammates would need to step up in the second half, and this is exactly what was done.
Defensively, the Hoyas realigned its pursuit of Young, who had 16 points at the half, and attacked the glass at both ends of the floor. Led by consecutive baskets by Nate Lubick, the Hoyas opened the half on a 10-0 run to lead 42-31 in the first four minutes of the second half and held the Jaguars to 2-11 shooting to open the half. Georgetown led by as many as 12, but Clark missed three straight shots in a two minute stretch that saw the Jaguars claw its way back to seven, 51-44, at the 12:27 mark. From that point, the Hoyas began to play much more efficiently, as a pair of Hollis Thompson baskets and a three from Greg Whittington pushed the lead back to 14, and the Hoyas pushed the lead to as many as 24 entering the final moments of the game.

Clark's off night allowed a number of others to take the stage. Markel Starks, who had struggled in parts of the Maui Invitational, responded with a 13 point, four assist effort that helped the Hoyas maintain ball control and limit turnovers (only seven for the game). Nate Lubick, whose shooting had waned in hawaii, struggled early but finished with eight points and a career high 14 rebounds, effectively limiting IUPUI's ability inside to drive a comeback.

Jason Clark finished with seven points on 1-7 shooting, though his free throws helped him to pass the 1,000 point mark in his career in the game.

Defense was the driver for the Hoyas' second half efforts. The Jaguars shot just 30 percent in the second half, 1-10 from three point range. Alex Young was shut out in the second half (0-8) and struggled in the Hoyas defensive sets.


Game attendance,
fewest since 12/20/06


Pts. by IUPUI's Alex Young, 1st half


Pts. by IUPUI's Alex Young, 2nd half


GU assists


GU turnovers


IUPUI bench pts


GU bench pts

"It was just a matter of [Young] couldn't get out on transition, could get a stop, couldn't get going with the ball long enough, because we got rattled," said IUPUI coach Todd Howard in post-game comments. "You cannot necessarily win a game in the first four or five minutes of a half but I think you can lose a game. We haven't been getting off to great starts so tonight I thought in this environment I thought we really answered the bell but the second half, that little unraveling and then its fouls and then its foul trouble and then it's a miss and then it's a block out you know it's the way it goes."
The second half intensity was much more to coach Thompson's expectations.
"Our guys ramped it up a little bit," Thompson said. "You look at Nate with 14 rebounds and Hollis with 10 and that's good. They're capable of doing that and now we're going to expect them to do that more often. A lot of times, so many people, because of what you guys write, define people by baskets and points made, but there are so many other ways whether it's how you're guarding someone, whether you're aggressive on defense, whether you're rebounding, whether you're making a good pass, whether you're setting good screens, whether you're communicating on defense, there are so many ways that you can have a positive impact on a game. "
The Hoyas meet its third Top 25-ranked opponent in five games on Thursday, traveling to #12 Alabama.
Here's the Georgetown half of the box score:

            MIN   2FG   3FG   FT  REB  A  PF  PTS
Starters:                                 
Starks       31   6-8   0-1   1-2   1   4  0   13
Clark        29   1-3   0-4   5-6   3   0  1    7
Thompson     30   7-10  2-5   1-1  10   2  3   21
Lubick       26   2-8   1-1   1-2  14   5  3    8 
Sims         25   6-10  0-0   2-2   4   3  4   14
Reserves:
Adams         1   0-0   0-0   0-0   0   0  0    0
Whittington  16   2-3   1-4   0-0   0   1  3    7
Hopkins       2   1-2   0-0   0-0   0   0  0    2
Porter       26   3-4   0-1   0-0   7   4  2    6
Bowen         2   0-0   1-1   0-0   1   0  1    3
Caprio        1   0-0   0-0   0-0   0   1  0    0
Trawick      13   0-1   0-1   0-0   2   0  1    0
Team Rebounds                       1
DNP: Ayegba 
TOTALS      200 28-49  5-18  10-13 43  20 18   81

Additional links follow below.
As web sites go, Bleacher Report is rarely cited for news on these pages. A fan-driven site more known for its slide shows such as "25 Worst WWE Action Figures Ever" or 10 Bold Trade Ideas For [New York] Yankees", Bleacher Report usually provides little analysis and lots of ad views. This past week, an article titled "Otto Porter Was Born To Be A Star" provided a unique perspective at the Georgetown freshman from someone who saw his development first hand.
Otto (known in Sikeston as "Bubba") isn't the first member of his family to have starred at Scott County Central HS--far from it. The article introduces its readers to Otto, Sr. (Class of 1976), who scored a state record 143 points in four Missouri state championship games. Next followed brothers Melvin (1980), Calvin (1983), and Jerry (1989), followed by cousin Mark (1991). On his mother's side, the Timmons family, have a Scott County tradition as well: Mayfield (1980), Anthony (1983), Dean (1985), and Marcus (1991), part of a tradition that has won 15 men's state titles at Scott County Central. His mother and aunt also won women's titles at Scott County, too.
Bubba Porter passed on the AAU circuit, making him somewhat of an unknown commodity to some recruiters, but staying closer to home was invaluable.
"It's just how the Porter boys were raised," writes author David Heeb. "To these boys, basketball is just a way of life, something that is more religion than sport. Every Sunday afternoon, and several nights per week, you can find Jerry, Otto Sr and several other SCC alumni playing at the old high school gym. All of the younger Porter boys would be in there also, getting beat on by these grown men. I've watched as a 12-year-old Otto Jr tried to guard a 32-year-old man that was a two-time all state player in high school, and if Otto Jr. let him score, he was going to hear about it when he got home. If Otto Jr.'s team lost, and it caused one of the uncles to have to sit out a game...You don't even want to know what happened after that. John Thompson III can't give a tongue lashing like Uncle Jerry, I promise you that."
"He is the most prepared freshman that I've coached," said coach Thompson. "Mentally, physically, emotionally...just being prepared to compete at this level in a way that most freshmen are not. A lot of freshmen don't understand how to compete at this level. But he walked in the door knowing how to compete."
"Bubba knows his dad and Uncle Jerry are watching [ESPN], and he knows if he takes a play off that he will hear all about it when he gets home," added Heeb.
Recommended reading.
The child abuse investigation of Syracuse assistant Bernie Fine took a bizarre turn Sunday, when ESPN broadcast a recorded phone call it had held for eight years that shows Fine's wife, Laurie, telling the accuser she had knowledge of her husband's alleged crimes. Syracuse University fired Fine Sunday evening.
"I believe the university took the appropriate step tonight," said head coach Jim Boeheim in this link to the Syracuse Daily Orange. "What is most important is that this matter be fully investigated and that anyone with information be supported to come forward so that the truth can be found. I deeply regret any statements I made that might have inhibited that from occurring or been insensitive to victims of abuse."
A third accuser has also come forward, although not without additional controversy, according to the Syracuse Post-Standard This accuser, who reported a 2002 incident with Fine to authorities last week, is himself a subject of an abuse investigation in Maine, and the accuser's father claims his son is lying.
Fine, a 1967 Syracuse graduate and former men's basketball team manager, joined Boeheim's staff in 1976 and his 35 year tenure on the Syracuse bench was the most of any current Division I assistant.
Jason Clark scored 26 points and Henry Sims added a career high 24 as the Georgetown Hoyas survived a hard fought battle with #8 Memphis, 91-88, in the 5th place game at the Maui Invitational.
The game had the elements of a track meet, with a quick pace at both ends of the court and little room for error on either side. The Hoyas opened slow, shooting 1 for 5, and the tigers pounced, taking a 9-2 lead in the first three minutes before the Hoyas asserted themselves on defense and began to move inside on the Tigers. Down 9-2, the Hoyas executed a 19-2 run over the following 5:30, begun by consecutive layups from Hollis Thompson and punctuated by back to back threes from Jason Clark. Defensively, Georgetown forced seven turnovers over 12 Memphis possessions.
Memphis answered with some defensive intensity of its own, forcing steals of three consecutive Georgetown possessions and cut the 10 point lead to four at the 8:19 mark. A Henry Sims hook shot extended the lead to as many as nine, 31-22, before the Tigers turned up the speed and scored six points in a 30 second span to bring the score to 31-28. Such was the story of a rapid first half, which Saw Georgetown connect on 11 of its final 15 field goal attempts but still only lead by five, 47-42, thanks to the Tigers shooting 55 percent from the field, including 5-8 from three point range.
The track meet evolved into the chess match in the second half, as each team took its best move and the other responded in kind. With 19:04 to play, the Hoyas led by as many as five, and the Tigers then cut it to two at the 18:43 mark, 49-47. For the next 14 minutes, neither team led by more than two points as the game ebbed and flowed. The Hoyas saw a animated Henry Sims take over the pivot has he had not done in three prior years, mixing up hook shots with drives to the basket, while freshmen Otto Porter was leading the charge on both ends of the court. But as Georgetown zigged, Memphis zagged, shooting 54 percent in the half and never giving an inch. There were 11 ties in the half and Memphis did not retain a lead until the 5:19 mark, when guard Joe Jackson put th Tigers up one, 71-70, and was fouled going in for the basket, 73-70. Jackson missed the free throw, and Georgetown promptly answered with a Sims move inside that scored the basket and picked up the foul, 73-all.
A layup from Memphis' Wesley Witherspoon was matched with another Sims basket inside, 75-75. Jackson was fouled going to the basket at the 2:17 mark, 78-75, but on the next possession, Memphis forward Tariq Black (12 pts., 4 rebounds) fouled out and this opened up the middle for Georgetown. A Clark free throw closed the lead to 78-76, and off a pair of long range Memphis misses, Georgetown gained possession with 34 seconds left. A Henry Sims jumper fell short, but freshman Greg Whittington took advantage of Brown's absence with a top-in which sent the game into overtime, 78-all.
Sims scored the first three Hoya points over the overtime, 81-80, but the Tigers answered with free throws to take the lead back at 82-81. The ebb and flow continued, with Memphis and georgetown trading leads into the final minute. The Tigers led 86-85 when Clark sank Georgetown's firs three pointer since the 11:49 mark to give GU a 88-86, and on a Will Barton miss, Markel Starks extended it to four with free throws, 90-86. Two more Memphis free throws closed the score to 90-88, one of two from Hollis Thompson extended the lead to 91-88, and Memphis' long three point attempt at game's end fell short.
"It was set up for me to act like I was going to get the ball, and Will Barton to come off the flair on the left side of the court," said Memphis' Joe Jackson in post-game remarks. "But we didn't follow through with the game plan to get the three, and it was a hard shot anyway."
Four starters were in double figures: Clark (26), Sims (24), Starts (12), and Thompson (12), while Nate Lubick was held scoreless and was not a factor in the second half. The Hoyas committed only nine turnovers, but even more remarkable were the numbers after halftime: just two in the second half and none in overtime. Defensively, the hoyas held Memphis without a field goal in the overtime, as the Tigers scored all ten of its points from the line.
"The one thing I've stressed to Henry, first thing I told him after the game is don't worry about scoring," said coach John Thompson III. "Just play hard. Play hard and make the hustle plays.",/P>
"Attention to detail, which I think we did today in the latter part of the game at least," said Sims. "[Coach] stresses that a lot too, attention to detail. I think this team just tried their best to do that today."
The two teams meet on Dec. 22 at Verizon Center, marking the first time since the 1968-69 season that Georgetown will meet the same team twice in non-conference regular season action.
Here's the Georgetown half of the box score:

            MIN   2FG   3FG   FT  REB  A  PF  PTS
Starters:                                 
Starks       22   1-2   2-3   4-4   0   1  4   12
Clark        39   5-10  4-7   4-5   3   1  4   26
Thompson     37   5-9   0-0   2-3   7   2  1   12
Lubick       16   0-6   0-0   0-0   4   1  0    0 
Sims         34   10-17 0-0   4-5   8   5  3   24
Reserves:
Whittington  23   1-3   0-2   2-2   2   2  5    4
Porter       40   4-7   2-2   1-2   8   3  1    9
Trawick      14   2-2   0-0   0-0   1   0  2    4
Team Rebounds                       2
DNP: Adams, Hopkins, Bowen, Caprio, Ayegba 
TOTALS      225 28-56  6-14  17-21 35  15 20   91

Additional links follow below.
Sources have told the Associated Press and CBS Sports.com that Brigham Young University will not pursue membership in the Big East conference over an impasse regarding football revenues.
"The Big East has moved on," a source told CBS Sports, adding, "This is one reason why [BYU] did not get into the Big 12. Their general counsel is a piece of work."
BYU left the Mountain West after the 2010-11 season as a football independent, with a home football games televised over BYU-TV, a satellite channel run in conjunction with the school's religious outreach BYU wanted to keep home football games under BYU-TV control, and the Big East wanted those games in the upcoming TV rights negotiations for the conference.
Next up for the Big East may be San Diego State, which has expressed prior interest in serving as a regional rival to Boise State. The Washington Examiner had raised the issue of SDSU's most recent involvement, but late Tuesday night, SDSU officials told the San Diego Union Tribune that there "is nothing new" with the issue.
"It's like everyone standing by the pool, waiting for someone to jump in before everyone else jumps in," a source told CBS' Brett McMurphy.
A flurry of early three pointers and a career high 28 points from Jason Clark helped Georgetown rebound from Monday night's narrow loss to Kansas in a 88-61 win over host school Chaminade at the Maui Invitational.
Never an easy out, Chaminade defeated Oklahoma in last year's tournament but Georgetown's size and defense proved too much for the Division II Silverswords. Early on, the Silverswords stayed close in a volley of three point shooting between the teams. A 12-0 run beginning at the 13:44 mark was keyed by consecutive threes by Hollis Thompson and Otto Porter which saw the Hoyas hit five straight threes to open the game, by comparison, GU missed its first five the night before against Kansas. The Hoyas built a 29-17 lead with 7:57 in the half, and held the 12 point lead into the half.
The three point artillery fell off noticeably in the game (from the 5-5 start, GU finished 2-7 in the first half and was only 2-9 in the second) but the Hoyas defense prevented Chaminade from any second half spurt. Georgetown outscored Chaminade 11-3 to open the half, got the lead up to 19, and it built from there, increasing to as many as 30 into the final minutes.
Clark led all scorers with 28, followed by 17 points and seven rebounds from Otto Porter.
Here's the Georgetown half of the box score:

            MIN   2FG   3FG   FT  REB  A  PF  PTS
Starters:                                 
Starks       23   2-3   1-4   0-0   1   3  0    7
Clark        24   4-5   6-7   2-2   5   1  0   28
Thompson     27   2-4   1-3   2-2   5   2  2    9
Lubick       19   2-3   0-0   1-2   3   3  3    5 
Sims         16   3-4   0-0   2-6   4   7  2    8
Reserves:
Adams         6   1-1   0-0   0-0   2   0  0    2
Whittington  19   1-1   0-1   0-0   4   1  1    2
Hopkins      12   2-4   0-0   0-0   3   0  0    4
Porter       23   4-4   1-4   6-6   7   1  0   17
Bowen         5   0-2   0-0   0-0   0   0  0    0
Caprio        4   0-0   0-0   0-0   1   0  0    0
Trawick      22   3-5   0-2   0-0   2   1  2    6
Team Rebounds                       1
DNP: Ayegba 
TOTALS      200 24-36  9-21  13-18 38  19 10   88

Additional links follow below.
Thomas Robinson had 20 points and 12 rebounds as #14-ranked Kansas held off Georgetown 67-63 in the first round of the Maui Invitational.
Georgetown started slow offensively, missing its first six shots and eight of nine, but defense kept the Hoyas close. Despite scoring only ten points in the first eight minutes, the Hoyas led by as many as three at 12-9, before Kansas answered with a 10-2 run led by Robinson on both ends of the court. Five straight points by Hollis Thompson tied the score at 19, but the Jayhawks pushed the lead to nine at 32-23, forcing four Georgetown fouls and two turnovers without a shot in six possessions.
The Hoyas caught a second wind from the three point line. Georgetown's offensive spacing helped convert four threes in the final 2:44, including a Greg Whittington three to close the lead to 32-29 at the 1:30 mark, and an Otto Porter three in the final second of the half to close to two, 37-35.
For the first half, Georgetown was especially vulnerable in second chance points (Kansas, 8-0), fast break points (Kansas, 7-0), and its man to man defense, and the Jayhawks tried to pick up the volume on all three in the second, leading by as many as five before the Hoyas closed to 44-43. Georgetown ran a quicker tempo offense than many had predicted, keeping close but leading to some ragged exchanges over the next five minutes, with Kansas still up one, 49-48, at the 11:32 mark.
Foul troubles bogged down the game midway in the second half, but the Hoyas could do no better than 3-6 from the line and trailed by four, 55-51. From Otto Porter's basket with 12:32 to play, Georgetown's next field goal did not come until the 4:07 mark, as the Jayhawks successfully defended the back-cut pass and forced GU to play on the perimeter. Still, Georgetown stayed close and KU led only by four, 59-55.
Down six, Jason Clark successfully stopped a three on one Kansas break and answered with a three on Georgetown's next possession, 61-58, but the Hoyas still had no good answers. On its next possession, Kansas' Travis Releford picked up a offensive rebound for the putback, 63-58. The Hoyas got its first give and go of the evening with a Lubick pass to Otto Porter, 63-60 with 2:16 to play.
Back and forth the action went. A missed Releford three was traded back with a quick Georgetown turnover and converted by an Elijah Johnson basket, but Clark answered with a big three from the corner to cut the lead to 65-63 with 30.5 seconds left. Georgetown was unable to get a quick foul and fouled Releford with 15.7 seconds. Releford hit both, 67-63, and on the Hoyas' final possession, Clark missed a long three and Kansas ran out the clock.
Defensively, Kansas shut down the Hoyas inside. Henry Sims was ineffective down low and shot just 2-9 from the game, while Lubick (1-4, 4 pts) took very few shots that were not layups inside, so much so that he was occasionally left unguarded when setting up in the perimeter. KU was effective in forcing the Hoyas to win the game from the outside, where they were promising but ultimately inconsistent. Defense kept the game close, and the shots weren't there at the end for Georgetown, with the Hoyas managing just one jump shot and three field goals overall in the final 12:32 of the game. Clark led all Georgetown scorers with 15 points.
Here's the Georgetown half of the box score:

            MIN   2FG   3FG   FT  REB  A  PF  PTS
Starters:                                 
Starks       25   3-3   0-2   1-2   2   0  0    7
Clark        31   3-7   2-6   3-5   5   1  3   15
Thompson     34   3-4   2-5   2-2   5   0  3   14
Lubick       29   1-2   0-2   2-4   3   2  4    4 
Sims         24   2-9   0-0   4-5   6   1  3    8
Reserves:
Whittington  22   0-2   1-4   0-0   2   1  1    3
Hopkins       3   0-0   0-0   0-0   0   0  3    0
Porter       26   3-4   2-5   0-0   5   1  3   12
Trawick       6   0-0   0-0   0-0   1   0  0    0
Team Rebounds                       1
DNP: Adams, Caprio, Bowen, Ayegba 
TOTALS      200 15-31  7-24  12-18 30   6 20   63

Additional links follow below.
Yes, things have been quiet on the Big East expansion front of late, a little too quiet. With reports of the service academies waffling on joining a conference and Boise State holding out for more western teams, some better news may be on the horizon.
The Salt Lake Tribune is reporting that Brigham Young University is in serious talks to join the Big East as a football only member. BYU left the Mountain West in 2011 to be a football independent and moved its non-football sports to the West Coast Conference, but the move would allow BYU to compete for a BCS-eligible bowl invitation.
"Considering BYU's built-in following around the country, a diverse schedule was part of the school's motivation for leaving the Mountain West," writes the Tribune's Kurt Kragthorpe. "BYU administrators would not be joining the Big East without assurances that the TV platform they've created via independence would come with them. So the Cougars basically would maintain the benefits of independence, while adding the advantages of conference membership."
Meanwhile, the Orlando Sentinel reports that Central Florida expects an announcement from the Big East this week, but no announcements are pending.
Despite returning four starters from last season, the North Carolina-Greensboro Spartans were no match for the Georgetown Hoyas in its final tune-up before the Maui Invitational, as the Hoyas ran away with an 86-45 win before 7,987 at Verizon Center.
The Spartans entered the game averaging ten turnovers per game but surrendered five in the first five minutes and 14 by halftime, giving the Hoyas plenty of opportunities to build an early lead. The Hoyas led 12-2 and 26-8 before proceeding to a 25 point halftime lead, 41-16, led by a combined 30 points from Jason Clark and Hollis Thompson. While the Hoyas did not shoot particularly well in the half (38% FG, 4-14 from three point range), the Spartans managed only 23% shooting and missed nine of ten three point attempts.
The lead ballooned to 31 at 50-19 with 17:38 to play and much of the second half was an opportunity for the freshmen to become acclimated to game time conditions. Freshman center Tyler Adams saw his first action following an pre-season injury, and various combinations of Adams, Jabril Trawick, Greg Whittington, Otto Porter and Mikael Hopkins allowed the Hoyas to extend its lead to 73-32 with 7:48 to play, whereupon the reserves matched points for the remainder of the game.
Georgetown finished at 44% from the field, led by Hollis Thompson's 19 points in 20 minutes of action. An expected matchup with Henry Sims and 6-10 UNCG center Aloysius Henry never materialized, as the Spartans' center fouled out with just two points in 15 minutes of action.
UNCG coach Mike Dement had his share of compliments for the Georgetown freshmen.
"The trip they took over the summer was very rewarding and the guys that were young are not really young anymore because they have that experience," said Dement. "They were all over the place. They knocked down shots, each of the guys."
"We have to get precise, regardless of who's in the game," said coach John Thompson III. "We have to get that precision at both ends of the court regardless of who coach has in and what we have to get quickly."
Quickly, as in one week from Monday, when the Hoyas travel to Lahaina, HI to meet #12 Kansas in the eight team Maui Invitational.
Here's the Georgetown half of the box score:

            MIN   2FG   3FG   FT  REB  A  PF  PTS
Starters:                                 
Starks       18   2-2   2-4   1-2   1   0  3   11
Clark        18   6-11  1-7   2-2   5   3  2   17
Thompson     20   2-4   5-6   0-0   4   1  0   19
Lubick       17   2-2   0-0   2-2   3   1  2    6 
Sims         17   2-3   0-0   4-4   7   3  0    8
Reserves:
Adams         7   0-3   0-0   0-0   1   0  3    0
Whittington  27   1-2   0-4   1-2   6   2  3    3
Hopkins      15   2-4   0-0   2-4   6   1  3    6
Porter       22   0-1   0-3   5-6   4   4  1    5
Bowen        13   1-3   1-2   0-0   0   0  0    5
Caprio        4   0-2   0-0   0-0   2   0  0    0 
Trawick      22   3-3   0-1   0-0   3   2  0    6
Team Rebounds                       1
DNP: Ayegba 
TOTALS      200 21-40  9-27  17-22 43  17 17   86

Additional links follow below.
Senior center Henry Sims scored a career high 19 points as the Georgetown Hoyas opened the 2011-12 season with a 83-54 win over Savannah State at Verizon Center Saturday.
As befits a season opener, both teams started the game closely matched, with Georgetown holding leads of 7-5 and 16-14 in the first 12 minutes of the half. Georgetown was kept close with missed free throws (3-8) and a stronger rebounding game from Savannah. The Tigers closed to three late in the half before Otto Porter and Jason Clark led the Hoyas on a 7-3 finish to lead 32-24 at intermission.

A three pointer, turnover, and layup gave the Tigers a quick boost too open the second half, but it was as close as they would come thereafter. Georgetown called a quick time out, regrouped, and set about to take over the game.

"It was an awful start to the second half," said coach John Thompson III. "we came out and gave up a wide open shot and come down and had a turnover. [We] took a quick time out and had a little conversation."

"A pair of three pointers ignited a 12-2 run and the Hoyas pulled away thereafter, thanks in large part to senior Henry Sims, who scored 13 of his game high 19 points in a run which elevated the lead to 21 in the final 4:42 of the game.

Sims led all scorers with 19 points.


Straight wins
by GU over
MEAC teams


Pts. by GU freshmen


GU blocks


SSU blocks


SSU 3-pt shooting,
1st half


SSU 3-pt shooting,
2nd half


"The effort he gave today, going after rebounds and a couple blocked shots, you know, his points came off effort plays as opposed to worrying about shots," Thompson said.
Statistically speaking, Georgetown turned in a well rounded effort, shooting 66% from the field with 22 assists, but allowed 16 offensive rebounds and five early threes by Savannah State, though the Hoyas successfully shut down the Tigers from outside in the second half, as SSU shot just 1-8 after halftime.
Here's the Georgetown half of the box score:

            MIN   2FG   3FG   FT  REB  A  PF  PTS
Starters:                                 
Starks       25   0-1   2-4   2-2   0   1  2    8
Clark        31   3-4   1-3   0-0   1   2  1    9
Thompson     25   3-5   2-3   1-1   4   4  1   13
Lubick       28   4-6   0-0   0-2   7   5  0    8 
Sims         24   9-11  0-0   1-1   6   5  3   19
Reserves:
Whittington  17   1-1   2-3   0-2   1   0  4    8
Hopkins       9   2-3   0-0   0-0   3   1  0    4
Porter       25   3-4   1-1   0-0   8   1  3    9
Bowen         3   0-0   0-0   0-0   1   1  0    0
Caprio        2   0-0   0-0   0-0   0   1  0    0 
Trawick      11   1-1   0-1   3-4   2   1  3    5
Team Rebounds                       1
DNP: Adams, Ayegba 
TOTALS      200 26-37  8-15   7-12 34  22 17   83

Additional links follow below.
Athletics-based editorials are rare in the campus press, in good times or bad. A bitter editorial in the Georgetown Voice minced few words in criticizing Coach John Thompson III for the team's play in past seasons, despite Georgetown earning two NCAA bids and maintaining a Top 25 ranking for all but one week over the last two seasons.
"While there are plenty of guilty parties in the program's recent struggles, the lion's share of the blame for the Hoyas' underperformance lies with one man: head coach John Thompson III," writes the Voice. "Letting inferior teams dictate the pace and style of play (as Georgetown did in last year's loss to VCU) is suggestive of a poorly coached team."
"Star players like Jeff Green and Greg Monroe have left Georgetown with years of eligibility left," it argues. "Other bench-bound role players, such as Jeremiah Rivers and Vernon Macklin, have transferred away and found success at other programs. Thompson's inability to keep his best players is a testament to his teams' frustrating underperformance and to his own failures as a coach."
The Voice's frustration may be a matter of timing as much as anything else. Today's seniors were eager high school applicants when Jeff Green, Roy Hibbert, and Jonathan Wallace were on the court together, and today's students came to Georgetown expecting their own Final Four memories as a matter of course. What is seen as continued success for those with a longer view is seen very differently from a perspective of only a few years.
"Thompson cannot be given a lifetime pass to underperform," it argues. "If things end poorly for the Hoyas this season, fans must think with their minds, not their hearts, and hold the man in charge responsible for the team's performance."
Beyond the editorial, the Voice has published its basketball preview articles, linked off this week's sports page. (The HOYA preview was posted last week and is available online as well.
It's been 49 years since a Georgetown reserve averaging less than two points a game moved into the starting lineup the following season, but Markel Starks is ready for the challenge, according to the Washington Times.
"Pretty much all the point guards that come here, they have a big question mark," Starks said. "A lot of people don't really know what I can do. They don't know if I'm apt for the position, which is fine. There should be question marks."
Starks averaged nine minutes a game last season behind senior Chris Wright and averaged 1.5 points per game, shooting 28 percent from the field.
"I'm just taking the torch and running with it," Starks said. "It's a new step. A new beginning."
The Times also published its preview of the Hoyas 2011-12 season, offering a cautious tone.
"Ups and downs are a given for a roster with 10 freshmen and sophomores," writes Nathan Fenno. "But if they don't adapt quickly to the rigors of Big East play - or injuries expose depth issues with ballhandlers and in the frontcourt - the season could quickly become an ordeal."
Georgetown's summer trip to China generated more than its share of international headlines, but on Tuesday, fans will be able to see it first-hand.
The MASN sports network will debut a documentary of the visit, "From the Baseline" Tuesday at 7:00 pm EST. A film crew followed the Hoyas and their guests throughout the 11 day trip, including the infamous game with the Bayi Army Rockets team that drew international attention.
"From the Baseline' provides a unique view on the historic trip to China taken by the Georgetown men's basketball team," said associate athletic director Dan "The trip provided intercultural exchange as well as terrific basketball competition and this thrilling video showcases those points. Fans and friends of Georgetown basketball will have a front row seat."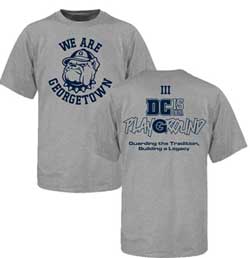 The popular "We Are Georgetown" student t-shirts, colloquially known as the "Kurt Shirt" in honor of its creator, Kurt Muhlbauer (C'07), will see a redesign for the first time since the shirts debuted in the 2004-05 season.
New for 2011-12 will be a design change on the back, where the large "III" will be replaced by the slogan "DC is Our Playground", with the III and a slogan for the 2011-12 season ("Guarding The Tradition, Building A Legacy") in smaller text.

The front-facing design remains the same.
The shirts will be available at the GUHoyas.com online store as well as at Verizon Center during home games.
With reports of hesitancy by the Air Force Academy to join the Big East, conference officials have reached out to Brigham Young University and San Diego State University as possible football-only invites for the pending expansion of the conference.
"There is a push [for BYU]," said Brigham Young football coach Bronco Mendenhall in this link to the Orlando Sentinel. "There are conversations that are in place for the Big East to convince or to have BYU join that conference. I trust our athletic director and president to deal with all that."
The Sentinel reports that all-sports candidates Central Florida, Houston, and Southern Methodist all plan to join in the 2013-14 season, but there is reluctance from Boise State to join without a western travel partner, of which Air Force was the original target.
BYU, a former member of the Mountain West (along with San Diego State), now competes as an independent in football with its remaining sports headquartered in the West Coast Conference.
Three days after West Virginia University sued the Big East Conference in a Morgantown, WV court in an attempt to leave the league early in violation of its bylaws, the conference filed a counter suit Friday in a Providence, RI court.
The Big East's suit relies on bylaws submitted and approved by West Virginia and the 13 other remaining schools (sans Syracuse and Pittsburgh) on Oct. 17, 2011, 11 days before WVU gave notice. The bylaws state that any school which leaves early agrees to remain in the league for 27 months, (i.e., the 2013-14 season) as a means of specific performance. It also refutes the claim made by WVU's suit that accepting part of the $5 million exit fee was a tacit acceptance of WVU's unilateral terms of departure.
"Today's legal action underscores the Big East Conference's stated position that it will vigorously pursue the enforcement of its rights and West Virginia University's obligations under the conference's bylaws which West Virginia formally agreed to and helped construct," said Big East commissioner John Marinatto.
A copy of the filing is found at this link to the Providence Journal.
West Virginia's biggest adversary in the case may not be the multiple venues or the significant legal resources at the Big East's disposal (including the Washington-based firm of Covington & Burling), as much as the time needed to litigate two different cases in two different state courts.
If the Big 12 intends to schedule WVU in Missouri's place across all sports in the 2012-13 academic year, it must have assurances that West Virginia has cleared (or overturned) the legal obligations in front of it, or it risks major scheduling (and TV) disruptions if West Virginia isn't available. (Concurrently, the Big East risks scheduling issues if WVU is or is not available to play in 2012.)
The Big East appears unwilling to accept West Virginia's intent of a quick cash settlement, especially given that some new additions to the Big East would not be available until the fall of 2013. The Big East also has interest in maintaining its BCS rankings through the 2014 season, of which WVU could play a part.
Big 12 officials reiterated that West Virginia's membership is not contingent on the outcome of the lawsuits.
Over the weekend, the University of Missouri gave formal notice it is leaving the Big 12 for the Southeastern Conference in 2012, leaving the Big 12 at nine schools pending West Virginia.
The move will give the SEC 14 schools in the 2012-13 season.
Missouri (4-5 in 2011) figures to struggle in the ultra-competitive SEC, as the school has not won a conference title in football since 1969 and only two since 1945. But these moves aren't about competitiveness.
"Missouri's athletic budget in 2009-10 was roughly half of the $105 million that Florida spent. The world will spin a lot faster where the Tigers are going, just as it will for the Texas Aggies," writes Ivan Maisel at ESPN.com.
"The latest round of realignment will end soon," he continues. "Athletic programs will try to pick up where they left off, businesses that identify themselves as branches of academe, enterprises that pay lip service to the amateur ideal as they pay debt service to maintain the pace in the arms race. If you are a college fan, if you are to continue to enjoy Saturdays, you will understand more clearly the words of gangster Hyman Roth in The Godfather II: "This is the business we have chosen."
When Savannah State arrives in the Nation's Capital for Saturday's season opener, the Tigers will be bringing something new for the ride: momentum.
Horace Broadnax (B'86)'s Tigers won 10 of their final 11 games last season to finish 12-18, and return three starters from that team. The Tigers are also looking to two junior college transfers to provide scoring power as Savannah moves into the Mid-Eastern Athletic Conference this season. Savannah is 0-3 all-time against Georgetown, with the last meeting in the 2009-10 season.
Savannah defeated Division II Armstrong Atlantic 70-64 in an exhibition last week before 4,100 at Tiger Arena, largest home crowd in almost eight years. The Tigers averaged just 943 a game last season.
Having once taken a supporting role aside players such as Greg Monroe, Austin Freeman, and Chris Wright, senior Jason Clark is ready to lead the 2011-12 Hoyas, per this account in the Washington Examiner.
"I kind of feel like the grandfather of the team," said Clark. "I feel like I'm old. But I'm really not. I feel that I do have to take that leadership role. I do have to be there for everybody else. We have a very young team so if there's any questions that anybody needs to ask, I want to be the guy that they come to."
Clark's 66 starts in games from 2008-09 through 2010-11 are nearly twice the amount of starts by the entire team combined, which number just 38 to date between Hollis Thompson, Nate Lubick, and Henry Sims. The remaining ten on the squad have no starts to date.
The Georgetown basketball preview for The HOYA, the annual must-read dating back to the 1957-58 season, was released on Friday.
The HOYA staff compiled 18 different articles for the men's and women's teams, including season previews, 2010-11 recaps, player profiles, and upcoming schedules within the Big East.

Rather than link to each, visit the site and follow the stories there.
The next chapter in the history of the Big East Conference may begin as soon as Friday, as the invitation process to Central Florida, Houston, Southern Methodist, Boise State, Air Force and Navy is expected to begin. No word has been made on how the announcements will be handled.
The Idaho state board of education gave its president permission to pursue another conference, the formal step needed do to begin the process. A similar meeting was previously held at Houston.
Community interest is building in the various cities.
"In terms of significance, UCF getting into the Big East is probably second only to the...NBA coming to Orlando," said former Orange County Mayor Rich Crotty to the Orlando Sentinel.
Some of the schools may be available in 2012, others 2013, depending on exit clauses within their respective conferences. Boise State is likely to wait until 2013 so as not to risk losing $18 million in BCS bowl money should the Broncos advance to one of the four major bowls this season.
West Virginia's issues notwithstanding, Pitt and Syracuse are expected to remain in the conference through the 2013-14 season.
Sports Illustrated.com has chosen Georgetown 10th in its 2011-12 preview for the Big East.
"If the Hoyas want to accelerate the timetable under which they'll stop being known primarily as the team that got into a fight in China this summer, they need to win early and often," writes Seth Davis. "Unfortunately, that will not be easy following the departures of Austin Freeman and Chris Wright."
While the NBA lockout continues, overseas leagues are becoming an option for many pro athletes. For former Georgetown forward Dajuan Summers (ex '09), playing in Europe was not what it was supposed to be.
Summers signed with Siena of the Italian League, and was given a three bedroom home and a car by the team. He left Siena after just four games, citing a variety of circumstances unfamiliar to many NBA stars, according to Yahoo Sports.
"It's like going back to AAU days," Summers said. "That's a major difference from flying private on the team plane. The beds were small and twin sized in the hotel. If you wanted to turn over you actually had to get up, turn yourself over and lay back down. You were like an arm's length from the other person's bed. You felt like you were in the same bed because the rooms were real small."
On the court, Summers played sparingly, and had six points and two rebounds in 12 minutes in his final game with the team.
"I can't put my finger on a precise thing. I guess they thought I wasn't happy," Summers said. "I can't understand why they felt that strongly to make the move they made [to sign me]. I couldn't get a grasp on what they expected from me and how to approach the game with the team."
Tom Fitzpatrick (C'61), a three year letterman on the Georgetown basketball teams of the late 1950's and early 1960's, died Friday in Fairfax, VA at the age of 73.
Raised in Alexandria, Fitzpatrick was recruited to Georgetown by coach Tom Nolan. At the Hilltop, Fitzpatrick joined fellow St. John's College HS teammate Brian Sheehan on a 1958-59 Hoya team that returned only four players from the season before. Fitzpatrick, at just under 6-4, played center and power forward on an undersized team that finished 8-15. Hobbled by a knee injury over his final two seasons, Fitzpatrick averaged 4.2 points and 4.2 rebounds in an abbreviated 31 game career, graduating from the College in 1961.
After Georgetown, Fitzpatrick served in the military and followed with a 29 year career in the FBI before retiring to a new avocation: historian. Fitzpatrick spent over seven years writing a 761 page biography of Maj. Gen. Charles Barrett (1885-1943), a local war hero from Alexandria, who commanded the 3rd Marine Division in World War II. The circumstances of Gen. Barrett's death became a major subject of Fitzpatrick's extensive research.
"The Marine Corps was very sensitive about this because when he died in the Pacific in 1943, the war was in full swing," Fitzpatrick recounted in a 2003 article on the book. "There was great concern at the time that we didn't want the Japanese to find out that the top commander in the South Pacific had died and the circumstances surrounding his death. The Court of Inquiry that was called promptly ruled that his death was accidental, but those findings were classified until 1947. As a result, a lot of rumor surrounded the actual circumstances of his death, and that had never been cleared up in any substantive way. I set out to try and do that and have included the court report in my book."
Fitzpatrick penned a second book in 2010 on the life of four star Gen. Lemuel C. Shepherd, Jr. (1896-1990), who became the first Marine Commandant named to the Joint Chiefs of Staff. Fitzpatrick was also named a member of the Marine Corps Heritage Foundation.
Tom Fitzpatrick is survived by his wife, two children, and seven grandchildren, and will be buried Tuesday at Quantico National Cemetery.
Big East presidents have approved an expansion plan that will add as many as six new schools to the conference, allowing commissioner John Marinatto to issue formal invitations this week.
"Our Presidents voted unanimously to extend invitations to specific institutions, including both football-only and all-sport members to join the Big East Conference," said Marinatto in a conference news release. "I will be speaking to representatives of those schools shortly and look forward to announcing with them their acceptance into the Big East.
"The addition of these members will extend our reach, bring us to exciting new markets, strengthen our status within the BCS, and lay the foundation for possible further expansion, all while maintaining the high quality and standards our Conference is known for."
The vote to expand is eagerly awaited by officials at Central Florida, Houston, and Southern Methodist, which would serve to replace Pitt, Syracuse, and TCU, with Air Force, Navy, and Boise State as football only entrees. CBS Sports.com reports that acceptances could come as early as Friday.
According to the report, UCF, Houston, SMU and Boise Sate are "100 percent" on board, with Boise State still trying to find a home for Olympic sports outside the Big East. Navy has told the other schools they are "definitely in", with Air Force ready to commit when Navy does.
CBS also reports that "The Western contingent of schools also is pushing to bring BYU in as the Big East's 12th-football playing member. If the Cougars, who are currently an independent, are not interested, Temple is the leading candidate as the league's 12th member, sources said." However, the Newark Star-Ledger reports that the presidents tabled discussion of adding a seventh school at this time.
The news release cited above also contains this statement on the West Virginia lawsuit:
"In light of the lawsuit filed by West Virginia yesterday, the Presidents also discussed and confirmed our continuing commitment to enforce the Conference's 27-month notification period for schools choosing to leave. The Conference believes these claims to be wholly without merit and will explore all its legal options to protect its interests and to ensure that West Virginia lives up to its obligations."
The VUHoops.com web site has a legal review of West Virginia University's suit against the Big East conference, and discusses the circumstances that led it to file suit in the county of the university.
"The Big East and WVU could be poised for a very lengthy (and therefore expensive) discovery process and motion practice before the legal issues are ever actually decided," writes Brian Ewart. "The potential expense of that litigation would likely cause most attorneys to advise their client to explore options to settle — a move that would bring the Big East to the bargaining table where WVU can try to negotiate an early exit.
The posting introduces the concept of tortious interference, which suggests the Big East could file a claim against the Big 12. (By contrast, because the ACC has not pushed Pitt or Syracuse to leave early, such a claim would not apply in those cases.)
Overall, "WVU's complaint doesn't have much meat to it. Parts of it require significant evidence to be proven and other claims seem entirely baseless," Ewart adds.
An agreement between Georgetown University and Red Zebra Broadcasting will keep the Hoyas on WTEM-980 for the 2011-12 season, with some games on affiliated WSPZ-570 when conflicts arise with other programming.
We're very happy to continue our relationship with ESPN 980," said associate director of Athletics Dan O'Neil in this link from GUHoyas.com. "The station has been a long-time partner of Georgetown and we're looking forward to enhancements with our pregame radio show and for fans in the Metropolitan area to have the chance to listen to another great season of Georgetown Basketball."
The Hoyas have been broadcast by WTEM and its various affiliates since the 1999-2000 season, and will mark the 38th season for legendary broadcaster Rich Chvotkin, who called his first game for the Hoyas on Nov. 30, 1974. Previous affiliates (since 1960) are as follows:
WGTB-FM (550): 1960-1971, home games
WGTB-AM (90.1): 1971-1974, occasional broadcasts
WOOK-AM (1340): 1974-1975, home and away
WGTB-FM (90.1): 1975-1977, home and away
WEAM-AM (1390): 1977-1979, home and away
WOL-AM (1450): 1979-1981, home and away
WWDC-AM (1260): 1981-1999, home and away
One day before the Big East conference is scheduled to add schools to enhance the stability of the Conference, West Virginia University filed a civil suit demanding that the conference's 27 month waiting period be dissolved so that WVU can immediately join the Big 12 Conference.
In 2003, Big East presidents, including WVU, approved a 27 month exit period to any future departee from the conference, which is why Pitt and Syracuse are expected to remain in the conference through 2014. WVU accepted a bid to the Big 12 on Friday under the promise to join for the 2012 season, not in 2014, and are suing to do so, under the following claims:
The suit alleges a "denigration" of the Big East as a breach of fiduciary duties by commissioner John Marinatto because he allowed Syracuse and Pitt to leave.
The suit alleges the Big East failed to enhance the level of competition for football schools, expansion notwithstanding.
The suit claims that with the departures of Syracuse and Pitt, that eight so-called "basketball schools" have a voting majority that makes the conference no longer "viable". The suit also claims that anything less than a 50/50 split between football and basketball schools is a violation of Marinatto's fiduciary duty, though this is not part of the Big East bylaws.
The suit alleges that since the Big East let Texas Christian University leave without a 27 month wait, so should WVU. (TCU was not a member of the conference at the time it agreed to join the Big East or the Big 12, as it is still a member of the Mountain West Conference, and was not eligible to join the Big East until July 1, 2012.)
West Virginia tendered half of the $5 million exit fee and alleges that by the Big East accepting the check, it constitutes acceptance of WVU to leave immediately.
The filing, posted at WVMetroNews.com, also requests to have a jury in Monongalia County, WV to declare the Conference bylaws invalid, despite the Big East offices being located in Rhode Island and the conference incorporation papers in the District of Columbia. (West Virginia University is located in, and accounts for nearly half the population of, Monongalia County).
"We are disappointed that West Virginia has adopted this strategy and cannot imagine why it believes it does not have to respect and honor the bylaws it agreed to as a member of the Big East," read a statement from commissioner John Marinatto. "Based on an initial review of the lawsuit, it is clear that the allegations and claims in it are false and inaccurate. Certainly there is nothing in it that would justify WVU's not fulfilling its obligations."
Timing is the obvious driver in West Virginia's lawsuit--it promised the Big 12 a 2012 move date which the bylaws of the Big East do not provide. WVU's thinking is that the threat of legal action and a quick settlement gives it an easy win, but the suit could have significant repercussions if the venue is moved or if the Big East files a counter suit for breach of contract. In such a scenario, the Big East could subpoena officials from the Big 12 and ESPN for their role in the matter, a rare and potentially embarrassing view behind the curtain of conference realignment.
A trial date has not been set.
You'll never see it mentioned on ESPN, ESPN2, or the myriad of related properties, but one major media outlet asks the question: is ESPN a monopoly that seeks to drive realignment to suit its purposes, with the breakup of the Big East as a casualty?
"For all that ESPN has lent to the growth of major-college athletics — through on-air exposure and with rights-fees payouts that schools have fed into stadium improvements, luxurious locker rooms and huge contracts for top coaches — there's an undercurrent of concern about the influence of the self-proclaimed Worldwide Leader in Sports," writes USA Today.
"It approaches a monopoly, if it's not literally one," said Stephen Weber, a former member of the NCAA's Division I board of directors. "You always have potential issues when you're in a situation like that."
A further excerpt:
"The network has been a Big East partner since 1979 and, in May, tendered a new nine-year, $1.4 billion offer that the league rejected, preferring to see how much more it could score in an open market that also includes NBC and Fox Sports. ESPN countered by selling the ACC on the two Big East schools as expansion targets, extolling their value to television.

"The ESPN-affiliated ACC is strengthened, and a weakened Big East is left to competing networks or available at reduced cost to ESPN. Several highly placed college athletics officials laid out that scenario for USA Today, none willing to speak publicly because of its sensitivity."
A feature article from the Associated Press discusses the predominance of underclassmen on the 2011-12 Hoyas.
"We've got five freshmen, five sophomores," said sophomore Nate Lubick. "And looking at that on paper, the Big East is the wrong league to have that type of depth in. I'm considered a veteran."
An expected lineup of returnees Markel Starks, Jason Clark, Hollis Thompson, Nate Lubick, and Henry Sims (the only returning players with any significant experience) is just that: an expectation.
"The competition throughout [last] year didn't change that [starting lineup]," said coach John Thompson III. "Whereas this year, it's open. And they know that. … There is, without a doubt, a high level of competition at every spot."
---
HoyaSaxa.com: The One-Stop Web Site For Hoya Basketball™
An independent web site not affiliated with Georgetown University. All rights reserved.