| | |
| --- | --- |
| Georgetown 70, DePaul 58 | 12/30/15 11:30 pm EST |
The Georgetown Hoyas earned a much needed win in its Big East opener, where a 15-2 mid-game run led to a 70-58 win over DePaul before an announced crowd of 5,873 in suburban Rosemont, IL.
Recent meetings with DePaul have been slow, sluggish events and this one started to form: in the first four minutes, Georgetown was 1 for 6 from the field with four fouls, but actually held a 2-1 lead. Georgetown struggled inside and outside, and while a lack of rebounding was to DePaul's early advantage, the Blue Demons were not much better, having shot just 5 for 15. The teams were tied at 12 with 9:21 in the first half.
Baskets by Bradley Hayes and L.J. Peak gave the Hoyas a 17-12 lead, answered by six straight from Billy Garrett to tie the score at 18. Both teams were shooting in the 30 percent range for much of the first half, but it was the last two minutes of the half where the Hoyas saw signs of life, finishing on a 7-2 run.
Tied at 25, a Cameron three, a hook shot from Hayes, and a defensive stop from Hayes that opened the door for DSR to drive for the basket with 32 seconds remaining put the Hoyas up 32-25. A pair of late free throws by DePaul closed the gap to 32-27 at halftime. Georgetown shot 41 percent from the field and 41% from three (5-12), but just one offensive rebound limited any second chance opportunities.
The 7-2 run to end the first half continued after intermission. Threes by Marcus Derrickson and Isaac Copeland keyed an 8-0 run that extended Georgetown's lead to 40-27 two minutes into the half. Georgetown led by as many as 15 before DePaul closed to nine at the 9:41 mark but were held in check following free throws by Jessie Govan and D'Vauntes Smith-Rivera, with a free throw at the 8:42 mark as DSR's first points of the half.
Fouls piled up for both teams and DePaul closed to eight, 55-47, with 6:15 to play. Given that the Hoyas had scored just one field goal since the 13:05 mark, an eight point lead was about as good as they could expect, but needed someone to wake up the offense. A three from Copeland and free throws by L.J. Peak extended the lead to 11 with 4:09 to play, 60-49, but DePaul could not close at the line. The Demons missed an unsightly seven of 11 free throws in the final six minutes that could have significantly tightened the game. For Georgetown, the Hoyas hit nine of its final 10 to close out the evening.
D'Vauntes Smith Rivera had just three free throws after halftime but led the Hoyas with 15 points, along with 15 from Isaac Copeland. Georgetown got a strong second half from L.J. Peak, who was benched to start the game but finished with 14 points. Three threes from Reggie Cameron also proved pivotal in key moments, while GU got good interior defense by Hayes and Jessie Govan in the second half.
GU shot just 38 percent from the floor but its 18-23 effort at the line was strong; by contrast, DePaul was just 13-24, and that was the difference down the stretch.
The Hoyas' numbers were not much better than their results versus the UNC's Asheville and Charlotte, but fortunately, they were playing DePaul. Next up: a Marquette team who was stunned in a 83-63 home loss to Seton Hall earlier today. The Warriors (10-3) were 1 for 11 from three point range and were outrebounded 48-30 in the game.
The Georgetown half of the box score:

            MIN   2FG   3FG   FT  REB  A  PF  PTS
Starters:                                 
Campbell     18   0-1   0-2   0-0   0   2  0    0
Smith-Rivera 33   3-10  2-2   3-5   4   5  2   15
Copeland     34   3-6   2-4   3-4   6   3  1   15
Derrickson   12   0-1   1-3   1-2   2   0  4    4
Hayes        24   2-6   0-0   4-4   6   2  4    8
Reserves:
Peak         26   2-4   2-4   2-2   4   2  4   14
Cameron      32   0-0   3-7   0-0   4   1  3    9
Govan        16   1-3   0-1   2-2   5   0  2    4
Williams      1   0-0   0-0   0-0   0   0  0    0
Johnson       5   0-1   0-0   1-2   1   0  2    1
Mourning      1   0-0   0-0   0-0   0   0  0    0
Team Rebounds                       4
DNP: White 
TOTALS      200 11-32 10-23  18-23  37  15 22   70

Additional coverage follows below. Neither the Chicago Sun-Times nor Washington Post posted stories online as of Thursday morning, while the Chicago Tribune used the Associated Press account.
| | |
| --- | --- |
| Rocco E. Porreco (1920-2015) | 12/28/15 |
Off the sports pages, we note the passing of Rocco Porreco, 95, a retired philosophy professor and former dean of the Graduate School at Georgetown. Like many of his generation, a closer look reveals a life story much more powerful than any of his students would have thought.
According to an obituary in the Washington Post, Porreco entered the seminary after high school, but joined the U.S. Army at the onset of World War II. He fought under Gen. George S. Patton, earning both the Silver Star and Bronze Star as a combat medic. After the War, he served as an intelligence analyst for the Department of State, pursued his Ph.D. in philosophy and taught at Georgetown for 32 years, where he helped found the Georgetown University Community Action Program (GUCAP) as well as the Community Scholars Program for inner-city youth.
Porreco was introduced to Marie Daly, an Army nurse, in 1946. They were engaged a week later, and spent 58 years as husband and wife until her death, raising five children. The obituary then tells the story of Porreco's final years, with the good humor and quiet resolve that students came to know about him:
Rocco described the next phase of his life, from 2005-2015 as "reinventing himself", and he did this by becoming a tireless volunteer, dedicating himself as a Eucharistic Minister, endlessly identifying additional people to add to his ministry - those unable to get to church, or the sick, visiting and comforting them, discussing religion and the inspiration that can be drawn from studying the lives of the saints. He was also a volunteer for St. Martin's Pantry, picking up and delivering food for the hungry. Even at age 95, he was robust, chopping firewood, constantly opening his home to relatives and visitors and cooking fabulous dinners, for as many as 17 at a time. He loved life, and was a natural teacher, mentor, counselor, guide and the most generous and truest of friends. If you told him you liked his hat, he'd remove it and give it to you. Up until December 13, when he broke his hip, he was a 95 year old who looked to be in his 70s who wanted nothing more than to be out and about, touching lives and doing something to make someone else happy."
Services are scheduled for Wednesday in Potomac, MD.
Statistics on the non-conference schedule to date suggest a Georgetown team that is struggling to find its way this season.
| | | | |
| --- | --- | --- | --- |
| | | National Rank | Big East Rank |
| Statistic | Totals | (Out of 350) | (Out of 10) |
| Scoring Offense | 74.5 | 158th | 7th |
| Scoring Defense | 69.3 | 139th | 5th |
| Scoring Margin | 5.2 | 135th | 8th |
| Field-Goal Percentage | 44.8 | 139th | 9th |
| Field-Goal Percentage Defense | 38.7 | 41st | 2nd |
| Three-Point Field Goals Per Game | 7.7 | 106th | 3rd |
| Three-Point Field-Goal Percentage | 34.6 | 148th | 6th |
| Free-Throw Percentage | 73.6 | 40th | 2nd |
| Rebound Margin | 1.6 | 160th | 8th |
| Assists Per Game | 14.4 | 119th | 6th |
| Blocked Shots Per Game | 4.7 | 74th | 3rd |
| Steals Per Game | 5.3 | 272nd | 8th |
| Turnover Margin | -1.2 | 245th | 8th |
| Assist Turnover Ratio | 1.05 | 170th | 7th |
| | |
| --- | --- |
| By The Rules: Can Georgetown Adjust? | 12/27/15 |
"Freedom of movement has become the new go-to term in our sport and it hasn't helped Georgetown," writes Jon Rothstein of CBS Sports.com.
"The Hoyas have struggled against guards with burst that could get into the paint and attack the defense," he writes. "This has created driving lanes where opposing back courts could penetrate and kick to find open shooters and that's magnified Georgetown's lack of ability to guard the 3-point line. In the Hoyas' last four games against UNC-Wilmington, Radford, UNC Asheville, and Charlotte they've given up a combined 33 made 3-point shots."
| | |
| --- | --- |
| RPI Watch: Dec. 27 | 12/27/15 |
With the opening of Big East play this week, here's a snapshot of where the teams stand in terms of RPI ratings entering the tournament. A team in the top 40 is among the range generally chosen for NCAA at-large selection team at the end of the season. A team in the top 55 is on, or near, the NCAA bubble for teams hoping for an at-large bid.
Lots of changes ahead, of course, but Georgetown is staring at its lowest RPI since the index was put into wide circulation, and WarrenNolan.com has a dire prediction based strictly on current numbers: a 5-13 Big East record, would would put the Hoyas on the edge of a 20-loss season entering the conference tournament.
Here's the early RPI index:
Team
W-L
RPI
vs. RPI Top 50
Xavier
12-0
1
3-0
Villanova
9-2
5
1-2
Providence
12-1
15
1-1
Butler
10-1
23
1-1
Seton Hall
10-2
45
1-1
DePaul
6-6
124
1-2
Creighton
8-4
135
0-2
Georgetown
7-5
145
0-3
Marquette
10-2
159
1-1
St. John's
6-6
205
0-2
| | |
| --- | --- |
| Hayes Featured In Sports Illustrated | 12/23/15 |
After three years where he saw little to no action, senior center Bradley Hayes is one of the major stories of the 2015-16 Georgetown Hoyas, and Sports Illustrated has a feature this week on why Hayes opted to stay at Georgetown rather than follow the lead of others who transfer over playing time.
"Not for a minute did I think of transferring," Hayes said. "Loyalty plays a major part in my life. Coach Thompson took a chance on a guy nobody heard of."
"My father always taught me that when something isn't working your way, you don't quit. You make it work," he said.
After scoring all of 30 points in his first three seasons, Hayes is averaging 10 points and eight rebounds a game as a senior in 2015-16.
"He's got an old soul," said coach John Thompson III. "He's comfortable with who he is. I think he has a realistic view of himself and how he relates to the world. A lot of high school and college basketball players don't have that."
| | |
| --- | --- |
| Georgetown 62, UNC-Charlotte 59 | 12/22/15 |
It wasn't quite a Festivus miracle, but Georgetown will take it.
In the midst of one its worst offensive outputs of the season, with its starting guards shooting a combined 5 for 19 against a team ranked 338th nationally in field goal defense, the fading Georgetown Hoyas found an unexpected L.J. Peak three pointer with 2:14 remaining to avert a loss against a 2-8 UNC-Charlotte team.
The three pointer catapulted the Hoyas to a 62-59 win, a second half battle of attrition before 6,448 at Time Warner Cable Arena in Charlotte. The teams combined for 24 turnovers, 38 fouls, and 70 missed shots in a 40 minute effort.
Charlotte led early on the strength of outside shooting from guard Braxton Ogubueze, but early fouls sent Ogubueze to the bench and gave Georgetown its best effort of the game; a 14-4 run midway in the first half. Baskets by Marcus Derrickson and Isaac Copeland were eclipsed by back to back three pointers by Tre Campbell that gave Georgetown a 19-12 lead with 9:24 to halftime, and a Reggie Cameron three at the 5:51 mark to go up 11, 27-16. Free throws pushed the lead to 14 at the 4:39 mark to halftime, but the Hoyas' scoring was already in the locker room. Back to back threes from Ogubueze led the 49ers on a 12-2 run to intermission. A layup by Isaac Copeland at the 1:12 mark ended a run of six straight misses dating back to the Cameron three, and the Hoyas stumbled into the break with a three point lead, 32-29.
The second half was slow and painful. Copeland started the action with a layup nine seconds into the half, but once Peak returned with a wild 28 foot attempt that sailed wide, the Hoyas had lost its shooting touch. Four straight misses, two each by Peak and D'Vauntes Smith-Rivera, were halted with a Marcus Derrickson three at the 17:51 mark, 37-35. A Copeland jumper a minute later was Georgetown's 14th field goal of the game: the team would combine for only four more baskets for the remainder of the game.
The 49ers answered from outside with threes from Ogubueze and Andrien White to take a 44-43 lead midway in the half. Guard Jon White was sent to the foul line at the 8:52 mark up two, 49-47, but missed both free throws, a continuing pattern that would prove fatal for the 49ers' hopes this evening. Peak answered on the next series with free throws to tie the score, 49-49, but neither team could escape the others' struggles.
A Derrickson three at the 7:13 mark gave the Hoyas a 52-49 lead, but the 49ers answered with free throws and a Jon White jumper with 4:17 left to tie the score at 53, and Davis was sent to the line with 3:30 left. Davis missed on one of two, where Smith-Rivera and Copeland reciprocated with long range miscues of their own.
Following a Georgetown timeout with 2:22 remaining, Copeland found Peak open from outside. Peak had missed all seven attempts in the game, but his 24 foot basket with 2:14 regained the lead. After Davis missed a layup on the other end, it was Smith-Rivera's turn, driving to the basket for a basket and foul to put the Hoyas up five, 59-54.
Charlotte answered quickly, 59-56, while Smith-Rivera was caught traveling to the basket with 45 seconds remaining. In a series which could have evened the game, an attempted steal by Smith-Rivera was awarded to Georgetown on the alternate possession rule. Free throws from Derrickson and Cameron proved the margin of victory as Davis sank a three at the buzzer to close to 62-59.
It bears repeating: the Hoyas missed 13 of its final 18 shots and finished at 34 percent shooting against a team ranked in the bottom 15 nationally in this statistic. No Big East team will be as generous.
"All the ills of our world have not been solved but to make plays when we needed to come out of here with a win feels more good than bad," said coach John Thompson III in post-game comments.
The game was won-- or more precisely, lost-- by Charlotte's poor free throw shooting, going just 10 for 20 from the line versus 18 for 22 for Georgetown. The 49ers missed three front ends of one and one opportunities at the line, any of which could have turned the game. Georgetown collected just eight assists and had just ten two point baskets for the entire evening.
The win may have lessened the airing of grievances by fans over the team's baffling play, but if the poor play continues next week, the question will not be whether the Hoyas can qualify for the NCAA tournament, but whether any post-season at all awaits them. With four Top 25 teams within the conference and four other teams with better records entering conference play, the must-win games begin as soon as next week.
The Georgetown half of the box score:

            MIN   2FG   3FG   FT  REB  A  PF  PTS
Starters:                                 
Smith-Rivera 29   4-6   0-4   3-4   3   2  2   11
Peak         26   0-6   1-3   7-8   2   1  3   10
Copeland     31   5-8   0-4   2-2   8   2  0   12
Derrickson   23   0-2   3-3   1-2   4   0  3   10
Hayes        29   1-3   0-0   0-0  10   2  4    2
Reserves:
Campbell     22   0-1   2-4   0-0   3   1  1    6
Cameron      22   0-2   2-2   4-4   3   0  1   10
White         3   0-1   0-0   1-2   0   0  0    1
Govan        10   0-3   0-1   0-0   6   0  4    0
Williams      1   0-0   0-0   0-0   0   0  1    0
Johnson       3   0-0   0-0   0-0   0   0  0    0
Mourning      2   0-0   0-0   0-0   1   0  1    0
Team Rebounds                       3
TOTALS      200  10-32 8-21  18-22 43   8 19   62

Additional coverage follows below:
| | |
| --- | --- |
| UNC-Asheville 79, Georgetown 73 | 12/19/15 |
"We're in a bad place right now." --John Thompson III
Another home game, another lethargic effort by the Georgetown Hoyas, a ship grounded after dropping a 79-73 setback to NC-Asheville, only the Bulldogs' second ever win over a Big East school.
UNCA started the game missing its first four shot attempts but quickly turned the corner on a slow-footed Hoya defense that looked as motivated as they did in the Monmouth game. From a 9-5 Georgetown lead, the Bulldogs answered with runs of 8-0 and 7-2 to take a seven point lead, 20-13, midway in the first half. Early foul trouble on L.J. Peak and poor shooting by D'Vauntes Smith-Rivera rendered the Hoya offense inert, but the defensive lapses were particularly evident early. A move to the bench brought some life to the Hoyas, where Kaleb Johnson and Paul White closed the lead down the stretch to halftime, as the Hoyas closed to two points at the half, 41-39, despite having no fast break points and allowing the Bulldogs to shoot 45 percent from the field and 45 percent (5-11) from three point range.
Despite a run of futility from outside in the first half, things appeared to brighten when a dunk and layup regained the lead for Georgetown and it appeared GU would begin to take advantage inside, but hopes were fleeting. Just as he had done to gain the lead in the fist half, a three pointer from Kevin Vannatta regained it for UNCA, 47-45, and the Bulldogs never trailed thereafter. From a one point game at the 14 minute mark, UNCA answered with two three pointers and a layup to go up seven, 59-52. Baskets by Johnson and Marcus Derrickson kept Georgetown close, but the defense was no match for the Bulldogs, who continued to pick apart the Georgetown defense from the perimeter.
Down eight at the six minute mark, Smith-Rivera ended a run of eight straight misses from three point range with a three pointer to close to three at the 4:35 mark, 70-67. Try as it might, the Hoyas could not close the lead: missed free throws, two missed layups, and a missed three pointer gave UNCA the breathing room it needed, and following a block on L.J. Peak driving to the basket, UNCA's Dwayne Sutton ended a three minute scoring drought by the Bulldogs to rebuild the lead to 72-68 at the 3:00 mark.
Georgetown's defense forced two turnovers over the Bulldogs' next two possessions, climbing back on two Derrickson free throws, 72-70, and sending Peak to the line with 1:34 to play. But as befitting a team that kept making too many mistakes, Peak could only hit one of two free throws and the lead remained at one, 72-71. UNCA drove inside on its next possession, with Ahmad Thomas driving past Bradley Hayes for a 74-71 lead with 1:11 to play. Back came the Hoyas from outside, as DSR launched another three point miss and Thomas added a free throw, 75-74, with 39 seconds left. A Peak jumper fell short on the next jumper, and the Bulldogs put the game away at the line.
Following Derrickson's free throws at the 2:38 mark, the Hoyas remaining possessions were an exercise in futility:
2:08: Hayes turnover
1:34: Peak fouled, 1 of 2 from the line
0:44: DSR misses 3
0:27: Peak misses short jumper
0:16: DSR misses 3
0:06: Peak misses 3
0:04: Hayes inside for two, down 4
0:01: DSR misses 3
Freshman Kaleb Johnson led the Hoyas with 16 points, but despite a significant height advantage the Hoyas noticeably chose to shoot outside and noticeably failed. Georgetown missed 18 of 22 attempts, including 7 of 9 from D'Vauntes Smith-Rivera, who finished 2 for 10 from the field in this game and 3 of 18 in his last two games.
Defense, not offense, sunk the Hoyas in this one.
" I think there were a lot of good defensive possessions that we had, but I think we eased up when the shot clock started going down and that's what got them a lot of those late backdoor cuts and dump offs," said Bradley Hayes, whose career high 18 rebounds was the best by a Georgetown player since a 19 rebound effort by Mike Sweetney in 2003.
For a second straight game, early fouls by L.J. Peak hurt the Hoyas early.
"we've tried to analyze it and help him out, but we're a different team [without him]," said coach John Thompson III. "The good thing is we've had others step up, but we miss his defensive presence. He and I have to figure that out."
After 11 games, the 6-5 start is the worst for a Georgetown team in 41 years, and is the first time Georgetown has lost three non-conference games at home since joining the Big East conference in 1979. Its RPI has fallen 46 points in the last week to #131, according to WarrenNolan.com.
The season's not over in December, of course. But with a couple of more games like this, and it may well be.
Here's the Georgetown half of the box score.

            MIN   2FG   3FG   FT  REB  A  PF  PTS
Starters:                                 
Smith-Rivera 36   1-2   1-8   2-2   5   4  2    7
Peak         15   3-6   1-2   1-2   2   0  5   10
Copeland     37   4-6   1-5   1-4   3   0  0   12
Derrickson   22   0-0   1-3   4-4   0   0  5    7
Hayes        30   5-9   0-0   1-5  18   6  1   11
Reserves:
Campbell      9   0-0   0-1   0-0   0   2  0    0
Cameron       5   0-0   0-2   0-0   1   1  2    0
White        15   3-3   0-1   0-0   1   3  2    6
Govan        11   1-4   0-0   2-2   3   1  1    4
Johnson      20   5-5   0-0   6-8   3   2  1   16
DNP: Williams, Mourning
Team Rebounds                       1
TOTALS      200 22-35  4-22  17-27 37  19 19   73

Additional coverage follows below:
| | |
| --- | --- |
| Monmouth 83, Georgetown 68 | 12/16/15 |
"They made the Hoyas look like a bad MAAC team."--Jerry Carino, Mycentraljersey.com
Georgetown was truly in March form Wednesday night, the kind of form that Georgetown fans are all too familiar with in recent years -- a talented team that regularly gets tripped up by a hungrier opponent.
Wednesday, that role was played by Monmouth University, a school which was a combined 0-30 against Big East schools entering the game, and which stepped up, down, and over the Hoyas in convincing fashion, an 83-68 clunker before a dwindling crowd of just 5,278 at Verizon Center Tuesday. Exhibiting the kind of crisp passing, smart ballhandling, and free throw expertise common among John Thompson III's earliest teams at Georgetown, the Hawks took the lead in the first three minutes of play and were not seriously challenged thereafter.
Georgetown led for one minute and 20 seconds in this game, and that was it. From a 4-2 Georgetown lead, Monmouth responded with a 8-0 run to pull ahead 10-4 with 16:09 to halftime. As the Hawks successfully worked the inside-outside game, a much taller Georgetown team was strangely content to shoot from outside, with predictable consequences. The Hoyas shot 30 percent from the field in the first half, 3 for 9 from three point range, while the Hawks sank six threes and outrebounded the taller Hoyas on both ends of the court. Monmouth led by as many as 13 in the first half, with a 7 for 7 effort at the line that befits the nation's top ranked free throw shooting team. For its part, Georgetown missed eight of 16 attempts, and entered halftime with the largest deficit at a home game since John Thompson III's first game as a Georgetown coach on Nov. 22, 2004.
Monmouth continued its hot shooting to open the second half, leading by 15 at the 15:38 mark. Georgetown made three small runs over the remainder of the second half to close the lead, but none came closer than ten points and each rally was rebuffed by Monmouth foul shooting with peaked at 18 for 18 before finishing at 83 percent (31-37).
Georgetown's lack of execution jumps off the stat sheet: 32 percent shooting from the field, outrebounded by nine, 22 missed three point attempts, 63 percent from the free throw line. D'Vauntes Smith-Rivera was 6 for 18 (2 for 10 from three point range) and led the team with 18 points. Poor play followed L.J. Peak (2 for 8 from the field, fouled out), Reggie Cameron (1 for 6), and a season's worst offensive effort from Bradley Hayes: 0 for 4 from the field, 1 for 4 from the line. Five different Hawks finished the game in double figures, a rarity for any Georgetown opponent over the last 12 years.
Coach John Thompson III remained even-keeled regardless of the outcome, and offered no specifics on improving the Hoyas in advance of its next home opponent, NC-Asheville, during post-game remarks.
"I think our issue was our defense," Thompson said, despite shooting just 32 percent from the field. "You're going to have days when the ball's not going in the basket."
"How many years does Georgetown need to be outworked, out-hustled, and out-played on stages big and small by opponents with less talent but a better game plan and more energy before John Thompson III actually acknowledges that his teams often come out flat-footed and poorly prepared?" asks a columnist at SB Nation's Casual Hoya. "The clock is ticking, and the last few weeks suggest that the time isn't being spent wisely."
After 10 games, Georgetown's 6-4 record is its worst in the John Thompson III era and the fewest wins by any Georgetown team in 41 years, dating to the 1974-75 season. More recent and potentially more troubling: Georgetown has been outscored after halftime in four straight games. The momentum of the win over Syracuse has evaporated into the December air, with the Hoyas facing two more giant-slayers over the next week aiming to bring the Hoyas to .500 before the start of Big East play two weeks from now.
The Georgetown half of the box score:

            MIN   2FG   3FG   FT  REB  A  PF  PTS
Starters:                                 
Smith-Rivera 35   4-8   2-10  4-5   2   1  3   18
Peak         30   1-5   1-3   3-6   2   3  5    8
Copeland     36   4-6   1-5   5-7   3   3  4   16
Derrickson   16   0-1   1-3   0-0   3   1  3    3
Hayes        23   0-4   0-0   1-4  11   3  2    1
Reserves:
Campbell     14   1-3   0-1   1-2   3   1  1    3
Cameron      26   0-1   1-5   1-2   3   1  2    4
Govan        17   3-4   1-2   5-5   4   0  3   14
Williams      1   0-0   0-0   0-0   0   0  1    0
Johnson       3   0-0   0-0   1-2   0   0  0    1
DNP: White, Mourning
Team Rebounds                       2
TOTALS      200  13-32 7-29  21-33 33  13 24   68

Additional coverage follows below:
| | |
| --- | --- |
| Georgetown 87, UNC-Wilmington 82 | Updated 12/12/15 10:30 pm EST |
A combined 42 points from D'Vauntes Smith-Rivera and Marcus Derrickson piloted Georgetown past UNC-Wilmington in the 2015 BB&T Classic game, 87-82, but it was not without peril. The Hoyas were outscored 30-8 in a second half run that that saw the Seahawks cut a 25 point Georgetown lead down to just three in the final minute of play.
UNCW started out strong to begin the afternoon, with a run of early rebounds and a 6-0 lead in the first three minutes of action. Georgetown responded by shutting down the Seahawks during a 25-7 run that gave Georgetown a solid 12 point lead midway in the first half, 25-13. With the Seahawks held under 20 percent from the field, the Hoyas led by as many as 17 before Smith-Rivers picked up his second foul and was sent to the bench, whereupon the Hoyas failed to score from the field over the final 3:13 of the half and UNCW closed to ten, 38-28.
Georgetown gave up only four turnovers to the nation's top ranked team in turnover margin, but would not be as fortunate in the second half. Despite giving up three fouls in the first two minutes of the half, including third fouls to Smith-Rivera and L.J. Peak, the Hoyas answered each UNCW run with one of its own, pushing the lead to 16 in the first five minutes of the second half and to 19 at the midway point, with alert defensive efforts and a run of threes by Derrickson that kept the lead in good hands. A DSR three with 8:13 to play moved the lead to 25, 73-48, where turnovers and foul shots gave UNCW an opening they took full advantage of.
The Hoyas were slow in adjusting to UNCW's run, and the bench did not call a time out until the 3:52 mark, with the lead having been cut to 14, 78-64. The timeout was of little help, as the Hoyas gave up turnovers on three of its next four possessions and UNCW closed to eight, 80-72, with 1:53 to play.
Up eight, the turnover bug continued, as Isaac Copeland lost the ball and UNCW picked up a layup in return, 80-74. A free throw by Smith-Rivera was answered with a Seahawk three, 81-77, with 1:31 to play. On the ensuing play, it was Bradley Hayes that lost the ball and the ensuing foul sent UNCW's Chris Flemmings to the line, making one and closing to 81-78 with 50 seconds to play.
Georgetown had not scored from the field in nearly five minutes when Peak drove inside for a dunk and a 83-78 lead with :21 remaining. The teams traded free throws until Denzel Ingram, averaging nearly 11 points per game but 0 for 8 from the field Saturday, hit a field goal to close back to three with 10 seconds remaining, 85-82. A pair of free throws from Tre Campbell sealed the win.
Georgetown had 12 second half turnovers and 16 for the game, shooting 48 percent from the field. The two teams combined for 27 turnovers, 55 fouls and 75 free throw attempts in the game.
"I think we are progressing, but we also understand and know that we have a long way to go and a long way we can go," said Georgetown coach John Thompson III. "We know we have to get better."
The Georgetown half of the box score:

            MIN   2FG   3FG   FT  REB  A  PF  PTS
Starters:                                 
Smith-Rivera 36   3-6   3-5  12-15  1   5  3   27
Peak         17   3-3   0-1   2-2   2   1  5    8
Copeland     35   2-6   1-3   3-5   6   0  1   10
Derrickson   21   0-0   5-7   0-0   4   2  3   15
Hayes        18   4-6   0-0   0-0   6   3  5    8
Reserves:
Campbell     18   0-1   0-2   2-2   0   1  3    2
Cameron      15   0-1   1-1   2-2   2   0  2    5
White         9   0-1   0-0   0-0   2   3  2    0
Govan        21   1-4   0-0   6-6   8   1  1    8
Johnson      10   1-3   0-0   2-4   3   0  2    4
DNP: Williams, Mourning
Team Rebounds                       2
TOTALS      200 14-31 10-19  29-36 36  16 27   87

Additional coverage follows below:
| | |
| --- | --- |
| Sweetney Continues Basketball Career | 12/9/15 |
After a decade battling depression and weight issues that sent him well over 400 pounds, former Georgetown forward Mike Sweetney (ex '04) is rebuilding his basketball career in a pro league in Uruguay. In the video below from HoopsHype.com, Sweetney discusses the challenges he's faced to date:
Articles from Bleacher Report often serve as an advertising vehicle instead of a good story, but this report from Kerry Miller is clearly the latter- an opportunity for n extended look at a Georgetown team which remains well off the national radar.
"Hayes, Derrickson and Isaac Copeland are already playing like potential Big East all-conference stars," Miller writes. "Imagine how good Georgetown could be when its starting shooting guard starts shooting better than 25 percent from three-point range, when its starting point guard starts playing with the urgency of a senior who came back for one final year to improve his draft stock and when its most important bench player is healthy enough to start contributing."
"Sleep on the Hoyas at your own risk. This team has already been battle-tested and they're only going to continue to improve from here."
| | |
| --- | --- |
| Georgetown 74, Brown 57 | Updated 12/8/15 |
In a season where Georgetown has had its share of close finishes, Monday's game with Brwon University was anything but. The Hoyas raced to a 8-2 lead and never looked back in a 74-57 win before an announced crowd of 4,690 at Verizon Center.
The Brown offense was all but inert in the first half. As Georgetown was able to execute its offense with relative ease, the Bears opened the game shooting 1 for 9 from the field, with seven first half turnovers which led to 12 points for GU. Baskets by Isaac Copeland and D'Vauntes Smith-Rivera quickly built an early lead, 8-2, and a 16-2 run midway in the first half opened up the stat sheet to give the Hoyas a 20 point lead, 24-4. A pair of baskets by Brown's Tavon Blackmon closed the lead to 16, but no further.
Nine different Hoyas scored in the first half, as the smaller Bears were outrebounded 26-13 by halftime, were 1 for 11 from three point range, and missed all four of its free throw attempts. From a a 33-15 score with 4:27 to halftime, Georgetown scored the final 13 points of the half and carried a 31 point lead into the break, holding Brown (3-6) to the fewest halftime points by an GU opponent in almost three years. Georgetown shot 57 percent for the first half, with 10 assists on 17 field goals.
The less said about the second half, perhaps, the better. The teams combined for just ten fouls in the first half, but the officials worked their whistles and called 24 stoppages in the second half, 17 on Georgetown, where the Bears rediscovered their touch at the line and made 22 of 23 attempts. The outcome was never in doubt, but the 31 point lead was gradually shaved down with lots of free throws and some poor Georgetown shooting of its own, as the Hoyas returned the favor from three point range and shot just 1 for 10.
A a variety of lineups were employed after halftime, whose time on the floor together will prove more important by March than the final score of this game. The foul calling got a little silly when John Thompson III was called for a technical foul with 4:19 left, part of a run where Brown had one field goal in the final 4:55 but picked up 10 points from the free throw line.
"I think [Brown] started to execute a little better in the second half," said coach Thompson in post-game remarks. "They were in the one-and-one after five minutes and that kind of slowed everything down for us and made it harder for us to get a rhythm, but I think they played better in the second half."
One area Georgetown will be working on in advance of Saturday's game with North Carolina-Wilmington: turnovers, where the G-men surrendered 18 for the game and meet a UNCW team ranked first in the nation in turnover margin and eighth nationally in scoring offense at 89 points a game.
Sophomore L.J. Peak led the Hoyas with 13 points, nine of which were scored by halftime.
The Georgetown half of the box score:

            MIN   2FG   3FG   FT  REB  A  PF  PTS
Starters:                                 
Smith-Rivera 21   3-3   2-6   0-0   1   4  0   12
Peak         19   3-6   2-3   1-1   1   0  4   13
Copeland     23   0-1   3-5   0-0   5   4  1    9
Derrickson   23   1-1   1-3   2-2   5   4  4    7
Hayes        19   5-8   0-0   2-2  11   0  3   12
Reserves:
Campbell     21   0-2   0-2   0-0   1   1  0    0
Cameron      17   1-1   0-2   1-1   5   1  1    3
White        17   2-3   0-1   0-0   4   1  1    4
Govan        15   3-5   0-1   0-0   3   3  4    6
Williams      3   1-1   0-0   0-1   1   0  1    2
Johnson       6   3-6   0-0   0-0   2   0  1    6
Mourning      6   0-1   0-0   0-2   0   0  2    0
Team Rebounds                       3
TOTALS      200  22-38 8-23   6-9  42  18 22   74

Additional coverage follows below:
| | |
| --- | --- |
| Dec. 7, 1951: McDonough Gymnasium Opens | 12/7/15 |
Dec. 7 marks the 64th anniversary of the first game at McDonough Gymnasium, which brought games back to campus for the first time in a quarter century.
The Hoyas opened the gym with a loss to Fordham but the weekend of events was otherwise well received. Wrote the Georgetown University Alumni Magazine:
"The three thousand Georgetown men who attended all or part of the Dedication Week-end ceremonies at Georgetown, witnessed something which they will not readily forget. From the opening basketball game on December 7th, through the Solemn High Mass of Dedication, the President's Reception, the Formal Dedication Ball to the closing Symphony concert on December 9, the returning Alumni saw the various uses to which the building may be put, and what they saw pleased them very much indeed."
| | |
| --- | --- |
| Greatest. Tifo. Ever. | 12/6/15 |
Presented without comment. Well done, Stonewalls!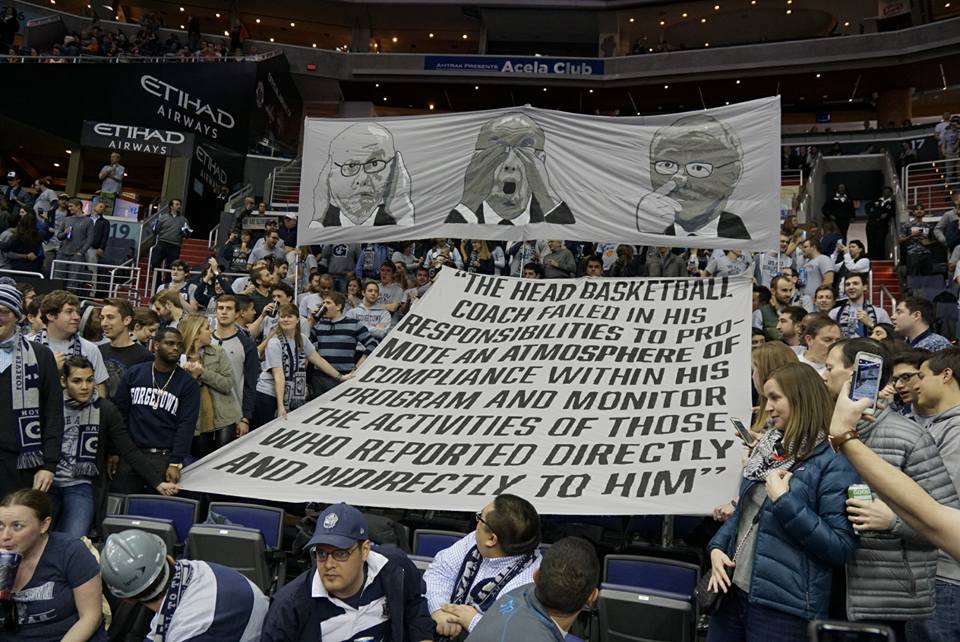 | | |
| --- | --- |
| Georgetown 79, Syracuse 72 | 12/6/15 |
When last they met at Verizon Center in the spring of 2013, the Georgetown Hoyas ran the Saltine Warriors of Syracuse off the floor, a 61-39 win that was as dominating as any in the 33 year Big East series between the two. In 2015, Georgetown repeated the beatdown for the first 30 or so minutes before a sustained Syracuse comeback fell short in Georgetown's 79-72 win before a smaller than expected crowd of 18,231 at Verizon Center.
Syracuse held the lead for all of 1:18 early in the first half, but once the Hoyas got going, the Orangemen seemed a step slow. A pair of early baskets by Isaac Copeland staked Georgetown to a four point lead, 12-8, while strong perimeter defense forced Syracuse to miss each of its first seven attempts from three point range. While Georgetown didn't convert any of the misses into baskets on the following possessions, the miscues set a pattern of frustration in motion for the Syracuse shooters that Georgetown took advantage of inside.
The Hoyas pushed the lead into double digits midway in the first half, with jumpers by Reggie Cameron and D'Vauntes Smith-Rivera, followed by a driving layup by sophomore Tre Campbell to double the Orangemen, 24-12. Two more misses from outside followed for the Orangemen, allowing Georgetown to lead by as many as 14 points before SU's Trevor Cooney, one of the few current Syracuse players to have played in the 2013 game, hit his first three of the game, 26-15, with under six minutes to the half. The teams traded baskets and played fairly even down the stretch, with GU taking a well earned 12 point lead to the break, 36-24, shooting 46 percent and holding the Orangemen to a season low 30 percent on 8-26 shooting, and just 2-13 from three point range.
Georgetown roared out to open the second half, forcing three Syracuse turnovers and scoring eight straight points over a 1:33 run. Isaac Copeland opened the scoring with a three pointer to put the Hoyas up 15, 39-24. On the ensuing possession, Marcus Derrickson recovered his own rebound and laid the ball in, 41-24. Thirty seconds later, Derrickson spotted up from three, 44-24. Inside, Georgetown was getting a strong effort from senior Bradley Hayes, playing the best basketball of his career. Hayes picked up consecutive offensive rebounds fighting inside, earning a three point play at the 16:21 mark. A minute later, Hayes picked up an offensive rebound from an L.J. Peak miss and collected two more, 49-29, with 14:33 to play.
With ineffective play from starters Trevor Cooney and Michael Gbinije, interim coach Mike Hopkins turned to the Syracuse bench with better results. Baskets by Tyler Lydon and Franklin Howard cut the lead to 15 at the 13 minute mark, but a pair of baskets by Isaac Copeland pushed the lead back to 19 just before the 12 minute media time out.
A three pointer by Smith-Rivera extended the lead back to 19 at the midway point of the second half, the move to the bench appeared to give the Orangemen new life, and Georgetown could simply not keep up the hot hand all game. A Cooney three pointer with 10:32 remaining keyed the first sustained Syracuse run of the game, a 9-2 spurt that brought the Orangemen to 12 before DSR sank a long three that rallied the home crowd and pushed the lead back to 15 with 8:25 to play, 63-48.
The Orangemen began to whittle down the lead. Following a Gbinije three pointer, a Marcus Derrickson turnover and foul was converted to two SU free throws, while a Hayes jumper was answered with a long-distance three from Cooney that brought the lead to nine at the 6:25 mark. Hayes was fouled and converted a free throw while Syracuse's Dajuan Coleman picked up three offensive rebounds before a layup brought the former 20 point lead to just eight at the 4:24 mark.
Hayes had played big all day and came up big on the next series, a short hook shot to put the lead back to double figures entering the four minute time out. The next three series were defensive sets that called to mind the days when Big East games were decided with tough, physical defense. For the next three minutes, neither team added a field goal as Georgetown kept Syracuse contained from outside, while free throws from both sides could not move the ledger.
By the two minute mark, the lead was still solid at ten. Free throws by Campbell and Derrickson advanced the lead to 12, 71-59, with 2:02 left. A Gbinije three point attempt was inexplicably fouled by DSR, giving him three free throws at the 1:41 mark to close to nine with 1:41 remaining. Campbell hit one of two free throws, and a Cooney three sailed wide with 1:29 remaining, allowing GU to take time off the clock on its next possession and send junior Reggie Cameron to add two more free throws to go up 12 with inside a minute to play.
The game wasn't quite over, however. Lydon answered Cameron's free throws with a dunk at the 48 second mark, while consecutive turnovers on each of Georgetown's next two possessions were converted with layups and the 12 point lead was now cut in half, 74-68. Campbell connected on two free throws, while Gbinije missed on his next shot that allowed a pair of free throws from Derrickson to put the game away.
Despite the shaky finish, Georgetown shot 50 percent in the half, but nine turnovers, including four in the final 1:44, almost made things a little too close for comfort. Georgetown was led by a command performance of 21 points and eight rebounds from Bradley Hayes, followed by 14 from Isaac Copeland and 13 points and 10 rebounds from freshman Marcus Derrickson. Guard play was a mixed bag, with Smith-Rivera shooting 3 for 9 and L.J. Peak held to just three points due to early foul trouble.
"I think our guys were very attentive," said coach John Thompson III in post-game remarks. "A lot of it was effort and energy. It's one thing to sit here and say stop the 3-pointers, but it's another thing where they're running and moving and you"re worried about helping your teammate and clogging up the middle and then getting out and I just think that our guys did a good job of doing both. Protecting the middle and playing good help defense, but knowing who you were guarding."
"We came out there and Georgetown was really aggressive defensively," said interim Syracuse coach Mike Hopkins. "They did a great job defending our ball screens and forced us a little out of character of how we have been playing. We took a couple tough shots and shooting 30 percent from the field goal and 15 percent from the three in the first half just isn't going to cut it."
"We also got out rebounded by nine so the first half just wasn't good...But I was very proud of our guys because they kept fighting. We figured out a lineup that we were comfortable with, something that was working and we stuck with it and we were able to capitalize but we just dug ourselves too big of a hole. Georgetown is a good basketball team and it was a tough game."
Hopkins was impressed by Hayes' play.
"He"s got to be one of the most improved players in the country," he said. "He's got a touch around the basket and he just put our guys underneath the rim. I thought we made an adjustment at the end of the first half where we tried to play higher but it didn't work so well in terms in he kept getting in that position. He's physical, he's good. He had a great game tonight. He killed us."
This is the last of the Georgetown classes to have played Syracuse while members of the Big East.
"It still is a big rivalry game," Smith-Rivers said. "Me and Bradley both came in here knowing it would be our last time playing and wanted to capitalize on it. I'm glad that he played the way that he did, because we got it done."
The Georgetown half of the box score:

            MIN   2FG   3FG   FT  REB  A  PF  PTS
Starters:                                 
Smith-Rivera 39   1-2   2-7   3-5   3   5  3   11
Peak         12   0-3   1-2   0-0   2   2  5    3
Copeland     36   3-5   2-4   2-2   4   1  2   14
Derrickson   24   2-3   2-4   3-4  10   2  4   13
Hayes        28   8-12  0-0   5-7   8   0  3   21
Reserves:
Campbell     26   1-1   0-1   4-6   1   3  1    6
Cameron      14   1-1   1-2   4-5   2   1  0    9
White         7   0-0   0-1   0-0   1   1  1    0
Govan        11   1-3   0-0   0-0   4   1  0    2
Johnson       3   0-1   0-0   0-0   0   0  1    0
DNP: Williams, Mourning
Team Rebounds                       0
TOTALS      200  17-31 8-21  21-29 35  16 20   79

| | |
| --- | --- |
| NCAA: Boeheim Suspended For Saturday's Game | 12/4/15 |
The NCAA rejected an appeal Thursday by Syracuse University on a pending nine game suspension for coach Jim Boeheim, but moved the suspension forward to begin Saturday versus Georgetown and not at the start of ACC conference play.
Boeheim was suspended as a result of major infractions against the program for academic misconduct. The NCAA ruling read, in part that "because the coach was not directly involved in the underlying violations of the case, the appeals committee modified the penalty to begin with the team's next game."
"In March, the Committee on Infractions found that over the course of a decade, Syracuse did not control and monitor its athletics programs and its head men's basketball coach failed to monitor his program," said the NCAA. "Syracuse self-reported a number of the violations, dating to 2001, including academic misconduct, extra benefits, the failure to follow its drug-testing policy and impermissible booster activity."
During the suspension, assistant coach Mike Hopkins will lead the team.
To no surprise, a quote from Boeheim expresses his objection to the decision.
"Needless to say, I am extremely disappointed with the NCAA Infractions Appeals Committee's decision, and in particular, the NCAA Infractions Appeals Committee giving us only two days to make this transition, when the appeal was argued weeks ago. However, I have full faith in the ability of Coach Hopkins, my staff, and our seniors to lead the Men's Basketball Program through this difficult time, and I look forward to returning to the bench on January 9 against the University of North Carolina. I am considering my options moving forward and will have no further comment regarding this matter at this time."
| | |
| --- | --- |
| UMES Attendance Nears Record Low | 12/2/15 |
Tuesday's game versus Maryland-Eastern Shore was one of the lowest attended games since Georgetown games were moved off-campus in the 1981-82 season.
Excepting games played in McDonough Gymnasium, Tuesday's attendance of 4,062 is the smallest crowd to see a Georgetown home game in 31 years, when just 3,954 saw Georgetown play Morgan State at Capital Centre on Dec. 19, 1984.
The Maryland-Eastern Shore game is the second smallest Georgetown turnout in the history of MCI/Verizon Center, matched only by an NIT game against Boston University in 2005 which was not part of the season ticket package.
| | | | | |
| --- | --- | --- | --- | --- |
| Date | Opponent | Score | Venue | Att. |
| 3/16/2005 | Boston U. (NIT) | 64-34 | MCI Center | 2,797 |
| 12/1/2015 | MD-Eastern Shore | 68-49 | Verizon Center | 4,062 |
| 11/25/2003 | Coastal Carolina | 81-68 | MCI Center | 4,189 |
| 12/2/2002 | Coastal Carolina | 87-60 | MCI Center | 4,366 |
| 12/20/2003 | Howard | 89-58 | MCI Center | 4,412 |
| 12/3/2003 | Norfolk St. | 76-53 | MCI Center | 4,614 |
| 12/5/2013 | High Point | 80-45 | Verizon Center | 4,676 |
| 12/21/2005 | Savannah St. | 78-49 | MCI Center | 4,875 |
| 11/26/2004 | The Citadel | 69-34 | MCI Center | 4,989 |
| 11/15/1998 | Hartford | 91-62 | MCI Center | 5,001 |
Such an attendance concern is unlikely Saturday versus Syracuse. The Orangemen have been the opponent at four of the ten largest crowds at Verizon Center since it opened in 1997, and was the last sold out crowd in the building on March 9, 2013.
Tuesday's 30 point game for D'Vauntes Smith-Rivera was also the fourth of his career. Here's a list of other Georgetown players who have matched the feat:
| | |
| --- | --- |
| Player | Games |
| Allen Iverson (1994-96) | 13 |
| Jim Barry (1962-66) | 8 |
| Reggie Williams (1983-87) | 8 |
| Mike Sweetney (2000-03) | 8 |
| Victor Page (1995-97) | 6 |
| Charlie Adrion (1967-70) | 4 |
| Charles Smith (1985-89) | 4 |
| Austin Freeman (2007-11) | 4 |
| D'Vauntes Smith-Rivera (2012-pres.) | 4 |
The game also moved Smith-Rivera into the top 16 in career points:
| | |
| --- | --- |
| Player | Points |
| 1. Eric Floyd (1978-82) | 2304 |
| 2. Patrick Ewing (1981-85) | 2184 |
| 3. Reggie Williams (1983-87) | 2117 |
| 4. Alonzo Mourning (1988-92) | 2001 |
| 5. Othella Harrington (1992-96) | 1839 |
| 6. David Wingate (1982-86) | 1781 |
| 7. Austin Freeman (2007-11) | 1761 |
| 8. Mike Sweetney (2000-03) | 1750 |
| 9. Kevin Braswell (1998-02) | 1735 |
| 10. Derrick Jackson (1974-78) | 1673 |
| 11. Mark Tillmon (1986-90) | 1598 |
| 12. John Duren (1976-80) | 1587 |
| 13. Brandon Bowman (2002-06) | 1548 |
| 14. Allen Iverson (1994-96) | 1539 |
| 15. Gerald Riley (2000-04) | 1485 |
| 16. D'Vauntes Smith-Rivera (2012-pres.) | 1480 |
| | |
| --- | --- |
| Georgetown 68, Maryland-Eastern Shore 49 | 12/1/15 |
In a season of new names and faces, Georgetown relied on D'Vauntes Smith-Rivera to carry the Hoyas to a 68-49 win over Maryland Eastern Shore Tuesday, a much more competitive game than the presumed walkover en route to Saturday's matchup with #14 Syracuse.
Maryland Eastern-Shore entered the game 1-4, and struggled to maintain balance early in the game against a taller and quicker Georgetown opponent. Senior Bradley Hayes scored six of Georgetown's first nine points as the Hoyas opened a 9-4 lead in the first three minutes of play, a lead that was not seriously threatened in the first half due to an alarming number of UMES turnovers. The Hawks surrendered seven turnovers in the first eight minutes of play, providing Georgetown an extra nine points in an 18-11 lead midway through the half.
Georgetown's early lead was carried upon Smith-Rivera's shoulders. DSR had 11 of the Hoyas' first 26 points, equally adept at close range or from three--where an outside shooting touch missing in the game Saturday against Bryant was back in full force this evening. Smith-Rivera sank five threes by halftime as the Hoyas outscored the Hawks 12-3 to lead by 18 at the break, 38-20. UMES committed 14 turnovers which resulted in as many points given to the Hoyas (20) as those they scored on their own.
UMES coach Bobby Collins settled his team down at halftime. With fewer turnovers and a shift towards a more aggressive defensive set in the backcourt, UMES began to work its way back into the game. Georgetown led by as many as 21 in the first eight minutes of a second half that saw the two teams combine for just five field goals, but a run of Georgetown turnovers opened the door for a revived Hawks attack.
Down 46-26 with 11:37 to play, Freshman Dontae Caldwell drove inside for a basket and foul, 46-29. On the Hawks' next series, a pair of Georgetown turnovers were cashed in by junior Mark Blackmon, whose three point play brought the Hawks to 48-32. Two more Georgetown turnovers followed, and the Hawks closed to within 11, 48-37.
The return of sophomore guard Tre Campbell was welcomed by Georgetown and Campbell made his presence felt, sinking two pairs of free throws at a crucial part of the game to keep the lead at 13, 52-39, with 6:38 to play. Georgetown's defense began to wear down its opponent, and after a run of UMES missed shots from outside, the Hoyas struck back, as Smith-Rivers drove the lane for a basket and the foul, 55-38, with 5:58 remaining. The Hawks never closed within 16, as Smith-Rivera scored five of Georgetown's next six points and Maryland-Eastern Shore was held to just two field goals in the final four minutes of play.
Smith-Rivera led all scorers with 30 points, the third game in his career with 30 or more points and the first since a 31 point effort against St. John's in the early part of the 2013-14 Big East season. Bradley Hayes scored 11 points and nine rebounds, with six coming in the first four minutes of play, and four in the final two minutes. DSR finished 5 for 10 from the three point line, while the rest of the team was a frosty 2 for 11; a similar trend was seen on the UMES stat sheet, where sophomore Ryan Andino was 4 for 5 from the arc while the rest of his team was just 1 for 10.
UMES finished with 19 turnovers, but lost just five possessions after halftime. By comparison, Georgetown gave up 16 turnovers, 11 after halftime.
The game was Georgetown's only scheduled game this season against teams from the Mid-Eastern Athletic Conference, a staple of early season wins in past seasons. With the win, Georgetown improved to 54-0 all time against MEAC teams, and 83-0 against historically black colleges and universities (HBCU's) since the 1973-74 season.
The Georgetown half of the box score:

            MIN   2FG   3FG   FT  REB  A  PF  PTS
Starters:                                 
Smith-Rivera 36   5-6   5-10  5-5   3   2  0   30
Peak         33   2-5   0-2   1-2   3   2  2    5
Copeland     19   0-1   0-2   0-0   3   1  2    0
Derrickson   15   0-0   1-3   2-2   2   0  3    5
Hayes        28   3-7   0-0   5-7   9   1  3   11
Reserves:
Campbell     19   0-1   1-2   4-4   1   1  0    7
Cameron      22   3-3   0-2   0-1   3   1  1    6
White         6   0-0   0-0   0-0   1   2  0    0
Govan        11   0-2   0-0   2-4   5   0  3    2
Williams      1   0-0   0-0   0-0   0   0  1    0
Johnson       6   0-0   0-0   0-2   0   1  0    0
Mourning      4   1-1   0-0   0-0   2   0  1    2
Team Rebounds                       3
TOTALS      200  14-26 7-21  19-27 35  11 16   68

---
HoyaSaxa.com: The One-Stop Web Site For Hoya Basketball™
An independent web site not affiliated with Georgetown University. All rights reserved.