Home > History > History Narrative

Georgetown Football History
Chapter 4: The Lou Little Legacy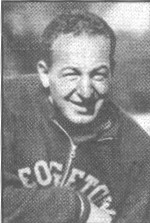 For six seasons from 1924 to 1929, the Georgetown varsity set a standard of defensive excellence unmatched in its history. The great players and teams of this brief era are a result of the coaching legend of Lou Little, a member of the College Football Hall of Fame.
Born Luigi Piccolo, this coaching great first learned his gridiron skills as an All-America end at Pennsylvania in 1920. By this time, "little Luigi" had become better known as "Lou Little", and Little assumed an assistant's job at Penn following graduation. In 1924, he applied for the coaching job at Georgetown, and a legend was born.
In his first season, the club went 4-4, but gave up only 39 points all season. In 1925, Little's team began the Hoyas' climb to national prominence. The 1925 team, with stars as Jack Hagerty, Claude Grigsby, and Harry Connaughton, was 9-1, the lone setback a 3-2 rain-soaked loss at Bucknell. In ten games, the Hilltoppers surrendered an amazing 19 points. Shutouts over Drexel (25-0), Detroit (24-0) and Lehigh (40-0) brought local headlines, but national acclaim was guarded. Many wondered how the young coach would perform against a major college foe. Before 40,000 at the Polo Grounds in November 1925, Little proved the experts wrong.
The opponents on November 21, 1925 were the undefeated Fordham Rams, one of the nation's elite teams. Few gave Georgetown much of a chance against the Rams, and still fewer predicted a Georgetown win. To their collective amazement, Little's men only earned a win, but a 27-0 shutout of a Fordham team which had only surrendered 12 points all season.
Little's schedule for 1926 was even more ambitious. Small college opponents such as Mount St. Mary's, King, and Centre were replaced with Pitt, West Virginia and Navy. Nonetheless, the Blue and Gray enjoyed a remarkable 7-2-1 record against these worthy foes. The varsity's two losses (to West Virginia and Navy) were each by a lone field goal.
As Little had brought his team into the national spotlight, so too would he allow one of his players to shine as well. In upset wins over Syracuse and Fordham, national sportswriters got a long look at 6-2, 275 lb. tackle Harry (Babe) Connaughton, a giant in the days when 200lb. players were the exception and not the rule. As an offensive tackle, he tore open huge holes for the Georgetown running game; as a defensive tackle, he was equally effective defending the run. Following the 1926 season, Connaughton was named a consensus All America selection--the first such award ever presented to a Georgetown gridder.
Historians may suggest that Little's 1925 team was his finest. If so, the 1927 team is a close second. Its one loss was a 19-6 revenge win by Syracuse. Excepting this game, the 1927 Hoyas surrendered just two points in nine games! Wins over West Virginia, Lafayette, and Boston College brought national attention to the Hilltop program. A season ending shutout of Fordham had New Yorkers scratching their heads in amazement--the mighty Rams had been blanked by a combined total of 104-0 over three years!
In 1929, basketball coach Elmer Ripley, who Little had hired to bring the Hoyas to national basketball prominence, was hired away by Yale. The next year, it was Little who was wooed by the Ivy League.
Georgetown's annual routs of Fordham caught the attention of the school at Morningside Heights, Columbia University, who in 1930 offered Little the sum of $18,000 a year to coach their team. It was an offer that Georgetown could not match, and the Hoyas' mentor became "Columbia Lou" Little, the greatest coach in that school's football history. He is best remembered for doing what no Columbia team has done before or since--going to the 1934 Rose Bowl, defeating Stanford by the score of 7-0.
Lou Little retired from coaching in 1956 with an all-time record of 151-128-13 (.539), a record lessened somewhat by Columbia's flagging football fortunes in the 1940's and 1950's. His 33 combined years in coaching rank him 14th all-time in longevity, tying him with fellow coaching legends D.X. Bible and Woody Hayes. Little was elected to the College Football Hall of Fame in 1970, and died in 1979 at the age of 86.
Little's legacies on Georgetown athletics were both lasting and ultimately fleeting. Little became Georgetown's first full-time coach, and assumed the post of Director of Athletics in 1925, a position formerly held by the president of the student-run Athletic Association. Little transformed Georgetown's athletic program from a student-run to an administrative organization, and presided over a golden era of national competition in football, baseball, basketball, track and field, tennis, and golf. He established roles for assistant coaches in each sport, and sponsored the first all-sport banquets to honor lettermen. Little even got the one coach who refused to schedule Georgetown--Notre Dame's Knute Rockne--to speak at one of these dinners.
Little also recognized the need for athletics to be self-supporting. He moved football games from the undersized Varsity Field on campus to 35,000 seat Griffith Stadium in downtown Washington. Basketball games were moved from Ryan Gym (a facility with only 200 standing room places) to the 3,000 seat Arcadia arena. And had he stayed, Little's grand vision was a 25,000 seat "Memorial Stadium" to be located on the site of the present Georgetown baseball field, along with a 7,500 seat Palestra-style gymnasium to support the basketball team. Had either been built, it would have drastically changed the course of athletics--particularly football--at Georgetown.
By 1931, with Ripley and Little both departed, another future Hall of Famer left Georgetown, citing " a coolness towards football" by the University. Had he stayed another half-season, assistant coach Frank Leahy would have been the coach of the Georgetown Hoyas; instead, he went on to become Notre Dame's penultimate coaching legacy. Without Leahy, Georgetown looked to one of its own--a team captain under Little and a six year NFL veteran--to revitalize the slumping fortunes of the Blue and Gray. By 1932, a 28 year old coach named Jack Hagerty would refine the Little system and begin to build the greatest team in Georgetown football history.
Home > History > To Chapter 5
---
HoyaSaxa.com: The One-Stop Web Site For Hoya Football™
An independent web site not affiliated with Georgetown University. All rights reserved.