From Athlon Sports, a pre-season look at five questions facing the Patriot League.
Included in the article: the state of Georgetown's competitiveness in the Patriot League in its 60-scholarship era.
"The only member of the Patriot League not to offer football scholarships, [Georgetown] is 4-19 in league games, including 0-6 last season, since they were instituted for the 2013 season," writes Craig Haley. "Until Georgetown starts to offer them, there is little chance of the Hoyas escaping the bottom half of the league."
Game times for the 2017 season have been posted to the right and are also available in this link to GUHoyas.com.
There are no night games, home or away, this season. The schedule below was posted on the staff's Instagram page: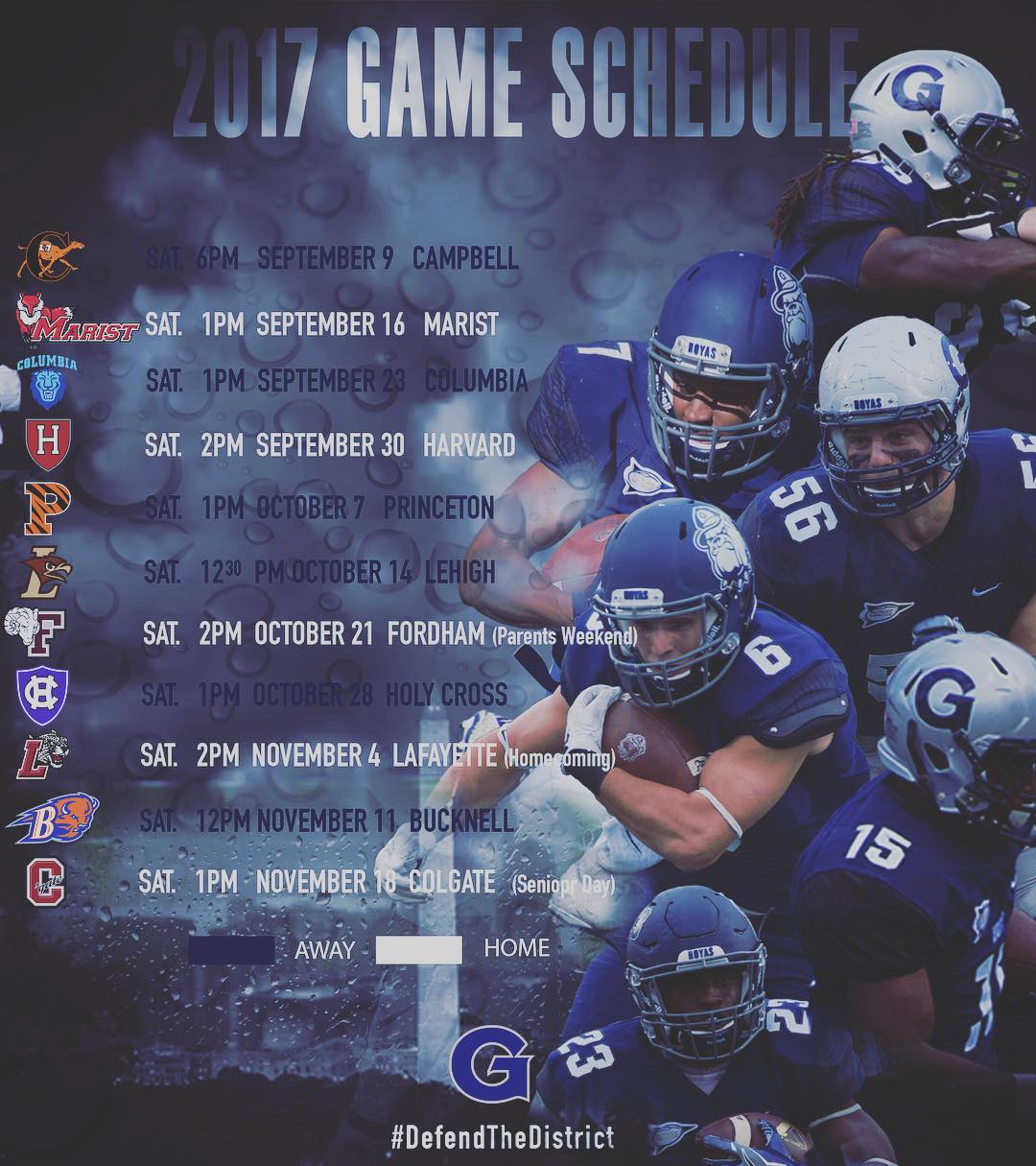 On Friday, the Big Green Alert site took a look at recruits by state among Ivy league schools, with 45 players coming from Texas and Florida combined. How do the numbers compare in the Patriot League?
More than half of the 151 incoming PL freshmen come from just five states:
New Jersey: 24
Pennsylvania: 21
Florida: 14
Texas: 12
Georgia: 10
Overall, 30 states are represented across the seven schools:
| | | | | | | | | |
| --- | --- | --- | --- | --- | --- | --- | --- | --- |
| State | Buck | Colg | Ford | Hoyas | HCross | Laf | Leh | Total |
| Arkansas | | | | 1 | | | | 1 |
| California | | | | | 2 | 1 | | 3 |
| Colorado | 1 | | | | | | | 1 |
| Connecticut | | | 3 | | | | 1 | 4 |
| Delaware | | 1 | 3 | | | | | 4 |
| Florida | 1 | 2 | 2 | 3 | 3 | 1 | 2 | 14 |
| Georgia | | | | 3 | 5 | 1 | 1 | 10 |
| Illinois | | 2 | 1 | | 2 | | | 5 |
| Indiana | | | 1 | | | | | 1 |
| Kansas | | 1 | | | | | | 1 |
| Louisiana | | | | 2 | 1 | | | 3 |
| Maine | | | | | | 1 | | 1 |
| Maryland | 1 | | | 3 | 1 | 1 | | 6 |
| Massachusetts | | 1 | | 2 | 2 | 1 | | 6 |
| Michigan | | 1 | 2 | | | | 1 | 4 |
| Mississippi | | 1 | | | | | | 1 |
| Missouri | | | | 2 | | | | 2 |
| New Jersey | 7 | 4 | | 1 | 1 | 4 | 7 | 24 |
| New York | 1 | 2 | 1 | | 1 | 1 | 1 | 7 |
| North Carolina | | | | | 2 | | | 2 |
| Ohio | 1 | 1 | 2 | 1 | | 1 | | 6 |
| Pennsylvania | 6 | 2 | 2 | 1 | | 5 | 5 | 21 |
| Tennessee | | | | | | 1 | | 1 |
| Texas | 2 | 2 | 1 | 4 | 1 | 2 | | 12 |
| Utah | 1 | | | | | | | 1 |
| Virginia | 4 | | | 4 | | | 1 | 9 |
| Washington | | 1 | | | | | | 1 |
Whether a function of demographics, competition, or the lack of scholarship offers available from Georgetown versus those now offered from other schools, Georgetown's traditional returns from the Mid-Atlantic states have given way to more talent from the South and Southwest. Here's a look at the Georgetown freshman classes by state for the 1967, 1977, 1987, 1997, 2007, and 2017 seasons:
| | | | | | | | |
| --- | --- | --- | --- | --- | --- | --- | --- |
| State | 1967 | 1977 | 1987 | 1997 | 2007 | 2017 | Total |
| Alabama | 1 | | | | | | 1 |
| Arkansas | | | 1 | | | 1 | 2 |
| California | | | 1 | 2 | 1 | | 4 |
| Colorado | | | 1 | | | | 1 |
| Connecticut | | 1 | | | 3 | | 4 |
| District of Columbia | 1 | 1 | 1 | | | | 3 |
| Florida | | | | | 1 | 3 | 4 |
| Georgia | | | | | 2 | 3 | 5 |
| Illinois | 2 | 1 | | 1 | | | 4 |
| Iowa | | | | | 1 | | 1 |
| Louisiana | | | 1 | | | 2 | 3 |
| Maine | | | 1 | | | | 1 |
| Maryland | | 1 | 2 | 2 | 1 | 3 | 9 |
| Massachusetts | 1 | 2 | 1 | 1 | | 2 | 7 |
| Michigan | | | | 1 | | | 1 |
| Missouri | | | | 1 | | 2 | 3 |
| New Jersey | | 1 | 7 | 6 | 6 | 1 | 21 |
| New York | 4 | 1 | 3 | 4 | 3 | | 15 |
| Ohio | | | | 3 | | 1 | 4 |
| Oklahoma | 2 | | | | | | 2 |
| Pennsylvania | 1 | 1 | 1 | 2 | 3 | 1 | 9 |
| South Carolina | | | | 1 | | | 1 |
| Texas | 1 | | 1 | 1 | 5 | 4 | 12 |
| Virginia | 1 | | 1 | | 2 | 4 | 8 |
| Wisconsin | | | | | 1 | | 1 |
Patriot League Media Day is scheduled for July 27, but an early pre-season look by Street & Smith's Magazine places the start of 2017 along the lines of the 2016 finish:
1. Lehigh
2. Fordham
3. Colgate
4. Holy Cross
5. Bucknell
6. Georgetown
7. Lafayette
-->