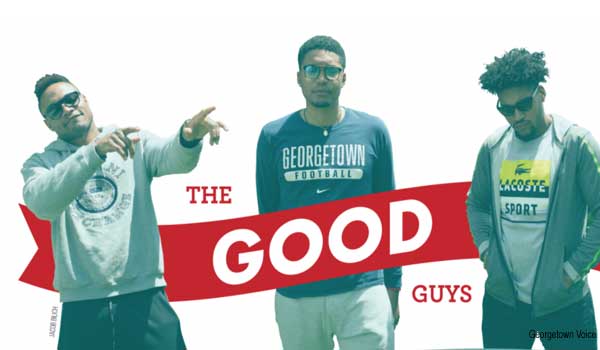 What is life after college football like? There is no one path, but for three alumni, it's a path that keeps them grounded in what matters.
The
Georgetown Voice
has a feature in its year-end issue on three 2016 graduates, Troye Bullock, Darius Baxter, and Danny Wright, who has teamed with Washington pollster Frank Luntz to form GOOD Partners, a non-profit effort devoted to low-income communities in the Washington area.
"I just kinda grew up in a place where a place like Georgetown wasn't in anybody's future," Bullock told the Voice. "Nobody in my family or my neighborhood could see themselves at a place like that. I never met anyone that went to college, but the majority of people I did meet had been to jails."
"It was tough coming up, in many different ways," said Baxter, "But at the same time, I was blessed to have a support system around me that always helped me to move forward."
"I think it was a defining moment in the end of my sophomore year, beginning of my junior year where it was like, 'Can the real Danny Wright please stand up and start being what you're capable of being?'" he said. "From there, I started interning a lot more. I interned every single semester when I was at Georgetown, from my sophomore year on,and luckily my overall persona of networking and being enthusiastic and social led us to meeting this guy named Frank Luntz at [The Tombs]."
"There's something special here," Luntz told the paper. "Anyone can go to grad school, anyone can leave and get a job. You guys should stay here in Washington. Go back to the community that everyone is trying to get out of and teach them what you all have learned. Teach them about responsibility and opportunity and give them a path out that you were given."
"They could be us," Bullock said. "We could've been them. So let's do something about it."
For more information, please visit their website,
goodpartners.org
.