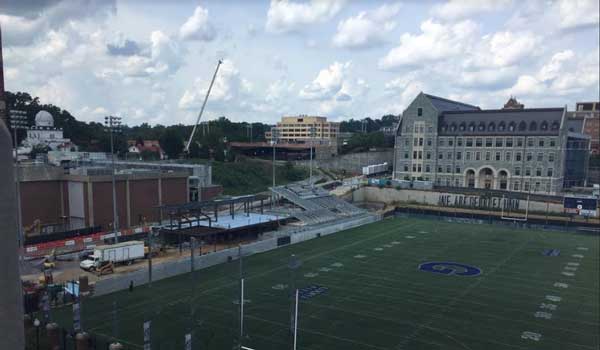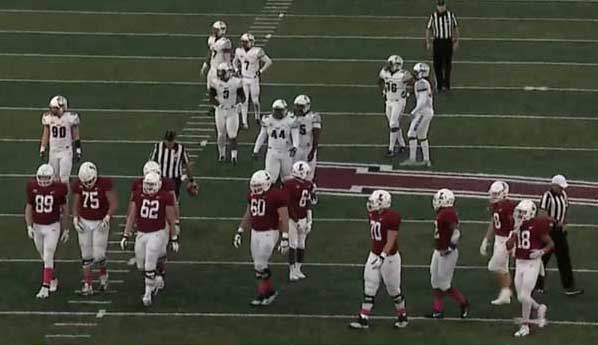 Part 3 of our 2019 season preview focuses on the Hoyas' defensive line and linebackers. There's a lot to look forward to.
"With a varsity football program that dates to the first Grover Cleveland administration, I'm hesitant to suggest that any one team or one player is the "best ever" at Georgetown University. While it's admittedly difficult to compare players across years or decades or even centuries, a case can be made that the 2019 Georgetown defense could well be the best such group of the last 50 years, and then some.
"The 2018 Hoyas were defensive standouts, ranking eight in rushing defense nationally and 11th in total defense--numbers you don't normally see from the lower wattage leagues such as the Patriot. In 2019, Georgetown returns nine starters from that 2018 group, and the reserves may be just as good at season's end."
Visit the
Third Rail
blog for details.
Part 2 of our 2019 season preview focuses on the Hoyas' receivers and offensive line.
"If Georgetown is going to stake its claim as a contender for the 2019 Patriot League title, the offense must be championship caliber--a tall order given nearly two decades of struggle on that side of the ball. This season, however, offers fans some hope that the Hoyas are up to the challenge.
Georgetown has vacillated between a run and a pass offense for years.The addition of former Clemson offensive coordinator Rob Spence in 2018 sent a message that GU was committing to a pass-first offense. Georgetown finished the 2018 season ranked 108th nationally and sixth in the PL in passing offense, but return three of its top five receivers from last season."
Visit the
Third Rail
blog for details.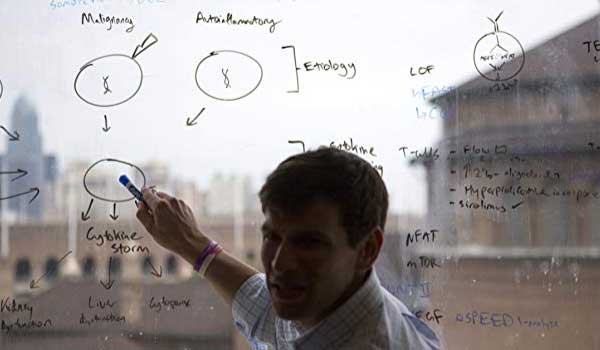 A book on the extraordinary story of former Georgetown quarterback David Fajgenbaum (N'07) debuts September 10.
"David Fajgenbaum was a former Georgetown quarterback nicknamed the Beast in medical school, where he was also known for his unmatched mental stamina" writes the preview at
Amazon.com
. "But things changed dramatically when he began suffering from inexplicable fatigue. In a matter of weeks, his organs were failing and he was read his last rites. Doctors were baffled by his condition, which they had yet to even diagnose. Floating in and out of consciousness, Fajgenbaum prayed for the equivalent of a game day overtime: a second chance."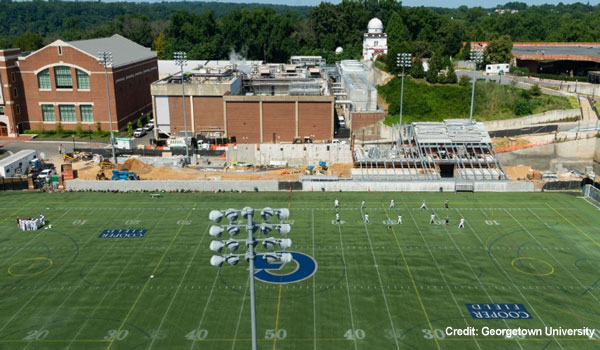 Cooper Field will wait yet another year for its grand opening.
Fourteen years after breaking ground on April 30, 2005, construction delays at Cooper Field will send fans to the temporary east side seats for another season. The temporary west side seats were razed in 2017 to meet an expected construction target of April 2019, which came and went. Weather and internal project delays showed little signs of abatement over the spring, and today's news confirms what a lot of fans that walked by the field already knew: it wasn't getting done this season.
Tickets are
on sale
for the 1,800 seat configuration.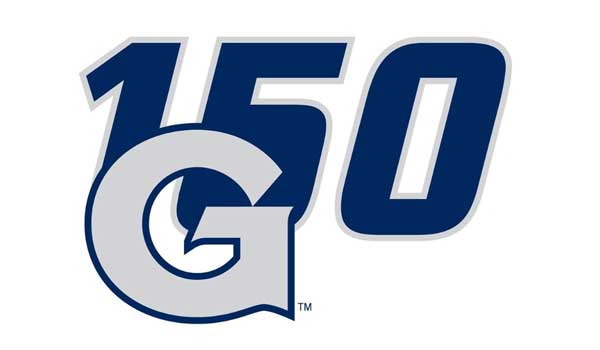 In 1870, Georgetown College numbered five buildings and graduated a class of four. Six years before the founding of the National League, the college held its first athletic contest, a baseball game versus Columbian College, better known as George Washington University.
The Georgetown University Athletic Department has announced a series of plans to salute the 150th anniversary of Georgetown Athletics during the 2019-20 season.
"For 150 years, Georgetown and intercollegiate athletics have continued to evolve and grow," aid athletic director Lee Reed in a
press release
. "G150 is a chance to celebrate how far we've come and look ahead to the next 150 years."
The first intercollegiate team was formed with a collection of players from the college's two intramural baseball clubs, the Stonewalls and the Quicksteps. Baseball was the only sport on campus until the founding of the Football Association in 1874 and the Rowing Association in 1876. Track and field followed in the 1880's, with basketball not arriving until 1907. The first women's sports were chartered in 1960.
Over the ensuing 15 decades, Georgetown has fielded varsity teams in 33 sports, 29 of which are active to this day. Former intercollegiate teams included rifle (1920-72), ice hockey (1940-49), boxing (1949-55), and women's gymnastics (1961-82).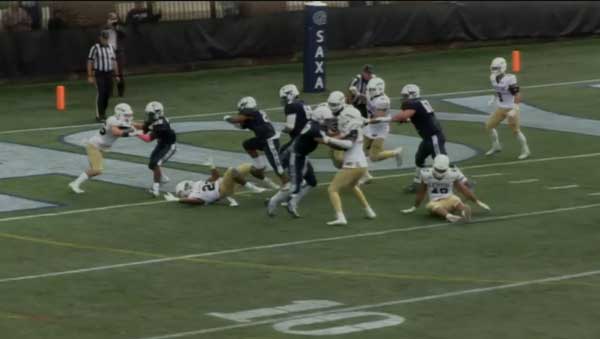 Part 1 of our 2019 season preview focuses on the Hoyas' running back and quarterback options.
"In his second year as offensive coordinator, Rob Spence figures to double-down on the passing game--after all, it's where he earned his fame as the offensive coordinator at Clemson. Spence needs a credible running game however, something GU did not enjoy in 2018. The Hoyas finished the season ranked 114th nationally in rushing offense, with just under 94 yards a game. The only thing that prevented this from being a season-killer is that Bucknell and Fordham fared even worse.
Georgetown returns its top three rushers from 2018 but, in a sign of its emphasis on the pass, signed just one freshman in the position and will carry only five backs this season."
Visit the
Third Rail
blog for details.