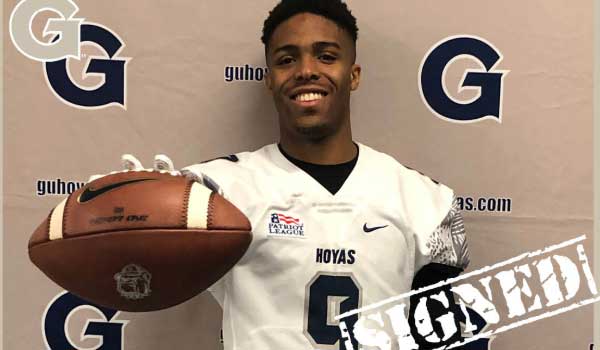 Since 2017, recruits have the opportunity to sign letters of intent in December rather than February. Georgetown signed four in the early period and announced the remainder of the class on Wednesday.
"As we evaluated potential members of the Class of 2023, we emphasized finding outstanding student-athletes who will enhance our community both in the classroom and on the field," said coach Rob Sgarlata
in a December statement
. "Our early signees are highly accomplished in both of these areas. Most importantly, they are quality human beings who value our core principles of 4 for 40, SISU, and Men for Others. I am extremely excited to have them join the Hoya football family."
Additional details are available at
GUHoyas.com
.
Name
Pos
Ht
Wt
Hometown
Chris Autino
TE
6-7
225
Tinton Falls, NJ
Martin Butcher
QB
6-0
185
New Orleans, LA
Jovone Campbell
DB
6-1
180
Silver Spring, MD
Noah Carr
DB
5-11
185
Venice, FL
Tony Gyimah Jr.
DL
6-2
255
Dublin, OH
Spencer Harris
OL
6-4
300
DeKalb, IL
Pierce Holley
QB
6-2
205
Arvada, CO
William Horne
LB
6-1
205
Franklin, TN
Tyler Jones
DL
6-0
290
North Olmsted, OH
Tyler Knoop
QB
6-0
180
N. Richland Hills, TX
Stanford Maison
OL
6-4
330
Hightstown, NJ
Daeshawn Matthews-Wayne
DB
5-10
165
Spanaway, WA
Dorrian Moultrie
WR
5-11
180
Columbus, OH
Talati Polamalu
OL
6-3
300
Sandy, OR
Tiy Reed
WR
5-7
160
Franklin, TN
Jonathan Saddler
LB
6-0
230
Norwalk, CT
Khalil Saunders
DB
6-0
175
Elmhurst, IL
Sam Telesa
OL
6-2
280
Beaverton, OR
Jack Tishman
QB
6-2
215
Wellesley, MA
Giovonni White
DL
6-2
305
Tacoma, WA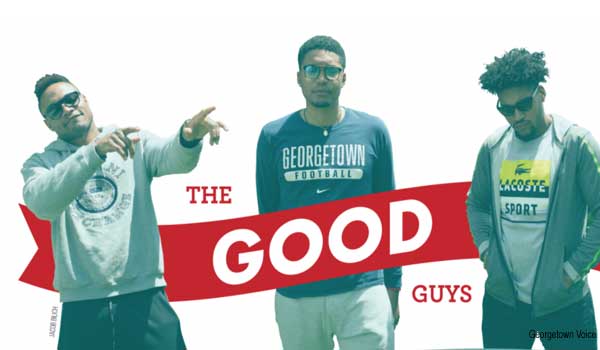 What is life after college football like? There is no one path, but for three alumni, it's a path that keeps them grounded in what matters.
The
Georgetown Voice
has a feature in its year-end issue on three 2016 graduates, Troye Bullock, Darius Baxter, and Danny Wright, who has teamed with Washington pollster Frank Luntz to form GOOD Partners, a non-profit effort devoted to low-income communities in the Washington area.
"I just kinda grew up in a place where a place like Georgetown wasn't in anybody's future," Bullock told the Voice. "Nobody in my family or my neighborhood could see themselves at a place like that. I never met anyone that went to college, but the majority of people I did meet had been to jails."
"It was tough coming up, in many different ways," said Baxter, "But at the same time, I was blessed to have a support system around me that always helped me to move forward."
"I think it was a defining moment in the end of my sophomore year, beginning of my junior year where it was like, 'Can the real Danny Wright please stand up and start being what you're capable of being?'" he said. "From there, I started interning a lot more. I interned every single semester when I was at Georgetown, from my sophomore year on,and luckily my overall persona of networking and being enthusiastic and social led us to meeting this guy named Frank Luntz at [The Tombs]."
"There's something special here," Luntz told the paper. "Anyone can go to grad school, anyone can leave and get a job. You guys should stay here in Washington. Go back to the community that everyone is trying to get out of and teach them what you all have learned. Teach them about responsibility and opportunity and give them a path out that you were given."
"They could be us," Bullock said. "We could've been them. So let's do something about it."
For more information, please visit their website,
goodpartners.org
.