Welcome to HoyaSaxa.com. Here's where you will find more news and information than you'll ever need to know about Georgetown University football. If you're looking for the official athletics site instead, link here.

Georgetown is a football-only member of the Patriot League, the latest chapter in a gridiron tradition which began in 1874. For coverage of Georgetown basketball, visit our basketball site.
Latest News
From The HOYA, an optimistic look at the 2015 slate:
"But with expectations low once again, Georgetown has a solid chance to prove itself as a program on the upswing. The Hoyas will again challenge themselves against Ivy League competition, facing Dartmouth and Harvard in nonconference play. A roster that features both tried and true veterans and a healthy number of new starters certainly has the potential to make a name for itself. And the Hoyas were regularly proving that they could stay competitive in games by the end of last season. With the exception of a 52-7 blowout at Fordham in the second to last week of the season, Georgetown finished the season with a series of close games against conference rivals. In the final five games of the 2014 schedule, it recorded three single-possession losses and a win over Lafayette, giving the team momentum it will hope to carry into the 2015 season."
| | |
| --- | --- |
| Elfin On Sports: Meet The Hoyas | 8/26/15 |
Also on the blogroll this week: local sportswriter David Elfin, introducing his readers to the 2015 Hoyas:
"Nobody really believes in us except us," said cornerback Ettian Scott, Georgetown's only preseason All-Patriot League selection and one of just 16 seniors who decided to remain part of the team for four years despite the losing seasons and the coaching change. "I'm actually kinda glad they picked us last. Now we got a lot of motivation. We're gonna be better than last year based on how hard we work. We've gotta put this program in the right direction."
| | |
| --- | --- |
| Lynchburg News: What's The Future? | 8/26/15 |
A seventh place pick in the PL standings leads this reporter at the Lynchburg News & Advance to pose this question:
"What's Georgetown's future? The Hoyas still don't offer scholarships and have no plans on doing so, essentially reducing them to a Pioneer League team in a scholarship conference...There doesn't seem to be any reason to compete in the Patriot if you're going to go into each season at a severe competitive disadvantage. Georgetown is, of course, an all-sports member in the Big East."
| | |
| --- | --- |
| Stats Inc: Patriot League Preview | 8/24/15 |
From Stats Inc. (formerly Sports Network), its 2015 Patriot League forecast:
1. Bucknell
2. Colgate
3. Fordham
4. Lafayette
5. Holy Cross
6. Lehigh
7. Georgetown
Its assessment of Georgetown was direct and pulled no punches. "The scholarship classes are building throughout the league...which makes it increasingly difficult for the Hoyas to remain relevant aside from an occasional upset of a Patriot opponent," it writes.
Coverage of Hoyas Football in the Washington Post remains an infrequent occurrence, but Saturday's announcement of a jersey change did get some attention at the Post's DC Sports Bog, who wondered if the change is a nod to the Allen Iverson era.
Iverson, who played basketball at the Hilltop from 1994 to 1996, also wanted to play college football, but his coach had other ideas. Read more about it at the Georgetown Football History Project.
| | |
| --- | --- |
| New Home Uniforms Unveiled | 8/13/15 |
Georgetown officials unveiled its new home uniforms for 2015 at a ceremony yesterday, with a major change in the helmet design for the team.
The home jersey, pictured below, returns to the style worn between 2003-2005 and features blue pants with the lettering of "Hoya Saxa" down a vertical stripe.
Also pictured: an all black helmet with the player number instead of the block "G". As of Saturday night, it is not known if this will be an alternate design or replace the current helmet style. The Hoyas have worn a gray shelled helmet for each of the last 50 seasons dating back to its return of football in 1964 and last wore a dark colored helmet in the 1950 season.
Also unknown: the design of the Hoyas' road jerseys, which was not shown.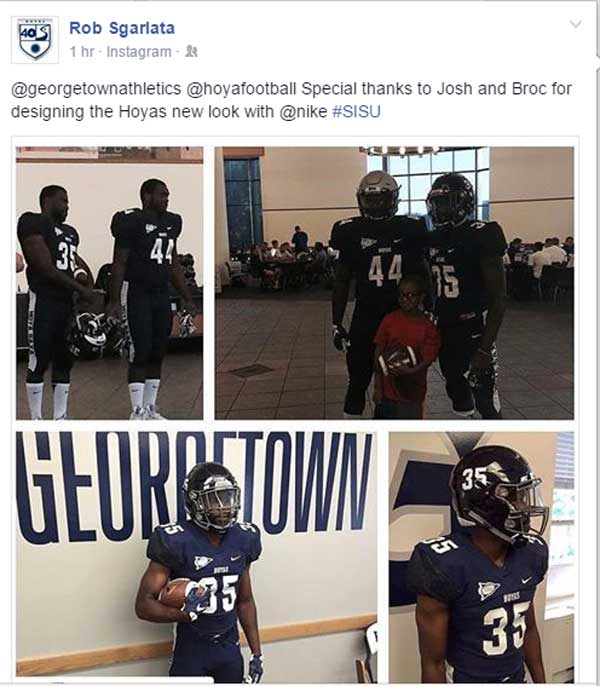 From WUSA-TV,a feature story on senior Jo'el Kimpela and the #35 jersey he will wear this season.
Early commitments are common in many college football programs, but are far less common (or more likely, far less publicized) at Georgetown. Saturday's Baltimore Sun reports that center Stewart Keehner has made an early verbal commitment to the class of 2016.
"Georgetown for me was the academic fit with their business school," said Keehner, who plays at Baltimore's Gilman School. "All the academics are great and when I visited I could see myself going there."
"I like the offensive line coach, coach Miller," he said. "And I really loved how they run their program on a Men for Others foundation."
Commitments are non-binding at Georgetown until an offer of admission is extended, which would not be until April, 2016.
| | |
| --- | --- |
| Patriot League Media Day | 8/4/15 |
In the Patriot League's march to the forefront of full scholarship football, the 2015 Georgetown Hoyas stood at the end of the line in the conference 's annual pre-season media poll.
The Hoyas received just 13 votes from the league's coaches and sports information directors participating in the poll, the 11th time since 2001 the Hoyas have been tabbed last:
Fordham 66 (10)
Bucknell 63 (4)
Colgate 48
Lafayette 44
Lehigh 31
Holy Cross 29
Georgetown 13
Here's the rundown of Georgetown's previous finishes in the PL pre-season polls:
| | | |
| --- | --- | --- |
| Season | Pre-Season | Finish |
| 2001 | 8th of 8 (14 votes) | 8th |
| 2002 | 8th of 8 (20 votes) | 7th |
| 2003 | 7th of 8 (28 votes) | 8th |
| 2004 | 7th of 7 (23 votes) | 7th |
| 2005 | 7th of 7 (15 votes) | 6th |
| 2006 | 7th of 7 (13 votes) | 7th |
| 2007 | 7th of 7 (14 votes) | 6th |
| 2008 | 7th of 7 (16 votes) | 7th |
| 2009 | 7th of 7 (12 votes) | 7th |
| 2010 | 6th of 6 (12 votes) | 4th |
| 2011 | 5th of 6 (19 votes) | 2nd |
| 2012 | 4th of 6 (32 votes) | 3rd |
| 2013 | 5th of 6 (26 votes) | 5th |
| 2013 | 7th of 7 (12 votes) | 7th |
Media coverage follows below.
Video Coverage
Joel Kimpela:

Matthew Satchell:

Rob Sgarlata:

Related Stories
Scott Named All-PL

Senior CB Ettian Scott was Georgetown's lone representative on the pre-season all-league team. His four interceptions in 2014 tied for the best in the PL last season.

More Games Online

A note in the PL media guide notes that all Georgetown games in the PL will be seen on the Patriot League Network, a free hi-res video service previously utilized by six of the seven PL schools, but not Georgetown. For the past decade, GU has promoted a pay per view model at $9.95 per month.

Roster Changes

Six players from the 2014 team are not on the current online roster for the Hoyas, including lineman Chappy Wingo and backup quarterback Peter Mahoney.

New PL Commissioner

Former Georgetown associate athletic director Jennifer Heppel is now the commissioner of the Patriot League. Read more here.