Welcome to HoyaSaxa.com. Here's where you will find more news and information than you'll ever need to know about Georgetown University football. If you're looking for the official athletics site instead, link here.
Georgetown is a football-only member of the Patriot League, the latest chapter in a gridiron tradition which began in 1874. Additional information on the rich history of football at Georgetown can be found at www.hoyafootball.com.
For coverage of Georgetown basketball, visit our basketball site.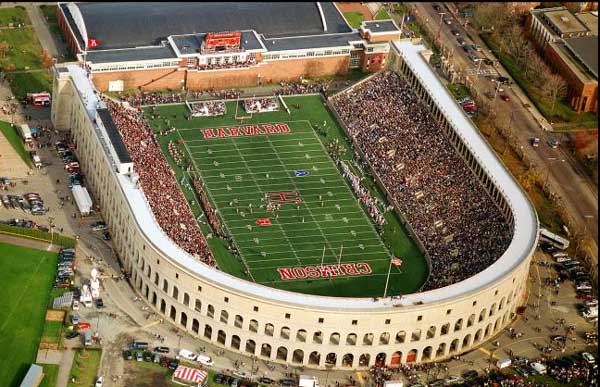 Georgetown's inaugural game at historic Harvard Stadium has been moved from a Saturday noon start to Friday night, Oct. 2 at 7:00 pm, according to the Harvard online schedule. The schedule at GUHoyas.com remains TBA.
Harvard usually features one night a game a year at the historic stadium, built in 1903 and overlooking the Charles River. The Crimson enter the 2015 season winners of 14 straight and 19 of its last 20.
Single game tickets go on sale July 1.
John S. Carroll, the 12th Georgetown mascot and the fifth canine to be known colloquially as Jack The Bulldog, passed away Tuesday at New South Hall at the age of 12. The second in the modern era of campus bulldogs, his was the era where Georgetown returned to national basketball prominence, and he made the most of it.
"Jack was endlessly entertaining with his quirks and diva-esque personality," wrote the Rev. Christopher Steck, S.J. in a Wednesday Facebook post announcing the passing. "He was energized by crowds, demanded their attention, and loved to put on a show, mainly attacking boxes."
The dog arrived on campus as a gregarious bulldog pup in 2003, when the previous dog, "John P. Carroll" (1998-2011) followed Rev. Scott Pilarz, S.J. to the University of Scranton. The newest Jack was of the bloodline of "Rocky", an unofficial bulldog mascot during the Patrick Ewing era.
"This Jack is a distant relative of his, and that cinched it," Steck told The HOYA in 2003.
"The friendship developing between Steck and Jack – who sit together on the floor every morning waking up – is one that will last more than 10 years," The HOYA predicted. "As any dog-lover will tell you, the bond will last a lifetime."
Bulldogs are often solitary creatures, preferring a long nap over strenuous activity, but this was a Jack who enjoyed the attention on campus and the crowds at men's basketball games, where he became an instant celebrity. Not content to walk on the court, Jack developed a routine where a cereal-sized box was placed on one end of Verizon Center, usually emblazoned with an opponent's logo. On queue, Jack would race across the court to grab the box in his teeth, waving it to the delight of the crowd.
Dogs take lots care and feeding, too, and Jack had his share, as Steck recounted in 2006.
"There was the time Jack ate a Christmas ornament, leaving his mouth full of tiny glass fragments. Once he disappeared with a student for three hours, leading DPS to put out an All Points Bulletin on the dog. Jack has allergies, and regularly tears up his face with his aggressive scratching. Then there was the night when I had the flu and he had diarrhea; it was the same night that the elevators in Reynolds broke down, forcing the two of us up and down four flights of stairs at 1, 3:30 and 5 in the morning so that Jack could accomplish his pressing business," he said.
Jack retired in 2013 following an ACL tear that, for bulldogs, is quite a serious matter. Jack survived the surgery and recovery, but his box-battling days were behind him. His retirement years were one of walks across campus and photos with adoring students and guests.
"There might be a little bit of boredom, but...his energy level is so low compared to what it used to be," Steck said in 2013. "I think there is enough activity to keep him busy."
The life span of a bulldog is usually about eight to ten years. Jack's final years were spent in Steck's care as two new dogs, John T. Carroll (Jack Jr. or "J.J", since retired by GU) and the current Jack, "John B. Carroll", served the role of Georgetown's amiable ambassador.
In his post Wednesday, Steck remarked that "He served Georgetown faithfully as mascot for ten years – a job he loved. I'm grateful to the Georgetown community and friends and family for helping give Jack a very rich and full life. You helped give us both some very good times and, for me, some of life's fondest memories. I will miss my buddy dearly."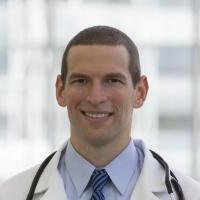 It has been a uphill climb for former Georgetown quarterback David Fajgenbaum (N'07) since he left Georgetown. But as a doctor and a soon to be graduate of the Wharton School of Business at Penn, Fajgenbaum has dedicated his life to fighting a disease that fights against him.
For every eight people who are diagnosed with Castleman's Disease, five die within seven years.
"I think that those numbers are maybe more scary for my wife and maybe more scary for my family," said Fajgenbaum in this link to the Philly Voice. "I know that I'm putting every ounce of every minute of every day into this [research]. I know there's not a single thing that I could do more to try to extend that and help us figure this disease out faster."
Fajgenbaum, 30, has fought the disease three times since Georgetown, and was once administered the last rites as a result. Now in remission, he knows that he must keep up the fight.
"If this thing rears its head [again] and it's not responsive to the next line of treatment, I will know that I have put everything that I have into this thing. That helps me to cope with the unknown."

It has been days since construction was halted on the Multi-Sport Facility.
Give our students a home that befits Georgetown.
This site would like to take this opportunity for our readers to strongly consider joining the Georgetown Gridiron Club, the official support organization of Georgetown Football.
Show your support for the Hoyas with an online gift to the Gridiron Club. Visit this link and make a donation. On the form, go to the selection box titled "Direct Your Gift", select "Other", and type in the words "Football/Gridiron Club" in the box marked "Other".
A growth in support is essential for Georgetown to compete with schools with budgets and facilities that far exceed that which exists on the Hilltop today. Your tax-deductible gift is important not only for Georgetown football, but class fund totals, parents fund totals and overall Annual Fund giving. Today's support is a vital part of tomorrow's Georgetown Football.
This is an unofficial site for Georgetown Football. If you are interested in playing football at Georgetown, please do not contact us. Write to the Department of Athletics, Georgetown University, Washington, DC 20057. General information for prospective student athletes and their parents can be found at this NCAA link.

N.B.: This not-for-profit site is supportive of, but neither directly affiliated with nor under the supervision of Georgetown University or the Patriot League. See the Fine Print page for more details.

AMDG