From GUHoyas.com: reports from the most recent scrimmage.
For the 25 years of the Division I-AA era at Georgetown, defense has led the way. The coaching of Bob Benson, Kevin Kelly, and Rob Sgarlata were all built around Georgetown's defense, in no small part because the offense had comparatively less in comparison.
Injuries slid the usually stalwart Georgetown offense to fifth among seven Patriot League teams, where the Hoyas gave up 377 yards per game versus a mere 242 yards for its offense. Five of 11 starters from the 2017 team have graduated. leaving lots of questions marks in summer camp but one name at the top of the list.
More follows at the
Third Rail Blog
.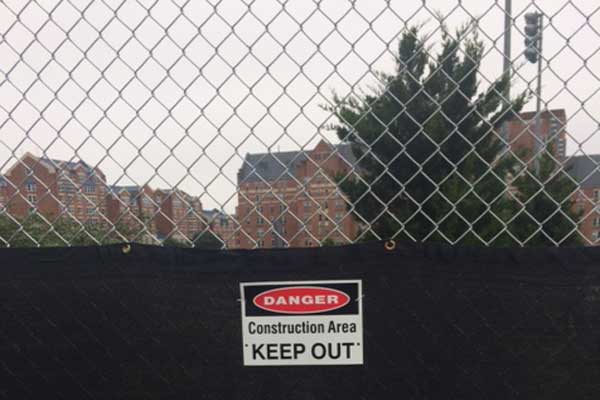 Tickets are now on sale for Georgetown's home games, and the ongoing delays at Cooper Field provide an incentive to buy tickets now.
The 2017 start date for the construction project was a non-starter, and when the west side stands were razed in June, plans were ready to begin constructing the new stands in time for the 2019 season opener, 13 years after the planned arrival in 2006. The west area remains untouched pending final approvals, and no construction has commenced.
As a result, somewhere between 800 and 1000 seats on the east side are all Georgetown has available for the 2018 season, and that's not counting student tickets or what may be offered to opponents. Neither Georgetown nor the Patriot League has commented about the contraction that will make Cooper Field the smallest capacity field anywhere in Division I, and some fans at Columbia and Lehigh may be surprised to see no tickets available when they arrive for the game.
Another note on ticketing: the Nov. 10 game versus Bucknell will be free admission. With the men's basketball home opener likely that day, it's possible that expectations are low for any home crowd following five scheduled road games over the prior six weeks.
The fifth year of Rob Sgarlata's tenure begins as its head coach has the support of the team, the coaches, the athletic director, and the University. What he does not have is wins.
In four seasons, Sgarlata's teams are 11-33 and 3-21 against Patriot League teams, the fewest of any multi-year PL coach since Larry Glueck at Fordham from 1990 to 1993. In the last two and a half seasons, Georgetown has dropped 15 consecutive Patriot League games, a league record. Because of, if not in spite of, Georgetown's quixotic stand against scholarship aid in football, it's not expected to be much better in 2018.
More follows at the
Third Rail Blog
.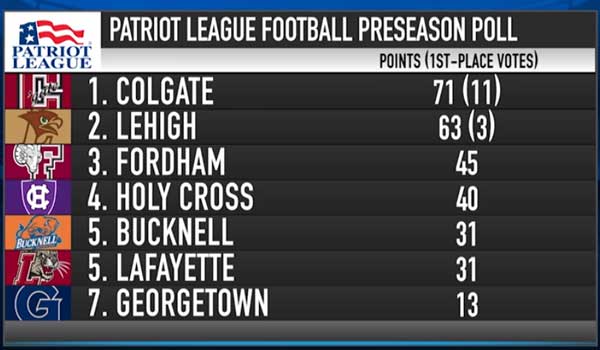 In an era of declining coverage of the Patriot League by local newspapers, the league scuttled its annual press day at the Lehigh Valley's Green Pond Country Club for a conference call Thursday to announce its pre-season poll and all-league teams.
Georgetown finished last in the poll for the fifth consecutive year.
1. Colgate, 71 points
2. Lehigh, 63
3. Fordham, 45
4. Holy Cross, 40
5. Bucknell, 31
5. Lafayette, 31
7. Georgetown, 13
Colgate posted 10 selections on the pre-season All-PL team, followed by five from Fordham, four each from Holy Cross and Lafayette, three from Lehigh, and two each from Georgetown and Bucknell. Junior DE Khristian Tate was named on defense while sophomore LB Ahmad Wilson was named to special teams.
Here's the rundown of Georgetown's previous finishes in the PL pre-season polls:
| | | |
| --- | --- | --- |
| Season | Pre-Season | Finish |
| 2001 | 8th of 8 (14 votes) | 8th |
| 2002 | 8th of 8 (20 votes) | 7th |
| 2003 | 7th of 8 (28 votes) | 8th |
| 2004 | 7th of 7 (23 votes) | 7th |
| 2005 | 7th of 7 (15 votes) | 6th |
| 2006 | 7th of 7 (13 votes) | 7th |
| 2007 | 7th of 7 (14 votes) | 6th |
| 2008 | 7th of 7 (16 votes) | 7th |
| 2009 | 7th of 7 (12 votes) | 7th |
| 2010 | 6th of 6 (12 votes) | 4th |
| 2011 | 5th of 6 (19 votes) | 2nd |
| 2012 | 4th of 6 (32 votes) | 3rd |
| 2013 | 5th of 6 (26 votes) | 5th |
| 2014 | 7th of 7 (12 votes) | 7th |
| 2015 | 7th of 7 (13 votes) | 6th |
| 2016 | 7th of 7 (17 votes) | 7th |
| 2017 | Tied for 6th of 7 (17 votes) | 7th |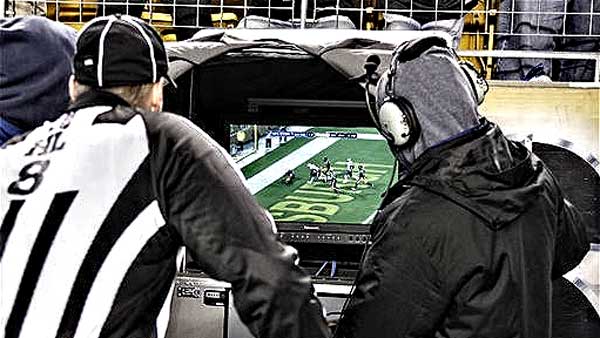 On the eve of the conference call, the Patriot League has announced instant replay will be available at all games except those hosted by Georgetown, given the condition of Cooper Field.
Per the release: "The six venues outfitted for instant replay by WingWarp will have up to 12 cameras available for use by the replay officials. The replay system includes unmanned cameras along with feeds from institutional television partners and/or feeds from the Patriot League Network (PLN)."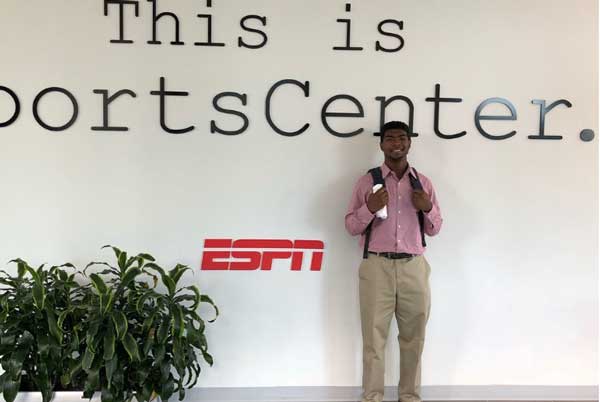 Former Georgetown LB Cameron Seward (C'18) is the subject of an ESPN feature on his current internship in Fan & Media Intelligence, described as "analyzing how people consume sports."
"As an intern, I pull data and analytics from the SportsCenter Snapchat and Facebook pages and perform data analytics for First Take," Seward said. "I also track user views, clicks and engagement time, compiling the information into a report for the Production team."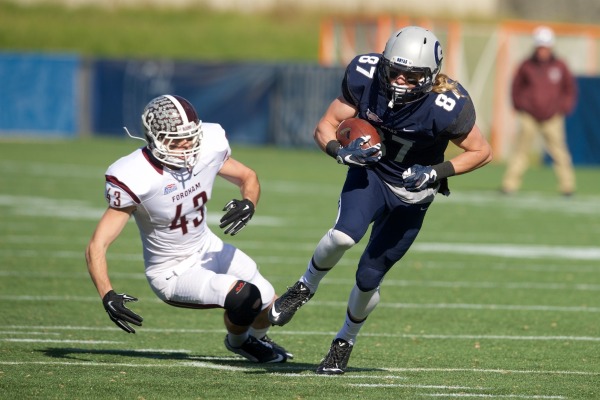 Three of Georgetown's five home games will move to a 12:30 start time at the yet to be constructed Cooper Field, per a Georgetown release.
Home games with Campbell (September 1), Bucknell (November 10) and Holy Cross (Nov. 17) will move to a 12:30 start, while the 79th Homecoming Game (Sept. 22, vs. Columbia) and a Family Weekend game (Oct. 20 vs. Lehigh) start at 2:00.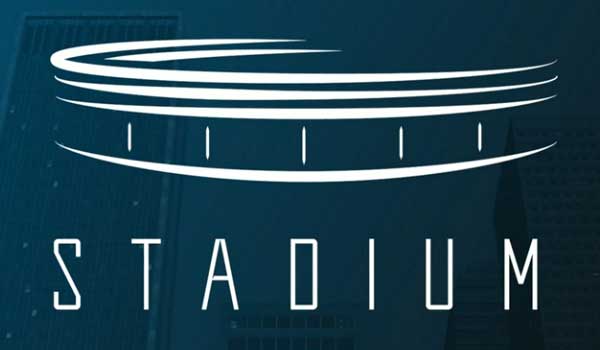 Georgetown's October 6 game at Fordham will be part of the Patriot League "Game of the Week" package, which will receive broadcast as well as Web-based distribution.
The package, broadcast by Stadium, features one game each week from the PL Network (also broadcast by Stadium) to be offered to a variety of platforms, including a network of 75 over the air UHF affiliates and 25 cable systems. (At present, there is
no affiliate in the Washington DC market.
)
This game is Georgetown's only appearance on the Game of the Week. Fordham leads all PL schools with five appearances, followed by three each from Bucknell and Colgate, two each from Holy Cross and Lafayette, and one from Lehigh, which already broadcasts the majority of its games within Eastern Pennsylvania. Georgetown is one of just two PL teams who will not have a home game on this television package.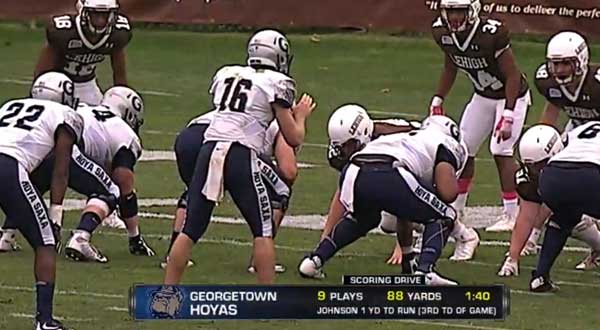 No surprises:
1. Colgate
2. Lehigh
3. Fordham
4. Bucknell
5. Holy Cross
6. Lafayette
7. Georgetown