Welcome to HoyaSaxa.com. Here's where you will find more news and information than you'll ever need to know about Georgetown University football. If you're looking for the official athletics site instead, link here.
Georgetown is a football-only member of the Patriot League, the latest chapter in a gridiron tradition which began in 1874. Additional information on the rich history of football at Georgetown can be found at www.hoyafootball.com.
For coverage of Georgetown basketball, visit our basketball site.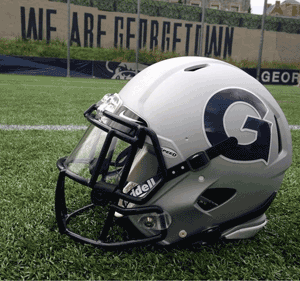 A post at the athletic department's Georgetown equipment Twitter feed announced that a new helmet design for Georgetown football will be unveiled Thursday.

Unlike some schools which change helmets by the week, the Georgetown design has been a stable one. The current helmet has been in play since 1993, adding a "G" during the 2000 season.






A pair of pre-season annuals have released their picks on the 2014 Patriot League race, with the nonscholarship Hoyas picked last:

Lindy's:
1) Fordham
2) Lehigh
3) Lafayette
4) Bucknell
5) Colgate
6) Holy Cross
7) Georgetown


Sporting News:
1) Fordham
2) Bucknell
3) Lafayette
4) Lehigh
5) Holy Cross
6) Colgate
7) Georgetown






Though not selected in the NFL draft, senior LB Dustin Wharton has been invited to the Baltimore Ravens free agent camp, per a note on Wharton's Instagram account.

Wharton is seeking to become the second Georgetown player in the modern era to make an active NFL roster, following former Washington Redskins lineman Alex Buzbee (2007-09).

Georgetown announced its recruit list Thursday, among the last schools nationwide to do so.

"We are very excited to welcome the incoming class of 32 members to the Hoya Football Family," said head coach Rob Sgarlata. "Our coaching staff did a tremendous job recruiting locally and nationally and I think the national representation of our class is a testament to the popularity and academic excellence of Georgetown University. This class should provide depth on both the offensive and defensive lines. We are also excited to welcome a number of talented skill players to the Hilltop."

But because Georgetown cannot offer a binding letter of intent, due to its non-scholarship policy, two of its top prospects were recruited away by other schools.

The Hoyas' top quarterback recruit, Sam Vaughn, verbally committed to Georgetown in January but will walk on at the University of Georgia instead. Last week, TE Zach Matthews posted on his Twitter feed that he would walk on at Georgia Tech.

The 32 recruits represents 16 states but only three received all-state recognition in their local schools. None are listed on the Rivals.com or Scout.com list of national signees. The signing list:

David Akere, DB, Carrollton, TX
Matt Apuzzi, RB, Princeton, NJ
Blake Barefoot, WR, Greensboro, NC
Kendall Catching, OL, Carrollton, TX
Gordon DeGeorge, OL, Yardville, NJ
Isaac Ellsworth, RB, Bedford, TX
Elijah English, DE, Leesburg, FL
Jack Graffagnino, TE, Lynbrook, NY
Larenz Griggs, DB, Lithonia, GA
Justin Harrell, WR, New Orleans, LA
Matt Houpert, DE, Hartford, CT
Nick James, OL, Pittsburgh, PA
Jake Johnson, DB, Corapolis, PA
Joshua Lightburn, DB, North Charleston, SC
Peter Mahoney, QB, Shaker Heights, OH
Mike McFarlane, OL, Frostproof, FL
Jim McLaughlin, WR, Fairfax, VA
Aaron Miller, OL, San Diego, CA
Luke Morris, WR, Honolulu, HI
John Oblachinski, DB, Cranford, NJ
Daniel Oyola, OL, Marietta, GA
Jimmy Rooney, WR, Sewickley, PA
Dom Scarangella, OL, Newtown, CT
Mike Smith, TE, Cranberry, PA
Jake Sweitzer, TE, Perryopolis, PA
Milan Urukalo, OL, Chicago, IL
Alex Valles, RB, Danvers, MA
Muhamad Wainwright, LB, New Brunswick, NJ
Jelani Williamson, DB, Silver Spring, MD
Henry Woodrow, P, Aspen, CO
Warren Wynn, OL, Ft. Lauderdale, FL
Dan Yankovich, DB, Ramsey, NJ

A crowd of over 250 gathered at Georgetown on Saturday for the annual Gridiron Club awards banquet, as head coach Rob Sgarlata presented the annual awards, named team captains for 2014, and announced the 11th recipient of the Joseph Eacobacci Memorial Jersey.

Team awards were as follows:

Strength & Conditioning Award: Dustin Wharton
Special Teams Player Of the Year: Brandon Durham
John L. Hagerty Award (Outstanding Back): Nick Campanella, Zack Wilke
George A. Murtagh Award (Outstanding Lineman): Michael Francis
Maurice (Mush) Dubofsky Award (Outstanding Student Athlete): Daniel Sprotte
John Burke Award (Outstanding Courage and Spirit): Isaiah Kempf, Dalen Claytor
Bishop Jeremiah Minihan Coaches Award: John Alexander, John Porter
Al Blozis Award (MVP): Dustin Wharton

The 2014 team captains are:

Nick Alfieri (LB, Portland, OR)
Alec May (DL, Wrenthem, MA)
Nick Quintans (OL, Media, PA)
Mike Roland (OL, Miami, FL)

The 2014 recipient of the Eacobacci Memorial Jersey is Nick Alfieri.

Following the banquet the team gathered on unfinished Multi-Sport Field for the spring scrimmage, which concluded about 90 minutes later.

It has been days since construction was halted on the Multi-Sport Facility.
Give our students a home that befits Georgetown.
This site would like to take this opportunity for our readers to strongly consider joining the Georgetown Gridiron Club, the official support organization of Georgetown Football.
Show your support for the Hoyas with an online gift to the Gridiron Club. Visit this link and make a donation. On the form, go to the selection box titled "Direct Your Gift", select "Other", and type in the words "Football/Gridiron Club" in the box marked "Other".
A growth in support is essential for Georgetown to compete with schools with budgets and facilities that far exceed that which exists on the Hilltop today. Your tax-deductible gift is important not only for Georgetown football, but class fund totals, parents fund totals and overall Annual Fund giving. Today's support is a vital part of tomorrow's Georgetown Football.
This is an unofficial site for Georgetown Football. If you are interested in playing football at Georgetown, please do not contact us. Write to the Department of Athletics, Georgetown University, Washington, DC 20057. General information for prospective student athletes and their parents can be found at this NCAA link.

N.B.: This not-for-profit site is supportive of, but neither directly affiliated with nor under the supervision of Georgetown University or the Patriot League. See the Fine Print page for more details.

AMDG