Video highlights from Satruday's game.
And from Facebook: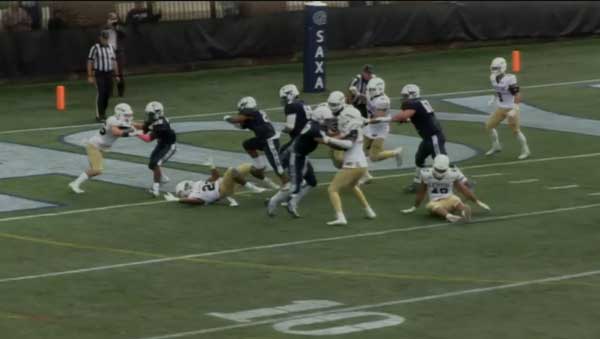 The greatest game in the Patriot League era at Georgetown University--what else can you say?
The Hoyas overcame five missed field goals with a defensive tour de force, and Jackson Saffold won the game in double overtime with runs of 23 and two yards as Georgetown upset Lehigh, 22-16, ending the longest active streak of consecutive losses to a Division I-AA opponent and placing the Hoyas 3-0 in the league.
POST-GAME COVERAGE
---
Georgetown entered the game having not won at home in over two years, and this site's pre-game report cited the need for an early spark to maintain momentum over a deeper and more talented Lehigh squad. The suggestion was taken to heart, of sorts, in the Hoyas' opening possession. After a pair of rushing plays moved the ball to its 30 yard line, QB Gunther Johnson faked the short pass and went long to Michael Dereus, returning for his first game since an injury at Columbia. The 70 yard pass and touchdown electrified the Cooper Field crowd and sent the Hoyas to a 7-0 lead less than two minutes into the game.
Following an exchange of punts, Lehigh answered Georgetown's spark with one of its own. Following a 58 yard punt by Brad Hurst and a subsequent unsportsmanlike penalty set back Lehigh 15 yards, the Engineers set up at its 13 yard line. Two plays later, QB Brad Mayes found a seam in the Georgetown secondary and found WR Jorge Portorreal down the field for 85 yards to tie the score, or so we thought. In one of three turning points of the game, the extra point was blocked by Georgetown's Duval Paul, who advanced it to the Georgetown 40 yard before encountering traffic from Lehigh tacklers. Paul alertly sent a lateral to Wes Bowers, as the sidelines opened for the Hoyas, as Bowers' runback of the PAT changed the score from a 7-7 tie to a 9-6 Georgetown lead.
On its next series, Georgetown was back on the move, as a Johnson pass to Winston Jackson Jr. drove into Lehigh territory and a Jay Tolliver run advanced the ball to the Lehigh 24 before the drive stalled. The ten play, 39 yard drive set up Hurst for a 41 yard field goal, which he sent wide.
Georgetown settled into a first half pattern where it was unable to take advantage of its lead. A Cameron Deen interception at the Lehigh 45 set up the Hoyas later in the first, but the Hoyas lost nine yards in three plays and were forced to punt. Deep in its territory, the Engineers were contained and could punt only back to its 34, where Georgetown advanced to its 20 before settling for a 32 yard field goal try from Hurst. But Hurst's kick was low and was blocked, and the Hoyas came up empty again.
Lehigh was held to three and out over its next two possessions, where the Hoyas responded with a seven play drive that advanced to the lehigh. Again came out Brad Hurst, and Hurst missed again, this time from 41 yards. The Engineers made their last run of the first half in the final minute of play, a foreshadowing of what was to come. After being held to just three first downs in the first half, Mayes again found Portorreal for 31 yards and Austin Dambach for 13 yards to the Georgetown 22, but a defensive push by Jethro Francois forced Mayes into an incompletion with 13 seconds left and the resulting field goal try from 41 yards was missed by kicker Ed Mish. Despite holding the ball for 17:35 of the half, the Hoyas had only nine points at the half, but too many missed opportunities to ignore.
After a first half where RB Dom Bragalone had been held to seven yards in favor of a pass-first approach, Lehigh returned to the ground in the second half, where the Georgetown defense was called upon in two major stops to open the third quarter. Lehigh marched 48 yards in nine plays to open the third quarter, where the Engineers closed to the Georgetown 22 before a Duval Paul sack sent the Engineers out of field goal range and forced a 4th and 11 at the GU 30, where Francois held Mayes to a three yard run. After a thee and out by the Hoyas, Lehigh returned with an 11 play drive to the Georgetown 23, where Ramon Lyons broke up a likely touchdown to Portorreal and a fourth down pass to Portorreal was dropped, as the defense, called upon so often this season, rose to th occasion yet again.
The black cloud hanging over the Georgetown special teams continued in the third quarter. Despite converting on two big third downs in a 12 play, 61 yard drive, Georgetown again stalled in the lehigh red zone and again called upon Hurst to extend the lead. A 34 yard field goal was missed left, his third of the afternoon, as the score remained 9-6 late in the third.
Following a Lehigh punt, Georgetown opened the fourth quarter with a nine play drive. Led by a 22 yard pass from Gunther Johnson to Michael Dereus, the Hoyas advanced to the lehigh 22 but soon stalled on the ground. facing a 4th and 12 at the lehigh 24, GU opted not to go for the field goal, but Johnson's pass was rushed by the lehigh defense and Georgetown turned the ball over on downs with just under 13 minutes remaining.
Lehigh returned to the ground game with its longest sustained drive of the game. Four consecutive rushes by Bragalone brought the Engineers to midfield, where RB Rashawn Allen tore through the Georgetown line for 19 yards to the GU 24. On a third and 10 at the GU 24, Bragalone broke free for 13 yards to the 11, and it seemed that if Lehigh could score a touchdown, the game might be put out of reach. A paid of Bragalone rushes were contained, and a heavy rush from DT Khristian Tate forced Mayes to throw an incompletion on third down. Lehigh settled for a tying field goal, 9-9, with 7:18 remaining.
Georgetown needed some sort of offensive response but went three and out. For its part, Lehigh could do little better, and punted the ball back with 3:16 to play. A pair of rushes by RB Jackson Saffold helped the Hoyas into Lehigh territory with under two minutes to play, and on a 4th and 3 from the lehigh 39, Johnson found Winston jackson for five yards to extend the drive. Consecutive rushes by Saffold brought the Hoyas to the lehigh 24 with under a minute to play, and a pair of runs to set up field position for Hurst soon followed. With three seconds remaining, Hurst was put in the position to end his futility and become the hero of the game with a 41 yard field goal.
Hurst had practiced such a kick countless times on the Cooper Field surface and even two Lehigh time outs would not be enough to break his concentration. But like his first attempt in the first quarter, Hurst punched a line drive that was blocked at the line of scrimmage, an astounding fifth missed field goal attempt of the afternoon, and Georgetown stumbled into overtime, 9-9.
If there Hoyas were shell-shocked by Hurst's ongoing misfortune, they didn't show it to open up the overtime. Lehigh won the coin toss and sent georgetown o the 25 to open the series, where Safford ran for four yards and Johnson found Dereus with a 19 yard pass to the lehigh 2. A Saffold two yard run gave the Hoyas a 16-9 advantage. On its series, Lehigh was contained by the Hoyas defense and faced a 4th and 5 at the georgetown 20 with the game in the balance. Once again, the Engineers silenced the Cooper Field crowd by finding WR Devon Bibbons for a 20 yard pick up and to tie the score at 16. . On the first possession of the second OT, the Hoyas held Bragalone to two yards and forced an incompletion on second down. On third and eight at the GU 23, a Mayes pass to Jorge Portorreal was bobbled by Portorreal and intercepted by Jethro Francois on the Lehigh sidelines, a stunning turn of events and setting the Hoyas up for the win if they could somehow get a score.
A sixth field goal try was not in the game plan. From there, Safford rushed 23 yards to the two and two yards for the momentous score before a crowd at Cooper Field that had seen a little bit of everything in this game...good, bad, and ugly.
Both quarterbacks were inconsistent and relied on big plays for their totals. Gunther Johnson was 16 of 37 for 270 yards, but three passes accounted for nearly half the yardage. Jackson Saffold led all rushers with 63 yards, 31 yards of which came in overtime. Michael Dereus caught three passes for 120 yards, each of which were major factors in the game.
Lehigh's Brad Mayes was 16-40 for 253 yards, but two INT's proved costly. Dom Bragalone finished with 90 yards to break 4,000 for his career. Just six yards separated the teams in total offense.
The game excised a lot of demons for the Hoyas. It was Georgetown's first win versus Lehigh in 17 consecutive tries dating to 2001, and its first 3-0 start in PL play since joining the league, also in 2001. For Lehigh, it marked only the third 0-2 start since joining the Patriot League in 1986, while its six game losing streak is now its longest since 1967.
In its 17 prior meetings, Lehigh had defeated Georgetown by an average of 25 points, and had Lehigh got ahead in the second half, there is no telling how far the streak would have gone given the ongoing scholarship disparity between the teams. But for one afternoon, anyway, Georgetown had earned a hard fought victory that none of its predecessors could muster, and with it, the respect of the entire Patriot League.
"The streak was never going to last forever," said Lehigh coach Andy Coen. "You have to give the Georgetown players a lot of credit, there are a lot of dynamic players on that squad. When you're in such a defensive game and it's going back and forth, it's eventually going to break one way, but unfortunately, it didn't break our way."
Next week, the unlikeliest of matchups: the 6-0 Colgate Raiders, picked first in the pre-season polls, versus a Georgetown team picked last in the pre-season but now with an identical 3-0 record in league play.
Game statistics:

                              LEHIGH       GEORGETOWN 
First downs                       19               18
Rushed-yards                  38-104            44-93
Passing yards                    253              270
Sacked-yards lost               3-22             3-26
Passes                       16-40-2          16-37-0
Punts                         7-43.0           6-46.5
Fumbles-lost                     1-0              0-0
Penalties-yards                 5-66             6-64 
Time of possession             28:41            31:19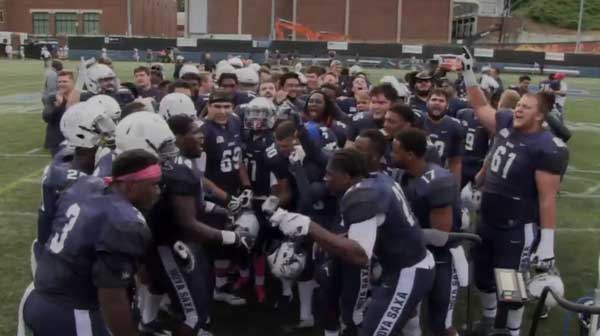 Here is the current list of consecutive losses to one team in the I-AA/FCS subdivision, with Georgetown-Lehigh no longer the longest active streak.
32-Grambling State over Prairie View A&M, 1977-2008
22-Eastern Kentucky over Tennessee Tech, 1976-1997
20-Pennsylvania over Columbia, 1997-2016
20-Eastern Kentucky over Austin Peay St., 1978-1997
18-Western Illinois over Southern Illinois, 1984-2001
18-Eastern Kentucky over Morehead St., 1972-1989
17-Lehigh over Georgetown, 2001-2017
17-Princeton over Columbia, 1954-1970
16-Montana over Montana St., 1986-2001
16-Harvard over Columbia, 1979-1994
16-Middle Tennessee over Morehead St., 1951-1966
15-Dartmouth over Brown, 1960-1974
15-Lehigh over Bucknell, 1998-2012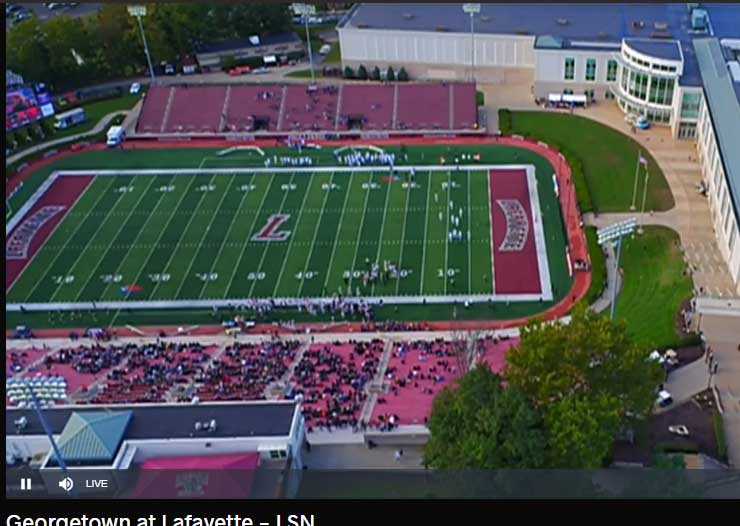 In the epicenter of the Patriot League, this weekend's games in the Lehigh valley should have been standouts.
At 12:30, Lehigh hosted its first home game in a month, honoring two championship teams from its recent past. Instead, the Engineers drew a season low 4,115 at Goodman Stadium. A decade ago, that same game drew over 7,000.
Down the road at Fisher Field, it was homecoming at Lafayette, coming off a bye week and a win over Central Connecticut. This game, scheduled for 3:30 pm after the Lehigh game , drew an announced crowd of 4,657, but may have been half that.
Lehigh and Lafayette are a combined 2-10 this season. Six of seven PL teams are under .500, and only Colgate (6-0) and Georgetown (3-4) have more than one win all season. In this week's Sagarin ratings, the PL ranked 11th of 13 I-AA conferences, ahead of the SWAC and the nonscholarship Pioneer. Over the last two seasons, the PL is 15-51 (.227) out of conference, and outside of undefeated Colgate, its record this season is 4-24 (.142).
It's a question which needs to be asked--what's wrong with the Patriot League?
More follows at the
Third Rail
blog.