The latest photo update on Cooper Field construction asks the question: is there yet another design on the project?
Unless you're in the athletic department or the Georgetown University office of construction management, trying to figure out this project can be confusing.The photo above suggests a second tier of seats is now under construction.
There have been no less than six distinct designs made public over the years, the most recent in 2018 showing a single deck of stands along the west side: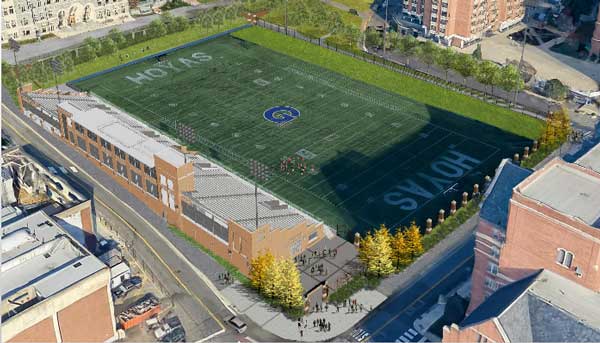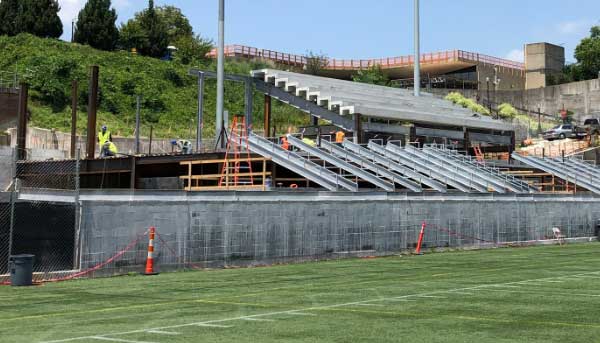 With less than seven weeks to the start of the season, a completion date has not been announced.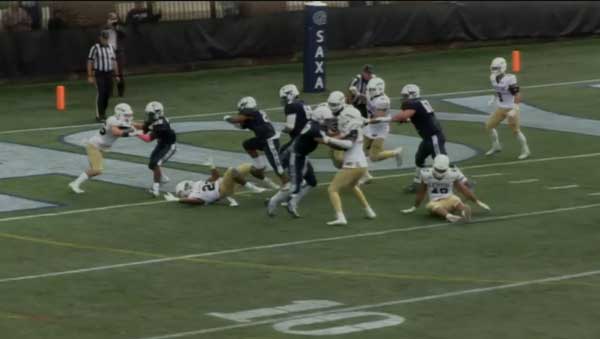 Georgetown is selected third in the Patriot League in this preview from College Sports Journal.
"Georgetown's feather-light out-of-conference schedule will give plenty of opportunities for wins, with games against Columbia and Cornell interesting litmus tests," it writes. "Their defense, too, will give them a chance to get momentum going into November 2nd when they face Colgate in a possible game with Patriot League title implications. A trip to Lehigh's Murray Goodman Stadium on October 26, a place where Georgetown has never won, is another interesting game."
On June 30,
Hero Sports
provided an online preview.
"Expectations are set for the Hoyas," it said. "After tasting what it's like to be near the top of the conference standings, this team wants to be right there again. The schedule lines up to where Georgetown can be over .500 overall. But it's in the Patriot League where it really matters. Two games are key: versus Colgate and at Holy Cross. These three teams will duke it out for the conference title."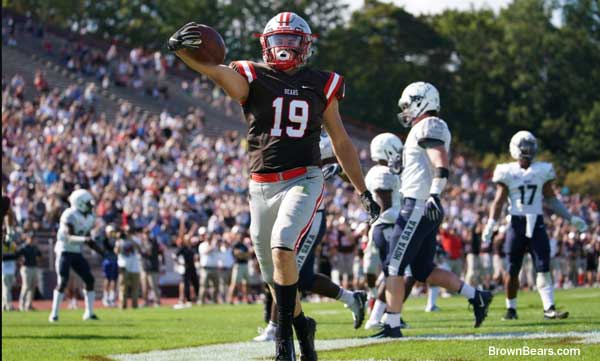 After a number of years of declining interest in Georgetown by some Ivy League schools, Brown University has announced a four year series with Georgetown beginning in the 2023 season.
The school's release of
future schedules
for the next eight years is lean on PL schools but includes season openers with the Hoyas in the 2024, 2025, 2026, and 2027 seasons.
Georgetown is 1-5 all time versus Brown.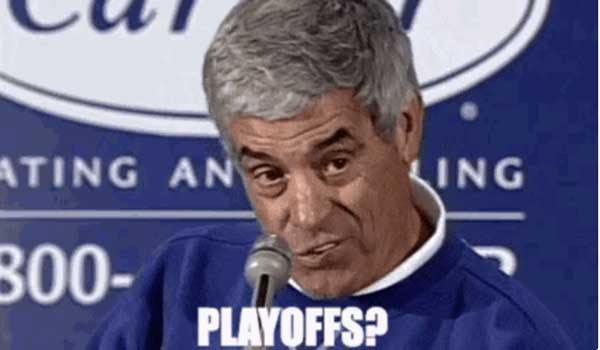 Now there's a word you don't hear at Georgetown.
But football columnist Craig Haley puts Georgetown on a list of possible I-AA/FCS playoff contenders, per this link to the
Associated Press
.
"The Hoyas' porous history - only one winning season since 1999 - would seem to preclude them from playoff discussion, but they were the surprise of the Patriot League last year, facing eventual champ Colgate in a matchup of 3-0 league teams in late October," he writes. "There's no shortage of playmakers as coach Rob Sgarlata returns 15 starters, led by third-year quarterback Gunther Johnson on offense and defensive end Khristian Tate, who had a league-high 10 sacks, and linebacker Wes Bowers on defense."
Given the Hoyas' strength of schedule, the more realistic path to the playoffs is likely the PL title.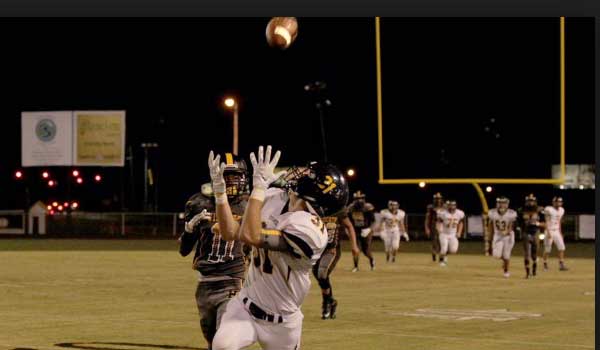 A pair of transfers are among five newcomers announced to complete the roster for the 2019 Georgetown Hoyas.
Cooper Melton, a 6-3 WR, joins the Hoyas this fall. Melton was a preferred walk on at Tennessee who saw no game action in two seasons for the Volunteers, but set school records in high school with 146 receptions for 2,281 yards and 27 touchdowns. Melton announced a transfer to Georgetown at the end of his fall semester but transfer admissions are not final until June.
He will be joined by Davis Walker, a place kicker from Potomac MD who played one season at Tulane, along with high school commits Jonathan Higgins (DB, Pembroke Pines, FL), Michael Hussey (LB, Media, PA), and Joshua Staley (RB, Madisonville, TN).
The five newcomers will succeed eight players from the 2018 roster not returning in 2019; seven of the eight will remain as students:
| | | | | |
| --- | --- | --- | --- | --- |
| Name | Pos. | Ht | Wt | Stats |
| Andre Danove | DB | 5/9 | 170 | Two seasons, 19 games, 28 tackles |
| Antonio Griffith-Keaton | DB | 6/2 | 205 | One season, no game action |
| Zaccariah McBride | P/K | 6/1 | 175 | One season, no game action |
| Oliver Hill | K | 5/11 | 168 | Two seasons, four games |
| Tim Casilli | LB | 6/2 | 215 | One season, no game action |
| Seth Martin | OL | 6/4 | 285 | One season (2017), six games, three starts |
| Izaiah Thompson | OL | 6/4 | 280 | Two seasons, no game action |
| Alex Ederson [1] | OL | 6/3 | 290 | One season, six games |
[1] Transfer to West Texas A&M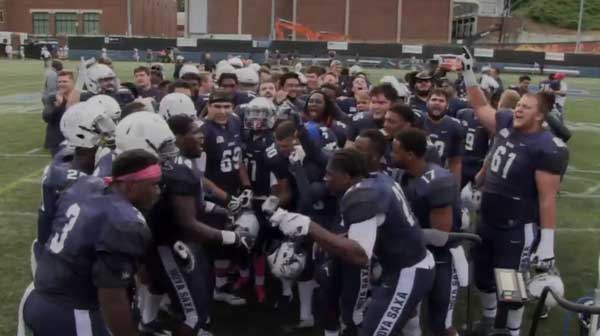 Street and Smith's pre-season annual has given Colgate the nod to repeat as Patriot League champions.
Beyond that, the writers simply followed the 2018 end of season standings for its picks:
1. Colgate (10-2 in 2018, 6-0 PL)
2. Holy Cross (5-6, 4-2 PL)
3. Georgetown (5-6, 4-2 PL)
4. Fordham (2-9, 2-4 PL)
5. Lafayette (3-8, 2-4 PL)
6. Lehigh (3-8, 2-4 PL)
7. Bucknell (1-10, 1-5 PL)