Welcome to HoyaSaxa.com. Here's where you will find more news and information than you'll ever need to know about Georgetown University football. If you're looking for the official athletics site instead, link here.
Georgetown is a football-only member of the Patriot League, the latest chapter in a gridiron tradition which began in 1874. Additional information on the rich history of football at Georgetown can be found at www.hoyafootball.com.
For coverage of Georgetown basketball, visit our basketball site.
From the Georgetown Gridiron Club:
Tailgate Location: The tailgate will be held on the Jesuit Residence Lawn directly across from the parking lot in front of the McDonough Arena. We will have Georgetown banners up so we'll be easy to spot! Free parking is available in the Southwest Quad parking garage located in front of the football stadium.

Tailgate specifics: We will have the food/drink set up by 9:30 a.m. There is no cost (see "Tailgate Sponsor" below). Please bring your appetite!

Local families/families driving to the game – feel free to bring your chairs & coolers with your drinks of choice.

Tailgate Sponsor: Our Tailgate Sponsor for the Georgetown vs. Holy Cross game is The Gridiron Club.

As a tradition, after the game, all players, friends and families are invited to the "Post-Game Tailgate" held on the Jesuit Residence Lawn. The Georgetown University Grilling Society will prepare hamburgers and hot dogs for all. We will also have a live DJ and presentations to the seniors.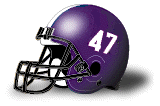 As the 2014 season approaches its end, owe looks back on a difficult, yet utterly predictable season for the Georgetown Hoyas--motivated, hard working, but under manned in most of its games this season. A trio of close losses were emblematic of a team that never let the scoreboard determine its performance, and to that the team and its senior class deserves a fitting send off Saturday against Holy Cross.
Unfortunately, such recognition appears to be unlikely. In a scheduling conflict, the men's basketball team is hosting Robert Morris across town at the same time as the Holy Cross game, depleting the unfinished Multi-Sport Field of most of its student population. Those students on the field will put hoops aside for one more day and focus on a Holy Cross team which is all too familiar with close games. Of its seven losses this season, five have been by seven points of less.
More on the Crusaders follows Friday evening at the Pre-Game Report page.
From HoyaSaxa.com, Nov. 23, 2013:
"Kyle Nolan's 82 yard quarterback run with 1:57 to play earned Georgetown its most important win of the season, rallying from an early deficit and dominating the second half in a 28-21 upset of Holy Cross at Fitton Field in Worcester, MA. The win ended an eight game losing streak for the Hoyas and earned Georgetown a season ending win for only the second time since the 2002 season.

The Hoyas stumbled at the start, with a fumble by senior RB Nick Campanella on the second play of the game. HC took over in Georgetown territory, driving 42 yards in six plays for the 7-0 lead three minutes into the game. The Hoyas punted the ball back but a Holy Cross returned fumbled the wind-adjusted punt, setting up the Hoyas at the Crusader 26. The offense stalled over the next three downs, but with nothing to lose, Georgetown opted to go on 4th and six at the 22, with sophomore QB Kyle Nolan finding senior TE Dan Sprotte for the first down. Three plays later, sophomore RB Joel Kimpela went six yards for the score, 7-7.

Holy Cross reasserted itself over its next series: a nine play, 71 yard touchdown drive late in the first quarter, aided by a late hit by junior LB Patrick Boyle into the Georgetown bench that extended the Crusaders' drive. GU ended the first quarter on a three and out, and following a defensive interception to stall a Holy Cross drive at the Georgetown 35, the G-men turned in a second three and out. On its next series, however, Nolan took advantage of the wind, with passes to Zack Wilke and Brandon Durham to advance inside the HC 20. A Following a penalty, Nolan found WR Justin Hill with a 29 yard pass to the one yard line, and took it over on the following play, 14-14, with 5:20 to halftime.

The Hoyas held Holy Cross in check over the next three Crusader series, forcing three straight punts. The Hoyas looked to be taking advantage of the wind at its back in its final series of the half, with Nolan completing passes to Wilke and Elliott Owusu to close inside the HC 25, but three offensive penalties pushed the Hoyas back and forced an unwieldy 52 yard attempt from PK Matt MacZura which fell short at the end of the first half.

Georgetown maintained the wind direction entering the third quarter and took early advantage, with Nolan found Wilke in stride with a 49 yard pass to the HC 25. The Hoyas advanced to the Crusader 10, and cashed in for a 29 yard MacZura field goal, 17-14, its first lead in a third quarter since mid-September.

Holy Cross simply could not move against the Hoyas and against the wind, failing to post a first down in its fifth straight series since the second quarter. Georgetown marched 10 plays to the HC 23, and on the 39 yard field goal attempt appeared to be faked and Georgetown lost three yards in the process.

The third quarter Crusaders continued to be generous to the Hoyas, but the touchdowns did not materialize. On the third play of the next drive, QB Peter Pujals threw a pass that was picked off by DB Cameron Gamble at the HC 44. Seven plays later, the drive stalled at the HC 22, with a 39-yard MacZura field goal extending the count to 20-14.

Holy Cross got the wind into the fourth, and on its first play of the quarter picked up its original first down of the second half. The Crusaders picked up three more first downs before WR Kyle Tolouse fumbled a likely touchdown, recovered by DB Garrett Powers at the two. A big drive followed for Georgetown at the 11:15 mark of the 4th, where Nolan led the Hoyas on converting three consecutive third down possessions to keep the clock moving. Another third down followed at the 6:24 mark, where a 15 yard pass from Nolan to Sprotte was invalidated for an illegal receiver downfield. Georgetown punted it back at the 5:59 mark, with HC taking over at its 15. Five plays took the Crusaders across midfield, but a holding call on the Crusaders set the drive back to its 44 with 3:20 to play. With 2:56 to play, HC faced a 3rd and 20, whereupon DT Richard Shankle sacked Pujals at the 36 and forced a punt with 2:15 to play. Georgetown took over at its 15. A first down run to Kimpela netted four, and when everyone expected Kimpela to get the carry on second down, Nolan took off untouched down the field for 82 yards, fooling the Patriot League Network cameras and sending the ever-stalwart Hoya fans across Fitton Field to its feet. A two point conversion passed muster, and GU took over, 28-14.

Holy Cross wasted no time to come back, with an eight play drive that advanced to the Georgetown 12 entering the final minute. Pujals threw a touchdown to freshman Jake Wieczorek with :47 left, 28-21, but Georgetown alertly recovered the onsides kick at midfield and ran out the clock."
To the Hoya Football Family,

This past weekend, we traveled to New York to play one of our oldest rivals, the Fordham Rams. Throughout the bye week and the days leading up to the game, a number of alums wrote emails and called to share their stories of the Fordham rivalry. It is a rivalry that is rich in history and emotions. I want to thank Georgetown Hall of Famer Bob Morris for his recounting of Georgetown 35-7 victory against Fordham in 1974. I also want to thank our adopted teammate Jackson and his brother Mason and sister Gillian, for this message of encouragement.

The Hoya Family is strong in the northeast and we had a tremendous amount of support at the game. Bruce Simmons and Robbin Robinson put together a great tailgate for all of the Hoyas who braved the cold to watch the game. Special thanks to Jimmy Corcoran, Roger Daly, and John Verni for sponsoring the tailgate. The number of alums who are involved in the program is awesome.

On Friday, we were able to conduct our run through at MetLife Stadium, the current home of the NFL's New York Giants and New York Jets. A special thanks to Mr. Rooney for helping to arrange the opportunity. I remember practicing at the Meadowlands while playing for Scotty Glacken and Bob Benson when we would play St. John's or St. Peter's. It was always a thrill back then, and Friday was the same experience. Following the run through, I spoke to the team about the history and tradition of the Hoya Football Program. I pointed to Hoya legend Al Blozis' name in the ring of honor at MetLife Stadium to illustrate my point. It is important for our current players and alums to understand the importance of our program in the past, present and future.

Saturday, we played a very good Fordham team. They are currently ranked No.7 in the country and are the 2014 Patriot League Champions. They have a very powerful offense that was averaging over 40 points per game. Our game plan was to limit the number of Fordham's possessions by controlling the ball on offense, eliminate the big play on defense, and take some chances in the kicking game to steal a possession or two. Unfortunately, we were unable to follow this game plan and lost by a score of 52-7. On offense, we were not consistent enough to maintain possession of the ball. Penalties and an interception contributed to five 3-and-outs in our first 7 drives. While we were able to run the football, however, our passing game could not get on track. We were a total of 8-for-26 in the passing game. A combination of drops and good man-to-man defense attributed to these numbers. This inconsistency allowed Fordham to possess the ball for the majority of the first half.

Defensively, we were able to contain the run game, but we did not make enough plays against Fordham's very efficient pass offense. We held both of Fordham's outstanding running backs close to their season low outputs on the ground. However, we were unable to create a consistent pass rush and Fordham completed a number of deep passes.

Our kicking game continued to be a mix of good and bad. Our return teams were very efficient, but our punt protection was not. Unfortunately, we did not play well early against a very good football team. When you play good opponents, all of your little mistakes are exacerbated.

On the positive side, Jo'el Kimpela continued to have a great junior campaign. He rushed 15 times for 104 yards. Senior Danny Wright provided us with great field position all day with a great day on kickoff return. Junior Jake DeCicco continued to provide a spark for our offense and had a great catch and run for a 33 yard touchdown from Kyle Nolan. On the defensive side, senior Wardell Crutchfield led the team with nine tackles. Senior Alex May continued to play well and had seven tackles, a tackle for a loss, a forced fumble and a sack.

During the bye week we continued to expand the "4 for 40" program. Georgetown Football Hall of Famer John Kuhns traveled to DC to speak to our players. John spent an over an hour talking to the players about his journey from the Hilltop to Wall Street and beyond. John did a great job of providing the players with practical knowledge and insights from his extremely successful career. The presentation ended with a great question and answer session on topics ranging from resumes requirements to interview skills to graduate school. John is one of many alums and friends of the program who have taken a genuine interest in our players and their development. I am truly grateful for everyone's efforts.

I would like to thank Jackson Dundon, Elijah Davis and their families for agreeing to be honorary captains for our Lehigh game. Jackson and Elijah are members of our team who are associated with the Friends of Jaclyn Foundation. Our core principle of "men for others" states that we are the ones providing the benefit in the relationship. I can honestly say that our players and staff have gained so much more from this relationship than we have provided. Both Jackson and Elijah's and their families have taught us so much about the real meaning of "SISU." Their unbelievable courage in the face of pediatric brain cancer is a constant inspiration to us. In exchange for their much needed help with the coin toss, #35 Nick Alfieri produced this video to commemorate the day.

We are preparing for our final game of the 2014 season. We play Holy Cross on the Hilltop on Saturday at noon. We will again have our "4 for 40" lunch on Friday. If you are on campus, please let me know. We will have a senior day ceremony on Saturday to honor the 21 seniors who have helped to set the foundation for the future of this program. I would personally like to thank our senior class and their parents and families for their tireless work and dedication to establish and advance the Hoya Football culture. Thank you to Nick Alfieri, Alec May, Nick Quintans, Mike Roland, Darius Baxter, Mitchell Black, Patrick Boyle, Xander Carpousis, Michael Cimilluca, Chad Coleman, Wardell Crutchfield III, Peter Daibes, Billy Duncan, John Egan, Mike Kasten, Ryan Rattay, Jordan Richardson, Javan Robinson, Richard Shankle, Gibson Vaught and Danny Wright. I will always remember my first senior class as a head coach.

Have a great week. I look forward to seeing everyone this weekend!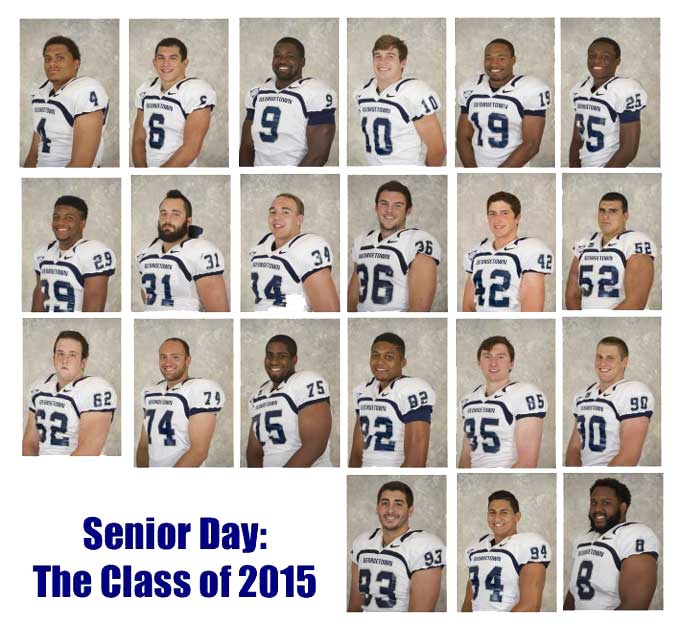 Few classes at Georgetown have gone through a four year period quite like the Class of 2015. Three seasons ago, they stood at Lehigh's Murray Goodman Stadium with a ninth win in sight for the 2011 season, a confluence of events which put the Hoyas near the summit of a Patriot League race that it had never seen before. Three seasons later, they have won just nine games in the interim.
This class has been more than wins and losses, however, and has been a group that has shown the resilience on and off the field that will serve them well in their careers and life experiences to come:
Nick Alfieri (LB, Portand, OR): A four year starter with 41 starts of 43 games entering last week's game with Fordham, where he suffered a knee injury in t4h second quarter. A second team All-PL selection in 2013, Alfieri will end his Georgetown career with over 300 tackles.
Darius Baxter (WR, Accokeek, MD): Three year contributor at receiver and special teams.
Mitchell Black (DL, Edinburgh, UK): A three time PL All-Academic selection, he appeared in 15 games over his final two seasons.
Patrick Boyle (LB, Wheaton, IL): Appeared in 27 games over three seasons including 11 starts. led the Hoyas in tackles in 2013 with 98.
Xander Carpousis (Winter Park, FL): Played in six games as a freshman, lost to injury after the 2012 season. Served as a student assistant coach in 2014.
Michael Cimilluca (WR, Fairfield, NJ): A redshirt senior, Cimilluca appeared in 24 games over three seasons, currently fourth on the team in receptions.
Chad Coleman (DB, Flint, MI): A two year contributor to the secondary who has fought off injuries in two other seasons. A two-time PL All-Academic selection.
Wardell Crutchfield III (LB, Pomona, CA): Four year contributor at linebacker and on special teams.
Peter Daibes (DL, Wayne, NJ): Appeared in 32 games over four seasons, with important contributions as a starter for part of his junior and senior seasons. An All-PL Academic selection.
William Duncan (DL, Wayne, NJ): Four year contributor, no game time listed.
John Egan (DB, Atlanta, GA): Four year letterman, two years as a contributor on defense and special teams.
Michael Kasten (OL, Freehold, NJ): Two year starter on the offensive line.
Alec May (DL, Wrenthem, MA): A defensive mainstay for the Hoyas, May has started 27 games over his 43 game career and enters Saturday's game leading the nation in sacks (15.5) and one sack removed from the Georgetown single season record.
Nick Quintans (OL, Media, PA): A two year starter on the offensive line, moved from center to guard in 2014.
Ryan Rattay (LB, Toledo, OH): A four year contributor on defense and special teams.
Jordan Richardson (DL, Watkinsville, GA): A dominating if sometimes underrated part of the georgetown defense, Richardson has started in 41 games, and is currently fourth on the team in tackles. An All-PL Academic selection.
Javan Robinson (DB, Carrollton, TX): Coming back after a injury his freshman season, Robinson has played in 29 games over three seasons in the secondary and special teams.
Mike Roland (OL, Miami, FL): A three year starter on the offensive line.
Richard Shankle (DL, Atlanta, GA): A three year starter on the defensive line, Shankle has 18 tackles this season.
Gibson Vaught (DL, Ashland, VA): Three year contributor on the defensive line.
Daniel Wright (WR, Washington, DC): A two year defensive back, Wright took off the 2013 season and returned in 2014 to play running back, becoming a vital option in the offense--second in rushing, and leading the team in kickoff returns with an a average of 23.7 yards per return.

Seven players did not play all four years. Of these, six are on course to graduate:


Stephen Skon (QB, Lindenhurst, NY): Two years varsity.
Charles Takeh (RB, Miami, FL): Two years varsity.
Justin Froncek (DB, Bastrop, TX): Two years varsity.
Joseph Williams-Blackwell (RB, Odenton, MD): One year varsity.
Dave Kurtyka (WR, Radnor, PA): Two years varsity.
Connor Bohling (OL, Westport, CT): Three years varsity.
Joe Rosenblatt (DL, Ellicott City, MD): One year varsity, transferred to Maryland, saw one year on the Terrapins roster, but did not see game action.

It has been days since construction was halted on the Multi-Sport Facility.
Give our students a home that befits Georgetown.
This site would like to take this opportunity for our readers to strongly consider joining the Georgetown Gridiron Club, the official support organization of Georgetown Football.
Show your support for the Hoyas with an online gift to the Gridiron Club. Visit this link and make a donation. On the form, go to the selection box titled "Direct Your Gift", select "Other", and type in the words "Football/Gridiron Club" in the box marked "Other".
A growth in support is essential for Georgetown to compete with schools with budgets and facilities that far exceed that which exists on the Hilltop today. Your tax-deductible gift is important not only for Georgetown football, but class fund totals, parents fund totals and overall Annual Fund giving. Today's support is a vital part of tomorrow's Georgetown Football.
This is an unofficial site for Georgetown Football. If you are interested in playing football at Georgetown, please do not contact us. Write to the Department of Athletics, Georgetown University, Washington, DC 20057. General information for prospective student athletes and their parents can be found at this NCAA link.

N.B.: This not-for-profit site is supportive of, but neither directly affiliated with nor under the supervision of Georgetown University or the Patriot League. See the Fine Print page for more details.

AMDG