Welcome to HoyaSaxa.com. Here's where you will find more news and information than you'll ever need to know about Georgetown University football. If you're looking for the official athletics site instead, link here.
Georgetown is a football-only member of the Patriot League, the latest chapter in a gridiron tradition which began in 1874. Additional information on the rich history of football at Georgetown can be found at www.hoyafootball.com.
For coverage of Georgetown basketball, visit our basketball site.
How does the depth chart by class look for the 2015 Hoyas? Here's a breakdown by class and by position entering training camp: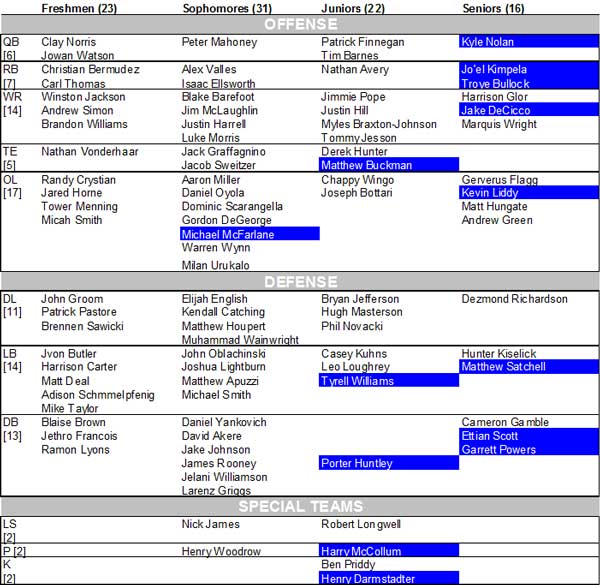 Starters from the 2014 season finale are in blue.
While it's possible some underclassmen might not return, the need for players to step up is strongest on the lines, where the Hoyas return two offensive linemen and must rebuild its defensive line.
Patriot League previews from the Sporting News and Lindy's sports annuals, plus the computer model from the Massey ratings system:
| | | |
| --- | --- | --- |
| Sporting News | Lindy's | Massey |
| 1. Fordham | 1. Fordham | 1. Fordham (9-2, 6-0 in PL) |
| 2. Bucknell | 2. Bucknell | 2. Lafayette (6-5, 5-1) |
| 3. Colgate | 3. Colgate | 4. Bucknell (7-4, 3-3) |
| 4. Lafayette | 4. Holy Cross | 5. Colgate (6-5, 3-4) |
| 5. Lehigh | 5. Lafayette | 5. Holy Cross (4-7, 2-4) |
| 6. Holy Cross | 6. Lehigh | 6. Lehigh (4-7, 1-5) |
| 7. Georgetown | 7. Georgetown | 7. Georgetown (2-9, 0-6) |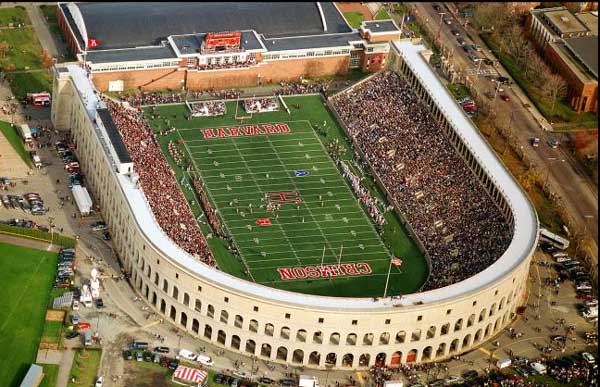 Georgetown's inaugural game at historic Harvard Stadium has been moved from a Saturday noon start to Friday night, Oct. 2 at 7:00 pm, according to the Harvard online schedule.
Harvard usually features one night a game a year at the historic stadium, built in 1903 and overlooking the Charles River. The Crimson enter the 2015 season winners of 14 straight and 19 of its last 20.
Single game tickets are on sale.

It has been days since construction was halted on the Multi-Sport Facility.
Give our students a home that befits Georgetown.
This site would like to take this opportunity for our readers to strongly consider joining the Georgetown Gridiron Club, the official support organization of Georgetown Football.
Show your support for the Hoyas with an online gift to the Gridiron Club. Visit this link and make a donation. On the form, go to the selection box titled "Direct Your Gift", select "Other", and type in the words "Football/Gridiron Club" in the box marked "Other".
A growth in support is essential for Georgetown to compete with schools with budgets and facilities that far exceed that which exists on the Hilltop today. Your tax-deductible gift is important not only for Georgetown football, but class fund totals, parents fund totals and overall Annual Fund giving. Today's support is a vital part of tomorrow's Georgetown Football.
This is an unofficial site for Georgetown Football. If you are interested in playing football at Georgetown, please do not contact us. Write to the Department of Athletics, Georgetown University, Washington, DC 20057. General information for prospective student athletes and their parents can be found at this NCAA link.

N.B.: This not-for-profit site is supportive of, but neither directly affiliated with nor under the supervision of Georgetown University or the Patriot League. See the Fine Print page for more details.

AMDG