Welcome to HoyaSaxa.com. Here's where you will find more news and information than you'll ever need to know about Georgetown University football. If you're looking for the official athletics site instead, link here.

Georgetown is a football-only member of the Patriot League, the latest chapter in a gridiron tradition which began in 1874. For coverage of Georgetown basketball, visit our basketball site.
Latest News
| | |
| --- | --- |
| Kyle Nolan Invited To NFL Minicamp | 5/2/16 |
While no Georgetown player has been selected in the NFL Draft since 1945, senior QB Kyle Nolan has been invited to the May 5 Baltimore Ravens minicamp, reports a release at GUHoyas.com.
"Kyle Nolan is one of the most physically gifted and intelligent players I have coached over the past 20 years," said coach Rob Sgarlata. "He has worked extremely hard and I am very excited for him to have this opportunity."
"Emotionally my Dad, who played quarterback at Southern Connecticut State and played semi-pro, really helped me through this process," said Nolan. "He helped me keep my head on my shoulders and keep pushing forward."
Six Georgetown players since 2012 have been invited to mini-camps, but none have yet been selected for a game-day roster.
| | |
| --- | --- |
| Former Georgetown Coach Finds New Home | 4/26/16 |
Kevin Kelly, head coach at Georgetown from 2006 through 2013, has been named head coach at Wyoming Seminary, a Pennsylvania prep school, reports the Wilkes-Barre Times Leader.
Kelly left Georgetown in 2014 to become the defensive coordinator at Ball State under Georgetown alumnus Pete Lembo (C'92). The Cardinals were 8-16 over the past two years and its total defense was 11th in the 13 team conference. When Lembo left for Maryland after the 2015 season, the new coach overhauled the entire staff.
"My wife and I are looking forward to enjoying excellent opportunities to interact with and mentor students in an academic and residential environment and we are very excited to be joining the Sem family," Kelly said. "I am just as excited about working with the tight-knit group of staff and faculty, some of whom I was fortunate to have met during the interview process. I also am looking forward to continuing to build a football program that the entire Wyoming Seminary family will be proud of. I feel I have a lot to offer Sem and Sem has a lot to offer me."
While some former assistants under Kelly stayed when Rob Sgarlata took over as head coach, a number of his former Georgetown assistants during these years remain part of the coaching fraternity:
Dassin Blackwell (2006-09) is an assistant coach at Towson.
Frank Colaprete (2007-09) is head coach at the College of Wooster (OH).
Matt Dence (2010) is head coach at Germantown (PA) Academy.
Renato Diaz (2011) is an assistant coach at Coastal Carolina.
Brad Dunlay (2006-11) is an assistant coach at Colgate.
Kevin Gilbride Jr. (2006) is an assistant coach with the NFL's New York Giants.
Douglas Goodwin (2010-12) left coaching in 2013 and became an IT recruiter.
Carlton Hall (2006) was most recently an assistant coach at Williams (MA).
Tony Lucas (2011) is an assistant coach at Delaware.
D.J. Mangas (2013) is an assistant coach at William & Mary.
Vinny Marino (2012-13) is the new offensive coordinator at Davidson.
Kyle McAllister (2010) is an assistant coach at New Hampshire.
Jim Miceli (2006-09) is an assistant coach at Rhode Island.
David Patenaude (2010-11) is the offensive coordinator at Coastal Carolina.
Matt Shea (2008) was most recently an assistant at DeMatha (MD) HS.
James Vollono (2006) joined the staff at Georgia in 2016 as an assistant coach.
| | |
| --- | --- |
| Spring Banquet Awards | 4/25/16 |
The rundown of team awards from the recent spring banquet:
Al Blozis Award (MVP): Matthew Satchell, LB
John L. Hagerty Award (Outstanding Back): Kyle Nolan, QB; Ettian Scott, CB
George A. Murtagh Award (Outstanding Linemen): Kevin Liddy, OL
Bishop Jeremiah Minihan Award (Coaches Award): Troye Bullock, RB; Dezmond Richardson, DL
Robert P. Dahut Award (Most Improved): Mike Taylor, DL; Micah Smith, OL
John D. Burke Award (Courage and Spirit): Harrison Glor, WR; Cameron Gamble, CB
Maurice Dubovsky Award (Outstanding Student-Athlete): Jimmy McLaughlin, WR
Special Teams Player of the Year: Henry Darmstadter, K
Strength and Conditioning Award: Joel Kimpela, RB
The Belt Award: Matt Hungate, OL
12th Man Award: Josh LaRosa, staff
Tyrell Williams Sisu Award: Tyrell Williams, LB

Say hello to the 2016 recipient of the Joe Eacobacci No. 35 Jersey QB Tim Barnes...https://t.co/qlRp9LkIiU

— Georgetown Football (@HoyasFB) April 23, 2016
1st ever recipient of Tyrell Williams #Sisu Award is LB Tyrell Williams #WeAreGeorgetown @https://t.co/Jg2bniIyIk

— Georgetown Football (@HoyasFB) April 23, 2016
Robert Paul Dahut Most Improved Player Award goes to Mike Taylor III and Micah Smith #hardwork https://t.co/1o16f2pIZr

— Georgetown Football (@HoyasFB) April 23, 2016
Special Teams Award goes to Henry Darmstadter #automatic #WeAreGeorgetown @ Georgetown University https://t.co/CLcTn1zBsH

— Georgetown Football (@HoyasFB) April 23, 2016
| | |
| --- | --- |
| 2016 Schedule Finalized | 4/1/16 |
The final game of the 2016 was announced this week, as Davidson returns to the schedule with a Sep. 3 game at Cooper Field.
The complete release follows at GUHoyas.com.
Georgetown has announed its recruit list for the class of 2020. Here's the list--more details on the students to follow.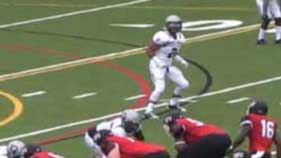 A Shocking Start
Linebacker Ty Williams is critically injured in a 48-20 loss to St. Francis.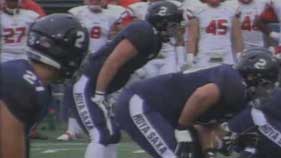 Rally For Ty
The team comes together in a 34-7 rout of Marist.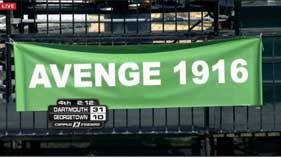 1916 Avenged
Dartmouth and Georgetown meet for the first time in 99 years.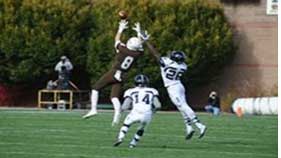 Lehigh, Again
Enginners hold off Hoyas for its 15th consecutive win vs GU.
---
Related Stories
Ty Williams Injury

Here's a link to prior coverage from the Sept. 6 injury to junior LB Tyrell Williams.

Cooper Family Gift

Here's a link to prior coverage from the Oct. 6 announcement on a $50M gift to helpsupport Georgetown football.

Lou Little Trophy

Georgetown and Columbia have begun a trophy series in honor of former coach Lou Little. But who was Little? From the Georgetown Football History Project, an inside look at a coach whose move from the Hilltop to Morningside Heights changed the course of both programs.

More Games Online

A note in the PL media guide notes that all Georgetown games in the PL will be seen on the Patriot League Network, a free hi-res video service previously utilized by six of the seven PL schools, but not Georgetown. For the past decade, GU has promoted a pay per view model at $9.95 per month.