Welcome to HoyaSaxa.com. Here's where you will find more news and information than you'll ever need to know about Georgetown University football. If you're looking for the official athletics site instead, link here.

Georgetown is a football-only member of the Patriot League, the latest chapter in a gridiron tradition which began in 1874. For coverage of Georgetown basketball, visit our basketball site.
Latest News
Today marks ten days remaining for the Georgetown fiscal year, but also for a momentous campaign that has reached out to all segments of the University for annual and philanthropic support.
Over the last few days, the University is reaching out to all its supporters to make a gift to drive participation. If you have made a gift this year, thank you. If you have not, please visit the Power of Many website and strongly consider a gift of any amount to support scholarship, to support Athletics, or any number of initiatives as you see fit. Now is the time--the campaign ends June 30.
| | |
| --- | --- |
| Sunniva: The Next Chapter | 5/23/16 |
Now as an alumnus, graduated senior Jake DeCicco (B'16) is already working on expansion for the specialty coffee company he founded while an undergraduate, reports The HOYA.
"Our growth strategy is to grow from D.C. all the way up to Maine," DeCicco said. "[There are] 103 Whole Foods that we will be moving into and 111 specialty accounts, universities, gyms...Occupying the Northeast is our summer expansion plan."
"My teammates were our focus groups. Those were the guys that were testing our stuff, letting us know what tasted good, if it was too sweet, how much protein they wanted. The support that came from that was beyond anything I could expect. It really shows you that all those guys are your brothers and they helped so much."
"I view Georgetown as the best decision I have ever made," he said. "There is something special about this campus, the kids that go here, the community around it. Hoyas helping Hoyas is a real thing, and this is such a special place."
| | |
| --- | --- |
| Kyle Nolan Invited To NFL Minicamp | 5/2/16 |
While no Georgetown player has been selected in the NFL Draft since 1945, senior QB Kyle Nolan was invited to the May 5 Baltimore Ravens minicamp, reports a release at GUHoyas.com.
"Kyle Nolan is one of the most physically gifted and intelligent players I have coached over the past 20 years," said coach Rob Sgarlata. "He has worked extremely hard and I am very excited for him to have this opportunity."
"Emotionally my Dad, who played quarterback at Southern Connecticut State and played semi-pro, really helped me through this process," said Nolan. "He helped me keep my head on my shoulders and keep pushing forward."
Six Georgetown players since 2012 have been invited to mini-camps, but none have yet been selected for a game-day roster.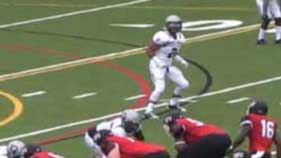 A Shocking Start
Linebacker Ty Williams is critically injured in a 48-20 loss to St. Francis.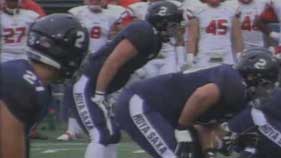 Rally For Ty
The team comes together in a 34-7 rout of Marist.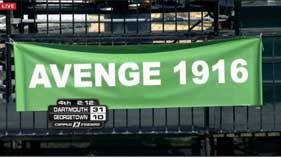 1916 Avenged
Dartmouth and Georgetown meet for the first time in 99 years.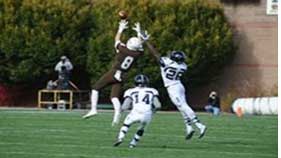 Lehigh, Again
Enginners hold off Hoyas for its 15th consecutive win vs GU.
| | |
| --- | --- |
| The (Return Of The) MSF Clock | |

It has been days since construction was halted on the Multi-Sport Facility. It has also been days since the announcement of the Cooper family gift, with no public University statement to a construction timeline.

Then and now, give our students a home that befits Georgetown.
---
Related Stories
Ty Williams Injury

Here's a link to prior coverage from the Sept. 6 injury to junior LB Tyrell Williams.

Cooper Family Gift

Here's a link to prior coverage from the Oct. 6 announcement on a $50M gift to helpsupport Georgetown football.

Lou Little Trophy

Georgetown and Columbia have begun a trophy series in honor of former coach Lou Little. But who was Little? From the Georgetown Football History Project, an inside look at a coach whose move from the Hilltop to Morningside Heights changed the course of both programs.

More Games Online

A note in the PL media guide notes that all Georgetown games in the PL will be seen on the Patriot League Network, a free hi-res video service previously utilized by six of the seven PL schools, but not Georgetown. For the past decade, GU has promoted a pay per view model at $9.95 per month.