Welcome to HoyaSaxa.com. Here's where you will find more news and information than you'll ever need to know about Georgetown University football. If you're looking for the official athletics site instead, link here.
Georgetown is a football-only member of the Patriot League, the latest chapter in a gridiron tradition which began in 1874. Additional information on the rich history of football at Georgetown can be found at www.hoyafootball.com.
For coverage of Georgetown basketball, visit our basketball site.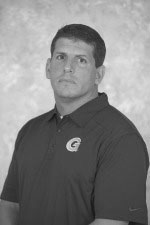 From the desk of coach Rob Sgarlata:
"To the Hoya Football Family, I hope the New Year is off to a great start for everyone. This week, our football program welcomed 23 new Hoyas to the family. Our incoming class is the product of a tremendous amount of work by our staff and the administration in the athletic department and main campus. Our recruiting coordinator, Alex Kolt, worked tirelessly with our staff and the on-campus community to craft a class of true student-athletes who will join us next season.

Throughout our recruiting I constantly emphasize the importance of recruiting good people. I truly believe that you win with good people. We will be able to build a successful program on the Hilltop by continuing to recruit quality individuals who believe in our core principles. These individuals have shown a deep interest in obtaining a world class education while building a successful football program. This class has 16 multi-sport athletes, 13 team captains, 12 members of the National Honor Society, five members of student government, one Eagle Scout, one chess club president, one architectural award winner, one Junior Olympic qualifier, one student-athlete who was published in the Midwest Literary Review, and over half the class has taken part in community service initiatives.

As we move toward the 2015 season, our players are hard at work with our sports performance staff. Coach Tolzman and his staff are doing a great job with our offseason program. Spring practice is right around the corner with our first practice in two weeks. Please mark your calendars for the spring game on March 28.

Finally, I would like to thank our current players and the families of my coaching staff. Recruiting is a very time-intensive endeavor. I appreciate our coaches' families for supporting our staff as we spend an enormous amount of time away from home. Our players did a great job of representing our culture to the incoming class and their families. It is one thing to talk about 4 for 40, SISU and Men for Others, it is another thing entirely to see it in our players' everyday lives at Georgetown. I am truly grateful to be surrounded by great people and know this will allow us to continue to build a successful program."
For the first time in nearly a decade, Georgetown chose to announce its 2015 recruit list on National Signing Day, a circumstance that has, in recent years, been contrary to that of almost all other Division I schools.
During the tenure of coach Kevin Kelly, recruits were not announced until early May, citing policy that Georgetown could not confirm the names until they had enrolled; Georgetown does not participate in the National Letter of Intent program and could not offer admission prior to April 1. The delay also protected Georgetown from announcing a top recruit who later decommitted for a walk-on offer at a I-A school, which has happened three times over the past two recruiting cycles.
"I am very excited to welcome these 23 student-athletes to the Hilltop," said coach Rob Sgarlata (C'94, G'12) in a news release. "I am extremely grateful to our recruiting coordinator, Alex Kolt, and my staff for their tireless efforts in putting this class together. I am blessed to work with amazing people in both the athletic department and on main campus. Everyone's effort and cooperation have allowed us to compile a very talented group from across the nation. I am very excited to welcome these 23 individuals to the Hoya Football Family."
Per the release, "Sgarlata and the Hoyas continue to recruit nationally, with their class of 23 hailing from 14 different states, including eight from Florida, two each from Louisiana, Georgia and Missouri and one apiece from California, Maryland, Nevada, New York, North Carolina, Ohio, Pennsylvania, [Texas], Virginia, and Wisconsin."
Senior DL Alec May was named a second team All-America selection by SportsNetwork.com, as announced Dec. 23.
It is a great honor to have Alec named an All-American," said coach Rob Sgarlata. "Throughout his career he played with relentless effort. I can honestly say he gave 100-percent on each and every play this season as evidenced by his leading the nation in sacks. He has been an integral part of our program for the past four years and will be missed."
"May broke the program's single-season sacks record and led Division I FCS and the Patriot League with 16.5 (1.5/game)," writes GUHoyas.com in the release. "His dominant senior season helped him place third in program history, behind Janne Kouri and [Andrew] Schaetzke, with 29 career sacks, including 23.5 over his final 14 games. His 20.5 tackles for loss led the Patriot League and was sixth in the FCS when the regular season ended, while his 142 tackle-for-loss yards led the nation. His 89 tackles were the most by an FCS defensive lineman."
Alec May is the 25th All-American in the history of Georgetown football:
John Gilroy
1916
Harry Connaughton
1926
Claude Grigsby
1927
Jim Mooney
1928,29
Maurice Dubofsky
1931
Charley Parcells
1934
Augie Lio
1940
Al Blozis
1941
Richard Werder
1942,47
Billy Conn
1949
John Sutton
1969
Bob Hussey
1969
John Dwyer
1969
Vince Bogdanski
1969
Bob Morris
1973,74
Jim Corcoran
1980,81
Andy Phelan
1986
Jim Schwartz
1987
Dean Lowry
1988
Chris Murphy
1991
Jim Gallagher
1999
Michael Ononibaku
2006
Andrew Schaetzke
2012
Robert McCabe
2013
Alec May
2014

It has been days since construction was halted on the Multi-Sport Facility.
Give our students a home that befits Georgetown.
This site would like to take this opportunity for our readers to strongly consider joining the Georgetown Gridiron Club, the official support organization of Georgetown Football.
Show your support for the Hoyas with an online gift to the Gridiron Club. Visit this link and make a donation. On the form, go to the selection box titled "Direct Your Gift", select "Other", and type in the words "Football/Gridiron Club" in the box marked "Other".
A growth in support is essential for Georgetown to compete with schools with budgets and facilities that far exceed that which exists on the Hilltop today. Your tax-deductible gift is important not only for Georgetown football, but class fund totals, parents fund totals and overall Annual Fund giving. Today's support is a vital part of tomorrow's Georgetown Football.
This is an unofficial site for Georgetown Football. If you are interested in playing football at Georgetown, please do not contact us. Write to the Department of Athletics, Georgetown University, Washington, DC 20057. General information for prospective student athletes and their parents can be found at this NCAA link.

N.B.: This not-for-profit site is supportive of, but neither directly affiliated with nor under the supervision of Georgetown University or the Patriot League. See the Fine Print page for more details.

AMDG