Welcome to HoyaSaxa.com. Here's where you will find more news and information than you'll ever need to know about Georgetown University football. If you're looking for the official athletics site instead, link here.
Georgetown is a football-only member of the Patriot League, the latest chapter in a gridiron tradition which began in 1874. Additional information on the rich history of football at Georgetown can be found at www.hoyafootball.com.
For coverage of Georgetown basketball, visit our basketball site.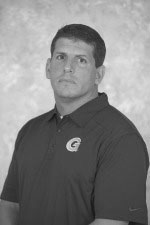 From the desk of coach Rob Sgarlata:
To the Hoya Football Family,

This past weekend was Homecoming on the Hilltop. It was great to see so many alums from different years return to campus for the game on Saturday. To a man, every former player expressed their desire to be back in school and wearing the Blue and Gray. Most attribute their success with their families and careers to lessons learned as a member of the program. This is a sentiment I have communicated to our current players. I want our players to take full advantage of their time on the Hilltop, both on the field and in the classroom. I want them to know they are part of a special group of people. This past week was a great example of the depth of the support we have from our alums and friends.

"Membership has its privileges." This is a well-known slogan popularized by American Express. One of these privileges for our current players is access to our vast alumni and friends network. I have asked the Hoya Football Family to engage and embrace our current players and they have more than answered the call. Our alums have allowed us to bring the concept of "4 for 40" to life.

Each home game we have and will continue to host a "4 for 40" lunch on campus. This is a time for alums to come and share their experiences and advise our current players over lunch. Over the past two home games we've been honored to have alumni and friends of the program speak about finance, law, the military, pharmaceutical sales, management and operations, public policy, and medicine. I would like to thank Blake Jones, Joe Callahan, Kim Sarin, Mike Schrama, Brandon Small, Dr. Mike Flaherty, John Hallmark, Jim Lenihan, Nnamdi Obiako, Keenan Flynn and former Secretary of Transportation for the Clinton Administration, Rodney Slater for participating in the past two lunches.

Prior to our pre-game team breakfast, we hold a voluntary chapel service in the Jesuit Residence. Father Tom Buckley, SJ is gracious enough to host our team and serves as our team chaplain. Senior defensive lineman, Jordan Richardson has organized this year's program and has done an excellent job. Former Hoya standout Dustin Wharton delivered the sermon and was outstanding. He spoke with great confidence, knowledge and passion. He embodies the spirit and essence of "4 for 40", "Sisu" and "Men for Others." I am truly grateful for his inspirational message.

It is a privilege to wear the Blue and Gray. This privilege is earned, not given. We believe this privilege is earned both on and off of the field. Anyone who has endured August in Washington, D.C. for a preseason camp understands how this privilege is earned on the field. Off of the field, we have worked to earn this privilege by putting the concept of "Men for Others" into practice. While the focus of the Homecoming game is usually placed on the football team, our captains and Hoya Council decided to use the game to raise the Georgetown community's awareness of the mission of the Friends of Jaclyn. To that end, we hosted our two adopted teammates from the Friends of Jaclyn on Saturday as honorary captains.

Both Elijah Davis and Jackson Dundon and their families were in attendance this Saturday. I would like to thank Elijah and Jackson for helping with the coin toss. Also, I would like to thank Jackson' parents, Jimmy and Kristen, and Elijah's mom Telicia for sharing their sons with our current players. Most people would think Jackson and Elijah would have the most to gain from this relationship. The opposite is actually true. The real beneficiaries of this relationship are our players and staff. The battle these two families have fought against pediatric brain cancer embodies the true meaning of our core principle of Sisu. Their courage in the face of adversity is fueled by their mental and physical toughness, strength and resilience.

These lessons have and will continue to be important for our team to embrace as we move forward. On Saturday we lost 22-17 to Patriot League opponent Bucknell. Bucknell's Head Coach Joe Susan has done a great job of building their program since his arrival from Rutgers. Bucknell is a physically talented and well coached team who is now 6-1. This was an extremely close game which featured six lead changes and was decided on the last few drives of the game.

Bucknell's offense entered the game averaging over 30 points per game. Their offense featured a physical offensive line with an average size of 6-4 and 300 pounds. In addition to a physical run attack, Bucknell has big play potential. Their wide receiver Will Carter had 246 yards receiving and three touchdowns against Lehigh in Bucknell's previous game. I thought our defense battled and played well. We were able to hold Bucknell to eight points below their season average and we limited their big plays on the day while forcing two turnovers. Senior Nick Alfieri had another solid game with 12 total tackles and a tackle for a loss. John Egan also had a great day in the secondary and recorded 12 total tackles. Alec May continued his outstanding play and contributed with another sack to his season total. Currently he is second in the country in sacks for the season. Defensive back Ettian Scott was tasked with helping to eliminate the big pass play and proved up to the task. He made a critical interception in the first half to stop Bucknell's second drive of the game.

On offense, sophomore tight end Matt Buckman had a solid game. Matt had four catches for 83 yards. The best catch and run of the day was on a 67-yard reception from quarterback Kyle Nolan in the first quarter to give the Hoyas a 7-6 advantage. Both Jo'el Kimpela and Danny Wright ran well and accounted to 102 yards on a collective 20 carries. Kyle Nolan showed his arm strength on a 55-yard strike to wide receiver Justin Hill in the second half to set up our second touchdown of the day. Following this throw Nolan scored on a five-yard run behind a great block by fullback Troye Bullock to give us a one point lead in the fourth quarter.

Saturday was one of the better special teams performances of the season. Danny Wright led the effort on our kickoff return team. He averaged over 33 yards a return with a long of 44 yards. Our kickoff unit combined great kicks from Ben Priddy and solid coverage from the entire unit, especially Wardell Crutchfield, to limit Bucknell's returners. Our field goal team executed a great fake with a shovel pass from Kyle Nolan to Phil Novacki to gain a critical first down at the end of the first half. Finally Hunter Kiselick blocked Bucknell's final punt of the game. This is an area where we have and will continue to improve. A highlight of the full game can be found here.

In spite of these efforts, we did not do enough to win the game. We made too many mental errors at critical times in all three phases. After losing two extremely close league games, I know we are close to playing Hoya Football and being able to win the close games. The answer of how to win the close ones lies in our attention to detail. This pertains to our staff as well as our players. In every game, every play matters.

We have taken the lessons from the Bucknell loss and have started preparations for another league opponent with Lehigh coming to campus this Saturday. Our players have and will continue to benefit from their membership in the Hoya Football Family. The insightful perspective of our alums at the "4 for 40" lunch and the chapel service coupled with the powerful example of Sisu from Jackson and Elijah will guide us though this week and the rest of the season.
The full recap for Saturday's game versus Bucknell was delayed in posting and is now available at the 2014 Recaps page.

It has been days since construction was halted on the Multi-Sport Facility.
Give our students a home that befits Georgetown.
This site would like to take this opportunity for our readers to strongly consider joining the Georgetown Gridiron Club, the official support organization of Georgetown Football.
Show your support for the Hoyas with an online gift to the Gridiron Club. Visit this link and make a donation. On the form, go to the selection box titled "Direct Your Gift", select "Other", and type in the words "Football/Gridiron Club" in the box marked "Other".
A growth in support is essential for Georgetown to compete with schools with budgets and facilities that far exceed that which exists on the Hilltop today. Your tax-deductible gift is important not only for Georgetown football, but class fund totals, parents fund totals and overall Annual Fund giving. Today's support is a vital part of tomorrow's Georgetown Football.
This is an unofficial site for Georgetown Football. If you are interested in playing football at Georgetown, please do not contact us. Write to the Department of Athletics, Georgetown University, Washington, DC 20057. General information for prospective student athletes and their parents can be found at this NCAA link.

N.B.: This not-for-profit site is supportive of, but neither directly affiliated with nor under the supervision of Georgetown University or the Patriot League. See the Fine Print page for more details.

AMDG