Welcome to HoyaSaxa.com. Here's where you will find more news and information than you'll ever need to know about Georgetown University football. If you're looking for the official athletics site instead, link here.
Georgetown is a football-only member of the Patriot League, the latest chapter in a gridiron tradition which began in 1874. Additional information on the rich history of football at Georgetown can be found at www.hoyafootball.com.
For coverage of Georgetown basketball, visit our basketball site.
Joel Kimpela and Daniel Wright combined for 194 yards as Georgetown upset Brown University, 17-3, before a crowd of 2,262 at Multi-Sport Field Saturday. The win, led by a sterling defensive effort (including four sacks from senior Alec May), is Georgetown's first ever home win against an Ivy League opponent.
Here's the box score, with more to follow on Sunday.
From The HOYA a feature story on 50 years of Georgetown football. Recommended reading.
Also from the HOYA: an interview with junior RB Joel Kimpela on his journey from the Congo to Georgetown, and how football helped pave the way for his arrival at college.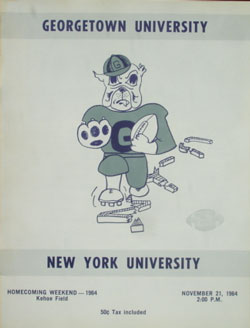 The story of the 1964 Hoyas was told in game programs a year later versus Fordham. On the weekend honoring the 1964 team and fifty seasons of modern-day Hoya football which followed, it is reprinted below:
Rory Quirk has been graduated as have Ed Moses and Steve Langhoff, Sky MacGuire, John Drury and John Quirk, but theirs was a triumph Georgetown will not soon forget.

Intercollegiate football, an institution dead 14 years at Georgetown, rose again last year thanks to their efforts. The names of the men above will not enter the record books or become legends as did other Hoyas like Jack Hagerty, George Murtagh, Al Blozis, Augie Lio and Harry Costello, but on its own scale of emphasis, last year's 28-6 victory over New York University was one of Georgetown's greatest triumphs. Georgetown's 2-game football season is shorter than most, but a football season at all on the Hilltop is directly attributable to Quirk, who perhaps did more for Georgetown in his undergraduate days than any other student.

Like many other schools, Georgetown dropped football after it was unable to face the rising costs and dwindling attendance of the post-war years.

The end came in 1951 after the school had lost thousands of dollars in seven years. An era ended then-an era which had seen the Hoyas produce unbeaten teams, professional greats, and All-Americans. The apogee was reached from 1938 to 1940 when the Hoyas, coached by Jack Hagerty, now director of athletics, won 23 games without a defeat and held their opponents to 48 points in 1938 and 39. The Georgetown era was capped by an Orange Bowl bid in 1940, with Mississippi State winning, 14-7. That year the Hoyas finished 8-1, losing only to Boston College 19-18, in a game called by the immortal Grantland Rice "one of the greatest games ever played by colleges or by pros."

Last year's game was scheduled to reward students and players for their interest in the intramural program. The credit goes to Quirk.

In 1962, when he was a freshman working with the Student Athletic committee, Quirk compiled a 110-page report, favorable to low-budget football, gleaned from questionnaires sent to over 50 schools playing the sport without scholarships.

In 1963, working with an alumni group headed by Jim Castiglia, former G.U. and Washington Redskin fullback; Bill Curtin and Steve Barabas, another former Hoya great, Quirk and his committee petitioned for an intercollegiate football game.

With the consent of the Very Reverend Edward B. Bunn, S.J., then president of the university, and the cooperation of Father Robert L. Hoggson, S.J., moderator of athletics, a game was scheduled with Frostburg State College...The game was cancelled in the wake of the tragic assassination of President John F. Kennedy, but the enthusiasm of Quirk never waned. That spring he continued his efforts with strong and logical editorials in the HOYA, urging a return to intercollegiate play.

His success and cogent writing stirred a latent feeling on the campuses of Fordham and New York universities, marked now by their return to the game on a limited basis, calling it club football. Quirk's constant lobbying brought last year's fine Homecoming weekend. It was his show.

The week before the game, he wrote: "It's here and if we blow it, it will never come again... The only argument we, as students, have is that nonscholarship football will be a unifying force for students and alumni as well, and that the small outlay of money necessary to administer such a program would be well spent because alumni giving would increase and national publicity would be gained....

"Let's not end [this] through indifference. A chance like this won't come again."

Quirk's dream was proved a reality and his belief in the Georgetown students' desire for football was upheld. Over 8,000 fans stomped and clapped in freezing temperatures and biting winds on Kehoe field for last year's game. A week later Quirk was able to crow: "This is what the students and alumni want. There is strength in numbers. Eight thousand people can't be wrong."

Intercollegiate football is far from being on solid ground at Georgetown but Quirk and the 1964 varsity gave it its present footing. Last week's game and the contest today are still adjuncts to the school's intramural program and are in no way considered a return to full varsity status, even if eight or eighty thousand persons look on.

Overemphasis, scholarships, recruiting and all the other trappings of the "old" way are feared the most by Quirk and his cohorts.

Grantland Rice, writing about de-emphasis in the Ivy League in his autobiography, The Tumult and the Shouting, struck a theme which also applied to schools which dropped the sport: "You can't laugh off school spirit, college presidents not withstanding. And as sure as the Ivies, one-time kingpins of the game, shrivel and decline, something far more important than athletic scholarships will go out the window. I've never seen it to fail. The more abject a "name" school's football team, the more virulent becomes the cynicism and sophistry of its undergraduates."

We don't ask for stadiums, scholarships, tutors, cross country trips or high-salaried coaches. Today marks the third Georgetown game after 14 years of sleepless nights.

We only ask that our dream continue."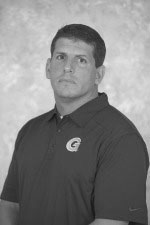 From the desk of coach Rob Sgarlata:
"To the Hoya Football Family,

This past weekend we traveled to upstate New York to play Marist College. Our players performed well and we earned our first victory of the season. Coach Luke Thompson, our defensive coordinator, arranged our Friday run-thru at the United States Military Academy. It was a great experience for our players and staff to see and hear about the history of Trophy Point and to tour West Point. A special thanks to Captain Nichols and Lieutenants Kime and Nesbit who conducted the tour.

Following our practice at Michie Stadium, we traveled to our hotel for our normal Friday routine. Friday team dinner is one of my favorite events. It is a great time for our players and coaches to relax and share a great meal and the always present ice cream bar. At dinner, we were honored to have Dennis Murphy, the founder of the Friends of Jaclyn Foundation join us... In living by our mission of being "Men for Others," we worked with Dennis and Friends of Jaclyn to adopt two inspirational young men last spring. Both Jackson and Elijah have become valuable members of our team. A short video of our adoption ceremony can be found here. It was great for our team to hear Dennis' message and it is important for our players to understand how fortunate they are to have their health and the opportunity to attend Georgetown and represent the Blue and Gray on the field.

On a rainy Saturday night, our defense put together a dominant performance. The defense limited Marist to eight first downs and 140 yards of total offense. Marist had 13 possessions in the game, and our defense forced 10 punts and had three interceptions. The takeaways were earned by defensive back Ettian Scott, linebacker Nick Alfieri and defensive end Phil Novacki, who returned the final interception 48 yards for a touchdown to make the score 20-0. Nick Alfieri had a tremendous game with 14 total tackles and an interception. Alec May continued to play well with eight total tackles, two sacks and two tackles for a loss. Ettian was targeted multiple times and was up to the task. He did not give up a completion and had an interception in the end zone. It was great to see our players and staff put together a dominant performance following our Dayton game.

On the offensive side of the ball, it was definitely a tale of two halves. In the first half, we had eight possessions, with five of those possessions ending in punts and one ending with an unsuccessful fourth down attempt. We scored one field goal as a result of an interception that was returned to Marist's six yard line. Our last drive of the half was 13 plays and started at our 29 yard line. We drove to Marist's 11-yard line, where Harry Darmstadter hit his second field goal of the night. Despite our last sustained drive, we knew we had to make more of our opportunities in the first half to do better than our 6-0 lead at halftime.

The offense took up the challenge and we put together our best half of offensive football this season. Kyle Nolan did a great job of managing the second half. He engineered two drives of 12 and 11 plays for touchdowns during the second half. In addition to throwing to six different receivers on the night, Nolan also sealed the victory with a 10-yard touchdown run. These scores, coupled with Novacki's interception return, completed the scoring for game.

We are already one practice into preparation for our game with Brown. I am very excited for this week. Saturday night is the 50th Anniversary of modern-day football at Georgetown. Information for this event can be found here. We would love to have you join the event. Also, on Thursday night, Janne Kouri will have his annual fundraiser in Washington, D.C. for Next Step Foundation. He is the motivation behind our motto of "SISU", and personifies courage in the face of adversity.

As always, thanks to Bruce Simmons and Robbin Robinson for the Gridiron Club tailgate. It is always great to play in New York and the Blue and Gray were well represented Saturday night."
Senior LB Nick Alfieri was named Patriot League Defensive Player of the Week for his efforts against Marist. Read more about it at this link to GUHoyas.com.
Two award winners have been announced for the Sept. 19 dinner honoring the 50th anniversary of the modern era of Georgetown football, according to a Georgetown news release.>
Gen. George W. Casey Jr. (F'70) will be presented with the University's Letterman of Distinction award, while Rory F. Quirk (C'65, G '71, L'80) will be honored with the Outstanding Contribution to Football Award.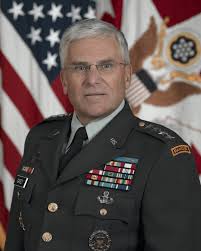 Commissioned as a second lieutenant in the U.S. Army upon graduation from Georgetown in 1970, George Casey embarked on a remarkable career of military service. He attained battalion, brigade, and division commands, later serving as the commander of the Seventh Army in Europe, and as the director of the Joint Staff at the Pentagon before being promoted to General in 2003. Casey became the second four-star Army general in Georgetown's history, joining Gen. Malin Craig (1875-1945), who played football for one season on the Hilltop before transferring to West Point.
In 2004, Gen. Casey was named Commanding General of the Multi-National Force in Iraq, steadying the Army through a difficult period in the conflict and recommitting the troops to the values which sent them there. In 2006, he wrote: "Our decisions must reflect our professional values: loyalty, duty, respect, selfless service, honor, integrity, and personal courage. Individually and collectively, our commitment to these values will ensure our conduct is above reproach in every respect."
In 2007, Casey was nominated by President George W. Bush to serve as the Chief of Staff of the Army. In this role, he helped redefine the modern Army and its role in an uncertain world, while serving as a tireless advocate for military families during the longest sustained period of combat in the nation's history. Gen. Casey retired from the Army in 2011.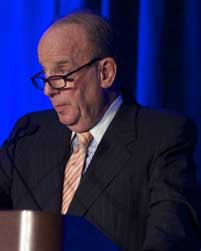 A native of Philadelphia, Rory Quirk arrived at the Hilltop in 1961, a school which had famously dropped major college football ten years earlier and replaced it with intramural teams. While the University had rebuffed alumni efforts to restart football, Quirk took a different approach.

A sports editor of The HOYA and chairman of the Student Athletic Commission, Quirk undertook an extensive survey of 50 college programs in the East to determine if Georgetown could justify and maintain a low-cost, non-scholarship program. Of the fifty schools, 49 answered in the affirmative. Developing a plan for a self-supporting, student-run program, the efforts of Quirk and his classmates forced a reluctant University administration to sanction what became known as "club football", born on November 28, 1964-- a 28-6 win over NYU before 8,004 fans at Kehoe Field.

Quirk graduated from Georgetown College in 1965. Following military service in Vietnam, he earned graduate degrees from Georgetown and the Columbia Journalism School, writing for the Washington Post before entering law school, and receiving his third Georgetown degree in 1980. It was during law school that Quirk authored the first historical review of the football program in 30 years. His efforts reclaimed a rich treasure of football history and game records at Georgetown which continues to this day.

Quirk has served as a volunteer leader at Georgetown for four decades. In 1992, he received the John Carroll Award, the University's highest alumni honor, and was elected as president of the Georgetown University Alumni Association from 1994 through 1996.

"We're fortunate to have the opportunity to honor the 50th anniversary of the return of football to Georgetown," said coach Sgarlata. "We all owe a debt of gratitude to those who worked to restore this program and for providing a solid foundation. It's important for our current student-athletes to recognize the hard work that has given us all the privilege of being a part of the Georgetown football family."

Events include:

Friday, September 19
5:00 p.m. Attend Football practice
6:00 p.m. Reception with the coaches
7:00 p.m. Dinners with teammates on your own

Saturday, September 20
9:30 a.m. Pre-Game Tailgate (Jesuit Residence Lawn)
12:00 p.m. Brown vs. Georgetown football game
6:30 p.m. 50th Anniversary Cocktail Reception (Jesuit Residence Lawn)
7:30 p.m. 50th Anniversary Gala Dinner (Leo J. O'Donovan Hall)

Sunday, September 21
10:00 a.m. Memorial Mass



Visit GUHoyas.com for further details.

It has been days since construction was halted on the Multi-Sport Facility.
Give our students a home that befits Georgetown.
This site would like to take this opportunity for our readers to strongly consider joining the Georgetown Gridiron Club, the official support organization of Georgetown Football.
Show your support for the Hoyas with an online gift to the Gridiron Club. Visit this link and make a donation. On the form, go to the selection box titled "Direct Your Gift", select "Other", and type in the words "Football/Gridiron Club" in the box marked "Other".
A growth in support is essential for Georgetown to compete with schools with budgets and facilities that far exceed that which exists on the Hilltop today. Your tax-deductible gift is important not only for Georgetown football, but class fund totals, parents fund totals and overall Annual Fund giving. Today's support is a vital part of tomorrow's Georgetown Football.
This is an unofficial site for Georgetown Football. If you are interested in playing football at Georgetown, please do not contact us. Write to the Department of Athletics, Georgetown University, Washington, DC 20057. General information for prospective student athletes and their parents can be found at this NCAA link.

N.B.: This not-for-profit site is supportive of, but neither directly affiliated with nor under the supervision of Georgetown University or the Patriot League. See the Fine Print page for more details.

AMDG