Home > History > History Narrative

Georgetown Football History
Chapter 7: The End Of One Era...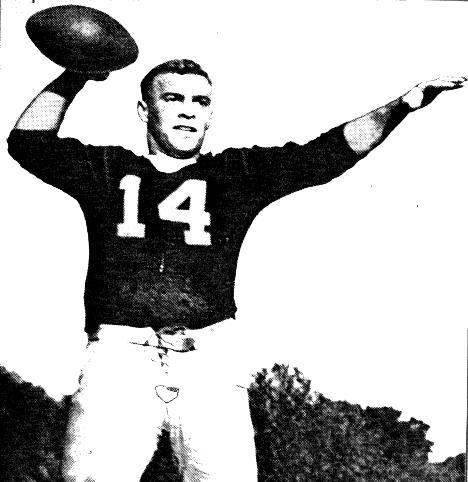 By the fall of 1946, Georgetown had resumed its intercollegiate football program after a three year absence during World War II. As an entire world had changed since days when the Hoya Band was proudly marching into the Orange Bowl, the landscape of college football had also changed.
During the 1930's, many of the nation's top football programs had been private schools. It was not uncommon to think of Georgetown, Fordham, Dartmouth, or even Columbia as national contenders, nor was it unusual that smaller schools like Catholic, Gonzaga, and St. Mary's actually appeared in major bowl games. Only a small percentage of men between 18-22 actually attended college during these years, and those that did were attracted to the nation's leading academic programs.
Following the end of the War came the G.I. Bill, bringing thousands of young men to college campuses. While many of these students enrolled in private schools like Georgetown, sheer numbers sent most to land grant state colleges, causing a boom in their enrollment. Football programs began to flourish on state campuses, and with it the crowds necessary to finance major college football.
Georgetown met this challenge as best they could. The team grew to 81 scholarship athletes, and its budget was expanded to nearly 80% of the total athletic subsidy. In 1949, the Hoyas earned a bid to the Sun Bowl in El Paso, losing to Texas Western College (now the University of Texas at El Paso, 33-20.
For all its success, however, Georgetown had never invested in an on-campus facility to keep costs down, and the costs of travel and rent for 35,000 seat Griffith Stadium were not being met with attendance of 9,000-12,000 a game. Following a disastrous 2-7 season in 1950, with losses to Penn State, Miami, Boston College, and Maryland, attendance plummeted. For its four home games, the Hoyas drew an average of less than 6,200 a game
Sensing trouble, football coach Bob Margarita attempted to change course by announcing a revised 1951 schedule--instead of schools like Penn State, Miami, and Tulsa, the Hoyas would schedule colleges like Richmond, Bucknell, and Lehigh. Talk of a non scholarship program similar to the Ivy Leagues was floated as a way to save costs. But as the financial reports came in, with total revenues of only $44,123.97 against expenses of $147,810.84, the program was summarily dropped by University President Hunter Guthrie, S.J. on March 22, 1951.
Headlines nationwide proclaimed "GEORGETOWN DROPS FOOTBALL." Certainly, other schools had abandoned the sport, but this was the most prominent university to leave big time football since the University of Chicago dropped out of the Big Ten after the 1938 season. By the fall of 1951, 38 universities had dropped football, none more notable than Georgetown.
If students felt the need to protest the Jesuit's decision, none did so publicly--in this era, students could be expelled for less. "As long as the decision has been made, let us seek out the good," wrote The HOYA in a tepid post-mortem on the decision.
Alumni were under no such clerical restraint, however, and were bitter in their response. Rev. Guthrie would hear none of it. Guthrie, who was president for less than a year following the decision to drop football, would not be crossed by alumni. He wrote a stinging rebuke in a lengthy 4,000 word essay in the October 12, 1951 issue of the Saturday Evening Post in which he served to indict the sport and those involved with it.
"Into football," wrote Guthrie, "goes a stupendous outlay of time, money, and manpower, accompanied by the raw passions of greed and slavish devotion, the ignoble emotions of spite, bitterness, and sly cunning." His college would have none of it. "We did not want the clean, patrician features of Georgetown disfigured by a broken nose and a cauliflower ear", he wrote.
While Georgetown had suffered no dishonor with the sport, Guthrie wrote that football was a creeping "educational menace" to Catholic education. Such a philosophy gradually spread across Jesuit universities. One by one, major college football programs were dropped at schools such as St. Louis, Fordham, Detroit, Creighton, San Francisco, Marquette, and Xavier. Within the next two decades, Boston College and Holy Cross were the only Jesuit colleges playing major college football.
Georgetown's impact on local football was no less significant. Where fans once followed the exploits of Georgetown, George Washington and Catholic on the gridiron, each withdrew from the local football scene. Catholic dropped its program soon after Georgetown, while George Washington's program labored through the Southern Conference before finally being discontinued in 1966. As was the case in many big cities, NCAA football had vanished from the urban landscape.
The decision to end major college football at Georgetown began a gradual de-emphasis of athletics at the University , especially in basketball and track. Intercollegiate football was replaced by a series of organized class intramural games, with helmets and equipment left over from its big-time days. As irony would have it, the replacement for intercollegiate football would hold the the seed that eventually returned the sport a dozen years later.
Home > History > To Chapter 8
---
HoyaSaxa.com: The One-Stop Web Site For Hoya Football™
An independent web site not affiliated with Georgetown University. All rights reserved.