Sports Illustrated has posted its Big East preview, placing Georgetown fifth among the 15 teams.
"There may be some growing pains with so many players being asked to do more than ever or being new altogether," reads the article. "but [Otto] Porter and the supporting cast have ample potential and should be tourney-bound."
Three NBA free agents from Georgetown made it to the final week of NBA cuts, but none will be on a roster as the NBA season opens this week.
Chris Wright (C'11) was cut from the New Orleans Hornets, Henry Sims (C'12) from the New York Knicks, and Hollis Thompson (ex-'13) was waived from the Oklahoma City Thunder. Thompson, who gave up his senior season to enter the draft, becomes the first Georgetown early entry not to join an NBA roster since Victor Page in 1997.
Georgetown University and the University of Kansas have signed a four year series to begin in the 2013-14 season, per this release at KUSports.com.
The Hoyas will play at Kansas in the 2013-14 and 2015-16 seasons, and will host the Jayhawks in the 2014-15 and 2016-17 seasons. The teams last met at the Maui Invitational last season.
The NCAA has released its annual review of graduation rates across sports, with Georgetown University achieving an accumulated graduation rate of 84% of student-athletes against 94% of students overall in its latest Graduation Success Rate (GSR) calculations.
Men's basketball scored a GSR rate of 80% for the incoming classes from 2002 to 2005, or the graduating classes of 2006 through 2009. The class of 2009 had just one graduate (Jessie Sapp) and three outbound transfers from that class, out of a group that included Marc Egerson (Delaware), Octavius Spann (Marshall), and Josh Thornton (Towson).
Among Big East schools, the GSR light shone brightest at the University of Connecticut. The Huskies, banned from Big East tournament and NCAA play in 2012-13 over poor graduation rates as defined by the NCAA's Academic Performance Rating (APR), scored an 11 on the GSR.
Here are the ongoing men's basketball ratings among Big East schools.
| | | | | | | | | |
| --- | --- | --- | --- | --- | --- | --- | --- | --- |
| School | 2006 | 2007 | 2008 | 2009 | 2010 | 2011 | 2012 | 1-Yr Chg. |
| 1. Notre Dame | 91 | 91 | 100 | 100 | 100 | 100 | 100 | -- |
| 2. South Florida | 44 | 58 | 42 | 44 | 50 | 44 | 88 | +44 |
| 3. Marquette | 80 | 89 | 100 | 100 | 91 | 91 | 87 | -4 |
| 4. St. John's | 71 | 56 | 56 | 60 | 70 | 83 | 86 | +3 |
| 5. Villanova | 90 | 89 | 89 | 92 | 100 | 100 | 83 | -17 |
| 6. Rutgers | 42 | 50 | 56 | 73 | 78 | 75 | 80 | +5 |
| 7. Georgetown | 64 | 82 | 70 | 82 | 78 | 70 | 80 | +10 |
| 8. Seton Hall | 62 | 60 | 47 | 53 | 69 | 69 | 80 | +11 |
| 9. Providence | 50 | 67 | 67 | 77 | 80 | 67 | 80 | +13 |
| 10. Louisville | 33 | 50 | 42 | 38 | 50 | 55 | 75 | +20 |
| 11. Syracuse | 75 | 67 | 50 | 55 | 54 | 54 | 58 | +4 |
| 12. Cincinnati | 46 | 50 | 47 | 53 | 53 | 56 | 56 | -- |
| 13. Pittsburgh | 57 | 56 | 69 | 79 | 64 | 64 | 54 | -10 |
| 14. DePaul | 46 | 36 | 40 | 46 | 67 | 80 | 50 | -30 |
| 15. Connecticut | 30 | 22 | 33 | 27 | 31 | 25 | 11 | -14 |
Here are the ongoing men's basketball ratings among the five incoming Big East schools.
| | | | | | | | | |
| --- | --- | --- | --- | --- | --- | --- | --- | --- |
| School | 2006 | 2007 | 2008 | 2009 | 2010 | 2011 | 2012 | 1-Yr Chg. |
| 1. S. Methodist | 73 | 82 | 83 | 82 | 92 | 93 | 85 | -8 |
| 2. C. Florida | 75 | 63 | 64 | 54 | 56 | 59 | 57 | -2 |
| 3. Memphis | 36 | 40 | 55 | 57 | 58 | 50 | 50 | -- |
| 4. Temple | 60 | 50 | 57 | 43 | 33 | 43 | 43 | -- |
| 5. Houston | 15 | 23 | 30 | 42 | 50 | 38 | 38 | -- |
Georgetown's blue and gray jerseys are about to get some new neighbors, according to an e-mail sent Monday night from Georgetown announcing a change in jerseys.
The official Georgetown twitter feed, @GeorgetownHoops, released an image of the team's gray jerseys, but it was also disclosed that Nike will outfit the Hoyas among six different jerseys this season, including a camouflage jersey for the Nov. 9 opener with Florida. Georgetown has utilized an alternate (third) jersey, usually black, from 1996 through 2005 and since the 2009-10 season. No other primary colors have been employed in the interim, although the school's Union blue took on a decidedly teal hue from 2002-05.
The colors and designs of the remaining four jerseys were not disclosed, although an early view at a sports web site posted here earlier this month shows a white jersey among the palette.
The medical condition that sidelined center Tyler Adams (C'15) after four games last year will do so again in 2012-13, according to a report from SB Nation's Casual Hoya blog, which reported comments from head coach John Thompson III at the Hoya Hoop Club open practice this Saturday.
Coach Thompson was asked a question at the Hoop Club-only event about a starting center in the upcoming lineup. "A couple guys [are] fighting for that spot," Thompson said. "Tyler Adams can't play this year."
The 6-9 Adams was considered one of the top 10 high school centers in 2010, verbally committing to Duke before changing his decision to Georgetown later in the recruiting cycle. In December 2011 Adams was diagnosed with a heart condition which sidelined him for the remainder of the 2011-12 season.
Adams averaged 2.5 points and 2.3 rebounds in four games last season.
The center position remains an open spot at the top of the Hoyas' depth chart, with a possibility sophomore Mikael Hopkins could move over as a stop-gap. (Starters from 2011-12 in gray:)
| | | | | |
| --- | --- | --- | --- | --- |
| Guard | Guard | Forward | Forward | Center |
| Starks (7.1 ppg) | Porter (9.7 ppg) | Whittington (4.3 ppg) | Lubick (3.5 ppg) | ? |
| Smith-Rivera (New) | Trawick (3.4 ppg) | Domingo (New) | Hopkins (2.4 ppg) | Ayegba (DNP) |
| Allen (New) | Bowen (1.3 ppg) | Caprio (0.2 ppg) | Bolden (New) | Hayes (New) |
Despite losing only three players from 2011-12, the trio of Jason Clark, Henry Sims, and Hollis Thompson accounted for 56% of scoring last season, making 2012-13 among the largest transition years in recent history:
Most Offense Lost Between Seasons, 1972-Present
Season

#

Players Lost
PPG Lost
% Total
Next Year...
2002-03
(19-15)
NIT
6
3 seniors (Samnick, Wilson, Hillier)
2 transfers (Bethel, Hall)
1 to NBA (Sweetney)
45.6
59.9%
2003-04
(15-16)

1996-97
(20-10)
NCAA
7
3 seniors (Dia, Owinje, Gaughan)
3 transfers (Jones, Sheffey, Nichols)
1 leaves school (Page)
41.6
59.9%
1997-98
(16-15)
NIT
1995-96
(29-8)
NCAA
4
2 seniors (Harrington, Williams)
1 transfer (Myles)
1 to NBA (Iverson)
47.6
57.2%
1996-97
(20-10)
NCAA
2010-11
(21-11)
NCAA
6
4 seniors (Wright, Freeman, Vaughn, Dougherty)
2 transfers (Sanford, Benimon)
39.6
57.1%
2011-12
(24-9)
NCAA
1985-86
(24-8)
NCAA
6
3 seniors (Broadnax, Jackson, Wingate)
1 grad student (Dalton)
2 transfers (Morris, Mateen)
44.7
57.0%
1986-87
(29-5)
NCAA
2011-12
(24-9)
NCAA
3
2 seniors (Sims, Clark)
1 to NBA (Thompson)
38.4
56.1%
2007-08
(28-6)
NCAA
6
4 seniors (Hibbert, Wallace, Crawford, Ewing)
2 transfers (Macklin, Rivers)

36.9
53.0%
2008-09
(16-15)
NIT
"They should have put up a banner: Those leaving, thanks for the memories, and good riddance. This will still be the league in the Northeast is the general sentiment."--Mike Jensen, Philadelphia Inquirer
The Big East's 34th Media Day was a busy one for the press, amidst the questions to outbound members and the sniping between coaches Rick Pitino and Jim Boeheim on whether Memphis and Temple will replace Syracuse and Pitt. But with three coaches on their farewell tour, the absence of Jim Calhoun at the UConn media table for the first time since 1986, and the dimming memory of West Virginia, it was a time for the press to reflect on an otherwise contentious 2012-13 season to follow.
The pre-season coaches poll was announced Wednesday morning:
Louisville
Syracuse
Notre Dame
Cincinnati
Georgetown
Pittsburgh
Marquette
South Florida
Connecticut
St. John's
Rutgers
Villanova
DePaul
Seton Hall
Providence
Player Of The Year:
Peyton Siva, Louisville
Rookie Of The Year:
Steven Adams, Pittsburgh
Pre-Season First Team:
Sean Kilpatrick, G, Cincinnati
Vincent Council, G, Providence
Otto Porter, F, Georgetown
Gorgui Dieng, C, Louisville
Jack Cooley, C, Notre Dame

Pre-Season Second Team:
Shabazz Napier, G, Connecticut
D'Angelo Harrison, G, St. John's
Anthony Collins, G, South Florida
Brandon Triche, G, Syracuse
Cleveland Melvin, F, DePaul

Pre-Season Honorable Mention:
Trey Woodall, G, Pittsburgh
Jerian Grant, F, Notre Dame
C.J. Fair, F, Syracuse
Chane Behanan, F, Louisville

A sample of coverage from around the conference follows below.
The Big East Conference scored its biggest win of Media Day in the announcement that it has extended its agreement with Madison Square Garden to host the men's basketball tournament through 2026, shutting down the speculation proffered by ESPN and the Atlantic Coast Conference that the ACC would try to kick out the Big East at the World's Most Famous Arena, where it has held its tournament since 1983.
"[It's] huge, can't emphasize it enough," commissioner Mike Aresco told the Newark Star-Ledger. "To have this tournament here, long into the future, at the Garden is huge. I think it makes a real statement about our conference. About what our conference is, about what it's going to be. That's where we belong."
"New York and our conference share so many similarities and so many traits If you look at where we are now, the conference is going to be stronger than it's ever been and I think the Garden is making a statement on where they want the Big East. They want the Big East here and we want to be there. I can't emphasize how important that is to us."
As for the ACC, seven arenas, including Verizon Center, are seeking ACC tournaments through 2021, though neither the Garden nor Brooklyn's Barclays Center made a bid. It is expected that the venerable Greensboro Coliseum and less venerable Time Warner Cable Arena (Charlotte) will still host five times in an eight year cycle, with some combination of the Tampa Bay Times Forum, Amway Center (Orlando), Phillips Arena (Atlanta), Verizon Center (Washington), and perhaps the Consol Energy Center (Pittsburgh) vying for one tournament each for the remaining years of the contract.
For Big East fans, no such travel considerations. Get to Penn Station, then walk four floors up.
As breakups go, neither John Thompson III nor Jim Boeheim would go as far to say "It's not you, it's me," but neither appear to have made plans to meet again once the teams complete the final regular season game on March 9.
The Syracuse Post Standard, to whom this story is far more important than to any media outlet in Washington, did not use the word "continue" when discussing the series after 2013, but "resurrect", as if it is already gone.
"I've said and I think Jim's said the same thing: We want to keep playing each other," Thompson said. "But now it falls into the category of out of conference scheduling, which is much more difficult. We have many other hurdles to overcome, so it's not as cut and dried as saying, 'yes, we're going to do it.' But I think we both have a desire to continue the games."
To no surprise, Boeheim was less enthusiastic.
"Before the Big East, our biggest rivalry was St. Bonaventure," Boeheim said. "We don't even consider playing them any more. We don't want to play them, they don't want to play us. So who knows what the future's going to bring?"
Big East Media Day is the beginning of a turning point for the conference as one founding member and two long-time members compete for the final season.
It's also an end of an era for Big East press coverage. This is the last season the Syracuse Post-Standard hosts its annual writers poll in advance of Media Day, and the paper is just one of seven major papers that that have covered the Big East since its inception. By next season, only six.
The writers poll, featuring 15 beat writers from around the conference, is below. (Note: Writers from the Washington DC area were not represented in the Post-Standard poll.)
Louisville
Syracuse
Notre Dame
Cincinnati
Pittsburgh
Georgetown
Marquette
South Florida
Connecticut
St. John's
Rutgers
Villanova
Providence
Seton Hall
DePaul
Here's a comparison to recent polls against the actual finish at season's end:
| | | | |
| --- | --- | --- | --- |
| 2010-11 Poll | 2010-11 Finish | 2011-12 Poll | 2011-12 Finish |
| 1. Pittsburgh | 1. Pittsburgh | 1. Connecticut | 1. Syracuse |
| 2. Villanova | 2. Notre Dame | 2. Syracuse | 2. Marquette |
| 3. Syracuse | 3. Louisville | 3. Louisville | 3. Notre Dame |
| 4. Georgetown | 4. Syracuse | 4. Pittsburgh | 4. Cincinnati |
| 5. West Virginia | 5. St. John's | 5. Marquette | 5. Georgetown |
| 6. Marquette | 6. West Virginia | 6. Cincinnati | 6. South Florida |
| 7. St. John's | 7. Cincinnati | 7. West Virginia | 7. Louisville |
| 8. Louisville | 8. Georgetown | 8. Villanova | 8. West Virginia |
| 9. Notre Dame | 9. Connecticut | 9. Notre Dame | 9. Connecticut |
| 10. Connecticut | 10. Villanova | 10. Georgetown | 10. Seton Hall |
| 11. Seton Hall | 11. Marquette | 11. Rutgers | 11. Rutgers |
| 12. Cincinnati | 12. Seton Hall | 12. St. John's | 12. Pittsburgh |
| 13. South Florida | 13. Rutgers | 13. Seton Hall | 13. St. John's |
| 14. Rutgers | 14. Providence | 14. South Florida | 14. Villanova |
| 15. Providence | 15. South Florida | 15. DePaul | 15. Providence |
| 16. DePaul | 16. DePaul | 16. Providence | 16. DePaul |
The pre-season All Big East teams were also selected by the writers in anticipation of Wednesday's list:
First Team:
Peyton Siva, G, Louisville
Sean Kilpatrick, G, Cincinnati
Vincent Council, G, Providence
Otto Porter, F, Georgetown
Jack Cooley, C, Notre Dame

Second Team:
Brandon Triche, G, Syracuse
Michael Carter-Williams, G, Syracuse
D'Angelo Harrison, G, St. John's
C.J. Fair, F, Syracuse
Chane Behanan, F, Louisville
Gorgui Dieng, C, Louisville
NBC Sports takes a look at two of the key drivers for the Hoyas in 2012-13: point guard Markel Starks and small forward Otto Porter.
"It's a challenge," said Starks. "You're surrounded by a lot of alpha males, so you have to set an example. It's not so much who can talk the best or who can bench the most, it's about who can show the best. I think on gameday, I'll have to bring that. I have had leaders like Jason Clark and Chris Wright to kind of show me the ropes. It's just like the torch has been passed."
Much is expected of Porter, said coach John Thompson III
"Otto knows what's out there," he said. "We won't try to hide from him what's out there. I think he's dealing with it fine. Otto's as grounded as they come, he just shows up, he brings his lunch pail and he works. Whatever happens, happens. I think the reason that a lot of good things have happened and will continue to happen to him is that he doesn't get engrossed in all of that."
Mascot-in-training Jack VI (aka J.J. or Jack Jr.) makes his debut at Midnight Madness, according to the Washington Post.
"What does it take to be Georgetown's mascot?," asks the Post. "Poise and chillness, especially among massive crowds, such as those that fill Verizon Center for Hoya basketball games. A mascot can't be fearful of thundering applause, tipsy celebrators or small children. He must master looking straight at the camera for photos. Lunging at meat products is a definite no-no. And, most important, a Georgetown mascot must be able to sprint onto the basketball court and destroy a cardboard box adorned with the colors of the opposing team — not just chew, not just rip, but destroy — as the crowd screams: "Eat that box! Eat that box!"
The Mid-Atlantic Sports Network (DirecTV channel 640) will pick up 11 Georgetown games this season, including five non-conference home games, according to a release at GUHoyas.com.
Big East games scheduled for broadcast include Marquette (Jan. 5), Providence (Jan. 16), South Florida (Jan. 19), Seton Hall (Jan. 30), Rutgers (Feb. 9), and DePaul (Feb. 20). All other Big East games for the Hoyas will be shown on ESPN or CBS.
Games with Liberty (Nov. 14), Towson (Dec. 8), Longwood (Dec. 10), Western Carolina (Dec. 15) and American (Dec.22) will be broadcast. The status of home games with Duquesne (Nov. 11) and Mt. St. Mary's (Nov. 24) was not disclosed.
Thirteen months after publicly announcing fundraising for the Intercollegiate Athletics Center, Georgetown officials have been careful not to discuss the fundraising or a timetable, mindful of the institutional missteps over its handling of the unfinished Multi Sport Facility project.
Head coach John Thompson III is confident the IAC will go forward.
"I'm 100 percent certain it will happen in the very near future," Thompson told the Washington Post. "A lot has changed. All the community, zoning and town issues and hurdles — we are past those. So now it's just a question of getting the money and putting the shovel in the ground."
"It's something that's needed," he said. "The Georgetown community knows it's needed, and it's on the way."
Just 24 days remain in ESPN's exclusive window to negotiate a TV rights deal with the Big East conference, but its commissioner continues to look past Nov. 1 as an opportunity to maximize the revenues of the conference versus that of a network that has already aligned itself with the Atlantic Coast Conference.
"As the negotiating period starts to run its course, that's when things really heat up. I would expect that to happen," commissioner Mike Aresco told the Chicago Tribune. "The point is, we're negotiating with ESPN, it's an exclusive period. We've had a lot of interest expressed to us from other networks, as you can imagine."
Other items of interest, in Aresco's words:
"We need to do a good TV/media deal. We need to do a deal that gives our schools the resources they need, that gives them the confidence financially, the stability they need. And also the exposure they need. We want to make sure most of our games are televised nationally or quasi-nationally on the best platforms available. We want to make sure we're leaders in new media, that's extremely important. We want to make sure we're at the cutting edge and doing all the right things."
"At this point, the feeling is we don't need to expand in basketball. There's no need to. ... In terms of basketball, I think we're pretty stable. Seventeen basketball schools work fine."
"We've been working with [Madison Square Garden] on a [tournament] extension, our talks have been really good. I think the Garden loves the Big East tournament, they love the intensity of it."
"We'll be very aggressive in the digital area. With the resources we have and the story we have to tell, the interest in our product – I'm not making any prediction, I don't want to create any expectations, but we think our value will be recognized and ultimately it will be maximized."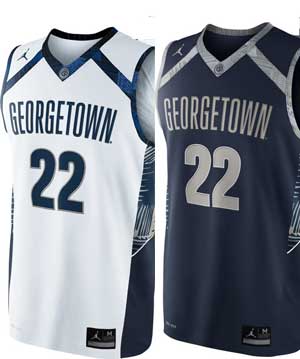 A HoyaTalk reader alerted us to two new Nike jersey designs housed on FansEdge.com, a sports merchandise web site.
Two jerseys, white and blue, were shown, although it is likely that a home gray and a road black design could also be in the mix. (Although blue has been the primary road color in the John Thompson III era, an alternate black jersey has been worn at 2-3 road games each year for the past three seasons.)
The prospect of a white home jersey is unsettling to many Hoya fans, as it is redolent of an era where the Hoyas earned just one NCAA bid in a seven year period from 1998 through 2005. Georgetown last wore a white jersey as a one-time event on Dec. 1, 2007 versus Fairfield, but has not appeared in the white jersey since.
The last jersey change took place in the 2009-10 season, per the Georgetown Basketball History Project.
Although Notre Dame is widely expected to leave the Big East after this season, no discussions on an early exit have been made with the conference, according to the Chicago Tribune.
"It's very preliminary at this point in terms of what Notre Dame ultimately would like to do and what kind of negotiation we would have if in fact they would want to leave early. We haven't clarified that yet," said commissioner Mike Aresco. "We'll have a discussion and in all likelihood our process will be extremely cordial. If in fact that's the stated desire, we'll try to figure something out. We haven't had any serious discussions yet."
Barring an exit fee of somewhere between $7.5 and 20 million (the ranges paid by Pitt, Syracuse, and West Virginia), Notre Dame is otherwise obligated to play in the Big East through the 2014-15 season.
Earlier this week, the Atlantic-10 conference announced a five year, $40 million media rights fee for its games, or about one-fifth of the current Big East deal. The Big East Coast Bias blog discusses the contract and why it reinforces the economic sense for schools like Georgetown to play in the Big East.
"[At] 5 million per year, split between 14 teams means each school will get a little more than $350,000 per year from the television contract. By comparison, NBC Sports is reportedly prepared to offer the Big East basketball members as much as $4 million per year as part of a larger deal to get the rights to both football and basketball," it writes. "Are schools like Georgetown, Marquette, and St. John's bigger and more valuable basketball properties than St. Louis, Butler and others in the A-10? Sure. Nevertheless, there's no conceivable collection of basketball schools, without football also being a part of the equation, that would be able to command a number that large. Basketball just doesn't earn the money that football does, no matter how you arrange the conference."
Students and season ticket holders will take advantage of a new system for ticket distribution as introduced by Verizon Center, as per this release at GUHoyas.com.
A season ticket card will replace the ticket booklet, allowing customers to present the card as opposed to paper tickets for each game.
Per the release: "Each season ticket holder will receive one...Season Ticket Card for his/her account and all 2012-13 Georgetown men's basketball season tickets will be loaded onto this card. For games in which the season ticket holder is unable to attend or when there is a need to share tickets, the program allows season ticket holders to forward or print tickets through the...account free of charge." The change is not meant to address issues of scalping, as any season ticket holder selling tickets on Stub Hub (or acting as a front for Syracuse ticket holders for the Mar. 9 game) can print tickets online for those who do not have a card. In addition, tickets sold through Ticketmaster will still be available by paper.
"Georgetown Athletics is pleased to work with Monumental Sports and Ticketmaster to provide digital ticketing solutions and enhanced technology to fans in an efficient, secure and easy manner," said associate athletics director Dan O'Neil. "We place a high priority on customer service and are excited to offer digital-ticketing solutions to our loyal Hoya fan base."
In the mid-1970's DePaul University moved home games off campus to a new and spacious suburban arena, the Rosemont Horizon, setting a trend that many schools, including Georgetown, eventually followed.
The Horizon, now known as the Allstate Arena, is aging and largely obsolete. Chicago officials are now calling for the Blue Demons to return to the city, if not within its Lincoln Park campus.
"DePaul for years has been talking about a stadium in Chicago that's better for their basketball team, better for their fans and better to be close to home," said mayor Rahm Emanuel in this link to ESPN.com. "It is in our interest as a city that they choose Chicago. And so we're going to work together to look at Chicago being a home for DePaul's Blue Demons. It will be a win for DePaul and a win for the city of Chicago."
DePaul's last NCAA bid was in 2004, before joining the Big East. Despite a 5-67 (.069) record in league play over the last four seasons, DePaul's average attendance (7,740) still outdrew Seton Hall, Rutgers, and South Florida, as well as 2013 Big East newcomers Central Florida, Houston, and Southern Methodist.
---
HoyaSaxa.com: The One-Stop Web Site For Hoya Basketball™
An independent web site not affiliated with Georgetown University. All rights reserved.