| | |
| --- | --- |
| CBS Sports: Big East Preview | 10/28/15 |
The Big East remains "underestimated" by many pre-season previews, but not at CBS Sports.com, with their view of the 2015-16 Big East race.
"This year, expect a downtick, but not a drastic one," it writes. "Getting five schools into the NCAAs is easily projectable, and in sizing up the league, even the teams that will finish 7/8/9 aren't going to be brutal. In our ultimate list, ranking every team in college hoops, the Big East has all of its teams ranked in the "top" 127, better than all other leagues...Of course, having just 10 teams can help that cause."
| | |
| --- | --- |
| Six Hoyas On 2015-16 NBA Rosters | 10/26/15 |
With late cuts over the weekend to former Georgetown center Henry Sims (C'12), Josh Smith (ex'15) and 2012 transfer Greg Whittington, Georgetown is expected to have five former players on NBA rosters as they are finalized today:
| | | | |
| --- | --- | --- | --- |
| Player | Degree | Position | Team |
| Roy Hibbert | C'08 | Center | Los Angeles Lakers |
| Jeff Green | C'12 | Forward | Memphis Grizzlies |
| Greg Monroe | ex'12 | Forward | Milwaukee Bucks |
| Hollis Thompson | ex'13 | Forward | Philadelphia 76ers |
| Otto Porter | ex'15 | Forward | Washington Wizards |
| | |
| --- | --- |
| Agau Out For Season With Knee Injury | 10/25/15 |
An otherwise uneventful Hoya Hoop Club open practice was tempered with the news Saturday that transfer forward Akoy Agau will be lost for the season following a ligament tear suffered earlier this month.
Agau, a sophomore transfer from louisville eligible in the spring 2016 semester, was expected to provide depth up front in what remains a question mark for the 2015-16 season. As a high school senior, Agau averaged averaged 12.8 points, 6.1 rebounds and blocked 81 shots at Omaha Central HS but was played sparingly at his two seasons at Louisville, scoring two points in 11 minutes of action last season.
Agau's injury parallels the setback of former Georgetown center/forward Moses Ayegba (C'14), whose potential was severely limited as the result of an 2011 knee injury.
Entering the season, Georgetown remains strong in the backcourt but unproven up front (points per game from 2014-15 in parentheses, returning starters in blue)
| | | | | |
| --- | --- | --- | --- | --- |
| Guard | Guard | Forward | Forward | Center |
| Smith-Rivera (16.3) | Peak (9.1) | Copeland (6.8) | White (5.0) | Govan (New) |
| Campbell (3.4) | Johnson (new) | Cameron (1.2) | Derrickson (New) | Hayes (0.9) |
| Williams (0.3, walk-on) | | | | Mourning (0.0) |
| | |
| --- | --- |
| Big East: Not Ready For Prime Time? | 10/22/15 |
After two years of poor ratings on Fox Sports 1, the 2016 Big East tournament championship game is being moved to broadcast television, but away from its traditional Saturday night time slot.
Various media sites are reporting that the 37th annual Big East championship will air on Fox at 5:30 pm EST on Saturday, March 12, which will put it against the Mountain West final and game two of the Big Ten semifinals on CBS. Fox will pick up the Pac-12 championship at 10:00 pm, but has no game scheduled in the evening block where the Big East has hosted title games since 1995.
The first three years of the Big East tournament featured a Saturday afternoon final on ESPN before moving to Saturday nights on ESPN from 1983 through 1986. CBS picked up the broadcasts in 1987, moving the final to Sunday afternoons through 1994. ESPN moved the final back to Saturday nights, where it was a ratings mainstay from 1995 through 2013.
Fox Sports 1, which picked up the contract in 2014, kept to the Saturday schedule, but last year's final between Villanova and Xavier drew a 0.3 rating (414,000 viewers) on Fox Sports 1, down 40 percent from 2014 and 86 percent from the 2013 final between Louisville and Syracuse. With ESPN moving the ACC final from Sunday afternoon to Saturday night to compete with the Big East, last year's final between Notre Dame and North Carolina matched the 2013 final with a 2.3 rating, with 3.5 million viewers.
All other games in the Big East tournament remain on Fox Sports 1.
| | |
| --- | --- |
| Radio Broadcast Schedule Announced | 10/21/15 |
With the upcoming move from WTEM-980 to CBS Radio for radio broadcasts, GUHoyas.com has announced the schedule of games which will be broadcast across three Washington-area radio stations.
The majority of games in 2015-16 will be broadcast on WJFK-106.7, with eleven games on WNEW-99.1 and two games on WFED-1580. Radio coverage for each game will be posted on this site prior to each game.
| | |
| --- | --- |
| Thompson Center Reaches Important Milestone | 10/21/15 |
An important milestone in the completion of the John R. Thompson Intercollegiate Athletic Center was reached last week.
At a ceremony posted on GUHoyas.com, Thompson and other Georgetown officials signed the final girder before it was put into place, knowing as "topping out" the structure.
The project has about ten months of work ahead of it, with brickwork, electrical, and interior finish-out coming soon.
| | |
| --- | --- |
| Thomas V. O'Keefe (1928-2015) | 10/20/15 |
News of the passing of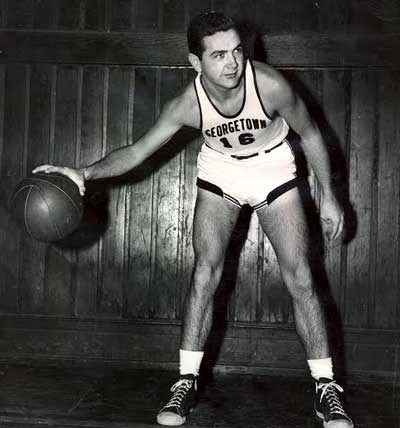 Tom O'Keefe (C'50), one of the all-time greats of Georgetown's Classic Era of college basketball was received on Monday. O'Keefe died over the weekend in Fredericksburg, VA at the age of 87.
O'Keefe was born June 3, 1928 in Jersey City, NJ, growing up in the Journal Square neighborhood that developed numerous basketball and football stars of the era. He attended St. Peter's Prep, earning all county honors as a senior in 1945 and receiving a scholarship to Notre Dame. O'Keefe played in only one game for ND in 1945-46, where the Fighting Irish earned a 16-4 record under former Georgetown coach Elmer Ripley. When Ripley returned to Georgetown in the fall of 1946, O'Keefe and guard Ray Corley left with Ripley to the Hilltop.
O'Keefe was a three year starter at guard for the Hoyas from 1946 through 1950, the beneficiary of an NCAA waiver that gave O'Keefe a fourth year of eligibility. The first three time scoring champ at Georgetown since Ed Hargaden (1932-35), O'Keefe averaged 14.5 points as a senior and became the first player in GU basketball history to reach 1,000 points for his career. He was selected to play alongside Holy Cross guard Bob Cousy in the 1950 Collegiate All-Star game, and was a fourth round NBA draft pick in 1950.
The pro career of O'Keefe was a short one. He played just two games for the Washington Capitols, who would fold during the season. Traded up the road to the Baltimore Bullets, he would play in just two more games before O'Keefe enrolled in the Army in 1951. Following military service and a position in the FBI, he coached high school basketball at Gonzaga (DC) and was appointed as freshman coach at Georgetown in 1957. Over a three year run as freshman coach, O'Keefe's Hoyas teams were 41-16, a promising record that led Georgetown officials to select him as head coach in the fall of 1960.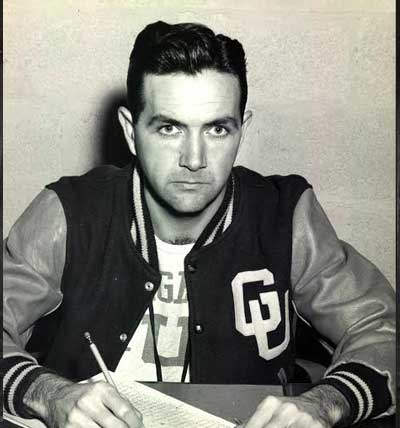 The Hoya teams of the O'Keefe era were among the most talented players of their generation at Georgetown. O'Keefe led the 1961-62 Hoyas to 14 wins, its most wins in a decade. A year later, he recruited another St. Peter's Prep guard, Jim Barry, who earned All-America honors on a team that lost four starters and nine seniors from the season before. Having recruited the likes of Jim Barry and Jim Brown, Jake Gibbons and Steve Sullivan, the Hoyas began each of the next three seasons with high hopes, only to be crushed in late season skids, including a 10-3 club in 1965 that dropped seven straight, and a 13-5 team in 1966 that dropped three straight that cost the Hoyas a NIT bid. Following a loss to Manhattan that ended the Hoyas' 1966 post-season hopes, O'Keefe announced his resignation at season's end, whereupon the Hoyas won their final three games to finish 16-8.
Over six seasons, Tom O'Keefe was 82-60 (.578) as head coach, but did so as a part-time employee who sold class rings to make ends meet. Amidst student and alumni calls to elevate O'Keefe to a full-time coach, Georgetown would not comply.
"Tom O'Keefe is here every morning and afternoon from October to March," said athletic director Jack Hagerty to The HOYA in 1966. "The only full-time [basketball] coach we ever had was Elmer Ripley in the 1940's, and during the off-months he would sit around my office in the morning, nap in the afternoon, and go to the movies at night."
O'Keefe left Georgetown in 1966 and pursued business interests through his retirement. While out of sight to fans in the John Thompson era, O'Keefe was never forgotten by his former players, who would host annual reunions with the coach well into the 2000's. In 2007, O'Keefe, one of the five living head coaches in Hoya basketball history, was honored during the program's centennial for his team's Dec. 27, 1963 upset of #1-ranked and defending NCAA champion Loyola-Chicago, which was featured in a video retrospective of the program (content begins at 1:49):
Tom O'Keefe was selected to the Georgetown University Athletic Hall of Fame in its inaugural class in 1953, and was honored this past season with a halftime ceremony at Verizon Center with some of his former players (all photos courtesy Georgetown University):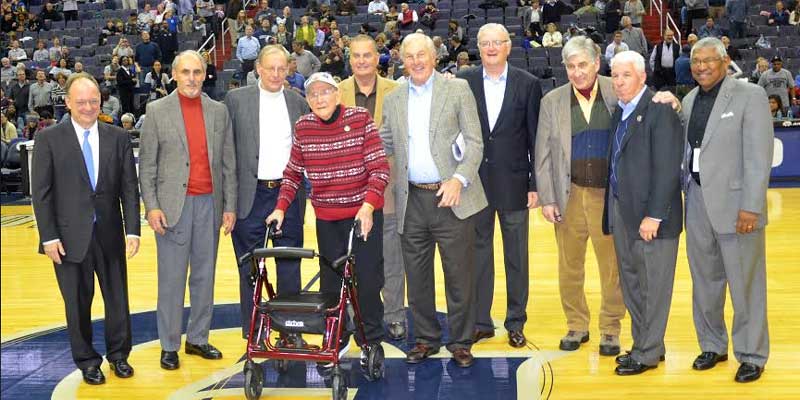 Survivors include his wife of 64 years, Faith O'Keefe (N'51), along with four children, fifteen grandchildren, and eight great-grandchildren. A memorial Mass will be held at 10:30 a.m. on Monday, October 26 at St. Mary Catholic Church, on South Royal St. in Alexandria, VA.
| | |
| --- | --- |
| ESPN SportsCenter Coming To GU-Maryland Game | 10/19/15 |
Following in the tradition of Keith Olbermann and Dan Patrick, ESPN's Scott Van Pelt is carving out his own slice of originality in the corporate behemoth that is ESPN. His late night Sports Center will go on the road Nov. 17 to the Georgetown-Maryland Game at Xfinity (formerly Comcast) Center, largely because Van Pelt told them so.
"I kind of told the head guy here before our show ever started, on November 17th either I'm not doing a show, or we're going to do the show there. Because I will be in that building that night," Van Pelt said to 247Sports.com. The 49 year old Van Pelt graduated from Maryland in 1988 and joined ESPN in 2001.
"I want people to understand how important this is in the DMV," he said. "This is a gigantic thing that should have happened a long time ago."
"I explained to Mark [Turgeon] that we've upped the stakes. Otherwise, you're going to see a sad-faced Van Pelt doing the show for an hour."
| | |
| --- | --- |
| Pre-Season Poll: Georgetown Out Of Top 25 | 10/16/15 |
Georgetown finished out of the running in the USA Today pre-season poll released Wednesday.
The Hoyas received 45 votes in the poll, good for 30th among the schools. Villanova (#9, 498 votes) and Butler (#22, 132 votes) were the only Big East teams ranked in the top 25.
| | |
| --- | --- |
| Big East Media Day | 10/14/15 |
With just 30 days to the start of the 2015-16 season, the Big East conference holds its annual media day Wednesday in New York.
Georgetown was picked second in the pre-season poll, below:
1. Villanova (9 first place votes), 81 points overall
2. Georgetown (1), 70
3. Butler 67
4. Xavier 55
5. Providence 45
6. Marquette 44
7. Seton Hall 27
8. DePaul 25
9. Creighton 23
10. St. John's 13
Pre-season all-Big East teams are noted below Eight of the teams featured at least one player on the pre-season teams, while Creighton nd St. John's had no entrants.
Player of the Year: Kris Dunn, G, Providence (Sr)
Rookie of the Year: Jalen Brunson, F, Villanova (Fr)
2015-16 First Team

Kellen Dunham, G, Butler (Sr)
D'Vauntes Smith-Rivera, G, Georgetown (Sr)
Ryan Arcidiacono, G, Villanova (Sr)
Jalen Reynolds, F, Xavier (Jr)
Roosevelt Jones, F, Butler (Sr)
2015-16 Second Team

Isaiah Whitehead, G. Seton Hall (So)
Billy Garrett, G, Jr., DePaul (Jr)
Angel Delgado, F, Seton Hall (So)
Daniel Ochefu, F, Villanova (Sr)
Henry Ellenson, F, Marquette (Fr)

2015-16 Honorable Mention

Jalen Brunson, G, Villanova (Fr)
Trevon Bluiett, G. Xavier (So)
Isaac Copeland, F, Georgetown (So)
Luke Fischer, C, Marquette (Jr)
The Georgetown women's team was picked seventh of ten teams, up from eighth in the 2014-15 pre-season poll.
Extensive coverage follows below:
How has Georgetown fared in pre-season polls versus the real season? Here's a view of the predicted vs. actual finishes in the JT III era (2004-present):
| | | |
| --- | --- | --- |
| Season | Pre-Season | Finished |
| 2004-05 | 11 | 7 |
| 2005-06 | 6 | 5 |
| 2006-07 | 2 | 1 |
| 2007-08 | 1 | 1 |
| 2008-09 | 7 | 13 |
| 2009-10 | 5 | 8 |
| 2010-11 | 4 | 8 |
| 2011-12 | 10 | 5 |
| 2012-13 | 6 | 1 |
| 2013-14 | 2 | 7 |
| 2014-15 | 2 | 2 |
| 2015-16 | 2 | 2 |
Veteran sports writer Jerry Carino posted his pre-season list on Tuesday:
1. "Villanova: Owns this spot until proven otherwise.

2. Butler: League's best 1-2 punch in Dunham and Jones.

3. Georgetown: Loaded with talent. Will they show up in March?

4. Xavier: Superb backcourt. They will show up in March.

5. Providence: It's nice to have the country's best point guard.

6. Seton Hall: The pieces are there. Have to prove they can fit.

7. Marquette: Young, but tons of promise. A team to watch.

8. Creighton: Good program is still reloading/rebuilding.

9. DePaul: Billy Garrett Jr. leads a veteran cast, but it's DePaul.

10. St. John's: From Chris Mullin on down, a total unknown."
And for a further look into the season, CBS Sports.com decided to rank the teams...all 351 of them.
| | |
| --- | --- |
| Pre-Season Underway | Updated 10/19/15 |
While the name "Midnight Madness" is largely a thing of the past, Division I teams began practice this weekend and Georgetown hosted a student event Friday night for the men's and women's teams.
The event was short on basketball (a 10 minute intra-squad scrimmage with the women's team) and more about the entertainment. In addition to various student dance groups, rapper Tauheed Epps (aka "2 Chainz") performed for the crowd at McDonough Gymnasium. The 6-5 Epps played at Alabama State for one season, where he played four minutes in a 75-37 loss to Georgetown at US Air Arena (nee Capital Centre) on Nov. 26, 1996 (Epps is #23 in the box score below):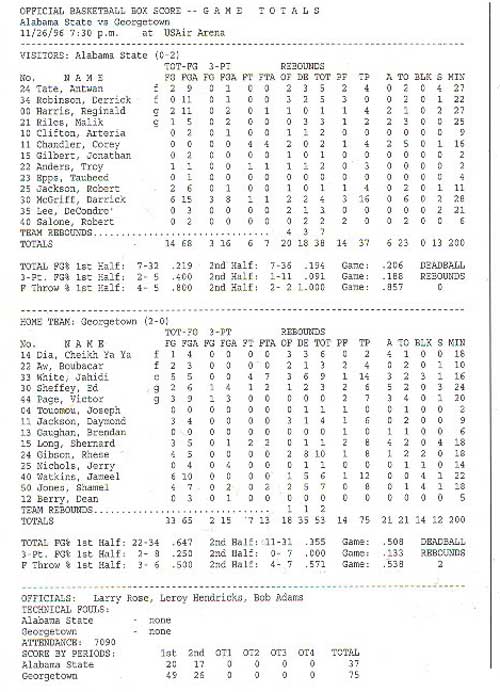 | | |
| --- | --- |
| As Basketball Rises, Tennis Relocates | 10/11/15 |
As fans look forward to the opening of the John Thompson Center next year, it's easy to forget what was once on that site. For members for the Georgetown intercollegiate and club tennis teams, their program has seen a sharp change as a result.
An extended article in the Georgetown Voice looks at the tennis team's relocation in the wake of the JTC construction and where it will go from here.
"The [varsity] team only plays one match on campus, at Yates Field House, during their year-long season," writes the Voice. "Last season, the men's team played two matches near campus, one at Visitation and one at Georgetown Prep. The women's team played two matches at the Arlington, Va. YMCA and one match at Bell Haven Country Club in Alexandria, Va. Otherwise, the team spends the rest of their season playing away matches, away from fans and familiar territory."
The tennis team was founded in 1907, the same year as men's basketball on the Hilltop. For decades, the teams practiced and played on a series of outdoor courts where Village A is located today--the courts relocated to the McDonough parking lot in 1977 following the beginning of construction for that residential complex.
It's also an issue at the recreational level, said Elizabeth Kelly (N'15).
"What used to be the biggest club sport on campus [300 students] has now dwindled to [40]. And no one is ever going to see those matches [off-campus]," she said.
"I think what it does is it takes the Georgetown element out of sports," said former captain Casey Distaso (N'14, M'18). "These players practicing at Visitation and playing on the road, they're sort of separated from the university and the university is separated from them, and I think that's what is so important about sports. Especially in college, here at Georgetown, when you're not making money, it's important that the university and the teams are always together."
Recommended reading.
| | |
| --- | --- |
| Georgetown Announces $50M Gift | 10/6/15 7:00 pm EDT |
With 3,671 days since Georgetown halted construction of football's future, the MSF Clock has stopped.
Georgetown University has announced a transformative $50 million gift from Georgetown parents Peter and Susan Cooper to fund a new on-campus stadium and underwrite a sports leadership program on the Hilltop. Parents of five Georgetown alumni, including three brothers who played football for the Hoyas: Ryan (B'02), Matthew (B'07), and Kris (B'10), the new stadium will be named Cooper Field and could open in the 2018 season.
More coverage follows at the football pages.
---
HoyaSaxa.com: The One-Stop Web Site For Hoya Basketball™
An independent web site not affiliated with Georgetown University. All rights reserved.