Basketball Home > Football Home > Traditions > The Logos

Georgetown Traditions: The Logos

Georgetown's current "image mark" or trademarked logo, is found is in the block G logo found on many Georgetown items. Unlike other schools which use a G monogram, the gray "G" is distinctive to Georgetown and an alternate trademark to the use of the bulldog.

Beginning in the early 1960's, printed materials began to feature Jack as a visual symbol for Georgetown athletics. The earliest logos (right) gave him a look akin to Yale's bulldog, so by the 1970's, a new and distinctive blue and white bulldog logo began to grow in appeal.


Prescient of its growing appeal nationwide, Georgetown officials applied for trademark protection on the bulldog mascot in 1984. (This involved a slight redesign of the bulldog, as both Georgetown and the University of Georgia shared nearly identical bulldog logos and neither school had a preemptory right on the design.) In securing trademark rights, Georgetown became one of the first schools to aggressively license its logo nationwide, and fans scooped up Hoya hats, T-shirts, jackets, and souvenirs of all kinds.

By 1989, merchandise with the Georgetown logo outsold Notre Dame, Michigan, and every other college logo in the nation! Today, the bulldog logo remains in the top 50 in licensing sales and Georgetown holds the highest ranking for any school without a Division I-A football program (Georgetown plays in Division I-AA for football.)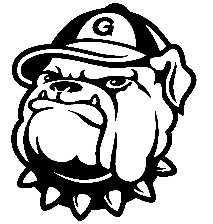 Because of the success of the logos, variations to the Jack the Bulldog logo often appear. To the right is a recent re-tooling of the bulldog image, and to the far right, a design used by Nike for its Georgetown basketball merchandise.
The revenue from licensing royalties paid by clothing companies has allowed the athletic program to grow and expand, while University staff continue to study various licensing agreements to minimize improper or fraudulent use of the school's good name.
Some fans still might not know what a Hoya is, but they sure want to look like one.
---
HoyaSaxa.com: The One-Stop Web Site For Hoya Basketball™
An independent web site not affiliated with Georgetown University. All rights reserved.